For most, winter is cold! As temperatures drop, the temptation to just stay inside rises. Of course, staying inside all the time comes with its own problems, even if it is nice and warm. It's part of human nature to want a change of scenery from time to time, and the monotony of being inside day after day can start to wear on you.
Everyone needs a change of pace and a change of scenery at times—, especially in winter. So what do you do? Why not take on a project that you can do inside during the cold winter months? A do-it-yourself project can be just the change you need in your daily schedule, and it's an opportunity to update your home, as well. Lawn care services tend to taper off a bit during the winter, so you can divert some of the funds from there to keep your budget down. And you can even get the kids involved and make it a family project! Here are a few project ideas to get your imagination going, but if you have others, I'd love to hear about them!
Install New Bathroom Hardware and Update Your Shower
Replacing the faucet and handles may seem like a daunting task, but it's actually a very simple process. There are countless tutorials available online that can walk you through, step by step, and it should only take you about an hour to complete. Consider switching to a modern brushed steel finish, or a waterfall faucet with a bronze finish. I recently retiled my bathroom shower this winter and it was a very easy DIY project to do. I kept the tile saw in the garage and it wasn't too terribly cold.
Kohler has an awesome shower design software available that allows you to customize almost any shower to your liking. The designs are gorgeous! I wish I would have seen this before refinishing my own shower this last month. The Kohler Choreograph shower walls come in a range of colors, patterns and textures to match your style.
The joint system helps keep installation simple and quick. The walls can be trimmed on site for custom cuts and can be installed over tile. And each wall is manufactured from durable Serica™ material. The joints of the Choreograph™ collection leave a minimal seam for a finished look that conceals the silicone. This makes it easy to clean the shower walls and maintain them over time.
Before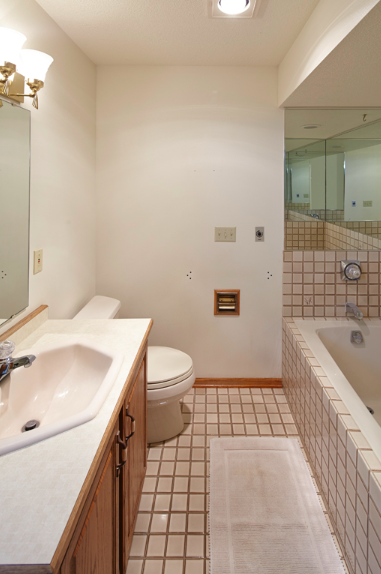 After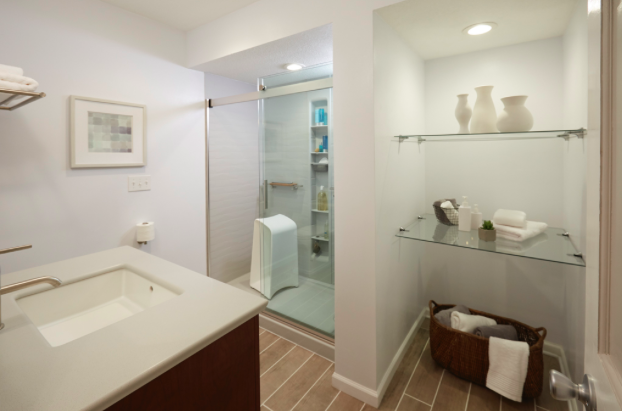 Spruce Up the Walls
While basic white is usually the safest bet, there are so many different ways to decorate your walls that can bring in new life. Even a simple coat of paint can set a room apart. Bright colors can open up a room and make it feel more cheerful during the colder months. Or you can go with deeper earth tones to make a room feel rustic and cozy. Choosing a different, complementary color for an accent wall can bring in some variety if you feel like everything is blurring together. If you want to add a subtle pattern to the wall that's not too overwhelming, use a stencil or a patterned roller to apply a shiny glaze over a matte base.
Turn Kitchen Cabinets into Shelving
Sometimes, a renovation is more about taking things out rather than adding something new. If you have a lot of cabinets in your kitchen, consider opening them up by removing the doors. This allows you to easily turn them into open shelving. You can paint the interiors to spruce them up and display your fancy dishes or holiday decorations.
Build Shelves Above Doorways for Displaying Art and Knick-knacks
Speaking of displaying decorations, another excellent display area that often goes unused is the space above your doors. All you need are a couple of wooden brackets and a wooden shelf. Paint them to match the doorframe, then mount them on the wall, tightly around the top of the doorframe. This creates an excellent space for displaying pottery and other decorations that is visible but still out of the way—and out of reach for little hands!
Make Small Windows Seem Bigger
You can make your windows seem bigger and the room feel taller just by moving the curtain rod about a foot or so. Most drapes are hung just an inch or so above the window. By raising the curtain rod, it draws the eye up higher and makes the window behind it seem larger.
Replace Old Light Covers and/or Light Switch Plates
While the standard, white globes around ceiling-mounted lights get the job done, they're very dull. While the light itself is a permanent fixture, the globes don't have to be. Replace the generic globes with something that matches your own style. Consider a vintage shade or even an updated version of the old globe, but with a little more color—something that represents you a little better and fits with your decor. I replaced all my light covers to match the white paint on the walls and I really like the look, and it was very inexpensive. I think I'll try selling my old metal covers online.
These inexpensive updates and DIY projects can be done in winter and will add an element of productivity and fun to a cold season.

For other 'rich living' tips and inexpensive activities and ideas, please subscribe, like LiveLikeYouAreRich on Facebook, and follow on Pinterest and Instagram.