Here Are 7 Tips to Making an Inexpensive Charcuterie Board.
The holidays are upon us and that typically means a lot of gatherings and not a lot of extra cash.
Whether it's a formal gathering or a fall evening with a few friends, charcuterie boards make a great statement appetizer.
Using these 7 tips will help you make a beautiful, healthy, and relatively inexpensive charcuterie board for your next get-together as well.
1- Do not get attached to specific ingredients, specific brands, or buying Organic produce.
The goal is to put delicious food on the board. Using food that most people enjoy is more often than not the best route to go when putting together a charcuterie board.
While you should use good/ripe ingredients, do not be overly concerned with providing the most expensive cheeses, and meats, and using only organic foods.
By sticking to more mainstream cheeses, meats, crackers, and less expensive produce you will save money and since the food comes without packaging, no one will be the wiser. Plus, very few people appreciate Roquefort cheese.
Even by sticking to food that is common and easy to come by, you can still have a beautiful board.
This board was very well received by those who ate it and it was called "gorgeous" and "beautiful"… and these are the items on it:
Olives (black, manzanilla pimento stuffed, and Kalamata)
Cheese (Cheddar, goat, mozzarella, Munster, and Colby jack)
Crackers (Wheat thins, Town House, Pretzel Crisps, Specialty crackers)
Meat (Dry cured Salami mixed variety, cured Prosciutto)
Fruit (Grapes red and green, raspberries, blackberries, pomegranate, mixed tomato medley)
Veggies (Celery, Carrots, mini cucumbers, mini petite dill pickles, mixed tomato medley)
A sprig of Rosemary…
See, very common yet well-liked beautiful food does make a statement.
2- Use items you have on hand—so long as they are unopened or untainted.
Use items you have on hand that are unopened or you know your kids haven't touched.
For example, if you have unopened crackers, use those. If you have a block of cheese you can cut it into cubes. A few carrot sticks, peel them, and chop them into small sticks, etc.
Before I begin shopping I see what I have that is unopened, fresh, and has remained untouched by my kids' hands. I make note of what I have and shop from there.
Then I go on to the next steps…
3- Buy ingredients that are on sale.
Next, I look for the meats, cheeses, fruit, and veggies that are on sale.
I do this specifically by doing the next step.
4- Shop around for the best prices—pay attention to quantity and read reviews.
I look at the circular/weekly shopping ad for 3-4 different stores and make a list of what is least expensive/on sale.
I look at Smith's/Kroger, Walmart, Sam's Club, and Target because I can see their prices online AND most of them have online coupons that I add to my cart to save even more as well.
Anyway, taking about 20 minutes to look at prices saves me a lot of time and money when I'm planning a charcuterie board.
For example, Smith's raspberries were $3.70 for 6 oz and Sam's Club had them for $2.98 for 12 oz. That is double at Sam's for less money! This said, at Smith's the blackberries were $1.50 for 6 oz and they were about $7.00 for 12 oz at Sam's which is more than double at Sam's. So, you can see how just checking those two items alone saved me significantly.
Pomegranets were on sale for .90 and crackers were on sale at $1.99 a box at Smith's.
Walmart's olives were much cheaper than other stores and the prosciutto (that had good reviews) was cheaper there too.
Much of the cheese was 1/2 the price as other stores on sale at Smith's with a buy 5 save $5 type of deal.
Often Costco has amazing sales on Boursin soft cheese that go great on a charcuterie board as well.
Here are some prices of items on this board: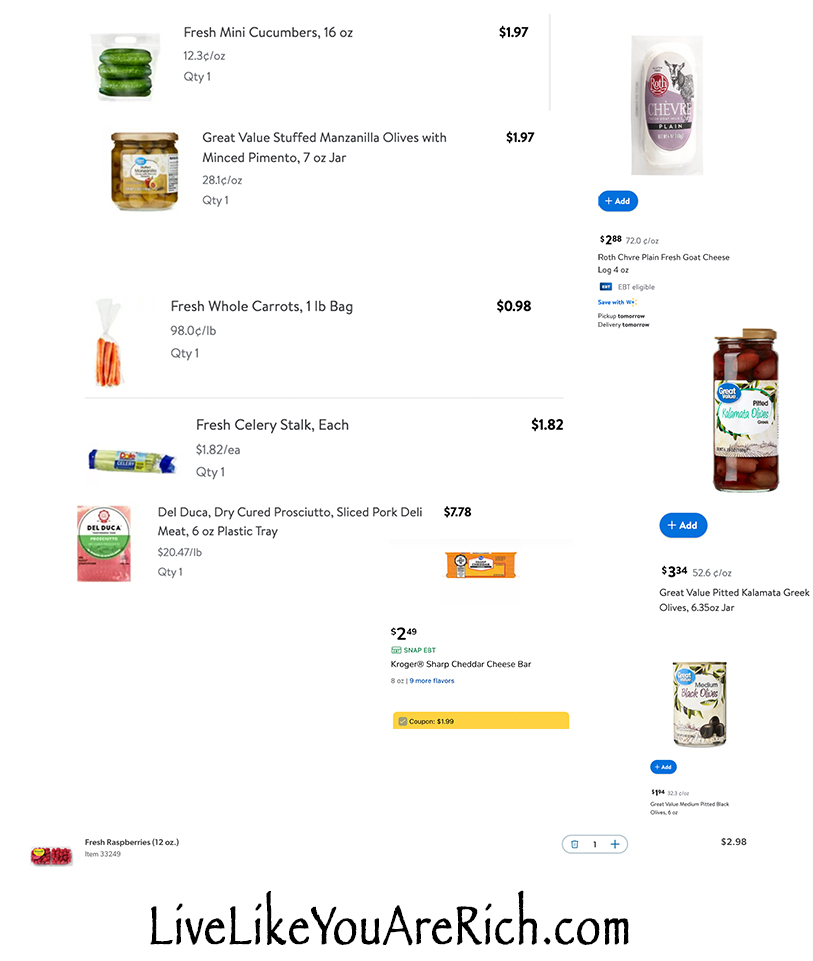 This will work only if you are in a suburban area. If you aren't, then just shop what's on sale at your local store.
5- Make use of a few mini bowls, trays, etc. to take up space on the board.
For example, on this healthy charcuterie board, I used small bowls and trays which took up a bit of space and therefore saved money.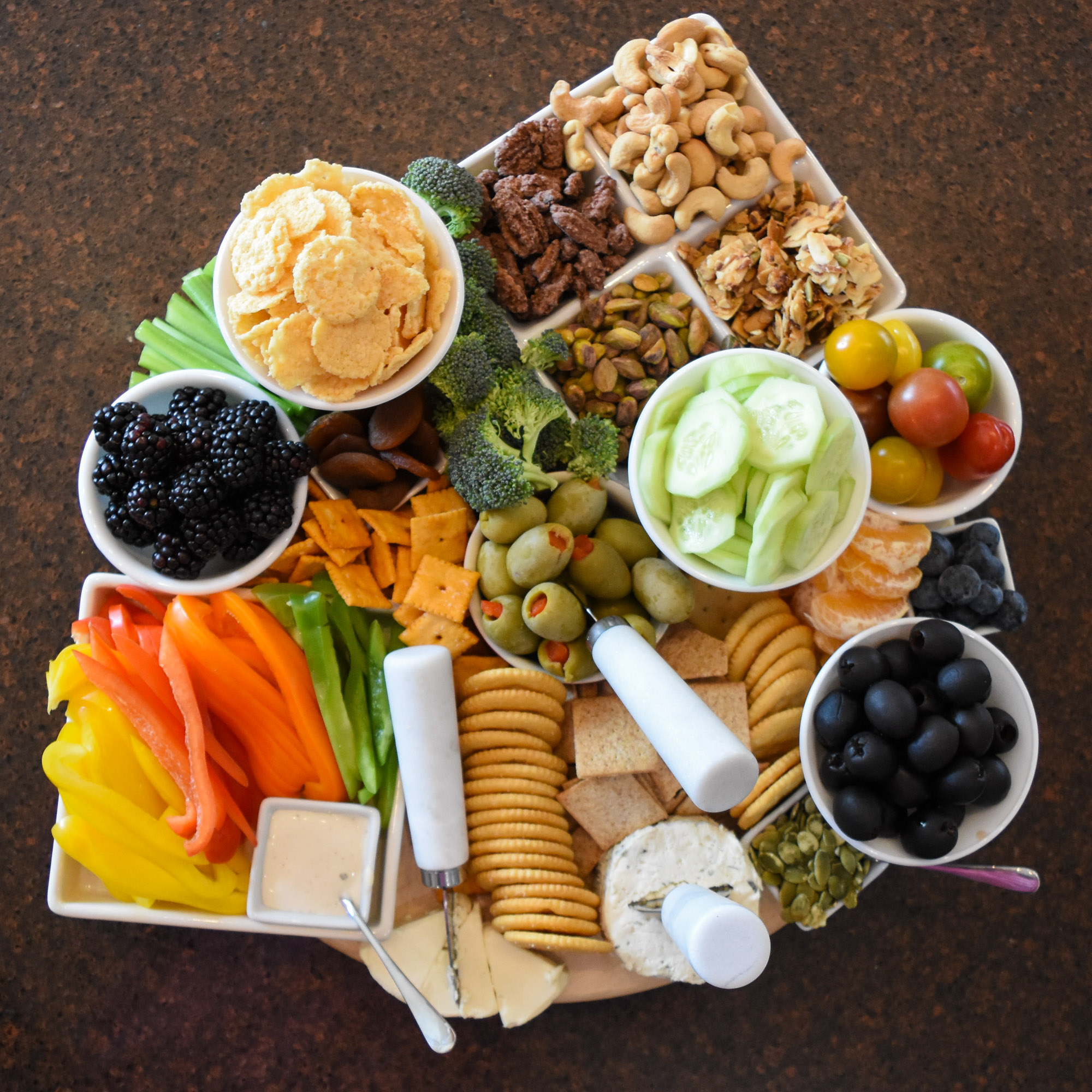 For this Kid's Halloween Charcuterie Board, I used bowls, a ghost dish, and a hand holding a glass globe stuffed with popcorn to take up space as well as add interest.
6- Double up on some of the inexpensive ingredients-
To save money, you can put celery on two sides of the boards, crackers in two areas, and other inexpensive bulkier items in more than one spot to fill the board and save on cost.
7- Use a board or tray you already own.

This is my final tip but don't miss the bonus tip below… Use a board or tray that you already have.
I bought this 15″ rotating wood lazy susan many years ago and I've used it for cakes, charcuterie boards, and more.
See if you can find something you own like a rotating cake stand, a decorative cutting board that is in great shape, or even a large serving tray works as well. If you don't have a board, using something you have on hand will save you significantly.
If you do need to buy a board, try buying something that you can use for multiple purposes like this lazy susan board I have. It can be used as a cake stand, a lazy susan, as decor for small items to sit on, for a charcuterie board, and more.
Bonus Tip- Be aware of using grocery pickup when trying to make a charcuterie board.
Picking up produce that shoppers have selected can be IFFY. I'm sometimes so surprised at the produce I get. Blackened bananas, berries with mold, etc. So, when putting together a charcuterie board it often pays to go into the store to get the best picks.
That's it. I hope this post helps you create an inexpensive charcuterie board for a gathering this season.
For other 'rich living tips' please Subscribe Here for my weekly email or connect with me on these other platforms: