Kids Halloween Candy Charcuterie Board.
Charcuterie boards are a fun mix of food, candy, textures, and decoration.
I thought it would be fun to make one with my family's favorite Halloween Candy.
Although there are a variety of ingredients and decor, this board was very simple to put together. It only costs between $20-$30 as well.
To save on money, I used items I had in my Halloween decor bin, a wood-rotating lazy susan that I've had for years, dishes in my kitchen, and a lot of food that I had on hand.
I began by setting up the large items on the board like the ghost pan and the hand holding the glass globe, then I worked from inside out filling up the board with a variety of Halloween candy and some veggies and crackers.
I filled the ghost baking pan with Halloween candy pumpkins, candy corn, and the caramel apple marshmallow creme treats.
I cut up some celery and put the sticks as well as shredded carrots into the Frankenstein heads.
Although you can't see them well, its a vase with a green Frankenstein head.
I used small ramekins to hold candy eyes,
(both gummy and hard),
sprinkles,
pumpkin seeds,
and candy bats.
I put Peeps ghosts,
pumpkins,
and Frankensteins around the board.
I added Carmel Apple and Pumpkin Spice Werther's Originals chewies on the board.
I scattered some popcorn around and filled a Halloween treat bowl with peach rings and Caramel Apple Pops.
The board also has some peeled cutie clementines split in half to look like pumpkins.
I bought Nerd candy corn which I put in a bowl and added some candy eyes that matched for a fun look.
There are also Cheez-It crackers, sugar snap peas, and
sweet bell peppers on the board as well.
There is a bowl of gummy worms
and gummy snakes.

Charcuterie boards often contain a few decorations on and around the board to go with the theme.
While not completely necessary, I think for a Kids Halloween board it was a fun addition.
Kids Halloween Candy Charcuterie Board Decorations
The decorations that I placed on and around the board are as follows there are links in the supply list below.
I put down a black piece of material for the base. I bought it at Walmart years ago for this Ninja Party. I've used it for a lot of things.
I find that keeping party supplies and reusing them for a variety of things really saves money!
Another decoration I've reused for a lot of parties is the treasure chest with bottles.
I filled some of these mini glass bottles with eyes, bats, and sprinkle candies.
I found the bat-corked bottle at a thrift store for $1.50 last year.
I filled it with bat sprinkles.
The candles, amber bottles with labels, and cauldron I had in my Halloween decor tote from last year's Halloween witch-themed mantel.
My daughter and I made the gauze ghosts (tutorial here).
Kids Halloween Candy Charcuterie Board Food List
Peeps Halloween Marshmallows: ghosts, pumpkins, Frankenstein heads
Halloween sprinkles and gummy packs (Michaels Toothfairy) eyeballs, snakes, bat sprinkles, sugar sprinkles, and hard candy eyes.
celery
shredded carrots
Brach's Caramel Apple Mellowcream Candy Corn, 9oz
Popcorn (G.H. Cretors Cheese & Caramel Mix, & regular)
sweet peppers
sugar snap peas
clementines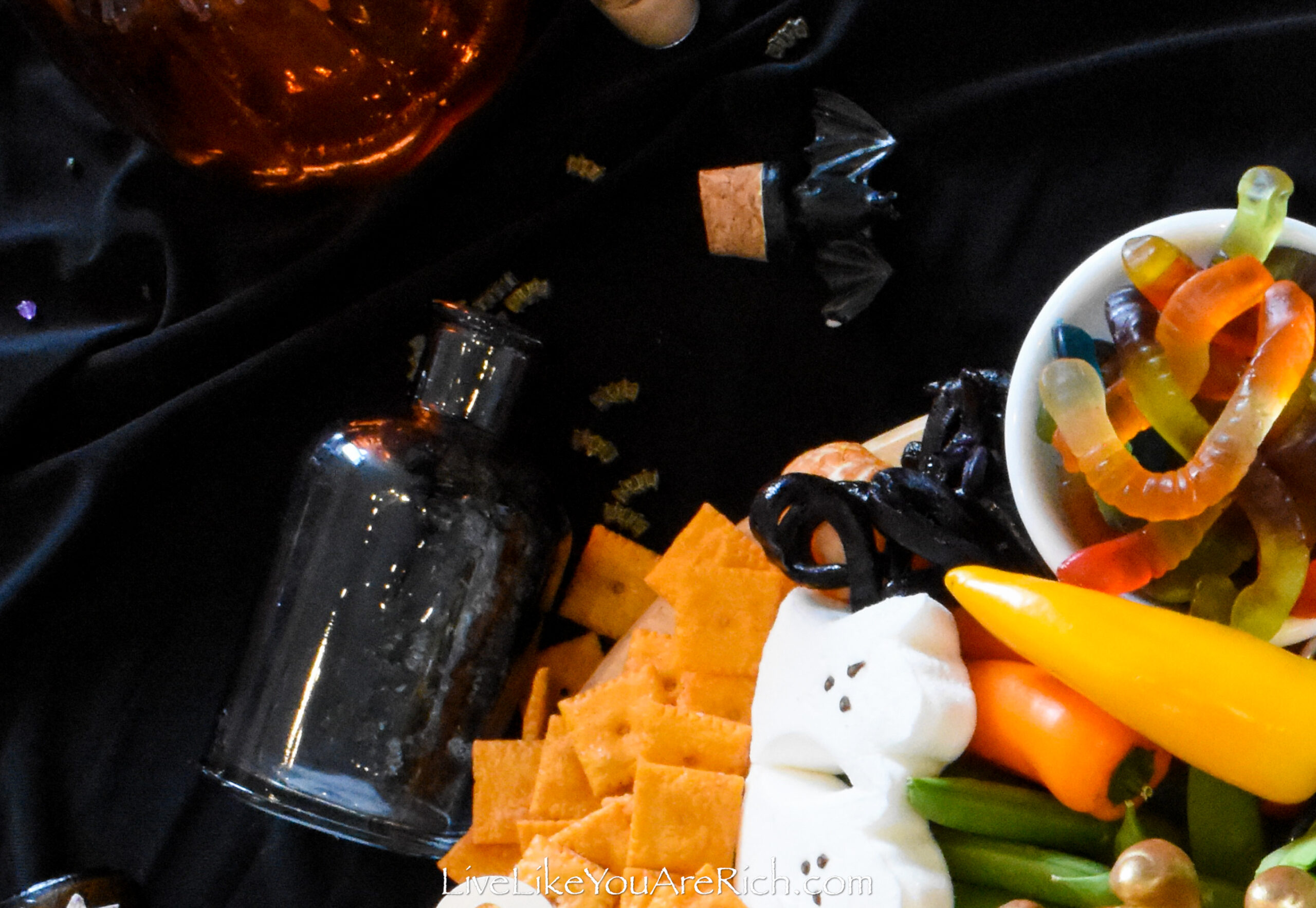 Kids Halloween Candy Charcuterie Board Decorations
Ikea SNUDDA lazy susan wood board
Black Material
How to make a Kids Halloween Candy Charcuterie Board Affordable
Although making a Charcuterie Board seems like a lot of work and expense, it is actually pretty simple and can be relatively affordable.
I usually find food that is on sale and then work with it and whatever else I have in my fridge, pantry, and baking cabinet.
For the decor, I use items that I've bought for previous holidays and/or parties.
For this board, The gummies (peach rings, worms, and Peeps) were all on sale at Target for .80 each .74 cents with my red card. So, the five candy bags= $3.70 with a red card.
Target was having Halloween candy bags on sale for $3.00 each. With my Red Card, it made them $2.85 each. I bought the pumpkins, caramel apple suckers and mallow creme, candy corn, and Nerds candy corn for $2.85 ea= $14.25. Plus, I had a lot of candy left over that I'll use later.
I got 2 packs of Sweet Toothfairy Halloween sprinkles on sale with a coupon from Michaels for $1.50 each (after Halloween next year). The candy is still good as sprinkles can last years.=$3.00
I got the Werther's Originals from Dollar Tree=$2.50
The rest of the candy food, popcorn, veggies, and decor I pulled from my fridge and pantry and just made use of what we had on hand.
So, this Kids Halloween Candy Charcuterie Board and decor cost just under $25.00 out-of-pocket.
My kids were so excited about this board and loved eating off of it, it would be great for Halloween parties and October get-togethers.
I hope this post helps you put your own Kids Halloween Candy Charcuterie Board together.

For other 'rich living tips' please subscribe, like me on Facebook, and follow me on Pinterest and Instagram.