Cedar Garland Tablescape.
This natural tablescape was fun and easy to create.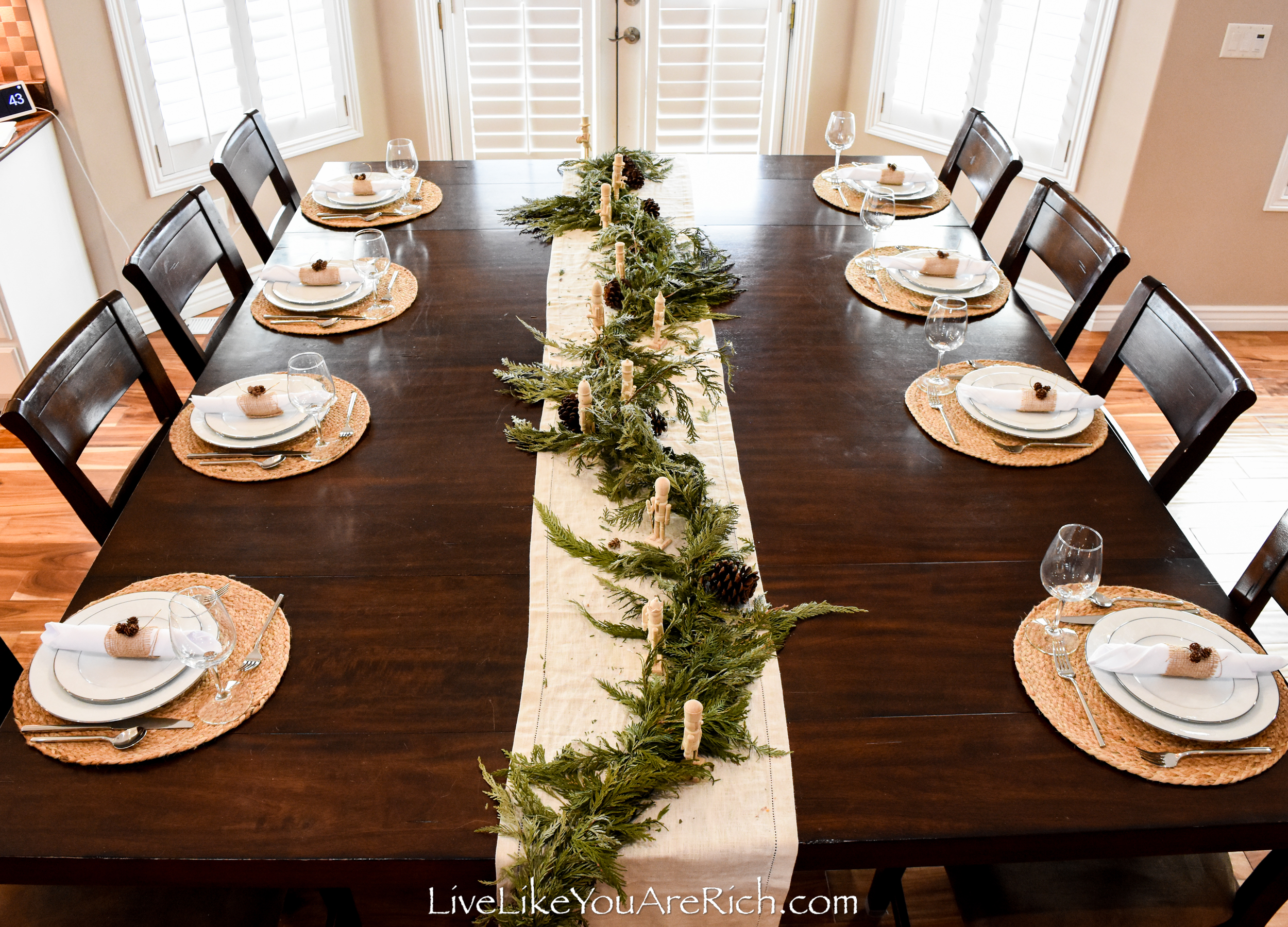 I love the wood grain with the linen runners, the jute placemats, burlap napkin rings, wood nutcrackers, and green cedar garland.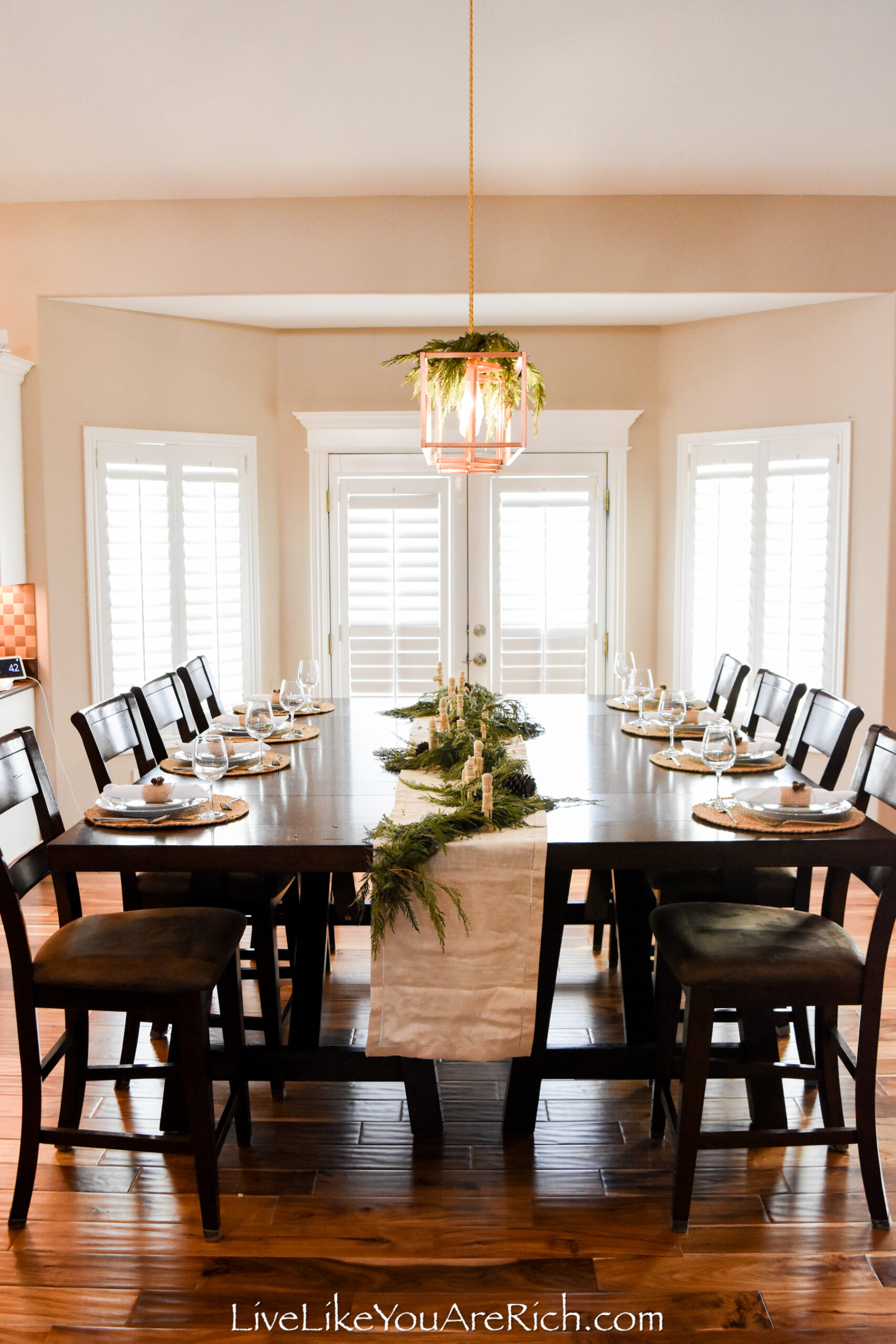 I really love how natural, simple, and elegant it is.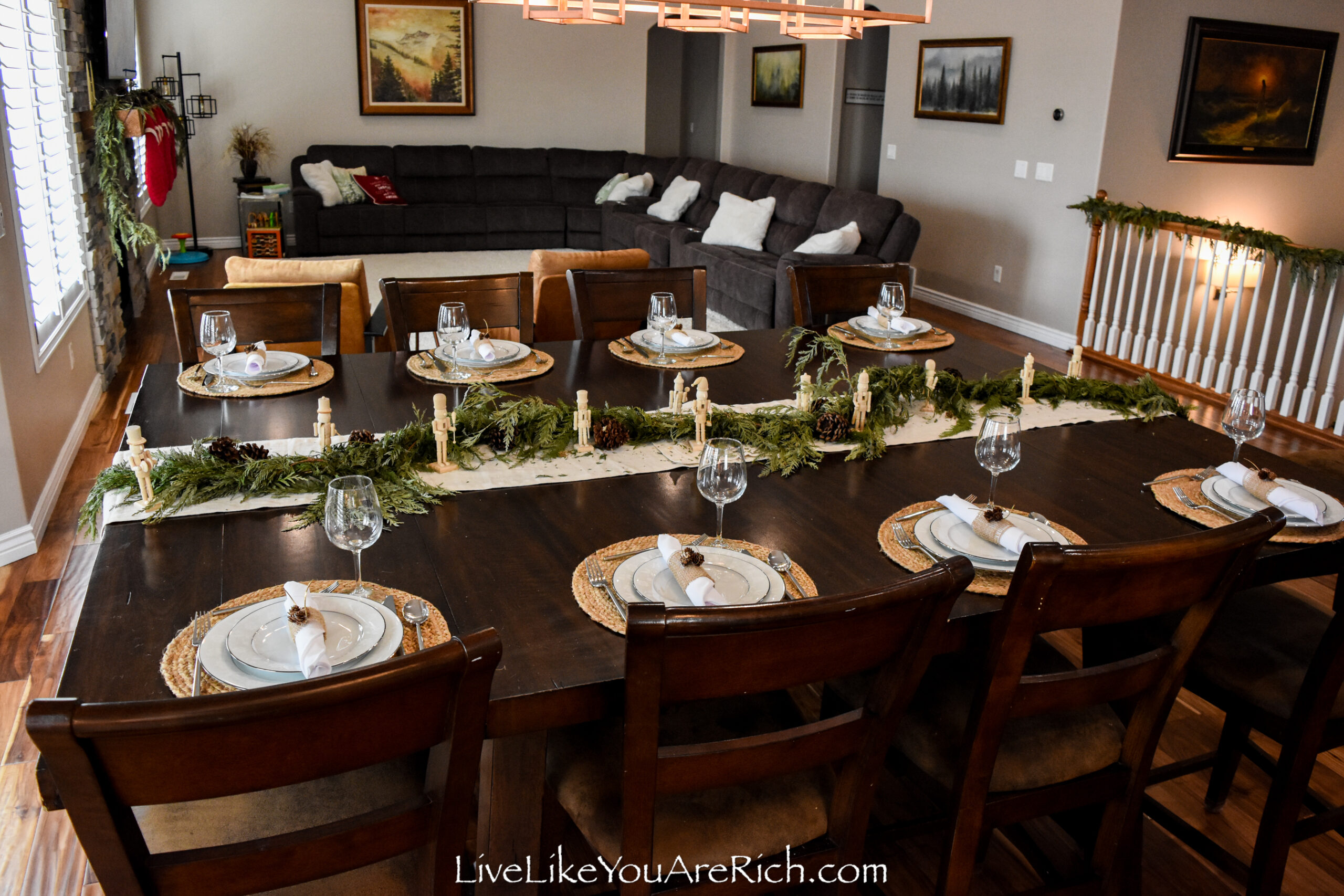 By using mostly items that I had on hand, it was fairly inexpensive to put together.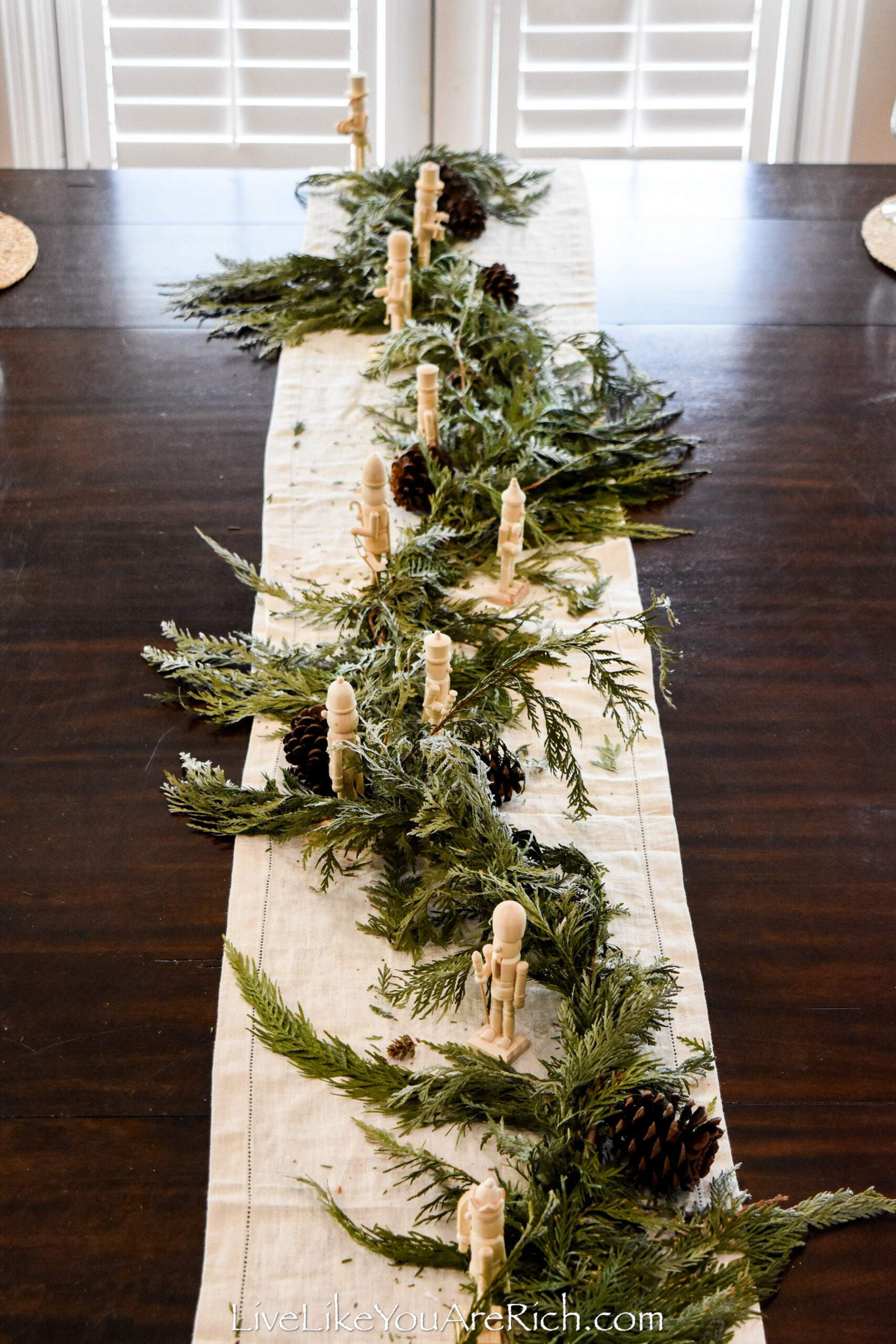 Supply List for this Cedar Garland Tablescape.
Cedar Garland
flatware (Sam's Club forged stainless steal 18/10)
napkin rings handmade—my tutorial on how I made these is here
11 small unfinished wooden nutcrackers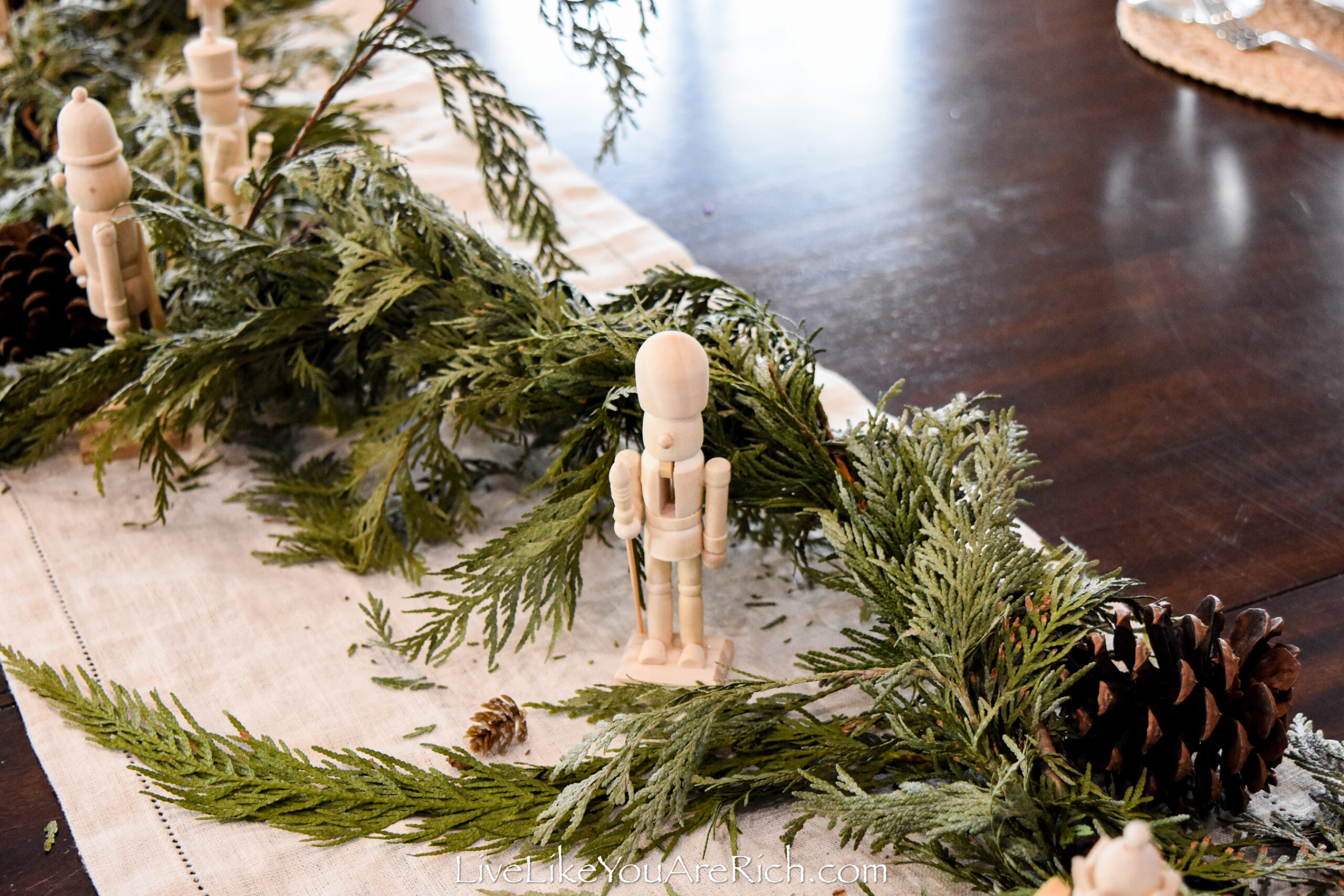 How to put together this Cedar Garland Tablescape.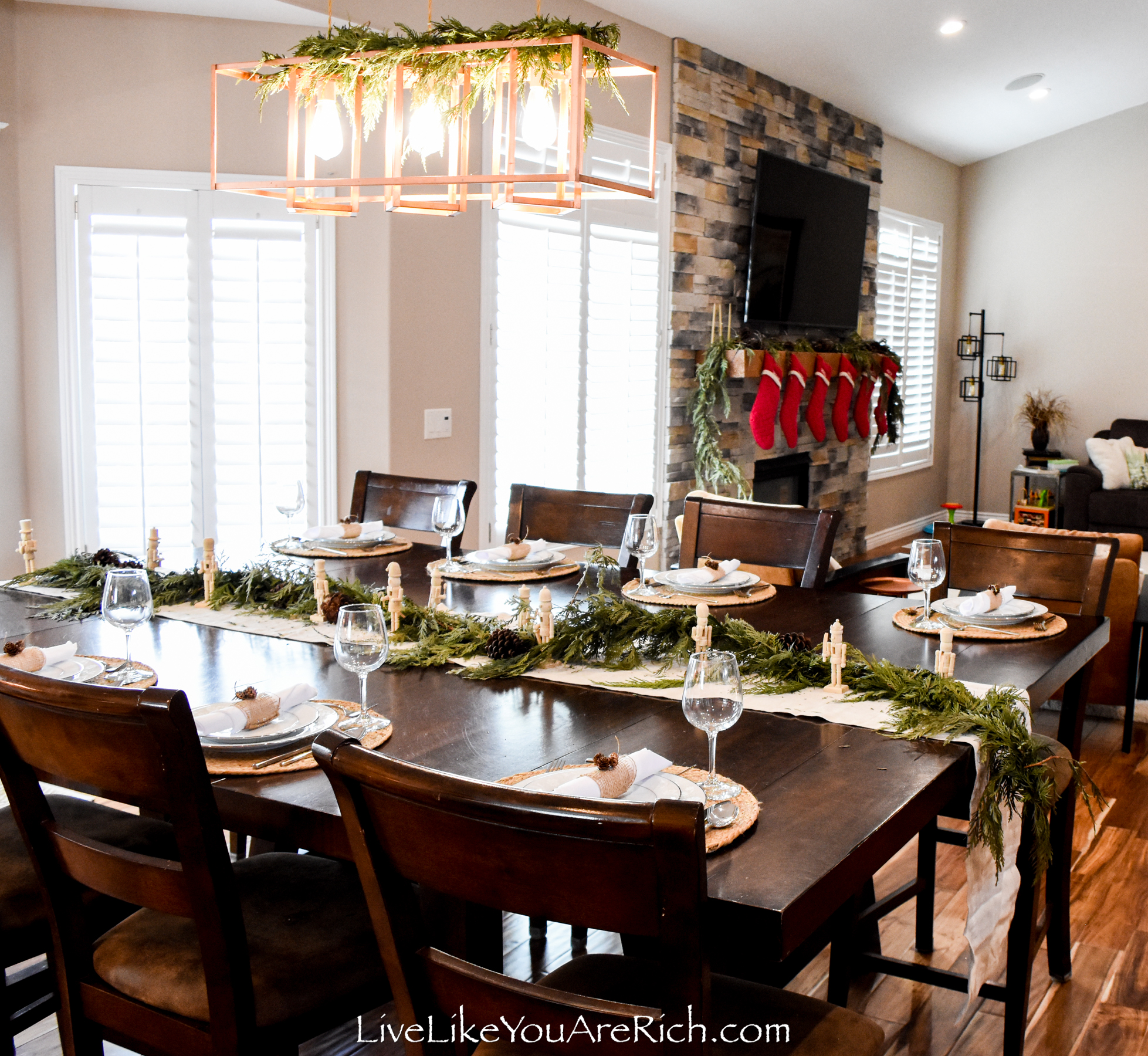 First, I pushed our two dining tables together and laid 2 linen runners down the middle.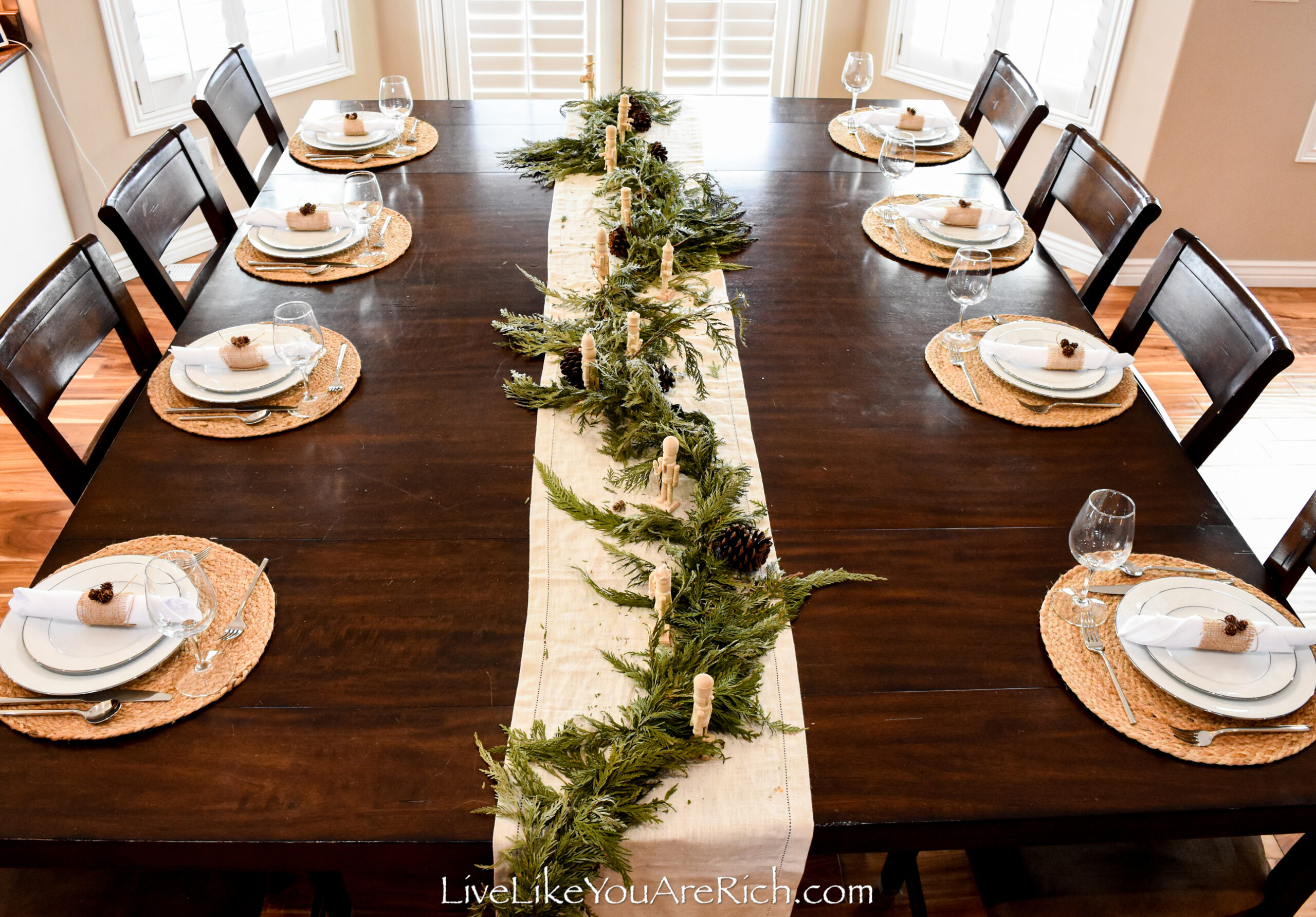 Then I laid about a 10′ length of cedar garland on the runner. After that, I put 11 unfinished wooden nutcrackers around the cedar garland.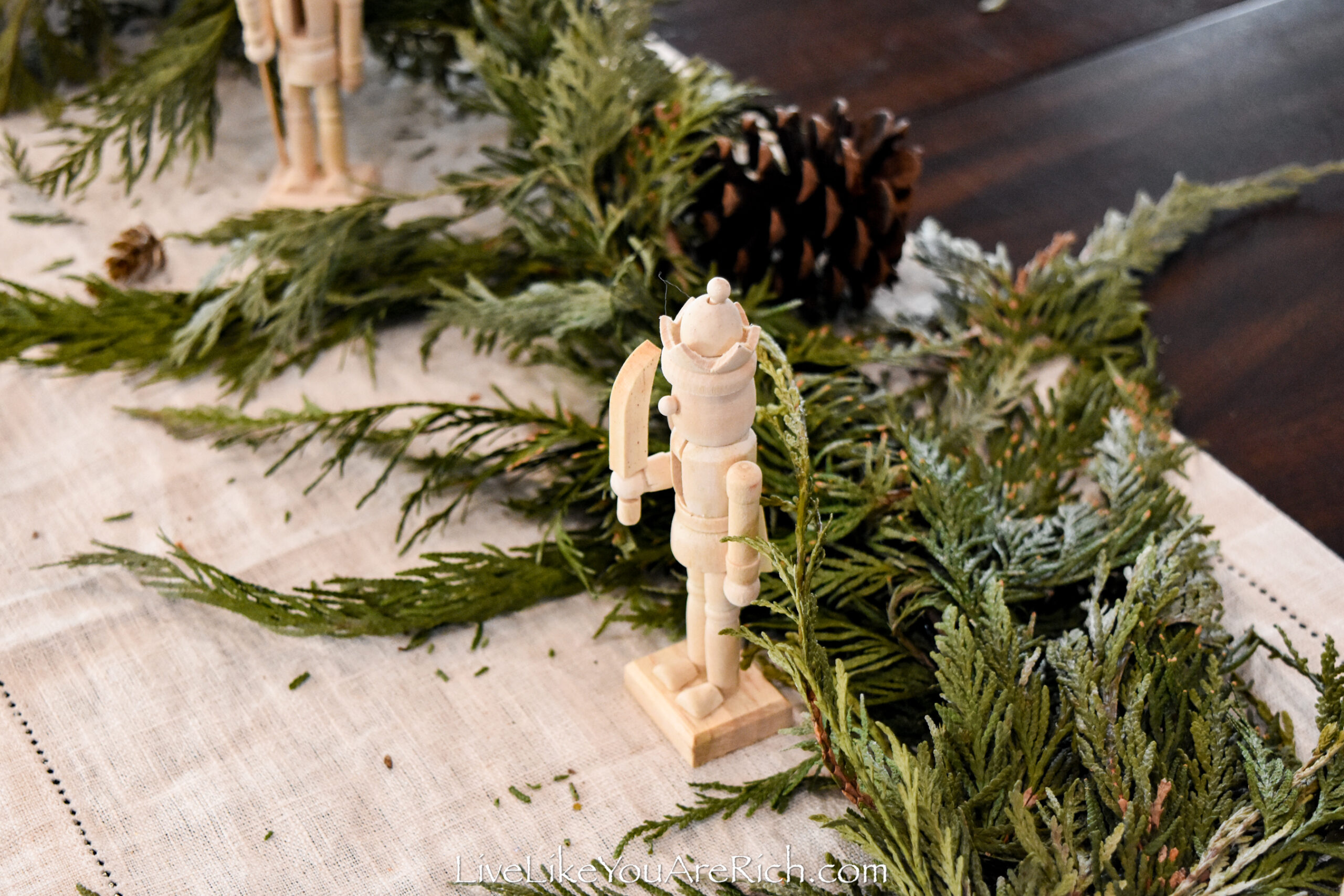 Next, I put about 4′ of cedar garland on top of our copper light fixture.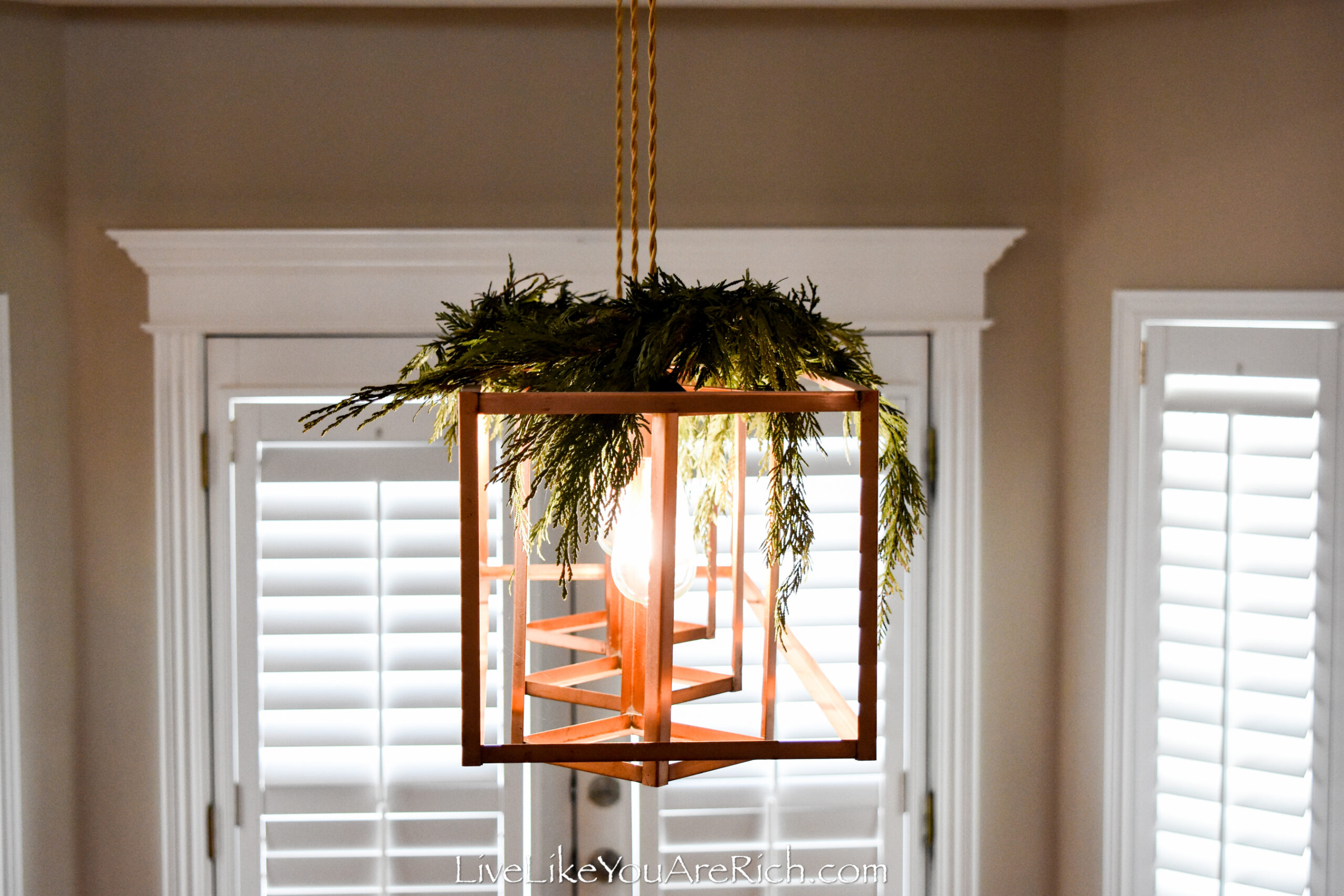 It looked really pretty together with the tablescape.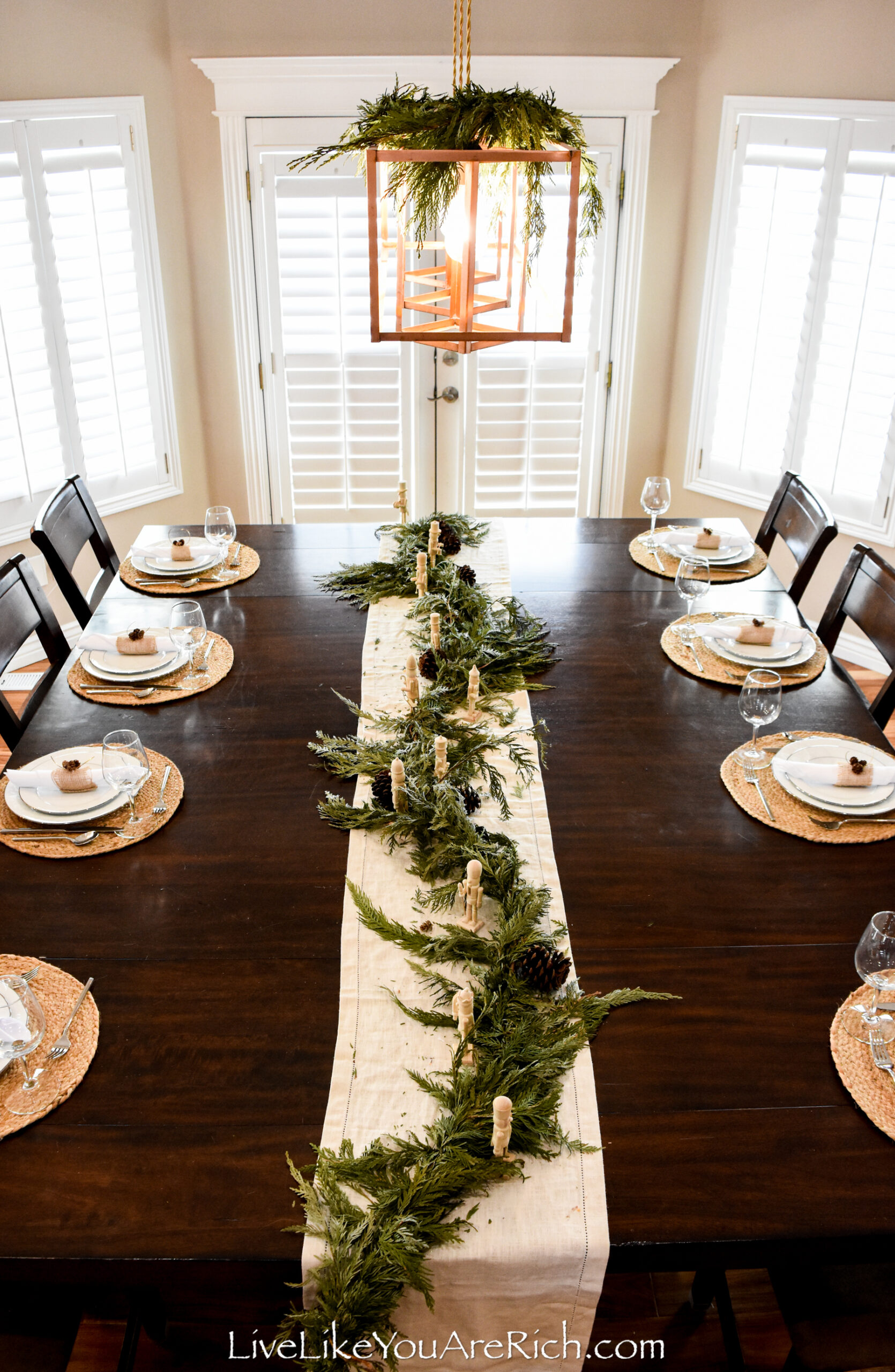 For the place setting, I placed a jute placemat down with white china on it.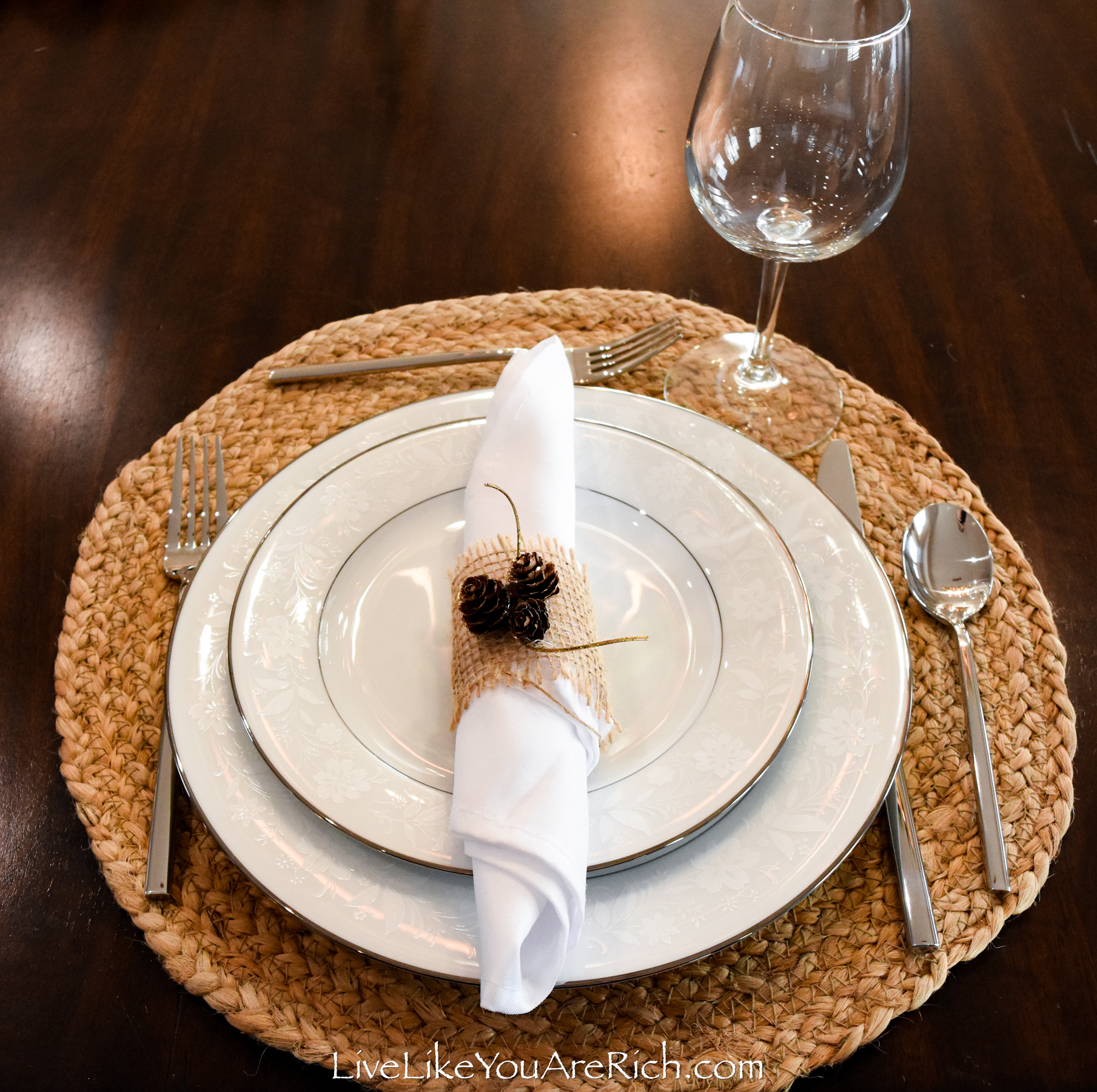 A white napkin was placed inside a handmade burlap napkin ring.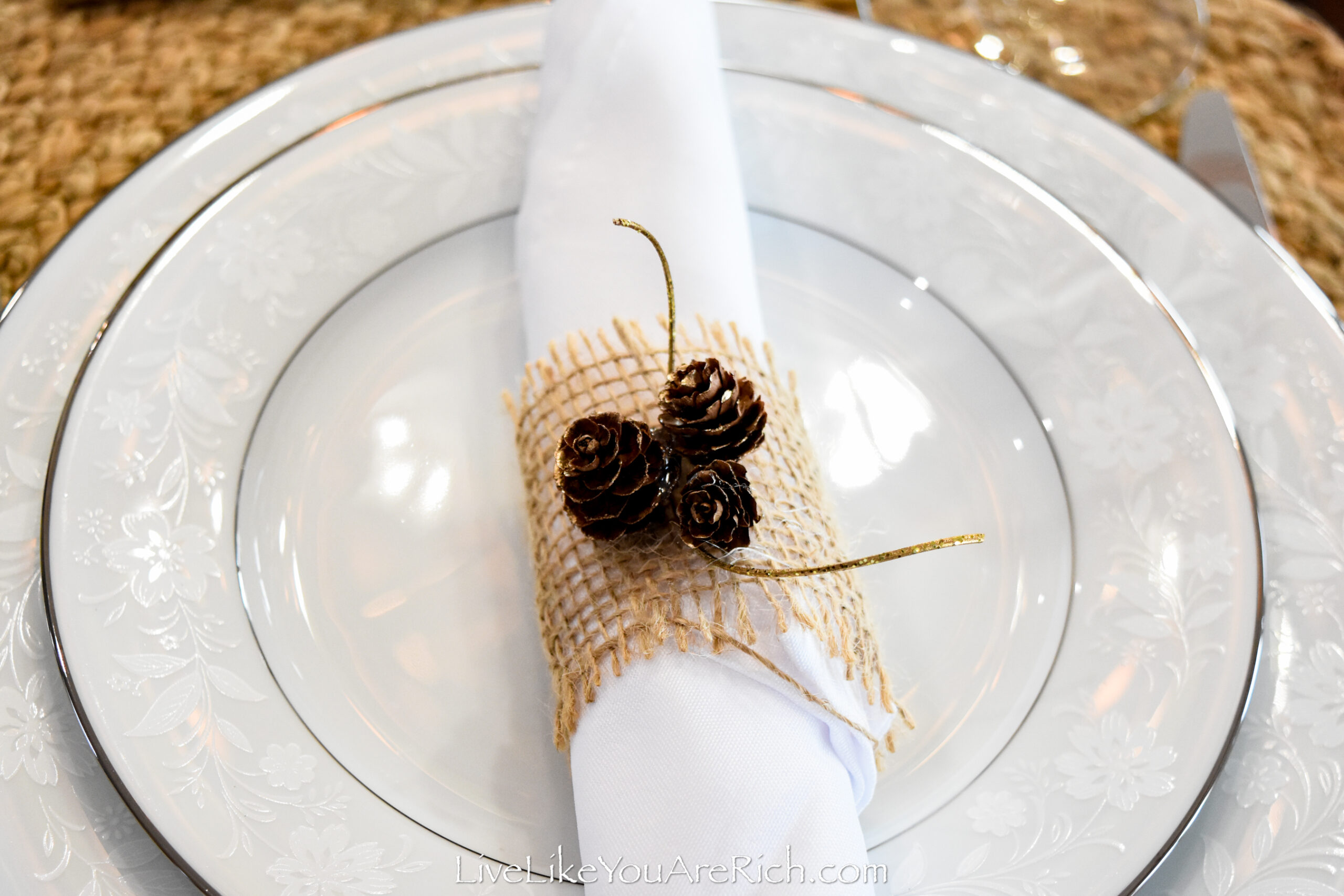 These napkin rings were made a year or two ago fairly quickly just using items I had on hand. To see the tutorial on how to make them, check out this post.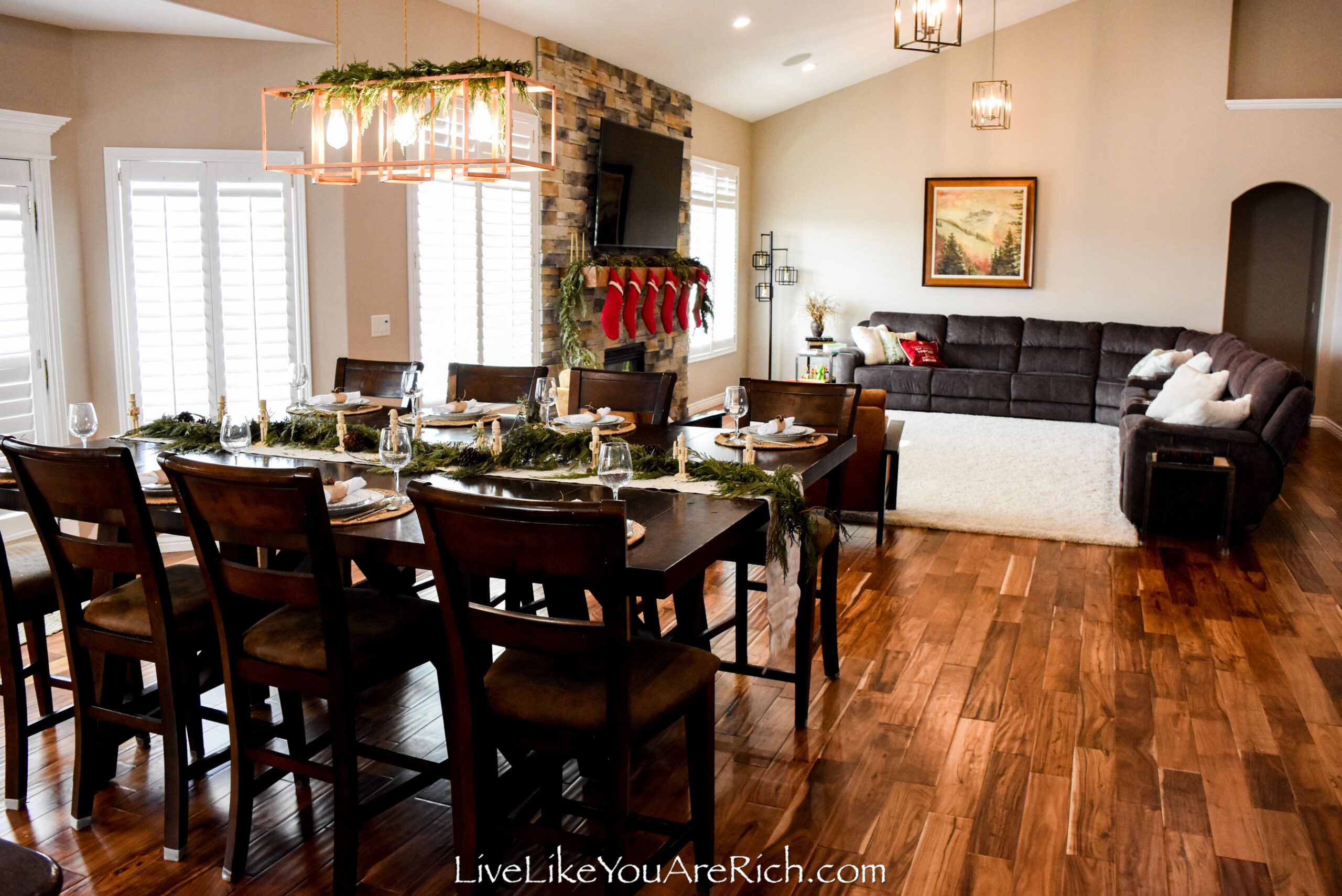 A tip about using Cedar Garland
This year I decorated with cedar garland—live cedar garland, and I will never do it again!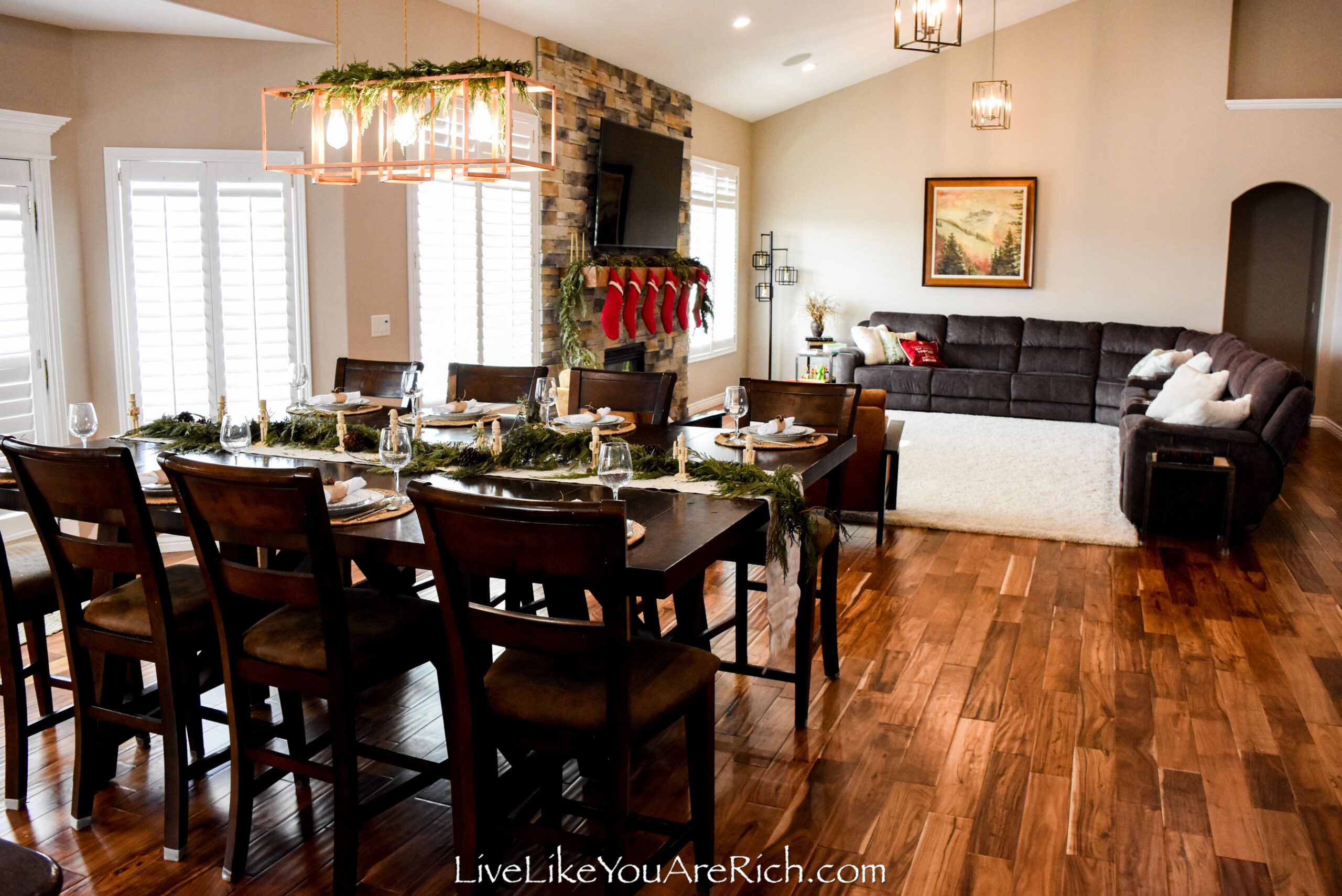 I will most definitely use live garland for a tablescape like this but never all over my home again.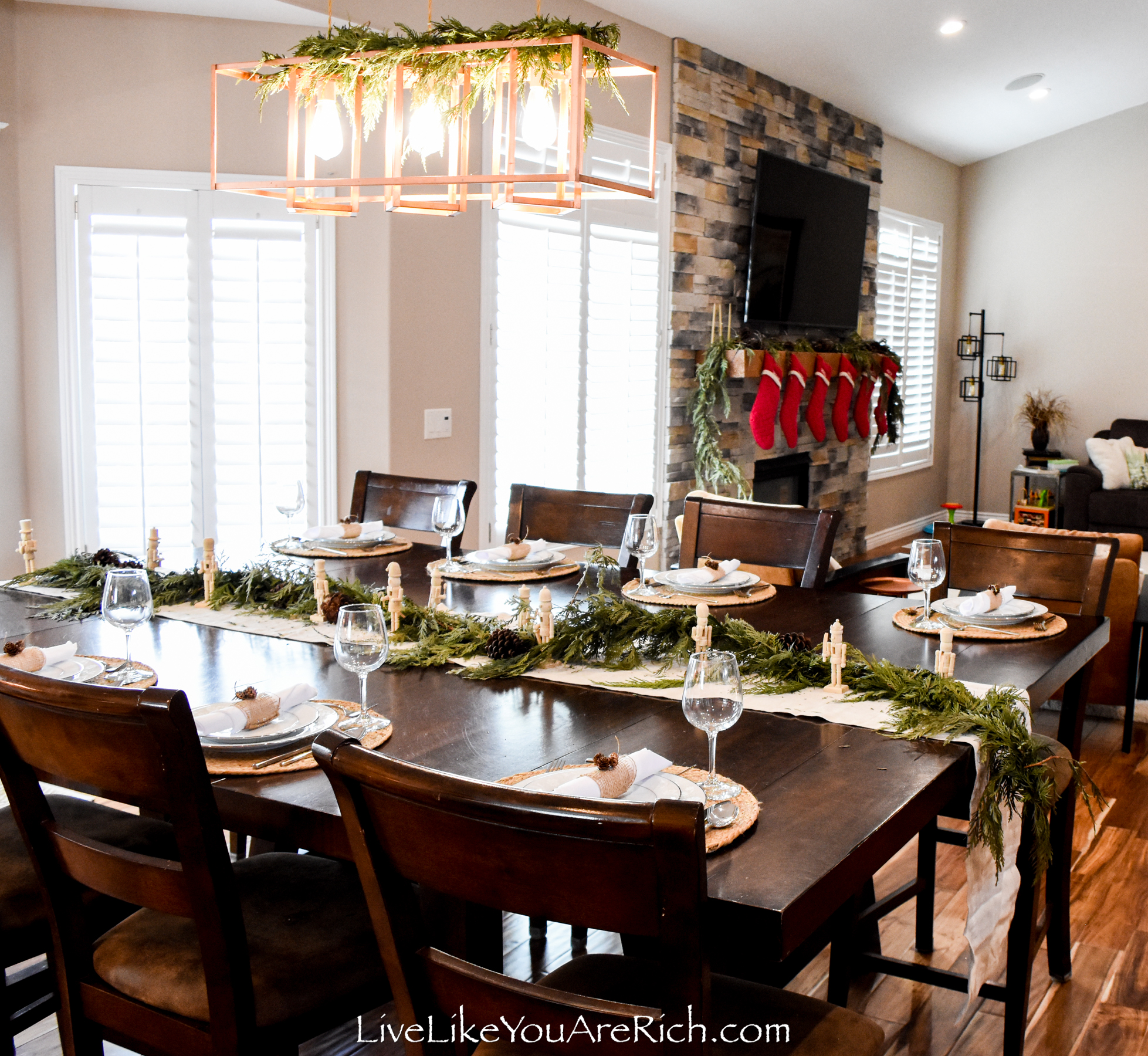 Utah has a dry arid climate and with the HVAC system heating and drying out our homes even faster, cedar garland only lasts about 5 days (spraying it with water a few times a day), and then it begins drying out and falls apart at the slightest touch.
For my first batch, I sprayed it two times a day with water and it dried out in 5 days. For the second batch, I soaked/submerged the garland in water mixed with 8 cups of vegetable glycerin to test and see if it would help preserve it and while that did give me an extra few days without daily spritzing with water before it dried out, 8 days wasn't what I was hoping for. The mess and time involved made me want to warn anyone in a desert climate to be careful about decorating with cedar garlands indoors.
My plan going forward is to just use faux garland for my long-term decorations that I plan to have up for over a week and use the live stuff for a tablescape/party.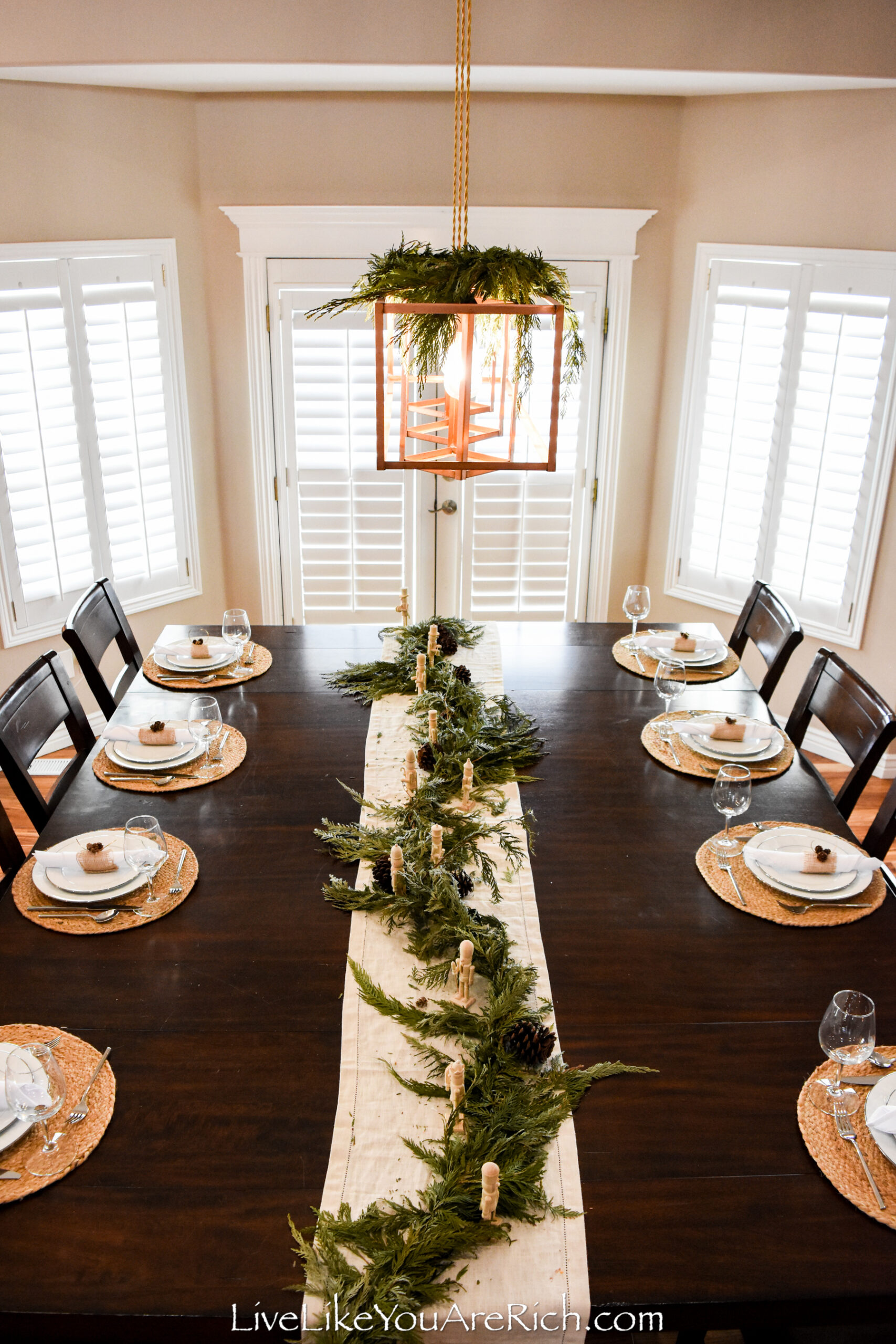 Tips on putting together any tablescape.
It is typically best to not place a centerpiece on the table that obstructs the view of those who are eating.
Create a focal point. While the focal point does not have to be in the center of the table for each tablescape, this one is. The focal point is the garland that runs the length of the center of the table.
Group items in odd numbers. As you can see I have the nutcrackers grouped in 1's. This is a tip that interior decorators use as it helps to add beauty and—ironically, balance to an area or tablescape.
Tie in at least one common color, theme, item, or texture from the place settings to the centerpiece.
A nice tablescape has continuity between the centerpiece and the place settings. You can do this using color, which I find the easiest, or you can do so with a theme, like Christmas tree napkin rings and tree centerpieces, or you can do so using similar materials such as an evergreen centerpiece and an evergreen clipping set on the place setting, or a linen napkin and a matching linen table runner, etc. In this Cedar Garland Tablescape the jute placemats and burlap napkin rings match the color of the wooden nutcrackers. Also, the garland on the table matches the garland on the light fixture. This adds continuity.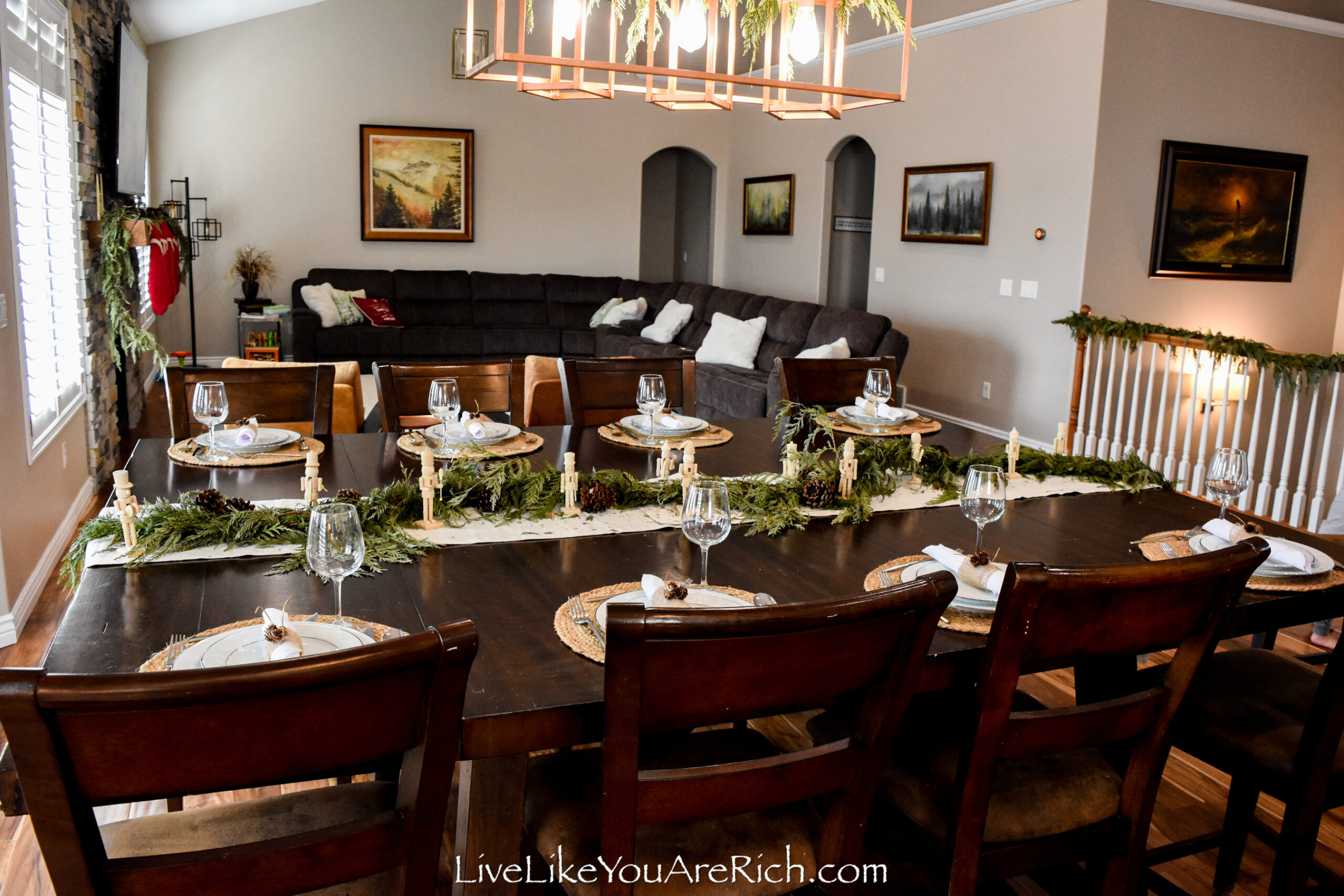 Zooming out even further, the garland on the table matches the garland on the mantel and stair rail. As mentioned though, I will not be using live garland to get this look in future years. When I decorate my mantel and star rails with garland again, it will be faux garland.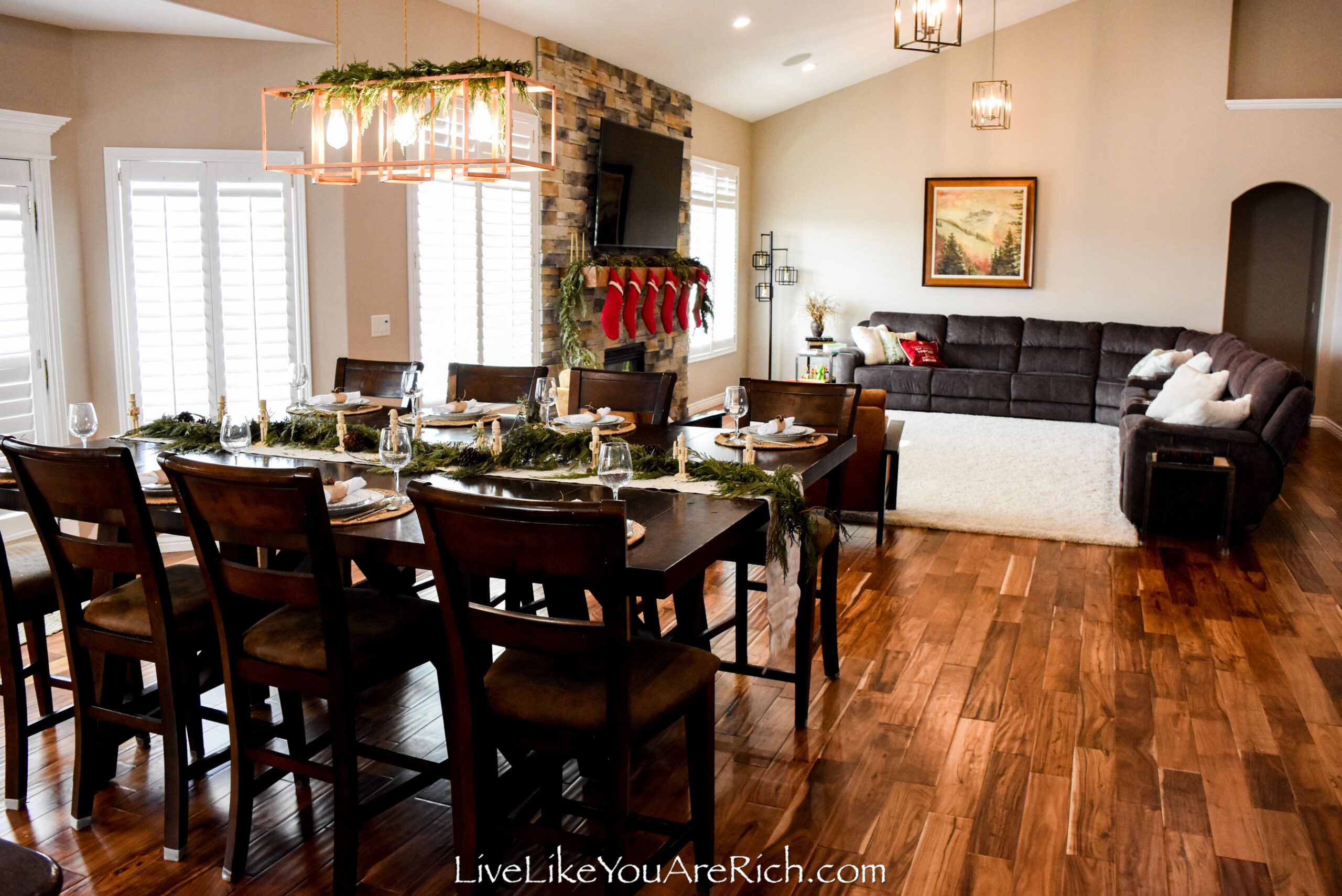 My final tip is to buy items in the after-holiday sales.
I was able to get each pack of nutcrackers for $1.00 for 6 in the after-Christmas sales.
Many stores discount 50-70% the week after Christmas and an additional 80-90% in the first week or two of January. I like to go in January to Michaels, Joanns, Hobby Lobby, Walgreens, CVS, Home Depot, and Lowes. It is "slim pickin's" by this time but I was able to find a few packages of 5″- 6″ unfinished wooden nutcrackers in a 90% Christmas sale for $1.00 for 6.
I find that by doing shopping after Christmas 90% off sales, I save A LOT and can afford to create new and different tablescapes each year.
Also, going when everything is 90% off forces me to be creative with what I can find as supplies are typically limited.
If you are pickier about what you want or need larger quantities I'd recommend going shopping before January to get the deals—and while they won't be marked down to 90% off typically as they will be early to mid-January, you'll have more options.
Total Cost for this Cedar Garland Tablescape.
$2.00 for the nutcrackers
$10.00 for the live garland piece.
I had everything else so, it cost $12.00 total.
If you use and reuse items and shop in the after-Christmas sales, you can create tablescapes without spending a lot.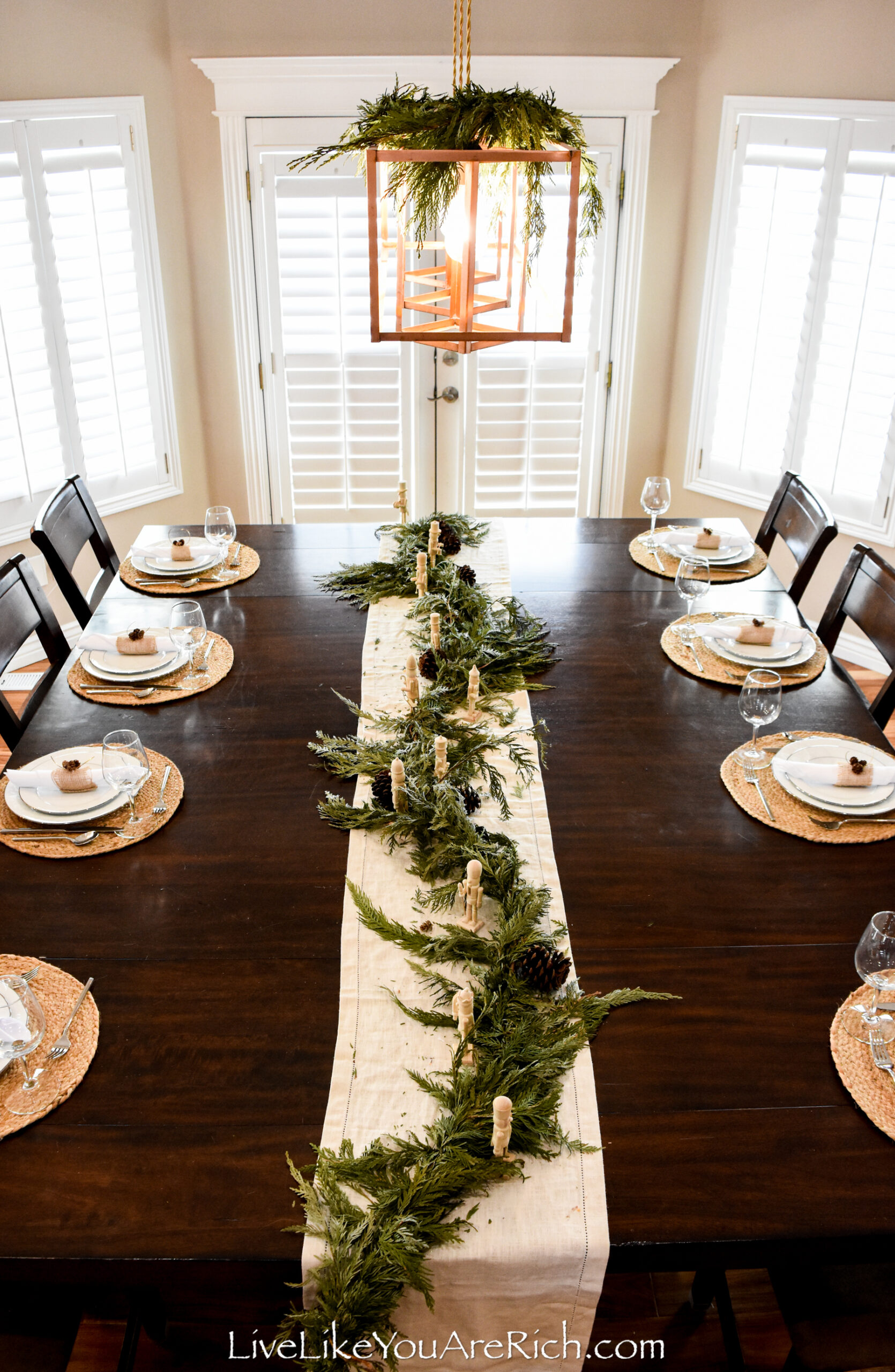 Merry Christmas.

For other 'rich living tips' please subscribe, like me on Facebook, and follow me on Pinterest and Instagram.