Christmas Sweater Tablescape.
We hosted a few times this past week and on one of the nights, we had 22 people over for a family Christmas party.
I thought it would be fun to have different themed tablescapes for our party so I set out to choose themes for the adult, kids, and teenager tables.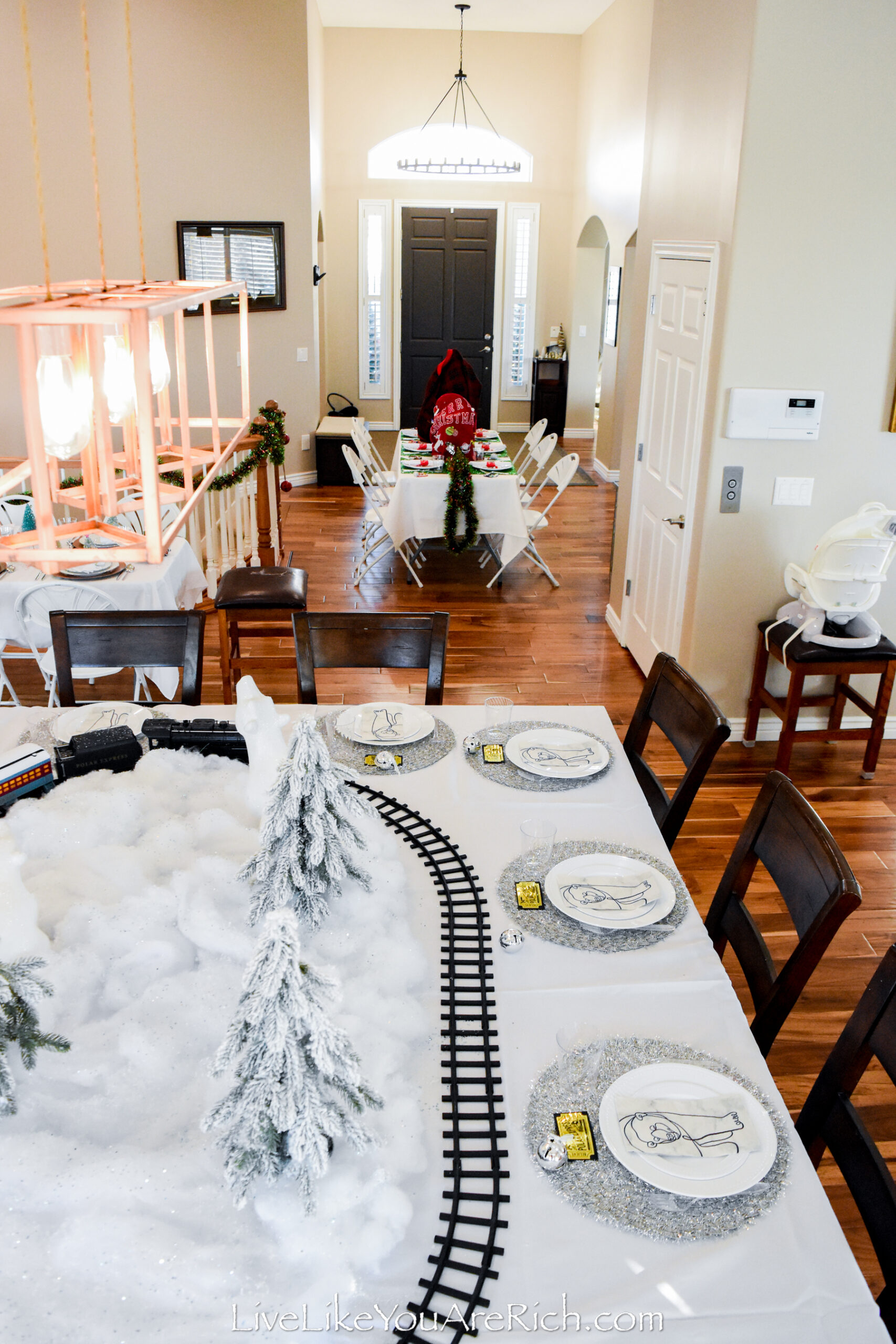 Anyone could sit anywhere, however, I thought the kids would most like a Polar Express tablescape, the adults this vintage tablescape, and the teenagers this Christmas sweater table.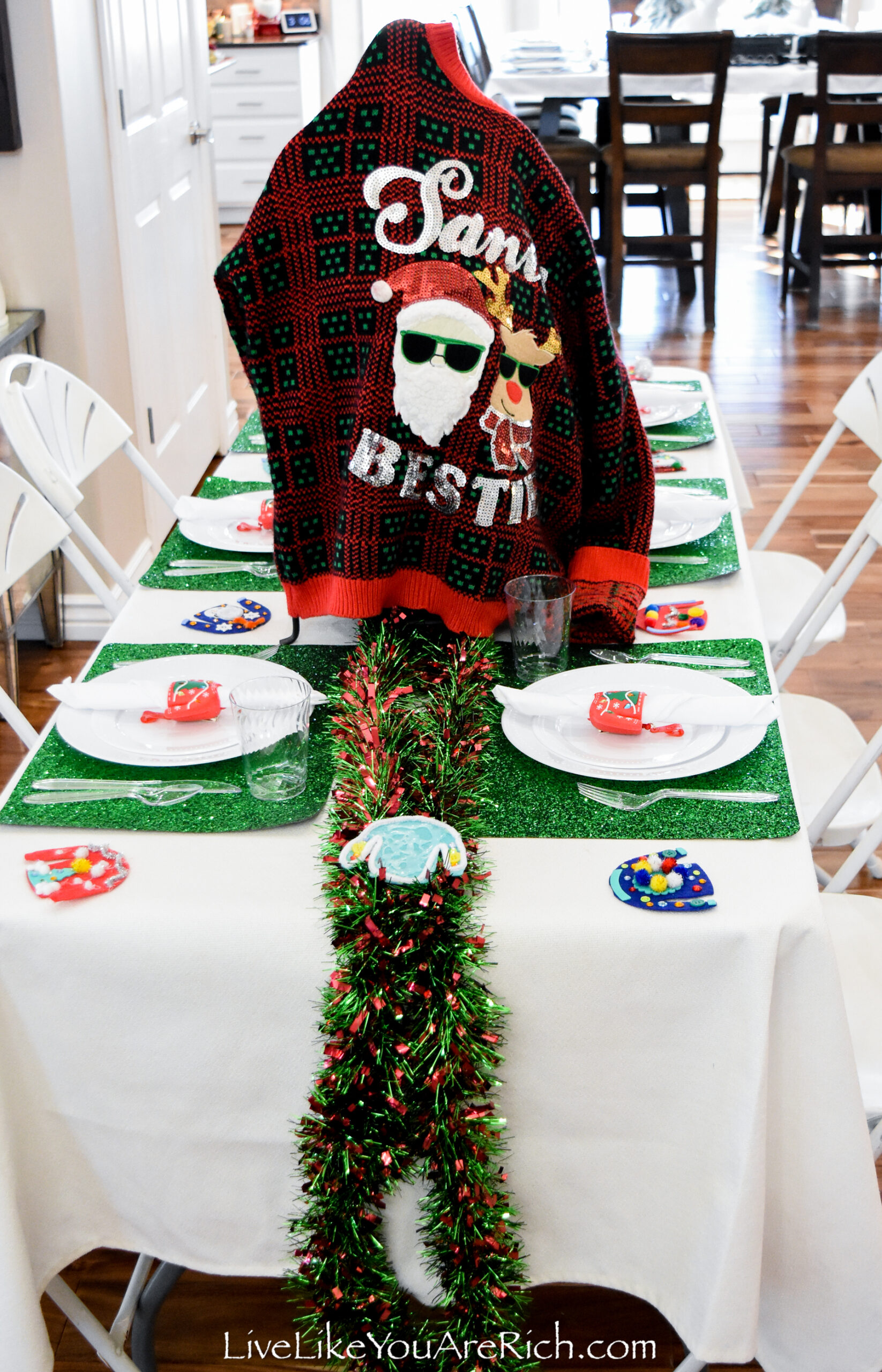 I designated this the teenager Christmas Sweater table and they seemed excited that it was the one they got to sit at.
How to put together this Christmas Sweater Tablescape
I had the idea to do this tablescape because I had 6 really cute Christmas Sweater hand-sanitizer-holding-lanyards from Bath and Body Works.
I bought them in the after-Christmas sale for a few dollars each and using pliers removed the necklaces from them.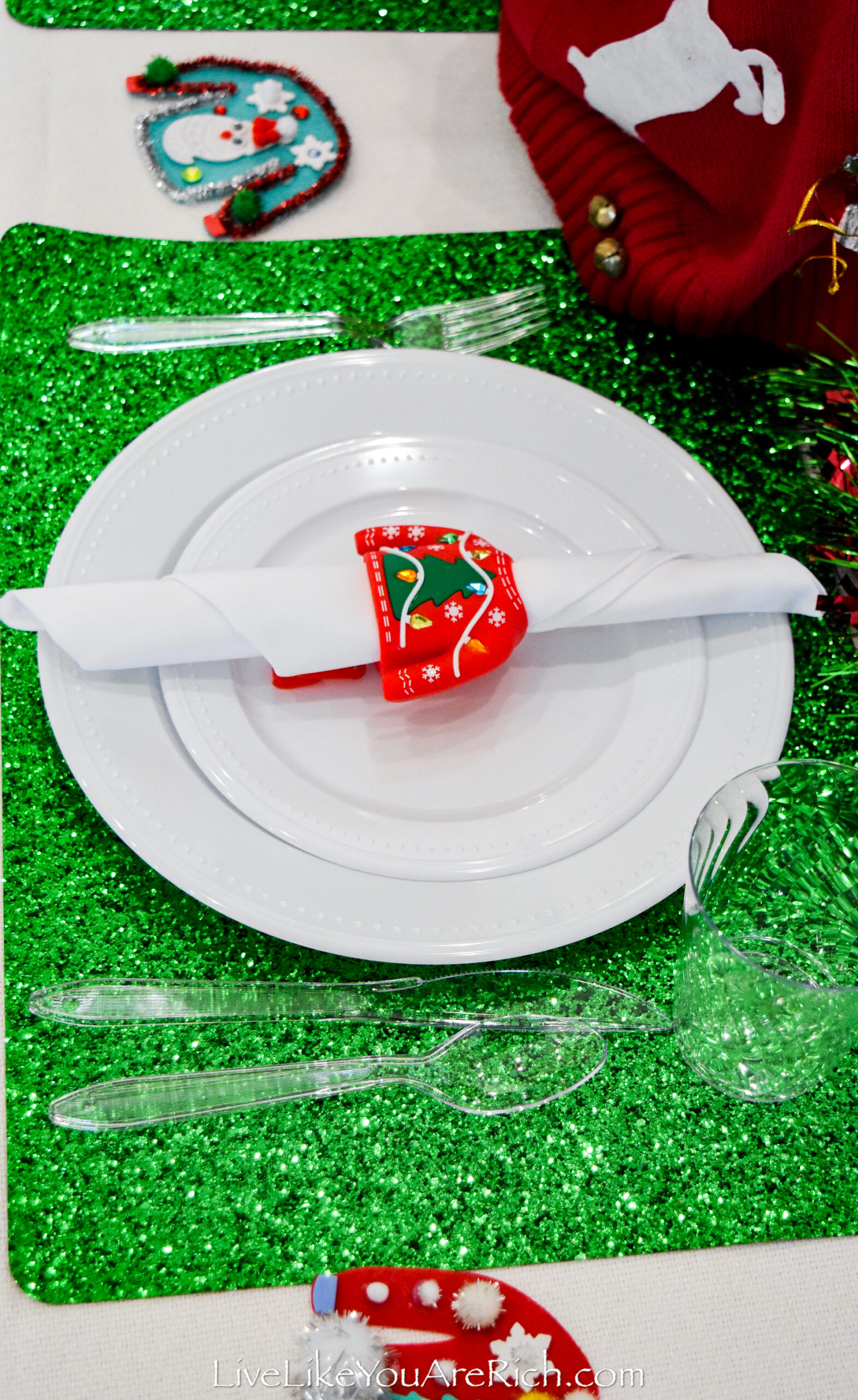 Then I rolled up a linen napkin and put the napkins inside.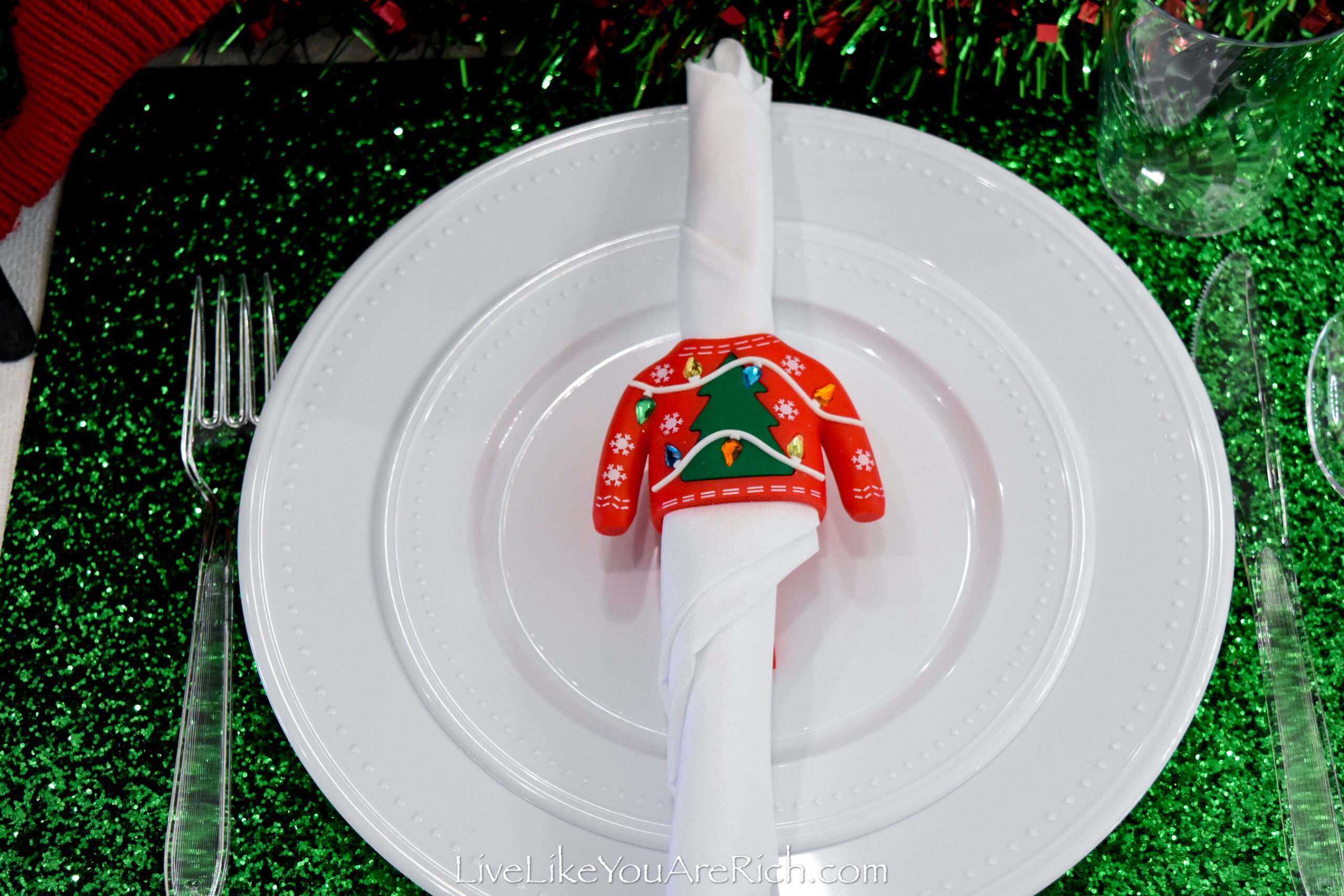 They sat on top of plastic plates and green sparkle placemats.
I set out clear plastic cutlery and plastic cups.
I ran two lengths of green and red tinsel garland along the top of the white tablecloth.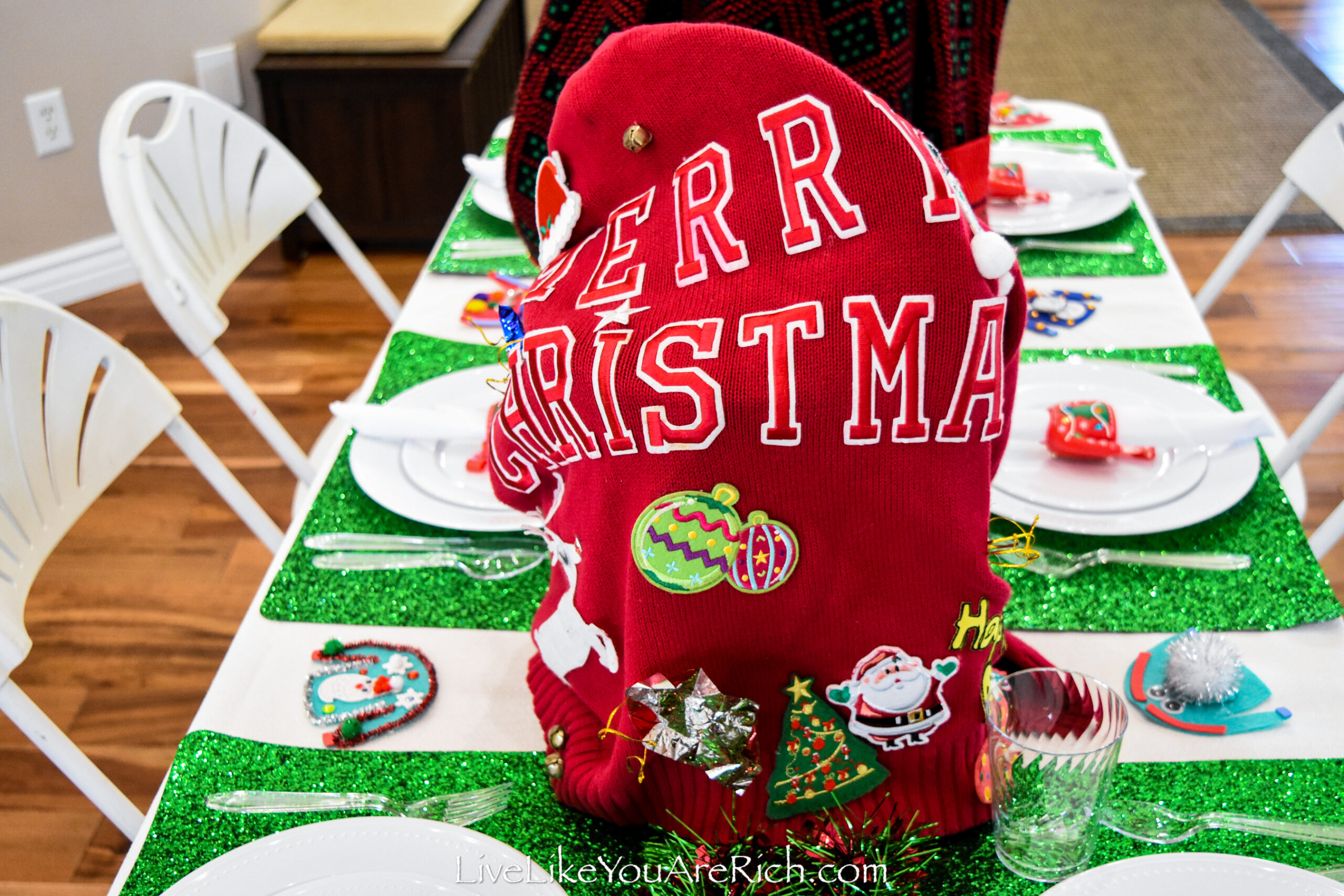 I had two 3-tiered dessert stands that I put inside two Christmas sweaters to show them to advantage.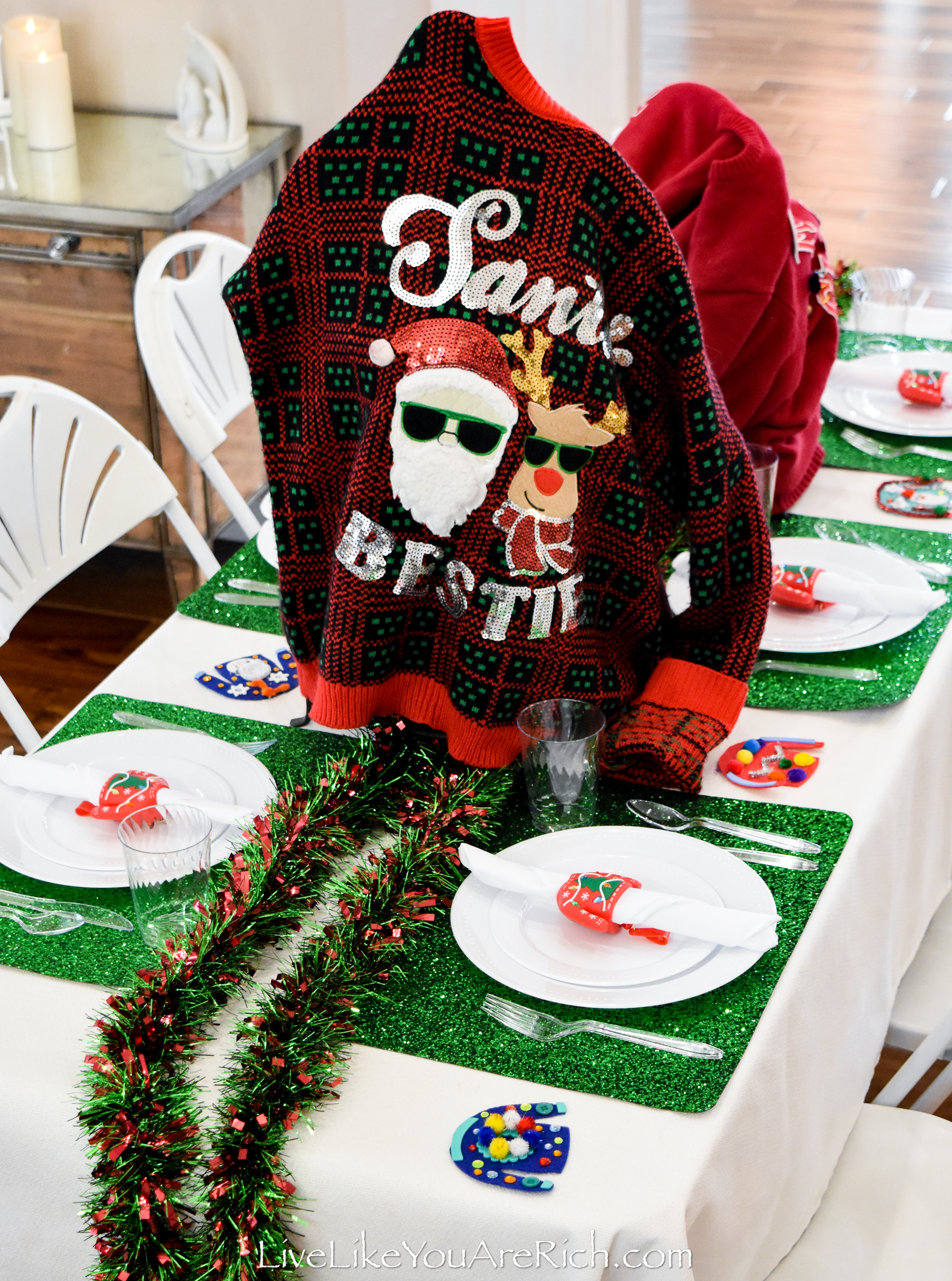 My daughter and I made the little felt ugly Christmas sweaters together. We made nine for the table.
They were very easy crafts and were fun to make together.
To make these, you can buy an ugly sweater craft kit and follow the instructions…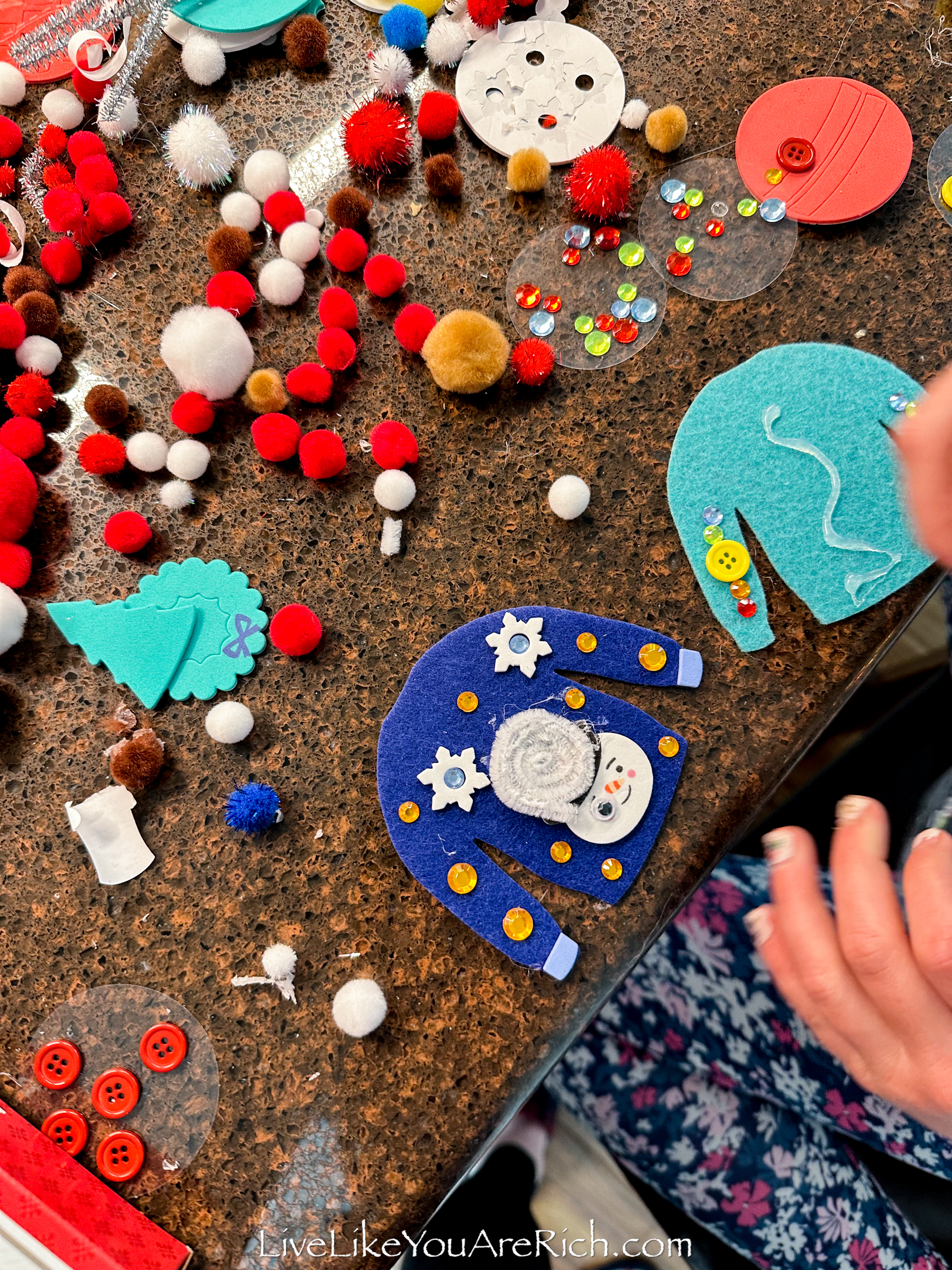 Or if you have a lot of craft items on hand, you can just cut out the sweaters using a Circuit or cut them out by hand.
Then use hot glue to add buttons, sequins, pipe cleaners, foam stickers, gems, mini Christmas lights, and other things onto them to make the designs.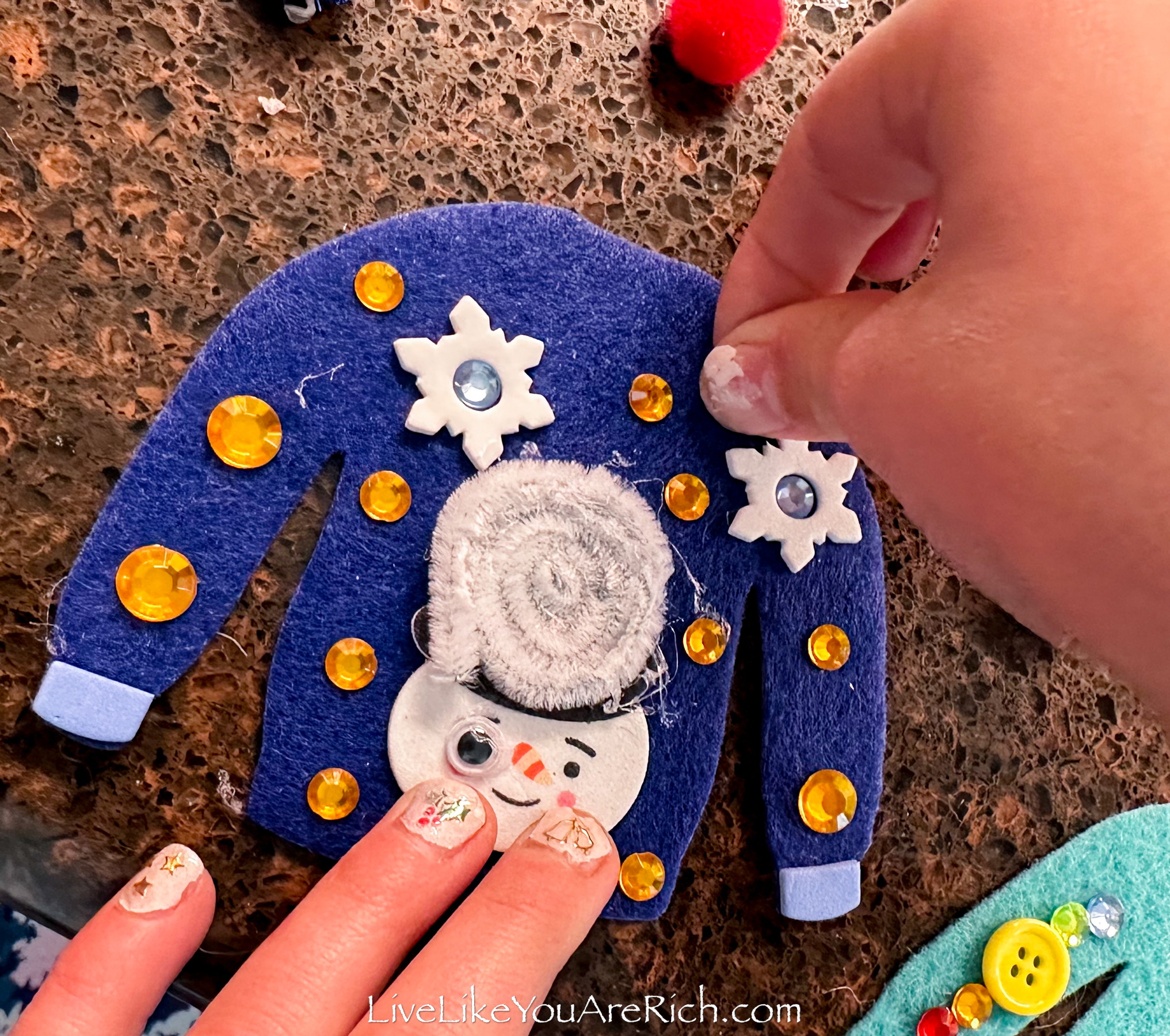 I really liked the way they turned out, but mostly I loved making these ugly Christmas sweaters with my daughter.
She is crafty and artistic and creating fun things together is something we both love to do.
We set those out all over the table and that was it. It was a very easy tablescape to set up and since I already had everything on hand, it cost under $5.00 with the plastic dinnerware.
Christmas Sweater Tablescape Supply List
Christmas sweater napkin rings (Bath and Body Works PocketPac Christmas Sweater lanyards turned into napkin rings). You may be able to find these on Ebay if you want these exact ones.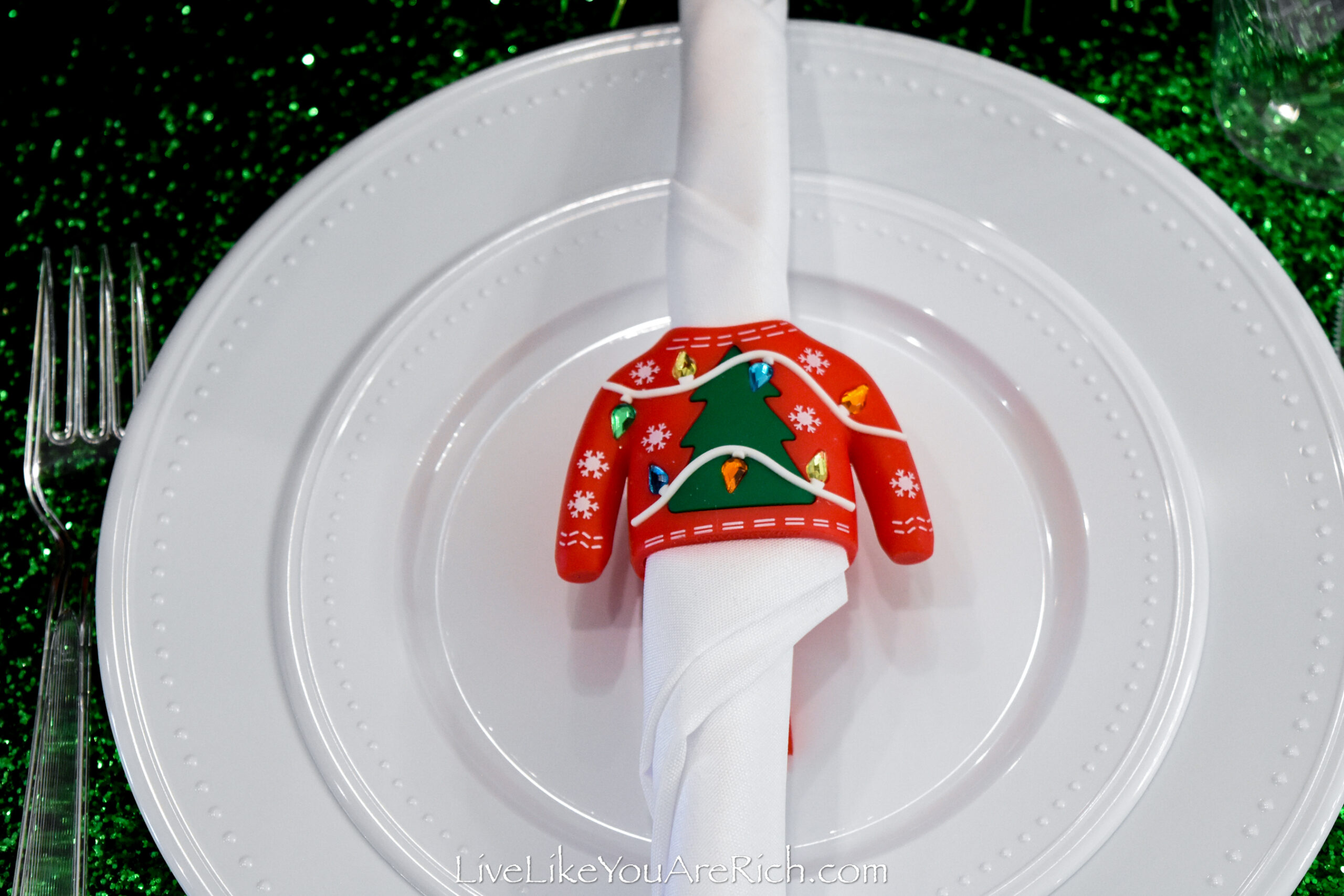 Ugly sweater felt craft kit (felt in sweater shapes and glued on pom poms, pipe cleaners, gems, jewels, buttons, stickers, hot glue, etc.)
2- Three Tiered serving stands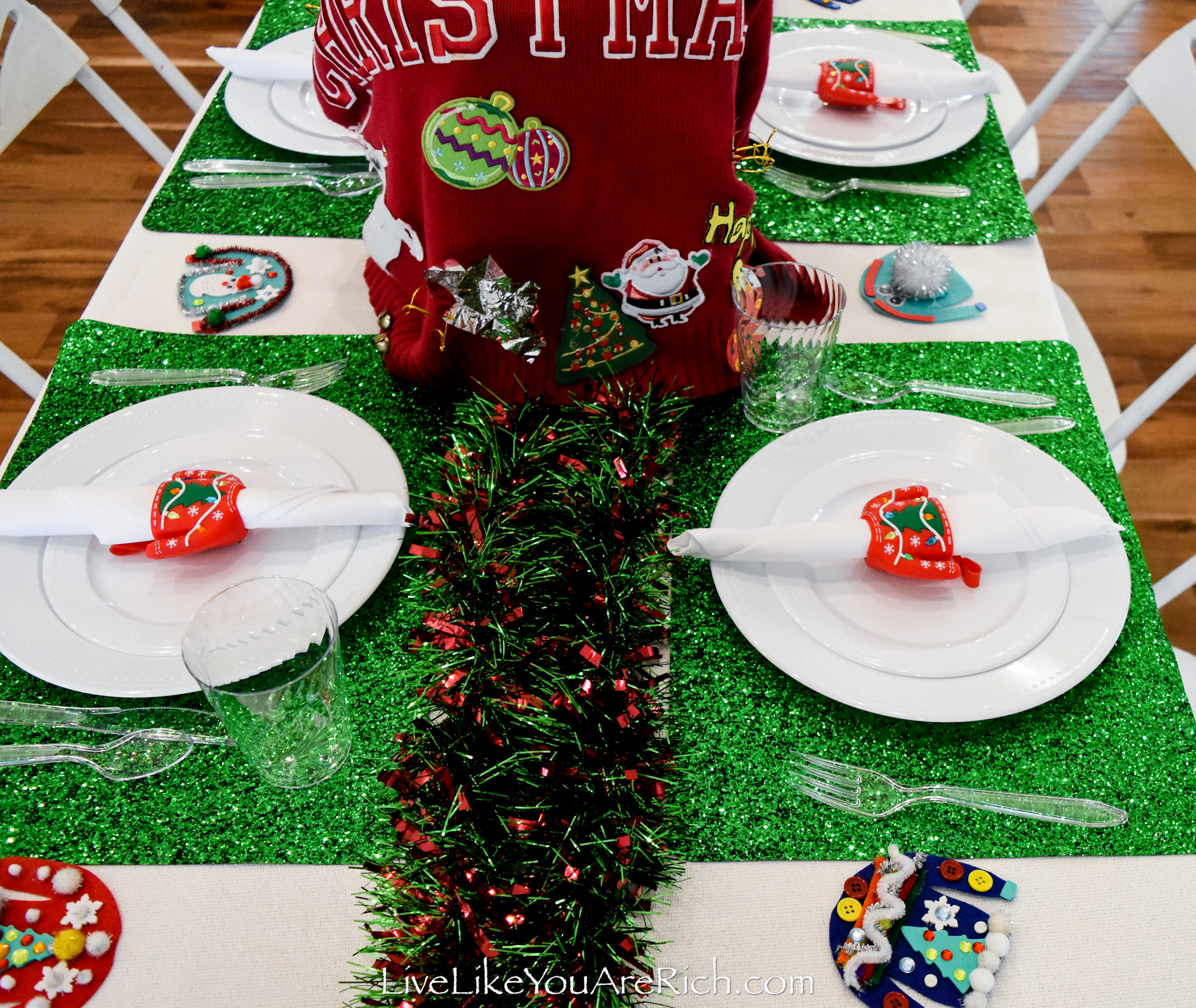 If you do this style of the tablescape, it would likely be best to remove the tall stands with Christmas sweaters when everyone sits down to eat so that their view of one another is not obstructed.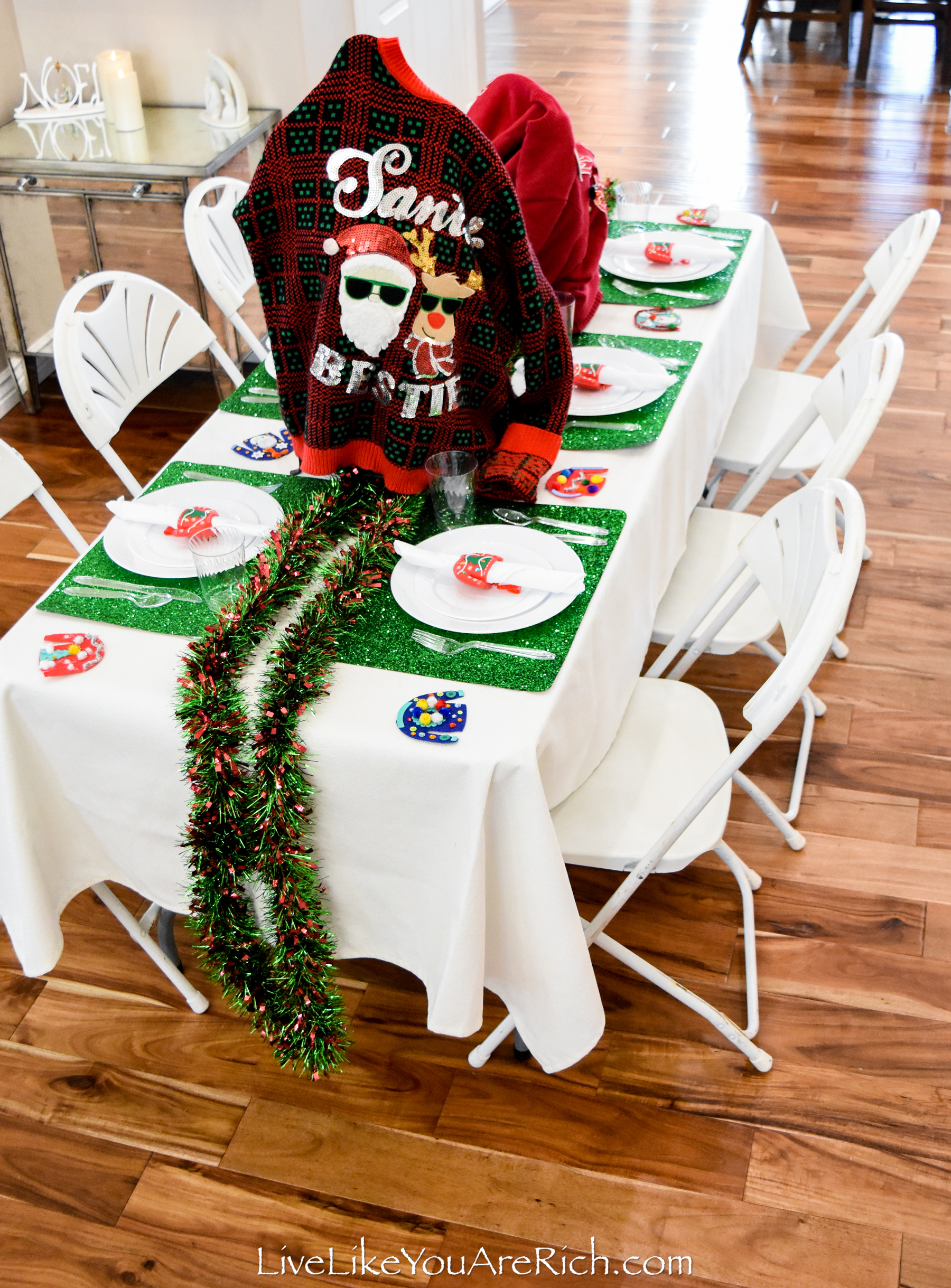 I hope this Christmas Sweater tablescape gives you some fun ideas on how to decorate for your family Christmas parties as well.
To see more details of this table, check out the video on this post.
Merry Christmas!

For other 'rich living tips' please subscribe, like me on Facebook, and follow me on Pinterest and Instagram.