Glitter Vintage Christmas Tablescape.
Recently, I hosted a party for 22 people. I love decorating tablescapes and to accommodate our crowd I needed three different tables so I did three different themes on the tables we set up for our guests.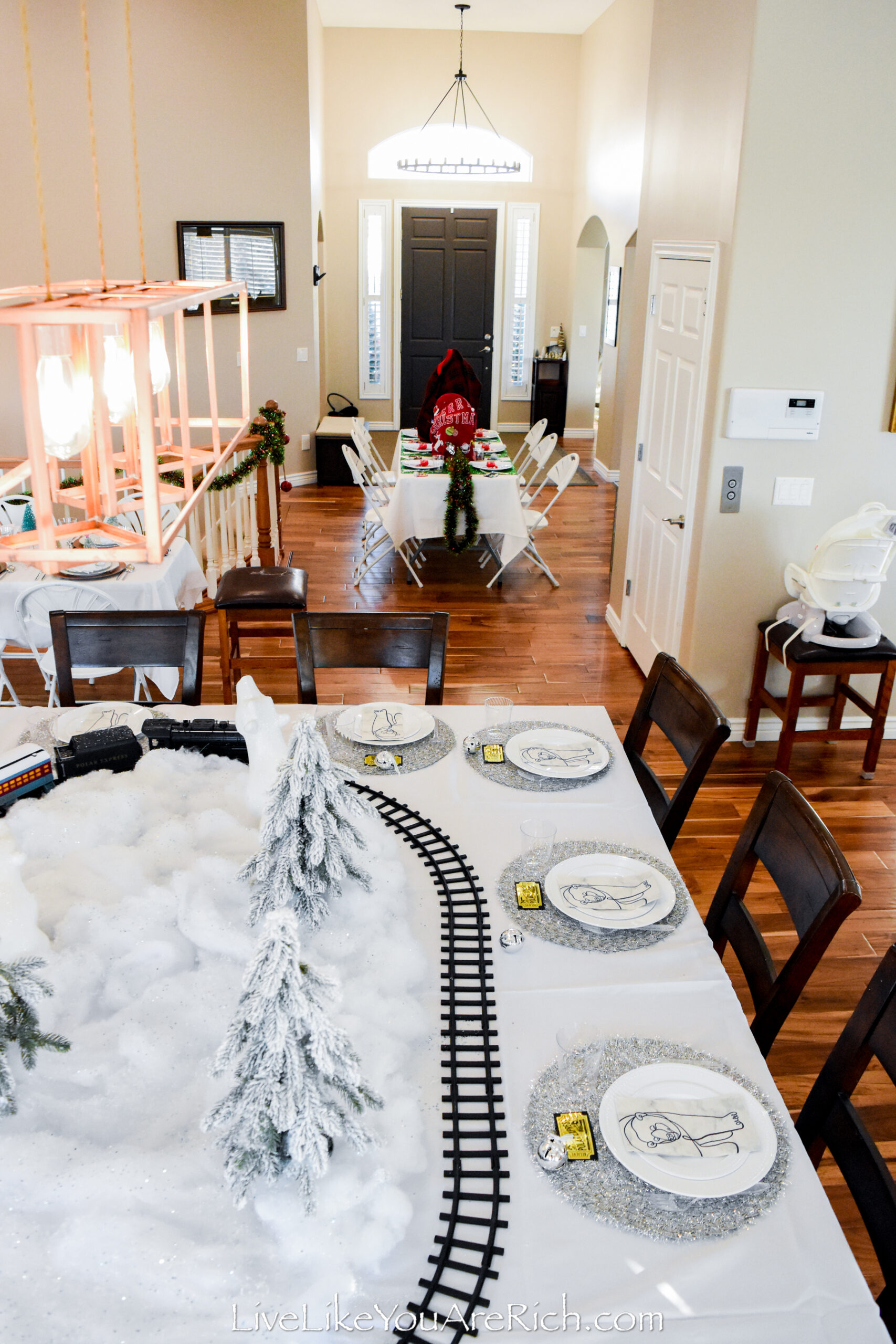 This was our adult glitter vintage Christmas tablescape.
Click here to see the Polar Express tablescape and Christmas Sweater Tablescape here.
I love the theme and color scheme of this table.
I really like how the color pallet works.
It is interesting that it does as teals, pinks, blues, gold, silver, greens, and reds all together would initially seem like it wouldn't work.
But somehow it all goes really well on this tablescape.
I think the colors come together by the napkin rings having a lot of various colors,
the vintage cars that all contain a pop of red,
and the glitter that throws a variety of colors to the onlooker's sight.
I love the goblets that were given to me by my mother-in-law. They look so great in this tablescape.
I also love the look of the vehicles on the table.
They each have a little wreath on the front.
The slug bug is carrying gifts and has Christmas lights.
Supply list for this Glitter Vintage Christmas Tablescape
Glitter in various colors and sizes that match the theme colors.
Glitter Tree napkin rings (Hobby Lobby 2021)
Lindt chocolate truffles in various flavors
Target (Wondershop brand) vintage slug bug with Christmas presents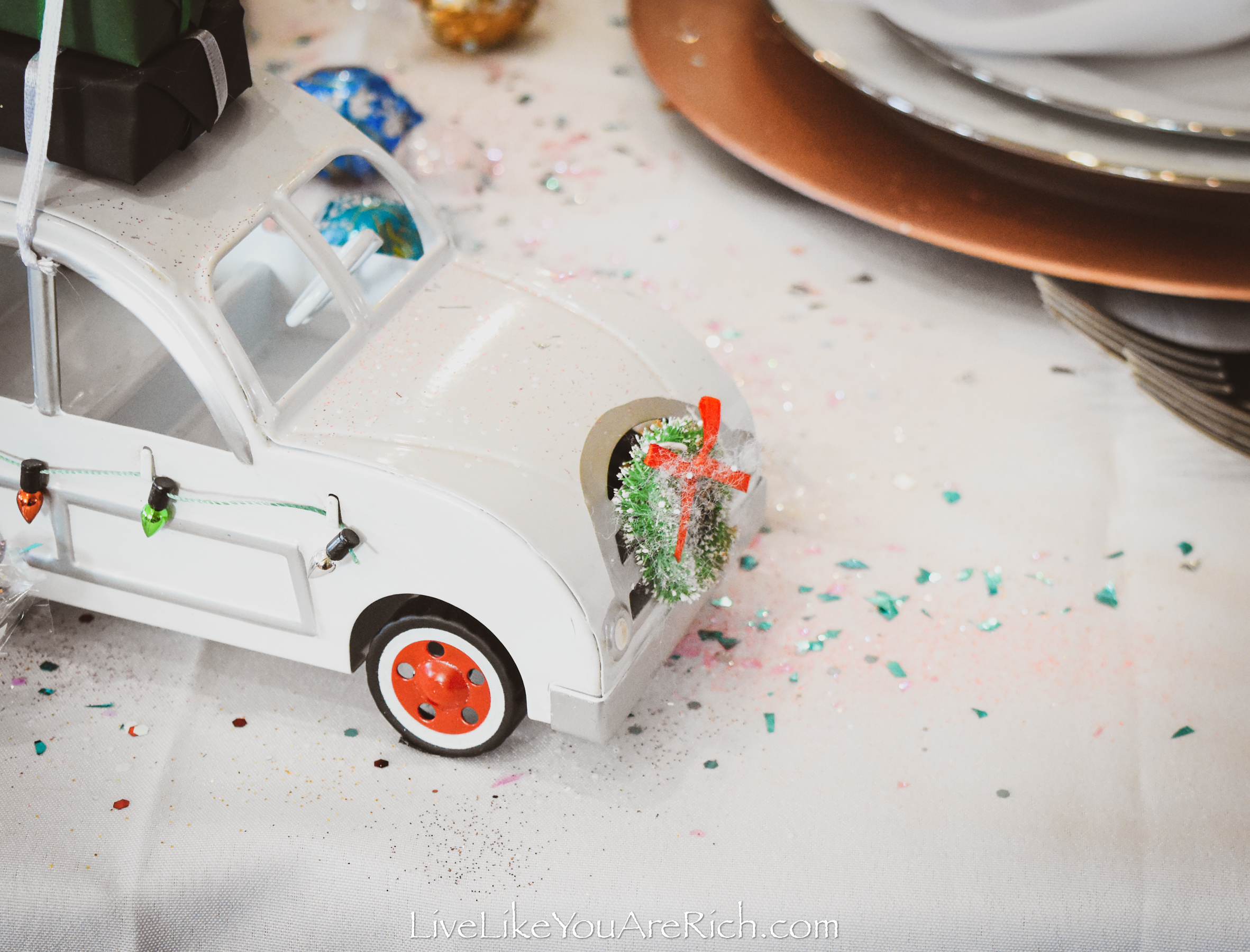 Target (Wondershop brand) vintage car
Target (Wondershop brand) vintage snowmobile
6- goblets
6- white china
6- sets of flatware (Sam's Club 18/10)
glitter bottle brush trees of varying heights and color
6′ folding table
six white chairs
white table cloth
How to put together this Glitter Vintage Christmas Tablescape
I set up the table and put a tablecloth on top.
I set out the place settings with rose gold chargers, china, cutlery, goblets and napkins with tree napkin rings.
Next, I put out the bottle brush trees in groups of 5 on both middle ends.
Then I put three vintage vehicles in the middle and on both ends.
I put out Lindt chocolate truffles that matched the color scheme.
and then I sprinkled everything with various glitters. I choose to use colors that were on the table to blend it all together.
A few tips when setting up tablescapes.
To see more details of this table, check out the video on this post.
Tips on putting together any tablescape.
It is typically best to not place a centerpiece on the table that obstructs the view of those who are eating.
Create a focal point. While the focal point does not have to be in the center of the table for each tablescape, this one is. The focal point is the teal vintage car with the presents on it.
Group items in odd numbers. As you can see I have the bottle brush trees grouped into 5's and the cars are in groups of 1. This is a tip that interior decorators use as it helps to add beauty and—ironically, balance to an area and/or tablescape.
Tie in at least one common color, theme, item, or texture from the place settings to the centerpiece.
A nice tablescape has continuity between the centerpiece and the place settings. You can do this using color, which I find the easiest, or you can do so with a theme, like Christmas tree napkin rings and tree centerpieces, or you can do so using similar materials such as an evergreen centerpiece and an evergreen clipping set on the place setting, or a linen napkin and a matching linen table runner, etc. In this tablescape I tie in colors with glitter, Lindt chocolates and bottle brush trees that match the rose gold charger and teal, pink, gold, and green tree napkin ring.
My final tip is to buy items in the after-holiday sales.
I was able to get each napkin ring for .09 cents each.
Many stores discount 50-70% the week after Christmas and an additional 80-90% in the first week or two of January. I like to go in January to Michaels, Joanns, Hobby Lobby, Walgreens, CVS, Home Depot, and Lowes. It is "slim pickin's" by this time but I was able to find a few packages of 5″- 6″ unfinished wooden nutcrackers in a 90% Christmas sale for $1.00 for 6.
I find that by doing shopping after Christmas 90% off sales, I save A LOT and can afford to create new and different tablescapes each year.
Also, going when everything is 90% off forces me to be creative with what I can find as supplies are typically limited.
If you are pickier about what you want or need larger quantities I'd recommend going shopping before January to get the deals—and while they won't be marked down to 90% off typically as they will be early to mid-January, you'll have more options.
Total Cost for this Glitter Vintage Tablescape
I had everything except the napkin rings and chocolate so the total was .54 cents for the napkin rings and about $8.00 for the chocolate (I bought them on Lindt.com on sale in bulk to use for various things).
To see more details for this tablescape, check out the video on this post.
Merry Christmas.

For other 'rich living tips' please subscribe, like me on Facebook, and follow me on Pinterest and Instagram.