Polar Express Kids' Tablescape.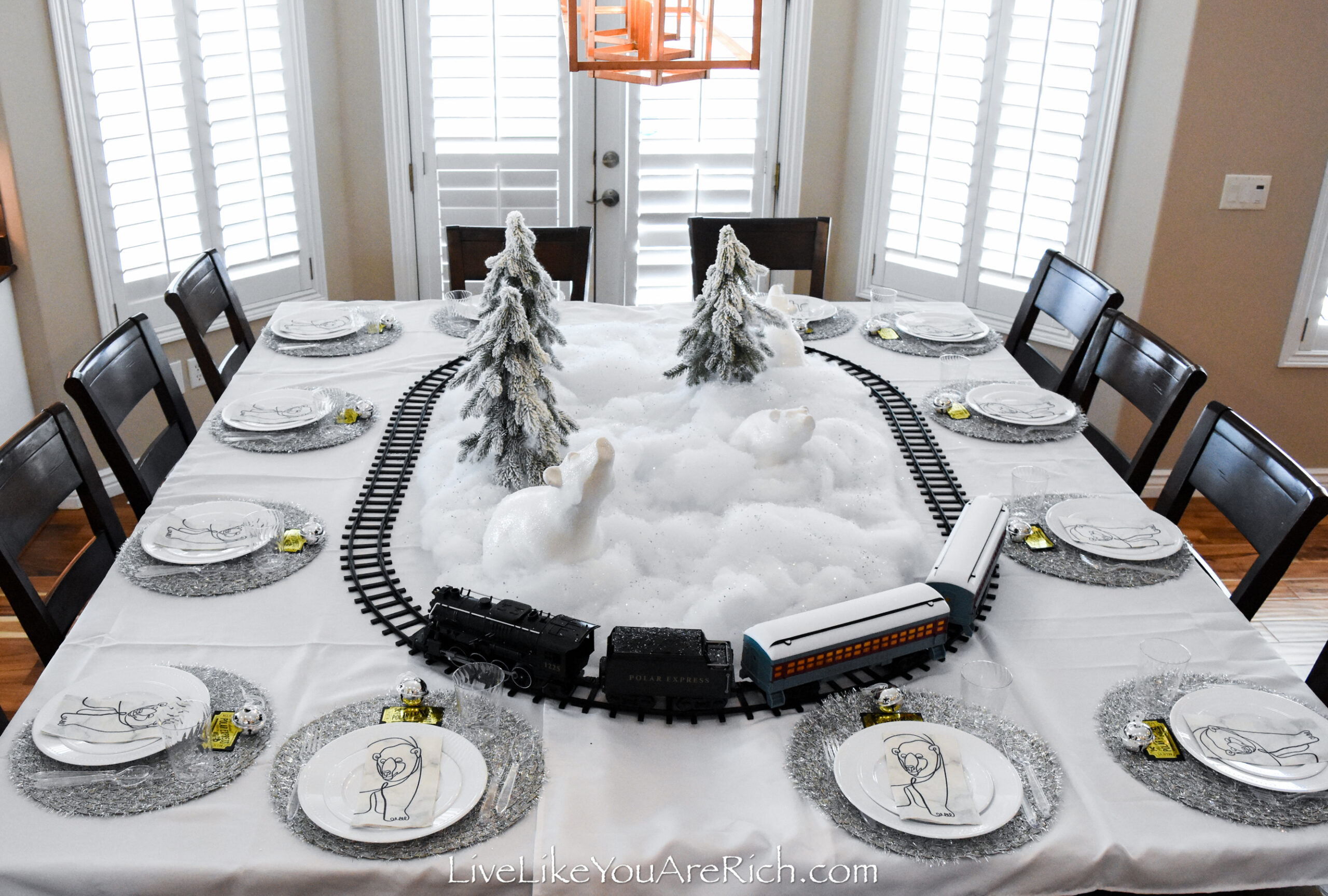 I love the story, The Polar Express, and I've been wanting to do a tablescape for kids with The Polar Express theme for a while.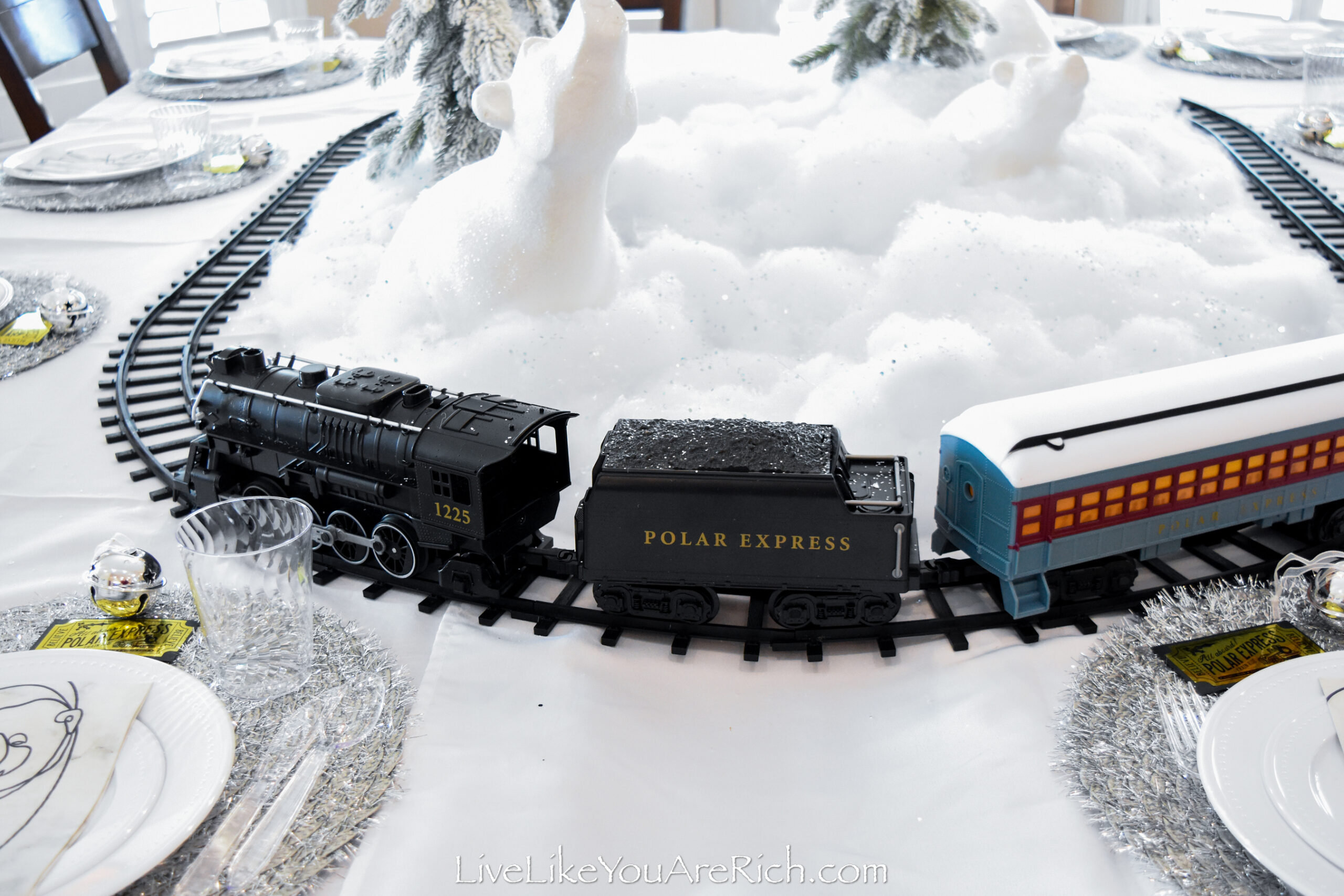 I got this Lionel Polar Express Train set for my son's birthday party at over 50% off in January 2022.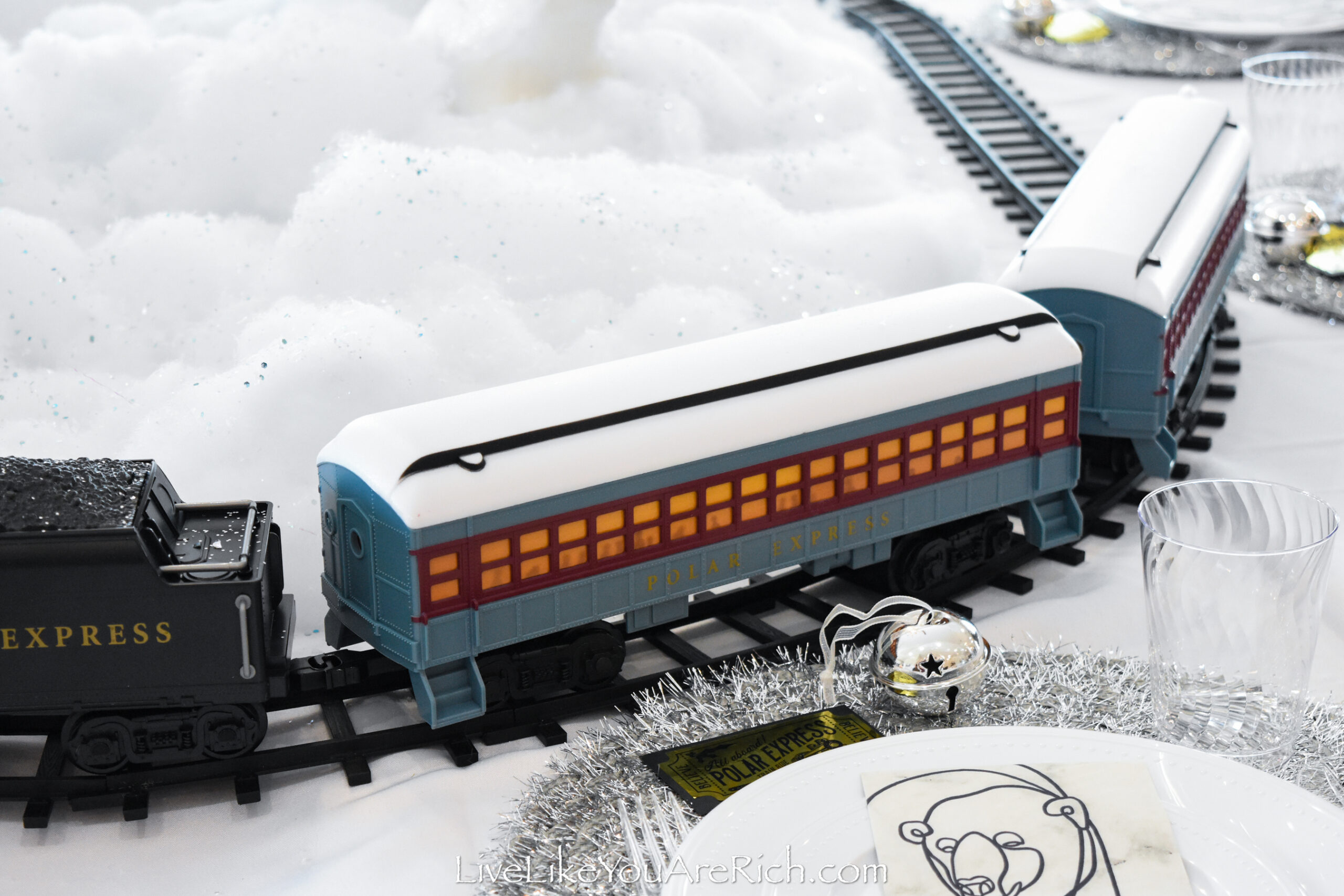 I also found the silver glitter placemats,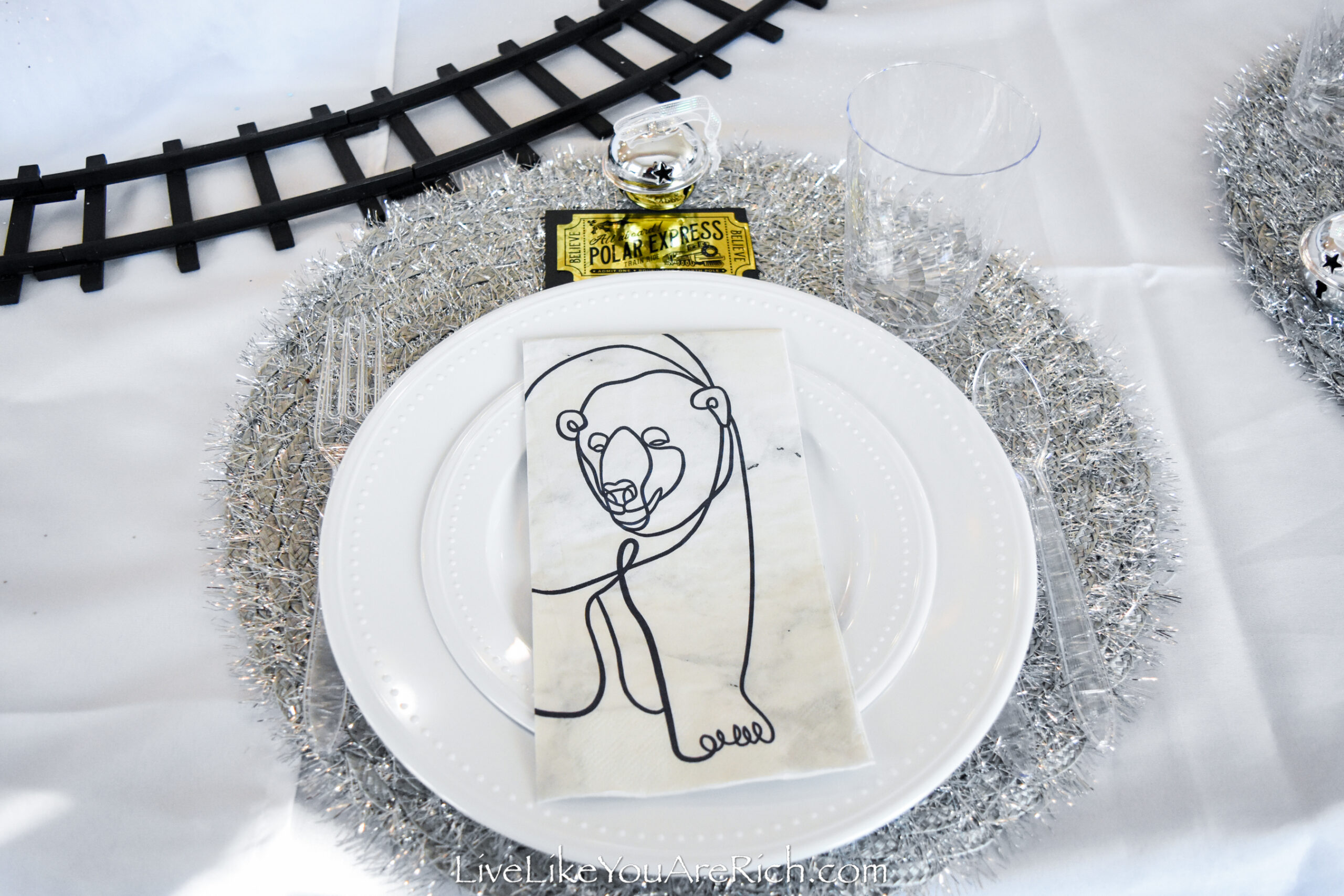 Polar Bear napkins, and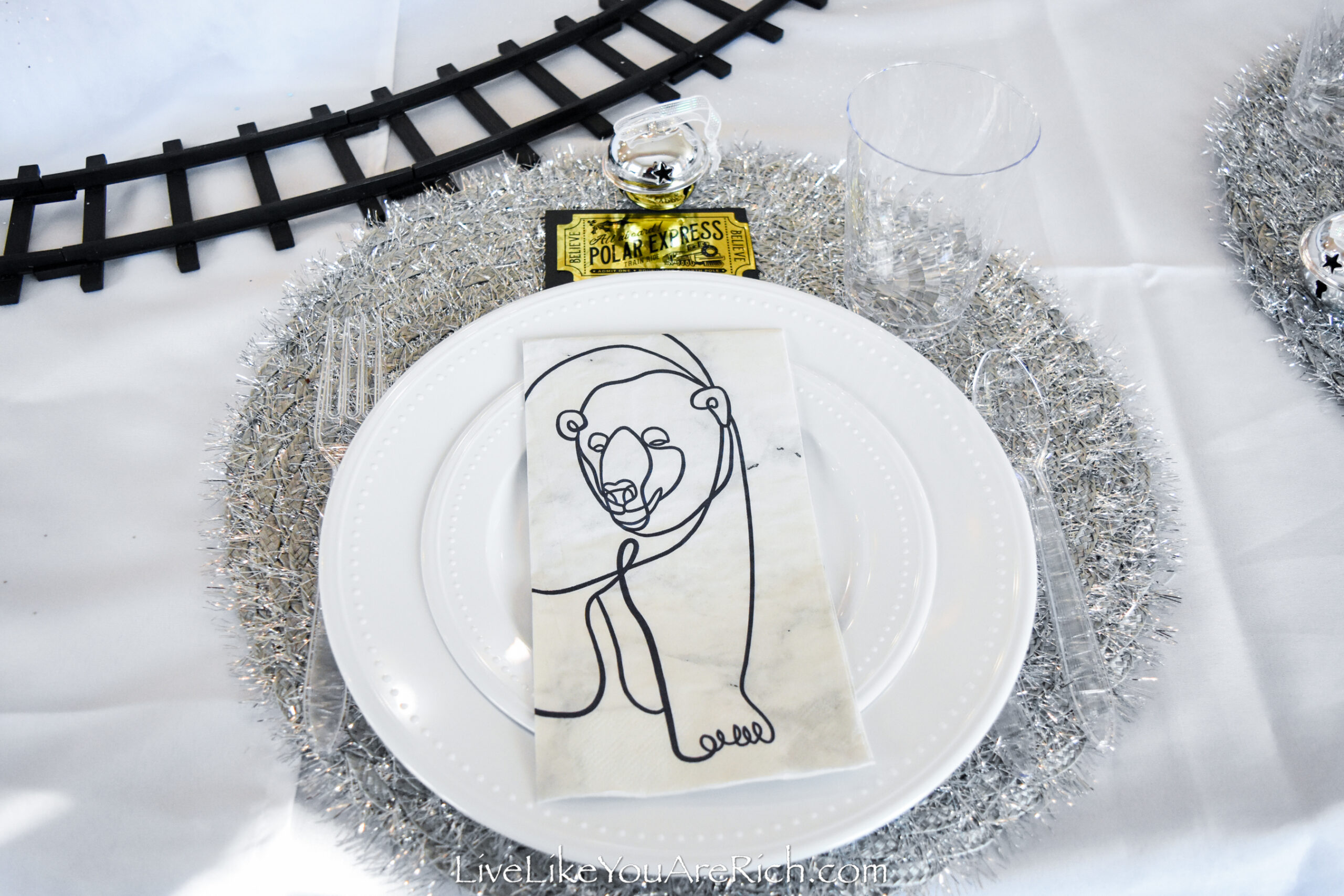 bells at 80-90% Christmas sales in January, so, I've had the items to do this tablescape for about a year.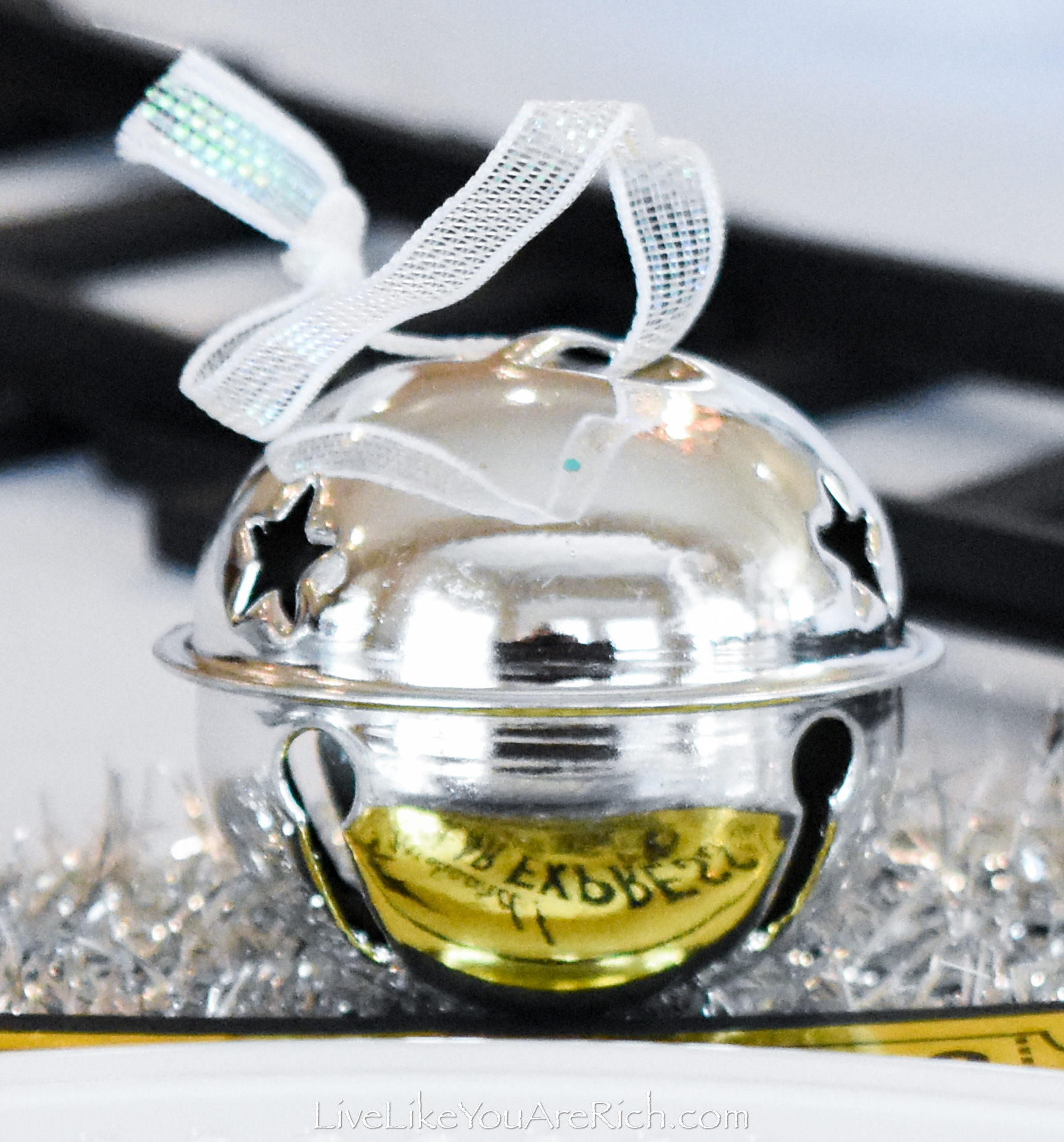 It was such a fun theme to put together and ALL of the kids sitting at the table were enthralled by the train and the polar bears in the faux snow.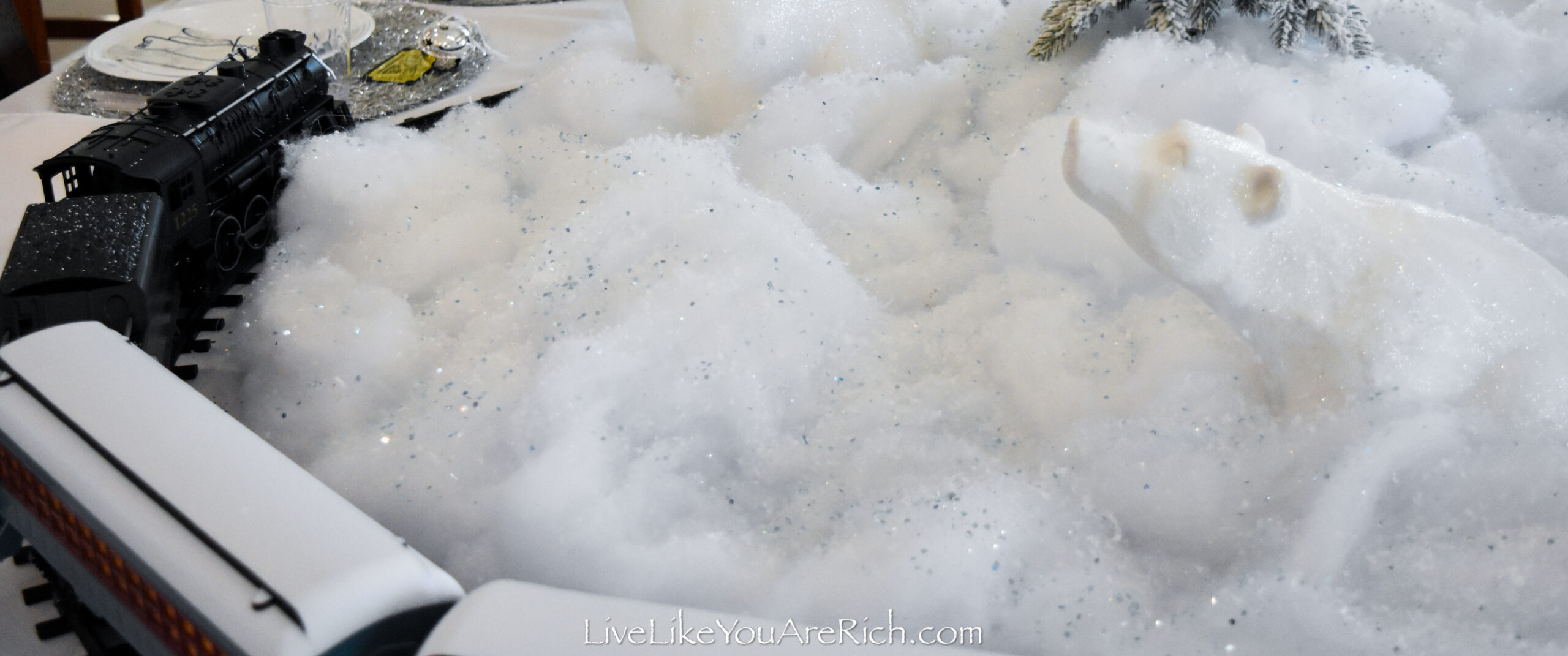 They loved seeing the Polar Express train go round and round its track while we ate.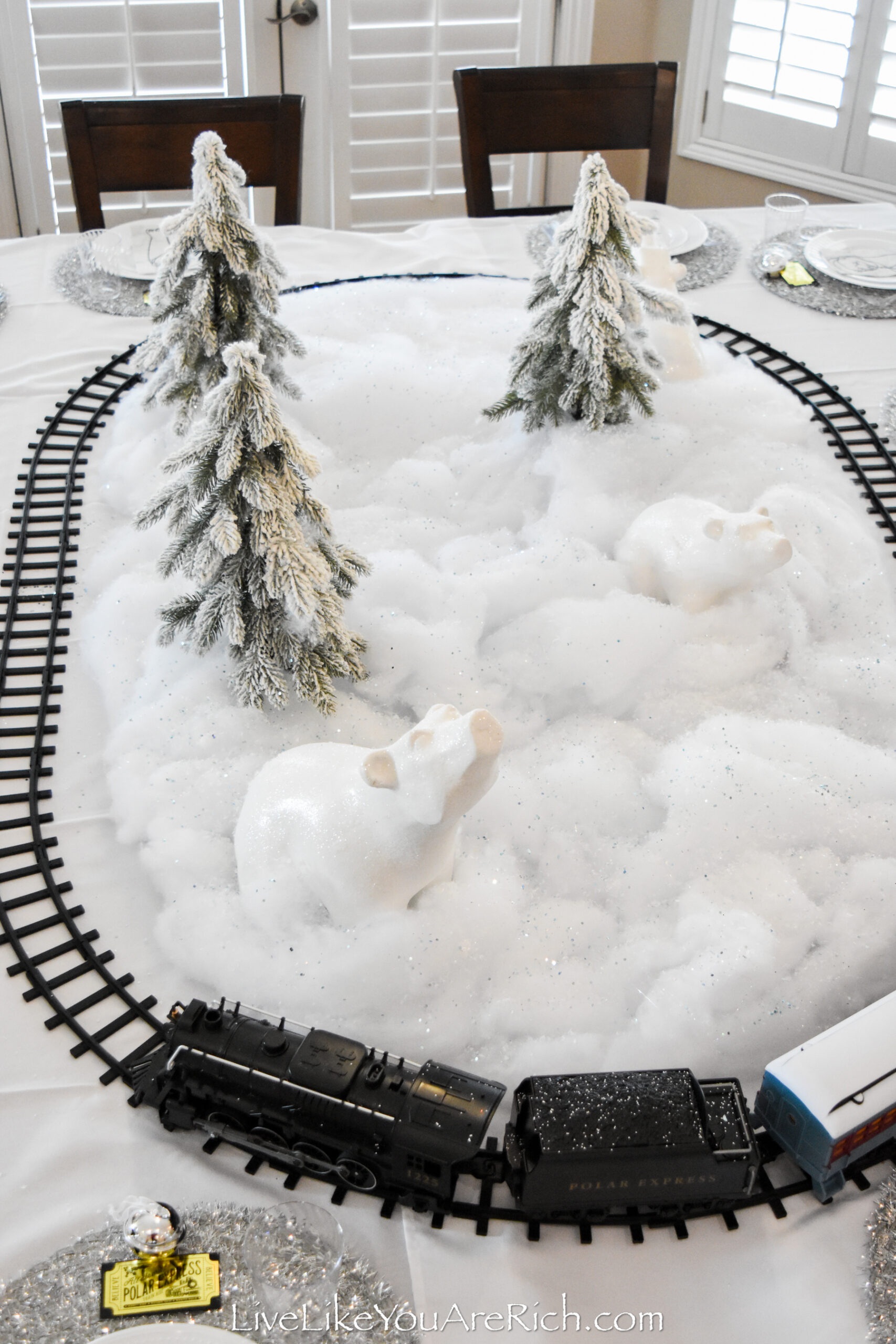 They wanted to take turns with the controller and make the train whistle.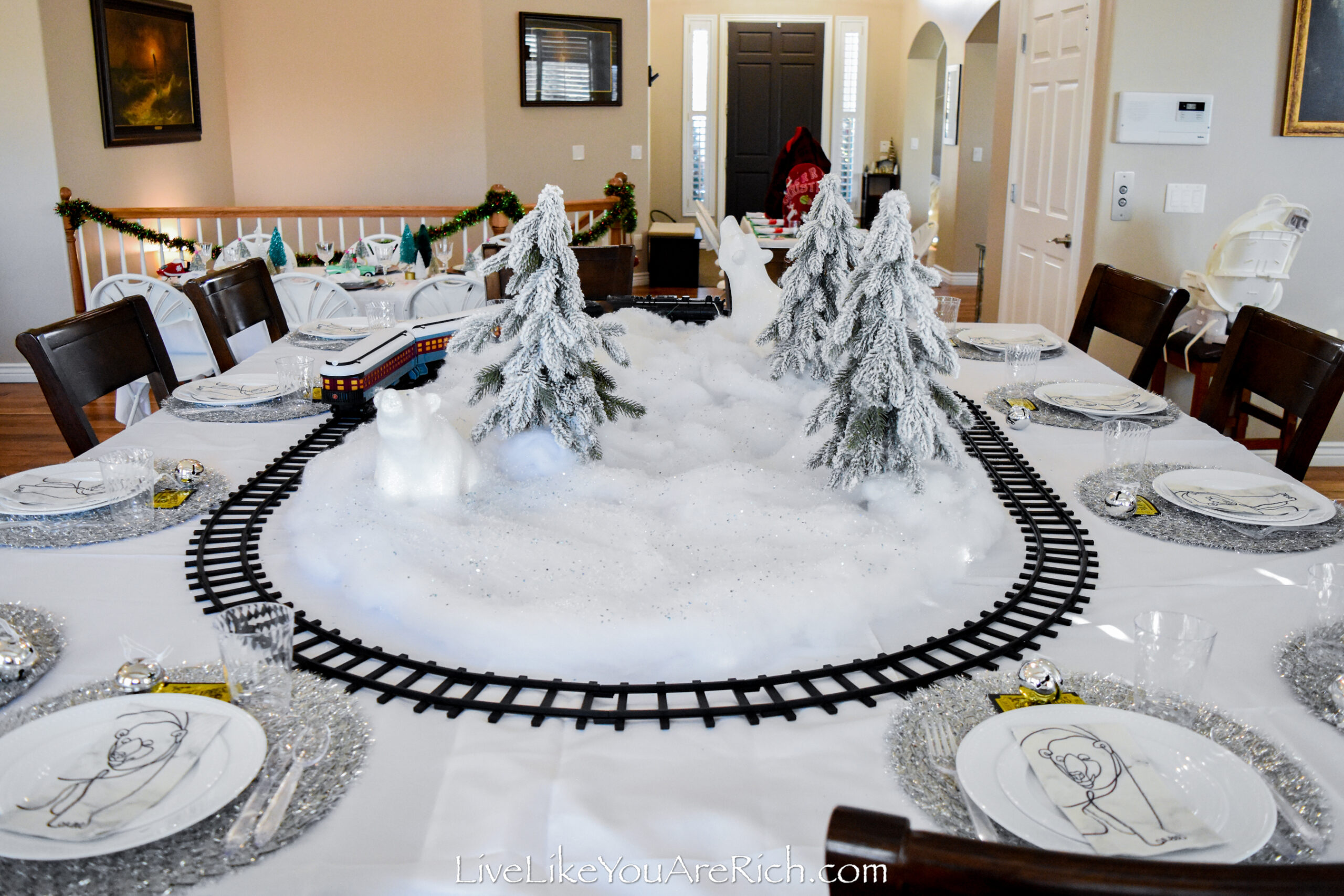 Surprisingly, the kids had much fun with their Polar Express tickets.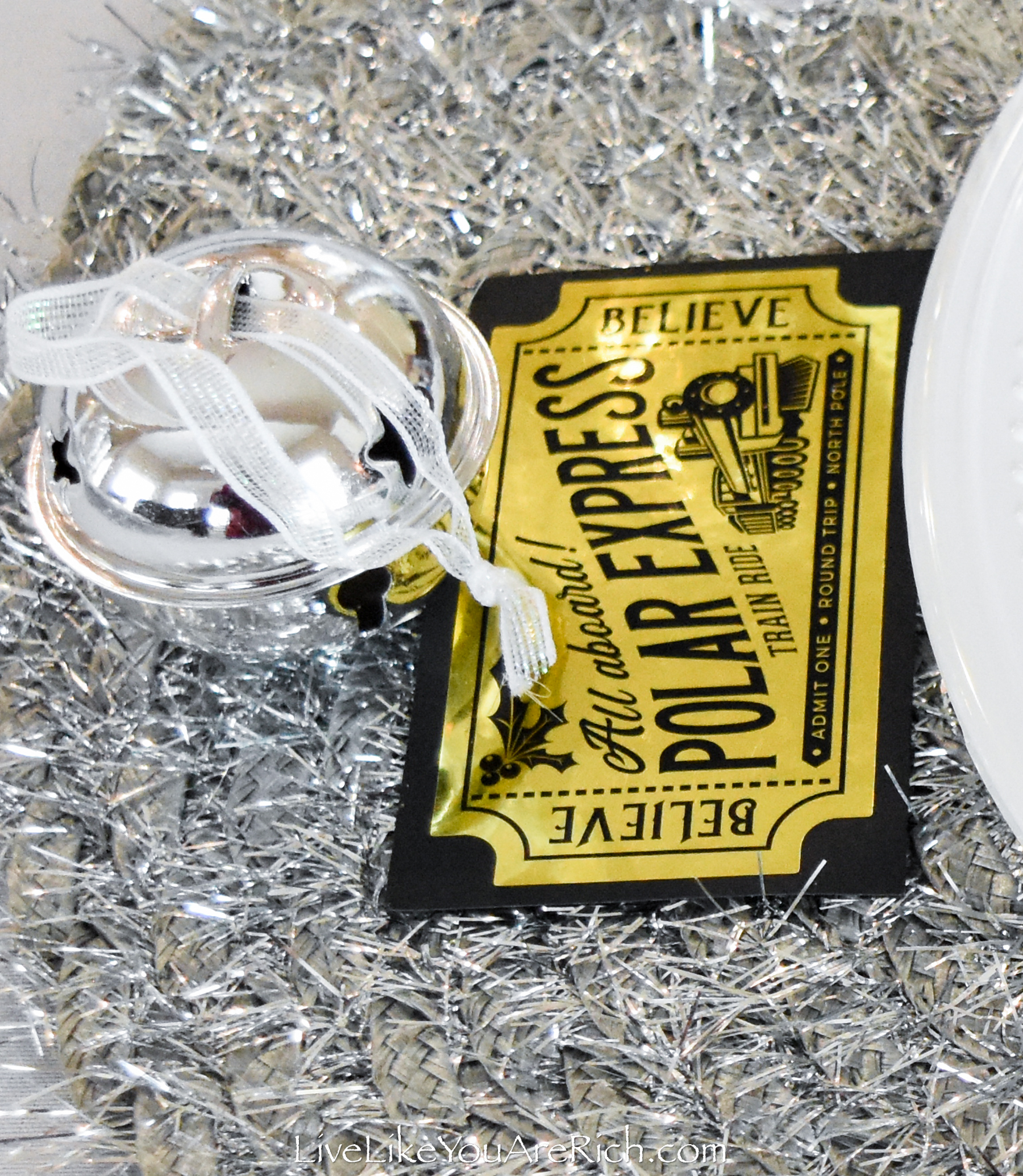 They started putting their tickets onto the train and taking them off again when it circled back around.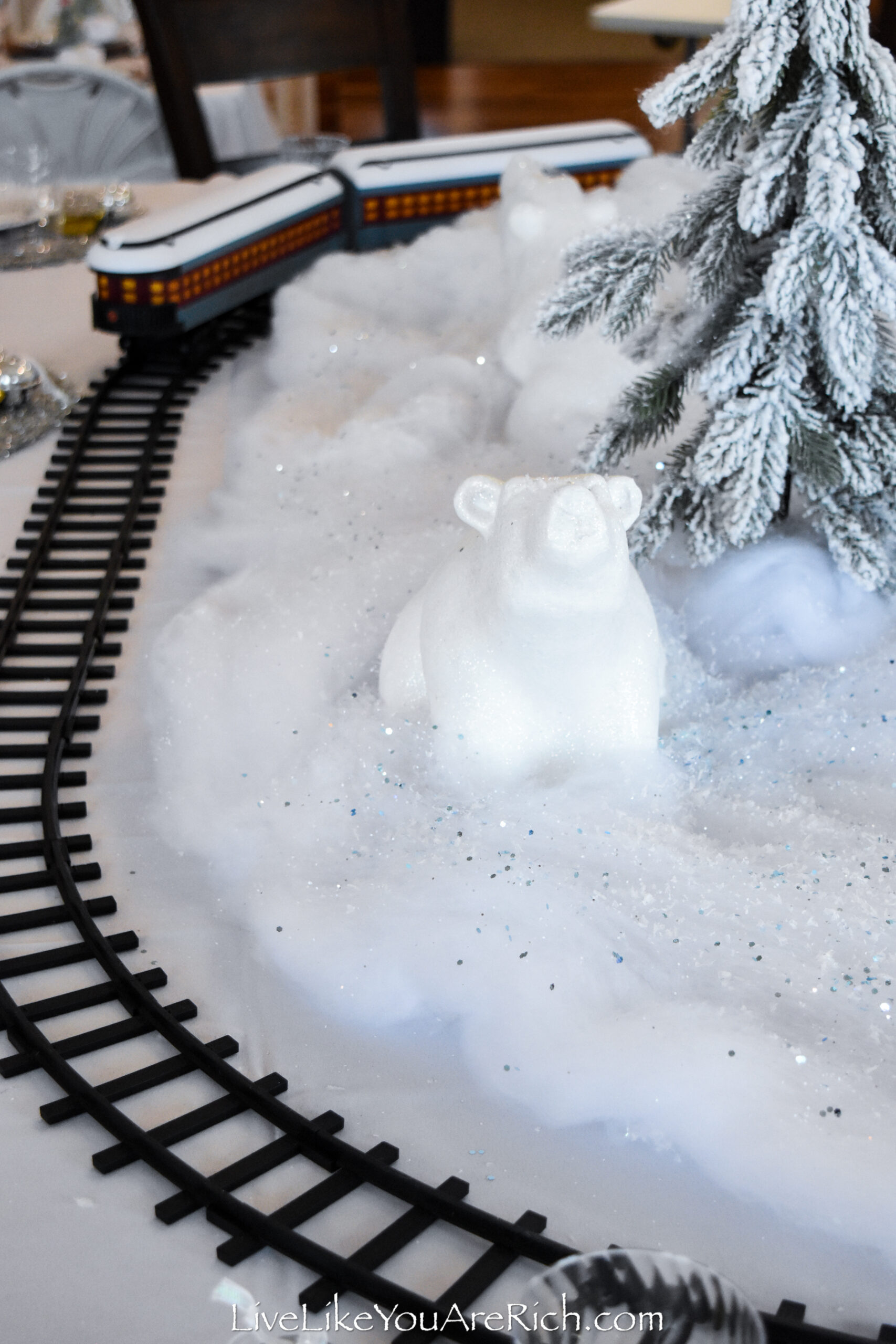 Sometimes they'd take someone else's ticket and then put it on the train when it circled back and ended up making a game of it (essentially passing tickets back and forth).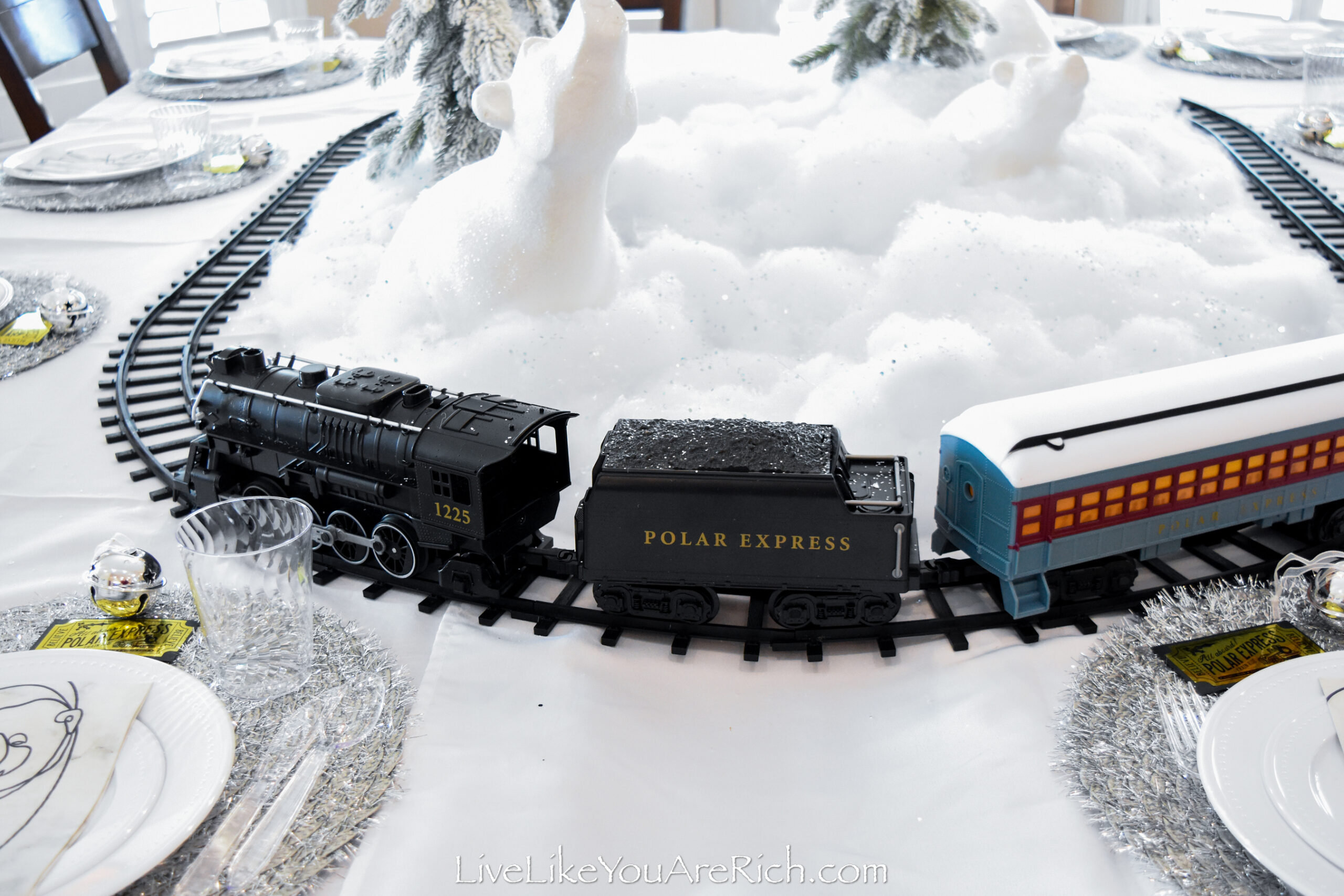 The train was such a hit that we needed to stop it for a while so everyone would actually eat.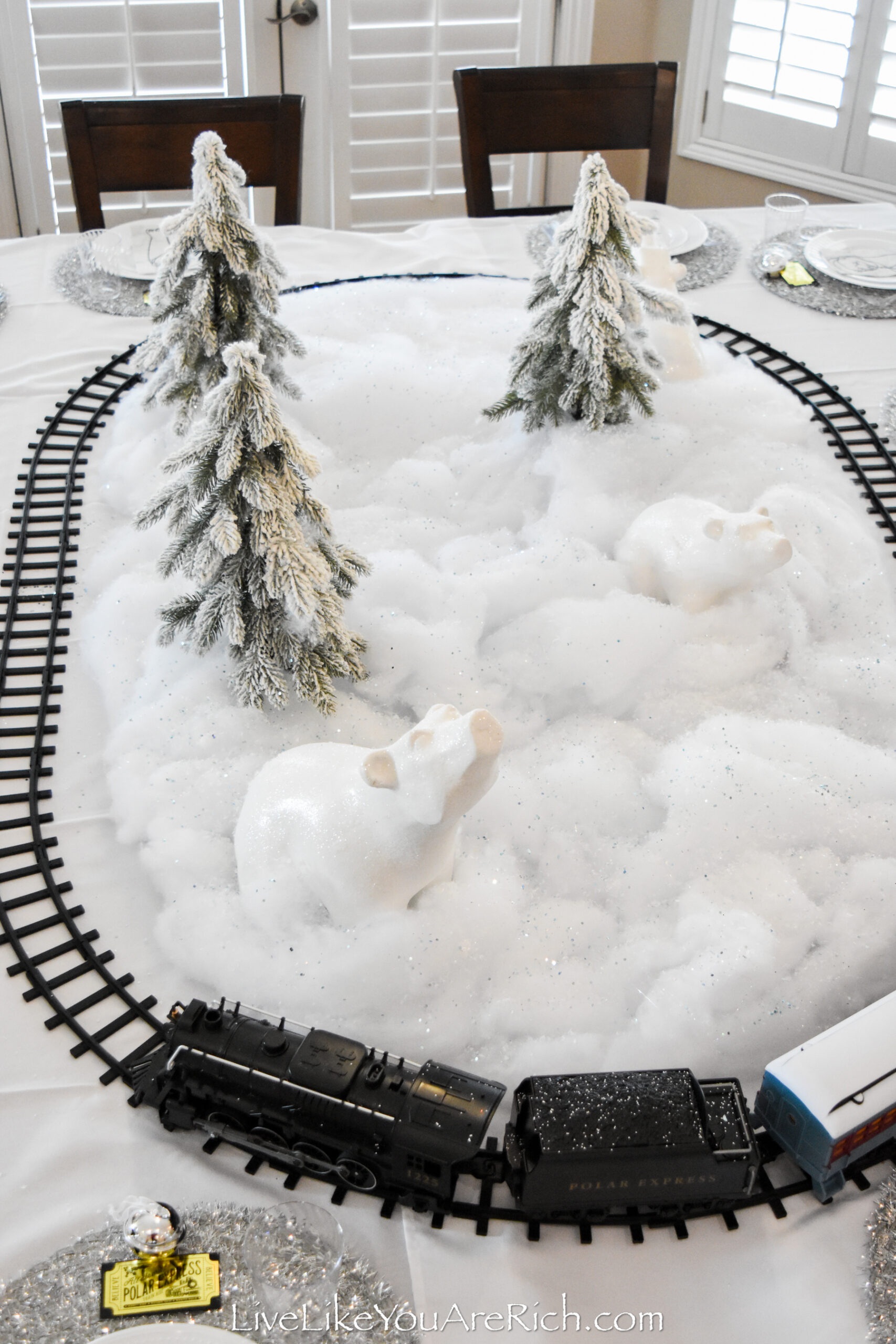 My grandpa is a fan of trains and really enjoyed sitting at the kid's table for this Christmas party which I found cute.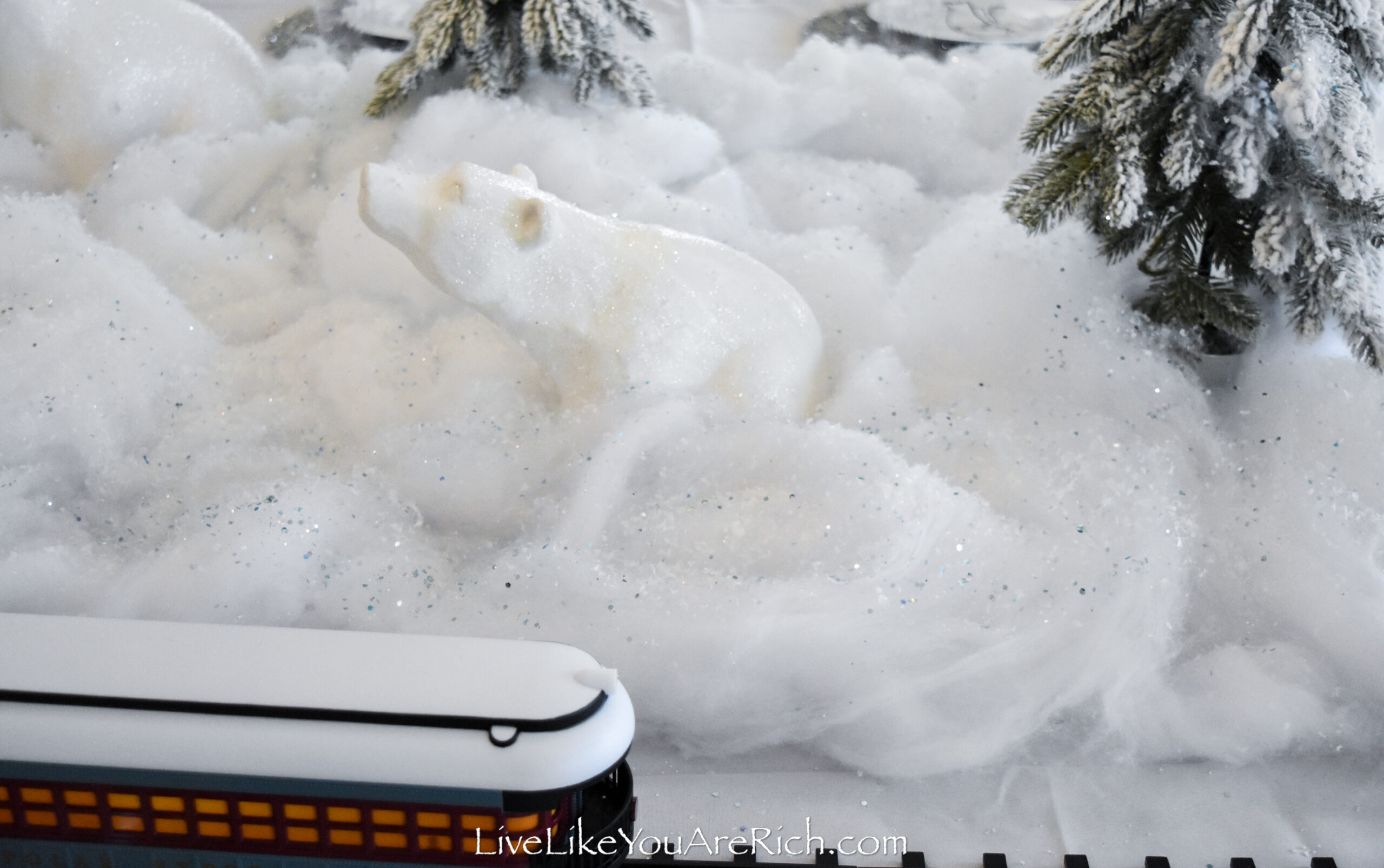 Supply List for this Polar Express Tablescape
medium silver bells (one for each guest)
Polar Express train ticket stickers
Chinet cut crystal plastic cups
some metal plates to bridge the gap from one table to the other
3- sparkle polar bear figurines- bought Joanns 2021
3- Flocked fake Christmas trees Target or Amazon 15″-18″
How I put together this Polar Express Tablescape.
First, we needed to figure out a way to fit the train track as well as 12-place settings on our dining room tables.
It almost fit on our double dining room tables pushed together—but I needed a bit more room.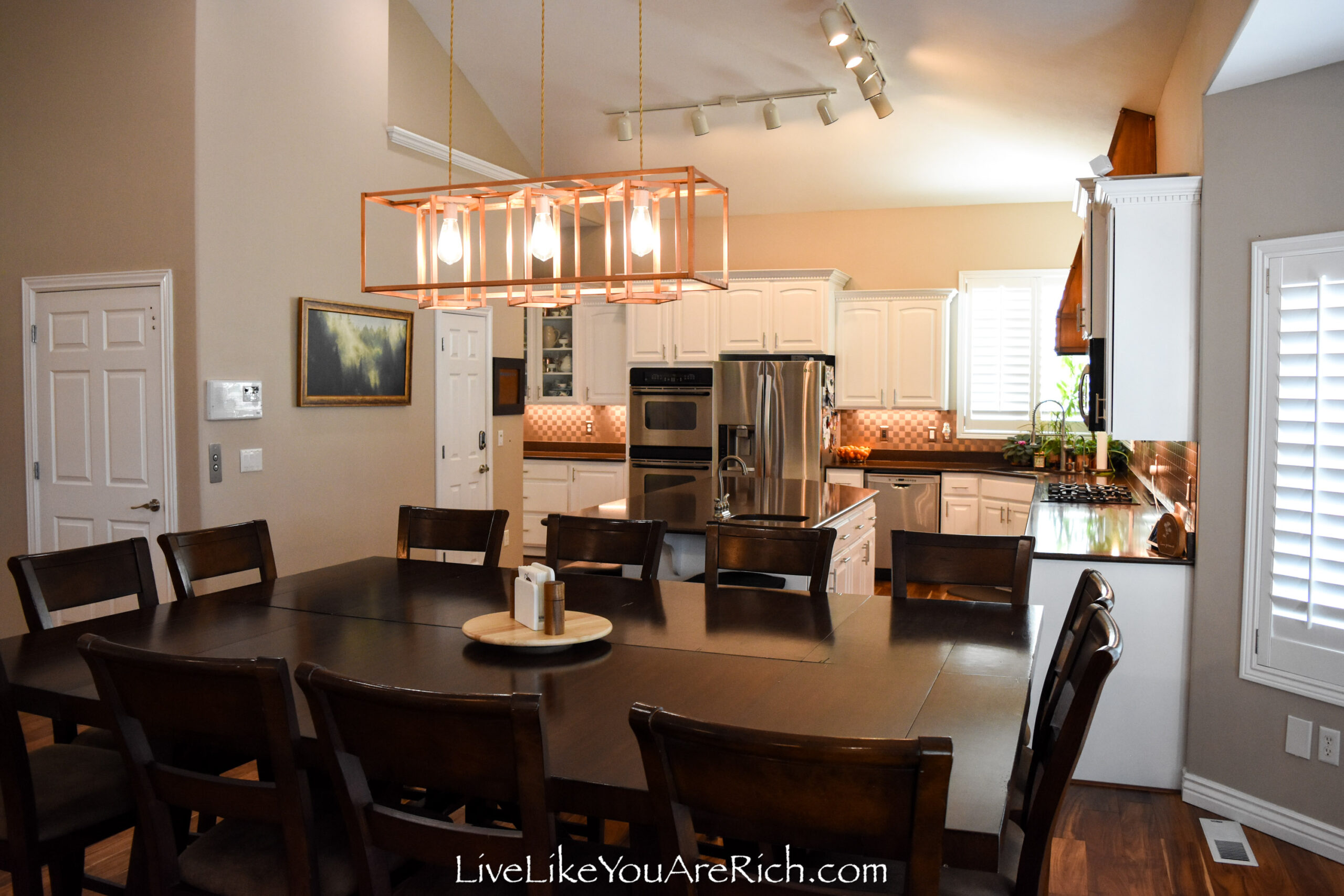 So, my husband got a few pieces of coated metal (so it wouldn't scratch our table) that he had lying around in his shop, and he bridged the one-foot gap we needed between the tables.
These flat pieces of metal worked really well. They were strong enough to hold the train and could have handled even more weight if needed.
He placed two pieces where each of the train tracks went over the gap and also put one or two braces where the faux snow went as well.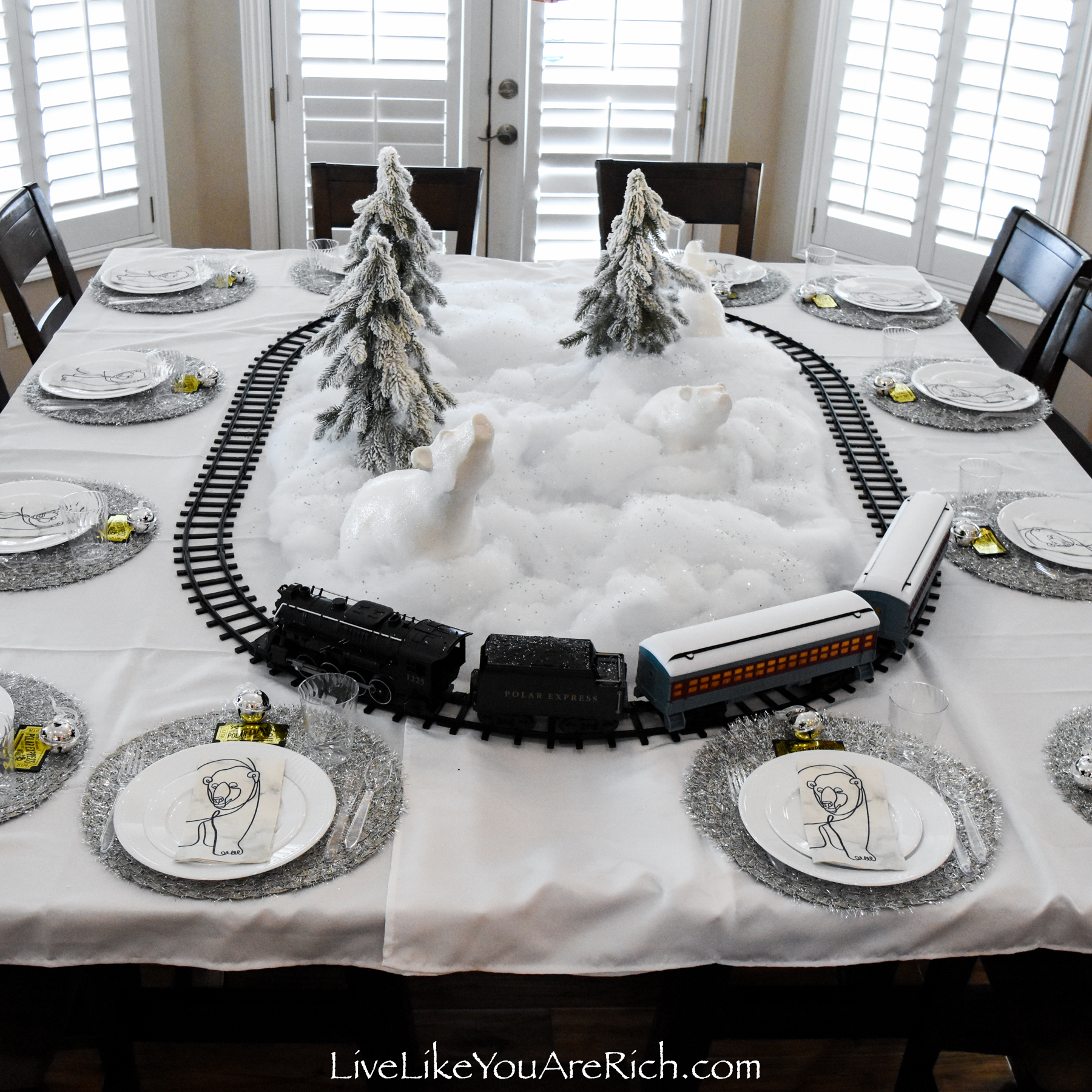 Then, I covered the table with two overlapping white tablecloths.
I set up the train track and made sure it ran well.
Then I put faux snow, three flocked trees, 3 polar bear figurines/statues, and a bunch of glitter on the faux snow.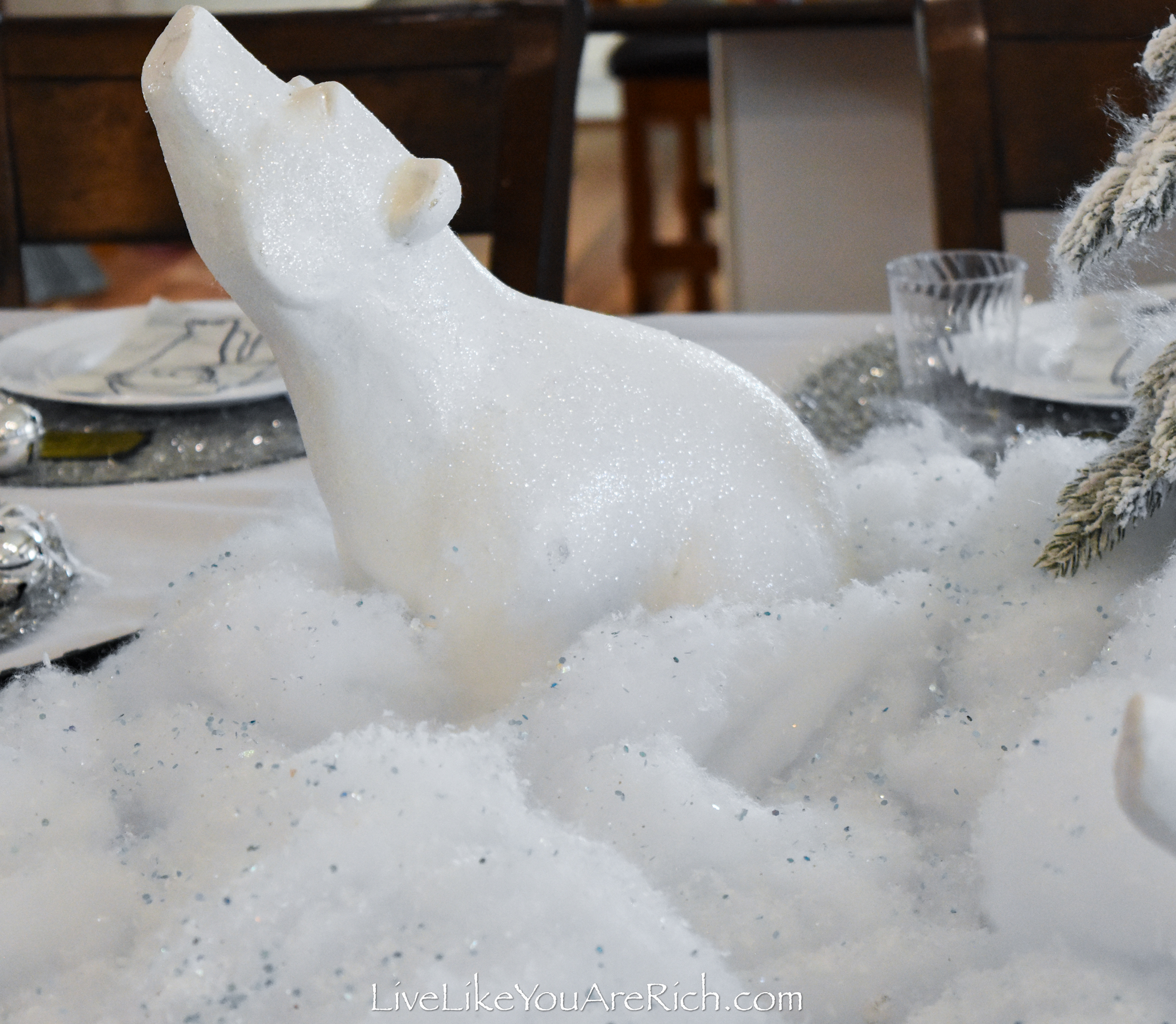 The surprising thing to me was that the light blue glitter added more of a snow effect than the white.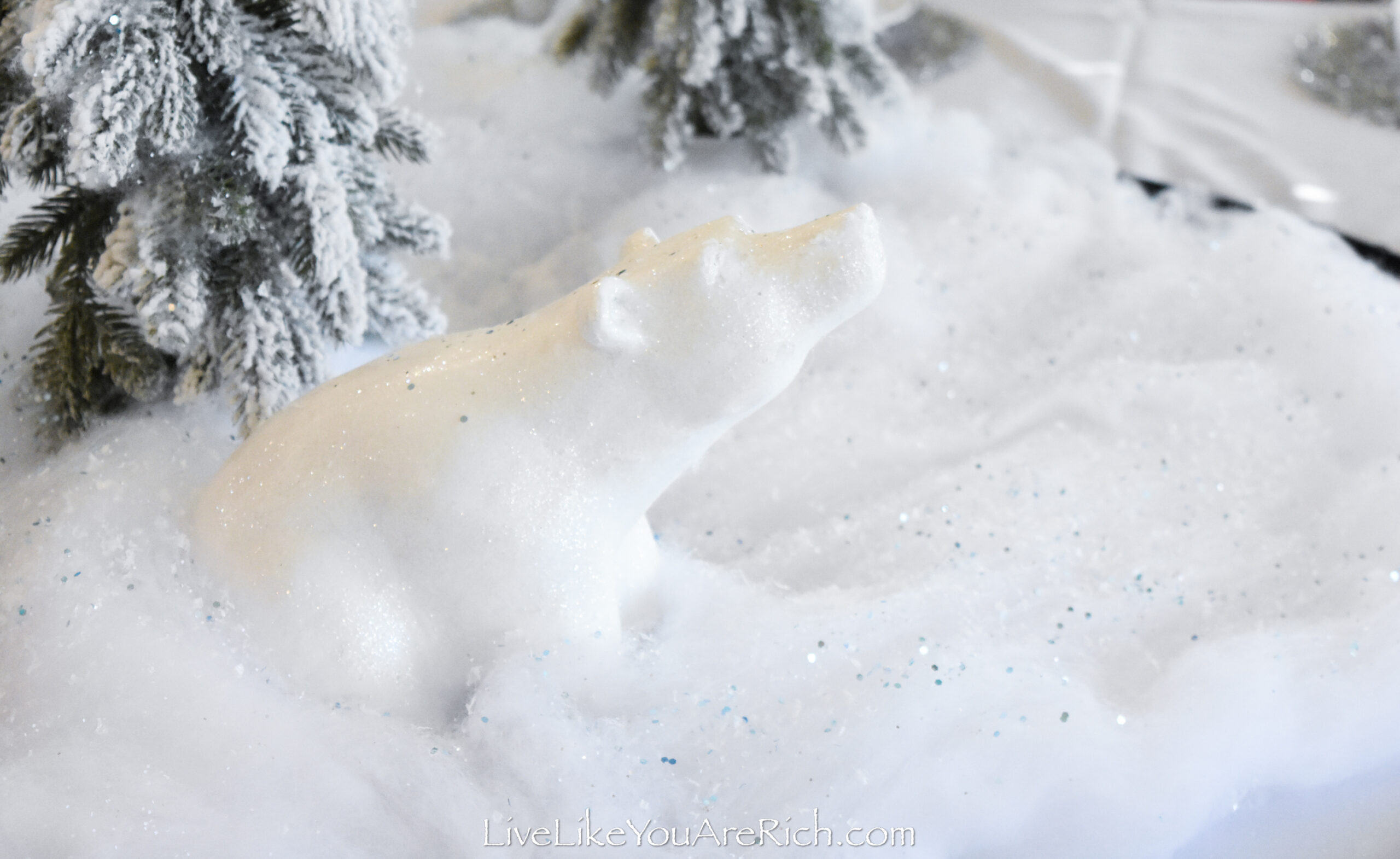 So here's a tip, add a light blue glitter to your faux snow for a more realistic look.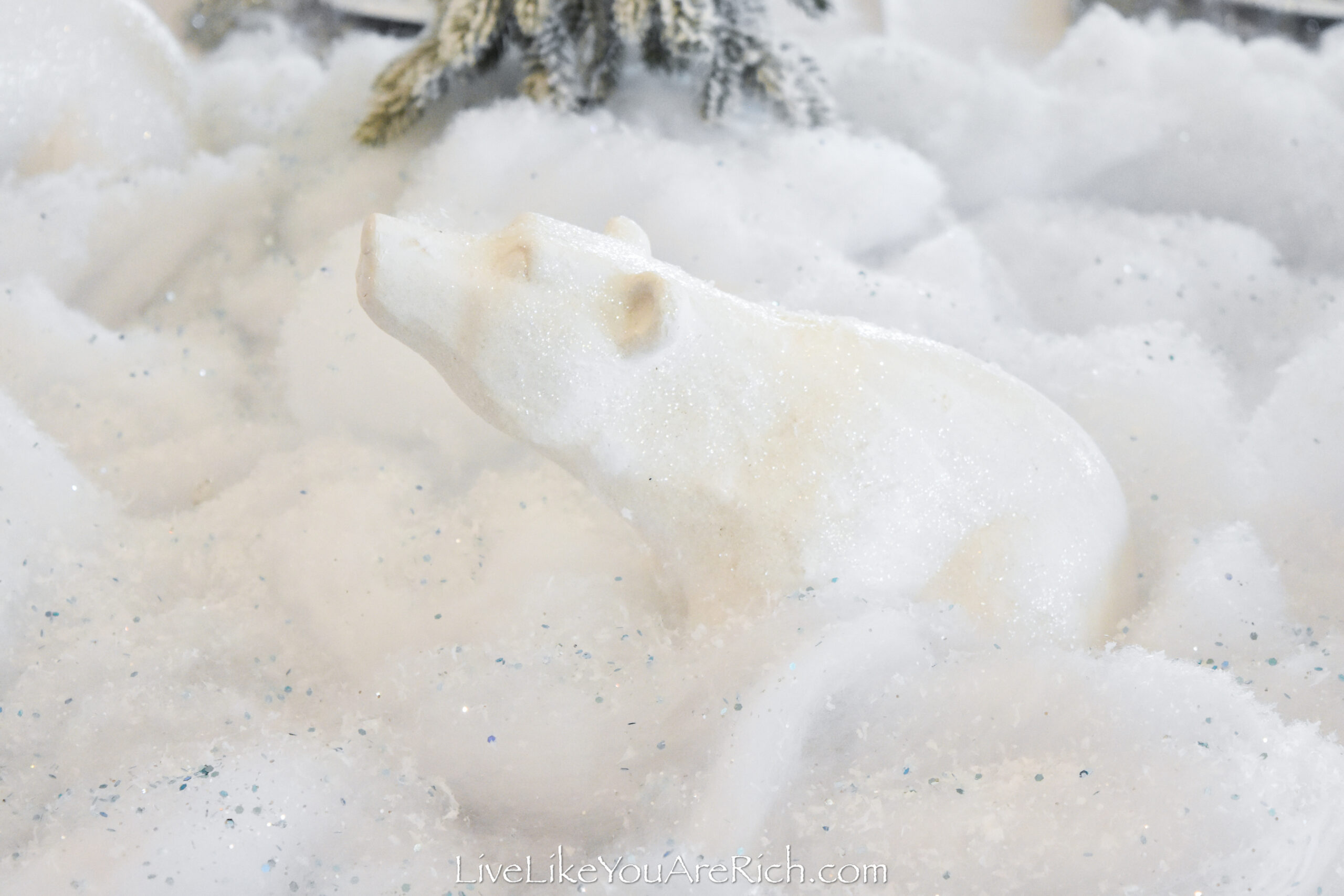 Then I set the table with twelve silver sparkle/tinsel placemats, white plastic plates, polar bear napkins, clear cutlery, and Chinet cups.
After that, I put a golden ticket sticker on some black cardstock to create the tickets.
I placed a bell at the top of each place setting as a favor for our guests.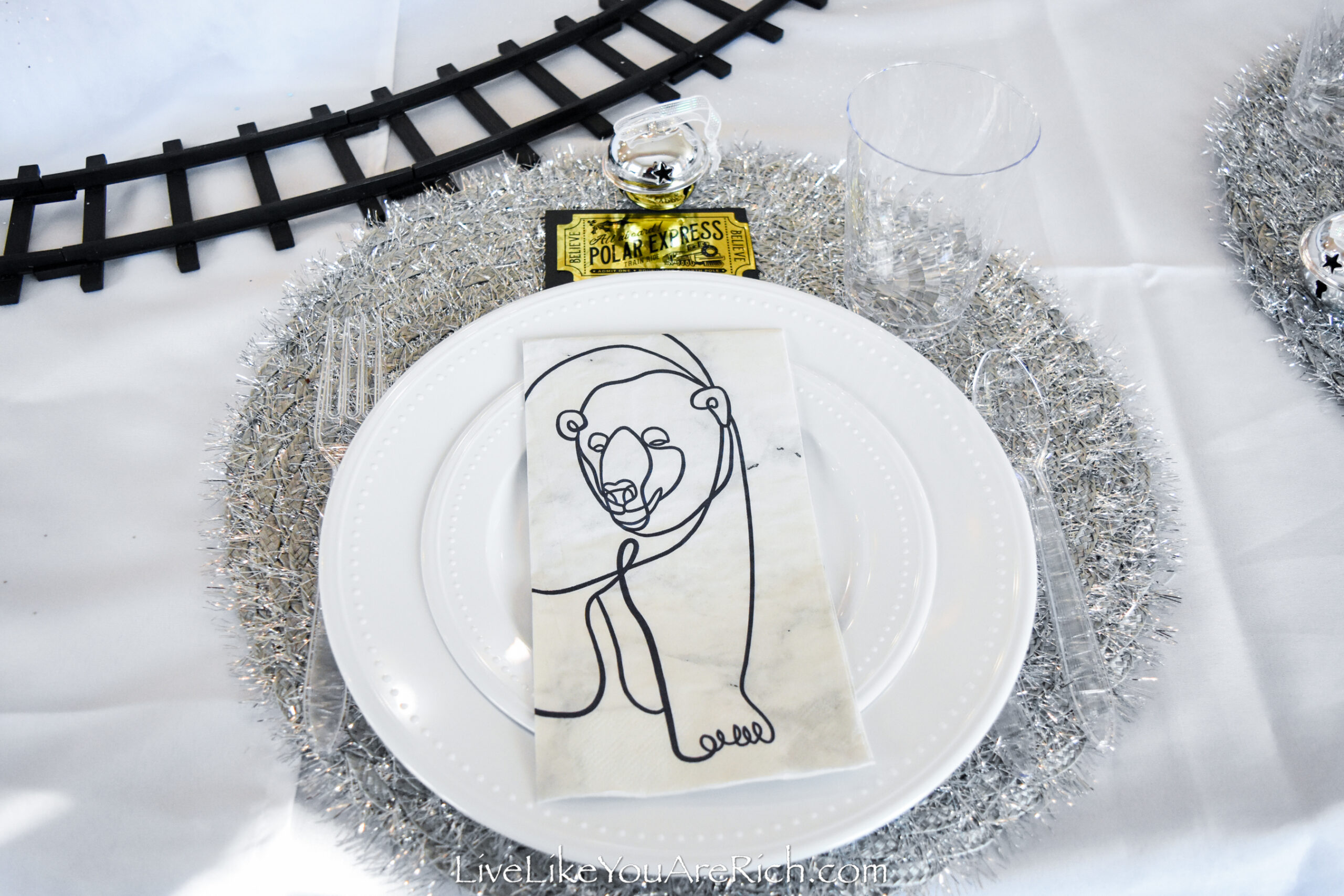 That's it.
It probably took me about 30-45 minutes to set it up.
It was worth it for how much fun my kids and their cousins had with this tablescape.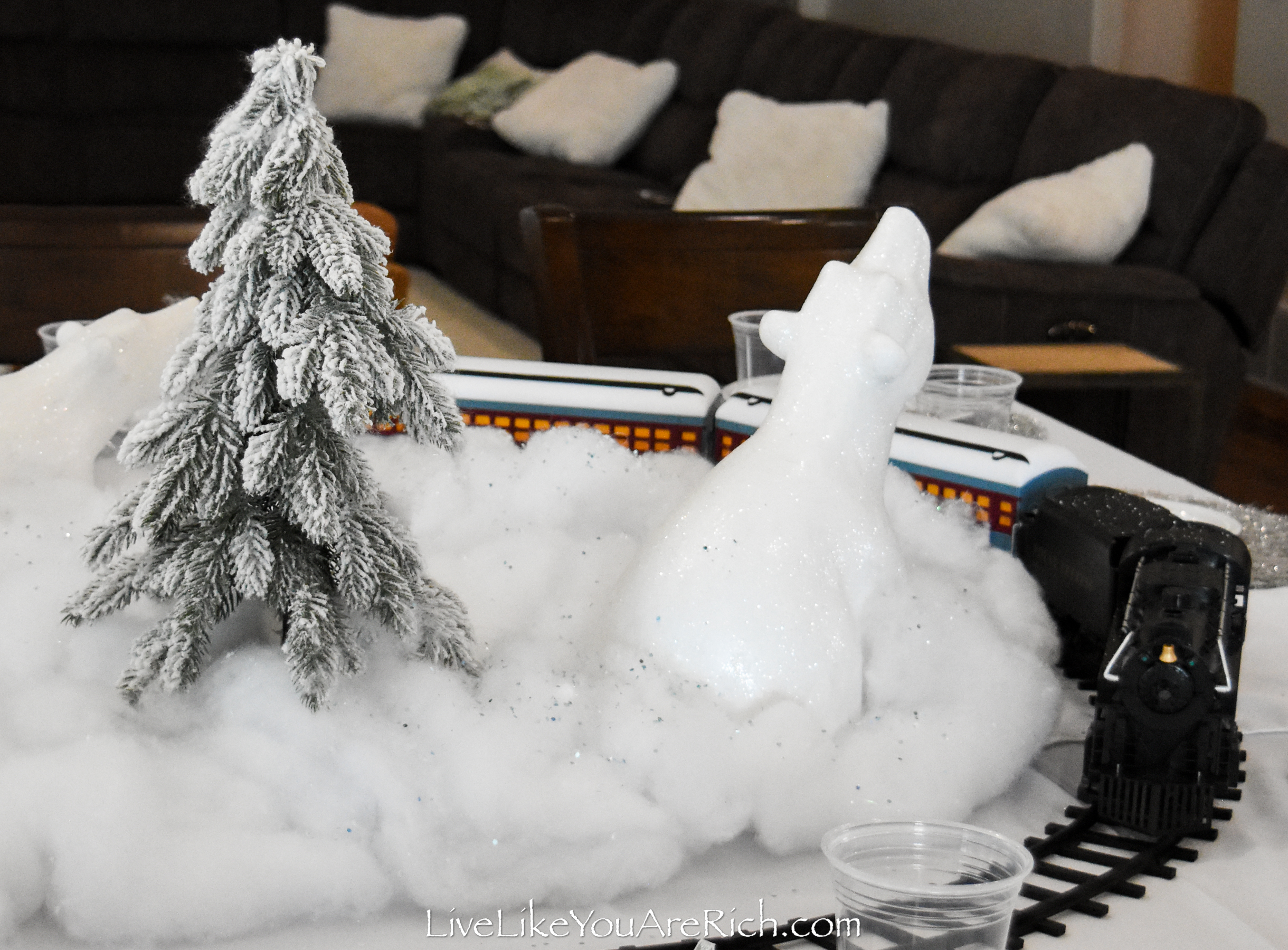 The total cost of this Polar Express Tablescape.
each placemat was .07 cents, the bells were .20 cents, the tickets were about .20 cents each, and the plasticware cost about .75 a setting.
I bought the train and polar bears as well as faux snow and flocked trees for other uses (my son's Polar Bear party) so I don't include those in how much this cost out of pocket as I just reused items I had.
So, the total for this tablescape (that I purchased specifically for it) was about $15.00. Not bad at all for a party that the attendees really enjoyed!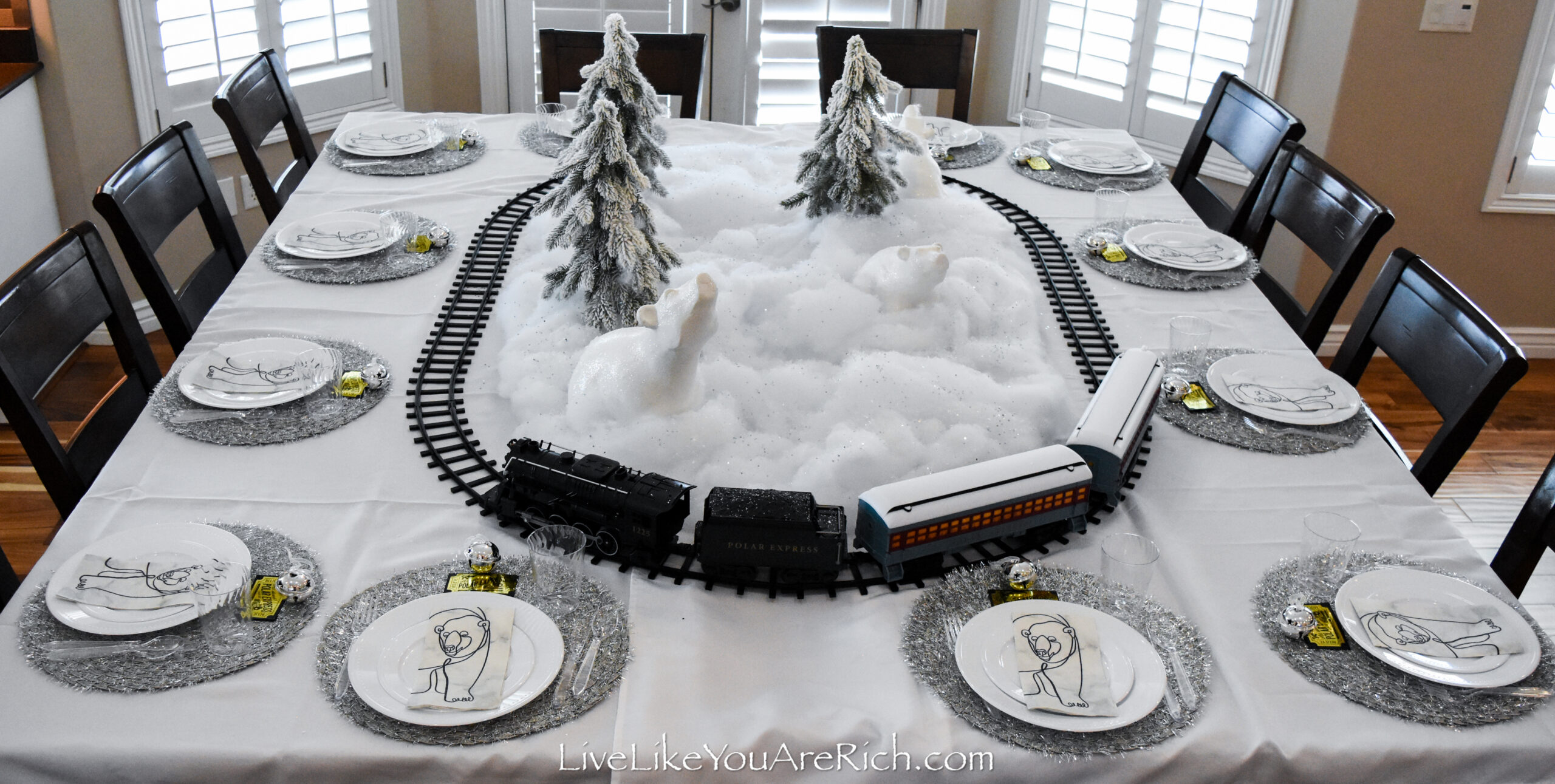 To see more details of this Polar Express Kids' Tablescape, check out the video on this post.

For other 'rich living tips' please subscribe, like me on Facebook, and follow me on Pinterest and Instagram.