Darling Camping Birthday Party—Food Ideas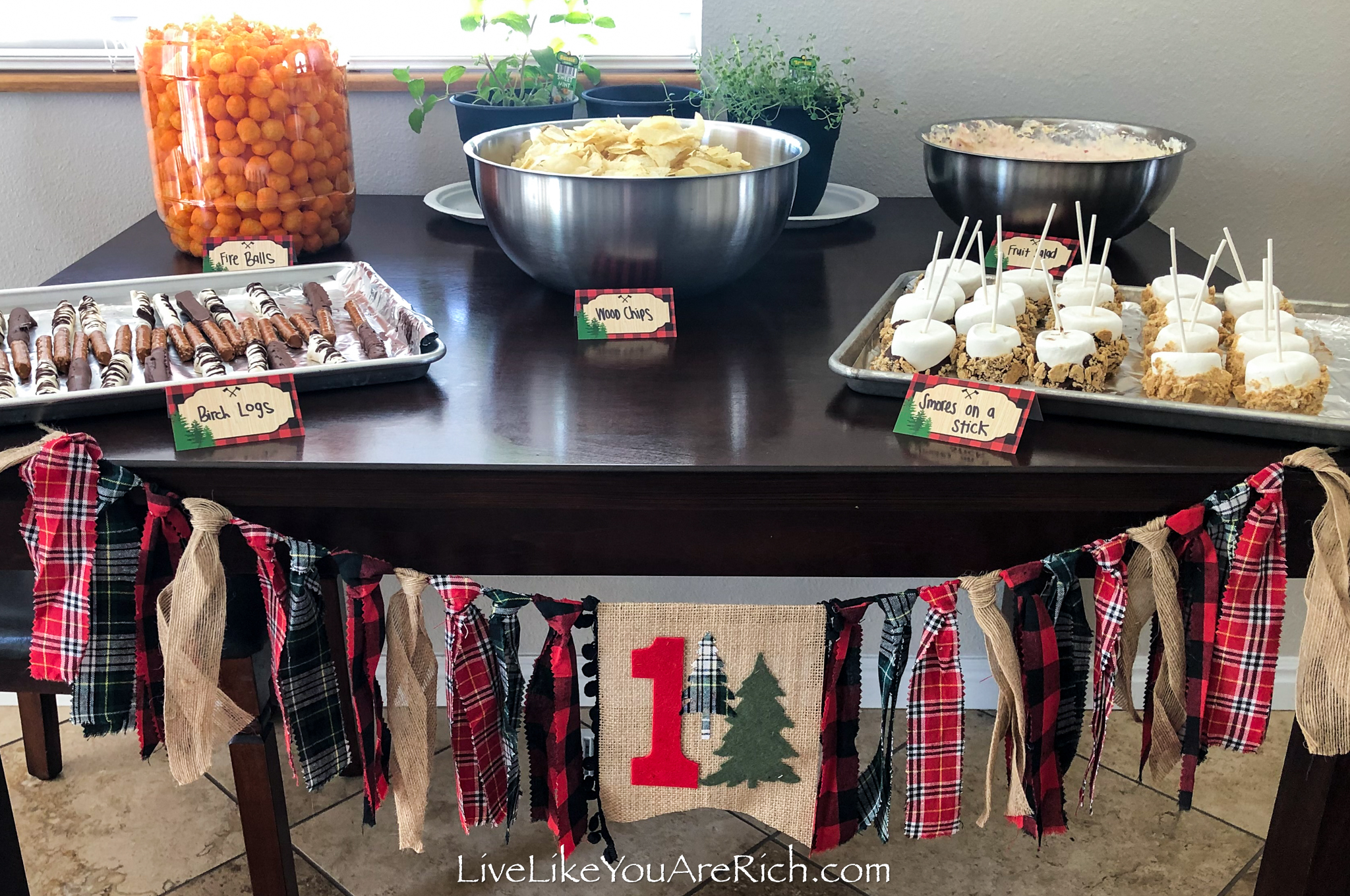 My sister-in-law made this darling camping outdoor birthday party for her son's first birthday. I love the cute details, the burlap and plaid banner, lumber jack food labels, and the food that she served to match the theme.
It was so cute, I asked if I could take photos and post to share with others out there who may be looking to do a similar party; she was happy to let me do so. Which is admirable of her to share!
She and her husband served up grilled hamburgers and fixings that aren't pictured, below you can also see the cute cake she made for the party!
On the food table, she put Lay's potato chips in a bowl and labeled them as, "Wood Chips".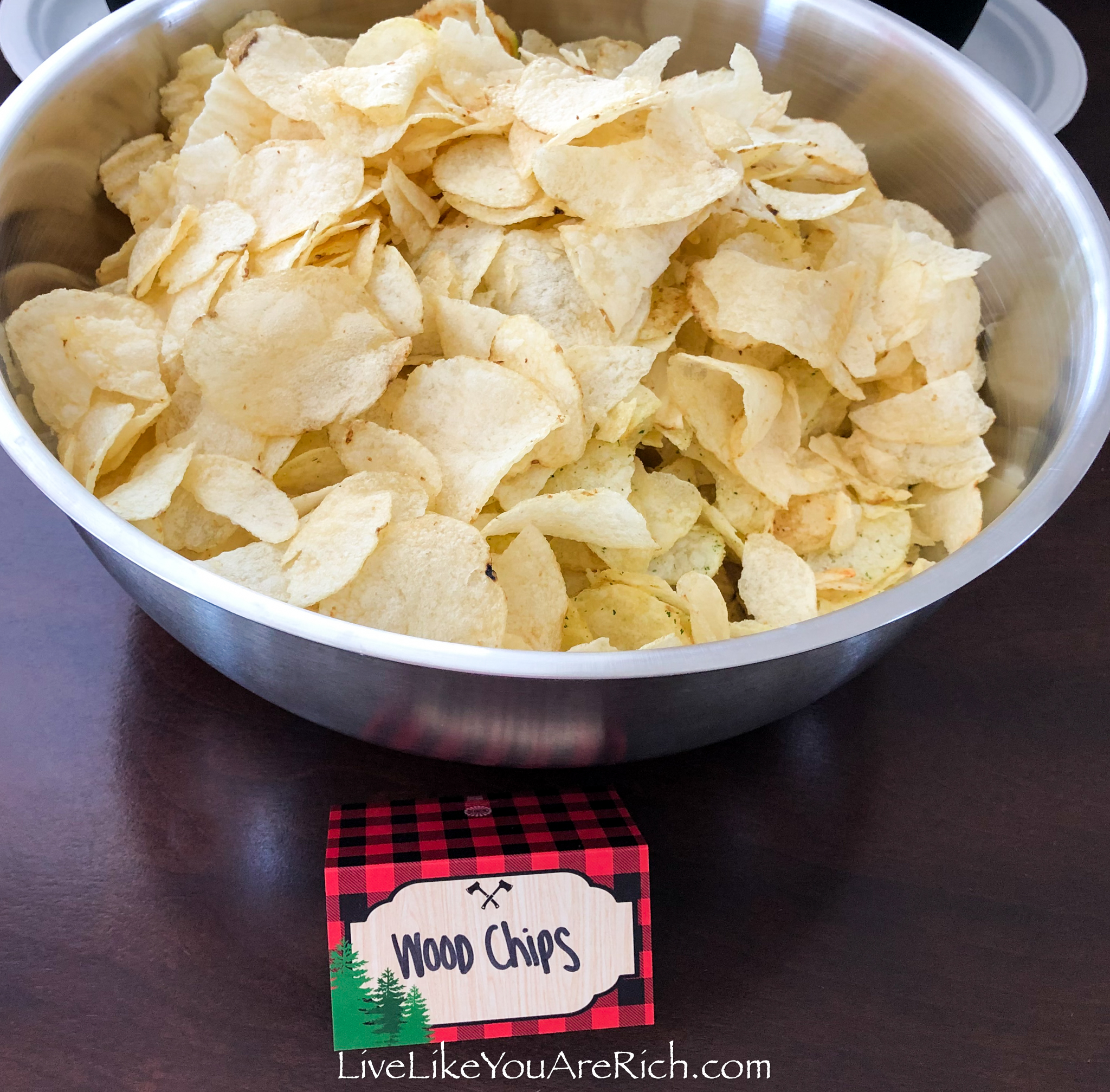 Cheese balls were labeled as, "Fire balls".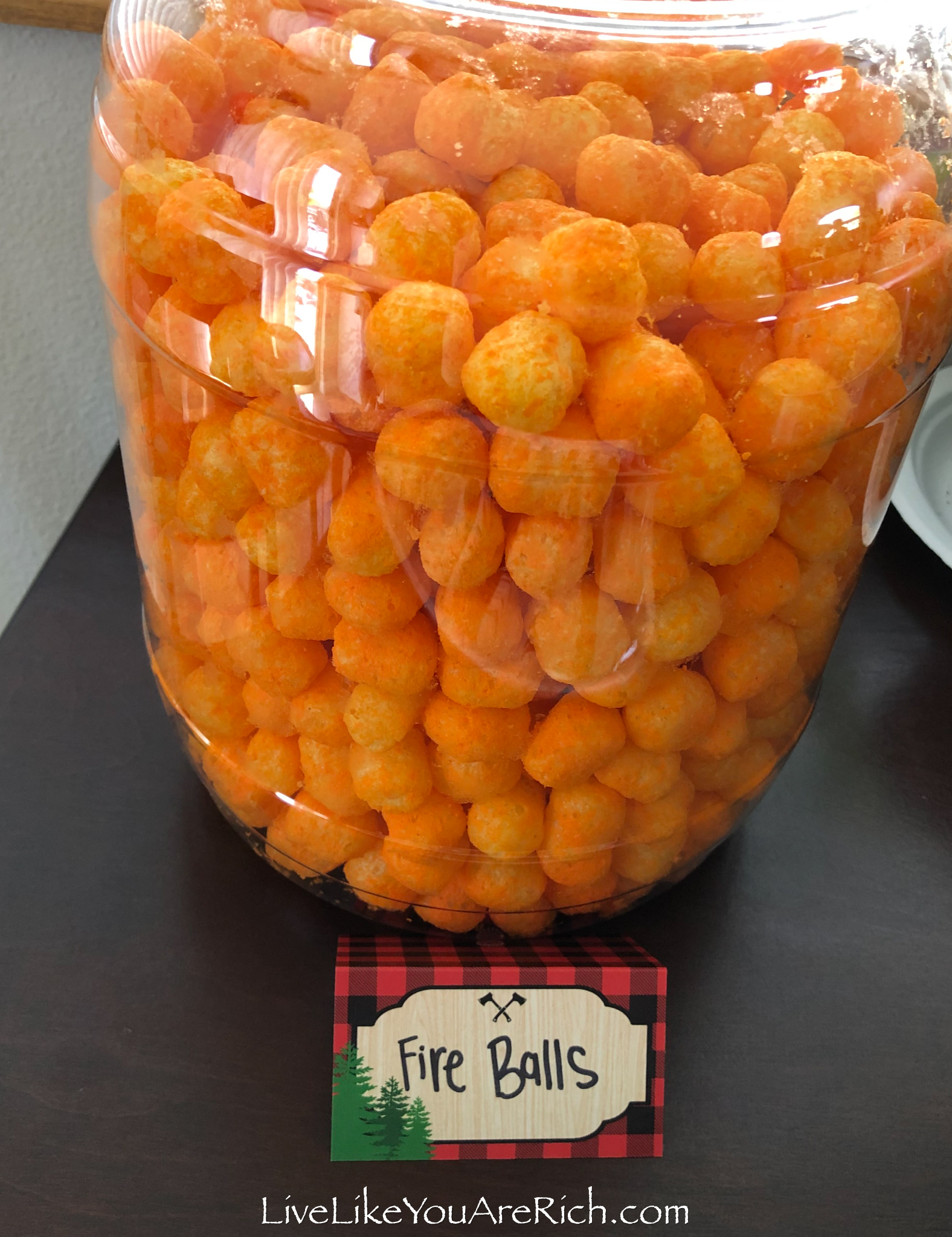 Pretzel rods were dipped and decorated in white and milk chocolate were labeled as, "Birch Logs".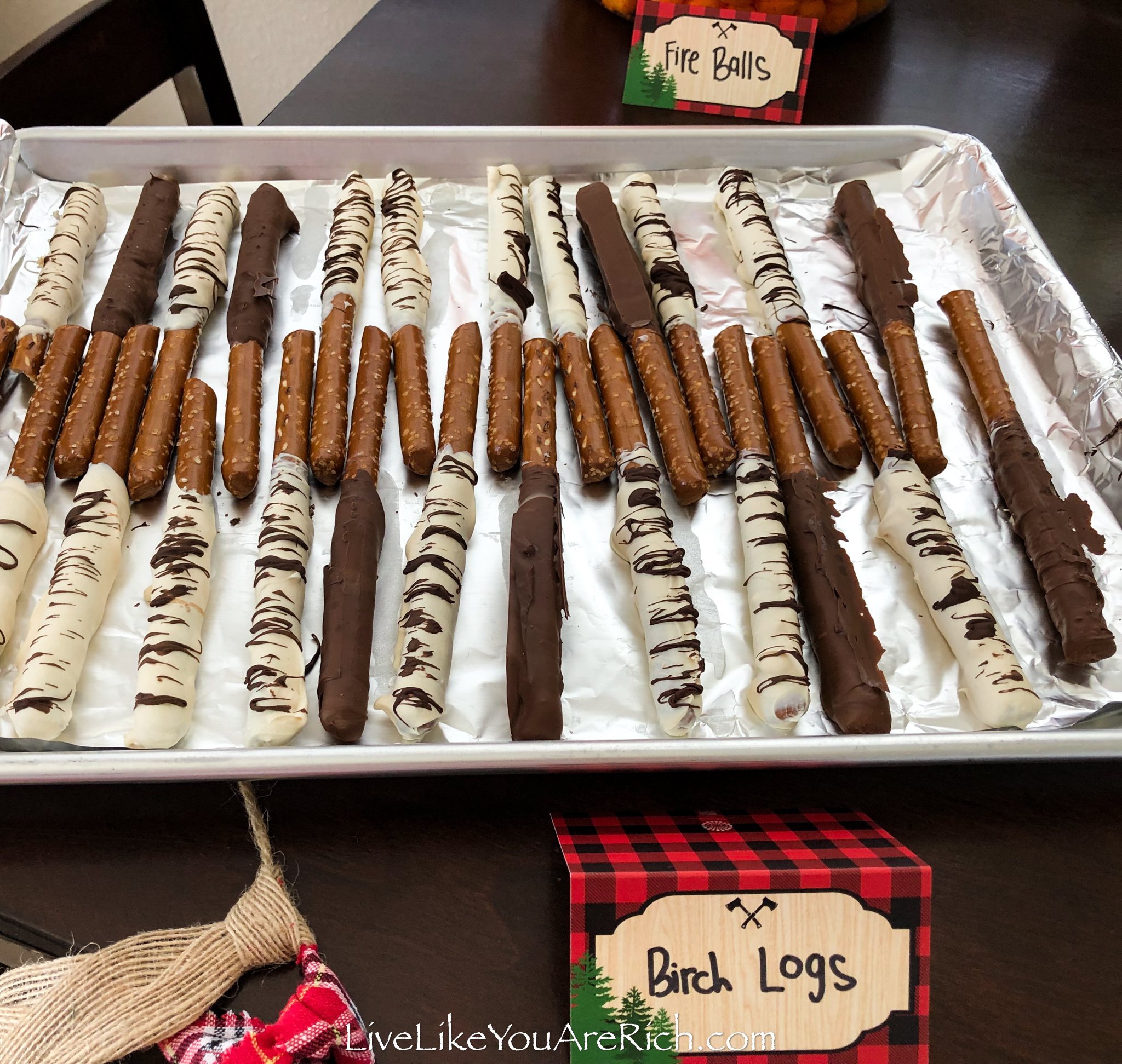 She had, "S'mores on a Stick" which were giant marshmallows on cake pop sticks, dipped in either white or milk chocolate and crushed graham crackers.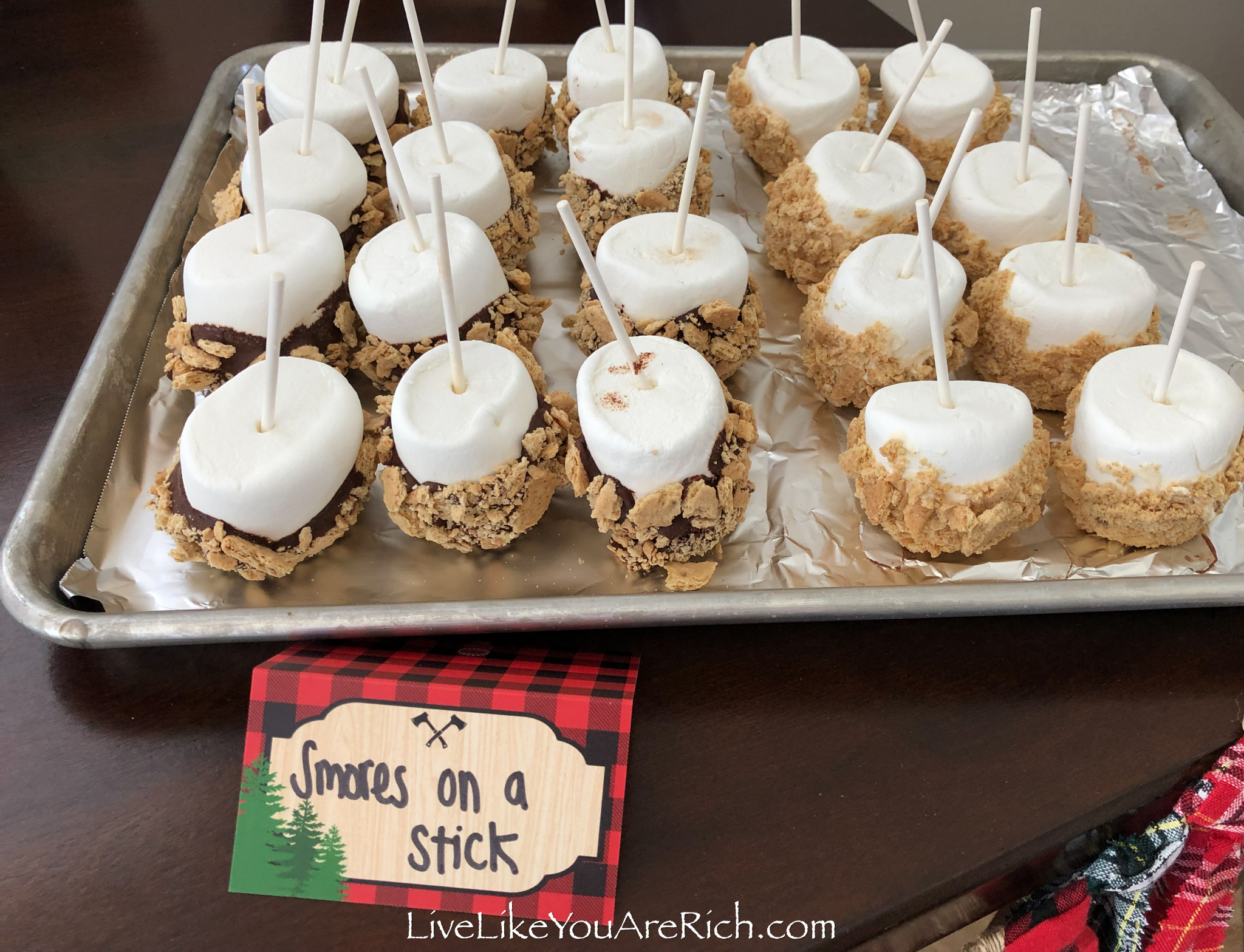 There was also, "Fruit Salad" on the treat table as well.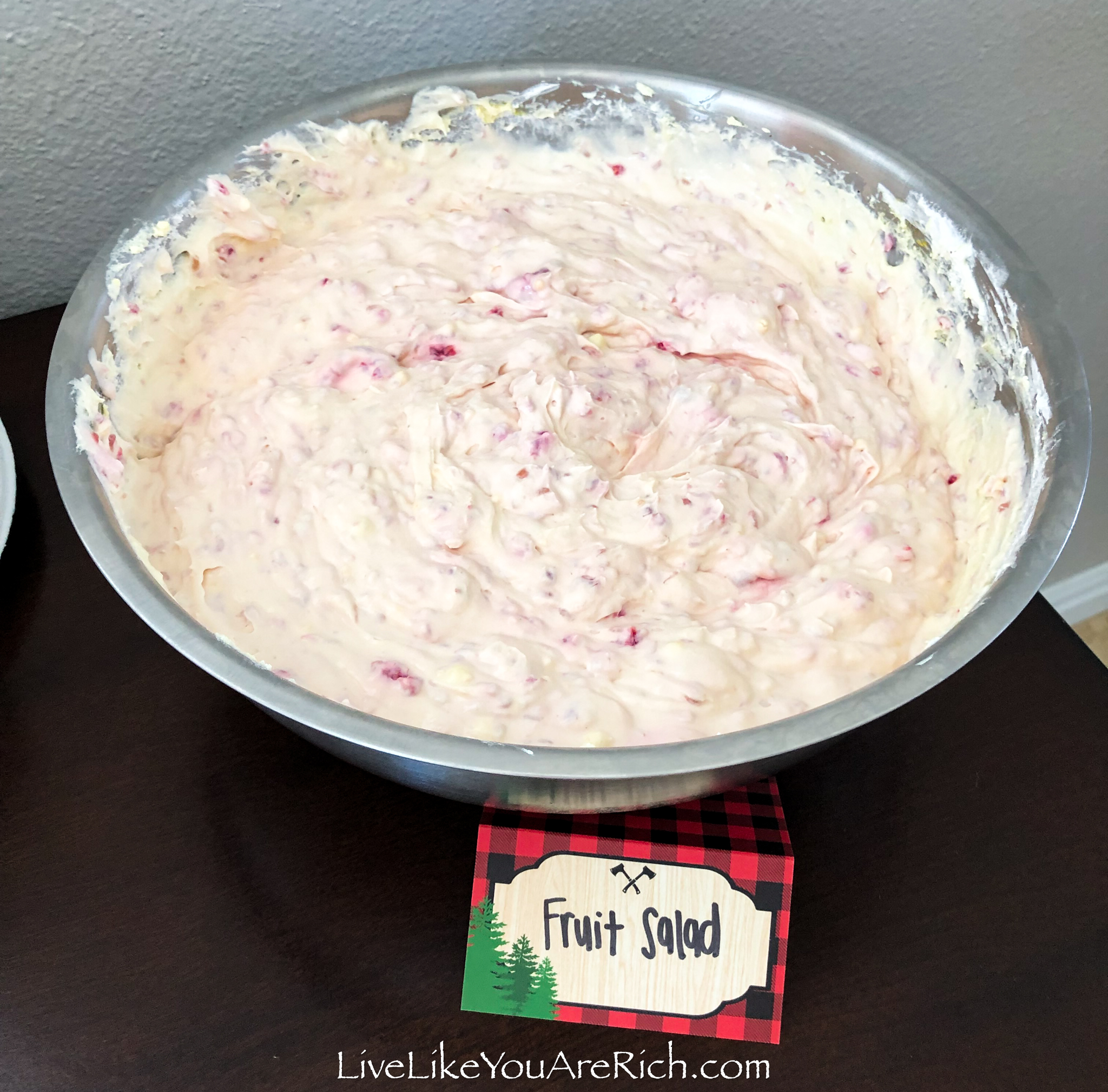 I loved the metal and tin foil accents on the table because that's what I use to cook when we go camping.
Neither she nor I took a very great photo of the chocolate cake that she made, but I wish I had because it was so cute!
She used chocolate shards on the edges of the chocolate smash cake to give it an outdoorsy look.
I loved how cute it was. It reminded me of the great outdoors. It could resemble fire, mountains, or logs.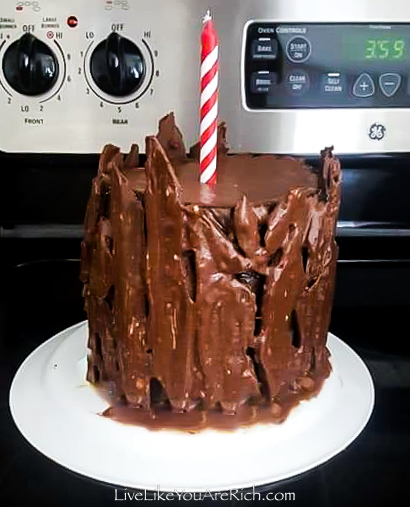 Supply List for this Darling Camping Birthday Party—Food Ideas
Potato Chips
Fruit salad (similar but different recipe can be found here)
cookie sheets
aluminum foil
cheese balls
melting white and milk chocolate
graham crackers, crushed
strips of plaid and burlap fabric or thick ribbon
felt (forest green and red)
hot glue gun and glue sticks
Lumberjack food labels
How to Assemble this Darling Camping Birthday Party—Food Ideas
Cut ribbon or fabric in about 3″x 16″ strips and tie them on a strand of thick twine or rope.
Cut out of burlap fabric a pendant (similar to the center pendant on the banner) and hot glue it in the center of the twine.
Cut out and hot glue the birthday number and a few trees to the burlap fabric.
Hang the banner on the dessert table.
Place cheese balls, potato chips, fruit salad, chocolate and graham cracker-dipped jumbo marshmallows, and chocolate covered pretzel sticks on the dessert table and label everything.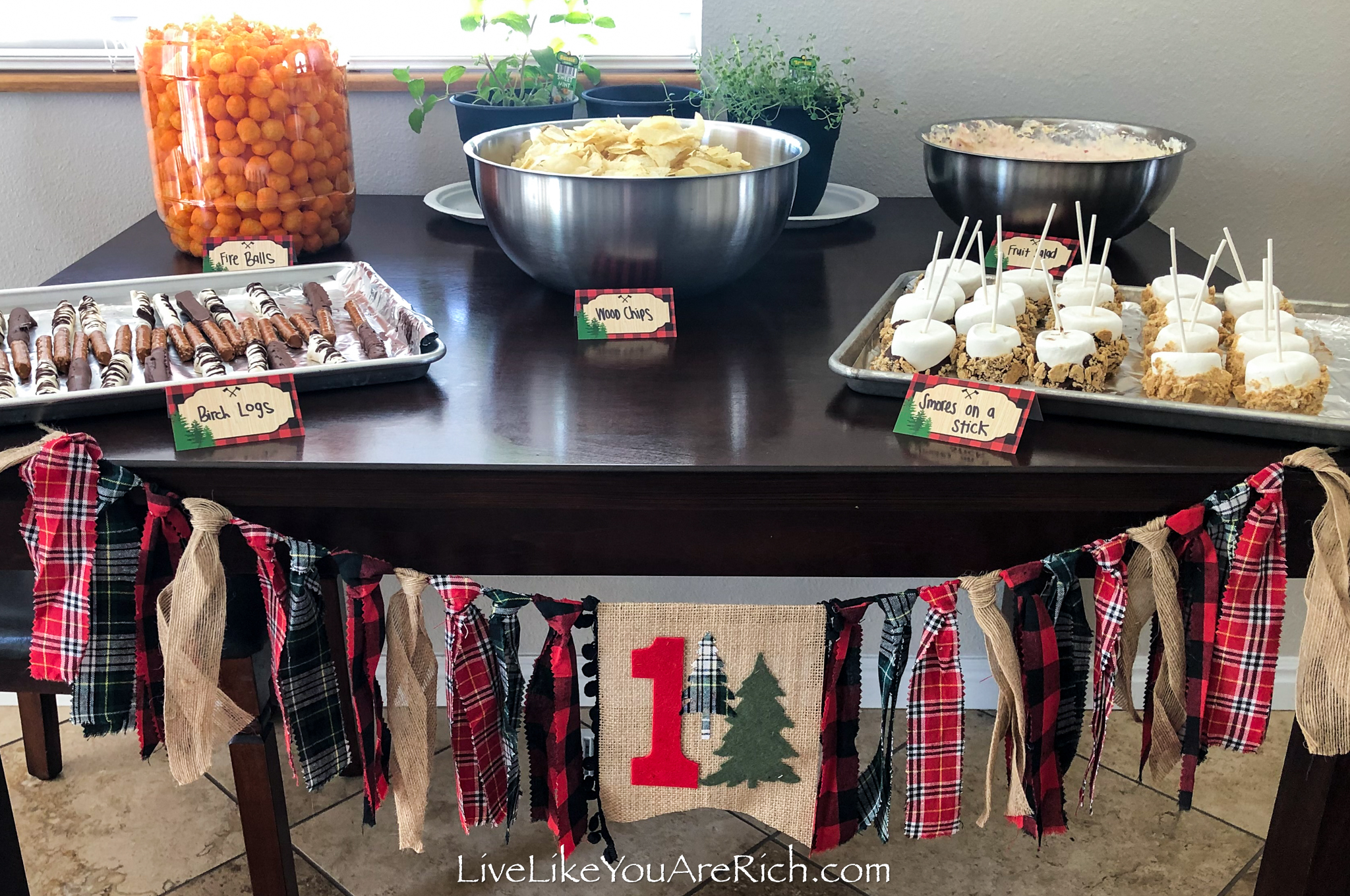 I loved my sister-in-law's creativity for her son's first birthday! Thanks for sharing Jessica!

For other 'rich living tips' please subscribe, like me on Facebook, and follow me on Pinterest and Instagram.