Elf on the Shelf: Goodnight Moon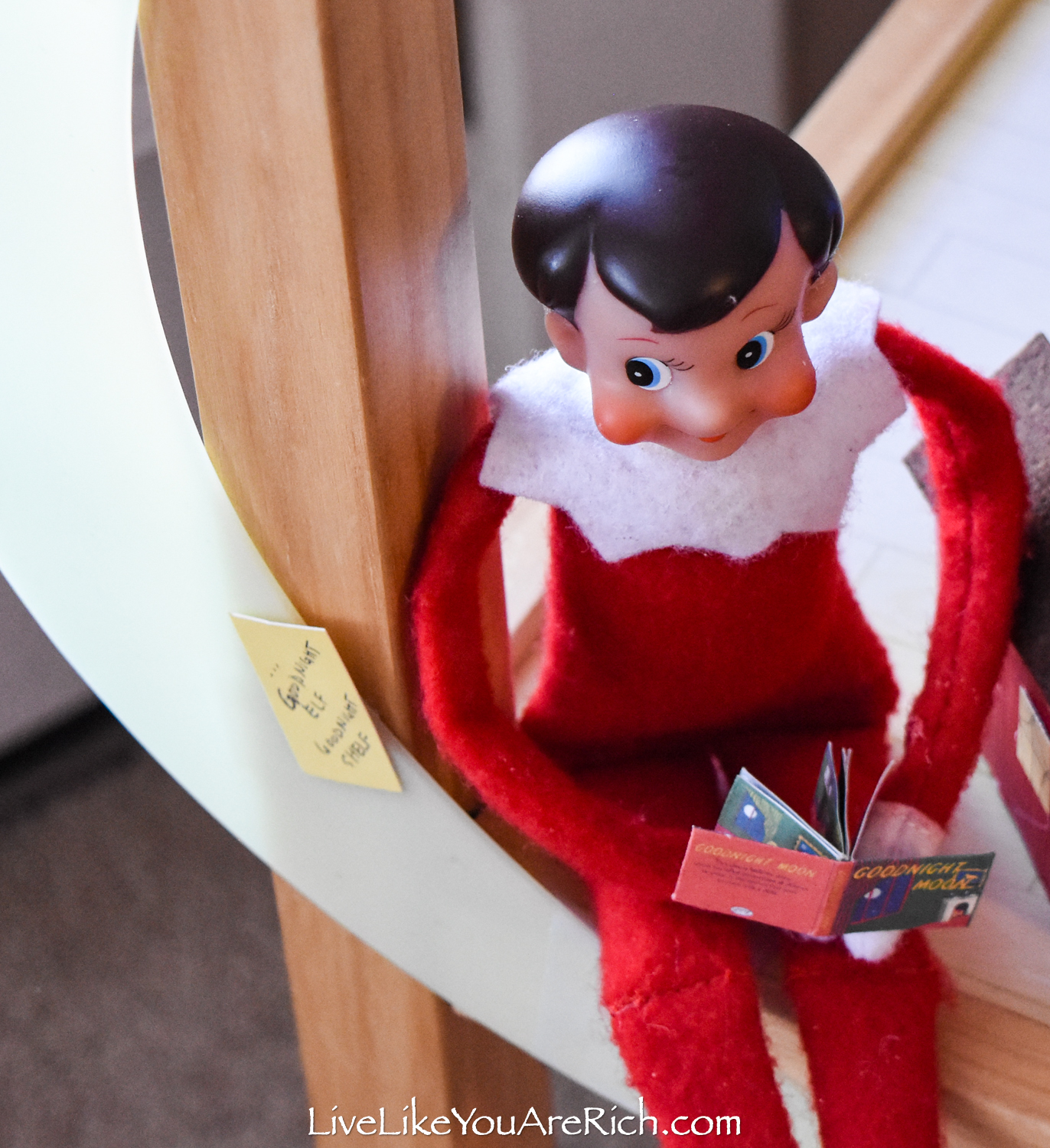 Pepper Mint, our Elf, must have seen the green room in my girls' dollhouse and thought to do a recreation of one of his favorite night time stories, Goodnight Moon, because when we woke up in the morning, this is what we found…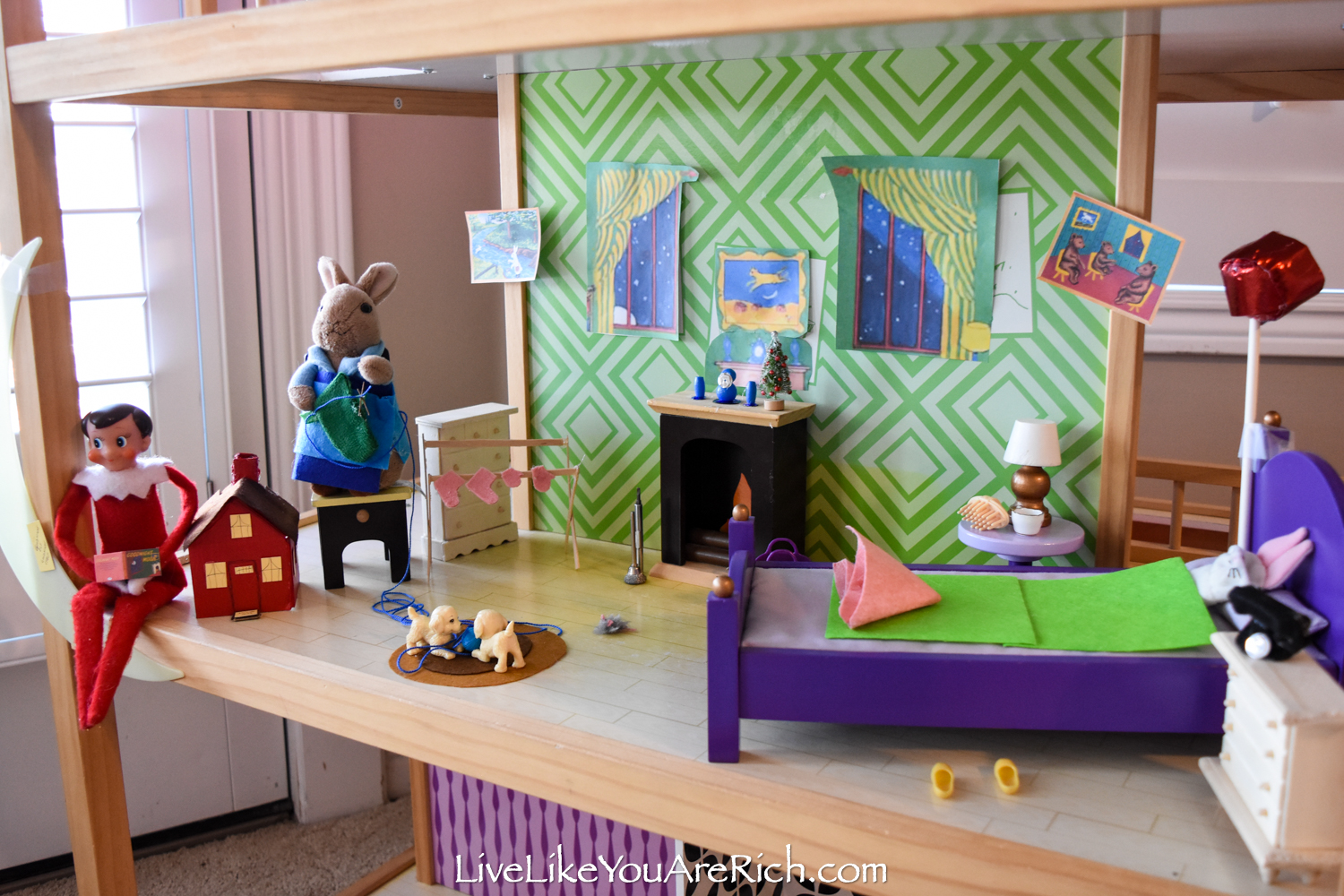 Goodnight Moon, is a classic bedtime story.
It's been a favorite since the late 1940's. Over 48 million copies have been sold!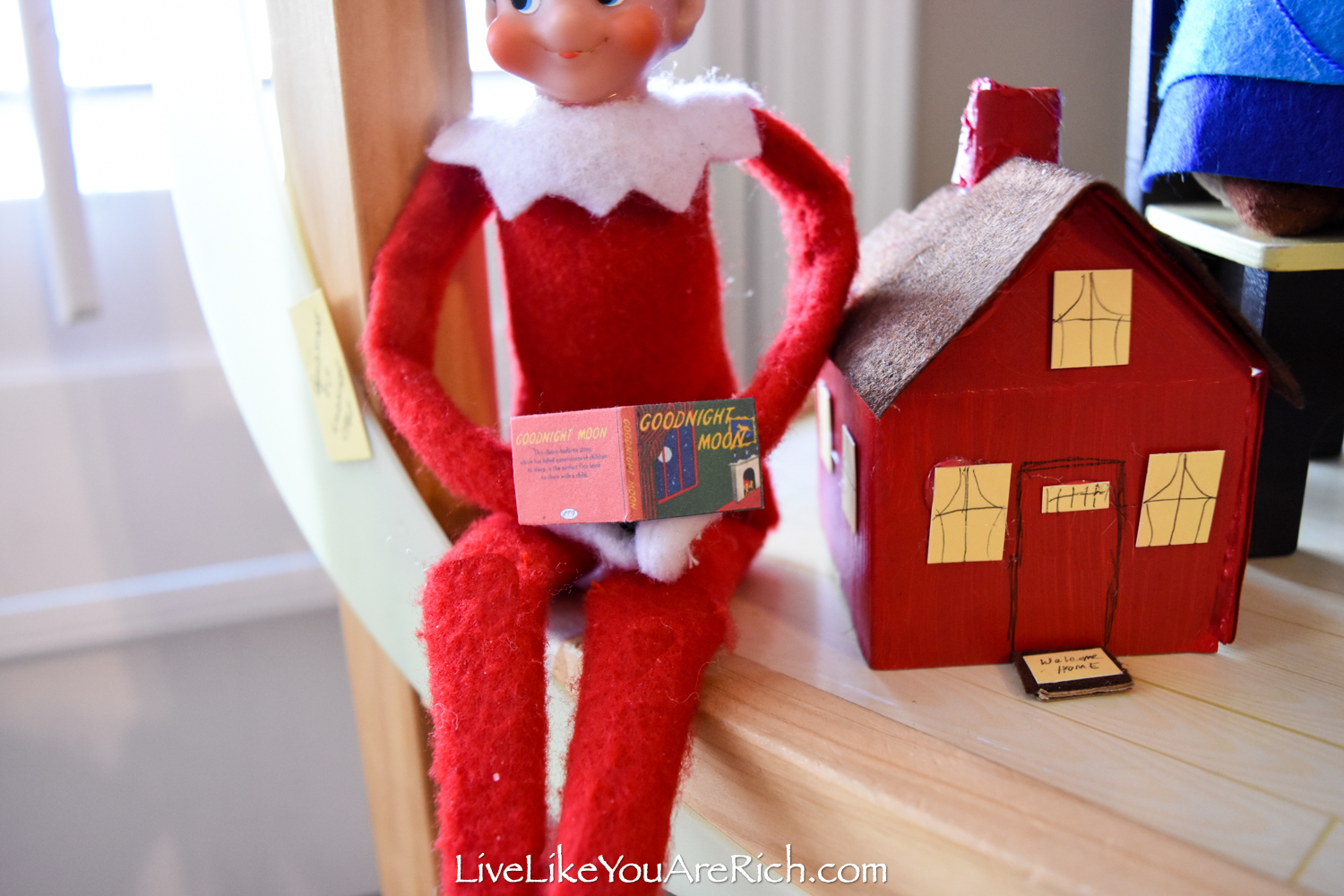 There isn't anything flashy or complicated about the story; it is soothing and sweet.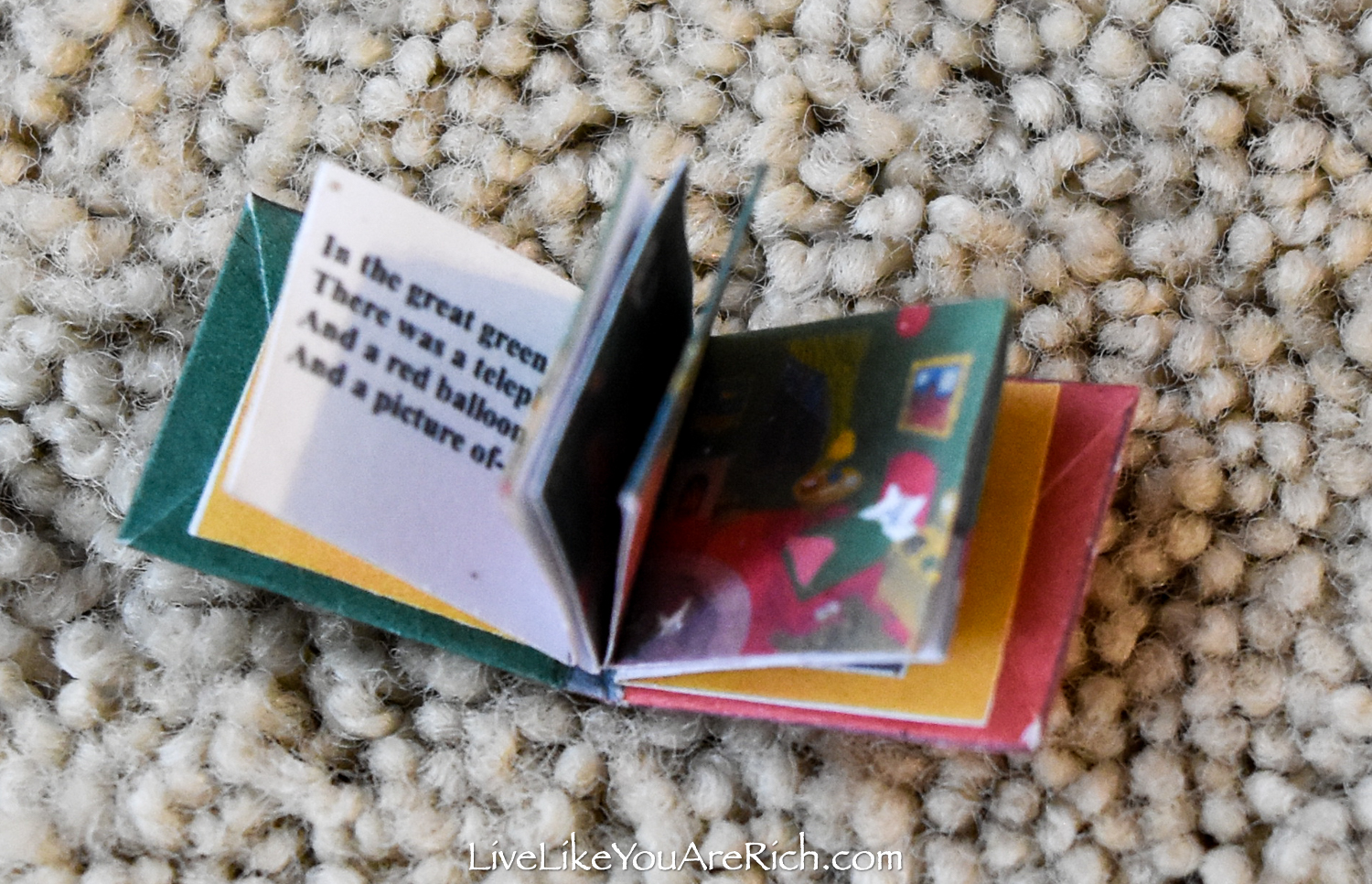 I find it endearing because of its simplicity.
If you haven't read it yet, it is about a little bunny who is trying to fall sleep and begins saying goodnight to items in the room which rhyme.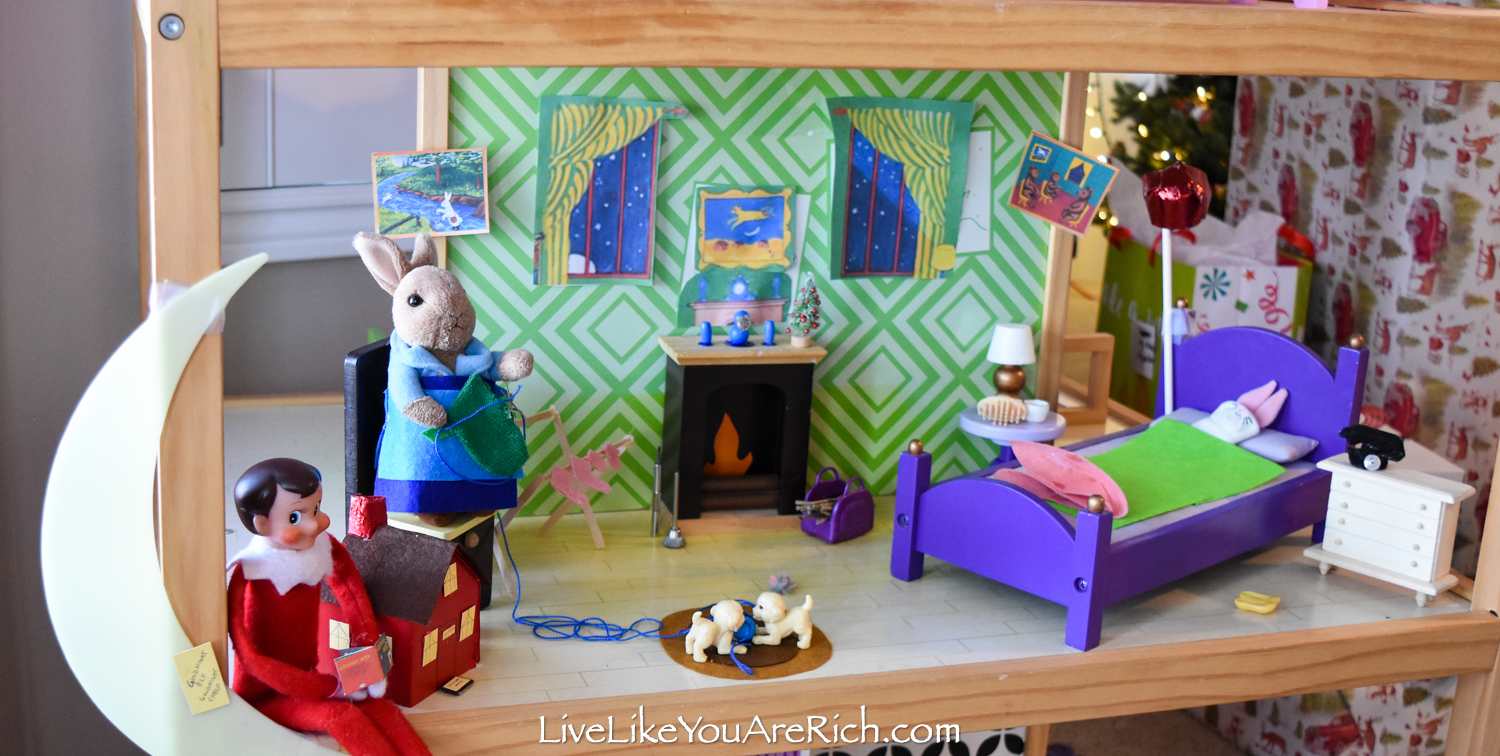 I love that Pepper added his own addition to the book.
He left us a note with these two lines scribbled on it; "Goodnight Elf, Goodnight Shelf".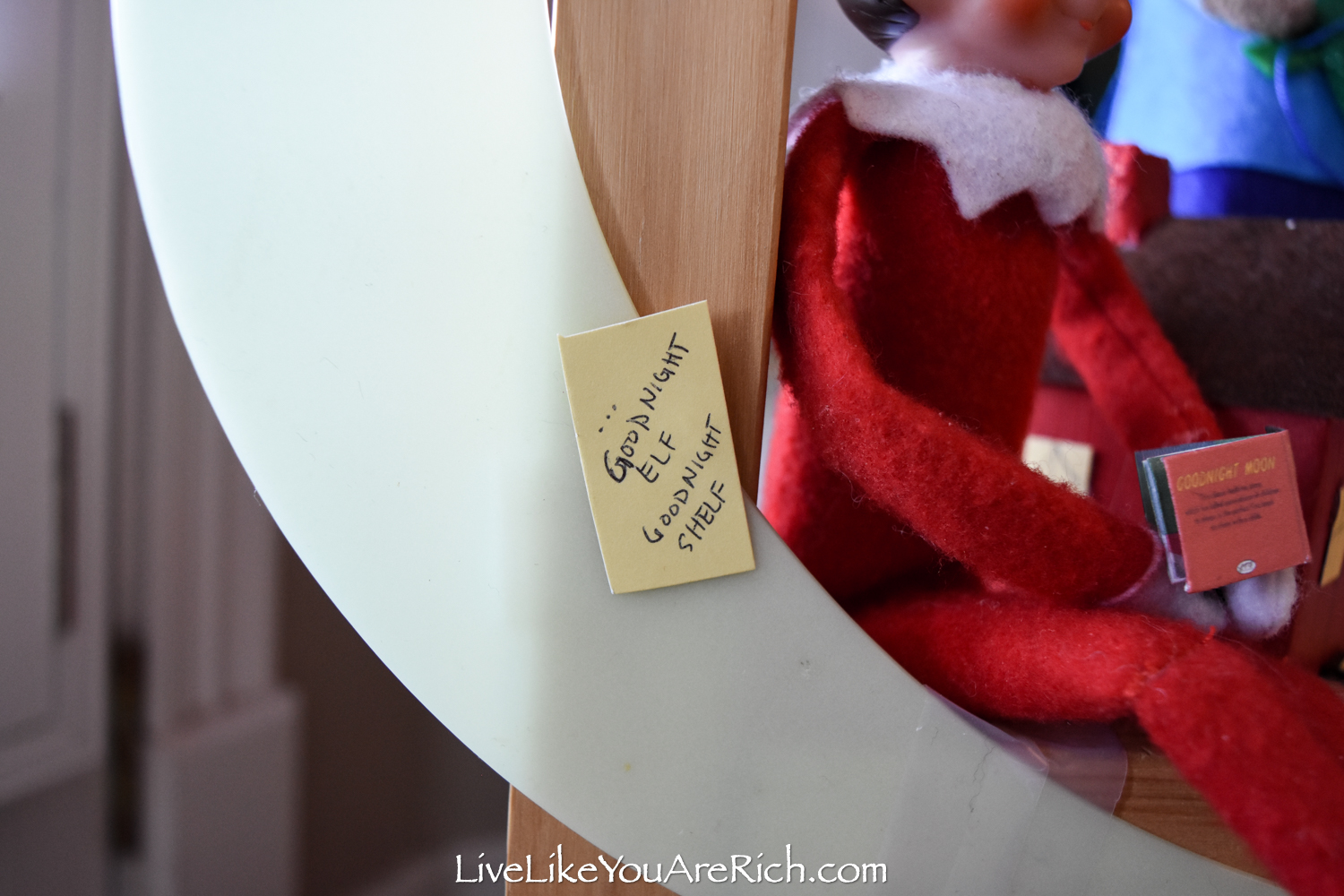 Here are the words from the book and what we found in my daughters' dollhouse.
I'll leave a supply list of what I think Pepper used to create this Elf on the Shelf: Goodnight Moon scene below…
"In the great green room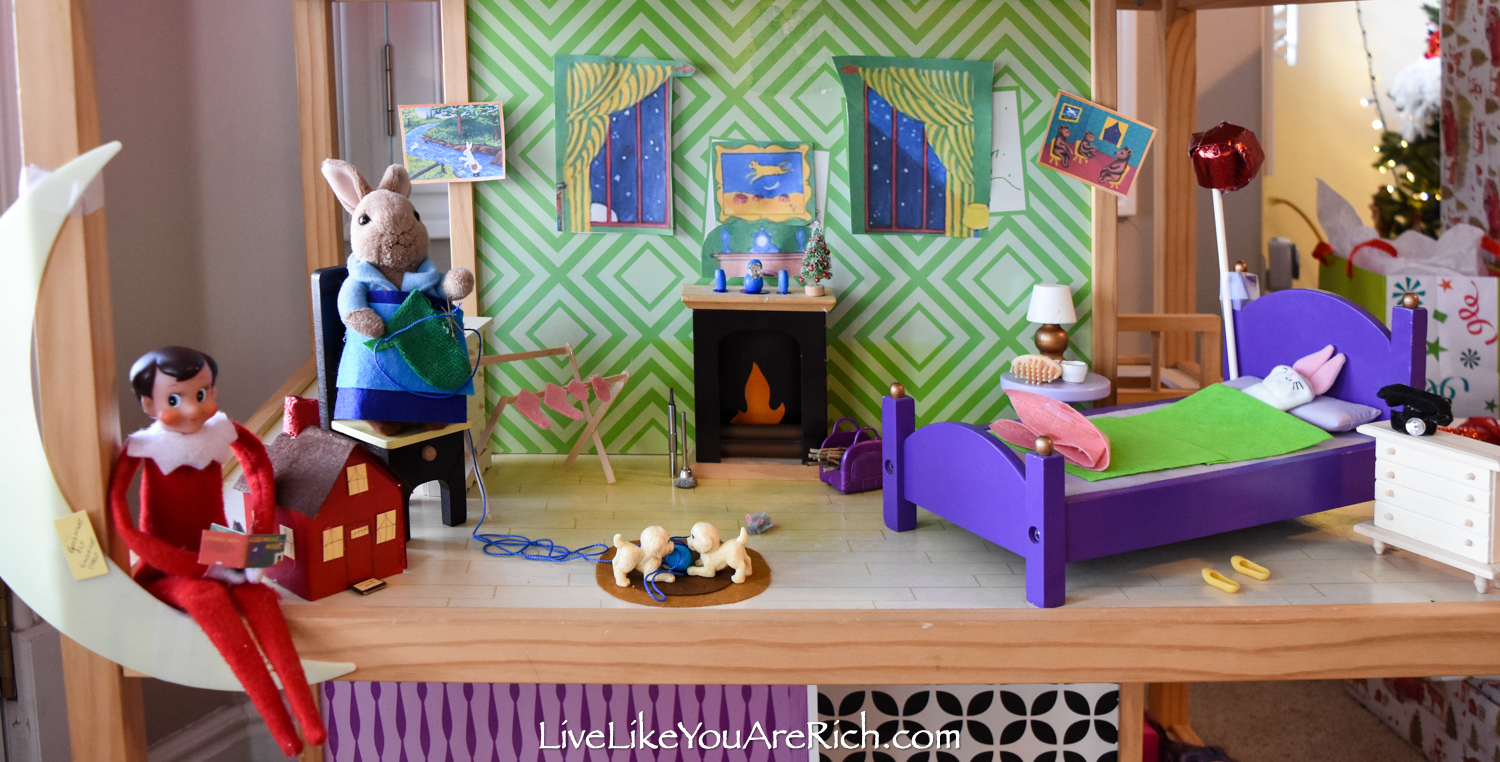 there was a telephone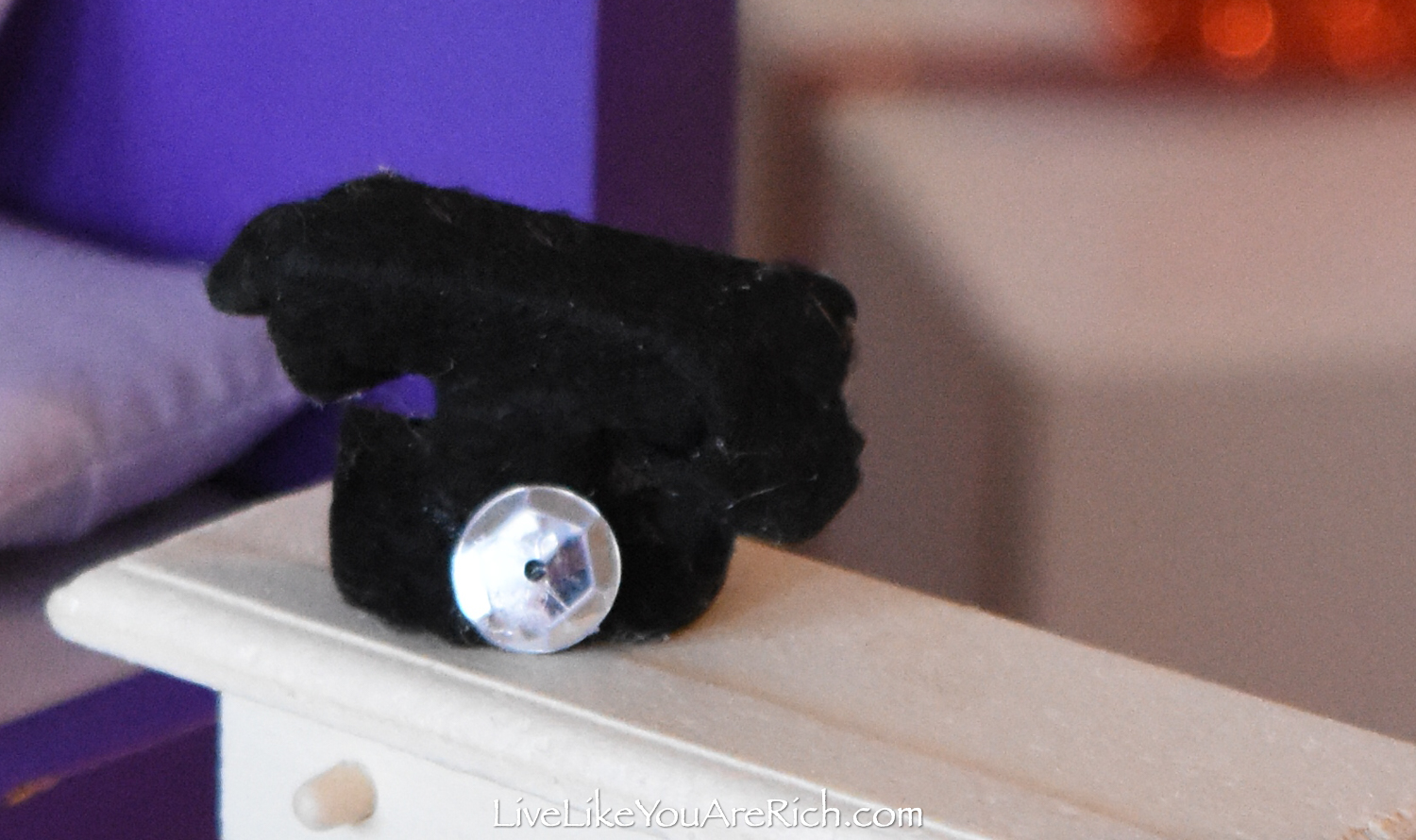 And a red balloon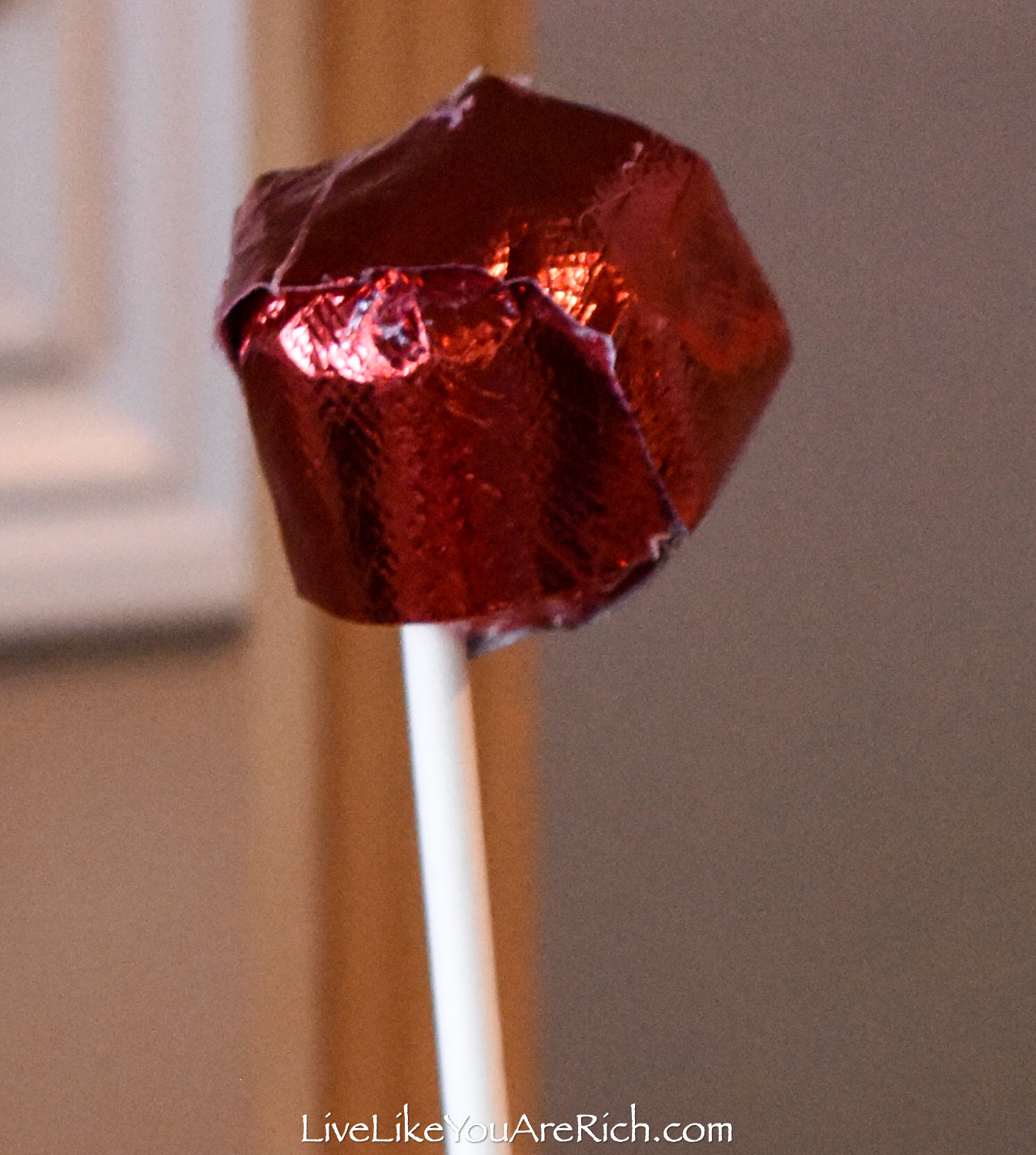 And a picture of the cow jumping over the moon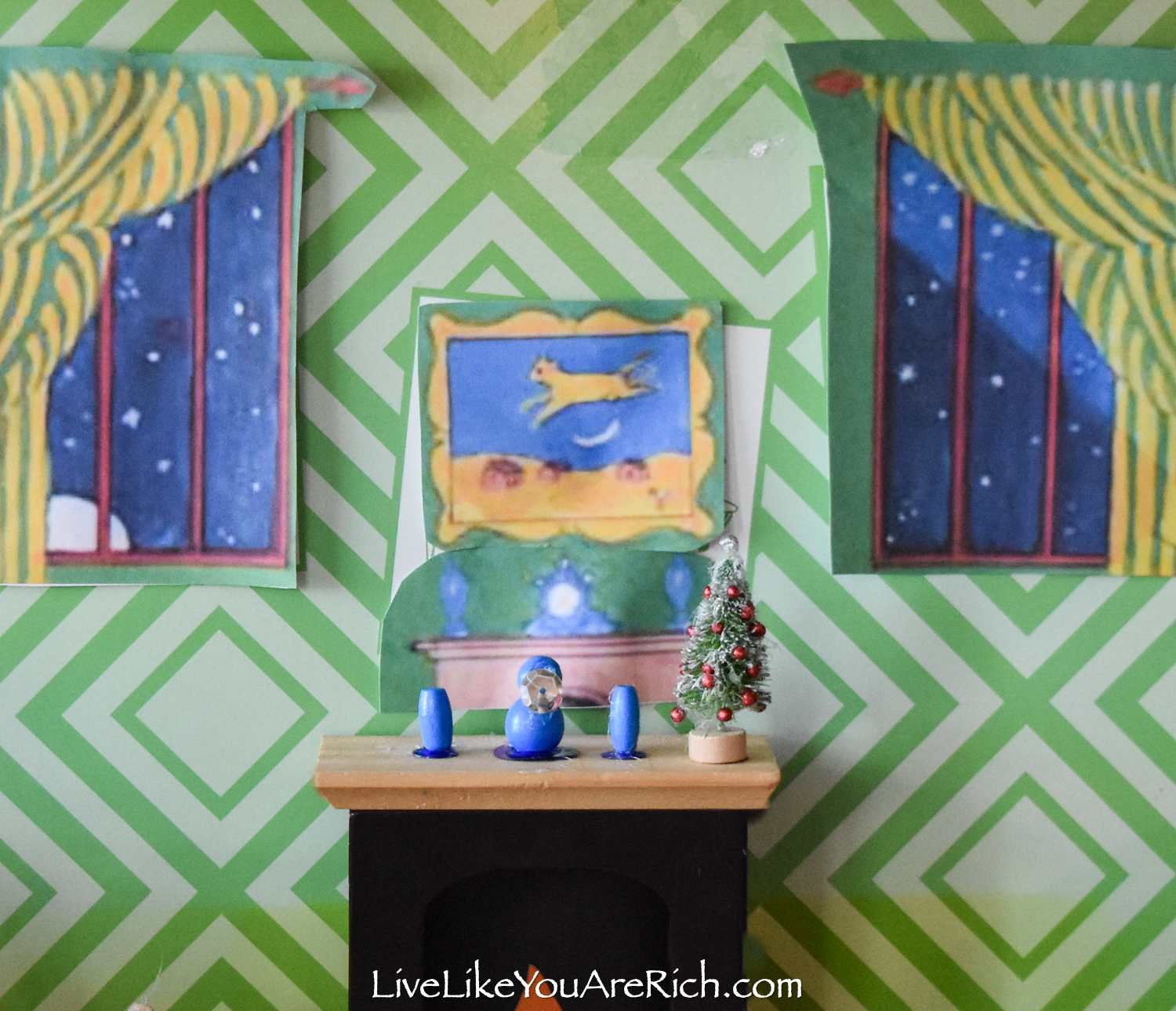 and there were three little bears, sitting on chairs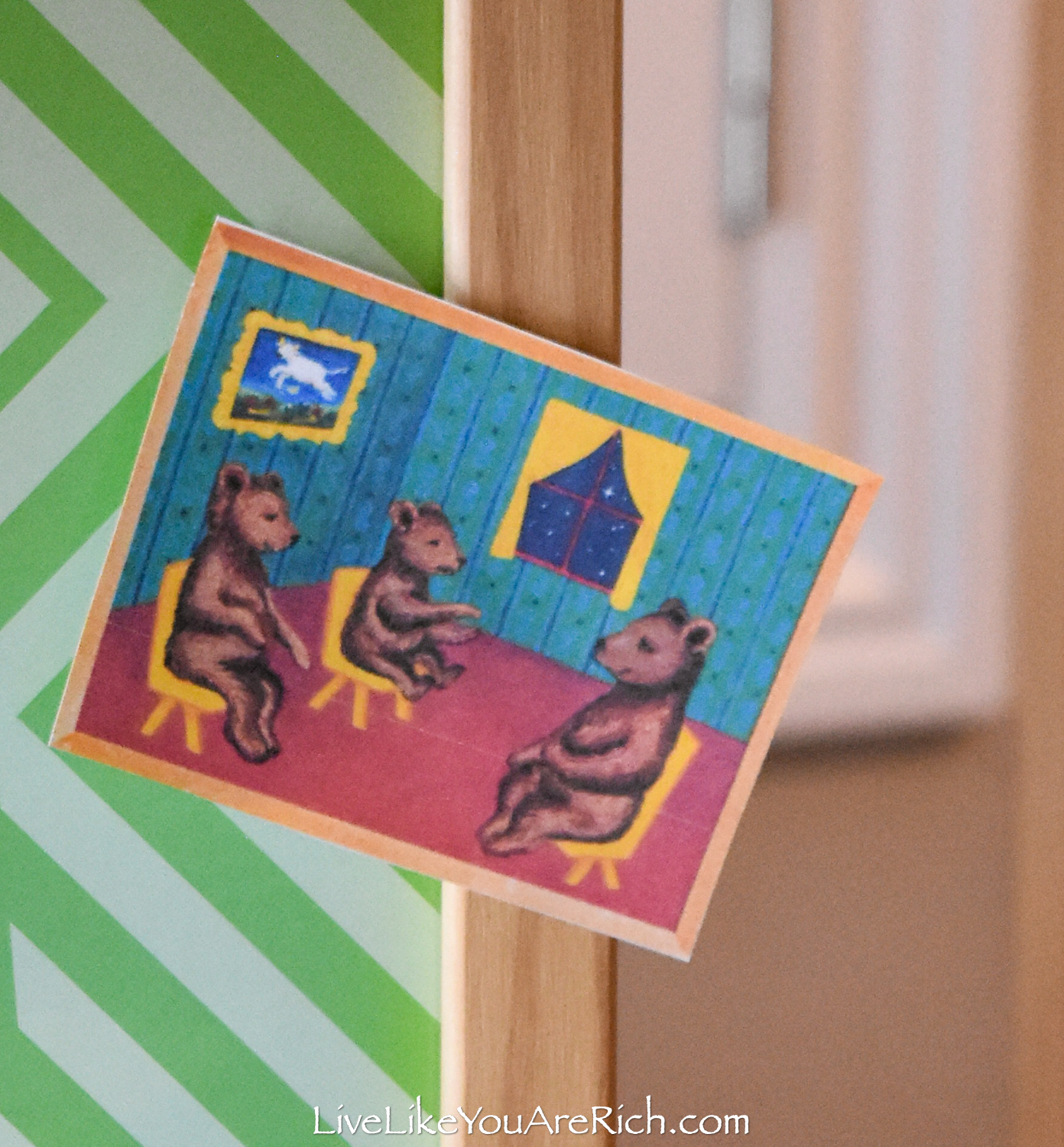 and two little kittens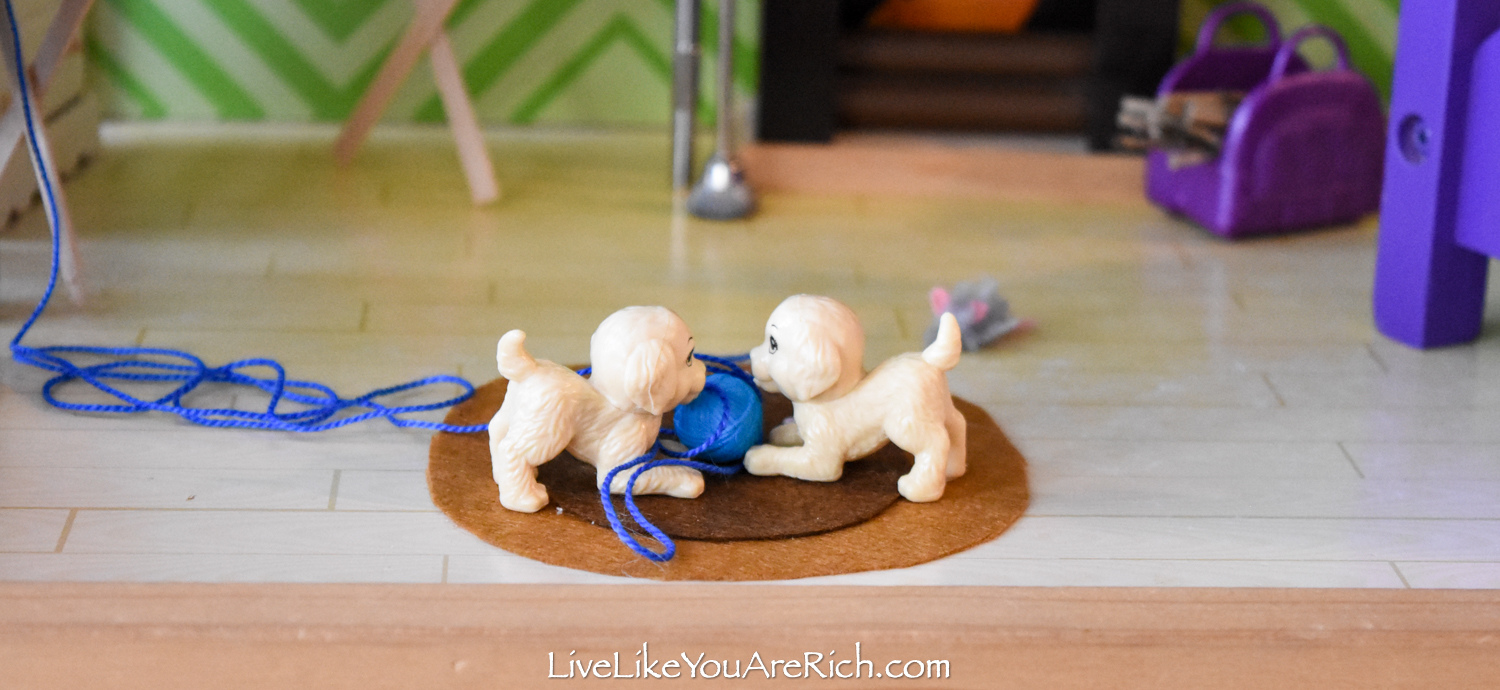 and a pair of mittens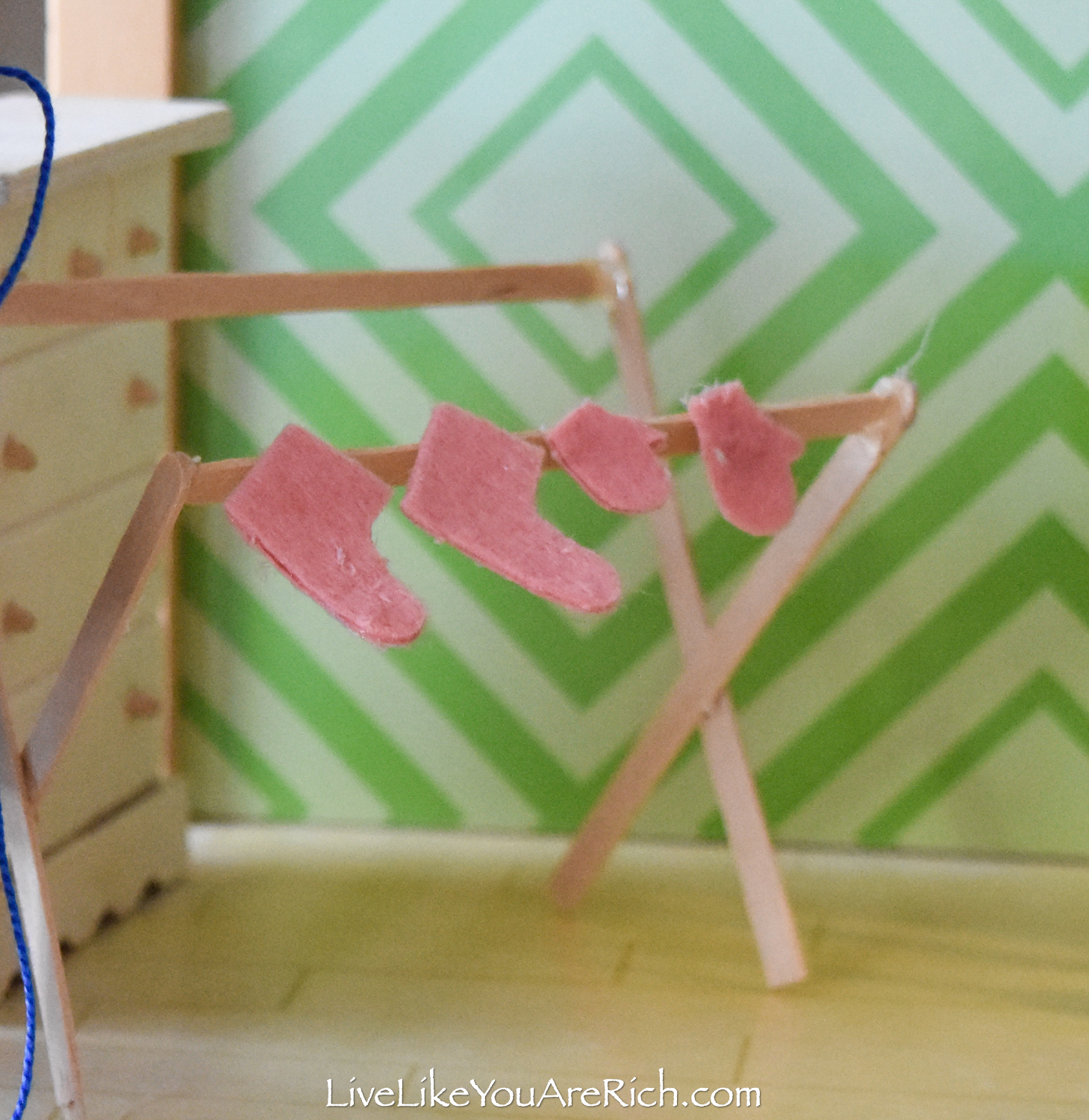 and a little toy house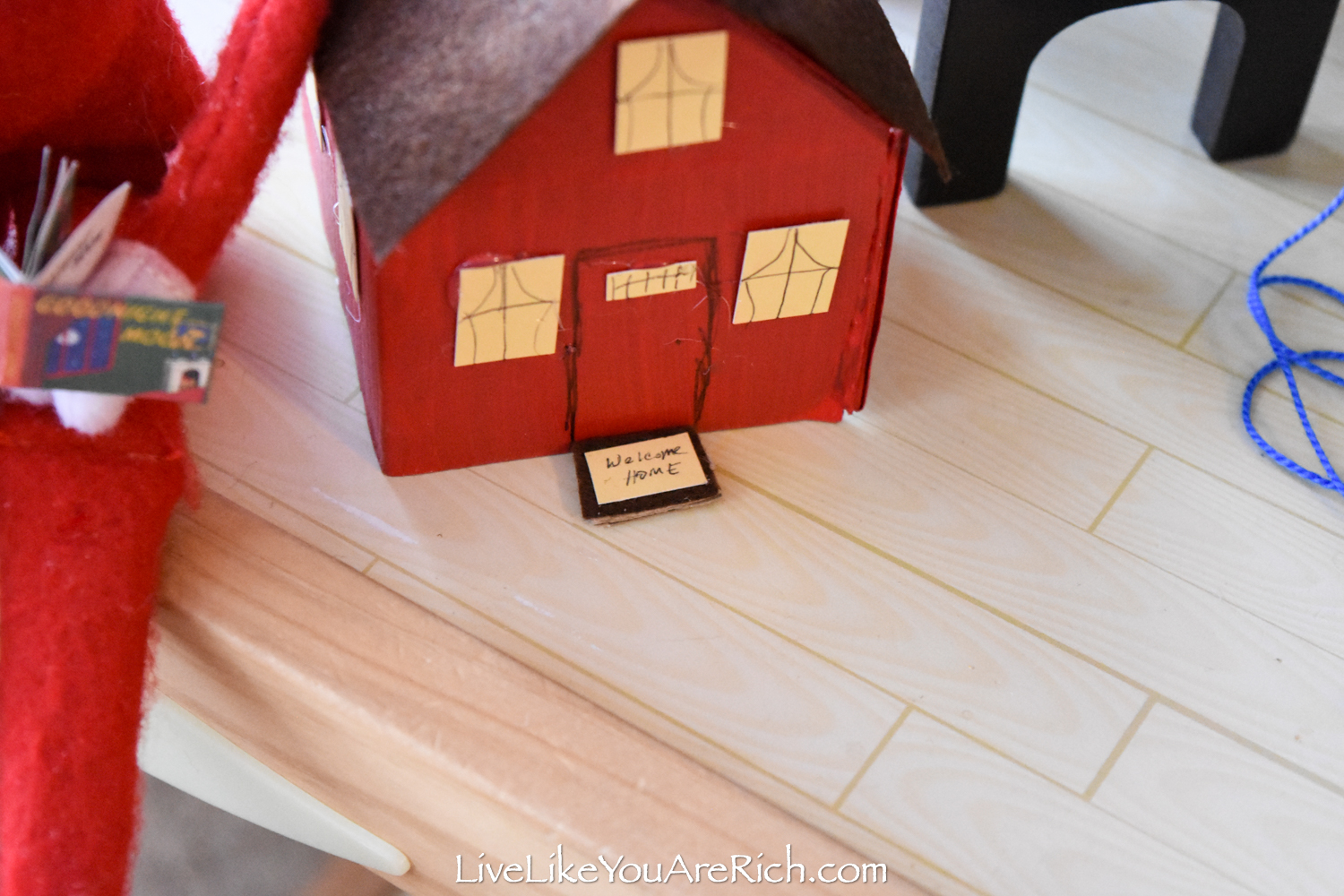 and a young mouse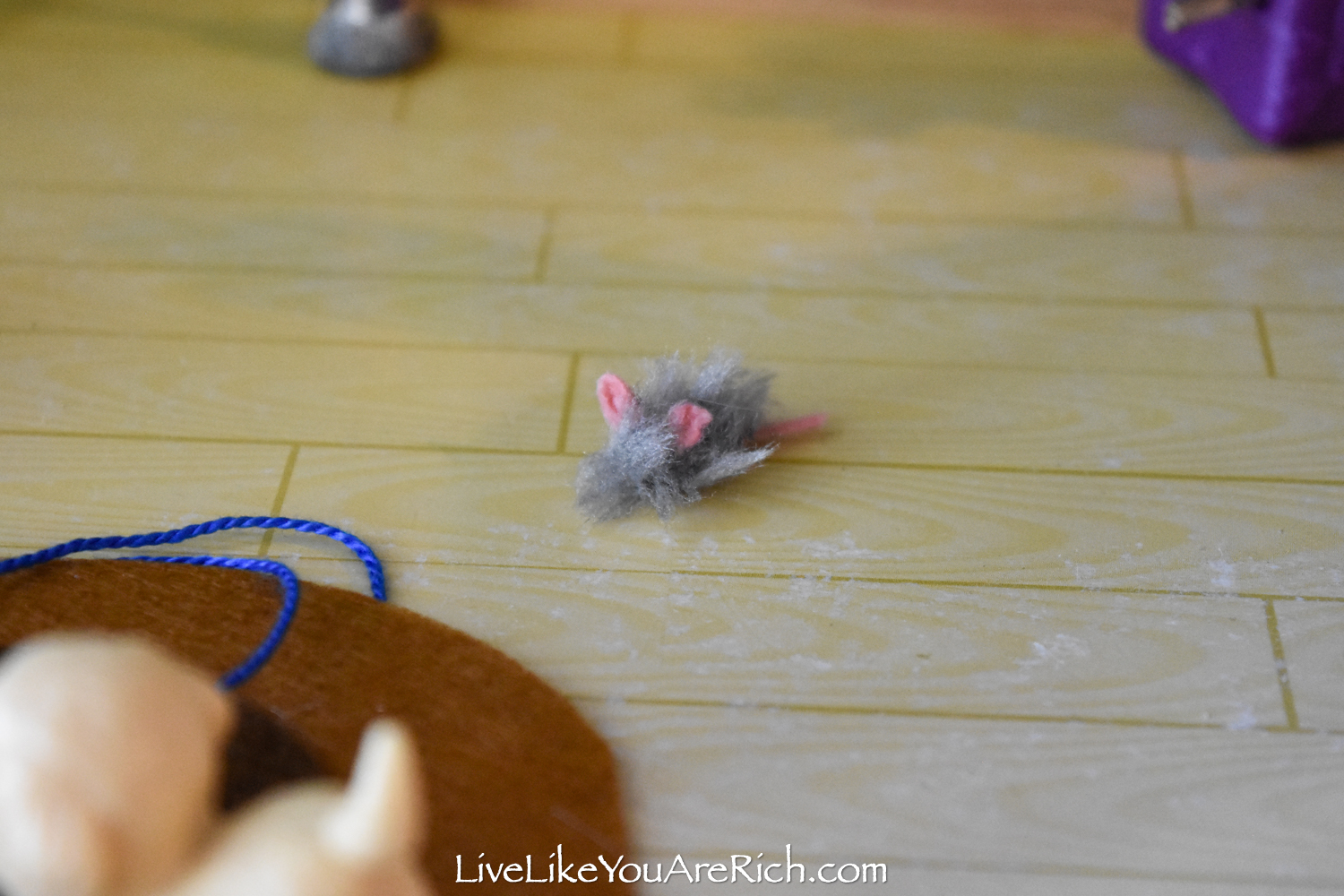 and a comb and a brush and bowl full of mush

and a quiet old lady who was whispering "hush"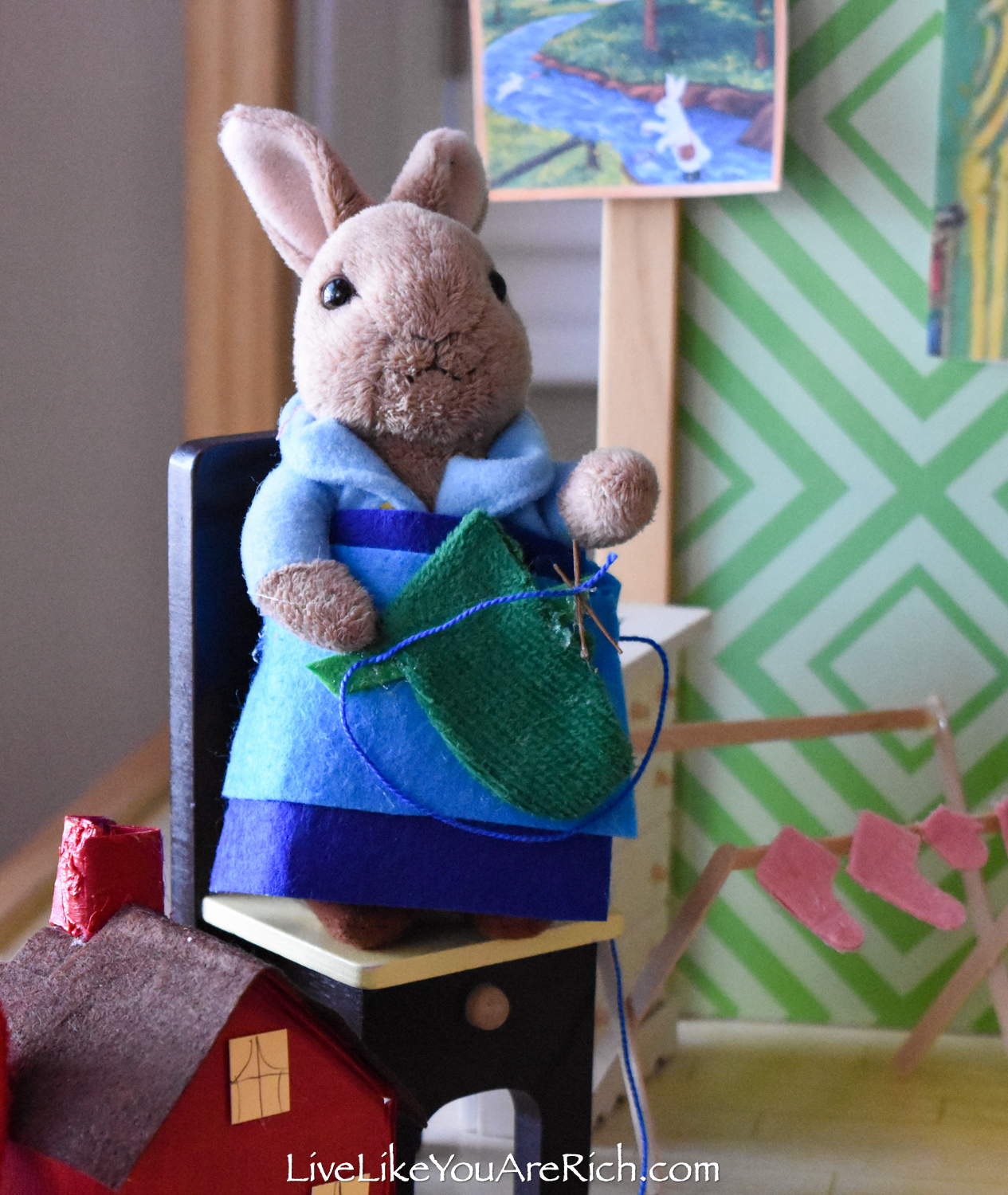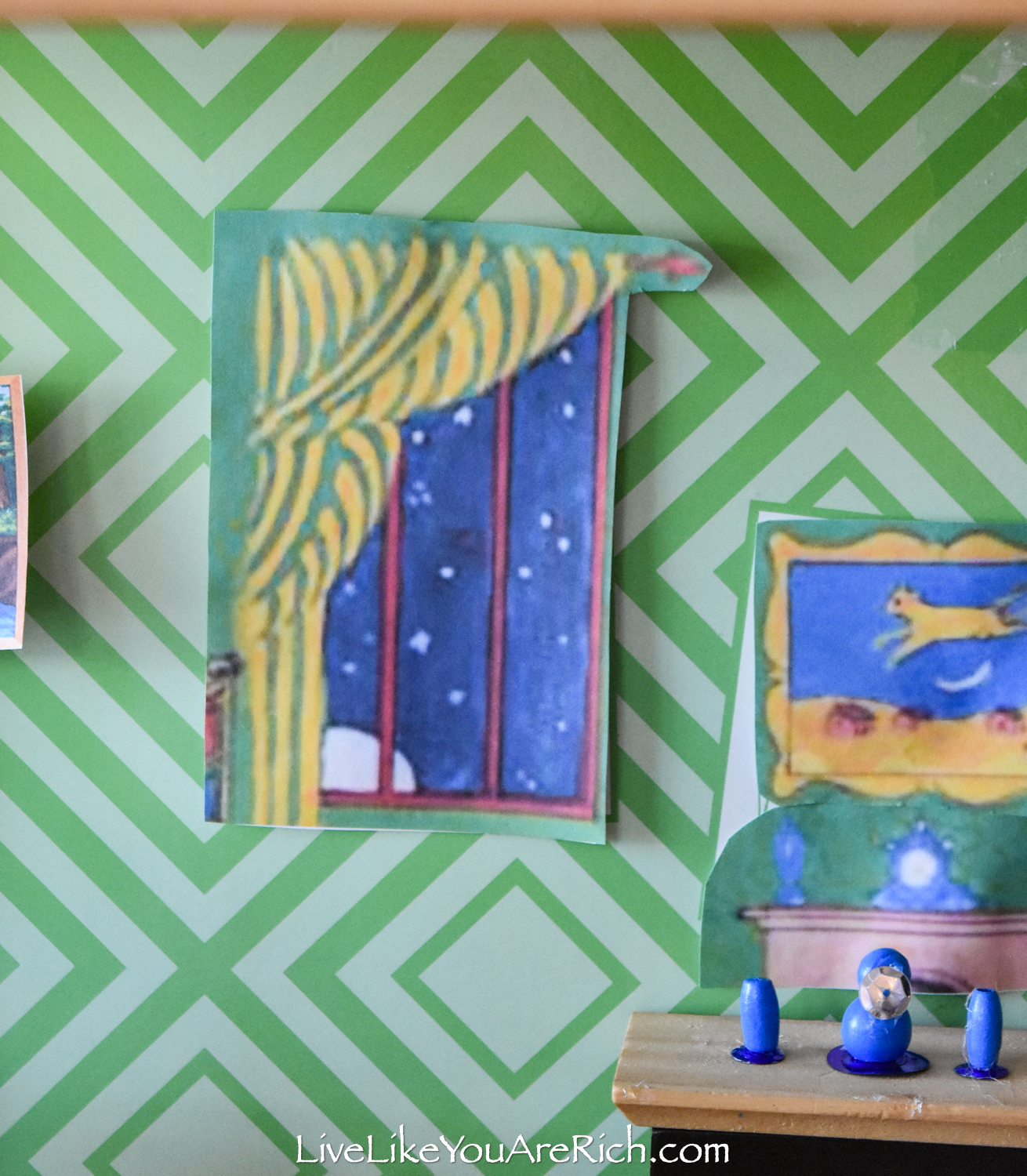 goodnight cow jumping over the moon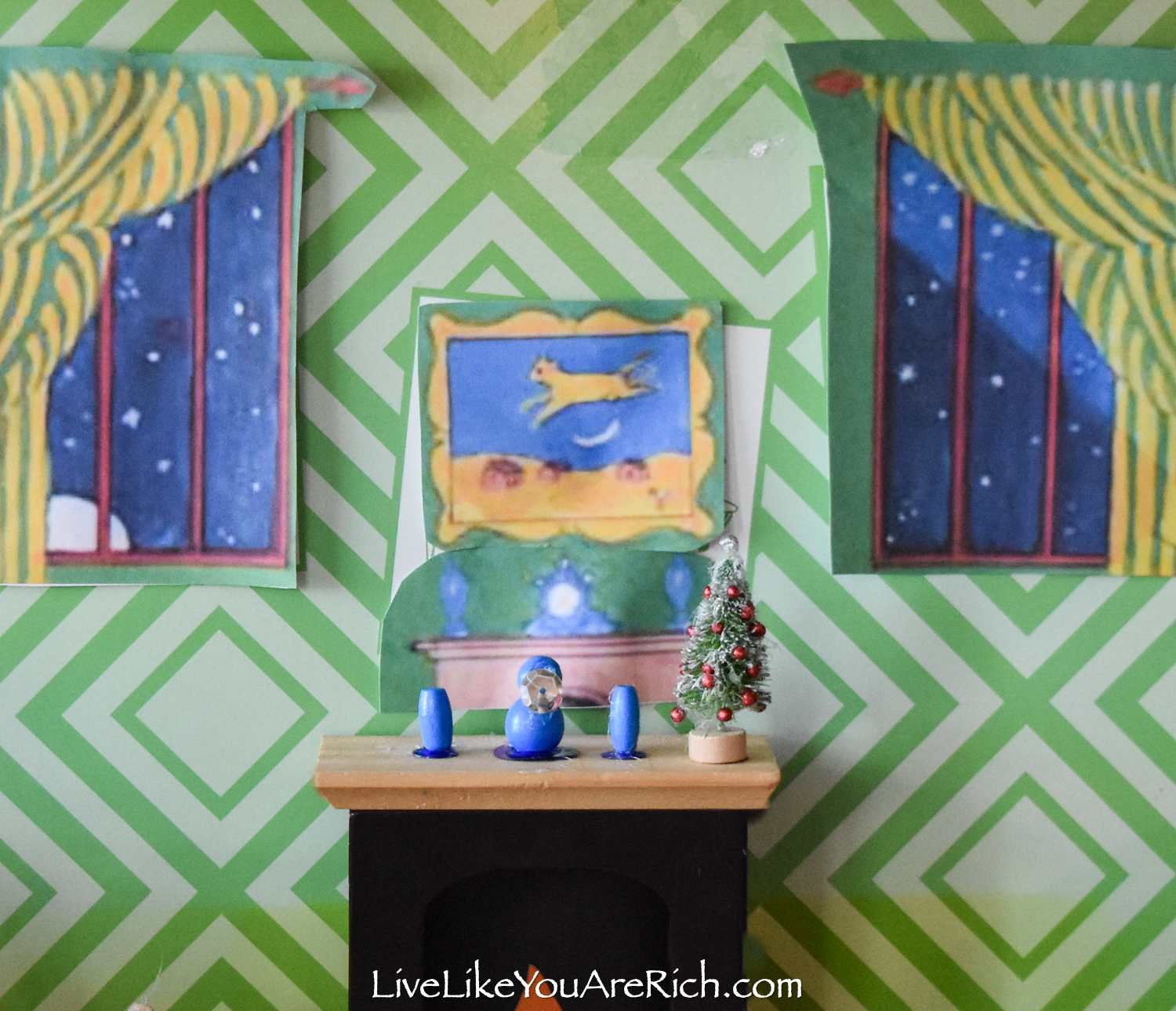 goodnight light and the red balloon
goodnight bears goodnight chairs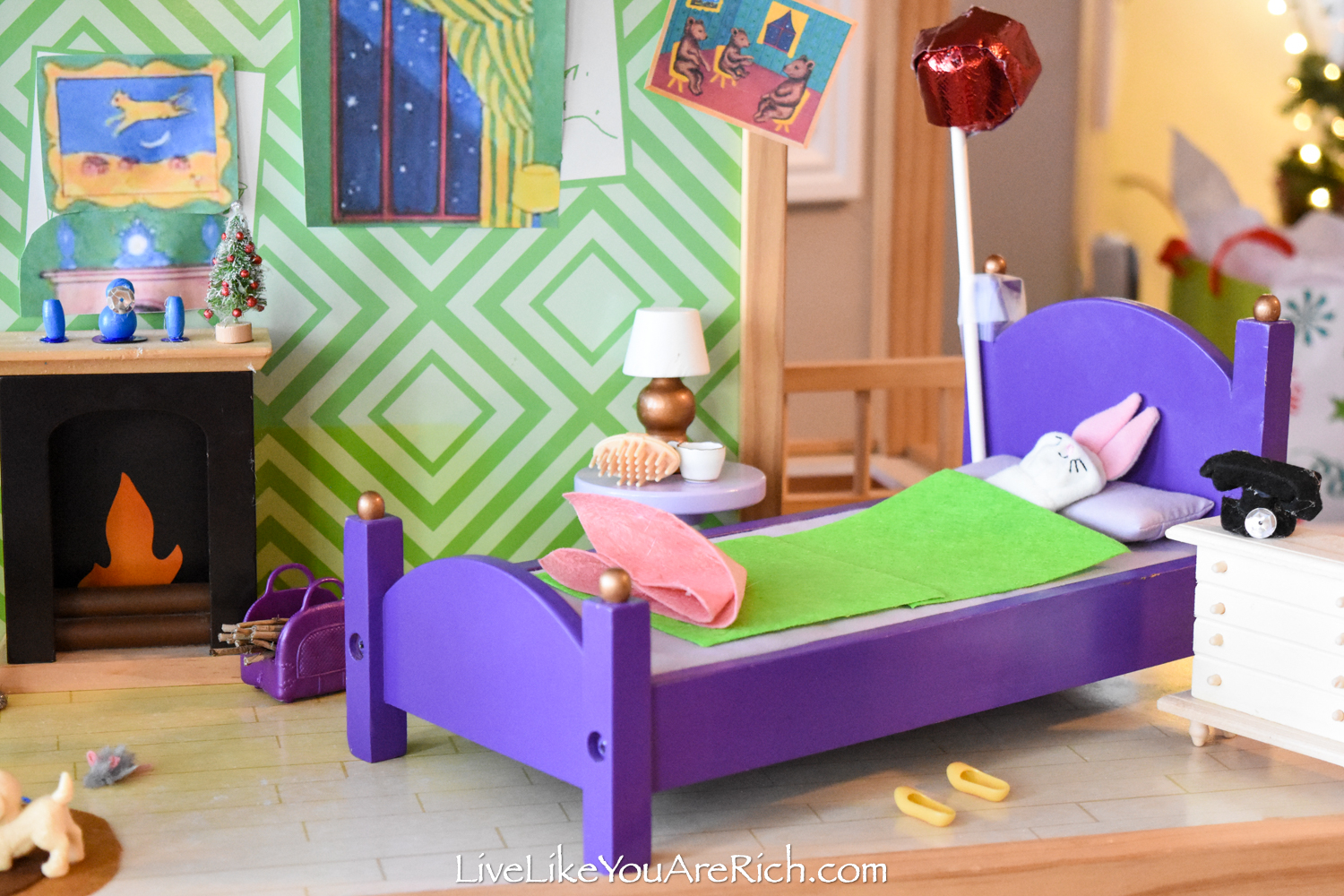 goodnight kittens


goodnight mittens

goodnight clocks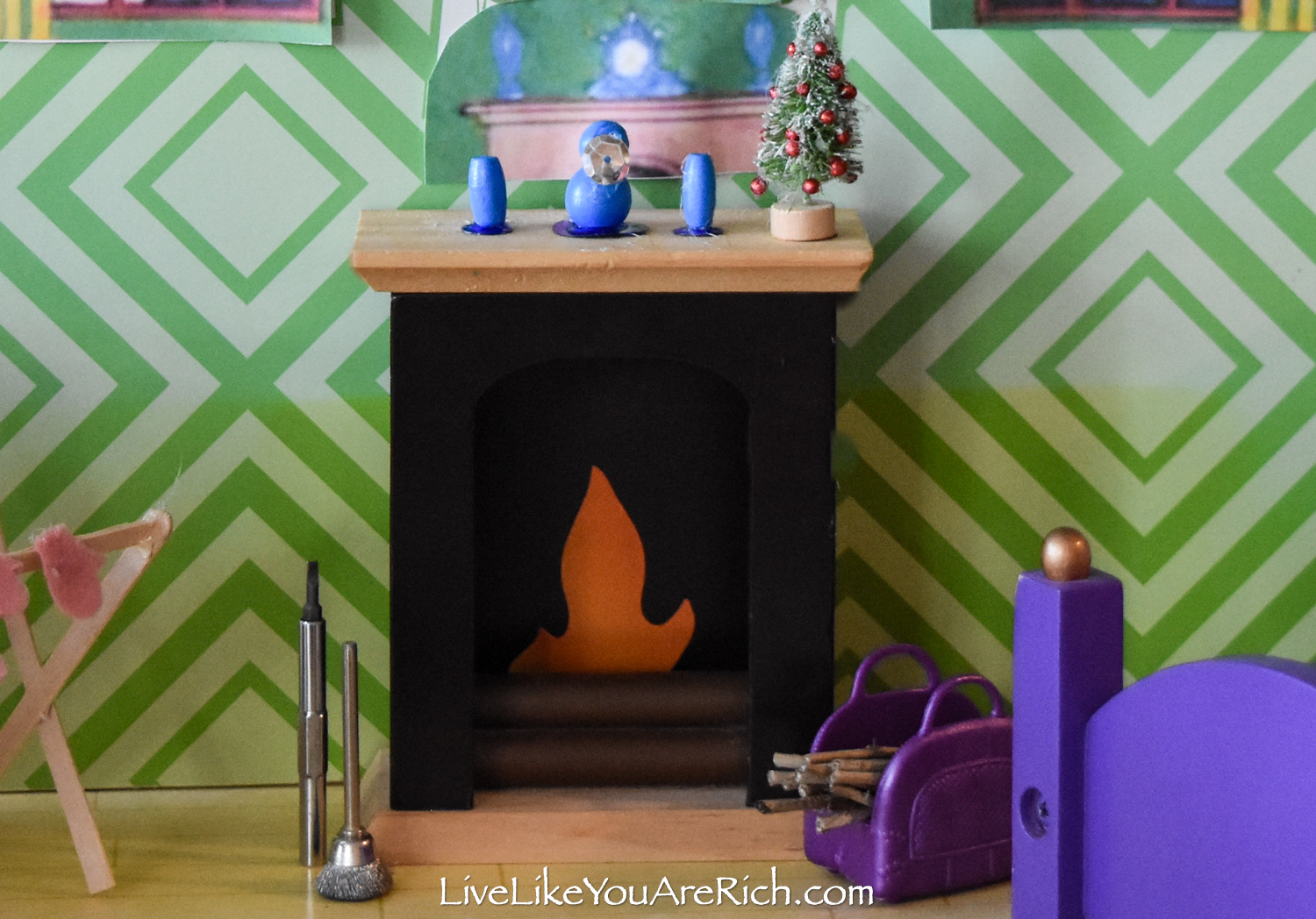 and goodnight socks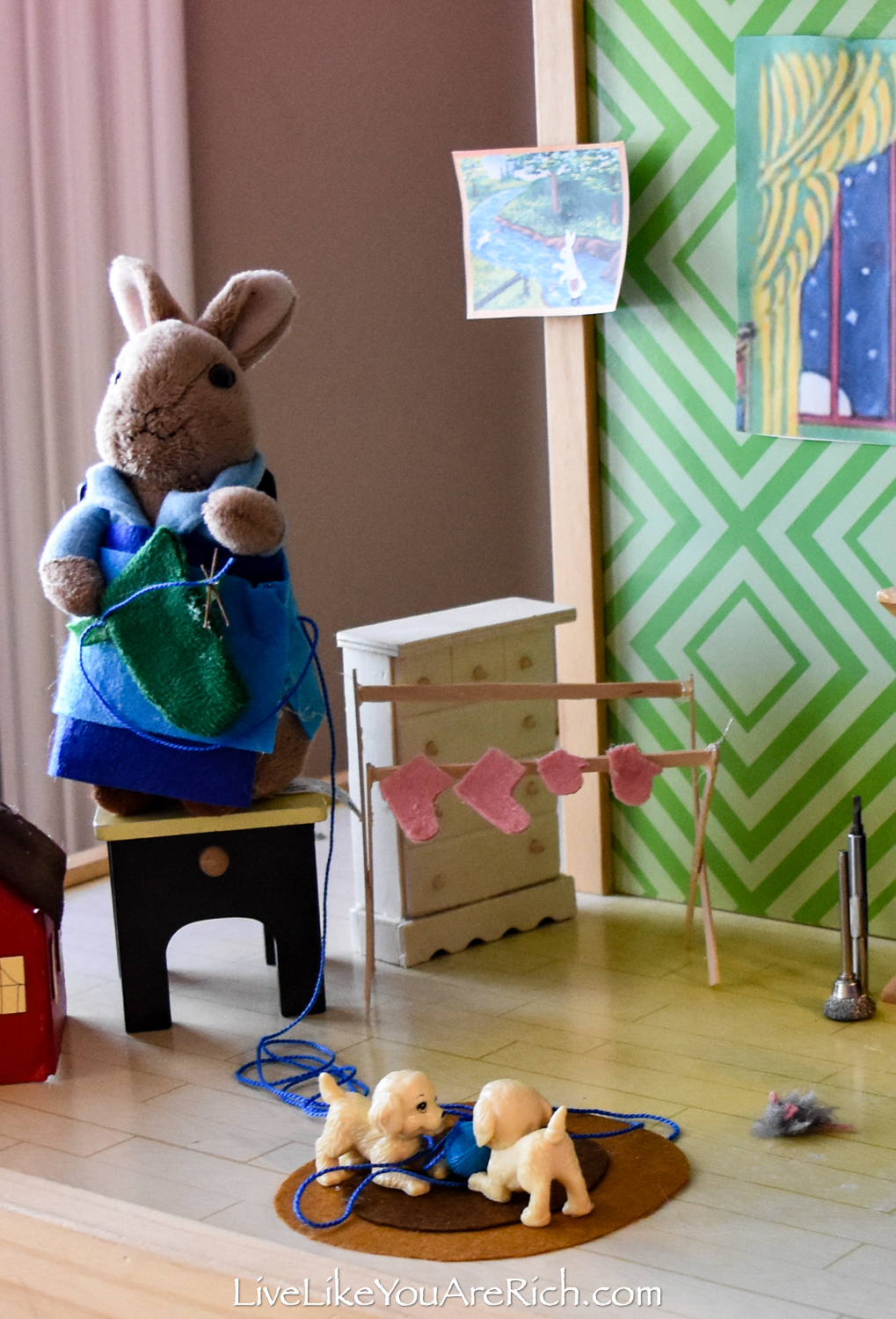 goodnight little house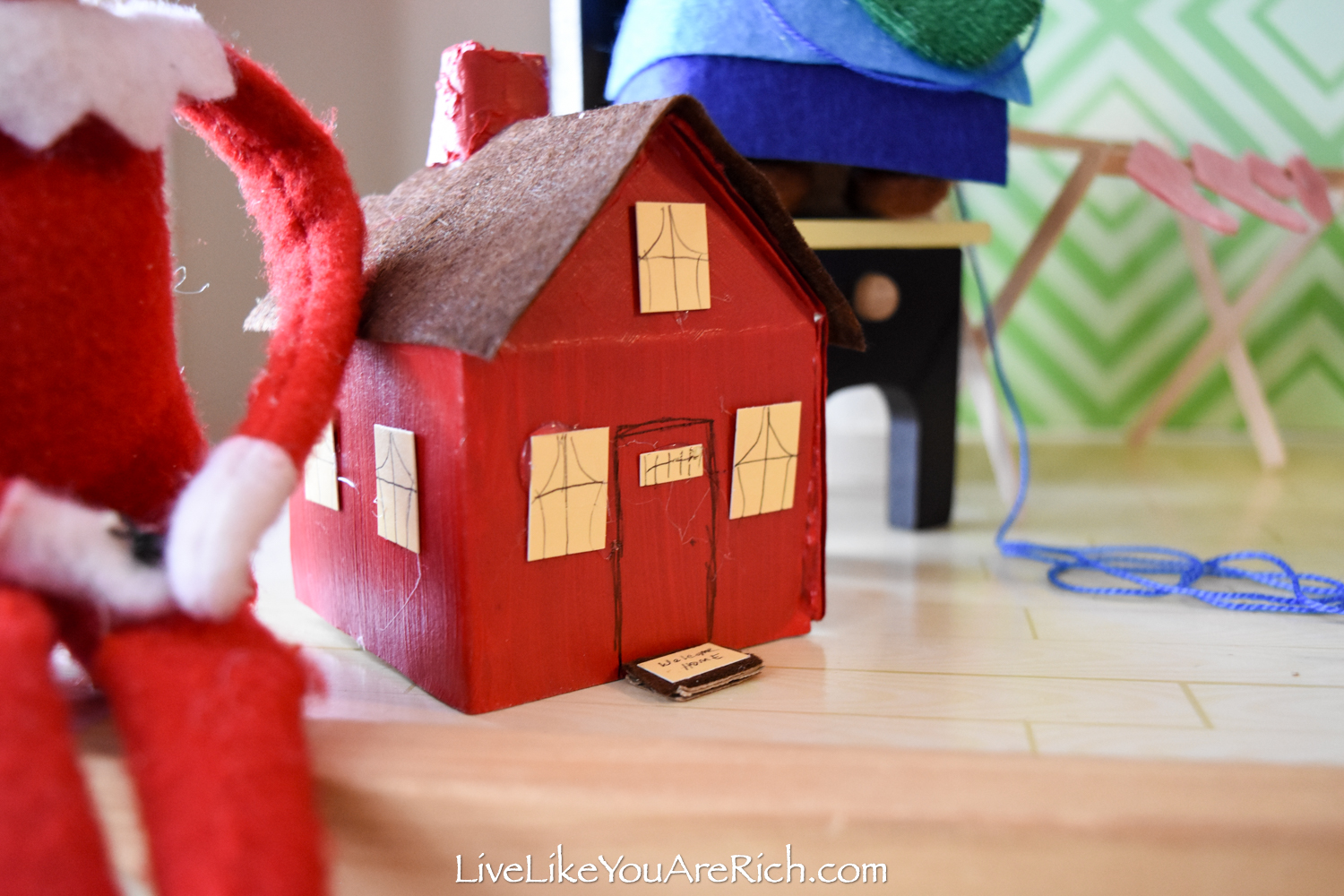 and goodnight mouse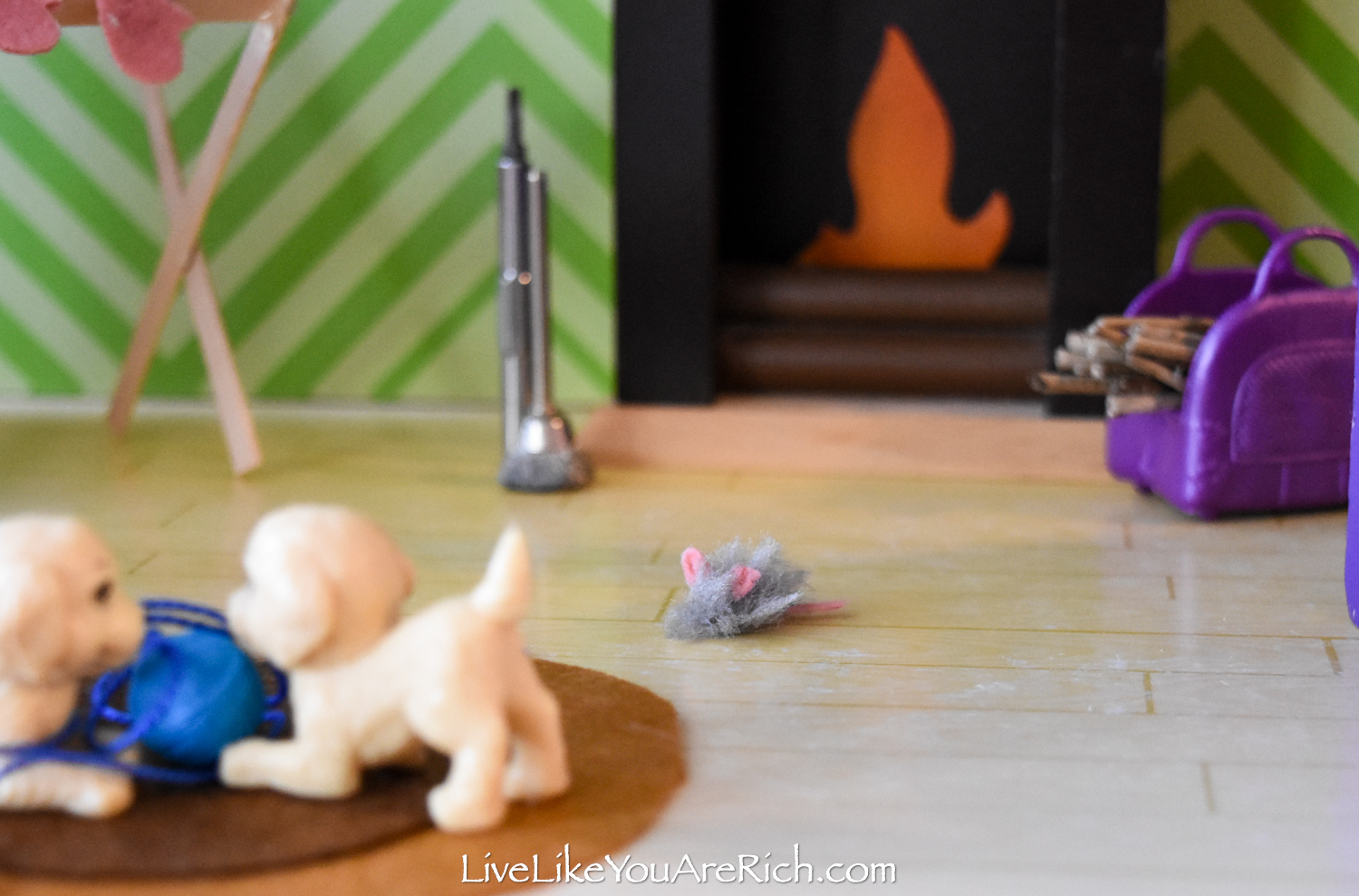 goodnight comb and goodnight brush
goodnight nobody goodnight mush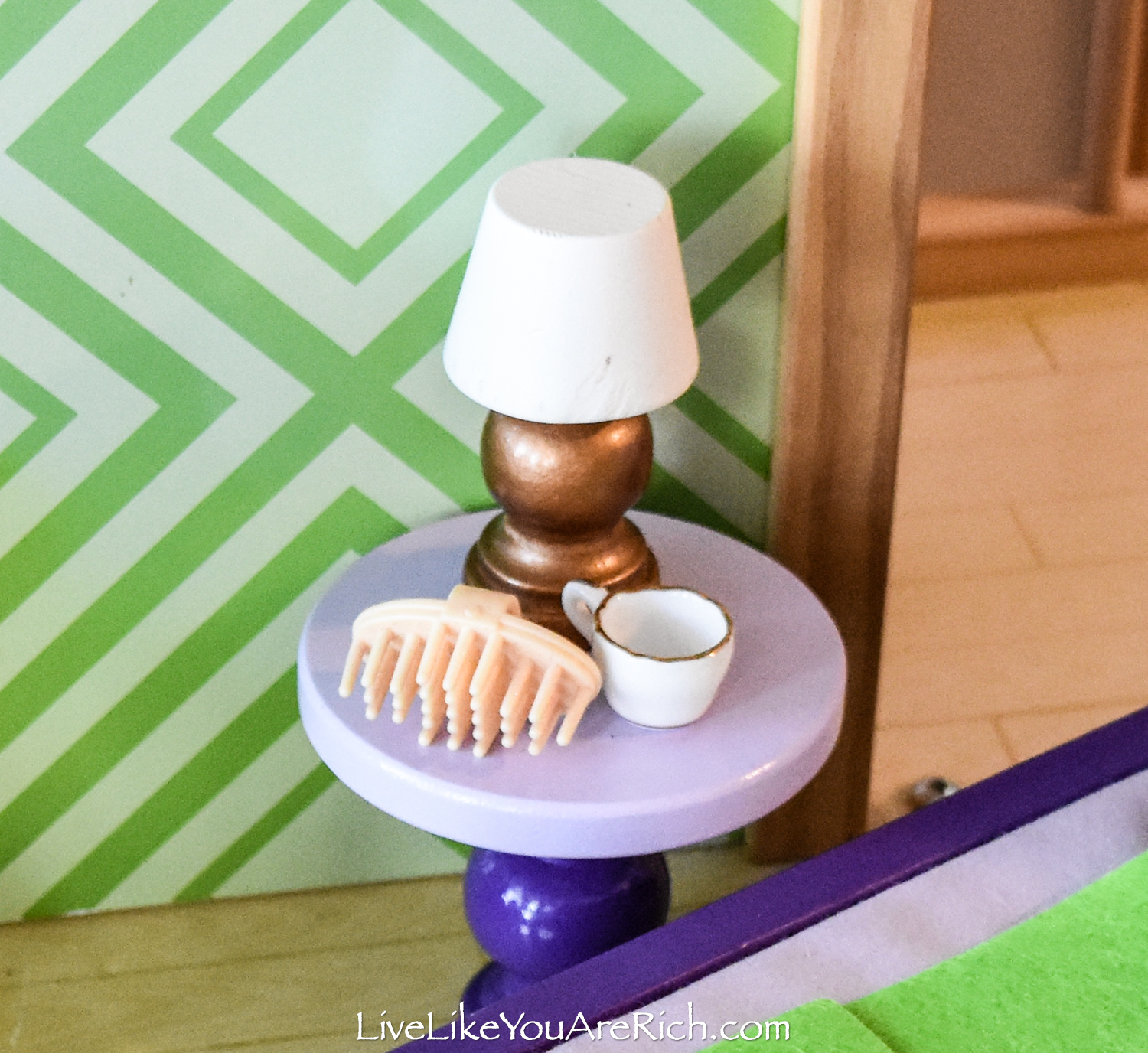 and goodnight to the old lady whispering "hush"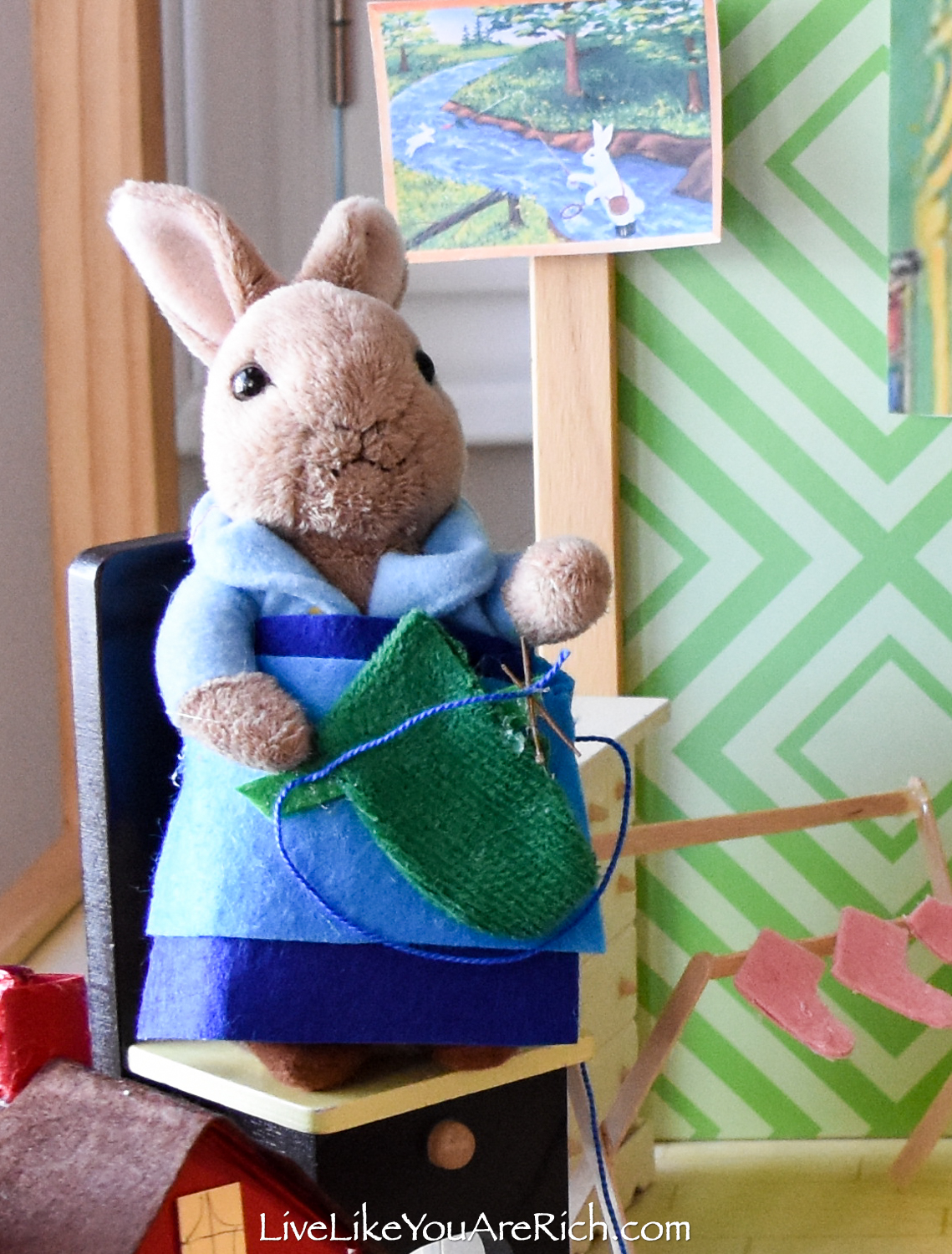 [goodnight elf,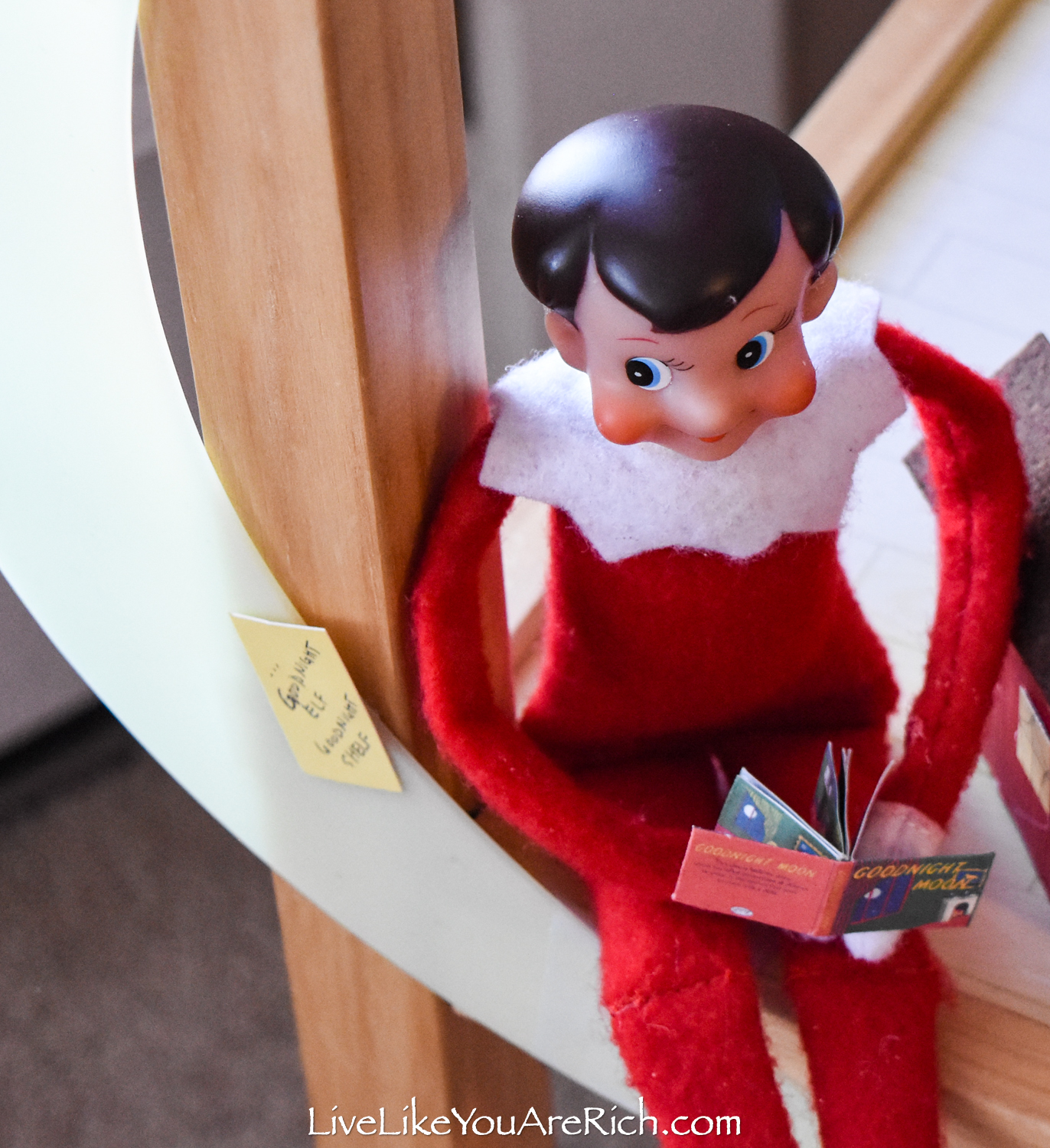 and goodnight shelf]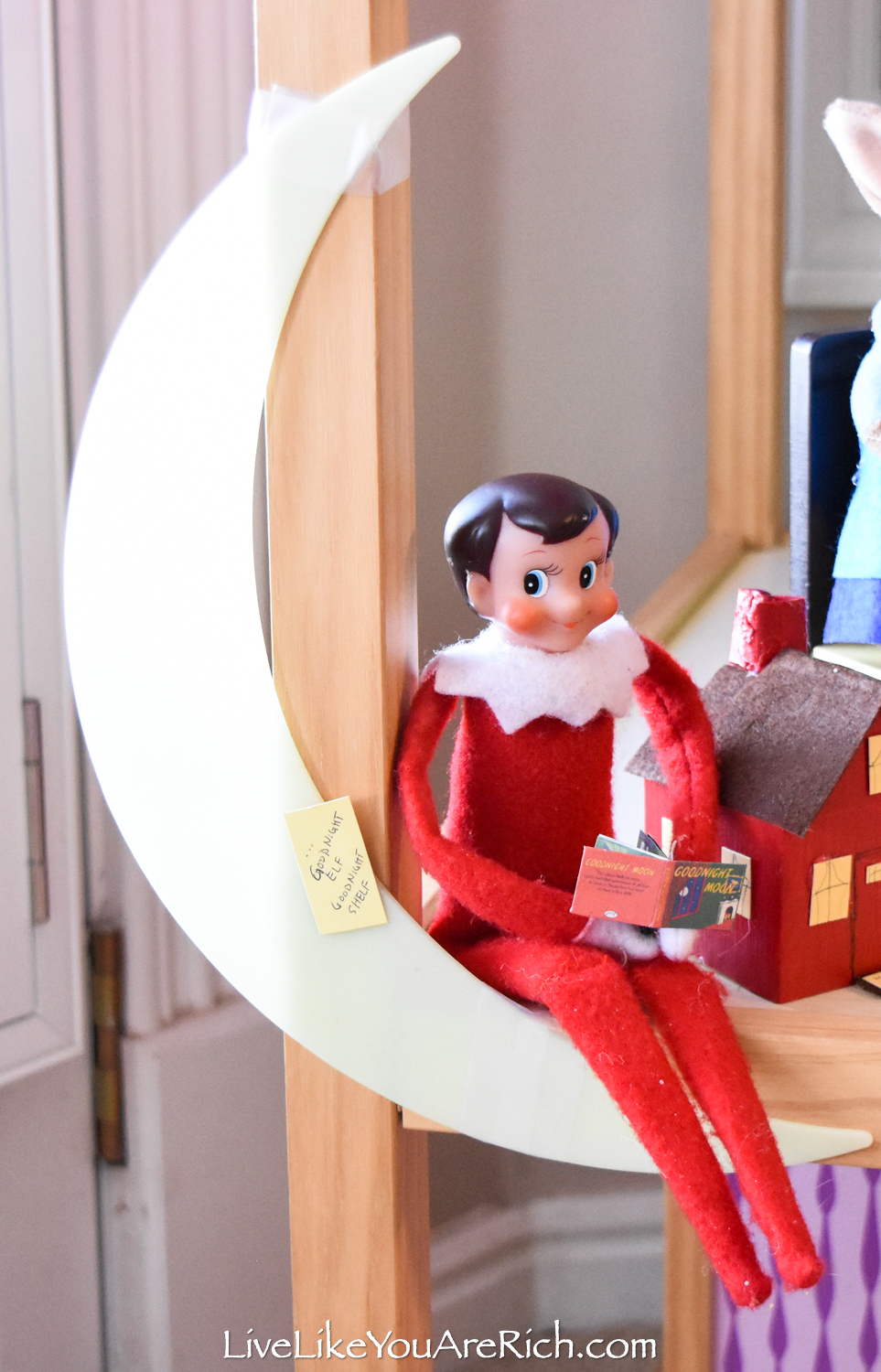 goodnight stars,
goodnight noises everywhere."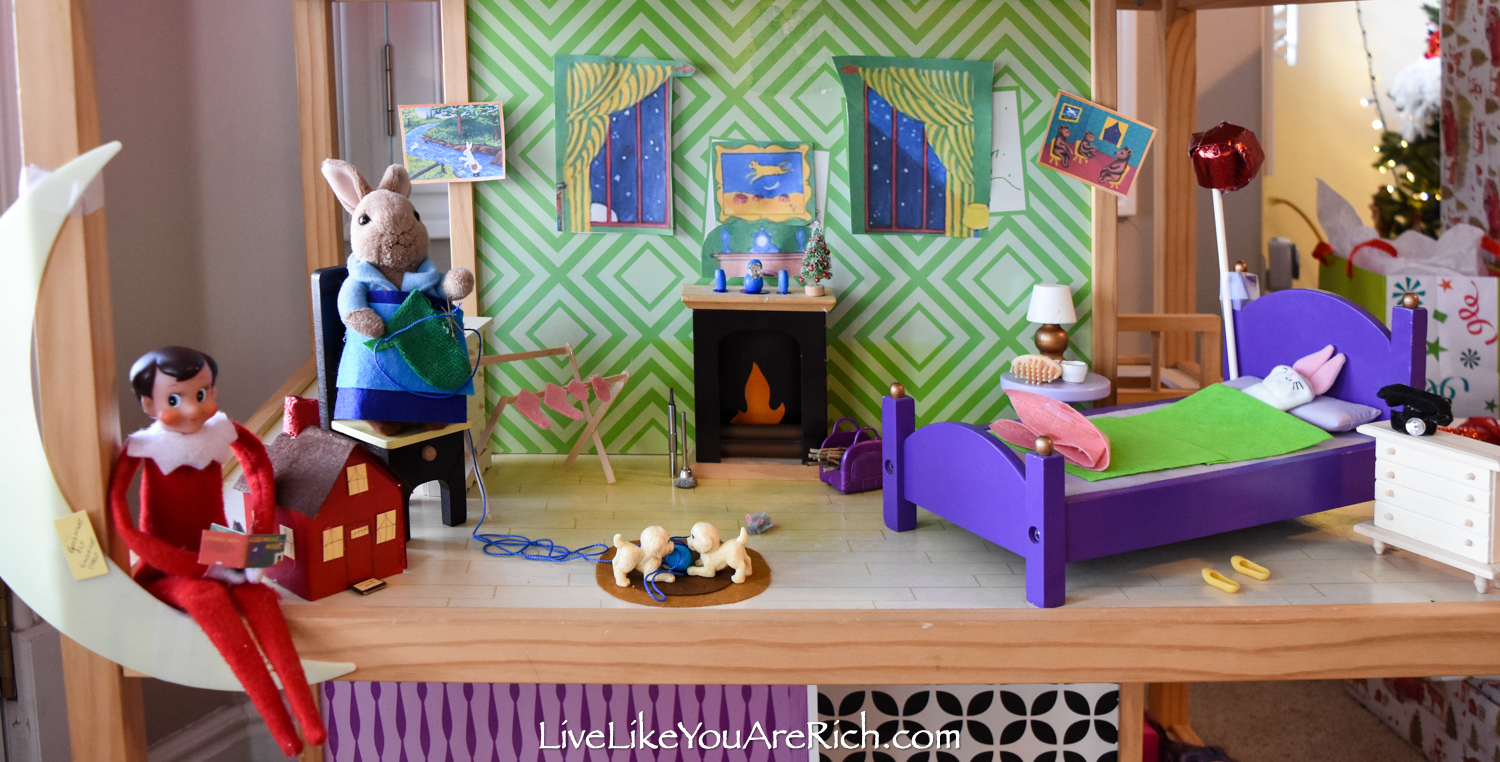 Check out the short video I made to see the details in a different medium.
Supply List for Elf on the Shelf: Goodnight Moon (what I think Pepper used to make this)
doll house with green wallpaper: Kid Kraft So Chic Dollhouse
mini Goodnight moon book- digital file found on Etsy here
toy house: cardboard, red apple paint, yellow thick paper, brown felt, pen, hot glue and glue gun
Old lady: Peter Rabbit small bunny, blue felt, pieces of wire, embroidery floss, green material
print outs of Goodnight moon art: google "Goodnight Moon art" and print to scale
drying rack: pink felt cut out into socks and mittens, doubled up and hot glued together. 7-7.5 " thin paint or popsicle sticks shaped and glued into a drying rack.
Fire poker and brush: Dremel wire tool attachment and small screwdriver bit
vases, clock blue beads and sequins hot glued
mini sisal Christmas tree with decor
Kid Kraft So Chic furniture: chair for the old lady, fireplace, side table (round), bed, table lamp
Unfinished dresser (behind old lady) & night stand is Dollar Tree doll furniture
Firewood is a stick cut into pieces
Firewood basket is a Barbie dog carrier
Brush came from Dream Horse (Barbie)
bowl of mush 1:12 size tea set
Red balloon- pompom wrapped in red metallic fabric with a cake pop stick
green felt and pink felt for blankets
shoes (barbie)
Telephone a variety of beads wrapped in black felt and hot glued to look like a phone + a silver sequin
rug two types of brown felt cut into circles and hot glued
puppies and yarn ball are Barbie (Note- the puppies should be kittens but we don't have any little kittens that look like the book depicts.)
scissors
printer, paper, and ink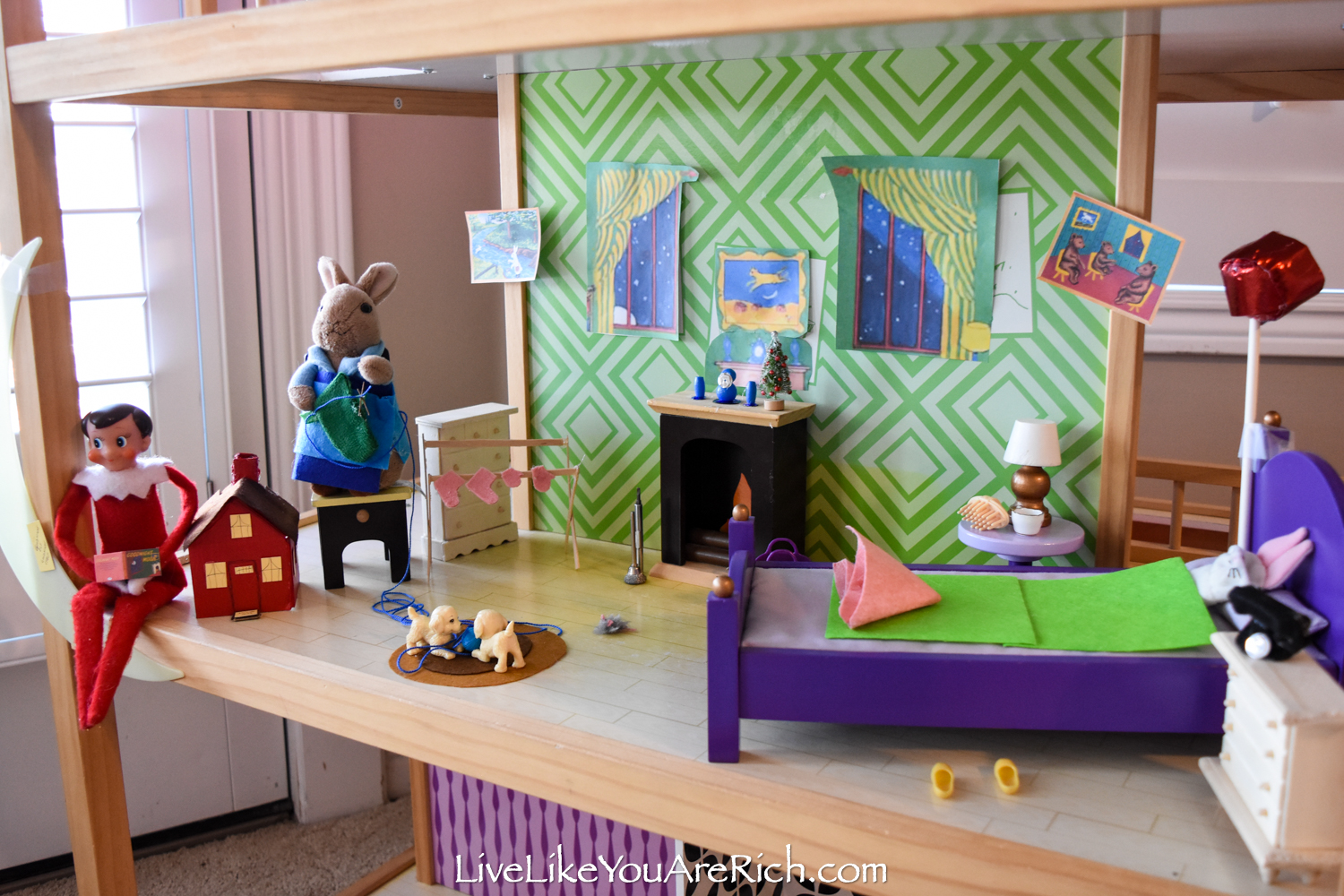 This was such a fun little display. My kids were so excited about it.
I love children's books and we read a lot. This was a fun little display for our family to find.
My kids reactions and joy for these types of things make the holidays and the work involved totally worth it.
Merry Christmas to all…
and to all a goodnight!

For other 'rich living' and D.I.Y. decor tips please subscribe, like me on Facebook, and follow me on Pinterest and Instagram.