Elf on the Shelf: Mele Kalikimaka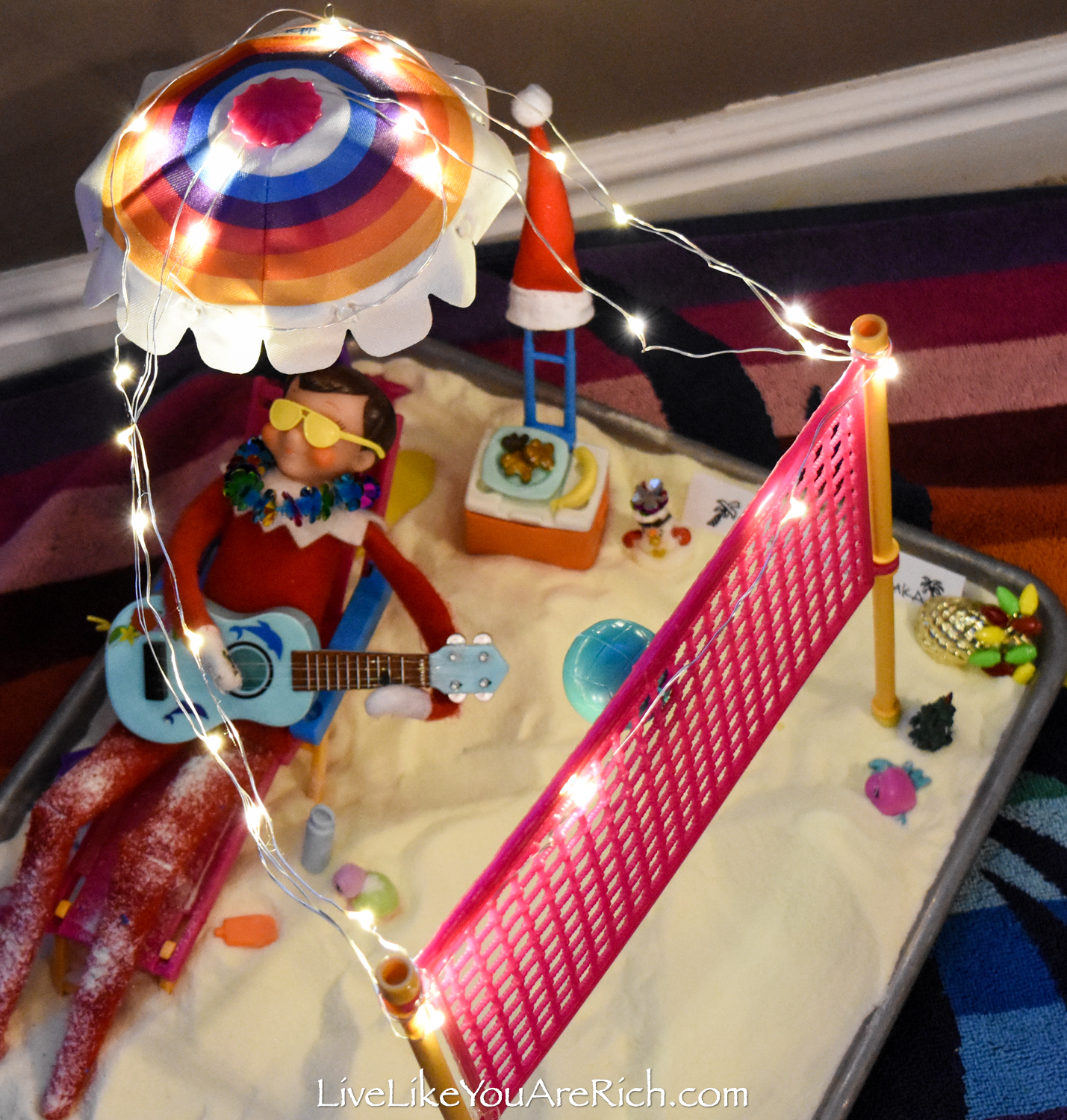 Like many of you, we haven't traveled anywhere too far away since before 2020.
We had saved up our flight points and booked a family trip to Hawaii for this December 2021.
Unfortunately, my two older kids both picked up COVID19 at school a few weeks before we left and we had to cancel our trip. They were devastated.
So, I rebooked tickets for a trip to Hawaii this coming Spring and our Elf, Pepper, printed them out and surprised the kids with them the morning of this Mele Kalikimaka display.
I woke up to intense banging on my door as the kids were screaming, "Our Elf bought us tickets to Hawaii!!!"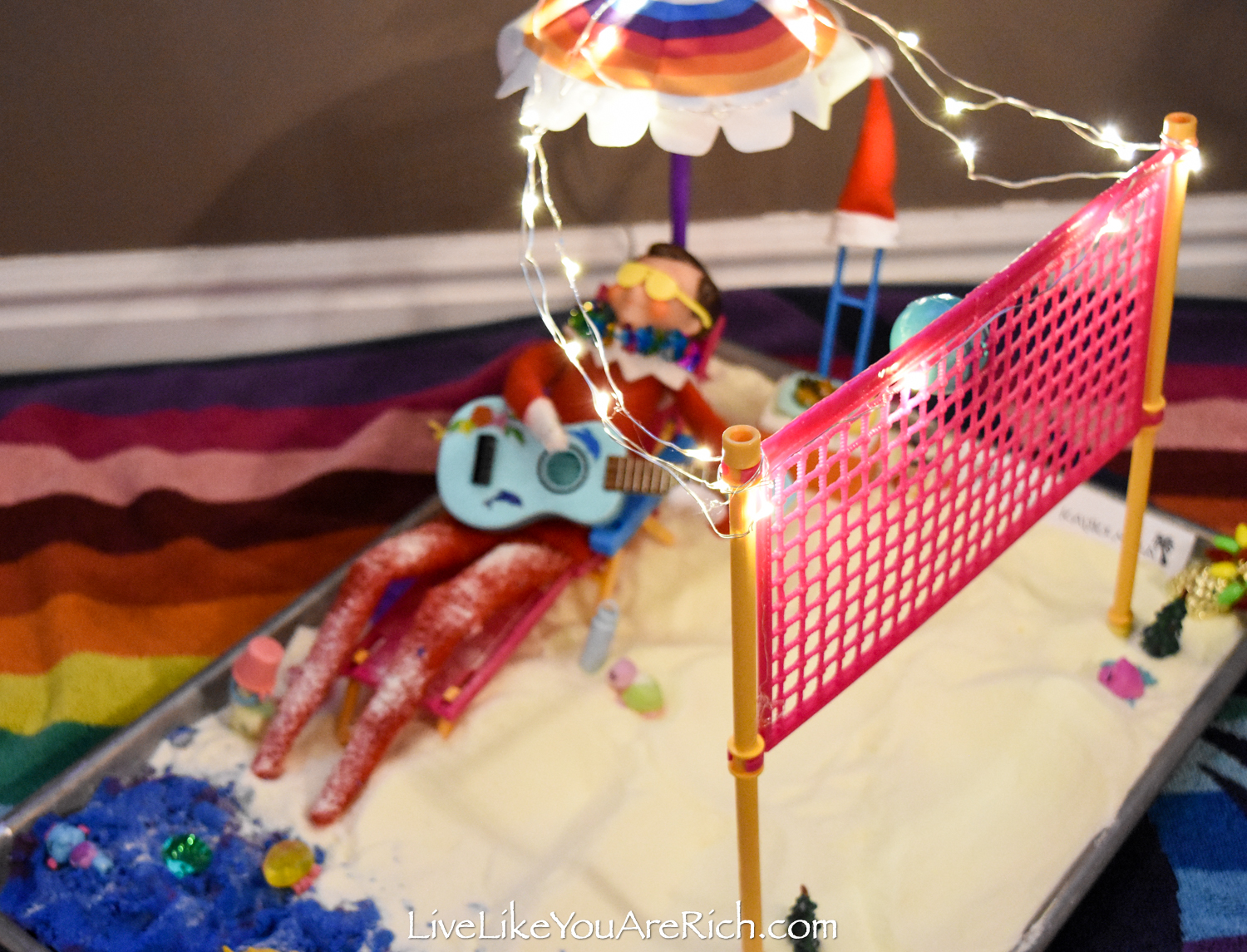 I made sure to clarify that the note Pepper left said, "I found these on your mom's computer and printed them out. Looks like you'll be going to Hawaii this spring!" I wanted to be sure other kids at school don't expect the same of their elves!
They didn't mind that their parents were the ones that bought the tickets, they were so excited anyway!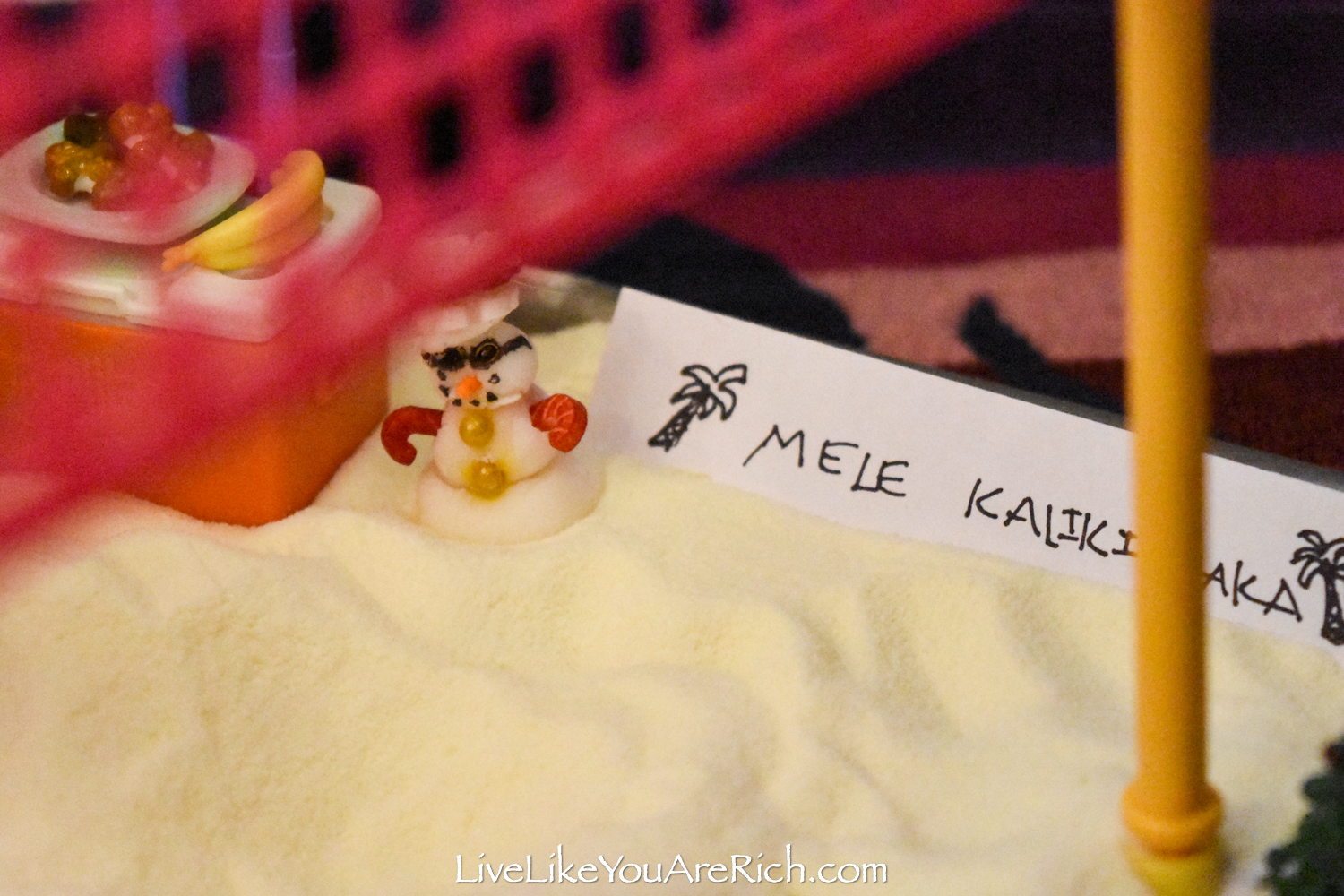 Pepper also left my son a birthday present, this Hawaiian snow globe.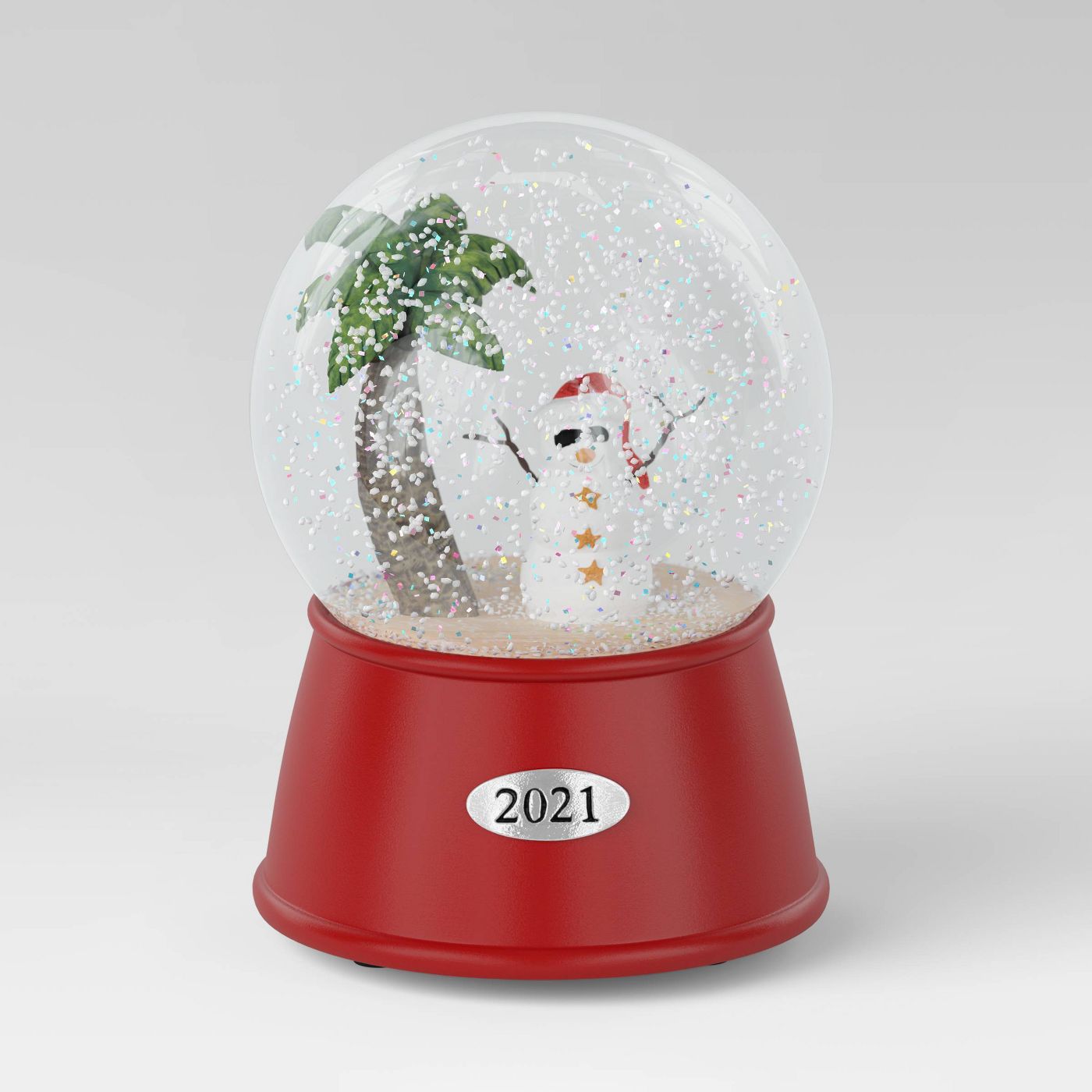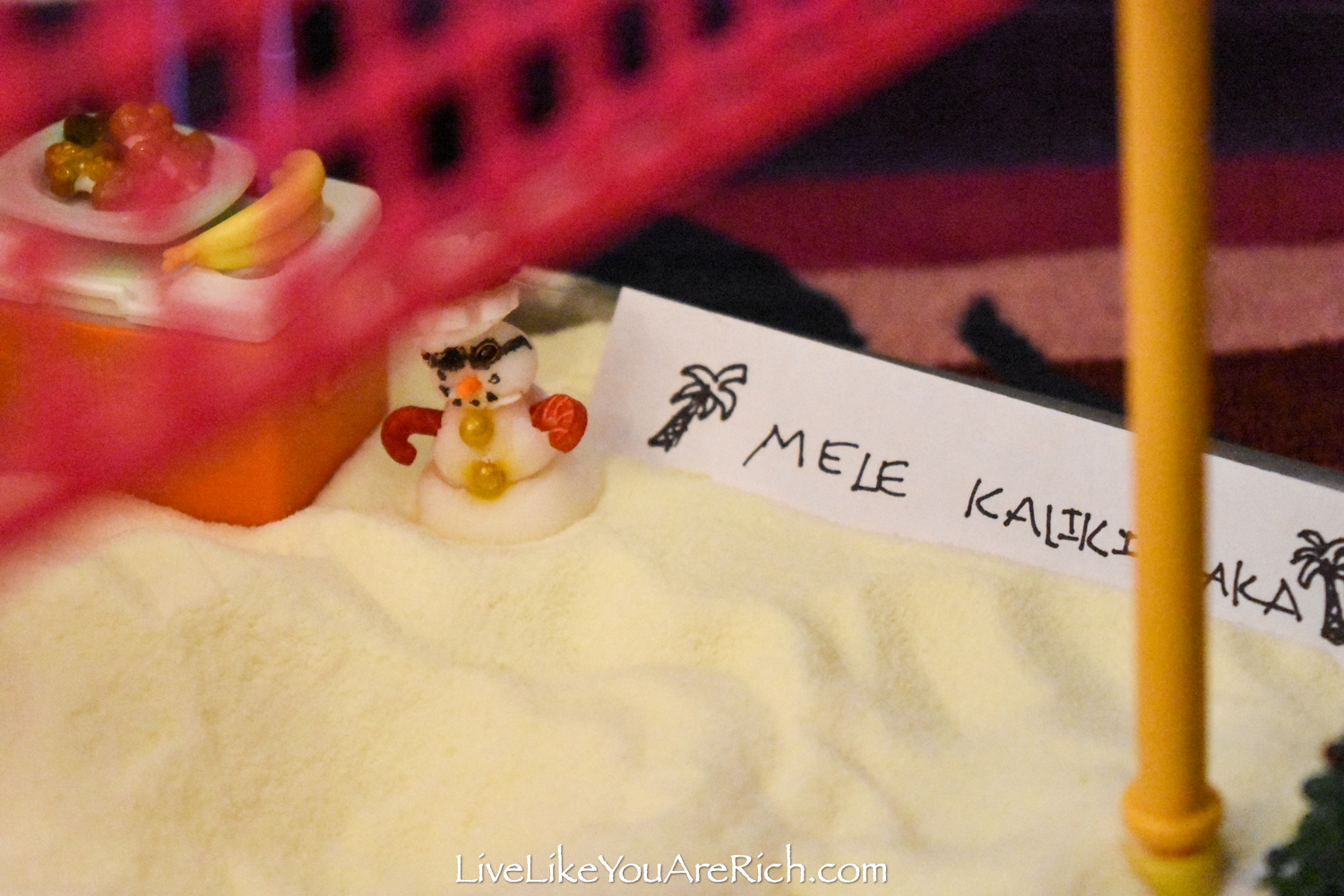 It was the school Pajama Day and Christmas Party, they were both allowed back (finally!), the tooth fairy came (lost tooth yesterday), it was my son's birthday, and Pepper left them tickets to Hawaii.
I made these Hawaiian Haystacks, my son's favorite, and we had cousins over for his birthday party.
My kids said this was the best day ever— which made my day the best!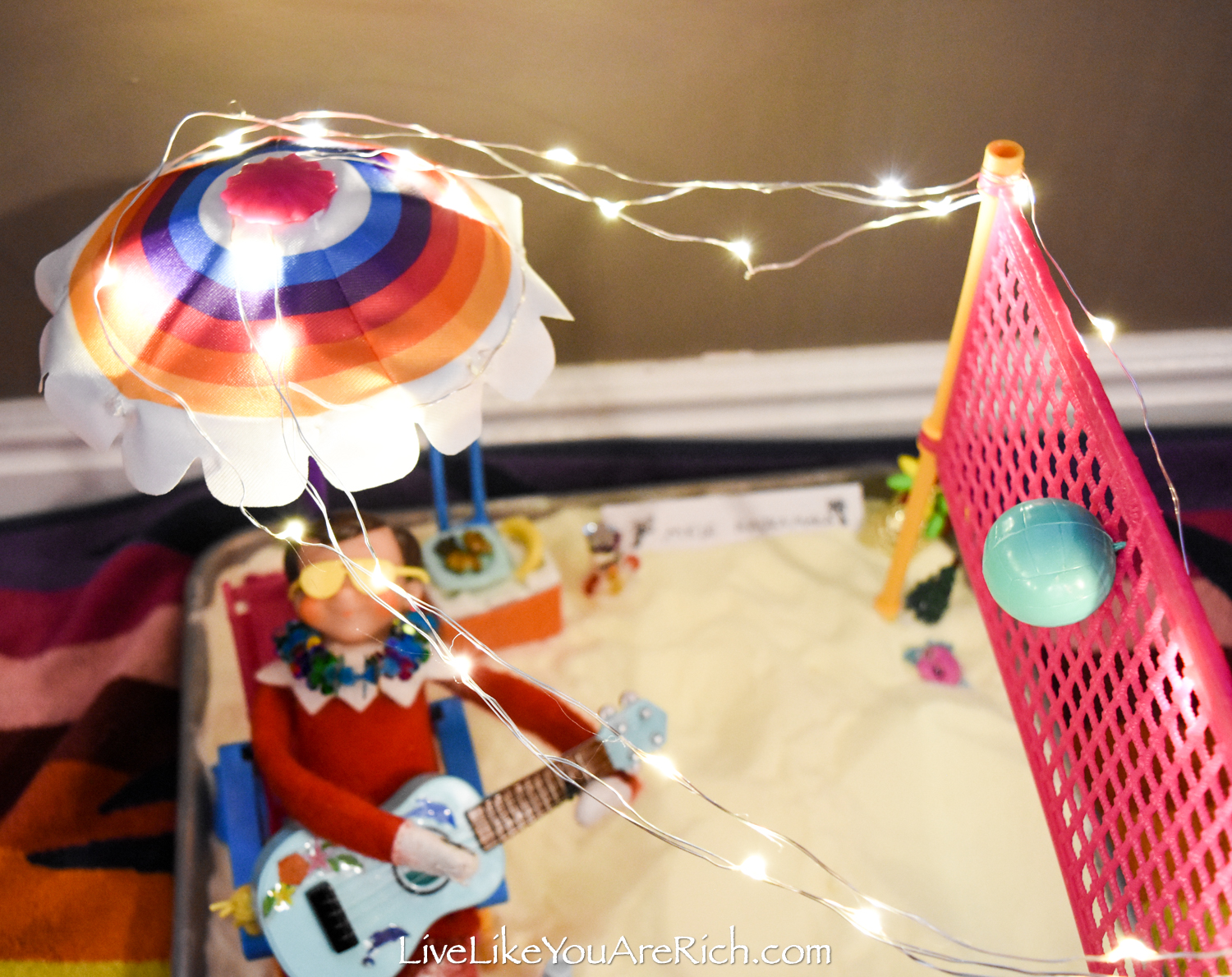 Pepper added so many cute details to this Mele Kalikimaka scene.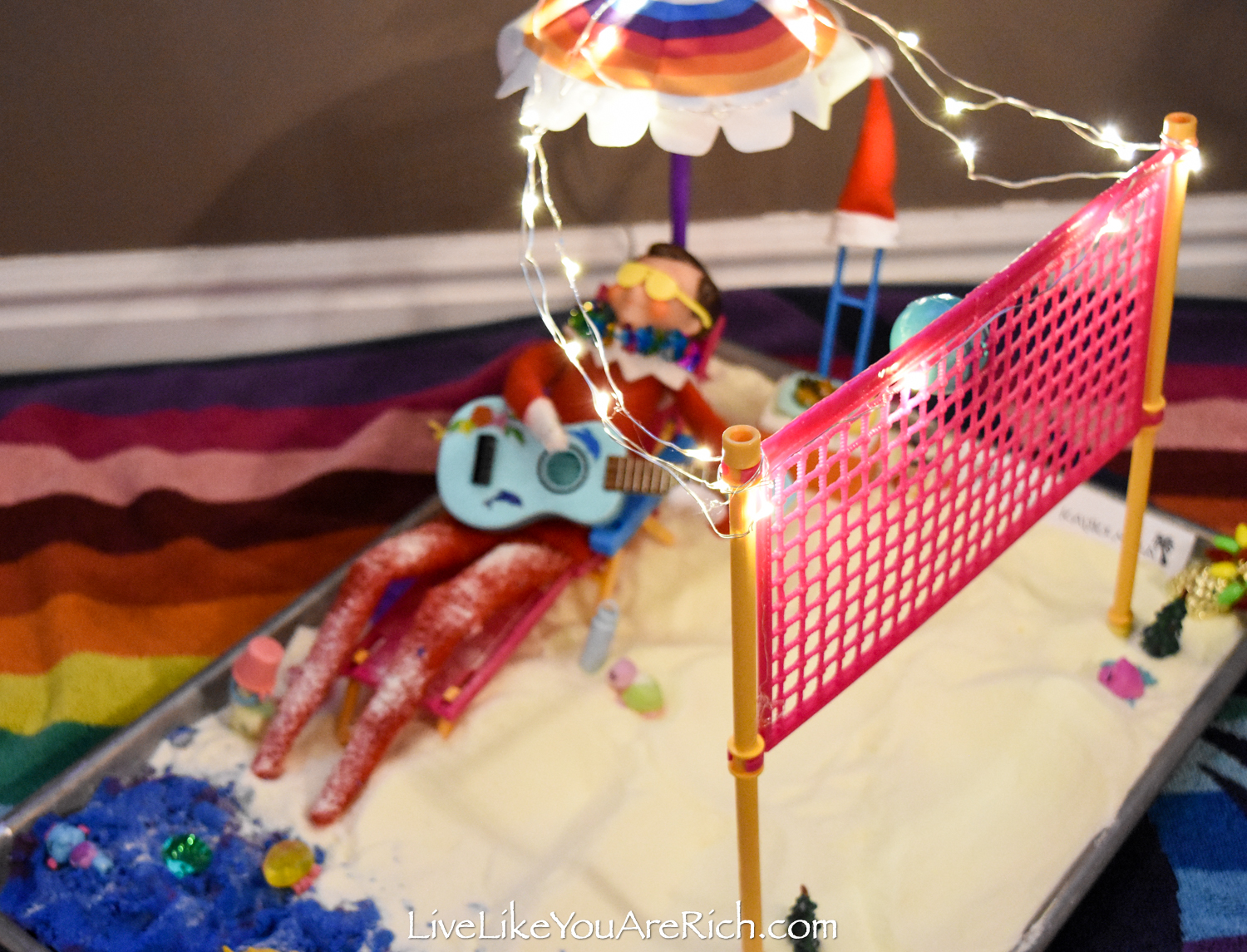 He took his cooler and a plate to hold his gingerbread cookies and bananas.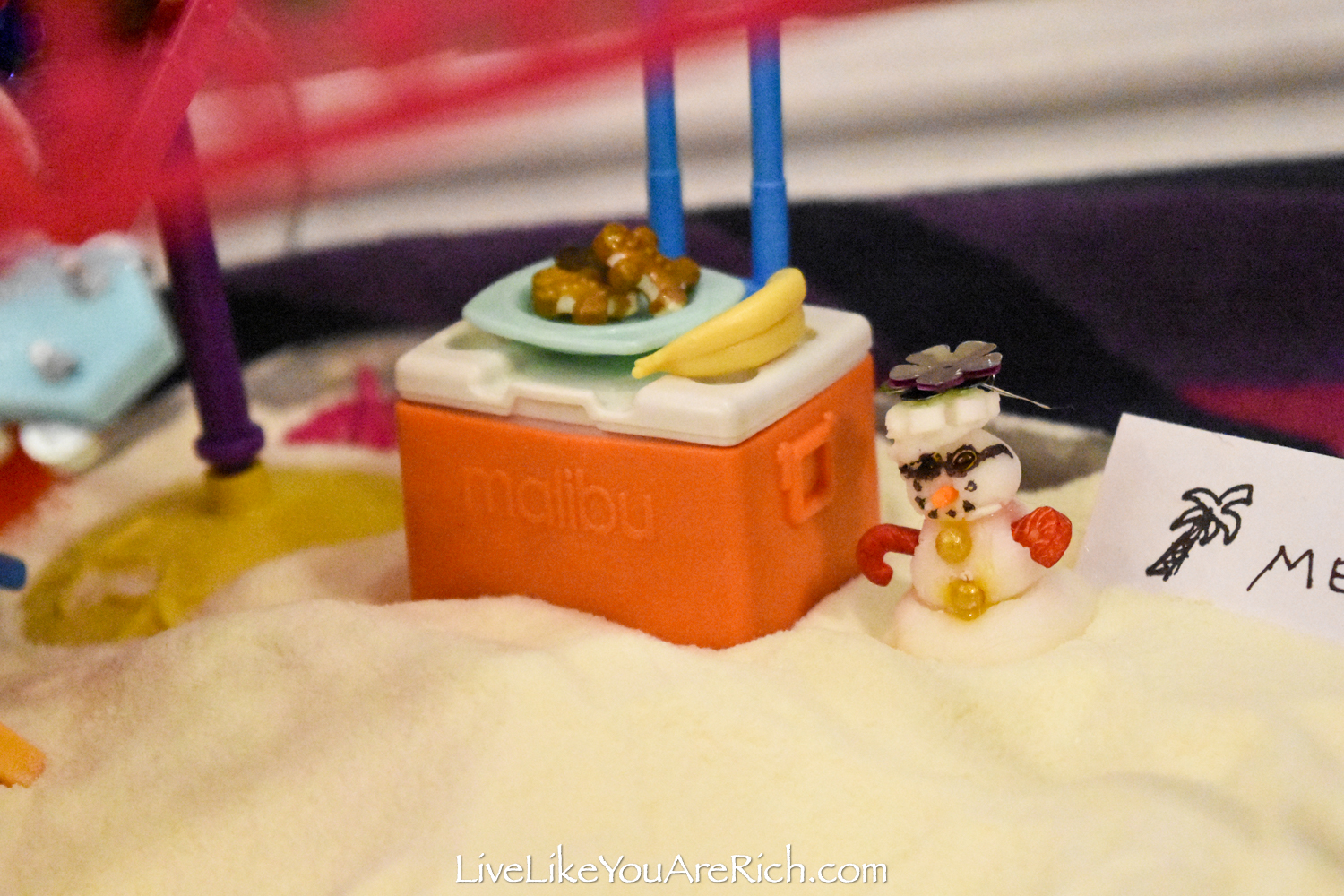 He stole the snowman I made out of frosting for my gingerbread house and drew sunglasses on him. HAHA!

He glued Christmas Lights to this pineapple we had in our baking cupboard (left over from a cake topper).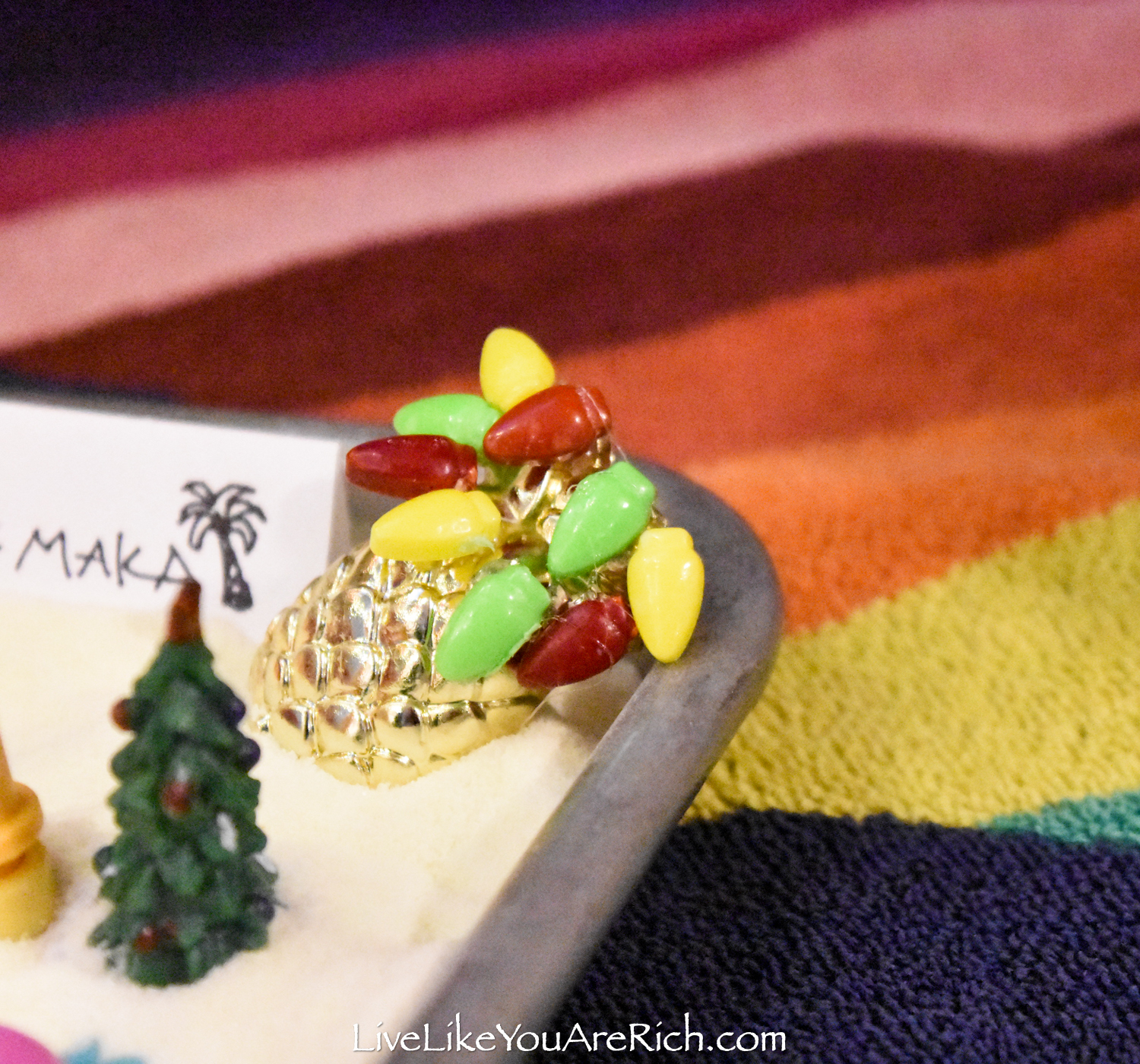 He added Christmas trees to the volleyball court.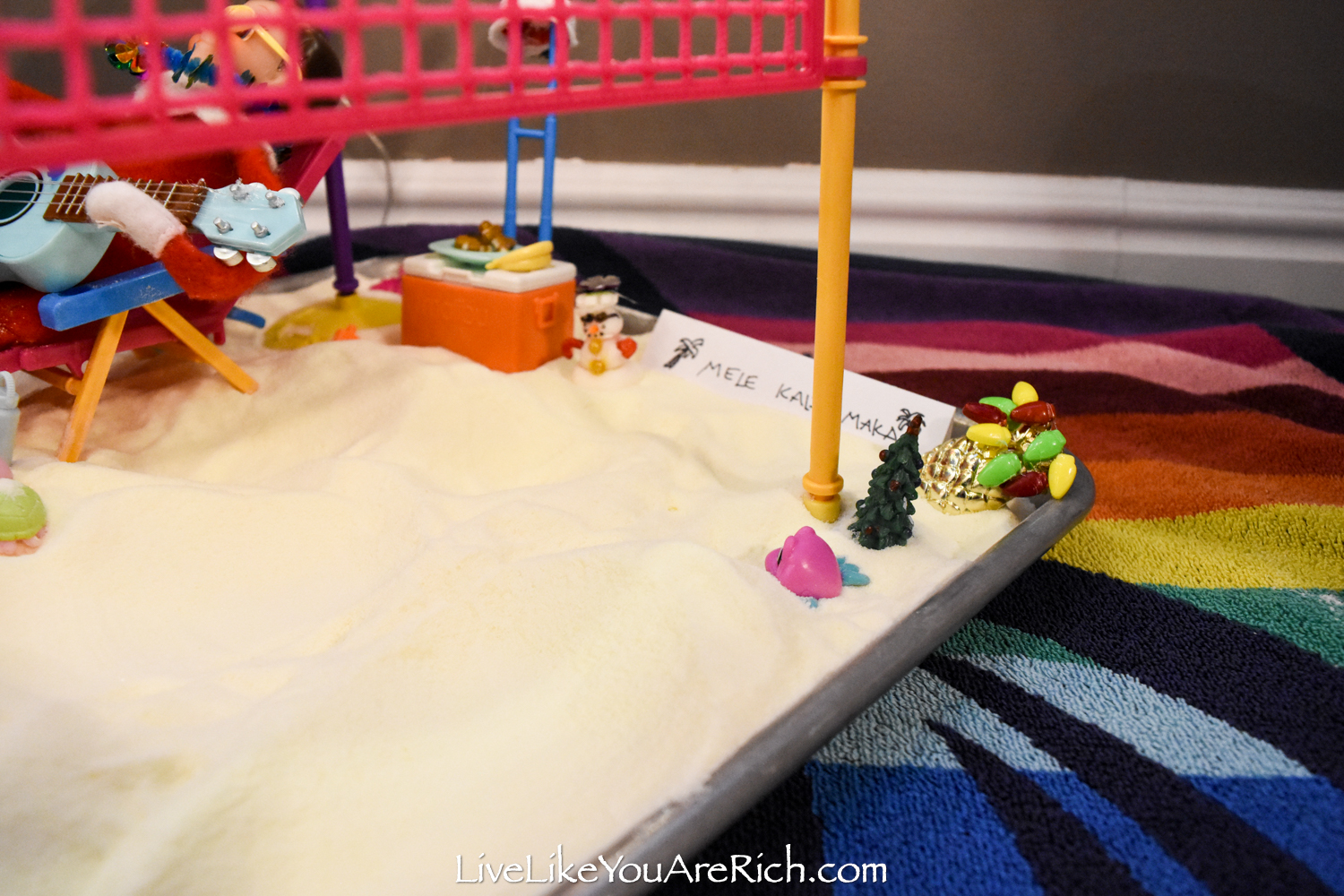 If you look very closely, you can see Pepper laid down in the sand and made a sand angel.
He used country time lemonade mix for sand to celebrate Christmas in Hawaii. We found out because my kids said, "Mom taste the sand, its delicious!" I was like, "What?!? You tasted the sand?" They said it smelled good so they wanted to give it a try. KIDS!! hahaha.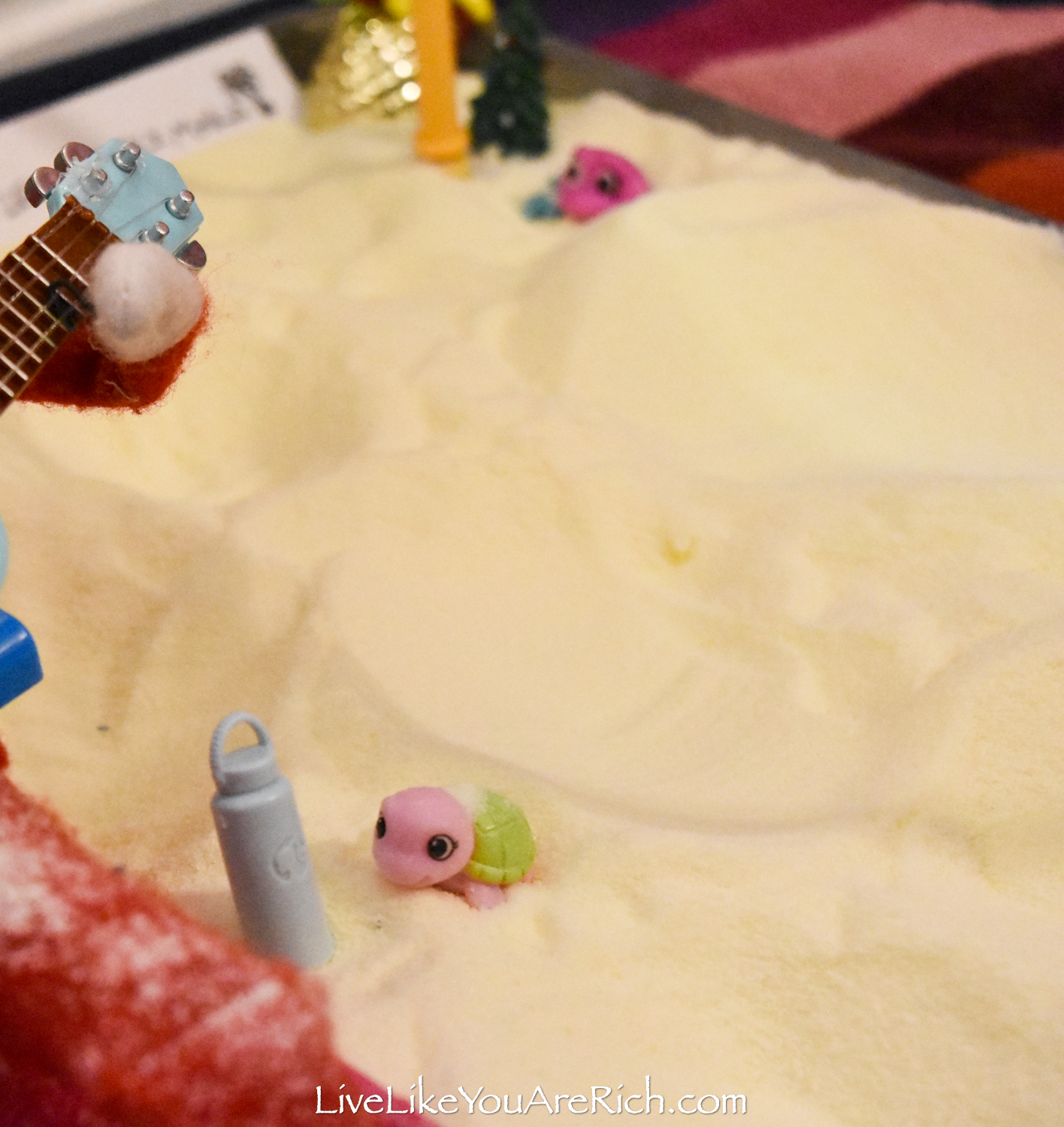 Pepper enjoys lounging around on the beach, wearing a lei and strumming his Hawaiian guitar.
No doubt he is singing to Mele Kalikimaka. (Check out the attached video for a cool rendition I bought as background music).
He left us a note and drew palm trees on either side.

He used blue and purple kinetic sand for the ocean.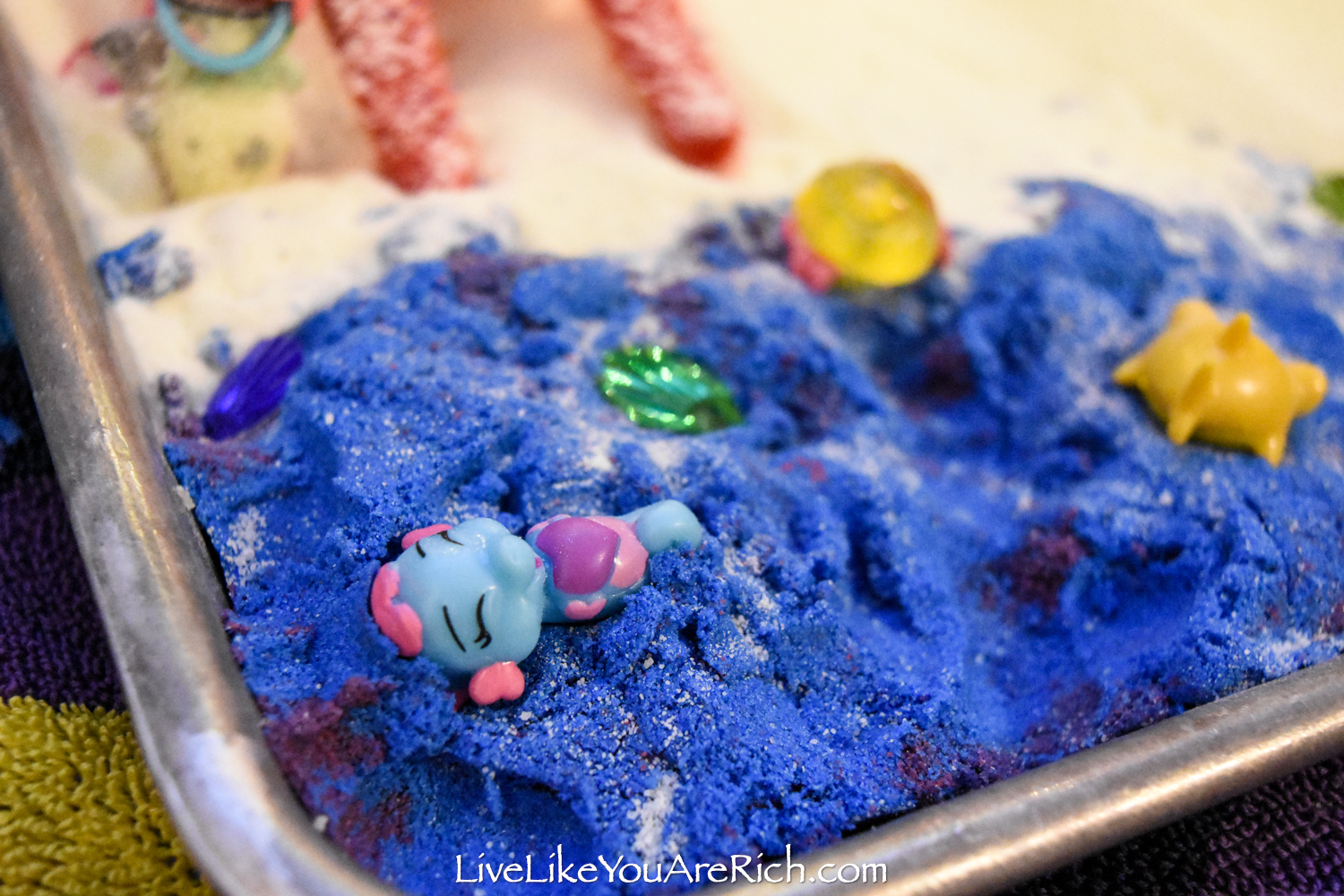 Pepper filled it with sea shells, fish, sea horses, anemones, and more.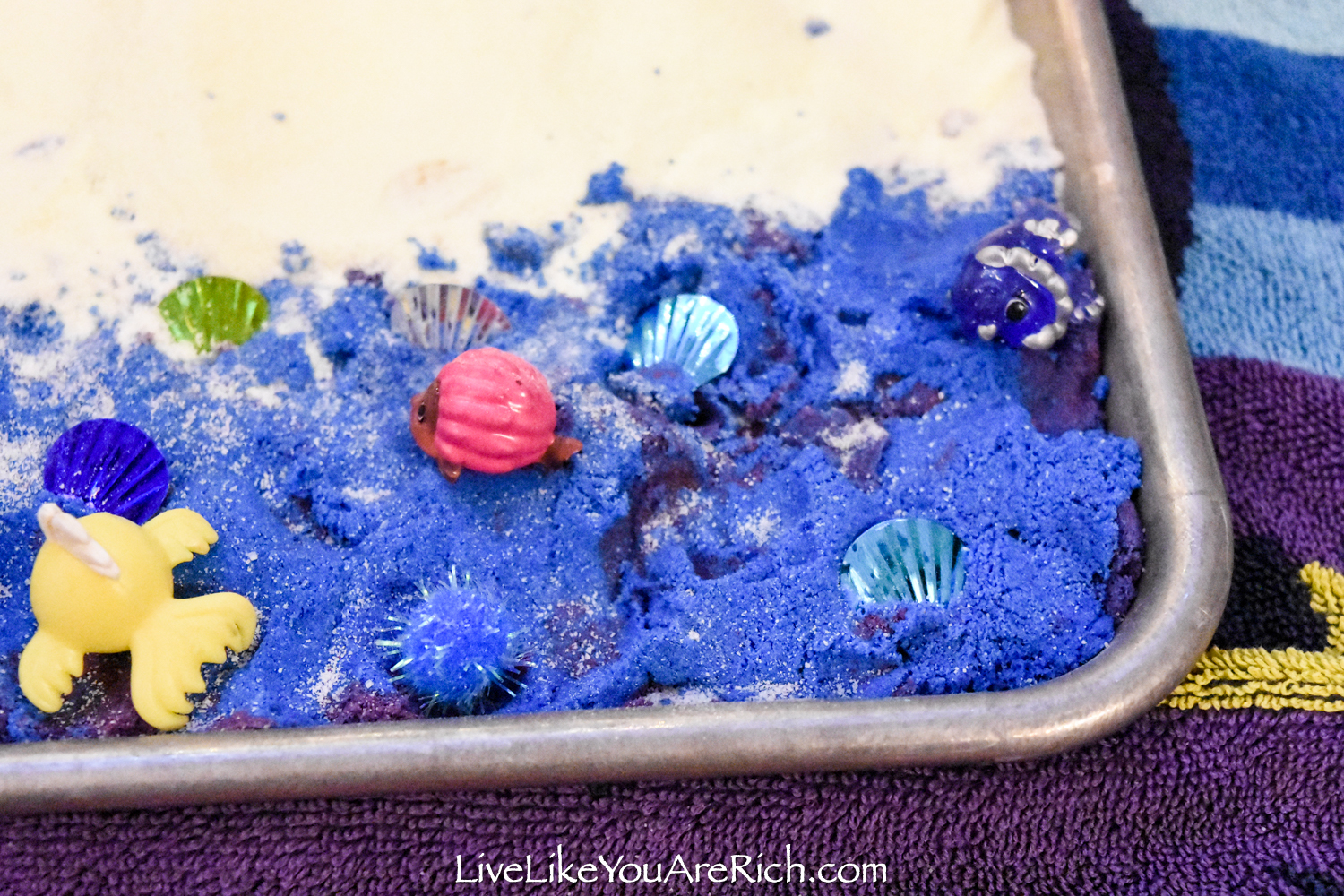 Isn't the use of a glitter pom pom as an anemone such a clever idea?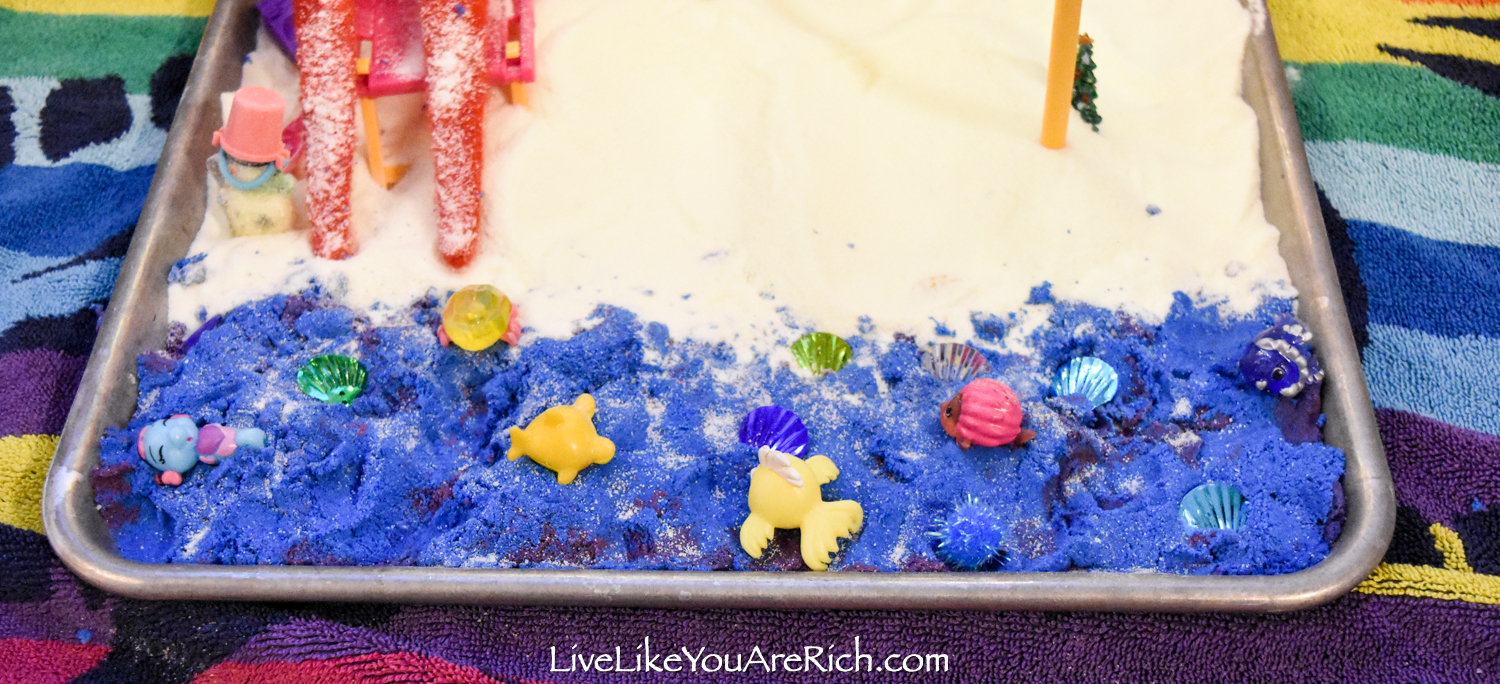 Pepper used a lot of the sea creatures that I bought for my daughter's mermaid birthday cake that I made her a few years ago.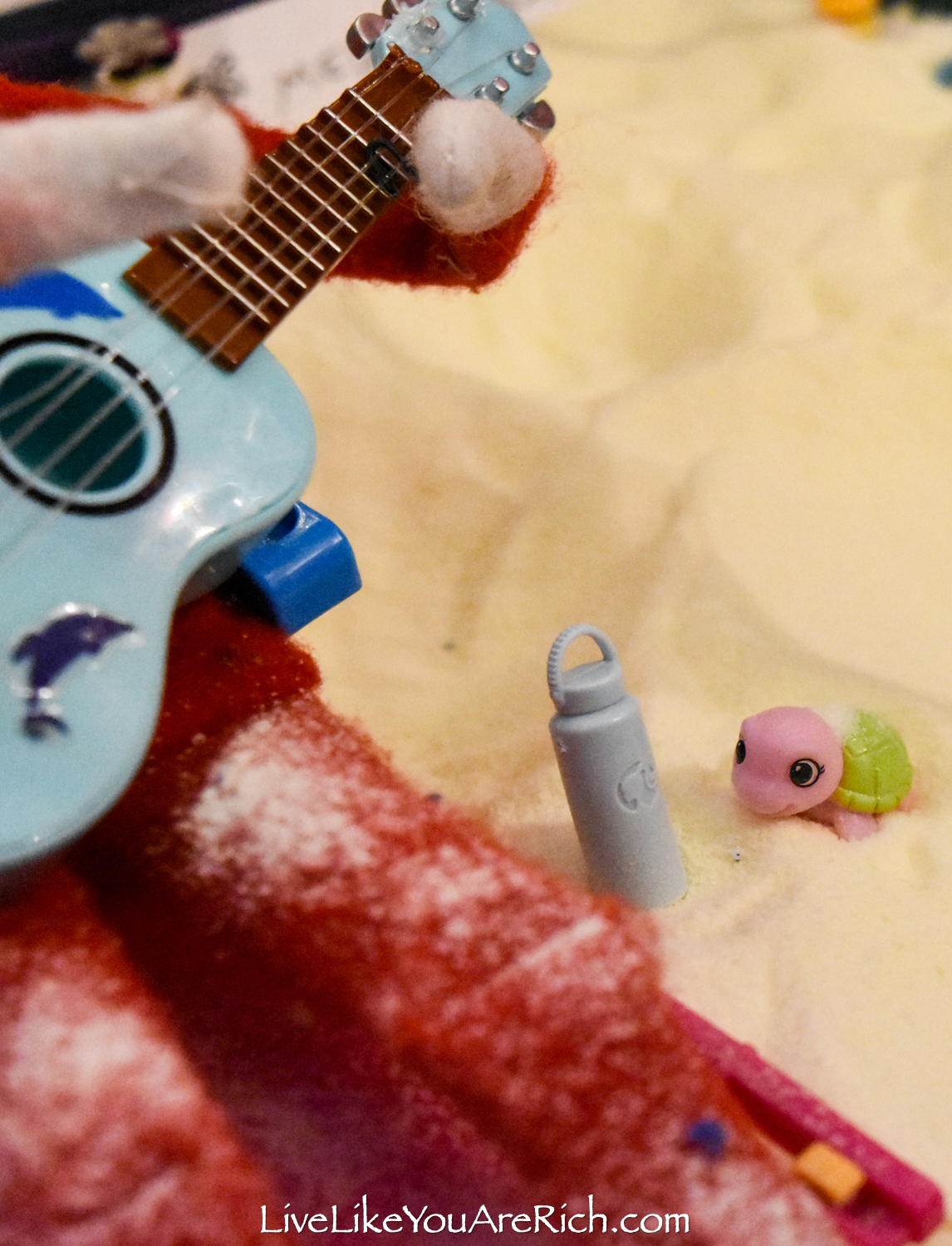 It looks like he had fun pouring sand on this snowman sandman. Now, instead of a top hat he has a sand pail.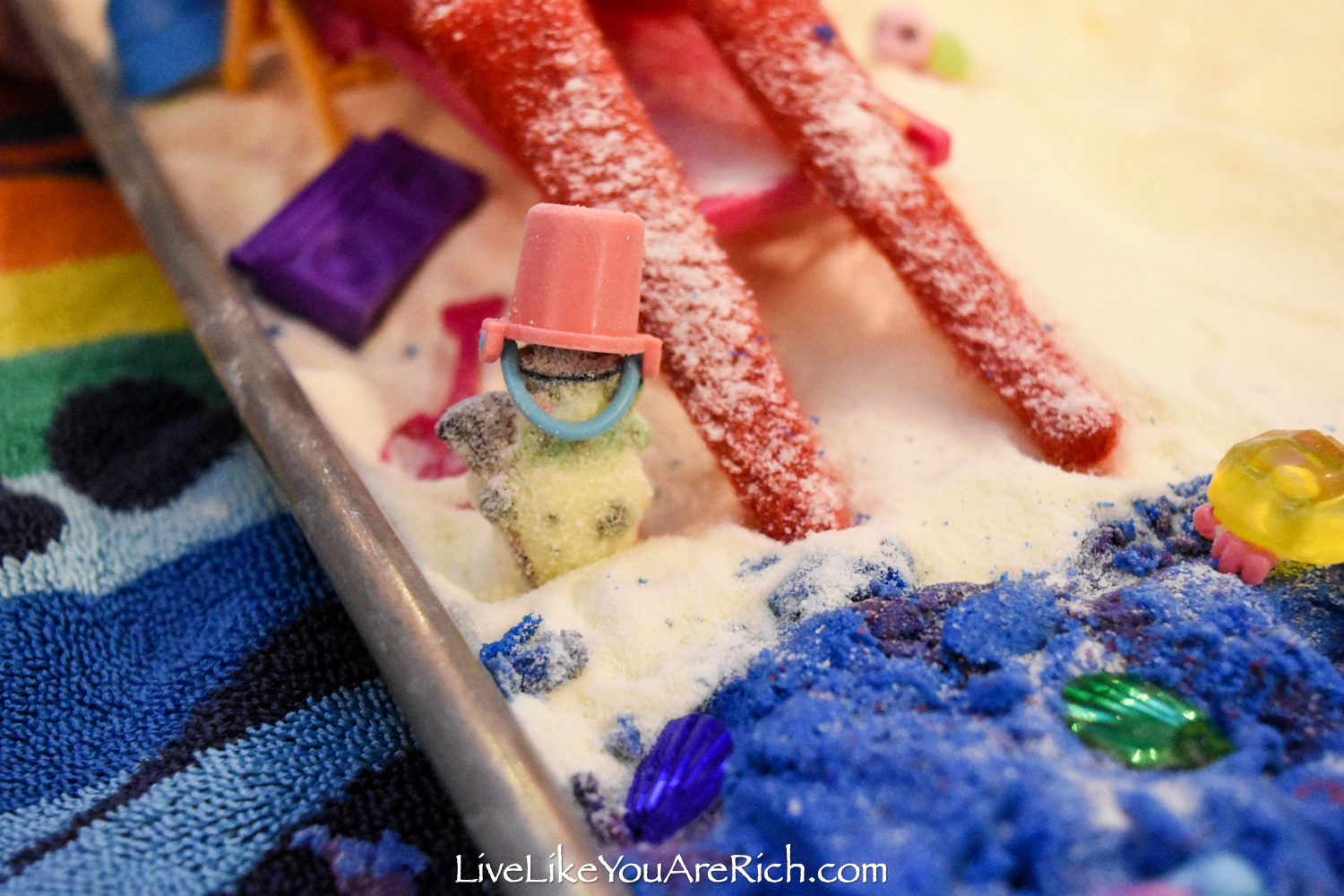 He set up a beach umbrella for shade which is very important to protect his elvish-North-Pole-acclimated-skin against those harmful sun rays!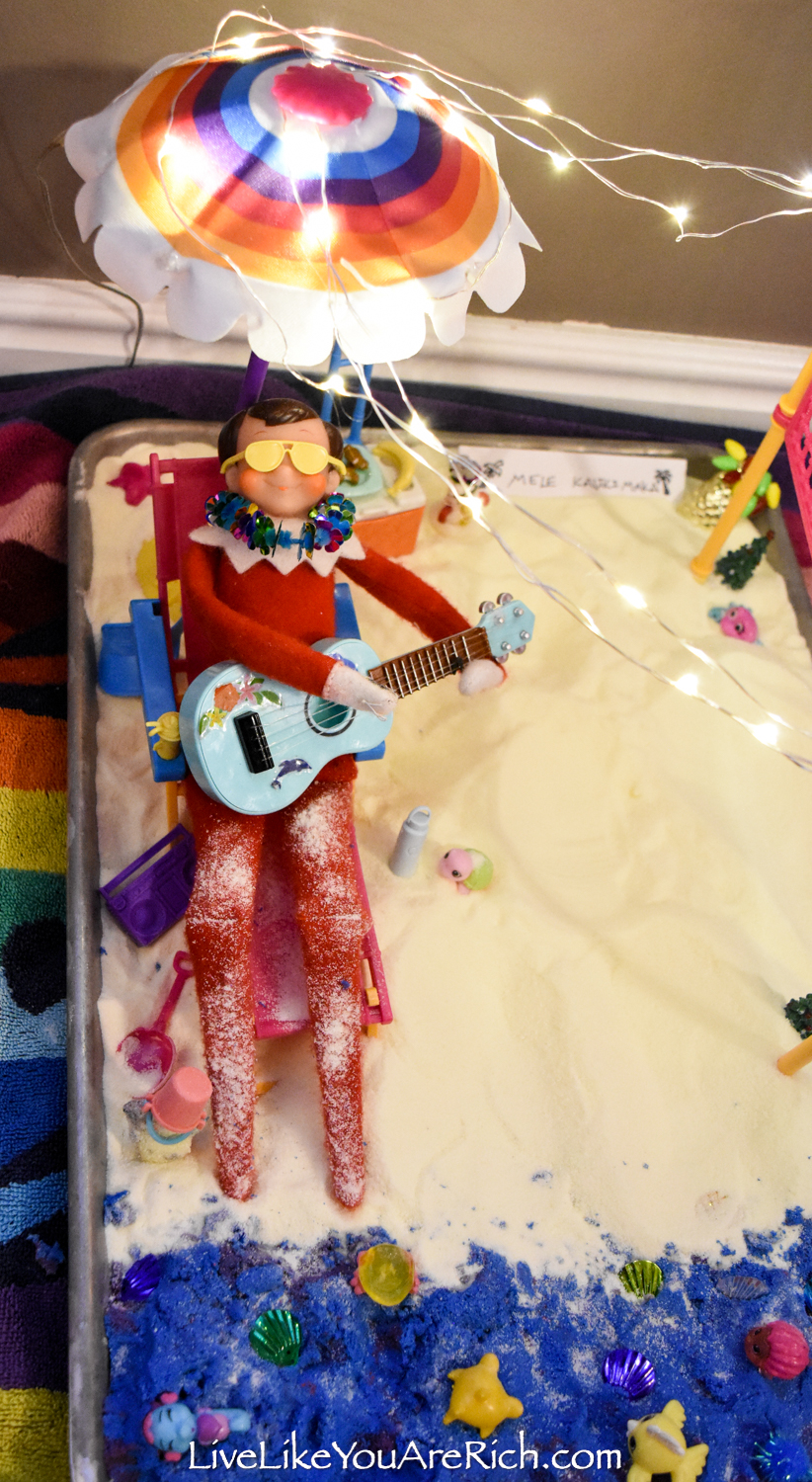 Using flower sequins and a pipe cleaner he made himself a lovely lei.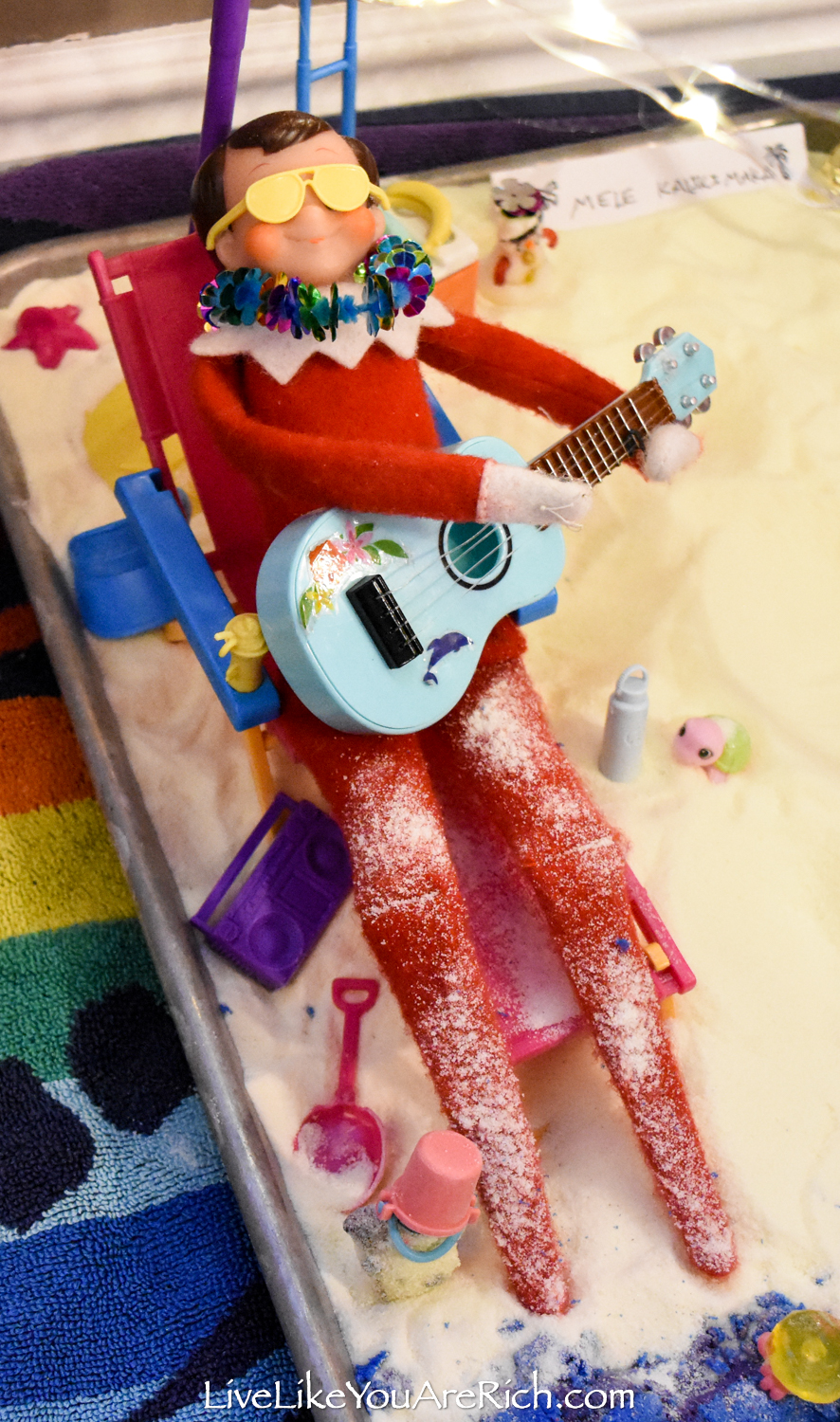 His eyes could use some protection too, so he stole some of Barbie's more masculine-looking-aviators.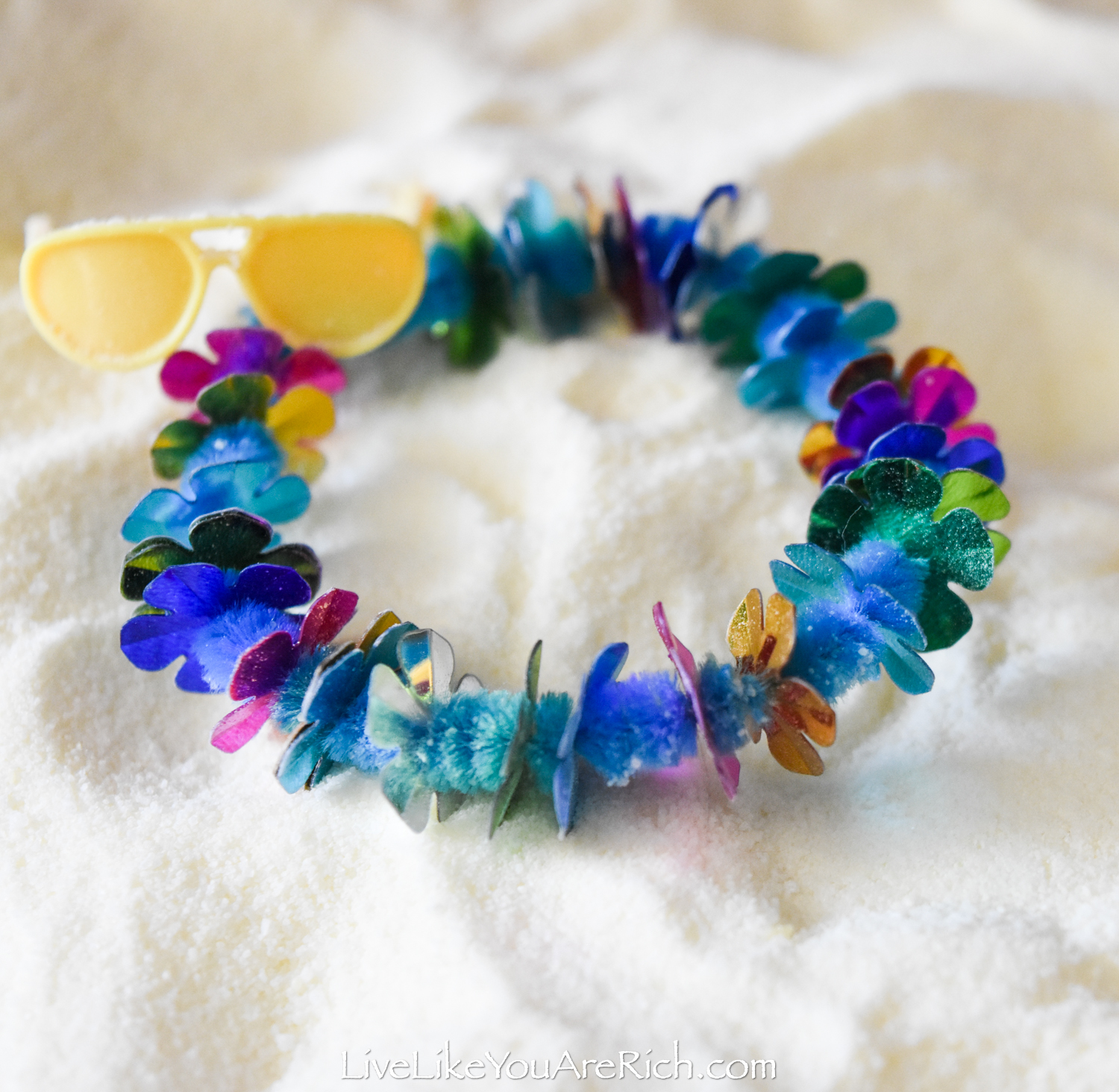 He used a tiny dab of hot glue to keep them secure.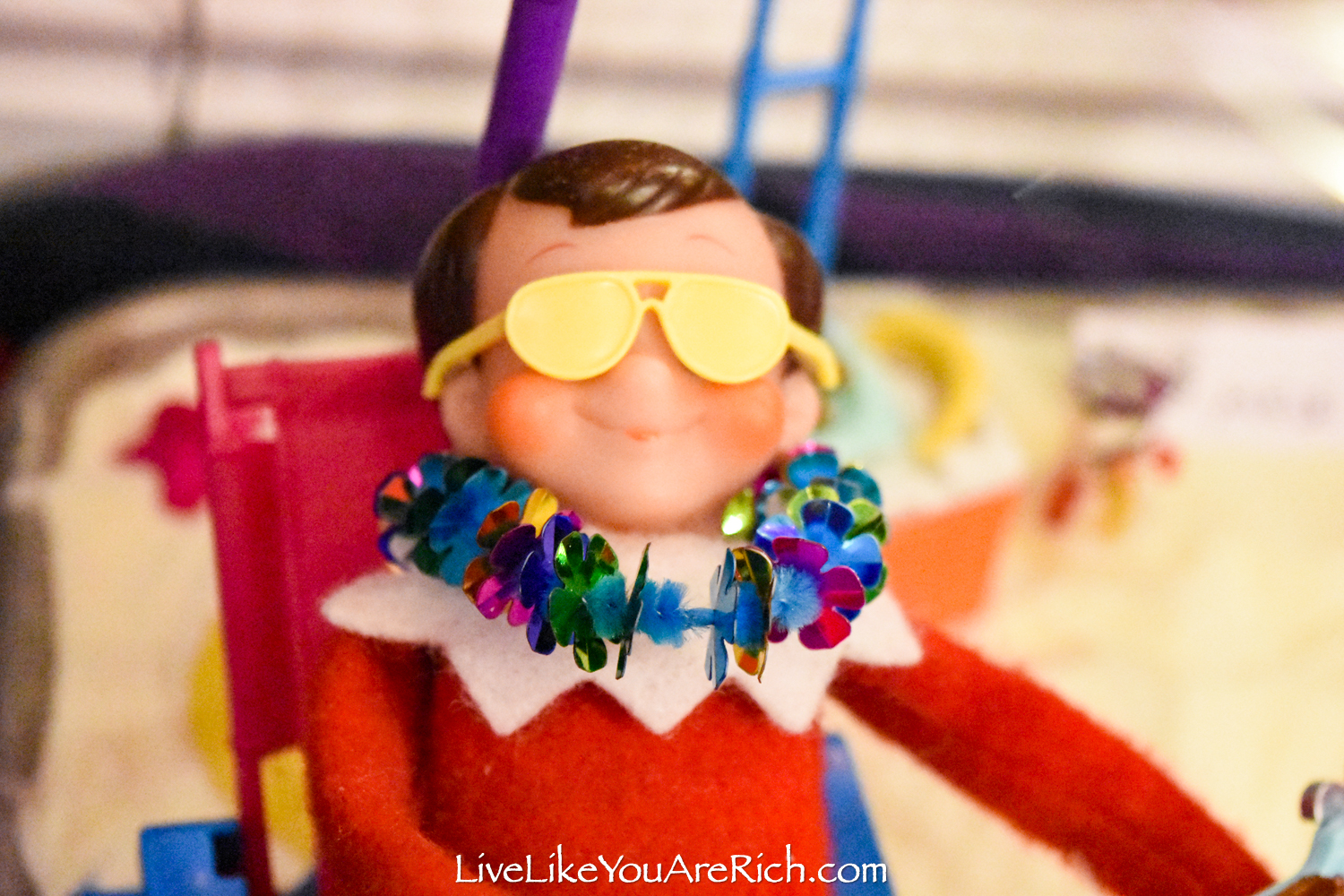 Pepper is drinking this virgin piña colada; my mouth is watering just thinking about it.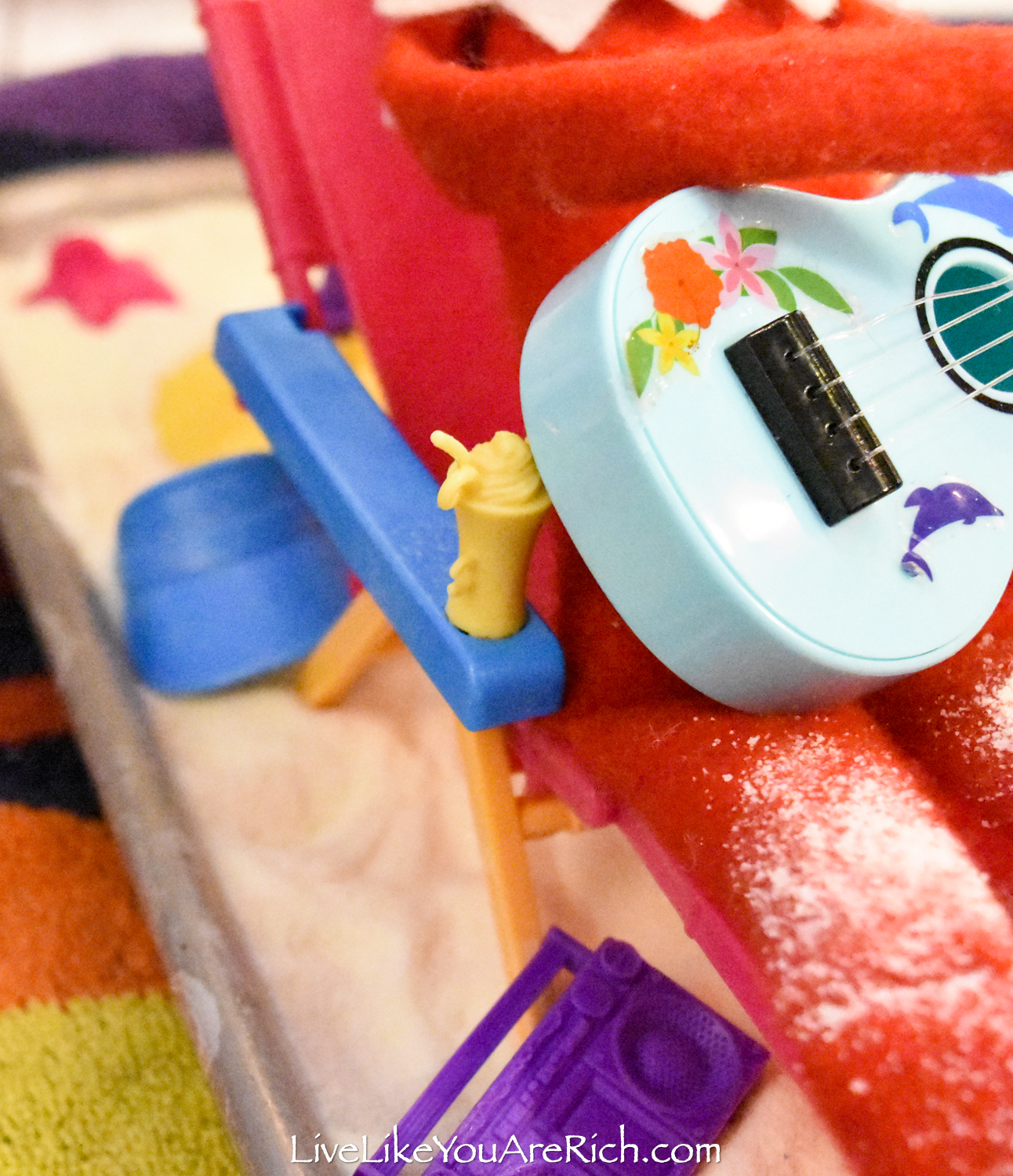 He set up a volleyball net…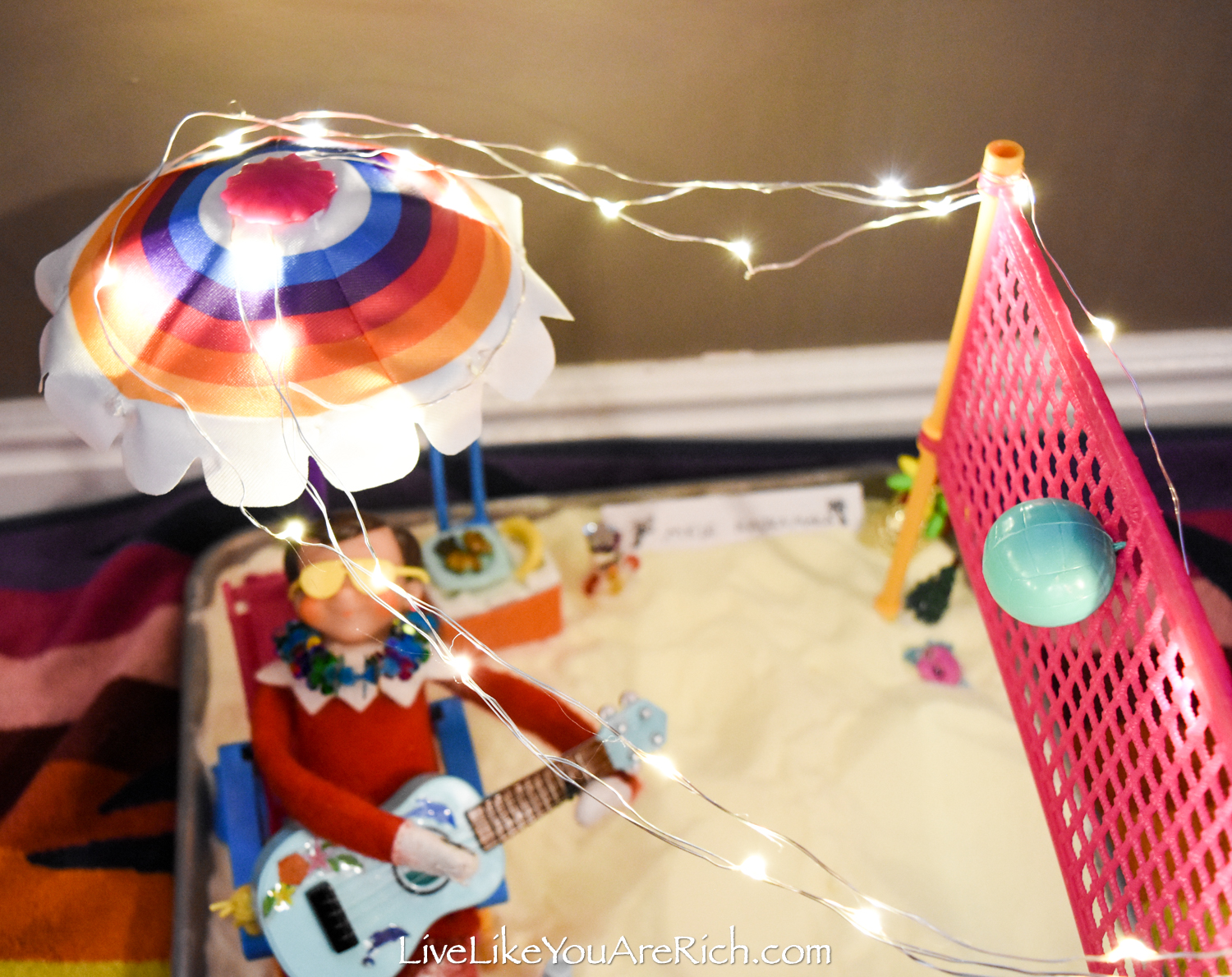 and Christmas lights.
Pepper is singing Christmas songs as he enjoys the sound of the ocean waves in the background—lucky him!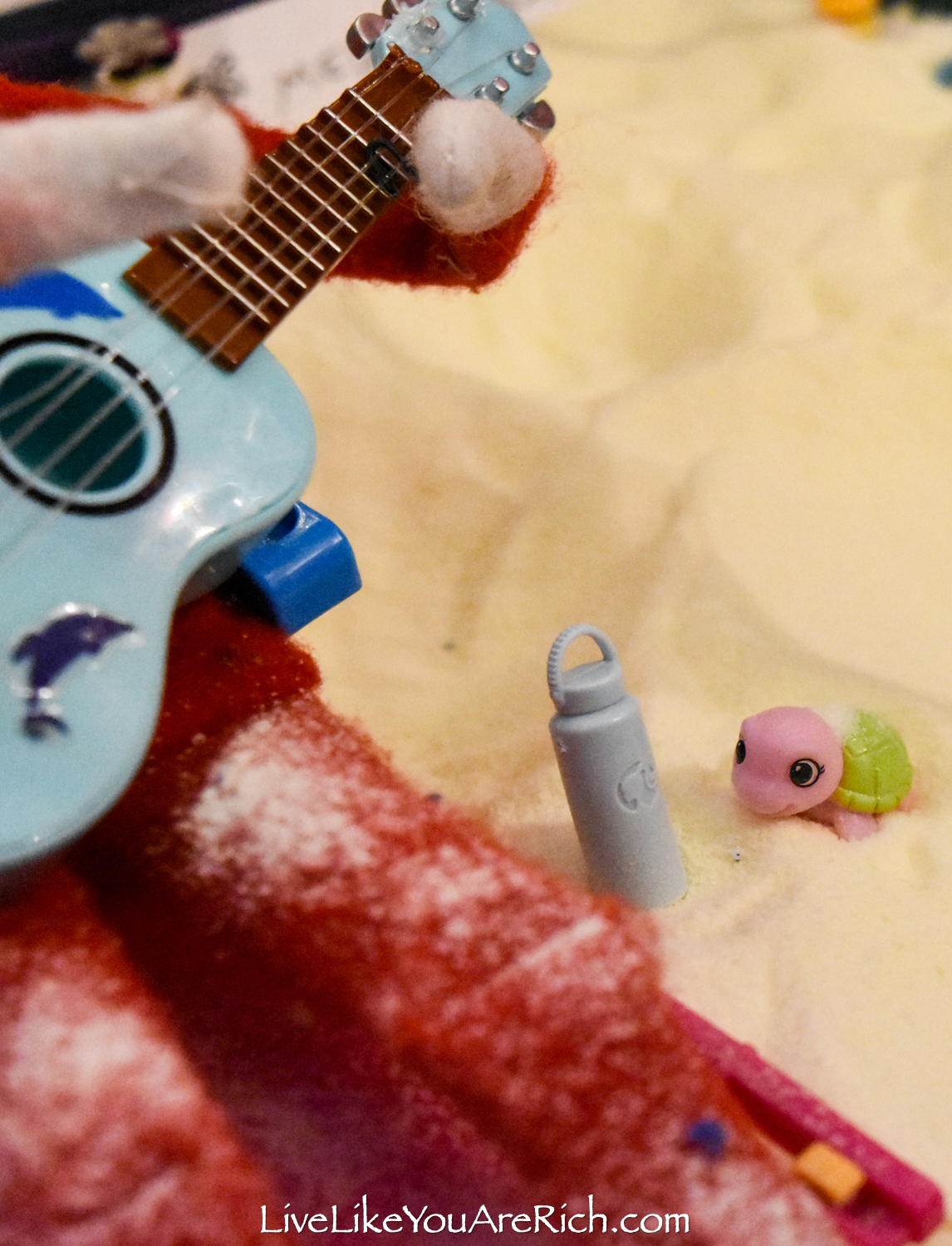 Supply List for Items I believe Pepper used to make this Elf on the Shelf: Mele Kalikimaka display.
Barbie sets: Barbie Loves the Ocean Beach-Themed Playset, with volleyball net & accessories, Barbie loves the ocean beach-themed playset with lounge chair, beach umbrella, and accessories. If pepper bought these without the Barbies they were about $3-$4 a set.
Country Time Lemonade Mix original 82.5 oz —I'm glad he used ours because it was expired and I didn't know what to do with it.
blue pipe cleaner for the lei
mini snowman coated in hairspray and lemonade mix
snowman made from frosting and sprinkles
mini Christmas trees from Dollar Tree
plastic Pineapple with Christmas Lightbulb sprinkles
Hawaiian towel (given to us when parents returned from their trip)

Mele Kalikimaka Pepper, we will join you in Hawaii in a few months!

For other 'rich living' and D.I.Y. decor tips please subscribe, like me on Facebook, and follow me on Pinterest and Instagram.