Kids Santa-Themed Christmas Tablescape
Each time I host, I love to have a 'kids table'. Growing up at family parties, as a kid I would always sit at the designated, "Kids Table", and it was the best place to be.
There were more interesting conversations and there was a lot more fun to be had at the kids' table! I remember my cousin, Candice, and I talking about how boring adults are. We thought that they only liked to talk about business, politics, and sports teams. Hahaha!
So, as and adult, even though I now prefer the, 'adult table', I like to jazz up the kids' table and make it fun and kid-friendly.
This was last years Kids' Christmas tablescape.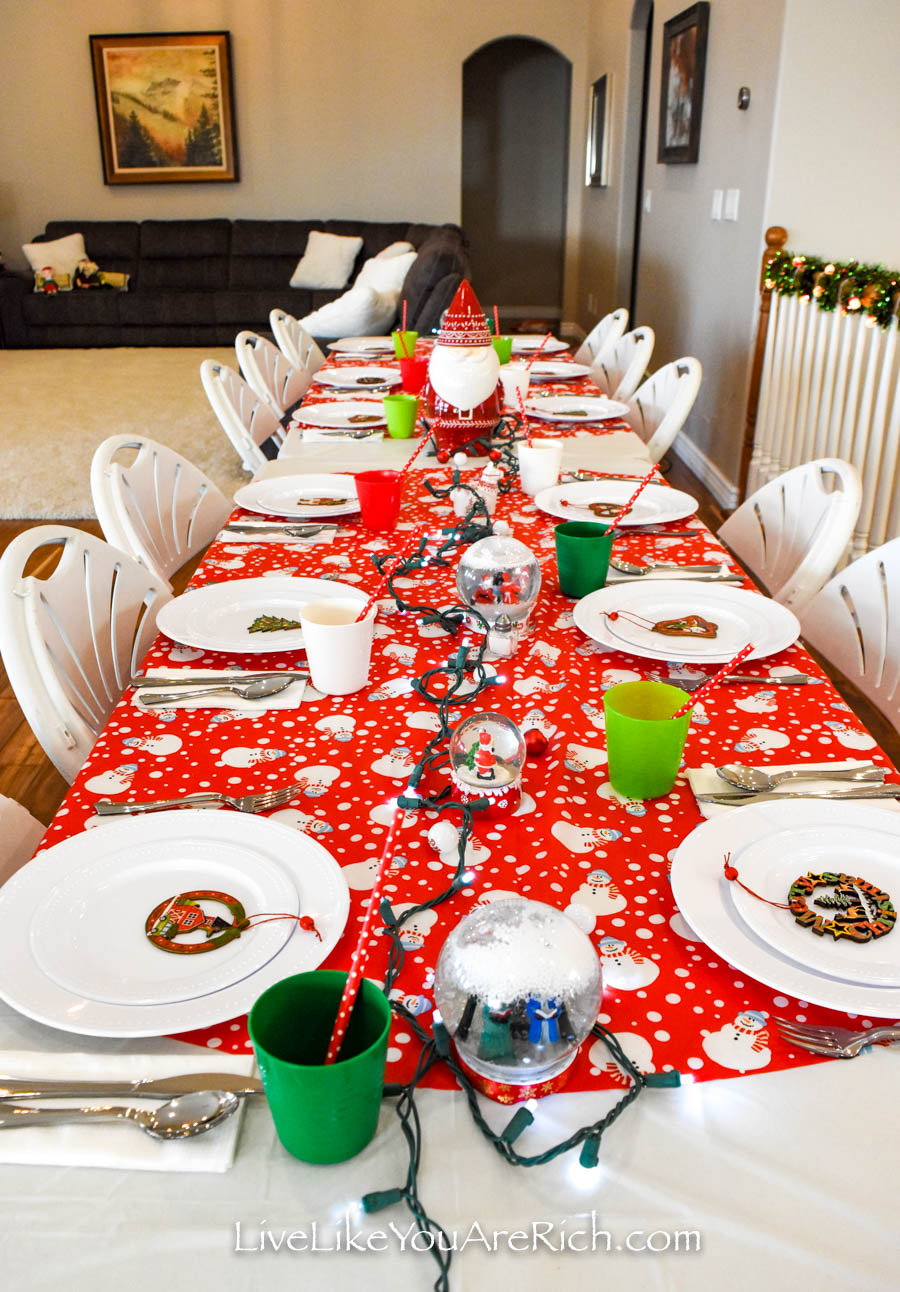 I like to add a favor for each child too. Last year they all got one wood ornament.
This year, my daughter and I decorated this table. It was mainly my daughter though.
I purchased almost everything (including the candy) at Dollar Tree. The only exceptions were what I already had— which included the Santa figurines.
The Santas were just standing on our piano.
I just told my daughter, to pick out the Santas that you really like and that aren't too large and place them on the table runner.
She had fun doing the decorating and acting like the part of a hostess.
Supply List for Kids Santa-Themed Christmas Tablescape
Paper plates
Fun tablecloth with Santas on it

Glitter table runner
Santa cups
Gold straws
Shot glass-sized red cups
Twizzlers
Strawberry candies
Starburst Reds
gold chocolate ball

The paper plates, Santa cups, tablecloth, Twizzlers, and candy cost $1.00 a package. Most packages had enough for 8. In the case of the Santa cups, I needed to purchase 2 packs.
I was reusing the glitter runners and already had the straws left over from a larger pack. My daughter donated 8 chocolates to her cousins (she got a big box of them for her birthday), and it came together for less than $8.00
How to Set up Kid's Santa-Themed Christmas Tablescape
Lay down a fun Santa tablecloth,
Put a runner down the middle,
Have your child, if old enough, add Santa Clauses from around the house to the runner.
Have your child set the plates and silverware out on the table.
Have your child stuff small red cups with red, green, and gold candies and place them on a white napkin on the plates. Tip- If you have toddlers, you may want to wait to put out the candy until the guests have arrived. Our daughter kept trying to steal these cups so we set them to the side until the cousins came.
Have your child put gold straws in Santa cups and put them on the table.
I'm proud to say that my daughter decorated and set this entire table—she even prepared the favors and loved doing it.
Involving your kids in helping out is a great way to lessen the stress of hosting!
Have you done a Christmas tablescape for kids? I'm hosting again in a week and I'd love any and all ideas, so please leave them in the comment section below.
Merry Christmas!
Thanks!

For other 'rich living' and D.I.Y. decor tips please subscribe, like me on Facebook, and follow me on Pinterest and Instagram.