This is a fun Christmas tablescape for kids.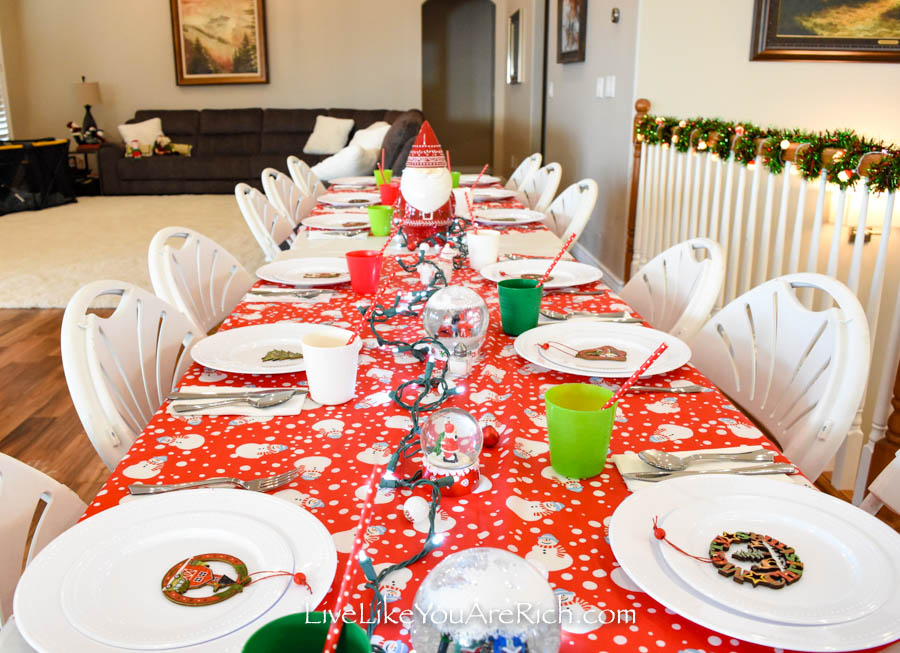 My kids love Christmas! They love the lights, sledding, and building of snowmen, thoughts of Santa, Christmas movies, cookie making, present opening and giving, gingerbread house building, etc.
It has been so fun to see the magic in my children's lives doing these fun activities each Christmas season.
This year we have been packing in the Christmas traditions and enjoying every minute of it.
I always try to make Christmas special for them because I know they won't be young forever.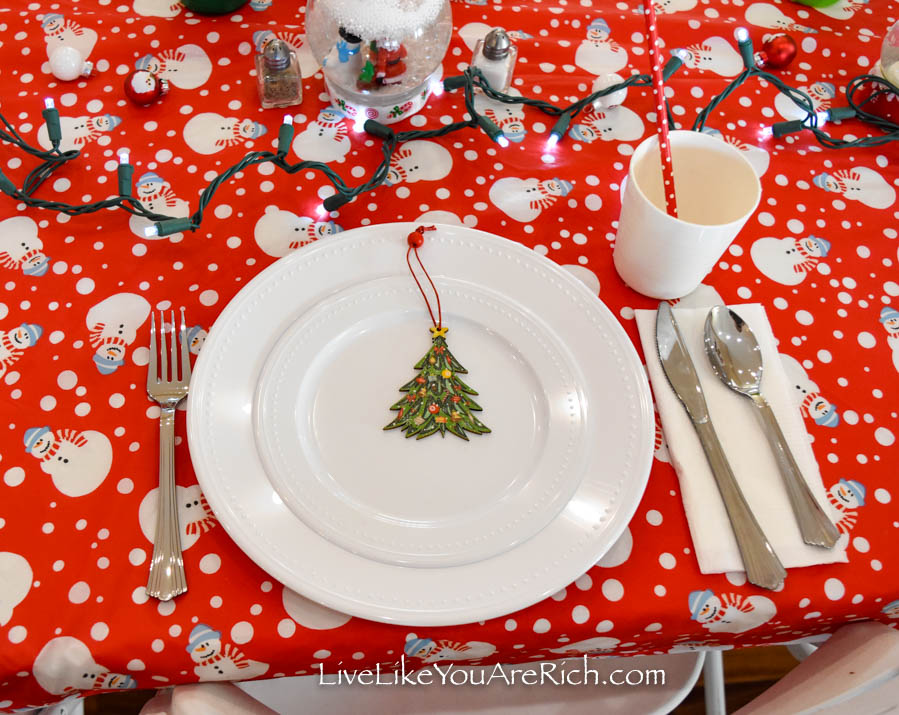 No matter the holiday, if there are separate tables for kids and adults, I love to do a table just for the kids. This was my Thanksgiving kids tablescape from last year. The children appreciated having something unique and fun just for them.
I had fun putting together this Christmas tablescape. It came together really quickly because I just used things I had on hand.
Supply List for this Christmas Tablescape for Kids
2 rectangular white tablecloths
12 kids cups (IKEA) white, red, green
1 set of lights about 12' long
Santa gnome cookie jar and salt and pepper shakers
2 snow globes (Dollar Tree)
little Santa globe ornaments (12)
12- chairs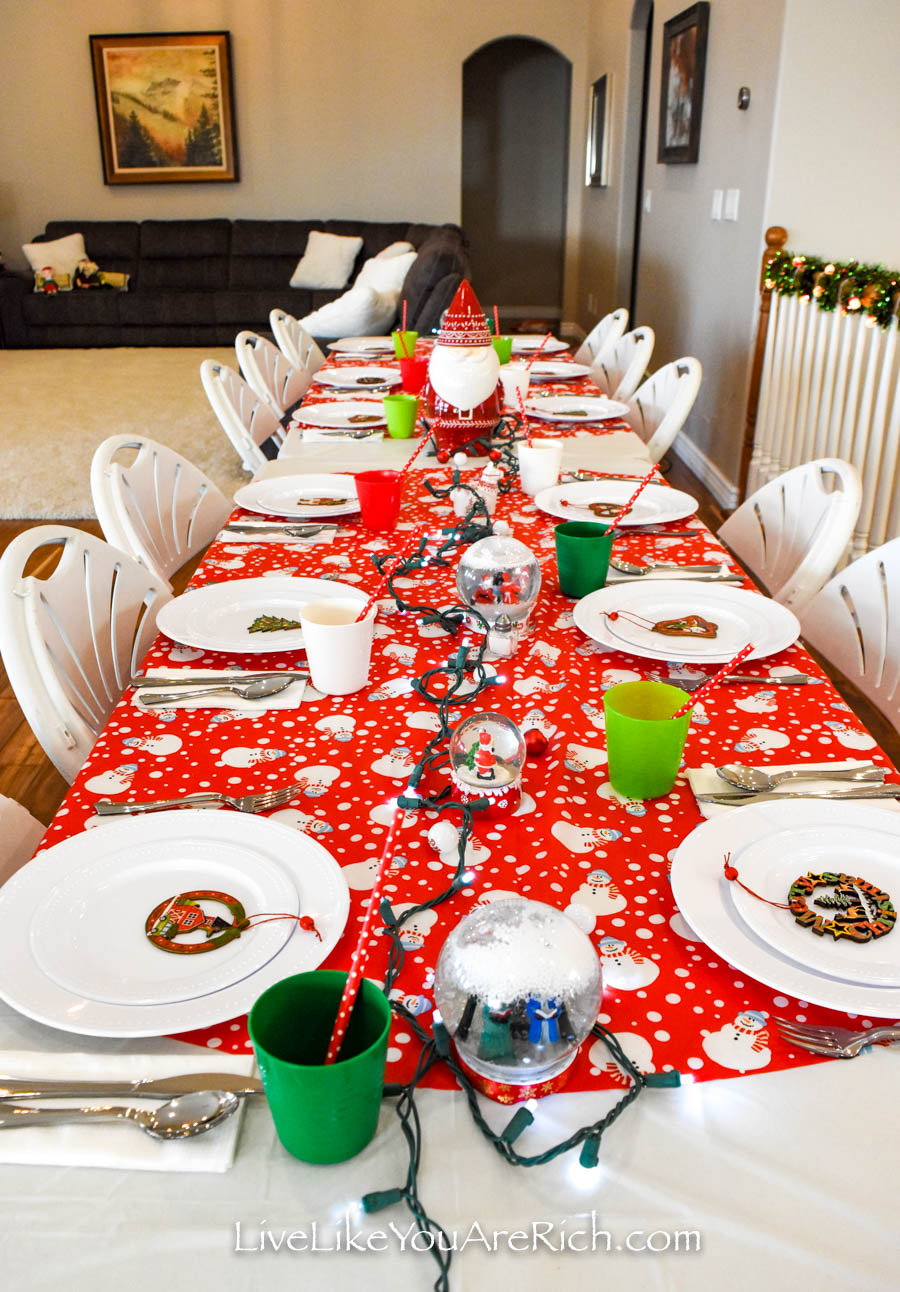 How to Set Up a Christmas Tablescape for Kids
Most kids like color, whimsical, fun, and bright. So that was what I tried to do on this tablescape.
I went around my house and found fun items and decor that were Christmasy, colorful, and kid-friendly.
Then I put down 2 white rectangular plastic tablecloths for the bottom layer.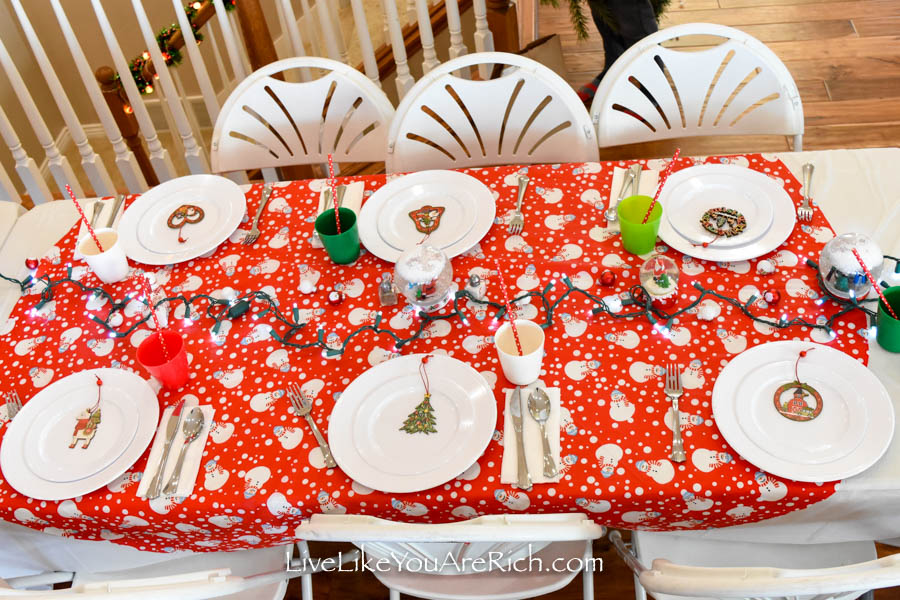 I had bought these darling snowman tablecloths on sale right after Christmas a few years ago for .50 cents each. They've sat unopened in a Christmas bin until I was able to use them this year. I'm so glad I had them! They really added a fun aspect to the tablescape.
I love Christmas lights and so do most kids. I was hoping to find a long enough strand of battery operated lights (I bought some at Dollar Tree a few years ago).
I didn't have anything long enough that I wasn't already using. So, I just got an extension cord and ran it a few feet to the table and plugged in an extra strand of lights we weren't using outside.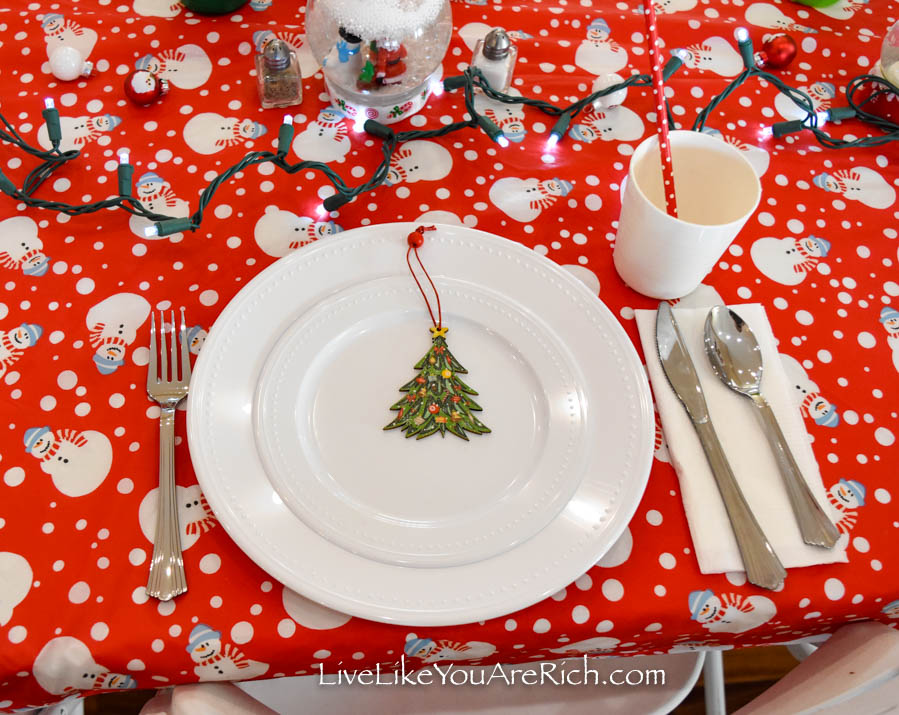 I had my kids set out the plates, napkins, silverware and cups, and straws. They are such great helpers and things go very fast when we all pitch in and work together.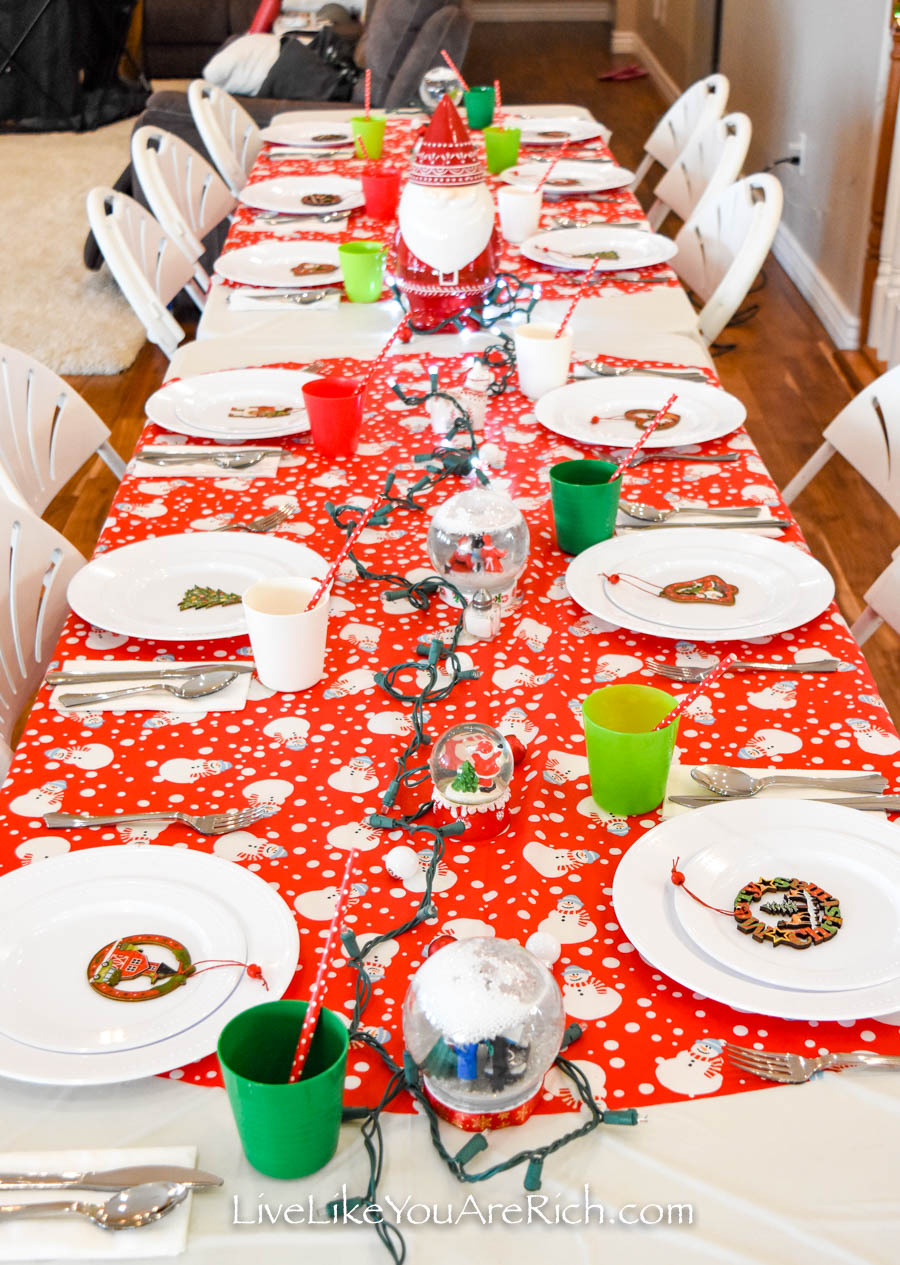 The plastic plates and silverware were bought at Costco on sale and I had them on hand. To add more color-especially green, I used our kids cups that were either white, red, or green.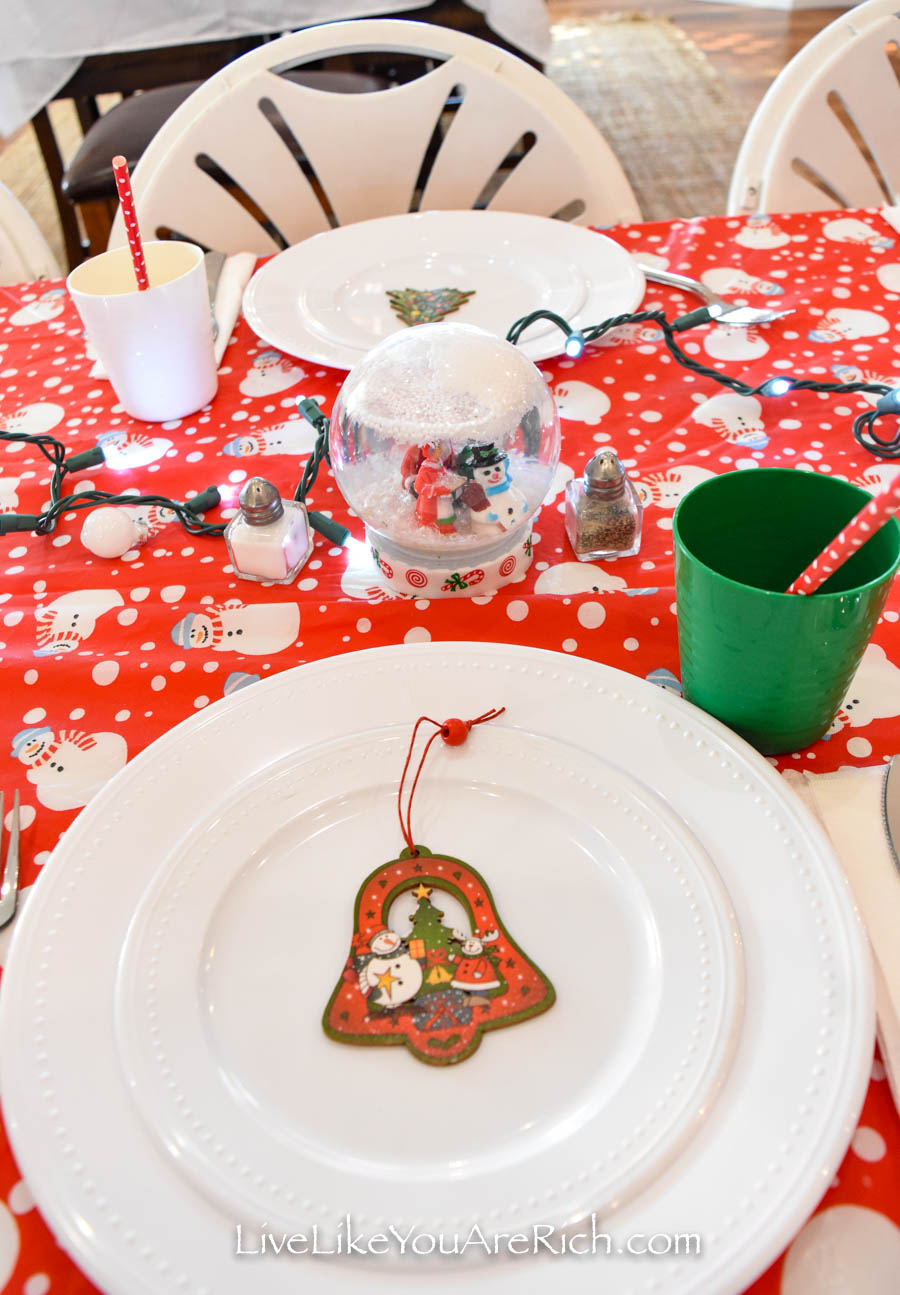 I had some fun red straws with white polka dots that I knew the kids would like so we used those as well.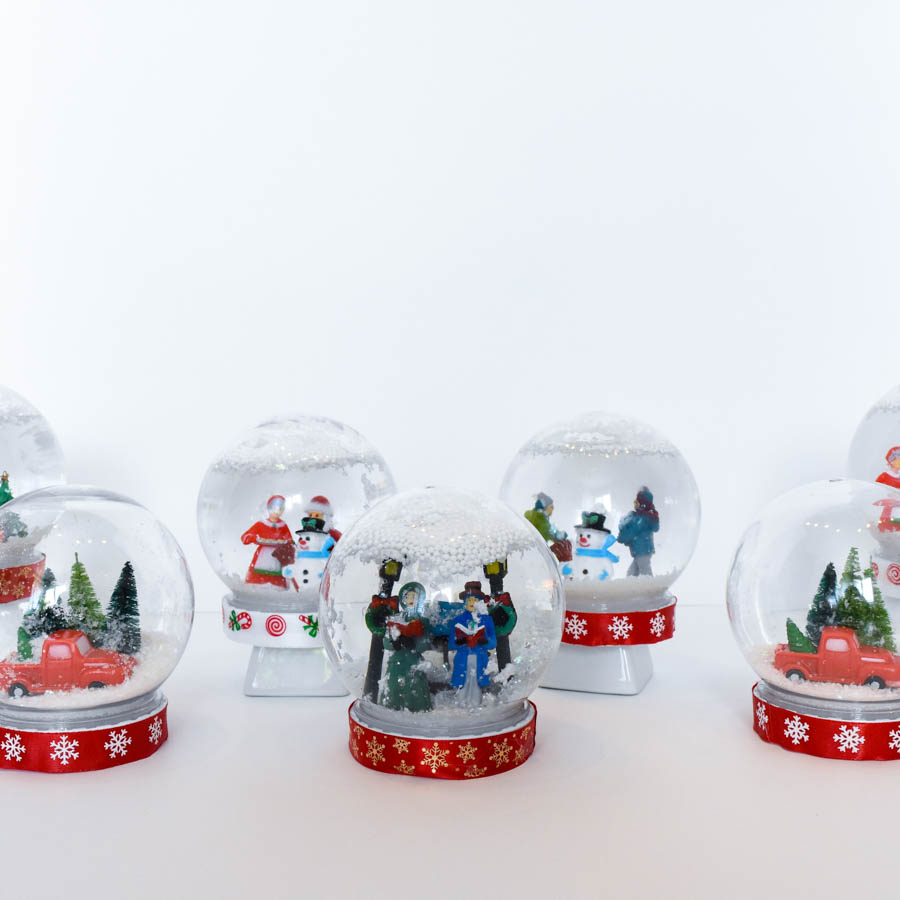 My kids LOVE snow globes and we made 7 Dollar Tree snow globes together this Christmas season. I was using 3 on my red truck mantle so I put four on the table and my kids each added the one they got from Santa last year to help decorate.
I liked how the round snow globes tied in with the round snowmen on the tablecloths… so that made me think to add some little round ornaments we hadn't used on our Santa themed Christmas tree yet.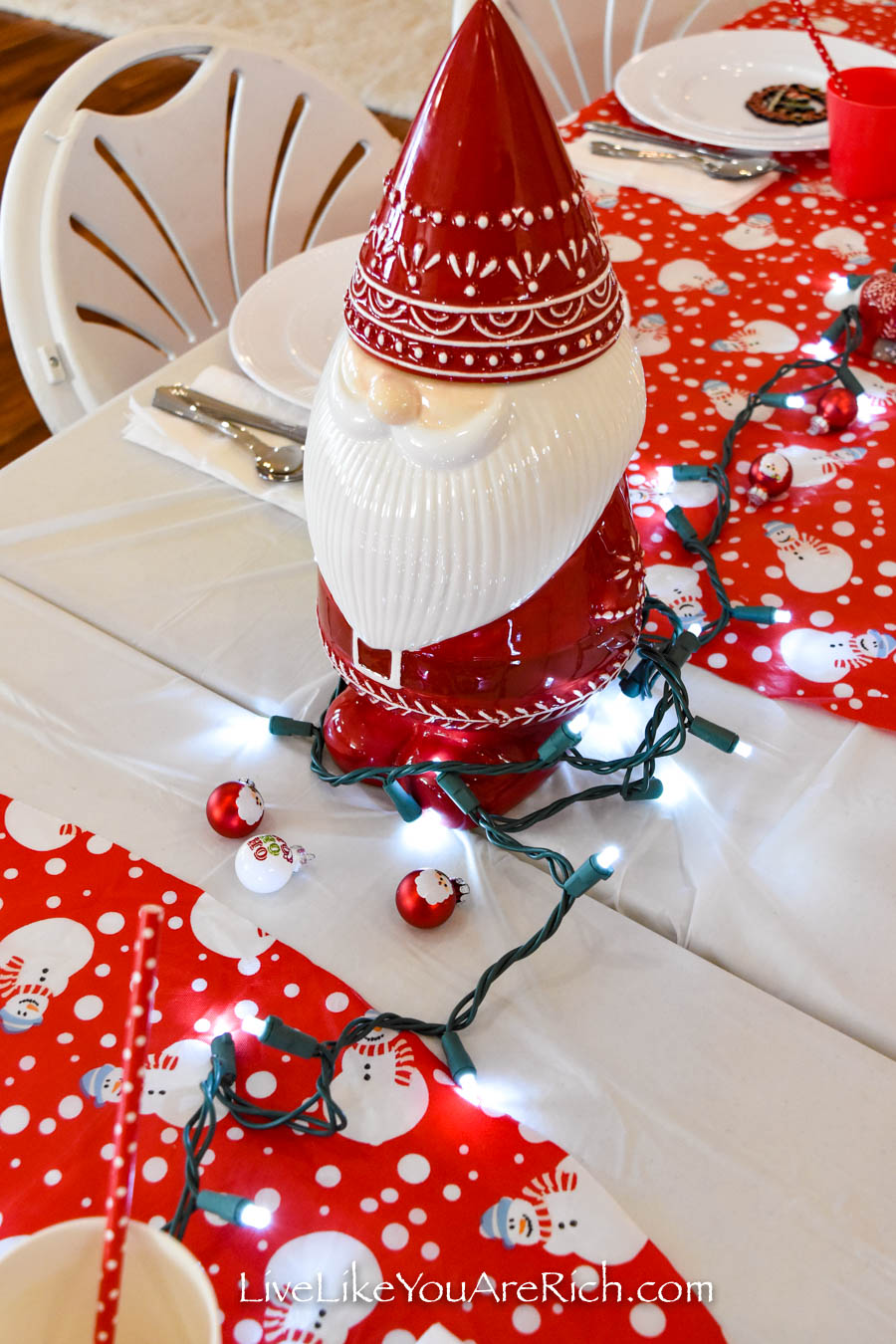 We placed those round ornaments around the table for a fun festive look.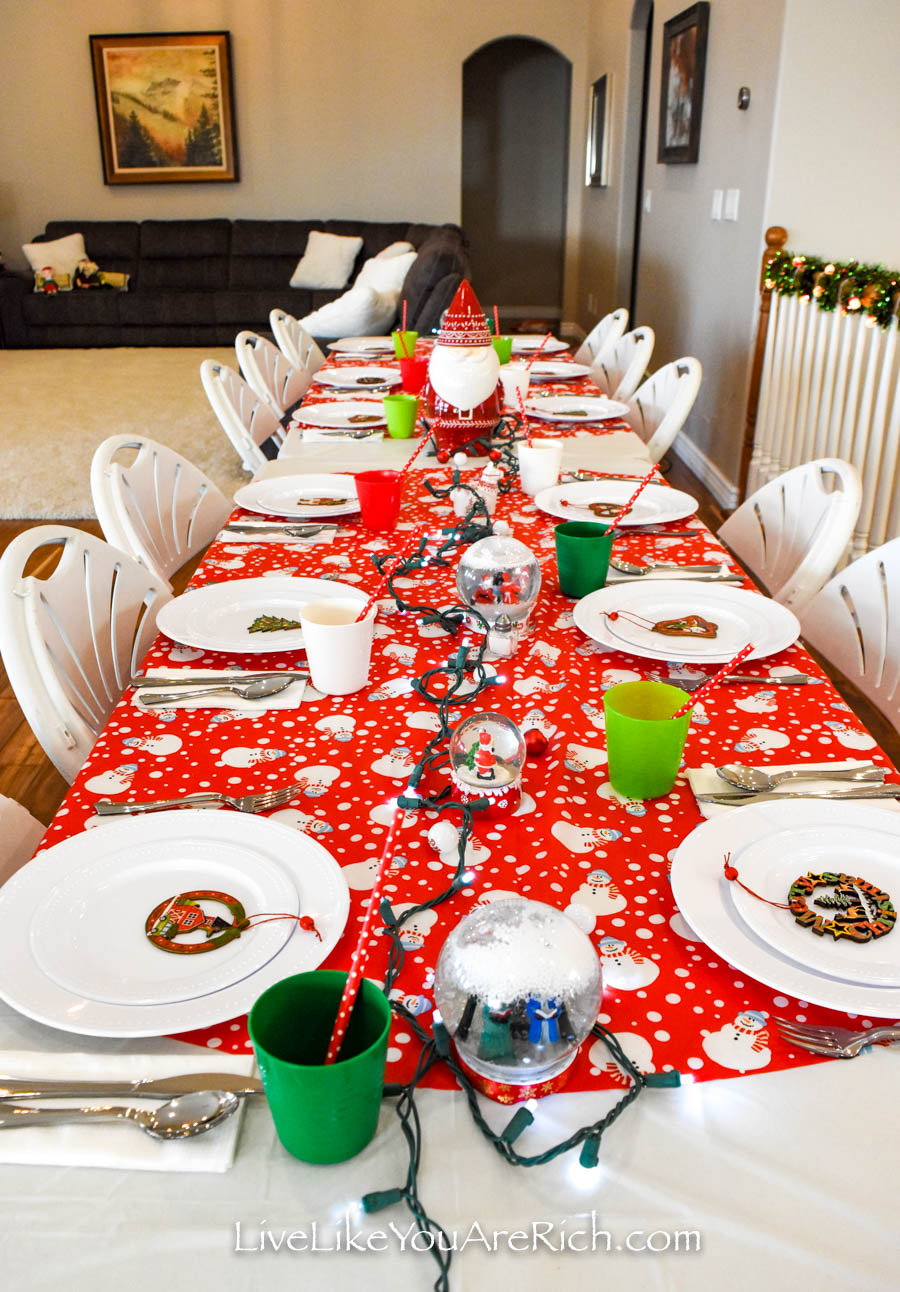 I had purchased this darling gnome cookie jar and reindeer salt and pepper shakers from the world market a few years ago.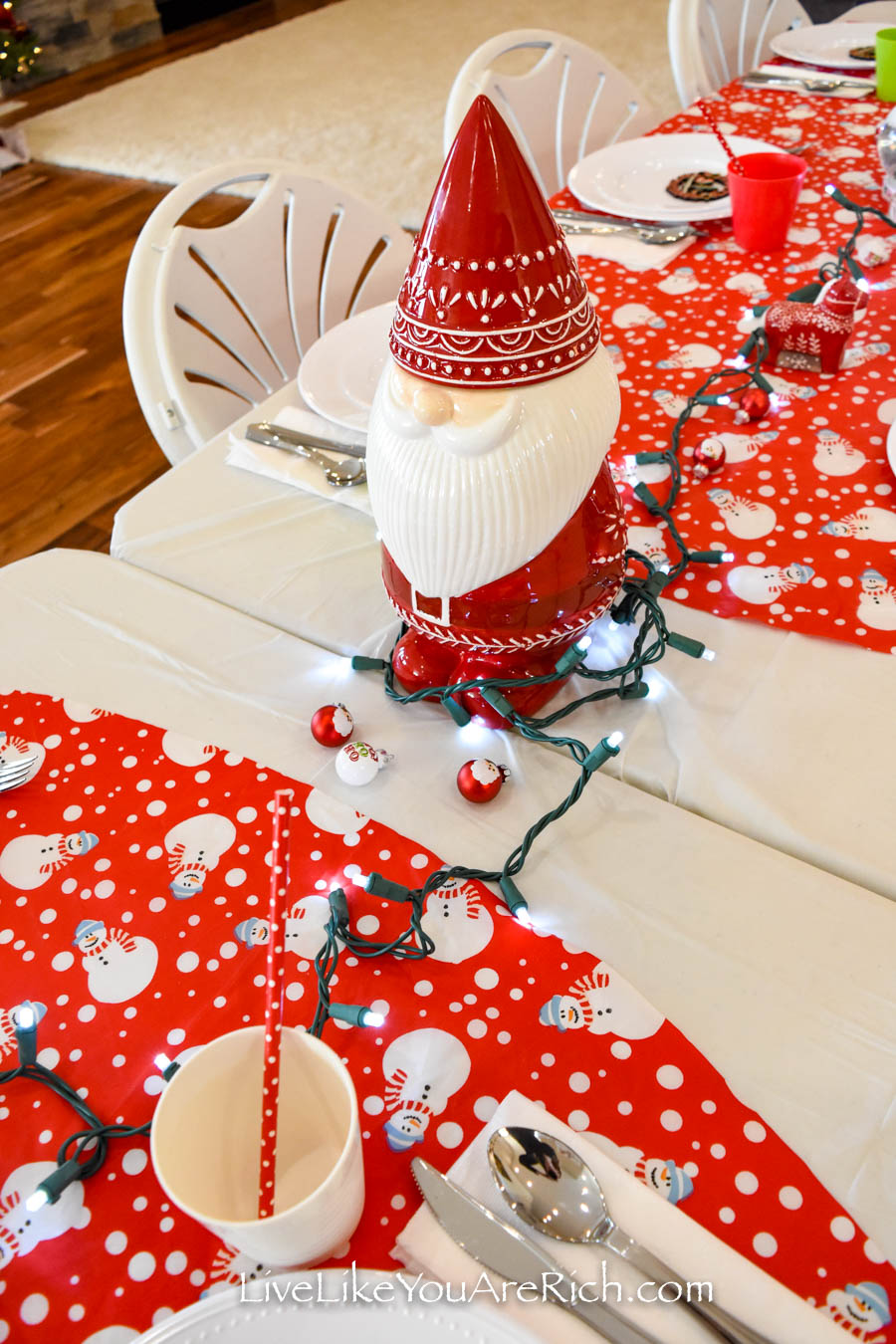 The Santa gnome made a great centerpiece.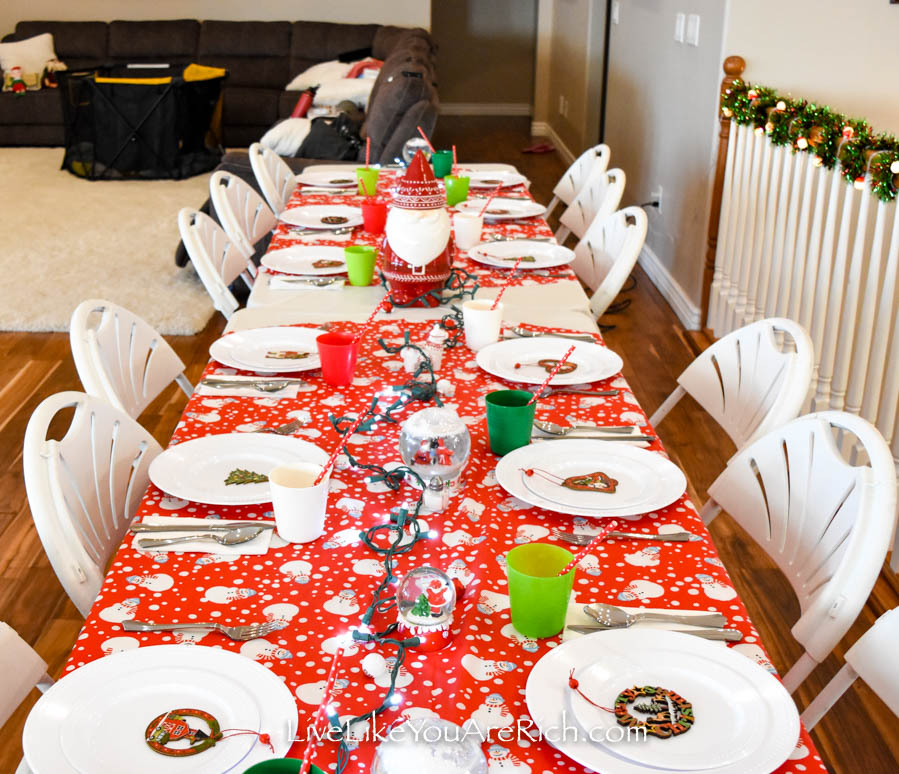 I wanted to add something cute on each kid's plate to take home with them.
I bought a bunch of these darling ornaments on Amazon when they were 12 for $9.00 because they are wood, cute, high quality, and had good reviews. We used many on our Santa Clause Christmas tree and in our Christian Advent Stockings.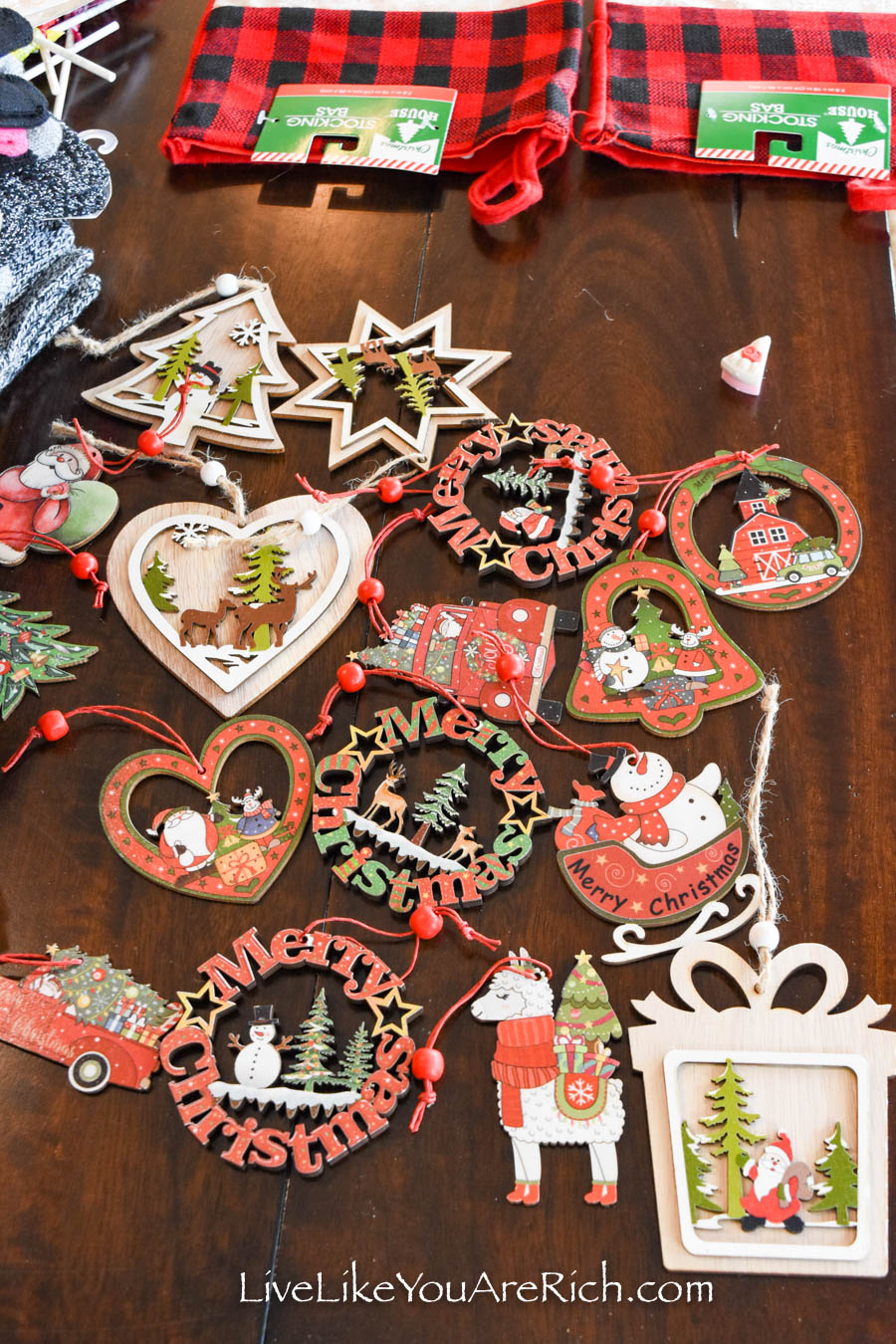 I had about 20 left over, so we placed one on each child's plate as a party favor for them to take home.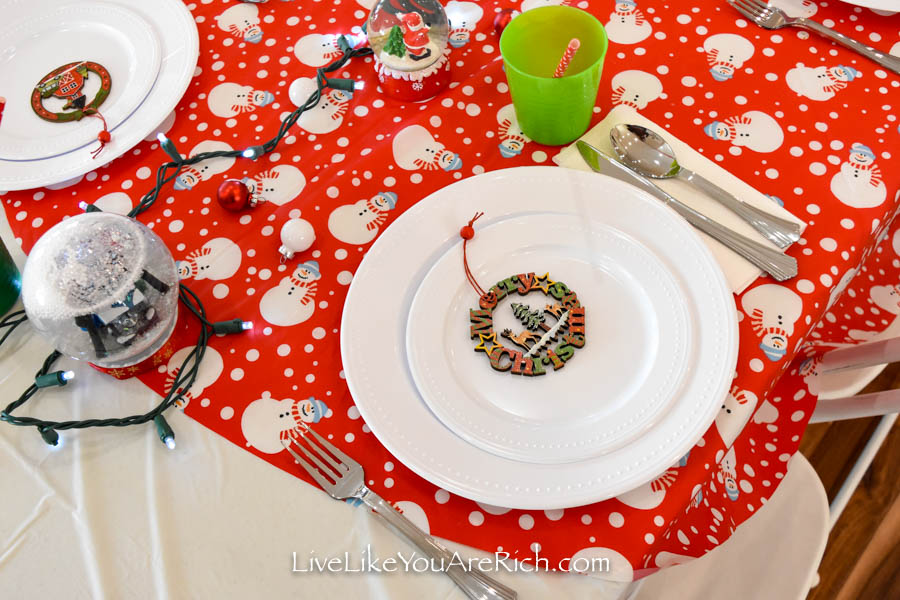 The wood ornaments were actually very well received by the kids younger than 10.
Those older than 10 didn't say whether they were excited to receive an ornament or not. But the kids under ten were super excited about their ornaments and remembered to take them home with them.
Overall, everyone loved the Christmas Tablescape for kids and I am excited to continue this tradition of making kid-friendly tablescapes each holiday when we host.

For other 'rich living' and D.I.Y. decor tips please subscribe, like me on Facebook, and follow me on Pinterest and Instagram.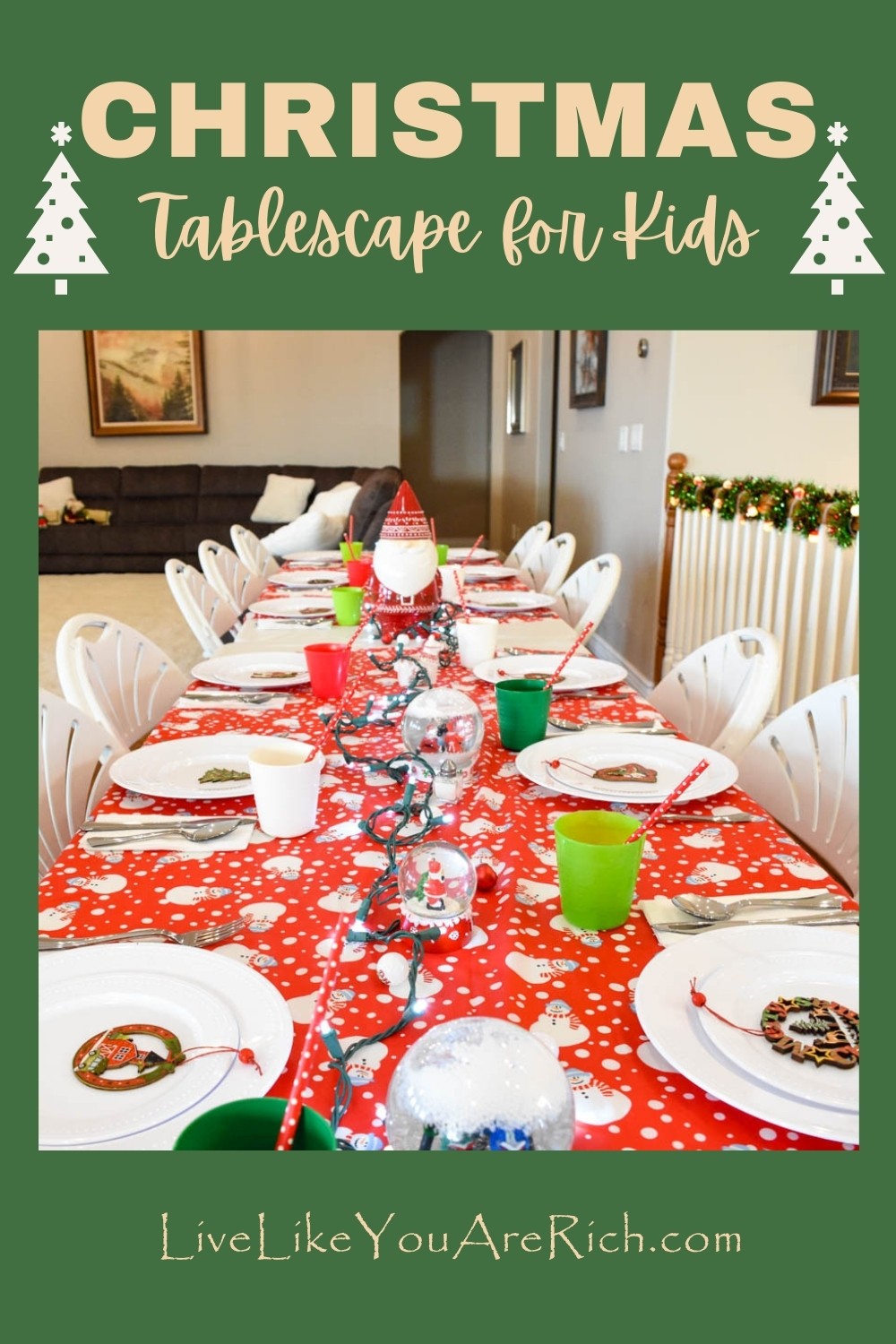 Supply List for Christmas Tablescape for Kids
2 rectangular white tablecloths
12 kids cups (IKEA) white, red, green
1 set of lights about 12' long
Santa gnome cookie jar and salt and pepper shakers
2 snow globes (Dollar Tree)
little Santa globe ornaments (12)
12- chairs