Elf on the Shelf: No Sew Christmas Pajamas Tutorial
Each year, we love to get the kids matching Christmas pajama pants. I don't usually splurge for the entire matching outfits because they usually pretty expensive.
Normally, I purchase the pants on sale and then find shirts that we already own and are comfortable in that match.
So, that is what we did this year as well.
I bought these pajamas from Target. I got the Kid's Holiday Fair Isle Fleece Matching Family Pajama Pants from Target on sale. I purchased the kids' for $4.50 a pair and the adult pants for $6.50 a pair.
Costco and Sam's Club have great deals on Christmas PJ outfits that match as well. The problem I've found with ordering from Costco and Sam's Club is that is the variety in sizing sells out quickly and its hard to find matching PJs in all 6 sizes we need.
Target had all the sizes we needed… However, they didn't sell the little polar bear matching onesie. Luckily, I was able to find it on Walmart.com and had that shipped to me as well.
Because Target didn't sell the baby matching PJ's, I ordered our 8 month old the smallest size I could get (12 month). Once, I found the polar bear onesie at Walmart, I ended up with and extra pair of 12 month pajama pants.
Pepper Mint, our Elf on the Shelf, requested that I leave out our Christmas PJ's so that we could have a Pajama Day and he could match us.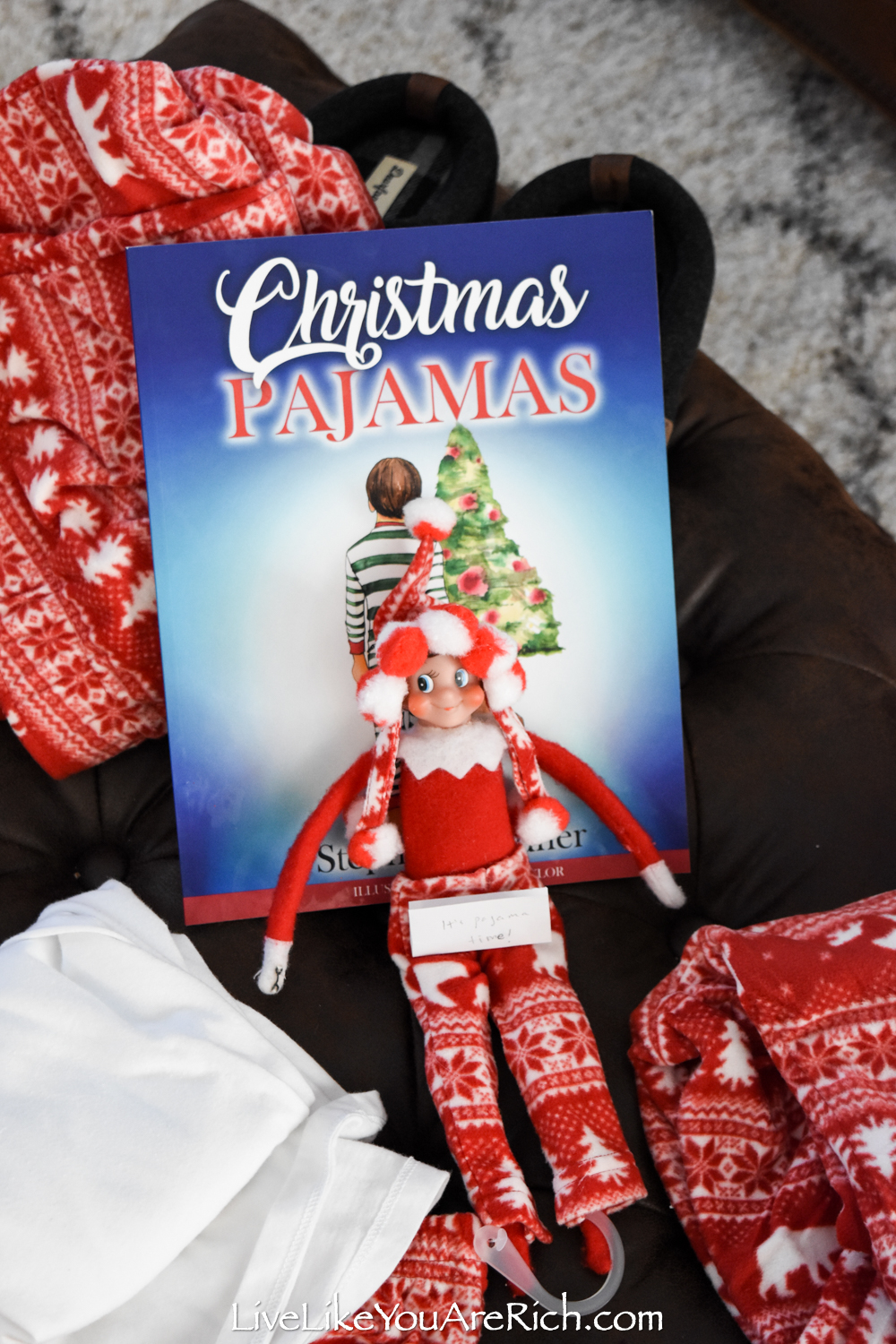 I left them out and Pepper made himself some darling PJ pants to match us and a cute beanie with pom poms. He got the material by using the extra pair of PJ pants I had.
There was plenty of material for him to make 2 pair of PJ pants and beanies (see video tutorial). He's also used them to make a sleeping bag and pillow for another Elf on the Shelf scene he set up.
Going forward, if I'm able to get such great deals as I have the previous few years (Christmas PJ pants for under $5.00 a pair), I'll continue ordering one extra pair so that Pepper can use them to make his own matching PJs.
The thing I loved best about Pepper's Elf on the Shelf PJ's is that they are no sew!
He made his beanie and PJ pants with scissors and a glue gun!
Instructions on How to Make Elf on the Shelf: No Sew Christmas Pajamas Tutorial
Check out the video tutorial or continue reading…
What I believe he did was take the extra pair of pants and use the seams that had already been sewn by the manufacturer for each pant leg's bottom and outside edge.
This way the outside edges and bottoms of his PJ pants look sewn and finished nicely.
They were cut 7 1/4″ long and the width varied. At the bottom each pant leg was cut 1 1/4″ wide, in the middle it was 1 3/4″ wide and at the top it was 2 1/4″ wide.
He then hot glued both legs together. He glued 2 3/4″ from the belt down to the crotch tucking the seam under so it results in a clean edge. It looks like it was pretty easy so I made some myself and filmed a tutorial (check out the video on this page).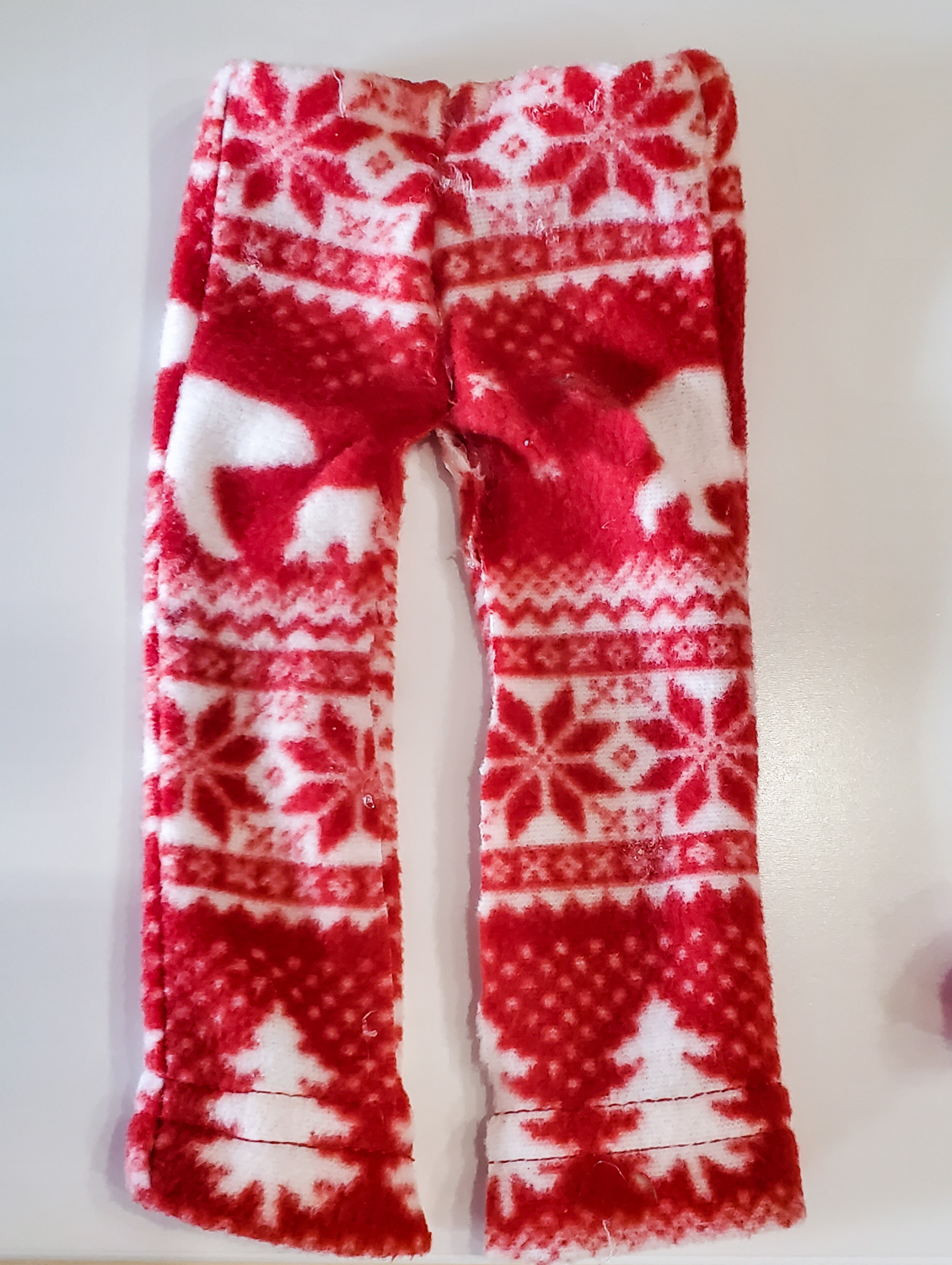 For his beanie, he cut out material from the PJ pants that was in the shape of a little bigger than 1/4 circle (similar shape).
The edges were 4″ long and the middle was 3 3/4″ long.
Then he wrapped it around his head to get the right fit and held it. Next, he hot glued the seam in the back.
Next, he cut out the beanie strands.
He cut out finished seams (cutting the outside making sure not to cut the threads) along the extra PJ's, folded them in half, glued them together, and glued them onto the hat.
Then he added two pom poms onto the bottom of each beanie strand.
Then, to have a nice finished edge along the front, he hot glued matching pom poms across the front of the beanie.
Finally, to finish off his outfit, he glued a pom pom to the top of the beanie.
Pepper's no sew Elf PJ's turned out darling and being no sew, I bet they only took a few minutes to make.
I made sure to tell my kids that Pepper left me a note, asking me to leave our family Christmas PJ's out for him so he could make a matching outfit and leave them for us in the morning so we could have a Pajama Day.
I also left out the bear slippers that my husband brought home for the kids from a work trip he took to Yellowstone National park.
The kids loved that we were all in matching PJ's!
We all had slippers as well. Okay, the baby was in bear print Squid Socks, which are my favorite, expensive but soo worth it!
My husband and I got new Dearfoams slip ons which we both really liked (I got them on sale at Costco.com for a bargain).
I'm glad I found Brighton's onesie, because he was by far the cutest of all.
Our little polar bear. What a sweetie! And my husband wasn't wearing his matching shirt in this photo. Oh well, at least he had the PJ pants!
It was such a fun pajama day!
We made and decorated sugar cookies, wrapped presents, watched Christmas movies and most importantly, spent time together.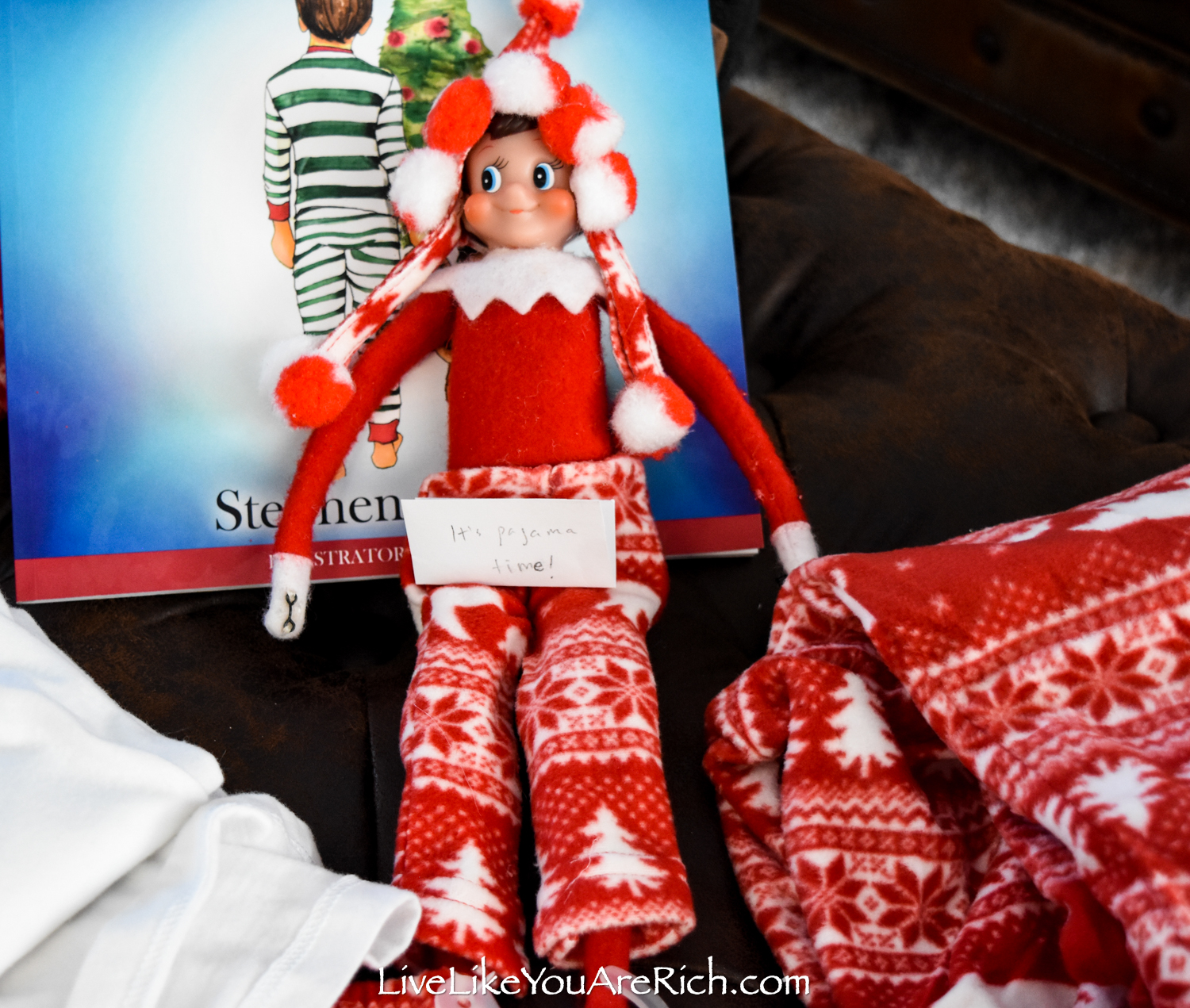 That night, I read my kids the book, "Christmas Pajamas" written by Stephen Gardner, a good family friend of ours.
It is a beautiful story full of Christian symbolism.

That night, my daughter told Pepper, "Pepper, can we please have a pajama day like this again next year?!?"
That just melted my heart.
Check out the video so you can see the scene and how to tutorial. And yes, in the video there is only one bear slipper for my two year old. She took off with the other one and I couldn't find it. But that's okay…such is life with four kids!
Supply List for Elf on the Shelf: No Sew Christmas Pajamas
For Elf:
extra pair of PJ pants that match (I ordered Kid's Holiday Fair Isle Fleece Matching Family Pajama Pants from Target) I won't link to it because they change their prints every year. If you want this exact same pattern, try searching EBay for, "Wondershop holiday fair isle fleece family pajama pants" and if found, buy them there.
For Family:
Christmas PJ pants
Shirts, (I try to find shirts in my kids' closets with colors that work together)
Slippers my husband and I got new Dearfoams slip ons which we both really liked (I got them on sale at Costco)
Slippers for kids, as mentioned, my husband bought the bear claw slippers in Yellowstone National Park but I've linked to similar.
Books that would work to read together:
It's Pajama Time by Sandra Boynton
Christmas Pajamas (Christian belief based) by Stephen Gardner
I hope this Elf on the Shelf: No Sew Christmas Pajamas Tutorial was helpful and that you and yours have a Happy Christmas in comfy pajamas!

For other 'rich living' and D.I.Y. decor tips please subscribe, like me on Facebook, and follow me on Pinterest and Instagram.