Elf on the Shelf: Decorating Gingerbread Houses
Apparently, Pepper, our Elf on the Shelf, is a foodie. He loves his gourmet hot cocoa with marshmallows, his breakfasts are decadent feasts, and he can make and decorate a gingerbread house like no one else's business.

The day that we were going to decorate gingerbread houses with grandpa, my kids found Pepper in our downstairs galley kitchen sipping some hot cocoa, eating gingerbread cookies and leaning against a decked out gingerbread house of his own creation.
Pepper also left us a note that said, "Sprinkles straight from North Pole. Have fun decorating your gingerbread houses!! I did! YUM!"
The pack of sprinkles he brought us from the North Pole were amazing.
Supply List for Elf on the Shelf: Decorating Gingerbread Houses
Gingerbread house kit with icing and toppings (Pepper used a portion of ours extras that come with the preassembled house in the kit that I purchased at Costco).
Trader Joes mini gingerbread men cookies

Christmas sprinkles (World market)
melted chocolate and poured into cup
rainbow sprinkles (just the white tiny ones that resemble marshmallows at this scale)

A small doll-sized plate (from a Barbie kit, I can't remember which one)
piping bag— Our Generation baking doll with piping bag set

How Pepper put together this Elf on the Shelf: Decorating Gingerbread Houses scene
Check out the quick video I made do you can see his decorating skills in a different medium.
Pepper made the gingerbread house by leaning 2 trees together that came with but were not attached to the Costco preassembled gingerbread house.
It looks like he cut one tree down a bit to create a lean-to.

Then he put 3 gingerbread men in front of the lean to.
Then he decorated his gingerbread house by icing it and adding sprinkles just about everywhere.
Once dried, he leaned back and enjoyed some well-deserved hot cocoa.
The hot chocolate with marshmallows was a chocolate bar melted in the microwave and spooned in. Once it cooled, tiny white sprinkles were placed on top.
He had a mini plate from a Barbie kit and put 3 gingerbread sprinkles on it to represent gingerbread cookies.
He then put a piping bag next to the gingerbread house to show us what he used to ice it. FYI this toy piping bag does ice well—I tried it!
Pepper was wise to choose this Elf on the Shelf scene for us this day. It got my kids super excited to decorate gingerbread houses with grandpa.
It was also fun to use sprinkles straight from the North Pole.
My daughter reminded me a few times to stop using so many because they are 'very special'. She is 100% in on the excitement of Christmas this year—it has been so fun to witness!
She even picked Pepper's plate up and put it on the table so he could join in with us on decorating gingerbread houses.
I loved decorating gingerbread houses with my family. Here's my gingerbread house…this one came from Trader Joes and I loved the look of it!
Pepper stole the snowman I made out of icing a few days later and took it to Hawaii with him in this Mele Kalikimaka Elf on the Shelf scene…
but not before adding sunglasses and a more festive hat!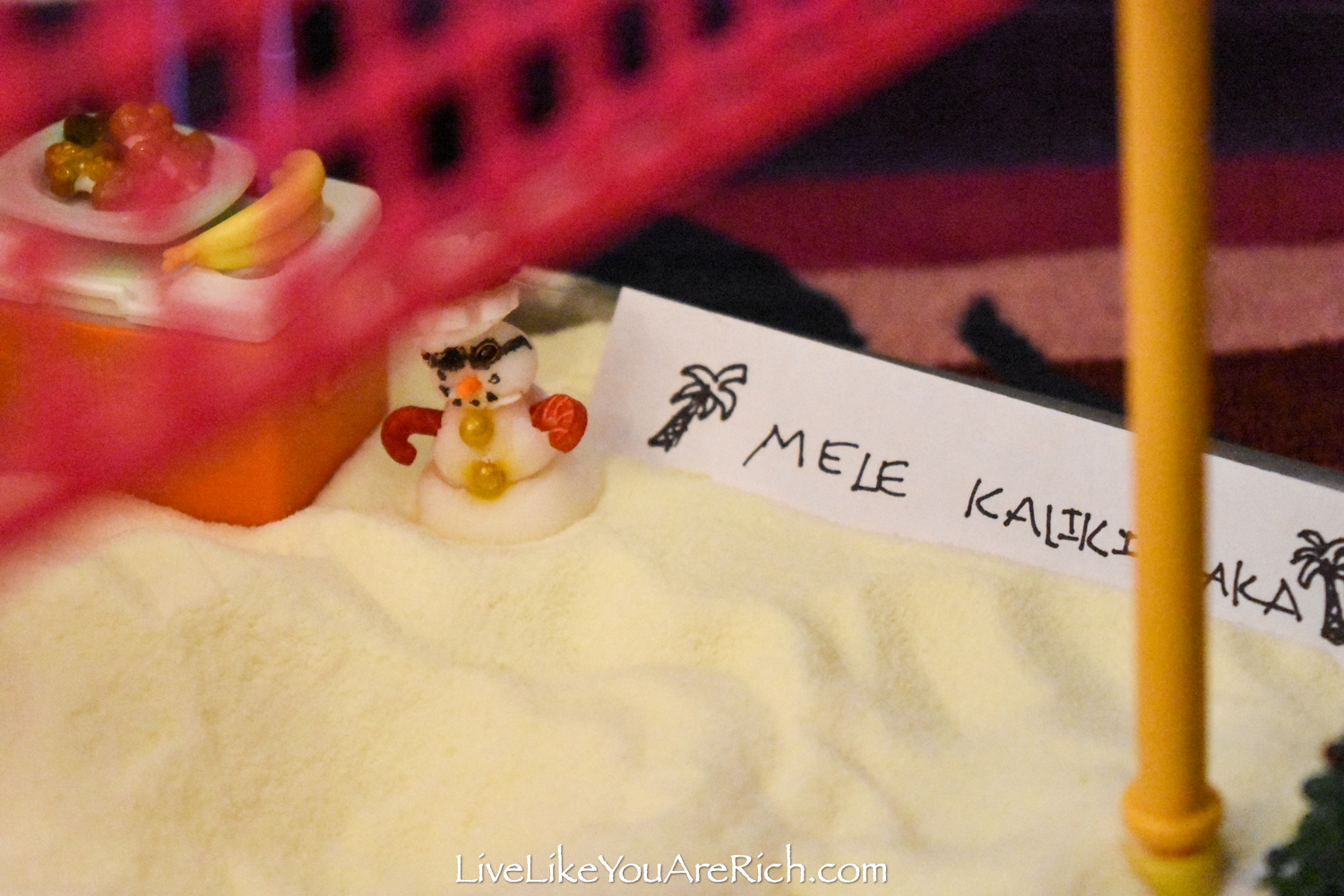 I hope that this Elf on the Shelf: Decorating Gingerbread Houses display by Pepper inspires your family to have fun together this Christmas season as well.

For other 'rich living' and D.I.Y. decor tips please subscribe, like me on Facebook, and follow me on Pinterest and Instagram.