How to Choose an Exterior Paint Color for a Garage Door.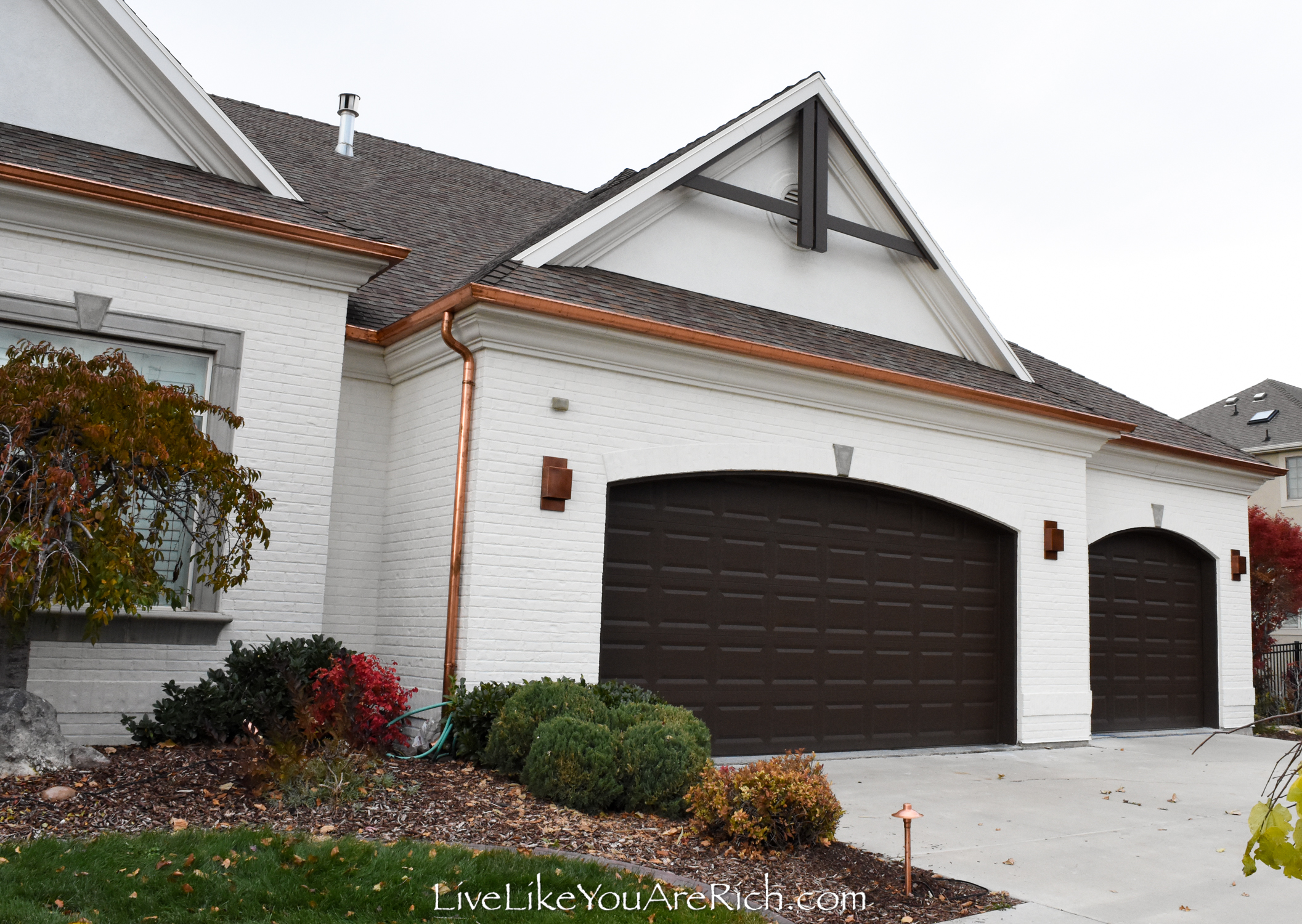 Choosing to paint your garage doors is an inexpensive way to update the exterior of your home and make it feel renewed and fresh.
We had a pretty nice garage door color to begin with but I felt like it needed an overhaul —especially because we lime washed our brick white and the color of the off-white garage door clashed with the lime wash.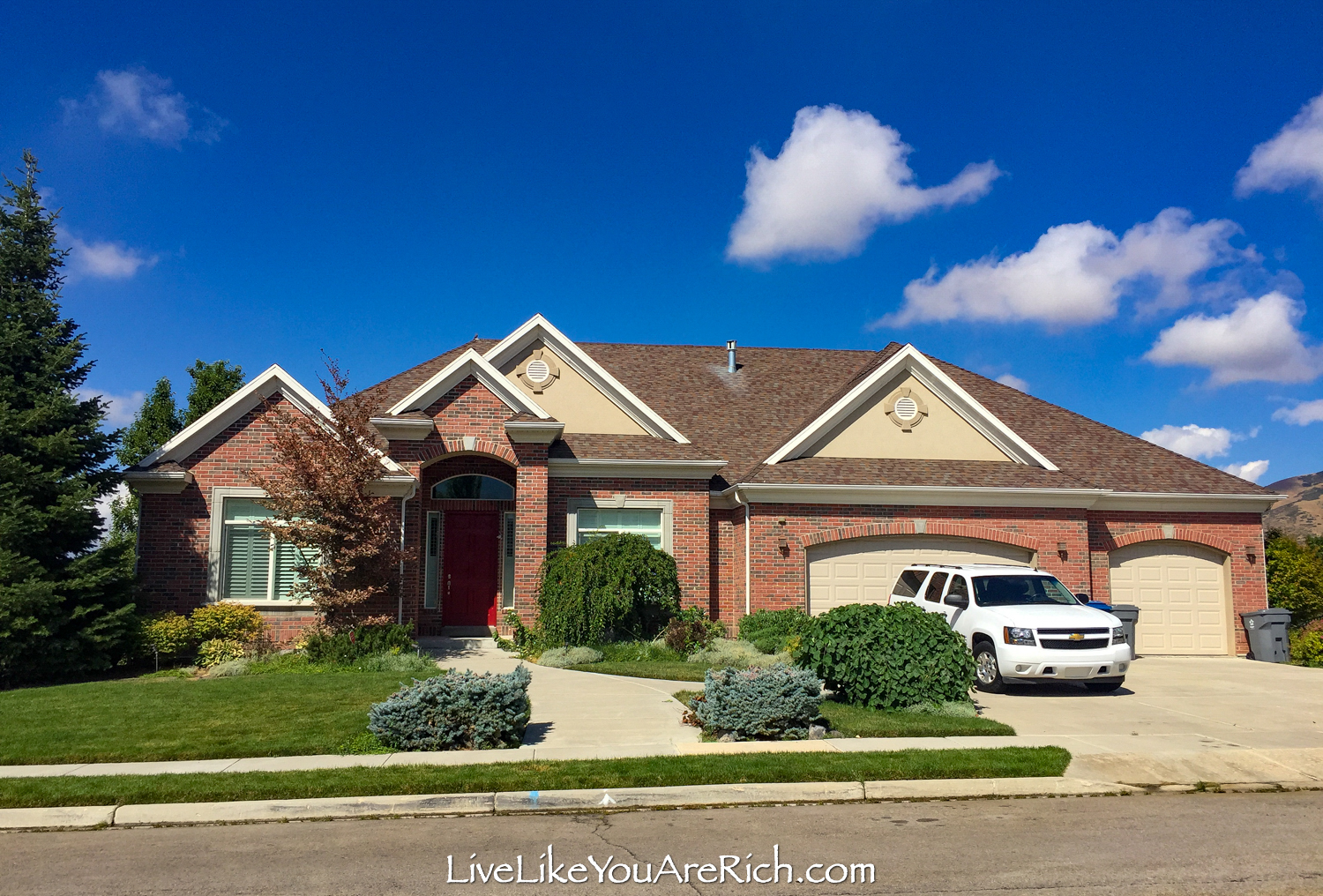 I did a lot of research on the internet concerning nice colors of paint in shades of brown that would compliment our: lime wash color (Avorio limewash by Romabio); our shingles, which are a multi-color mixture of brown, copper, and grey hues; the copper gutters and lighting; and our brown mulch.
How to Choose an Exterior Paint Color for a Garage Door
Continue reading and/or watch the video on this page.
1- Research colors that compliment your home.
I did a lot of looking around on Google images and Pinterest searching homes with white brick, copper gutters and brown/multi-colored shingles.
After looking at a few examples (I honestly didn't find a lot to go by in that limited search), I decided that I wanted to go with a dark warm brown for the color of garage door.
The way I picked the brown I used, Mink by Benjamin Moore was to take photos of my home to Benjamin Moore with a sample of my shingle and a sample of the white Avorio limewash as well.
I looked at the different paint chips along with my samples and photos of my home in outside lighting. I wanted to tie in the garage doors with shingles, the copper gutters we would be installing, the limewash (Avorio lime wash by Romabio), and our landscaping.
2- Pick 3-4 Sample Colors.
Luckily, I have a lot of really great tones and colors in my shingles and landscape, so I could choose from a variety of brown colors. I knew that I'd needed warmth because of the copper gutters that we were planning on having installed.
We also planned on sealing them after they had time to develop a patina for a few months—this is so that they will remain a warm copper color. I left them unsealed for 2-3 months so that they weren't factory shiny and then sealed them (post on sealing them coming soon).
With this in mind, I picked 3-4 different samples at Benjamin Moore that I thought would work well and got small sample paint containers to test them.
I highly-highly recommend this route as different homes take on different shades of the same color depending on the position of the home relative to the sun and landscaping (shadows from bushes, trees, overhangs, etc.
3- Clean the garage door(s) and make sure they are dry.
I used a pressure washer with a medium spray flow on our gun and soapy water. I used a scrub brush and a microfiber cloth to clean and dry the garage doors before painting the samples of paint on them.
When cleaning, you'll want to open the garage doors at various heights to clean in the cracks and crevices as well as make sure all the various seems and cracks are well dried out before painting.
4- Prep the area. Prep the ground by putting down a drop cloth and closing the garage door on it so it remains in place and catches any drips that may be made.
5- Get supplies. You'll need the supplies listed in this post to paint the sample squares.
6- Paint color samples on the garage doors and let it dry. Give each sample a second coat.
I painted each sample in about 4'x2.5′ rectangles on my garage doors. I made sure to let the first coat dry completely and then did a second coat. I did not prime first because I planned to prime over these samples and paint one uniform coat of exterior primer on once I choose the color.
7- Make sure to use completely clean rollers or brushes when changing paint colors.
I just used a different roller for each paint sample and wrapped it with seran wrap in-between drying times (so it didn't dry out). I set each roller by its sample/can so I didn't mix them up. You don't want to tint your color sample with another color on accident by using the same roller or brush.

8- Once the second coat is fully dry, observe the color samples on your garage doors from different distances and in different lighting.
Once the samples were fully dried, I stood back and in different areas of my driveway and yard. I even went as far standing across the street and looked at our home with each sample in sight.
I made sure to look at the colors in different lights. I looked at the colors in the morning, afternoon, evening and night. I choose the color that I liked the most in all the lighting options.
9- Choose the best color that works with all of your home's features.
As you can see in the video, the middle sample went too purple and grey to work with copper, I wanted a warm rich tone to compliment the copper gutters and yet rich enough to bring out the dark colors in the shingles and add contrast to the white brick.
The far right sample actually went too dark (almost black), the middle too grey, and the far left sample was just right… which was Mink by Benjamin Moore.
10- Once you have chosen a paint color, paint over your sample blocks well with exterior primer in the same base as your final exterior paint (latex or oil base).
I coated the samples with an extra coat of primer (it got 3 coats vs the two that the other areas of the garage door got) so that the sample paint wouldn't show through.
11- Now you are ready to paint. Check out this post (coming soon) on how I painted our garage doors.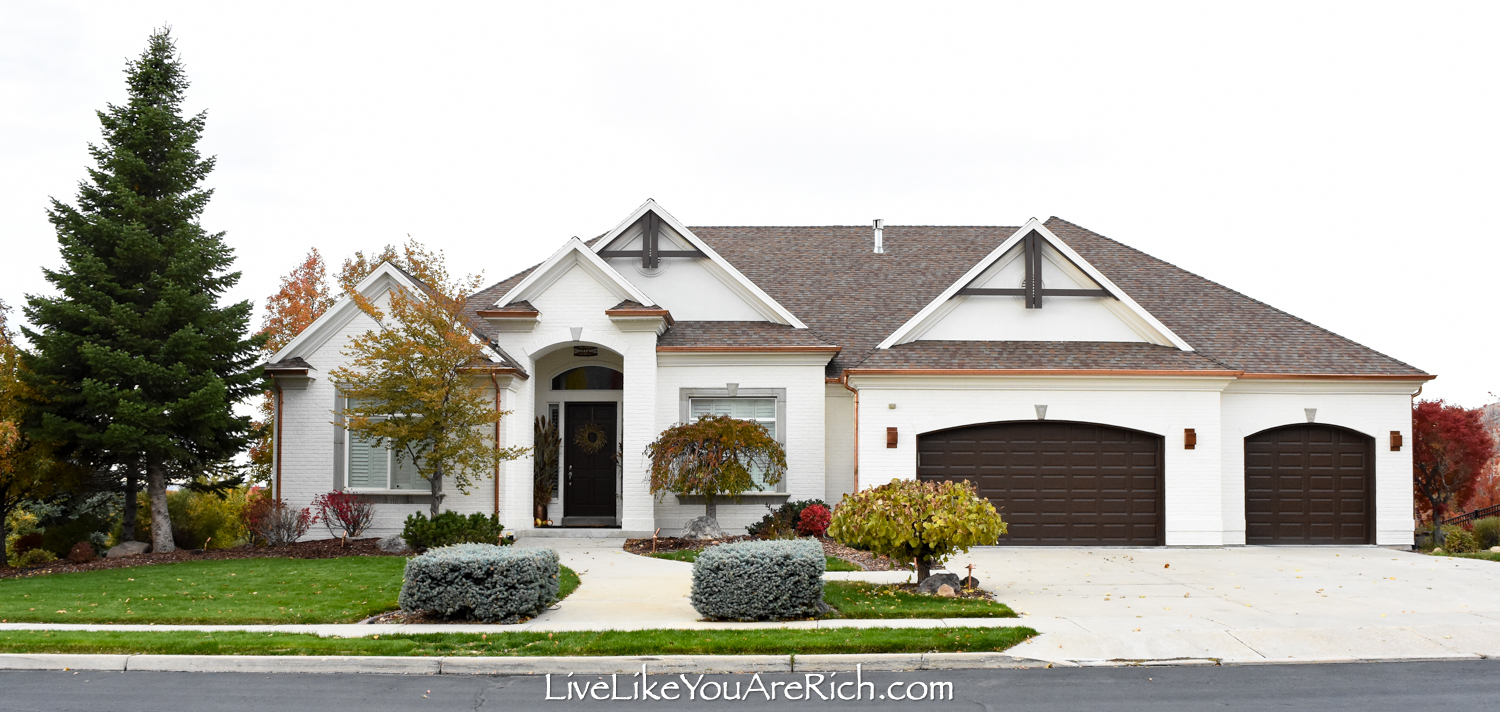 Supply List for How to Choose an Exterior Paint Color for a Garage Door
Exterior primer (with the same base as your paint) I used BM
Exterior paint samples (I purchased mine at Benjamin Moore in Aura Semi-Gloss)
Cleaning supplies to make sure garage door is ready for sample paint: brush, towel, soap, water, etc.
Posts in this Series
Before and After…WHITE BRICK LIME WASH WITH COPPER GUTTERS AND LIGHTS— EXTERIOR HOME RENOVATION
How to Choose an Exterior Garage Door Paint Color
How to Paint Exterior Garage Doors
Posts to Come in the Next Few Weeks (end of May 2022 and June 2022):
How to Patina Copper Quickly
How to Seal Copper Gutters
How to Patina and Seal Copper Lights
Tips and Tricks on Applying Romabio Lime Wash With Video
How to Remove Stucco Key Stone Decals
DIY Gable Arch Install
Paint Code for Exterior Paint on Stucco that Matches Avorio Lime Wash by Romabio
I hope this post helps you How to Choose an Exterior Paint Color for a Garage Door.


For other 'rich living' and D.I.Y. decor tips please subscribe, like me on Facebook, and follow me on Pinterest and Instagram.