Kauai Family Vacation Tips with Young Children and Babies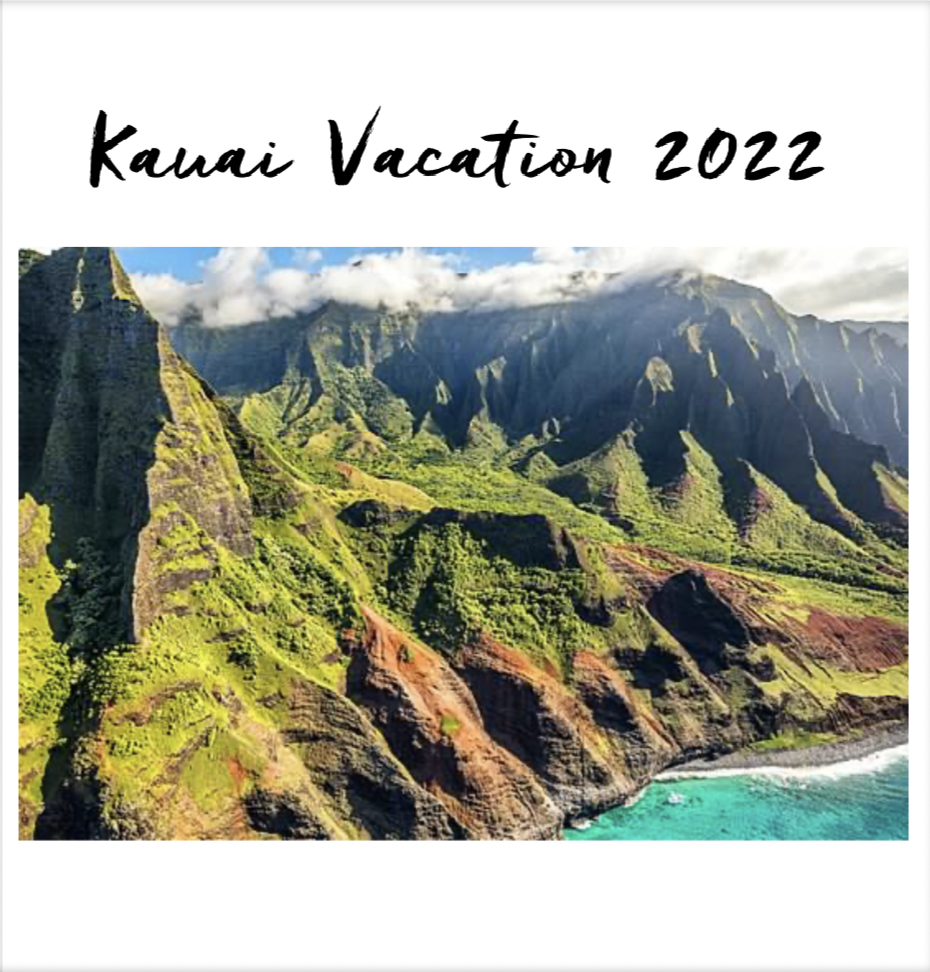 We just got back from Kauai and had a great vacation with our family! We are a family of 6: one baby, one toddler, and two young kids.
Here are some tips on what to do and how to vacation with young children and babies in Kauai.
1. Prepare well for the flight over.
We packed electronic devices, games, activities, coloring, snacks, a soft blanket, and pillows.
We made sure to have full bottles and snacks for the kids as well.
We had the baby and toddler drinking and chewing on the airplane ascents and descents so that they could equalize the pressure in their ears.
However, we didn't guess that our 2-year-old toddler would get motion sickness.
Luckily, I had packed an extra change of clothes for both toddlers and had a hoodie for me. When Amelia threw up, I was able to change her and I quickly, put the clothes in a garbage sack given to me by the flight attendant, and then help her go to sleep.
On our flight back, we gave her kids Dramamine and still, we packed an extra change of clothes just in case.
It was a much easier, more comfortable flight for us.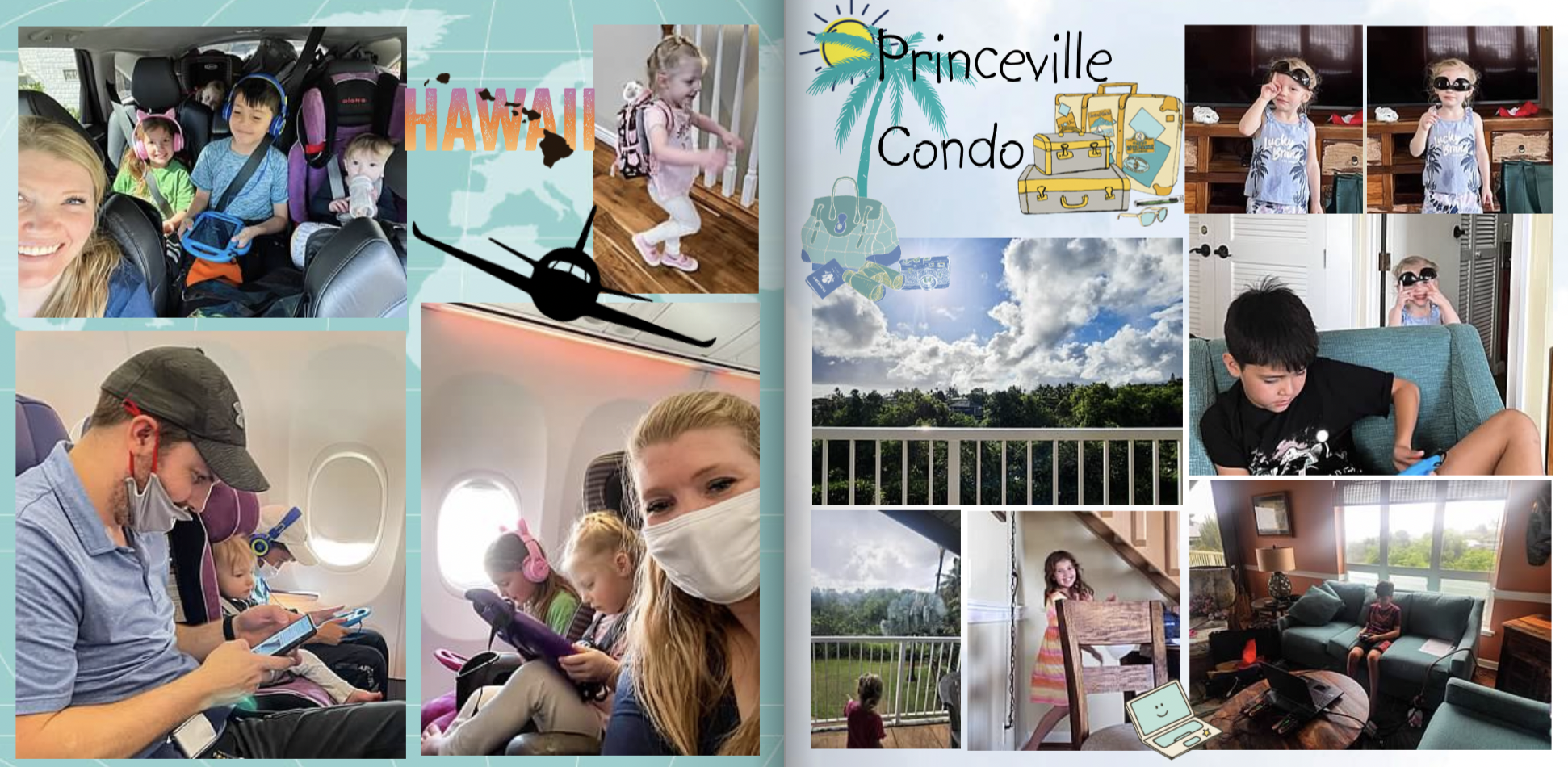 2. Keep it simple and laid back.
Don't try to jam too many activities into your days.
Vacations are supposed to be laid back and relaxing—which is extremely challenging when you have babies and young children along for the trip.
So, parents should compensate by under-planning. I found it imperative to plan to do very little each day.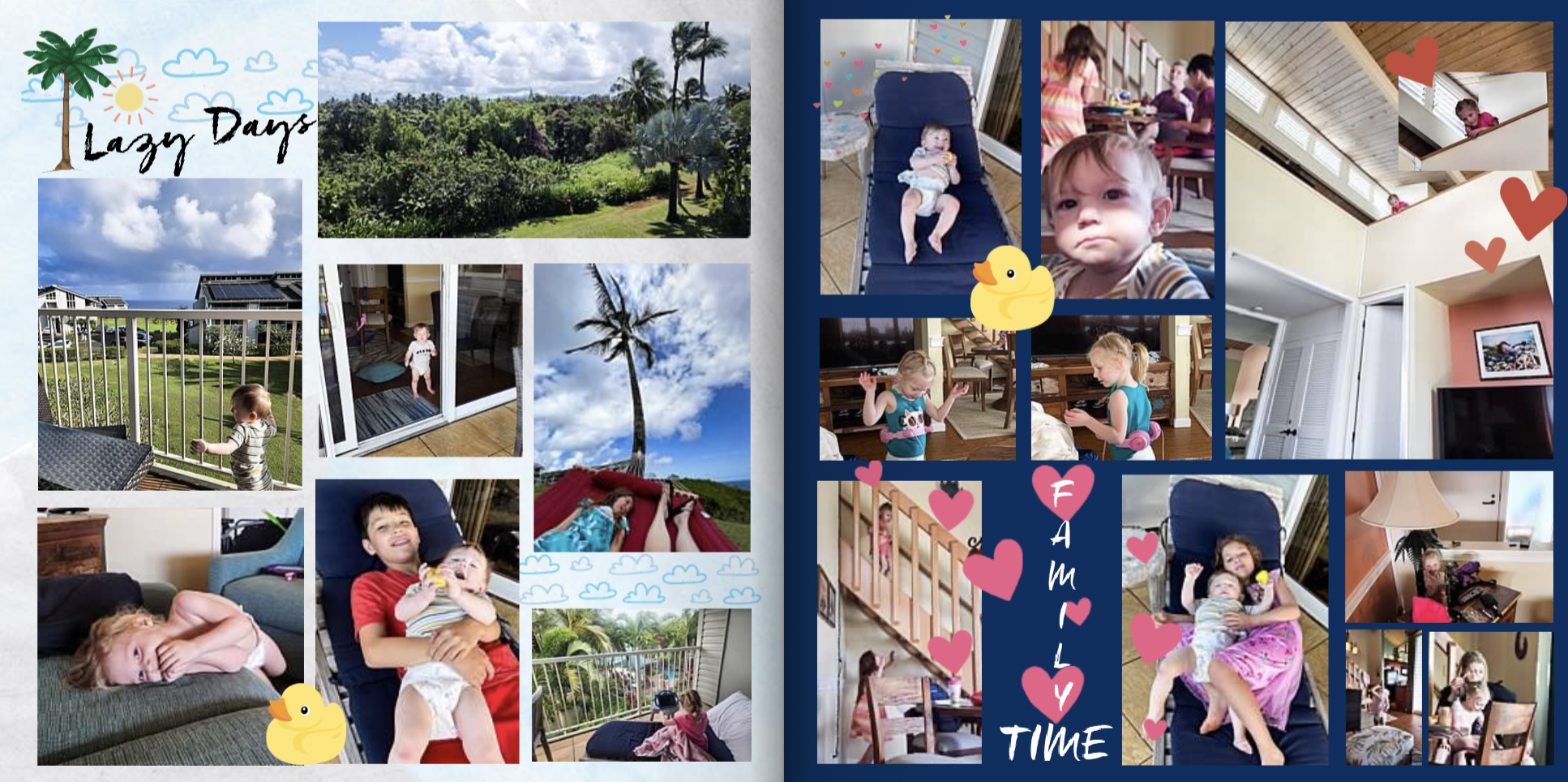 We also had to plan for nap times and recharge times, so, I decided we'd do the maximum of one thing off-property a day.
This turned out to be a great idea.
The majority of each day was spent relaxing in the condo or on the condo property.
We only packed up and left for a few hours each day—usually going to the nearby beaches in Hanalei.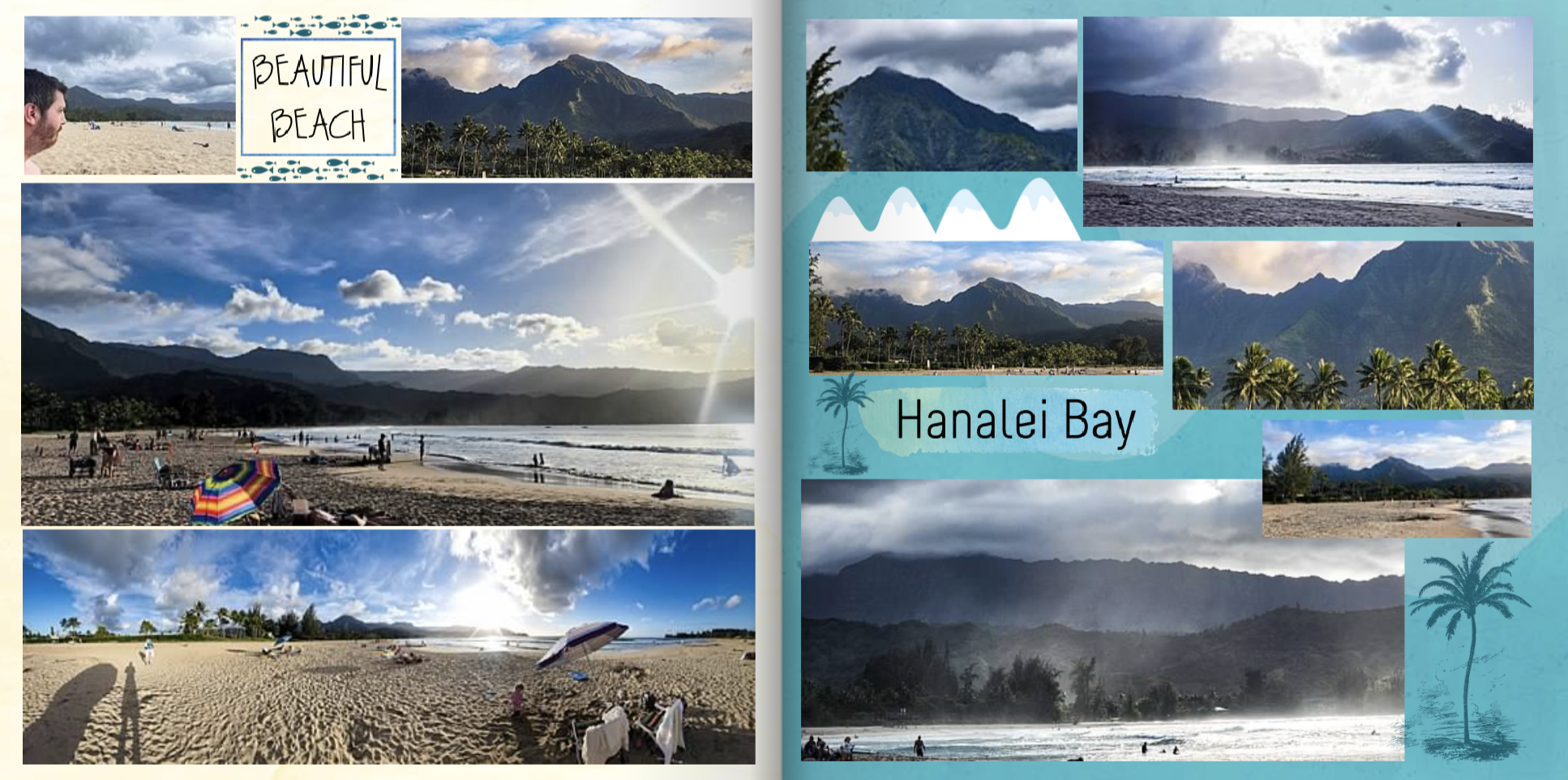 3. Find a place to stay with kid-friendly amenities.
I searched for hours to find a good place to stay that would appeal to my young children.
I choose The Cliffs, a condominium/resort that had a pool, hot tubs, playland, tennis and pickle ball courts, shuffleboard, hammocks, outdoor grills, and picnic tables.
This was imperative for us to make this a great vacation for our children.
My kids felt that even by staying on the property they were vacationing.
They got to swim in the pool, sit in the hot tub, play tennis, play on the playground, run around the large grass yard, and swing in the hammock.
Another tip in booking on Kauai. If you like warm sunny dryer weather, book on the south, east or west sides of Kauai. If you like greener picturesque scenery and breezy-cooler weather, book on the north Princeville-Hanalei side.
Also, we did not need air conditioning in our condo in Princeville as it stayed cool, rained multiple times a day, and was very breezy.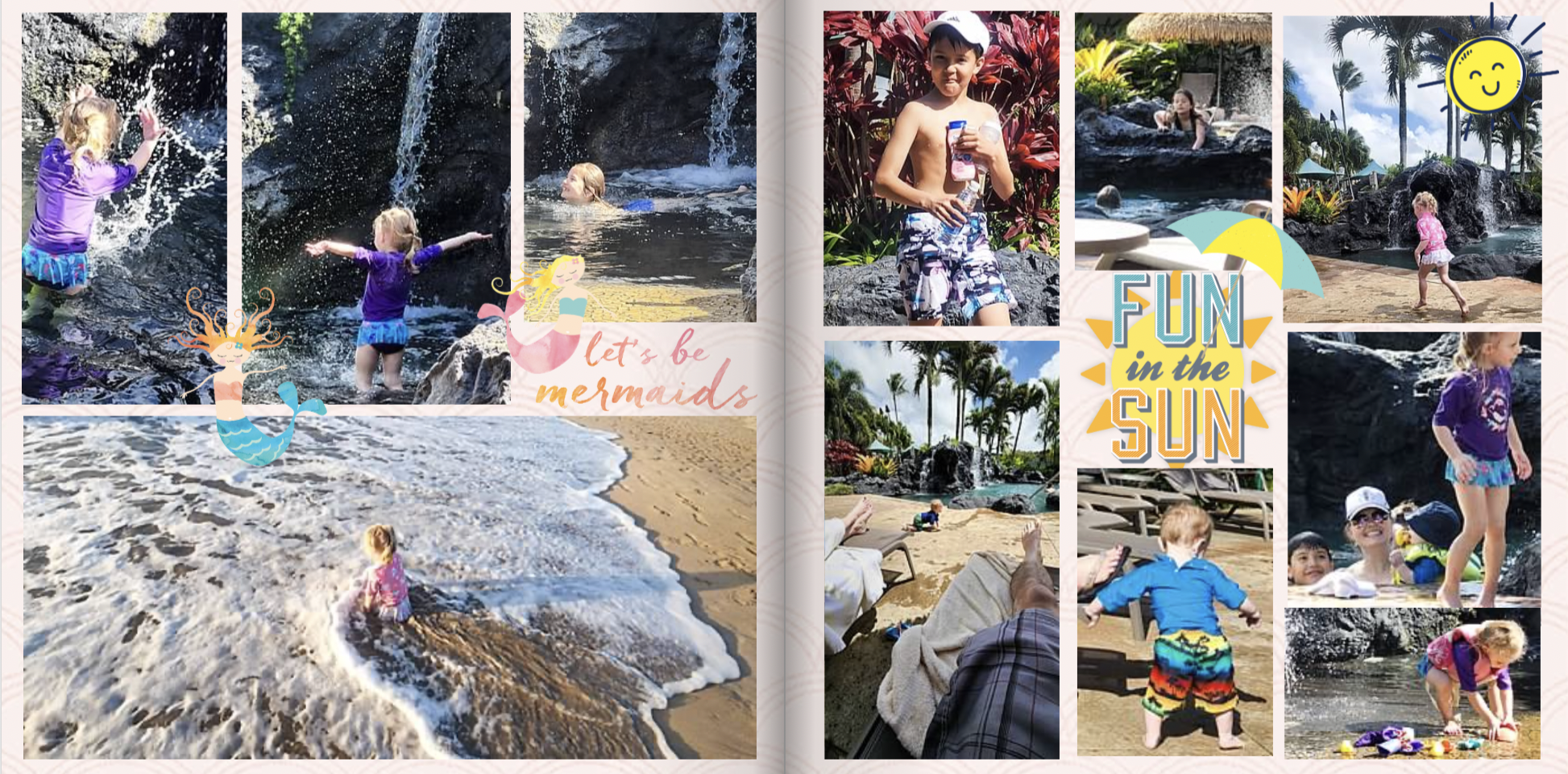 4. Eating in is much easier than eating out with kids—especially with little children.
I'm all for supporting local restaurants (and did when it was just my husband and I who traveled to Hawaii a few years ago), but we were there during spring break and most eatery places were very busy. Plus, eating out with a toddler and baby is pretty stressful for everyone involved (including those who are not part of our family).
We saved a lot of money and stress by booking a condo that had a full kitchen stocked with dishes, pans, cooking supplies, etc. We shopped at the local grocery stores and planned out the 24 meals plus snacks that we would need during our 9-day trip.
This not only made meals stress-free, but it also saved us thousands in the end on food costs.
To make it extra fun for the kids to eat in, I bought Hawaiian canned drinks, Hawaiian cookies, Hawaiian flavored popsicles (mango, banana, pineapple, etc.) local produce, and candies that were on sale.
Although I bought Hawaiian snacks we had a good balance of healthy and unhealthy food— the specialty snacks just made it feel more like a vacation for everyone.
We planned out the meals pretty well because when we left, we only left about $30 in food that we weren't able to eat or pack as snacks for our trip back home.
I hoped that the cleaning team that came was able to make use of the unopened food.
The total we spent on food was just over $400 for meals—$400 for a family of 6 for 9 days is pretty good!
We did go out for shaved ice three times which added an additional $75 to our total out-of-pocket food expense.
5. Find things to do that are free.
Traveling with a family of 6, costs can really add up when you do extracurricular day activities.
So, we decided we'd try to do free activities as much as possible.
We had fun each day and didn't spend any additional money on activities.
Free things to do in Kauai for families of young children. Check out this post: 12 FREE THINGS TO DO IN KAUAI FOR FAMILIES WITH YOUNG CHILDREN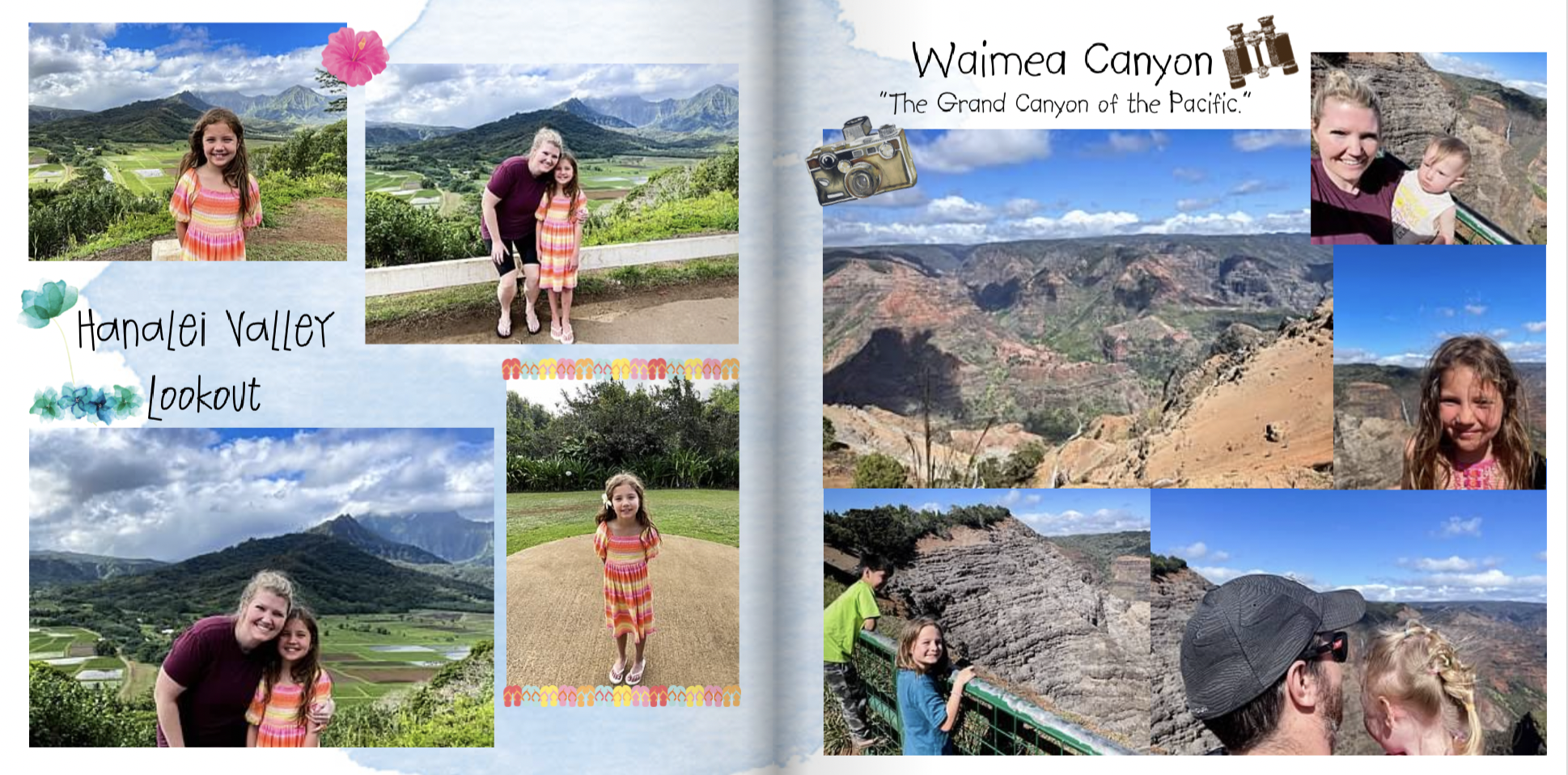 6. Pack light on clothing but heavier on kid-friendly items to keep the kids entertained and busy.
I am not a light-packer. I try but always fail.
I wish we hadn't taken everything we took, however, some items that we packed I was so happy that we did take along.
What I wished we had scaled back on were clothes and disposable diapers. Considering the kids were in swim diapers most of the day I didn't need near as many disposable diapers as I planned for.
We had a washer and dryer in the condo and used it daily. We needed far less clothing than we took along.
We packed our snorkel gear, beach toys, a pool float, baby life jackets, and activities— all of which were used so, I'm glad we took them instead of buying or renting.
I taught my kids some fun card games which they played with and they played some other activities we brought along as well.
The kids played with our Green Toys tide pool and watering can set every day at both the pool and beach and they held up super well considering the condo didn't have beach toys I was so happy we took them!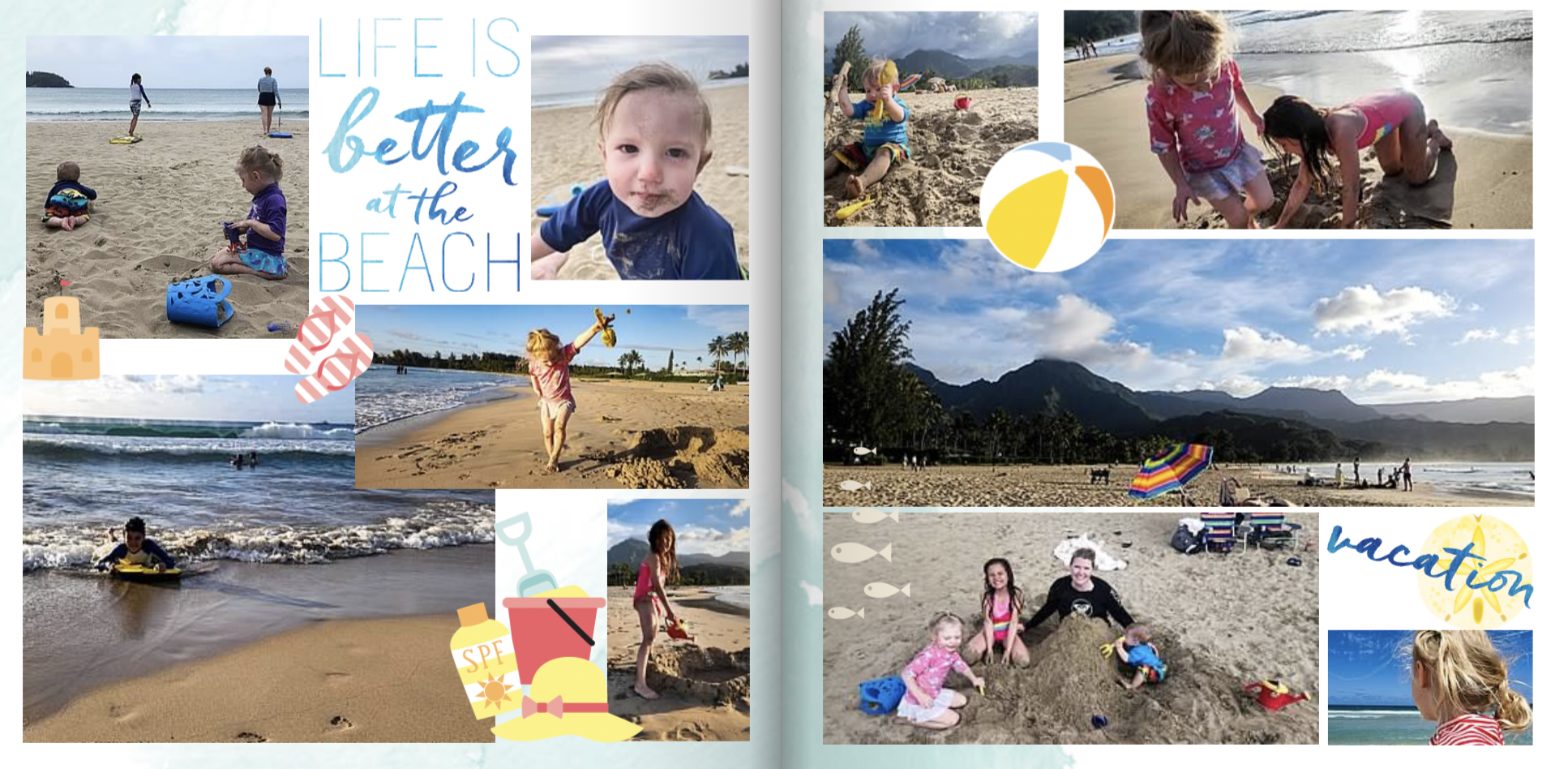 7. Book your stay at a condo that supplies beach gear.
We saved a lot of money by booking a condo with beach chairs an umbrella, boogie boards, beach towels, and a cooler. When we went to Maui, our condo had similar items but no boogie boards or snorkel gear so we purchased them at Costco and left the boogie boards there for the next renters to use.
Because we had just purchased snorkel gear a few years before and we had free bags to check with Southwest, we took our snorkel gear home and then brought it back to Kauai, which saved us a lot of money and time in rental and returns.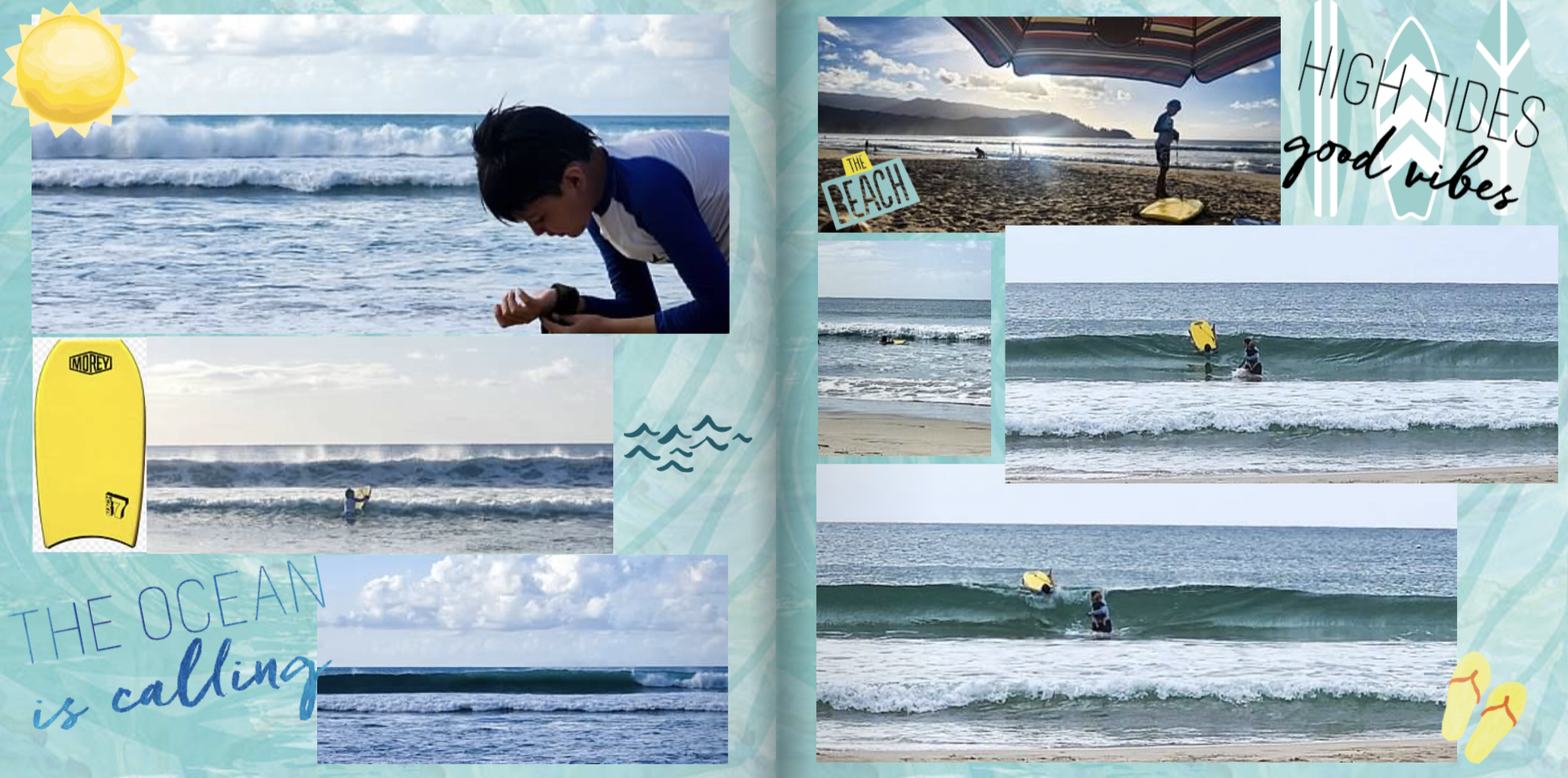 8. Buying instead of renting usually saves a lot of money.
We took our pack and play which checked for free and our car seats which also checked for free and didn't have to rent.
9. If renting a car, book your rental car very very early when traveling to Hawaii.
It is insanely expensive to rent cars in Hawaii and if you wait until the last minute they may be gone. We searched Turo, sites like Expedia, Costco car rental, Southwest car rental, and Delta, and surprisingly, I found the best deal by booking directly with National and not using a third-party site.
I booked our van about 4 months early and I'm glad I did. Prices were doubled and then almost tripled on the van rentals before they sold out completely (I kept checking to see if I could book a better deal).
I'd highly recommend booking in advance or you may be left without a vehicle.
Additionally, checking to see if prices have dropped a week or two before leaving is another great way to save.
My SIL was able to save about $300 by rebooking a van to Maui a week before they left and canceling their previous reservation.
Preserve memories. I took these darling floral dresses that my mom gave my girls and we did a photoshoot with them on our condo grounds in Princeville.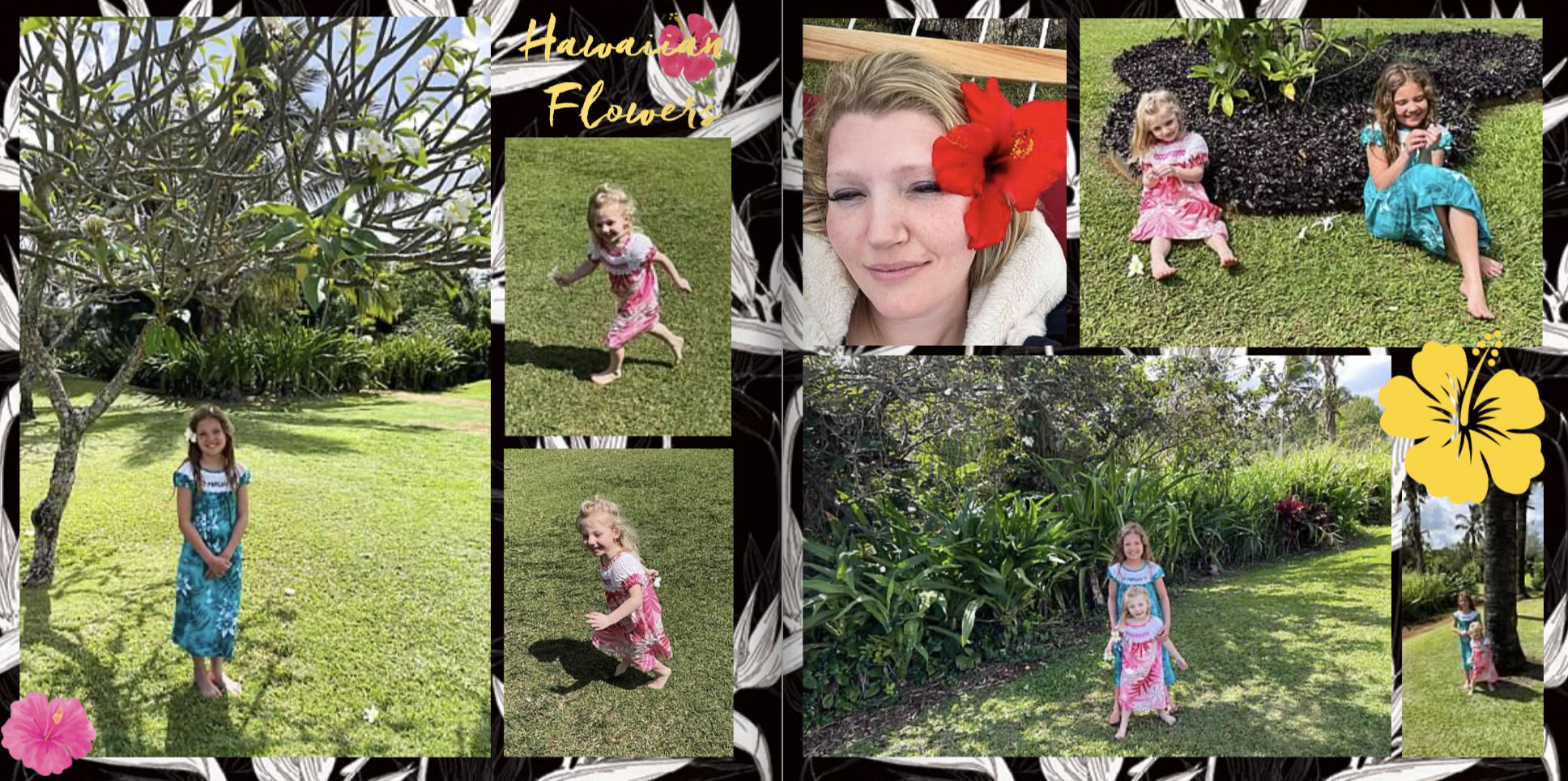 After the trip, I made the scrapbook pages you see in this post in the Shutterfly software online. I ordered a Shutterfly book (on sale using a coupon with a free-pages-promotion) so we can always remember our fun Hawaiian family vacation.
I hope these 9 Kauai Family Vacation Tips with Young Children and Babies help your family have a relaxing and wonderful vacation!


For other 'rich living' and D.I.Y. decor tips please subscribe, like me on Facebook, and follow me on Pinterest and Instagram.