These are 12 Free Things to Do in Kauai for Families with Young Children
We took our family, including four kids under 9 years old to Kauai for nine days.
We had a fantastic time!
We were budget-traveling and so we only did free activities for nine days.
Our kids loved each day and had such a great time.
They would have never guessed we were budget-traveling.
There are many things you can do on Kauai for free with kids. Here are just 12 of them.
1- Bodyboarding
My older kids 7 and 9, and my husband and I love bodyboarding. Our condo supplied three boogie boards so it was free for us to do.
Swimming at lifeguarded beaches like Haena, Hanalei, Kealia, Lydgate, Poipu, Salt Pond, and Kekaha is always a good idea with kids.
We especially loved Hanalei beach!
We just made sure to have one adult out in the water with the kids at all times.
The waves scared our little kids just enough that they would only go into the water if we were holding them. So that helped keep them safe as well as the life jackets we packed for the little ones who didn't know how to swim.
If the place you are staying at doesn't have complimentary bodyboards, Costco in Kauai sells bodyboards for about $40 a board as well, which even though isn't free, is usually cheaper than renting for multiple days.
Then, you can leave them for others to enjoy.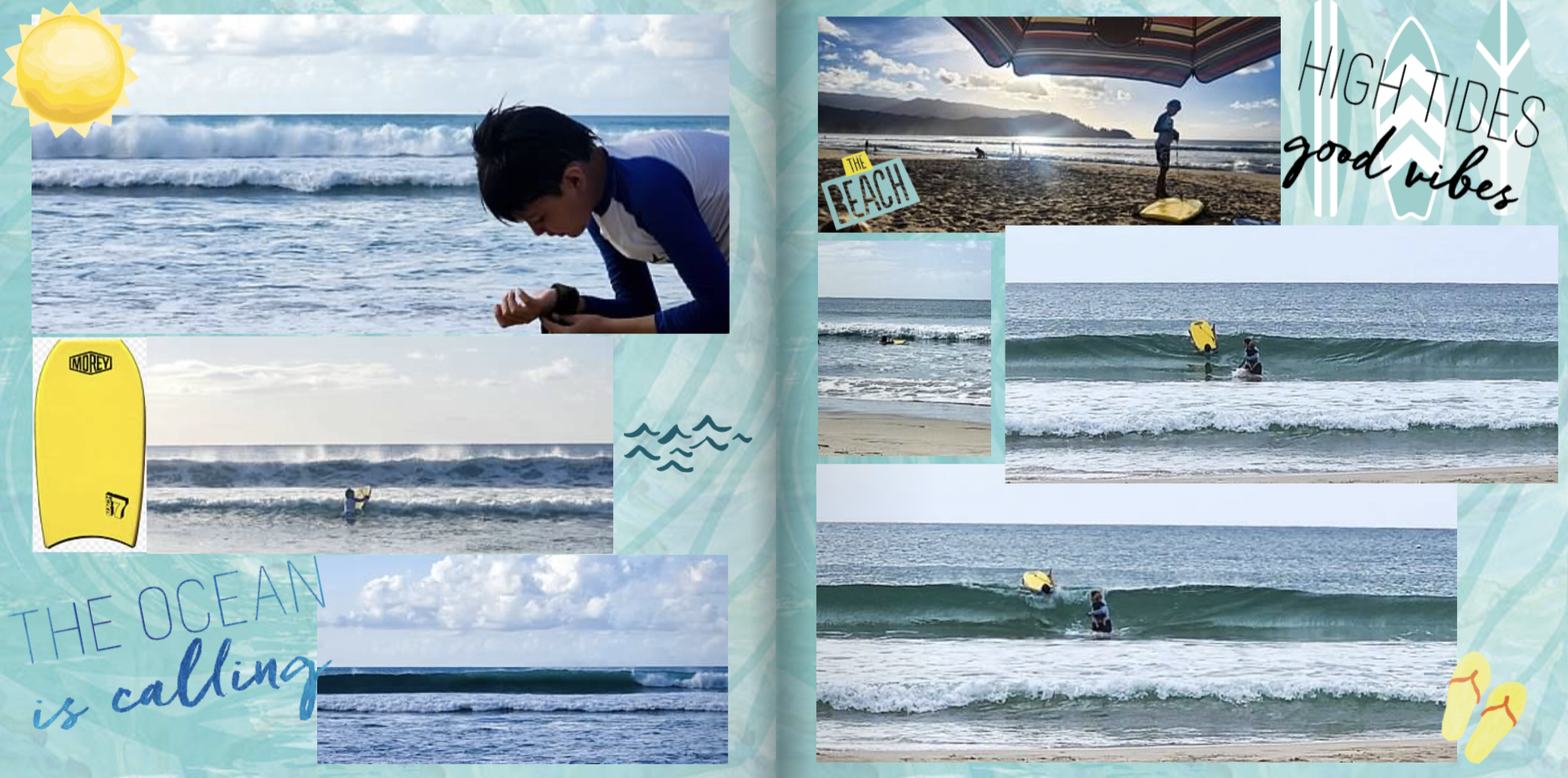 2- Snorkeling
We took snorkeling gear and I went snorkeling with the older two kids while my husband stayed in the car with the napping baby and toddler. We had a nice time but they were quickly 'over it'.
We learned that our kids are more into sand, swimming, and waves than snorkeling.
That said, it was worth a try and some kids may take to it better than others.
I recommend using the full-face kid snorkel masks as well. My kids did best with those vs. the mask and snorkel separates.
Buying your own can be cheaper vs. renting. It also saves time to not have to go to a rental to get it and return it and its yours to use next time you need snorkel gear.
3- Swimming in the heated pools and hot tubs at our condo.
If you like warm sunny dryer weather, book on the south, east or west sides of Kauai.
If you like greener picturesque scenery and breezy-cooler weather, book on the north Princeville-Hanalei side.
My husband and I are into scenic and cooler weather (it was still really warm multiple hours of the day, it just cooled down when it rained a little) so the Princeville side was perfect for us.
We all enjoyed the heated pool and the hot tubs at the Cliff's resort where we stayed.
If you do stay on the north side of the island I'd look for heated pools and hot tubs at your accommodations and pack a few hoodies and long sleeve rash guards.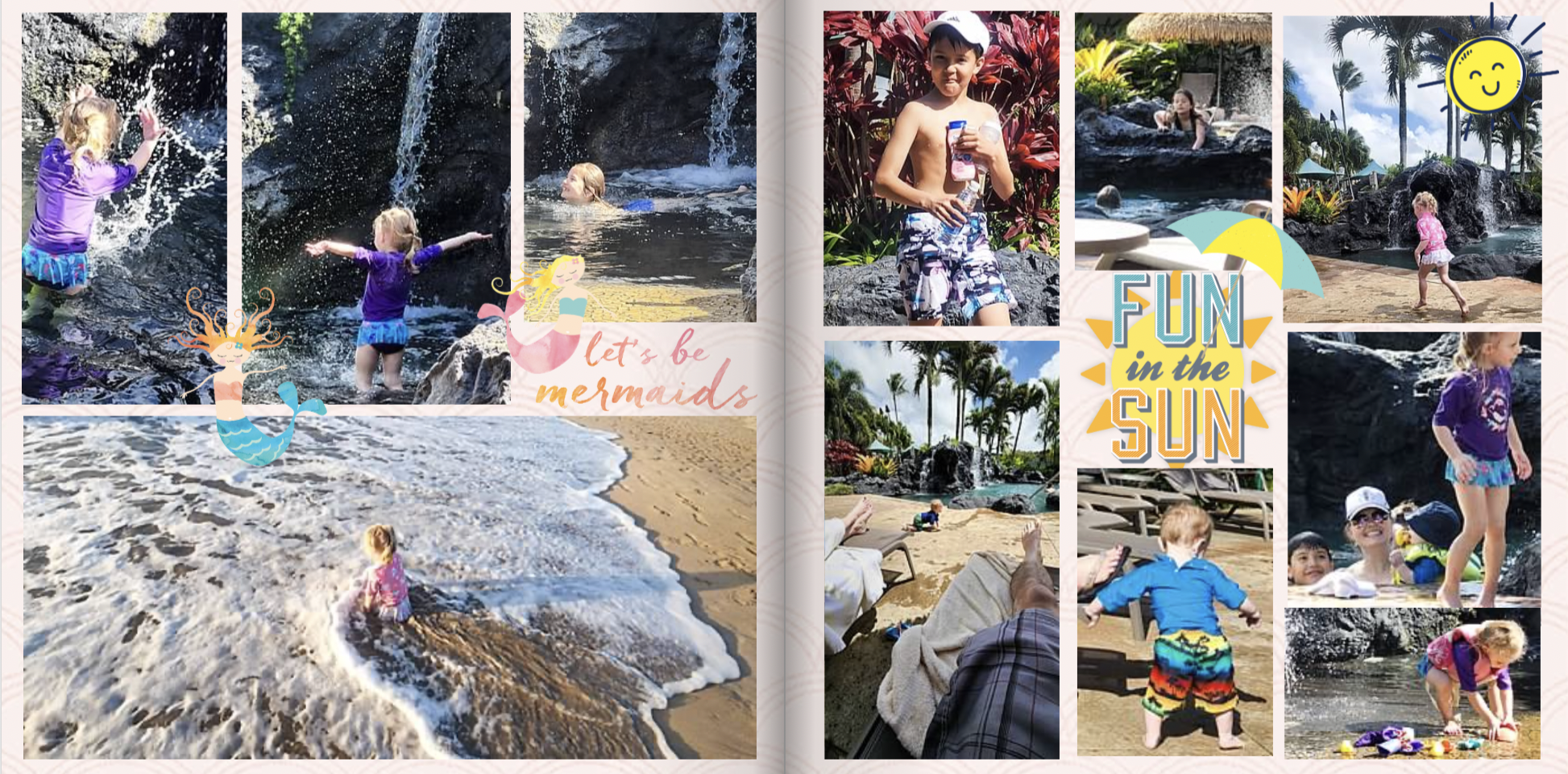 4-Book a condo or place to stay with or near kid-friendly amenities.
We made sure to book a condo in a resort with a kid's playland, tennis courts/pickleball courts for my older kids, hammocks, pools, hot tubs, and more. This is so that the kids could play without us having to pack up the van and leave the resort.
If you are trying to have a relatively inexpensive vacation in Hawaii with kids, I recommend booking a place to stay that has a lot of kid-friendly amenities.
5- Have a relaxing time set aside each day to do just that and/or swing in hammocks.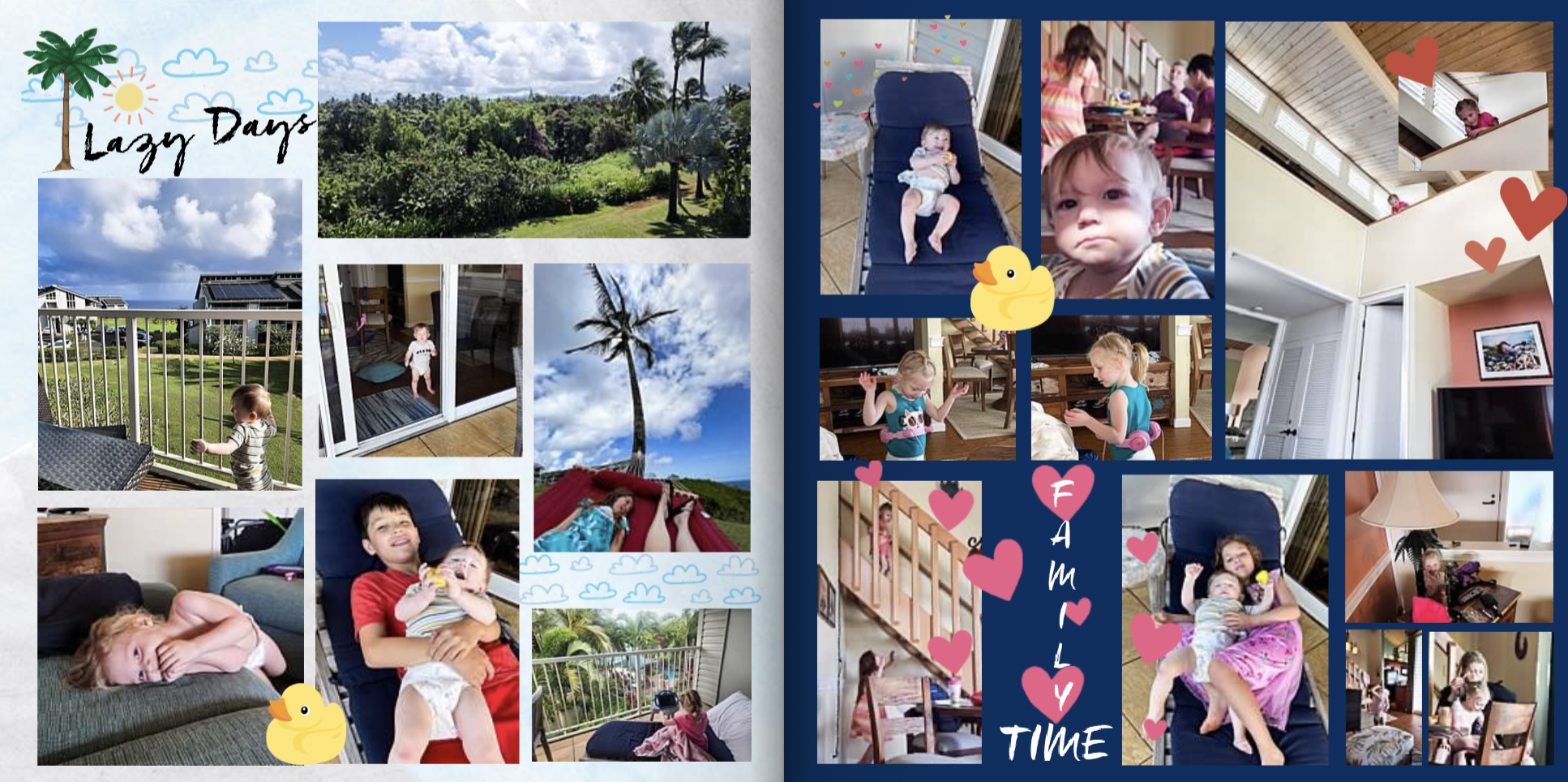 Our younger two still napped so during nap time the older kids had relaxation time which consisted of lazing around, screen time, and/or going to the onsite hammocks and resting.
If your resort doesn't have a hammock and you like them as much as we do, you could maybe bring your own.
My husband and I did this when we went to Maui together. He set up the small packable hammock we took with us on the beach for us to take turns enjoying. Make sure to do this responsibly and don't harm trees that aren't strong enough to hold your weight.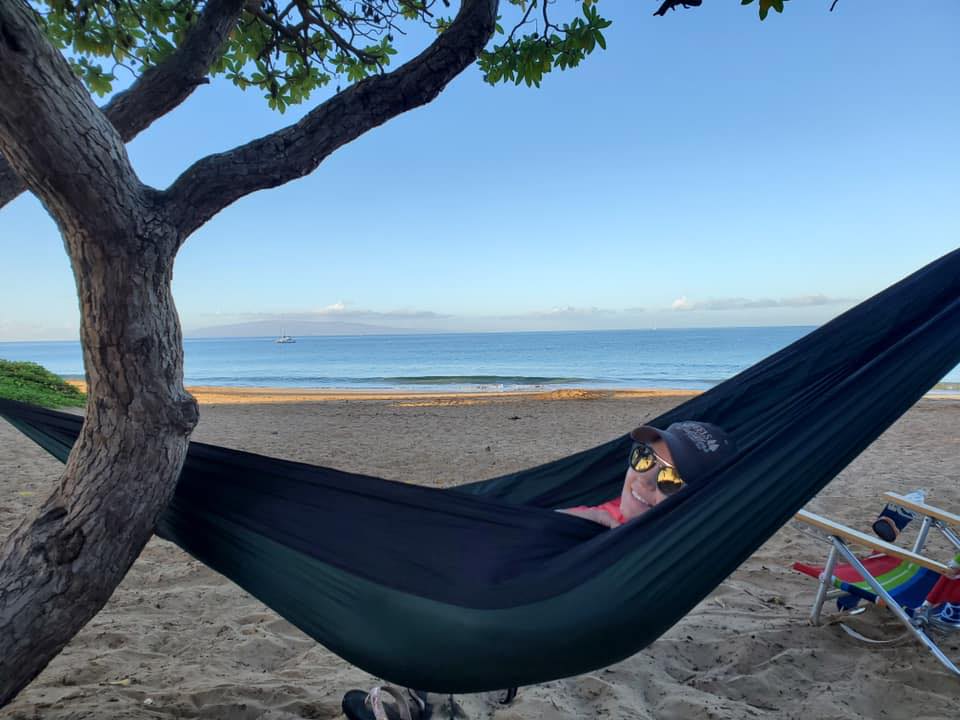 6- Making sand castles and playing in the sand.
If your kids are like mine, they could play in the sand all day for multiple days a week… which is exactly what they did.
We loved the sand at Hanalei beach and I bought a few sets of Green Toys sand toys as they are robust and hold up really well under constant kid use.
My kids and I loved playing in the sand for hours and hours while we were in Hawaii!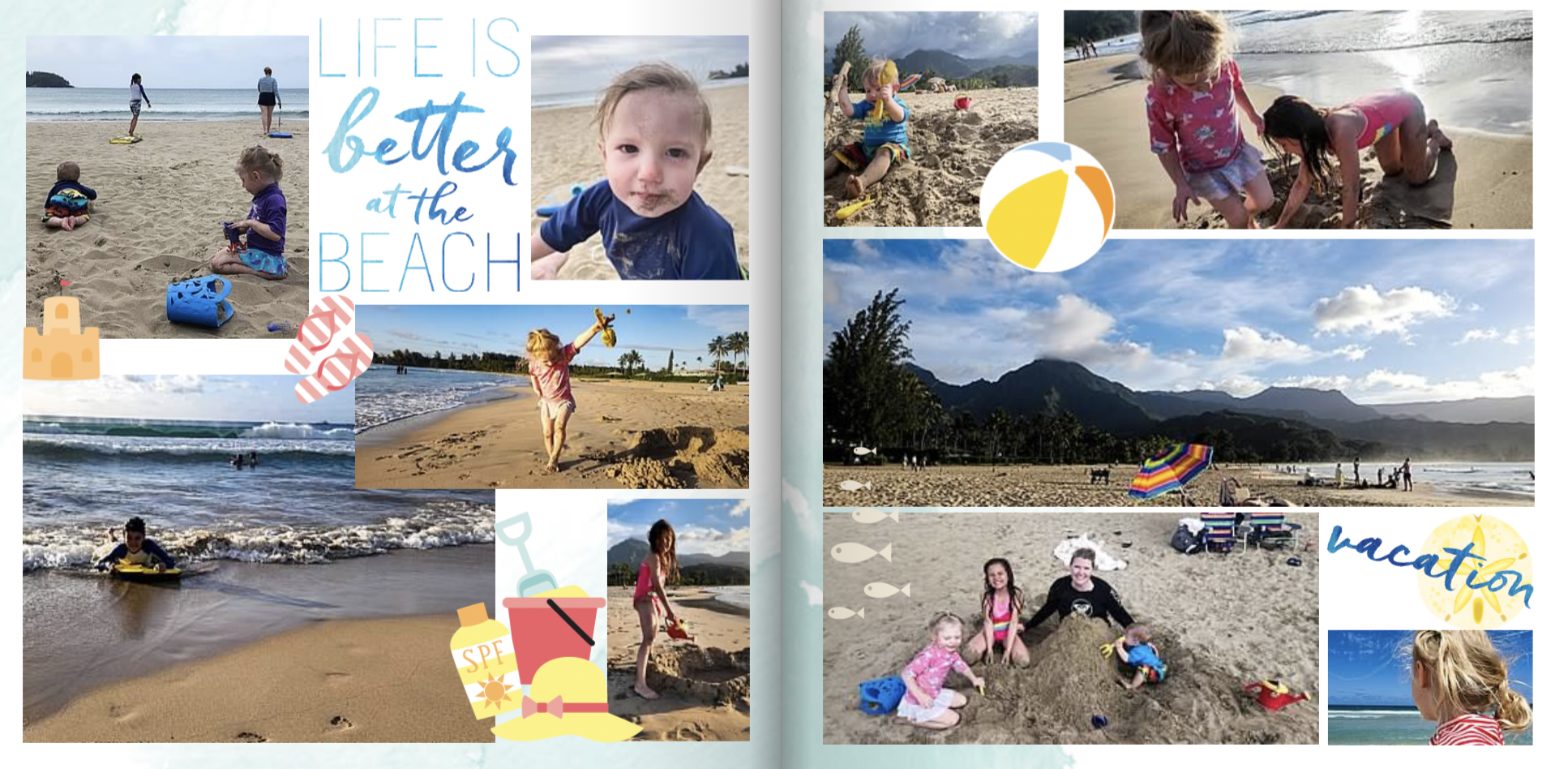 7- Sightseeing at the free sights (Waiamea canyon, Spouting Blow Horn, Hanalei Lookout, Lighthouses, etc.).
We had a rental car, so besides the fuel that it cost to drive to these sights, the sight seeing and exploring was free.
There are a lot of free places to sightsee in Kauai.
Hanalei Lookout was breathtakingly beautiful.
Waimea Canyon is 14 miles long, over a mile wide, and 3600 feet deep.
This state park has some of the most beautiful views on the island and my kids enjoyed checking out the different scenic lookouts and exploring some short little trails.
My kids liked seeing the Spouting Blow Horn as well.
8- Playing at local parks.
One of my most used strategies when traveling with young kids is to use Yelp or Google maps or similar to find highly-rated kid-friendly community parks for the kids to play at.
My kids love to play on good playgrounds, swing on the swings, and discover the unique differences at good parks.
Since each park is usually unique and different, my kids feel like they are getting a new experience at each one we stop at.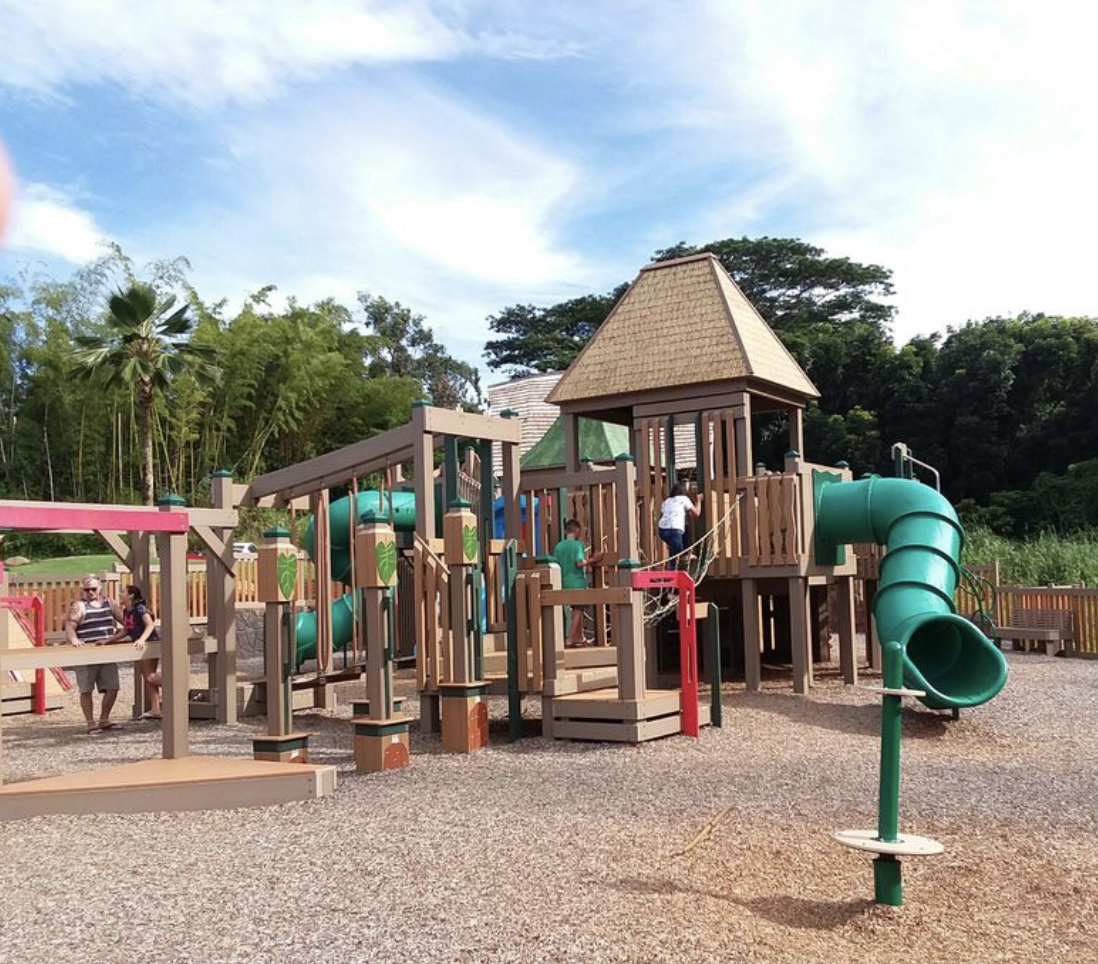 9- Going on scenic walks specifically the scenic walk in Princeville.
Princeville has a 2.1-mile (3.371-kilometer) walk/jog path that runs from Prince Albert Park to the end of Ka Haku Road. It is a gorgeous scenic walk that has views of the Kauai mountains and you walk among the gorgeous trees and foliage, plus it is usually a little breezy to help offset the heat.
Did I say this walk is gorgeous? It really is breathtaking, the terrain is easy, and it is a great way for kids and adults to burn off some energy.
10- Collect flowers that have fallen off of the trees and bushes.
My girls liked going over the grounds of our condo and searching for fallen flowers. They put them in their hair and played with them.
My son liked searching for limes or other fruit that had fallen off the fruit trees on site as well.

11- Free local events.
Often Kauai has free events going on like free train rides, free hula demonstrations, and free culinary demonstrations at the market.
These vary on time, day, and month; so going to Kauai's official page to find some free events while you may be there, is another great option.
12- Go on kid-friendly hikes.
Kauai has all sorts of awesome hikes, although I'd highly recommend reading the reviews to make sure it is something your family can do together.
Hiking is free and an adventure. I find kids usually love hiking, especially when you have a baby hiking backpack or carrier for the littles to sit in when needed.
We really did go to Hawaii for nine days and not spend a dime on entertainment and none of us felt like we were missing out!
For other money-saving tips including how we ate for less than $500 for nine days on a family vacation to Kauai check out this post.

I hope these 12 Free Things to Do in Kauai for Families with Young Children give you some ideas on how to have a fun yet inexpensive vacation with your family!


For other 'rich living' and D.I.Y. decor tips please subscribe, like me on Facebook, and follow me on Pinterest and Instagram.