This Post has 17 Tips on How to Plan an Inexpensive and Cute Themed-Party for a Child.
1- Don't expect perfection.
Using the following tips below, you can throw nice, impressive, memorable, and fun parties for your children and their friends and family, but just don't expect your party to look like the perfect parties you may see on Pinterest and other party planning websites.
Perfect-Pinterest-Parties more often than not cost thousands. I see perfect decorations, beautiful venues, elaborate backdrops, balloon arches, professionally made cakes, cupcakes, cookies, and more on the food spread tables, elaborate favors, tablescapes, and more. If you click through to those party posts most don't disclose how much they spent on the party… including how much they paid their party planner.
Most of these parties cost over $5,000 each—the party planner costing between $500-$1500 to hire.
I choose to do what I can within a budget of an average of $100-$150 a party. Even if I could afford a $5,000 party, I don't know that I would want to spend that kind of money on one.
I want a party to look nice, for my kids to love it, and for the party to be fun for guests but that's about the extent of what I'm after.
As you scroll through this post and read the tips, know that each of the parties below costs less than $200.
2- Choose a Theme Strategically.
I've found that I often end up choosing the party theme for my kids between the ages of 1-3 and sometimes 4 years old but as my child gets older, I find that they want to play a part in choosing their own party theme.
When I choose a theme for my babies and toddlers I think of items that I already have around the house—including toys and items that would go with that theme.
When my kids are older I like to give them a choice of multiple themes or we work together to find a theme that will be easy to work with and one in which we can use many items we own to contribute.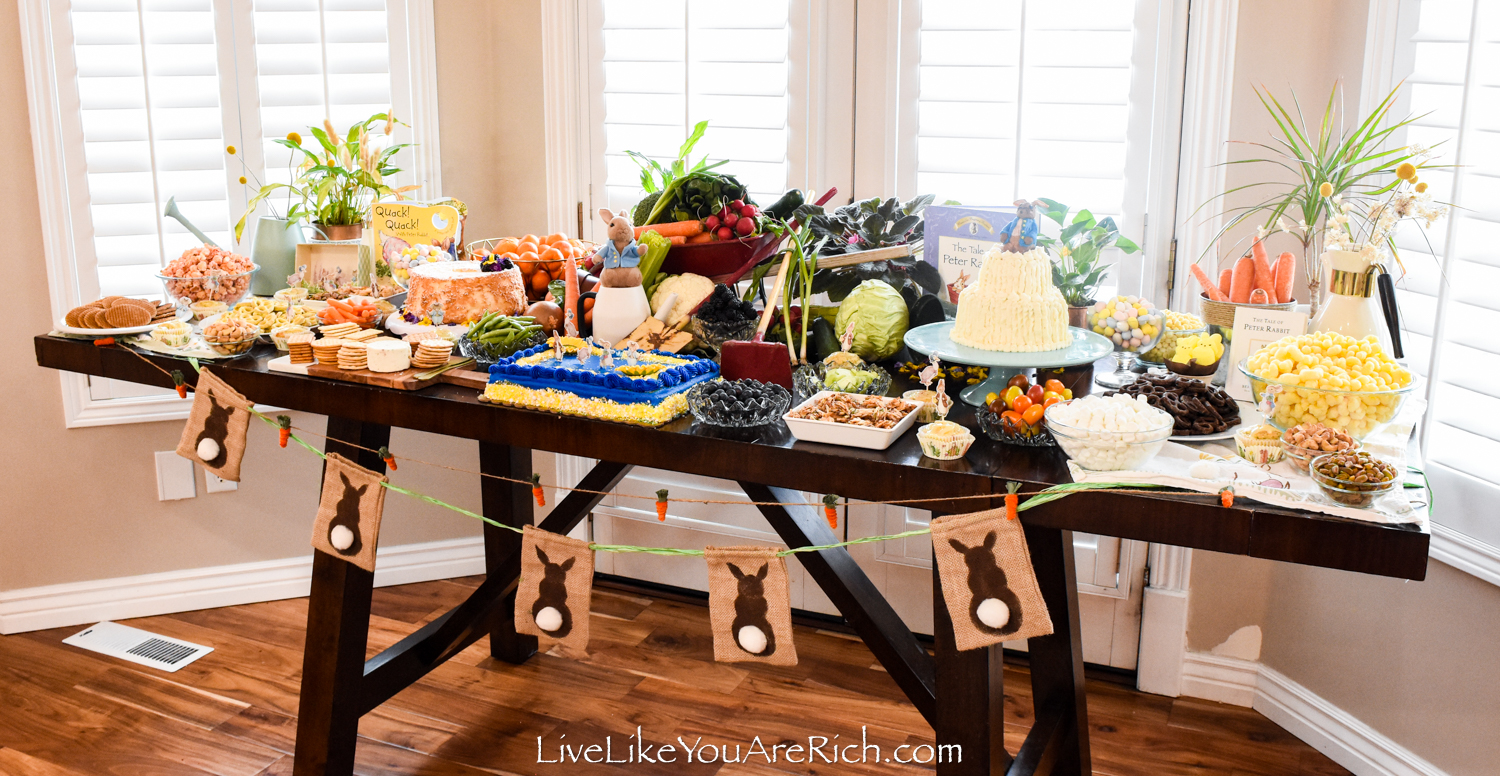 When my son turned one I choose a Peter Rabbit theme.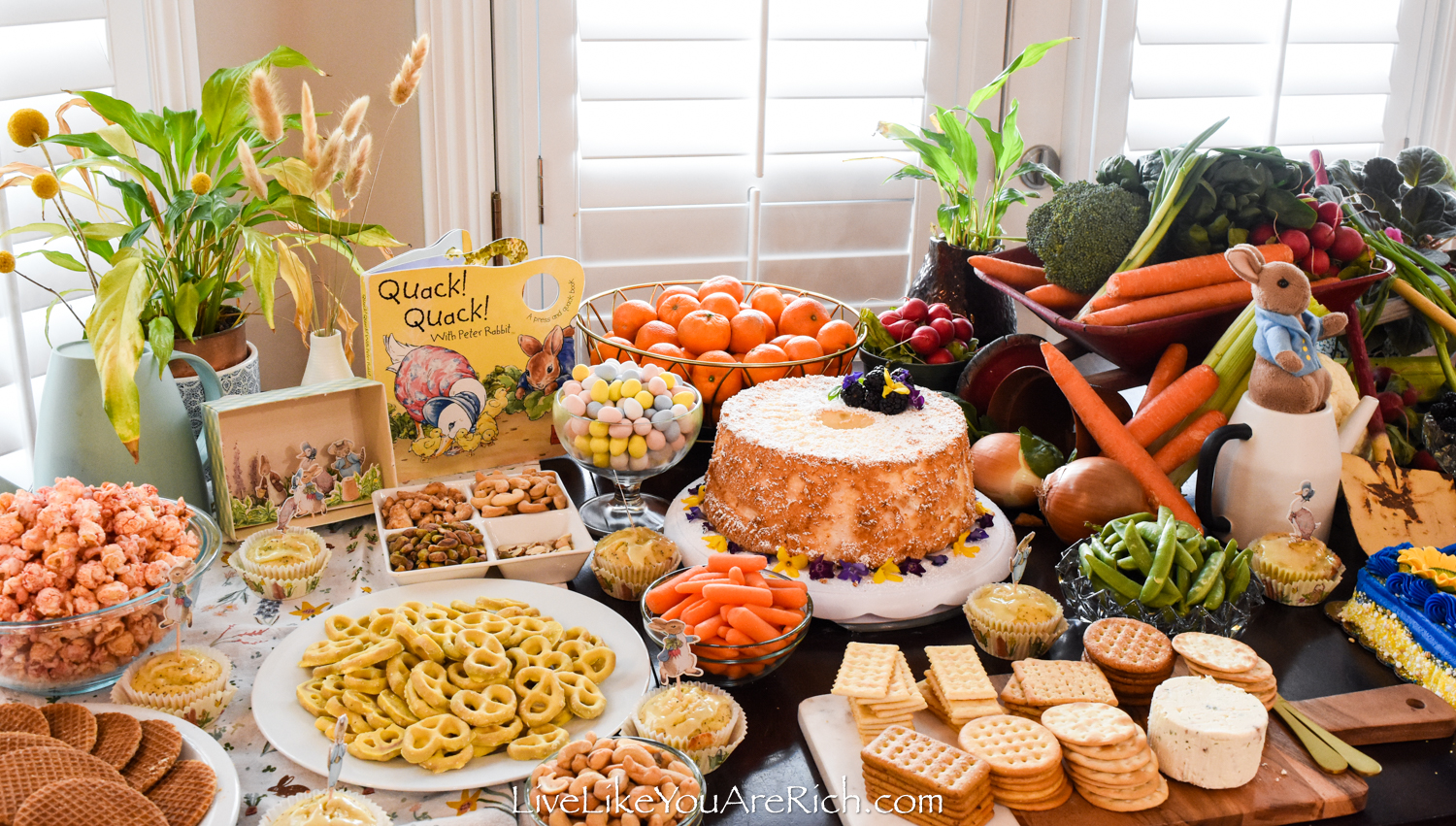 We had the Peter Rabbit stuffed animal, books, the burlap bunny banner, carrot banners, and just about everything else except the cupcake toppers, napkins, and a few other minor items that I bought for the party.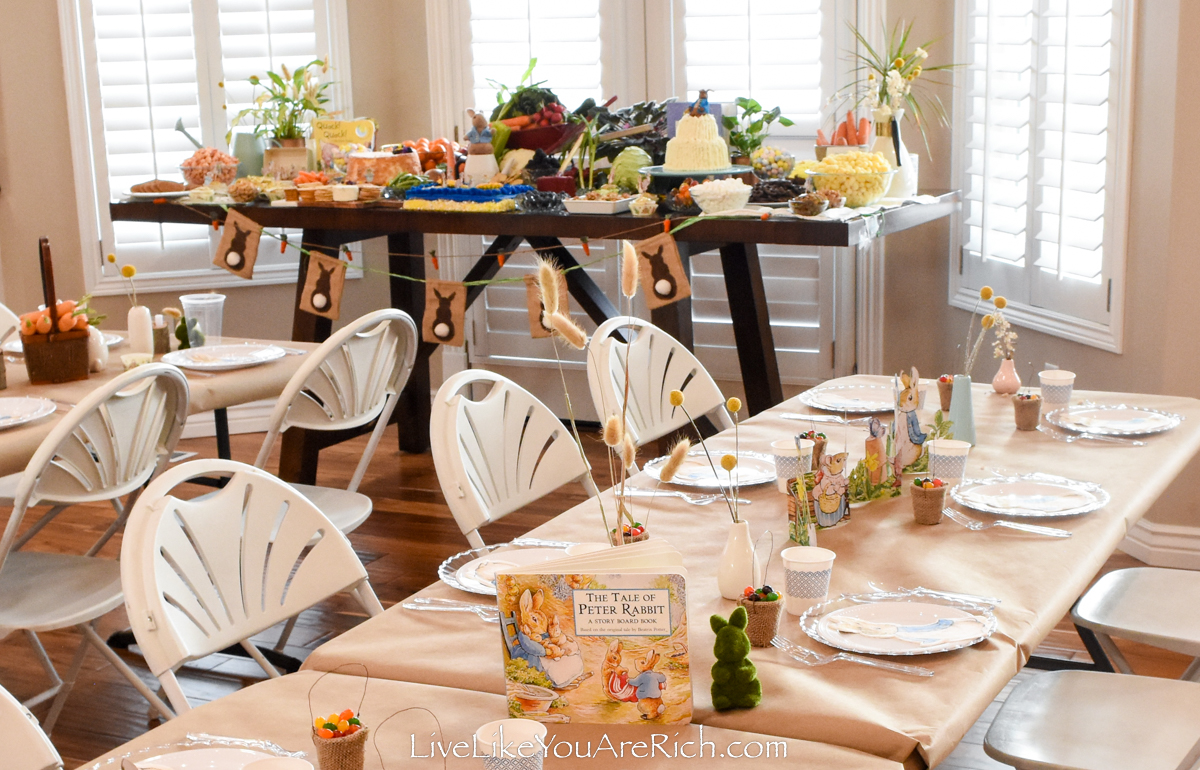 Another example of choosing a theme strategically was when I choose a Paw Patrol theme for my daughter's 3-year-old birthday.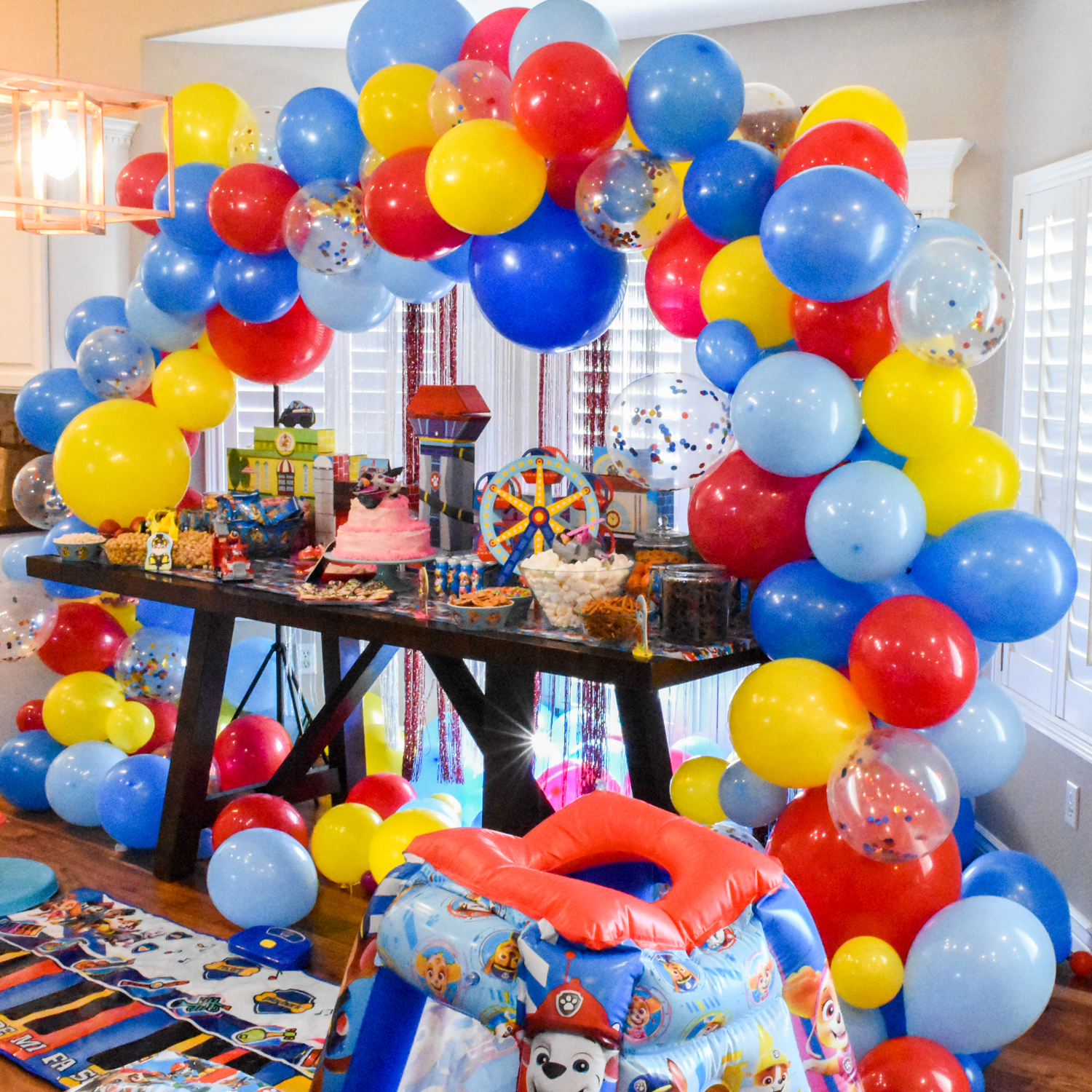 I choose this because she has loved Paw Patrol for years so we had a lot of items around the house that fit the Paw Patrol theme. I used the birthday party budget to buy balloons, food, and a few items to supplement the theme.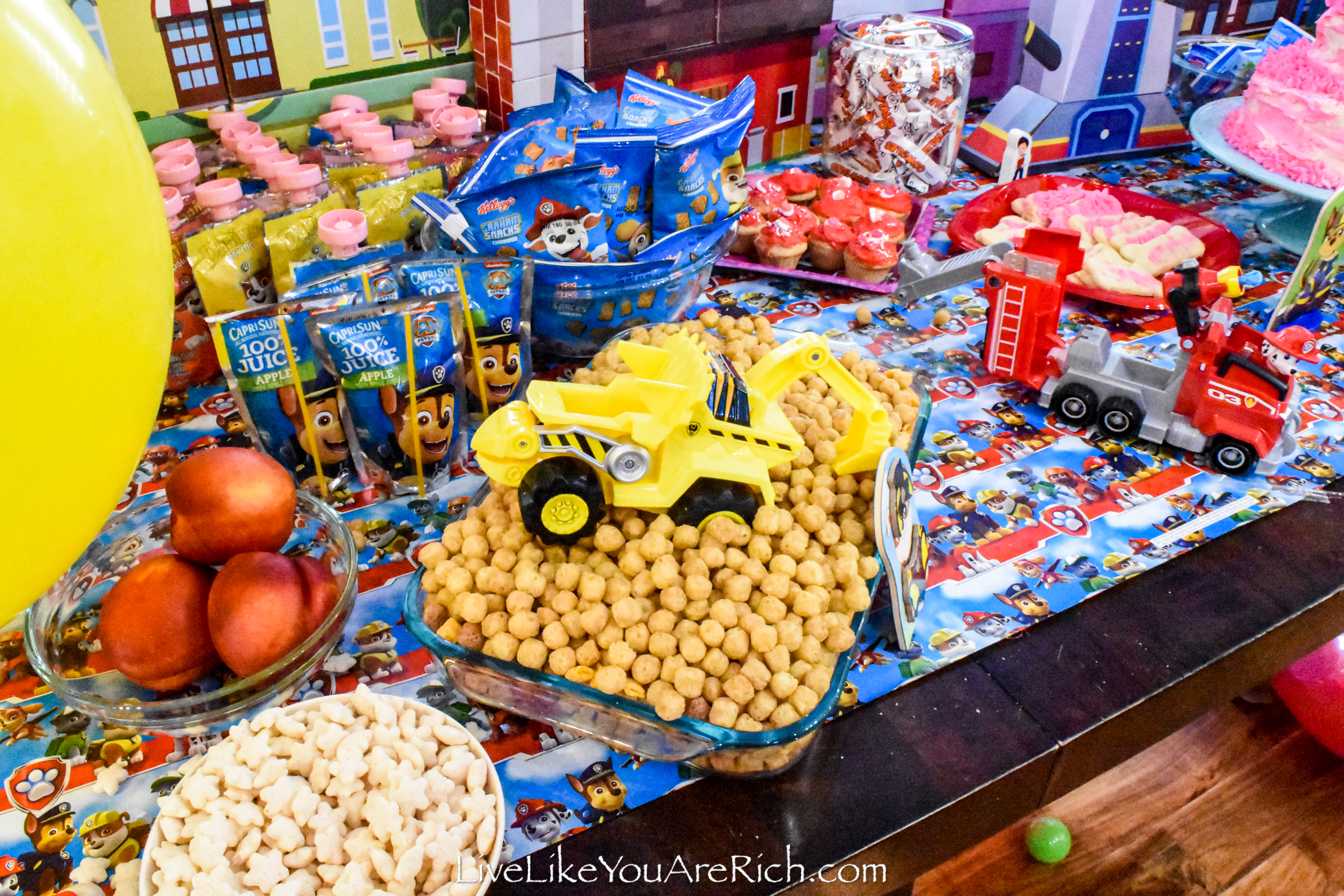 My older daughter, when turning seven, wanted an Encanto party.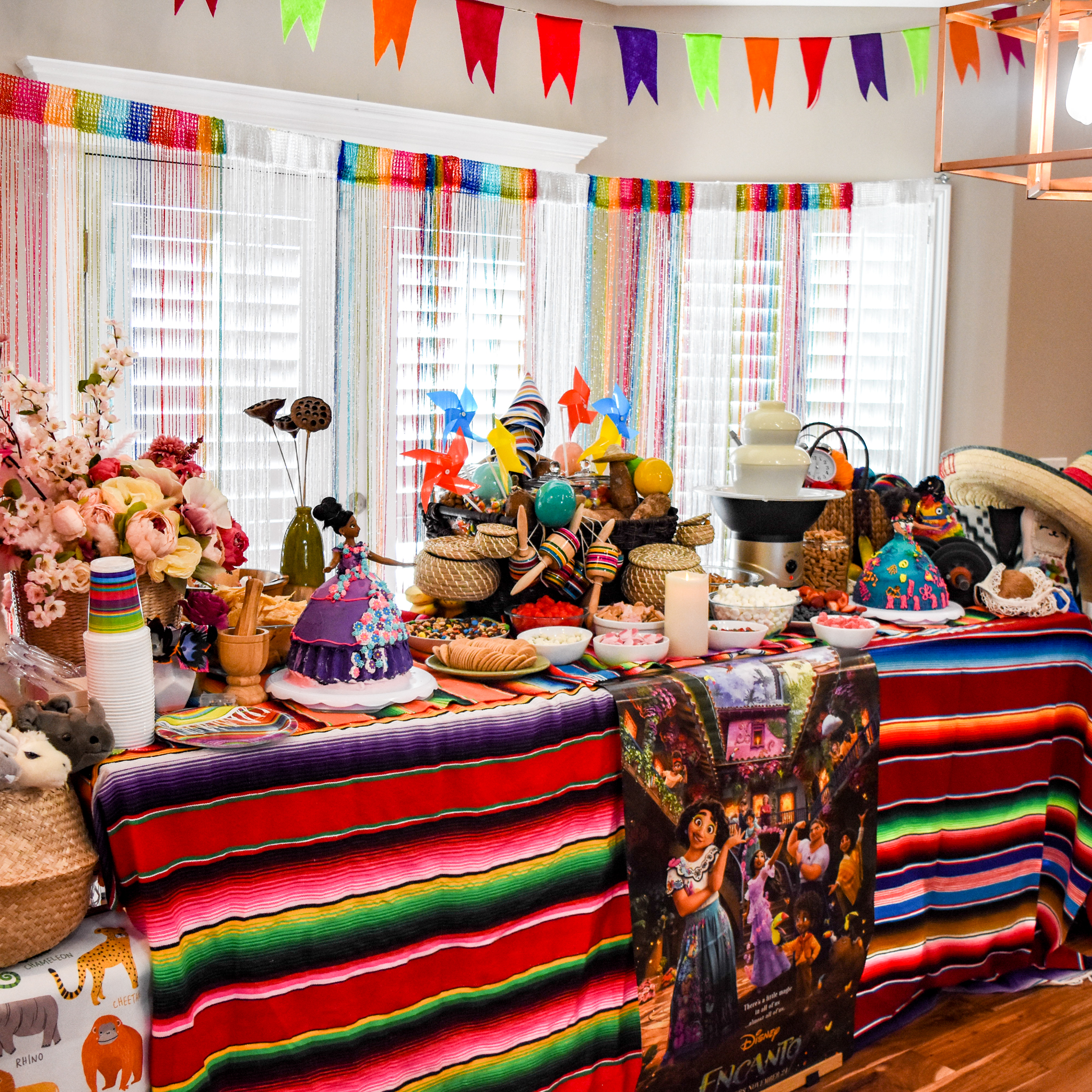 We just used what we had and could borrow (the chocolate fountain, dumbbell weights, etc.) and then bought a few items (the poster, maracas, and more) to decorate the rest of the party.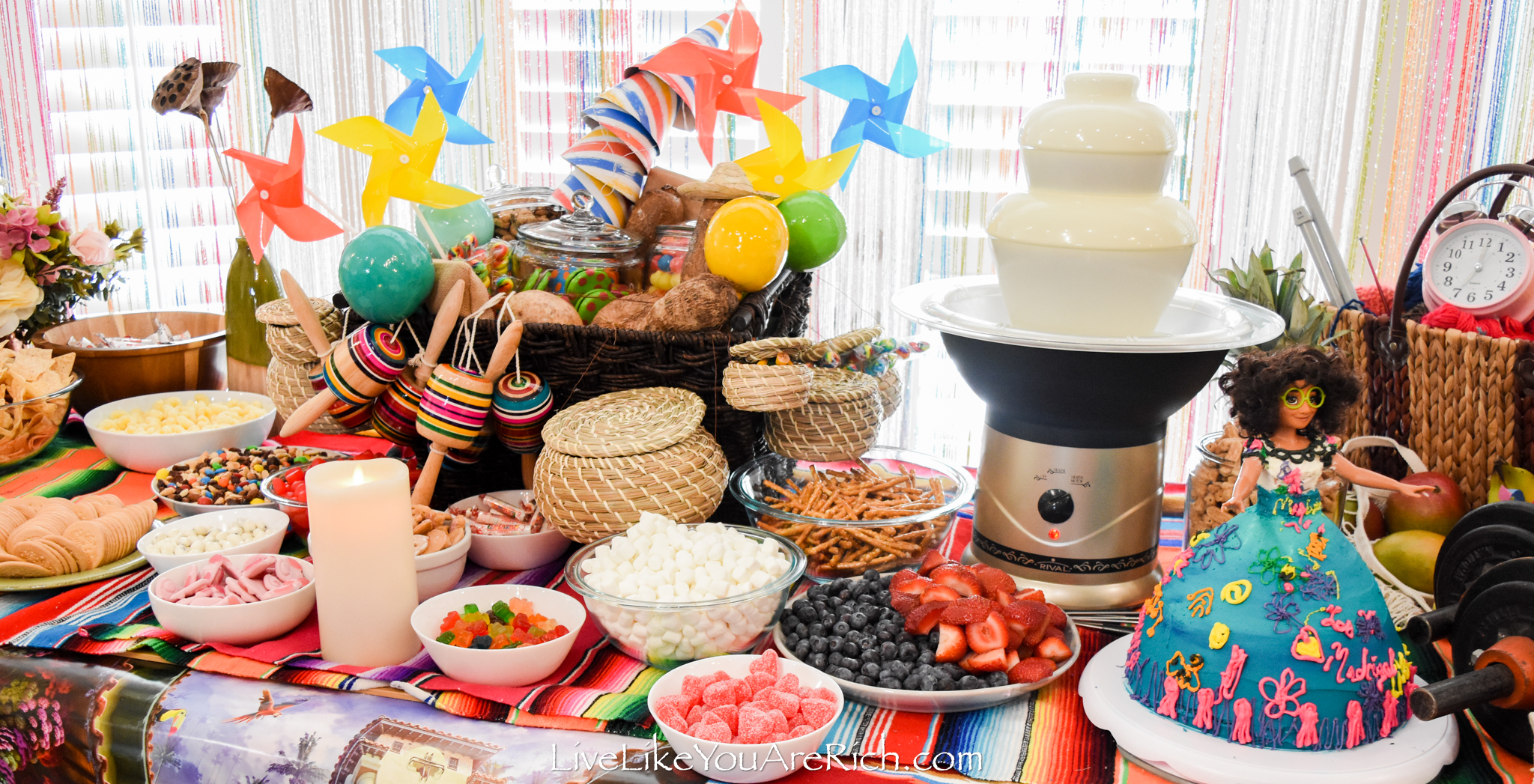 My son wanted a sledding Polar Bear party… so again, I used a lot of items I had around the house and added a few that I purchased.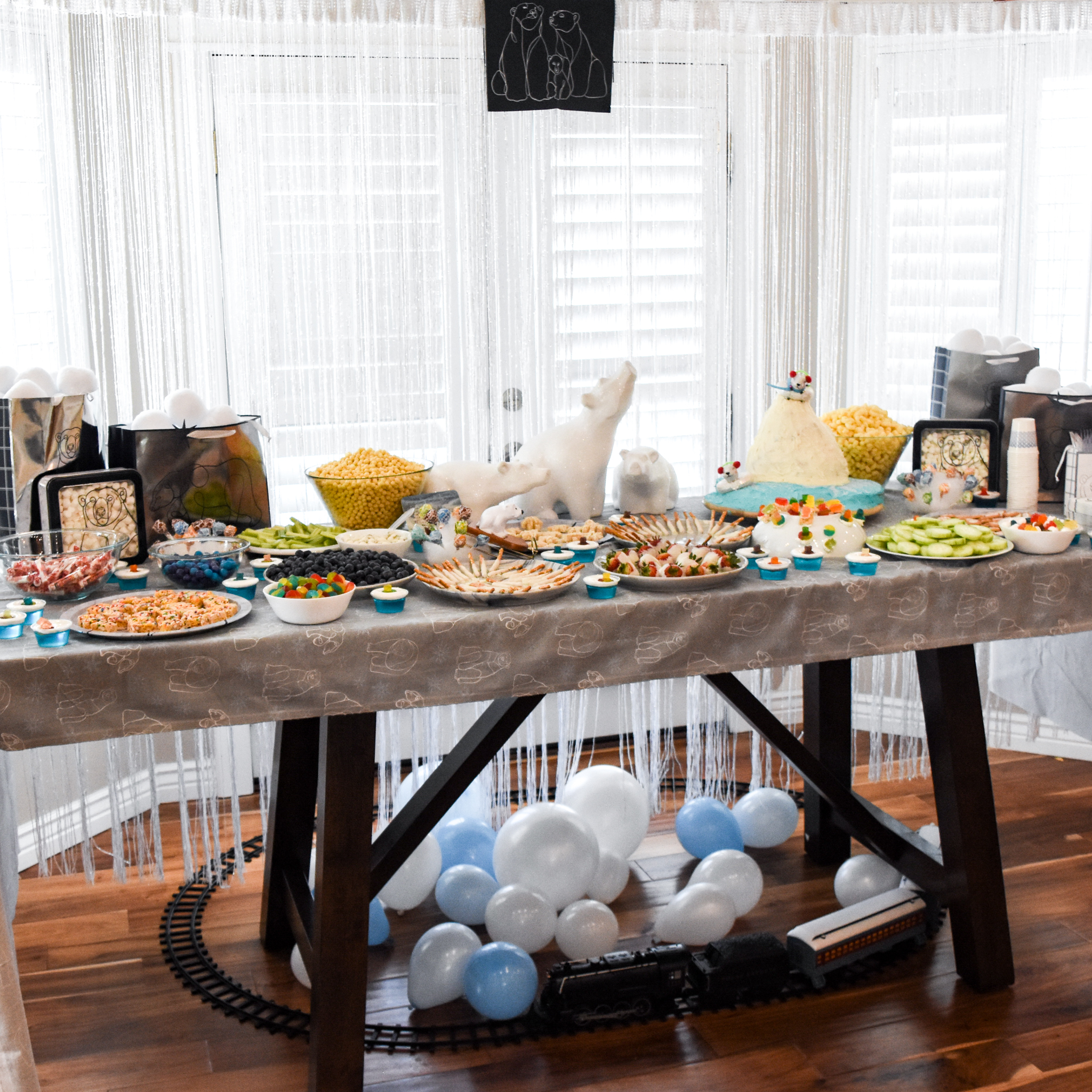 For a young baby you can also just do a backdrop with a smash cake.
For Amelia's first birthday, we did a Twinkle Twinkle Little Star Theme.
I find choosing a theme gets the kids super excited about their parties and it helps me stay focused when shopping and budgeting everything.
3- Decide on a Budget.
I try to keep parties I throw under $150. That's the budget we've made and I can fit almost everything I need to buy for a nice party within it. Sometimes, when they are not as elaborate or when I have a lot of items around the house to use, I can throw a party for less.
This is an example of a $70 party Star Wars Mandalorian Themed party…
It was a party where 90% of what we used we already had on hand.
I spent $70 on a premade cake, food, and some favors to give to my son's cousins who came.
This is an example of a $30 party…
It was a family birthday party and I decided to do a llama theme.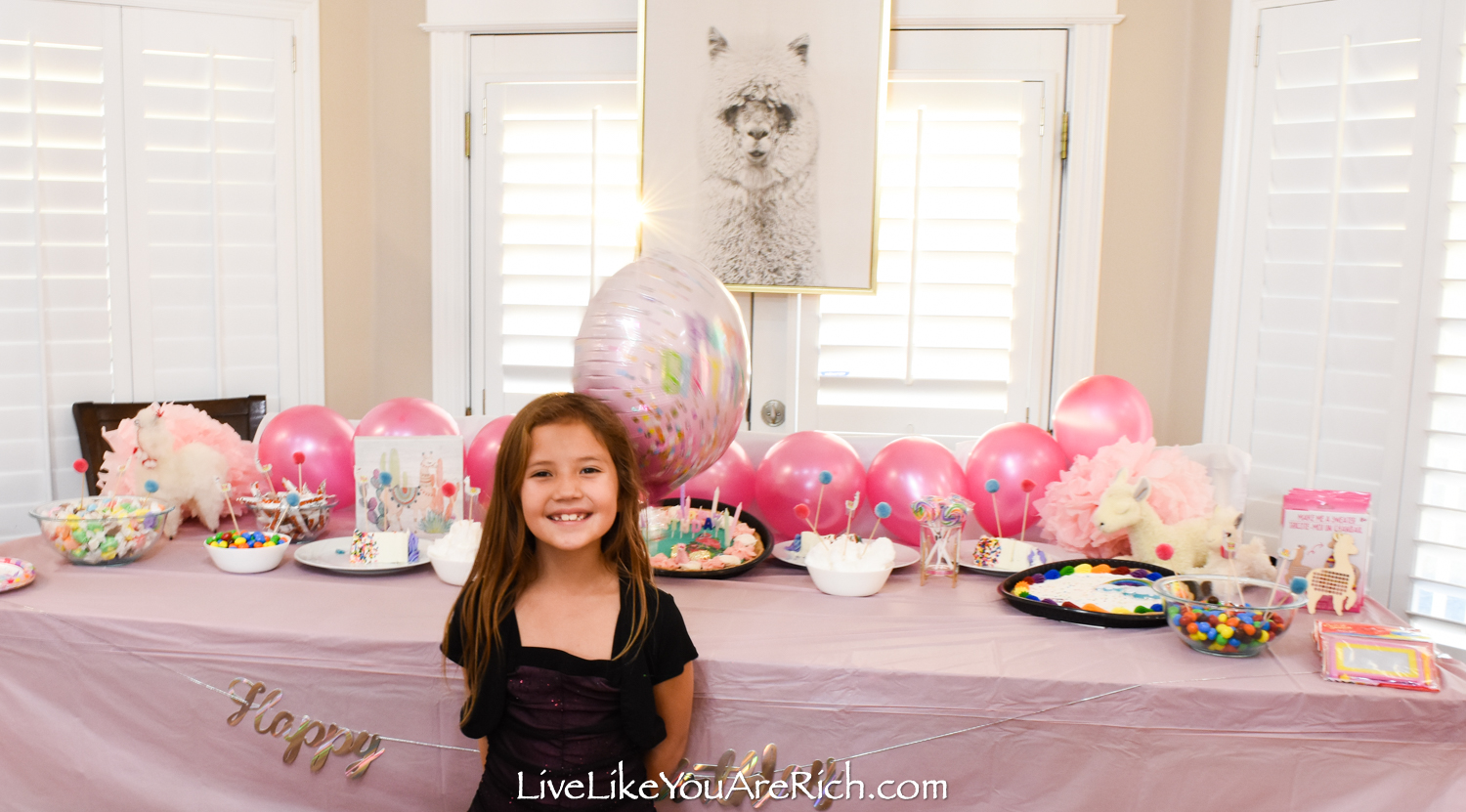 We had almost everything on hand and I got a few things at discounts and the rest at Dollar Tree.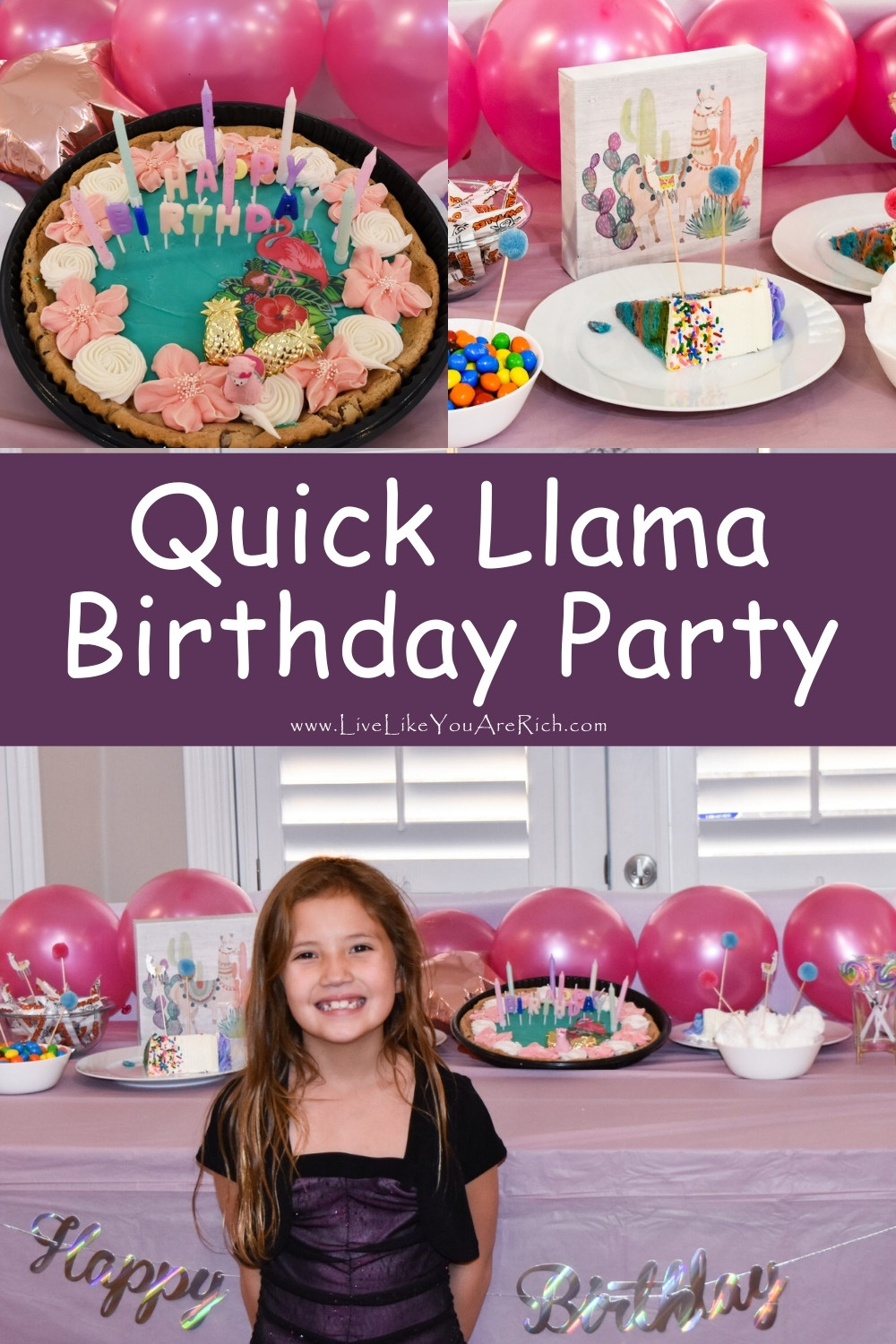 I rarely spend more than $150—even on holiday parties that I throw for extended family.
It is totally doable to have a limited budget and throw a nice-themed birthday party for your child.
4- Find an inexpensive or free place to throw the party.
We have very windy weather in our area, so even in spring and summer it's a roll of the dice on whether the wind will ruin the event or not… so I normally always plan our parties in our house.
Normally, I have them upstairs in our kitchen dining area,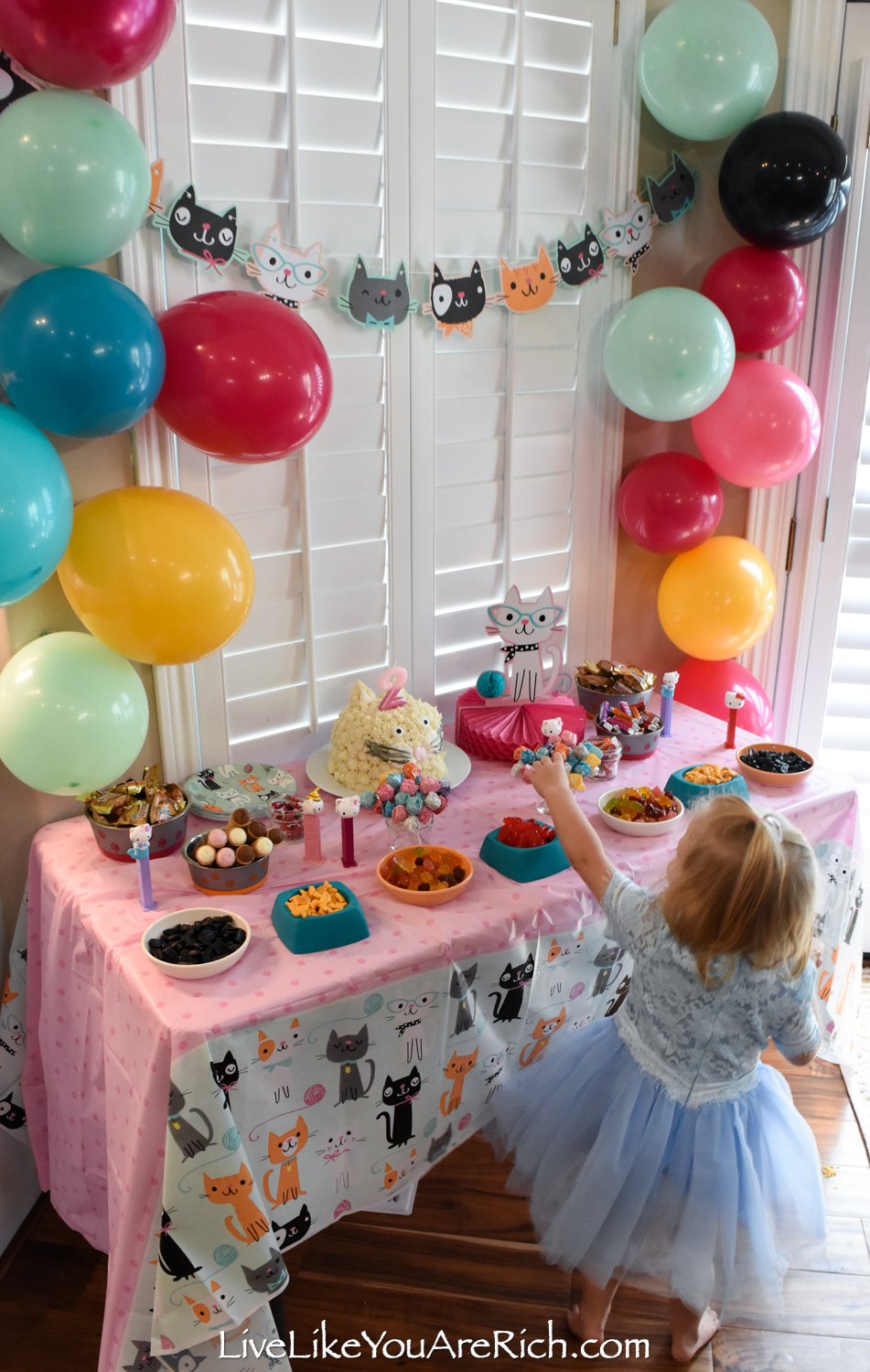 We've done a few parties downstairs as well.
My daughter's medieval party was held in the basement.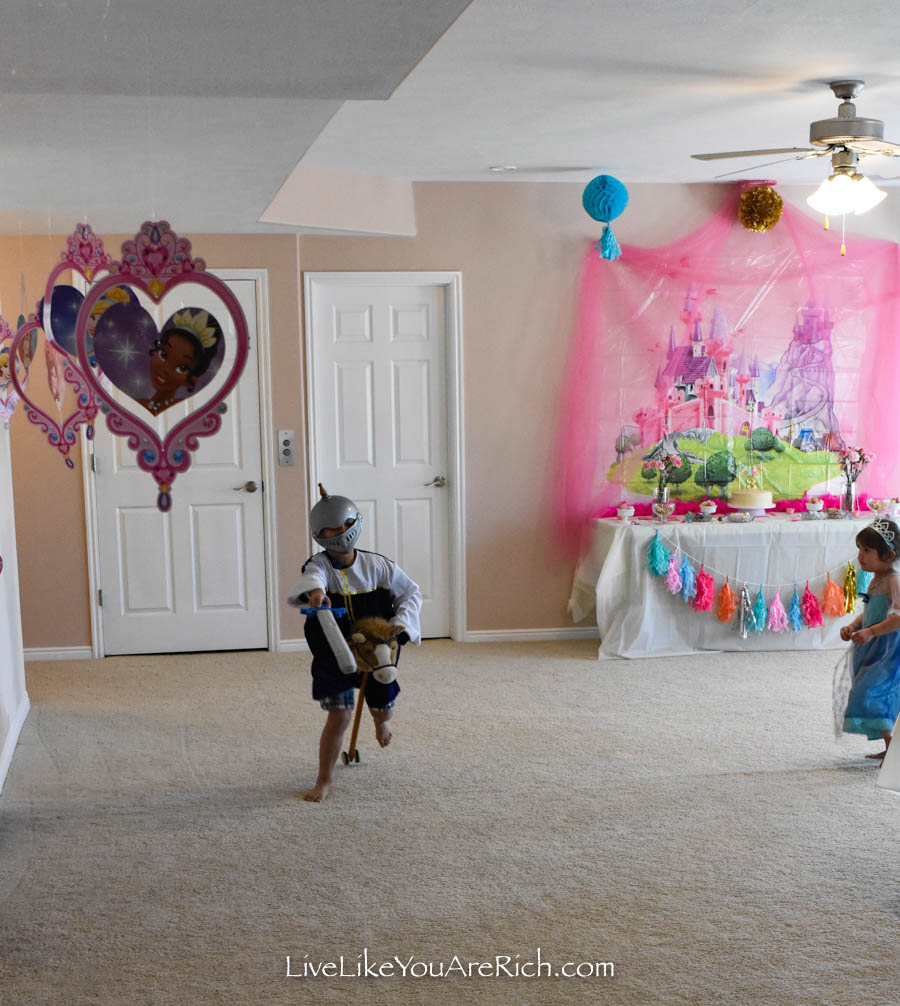 We had jousting competitions, puppet shows, and other medieval activities that worked better in our basement.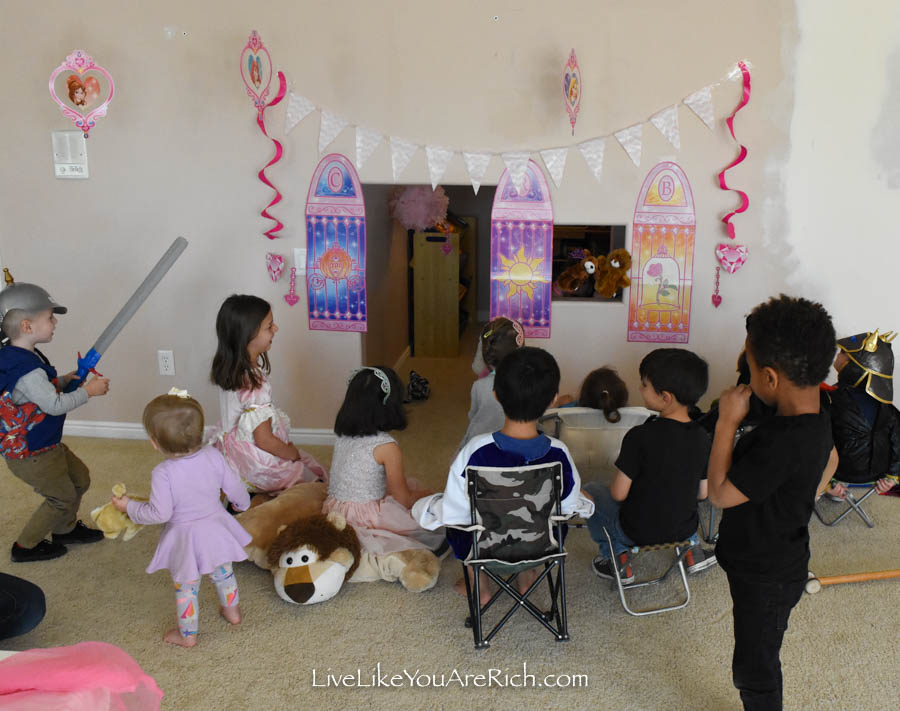 My son's Wild Kratts party was held in our basement because the activities were easier to do there as well.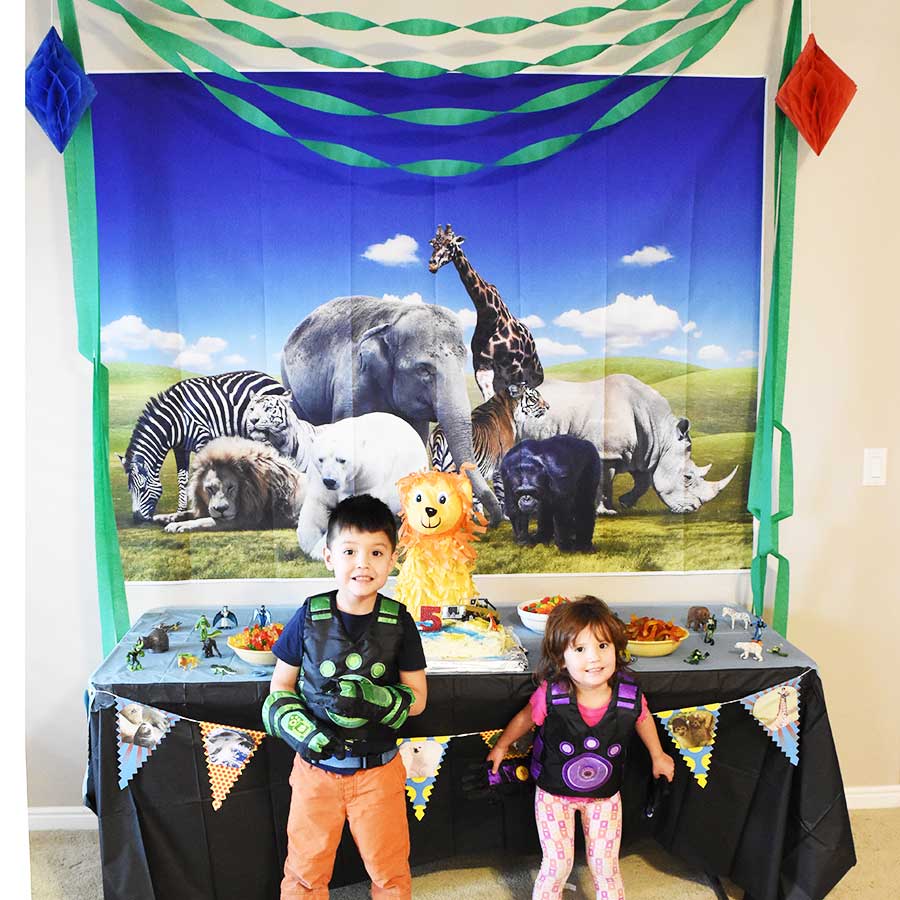 I was able to reserve a churchhouse gym for free to play laser tag with my son's friends at his Ninja party.
Although it was more work moving the party supplies there and back again, it was a free venue and I'll probably reserve the gym again for my son's party this year.
If he had a summer birthday, we'd hold it at a park but with a December birthday, we try to find indoor venues. A gym is a great place for a bunch of boys to party.
Some ideas of cheap or free places to hold a party besides your home or yard are at a local lake, park, community center, campground, or a gazebo owned by the city that you can rent for a nominal fee.
You can also google "free event area or inexpensive community center in my area" or ask around. It may surprise you what you can find for fairly cheap.
So, you'll want to decide where you are going to hold the party and work from there on how to decorate.
You may also want to hold the party at a trampoline jumping center, an arts center, a museum, a zoo, or another kids center that has all-inclusive packages which, in the end, can be worth the price depending on the number of guests invited.
5- Decide on a menu that will fit within your budget—do a potluck if you are feeding a lot of friends and family.
For my daughter's mermaid party, we decided to just do a dessert-snack table.
I often do dessert-snack tables for friends' parties as shown at this Just Add Magic Birthday Party.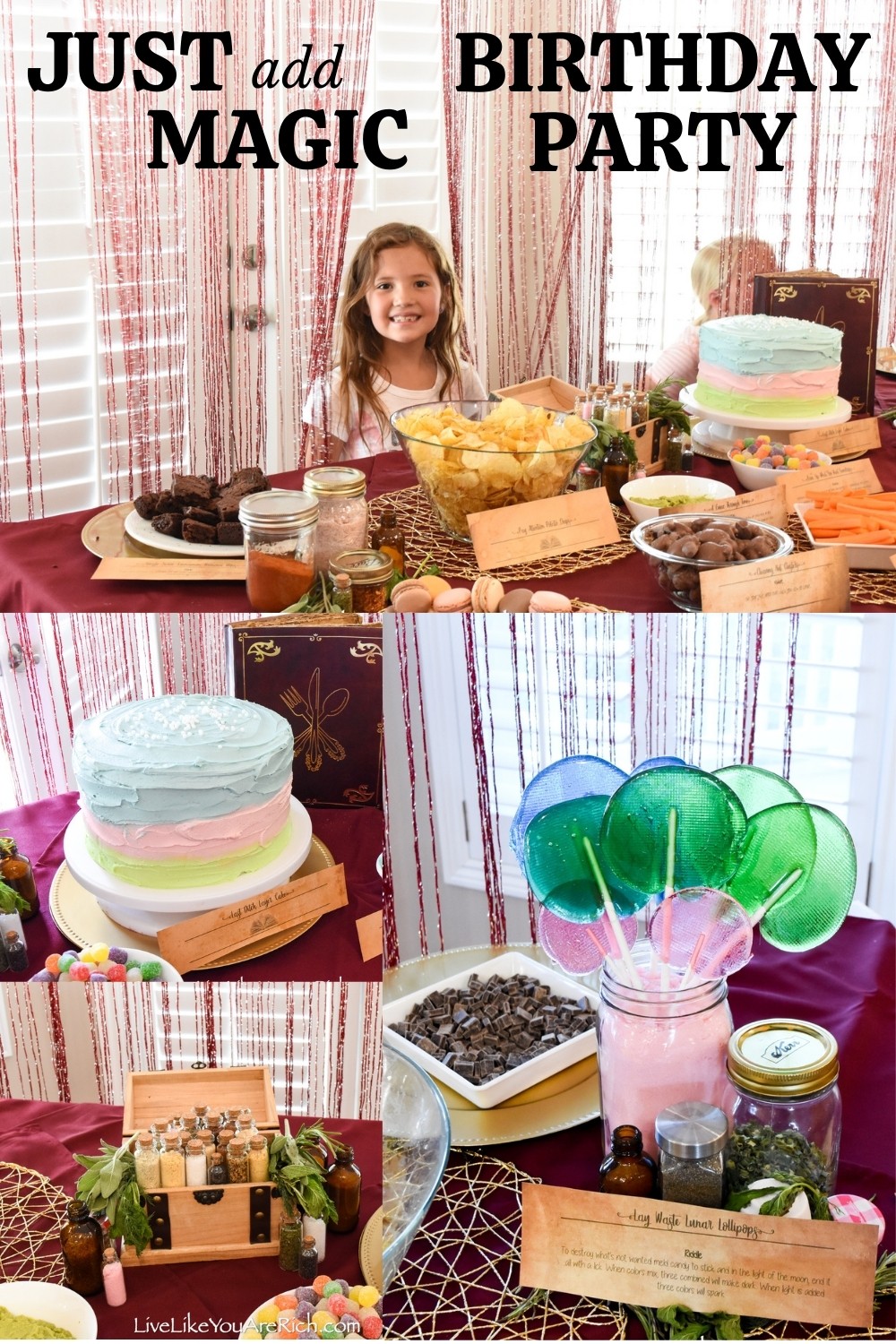 The kids love the options and always, 'ooh and awe' over the themed treats. This Polar Bear party needed to be nut-free so that posed a little bit of a challenge, but we were still able to make a full spread that didn't contain any nuts and nut oils.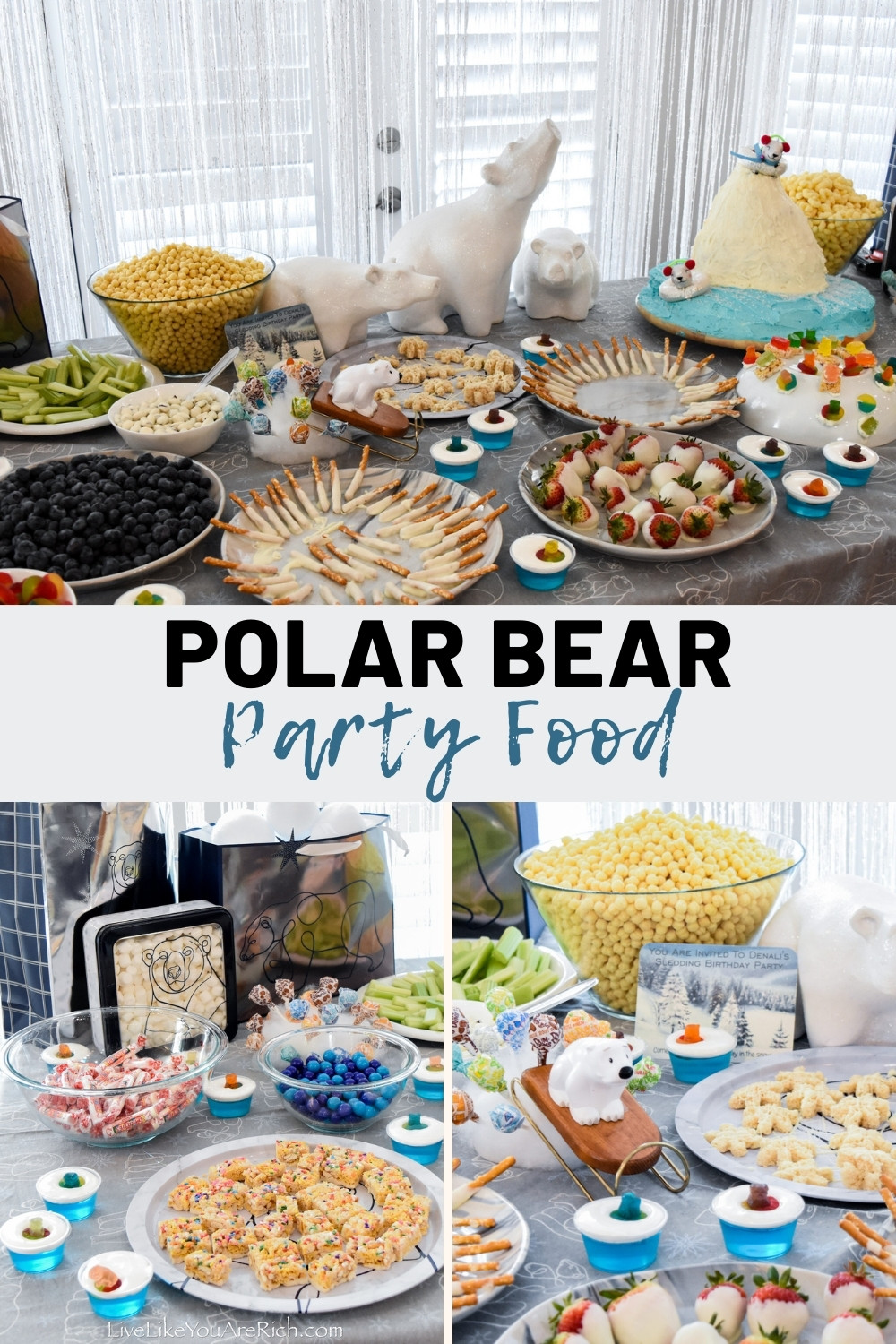 It is usually not in the budget to feed the friends a full meal. Snacks and cake do just fine especially because we plan to hold the party in a "between meals" time frame.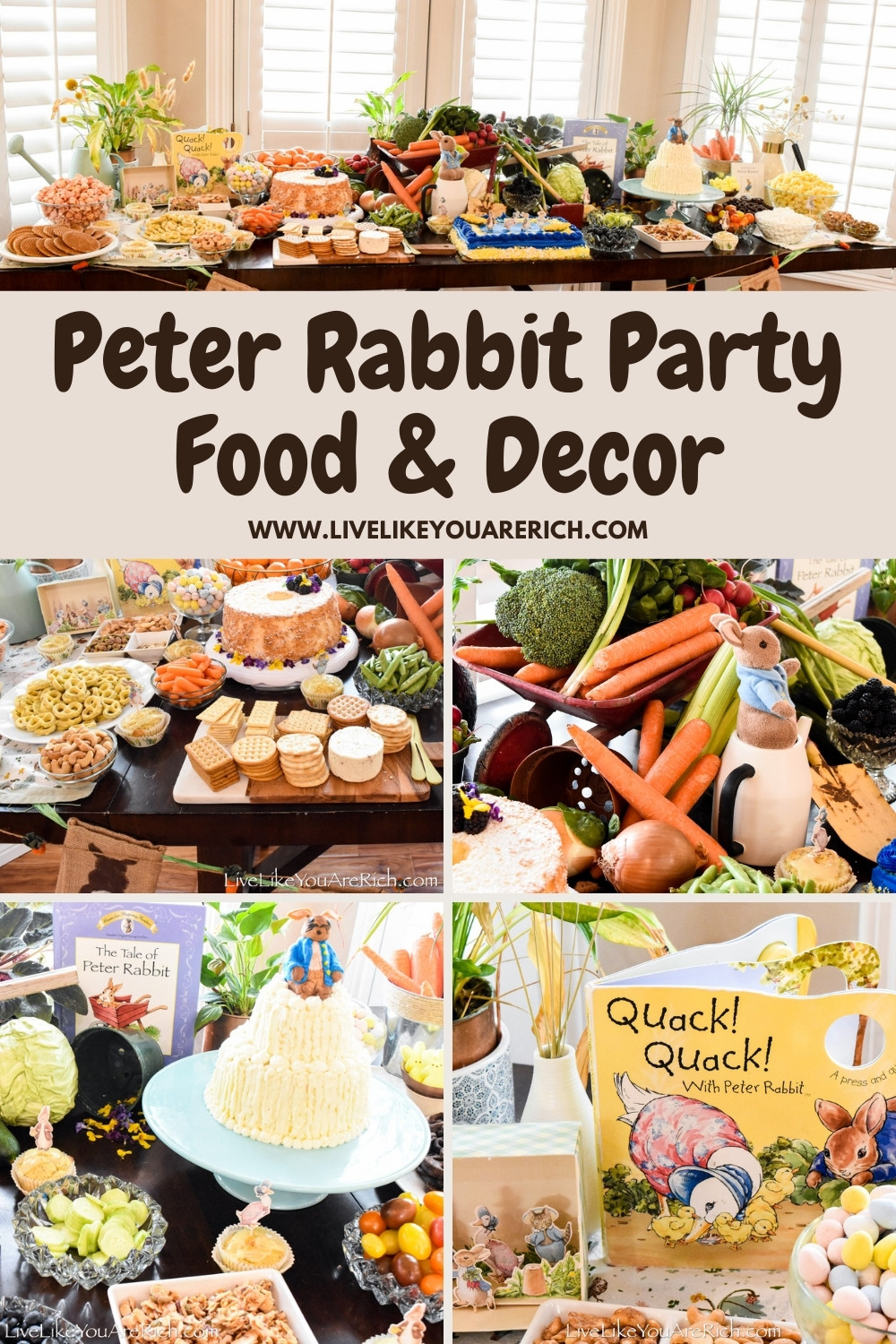 When I have family over for parties we always do a meal in addition to a dessert table, but, as mentioned, the whole family contributes.
I usually ask each sibling or friend who is coming to bring something to contribute to the meal.
Typically I don't show what is served as the main meal when I photograph our family parties because the potluck food is often off to the side on my kitchen bar and we dish up buffet-style.
6- Search the internet and Pinterest for ideas to fit the theme of your party.
Pinterest is full of great themed-party ideas and many of the ideas you see for food, decor, and activities will spark your imagination of how to make it more of what you want or you can just copy ideas you see as well.
As an example, I saw the idea of using Rice Krispie Treats to make sushi rolls for a ninja party. I made them my own by using different items inside and outside than what was recommended in the post…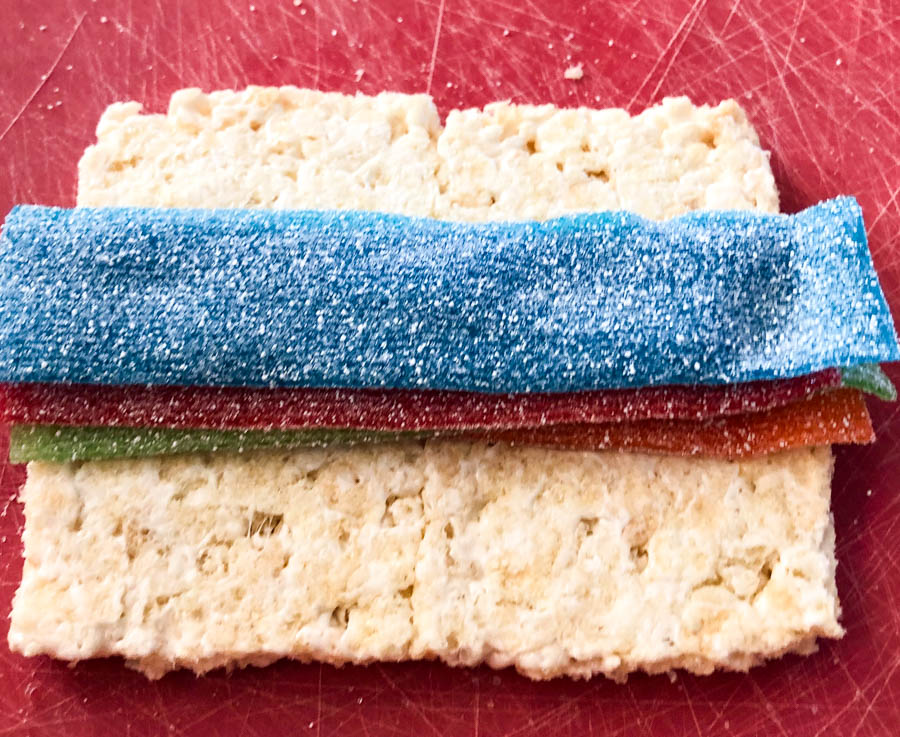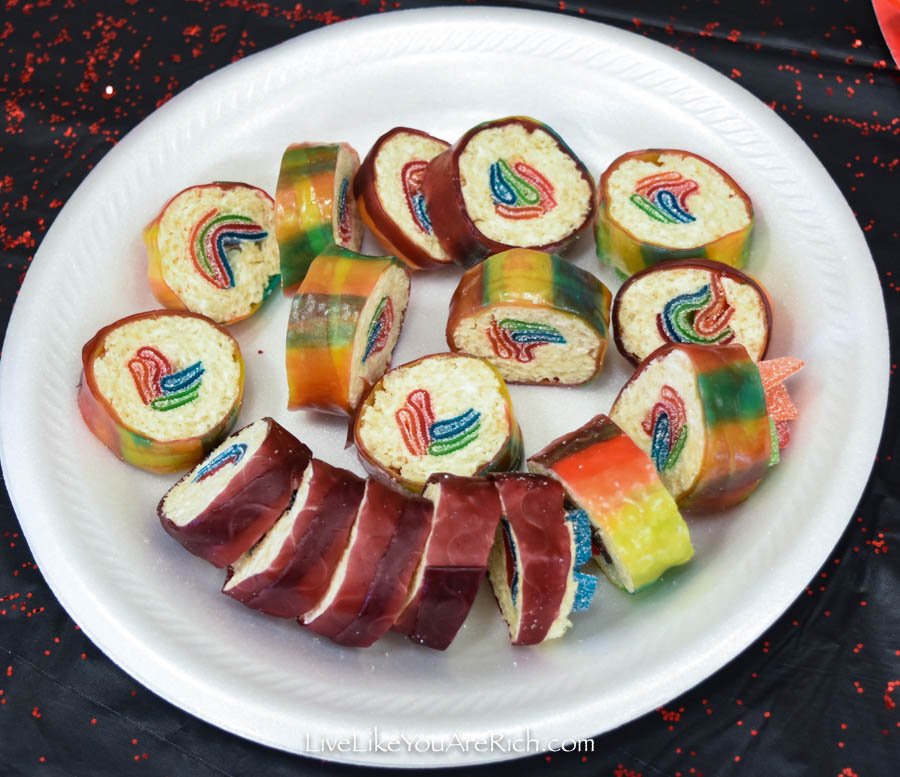 I also added to the candy sushi idea by making sashimi and nigiri as well.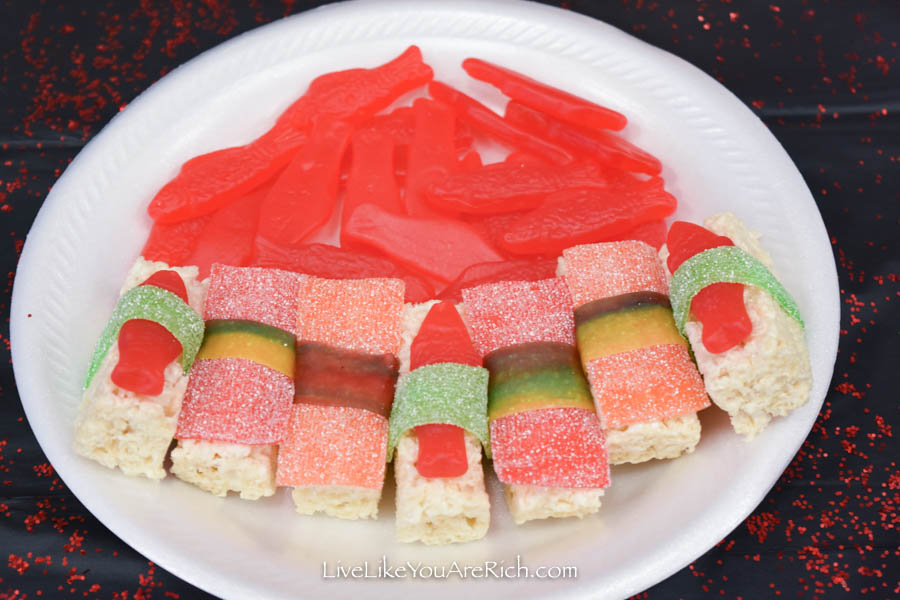 For my daughter's mermaid party, I saw the idea of making a coral reef of skewers and fruit roll-ups. I did just that but I also added licorice, Swedish Fish, and graham crackers on the base to make it more of what I wanted.
As a content creator on Pinterest, I'm always happy when people take my ideas and either copy them or improve upon them.
That's what we are doing on Pinterest, we are sharing and inspiring others on how to make life fun and creative.
When searching for party-themed ideas, I make a list or a Pinterest board of the ideas that fit the theme of the party I'm planning. Then I add notes to it of what I'd like to do in addition to what I plan to copy from other creators.
Another way to get inspiration is to walk the aisles of Dollar Tree and grocery or party stores and search for items that you can use or alter to fit the party theme.
7- Make the cake yourself or decorate a pre-made cake.
Professional cakes are expensive! If you are going to be doing parties for kids throughout your life, I'd highly recommend learning how to make cakes (if you don't already know how). I just watched some YouTube videos and learned how to make cakes, crumb coats, and good icing.
It will save you a lot of money over the many birthday parties you throw if you start learning and making your own party cakes!
As I've made cake after cake after cake for all of my children's birthdays, I've gotten better and better at it. I also have bought and altered pre-made store-bought cakes as well (ideas below).
Here are some of the cakes I've made for their parties: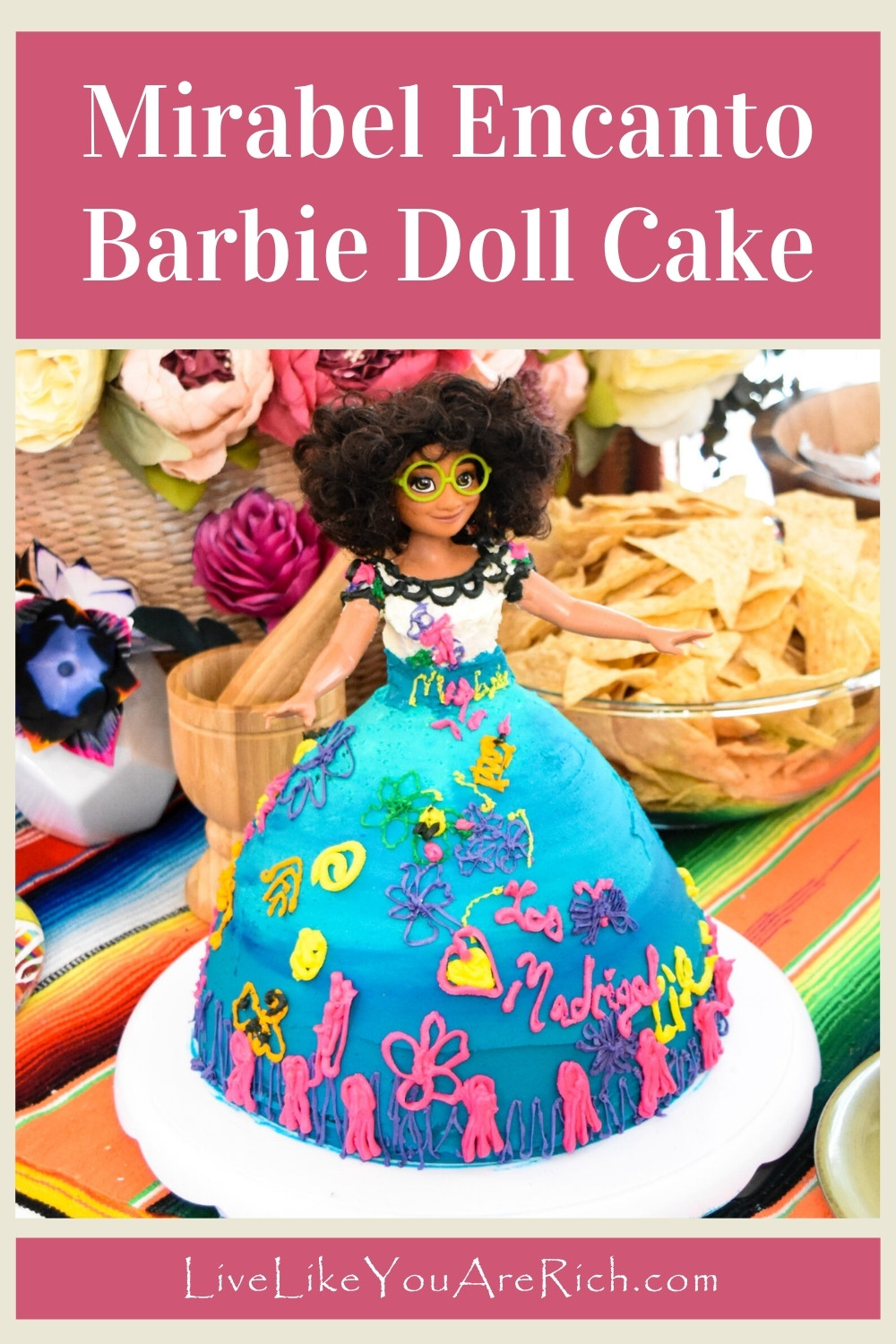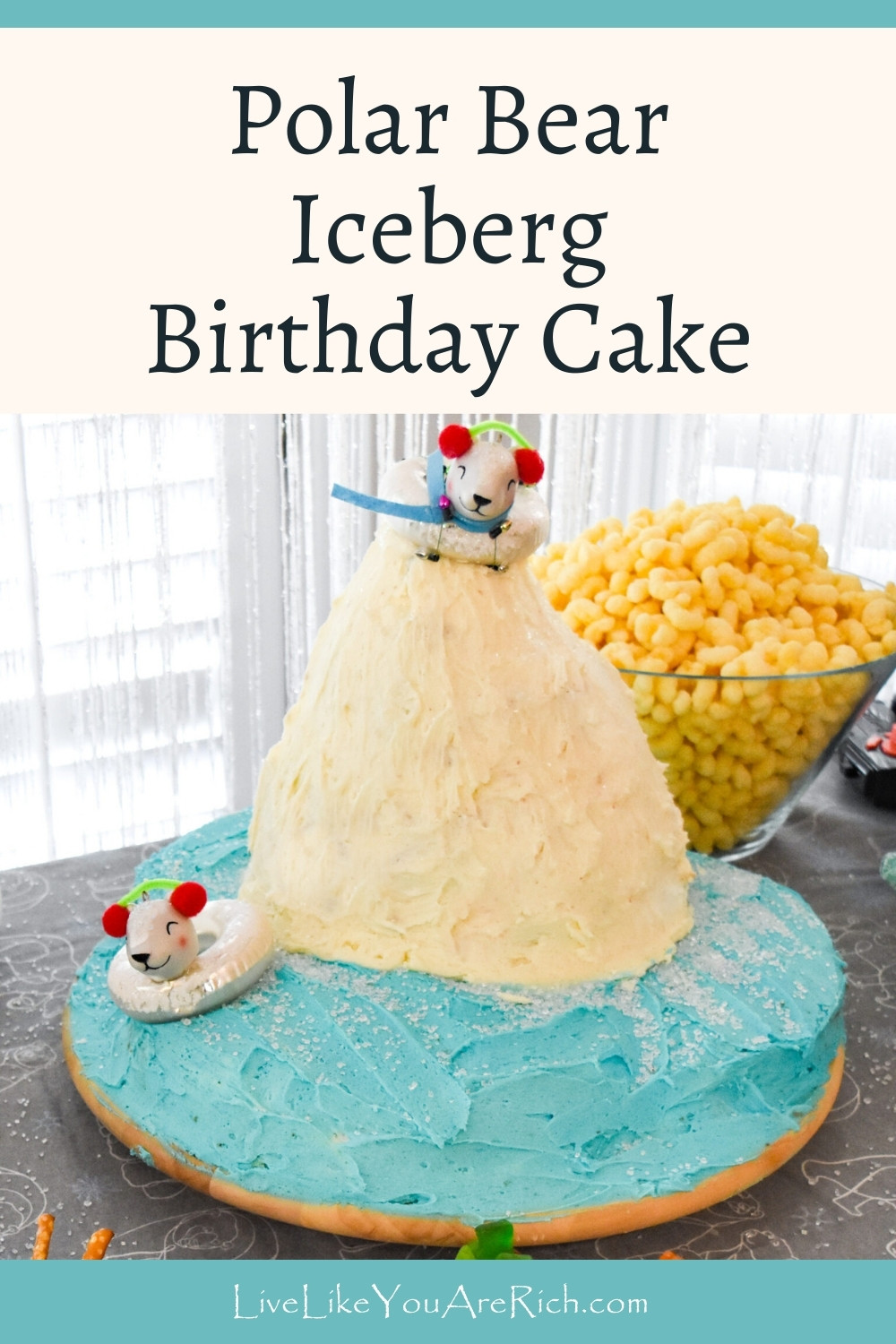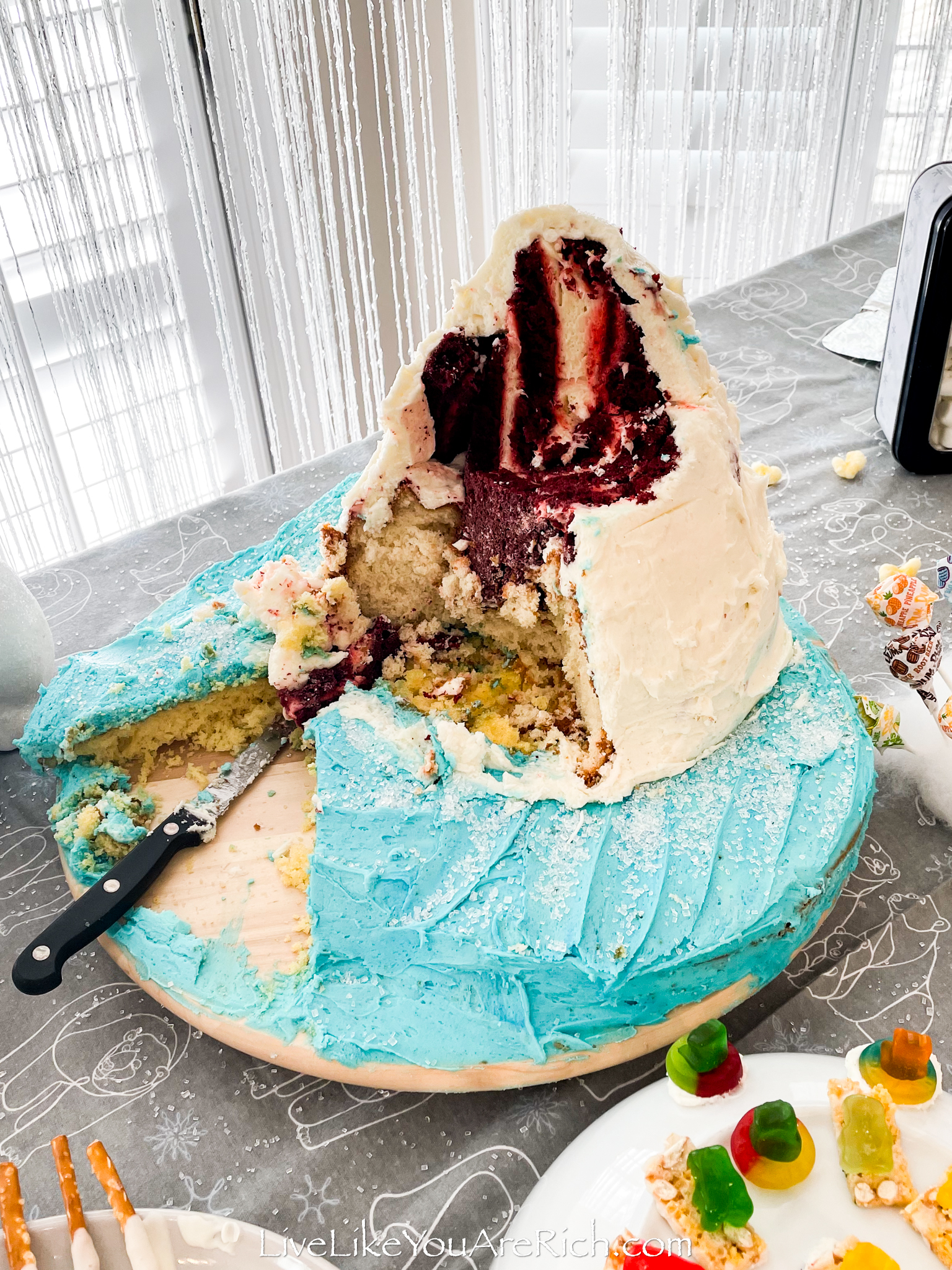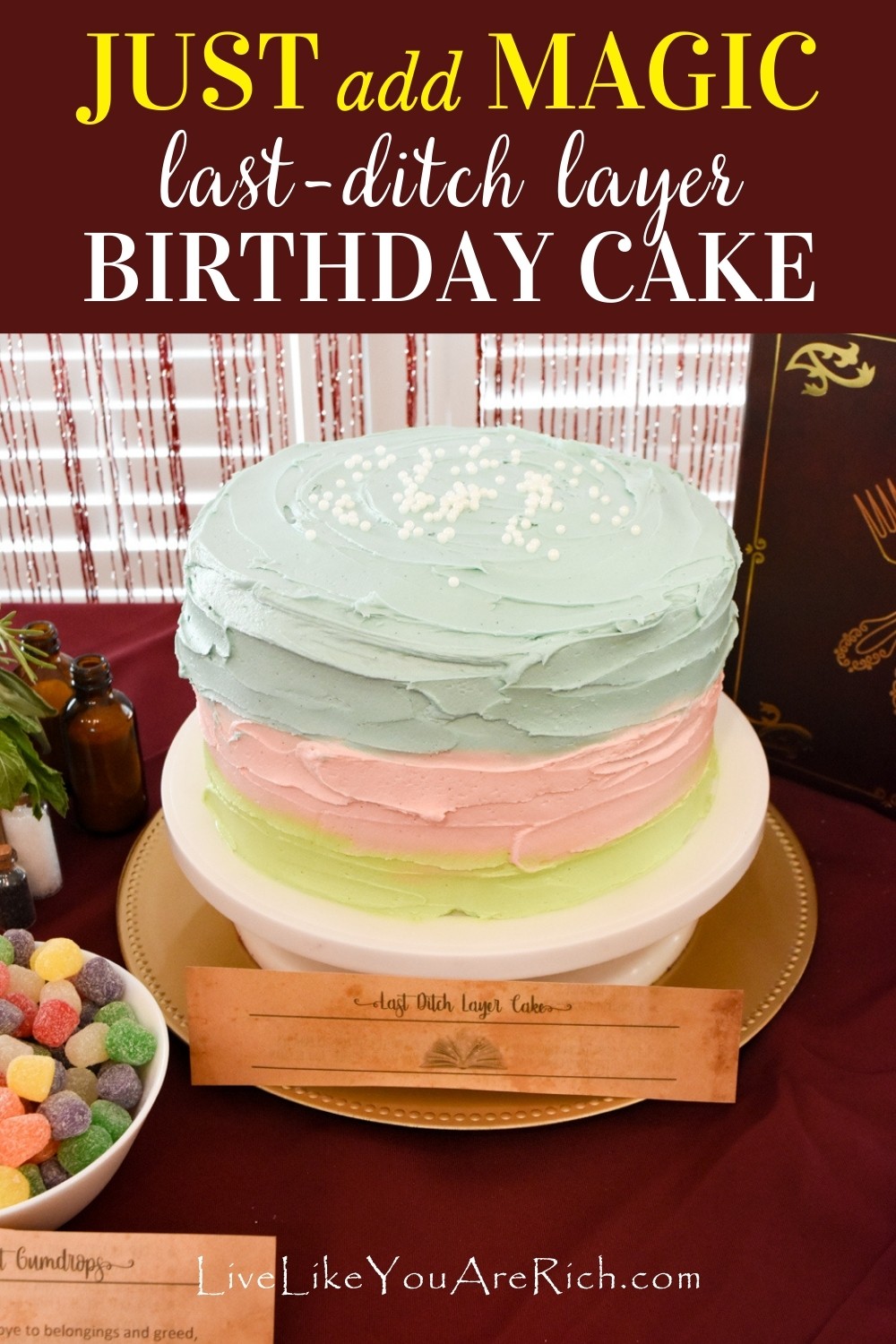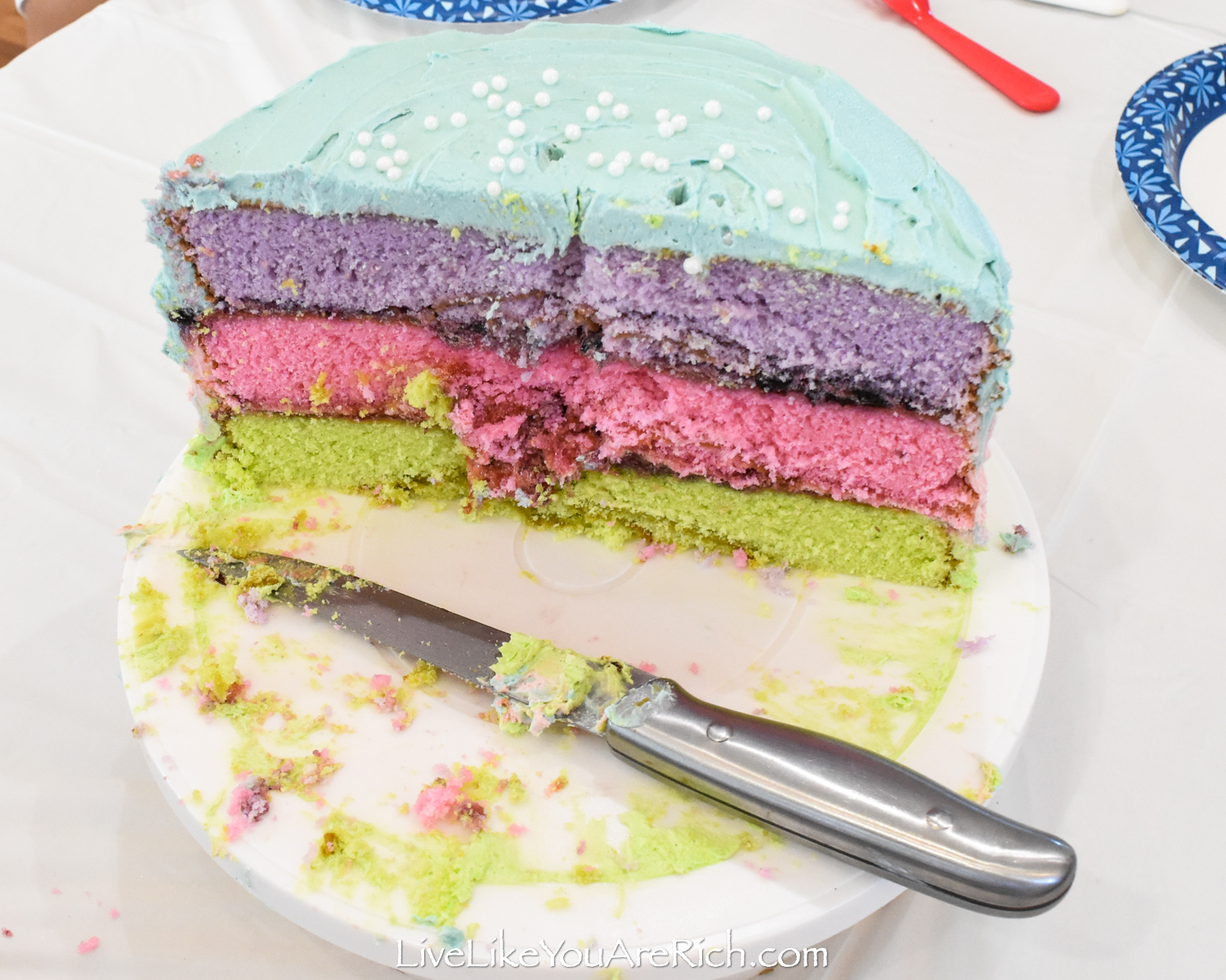 Peter Rabbit Fondant Vanilla Bean Cake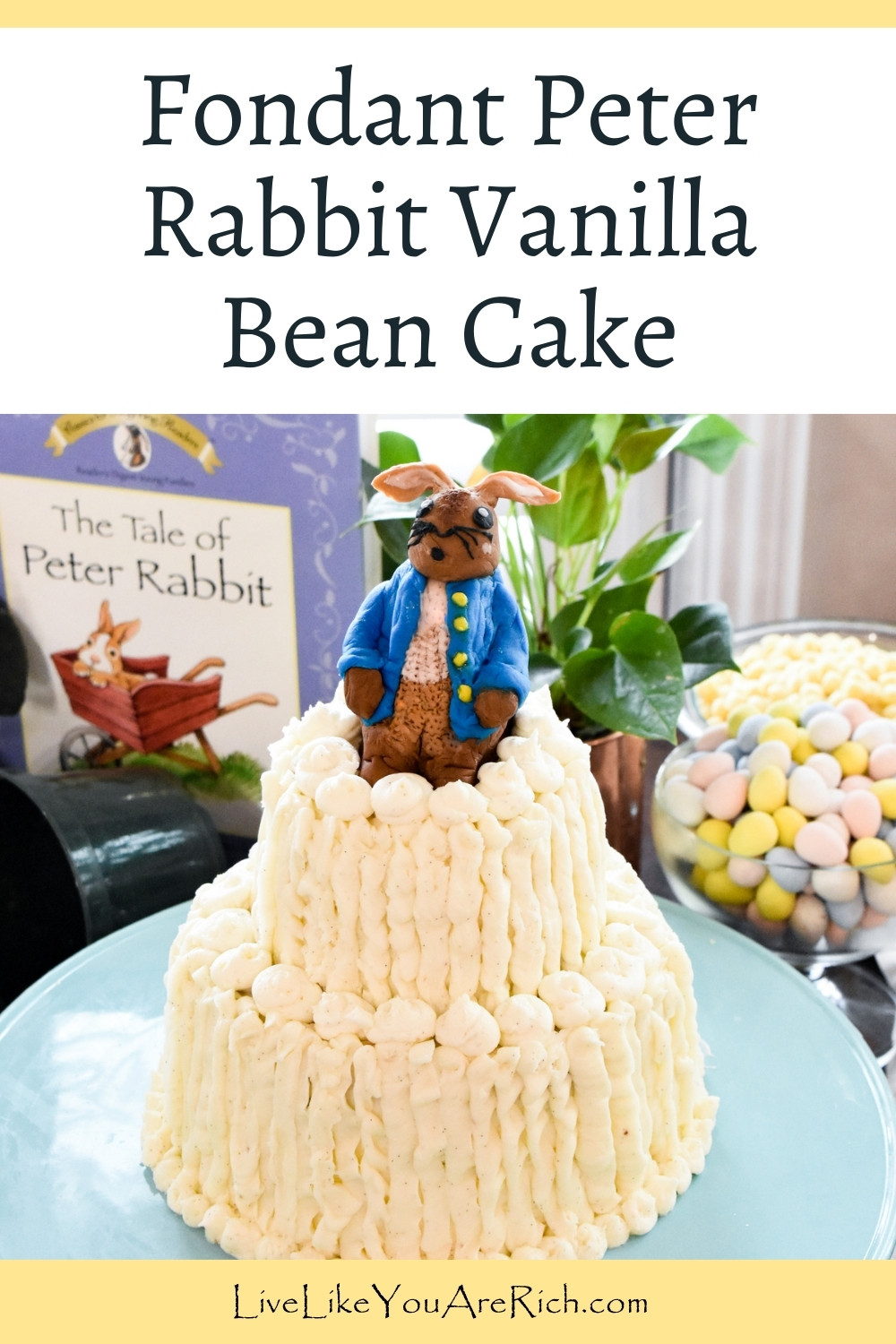 Mermaid Island Cake and Coral Cupcakes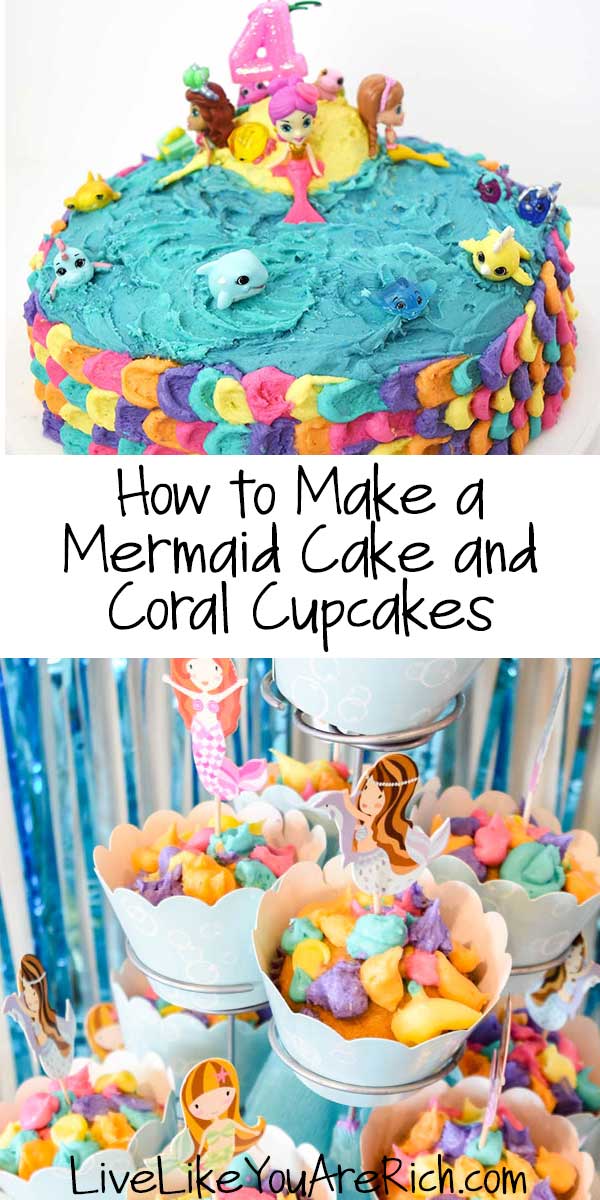 Isabella Cake- I haven't posted on how to make this yet (coming soon).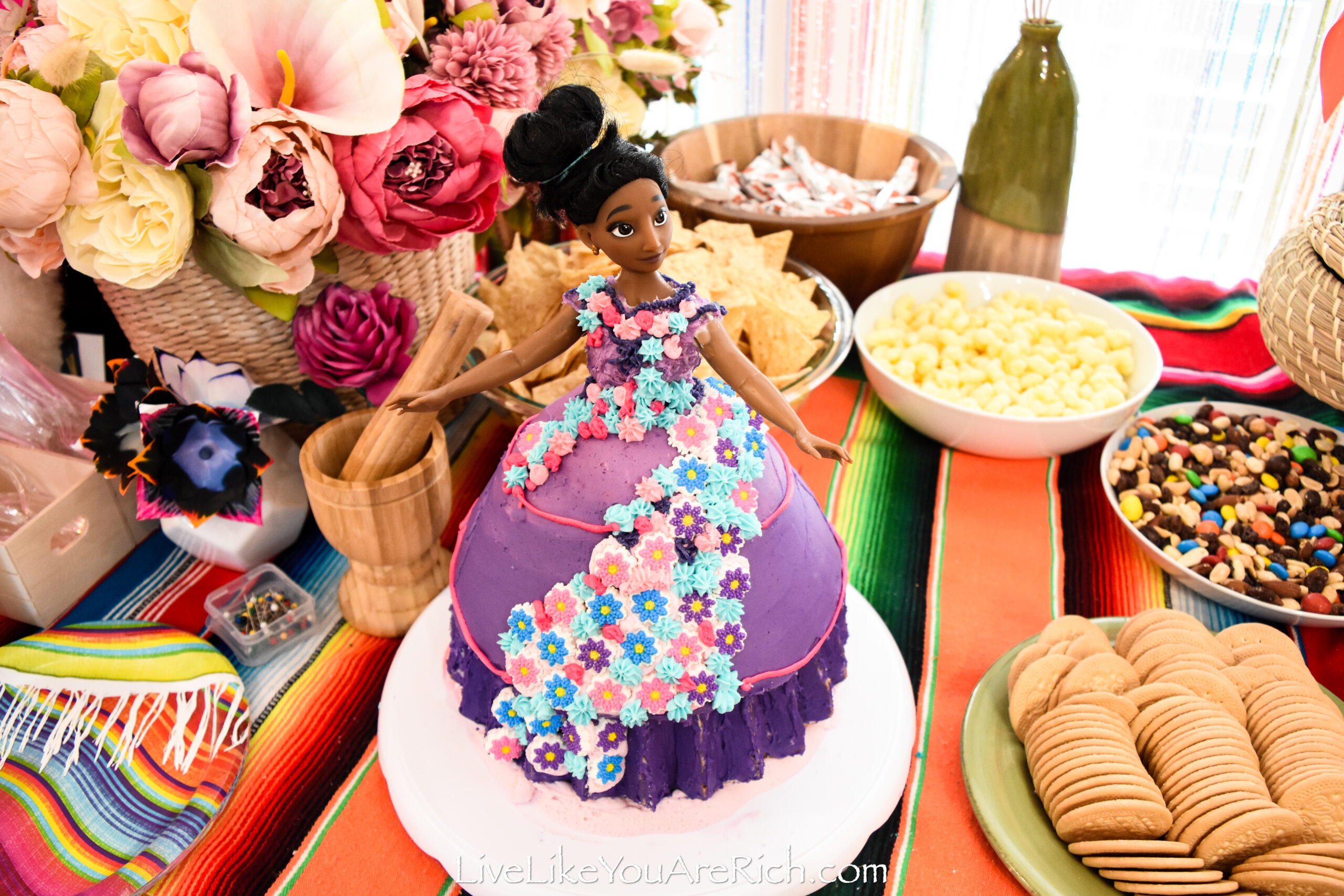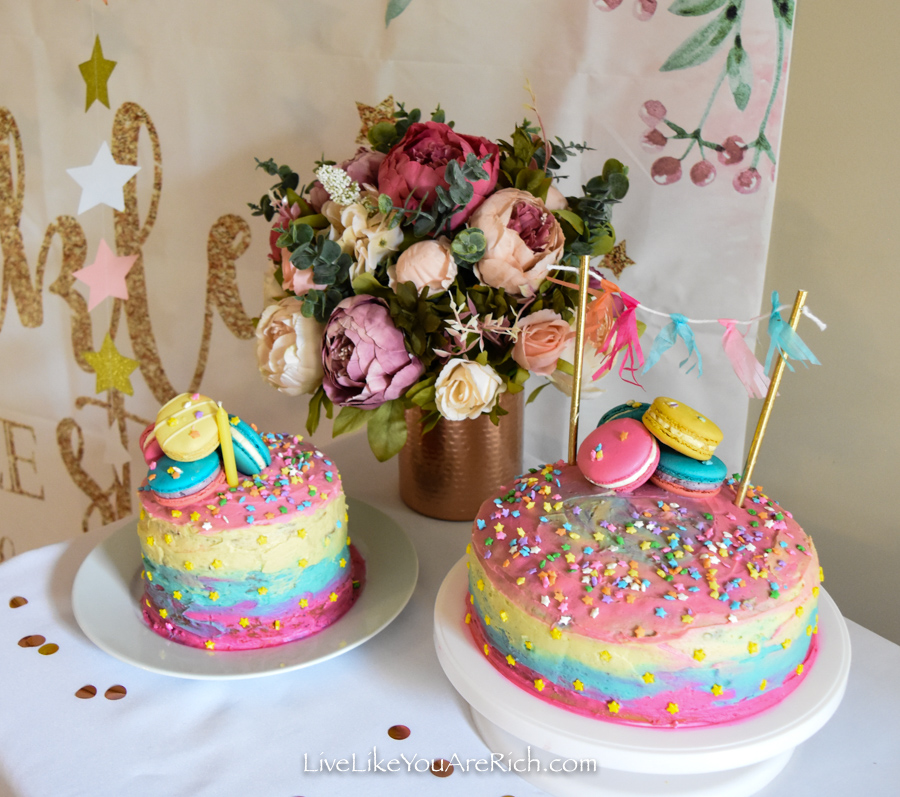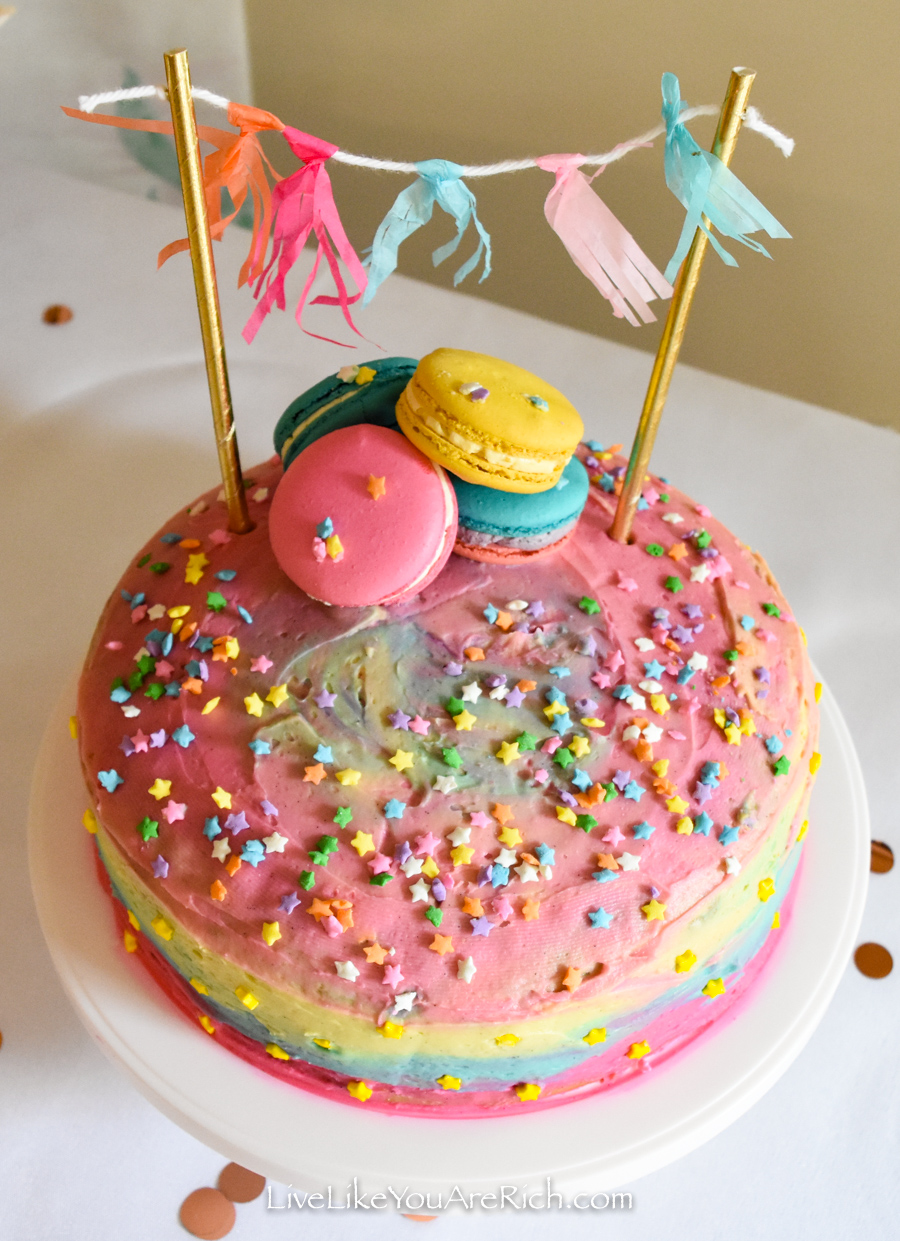 Sky Paw Patrol Explosion Cotton Candy Cake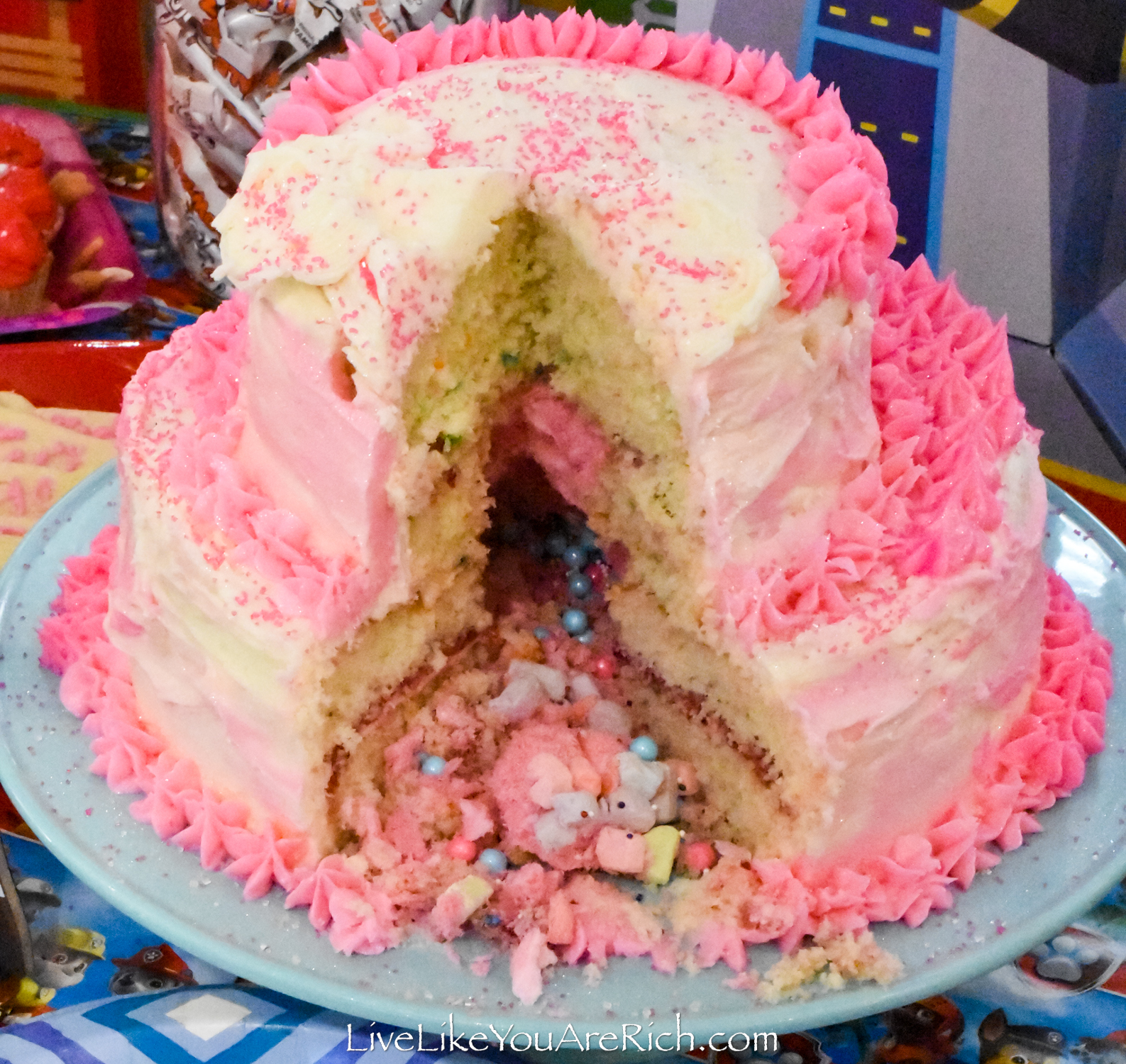 Kitty Cat Cake (I haven't posted this one yet).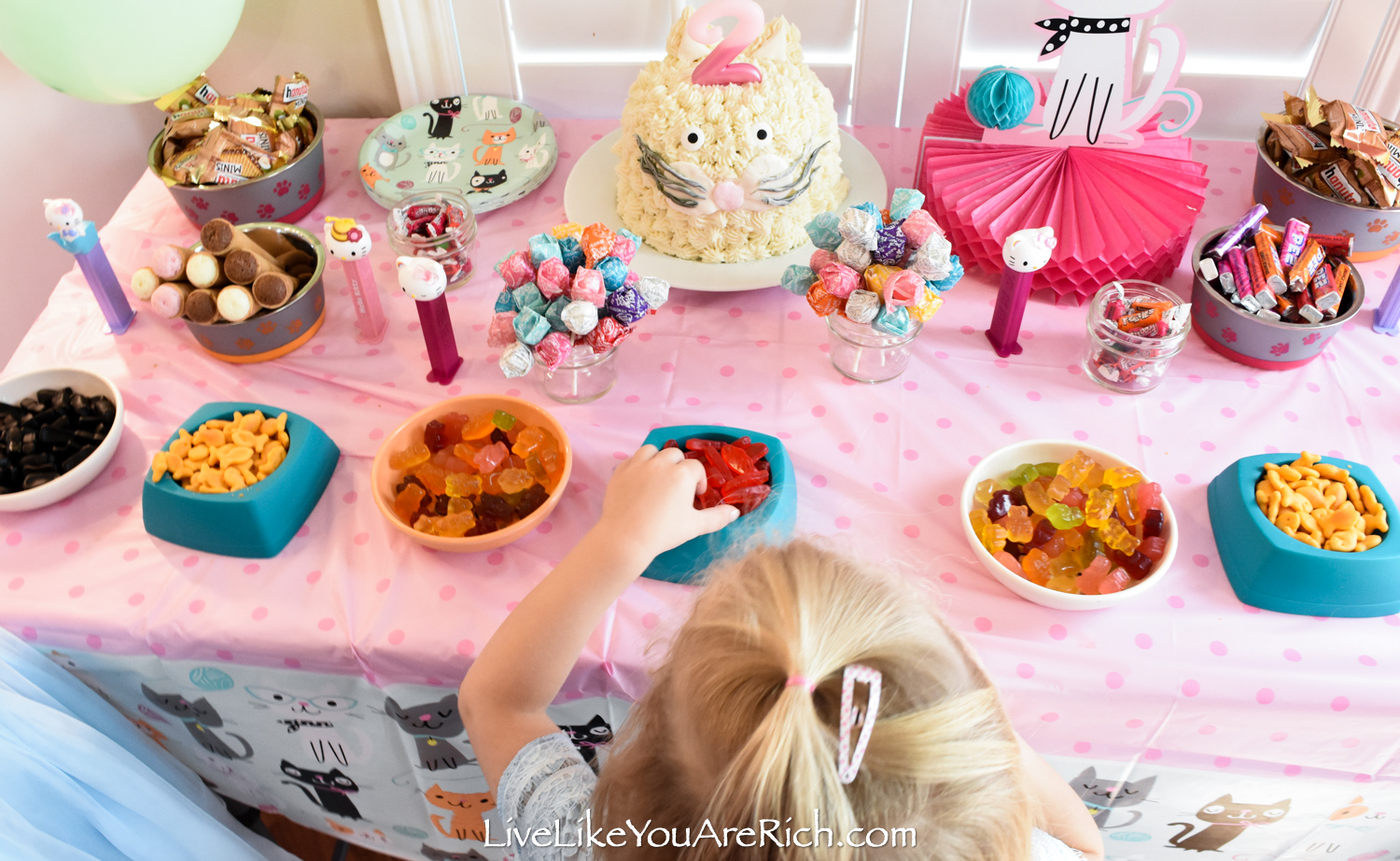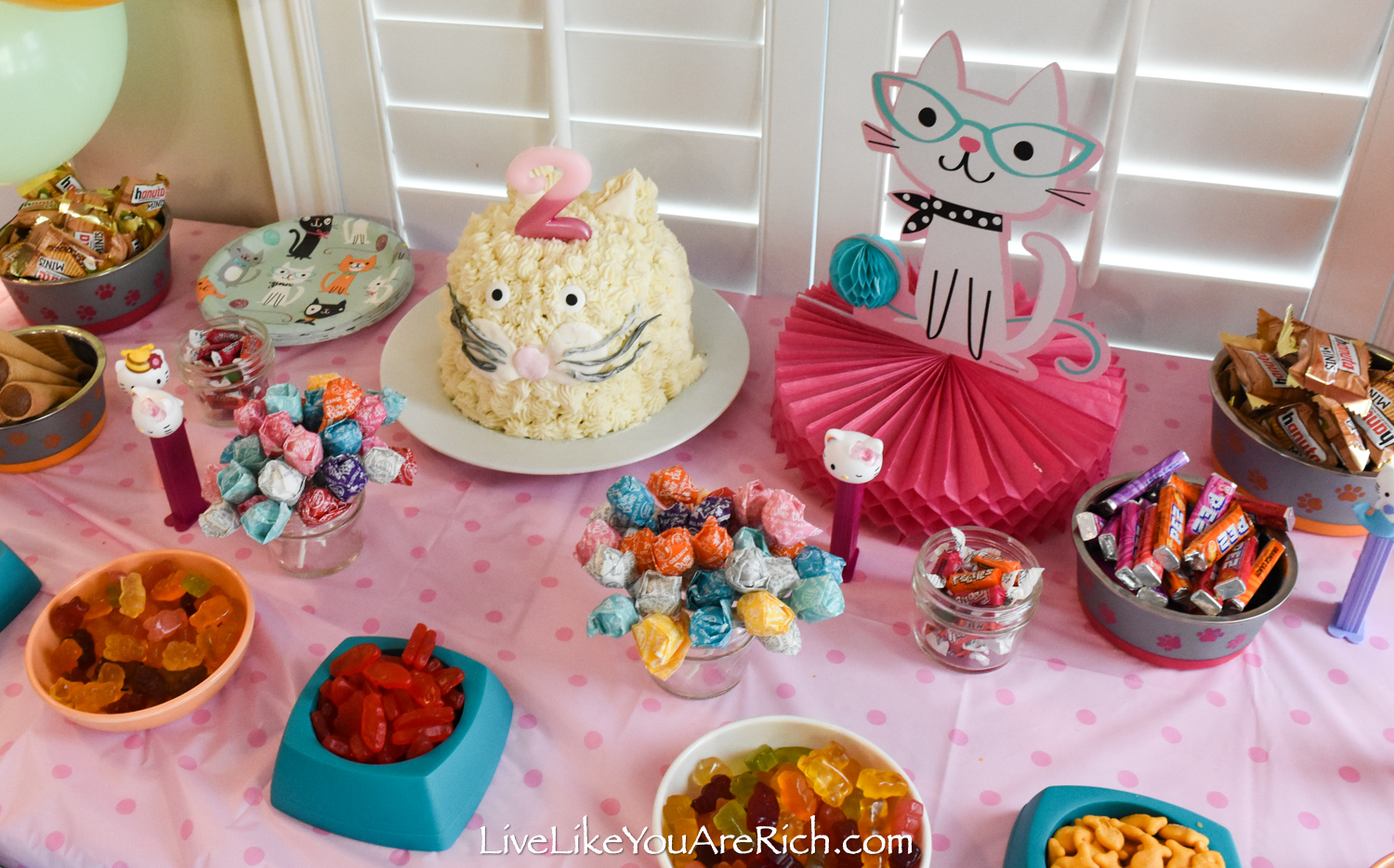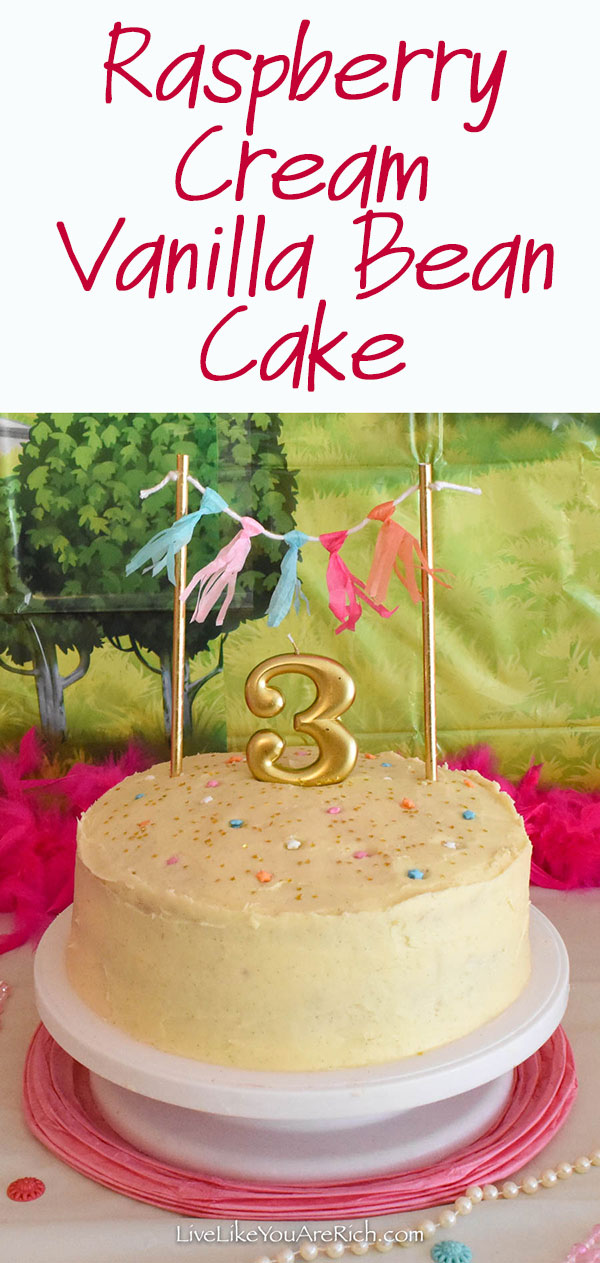 I've made many more but those are some of the better cakes I've made. As mentioned, the more cakes I make, the better I become at it, and while not a professional baker, the kids at my children's parties have LOVED the cakes I've made.
Don't be afraid to try your hand at cake making. In addition to YouTube tutorials, I hope the video and photo tutorials I have here on my blog are helpful as well.
You can also just upcycle/decorate a store-bought cake.
Here are a few store-bought cakes that I bought when the price had been right and/or the time had been short for party prepping.
I just added things to the cake so that they fit the theme of the party…
Just add a toy topper to a cake:
Sprinkles and safari animals can turn a plain white cake into a themed cake that matches your party.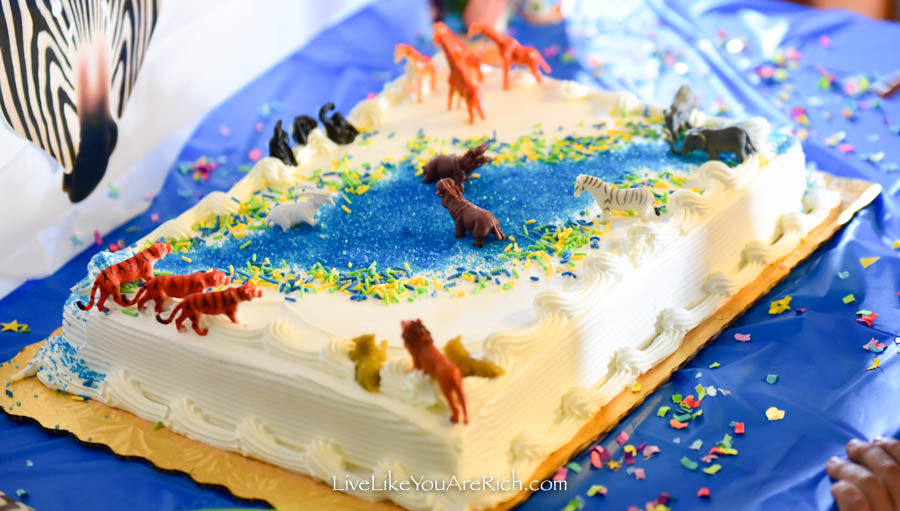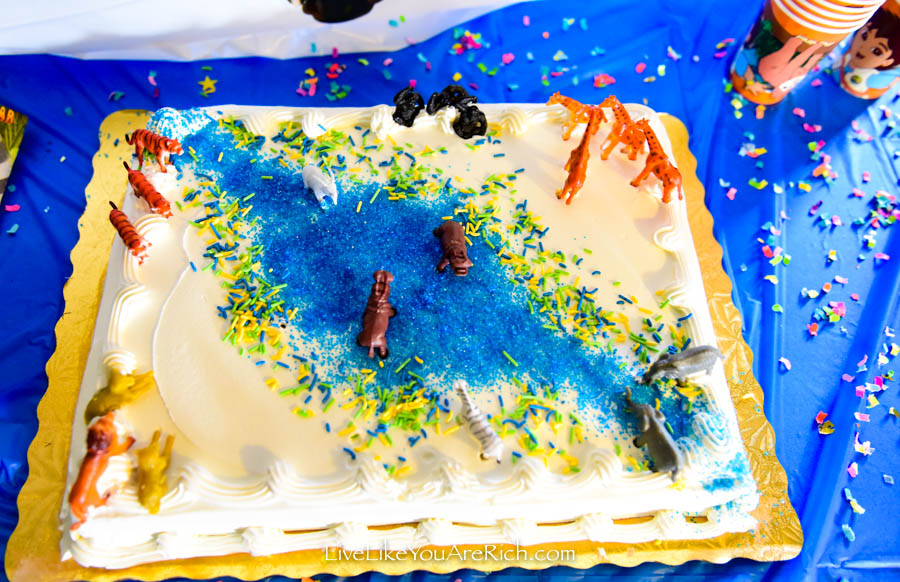 You can also just add a few candles or items to match the party color scheme.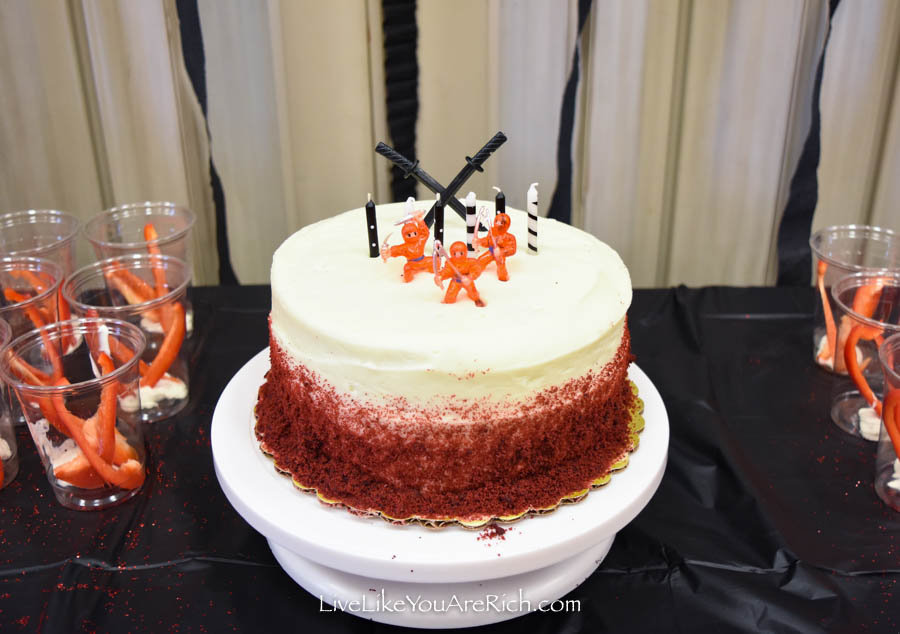 Some bakeries discount cakes that have been there a few days.
When I see a nice cake on clearance and there is a party coming up (within two-three months and it will match my party theme), I buy and freeze it.
I often get lovely cakes like this blue and yellow cake for a few dollars. I take the frozen cake out a day before the party and put it in the fridge to defrost it and then I let it sit out a few hours before the party to fully defrost. I often add items to it to match the theme.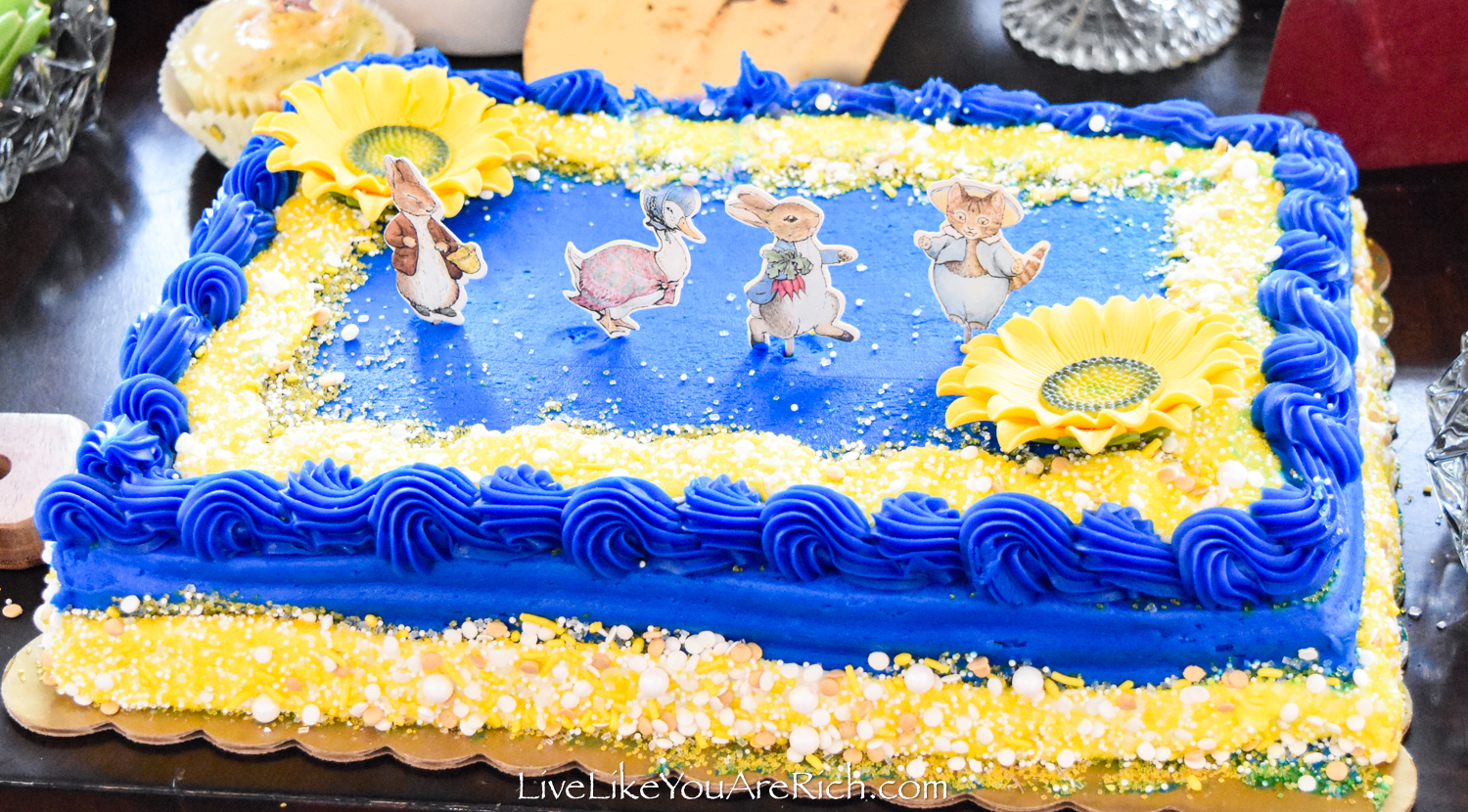 This cookie cake was only $2.00 on clearance; it froze and defrosted well, and was delicious.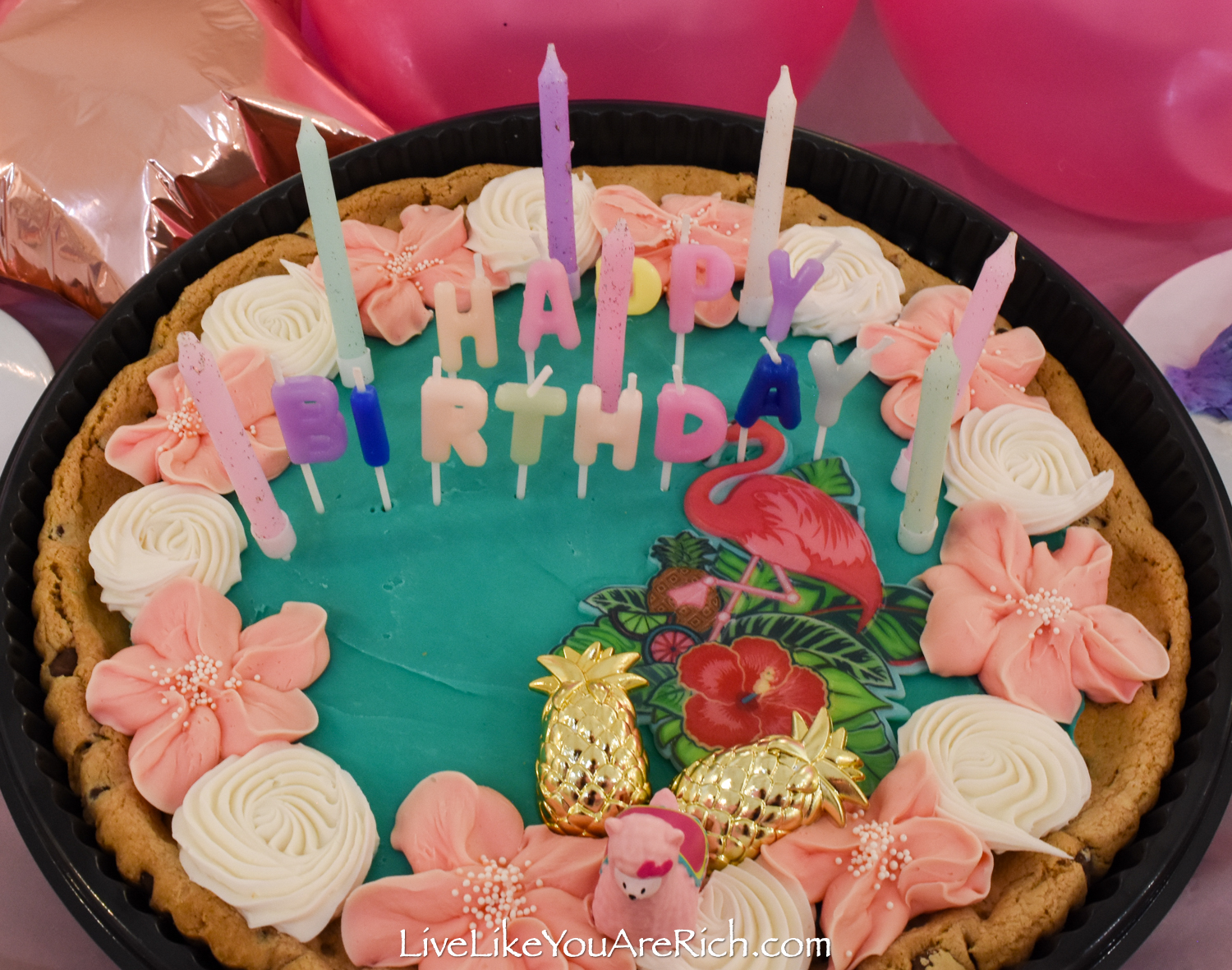 8- Make decorations that you can create yourself.
You'll want to make what you can yourself to stretch the budget.
My daughter and I made this banner for the Encanto party.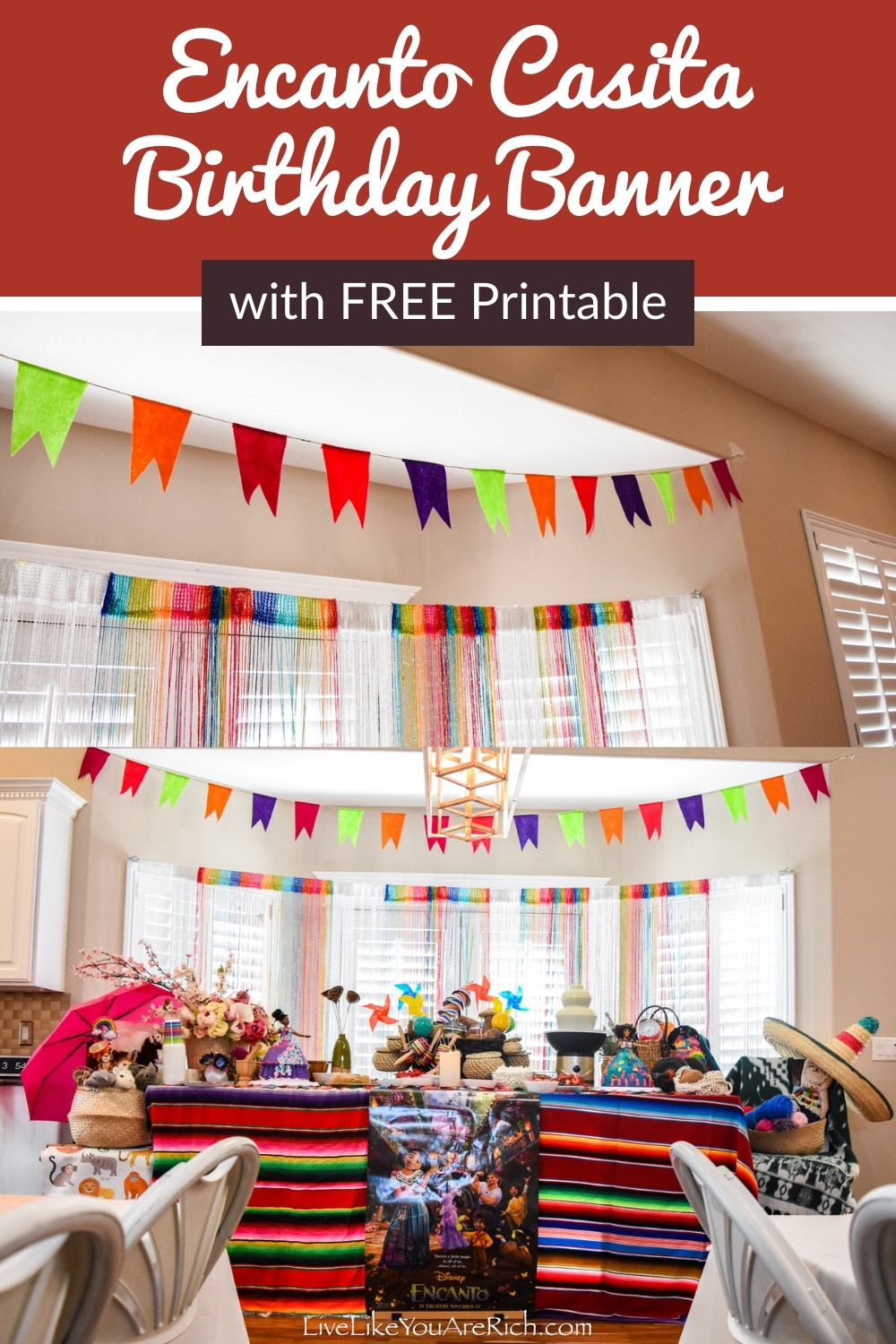 We also made party hats.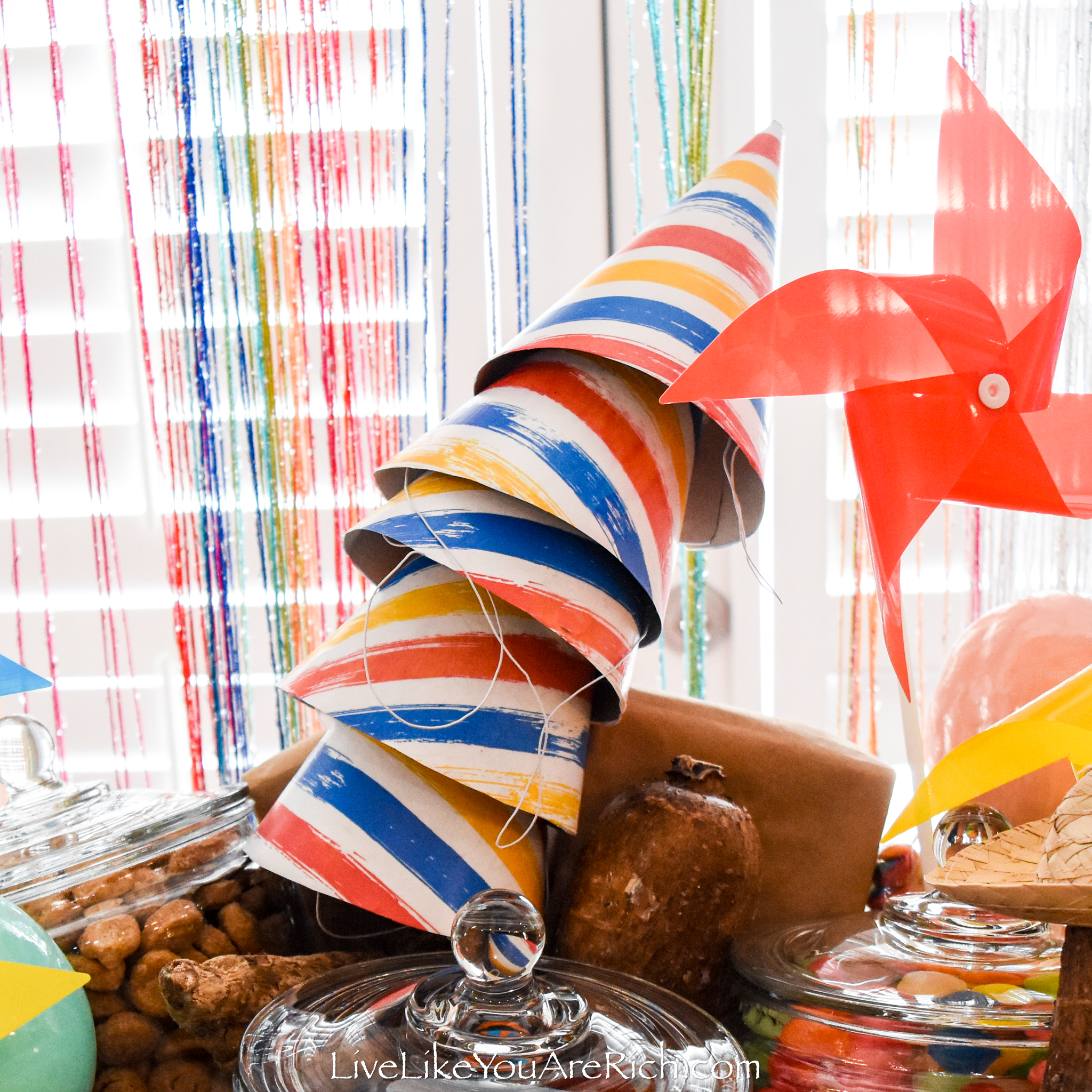 My daughter and I made these baskets for the Peter Rabbit DIY MINI burlap baskets for party favors.
Anything you can make with inexpensive items or items you already have on hand will save you money and stretch the budget you are working with.
I always look in my craft bins and party bins before I start buying decorations for a party. I'm amazed at what I find and can use/repurpose or make for the party.
9- Buy items that you can reuse for future parties.
For my daughter's Just Add Magic Party, I bought a sparkle rope backdrop and have been able to reuse these for multiple other parties.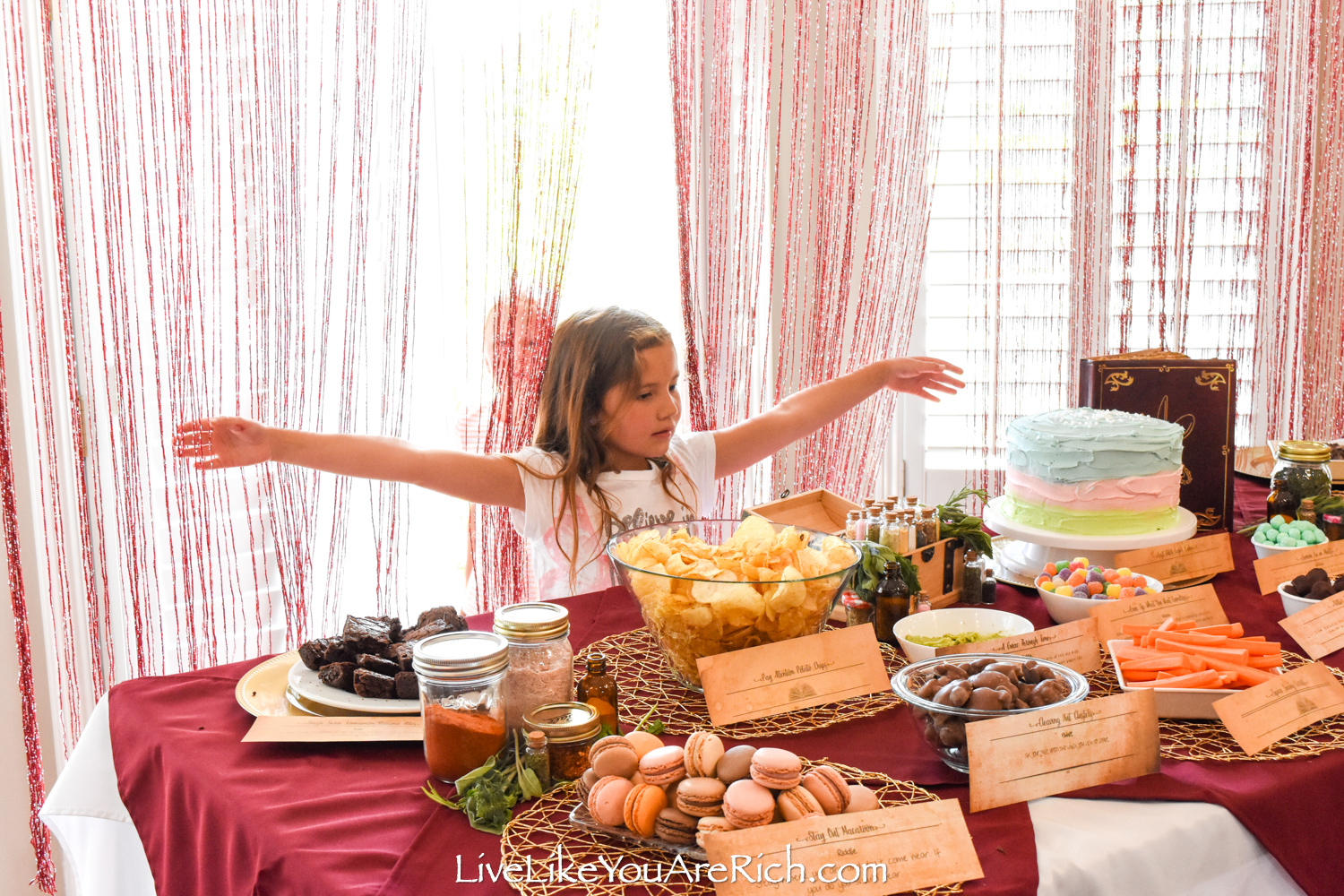 Because I was able to reuse the sparkle curtains for the Paw Patrol Party I was able to fit the balloon arch into my budget.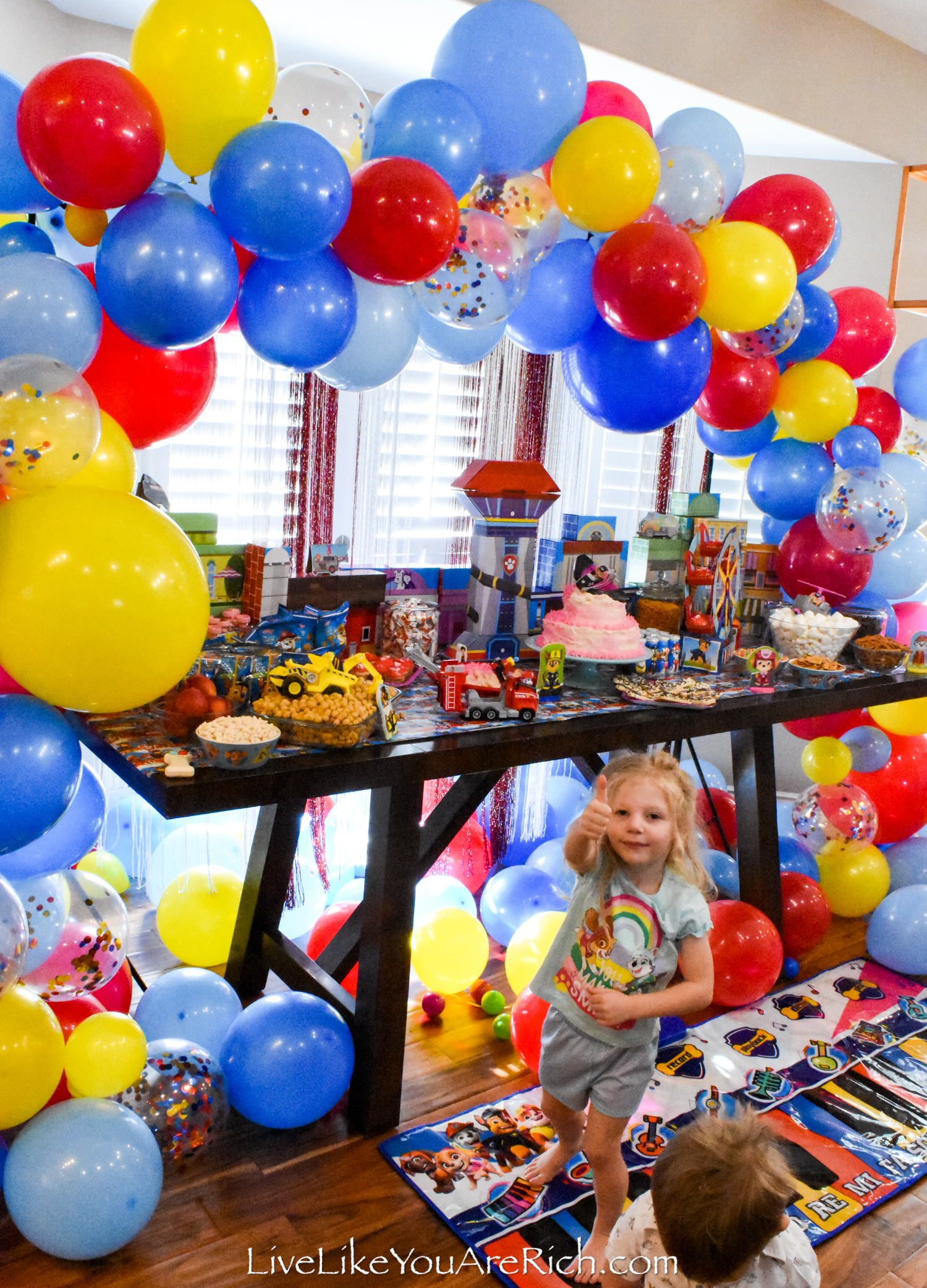 I'm working on my son's woodland 2nd birthday party right now and I'm planning on making many of the decorations out of items in our yard to save on costs for that as well.
10- If you plan to hold multiple parties at your home, invest in tables and chairs.
When they went on sale, we bought 4 six-foot folding tables for under $50 each and we use them for most of our parties.
I also searched KSL (a local classified) until I found stackable folding chairs that an event company was getting rid of for $4.00 a chair. We bought 32 chairs and they stack so nicely they only take up about 4'x5′ of space in our garage.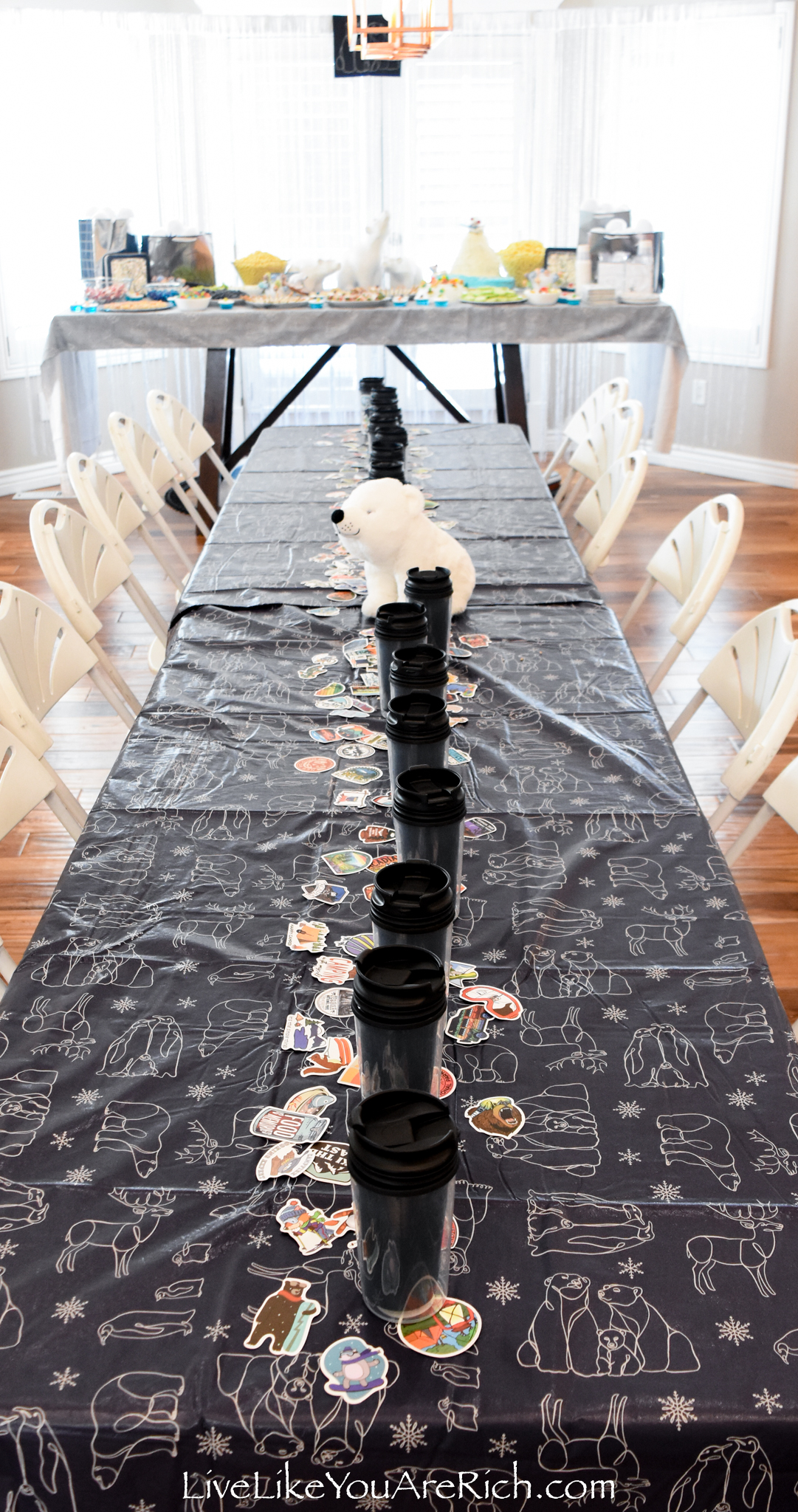 We use them all of the time for parties, holidays, showers, and get-togethers. We've also let the neighbors use them quite often. They've been a great investment.
11- Create a focal point and balance out decorations.
When you are decorating anything, you should create a focal point that draws the eye in and makes it so that the onlooker feels that there is a balance to the decor.
Examples of focal points can be a cake, a chocolate fountain, a tall item, or a banner.
The focal point for my son's Ninja party is the cake and added balance comes from the cupcake stand and the pinata on the ends of the tables.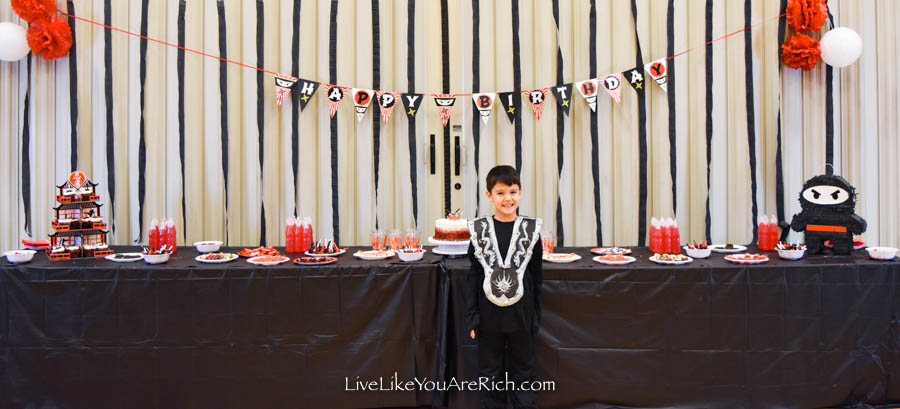 The focal point for the Encanto party is Mirabel's basket and poster. Added balance also comes from the umbrella and sombrero on the ends.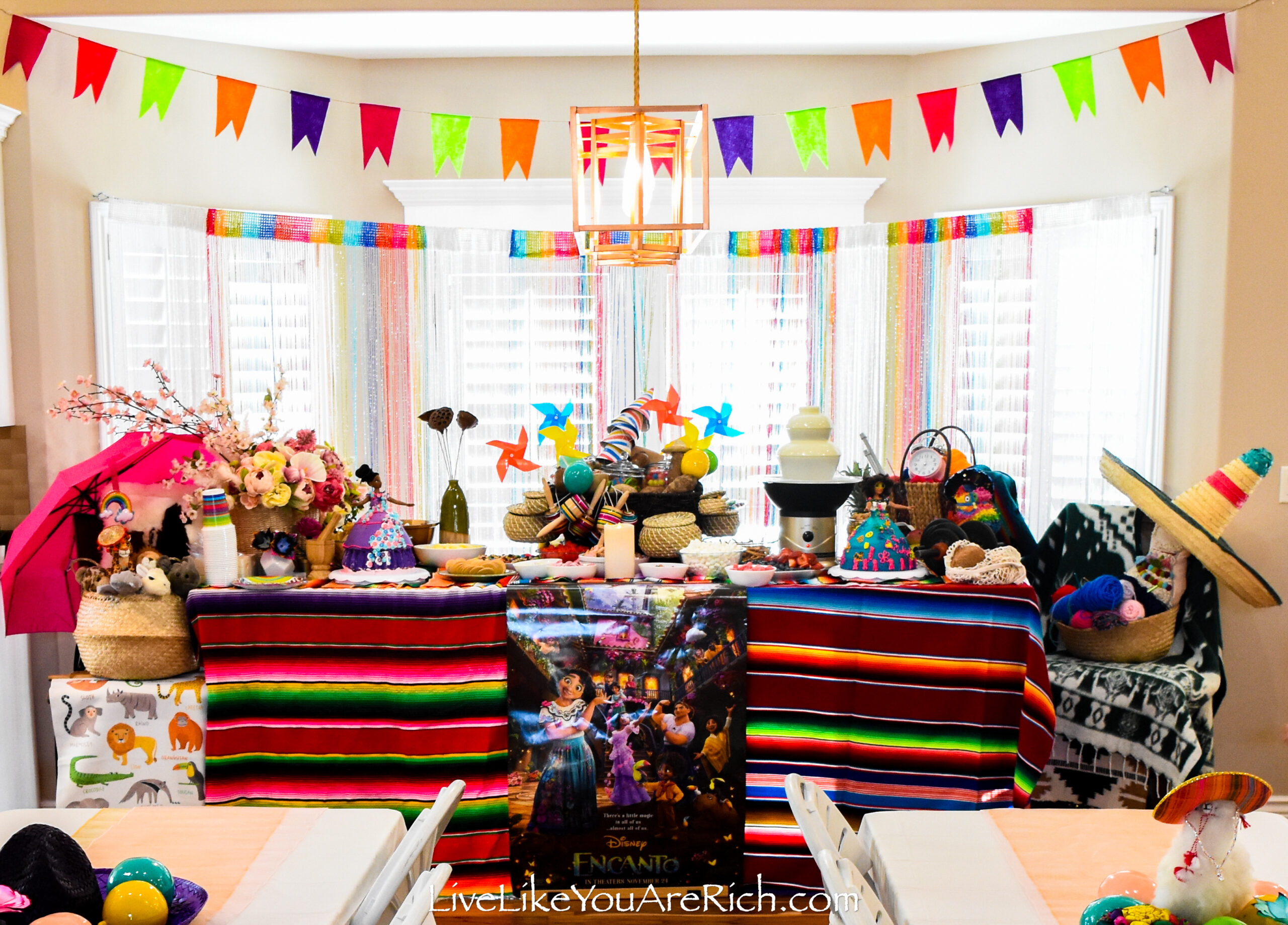 The focal point for the polar bear party was the polar bears and added balance comes from the cake and Kix bowl as well as the faux snowballs in polar bear bags on the ends of the table.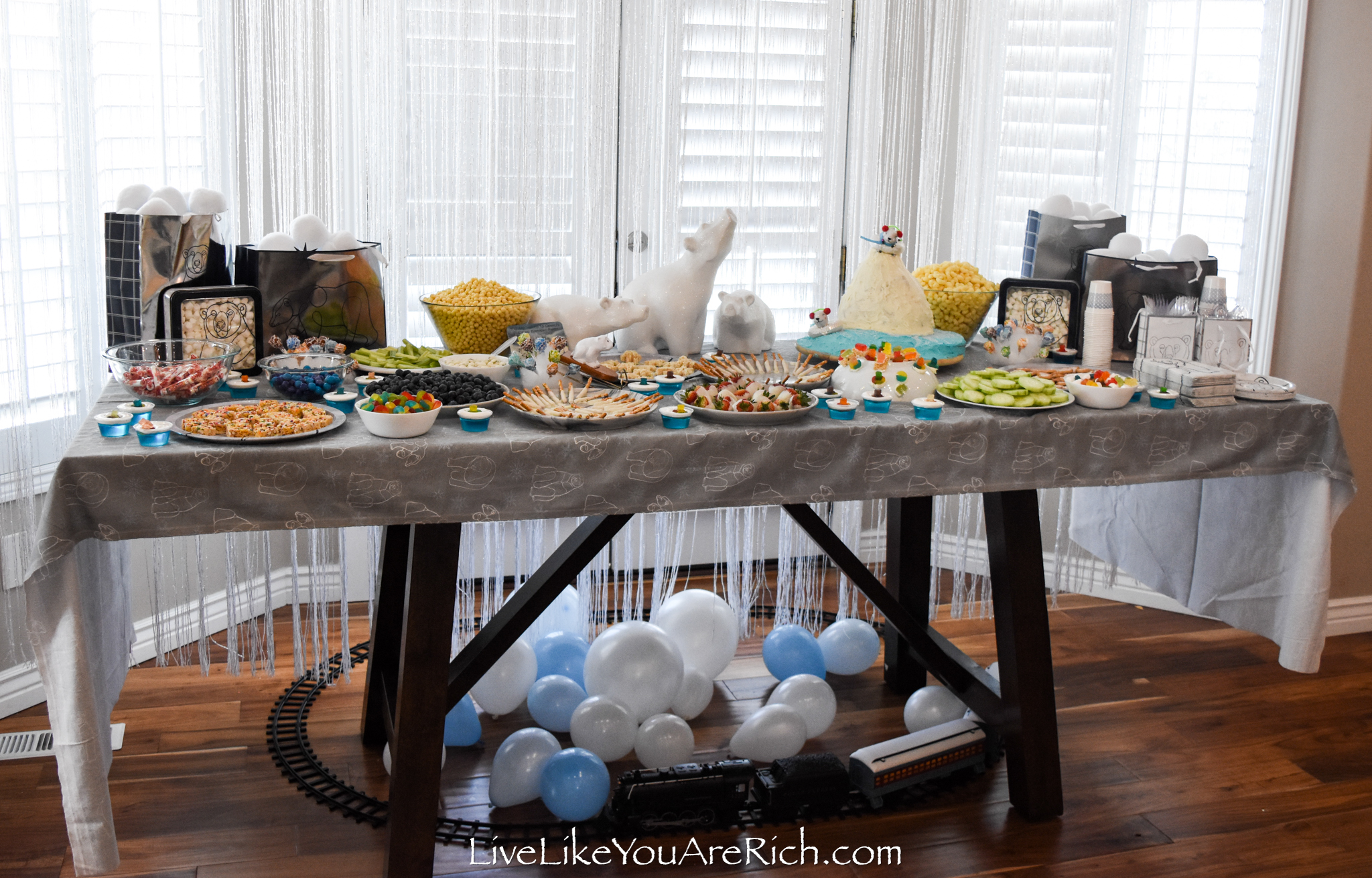 The focal point for the Just Add Magic party was the cake and recipe book added balance came from the popcorn and chip bowls.

The focal point for the mermaid party was the backdrop panel and the cake with the cupcakes and fruit roll-up coral display adding balance.
If I were to change anything about this party and set it up it would have been to add the Chinese lantern jellyfish onto/in front of the blue shimmer curtain on the wall this would have added a better balance and tightened up the space a bit.
12- Shop around for the best deals on items.
In-store, I've found that Dollar Tree, Walmart, Zurchers, JoAnn, Michaels, Hobby Lobby, and Target have great items for parties.
Online I've found that Dollar Tree, Amazon, Walmart, Oriental Trading, Etsy, JoAnn, Michaels, and Hobby Lobby are some of my favorite places to find items for parties.
The nice thing about the internet is that you can compare prices and read reviews in such a way that you can usually pinpoint the best deal for quality fairly easily.
The below kitty cat party was an impromptu party. Once we decided to have the party, I only had a day to plan. I ran to Zurchers, Walmart, and Target and had everything I needed for this cute little party in a few hours.
I made the cake from scratch and the rest I just set out.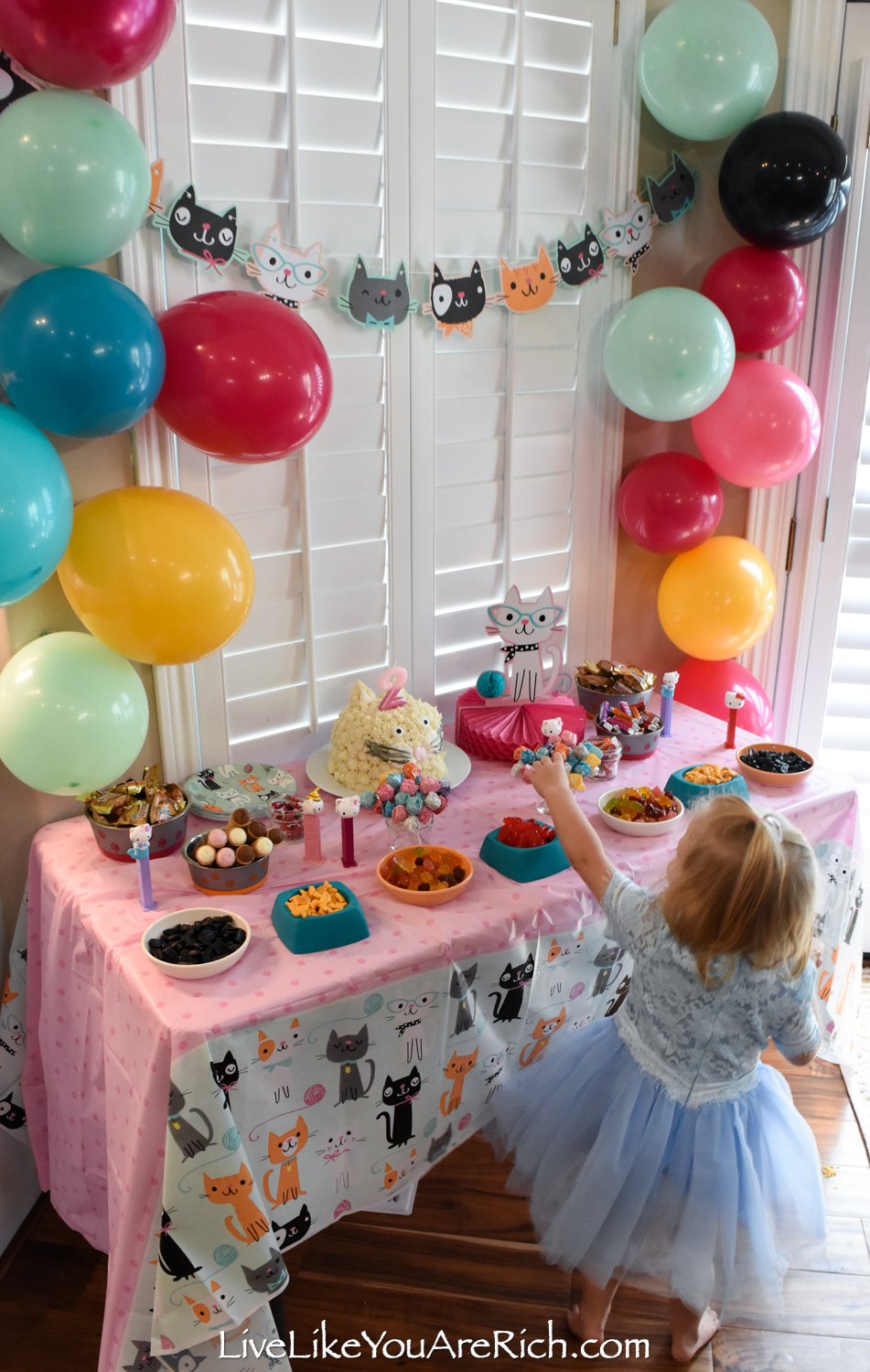 Another tip that sometimes works, is looking on Facebook Marketplace or in your local classifieds for people selling party decorations that match your theme.
13- Plan inexpensive and fun activities. Plan at least one art and craft activity that will double as a party favor.
For my daughter's medieval party, we made princess, dragon, and knight snow globes. Amazingly, my kids still have them 5 years later. This doubled as a favor for her friends.
At my son's sledding party, we made hot cocoa tumblers with stickers on them that doubled as one of the favors from the party.
At my daughter's Encanto party, we made pinwheels, maracas with stickers on them, and did a gift ceremony with personalized gift papers and a candle. These all were activities that also doubled as favors.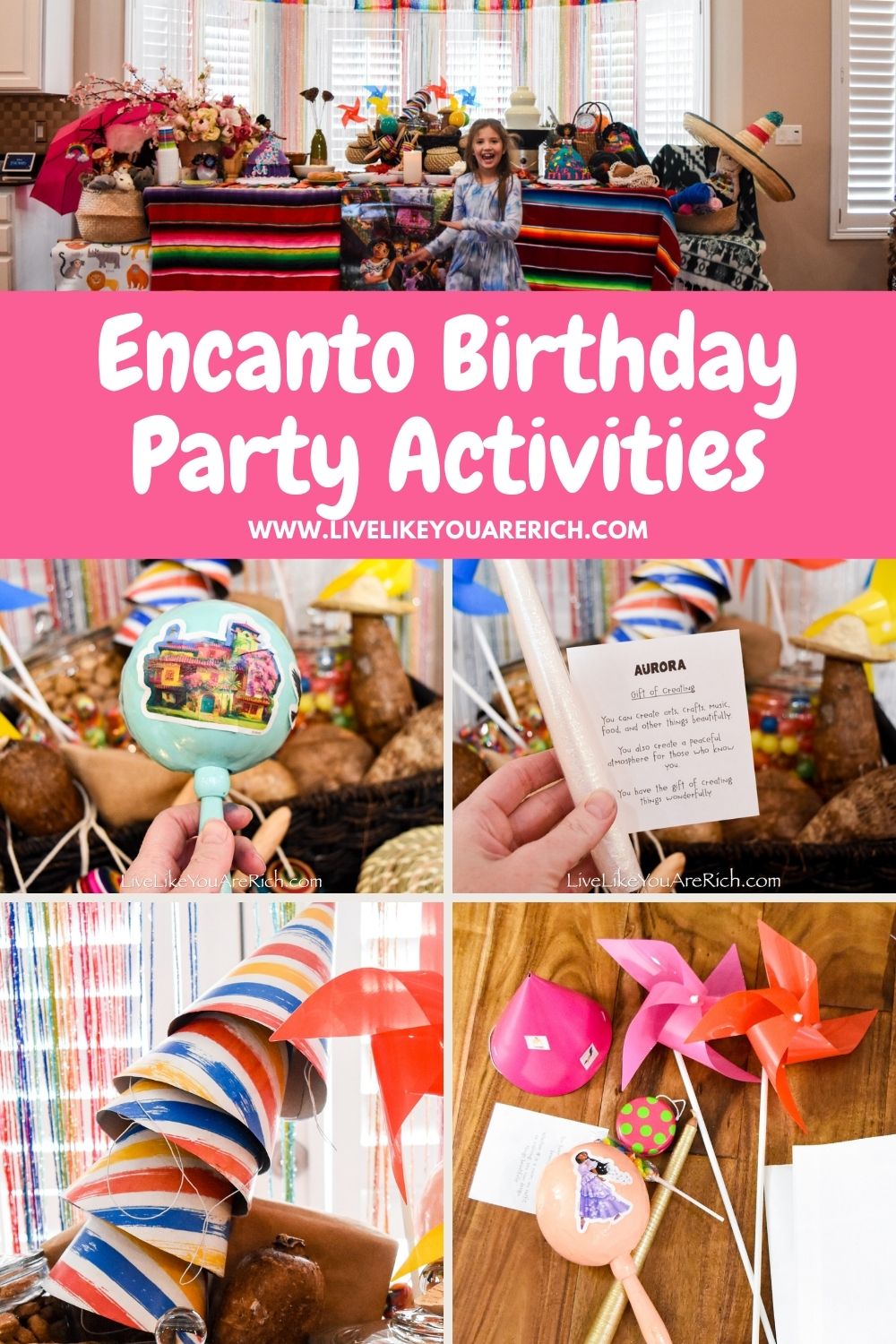 At the Wild Kratts party, the favor and activity were putting together mini block animals.
So, if you can, it saves money to have an art/craft activity that takes up time and doubles as the kid's favor(s), thereby giving you something to do to entertain and saving money on additional favors.
14- Plan inexpensive activities and have an activity you can add and one you don't mind dropping for a smooth party experience.
When planning activities, I always have two activities that I can either drop or add on.
For example, if I have too much time, I have an additional activity I can add on.
If I don't have enough time, I've saved one of my least favorite activities for the end and don't mind if I drop it.
Keep in mind, opening presents, eating cake, and snacks also need to be budgeted for time-wise.
Sometimes it's very difficult to know how long things will take.
When trying to think of inexpensive activities, google 'activities for a mermaid party', 'activities for a Wild Kratts party', etc. and see what the internet has to offer.
Also, asking your kids what they want to do is awesome.
Keeping notes on what other kids have done at bday parties and have liked is also a fantastic long-term way to keep a list of ideas to draw from when it's your turn to plan a party.
For my daughter's 4-year-old mermaid party activities, we had a bubble machine and played Pop the Bubbles. We used a sheet and beach balls and did a parachute beach ball activity, we did watercolor stained glass mermaid artwork, and made coral reefs from play dough and pipe cleaners, and beads. The activity I dropped due to lack of time was a sand art activity.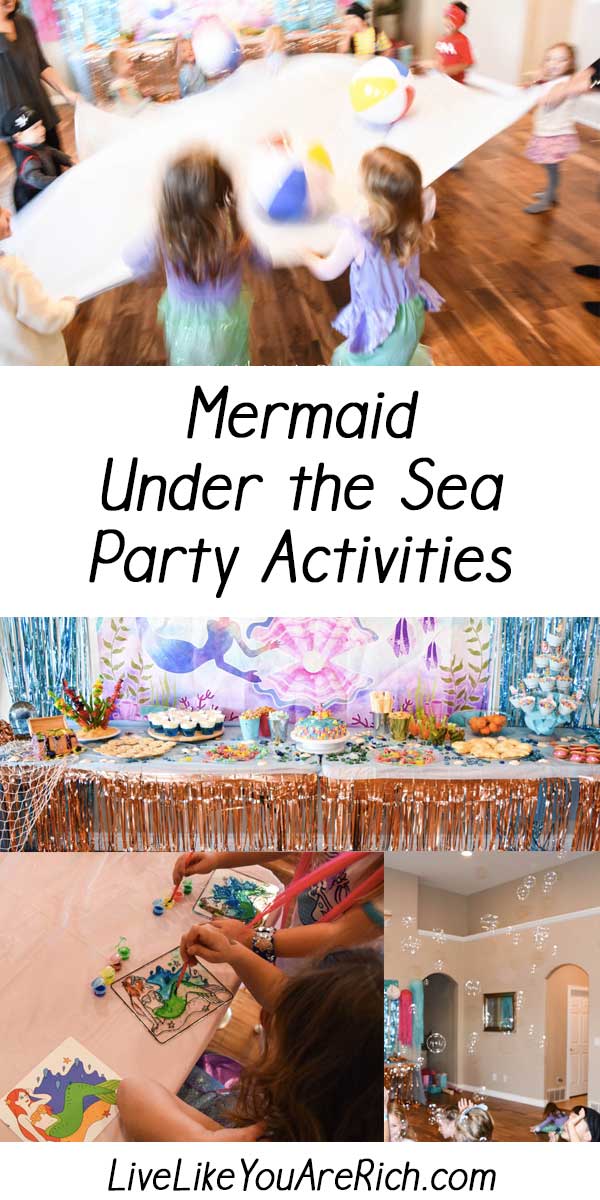 15- If you can, start planning Early.
To get the best deals and to create items for the child's party. I like to start planning at least 3-4 weeks in advance.
If your party is sooner than a month away, don't worry, you can still plan an inexpensive party.
I've thrown many parties with just a day or two notice—this is usually due to the family saying they are coming over and realizing it will be the best time to celebrate one of my kids' birthdays.
However, the best parties I've done, I've planned out for at least a few weeks.
I just find it easier to get good deals and make items needed when I have lots of time to search and to get started on a few of the DIY projects in advance.
16- Recruit helpers for a party with a lot of kids.
Ask a friend's mom, or your parents, or mother-in-law, or a good friend to come and help with the party.
Things go so much easier if you have one adult to about 4 kids.
If you can fit it into the budget, hire a babysitter if you have young kids and are doing a party for older ones. It helps so much to not have to worry about younger siblings. I let my toddlers take part in some of the older kids' party activities but the babysitter can change diapers and take them to do something else if needed.
For some of the best-run parties I've done, I've had my husband there to help, a babysitter to help with the younger kids, and then at least two other adults to help with all of the activities, cake, ice cream, etc.
17- Make, and download a free template, or send out electronic invitations.
So many moms just send out Evite, text invites, or other electronic invitations.
If you want to send a hard copy, you can use Photoshop to make party invitations, find a free download on blogs like mine, or buy a cheap template from Etsy.
Shutterfly sometimes has offers like '12 free invites if you pay a nominal price for shipping' coupon codes.
There are a lot of ways to make or send out free or super inexpensive invitations.
I often make my own invites and print them on our home printer on regular or photo paper and mod podge them onto scrapbooking paper like this Encanto invite.
and this baby shower invitation.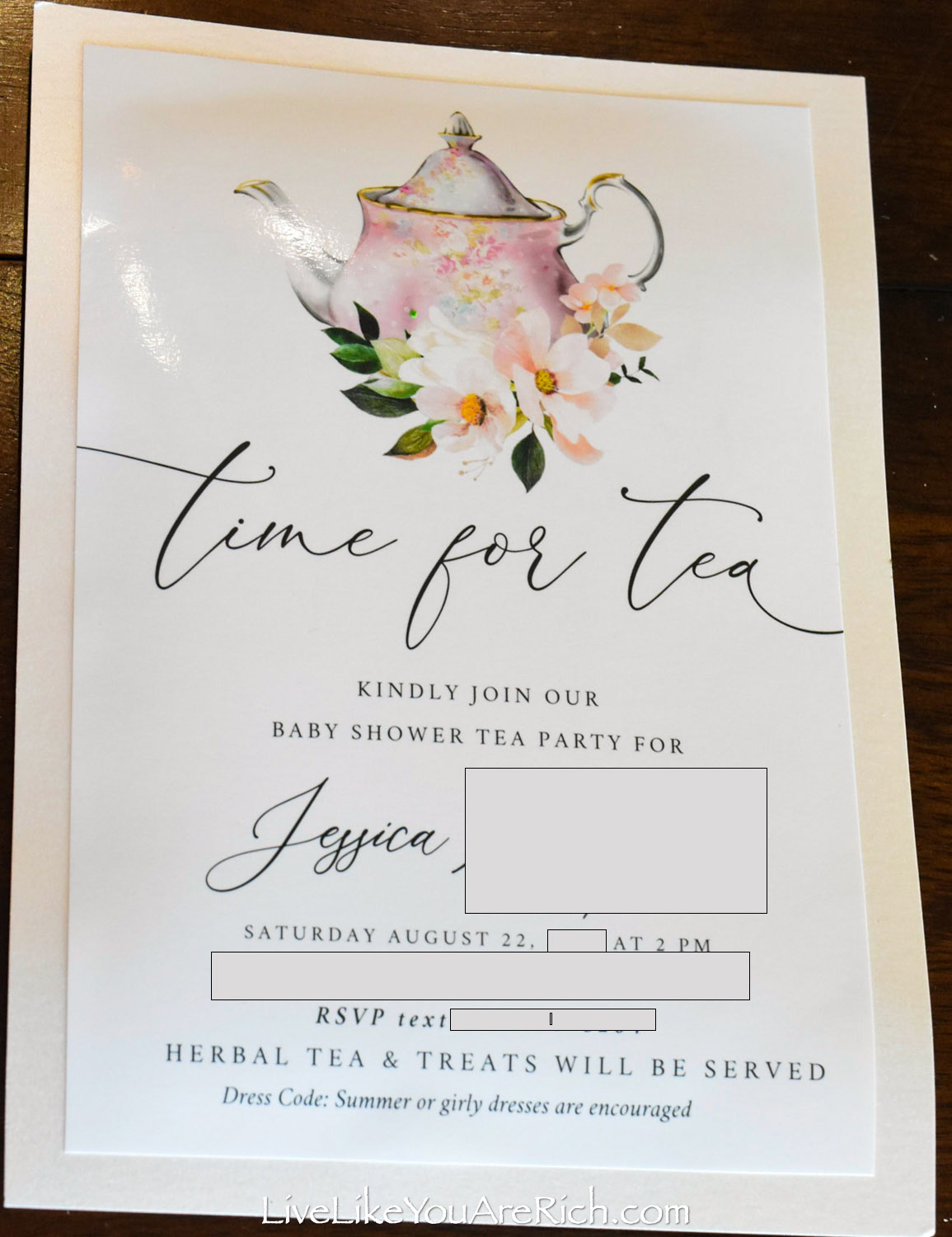 There are many ways to invite family and friends to a party inexpensively.
Bonus Tip- For a really enjoyable experience for your child consider your child's feelings, character, and disposition in the party plans.
One of my sons is an extrovert and the more friends at his parties the better. He likes lots of friends, noise, fun, and action.
One of my daughters is an introvert and I've realized that a smaller guest list and a quieter and less rowdy party is her preference.
So, keep your child's personality and preferences in mind when planning.
That's it!
What are some of your top money-saving tips for planning a kids' birthday party? Please leave them in the comments below.
I hope these 17 Tips on How to Plan an Inexpensive but Cute Themed-Party for a Child help.

For other 'rich living tips' please subscribe, like me on Facebook, and follow me on Pinterest, and Instagram.