Peter Rabbit 1 Year Old Birthday Party
Our son, Brighton, just turned one.
He is such a cutie and brings so much joy to our family.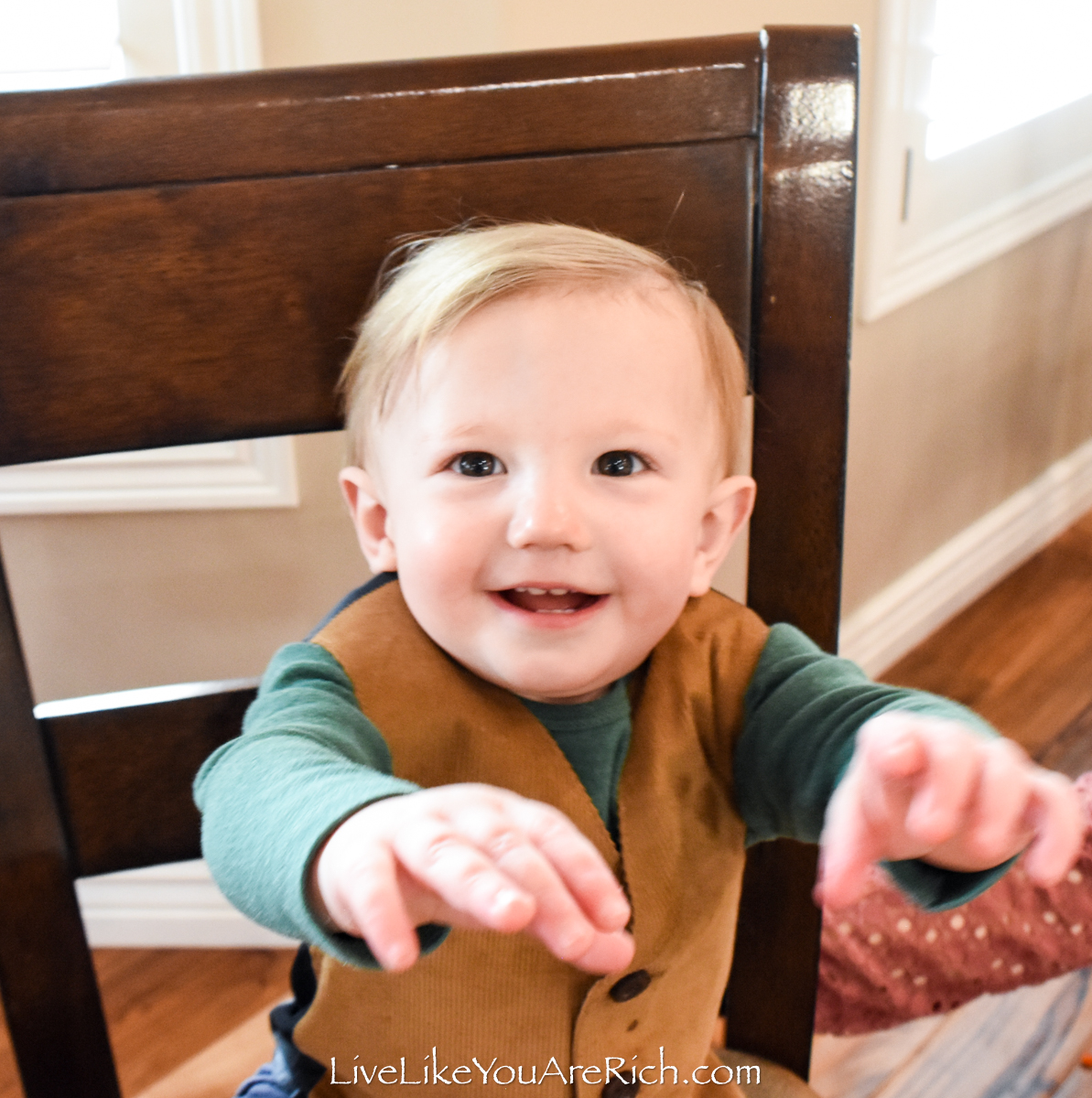 His oldest two siblings adore him.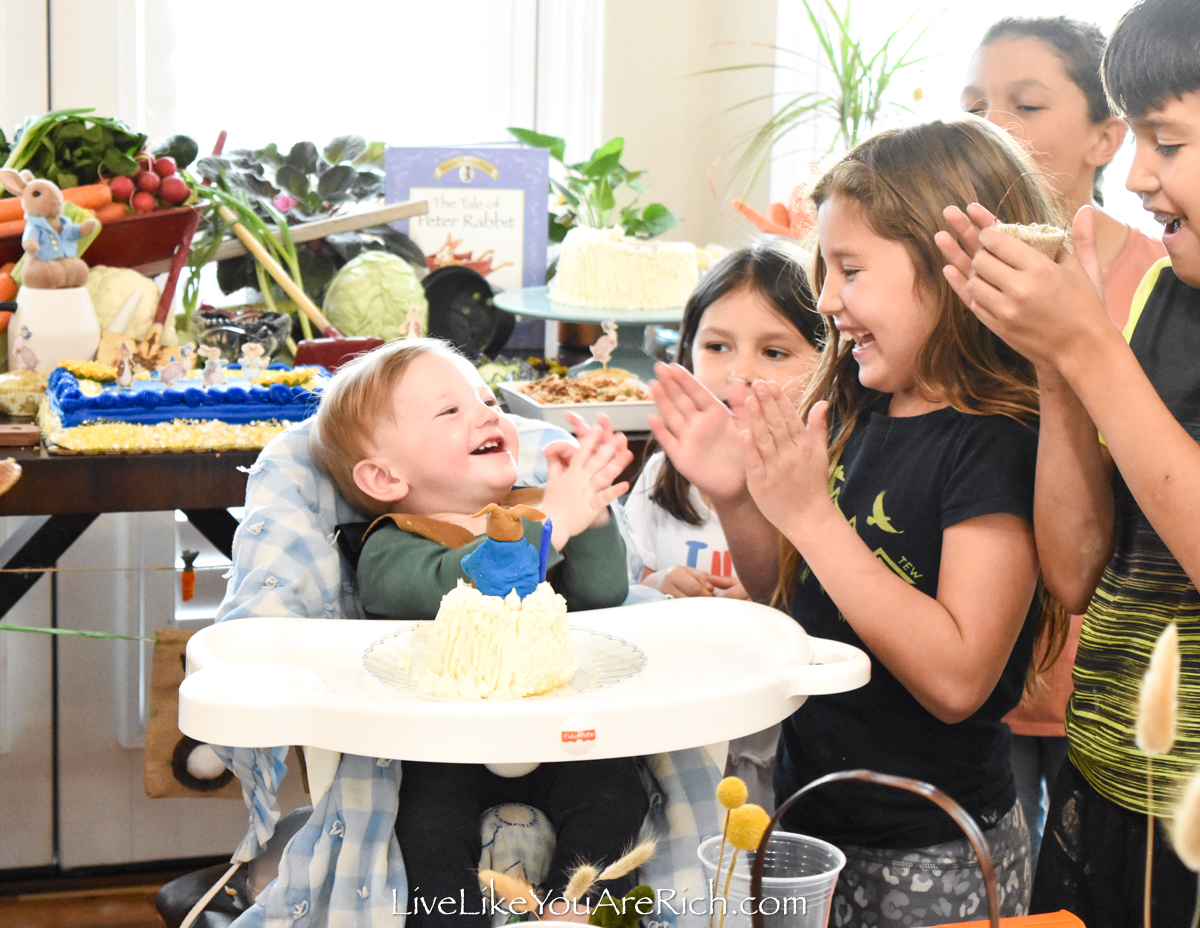 Our two-year-old is sometimes not too fond of him (especially when he plays with her toys),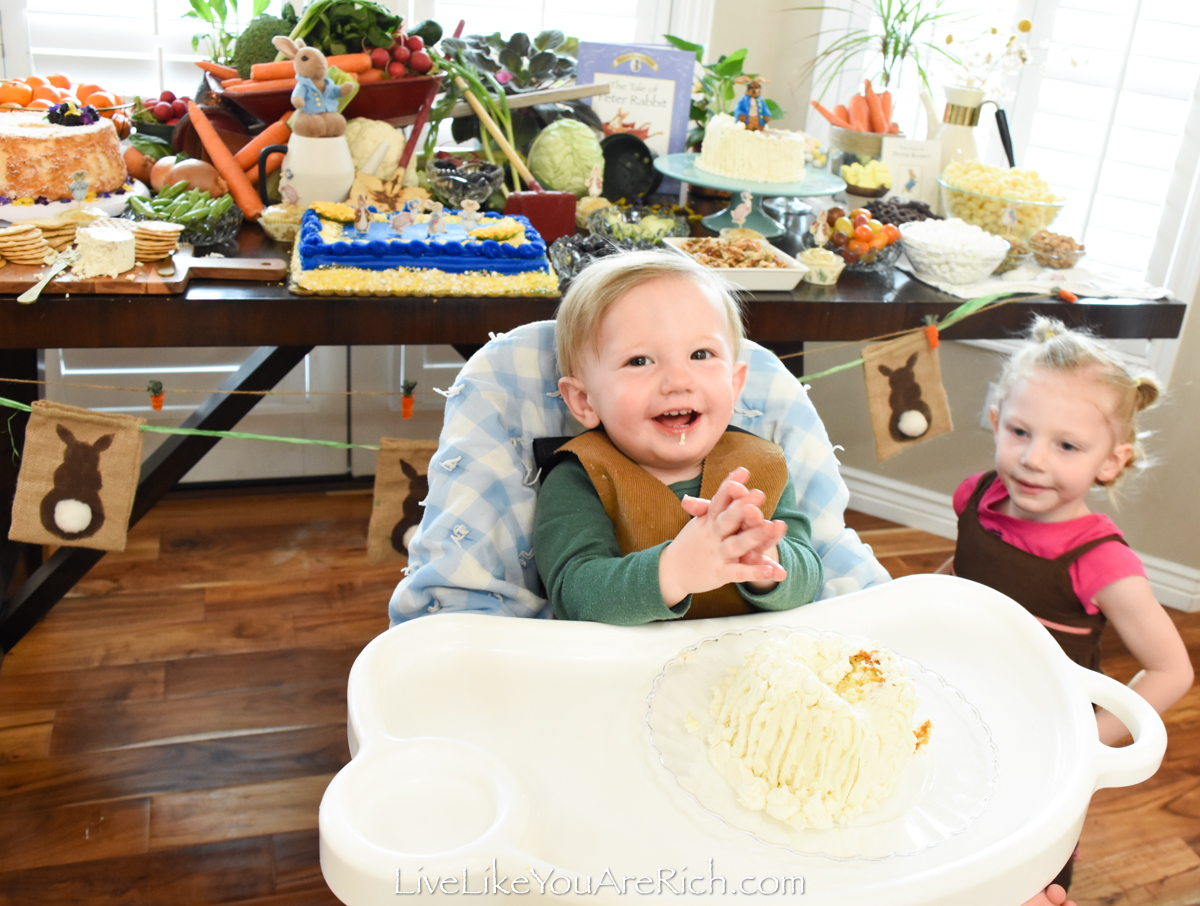 but for the most part they play and get along well.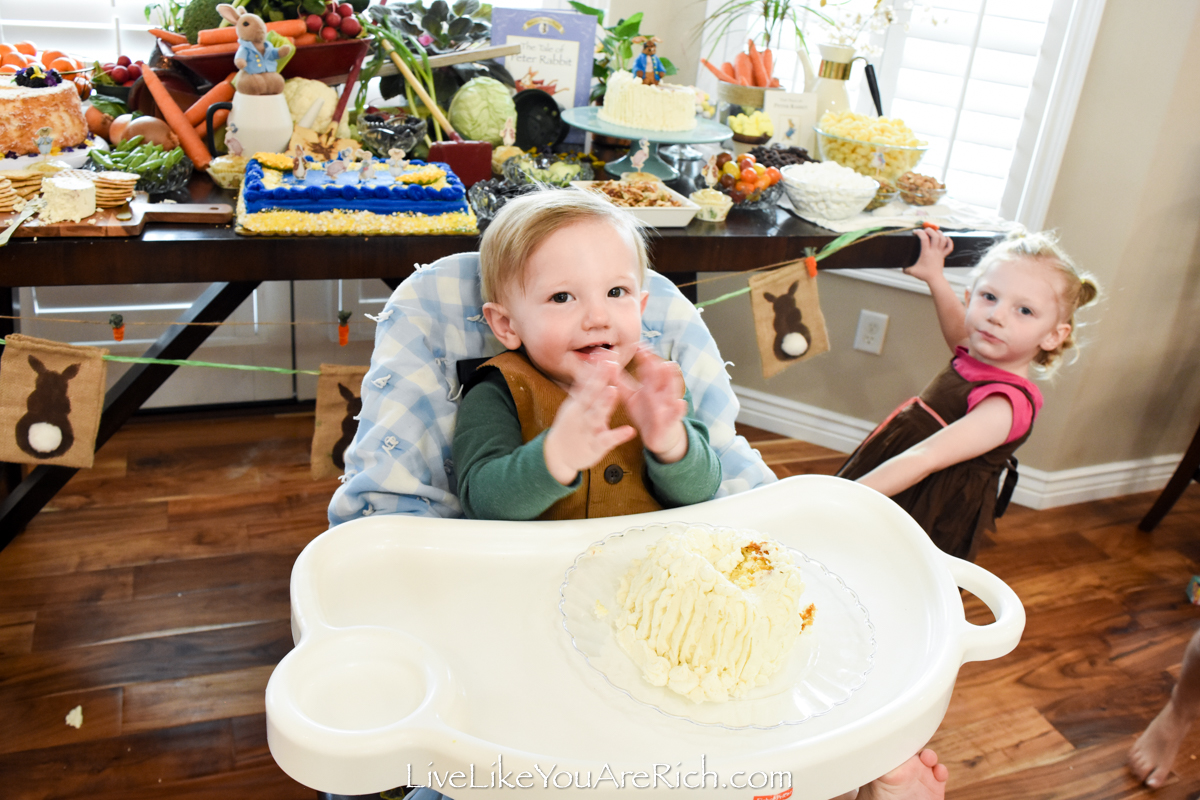 I debated on what to do for his one year old birthday party… until I saw some really cute Peter Rabbit party items at Burke Decor.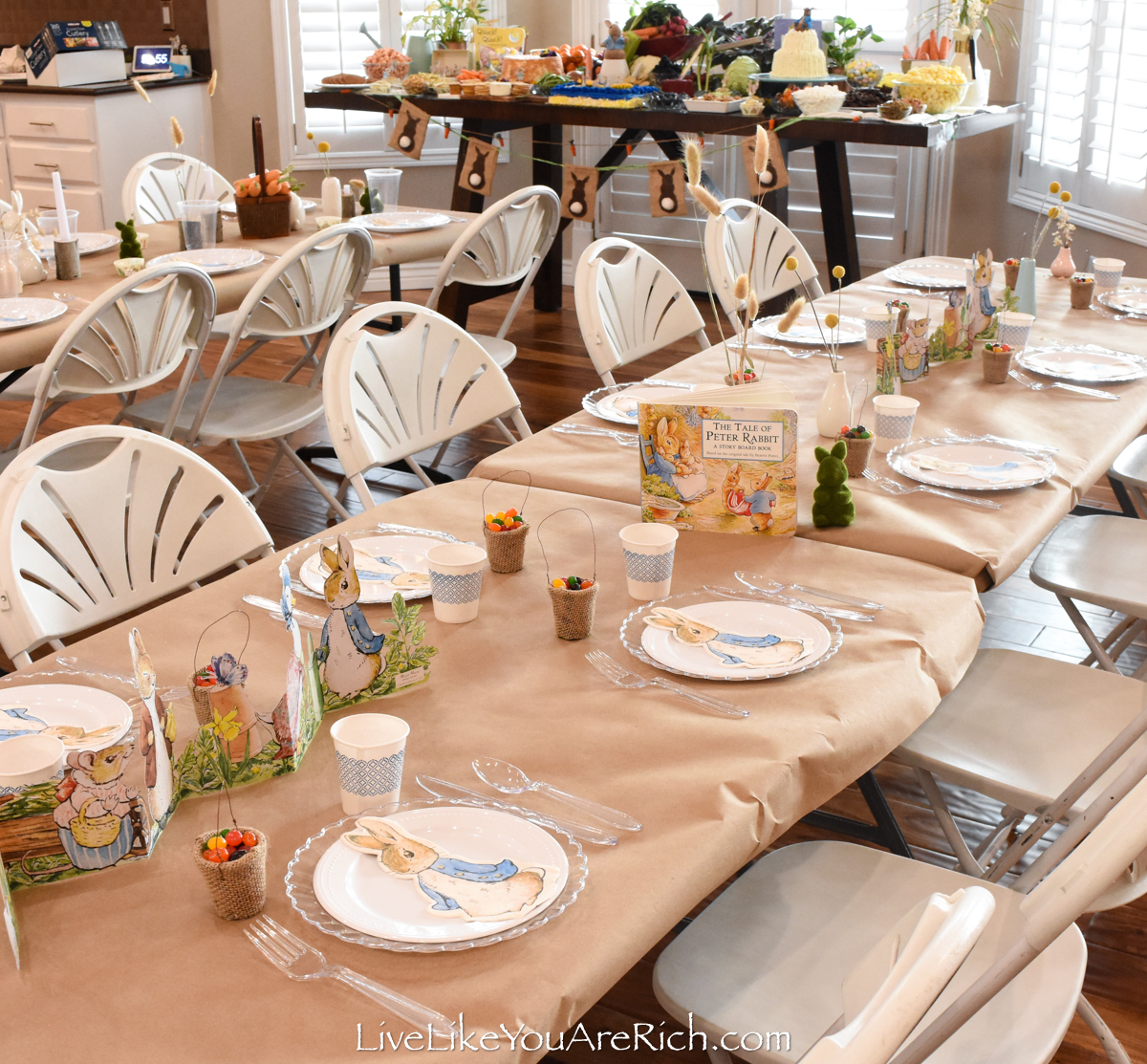 I purchased the Peter Rabbit napkins, cupcake wrappers & sticks and 2 fold out cards to use as centerpieces.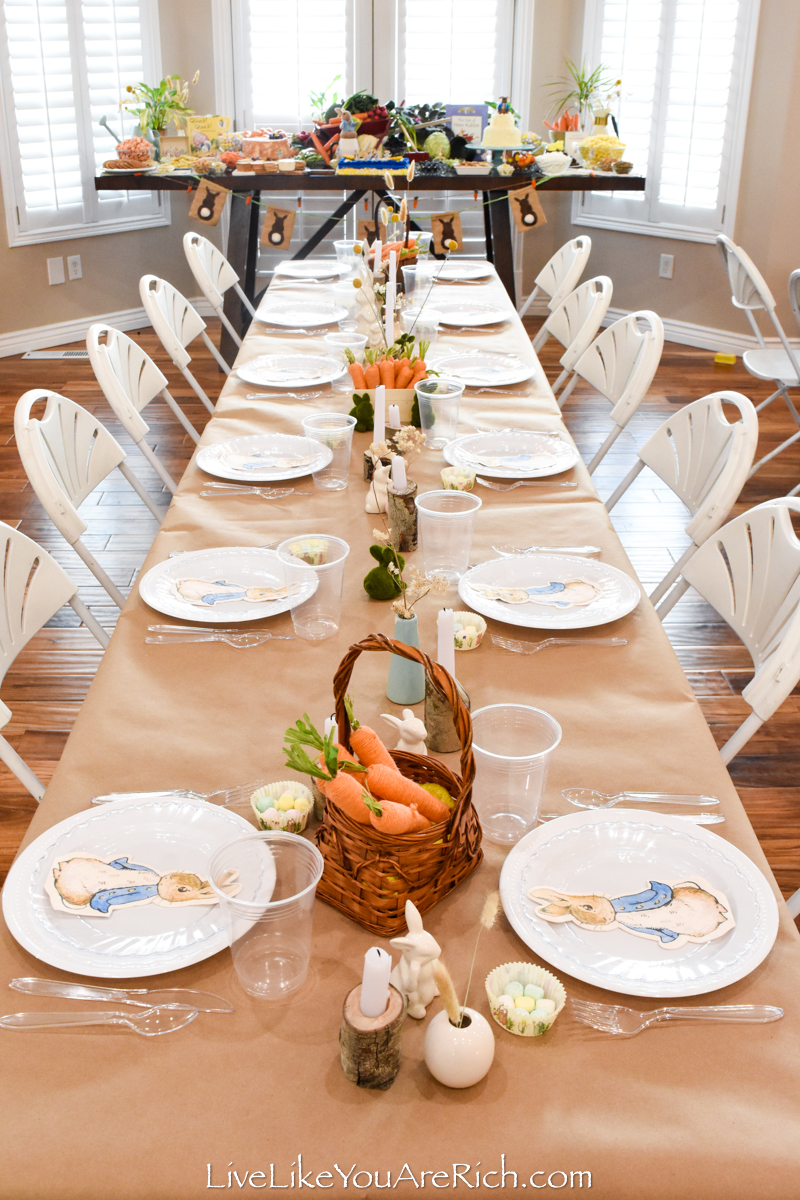 I had many Peter Rabbit and Easter items that I knew I could use—which obviously cuts costs, so, I decided to go with a Peter Rabbit theme.
When I decide to throw a party, I try to make it as affordable as possible.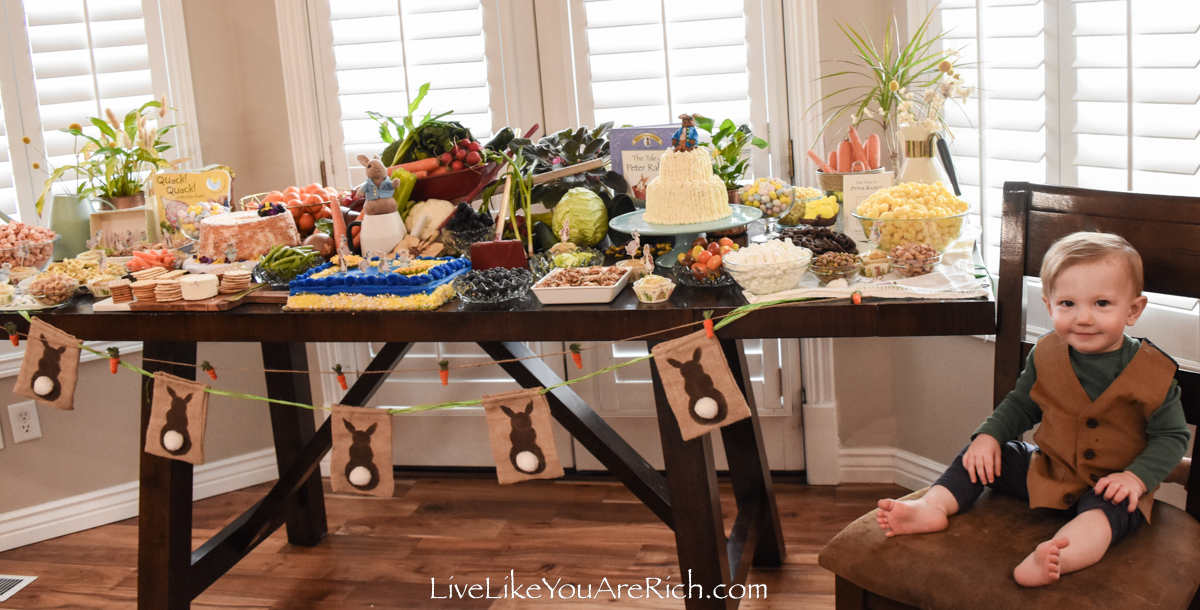 I usually see what I have on hand as far as decorations, snacks, treats, etc. go. Despite the full buffet table and the tablescapes set for our 26 guests, this party cost less than $100.00 because I used many items, snacks, tableware and food that I already had on hand.
More details on the tablescapes (adults and kids), food, decoration, cakes, and party favors coming soon.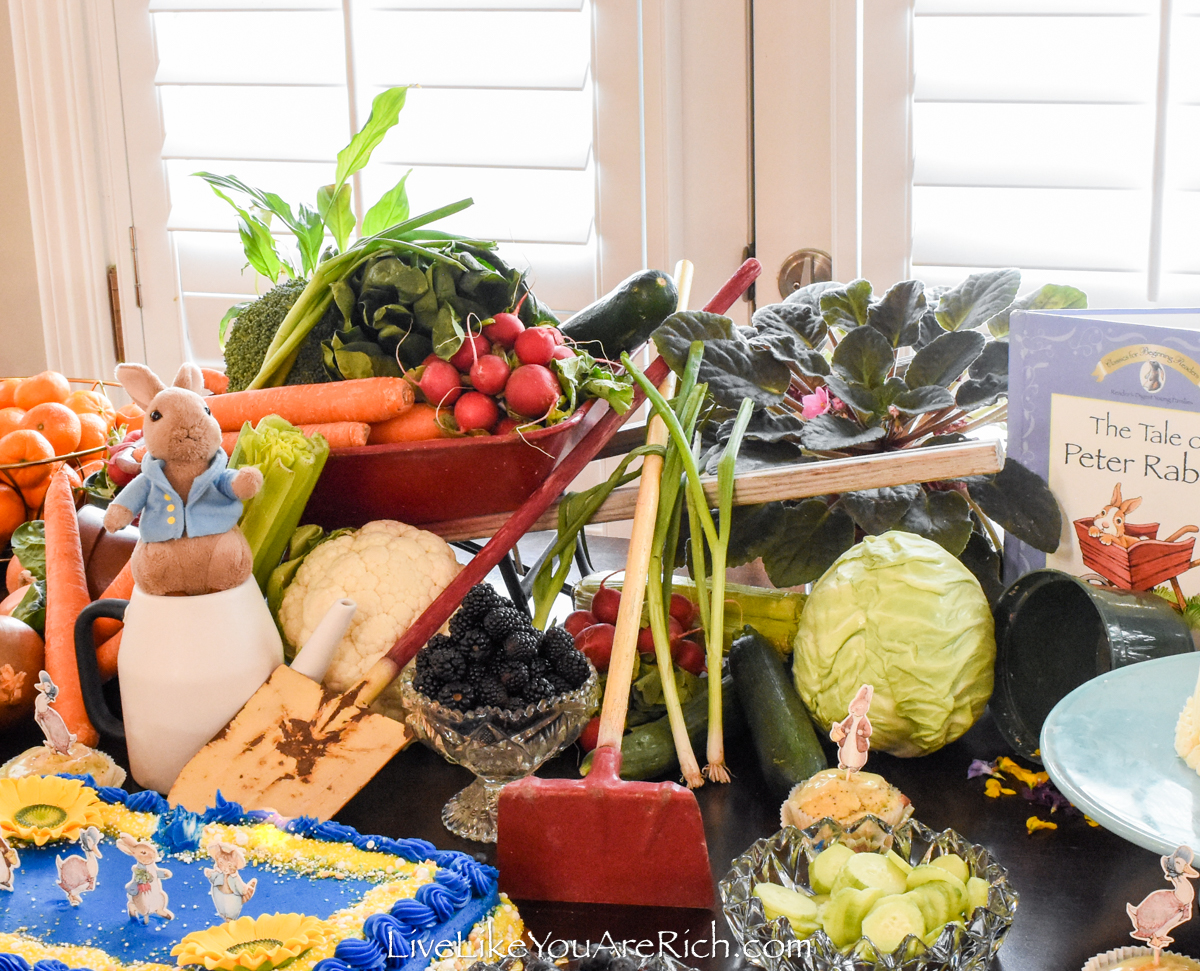 I bought a cute red wheel barrow and hoe and shovel for $10 on the local classifieds.
As soon as I saw the small vintage wheel barrow, shovel and hoe I knew that I wanted to use them as centerpieces on the table; so, I placed them in the middle and began working around them.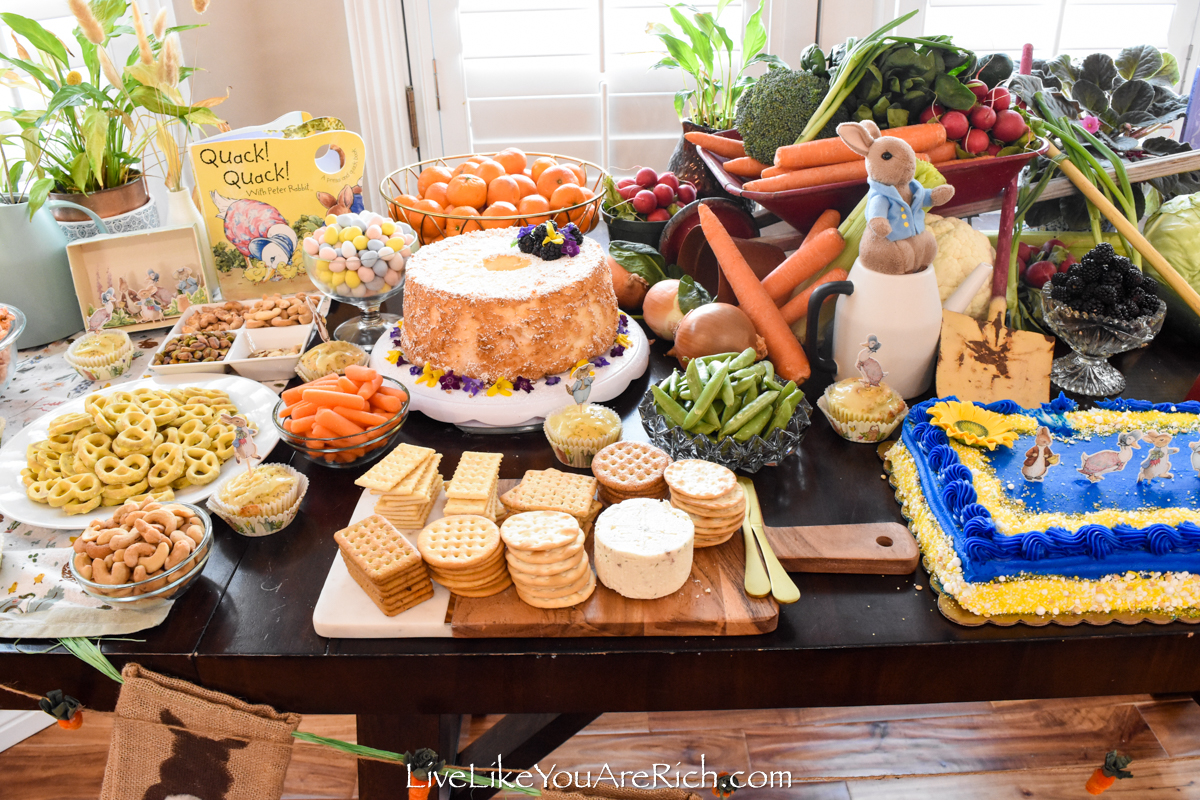 I had multiple books with Peter Rabbit and a Peter Rabbit stuffed animal (which I used in this Goodnight Moon Elf on the Shelf video) that I used for decoration.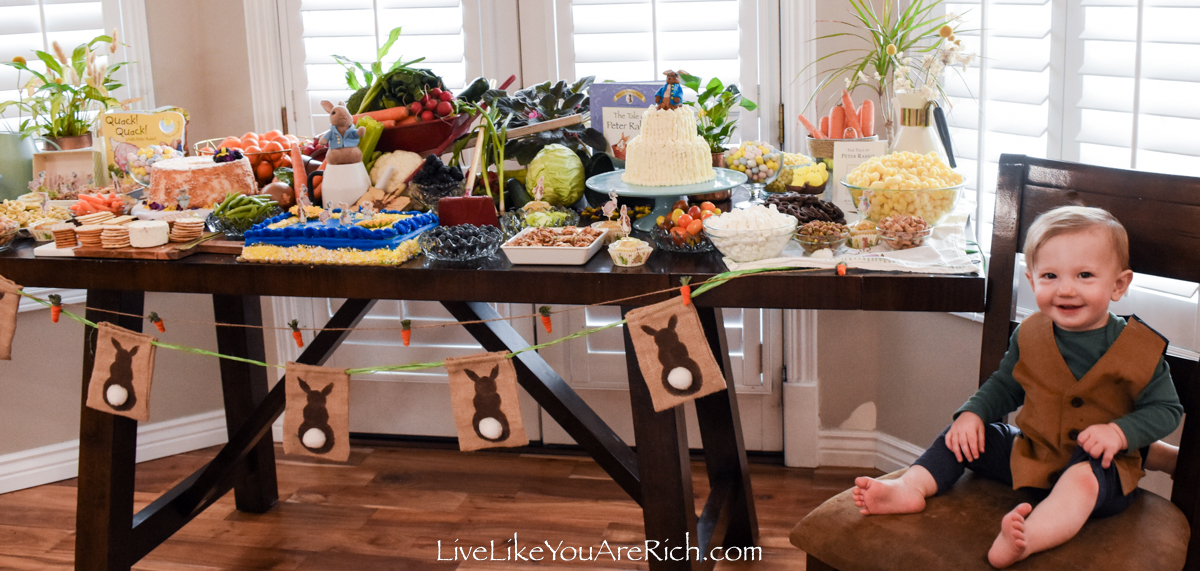 I hung these handmade burlap Easter bunny and Carrot bunting across the front of the food table. I used the carrot bunting this year to decorate my Modern Rustic Easter Mantel.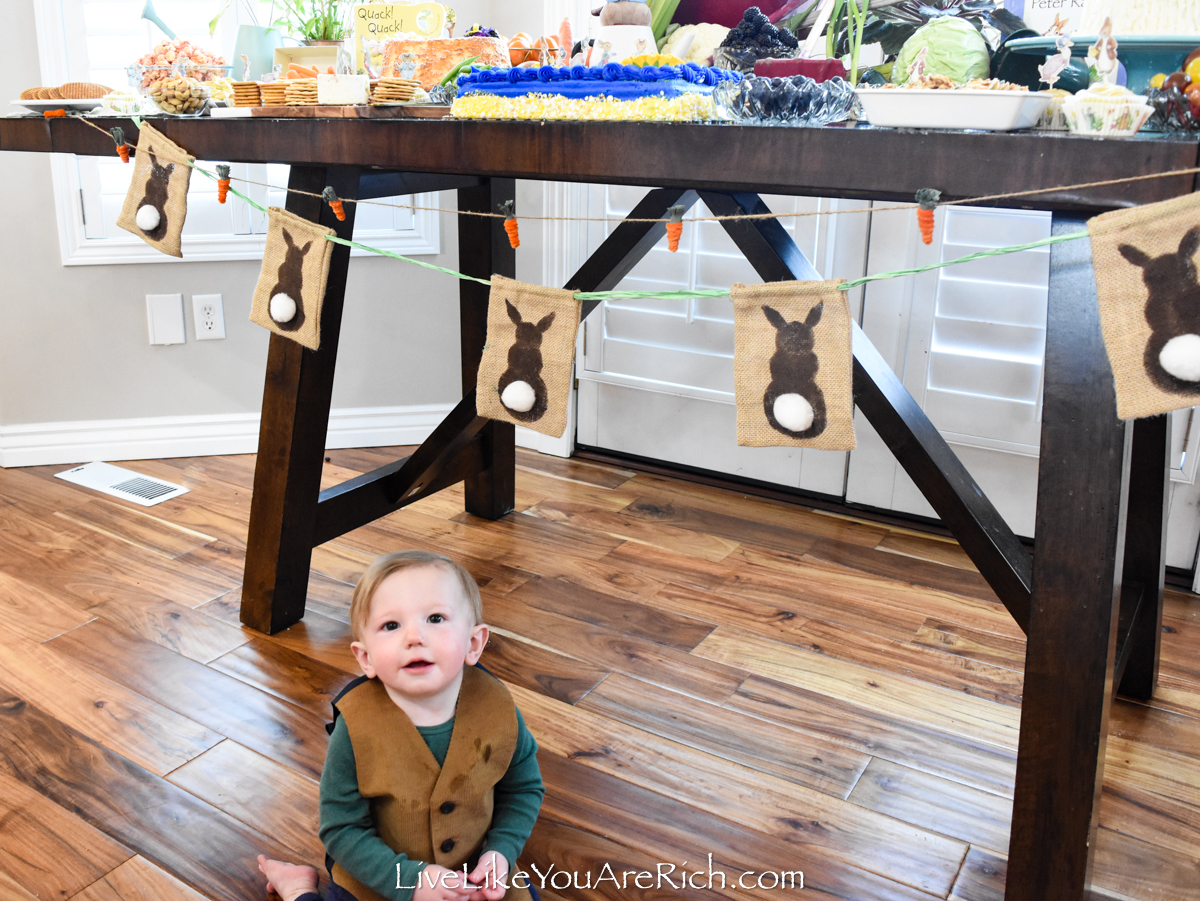 I dressed Brighton in a little brown vest and green onsie with navy bottoms (which I already had).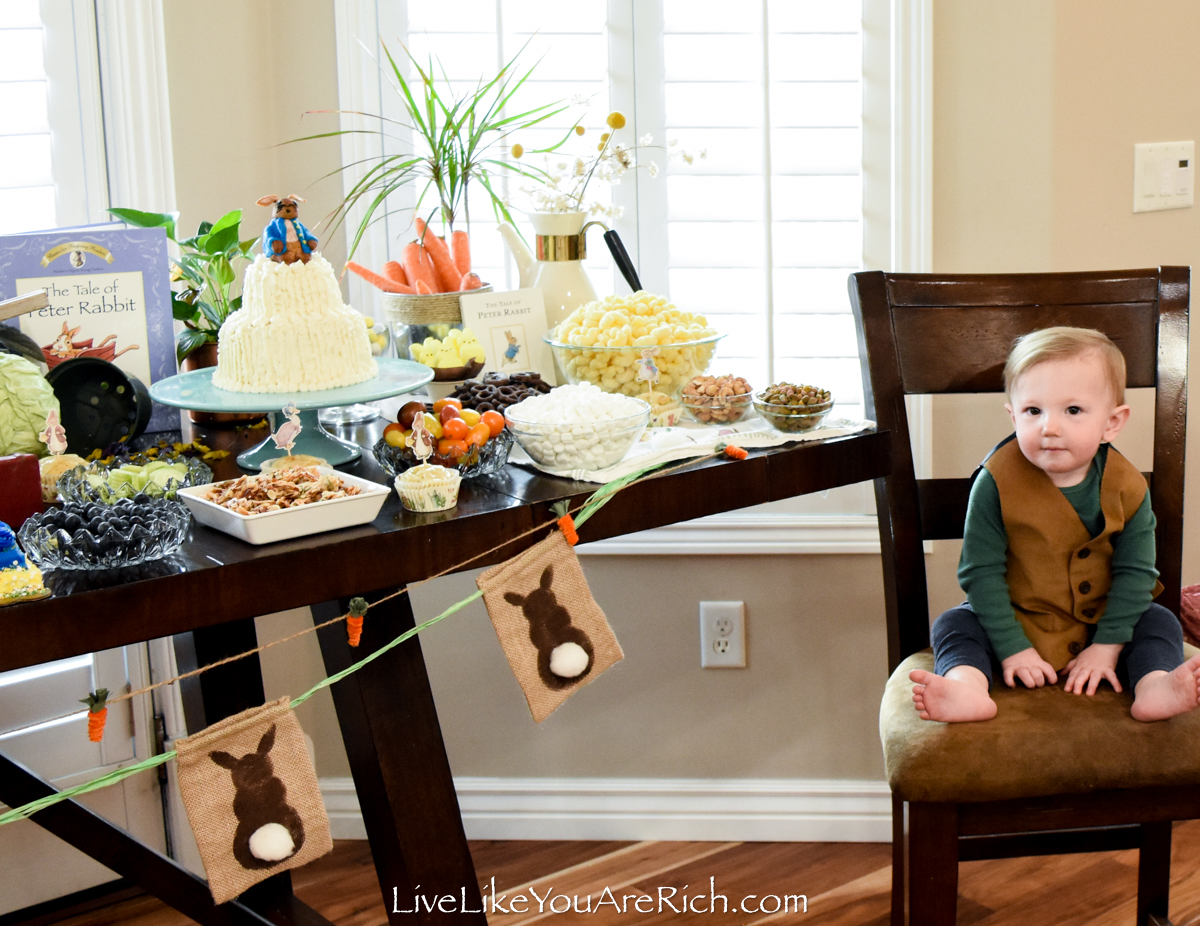 My sweet sister-in-law held him tightly and securely on the chair while I took these photographs.
He kept trying to sneak pistachio nuts during the photo shoot.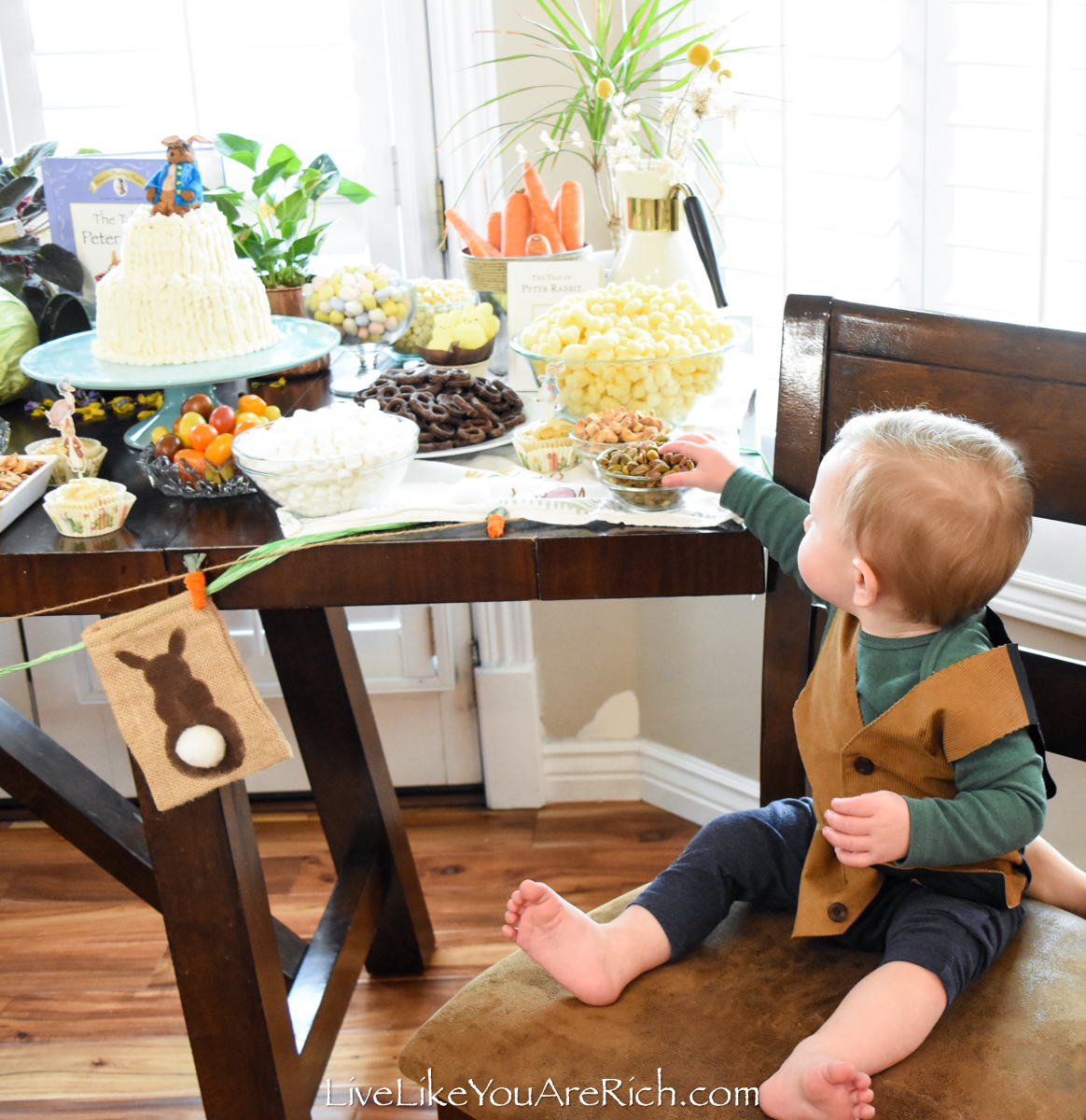 The adults and kids who came, commented on how cute the party was.
Brighton, our smiley-happy-baby, appeared to enjoy it as well.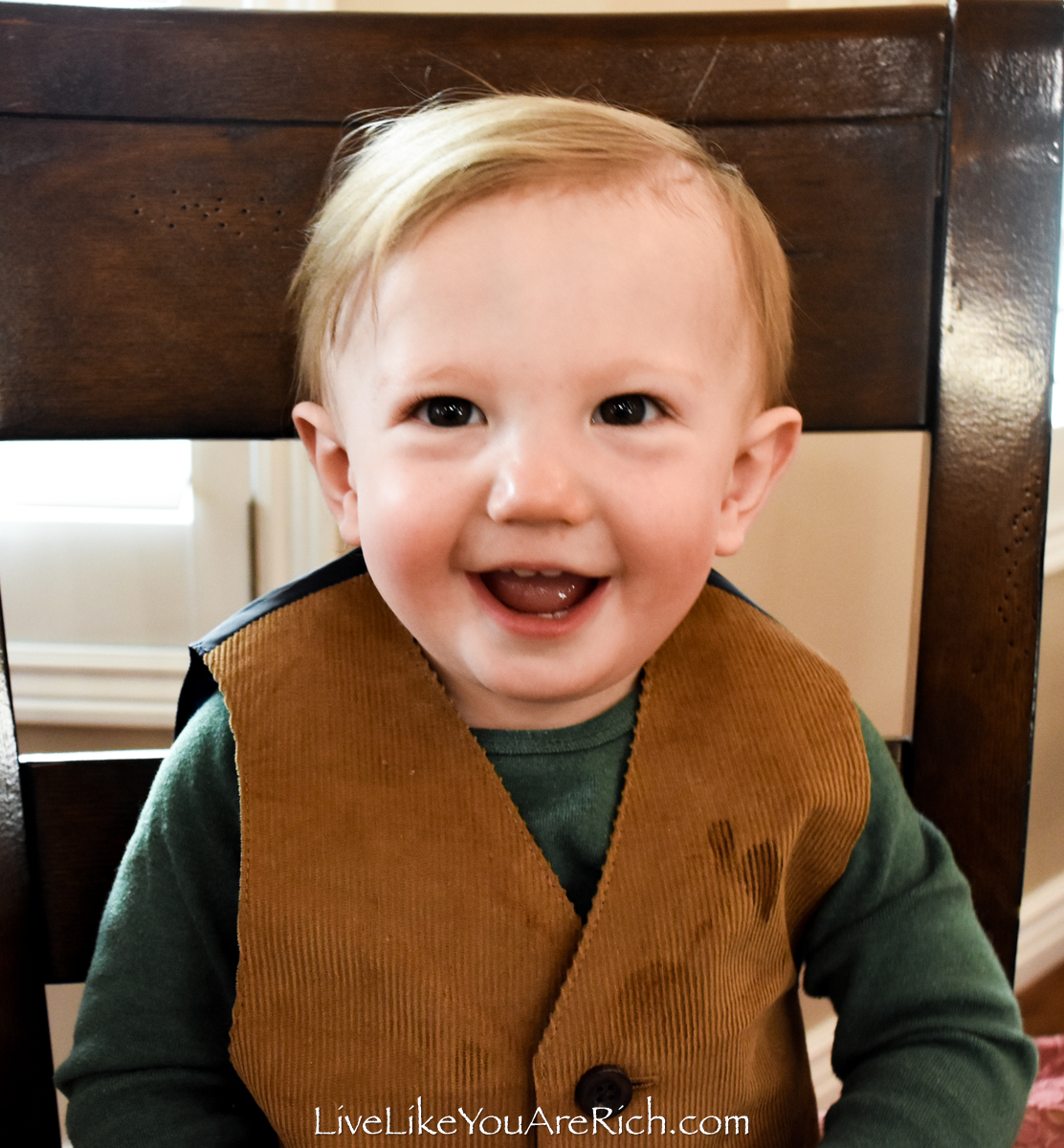 I made Brighton a birthday cake and topped it with a Peter Rabbit I made out of fondant.
This was my first time making a fondant character; for a first time I think it turned out okay.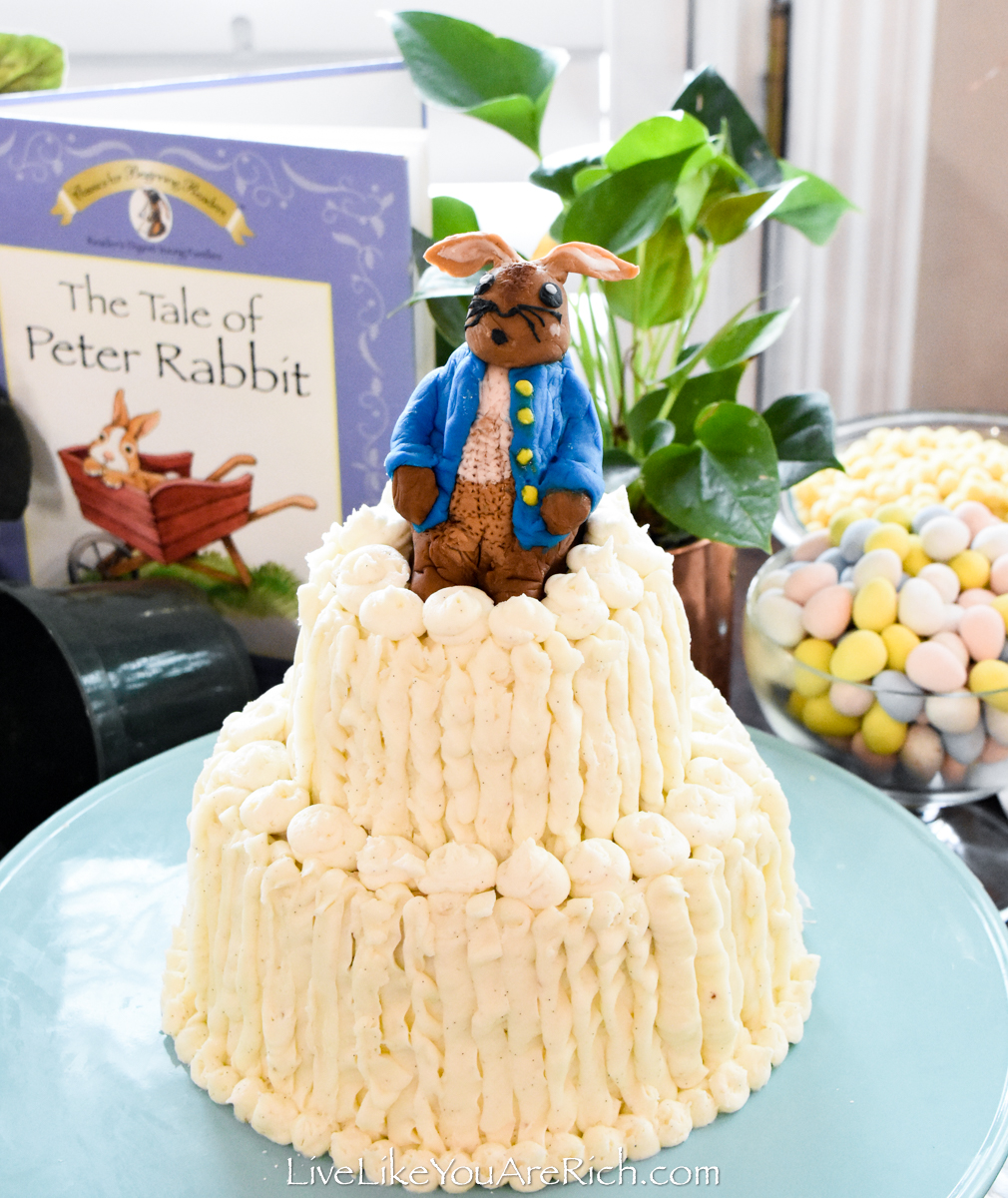 I'll post a video showing how I made it soon.
We took the top layer of the cake off and used it as Brighton's 'smash cake'.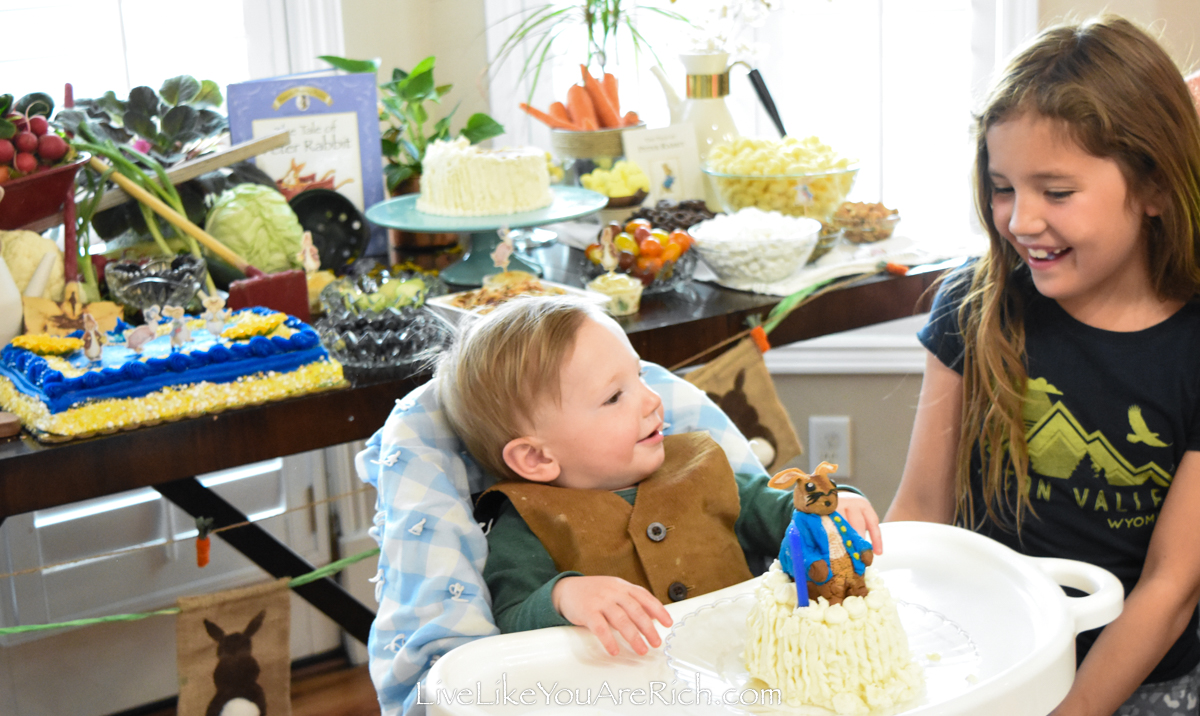 I put a candle in it, but we didn't light it because we didn't want him to get burned.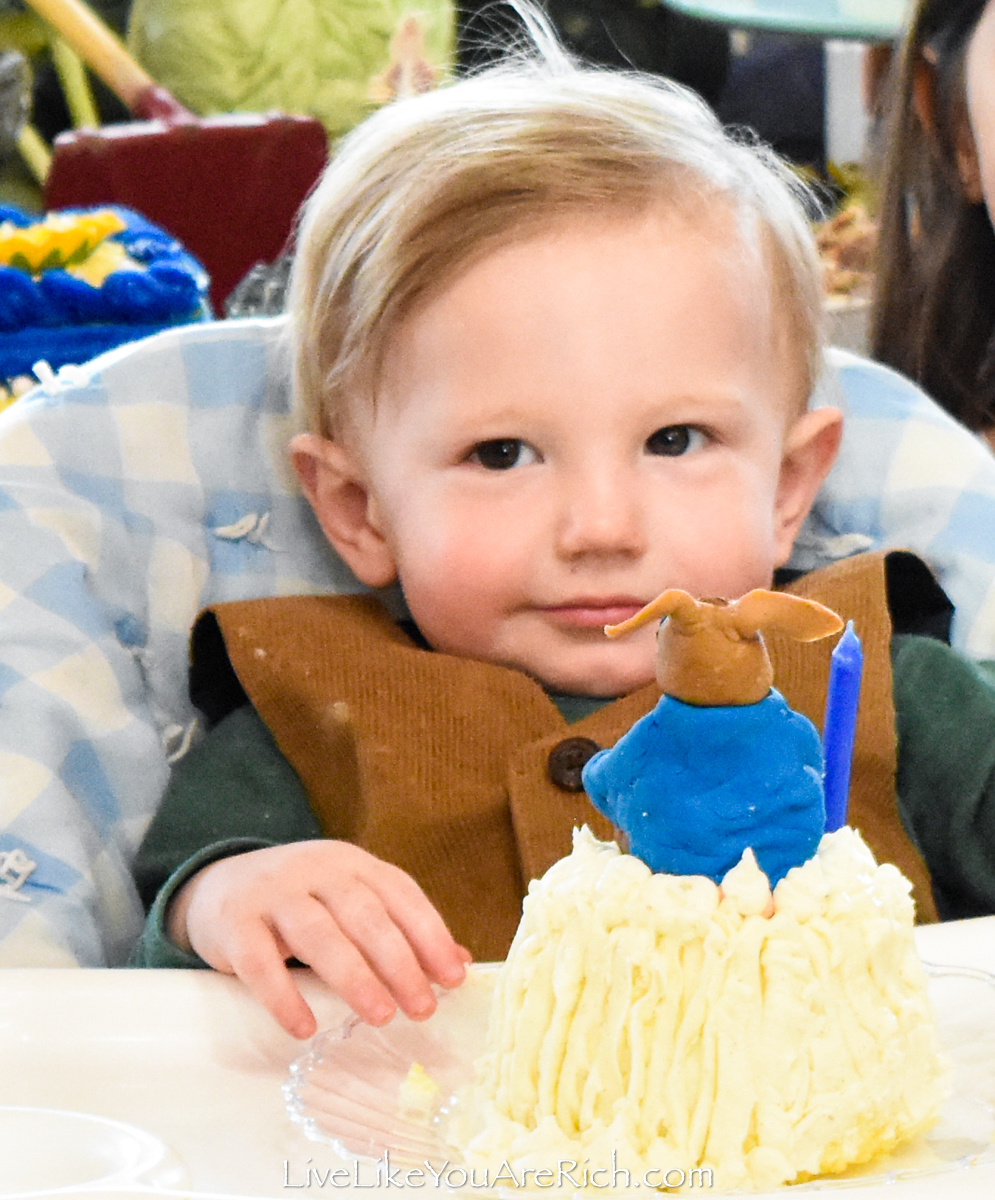 We sung Happy Birthday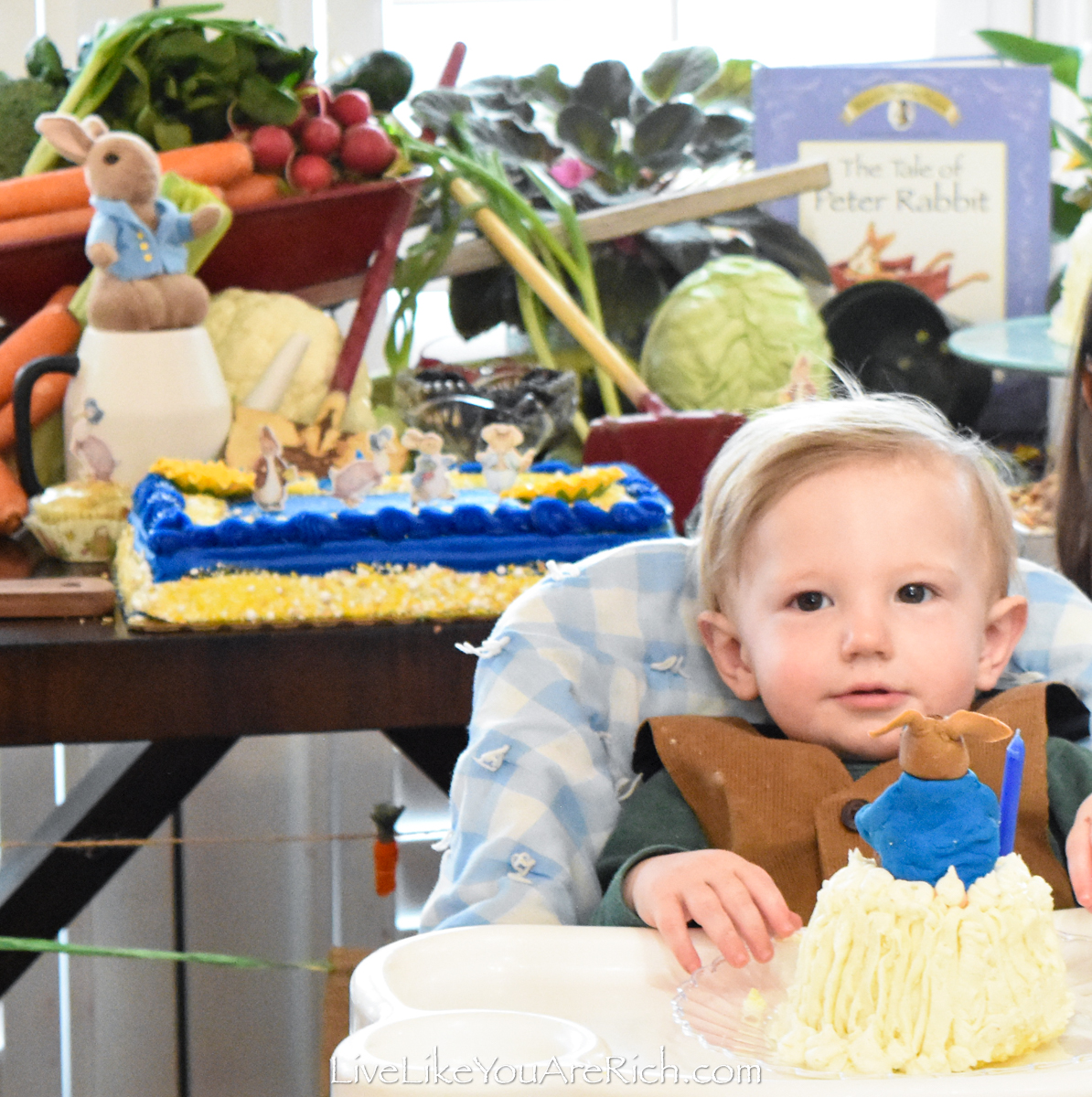 and he absolutely loved it as he likes music and singing.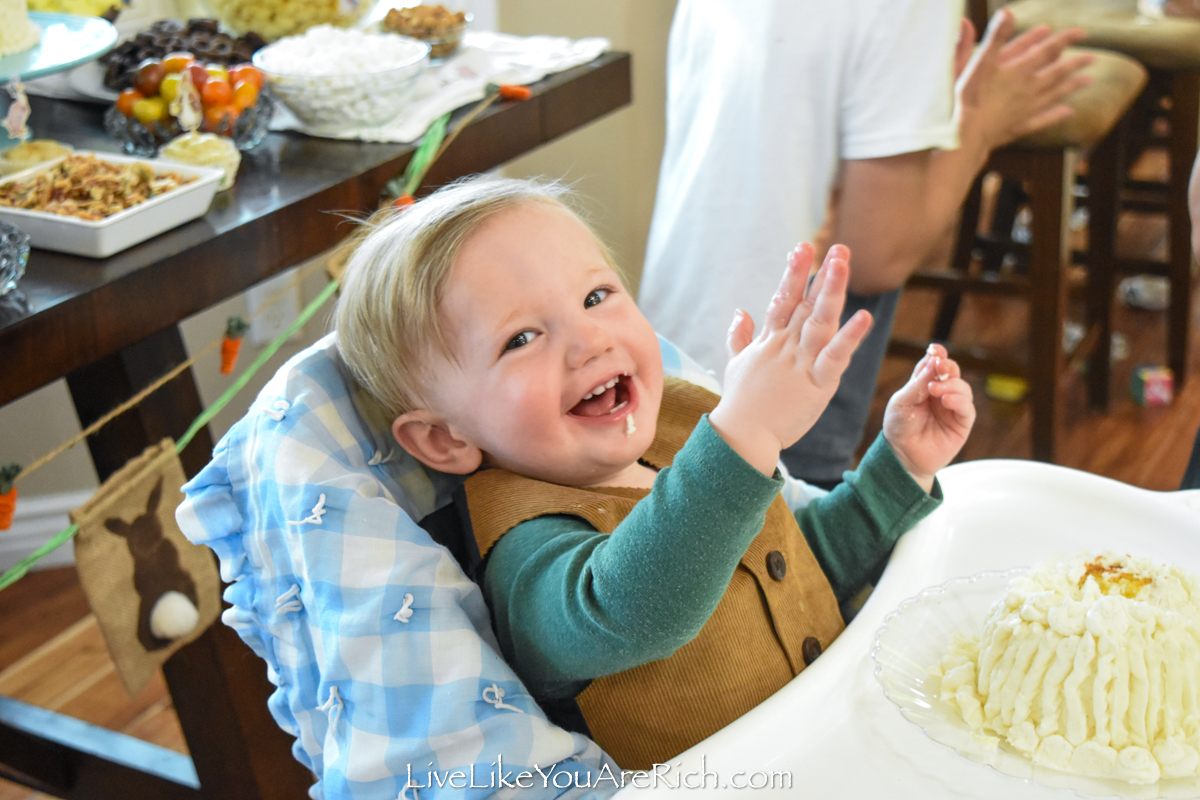 Then, after singing, Brighton dug in on his cake.
Milk, yellow cake and vanilla bean frosting…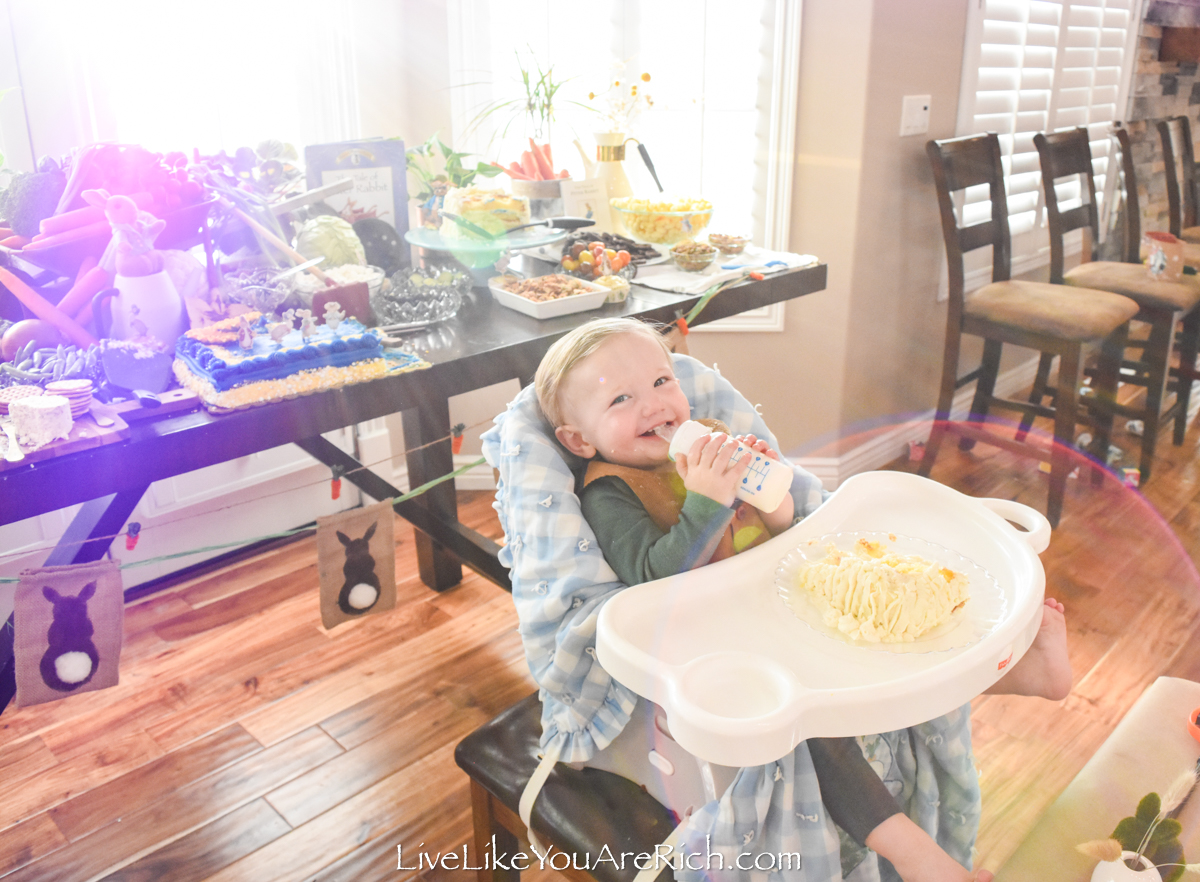 YUM!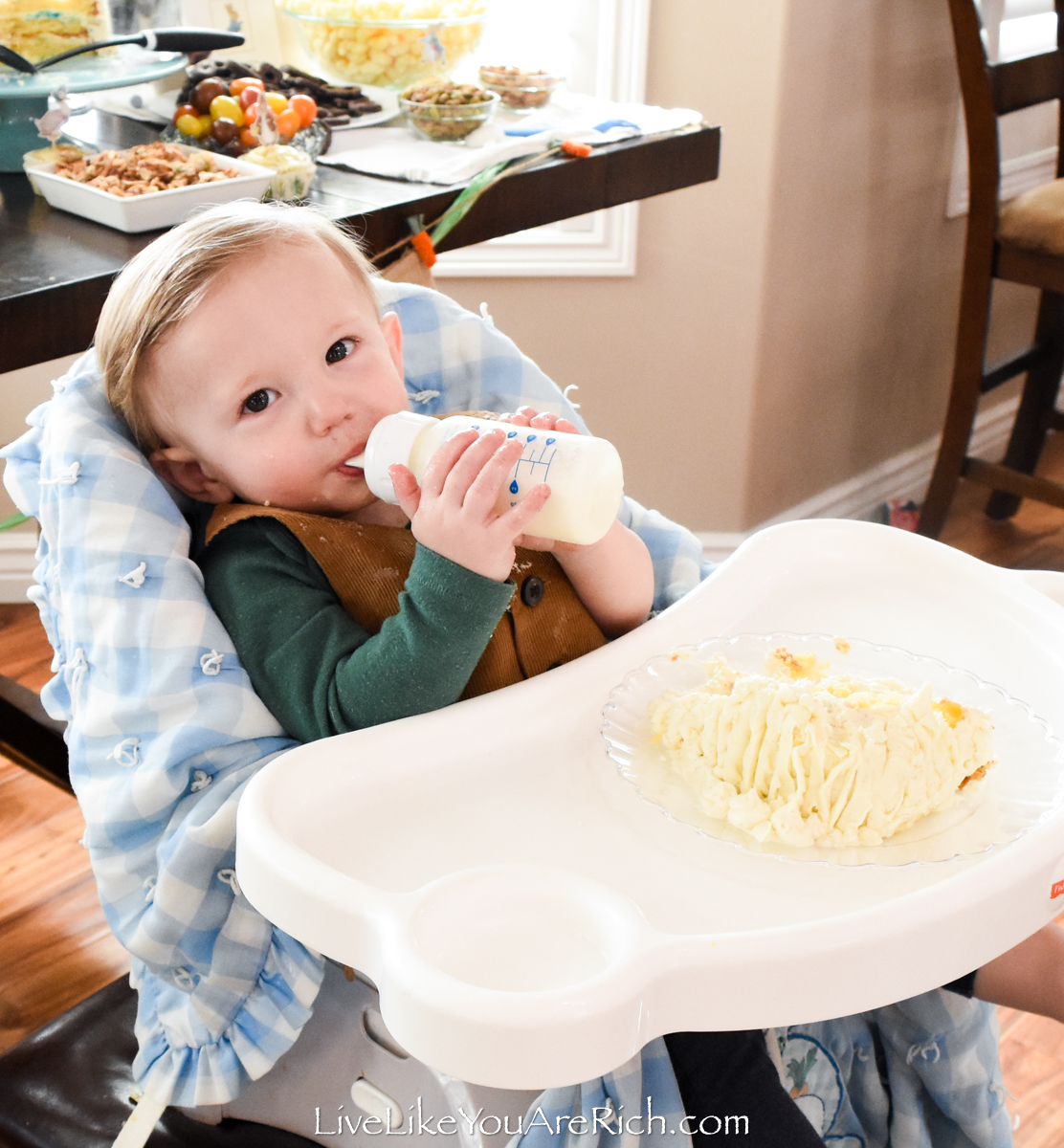 Happy Birthday Brighton!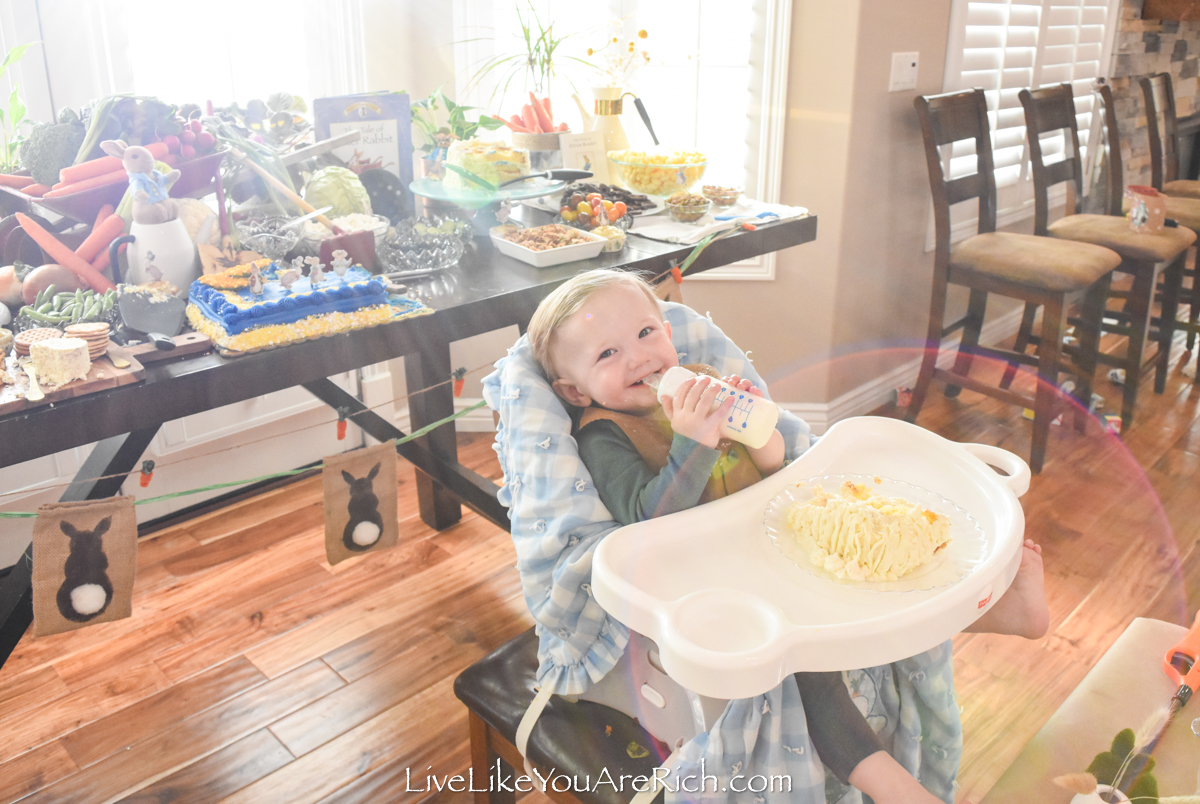 We are so glad you are part of our family!!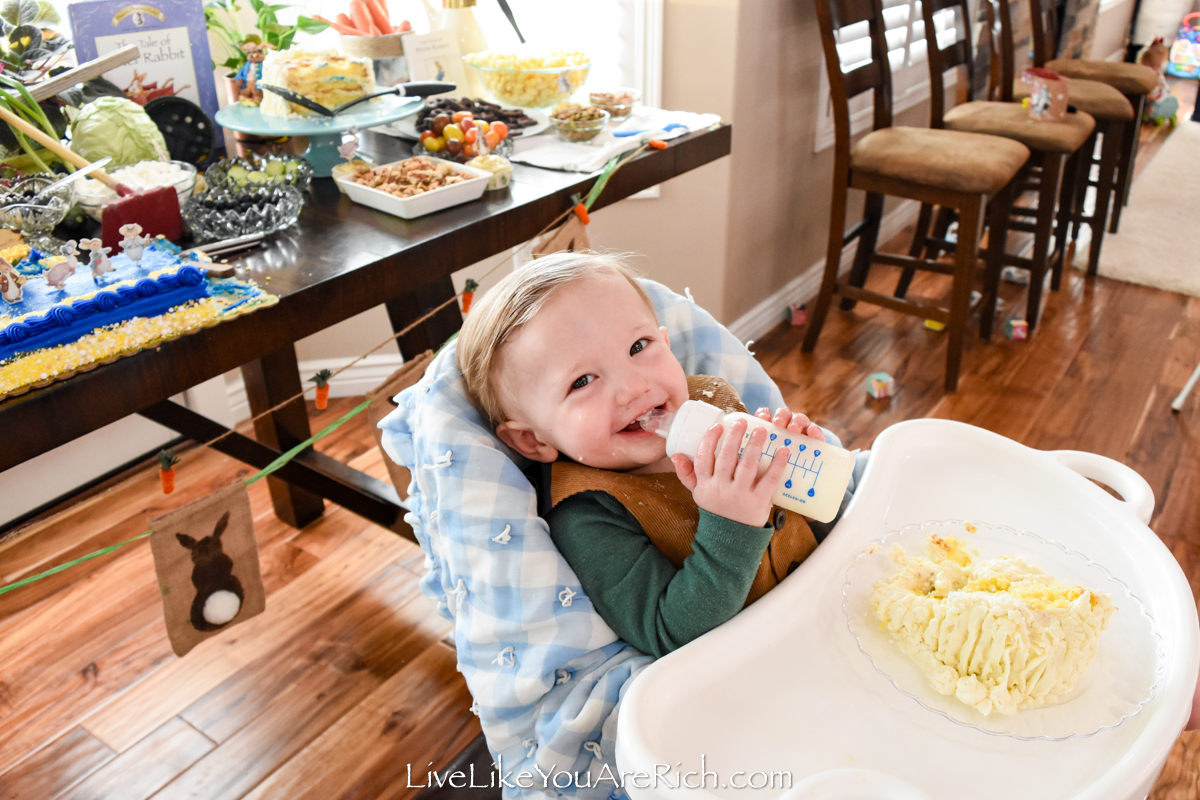 PETER RABBIT POSTS
PETER RABBIT 1ST BIRTHDAY PARTY
PETER RABBIT TABLESCAPE FOR KIDS
PETER RABBIT TABLESCAPE FOR ADULTS
PETER RABBIT PARTY FOOD AND DECOR
PETER RABBIT BIRTHDAY CAKE (FONDANT RABBIT)
ANGEL FOOD CAKE MADE FROM SCRATCH
Check back in the coming week or two for the posts about this Peter Rabbit Birthday Party with specifics on items used, tutorials, and more.


For other 'rich living' and D.I.Y. decor tips please subscribe, like me on Facebook, and follow me on Pinterest and Instagram.