Food and Decor for a Peter Rabbit Party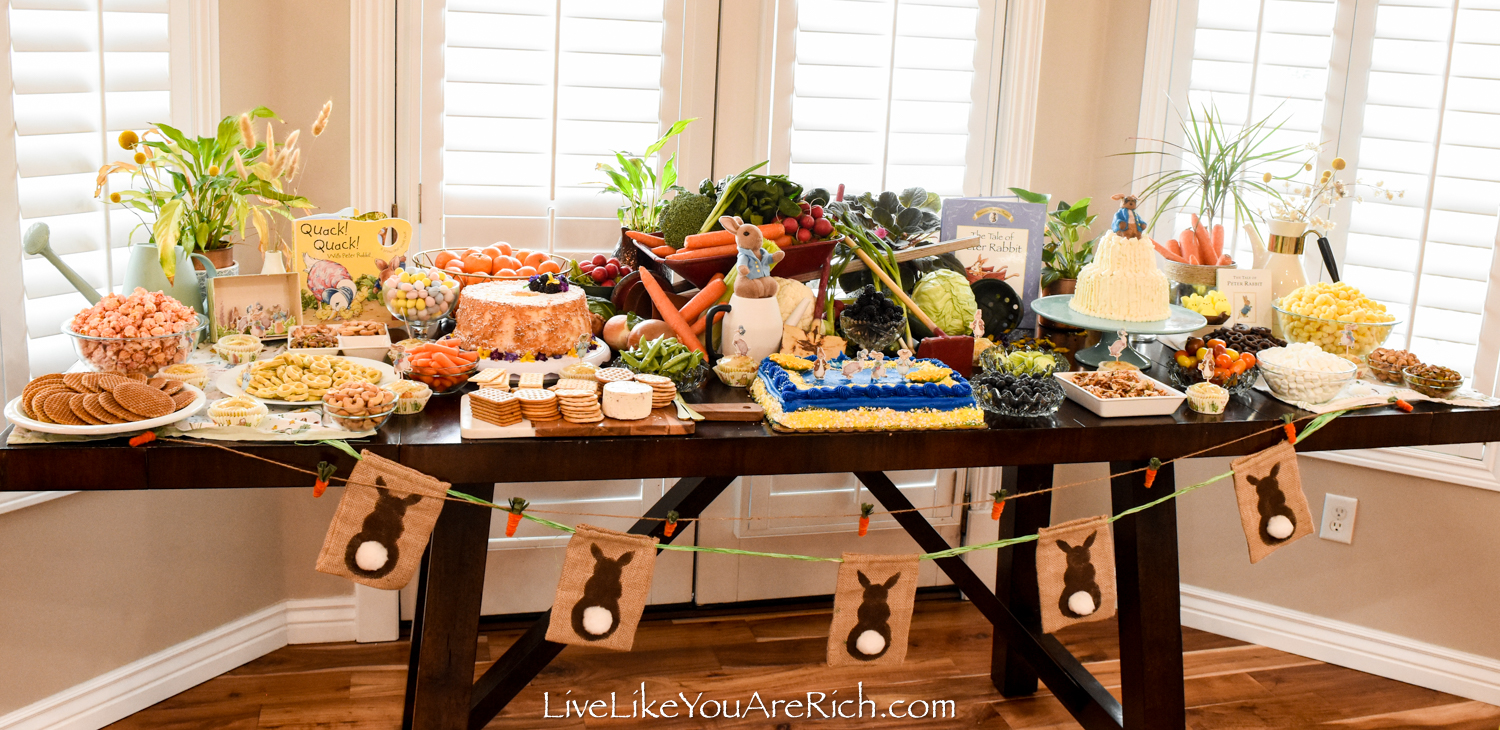 This post shows the food and decorations that I used for my son's Peter Rabbit birthday party.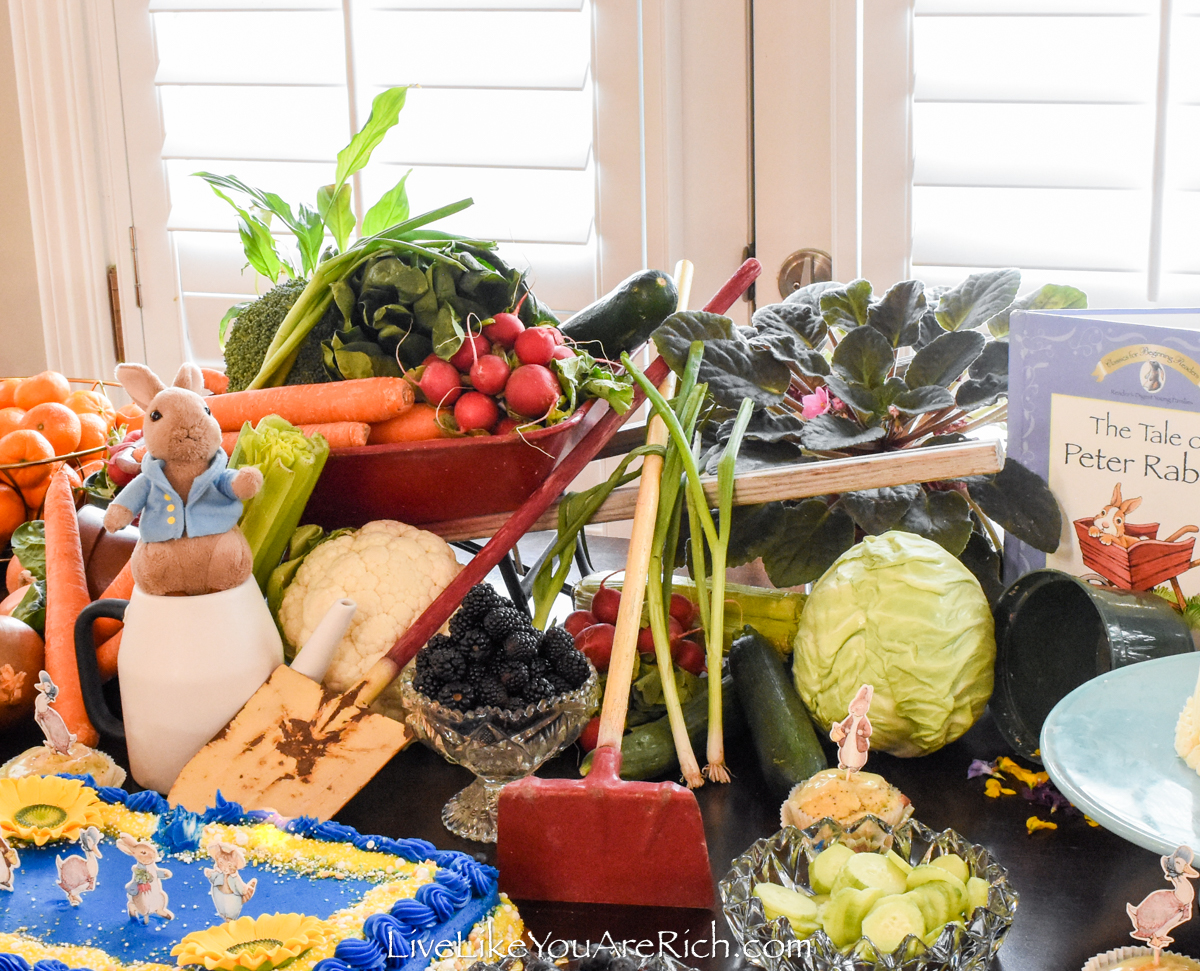 To decorate, I bought a cute red wheel barrow and hoe and shovel for $10 on the local classifieds.
As soon as I saw the small vintage wheel barrow, shovel and hoe I knew that I wanted to use them as centerpieces on the table.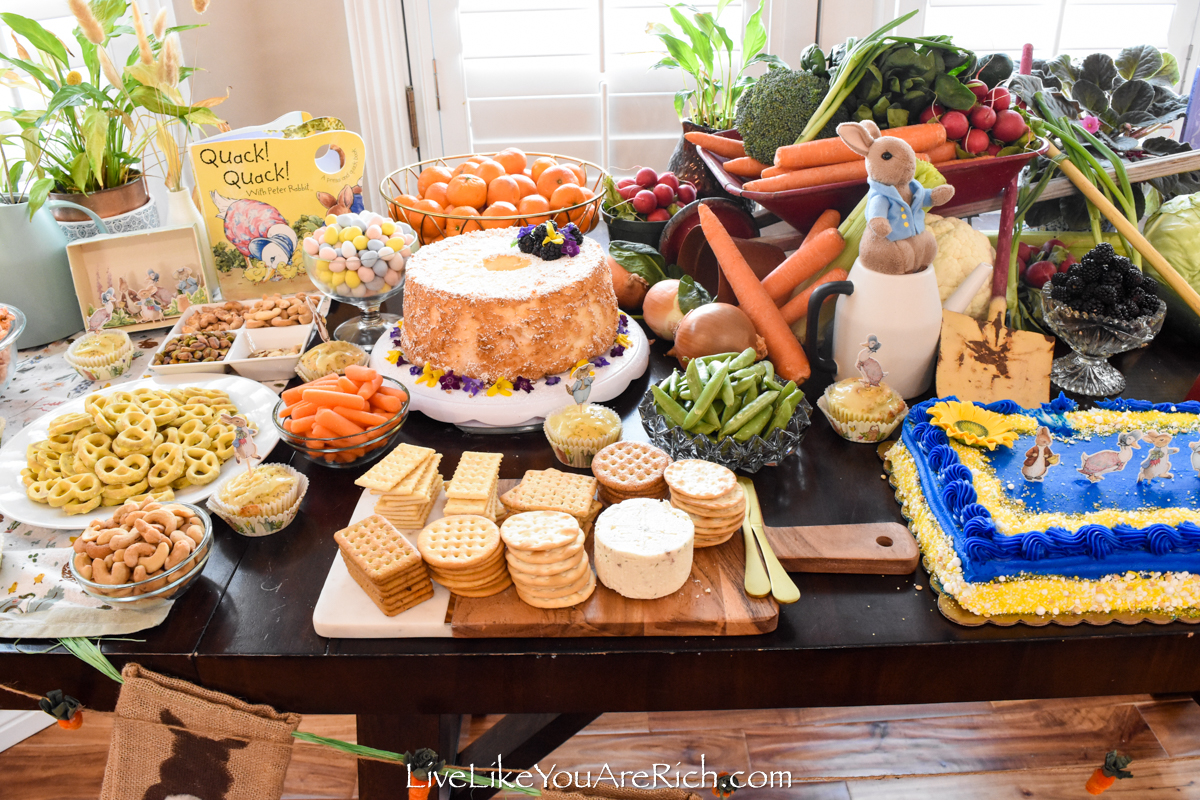 I placed them in the middle and filled the wheelbarrow with carrots, broccoli, radishes, spinach, green onions, and yellow onions.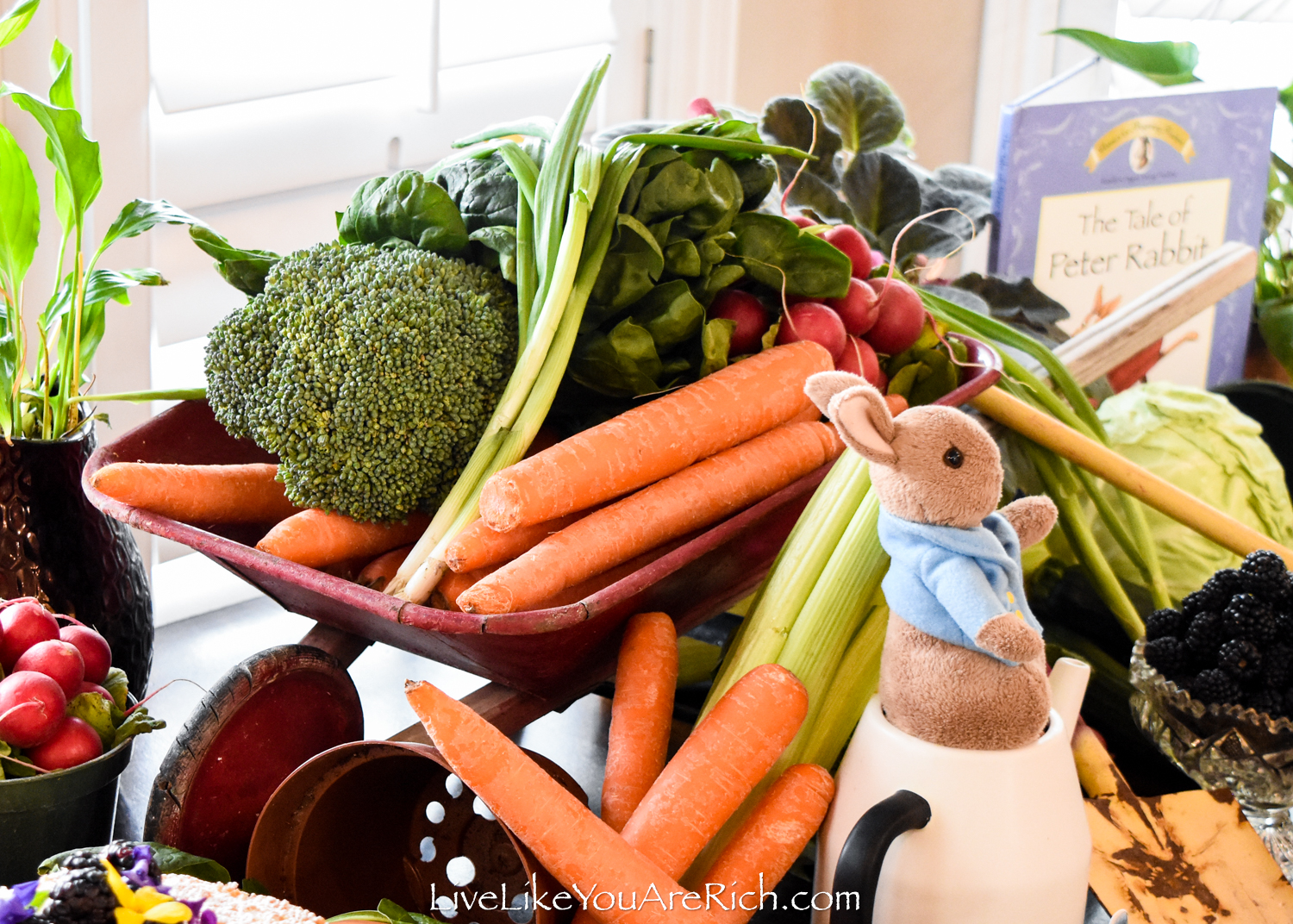 Next, I placed the ceramic water pail on the table. In the book, The Tale of Peter Rabbit, Peter Rabbit hides from Mr. McGregor in a watering pail, so I placed the stuffed Peter Rabbit that I received about 10 years ago for my son's baby shower inside the watering pail.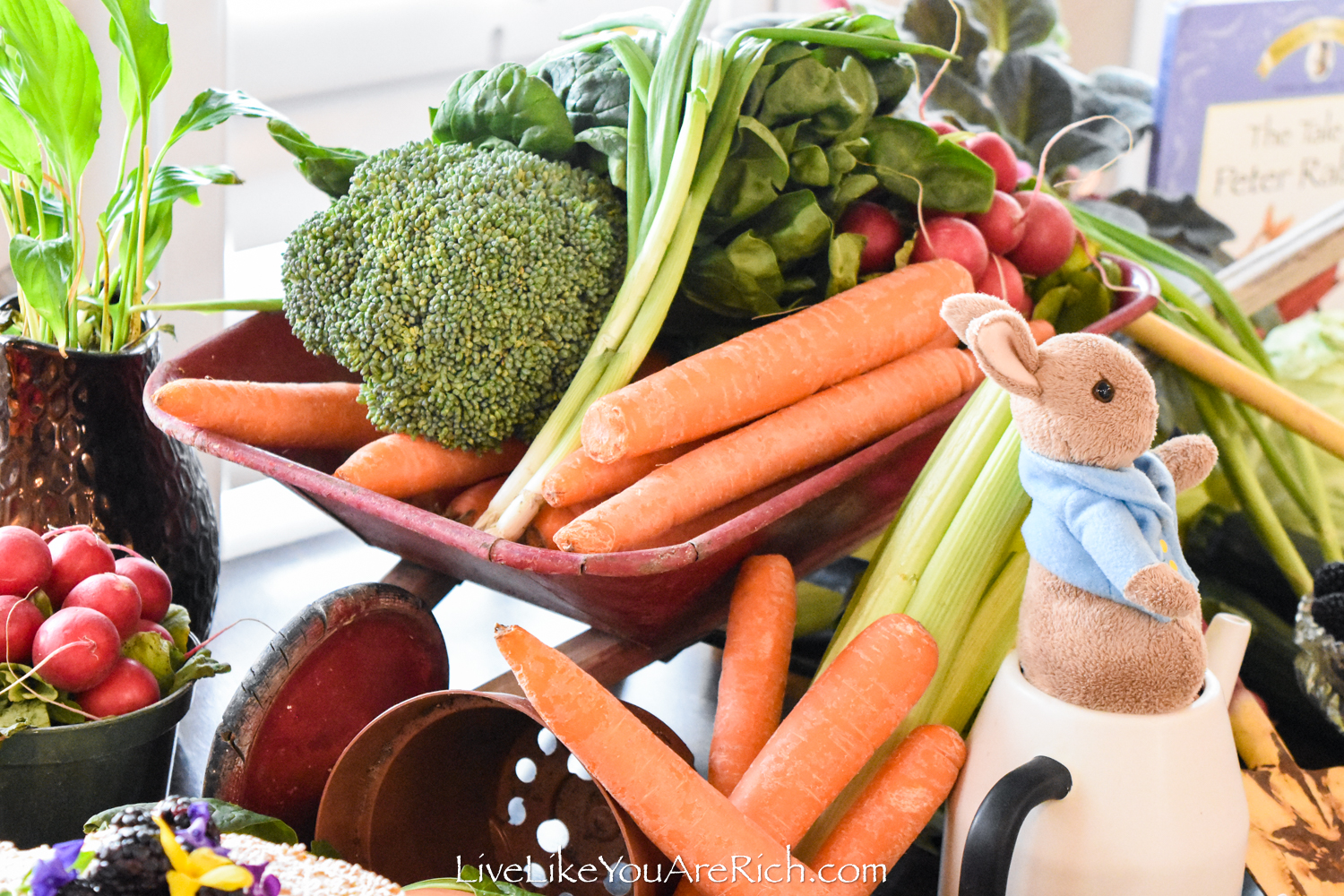 I had some planter pots that I placed around the wheel barrow.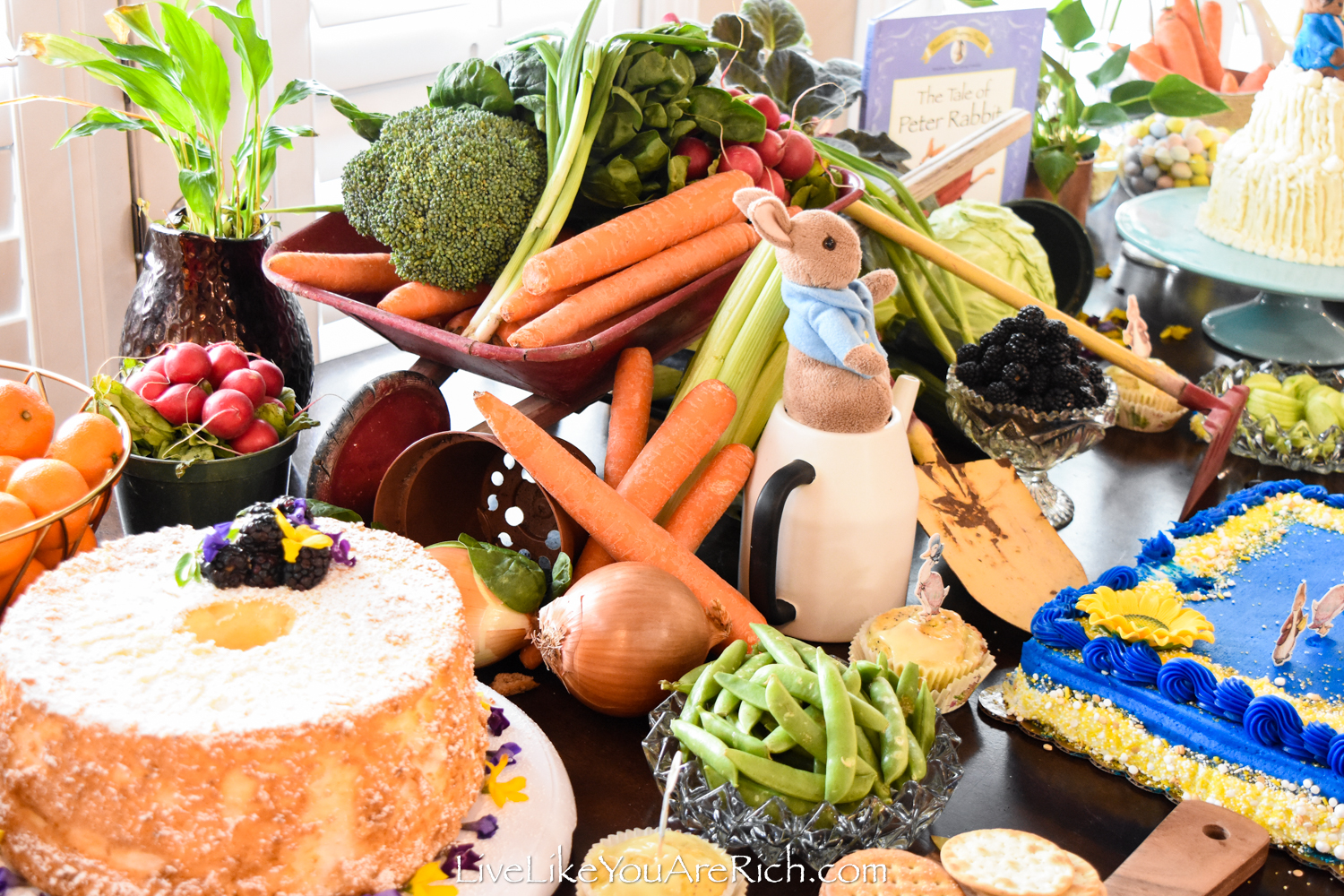 I placed carrots, celery, onions, zucchini, cucumber, cabbage, wild flowers and green onions around the wheelbarrow as well.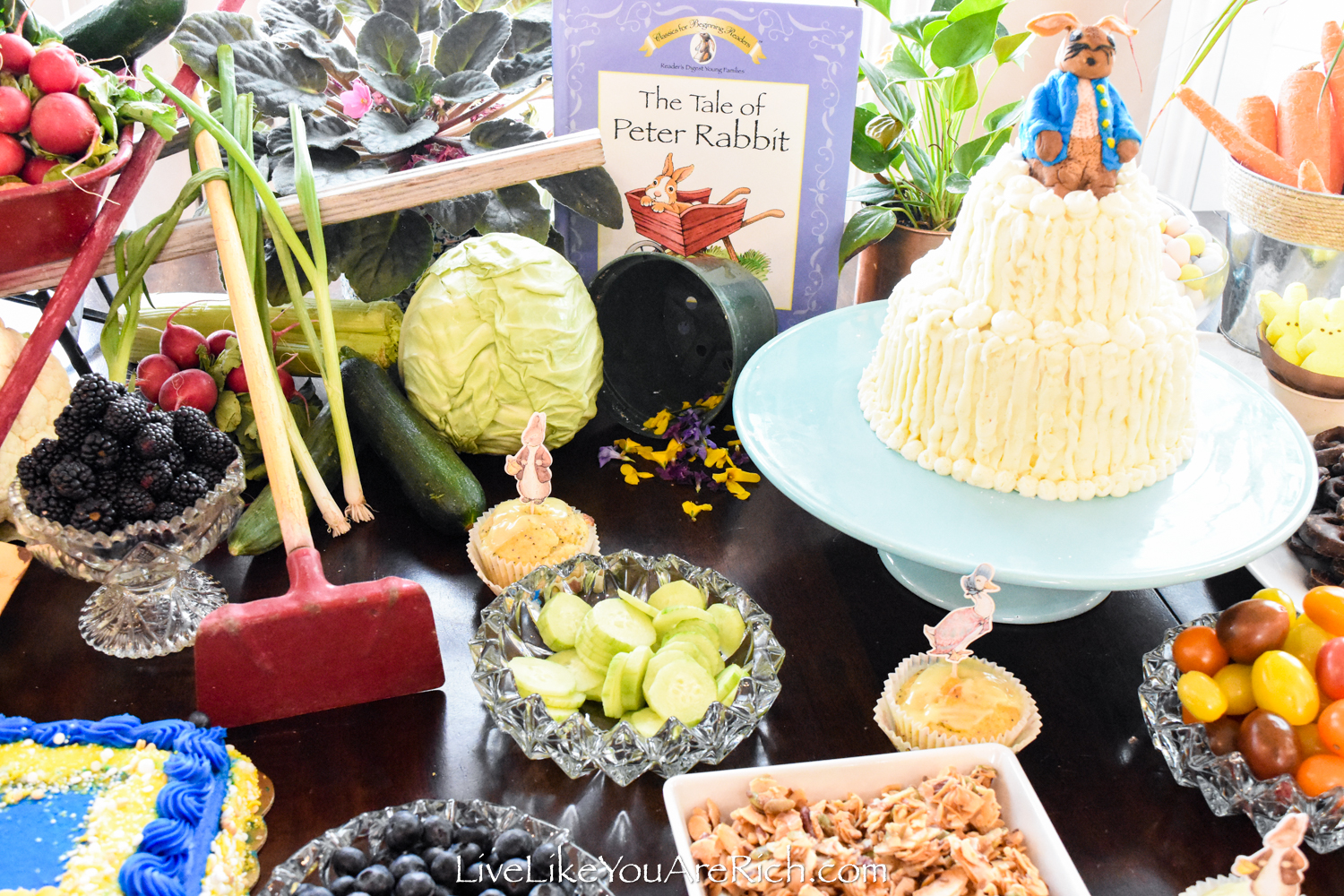 I made an angel food cake, and sprinkled it with powdered sugar.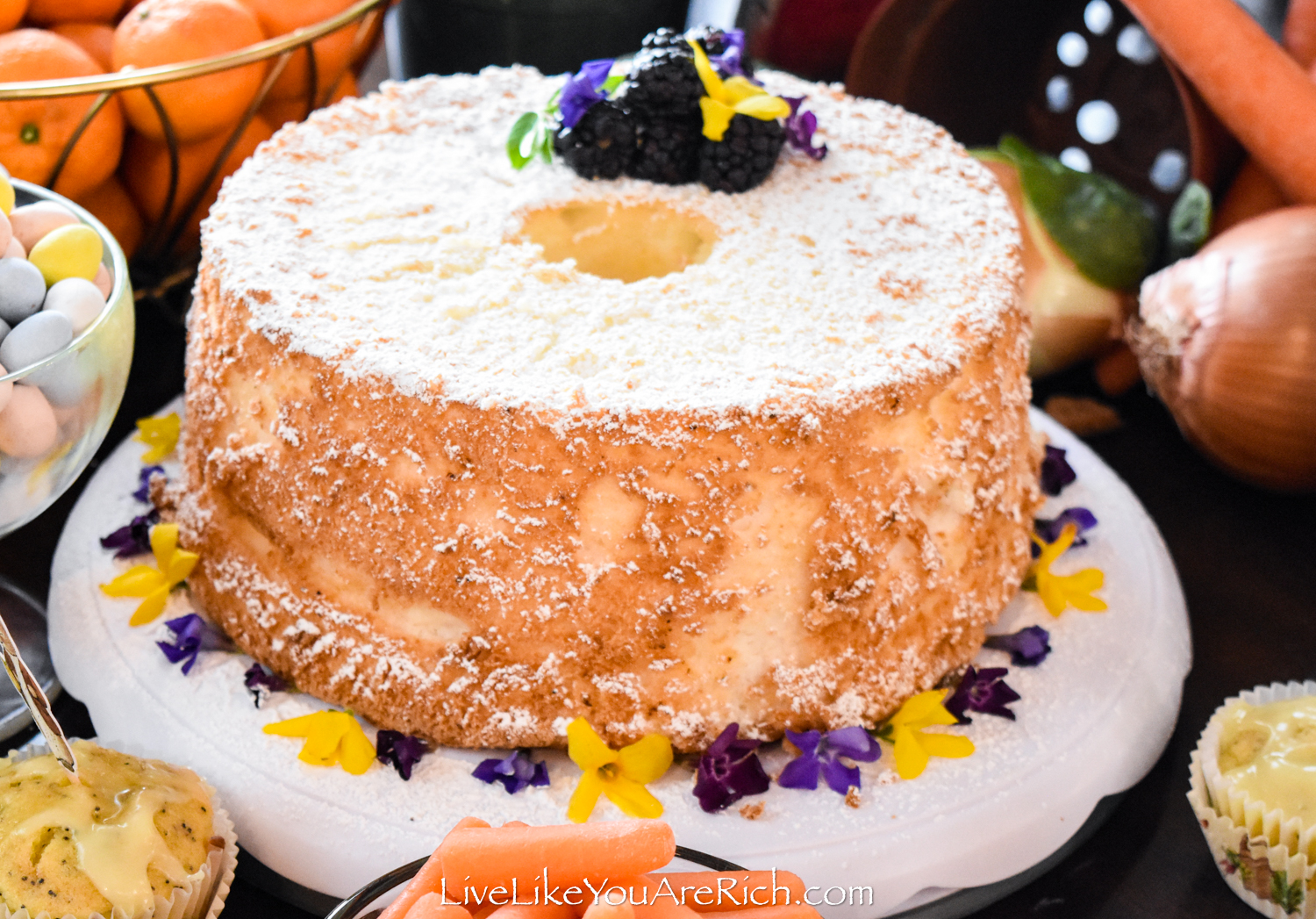 My daughter picked flowers in our yard to decorate the base of the angel food cake with.

I placed a pile of blackberries and flowers on top for additional interest.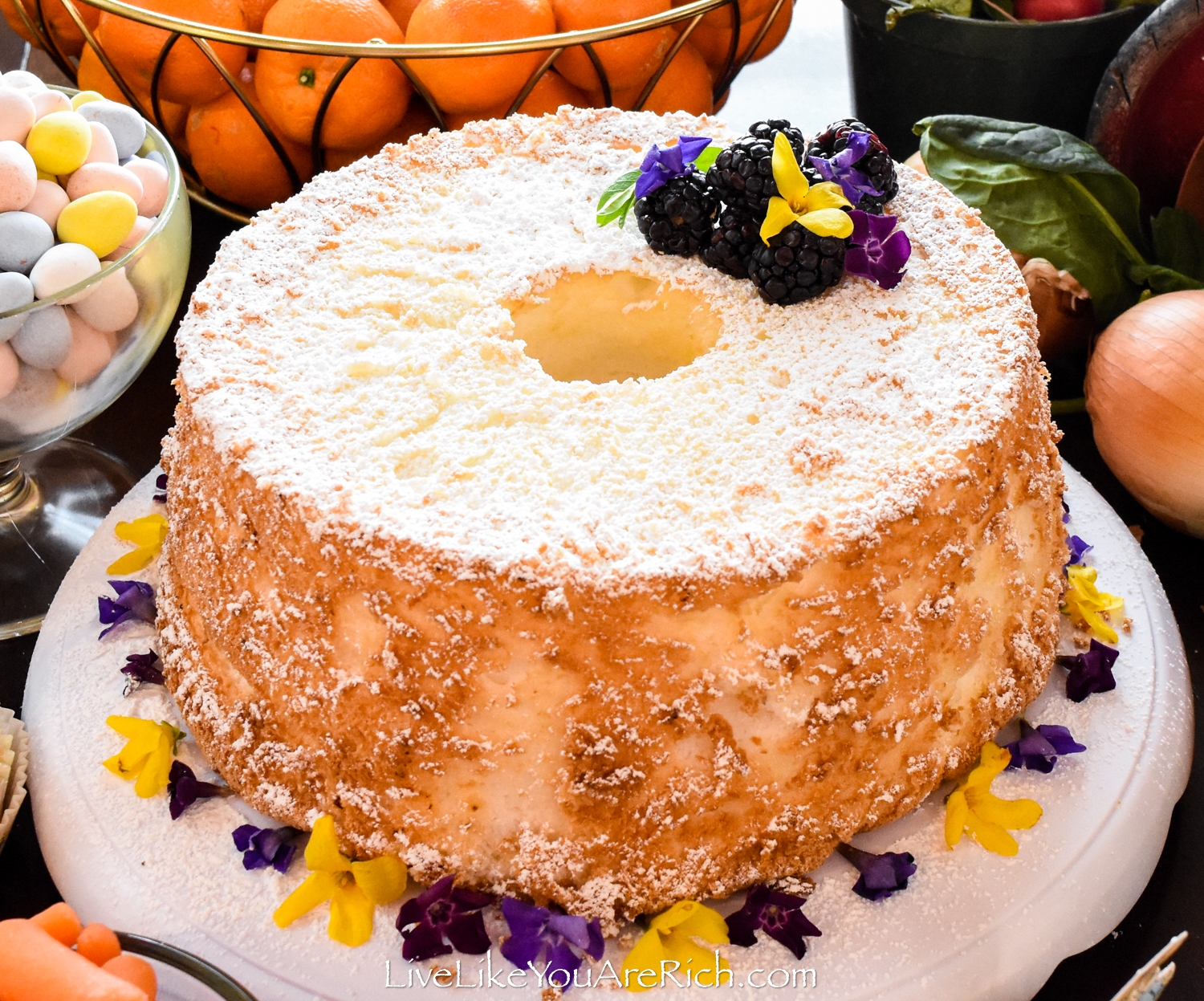 I put a wood and marble cheese board on the table with a variety of crackers and soft Boursin cheese.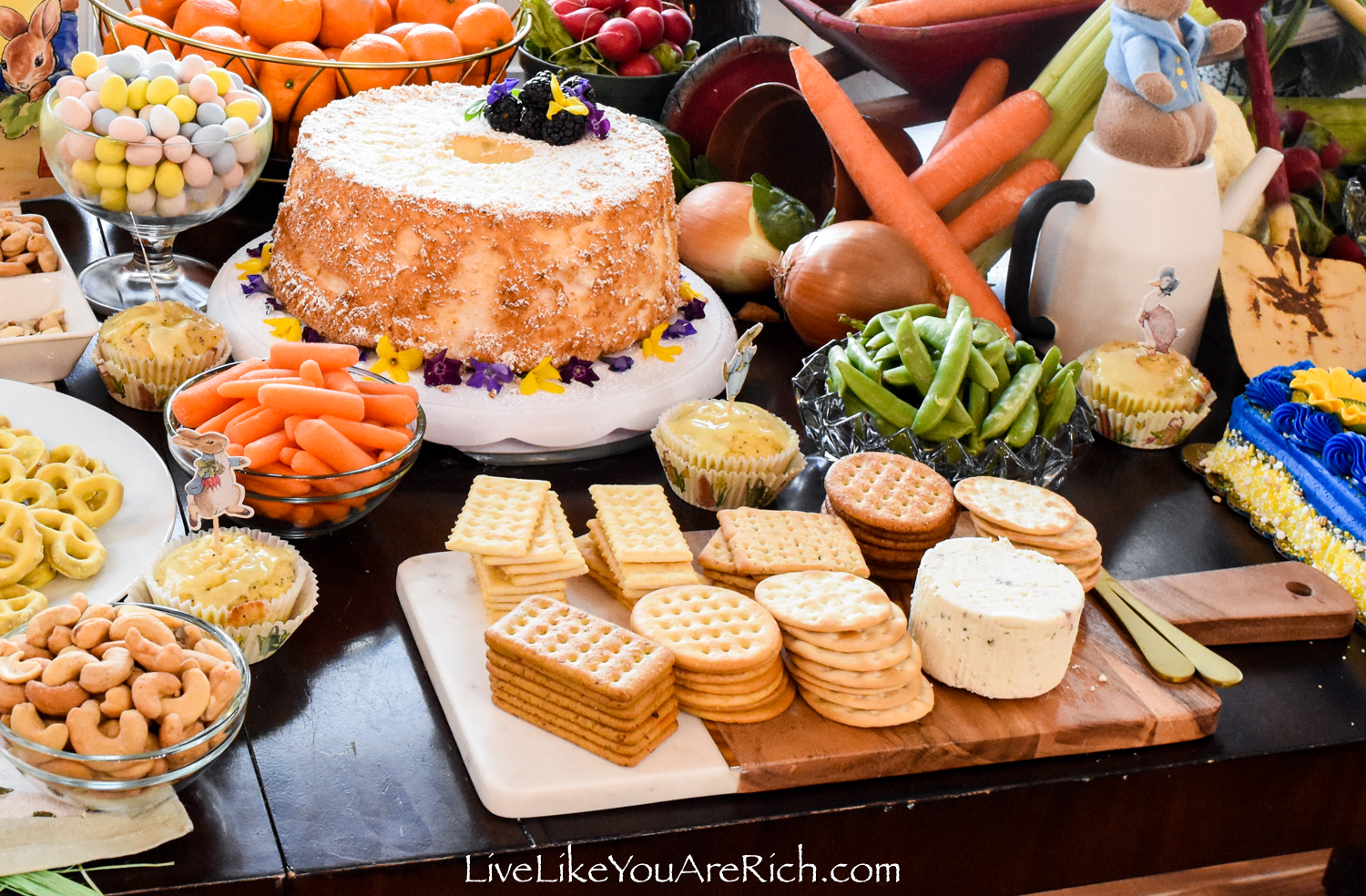 I placed glass bowls with carrots, sugar snap peas, cucumbers and other veggies on the food table.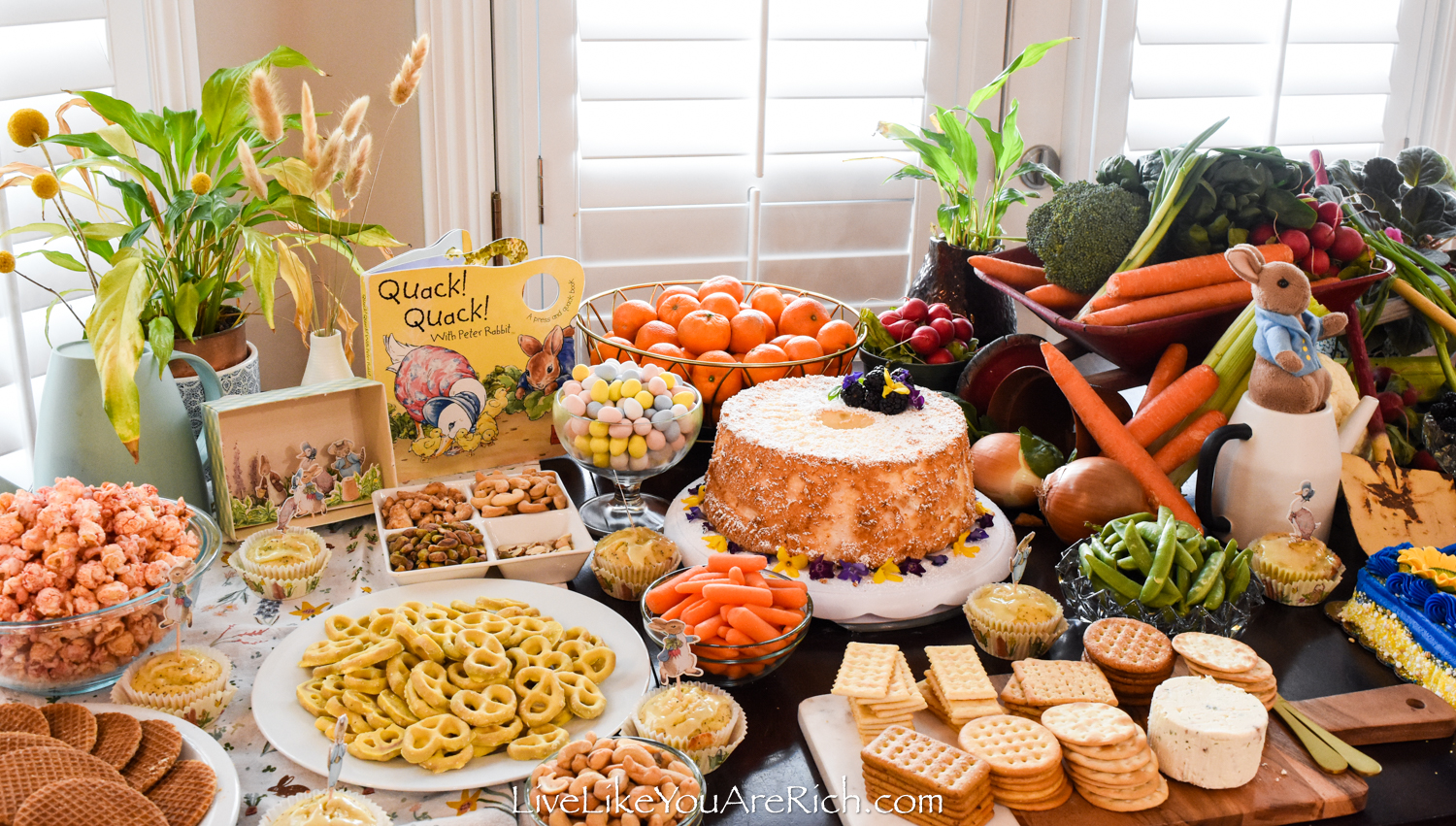 I had a cute book called, "Quack! Quack! With Peter Rabbit".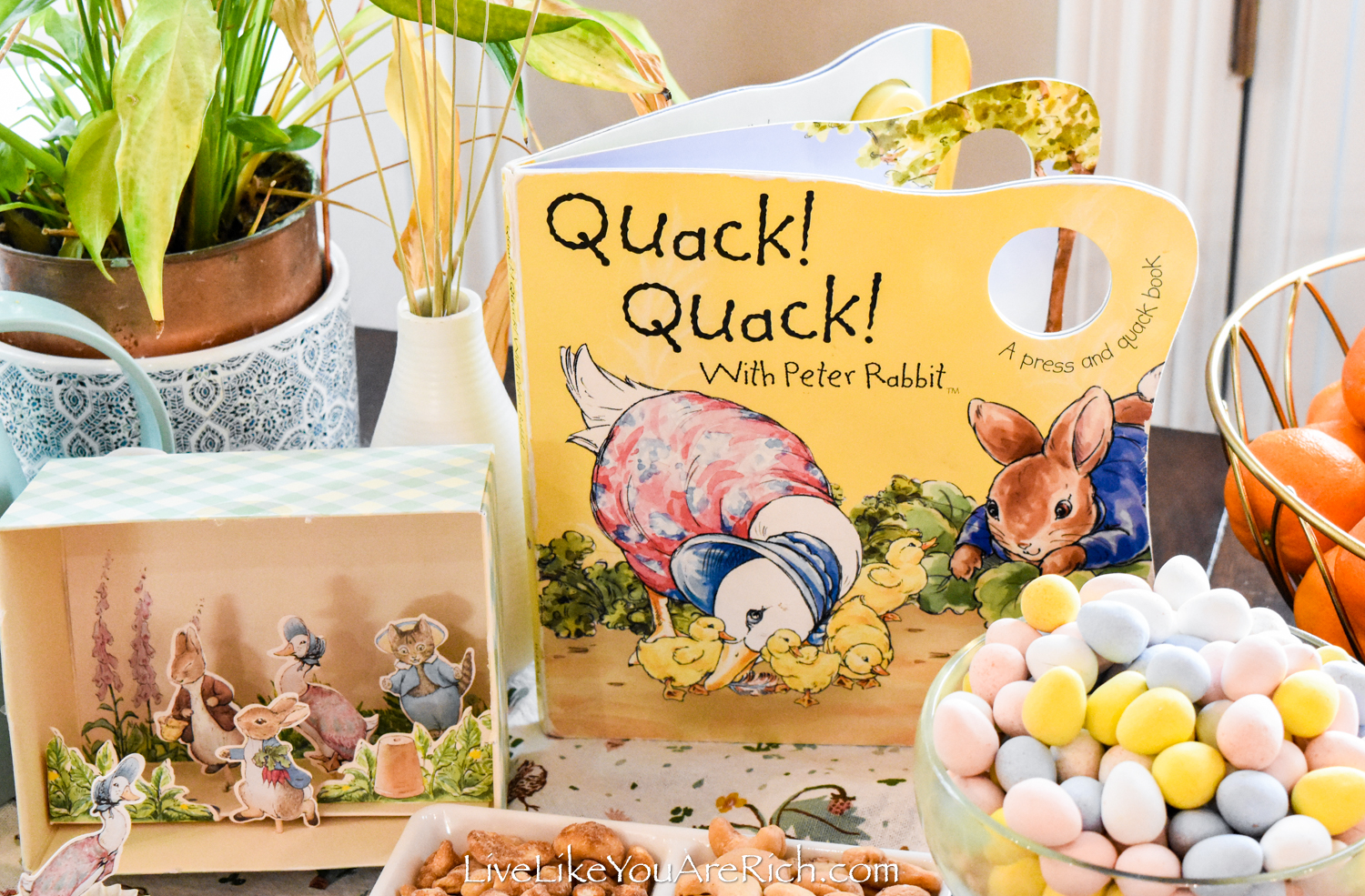 The book was propped up next to a vase with bunny tails and a live green plant.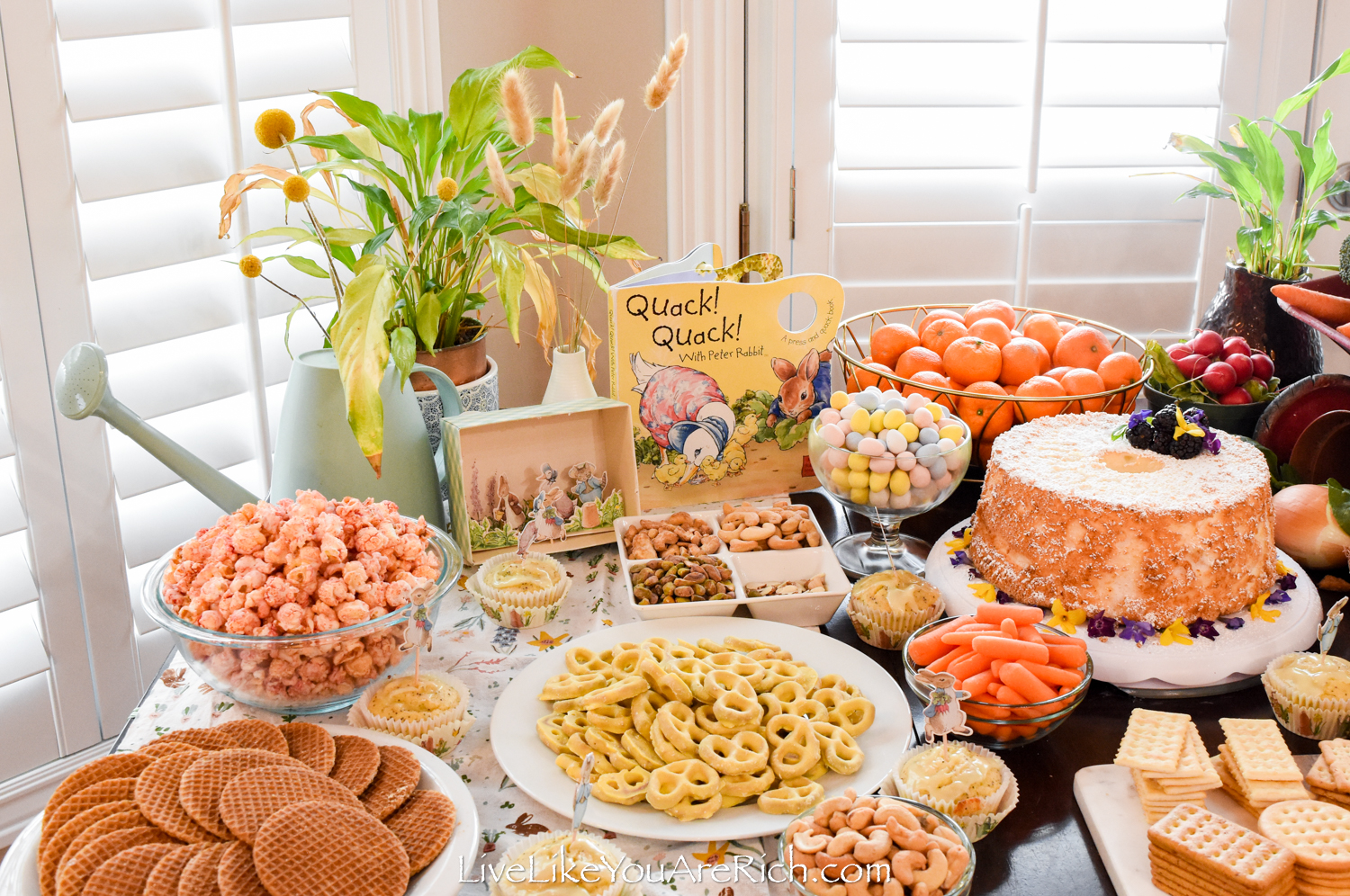 Our watering pail was placed on the table as decor with a few Billy Button stems inside.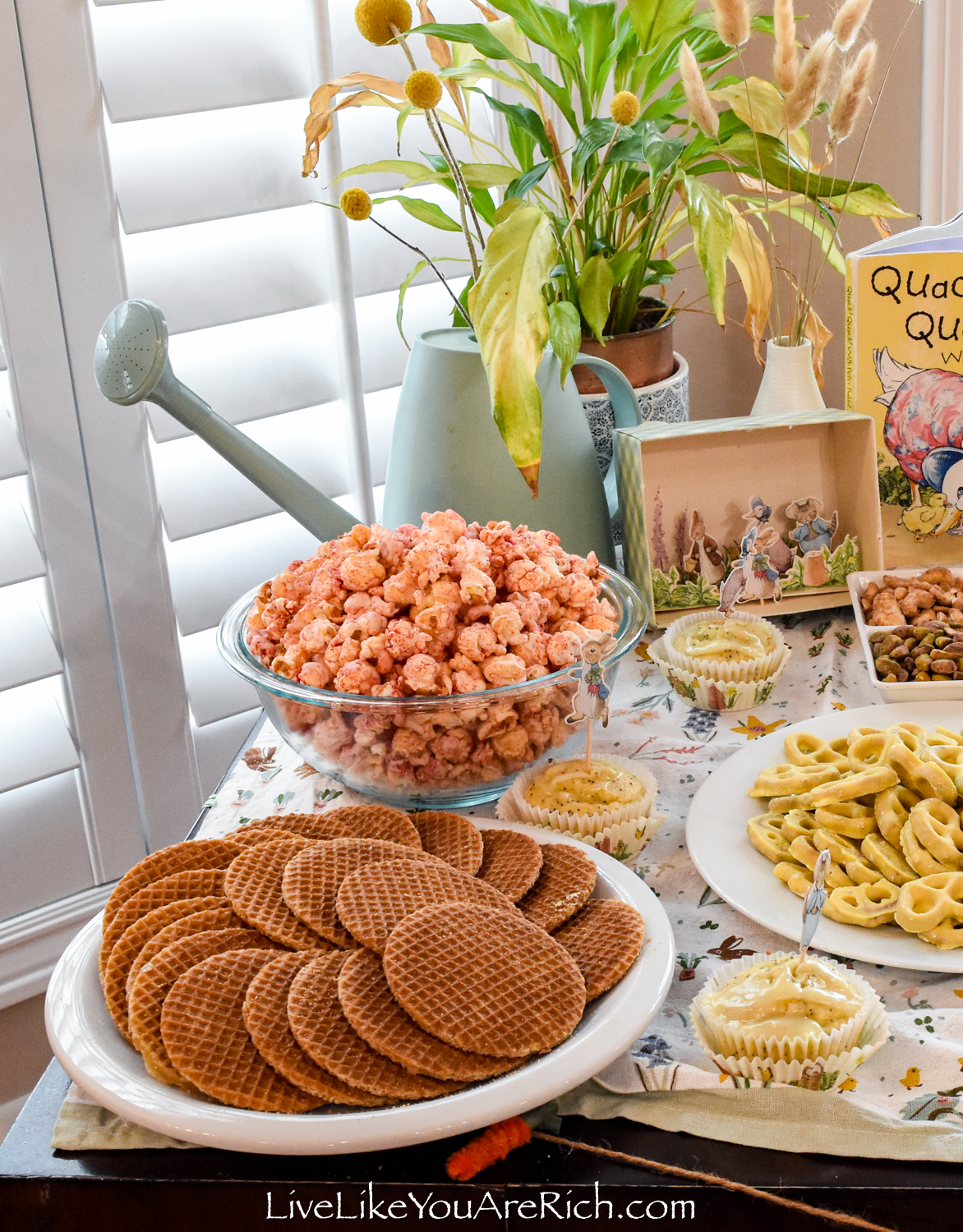 Costco was having a sale on Strawberries and Cream popcorn,
lemon covered pretzels,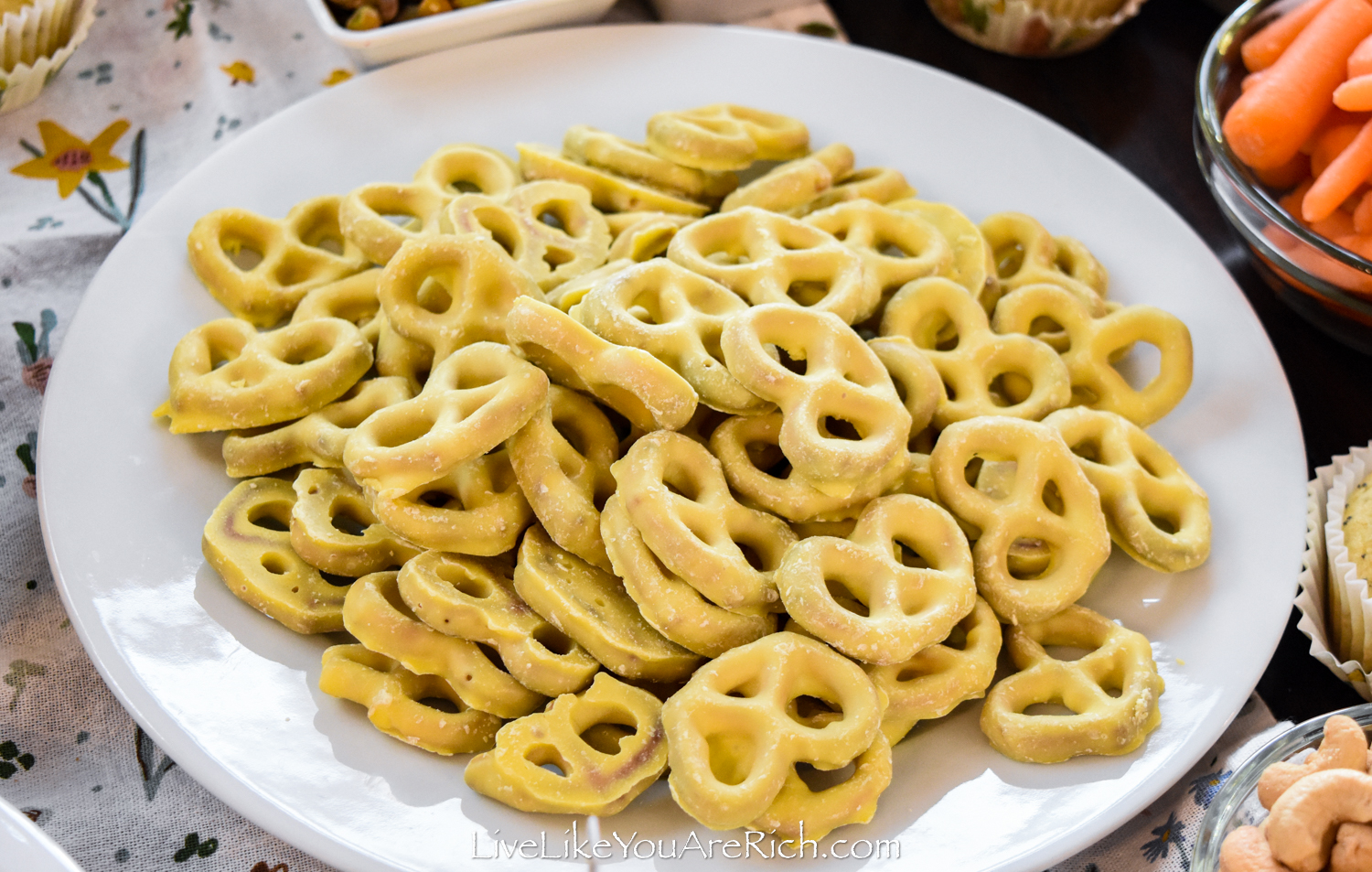 and Stroopwafle cookies, so I had some of those in my pantry and put them out on the table.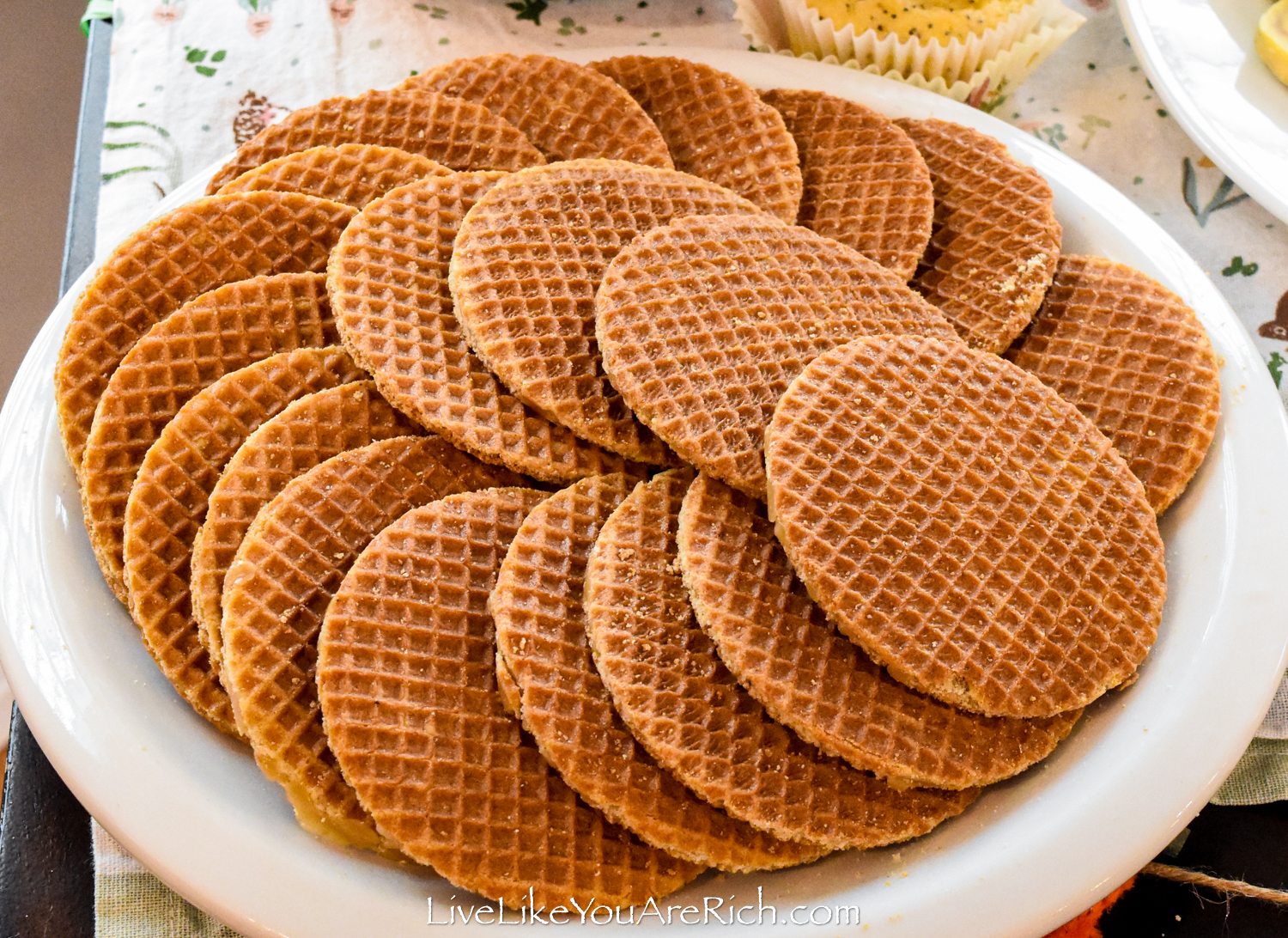 I ordered a Peter Rabbit Cupcake Kit from Burke Decor.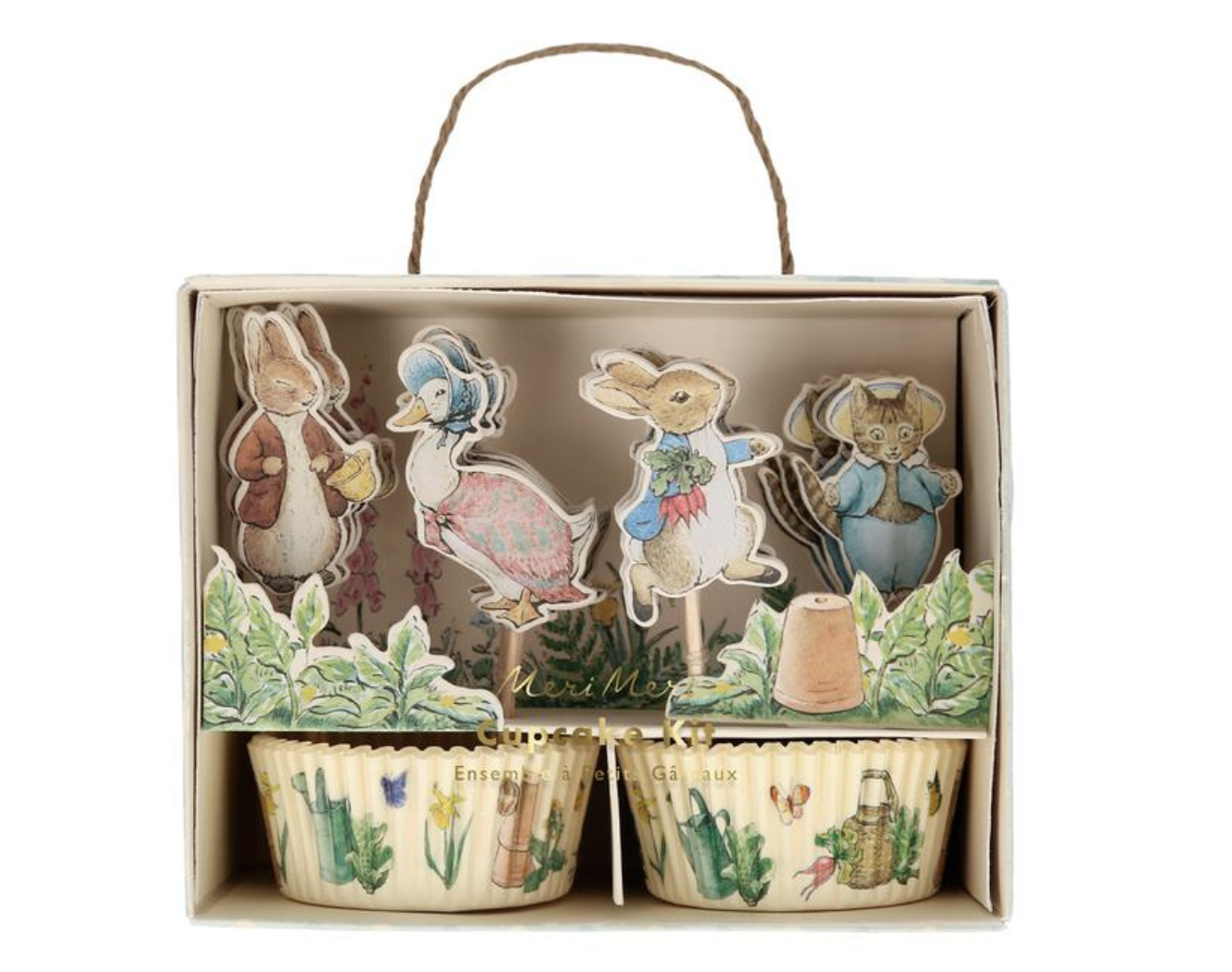 Instead of disposing of the box it came in, using scissors and tape, I changed the packaging a little and placed a few of the toothpick characters inside to make a Peter Rabbit shadow box.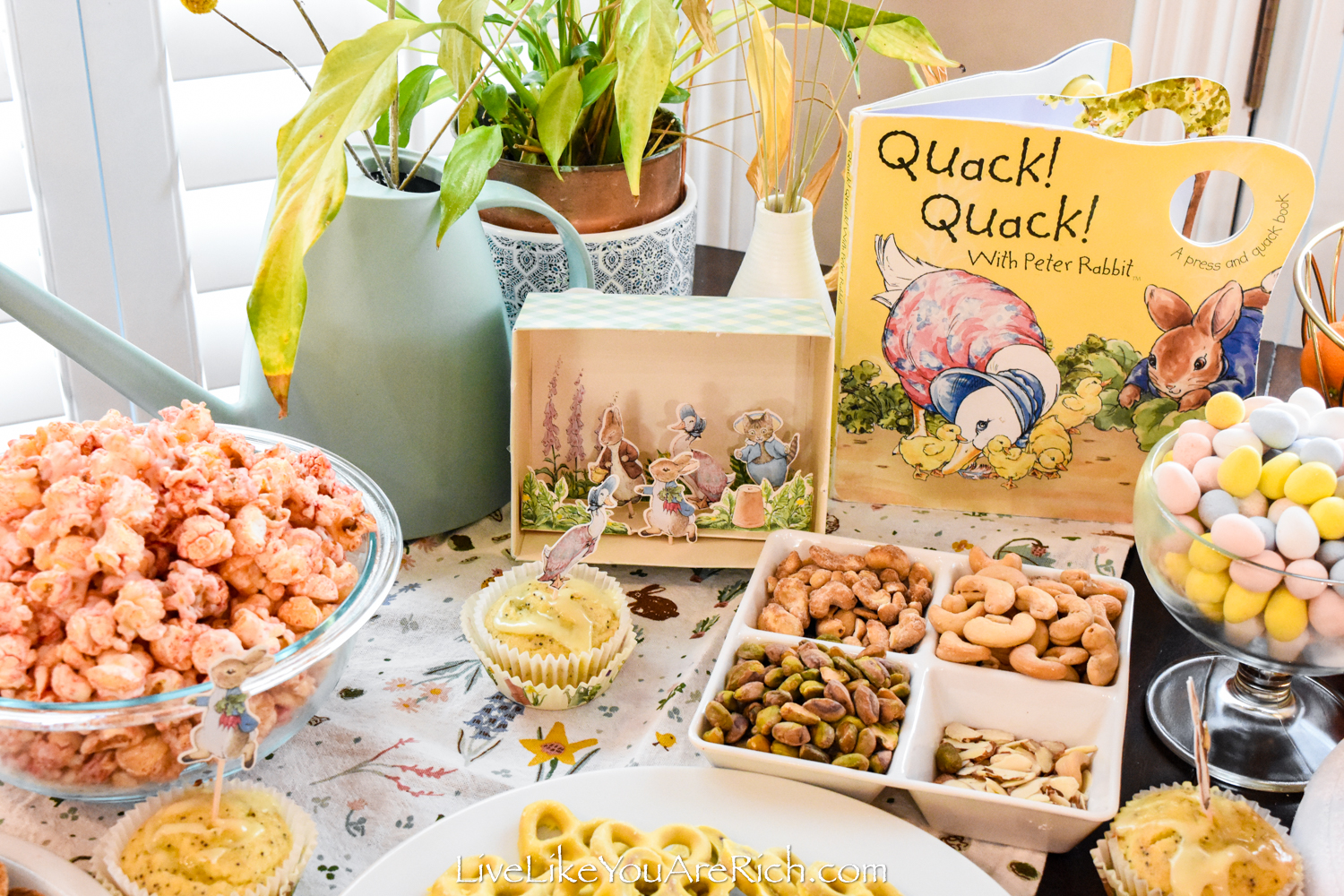 I really loved the way the shadow box turned out!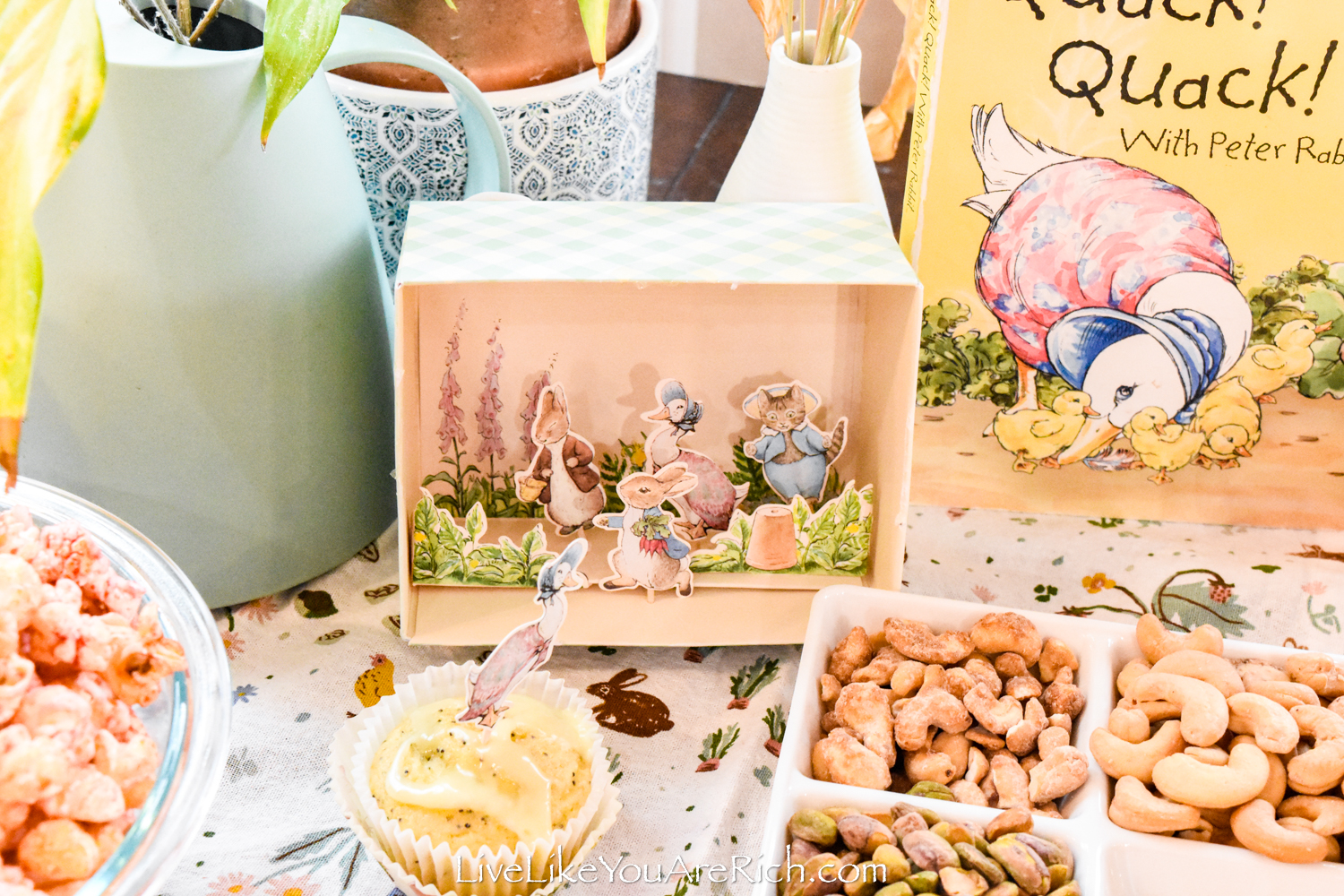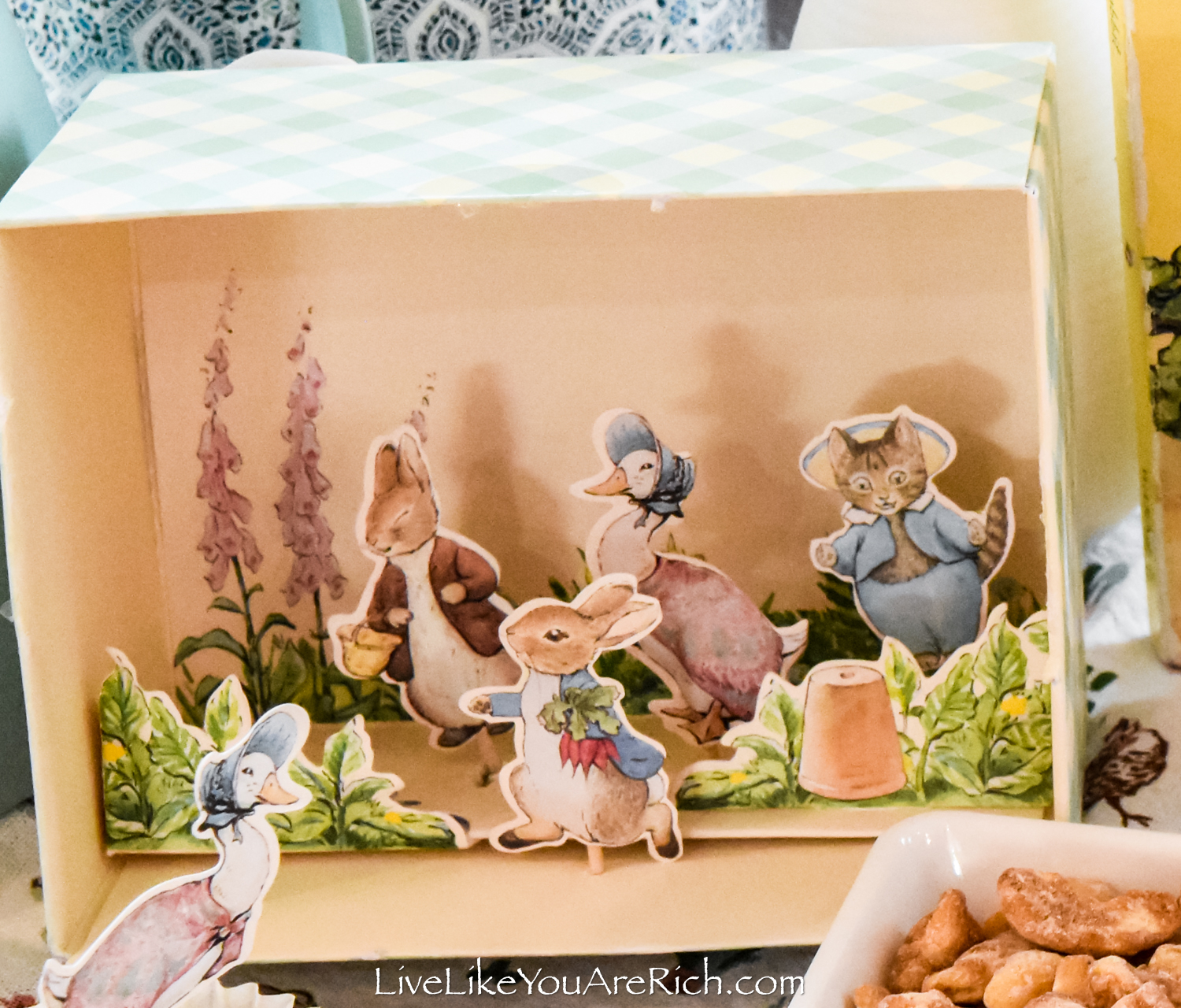 I did use some of the items from the cupcake kit as intended…
I made 12 poppy seed muffins with lemon drizzle and put 12 of the character picks and cupcake liners on them.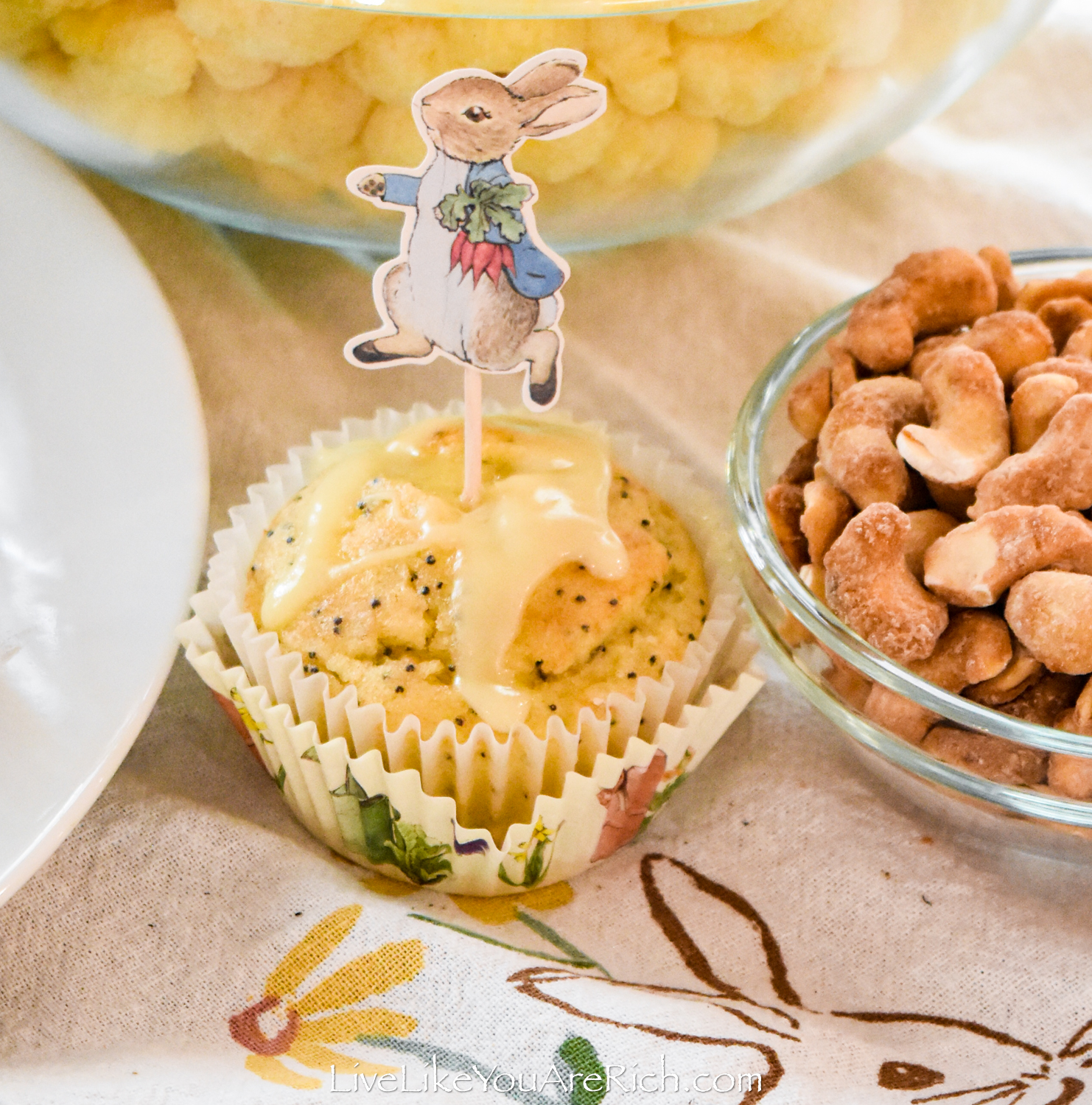 I used the other 12 cupcake liners as buttermint holders on the Peter Rabbit Adults' Tablescape.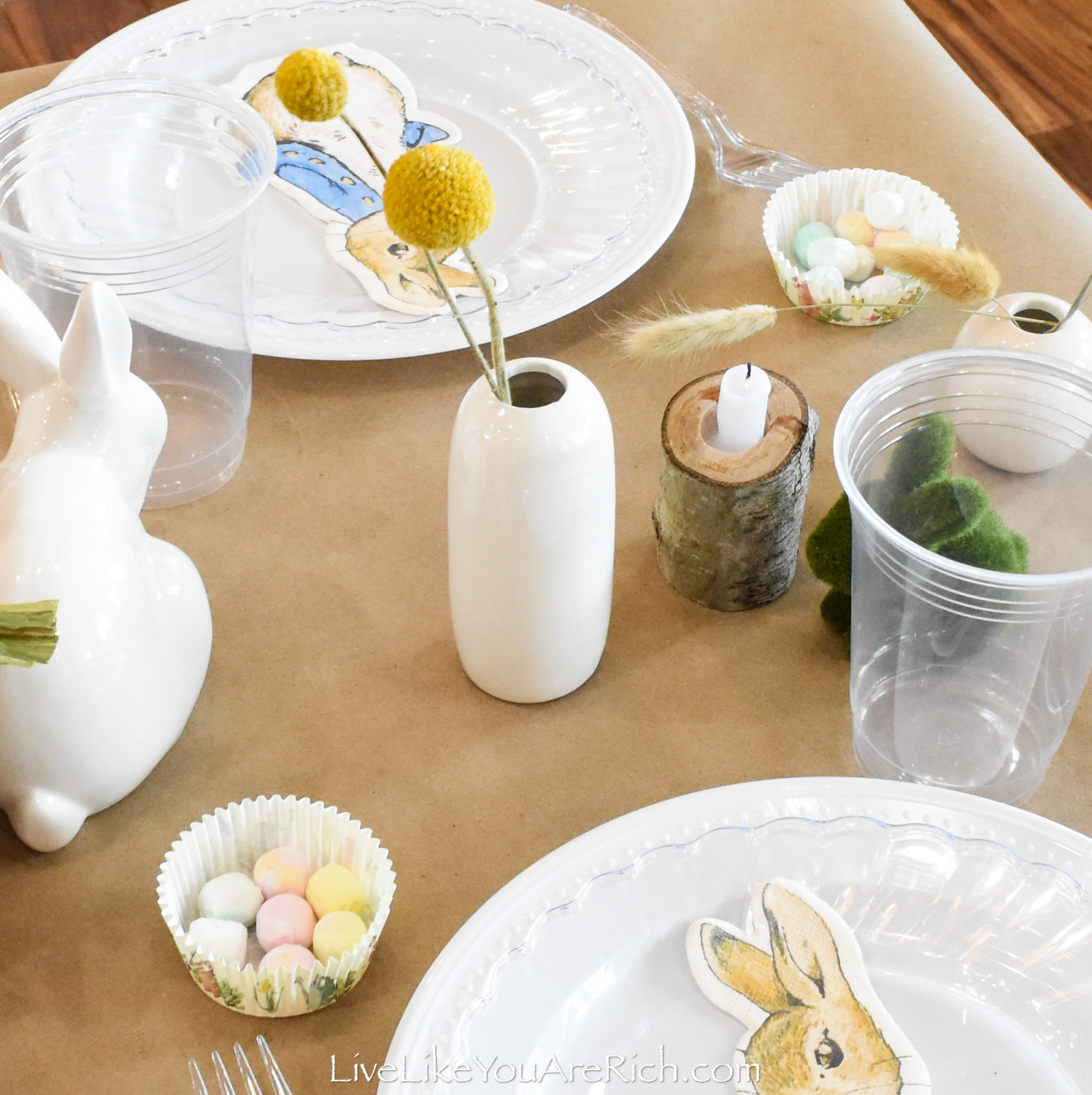 I placed the Peter Rabbit character picks in the blue and yellow cake I bought at Smith's for additional decoration and interest.

Sometimes Smith's Bakery has discounted items they are wanting to sell off quickly. I found this cake in the clearance area in the bakery for $2.50. I thought it would work perfectly for this party, so I simply froze it until the morning of the party. It tasted very fresh—freezing cake for a short period of time works great to preserve its freshness.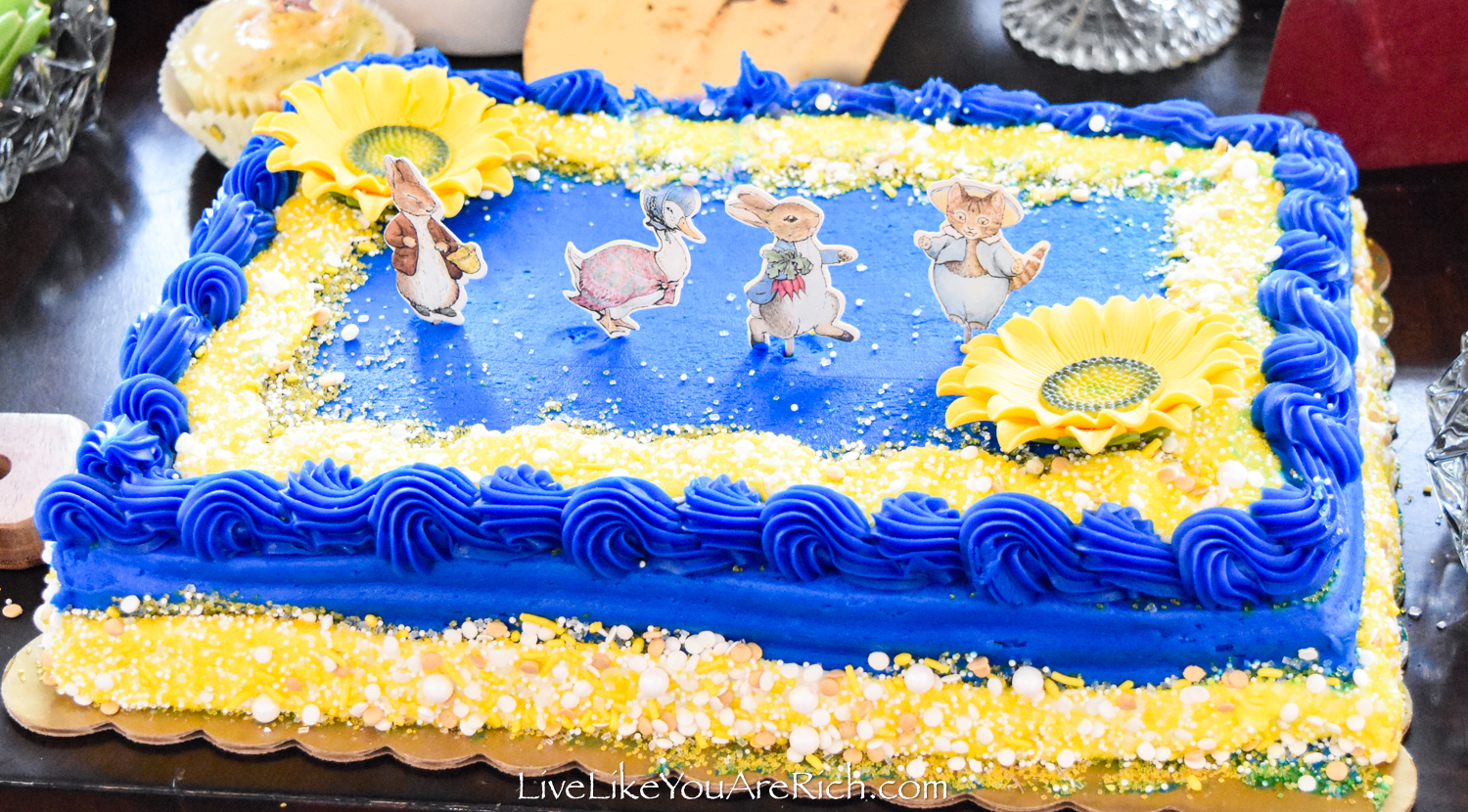 Additional Food and Decor for a Peter Rabbit Party consisted of pistachios, cashews, honey cashews, and sliced almonds.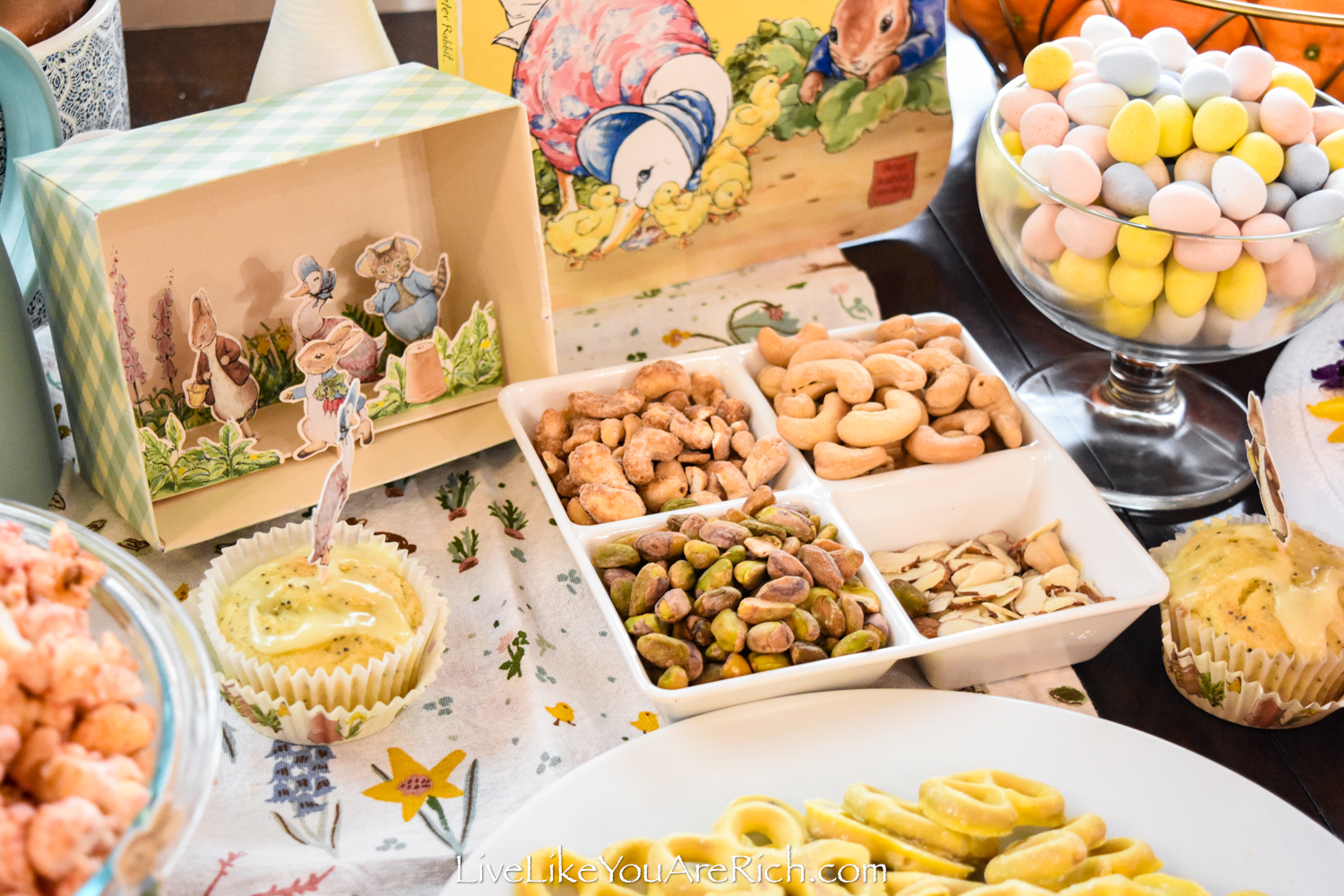 Cadbury eggs (Costco), were a great addition as they matched the theme and color scheme.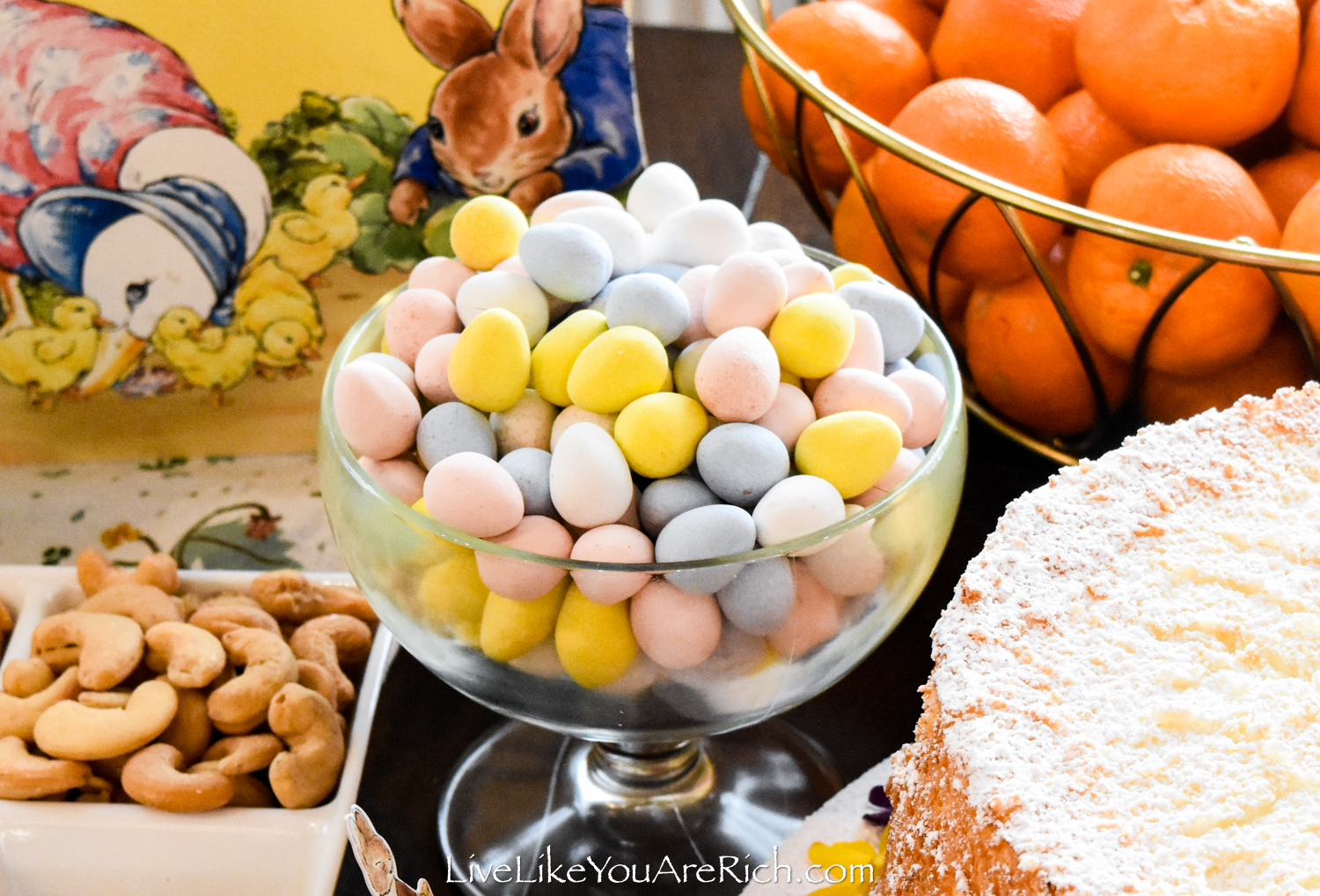 A basket of Cuties was a great pop of orange color and sweet flavor.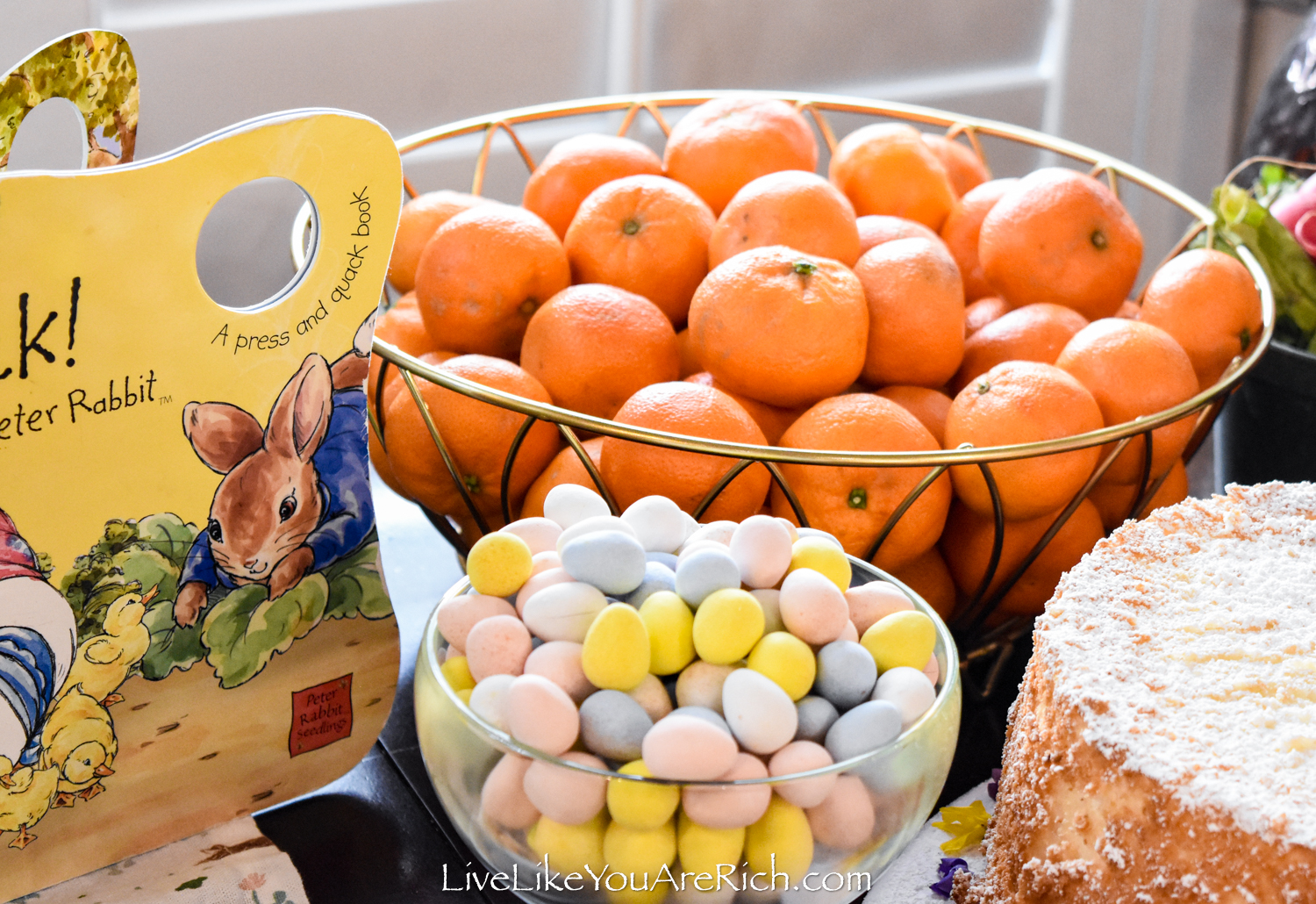 The radishes added a nice reddish-pink pop of color and went well with the theme. One bundle fits perfectly in the planter pot.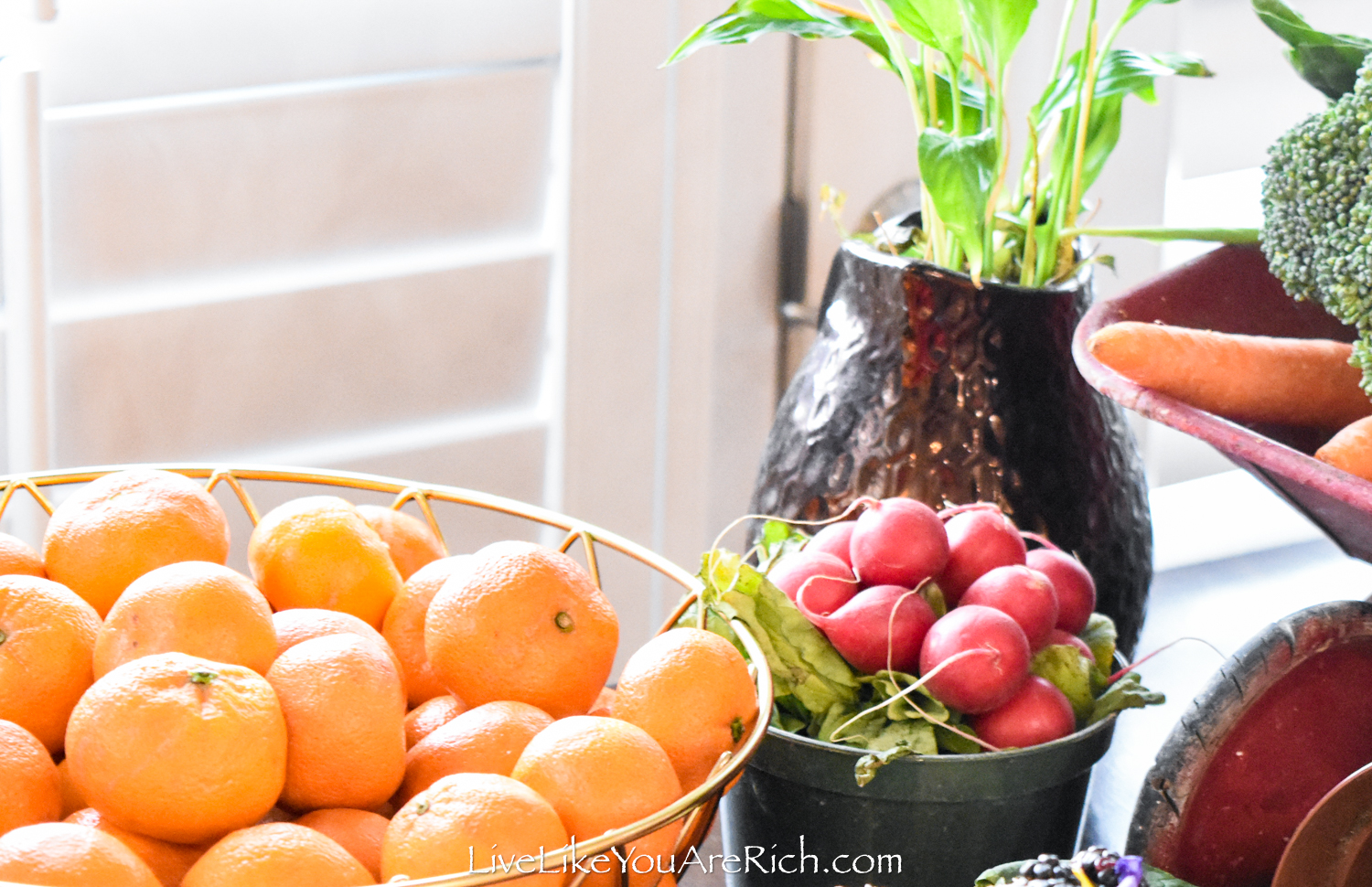 I hung these handmade burlap Easter bunny and Carrot buntings across the front of the food table.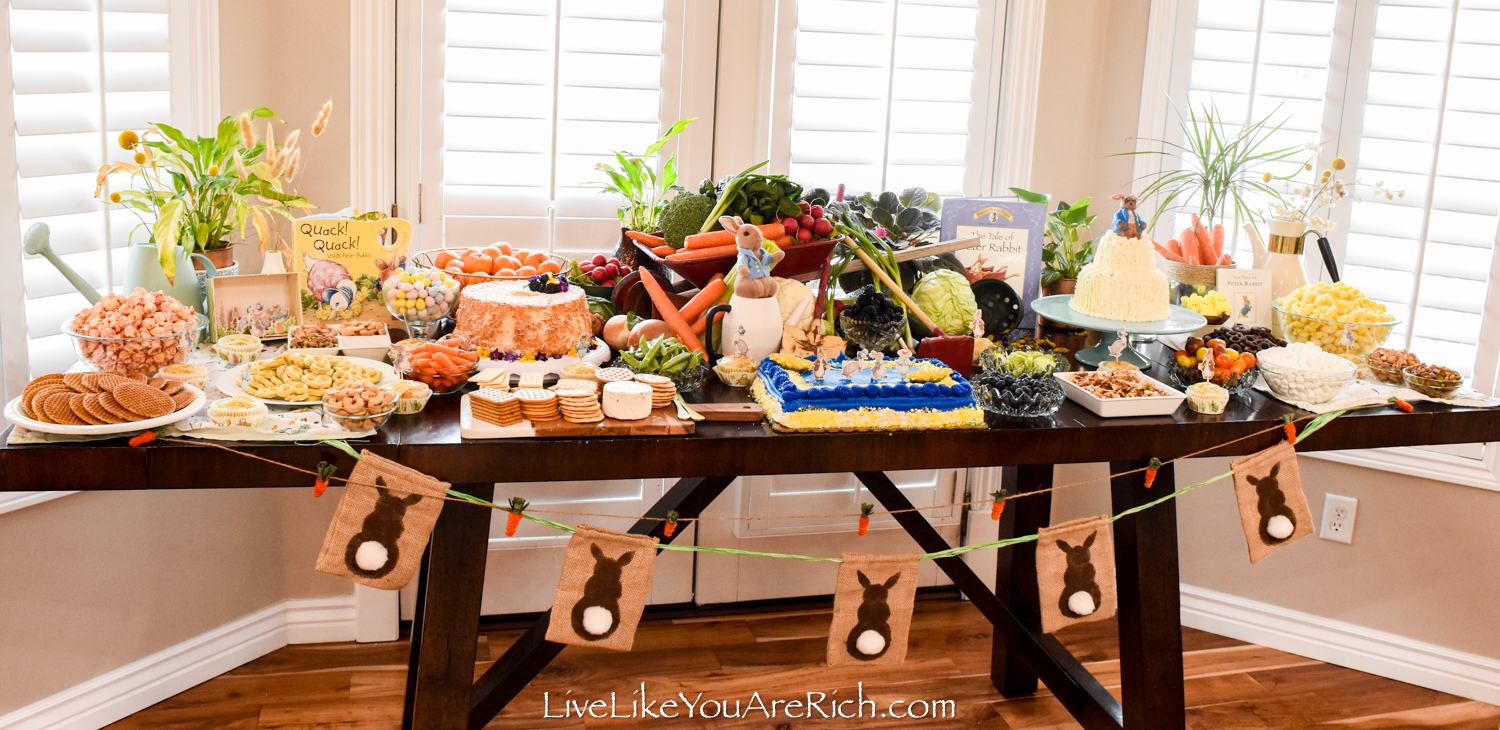 I used the carrot bunting this year to decorate my Modern Rustic Easter Mantel.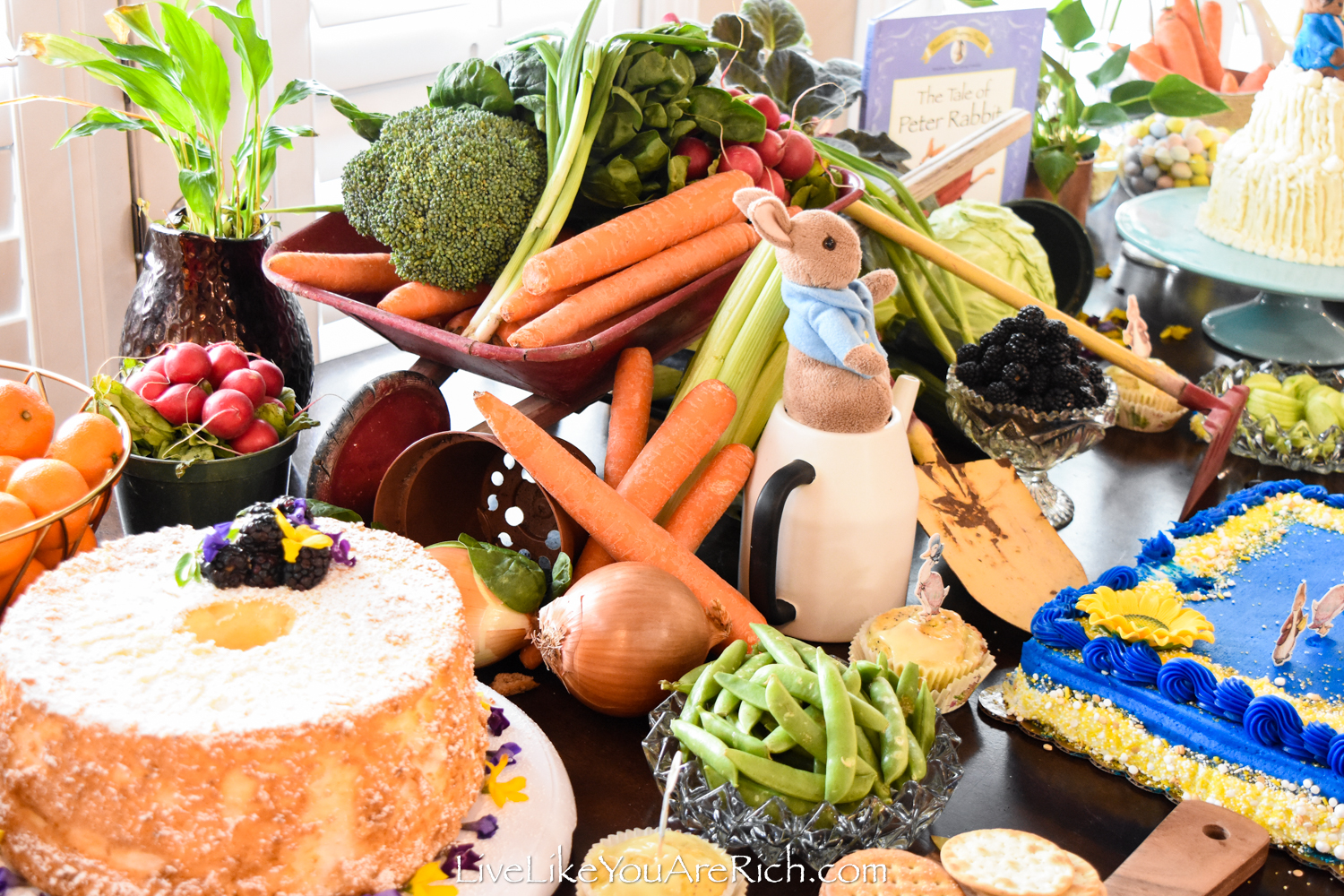 In the story, The Tale of Peter Rabbit, Peter's siblings got blackberries for dinner, so, I placed a crystal bowl full of blackberries on the table near the wheelbarrow.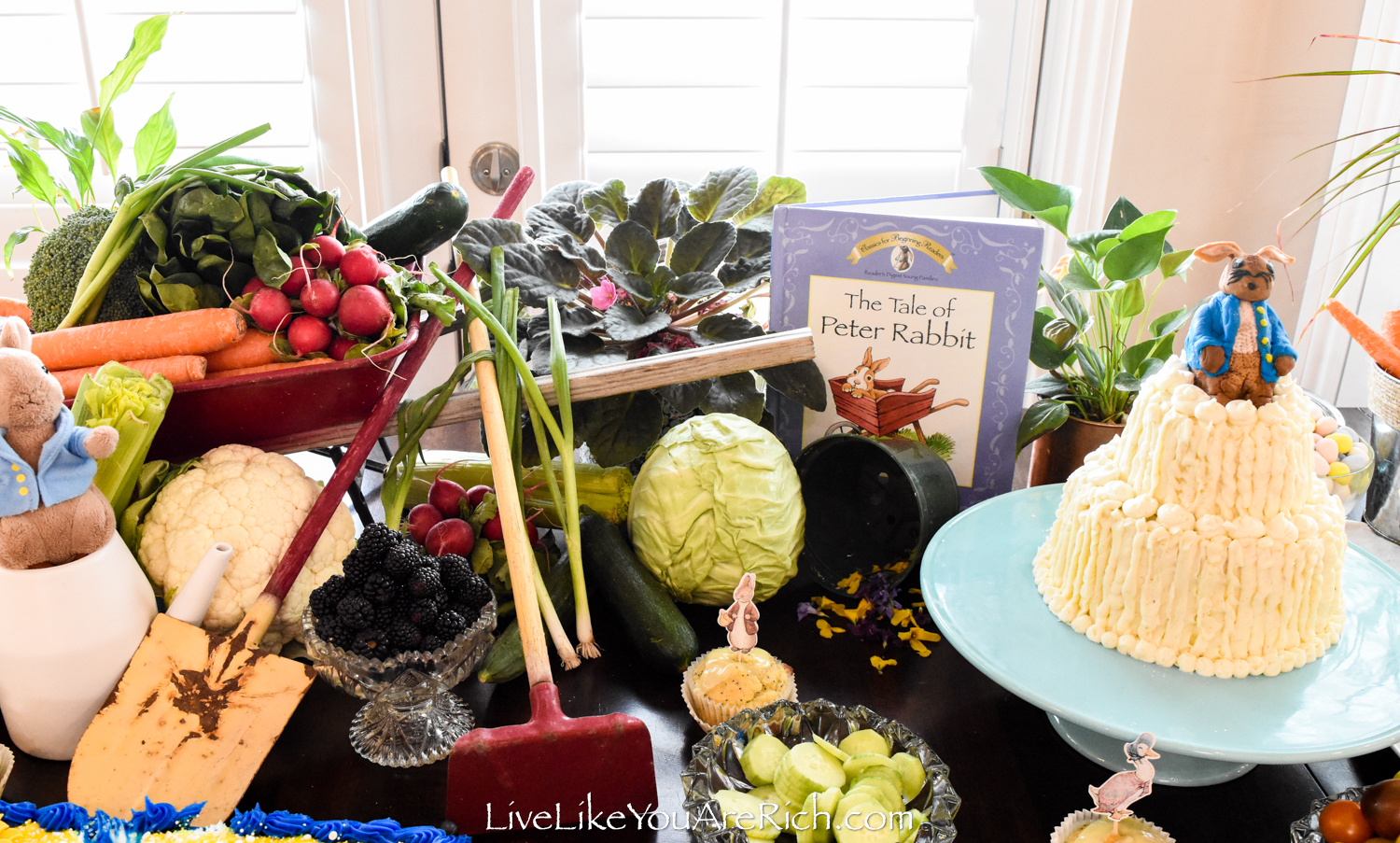 When decorating the angel food cake, my daughter picked extra flowers that we needed from our yard.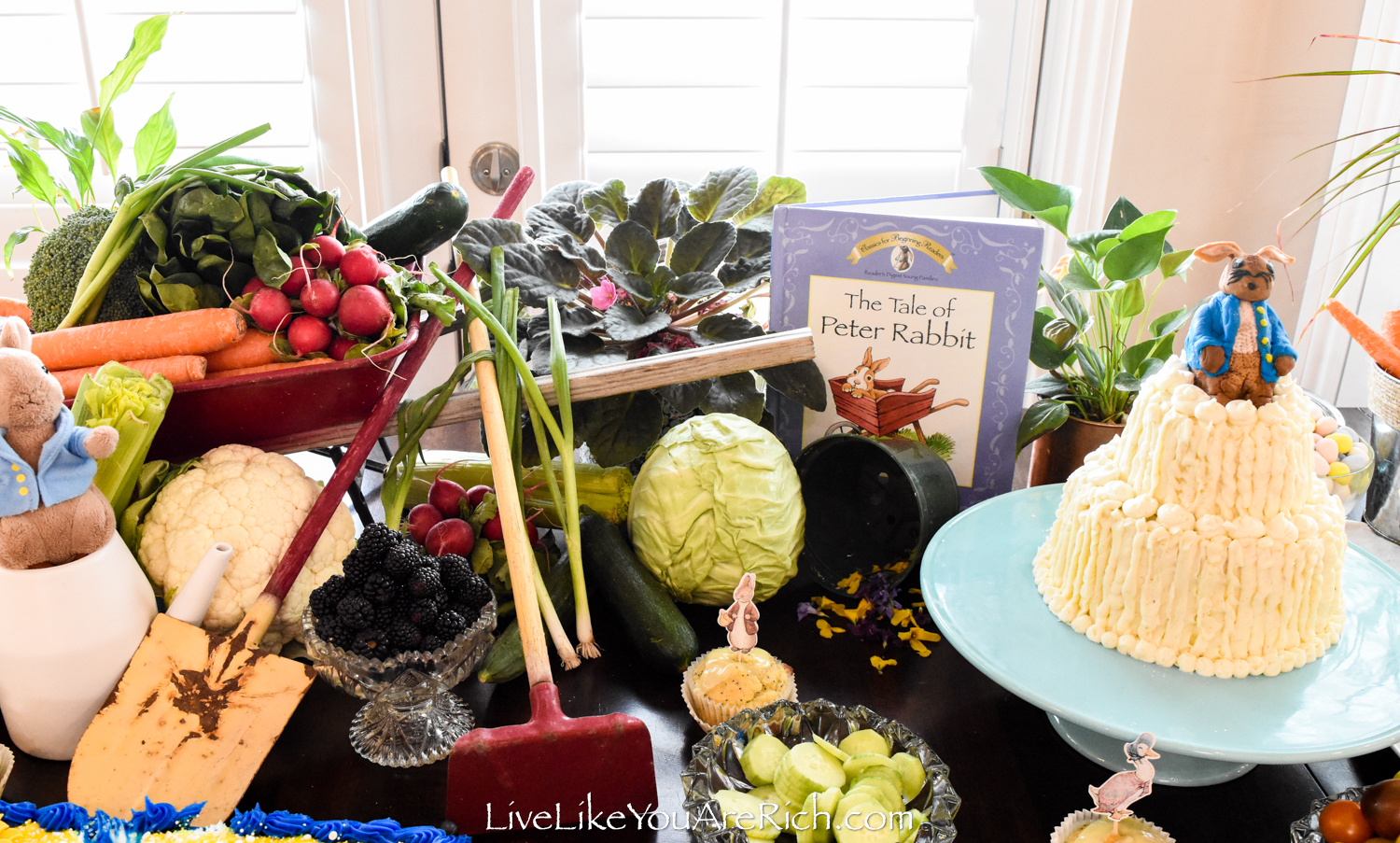 I placed the extra flowers spilling out of a plastic planter pot as decoration.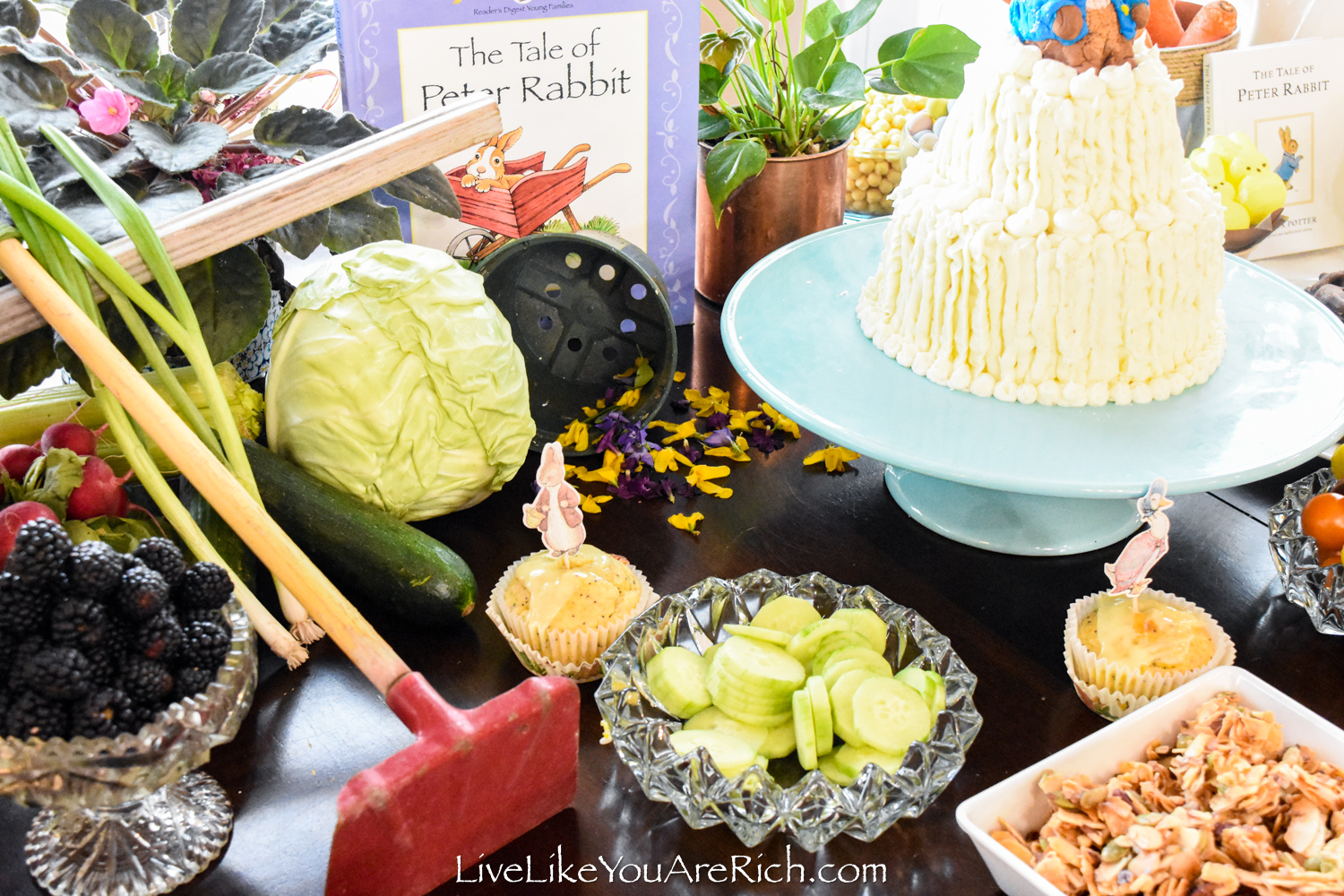 Placed between the wheelbarrow handles was a flowering plant I have in my home.
Blueberries, cucumbers, and Keto clusters (Costco) were also added as refreshments.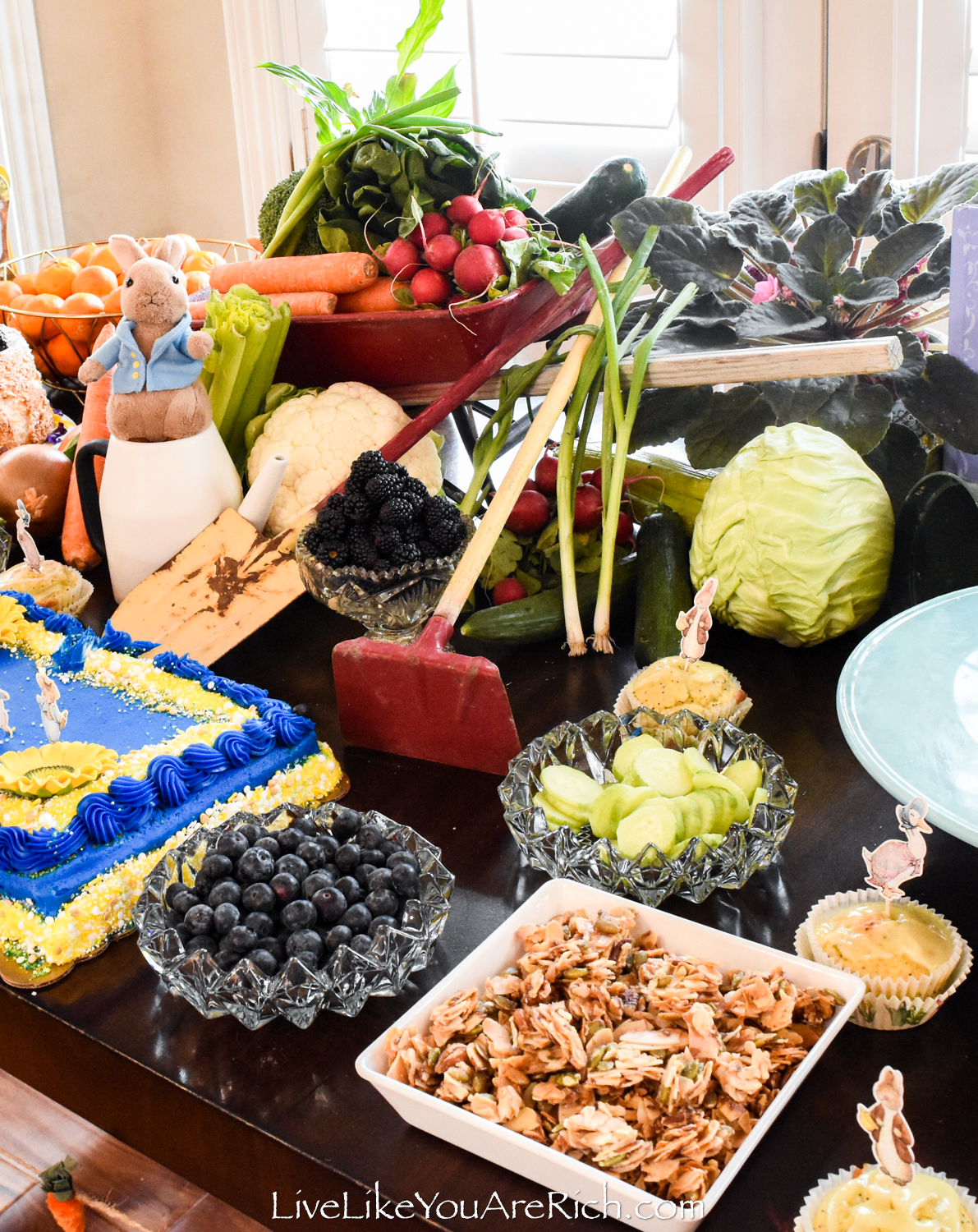 I made a Peter Rabbit out of Fondant and placed it on a tiered vanilla bean cake.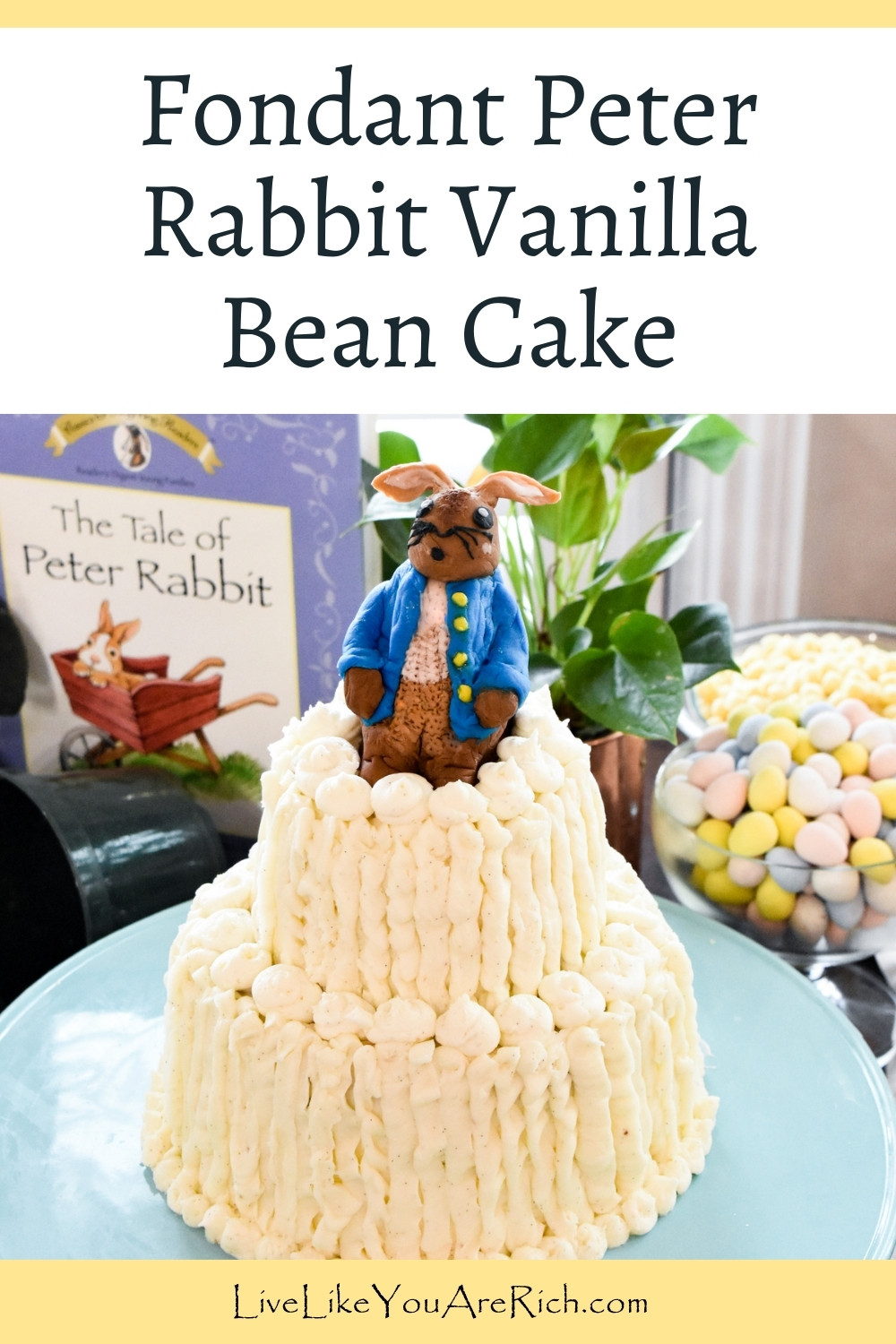 The flavor was a yellow cake and I used the best vanilla bean buttercream frosting to frost it.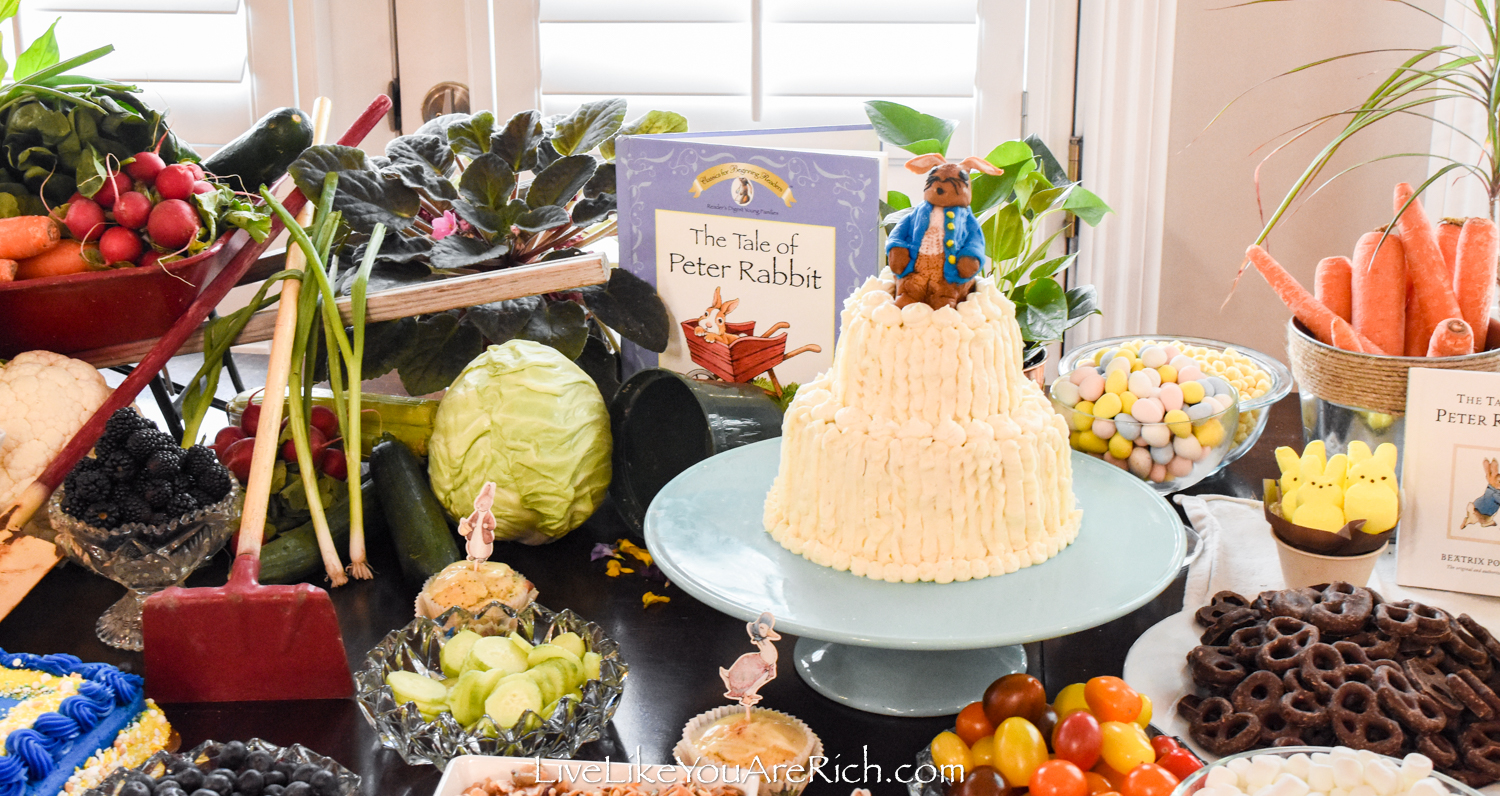 I posted the video on how I made the fondant Peter Rabbit and linked to it above.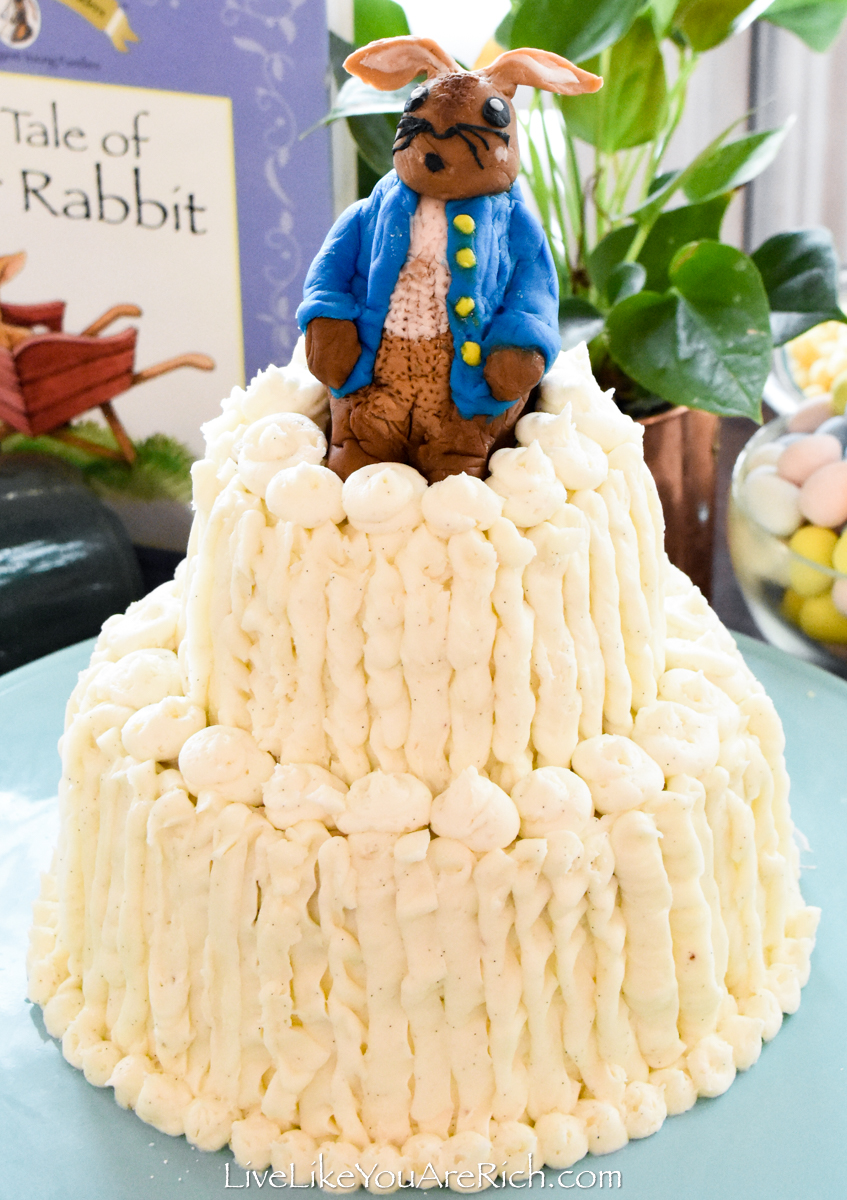 On both sides of the table, I placed Easter tea towels (Target).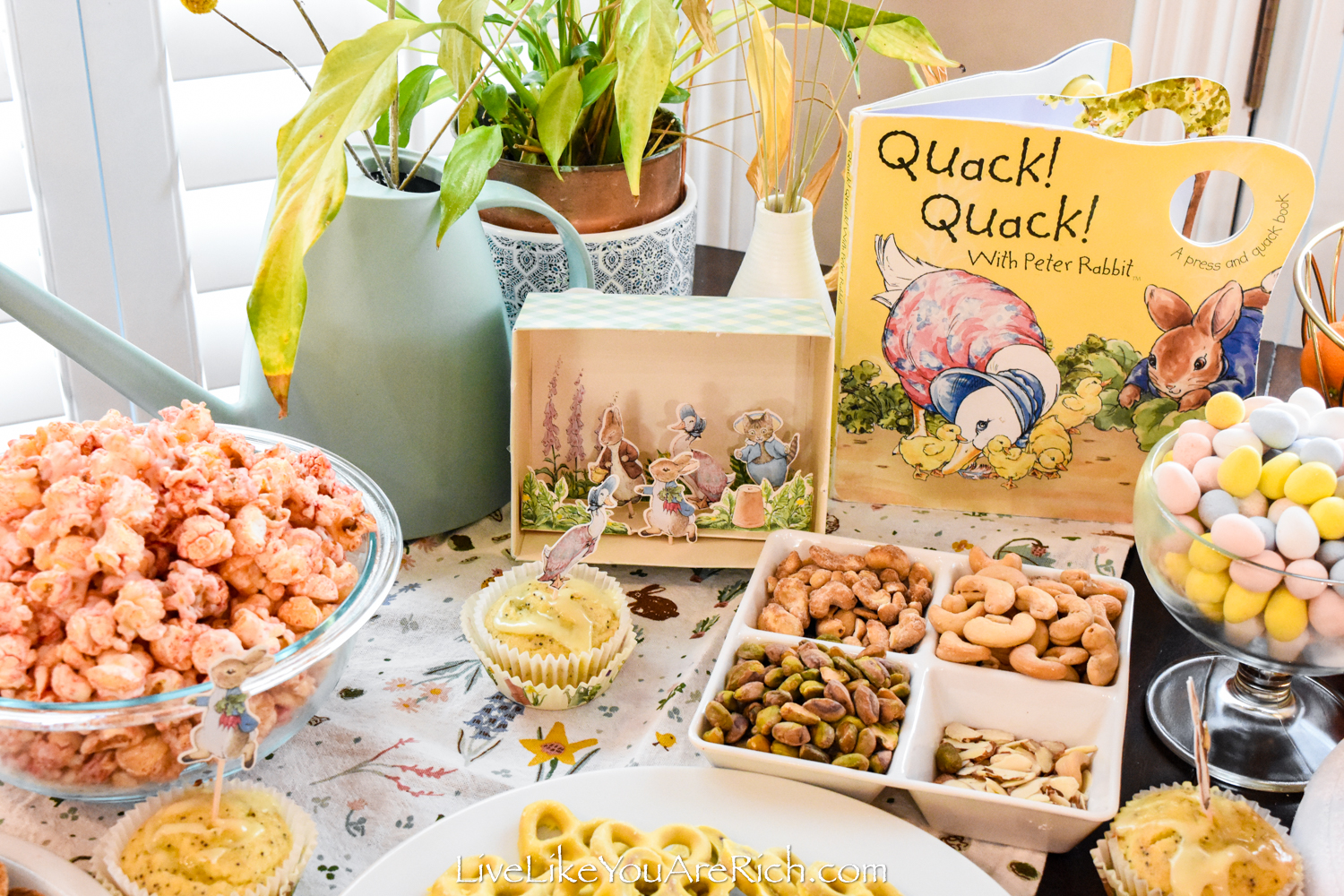 I placed the towels on either end to add interest, dimension, and more bunny-themed decor.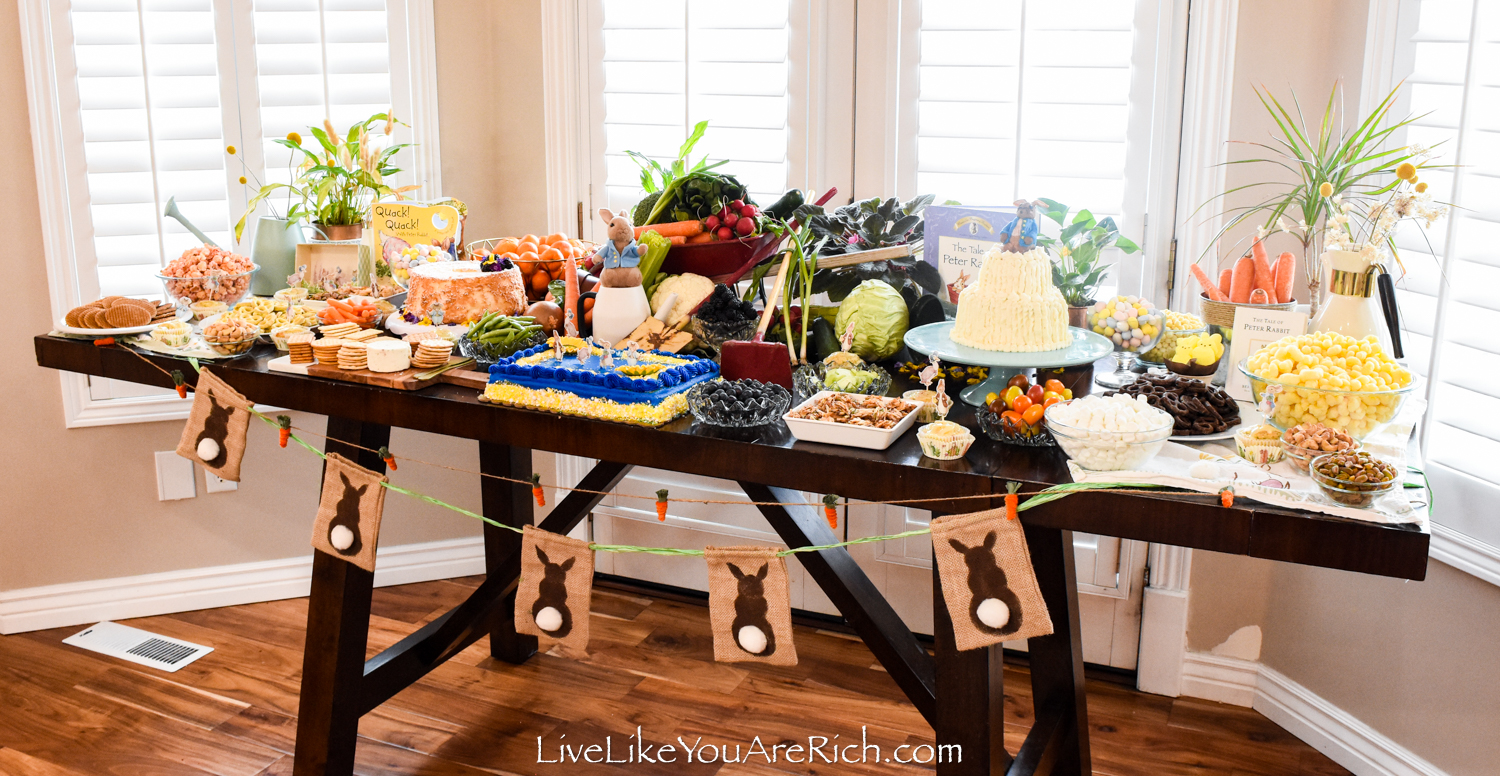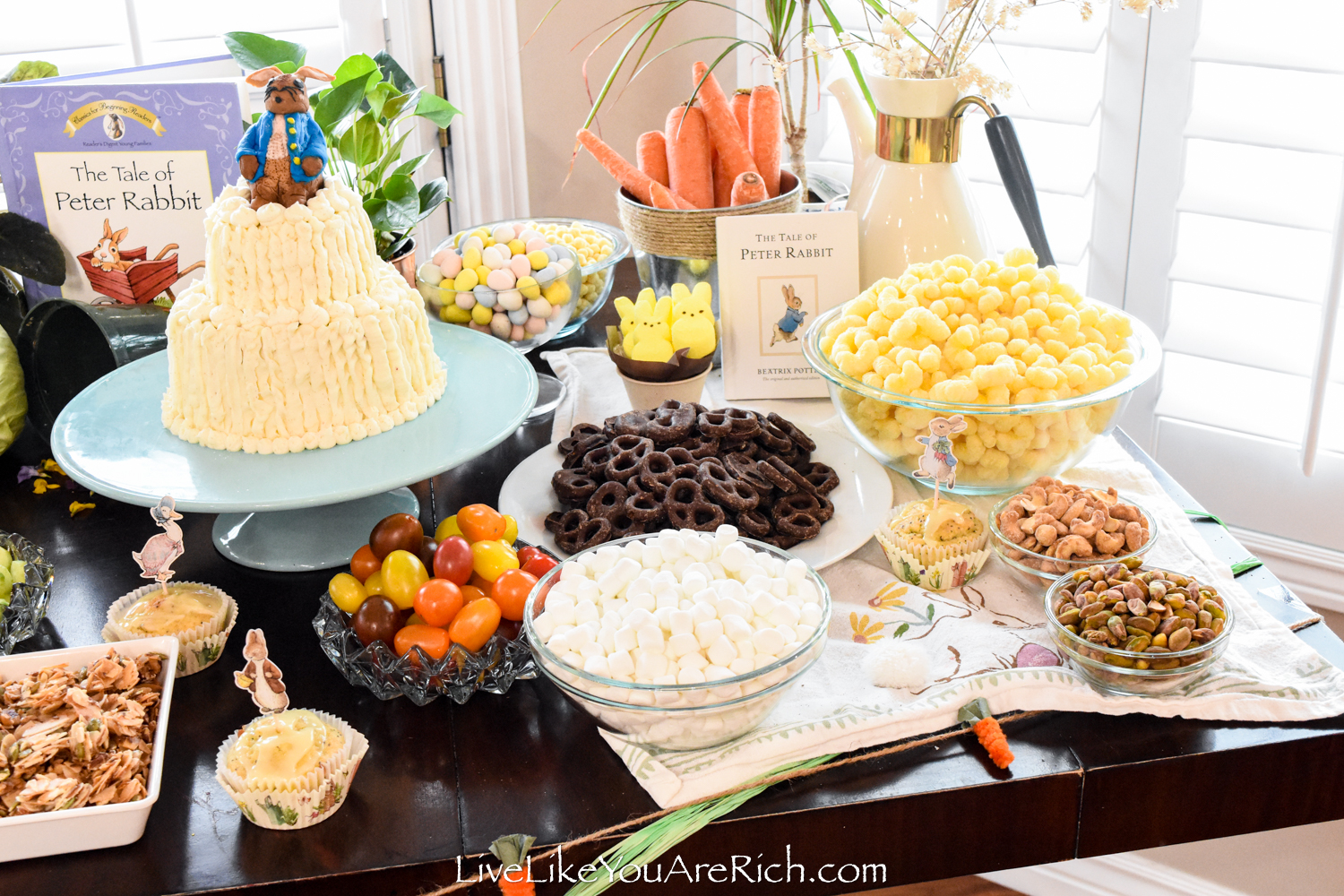 On the other end of the table I placed a few of the same types of food that I had on the other side such as pistachios and honey cashews.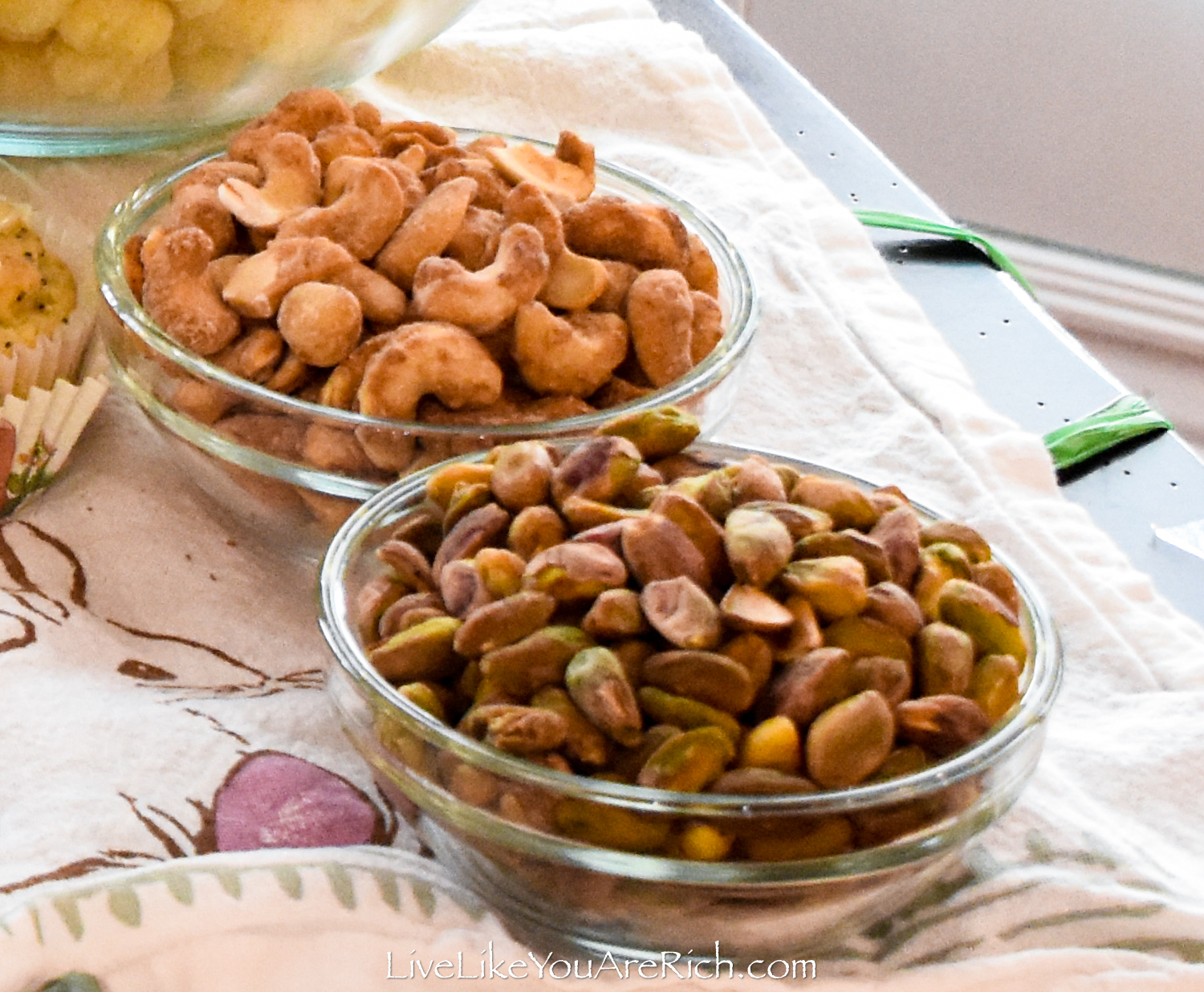 While taking photos of my son he kept trying to eat the pistachios, it was so cute.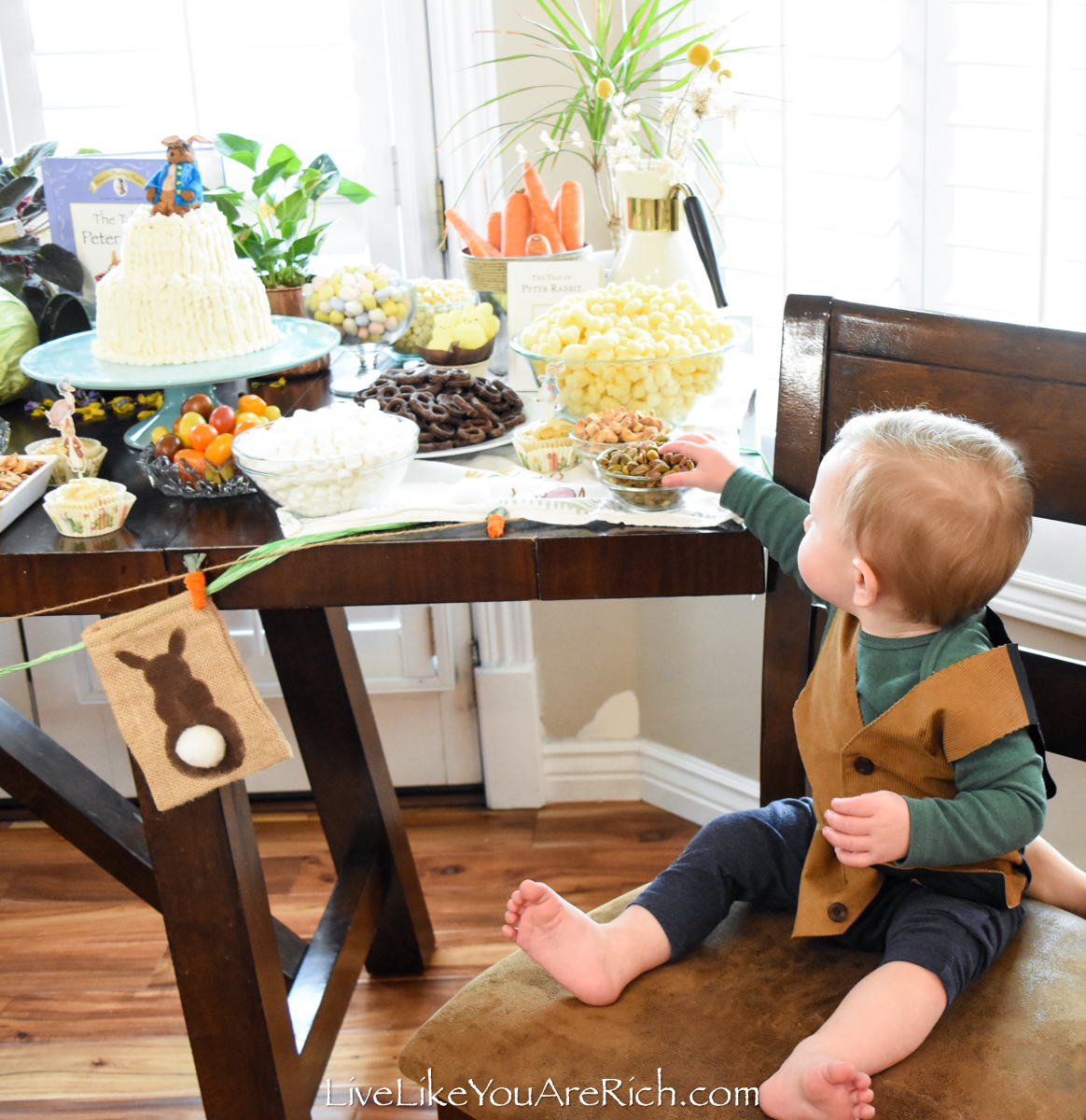 Grape tomatoes were also served.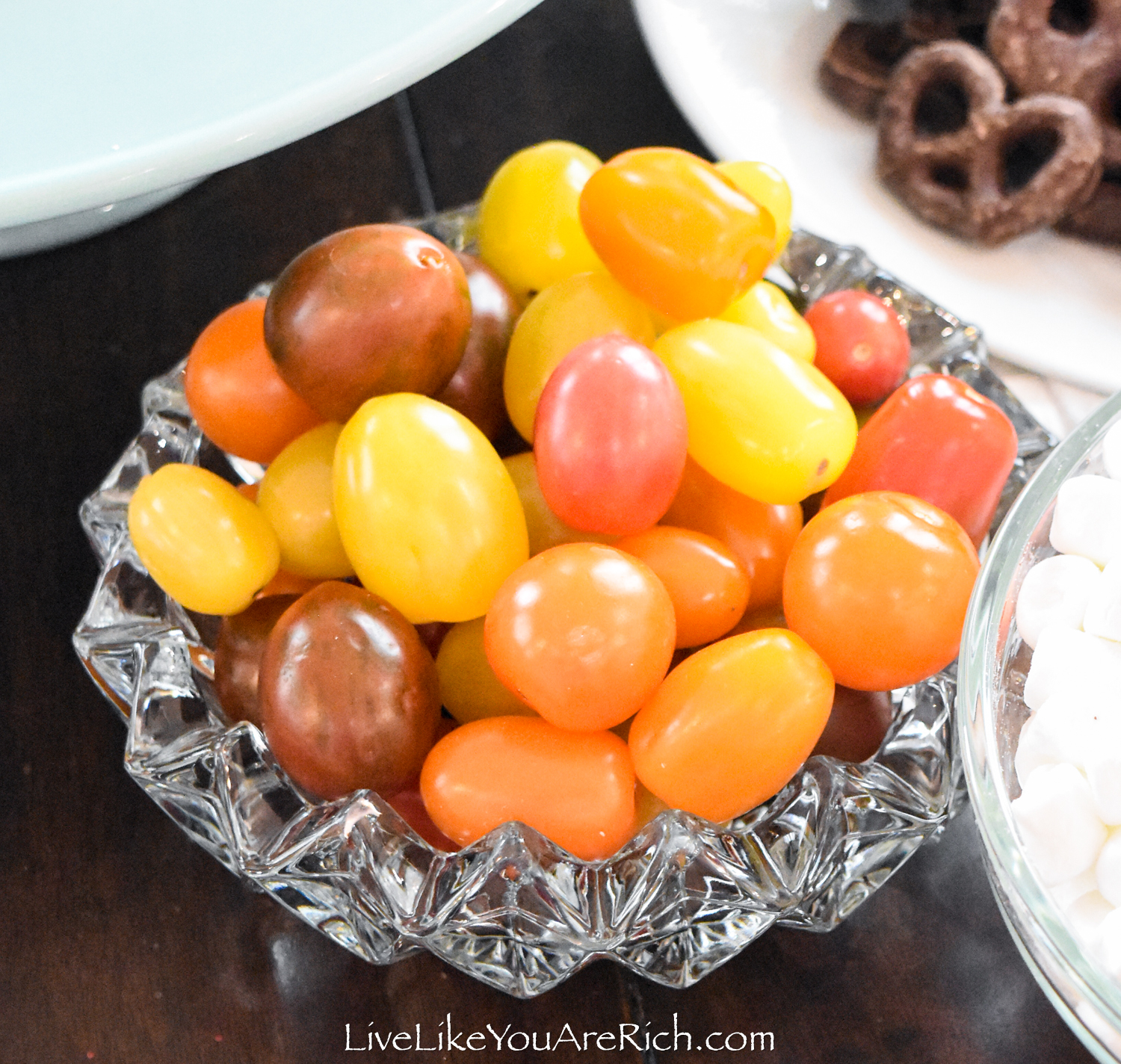 Mini marshmallows reminded me of bunny tails, so I added a bowl of those.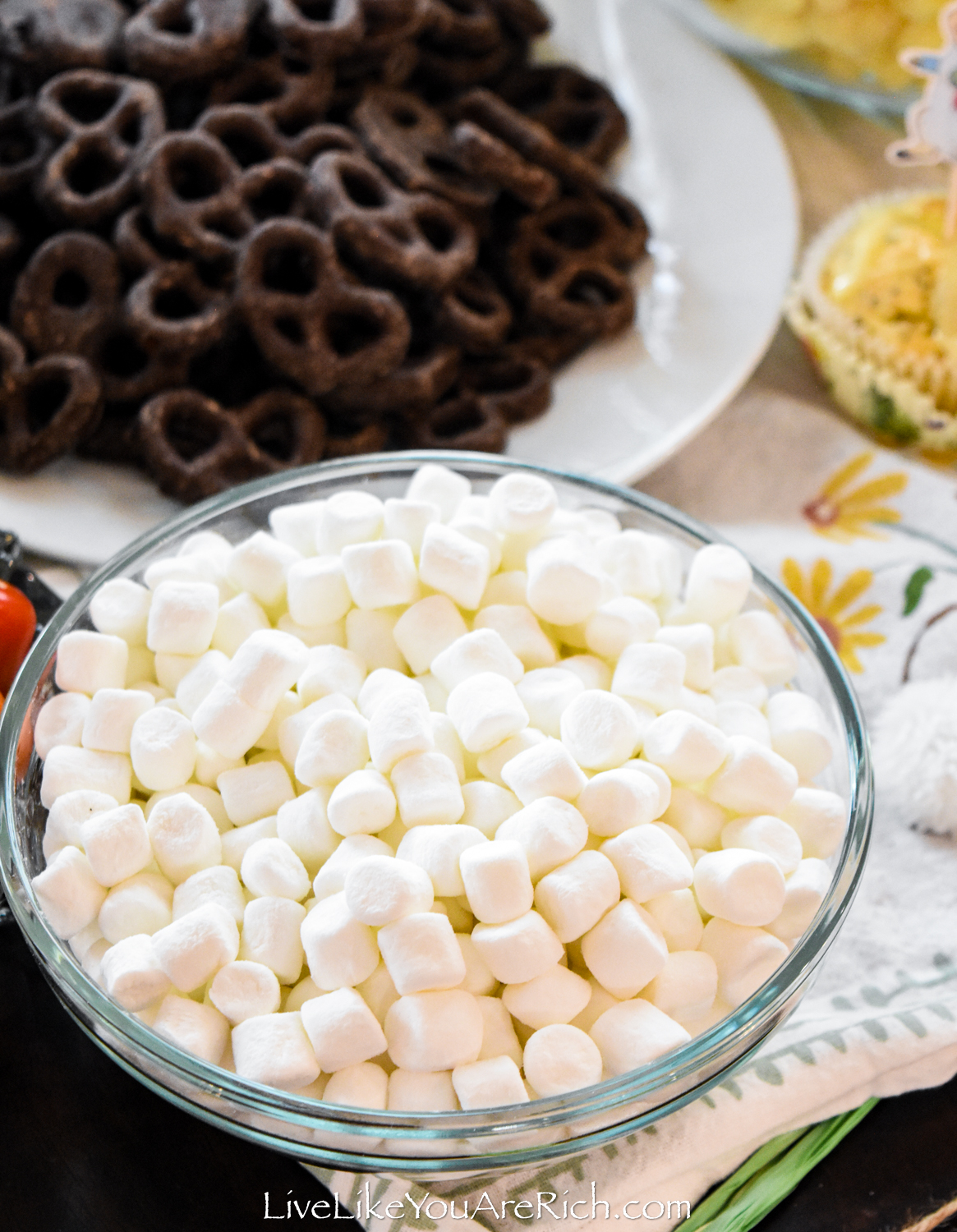 Yellow rabbit peeps stood in a planter pot with a cupcake liner.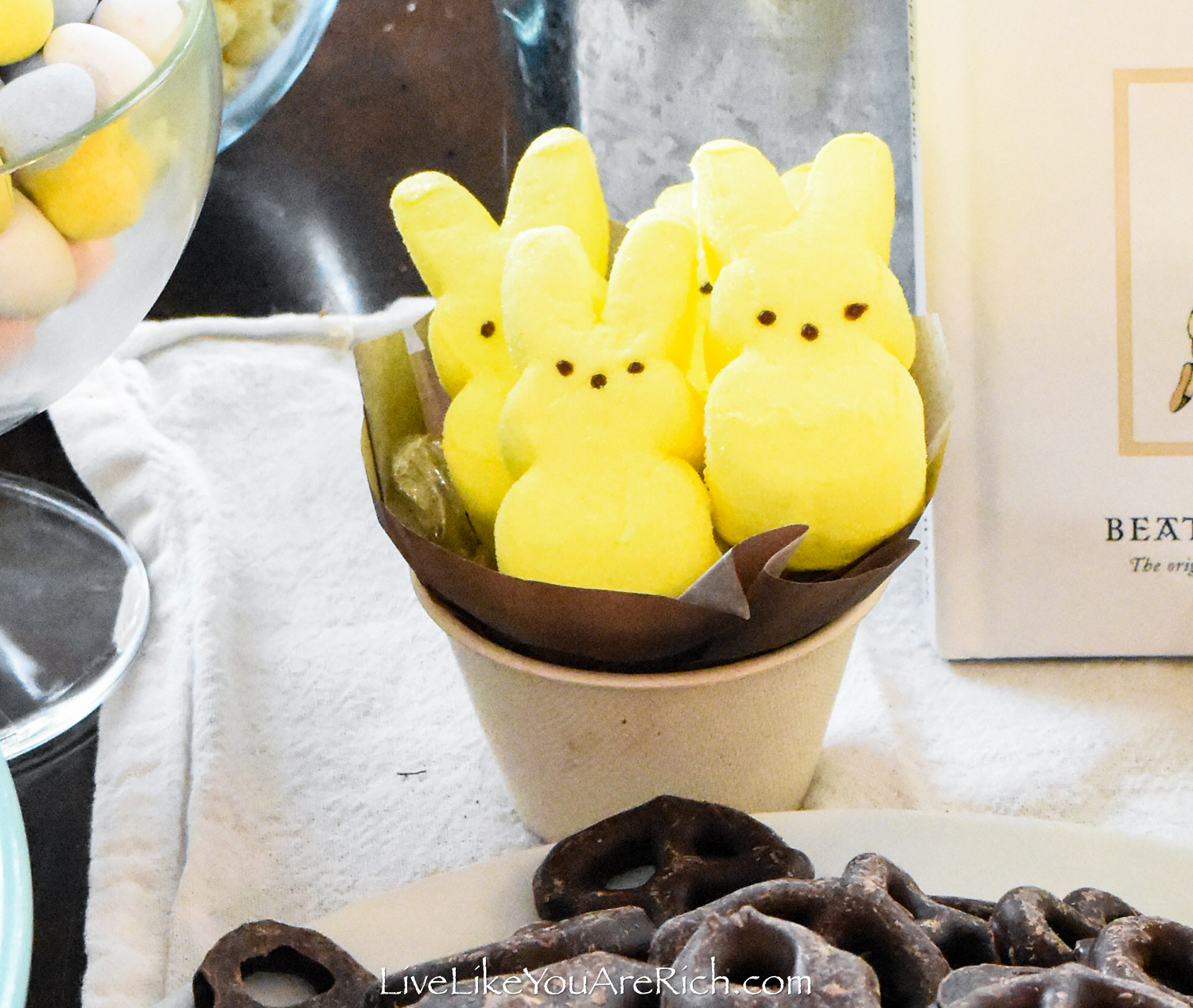 Of course you need carrots when you have a Peter Rabbit party.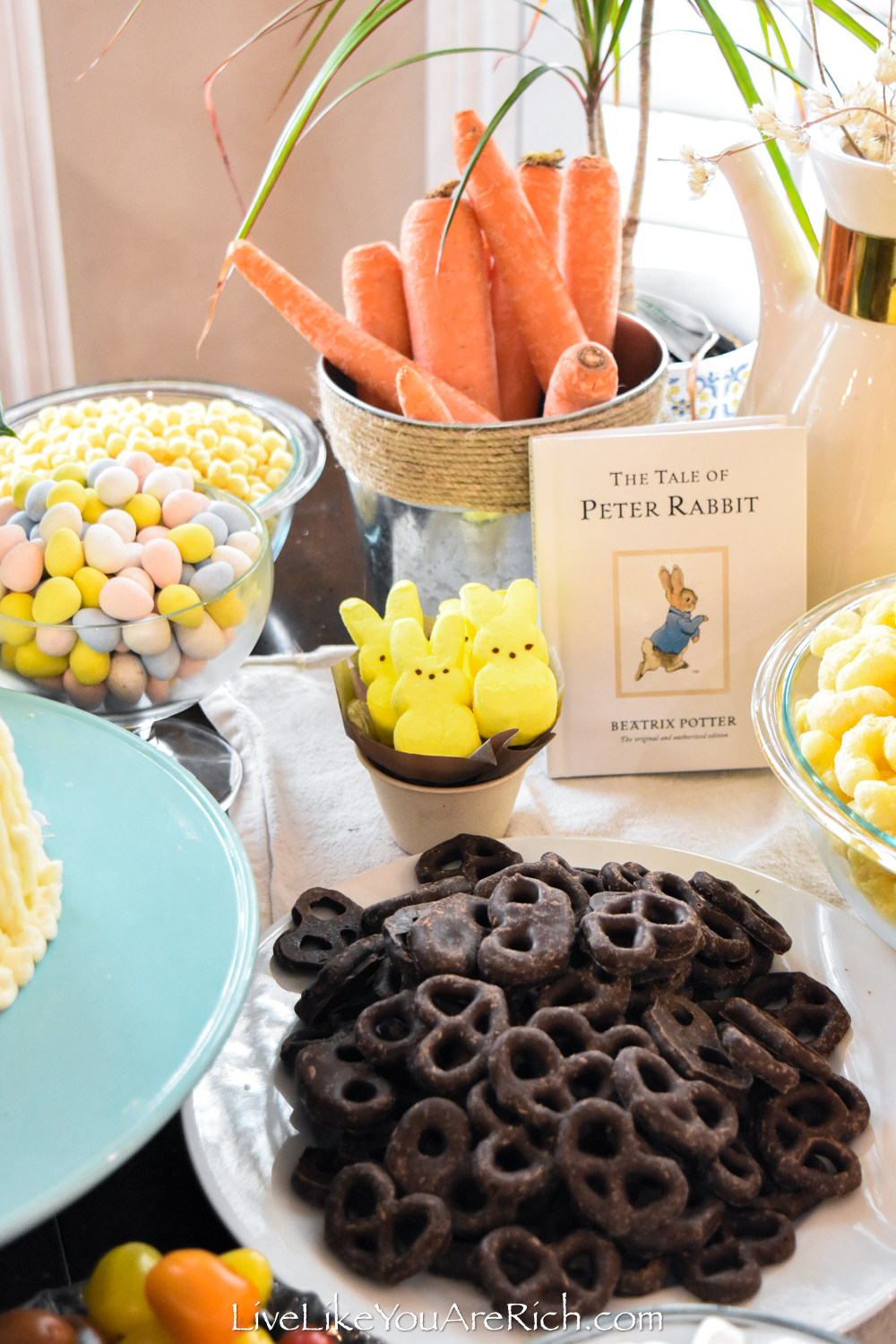 Girl Scout Thin Mint Pretzels were displayed on a white dinner plate.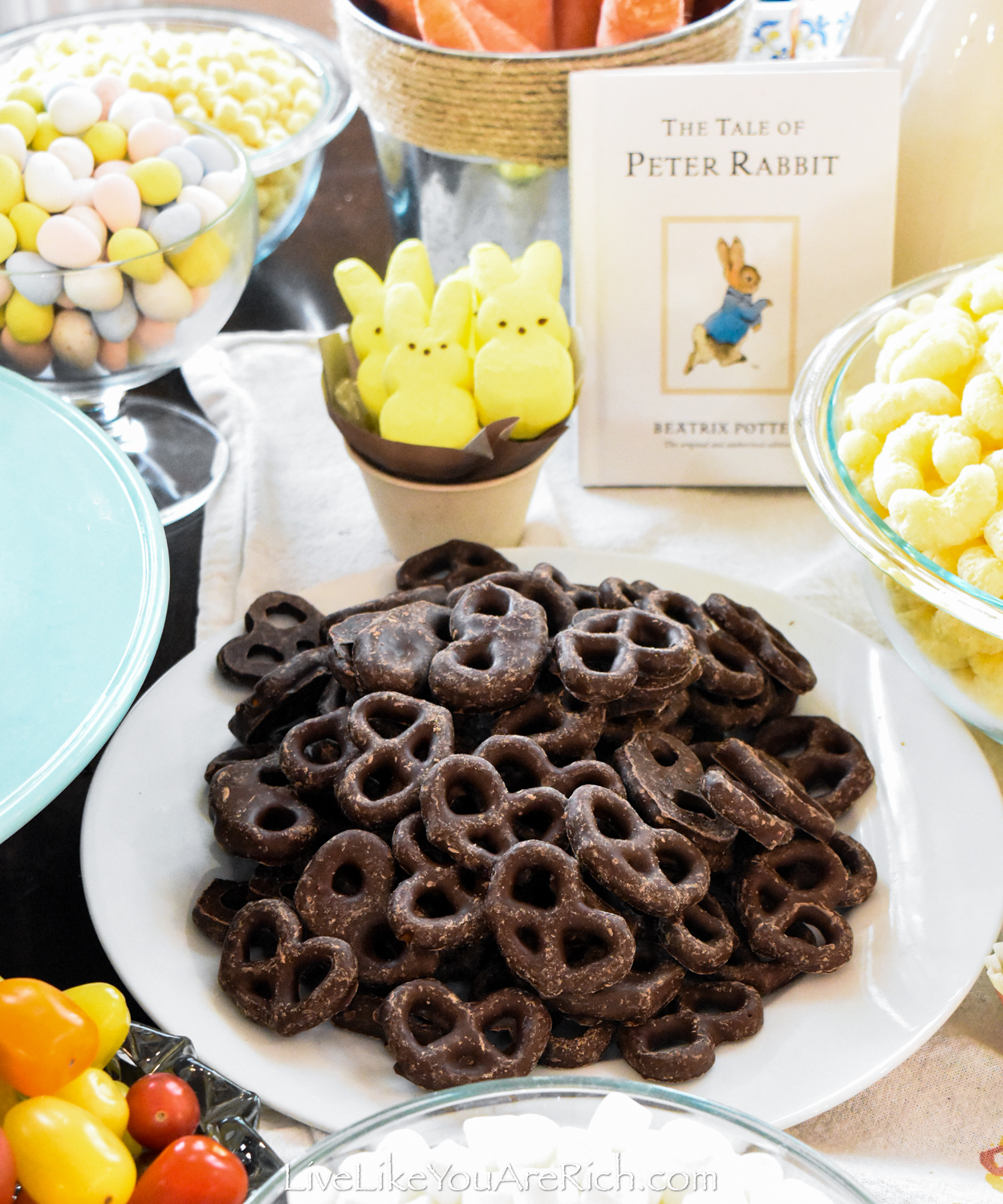 Cadbury eggs, Kix cereal, and a Dollar Tree galvanized pail with twine around the rim stuffed with carrots were also on display.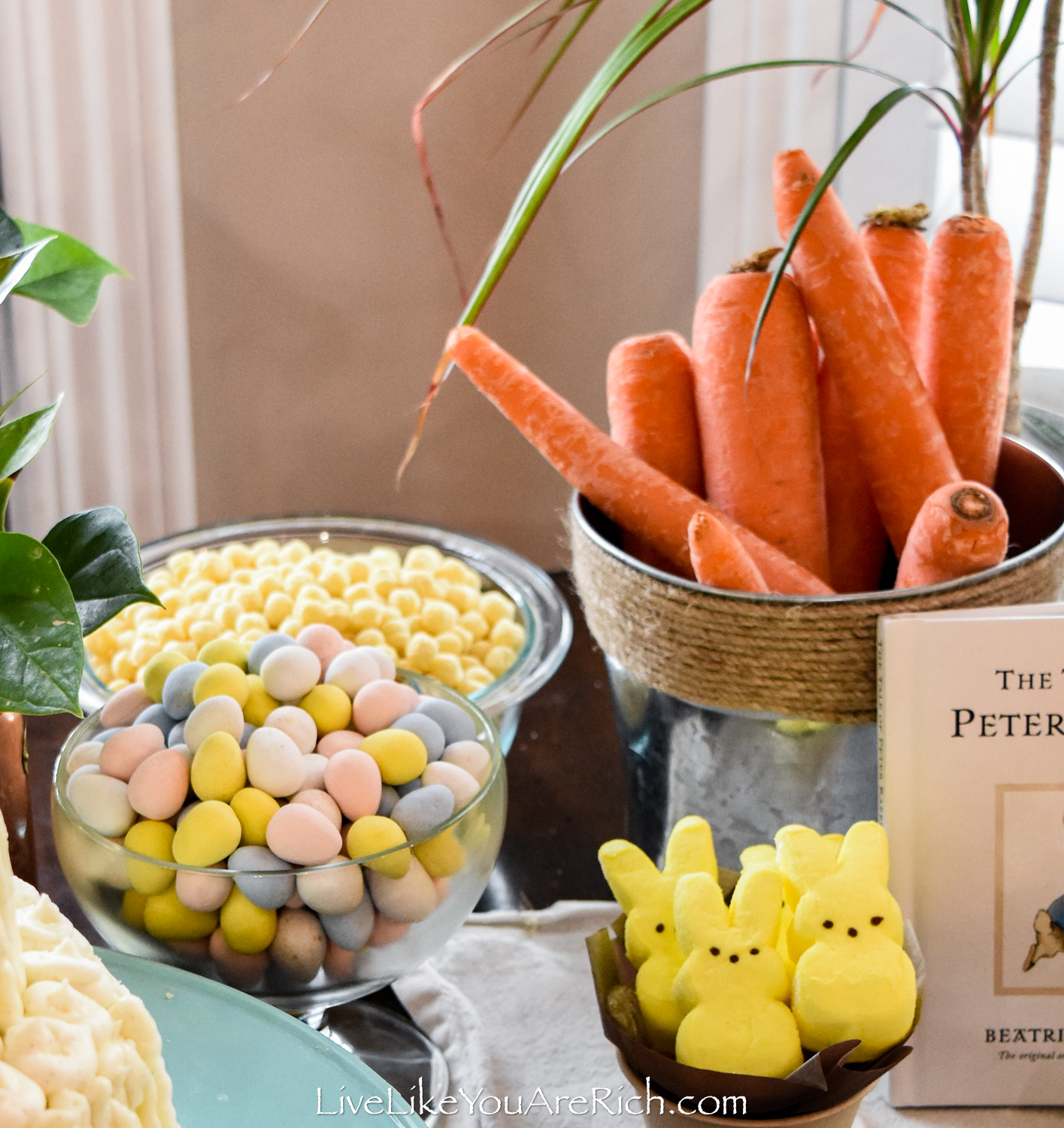 I placed two books on this end of the table. One large, "The Tale of Peter Rabbit" and a small white one as well.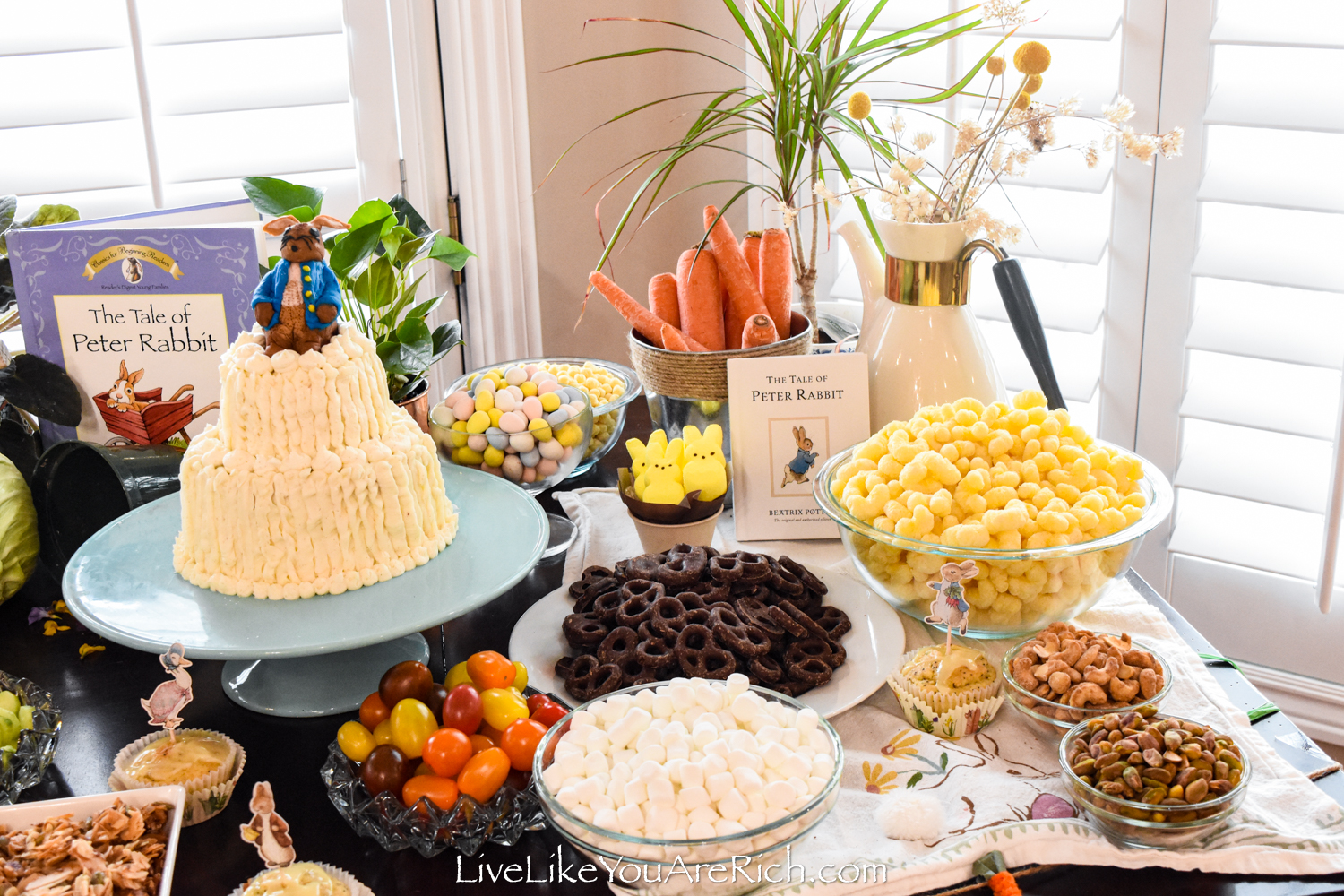 Pirate's Booty snacks are some of my kids' favorites and we had it in our pantry, so I put that in a bowl.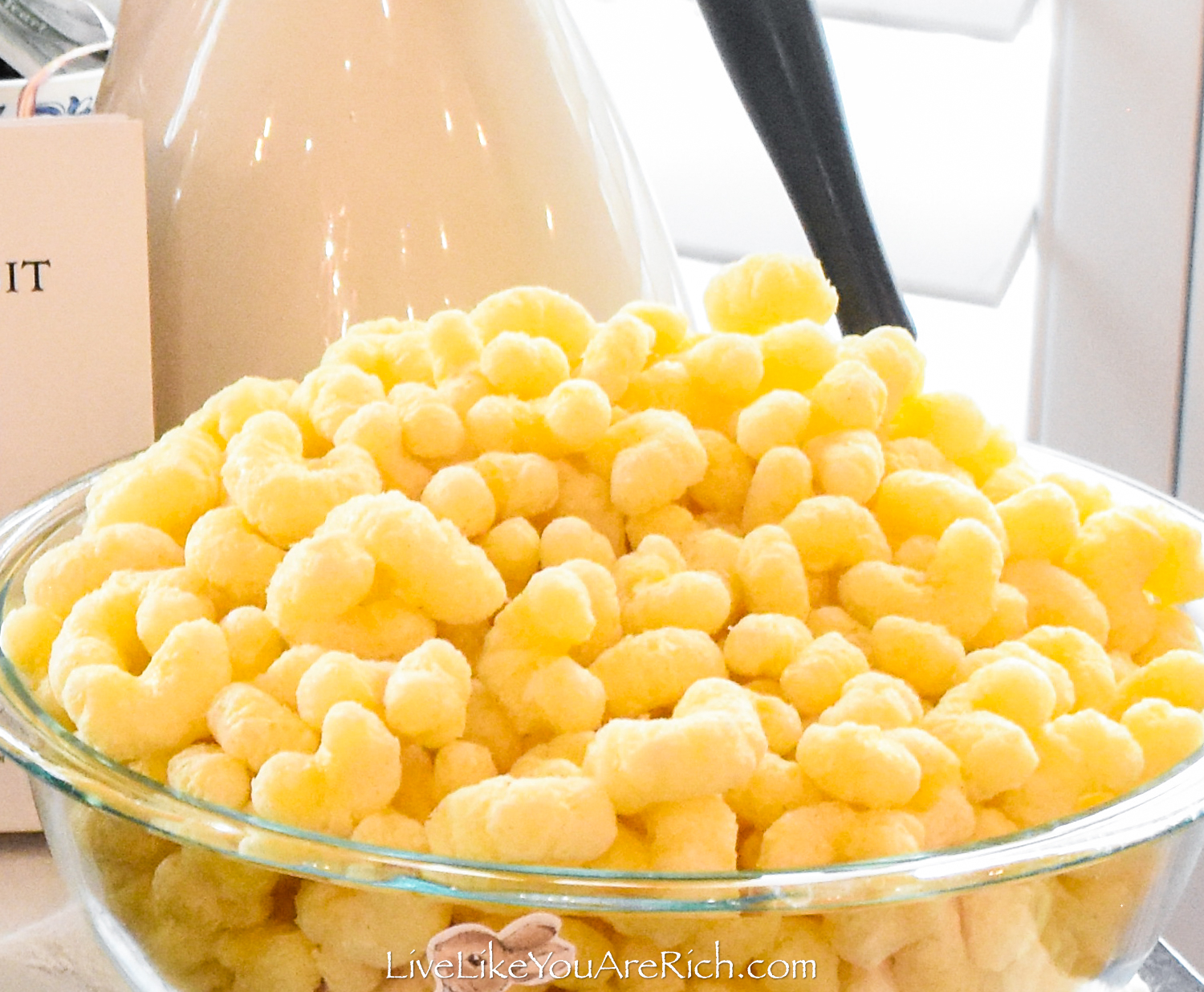 A live green plant that I grow indoors by my kitchen sink was placed in the corner of the table.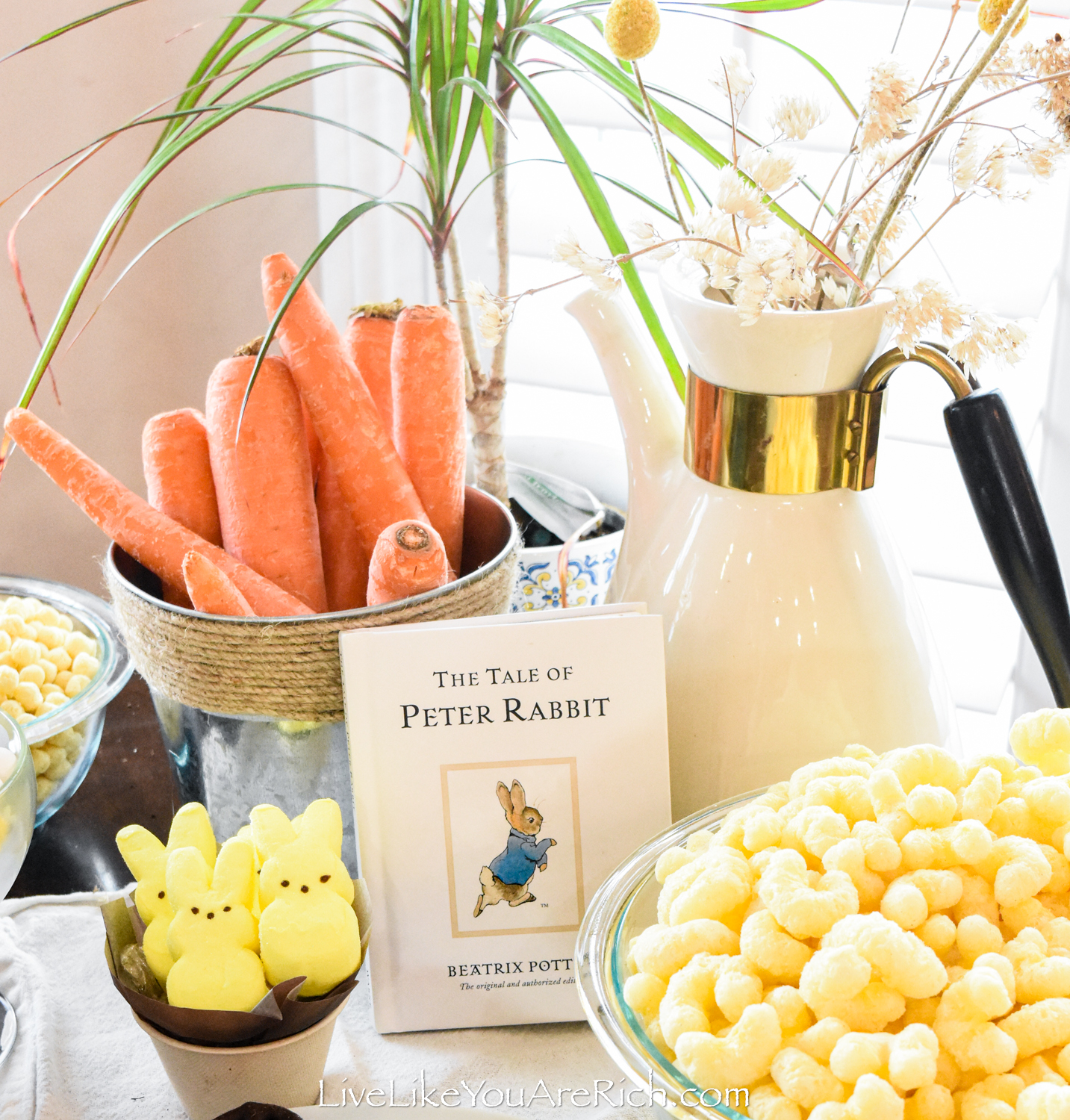 I placed dried floral from my yard and some Billy Button Stems in a teapot and placed that on the table as well.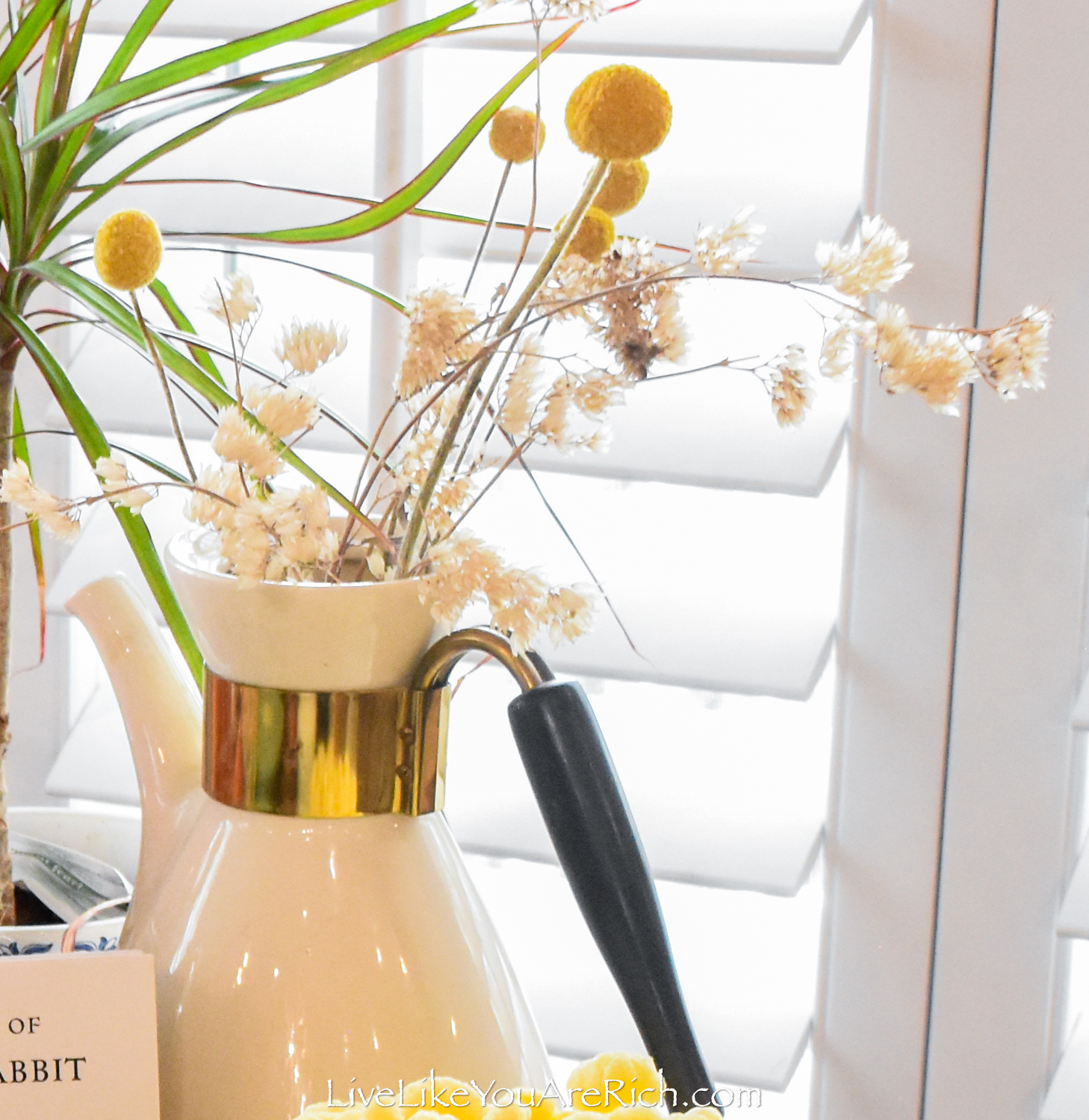 I know that is quite a bit to go through, but surprisingly, this party didn't cost me very much at all. I had almost all of the decor and food. See below for the total cost.
Supply List for this Food and Decor for a Peter Rabbit Party
5 live plants in pots or vases
3 Peter Rabbit books:
I found 2 of the 3 books at a thrift store. But they can also be found on Amazon.
You can find the Peter Rabbit book/stuffed plush bunny rabbit combo here.
Quack Quack with Peter Rabbit, which makes a quacking sound, can be found here.
The third book is a storybook for beginning readers called, The Tale of Peter Rabbit, found here.
Galvanized pail with burlap twine around the rim
Small vintage red wheelbarrow, shovel, and hoe (found used on local classifieds) similar may be found here
Bunny/Easter tea towels (Target)
Cupcake kit
Peter Rabbit cake with fondant Peter Rabbit
Angel food cake with flowers, powdered sugar and blackberries
Blue and yellow sunflower cake
Wood and marble cheese board with a cheese knife and spreader
Plates and bowls (white, clear, or crystal)
Strawberries and Cream popcorn
Poppyseed lemon muffins
Cashews
Pistachios
Almonds
Honey candied cashews
Boursin cheese
Box of variety crackers
Gold fruit basket
Keto clusters
Peeps cupcake liner, planter pot
Produce:
Sugar snap peas
onions
carrots
turnips
broccoli
radish
green onions
spinach
lettuce
cauliflower
cabbage
blackberries
zucchini
cucumbers
celery
blueberries
cherry tomatoes
Cuties
Cost for this Peter Rabbit Food Table and its Decor
I used items, food, and fruit and vegetables that I already had on hand. Plus, I purchased a few additional items for this spread.
Items I did not have and purchased specifically for this party are:
Mixed crackers $7.00
Peter Rabbit cupcake kit $14
Cake (blue and yellow) $2.50
Some of the produce bought specifically for this party was $15
Wheelbarrow, hoe, and shovel $10
Lemon-covered pretzels $12
Total: $61.00
If you include how much was eaten the total would be more, maybe $20-30 more, but for now I'm just totaling up what I spent to set up the table.
I know that many of you may not have all the items I have (I tend to keep items I have for long amounts of time so I can re-use and re-purpose them), but, if you search your home and garage (garden tools, pots, gardening gloves, water pail, etc.), you may be able to find quite a few things that would work as decor for a Peter Rabbit themed party.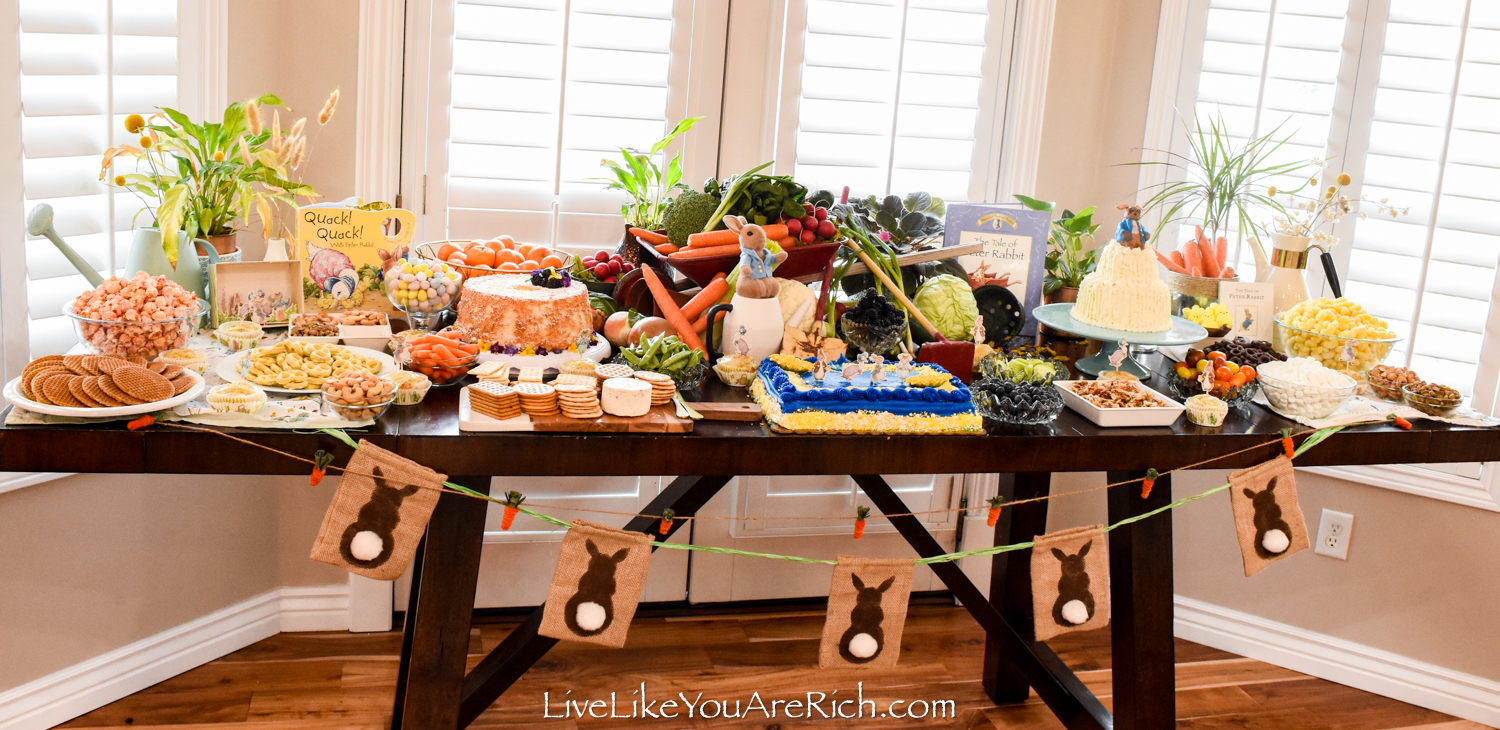 PETER RABBIT POSTS
PETER RABBIT 1ST BIRTHDAY PARTY
PETER RABBIT TABLESCAPE FOR KIDS
PETER RABBIT TABLESCAPE FOR ADULTS
PETER RABBIT PARTY FOOD AND DECOR
PETER RABBIT BIRTHDAY CAKE (FONDANT RABBIT)
ANGEL FOOD CAKE MADE FROM SCRATCH
Check back in the coming week or two for the posts about this Peter Rabbit Birthday Party with specifics on items used, tutorials, and more.
I HOPE THIS POST SERVES USEFUL FOR CREATING Food and Decor for a Peter Rabbit Party!

For other 'rich living tips' please subscribe, like me on Facebook, and follow me on Pinterest and Instagram.