Peter Rabbit Kids' Tablescape
Beatrix Potter authored and illustrated very inspiring and darling children's books that have been enjoyed for years. I especially love her Peter Rabbit books and the decor that has been made based on her books.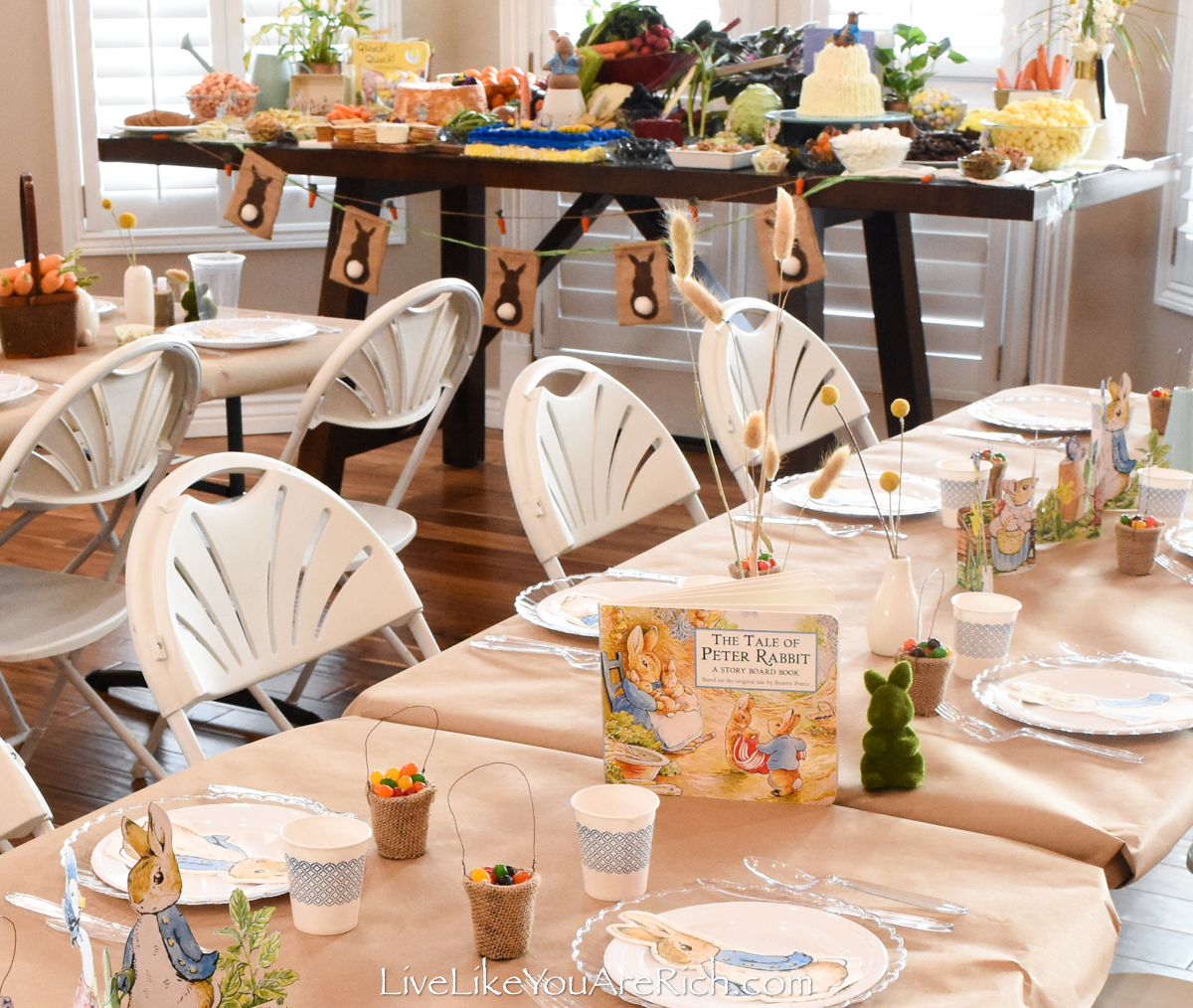 When my son, Brighton, turned one, I decided I'd throw him a Peter Rabbit birthday party.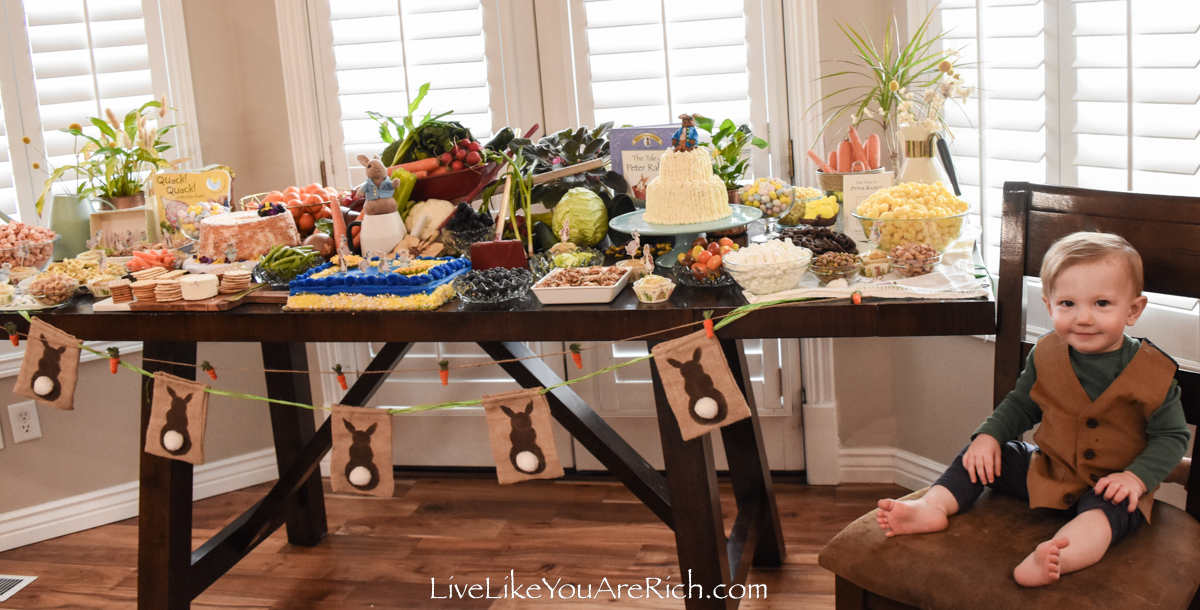 Whenever I entertain, which is fairly often, I like to decorate the tables we eat at as well as the buffet/food table.
If there are adults and kids, I like to decorate a table geared towards adults and one for the kids.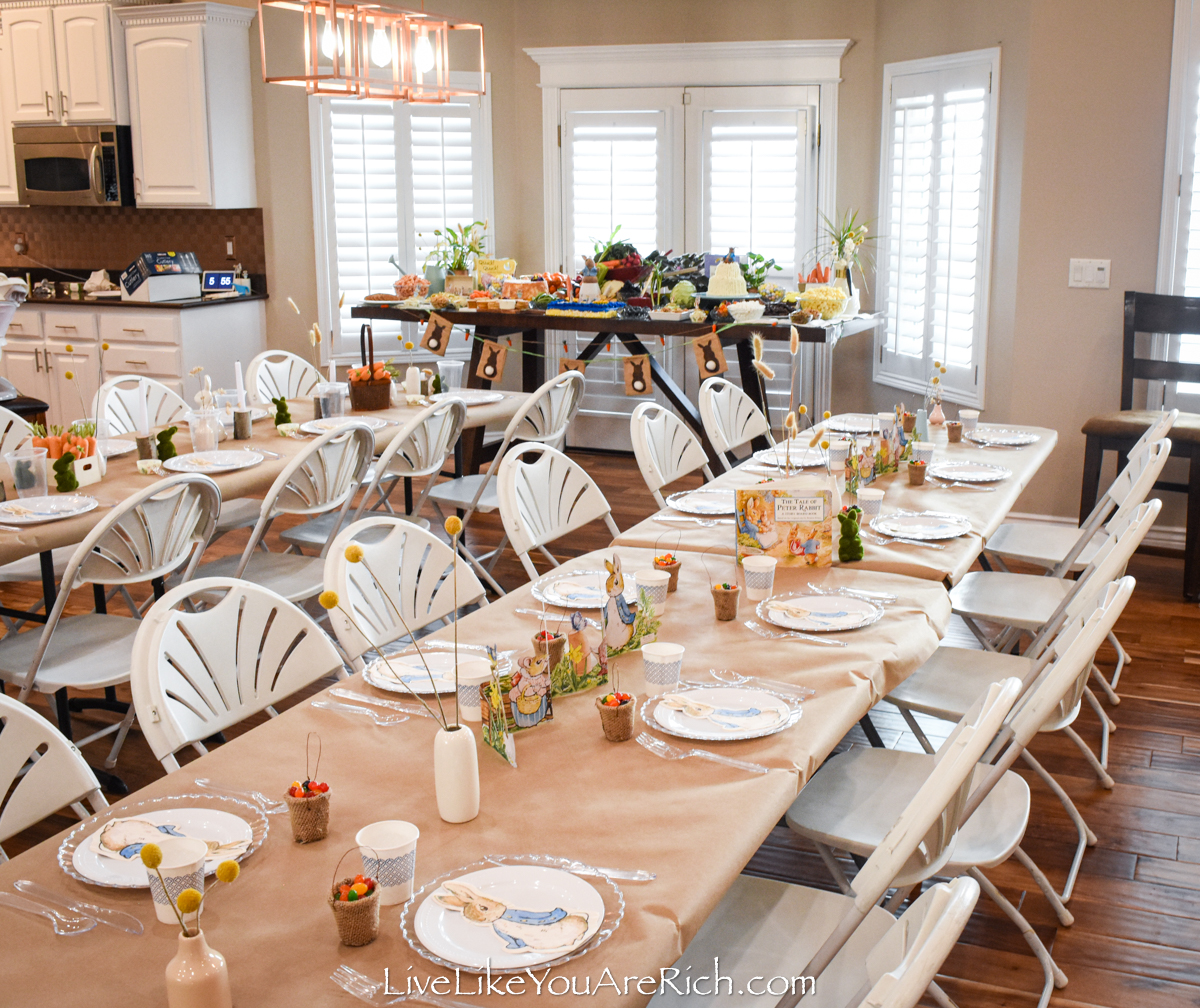 On the kids' tables, I like to add favors, however, for this party, I put a favor on both the kids' and the adults' tables.
I'll be posting the details of the adults' tablescape soon.
Supply List for this Peter Rabbit Kids' Tablescape
12 white banquet folding chairs (I bought these used for $4.00 each on local classifieds from a banquet company who were purchasing new chairs. I purchased 34 because we host a lot! We've been using them about once a month for 3 years now).
Rolls of flooring paper, scissors, and packaging tape
White plastic salad plates—Costco
Clear plastic cutlery—Costco
White and blue paper cups—Costco
Peter Rabbit napkins (Burke Decor)—I bought 2 packs of 20 for this party.
2 Peter Rabbit fold out cards (Burke Decor)—one for each 6′ table
Dried floral cream colored. This floral was free, I got it from my yard for these floral arrangements.
Billy button stems (I used half of this bundle)
Green moss bunnies $1.50 each at Target (similar here)
Aspen Candlestick Holders (handmade tutorial) you can purchase similar here.
Mini vases $1.00 each at Target.
Bunny tails (I had these). Similar can be found here.
DIY Mini Burlap Baskets– tutorial
The Tale of Peter Rabbit story book
How to put together a Peter Rabbit Kids' Tablescape
To begin, we used two 6′ tables and covered them with rolls of brown/tan flooring paper left over from our remodel of home 2.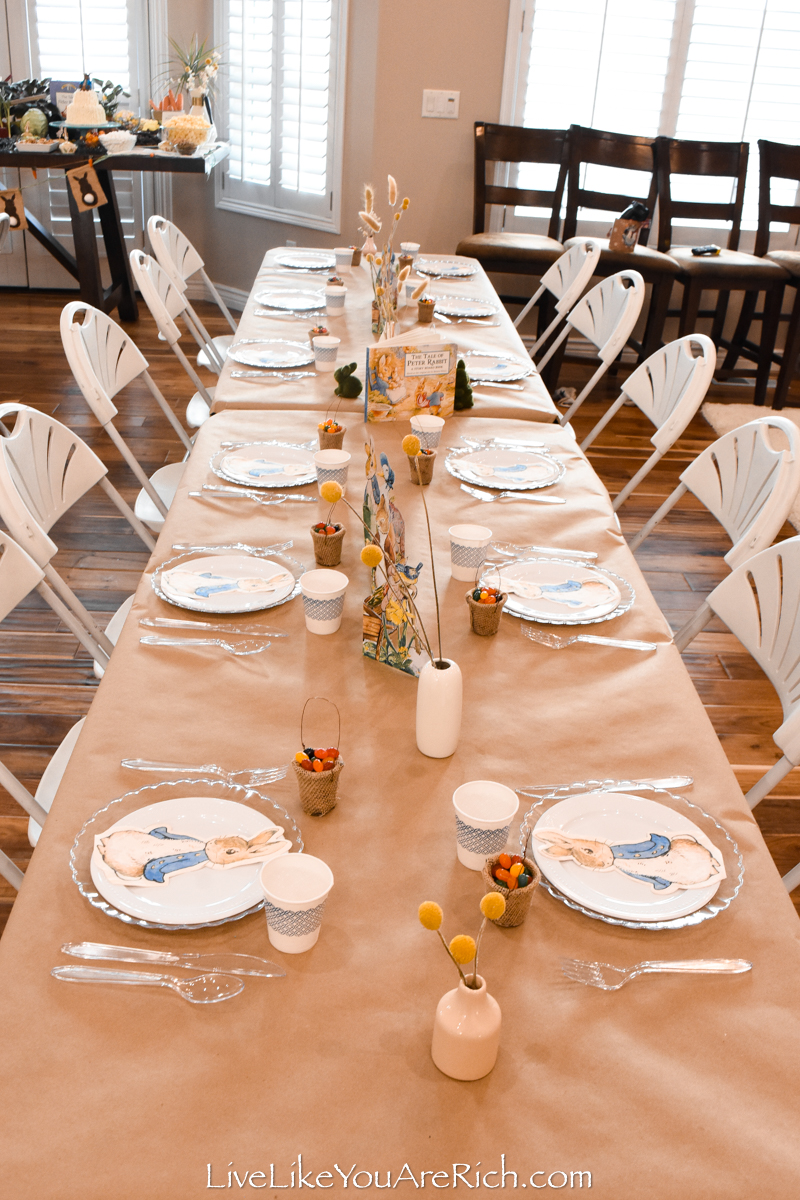 My daughter and I wrapped and taped it onto the tables.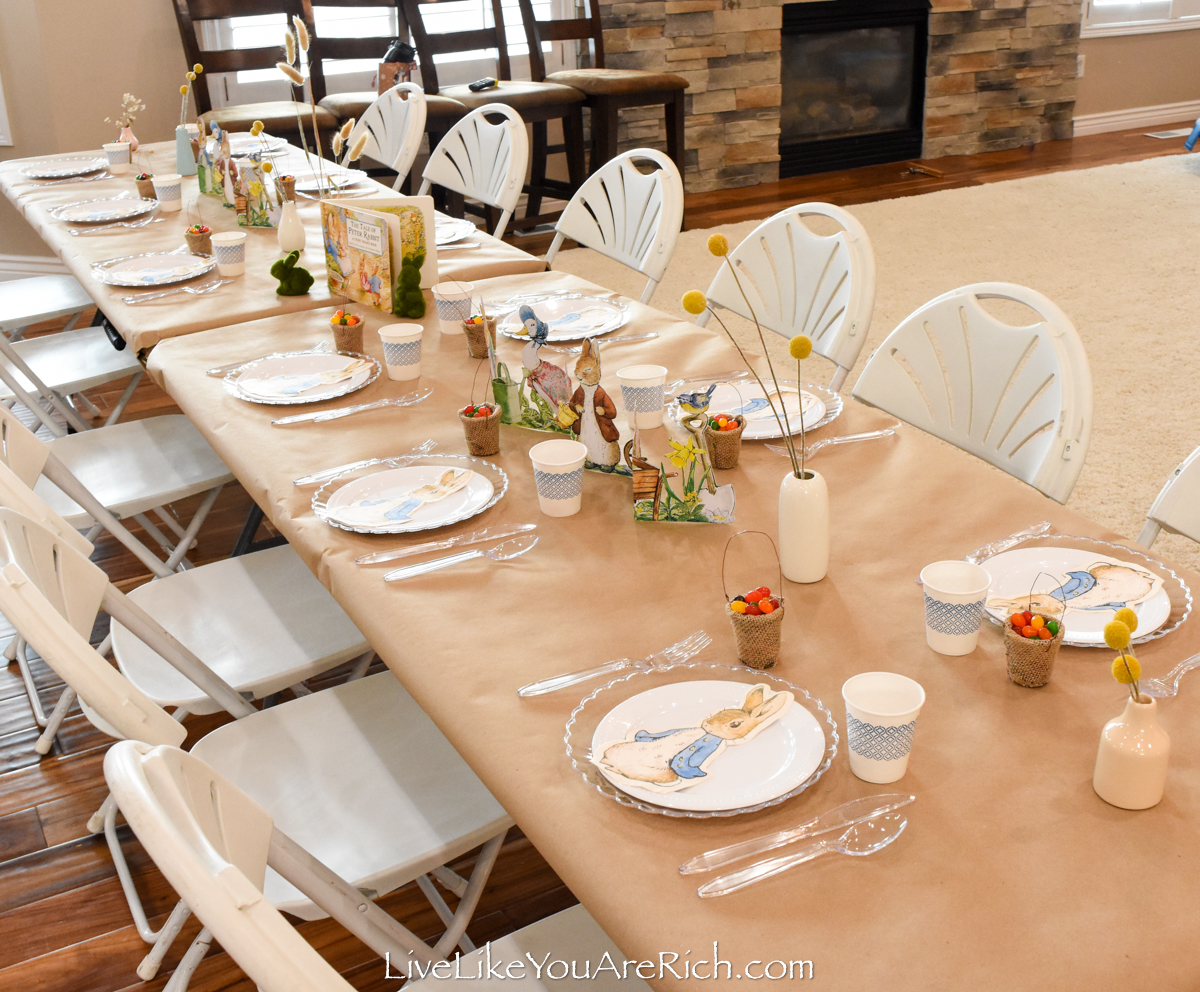 I really liked the natural earthy look it gave the party.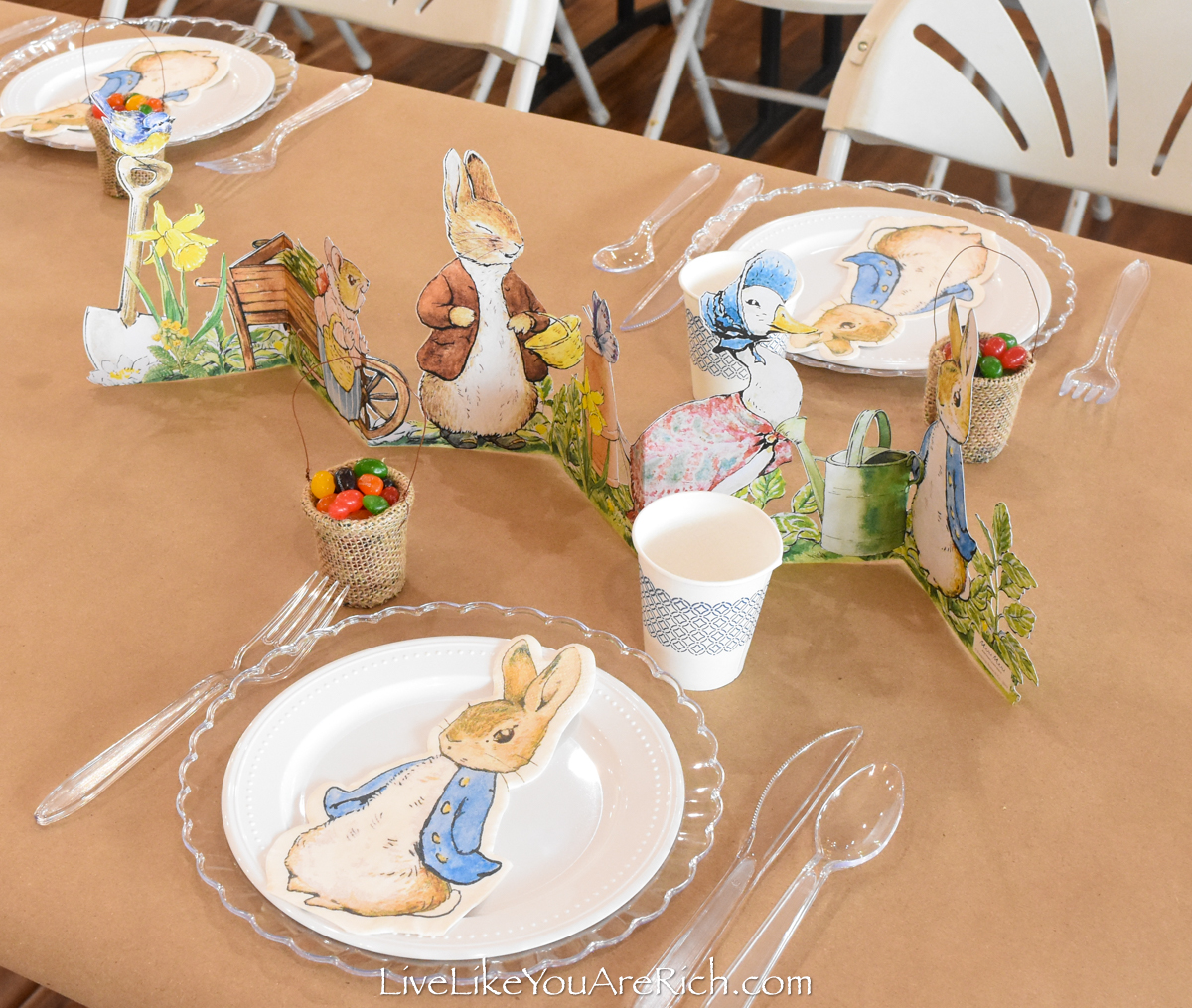 It also matched the color of Peter Rabbit's fur on the napkins.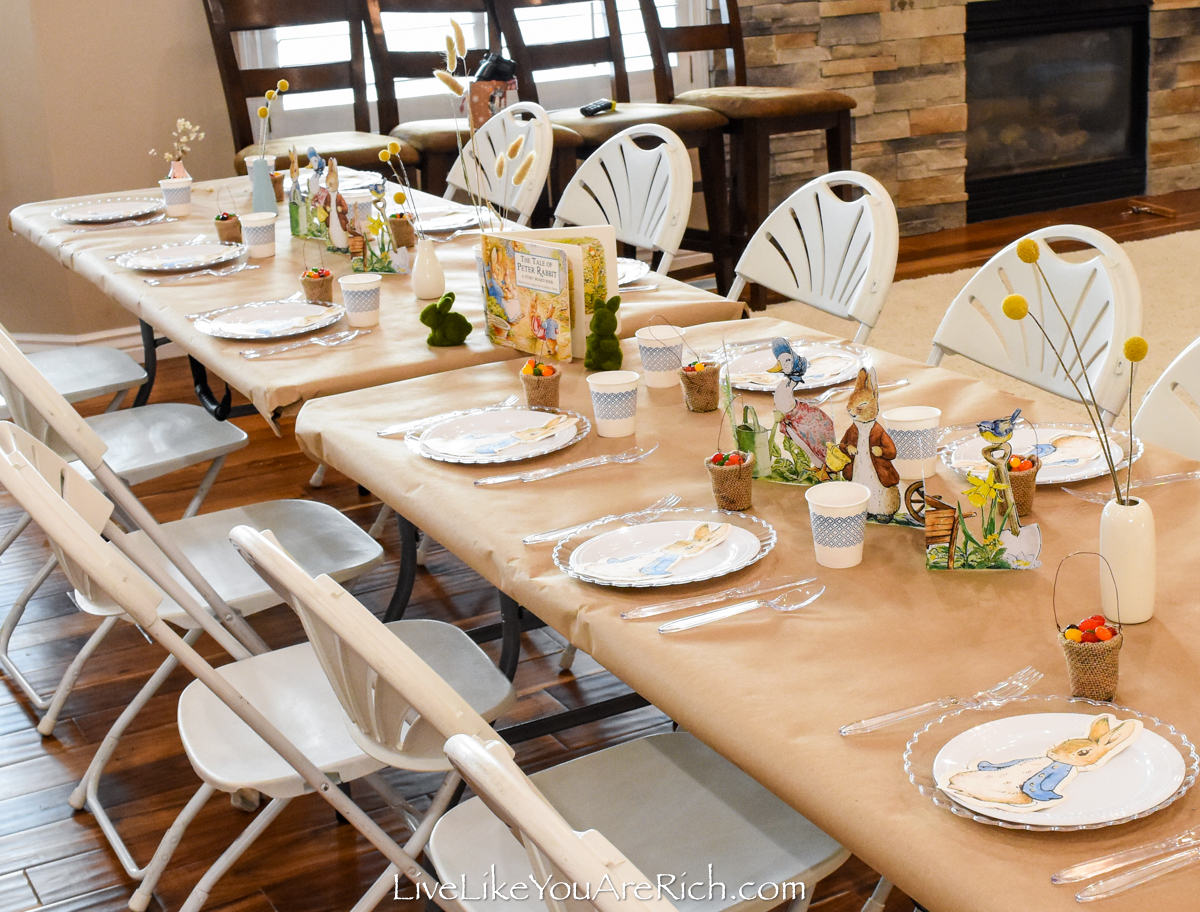 Another benefit to using this paper as tablecloths was that it was easy to crumple up and throw out when we were finished with it.
*Note— It would have looked better had we wrapped the two tables as one, as we did with the adult table.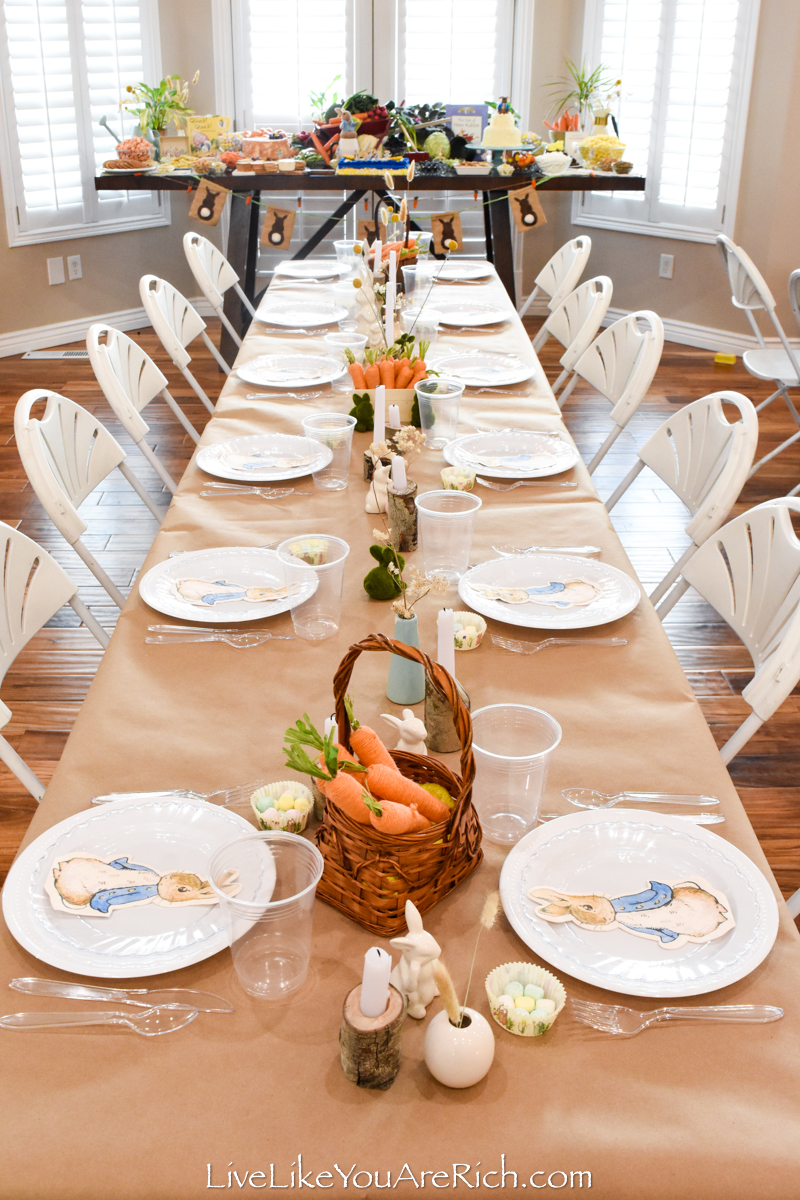 However, I originally thought only 7 kids were coming then more of our family with 5 kids RSVP'd and we needed another table which we wrapped up and added to make 12 seats.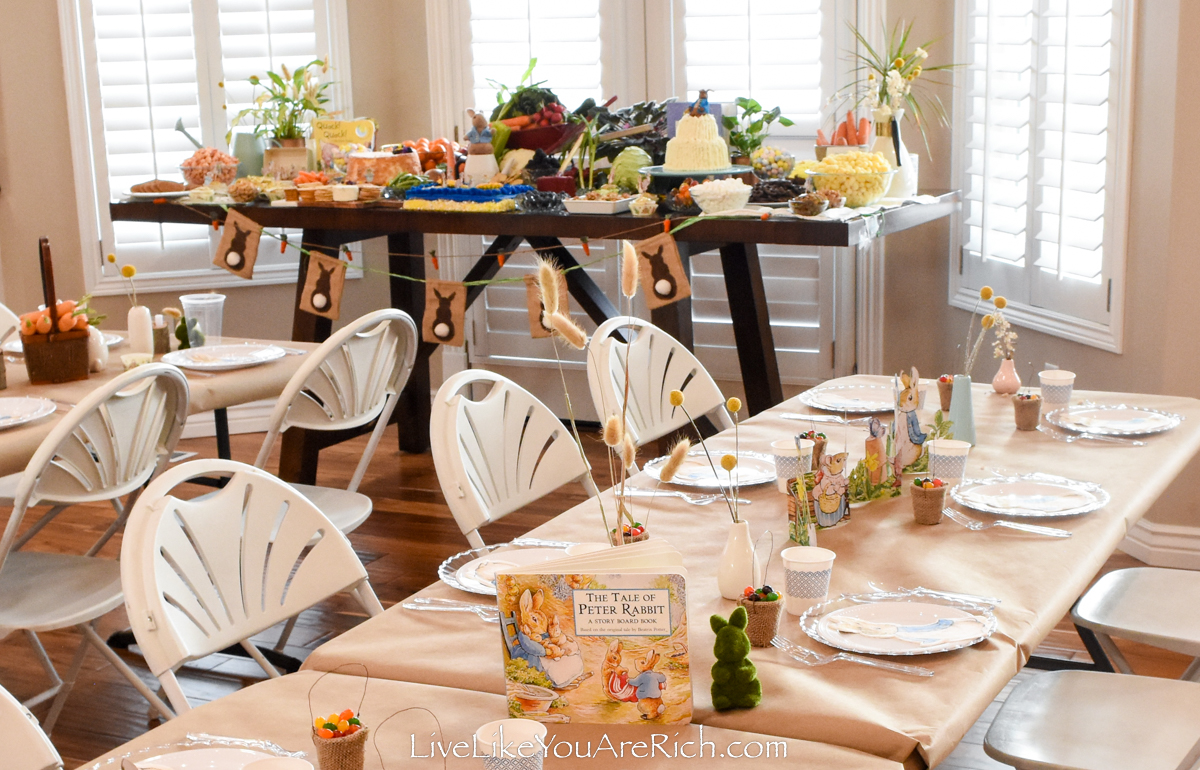 Next, we set the table with plates, cups and plastic wear that I had on had and which fit the color scheme.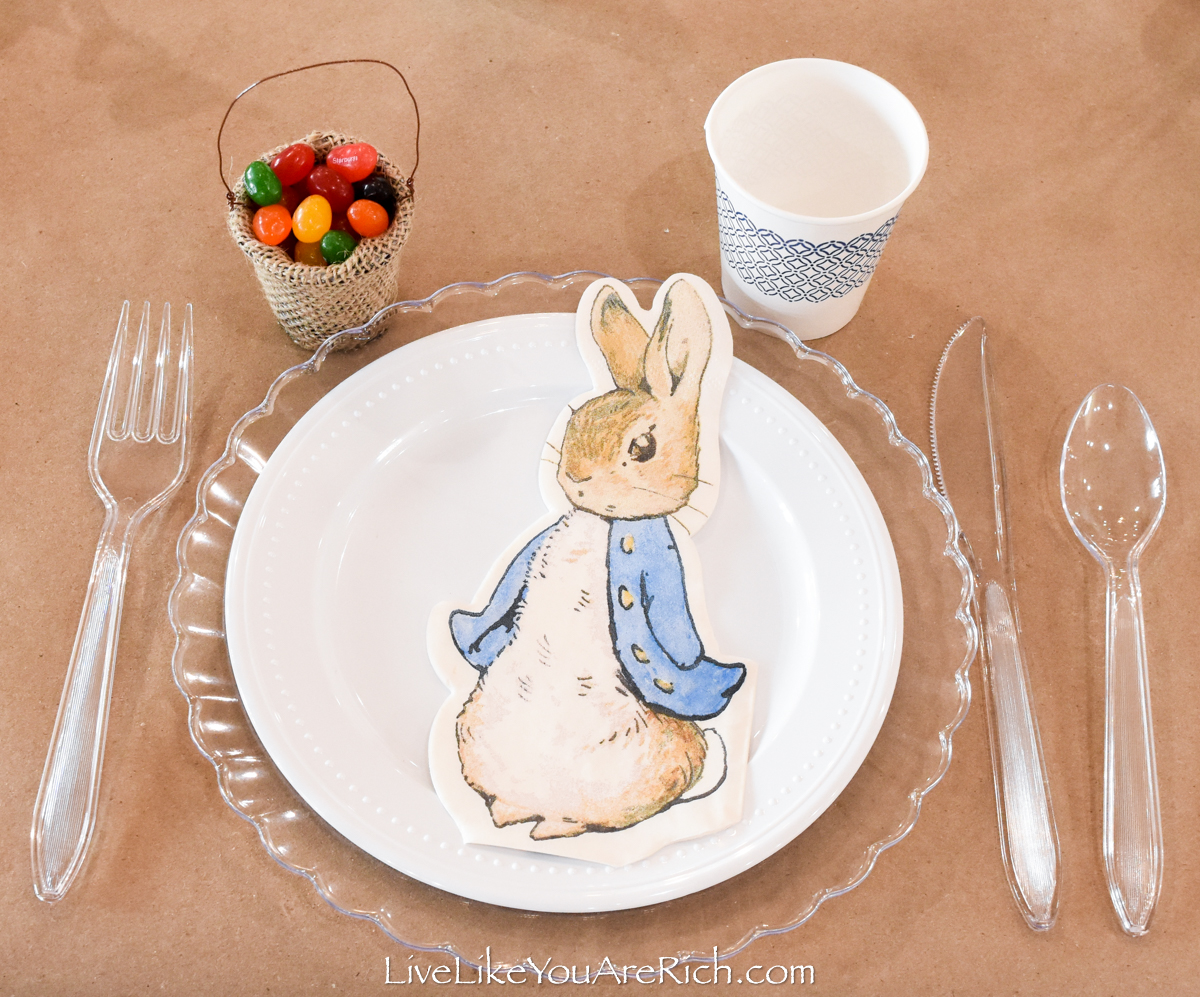 As favors, my daughter and I made 12 DIY mini burlap baskets and filled them with jelly beans.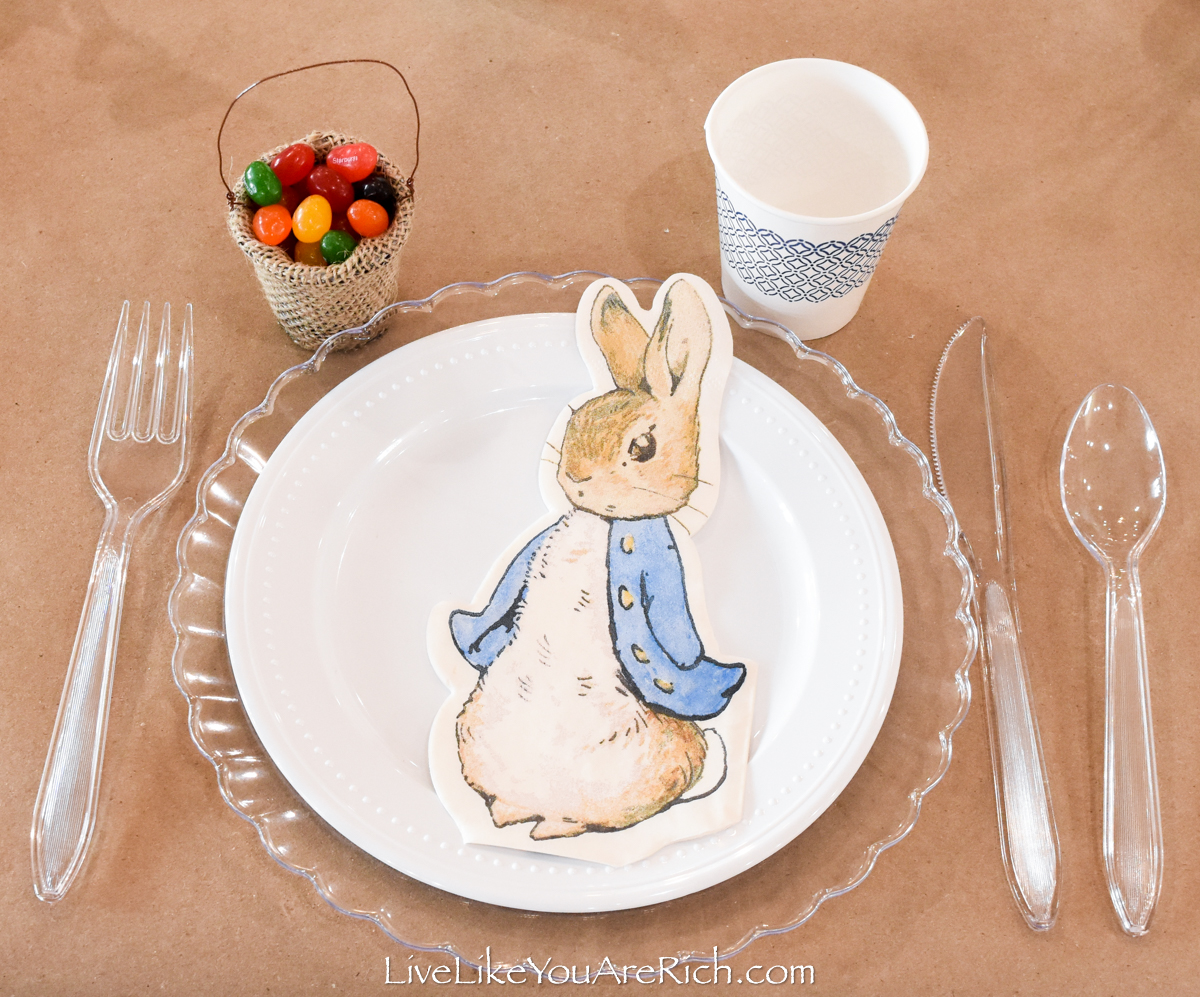 I'll post a tutorial on how we made these soon.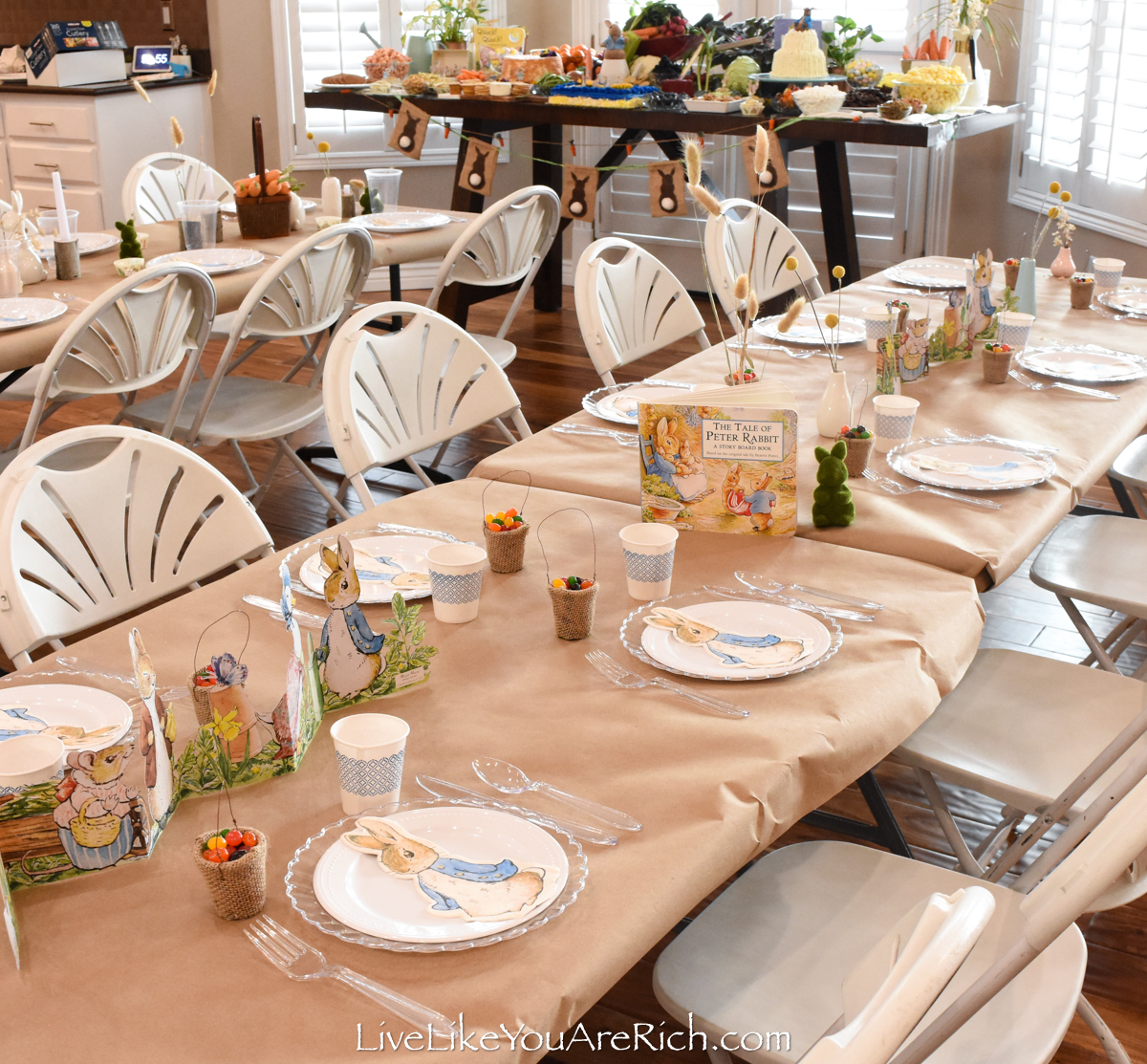 I bought the two centerpiece fold out cards and the Peter Rabbit napkins which were placed on each setting from Burke Decor.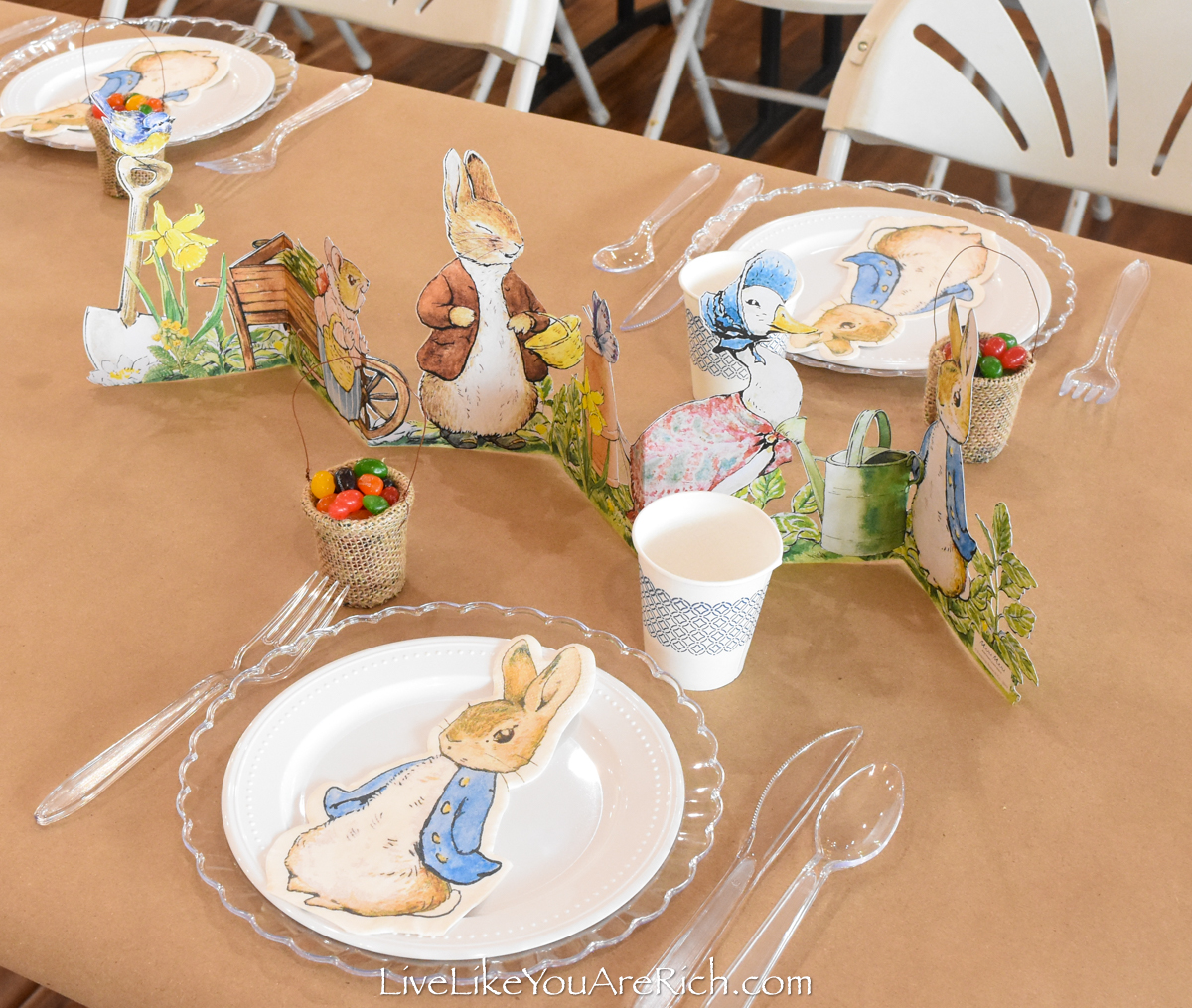 Then I took a few items off of my Modern Rustic Easter mantel (such as handmade wood aspen vases stuffed with bunny tails, little moss rabbits, etc.) and added them in the middle and on the ends of the tables.
To make the bunny tails stand up straight out of the Aspen candle stick holders, I stuffed them with a tiny bit of floral foam. I had the foam on hand and just broke off a little from blocks of foam I had and stuffed it in. Then I added the bunny tails. The floral foam held the bunny tails well.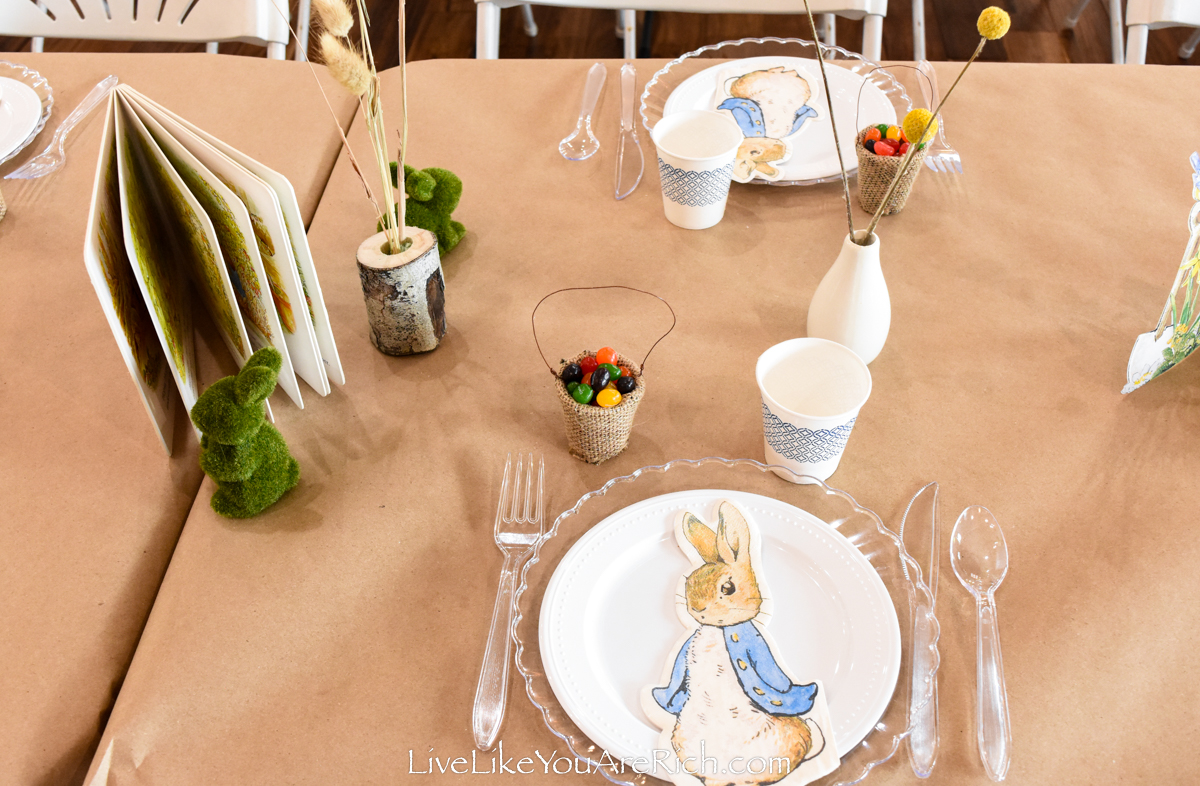 I placed the book, "The Tale of Peter Rabbit", in the center of the kids' two tables.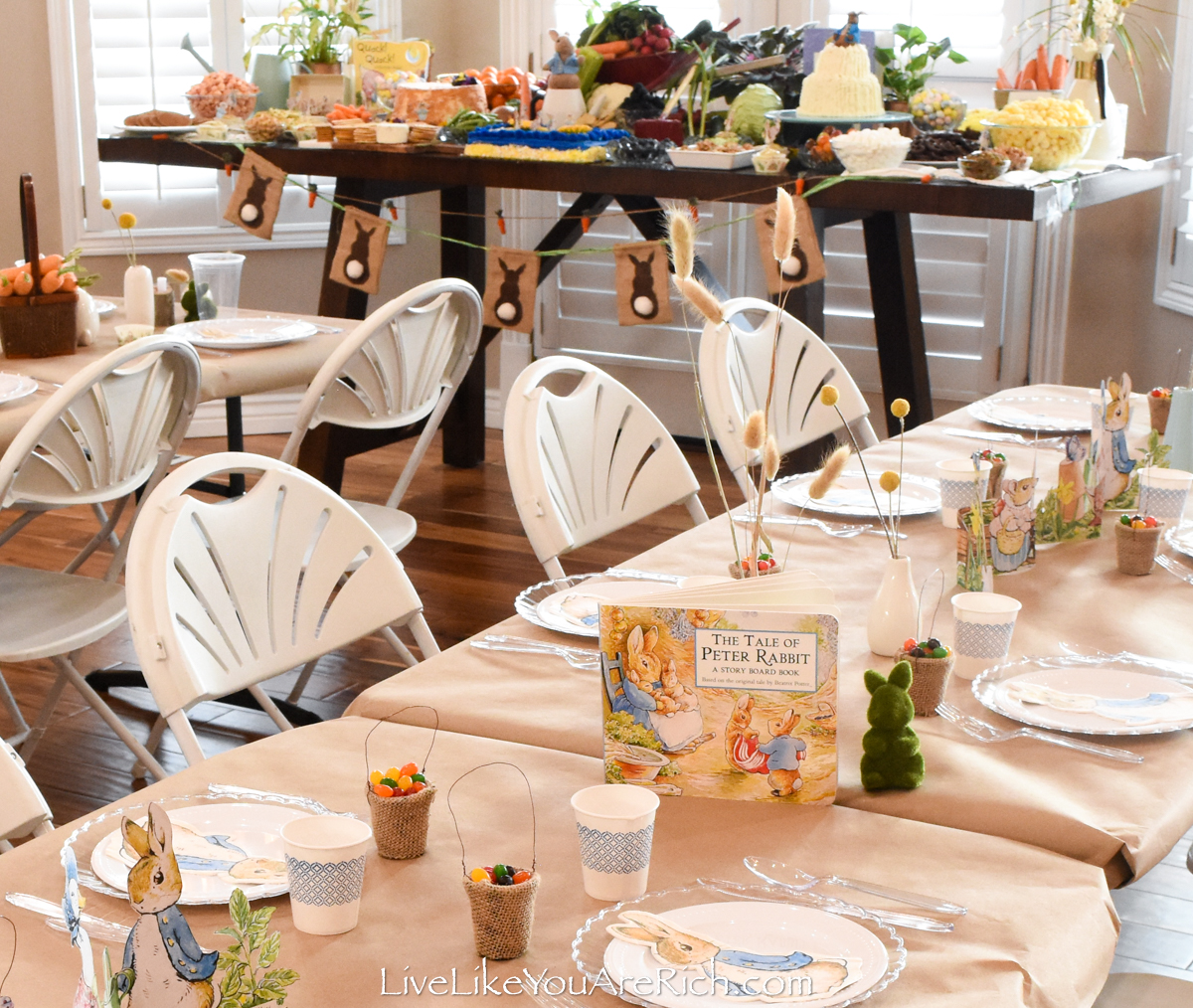 That's it! It was so simple and easy to put together but also it turned out so cute!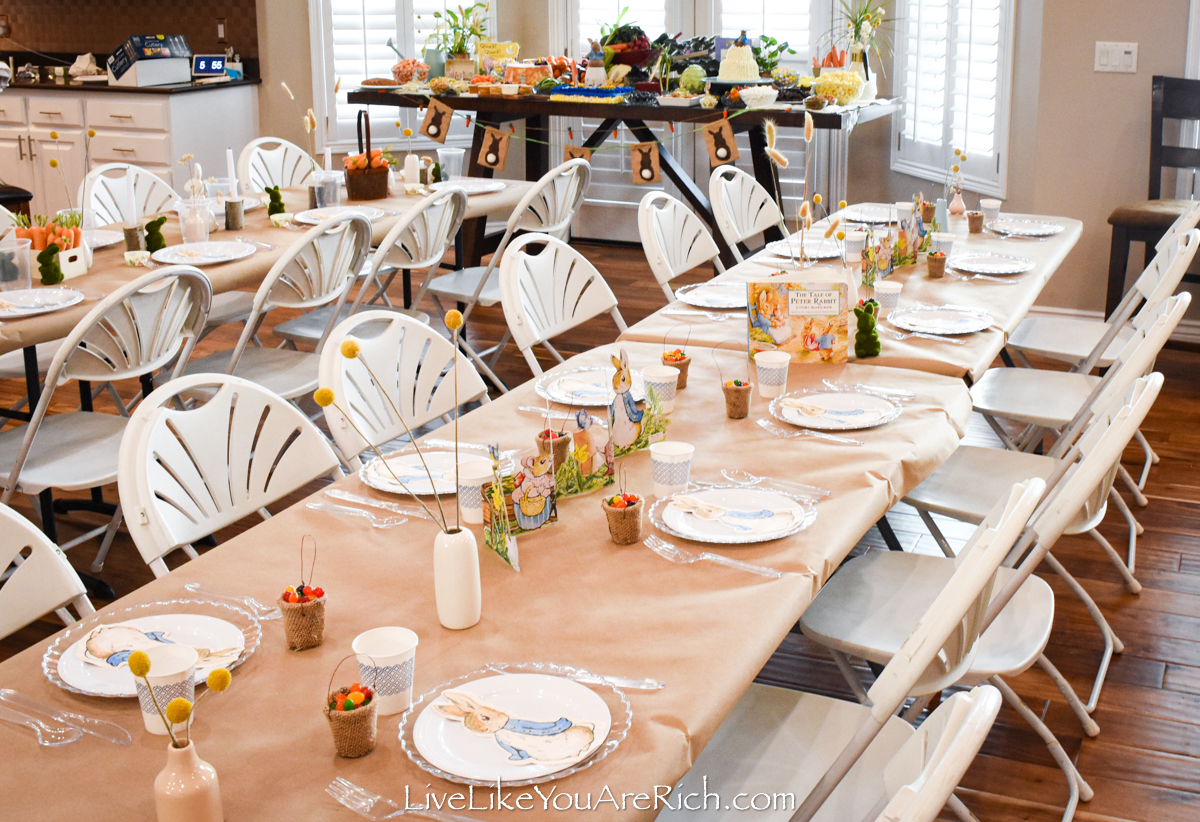 Total Cost for this Peter Rabbit Kids' Tablescape
I like to give readers an idea of how much something will cost when they set out to replicate it. However, for this particular party and tablescape, I had almost everything already on hand.
The only items that I purchased specifically for this tablescape were the fold out cards, and napkins which totaled $21.00.
If you don't have any of the items mentioned, you can get an idea of cost by following the links in the supply list that I included above.
PETER RABBIT POSTS
PETER RABBIT 1ST BIRTHDAY PARTY
PETER RABBIT TABLESCAPE FOR KIDS
PETER RABBIT TABLESCAPE FOR ADULTS
PETER RABBIT PARTY FOOD AND DECOR
PETER RABBIT BIRTHDAY CAKE (FONDANT RABBIT)
ANGEL FOOD CAKE MADE FROM SCRATCH
Check back in the coming week or two for the posts about this Peter Rabbit Birthday Party with specifics on items used, tutorials, and more.
I hope this post serves useful for creating a Peter Rabbit Kids' Tablescape!

For other 'rich living tips' please subscribe, like me on Facebook, and follow me on Pinterest and Instagram.