These Natural Dried Floral Arrangements are inexpensive and easy to make.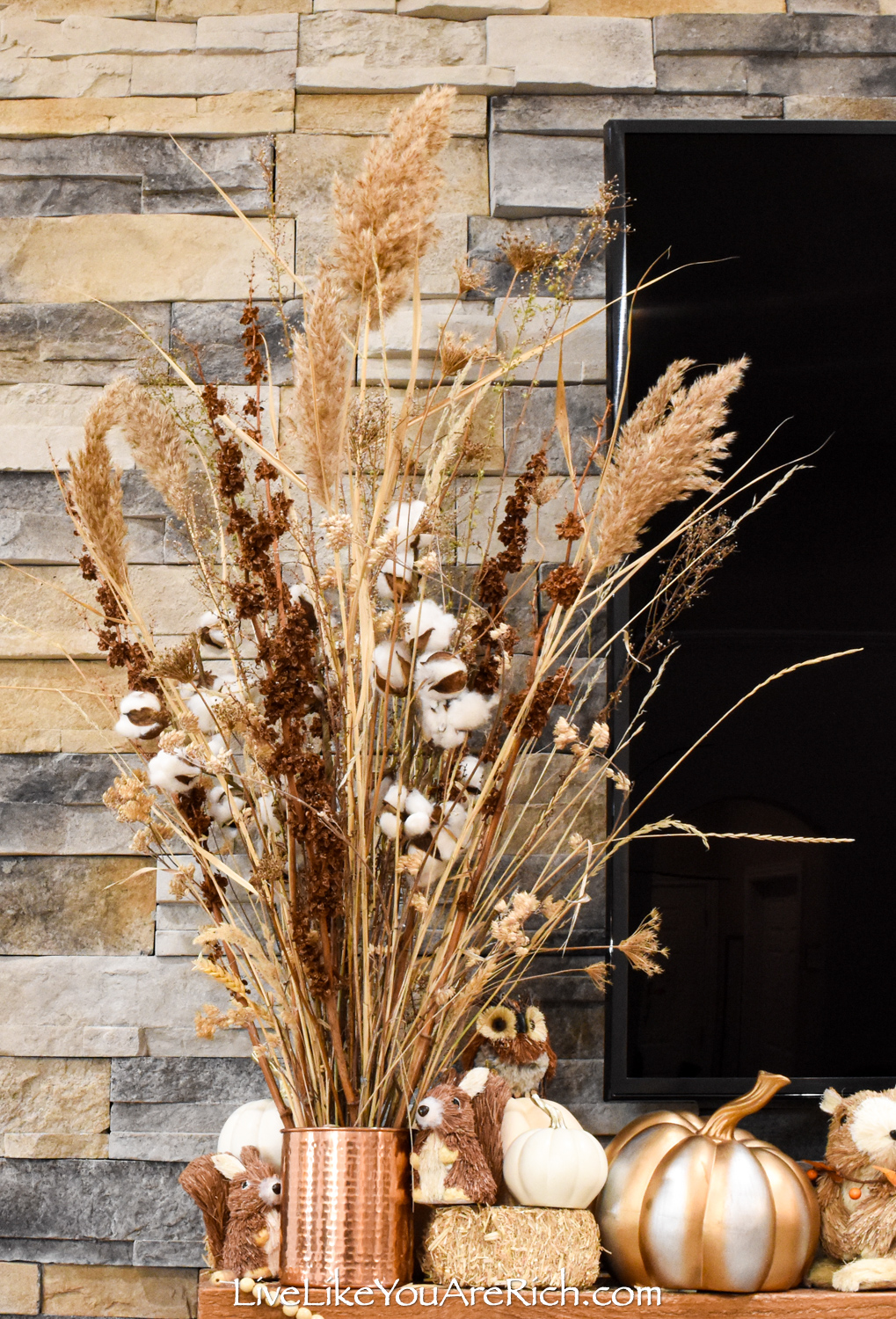 I made these natural dried plant arrangements from dried flowers, grass, plants, and weeds that I picked and dried myself (except the cotton which I bought 50% off at Hobby Lobby).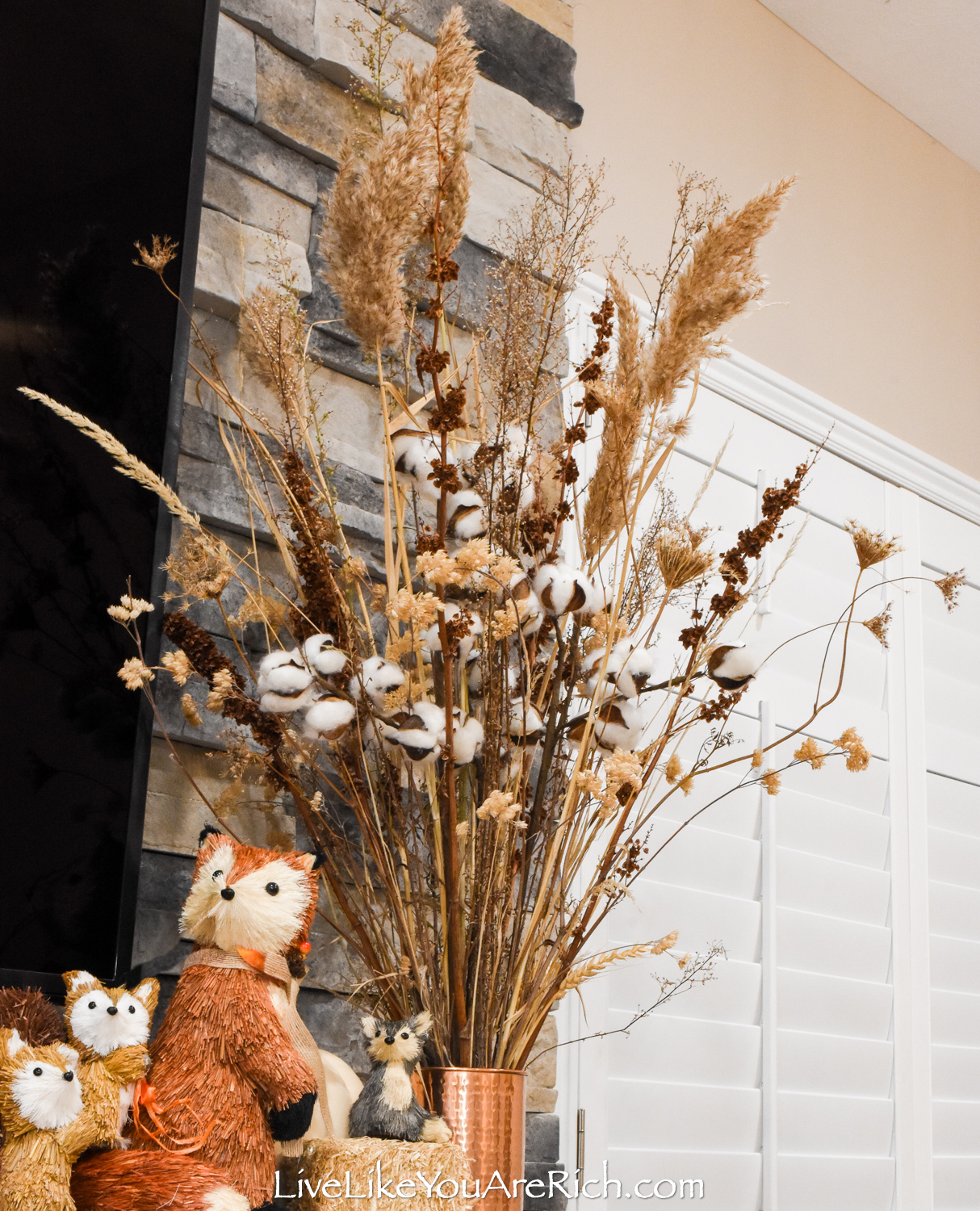 They cost very little and add a beautiful look to my Thanksgiving Sisal Animal Mantel.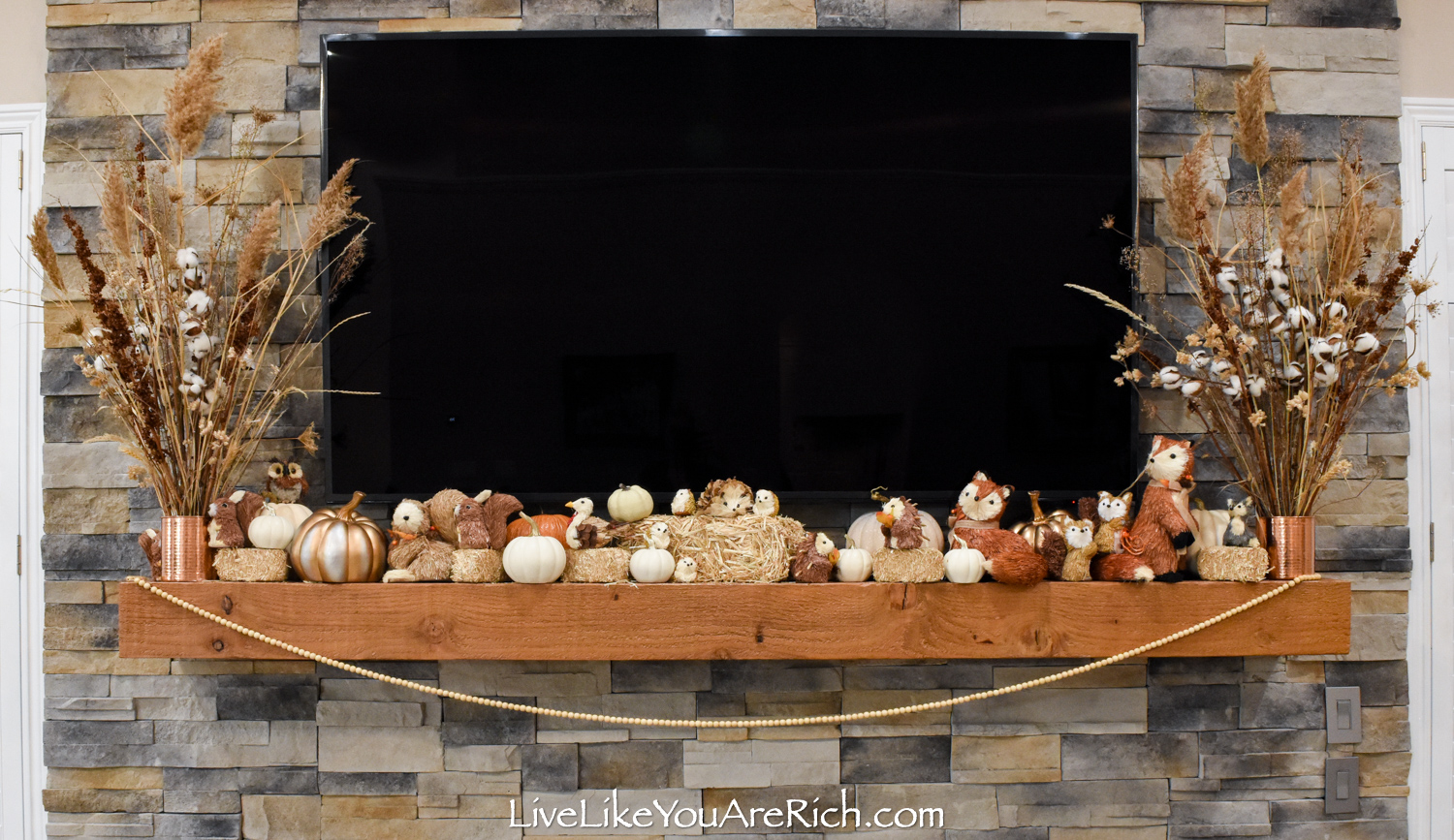 They can be made taller, or shorter, thinner or wider.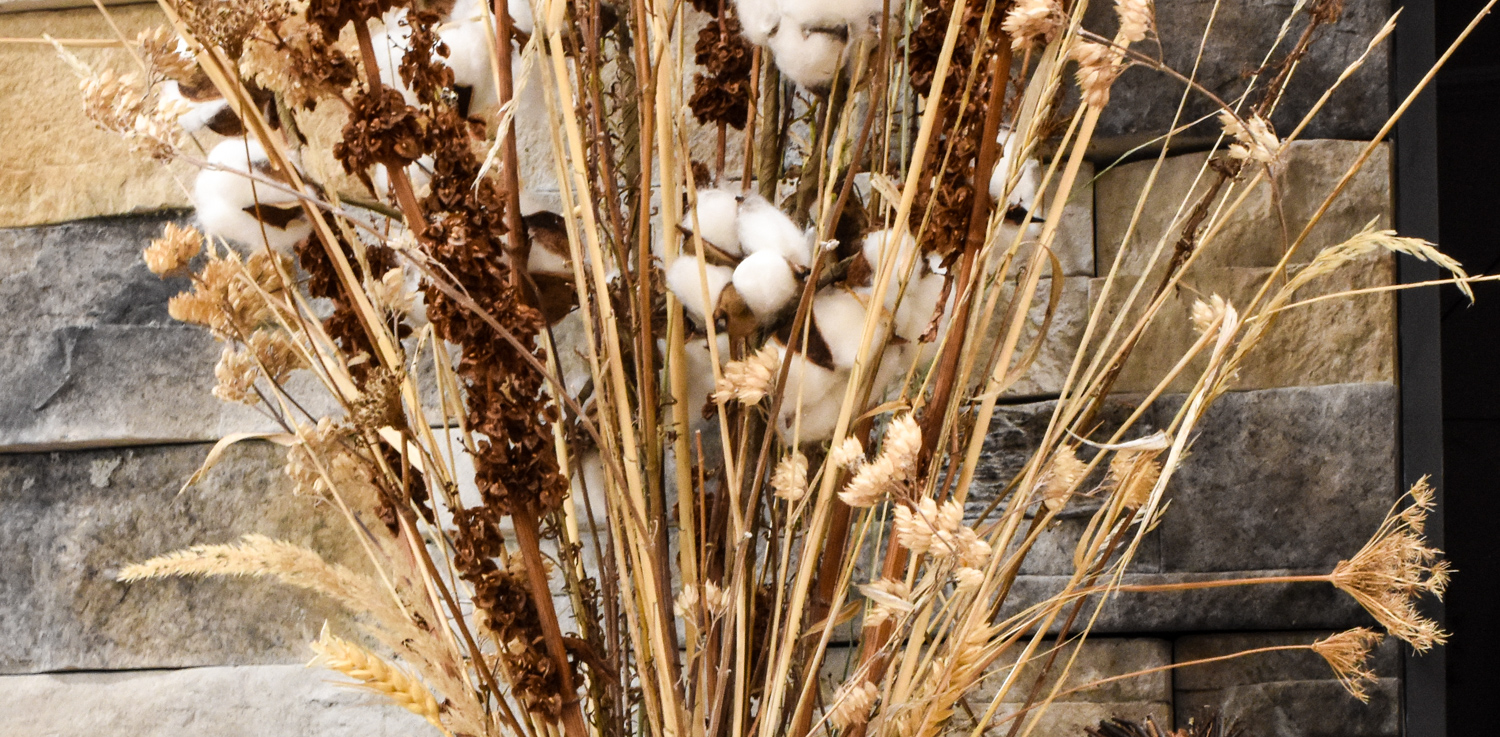 You can add more tans or more browns but I liked the mixture of the tans and browns.
Supply List for Natural Dried Floral Arrangements
Tall Fescue
Curly Dock
Feather reed grass
Giant Reed- I picked about 10 (5 for each arrangement)
Tall grass (brown and tan)
Various other dried plants I found in my back yard and on the side of public trails.
floral foam I used 2- 2.6″x3.4″x7.8″ blocks in each planter. I these bought on sale with coupon from Michaels. Total .66 cents each.
little rocks found outside to weigh the planters down
2 copper vases/pots (I had these already) Hammered Copper Vases (I used ones similar to these)
Tarp (optional) This helped with clean up and came out of my 72 hour kit for the day.
work gloves (optional)
Instructions on How To Make Natural Dried Floral Arrangements
1-Pick a variety of plants, berries, fall flowers, reeds, and grasses. Tip- Take gardening shears with you.
2- Hair spray anything that is fragile and let the hairspray dry. I set my plants to the side to dry a few days; I do not know if that is necessary—it is just what I did.
3- Put floral foam in copper vases. Using a serrated knife, I cut each floral foam (2.6″x3.4″x7.8″) block in half. I fit half of the block in the vase and then cut the other 1/2 into smaller pieces to fit them into the gaps/edges.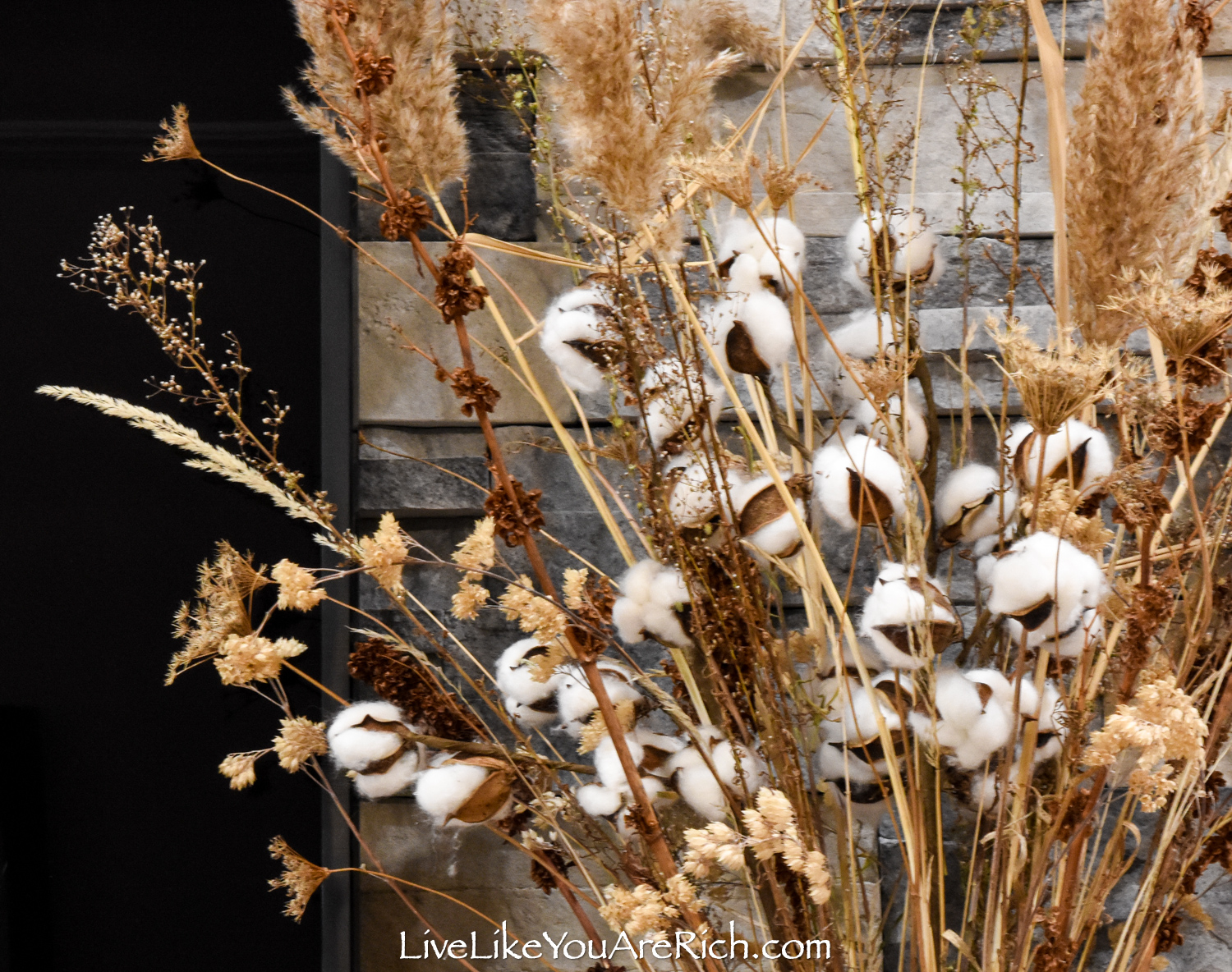 4- I placed three cotton stems into each vase first and fluffed them out.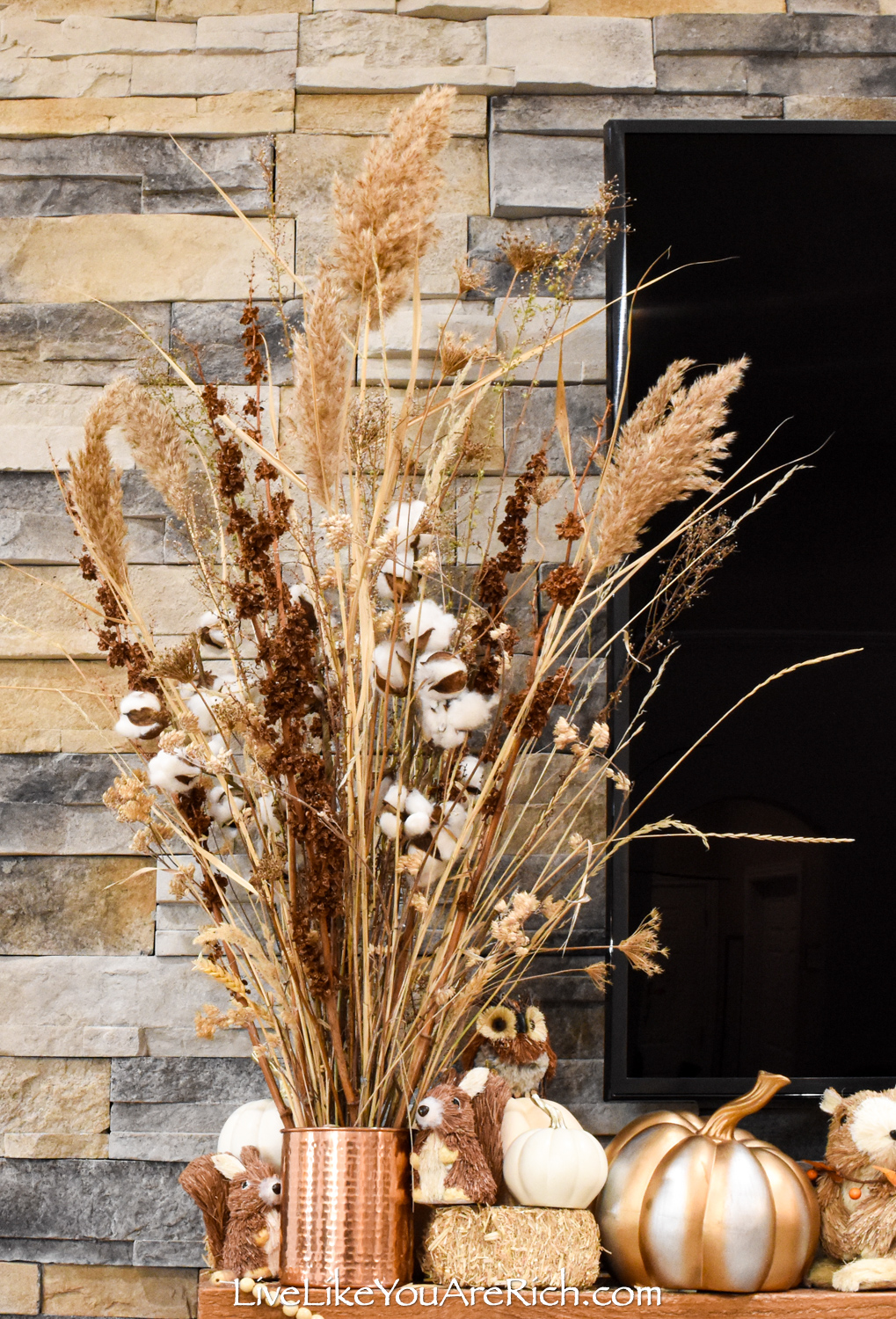 5- Next I placed the giant reeds and curly dock. Once the larger/thick stems were placed,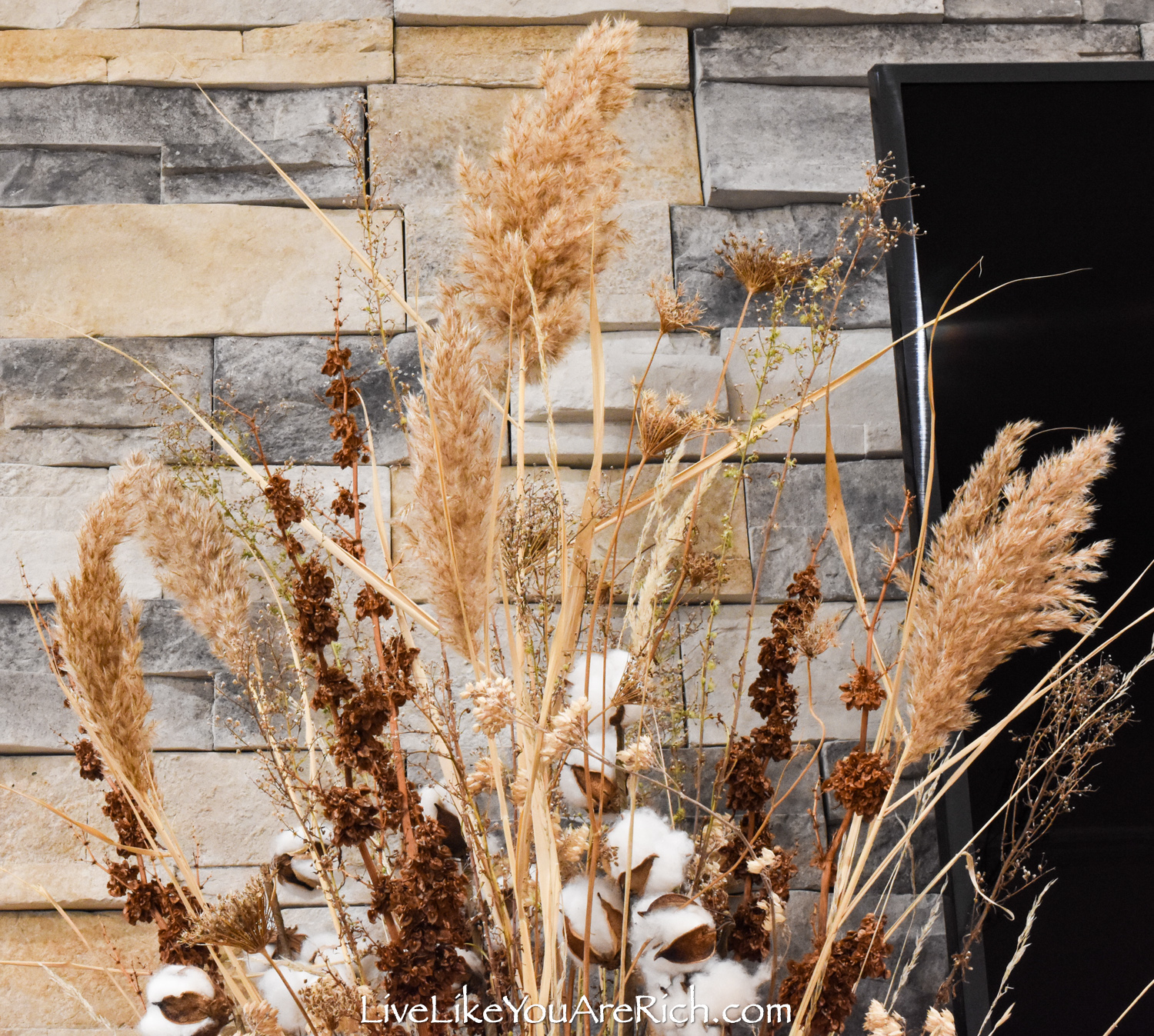 6- I began filling around with plants that I had gathered and dried. Place the fragile and thinner grasses, bunny tails, fescue, etc. into the arrangement inner (longer) to outer/close to the rim (shorter). This adds dimension and contrast.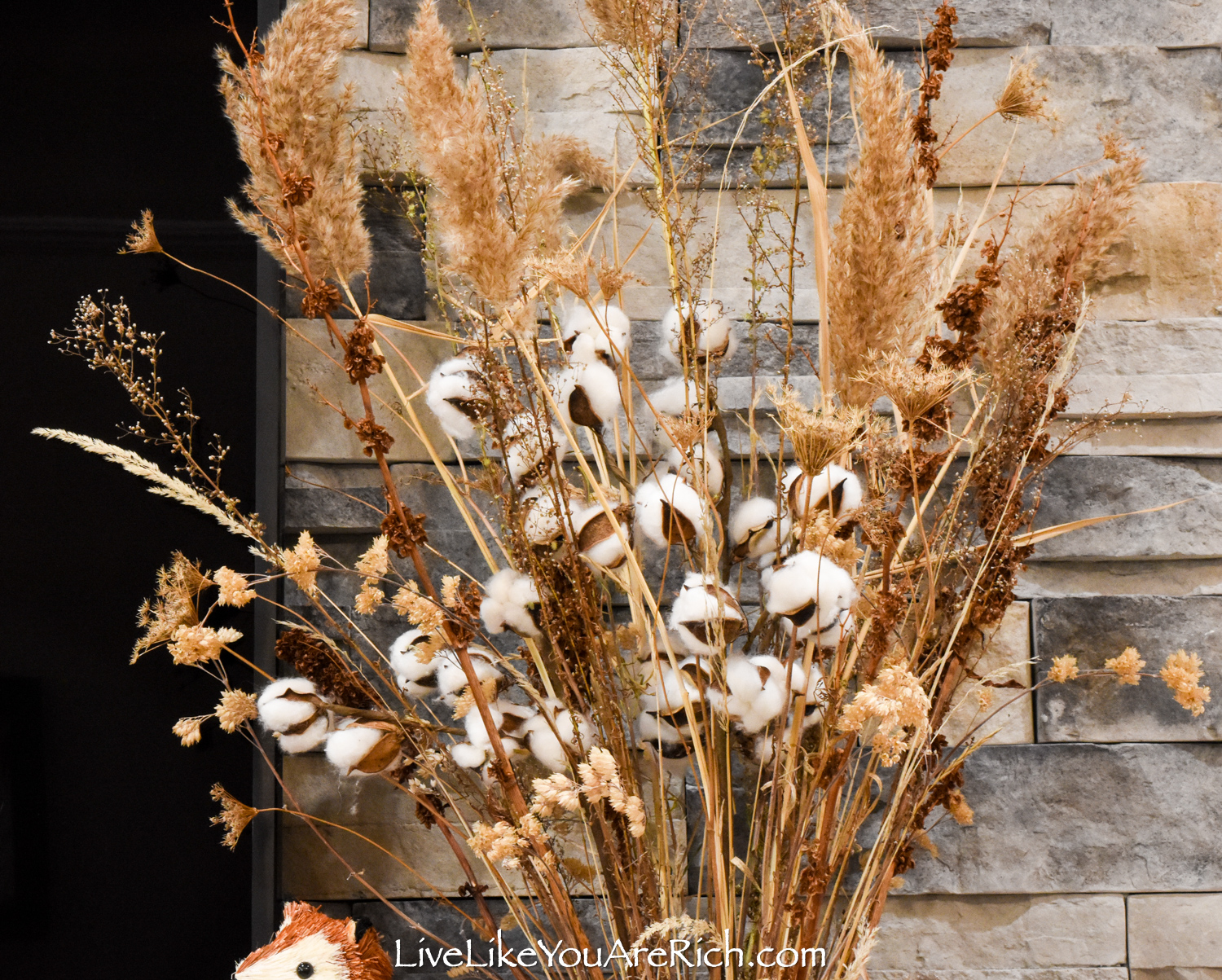 7- I worked in an organized even fashion placing a few stems of one variety in both of the copper vases; this is so they looked balanced and even.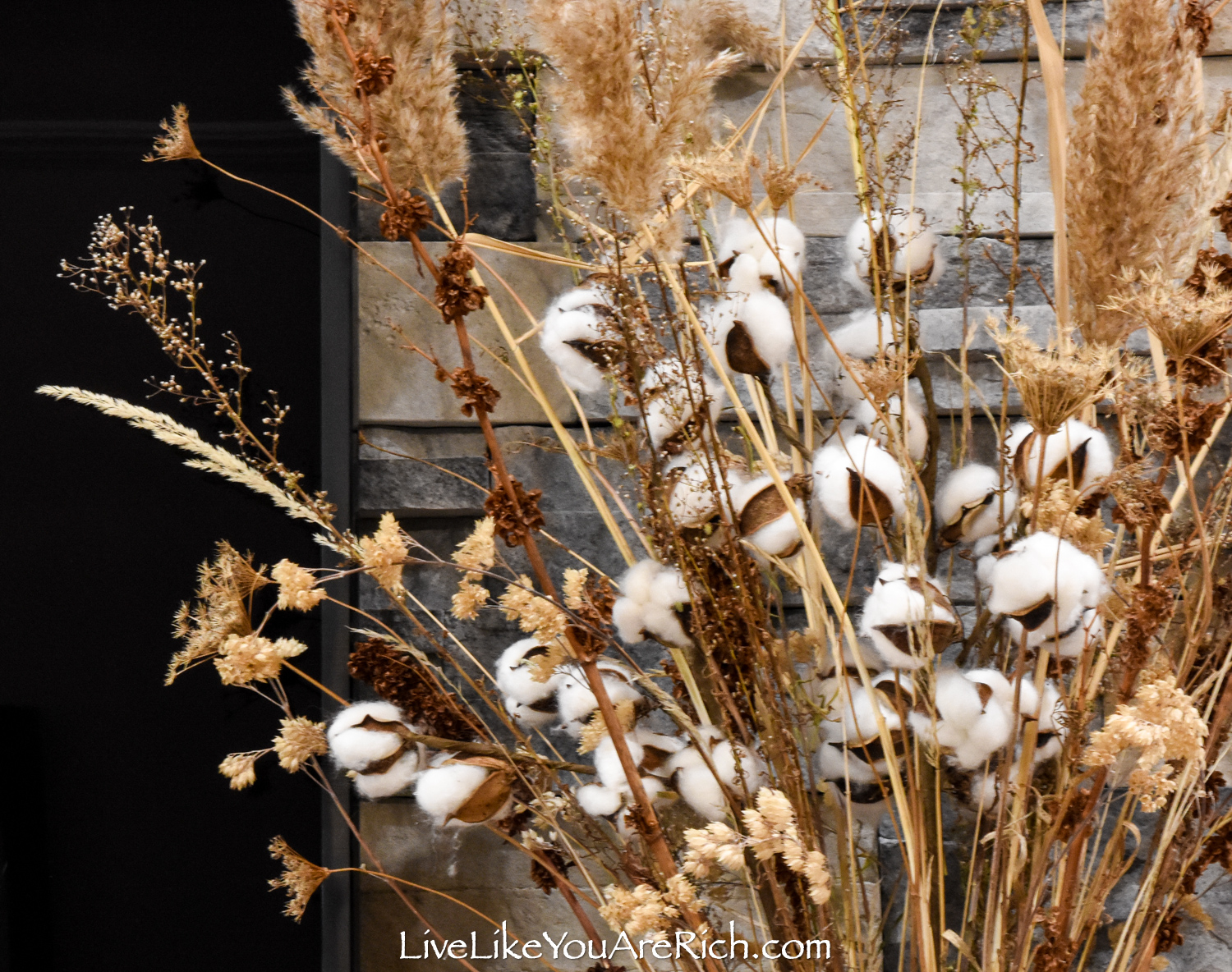 8- Next, I sprayed the arrangement with hair spray to help it hold.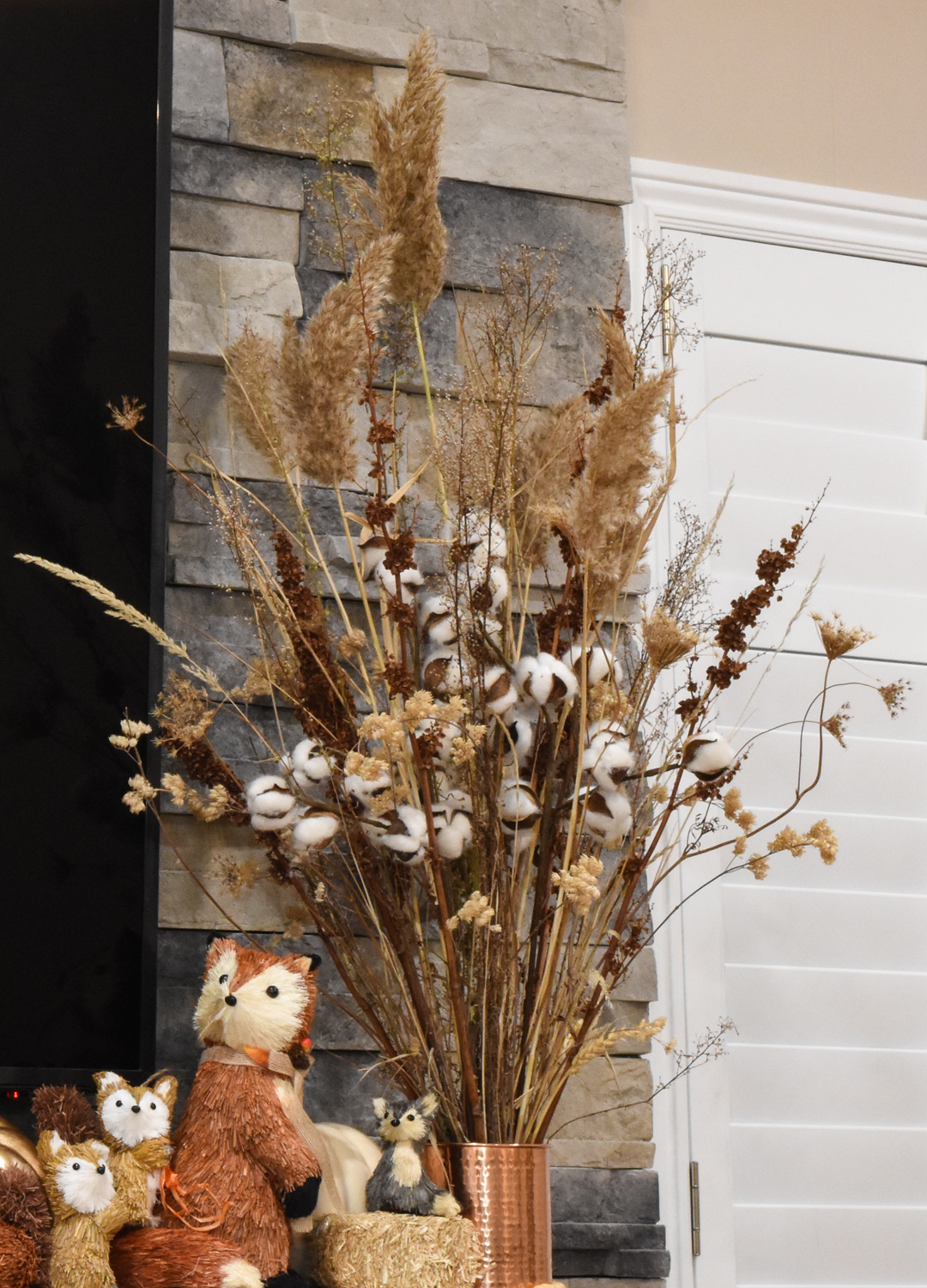 9- The arrangements were a bit top heavy so I put small rocks that would fit in between the stems in the vase to keep it balanced.
Then I placed them on both sides of my Thanksgiving Sisal Animal mantel.
I had all of the items except the cotton stems which I purchased on sale for about $4.00 each. So, each arrangement cost me a total of $12.00.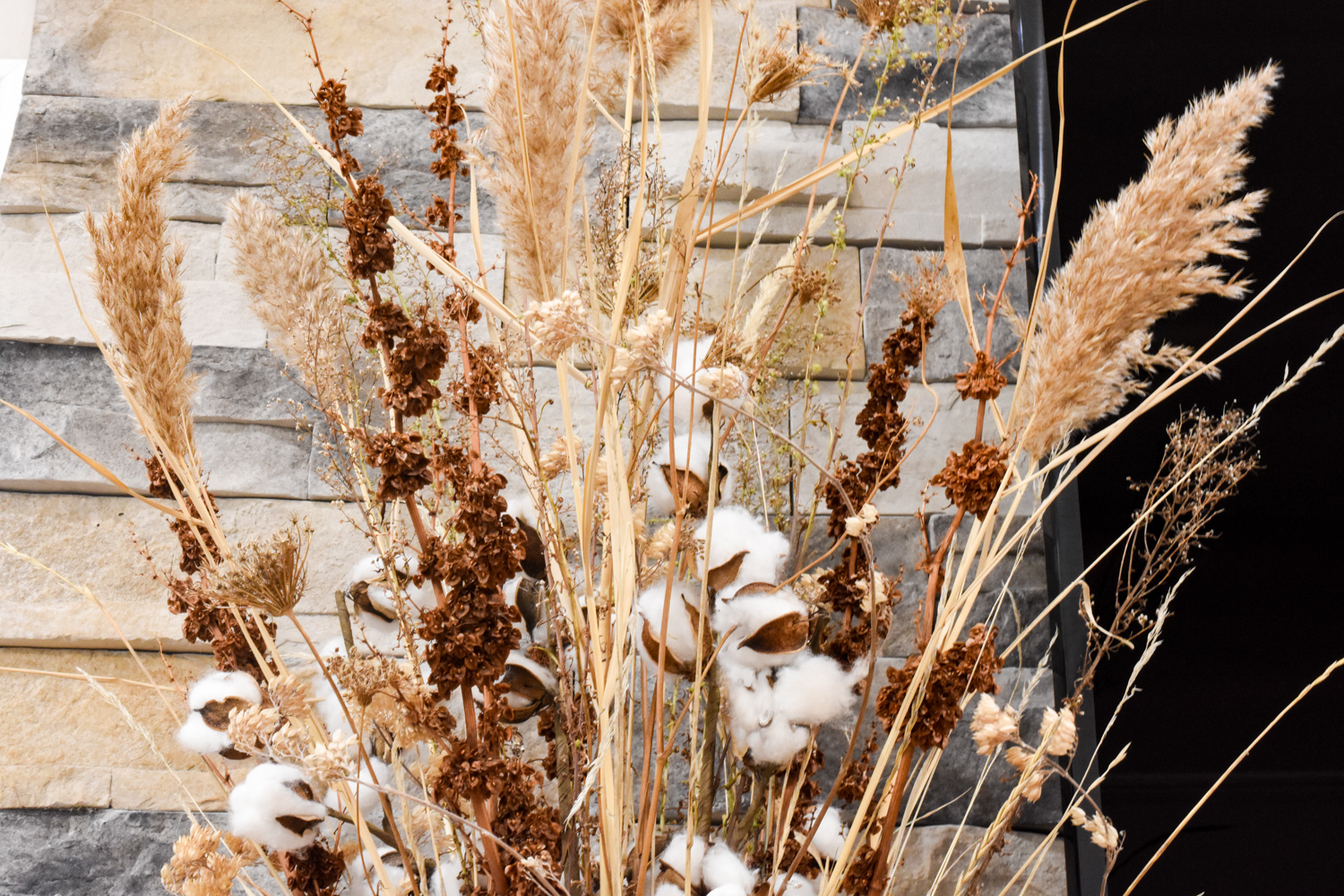 Using fall grass, reeds, fescue, etc. that I found outside and vases I already had helped keep these Natural Dried Floral Arrangements affordable.
I have had fun drying outside foliage for fall projects this year. I made these Tall Autumn Arrangements and this Autumn Dried Plant Wreath using mostly plants that I picked 'harvested' outside and dried.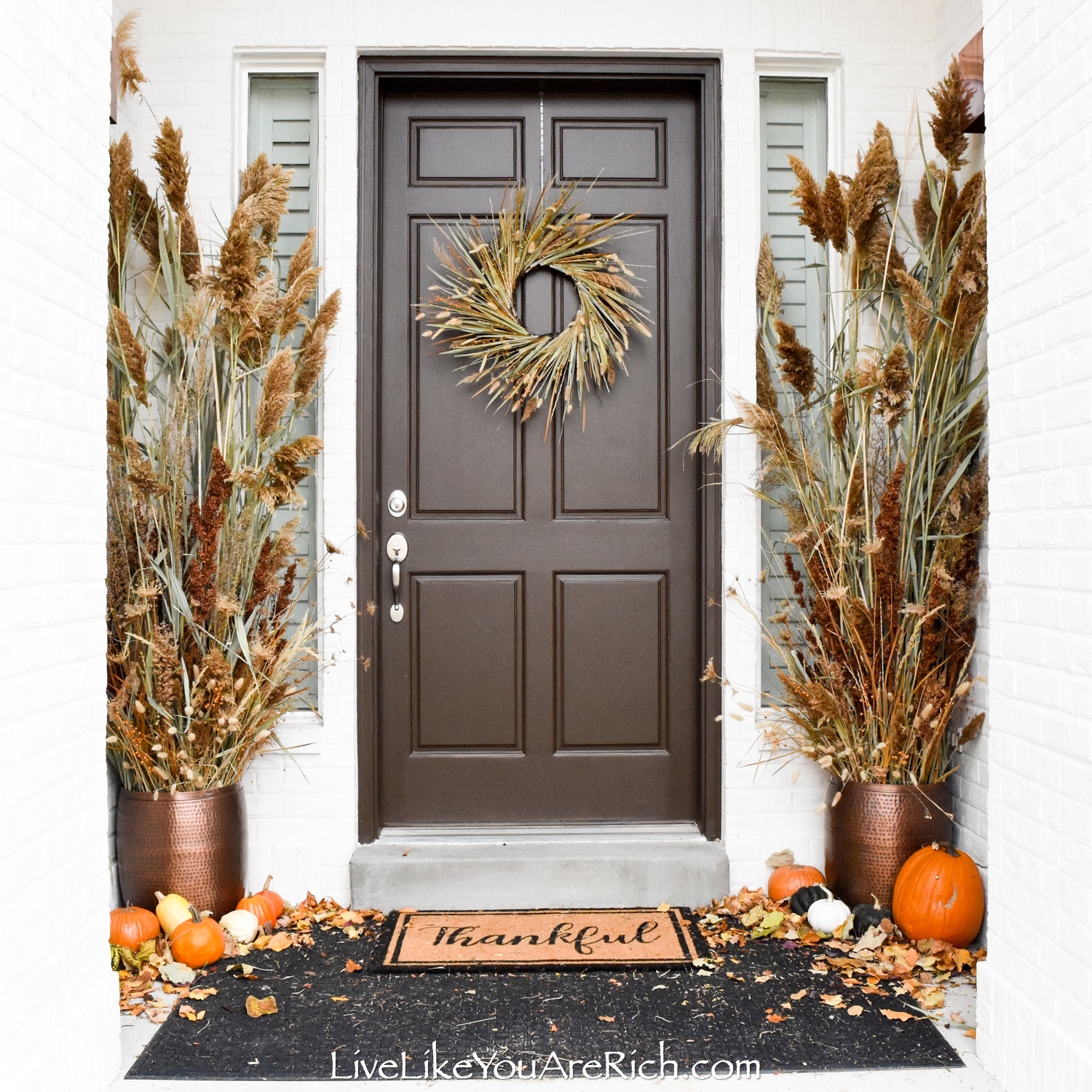 Harvesting outside plants and making arrangements yourself is a great way to make large, full arrangements that are affordable.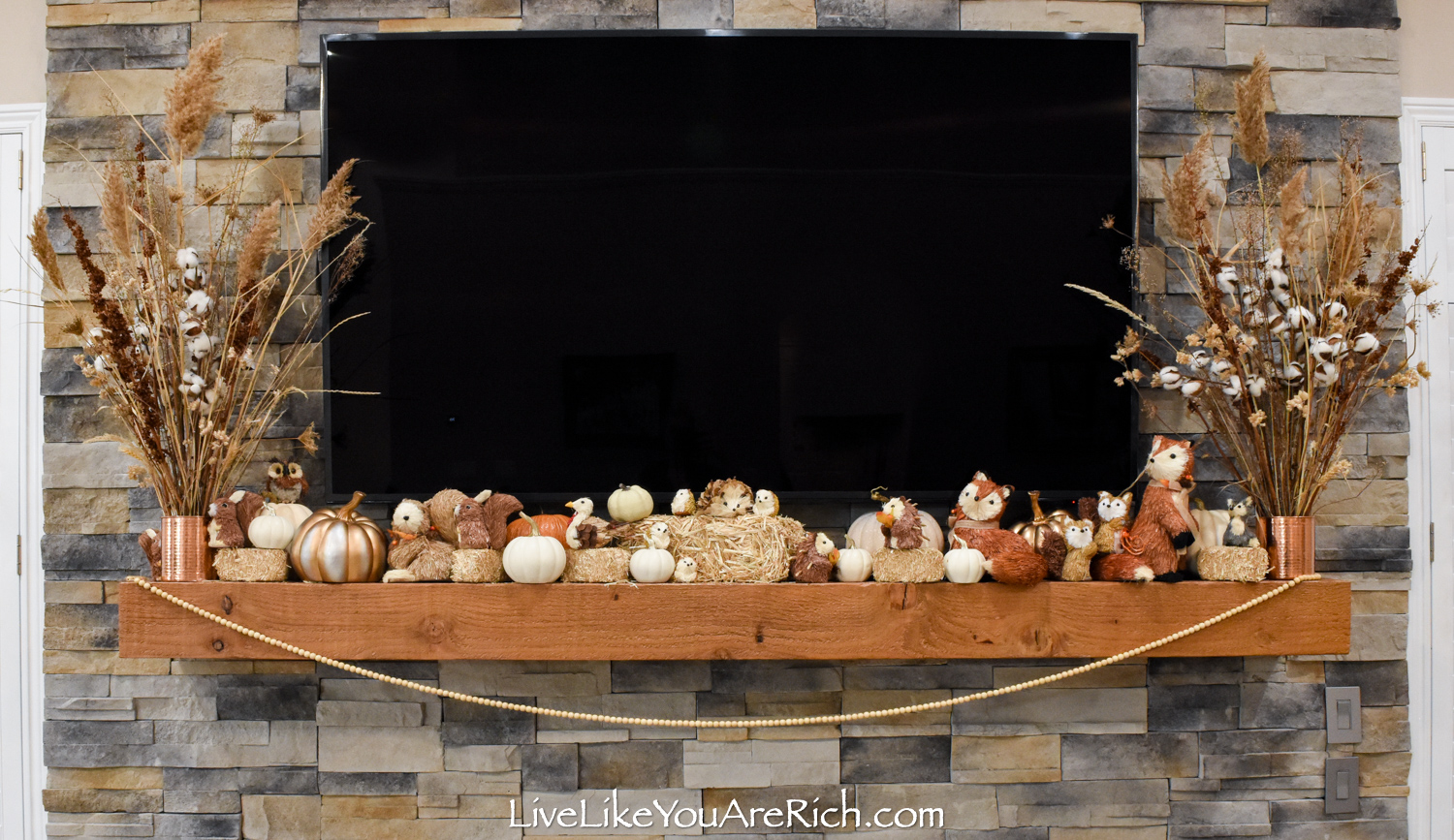 These Natural Dried Floral Arrangements were fun, easy, and affordable to create.
Happy Thanksgiving!


For other 'rich living' and D.I.Y. decor tips please subscribe, like me on Facebook, and follow me on Pinterest and Instagram.