I love the earthy fall look of this Autumn dried plant wreath.

To make this wreath, I mainly used items that I picked and dried myself.
I found them at a public lake (Utah Lake).
This was the day I went to pick the plants. It was so gorgeous, I had to take and post a few photographs.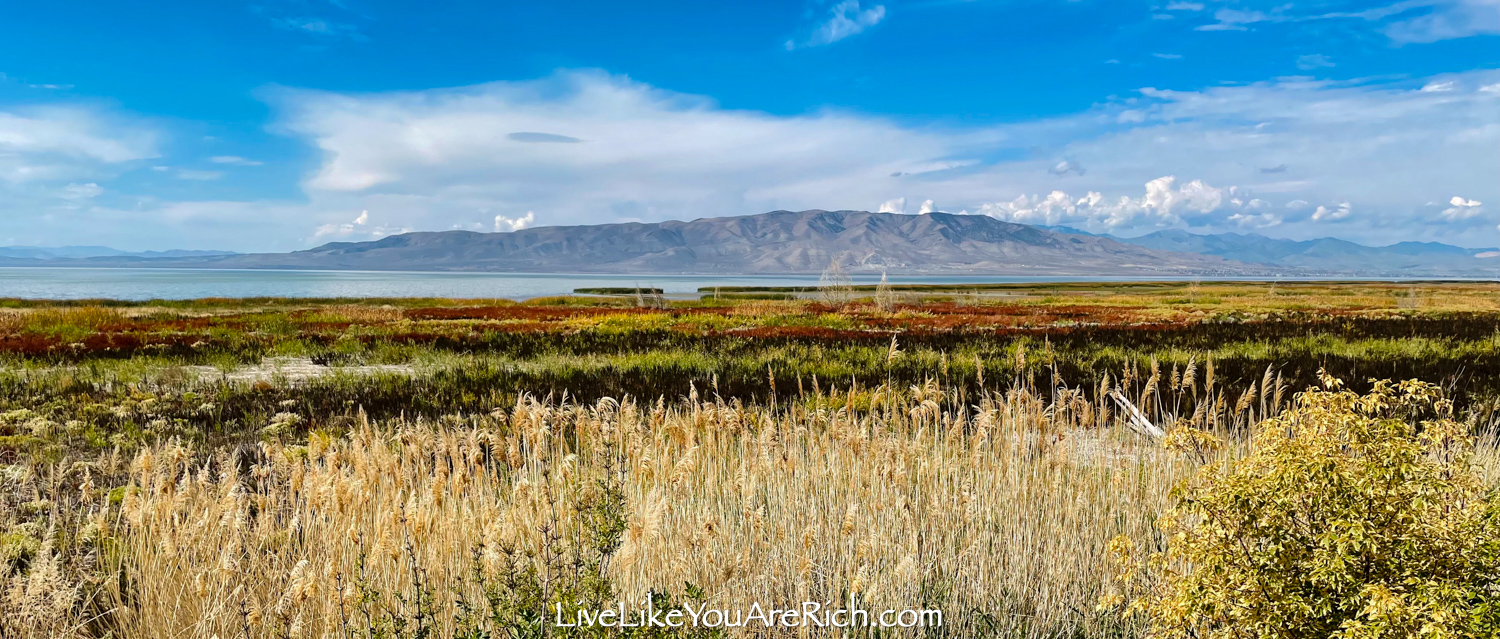 Here is another shot of this gorgeous fall day.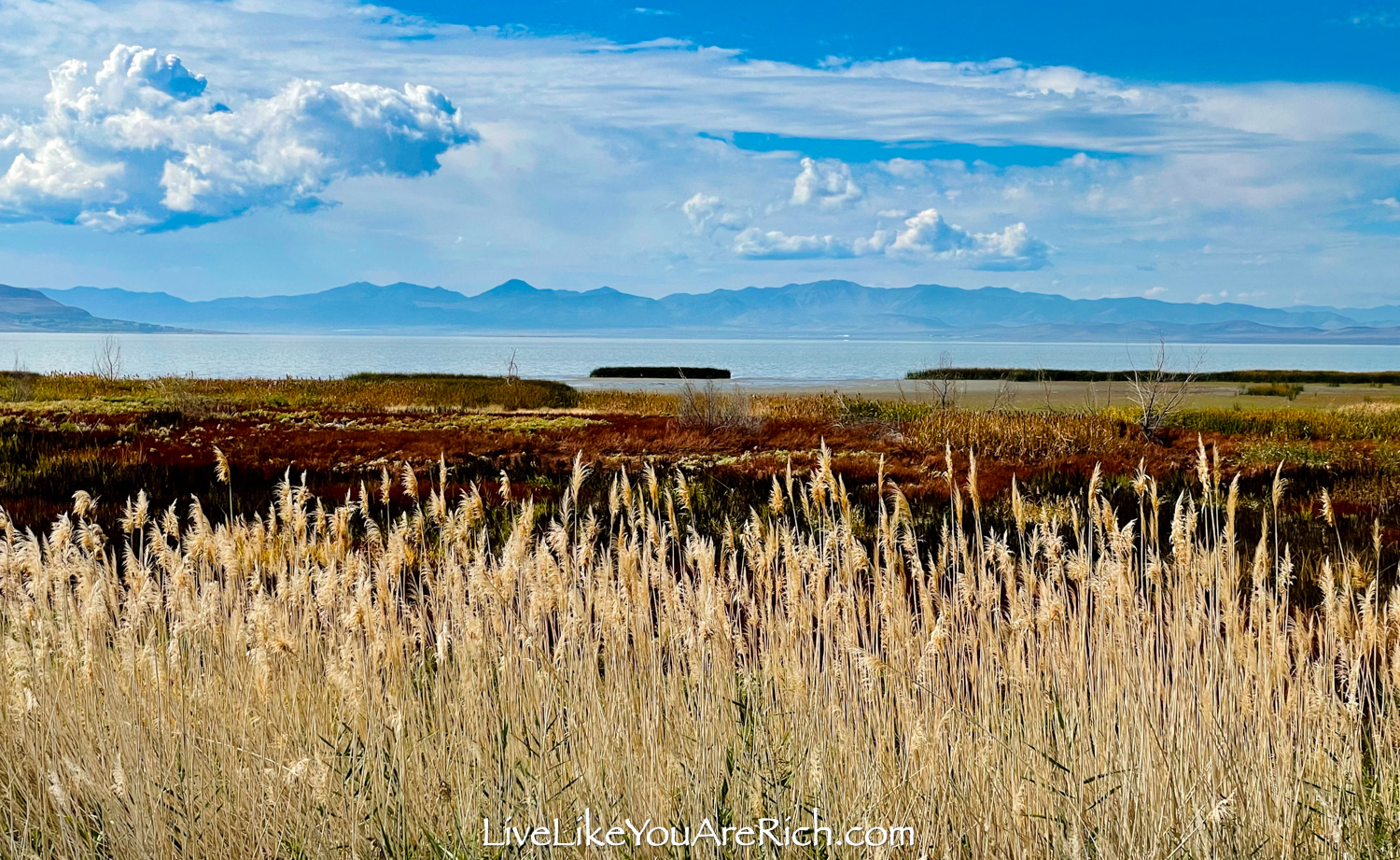 I brought home lots of giant reads and other long grasses and plants that I do not know the names for.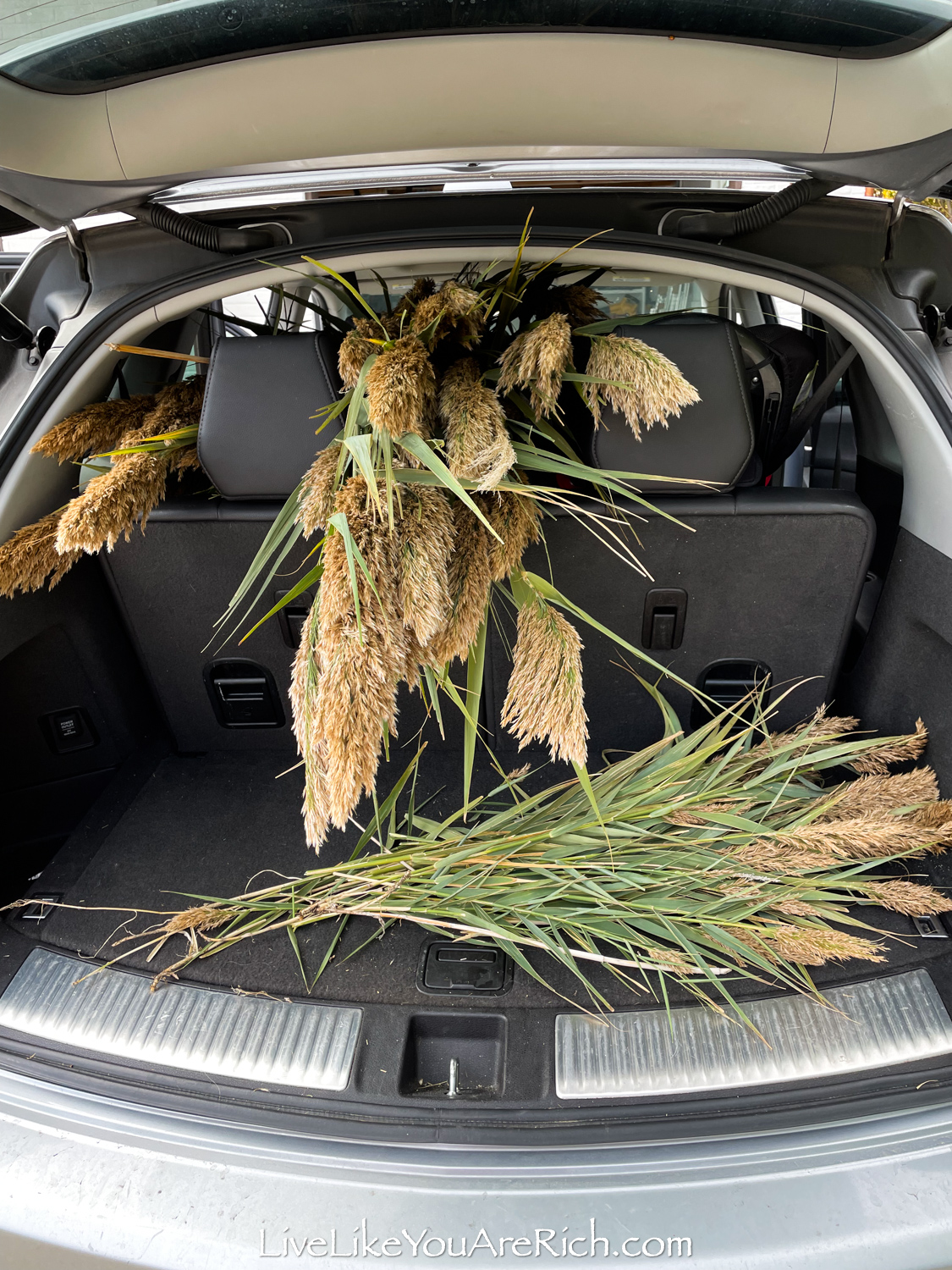 I also found some flowers, grass and fescue in my yard which I picked and dried as well.
After picking the plants, grass, and flowers, I sprayed the blooms with hairspray (so they wouldn't fall apart) and dried them for a few days.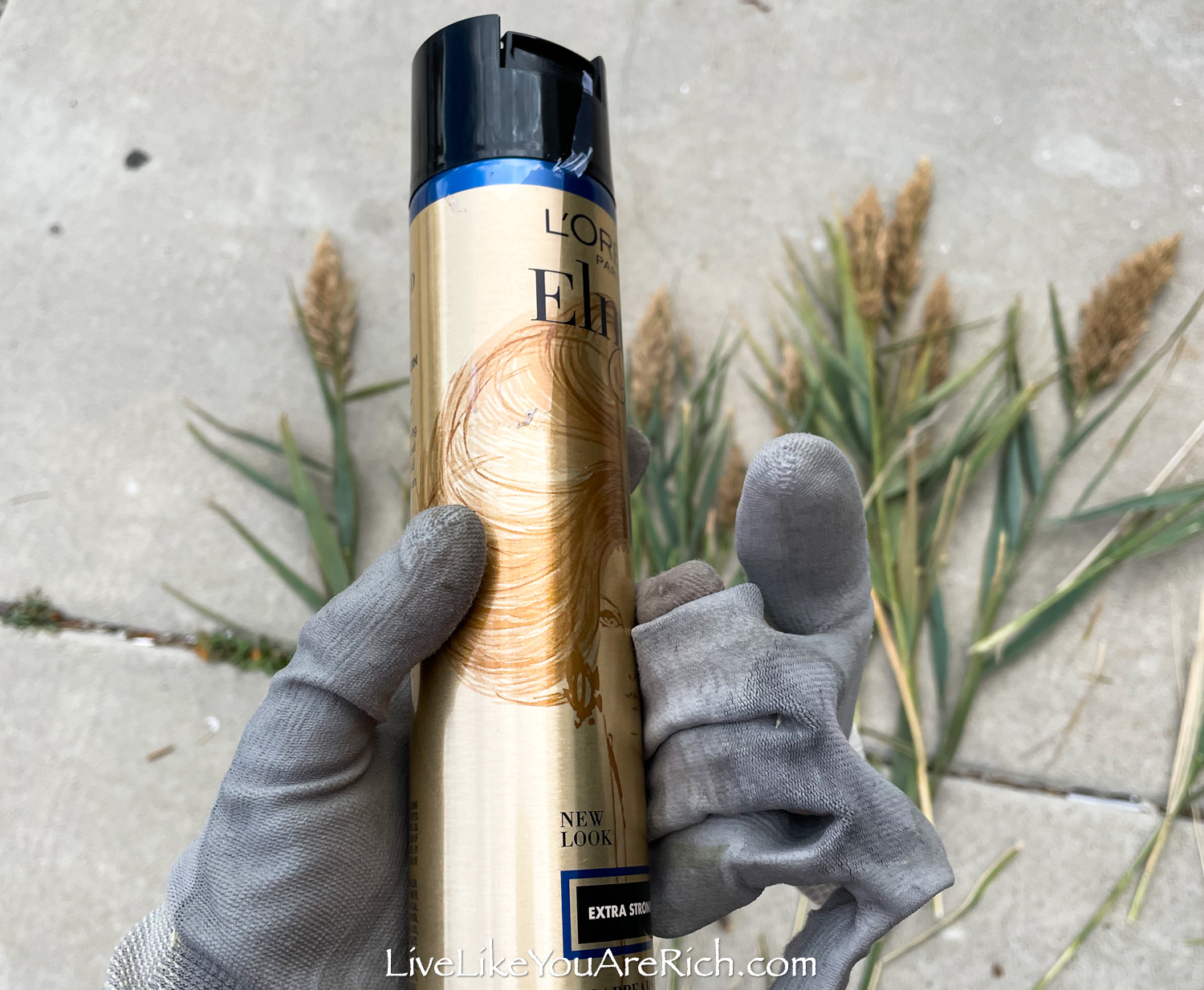 I used the bulk of what I dried to make these two porch tall fall arrangements.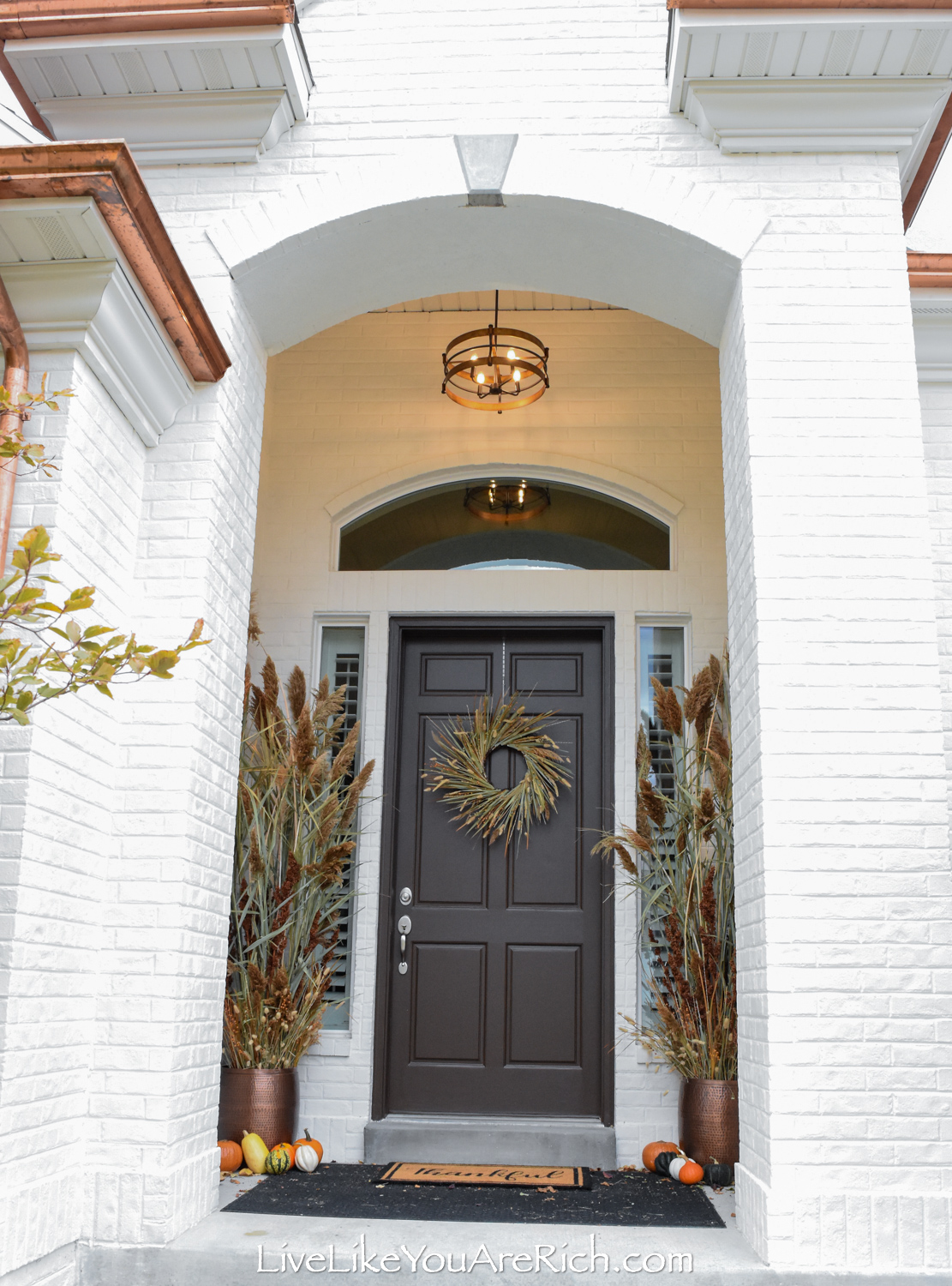 The rest of the dried material that I had leftover, I used to make the wreath.
Here are the supplies you will need to make a similar wreath.
Supply List for this Autumn Dried Plant Wreath
A lot of these plants and grasses I used can be found at craft stores or on Amazon if you do not have access to them in the wild.
Tall Fescue
Curly Dock
Giant Reed
mini berries autumn orange (similar here)
wispy round twine wreath a wreath like this one may work too. (I have had this wreath for years and just cut off the fall decor that was on it so finding an exact match was not possible). The wreath's twine inside diameter measures 8″.
foam furniture pads(very sticky) putting this on the wispy twine prevents scratching on your door.
door wreath hanger (this is the one I use and love it)
hairspray I needed 2 large cans for the 2 huge arrangements and wreath.
I do not know the name of everything I picked. The green is mostly leaves which came off the Giant Reed as I was arranging them. The wheat and bunny tails are a nice touch. The pampas looking grass is the small form (young) giant reed.
I also dried some flowers I found them in my yard and I had harvest berries, and brown long grass in my Fall decor bin that I used. If anyone knows the name of this tall wheat colored grass with rice-looking sprouts on the sides, please comment below. I've tried searching Google and asking friends with no luck.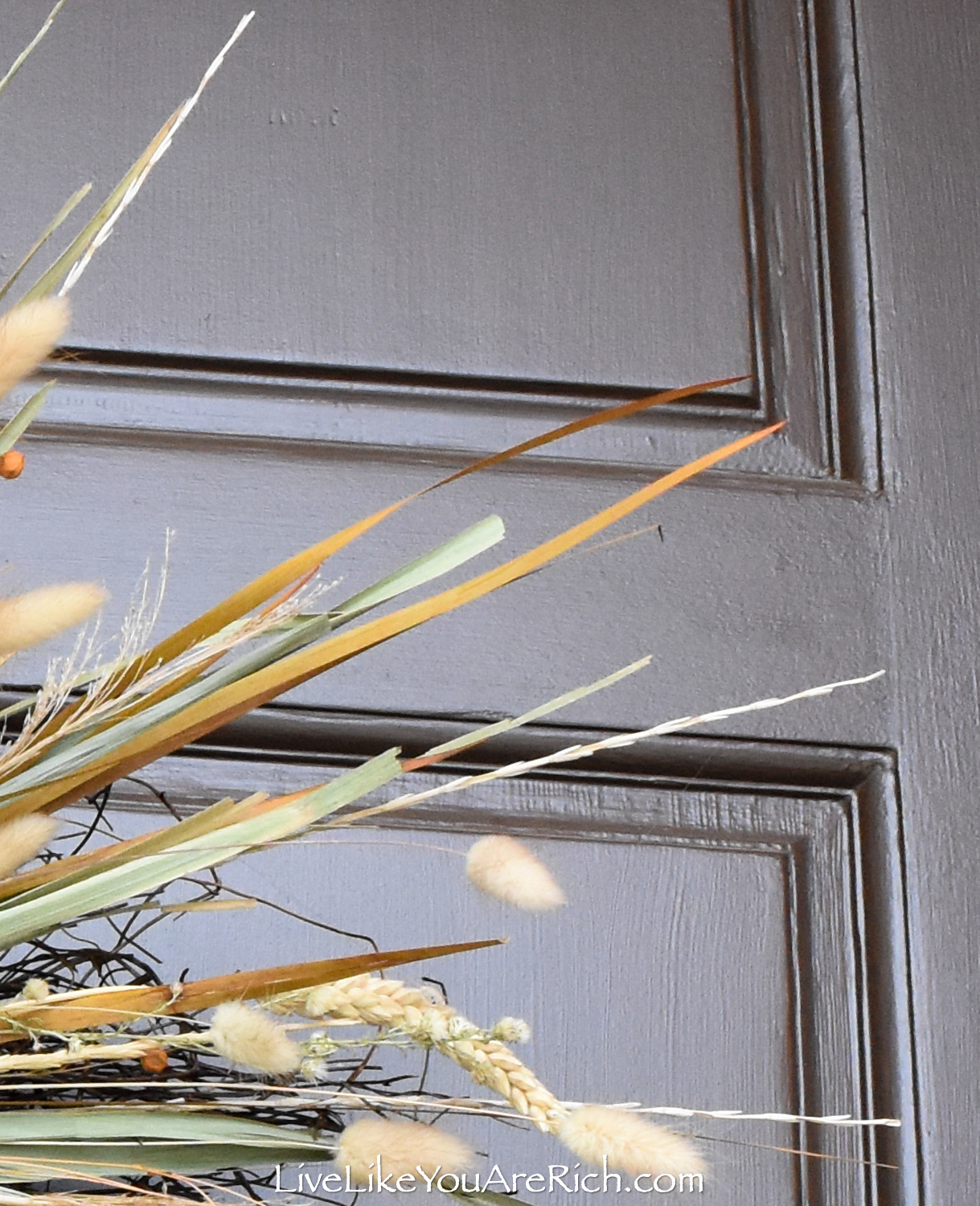 Instructions on how to make this Autumn Dried Plant Wreath
You can read the instructions and/or watch this video on how to make this…
1- Pick giant reed grass that have sprouted(found near water, lakes, rivers, streams, and canals). (usually after late August). Spray it with hairspray set it aside to dry.
2- Pick Rumex crispus also known as Curly dock (found on the side of roads and in pastures). Spray with hairspray and set it aside to fully dry.
3- Pick tall fescue and dry it.
4- Buy or dry wheat stalks.
5- Pick Lagurus grass aka bunny tails and dry them.
6- Pick or buy other tall grass, flowers or plants, spray them if they have blooms and dry them.
7- Get a wispy round twine wreath a wreath like this one The wreath's inside diameter measures 8″. The outer edge diameter measures 18″.
8- Using scissors and a glue gun, trim the different dried grass and plants and place them into the wreath going with the direction of the wispy twine. Secure them to the wire that holds the wispy twine together and/or glue them in place.
9- Alternate with the different dried plants to make a nice pattern.
10- On occasion pick up the wreath and shake it to ensure nothing falls out, secure anything that is loose.
11- Layer the different plants so that there is interest i.e. different lengths of plants from the center of the wreath to the outer edge.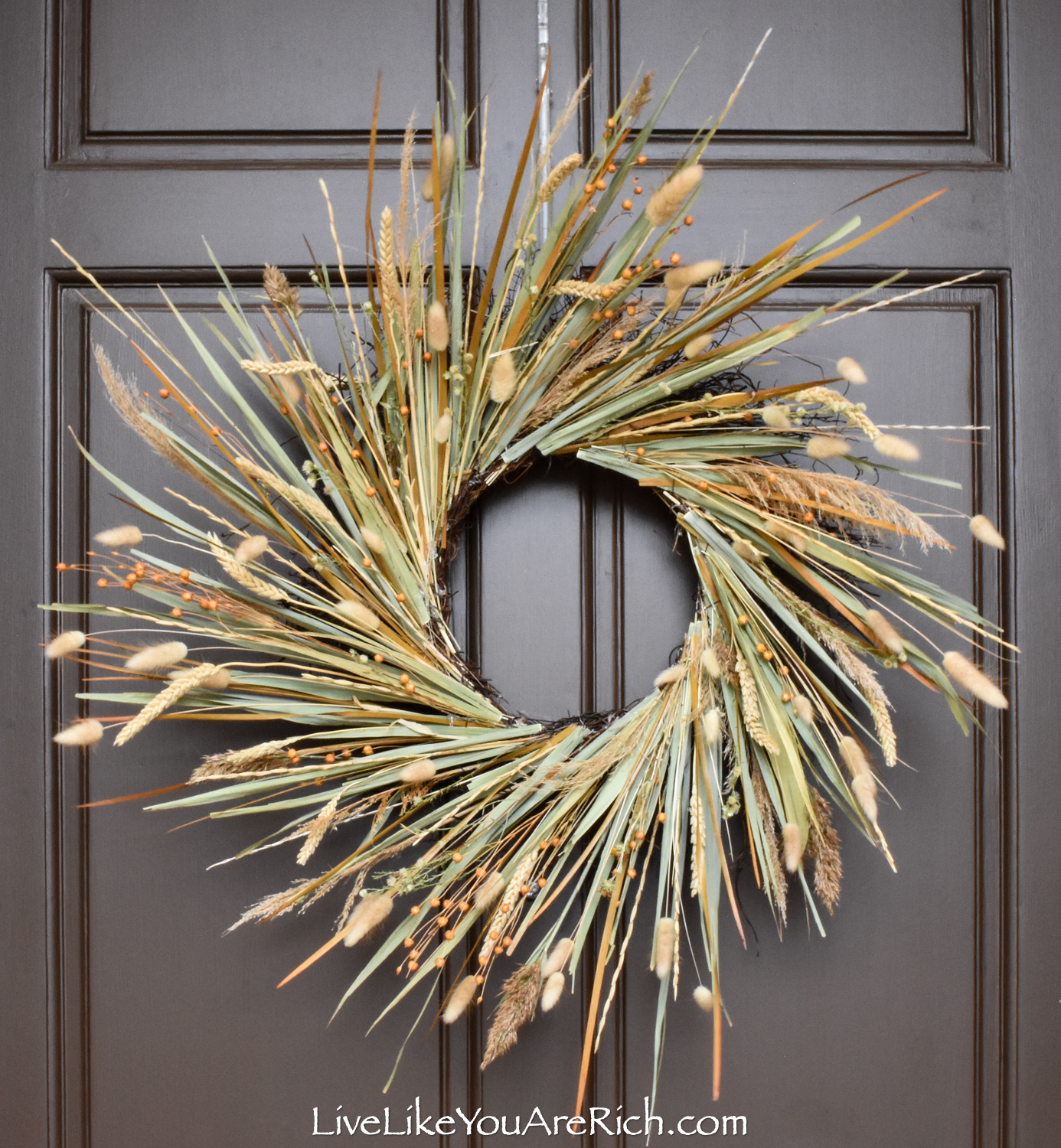 12- Spray the wreath heavily with hair spray and allow to dry.
13- Pick up the wreath and spot glue from the back of it (if desired). Shake to ensure nothing comes loose.
14- Add foam backed tape to the wreath so it won't scratch your door.
15- Hang from a wreath hanger.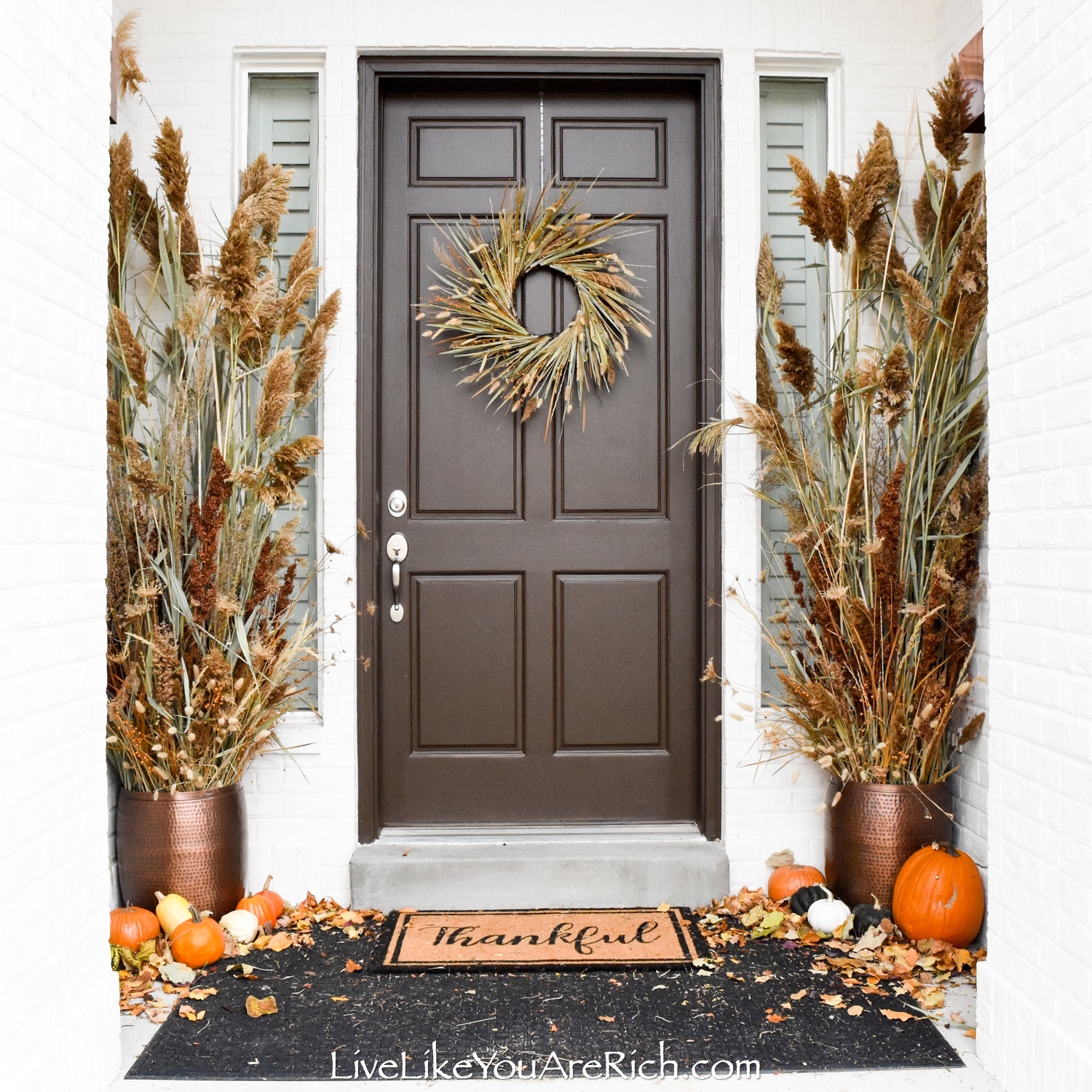 And that is it. If desired, I hope this helps you create a wreath similar to this Autumn Dried Plant Wreath.
Happy Thanksgiving!!

For other inexpensive D.I.Y. and craft ideas please subscribe, like me on Facebook, follow me on Pinterest and Instagram.