Polar Bear Iceberg Birthday Cake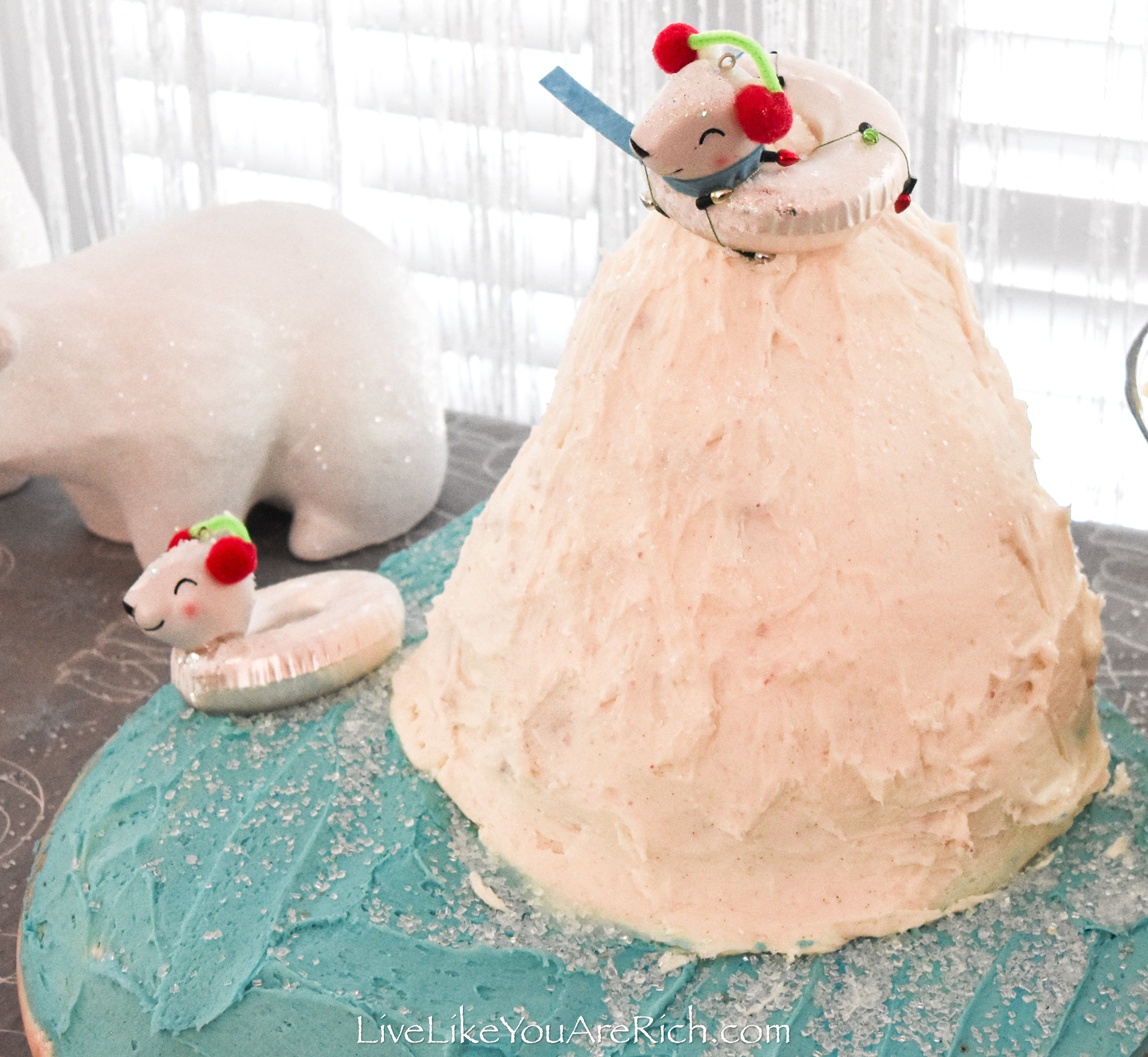 My son wanted to have a Polar Bear Sledding birthday party. I made him this polar bear iceberg sledding cake.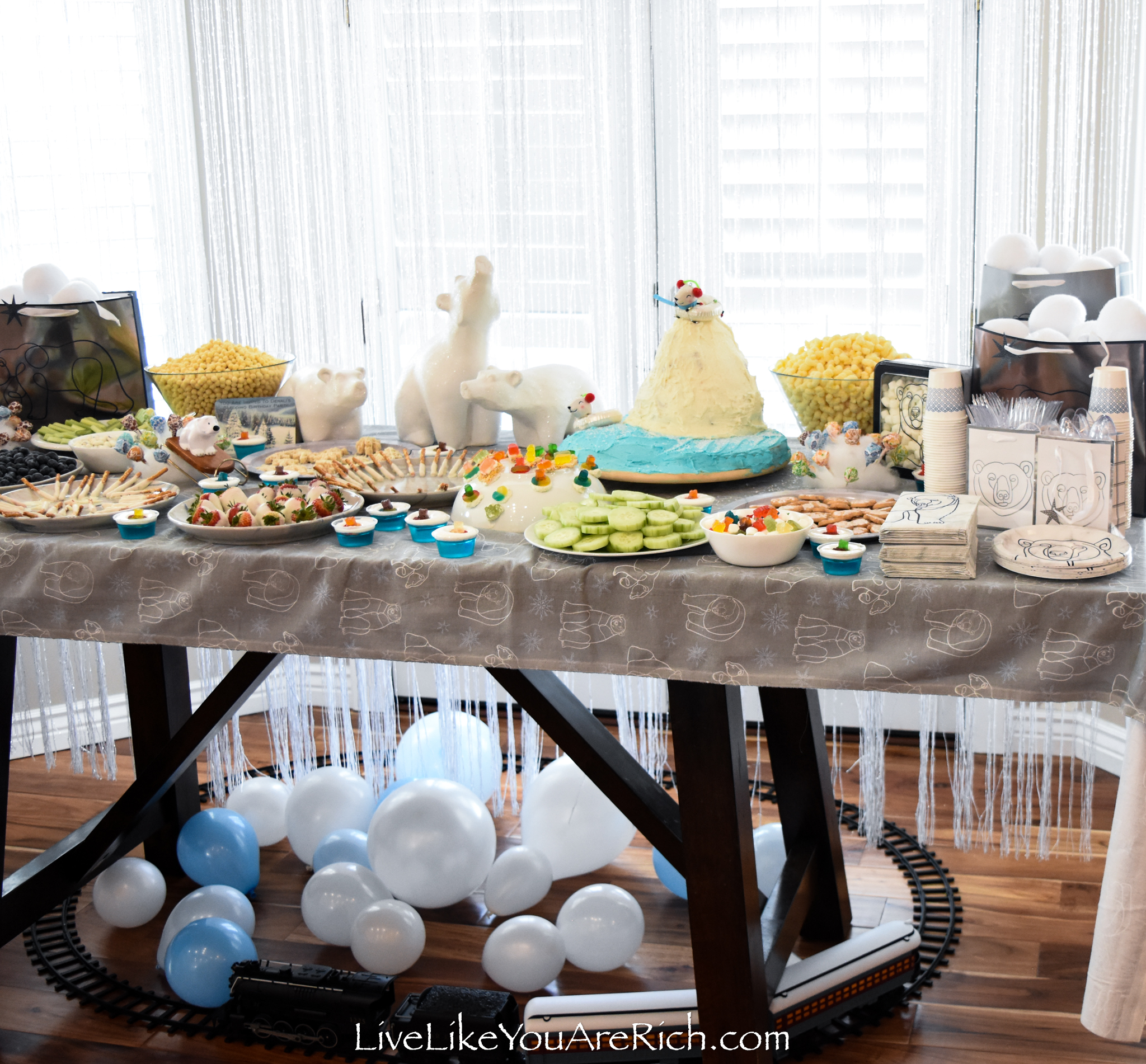 It was easy to put together but not professionally done—because I'm not a professional cake maker/decorator.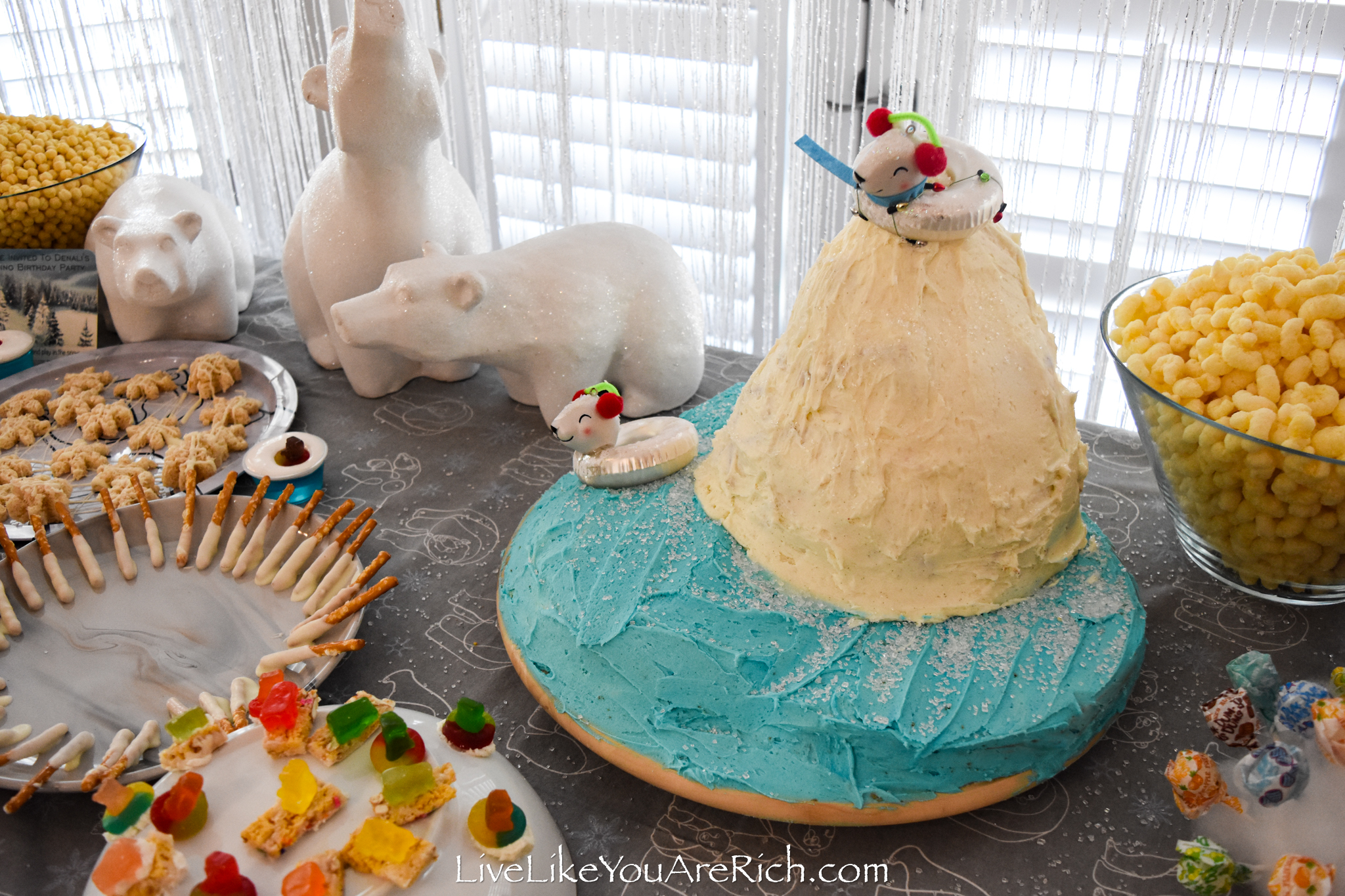 Surprisingly, the boys (ages 8, 9 and 10) were so impressed by it that I was more than just a little shocked! Sometimes it's the things that you don't expect will impress others that actually do!
My son's friends kept asking how long it took me to make it and if I really made it or bought it.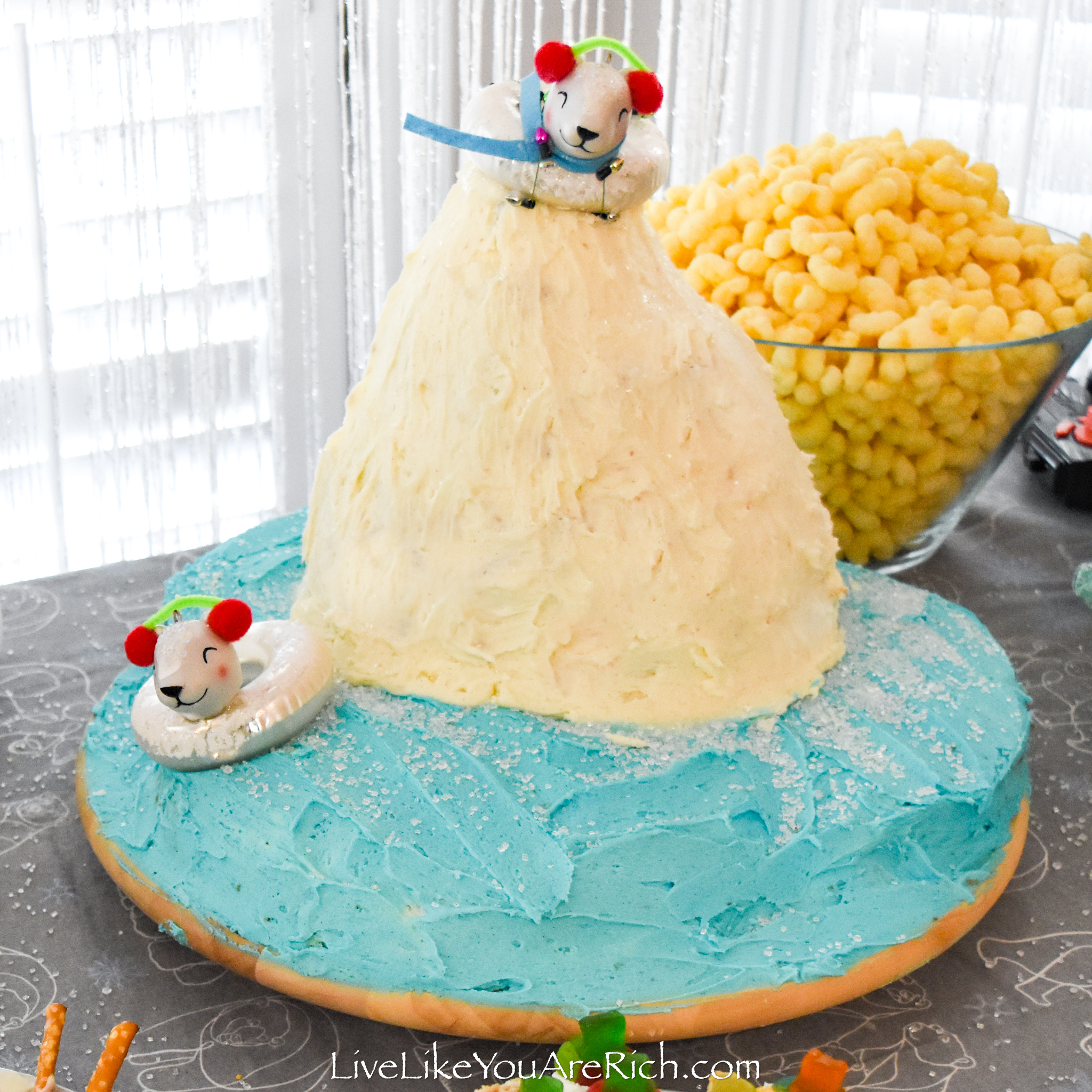 My son, Denali, was bragging about how I made it in just a few hours and all by myself. It was a cute moment for me as his mom to see how proud of me he was.

I make my own cakes for my kids because I like the creativity, the price, and the fact that it forces me to learn different skills and techniques.
This cake only cost me about $17.00 ($3.00 for 2 cake mixes, $4.00 for the ornaments, $4.00 for the jelly roll cake, and about $4.00 for the frosting. The relighting candles cost $2.00 and I had the sprinkles and food coloring already).
Here's a short video of my son blowing out the relighting sparkler candles I put on it.
In this little clip you can see the cake pretty well.
Supply List for Polar Bear Iceberg Birthday Cake
2 ~15 oz cake mixes with the required ingredients to make them
2 -8″ round cake pans greased and floured
1- bundt cake pan greased and floured (any bundt pan should work however, this is the one I used).
Red velvet jelly roll cake (pre bought). I had this cake in our freezer and I needed more height for the iceberg so I just turned it on its side and cut it to fit the bundt cake and cut the top in an iceberg tapered shape (see more instructions on this below).

Ingredients to make this delicious frosting recipe x 1.5 (I made the full recipe and then needed more frosting so I halved it and made it again)
glass polar bear tubing/sledding ornaments (purchased at World Market for $2.00 each in the after-Christmas sale)
lazy susan wood turn table 15″ Ikea or Amazon
icing spatula
cooling rack
Here's how I made this Polar Bear Iceberg Birthday Cake
I made the base of cake by mixing one cake mix and baking it in 2- 8″ round pans (greased and floured). I baked the cakes according to the box instructions. Once done, I let them cool completely.
I mixed up the second cake mix and baked it in a greased and floured bundt cake pan. Once done baking, I let it cool completely.
Then, using a large lazy susan (wood 15″ one purchased at Ikea), I split one of the 8″ cake rounds in half and pushed them up next to one full round cake.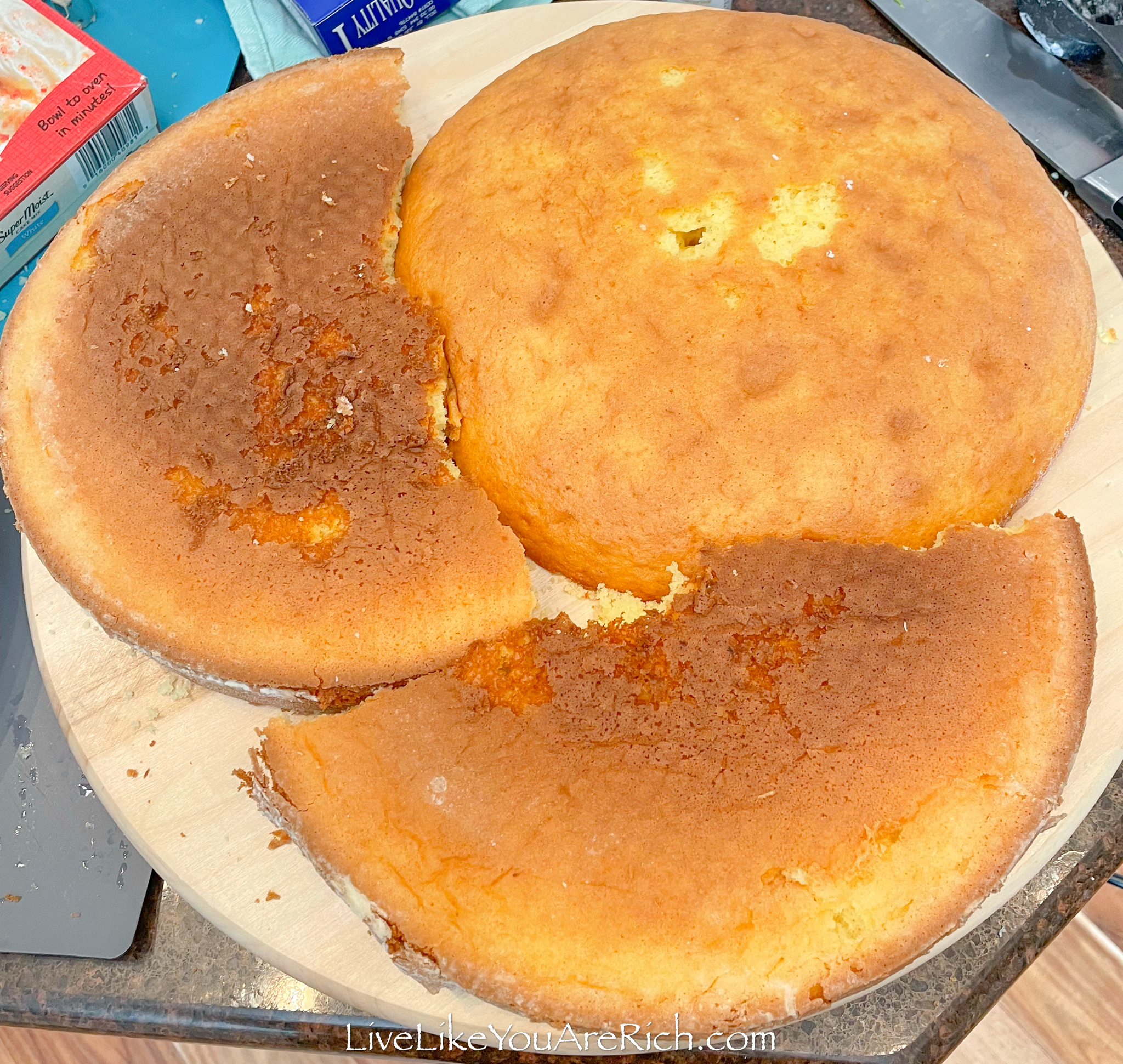 Professional-looking I know, haha!
I made my vanilla bean buttercream frosting recipe and added blue food coloring (keep the frosting at room temperature while icing the cake).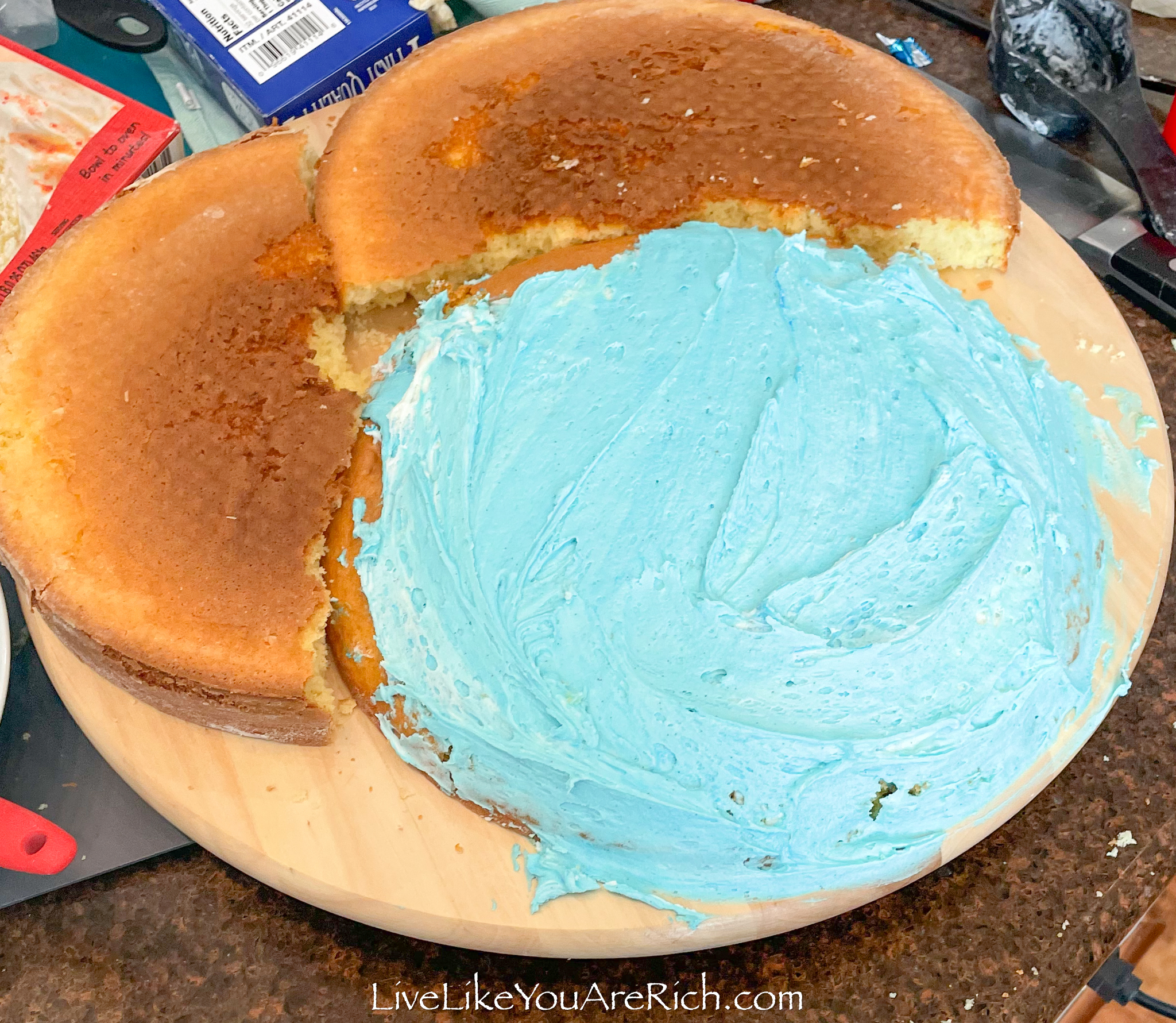 I liberally iced the base of the cake in blue (to represent the water).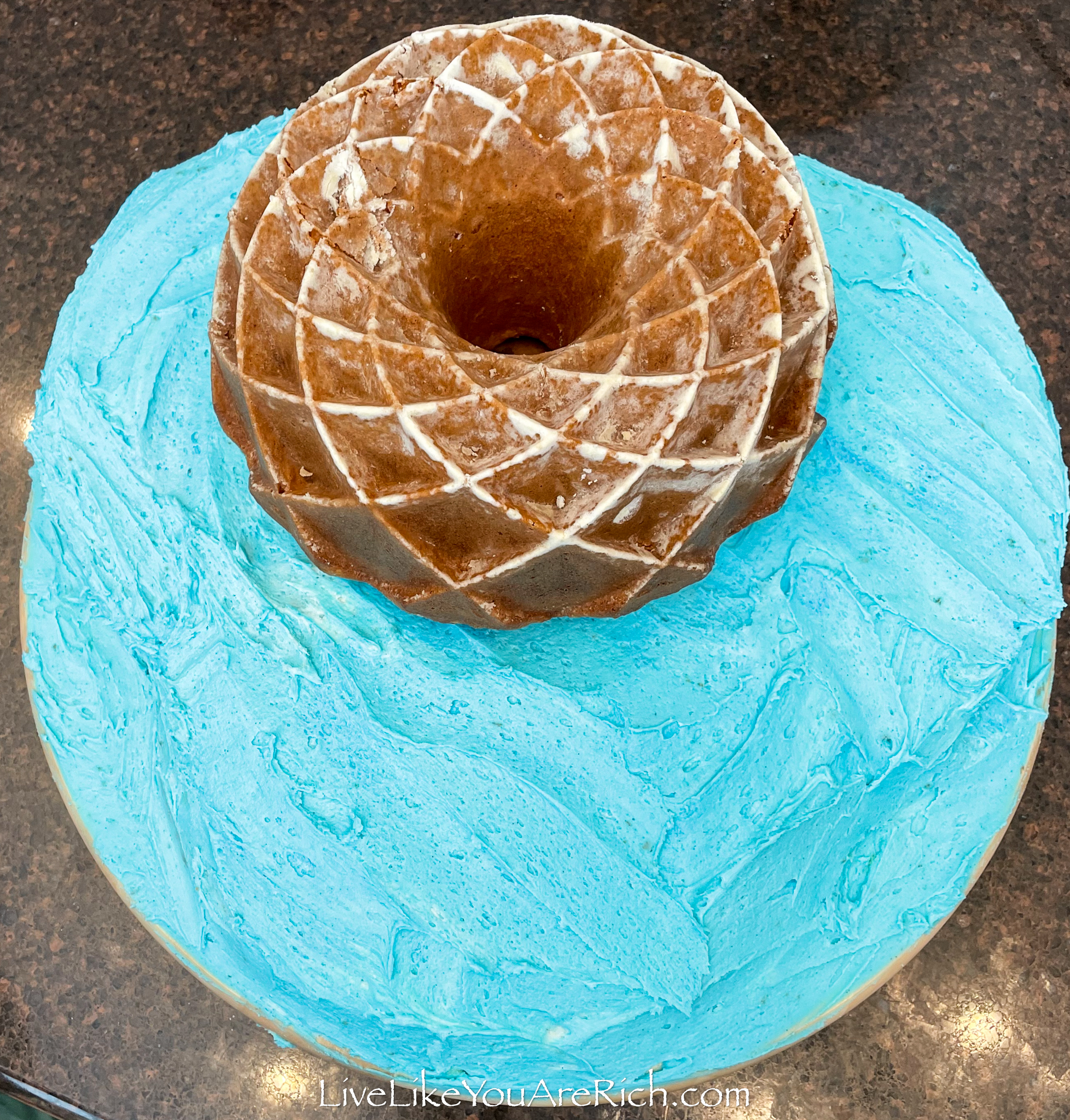 I added the bundt cake to be the middle of the iceberg and then I decided I needed more height to the cake.
A few weeks before this friend party, we had had a family birthday party for my son.
He loves red velvet cake and I had an extra jelly roll red velvet cake (store bought) left over. I put it in the freezer.
So, when making this cake I got out the frozen red velvet roll cake let it defrost a bit. Then I turned it on its side. I shaped the bottom of it so it would sit in the center of the bundt cake securely.
Once that was secure, I used a knife to shape the top of the cake roll to look like an iceberg. I trimmed, tapered and rounded the sides of the jelly roll.
I was in a hurry at this point as the party would soon be starting, so unfortunately, I didn't take video or photos.
When the cake was finished I took some photos and then when we cut into the cake, I took some more. Looking at the cake (when cut into, you may be able to tell better what I'm trying to describe).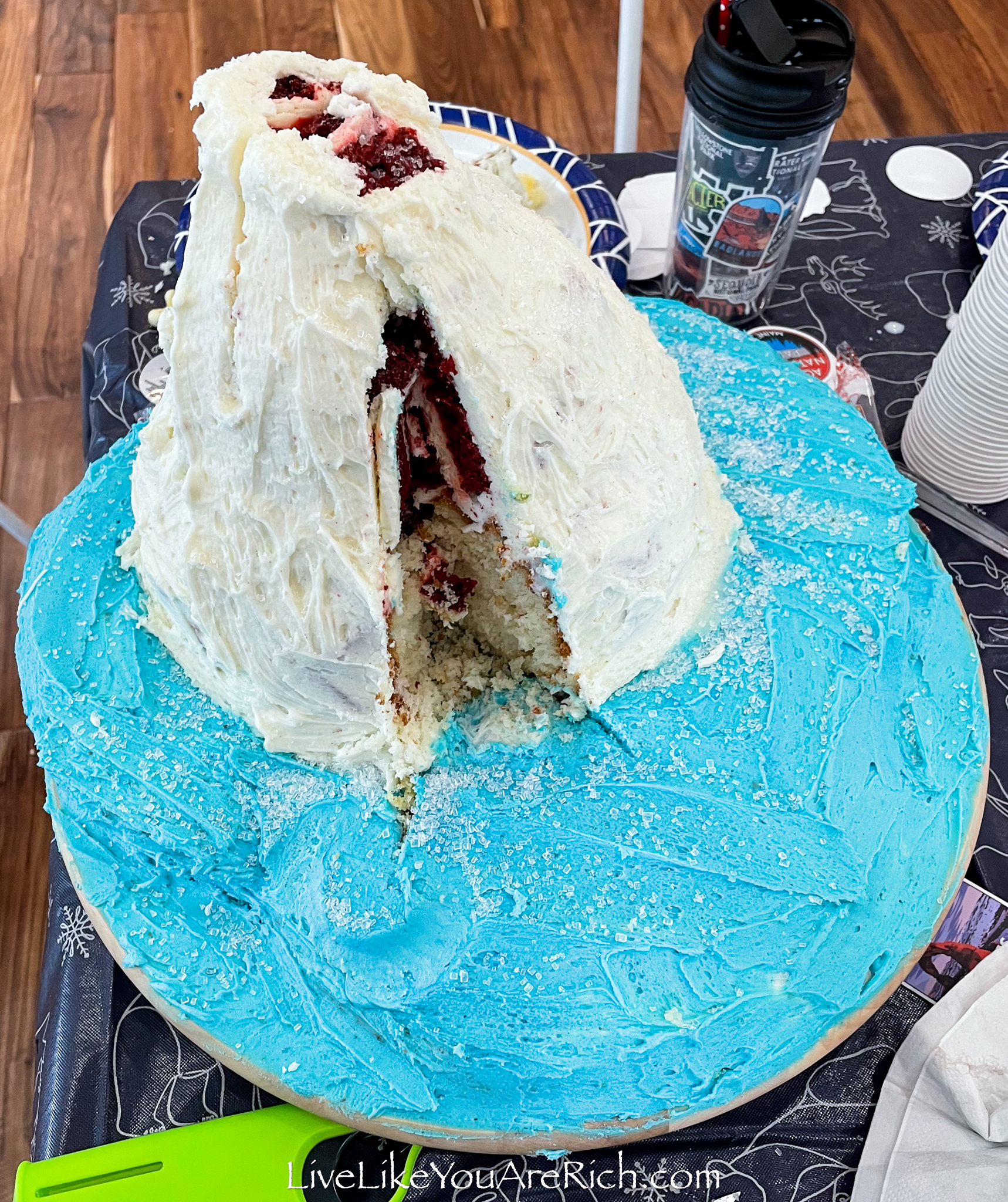 The red velvet roll turned out looking pretty cool when we cut into the cake. It looked like a volcano (I know icebergs are not volcanoes) the inside just looked cool and the boys thought so too.
So, I'd actually make it the same way if I were to make another one of these cakes again. Or I'd do something similar if I were to make a volcano cake.
Since I used 3 different flavors, the boys got to choose from yellow cake, white, or red velvet.
I used a vanilla bean frosting so it tasted great with all three cakes.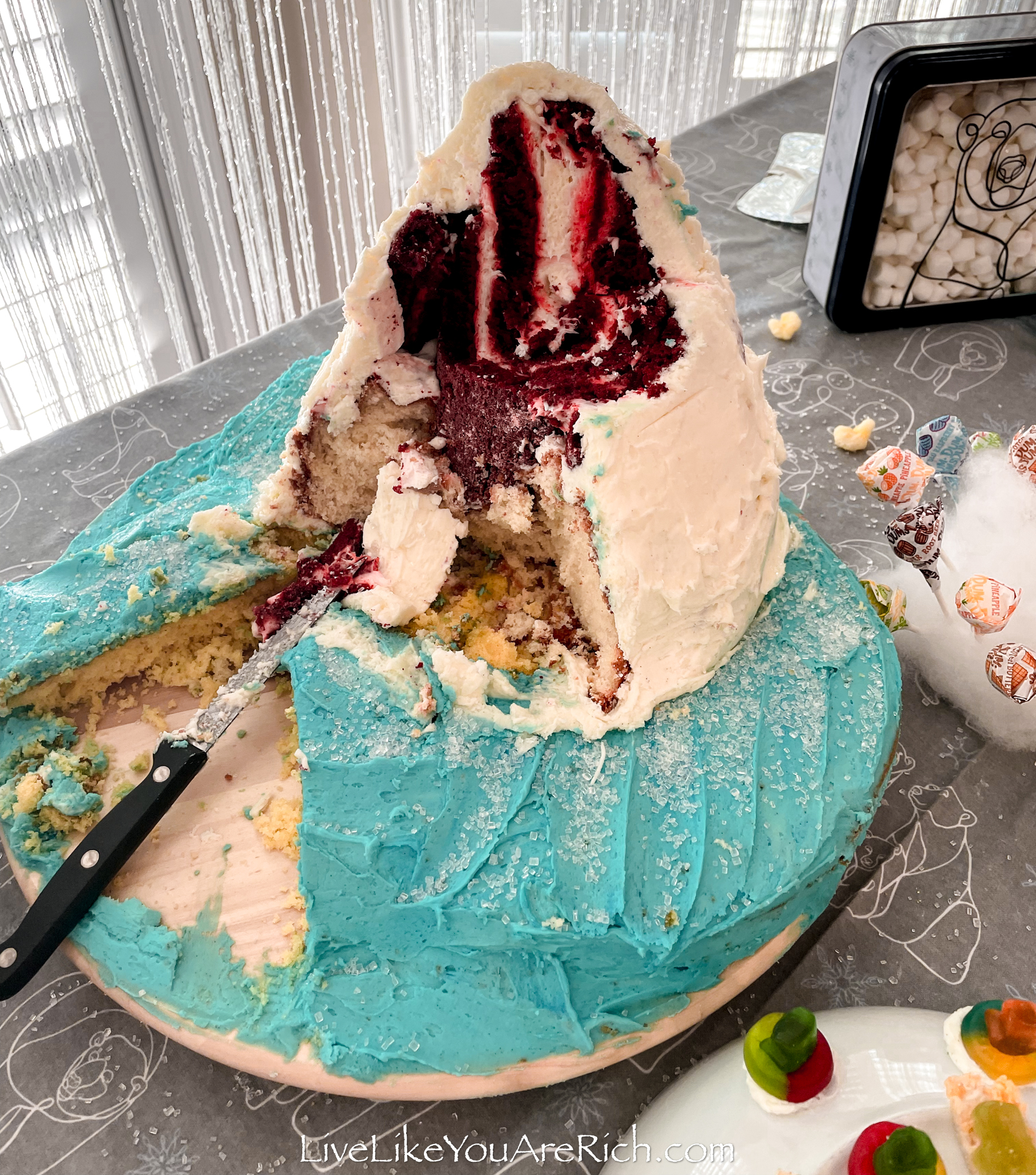 Using a jelly roll cake was actually the perfect touch to make the iceberg as it held up really well.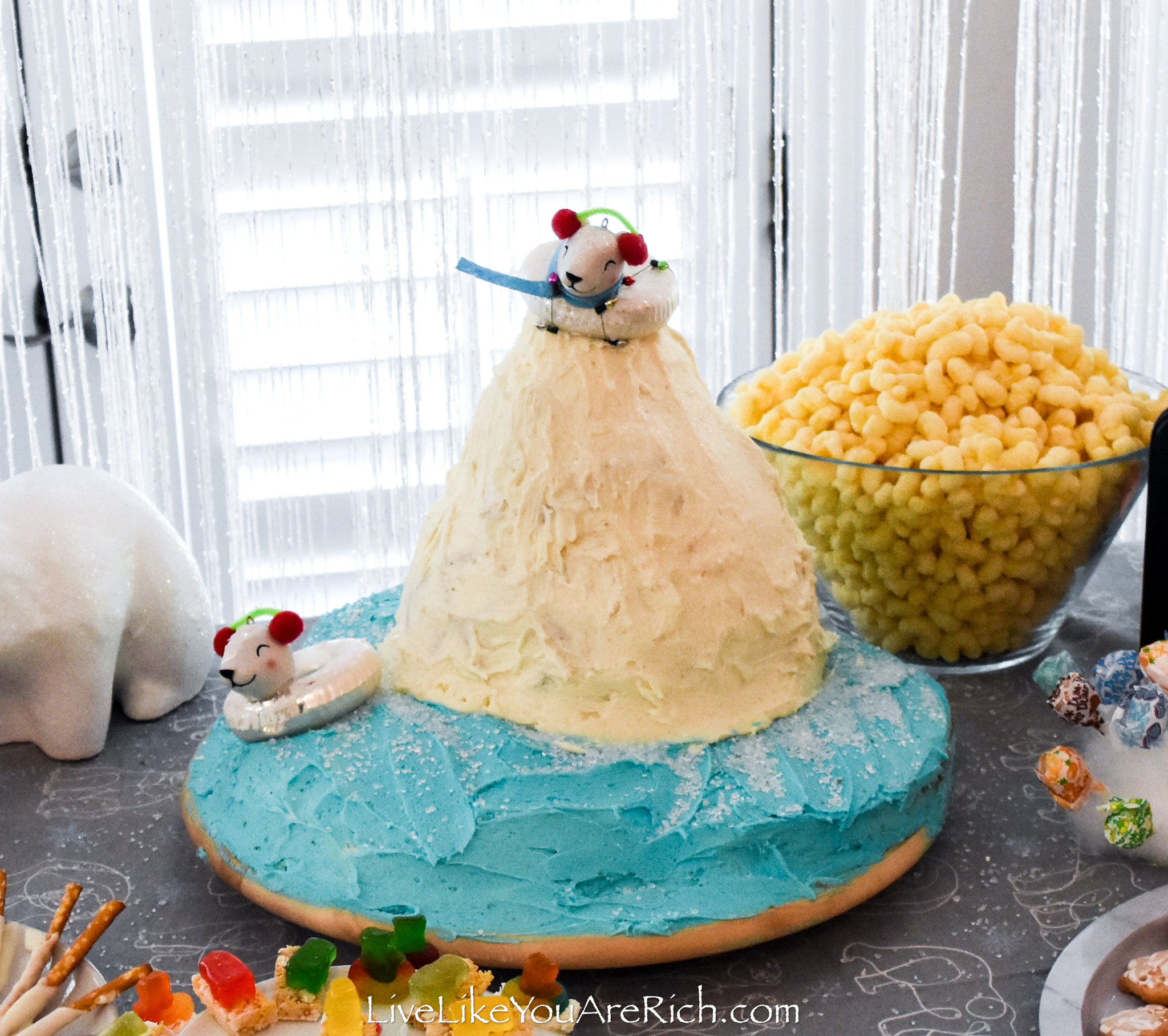 I purchased two polar bear tubing ornaments on after an Christmas-clearance for $2.00 each at World Market and used those as the decoration.
Then I sprinkled the whole cake with edible white snow sprinkles.
Hopefully this gives you an idea of how to make a Polar Bear Iceberg Birthday Cake as well.
OTHER POLAR BEAR PARTY POSTS

For other 'rich living tips' please subscribe, like me on Facebook, and follow me on Pinterest and Instagram.