Polar Bear Party Food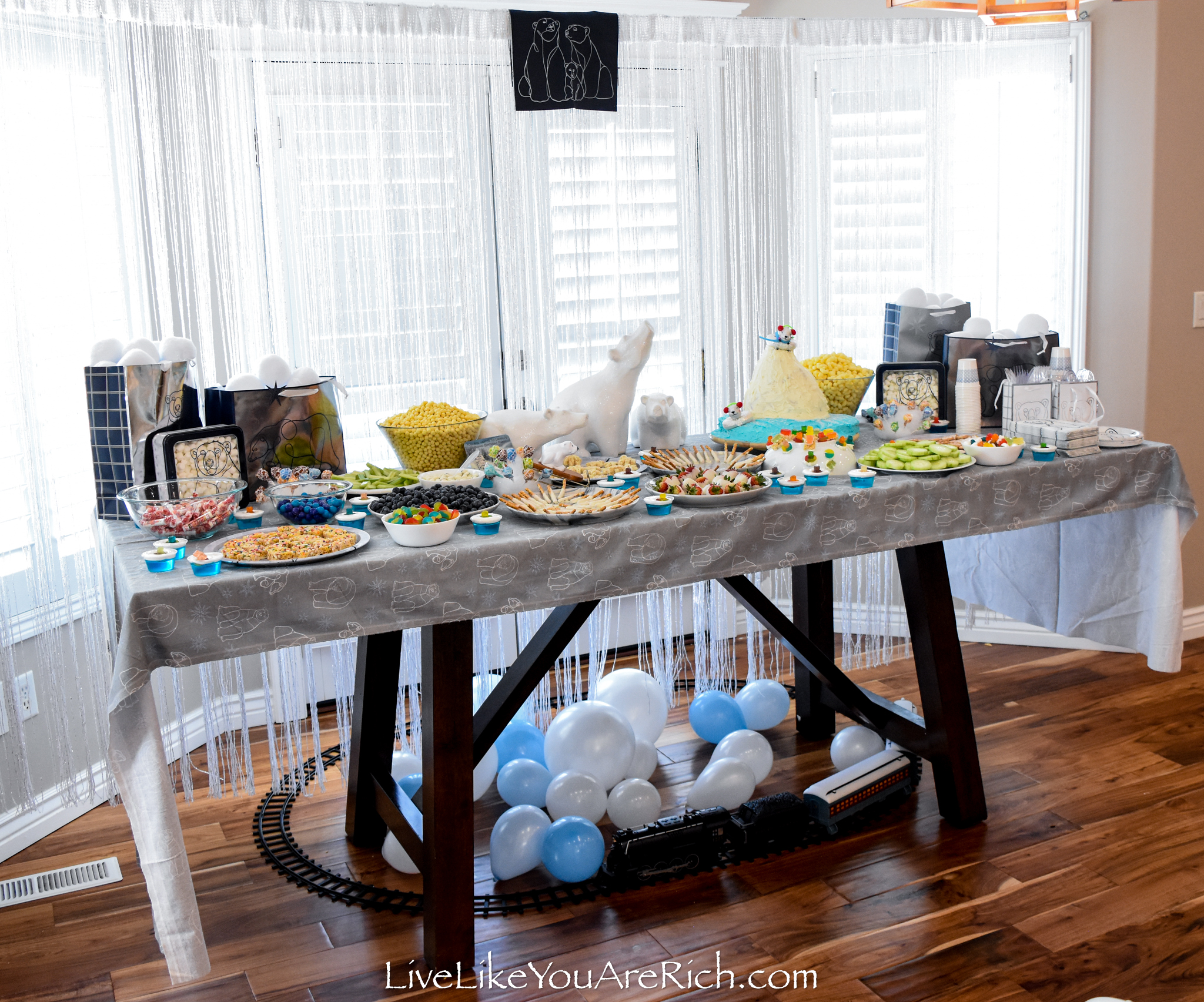 This is the food that I prepared and served and my son's nine year old Polar Bear birthday party.
Many of his friends said they really liked the options and one friend said, "You go all out for parties." That was just so cute to hear.
Denali's good friend is allergic to nuts so I made sure the dessert table, cake, and hot cocoa were free nut and coconut oil free. It actually was not as difficult as I thought it would be!
When collecting food for a party, I like to have some sort of theme or group of ideas so that it is easier to narrow down the many options there are.
So for this polar bear birthday dessert table I was thinking of sledding, tubing, bears, winter, snow, round, white, blue, etc.
This dessert table spread was put together first and foremost to be nut-allergy-friendly and secondly to fit the Polar Bear/sledding/winter theme.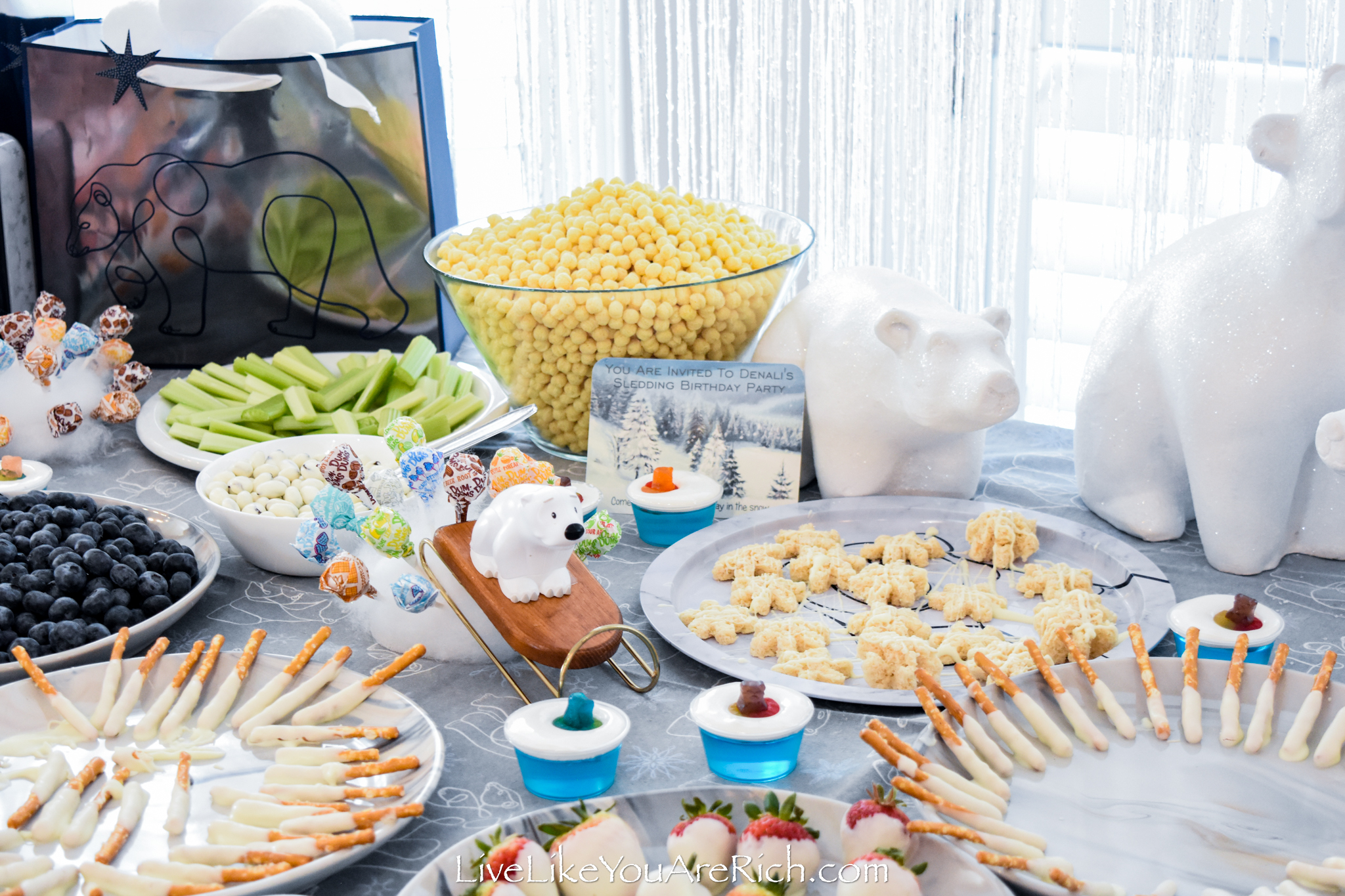 This is what we ate.
We had blue gum balls and Smarties.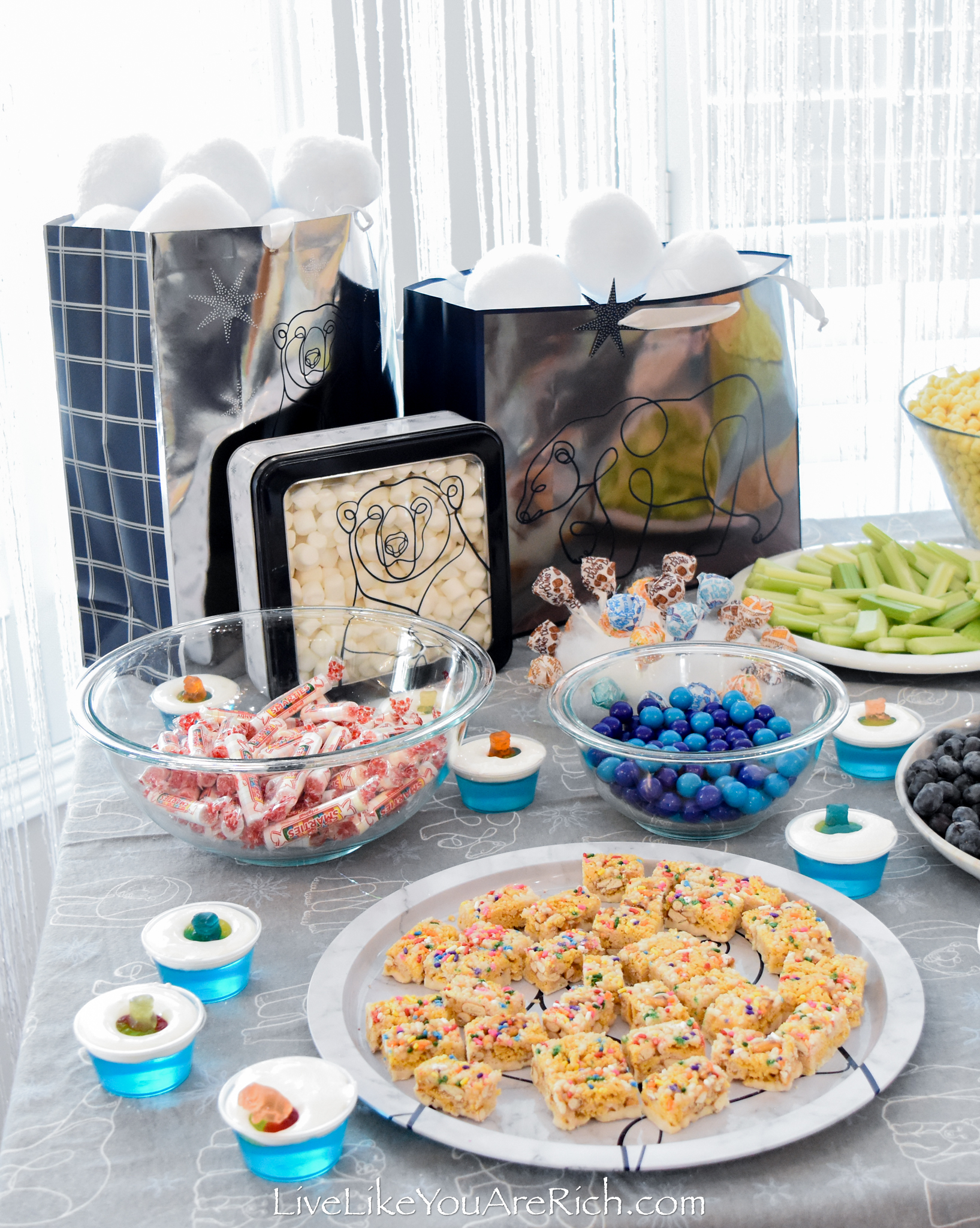 Chex mix birthday cake bars cut small and gummy lifesavers.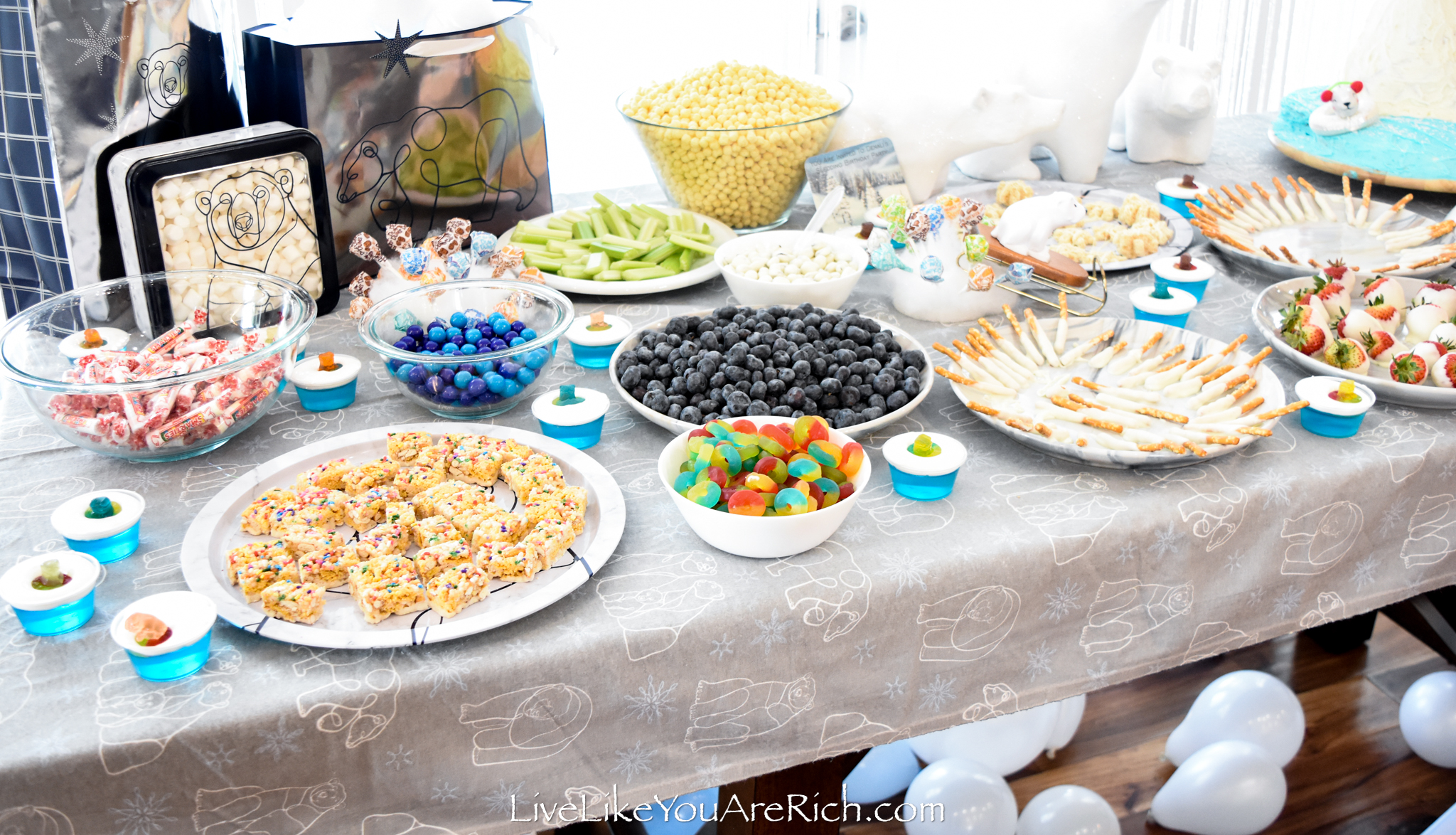 We ate fresh blueberries.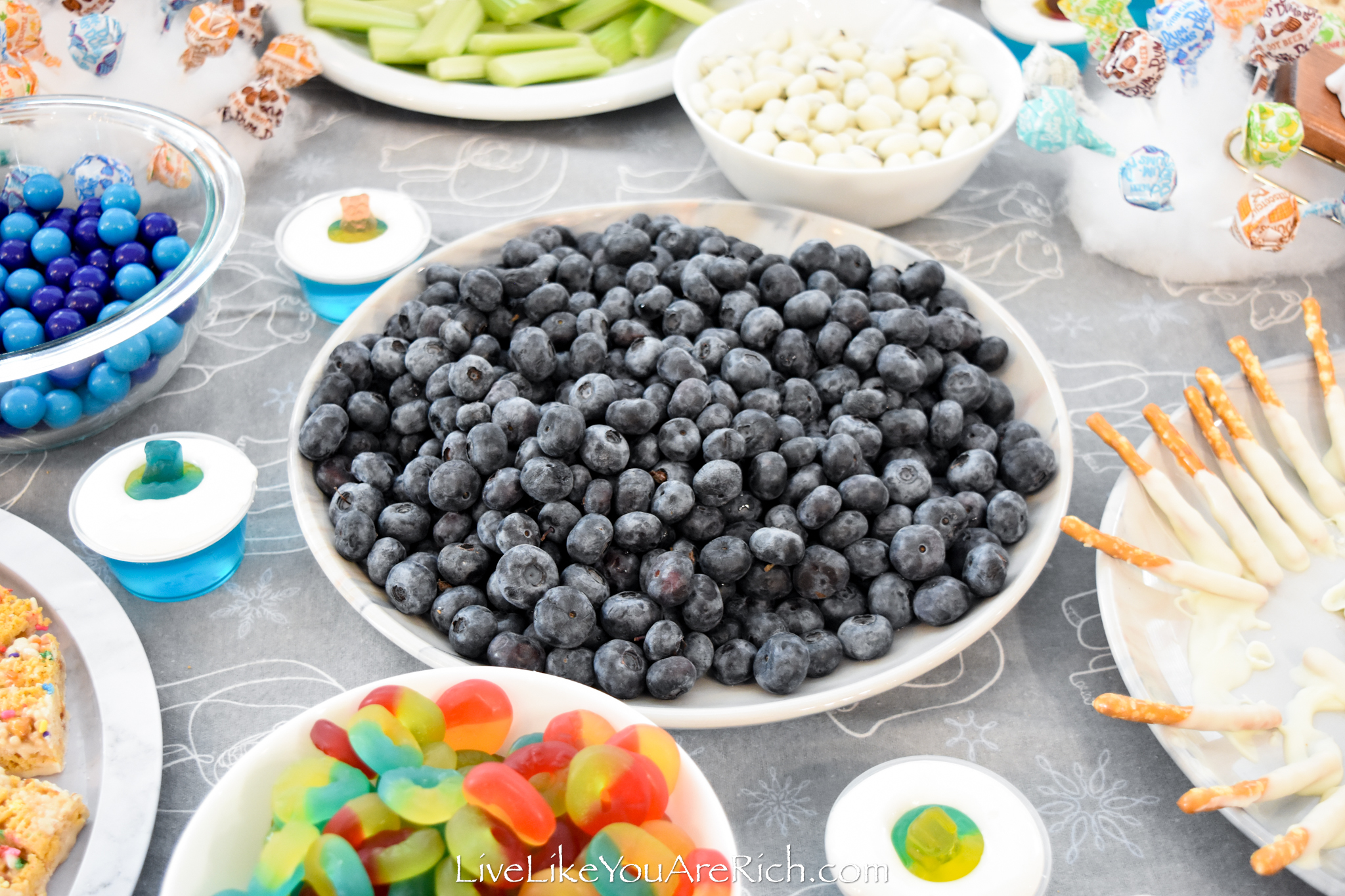 I served Dum Dums on a few half round styrofoam balls that I had.
I added a bit of fake snow on the styrofoam balls to make them look like snow mounds.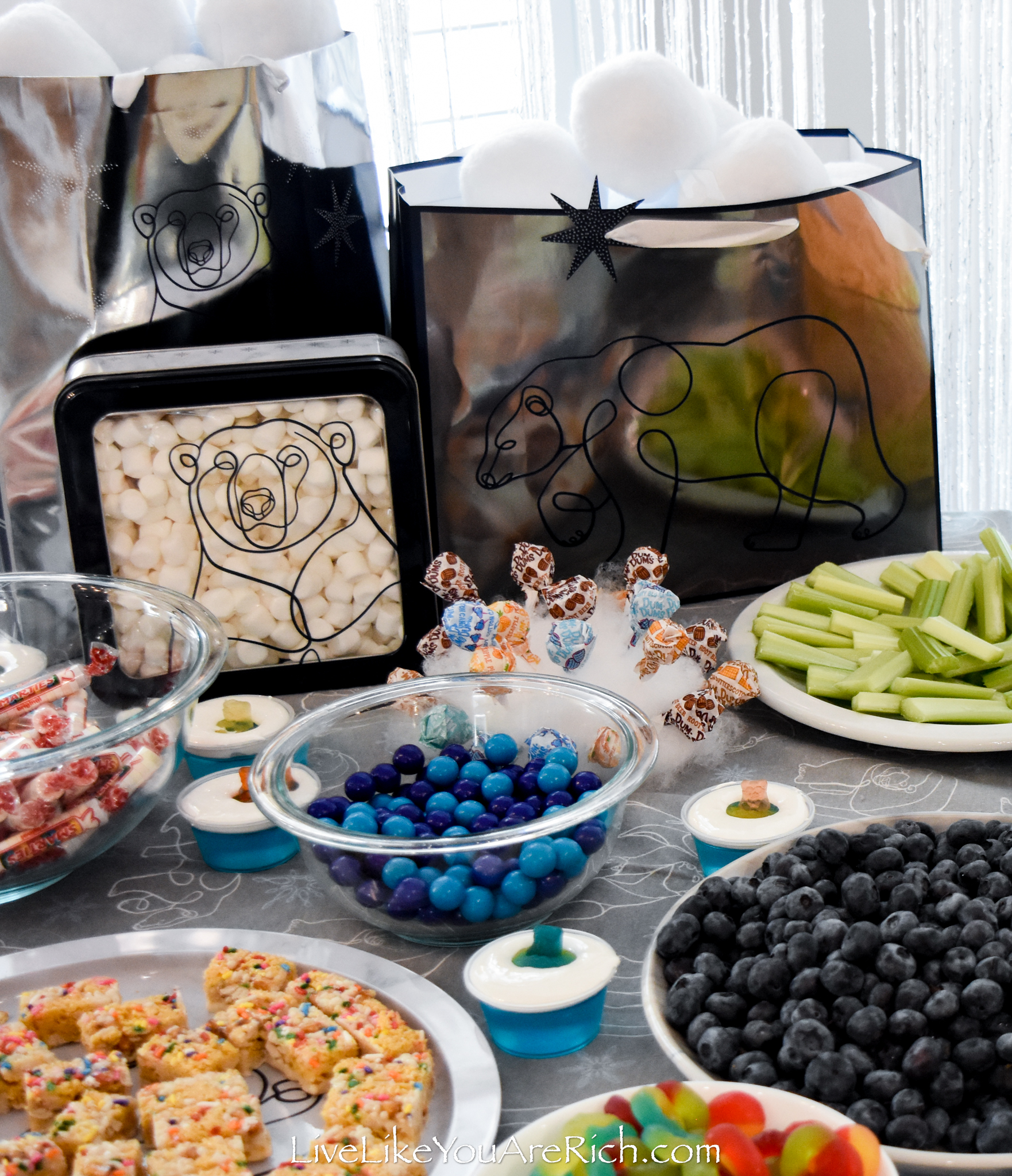 There was cut up celery and yogurt dipped raisins.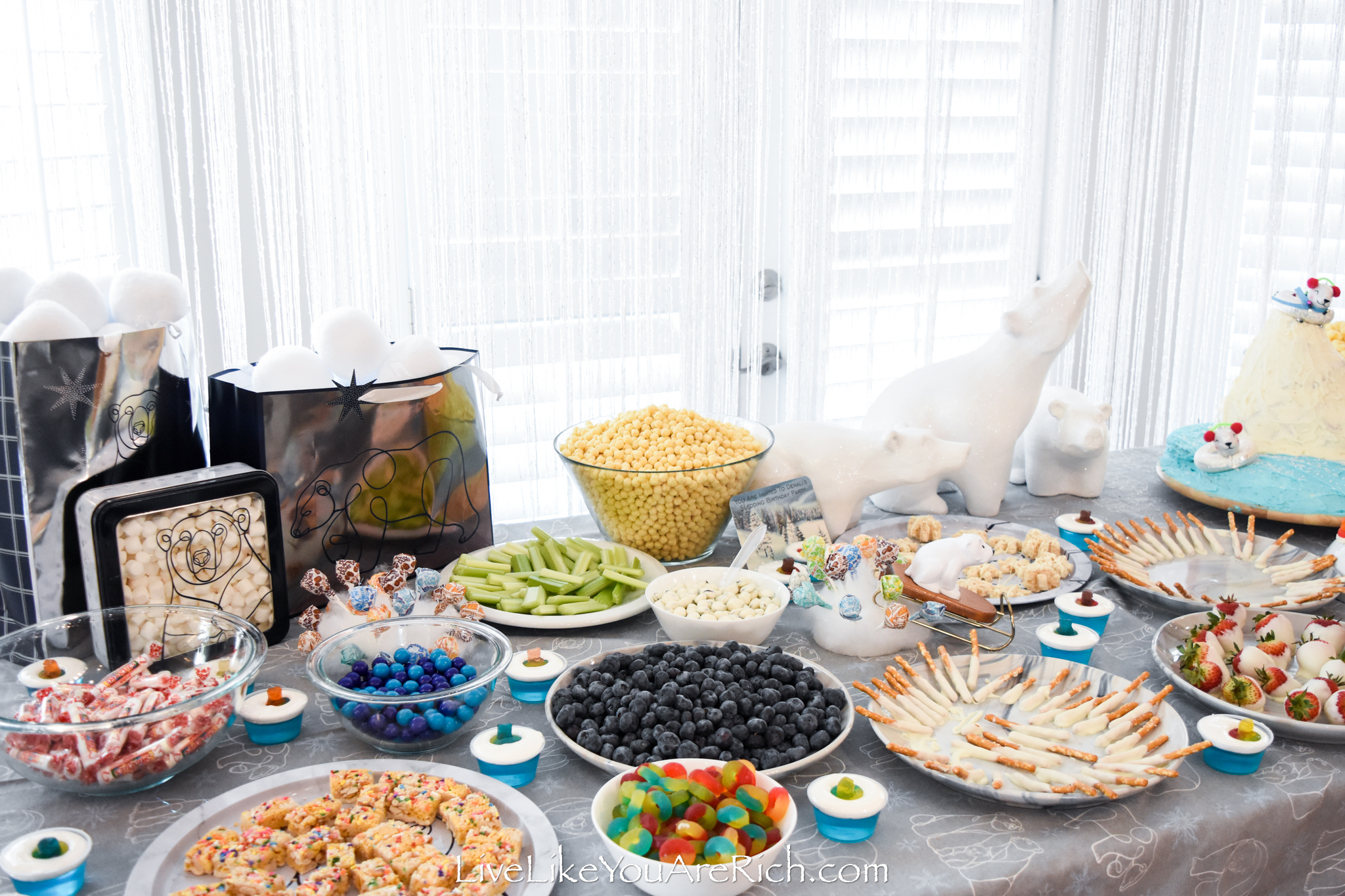 Kix cereal was poured in a big glass bowl and Pirate Booty was poured in the same bowl on the other side of the table.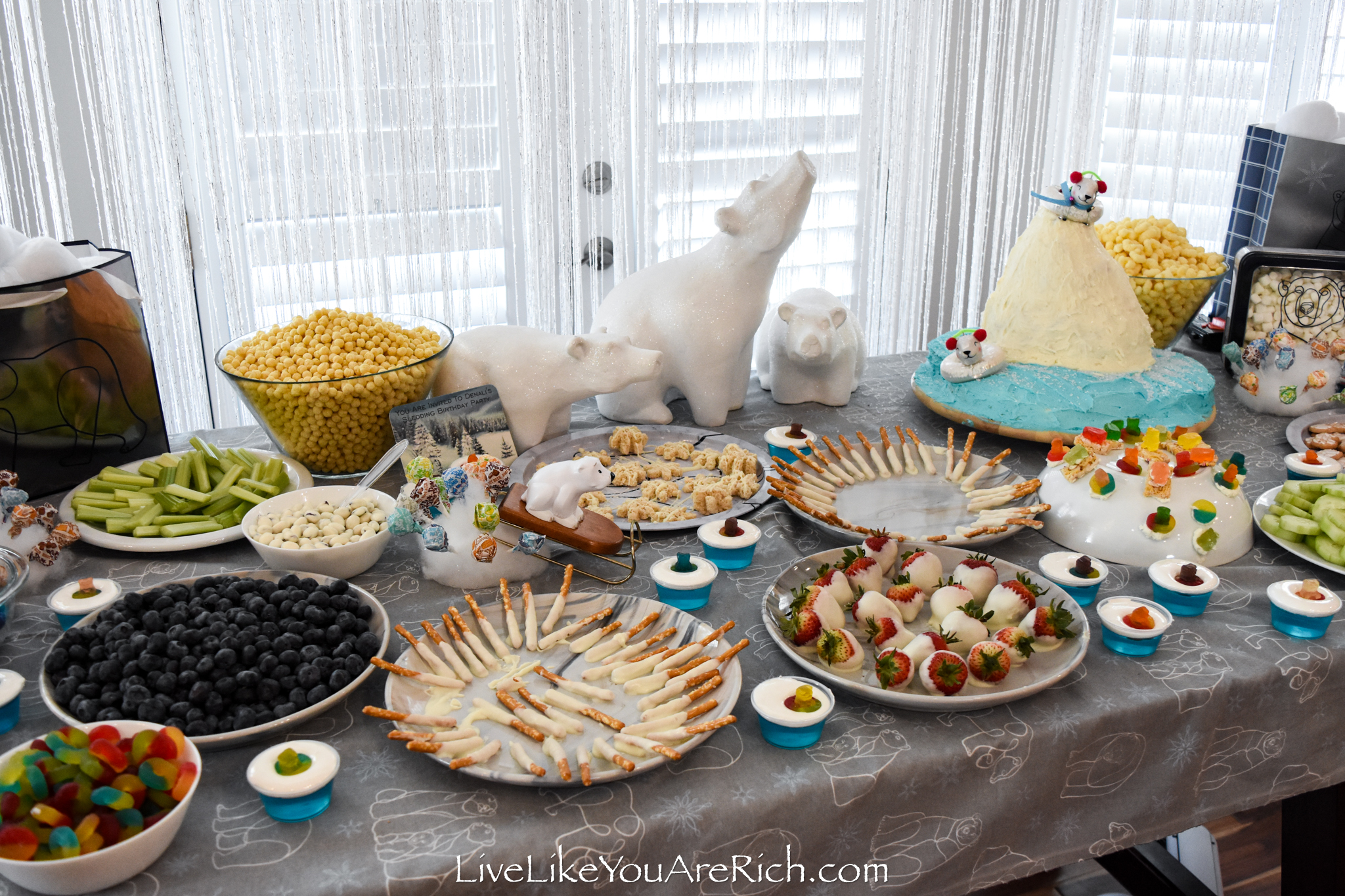 We melted white chocolate (Ghirardelli) and dipped the pretzels and strawberries in it.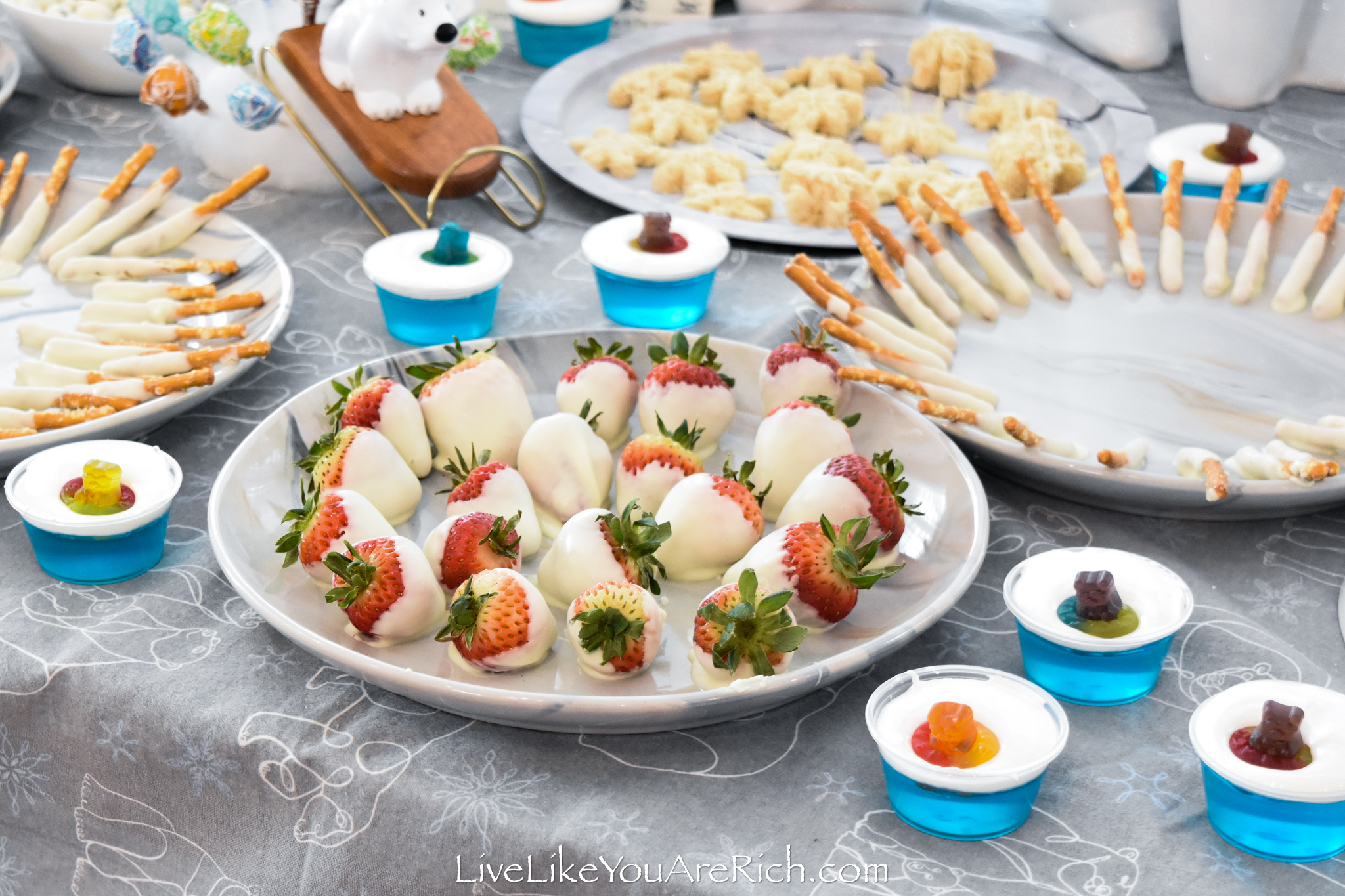 Tip- Put down a piece of round parchment paper as big as the plate before placing the chocolate dipped strawberries and pretzels on it, they will lift up easier.
We also drizzled the white chocolate on Rice Krispie snowflakes. These were good!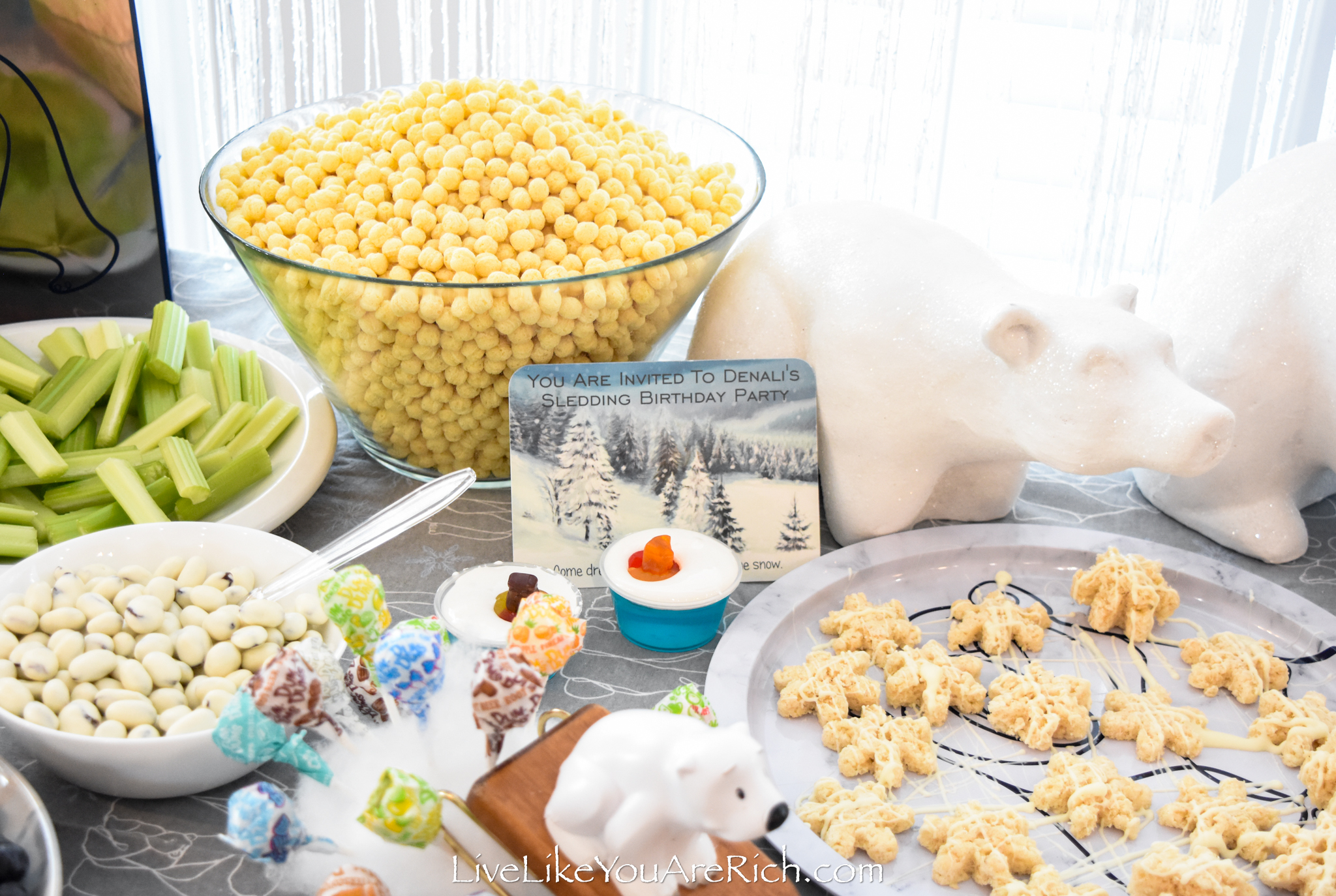 I made these tubing-bear Jello cups.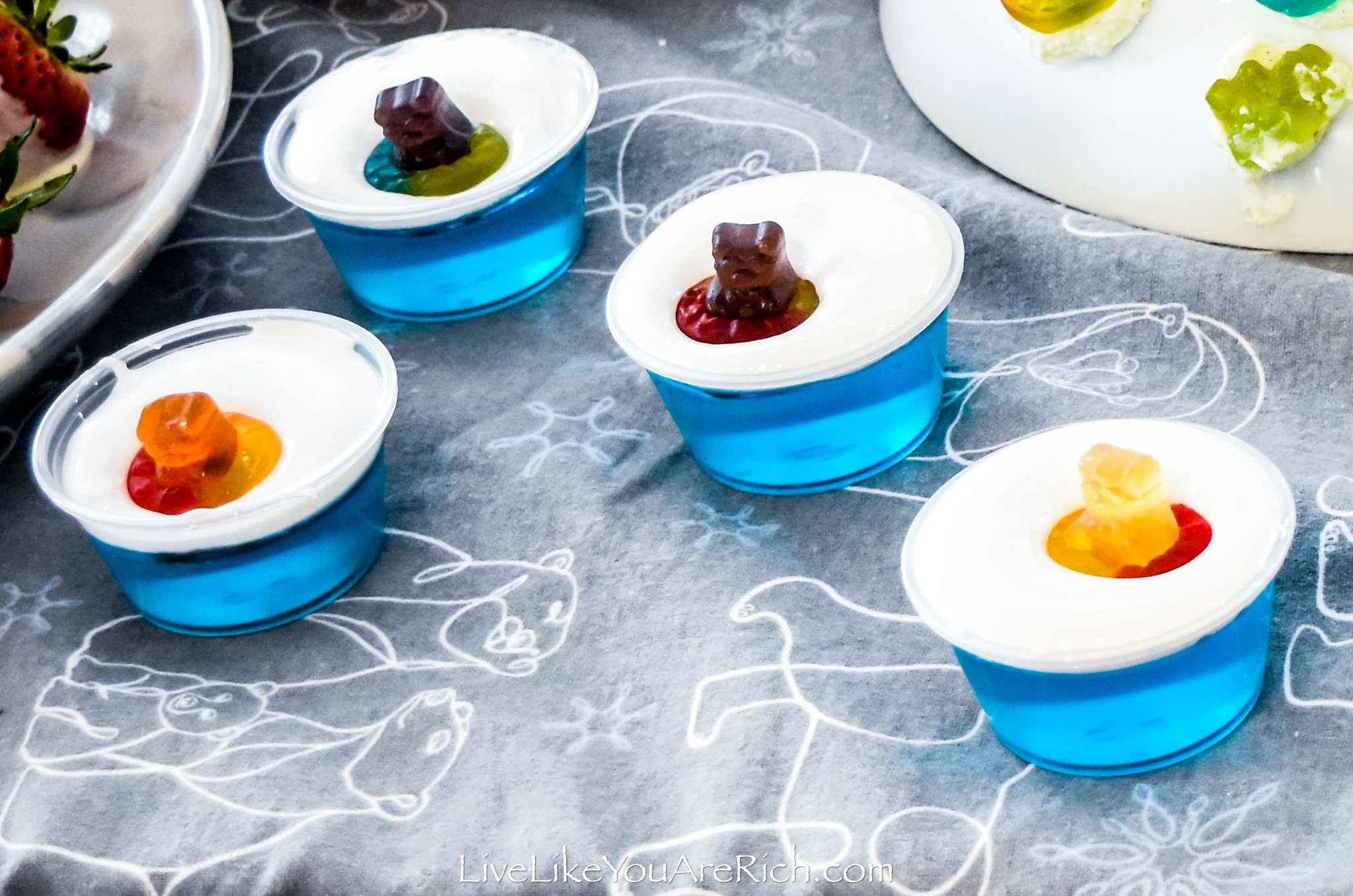 They were a total hit and so easy too.
You simply make Starburst Blue Raspberry Jello and pour it into small clear cups.
Let it set in the fridge (4+ hours) then put marshmallow creme over the top of the Jello. Place a gummy bear in a Lifesaver gummy and serve with a spoon. Keep cold until serving.
As mentioned, the boys LOVED these.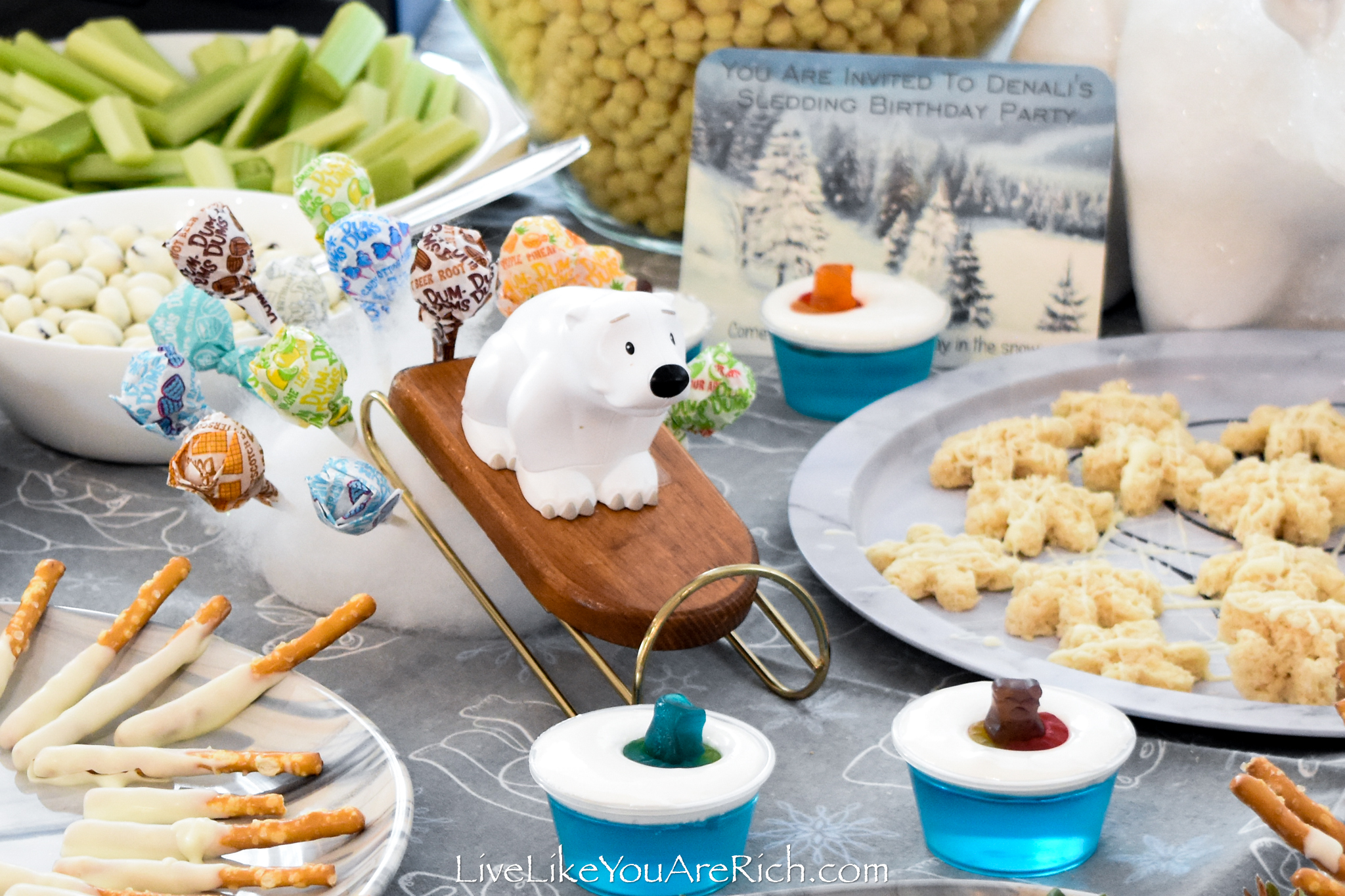 My son really wanted to have some "sledding gummy bears" on the dessert table so he made this cute little creation.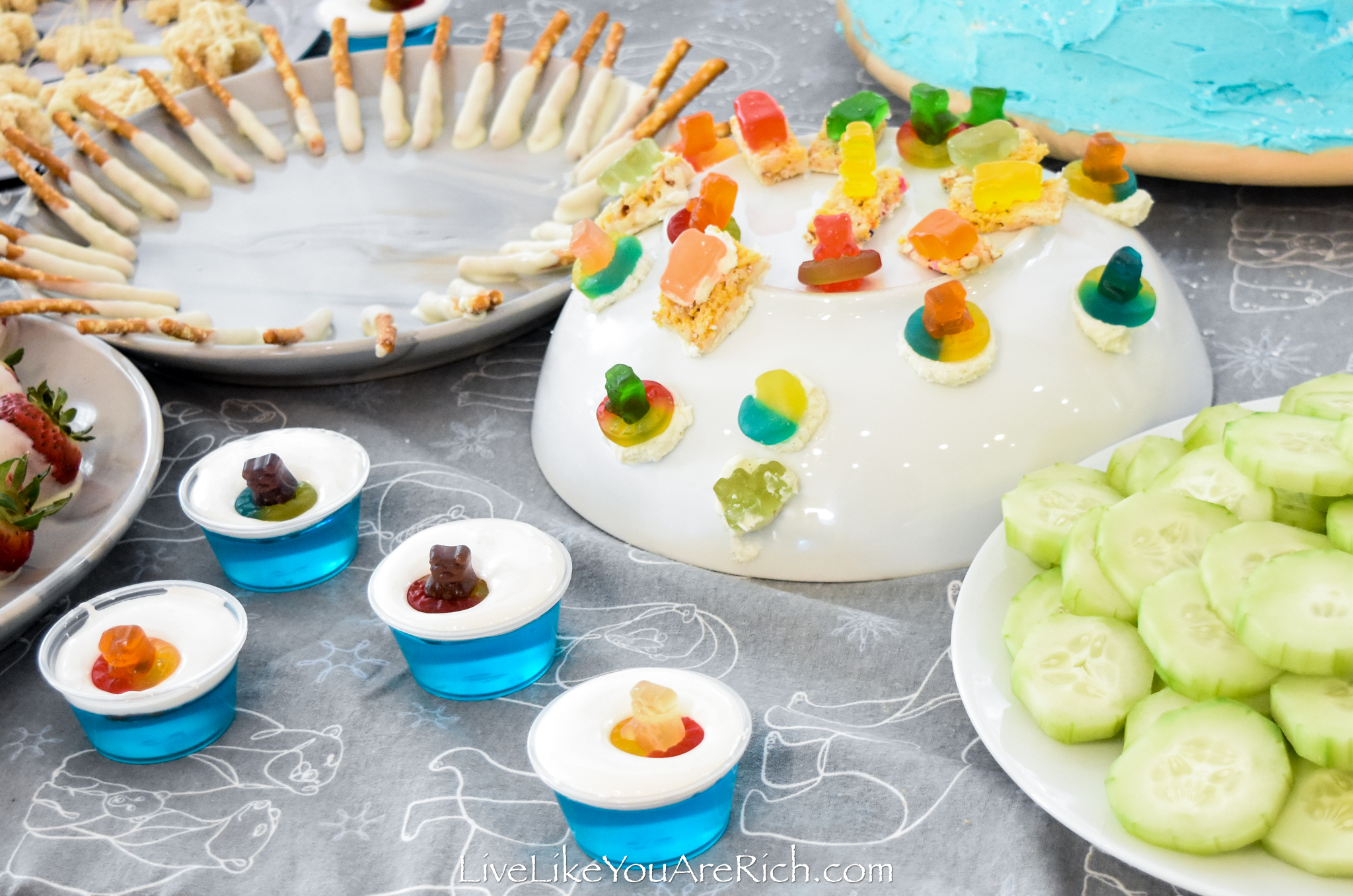 It's an upside down bowl representing a sledding hill and then Chex Bars cut thin and Gummy Lifesavers as sleds and tubes.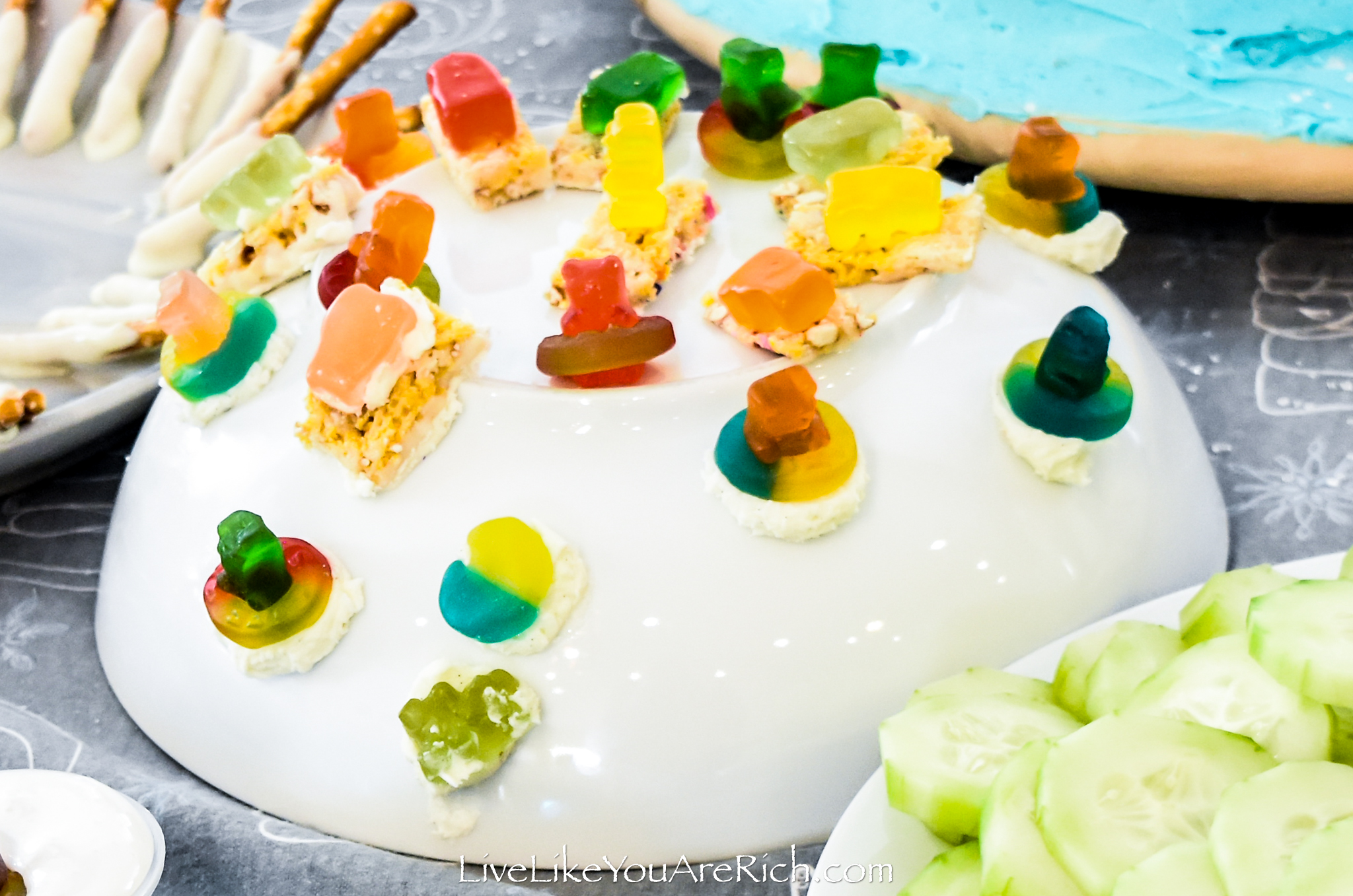 The gummy bears are riding the sleds and tubes which are secured using this vanilla bean frosting that I had made for the cake.
The little gummy bear in the front crashed and face planted into snow when he fell off his tube.
Denali just loved this addition to the dessert table. He kept pointing it out to his friends who liked it too.
We also served sliced cucumbers.
There was a bowl of marshmallows and gummy bears mixed.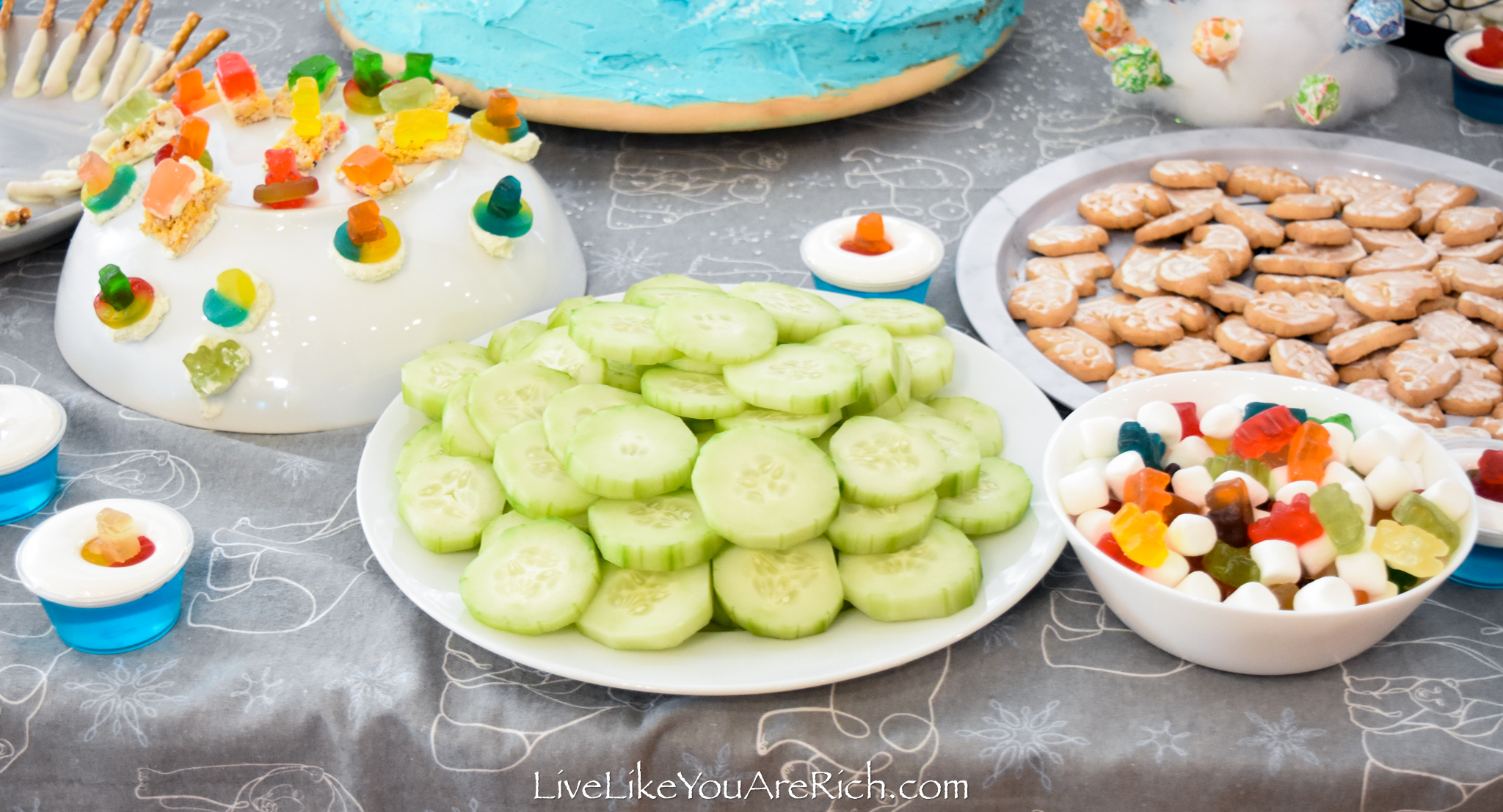 I picked out the white iced animal crackers from Stauffer's mix and served those on a plate as well.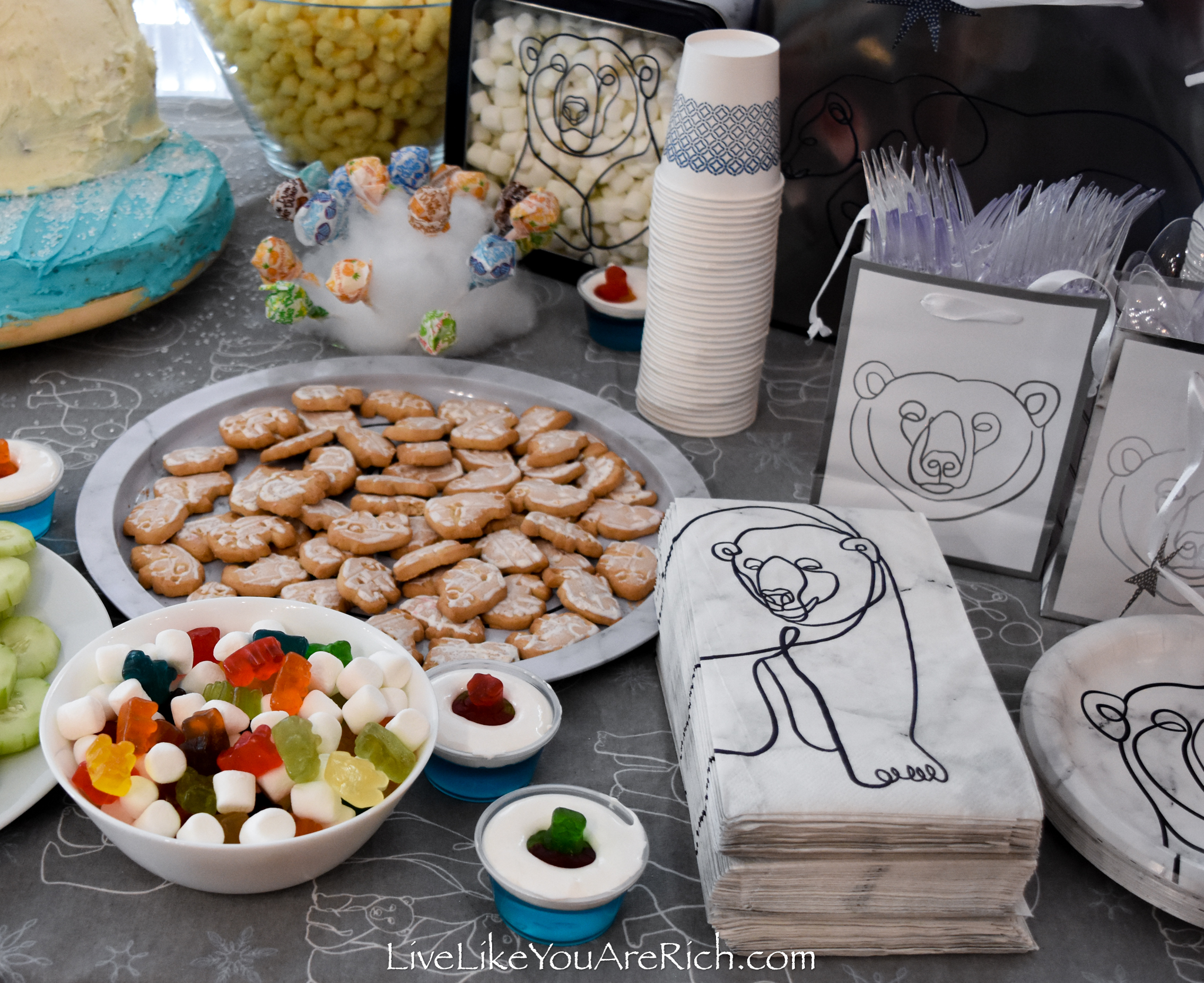 The Pirate Booty white cheddar (in the back) was a total hit as well!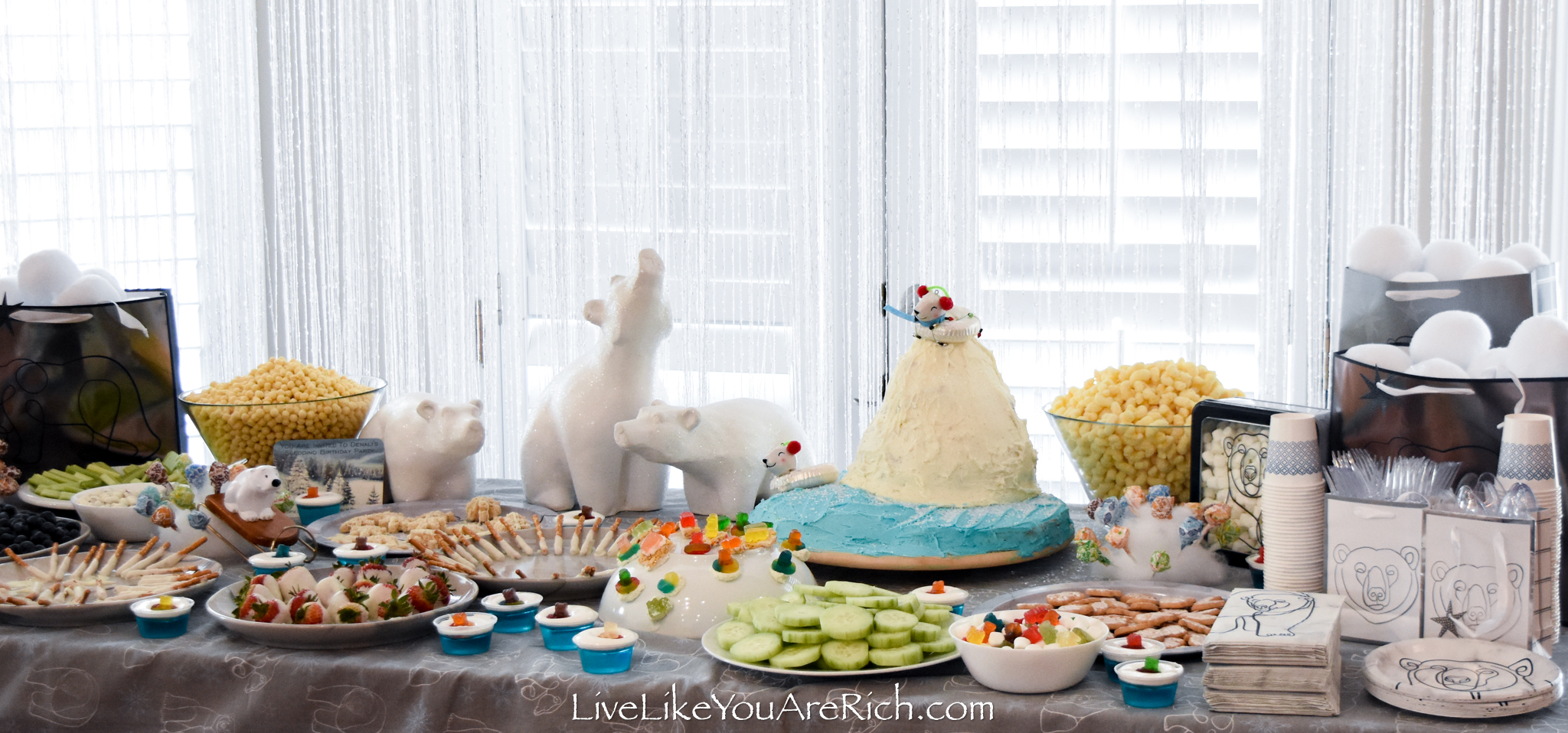 We had warm/hot milk and hot cocoa (not pictured).
We put it in the personalized mugs the boys decorated with stickers (you can read about this activity here).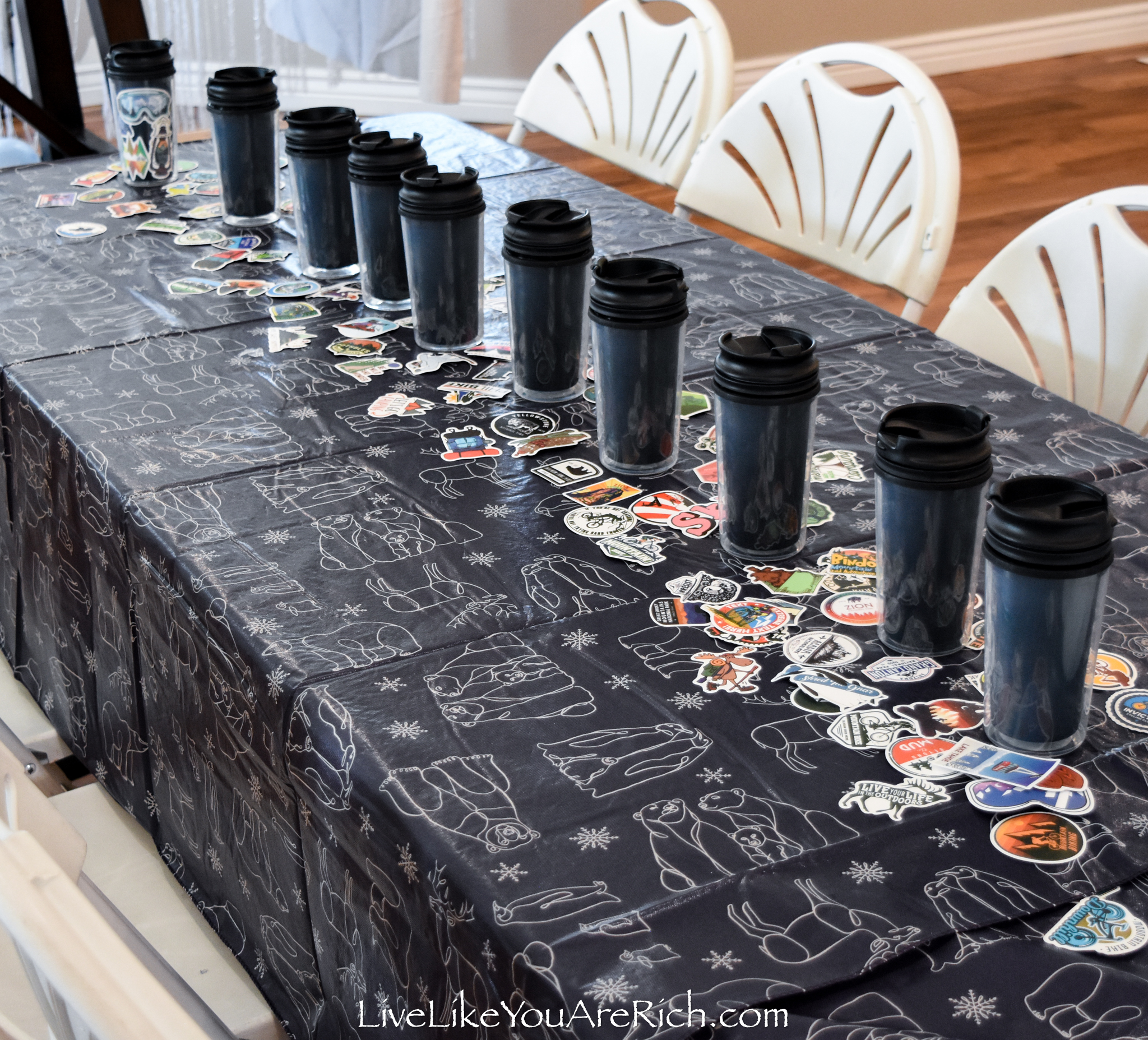 The polar bear birthday cake (an iceberg) was 'oohed and aahed' at by the boys and was served with vanilla ice cream.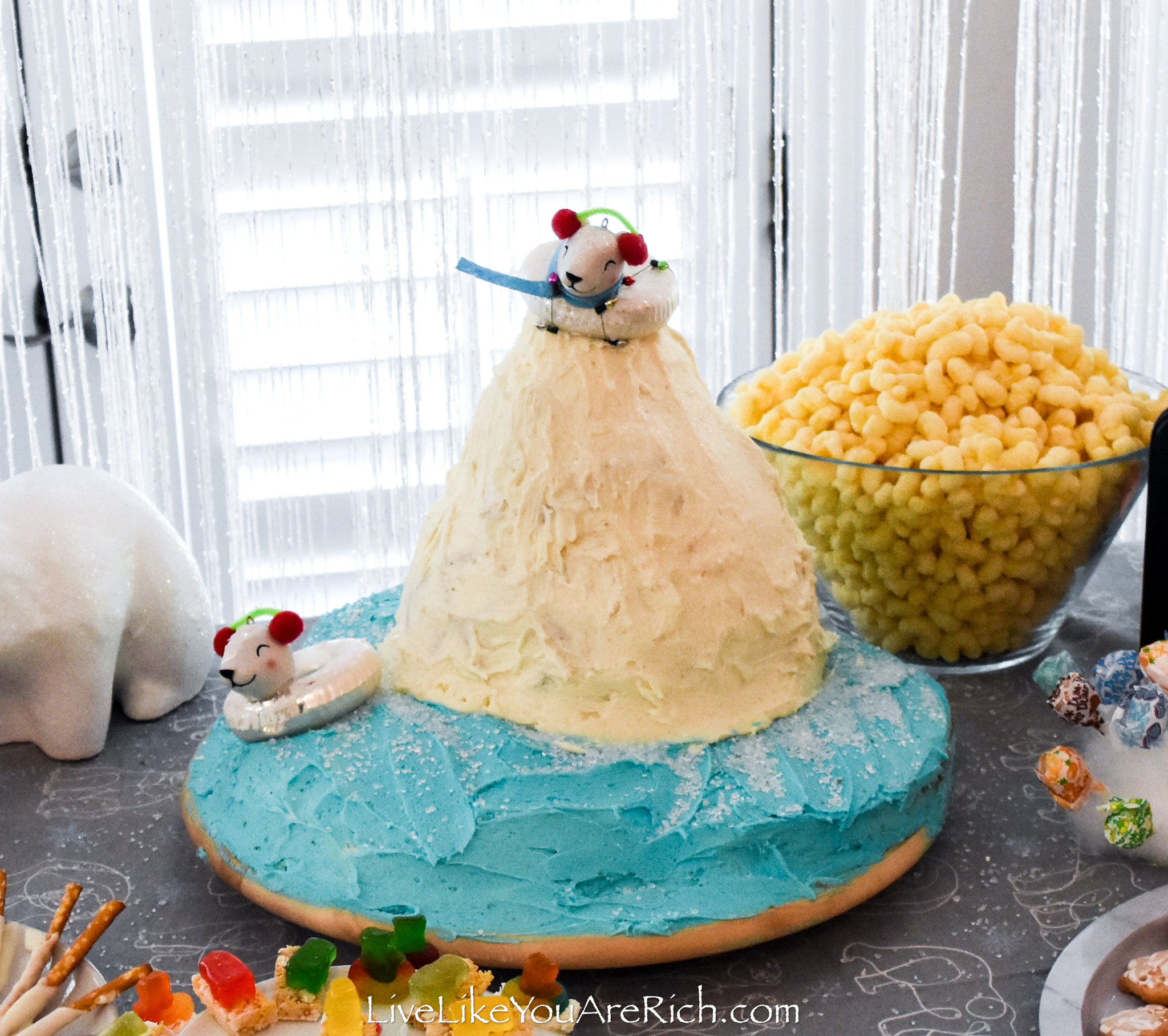 Tutorial on how I made it here.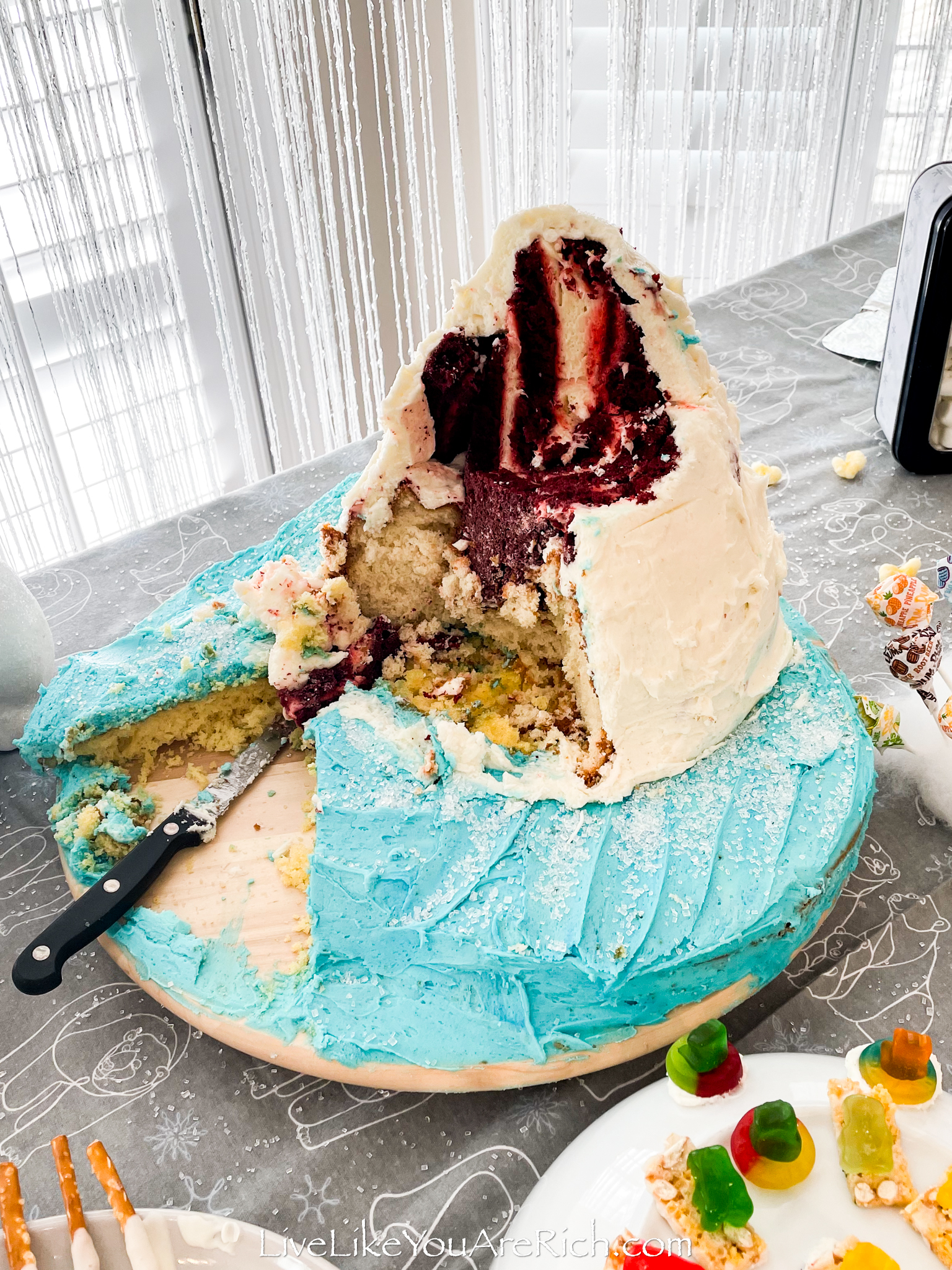 I put sparkler candles on it and the boys thought it was pretty fun. You can see the cake and sparkler candles in the video in more detail here.
And that is what we served on the dessert table.
Supply List for this Polar Bear Party Food List
Strawberries
Blueberries
Cucumbers
Celery
Rice Krispie treats rolled out and stamped with a snowflake cookie cutter, then drizzled with melted white chocolate
Gummy Bears
Polar Bear Iceberg cake tutorial
ice cream (vanilla)
Dum Dums in a half dome of white styrofoam and fake snow
Mini marshmallows
Iced animal crackers (Stauffer's)
Blue Raspberry Starburst jello 3.9 oz poured and set in 2 oz clear cups topped with marshmallow cream and a Gummy Lifesaver carrying a gummy bear
Platters, bowls, plates, etc. (marble plates were bought years ago at World Market, white plates and bowls were mainly bought at IKEA, JoAnn's had all of the Polar Bear themed bags, plates, napkins, etc.)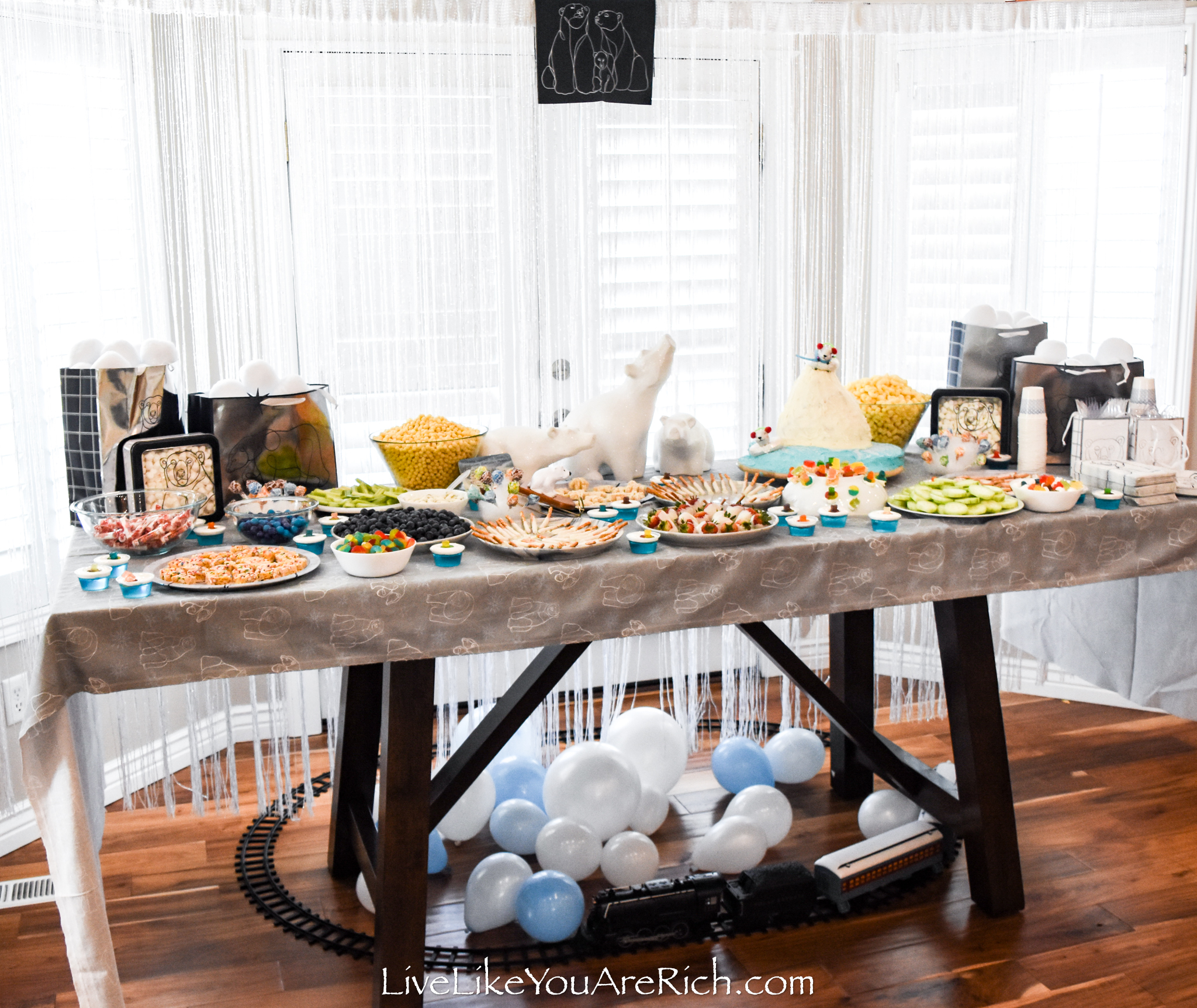 I hope this Polar Bear Party Food post gives you ideas of what to serve if you have a similar party!
OTHER POLAR BEAR PARTY POSTS

For other 'rich living tips' please subscribe, like me on Facebook, and follow me on Pinterest and Instagram.