Polar Bear Party Activities.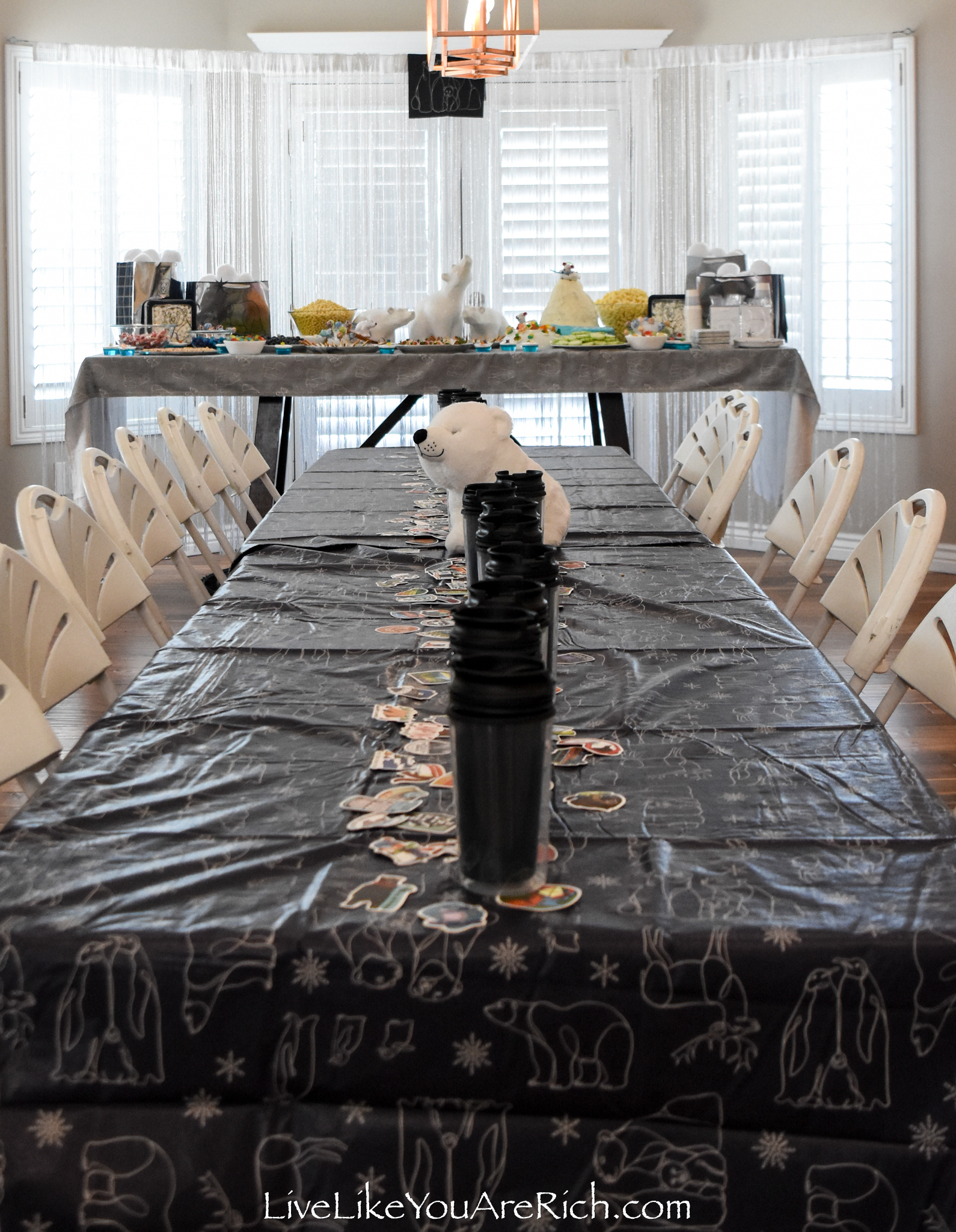 We have a fun sledding hill in our backyard which my kids love!
My son, Denali, really wanted to go sledding for his birthday party this year. I thought that was a great idea for the main activity.
He also loves polar bears, Alaska, winter and snow. So we decided to do a polar bear and snow themed birthday party.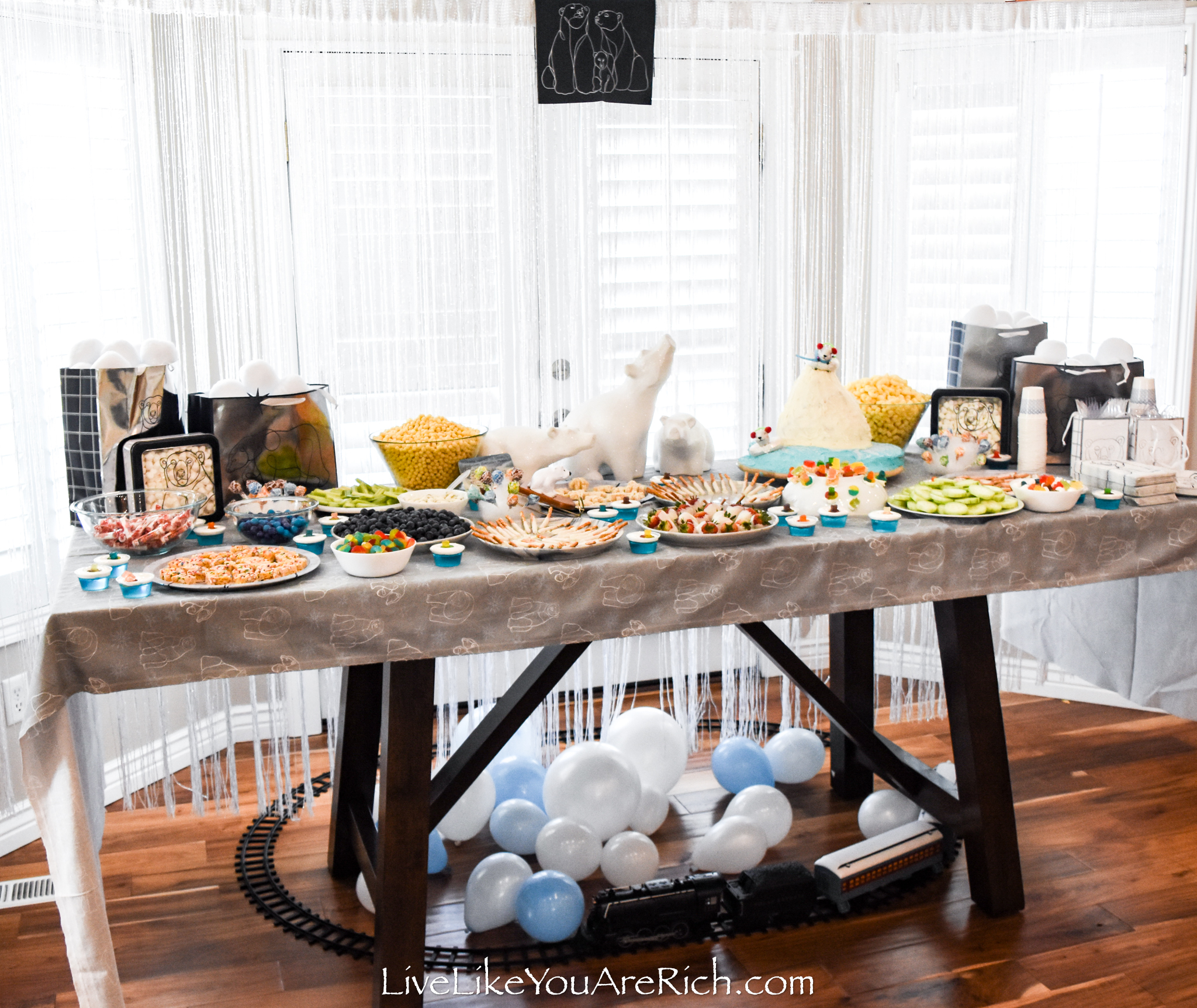 Polar Bear Sledding Party Invitation
Usually, I make my kids' party invitations.
However, for this party I had a coupon to Simply to Impress; I got these invitations printed for a steal.
I printed them a few months before the party (we've been waiting for snow). Since I didn't know when there would be sufficient snow to sled, I left the back of the invitation blank.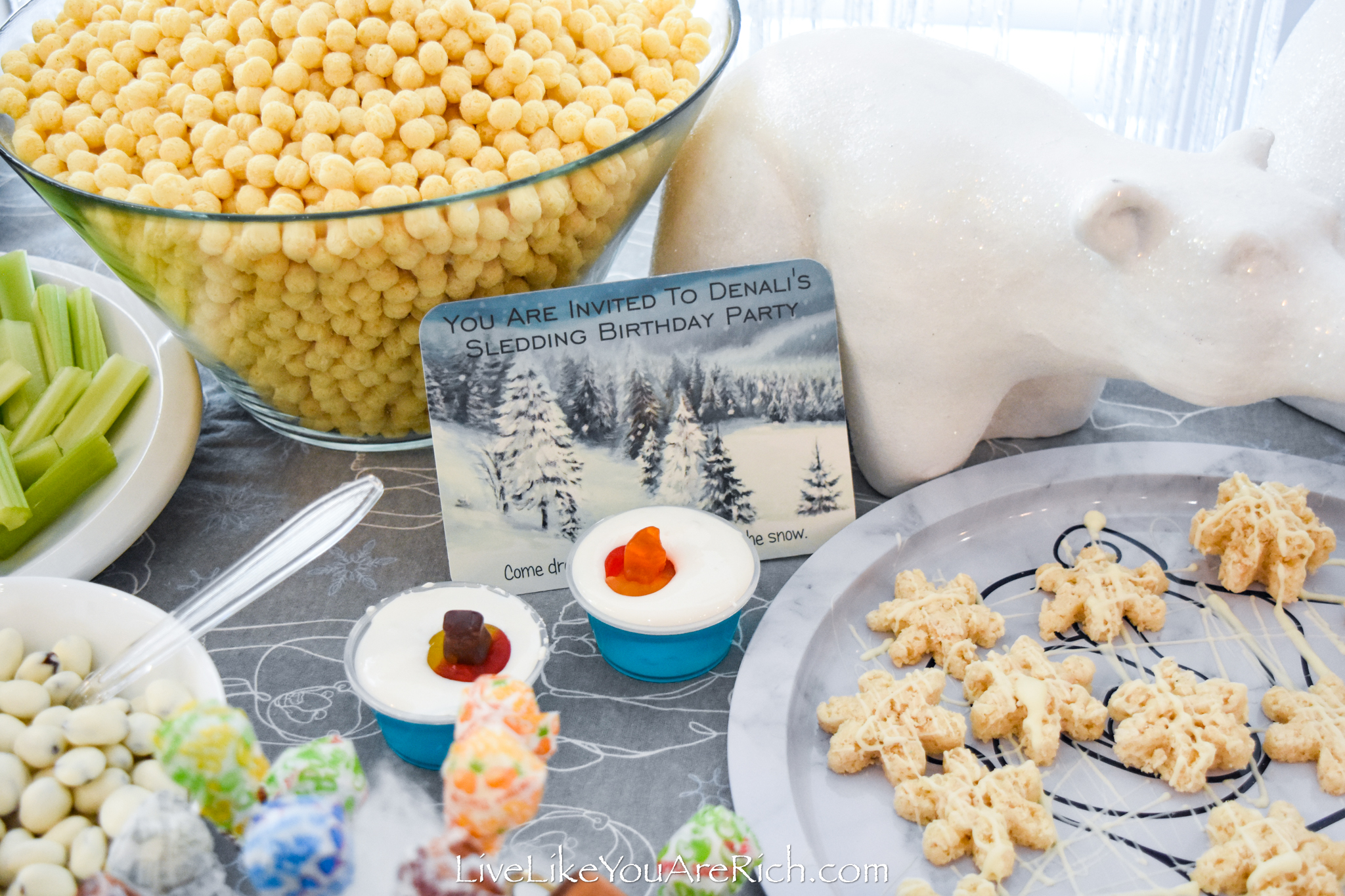 When we had snowfall, we sent the invitations out after I printed the time, place, and other party details on printable vinyl sticker paper and stuck it to the back of the invites.
I let Denali choose which invitation graphic he liked best and coincidentally, he choose the one I liked best too.
We had compliments on the invites, but since I didn't make them, I won't take the credit.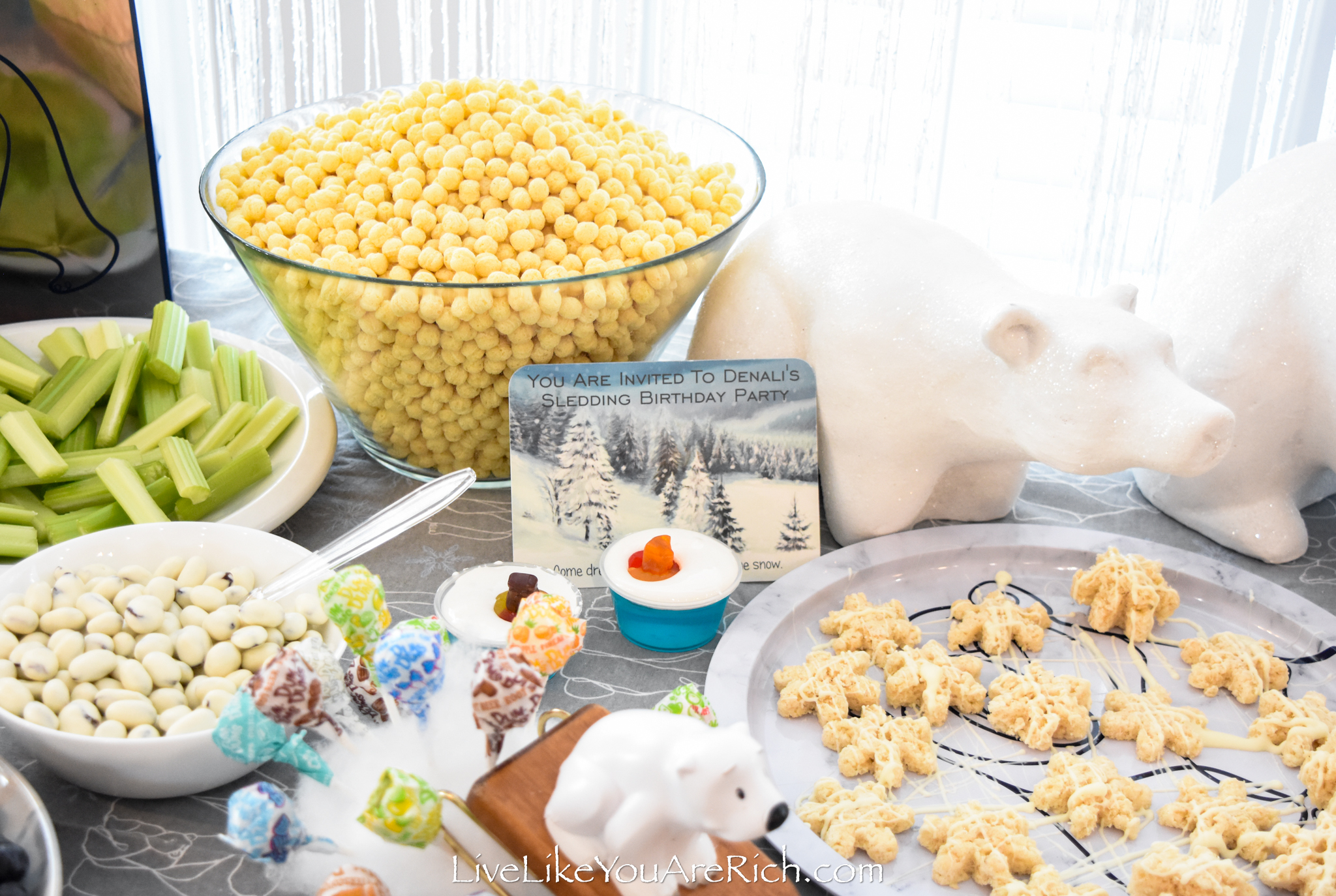 Polar Bear Party Activities
First, the boys all went sledding:
Unfortunately, we didn't have a ton of snow (we had been waiting for months, so when we got some, we sent out the invites). Sadly the snow had mostly melted by the day of the party.
So, we got creative.
The kids went sledding on a winter slip and slide.
We dumped gallons of water and soap down a 100 foot x 10 foot sheeting from Home Depot.
Then the boys went down the hill on sleds. It worked really well and was fun!
The boys got brave and wanted to act like "penguins" and they started going down the slip and slide on their bellies (in their snow gear) and soon everyone was soaked!
They had so much fun doing this though that I thought it was worth the extra laundry that would be needed.
When we came inside, I put the boys gear in individual garbage bags with draw strings so they would transport the wet gear easily home and let the moms know that they need to wash the gear.
While I did feel a little guilty that the boys got so soaked and soapy, they all said they had so much fun on the winter slip and slide and subsequent activities, that it made it worth it.
Tip- We were going to try "ice blocking" but I didn't know you had to order ice blocks ahead of time in our area at most stores, so we didn't do this. If you want to do ice blocking, call local grocery stores ahead of time and order the ice blocks.
Ice blocking would be a fun activity for a penguin or polar bear party!
Next, the boys decorated insulated tumblers/mugs with outdoor stickers.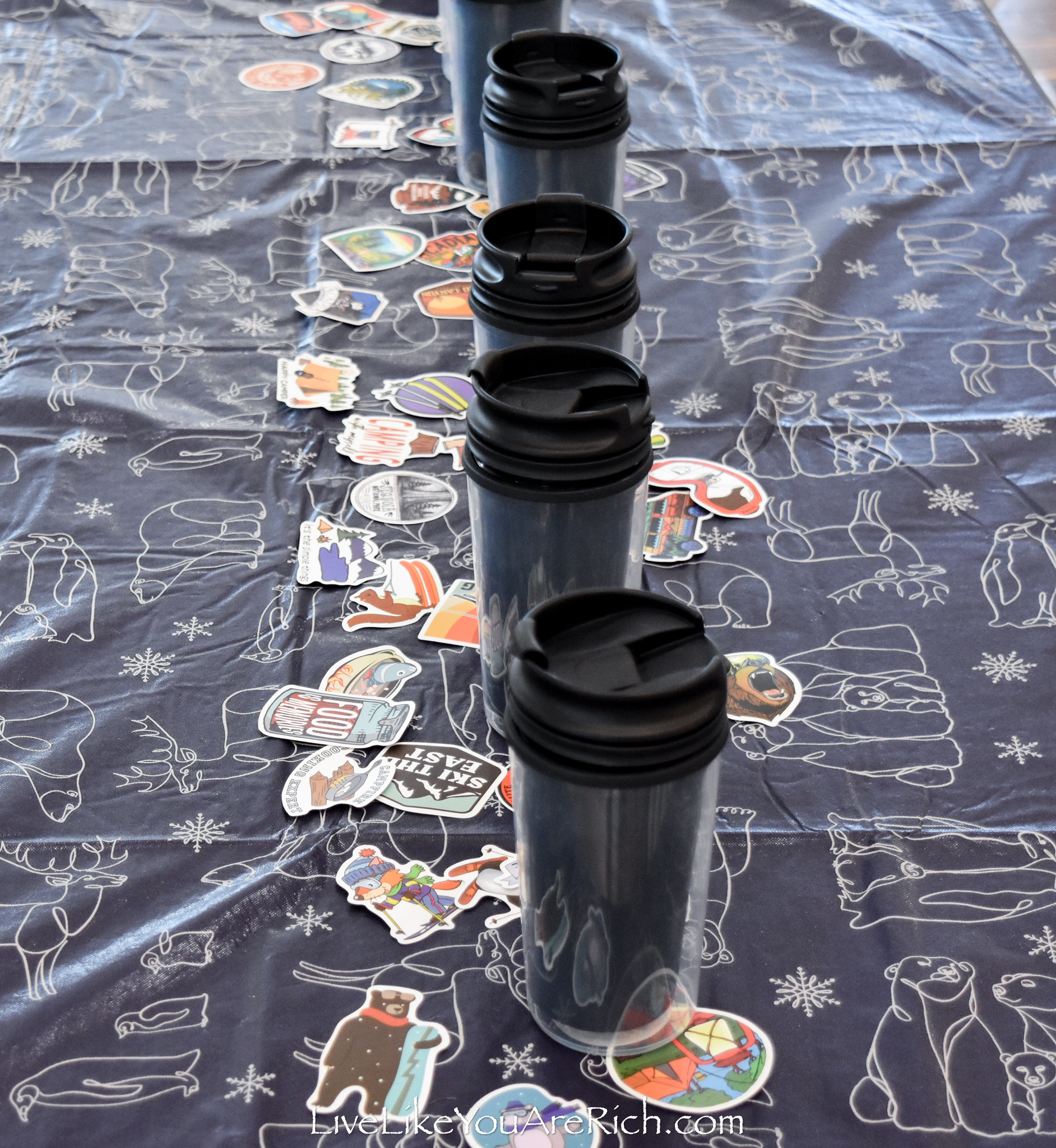 I found the stickers here on Amazon and they were perfect for 9 year old boys!
I searched for awhile for a pack of stickers that would be appropriate for elementary boys. Luckily, I found this pack. I think there were only 2 of 200 that I took out due to images of alcohol on them (which is better than most of the sticker packs I read reviews on).
They stick well, are high quality and have nice images of snowboarding, skiing, bears, polar bears, national parks, mountain biking, and camping.
This sticker pack is a super fun compilation and my daughter and her friend and I even found some cute girly ones for decorating our mugs.
My son had a party of 13 boys and all but one of the boys seemed to love sorting through and picking their favorite stickers and decorating the mugs.
When they were leaving they were very concerned about accidentally leaving their favor/sticker mug (which tells you they actually did like them).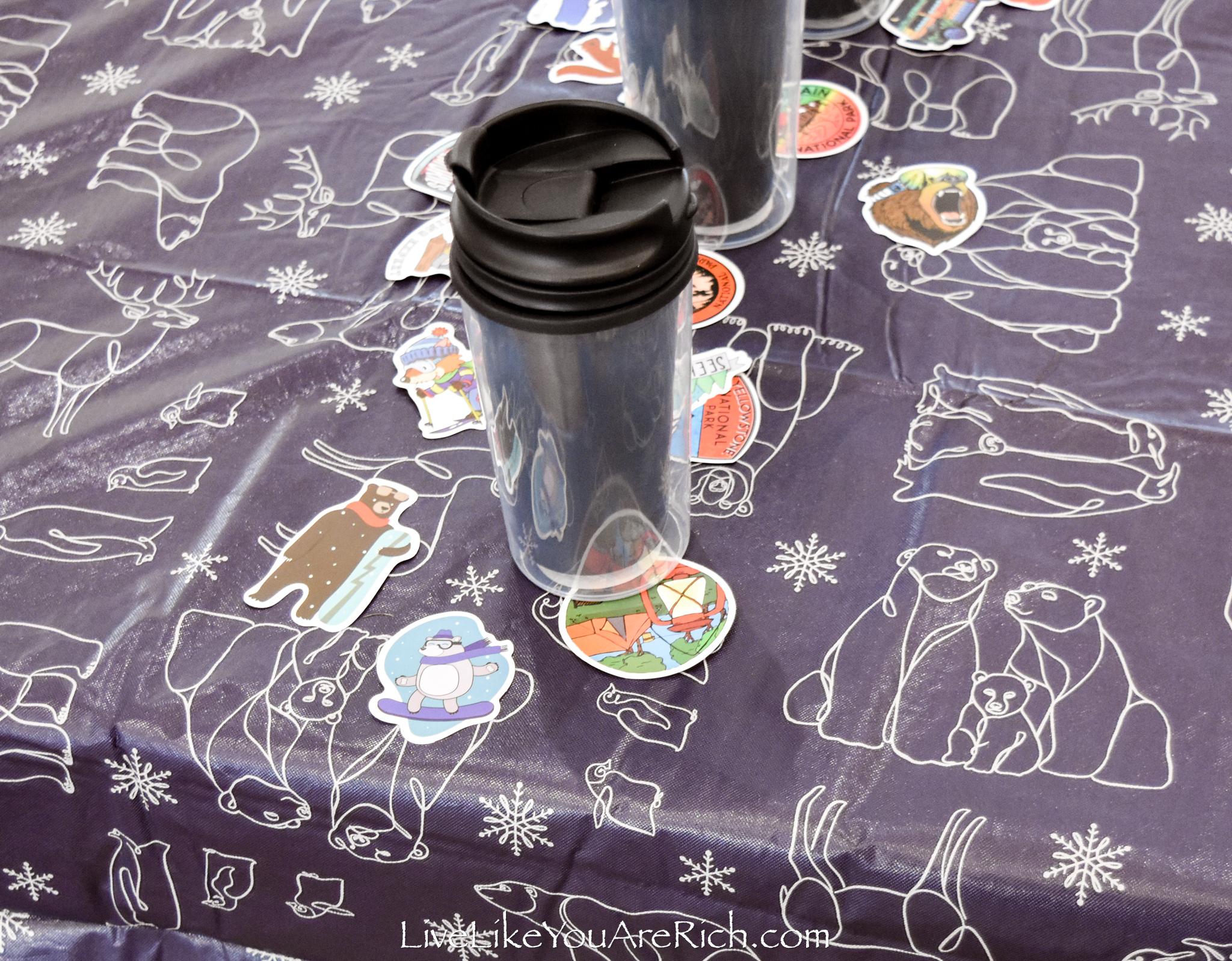 I purchased the tumblers from Dollar Tree and surprisingly, they are really good quality.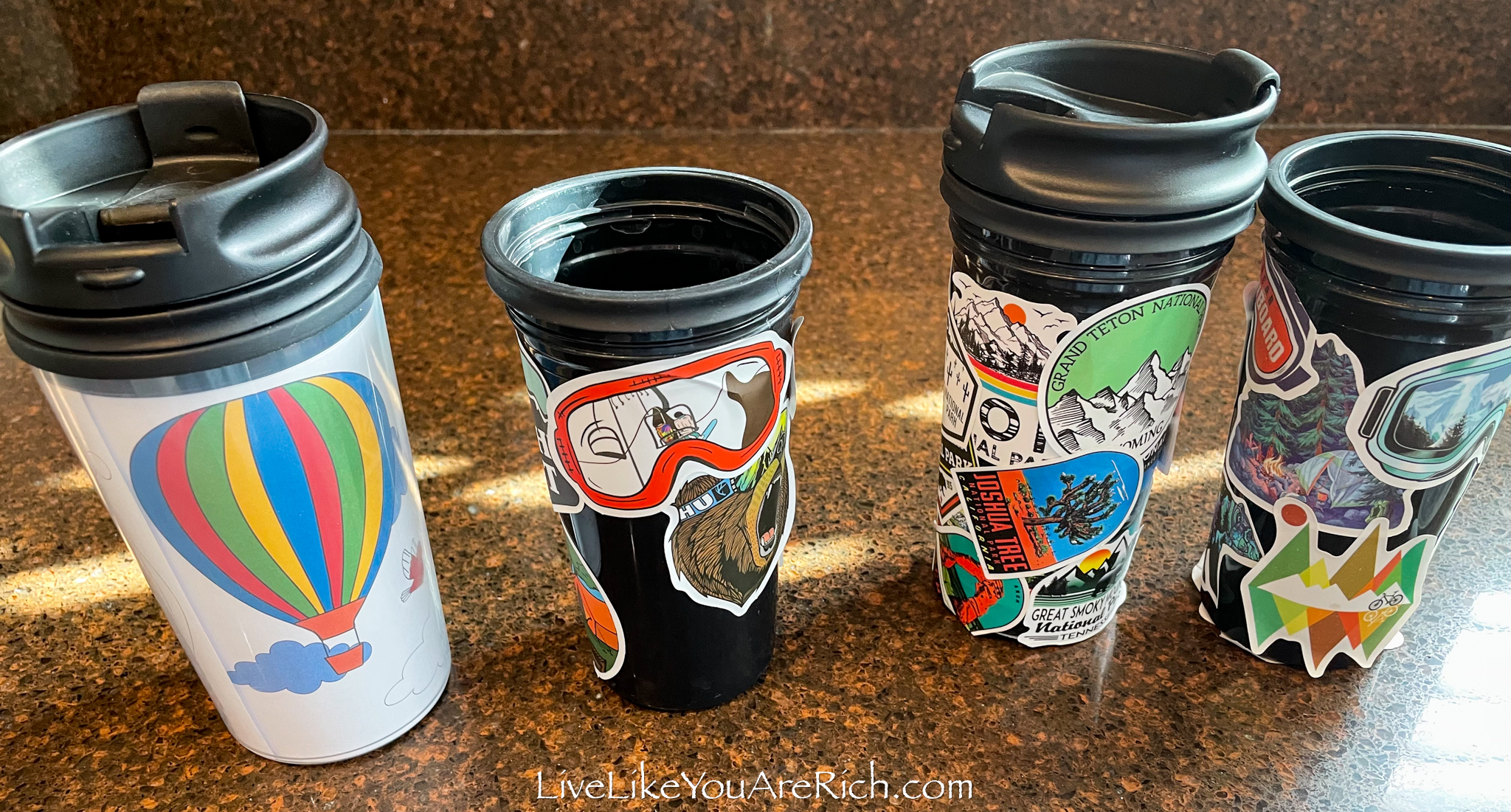 What's neat about these mugs is that there is a cover for the outside of the mug which protects the stickers from getting ruined in the dishwasher (top rack).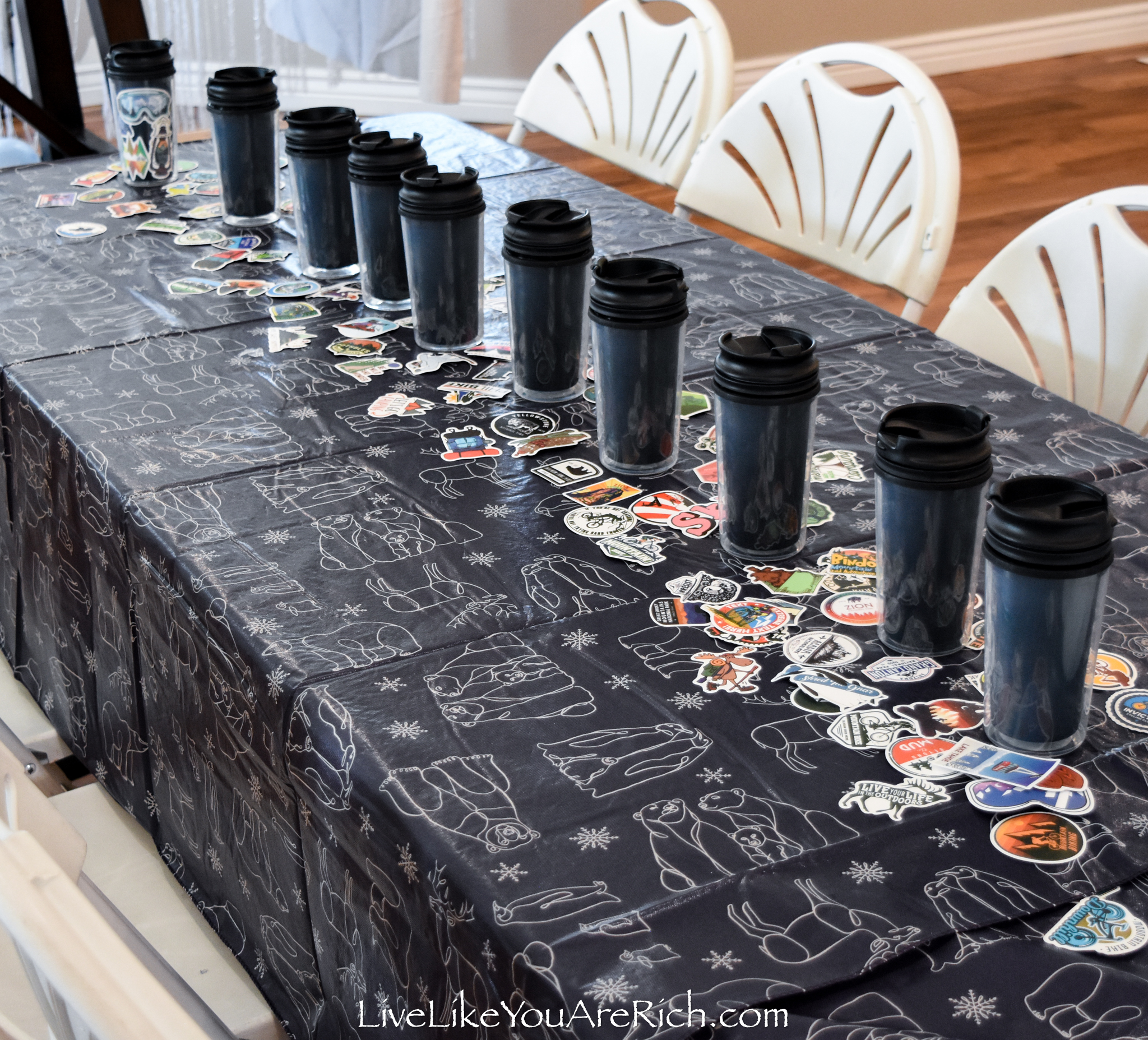 You take off the plastic cover, remove the paper insert, put the stickers on the black mug and then put the clear cover back on.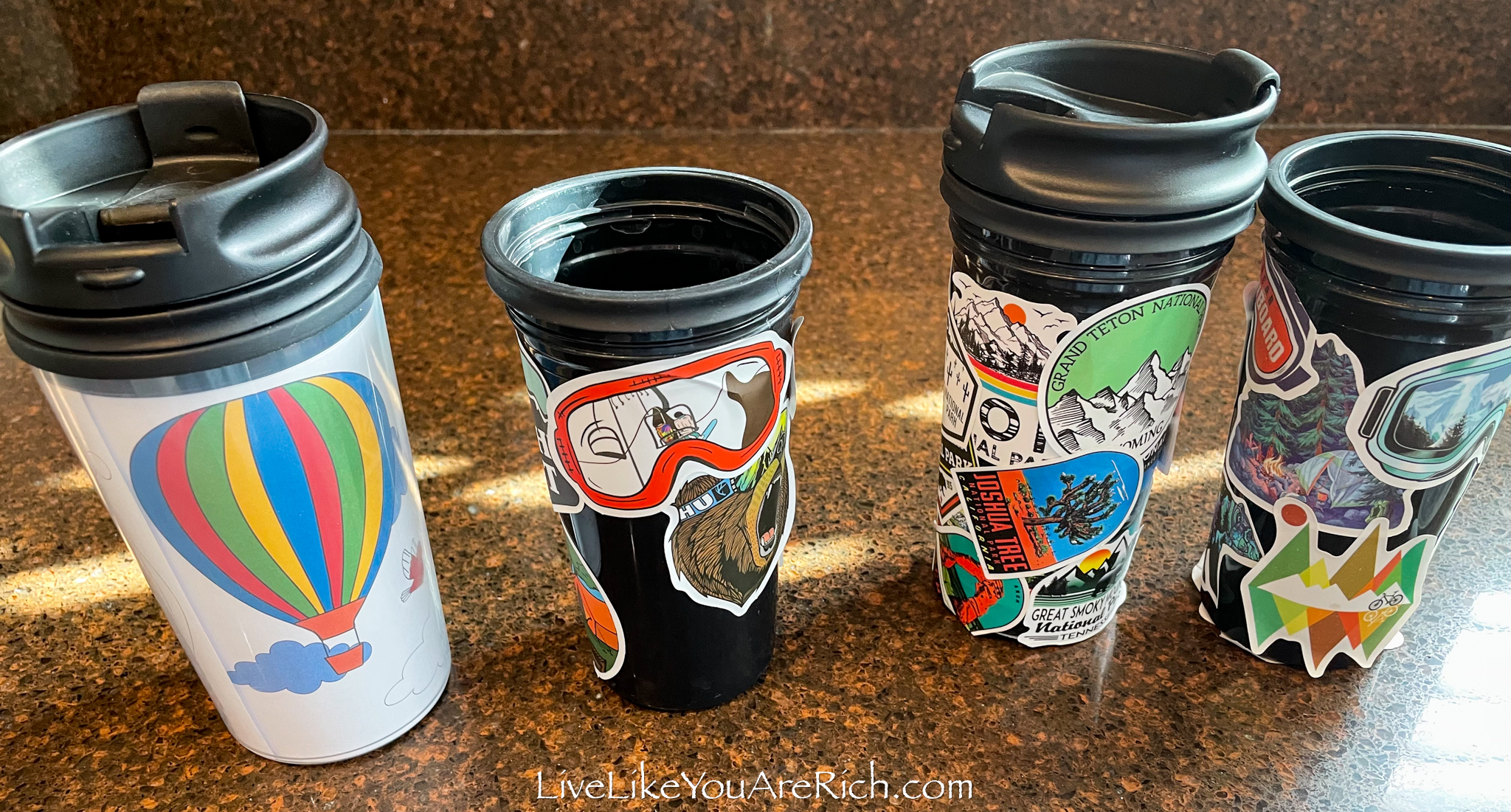 Hot Cocoa Bar
After the boys decorated the insulated mug, we filled them with hot cocoa.
I heated up a gallon of milk in a pot on the stove until it was really warm. Then I poured it into the boys' mugs. They added a few scoops of their choice out of many the hot cocoas we had.
See this post for the list of hot cocoa we had.
In addition to the hot cocoa that I listed in the aforementioned post, I also got the Private Selection hot cocoa from Smith's Food (Kroger) for my son's friend with a tree nut allergy.
Food bar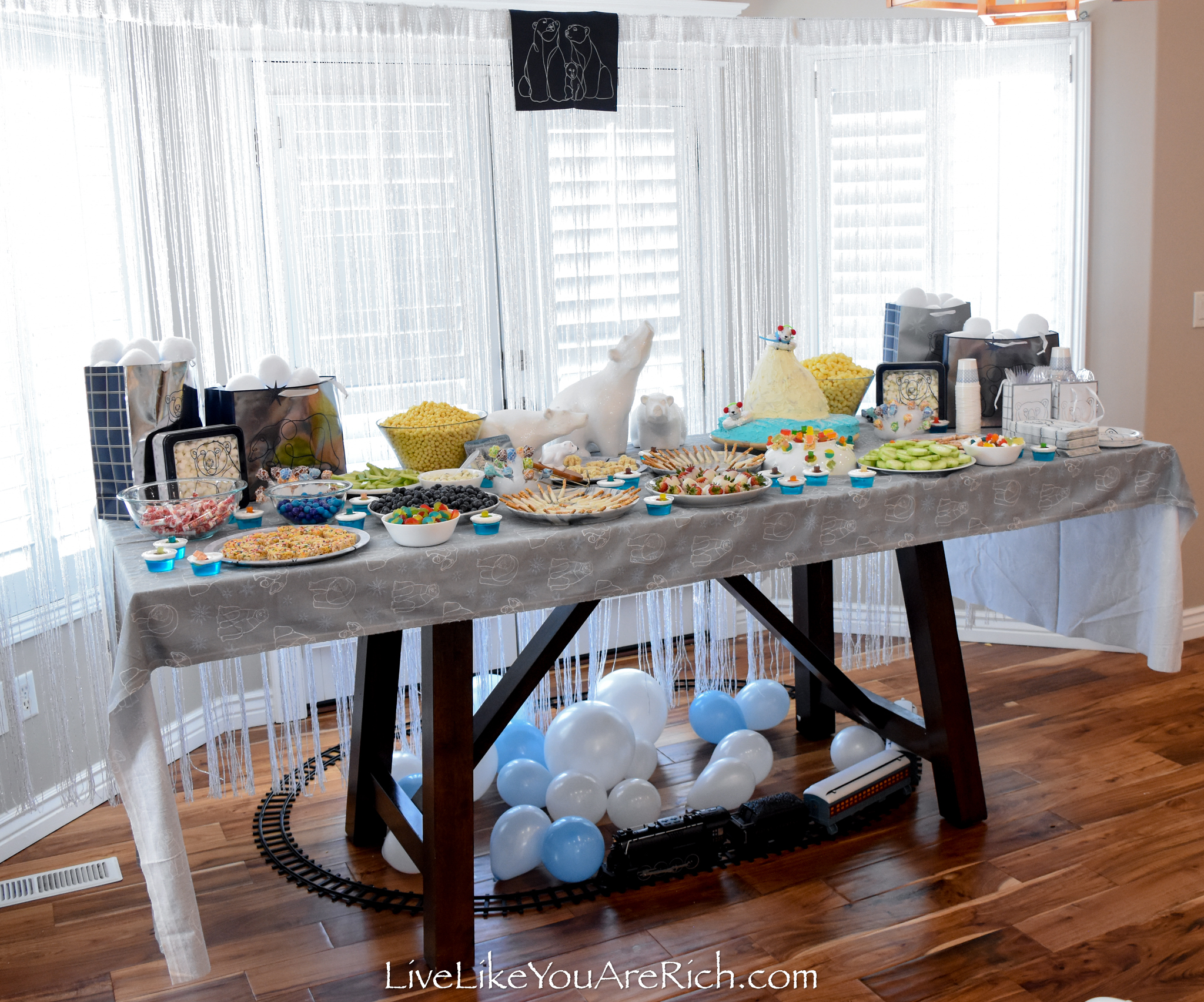 Next, the boys ate from the food bar. This post details all the food we served.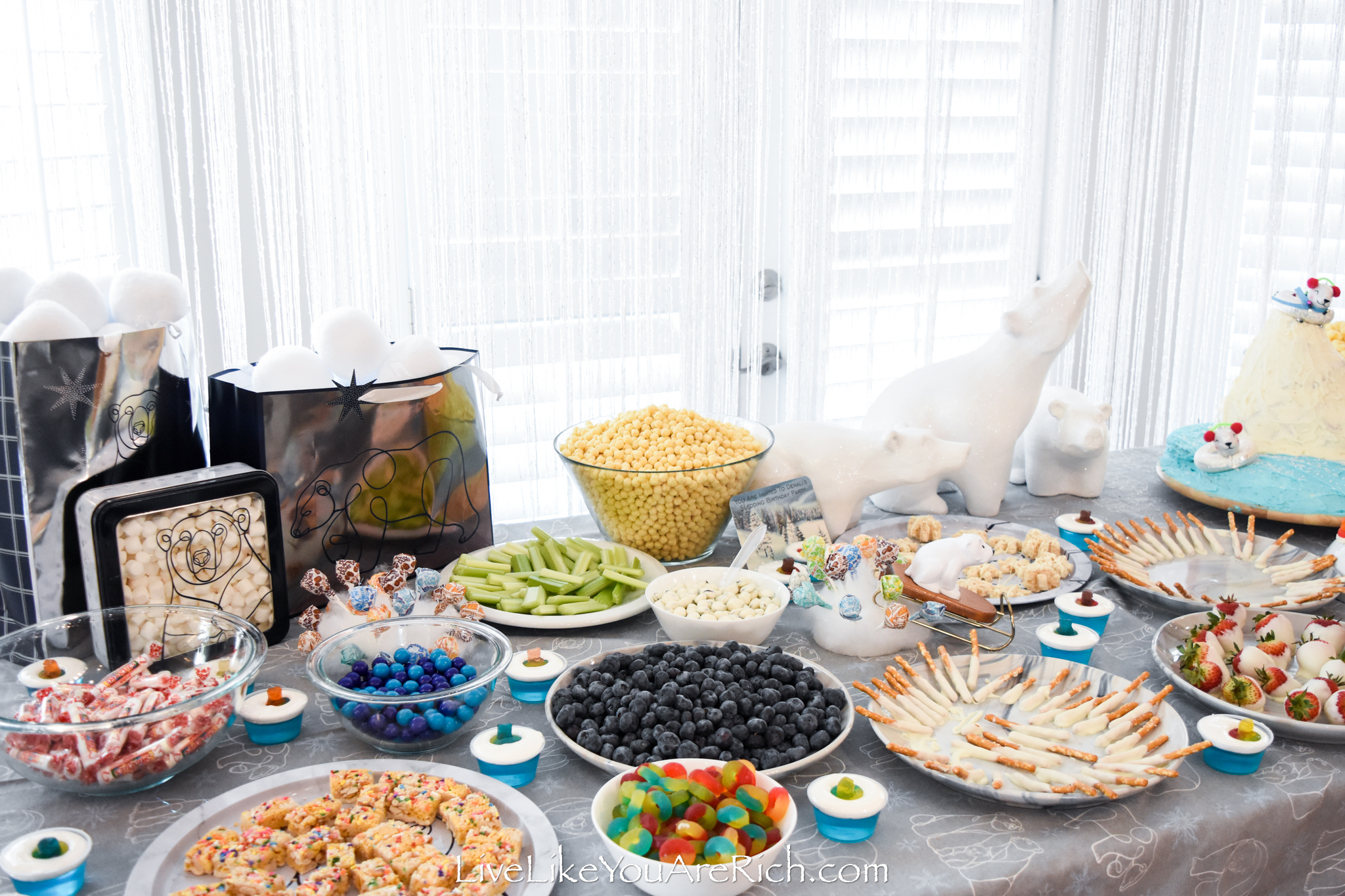 Cake and Ice Cream
Next, we had cake and ice cream. I tricked my son by buying relighting sparkler candles that are hard to blow out. The boys loved it!
See the video here to get a better view of the cake and the sparkler birthday candles.
Here's the post on how to make this polar bear iceberg cake.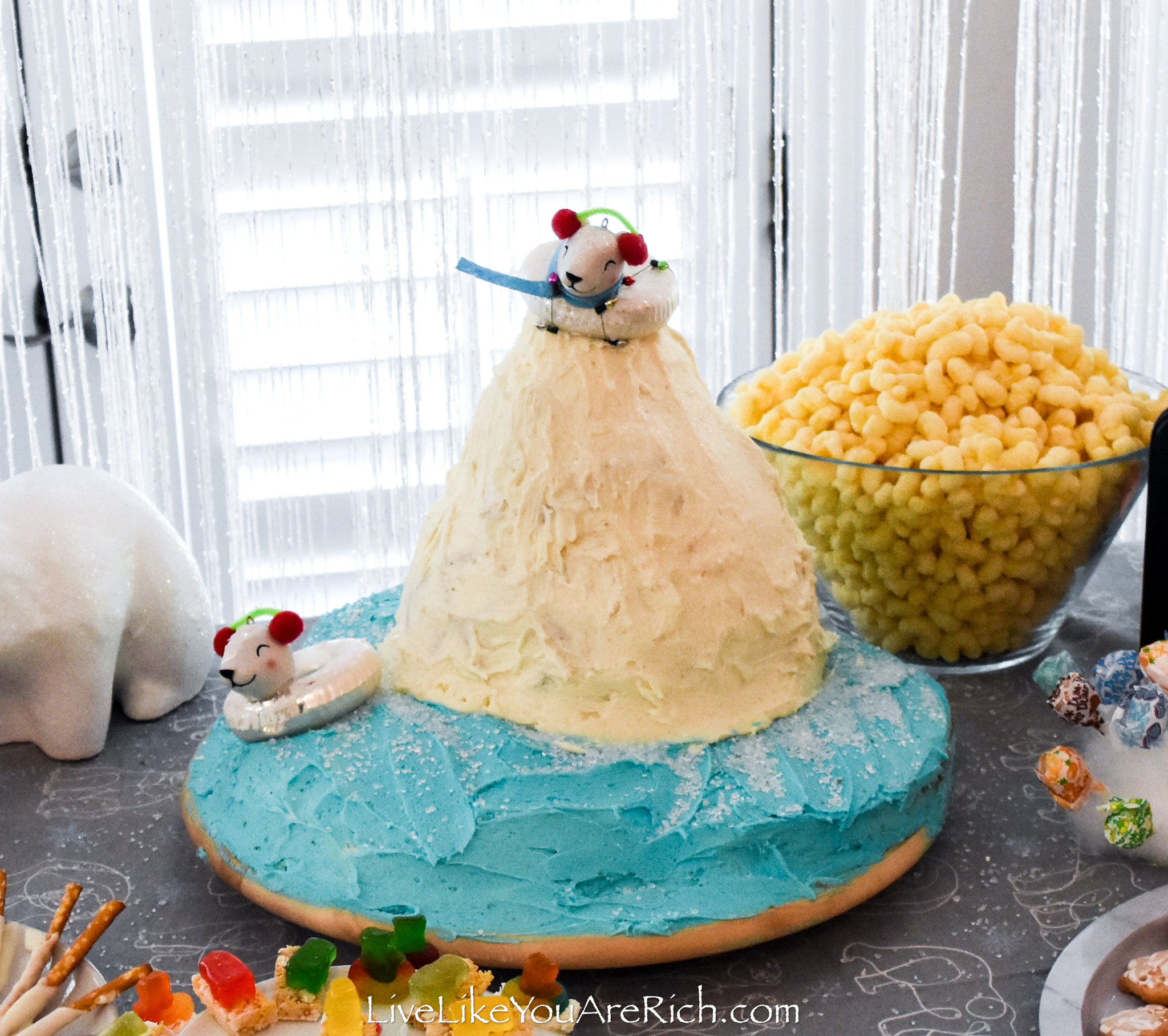 Indoor Snowball Fight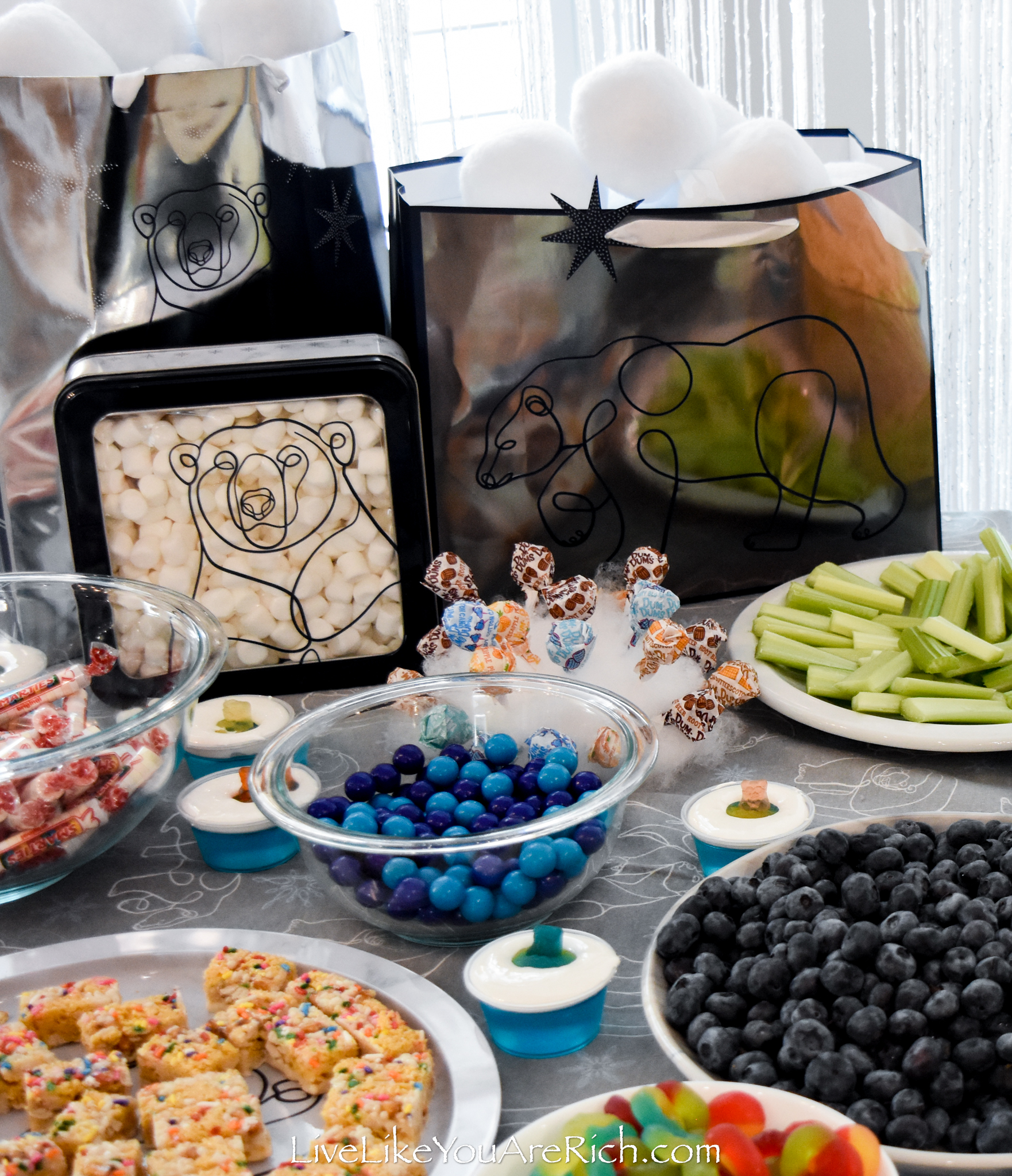 Then they had an indoor snow ball fight.
That was tons of fun for them.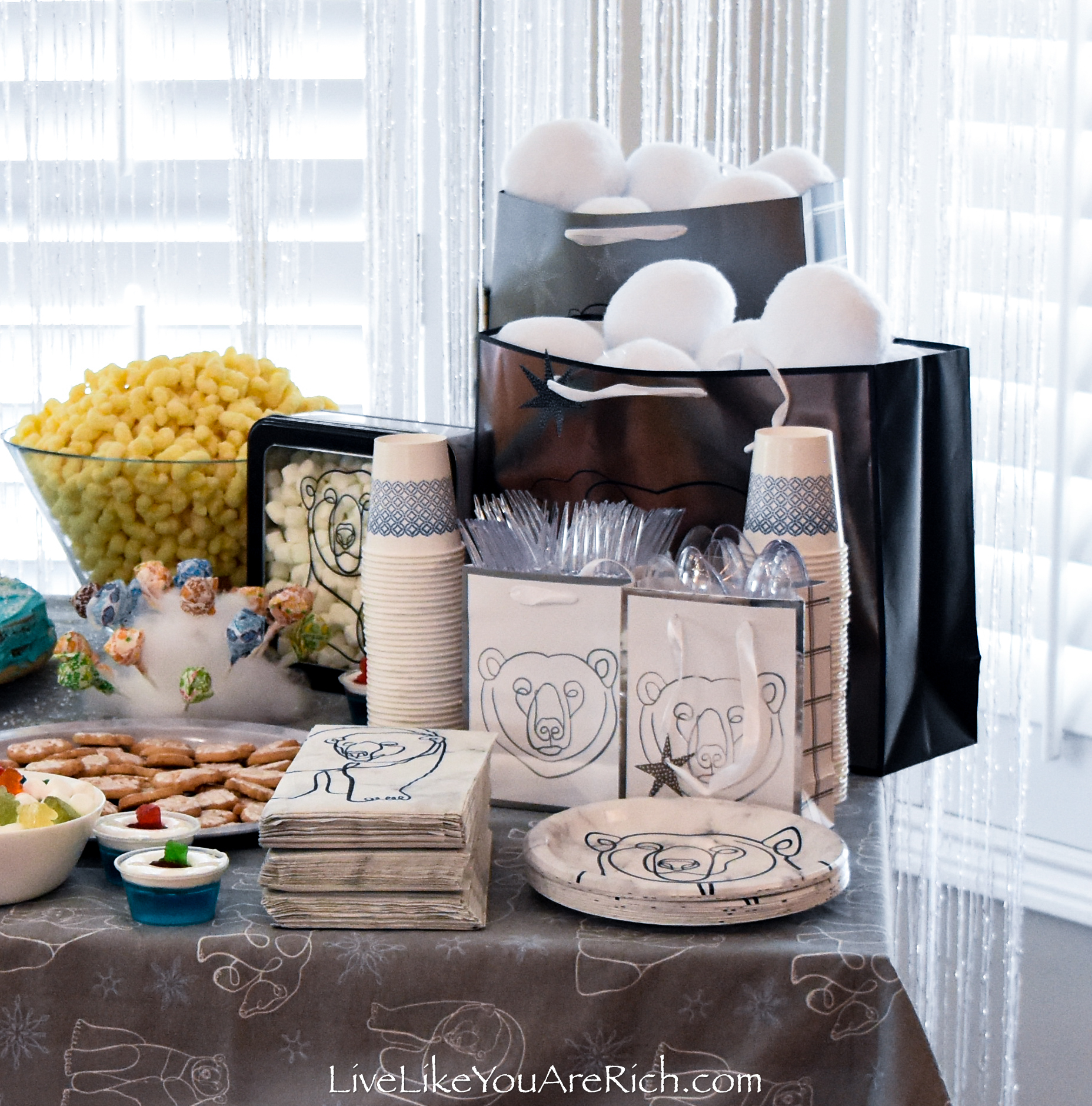 I bought 2 packs of indoor snowballs (8cm) and then let them just throw them at each other in our basement.
Laser Tag
Then, tying in to the polar bear theme we did laser tag with guns my son had. The Aurora Borealis are often seen where Polar Bears live, so that 'went with the theme'.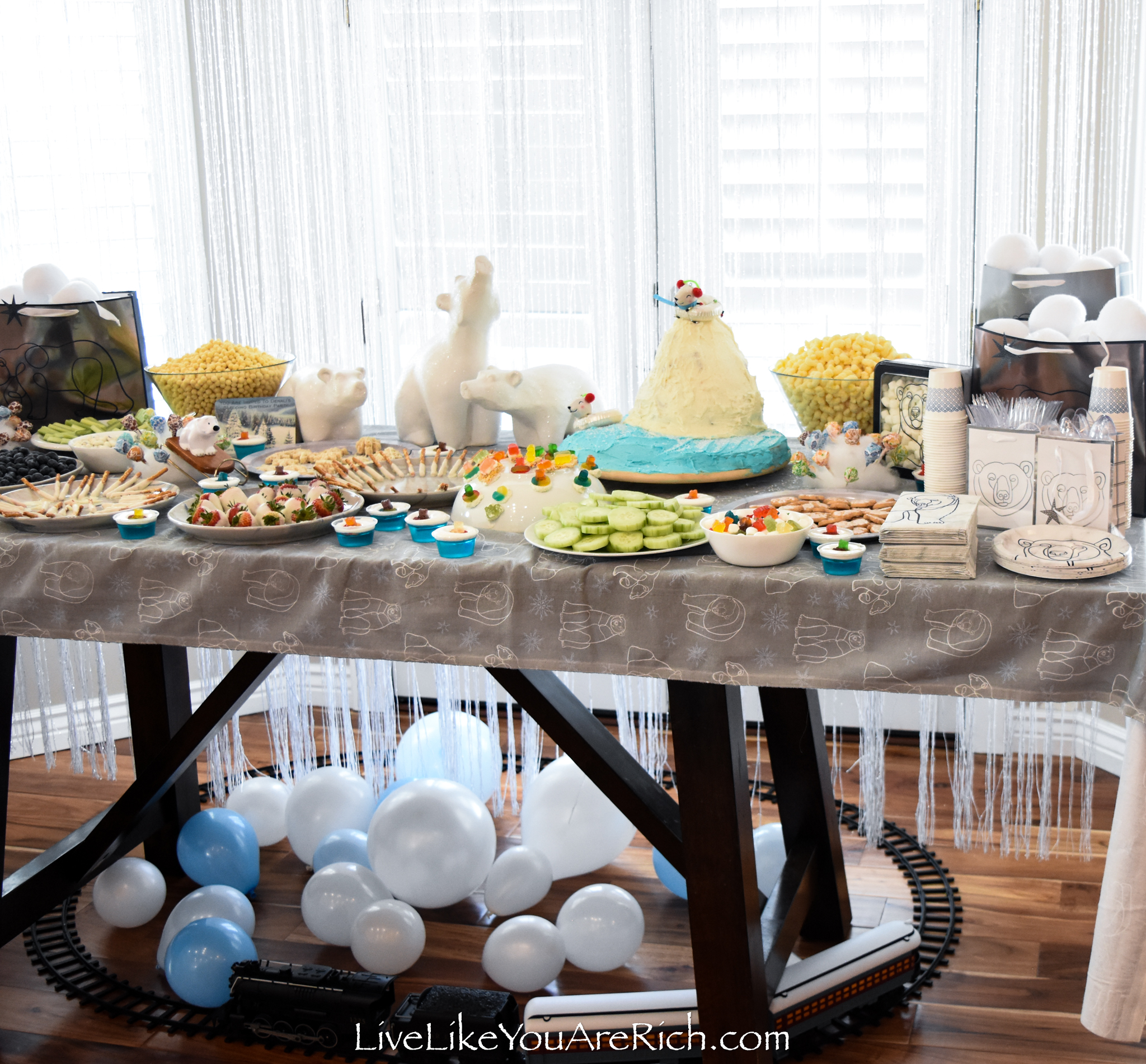 Then, the boys went home.
I wished I had set the party for 2 1/2 hours because just as we started laser tag, many of the moms came to get them.
We invited all the boys in my son's school class plus other friends. It was a holiday weekend so many were out of town. Still, there were 13 kids there.
Things can get hard to handle when there are so many kids, so two hours was all I thought I could handle.
However, I think the boys would have liked playing laser tag longer, so if you plan a similar party 2 hours may not be enough time.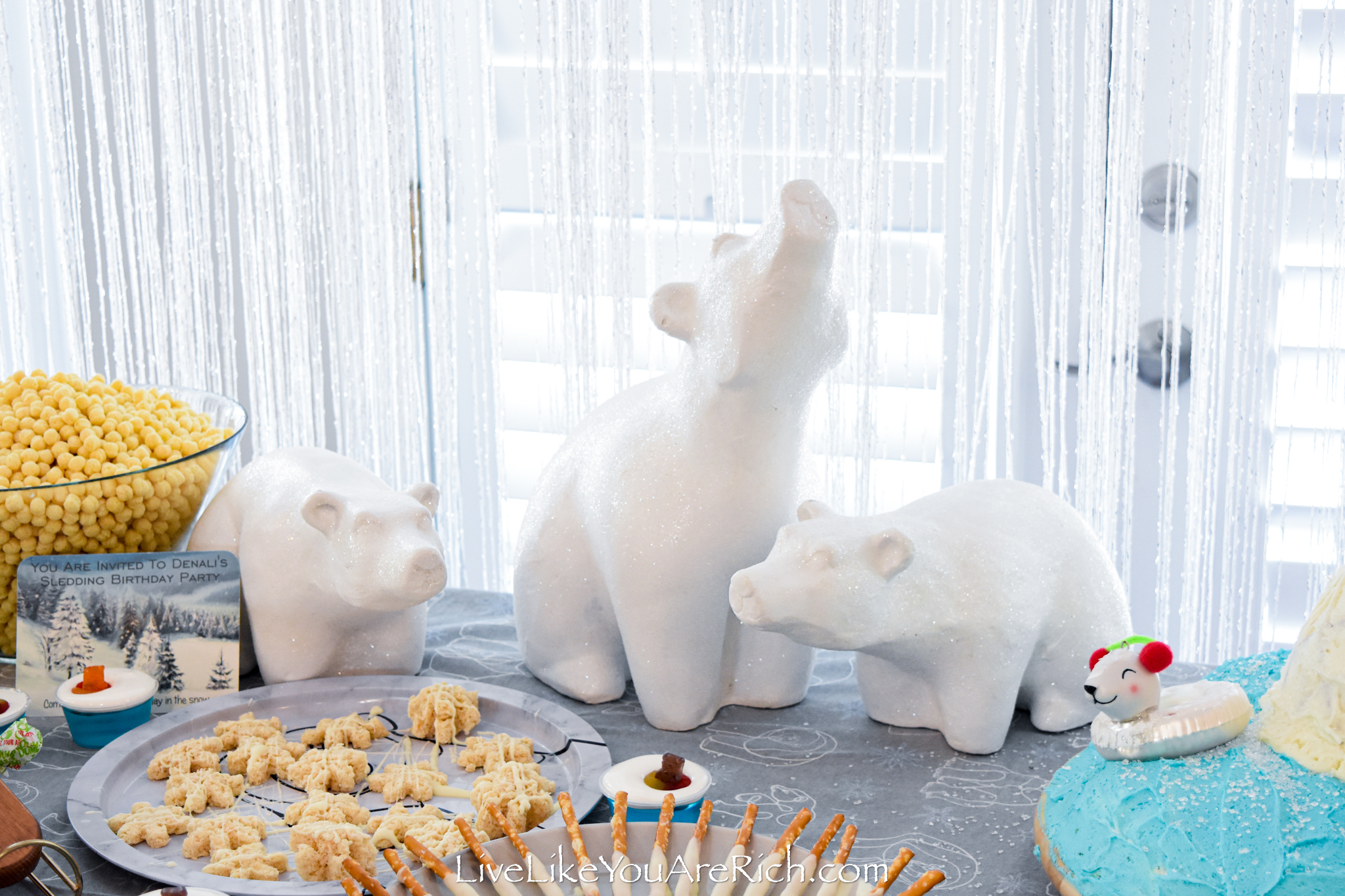 Well, that was it, the Polar Bear Party!
I'll post more details in the upcoming posts…
Upcoming Posts:
Polar Bear Iceberg Birthday Cake.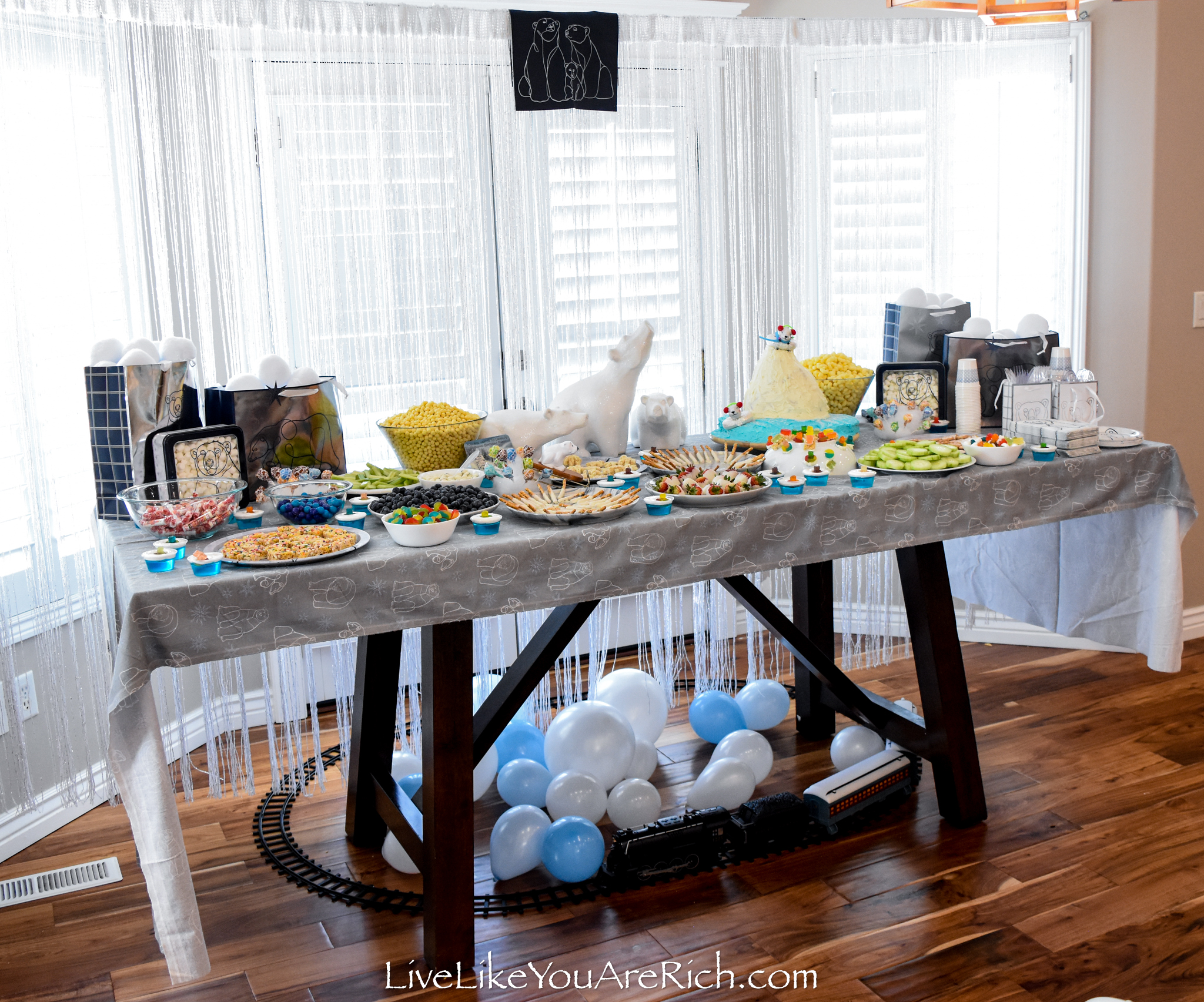 Supply List for Polar Bear Party Activities
sleds (Costco)
slip and slide sheeting (if no snow) Home Depot
indoor snow balls 8cm (I ordered 2 packs of these and they are so soft and fun to throw)
tumblers with a cover or design your own mugs
hot cocoa and warm milk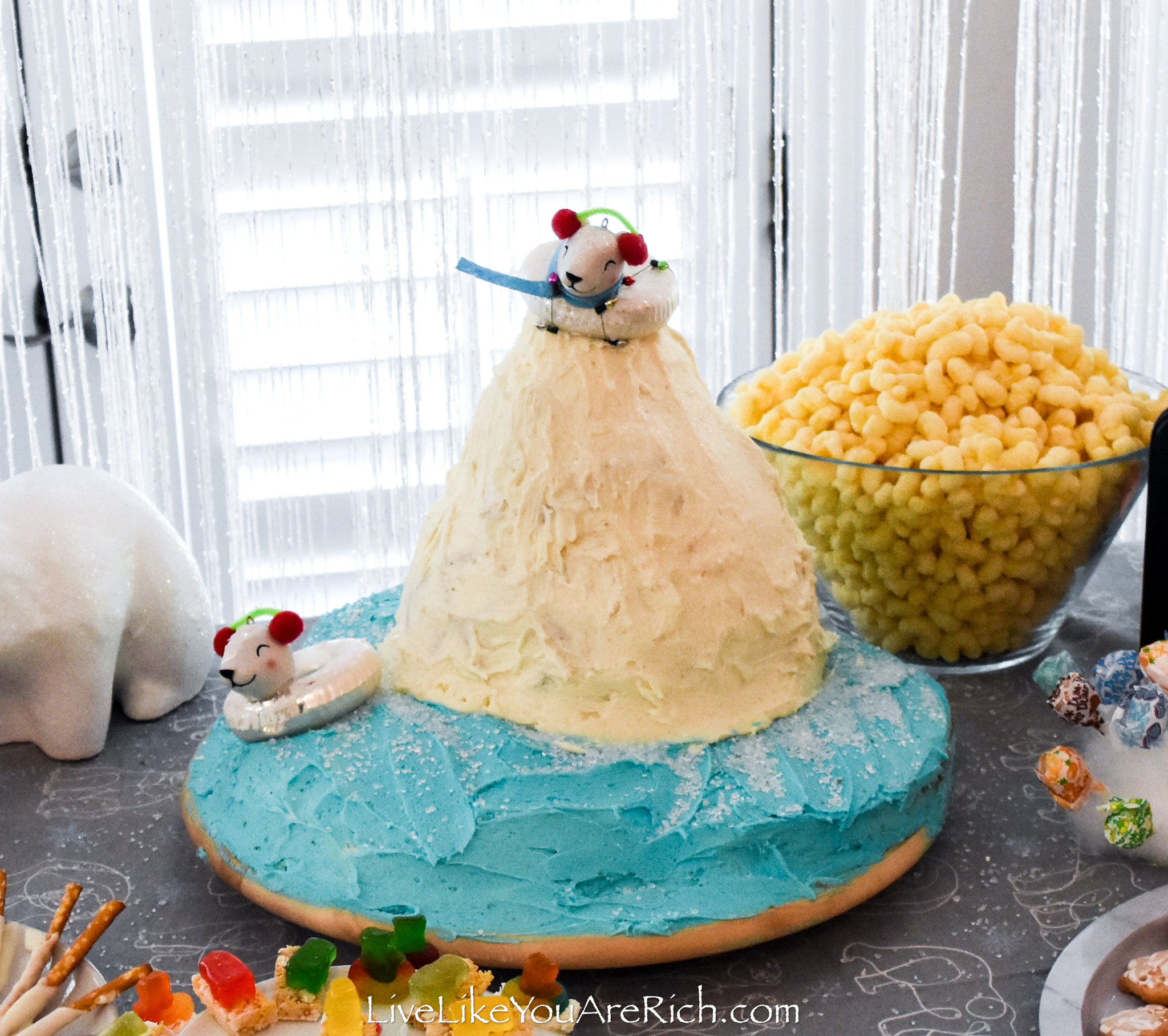 Cost of Polar Bear Party Activities
sledding free (we had the sleds, soap, and plastic sheeting)
tumblers and stickers $25.00
indoor snowballs $ 25.00
Invitations $15.00
laser tag guns (we had)
Food and cake (I'll detail in the other posts)
$65.00 for the activities
Supply List for DIY invitations.
If you make the birthday invitations, you may find that these supplies come in handy.
printable vinyl or printable sticker paper
you can also use regular printer paper and a glue stick
or you could use photo paper and mount it on with a brush and mod podge (as shown towards the bottom of this post here)
12×12 scrapbooking paper (optional)
paper cutter/slicer (optional)
Do you have any ideas for Polar Bear Party Activities? If so, please leave them in the comments below.
OTHER POLAR BEAR PARTY POSTS

For other 'rich living tips' please subscribe, like me on Facebook, and follow me on Pinterest and Instagram.