My kids LOVE Wild Kratts. My son has been begging me for a Wild Kratts Birthday party for months. With a little planning and some great deals, I was able to put this Wild Kratts Birthday Party on for less than $100.00. Here's how…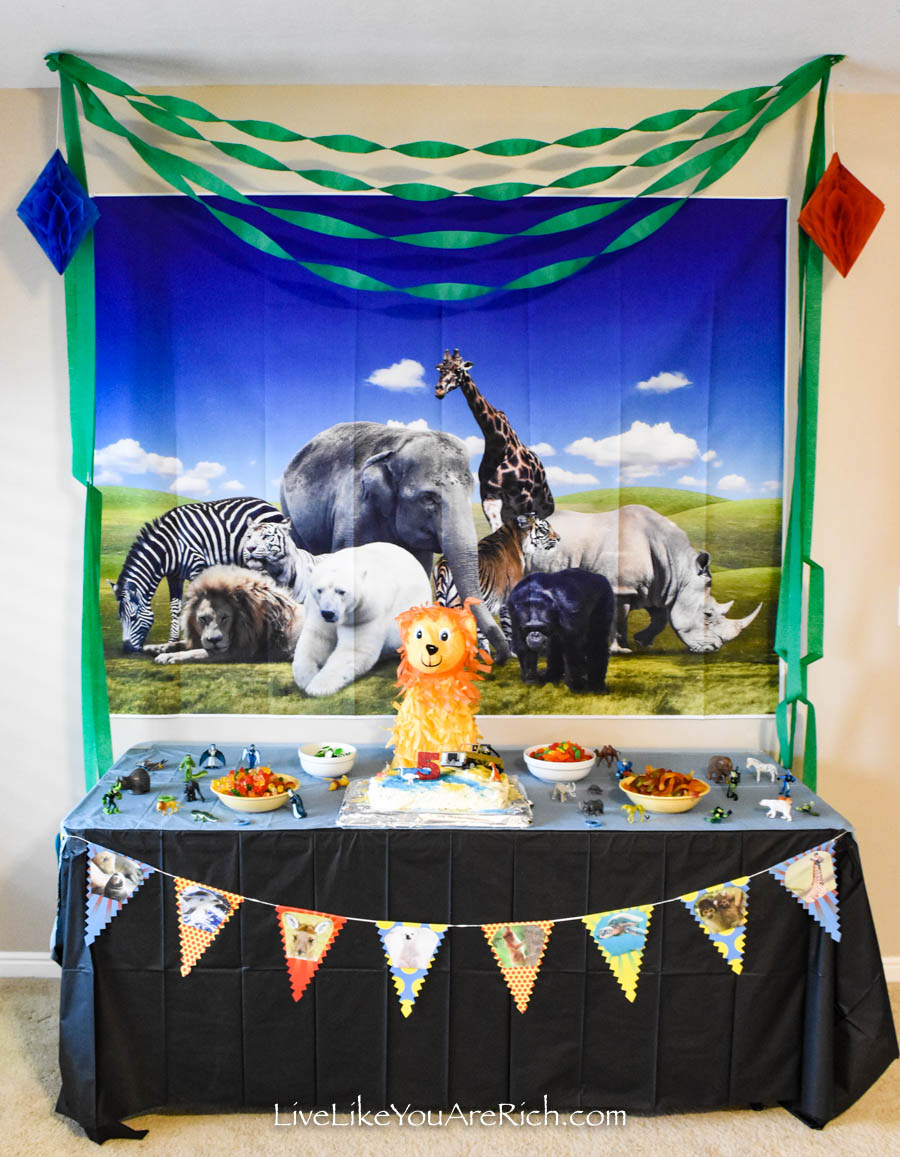 Set Up
To set up, the kids and I went around the house and found a lot of toy animals we already owned.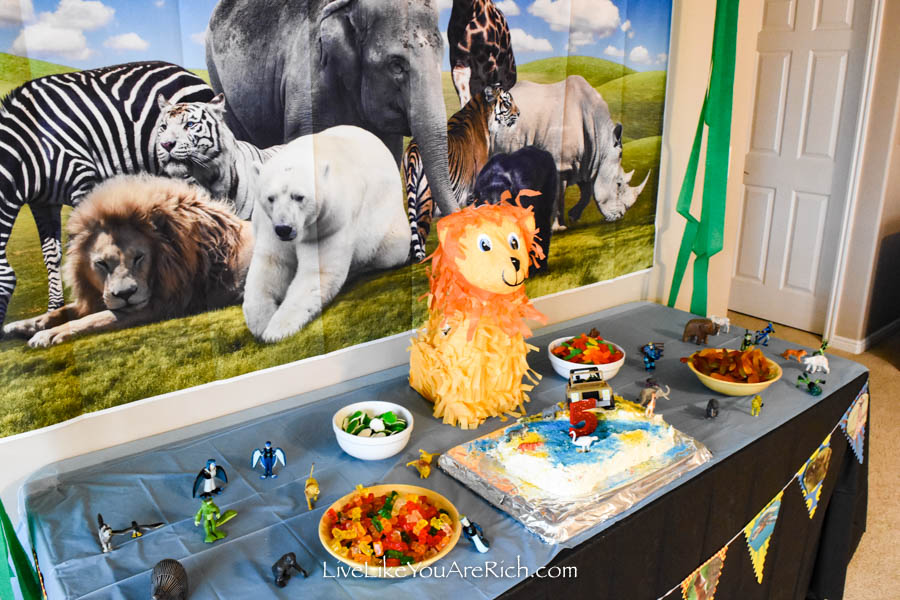 They gathered their stuffed animals and put them all around the room.
We had plastic animals like these that we used to decorate the room and cake. You could also put some of them inside the piñata as favors.
We had many of these Wild Kratts figure sets that we put out on the table as well.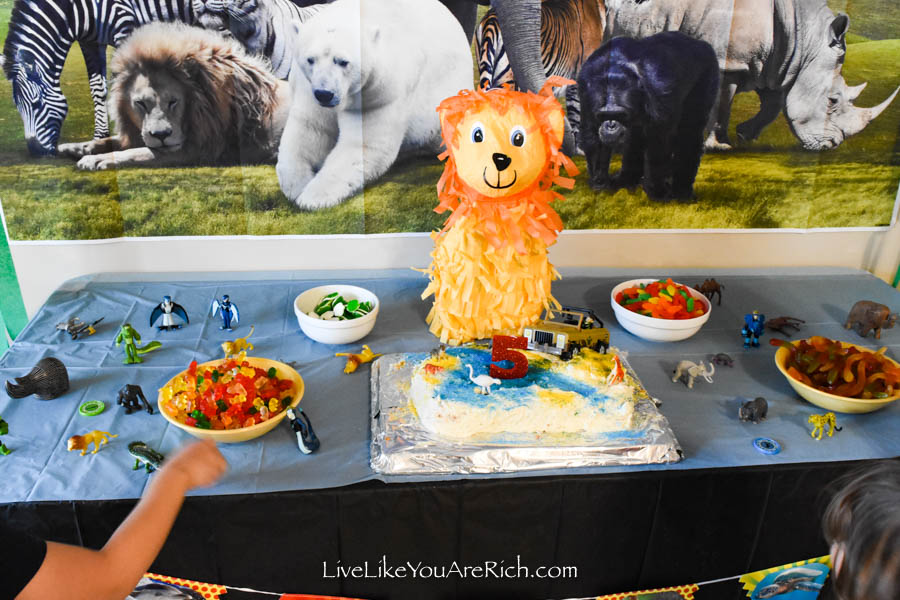 I found a lion pinata (similar here) and filled it with individually-wrapped candy.
I bought this animal masks punch out book a few years ago for my son's Diego party. It's awesome! It comes with 15 real-looking animal masks.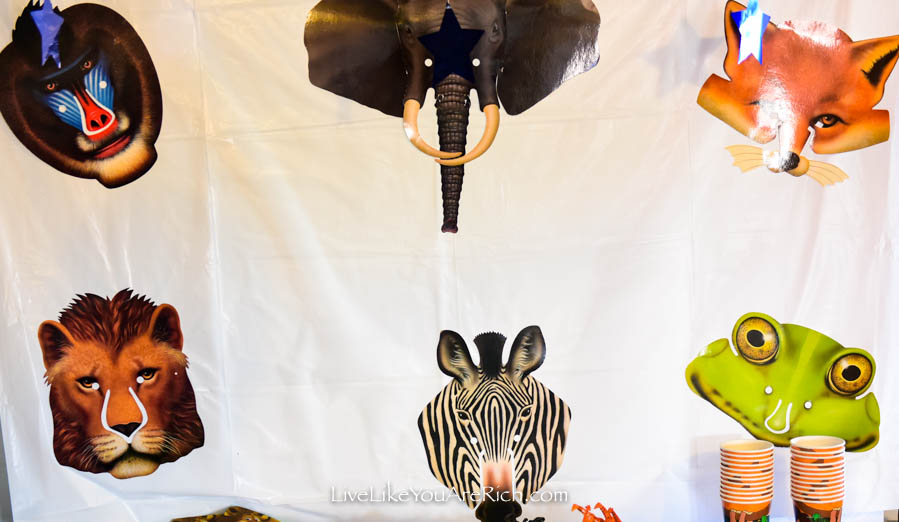 These would make a great party favor and would also make for a great activity. Unfortunately, I did not have enough for everyone, so I just used them as decor and hung them on the walls.
I set up a craft table with these building animals.
Each attendee got to choose one when they arrived.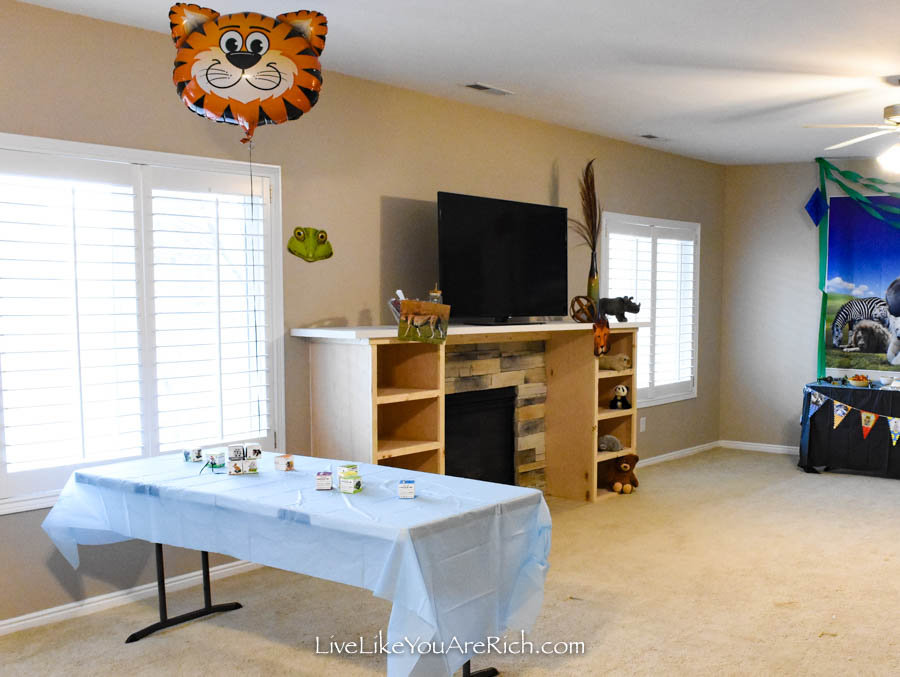 They are mini kits that are built into a shape of an animal.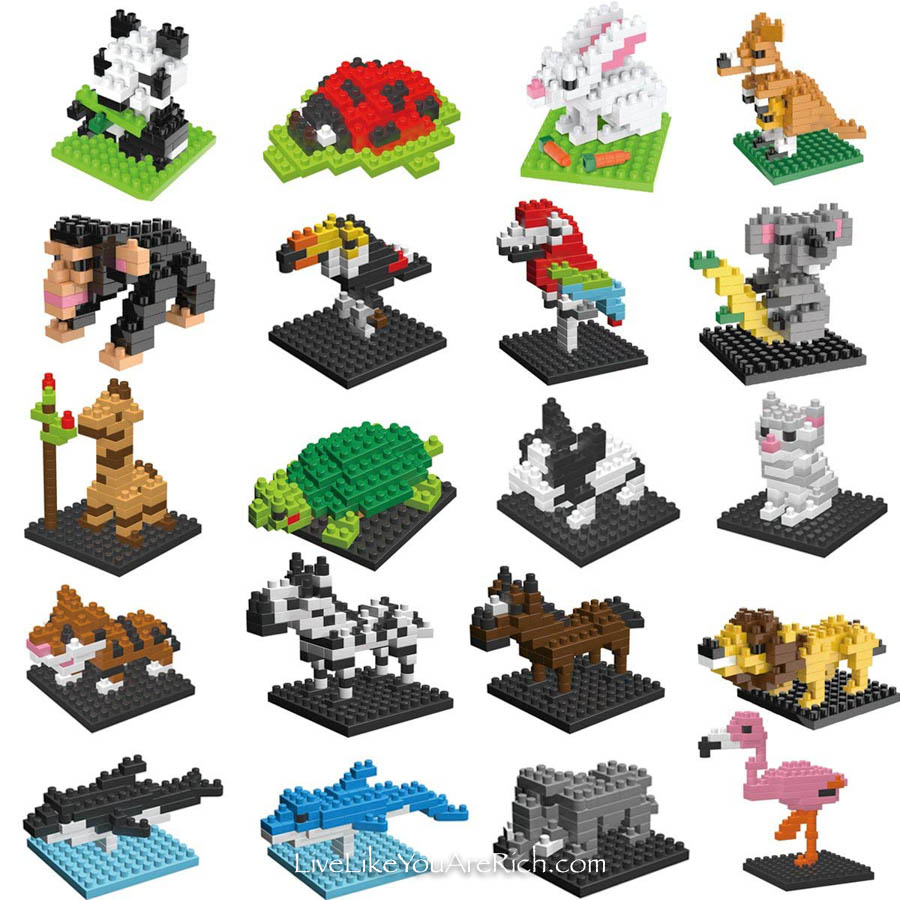 More on this activity below.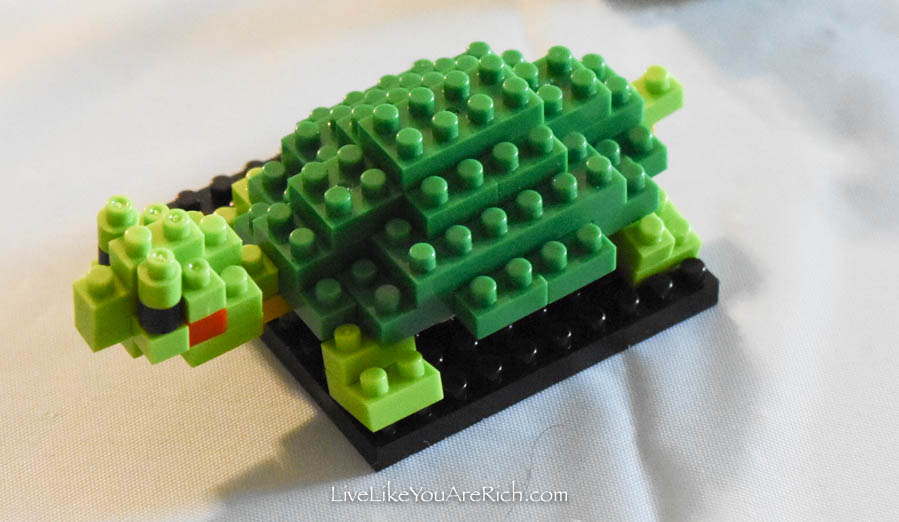 I bought a backdrop with animals on it for the focal point of the room and cake table.
My son's favorite animals are all on this backdrop (which is why I choose this one). There are hundreds of backdrops you can get on Amazon. You can find one similar to this here.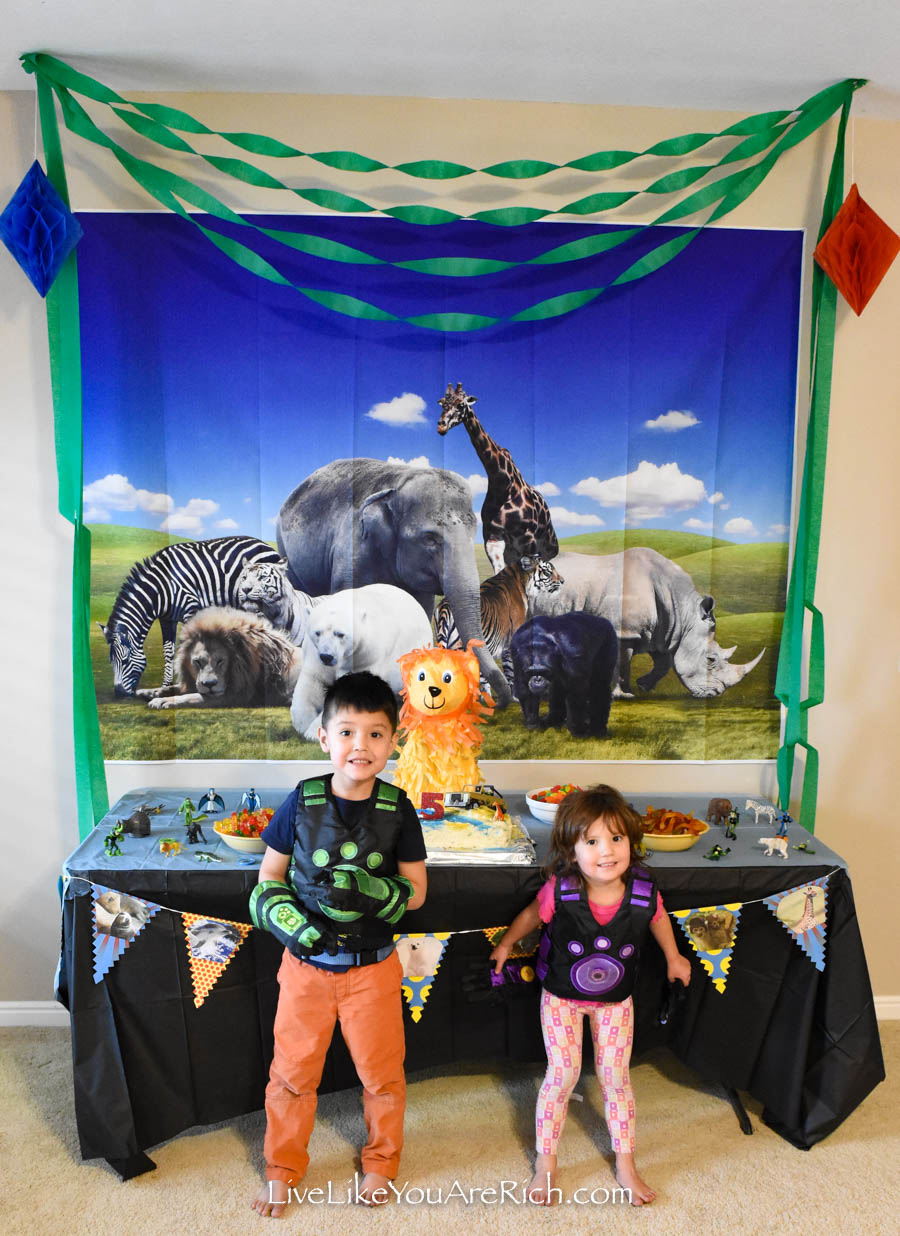 My son, Denali, likes Chris of the Kratt's brothers the best.  He had Chris' green creature power suit. My daughter had Aviva's purple creature power suit. They wore these during the party.
There are a few tutorials I found online on how to make creature power suits for all of the kids attending the party. Some looked fairly easy to make.
I seriously debated making 16 creature power suits. Ultimately though, I did not have it in the time or budget (we have November and December birthdays and were in the midst of a renovation). I think it would have been fun to provide those for the kids if time and budget had allowed.
I had the dollar store tablecloths, streamers, and banner from a previous party.
I have a "party bin" and everything from past parties gets stored inside. I'm amazed at what I am able to reuse.
Much of my daughter's Medieval party was decorated from used party decor.
For example, this banner was the right color scheme but not theme. There were super hero logos on it.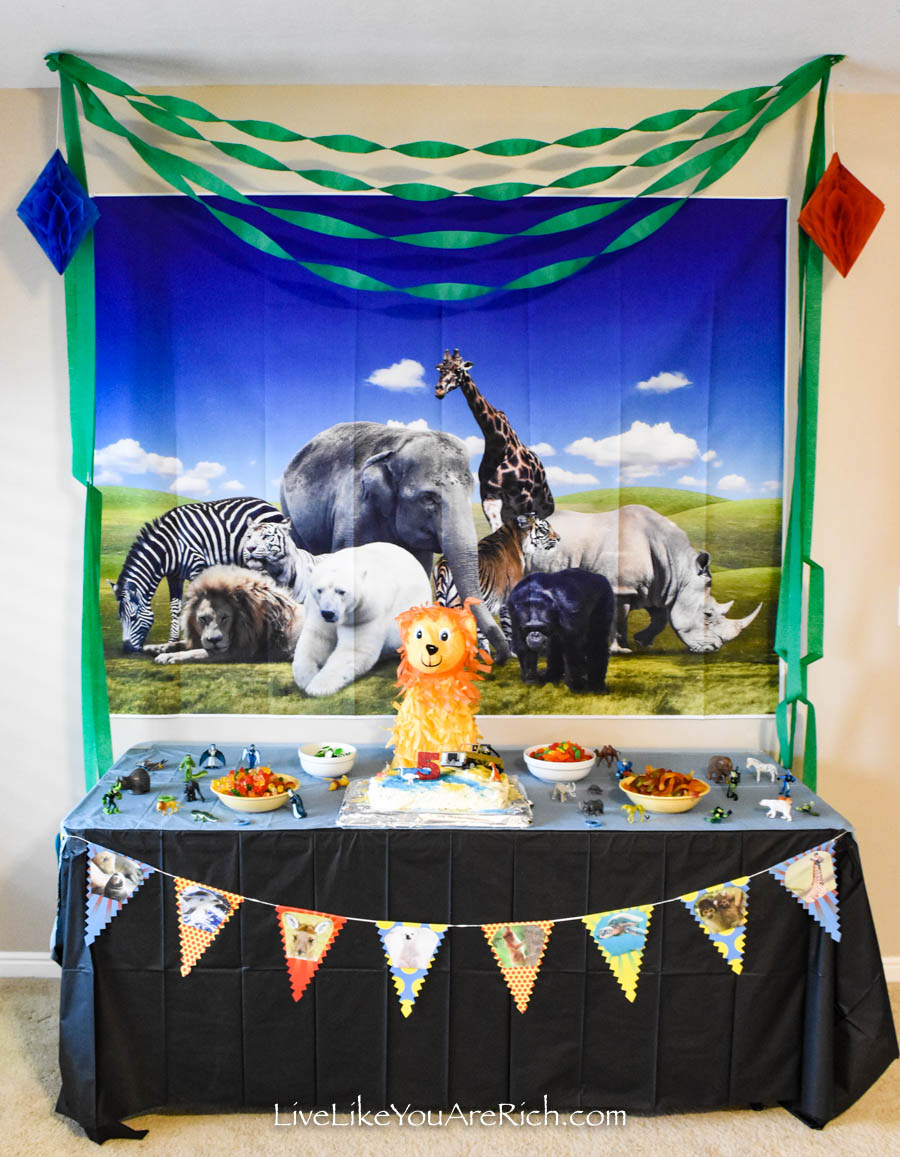 In order to customize the banner for this party, my kids and I cut out images of animals from magazines and taped them onto the banner to cover up the super hero logos. They loved doing this craft with me and it saved us money we would have spent on a banner.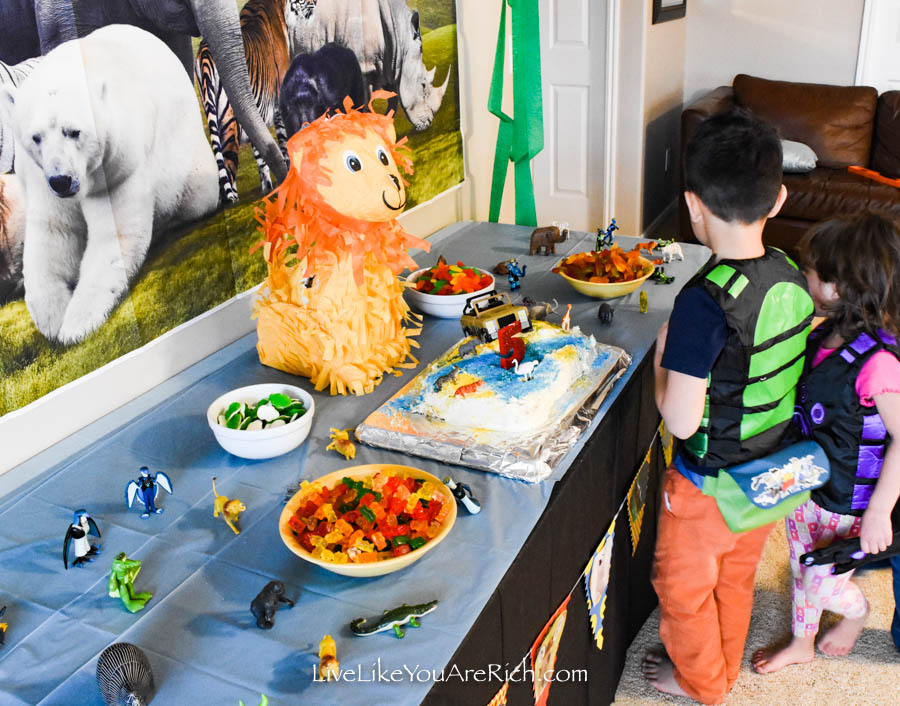 I made a cake using a box mix, this frosting recipe, animal figurines, sprinkles, and the figure set Chris and the Wild Kratts Createrra.
Denali got this Createrra Wild Kratts set for Christmas a few years ago. I cleaned it and then put saran wrap under it just to be sure no germs made it on the cake.
This cake was a little bit of a throw-together-last minute cake. Please don't judge my cake-making-skills on this one. I've made other prettier looking cakes :).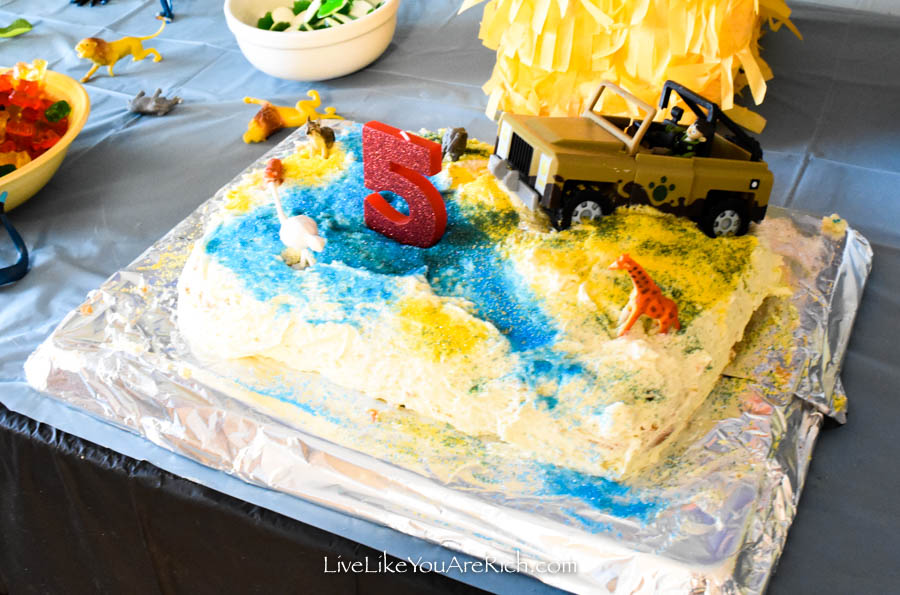 Even if it doesn't win points for beauty, the kids thought it was cool (my son still mentions it now and again and it has almost been a year).
To make it, I used 2 cake box mixes. One for the cake and the other for a batch of cupcakes.
I just used a few cupcakes and frosting to build it up and valley it out. I used baking sprinkles for the landscape and water and toys we already had.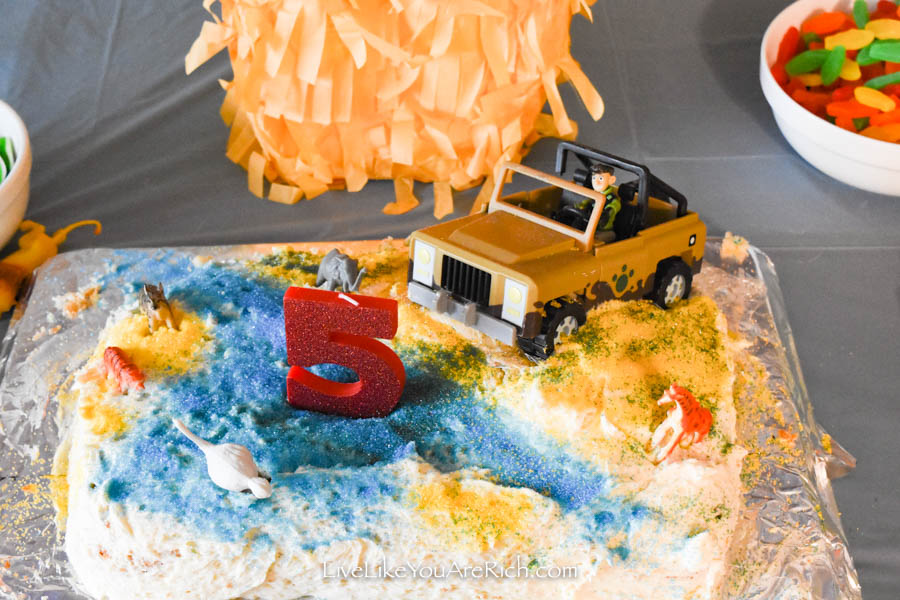 I did a Go! Diego Go! party for my son 2 years ago and still have a photo of that cake.
This is another idea of how you could make an animal cake. I think the look is a little 'cleaner' and more professional.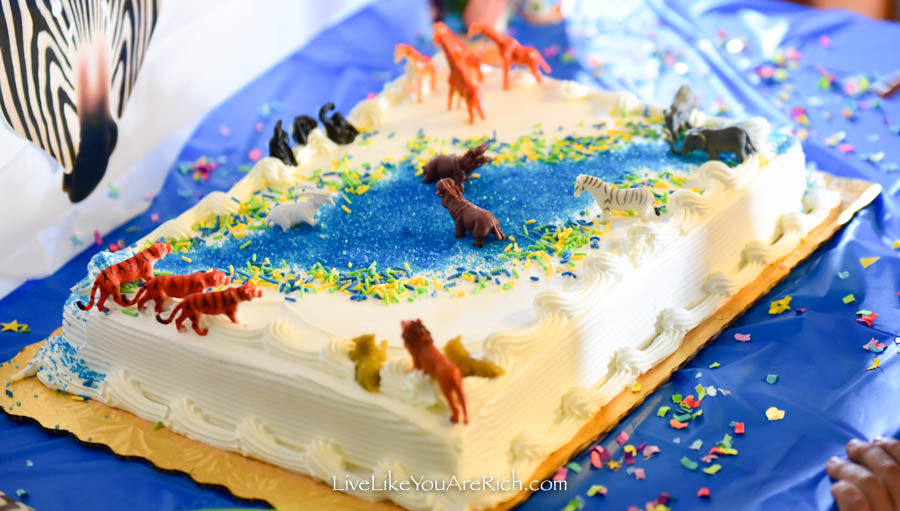 I just bought a plain undecorated cake at a bakery and added sprinkles and disinfected animals to it. It only took a few minutes to decorate, and I like the way it turned out.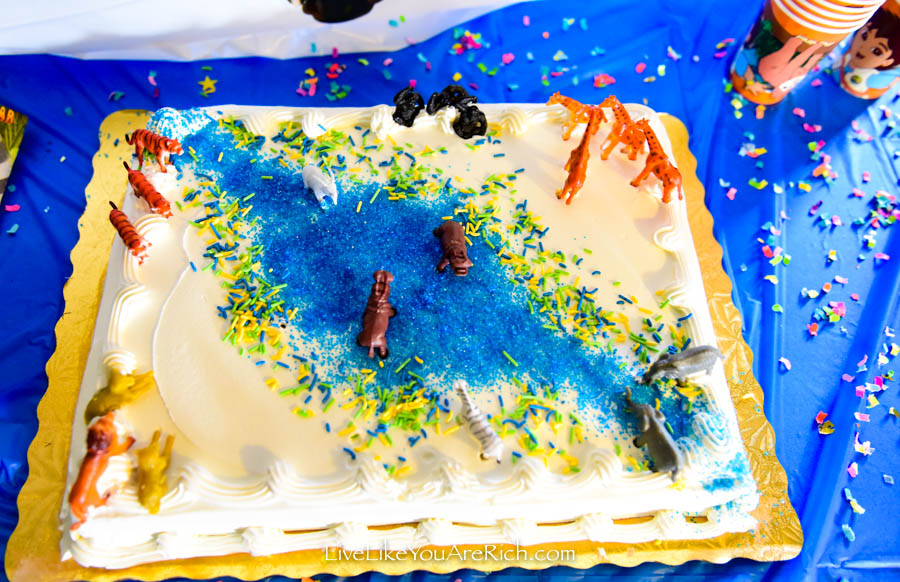 I planned to have the kids decorate cupcakes if we needed another activity to fill the time. So, to save money, I made the cake and cupcakes myself.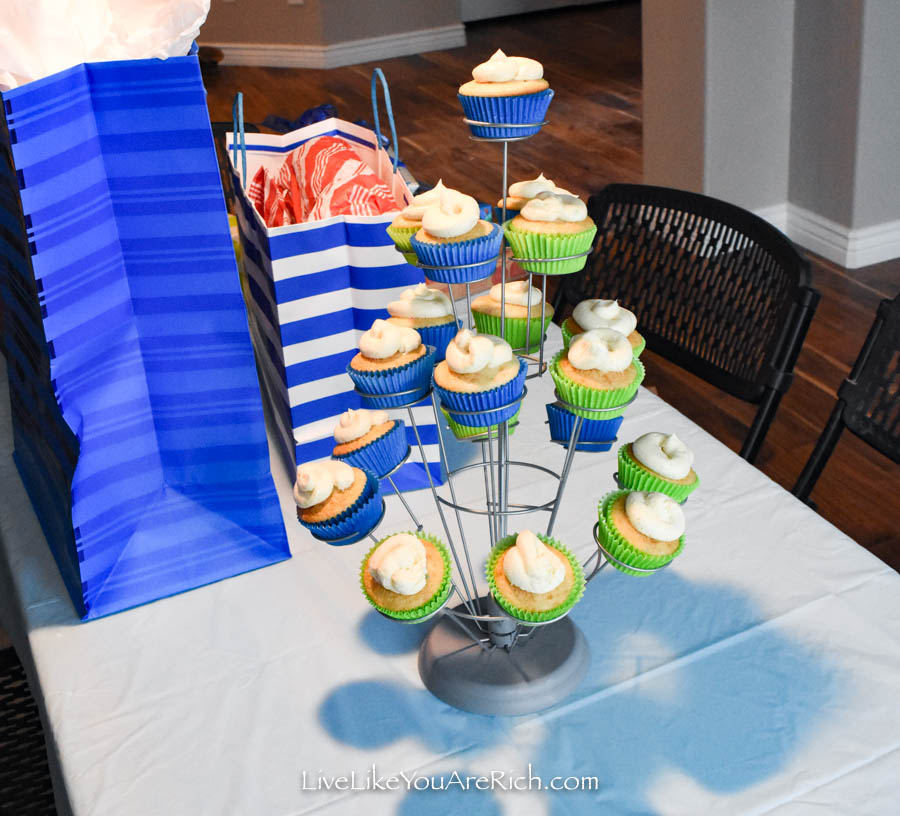 This frosting is the best vanilla bean frosting and super great for holding shape.
Finally, to set up, I made a party favor. I got Spree candies and taped on to each one the following…

The theme song for Wild Kratts is "Cheetah Speed and Lizard Glide, Flacon Flight and Lion Pride". So to do a play on words, I said, "Thank you for coming to my Wild Kratts Birthday Party! Enjoy your 'Cheetah Spreeds'!" —Denali
Then I put them in a bowl and taped a photo of a cheetah to it.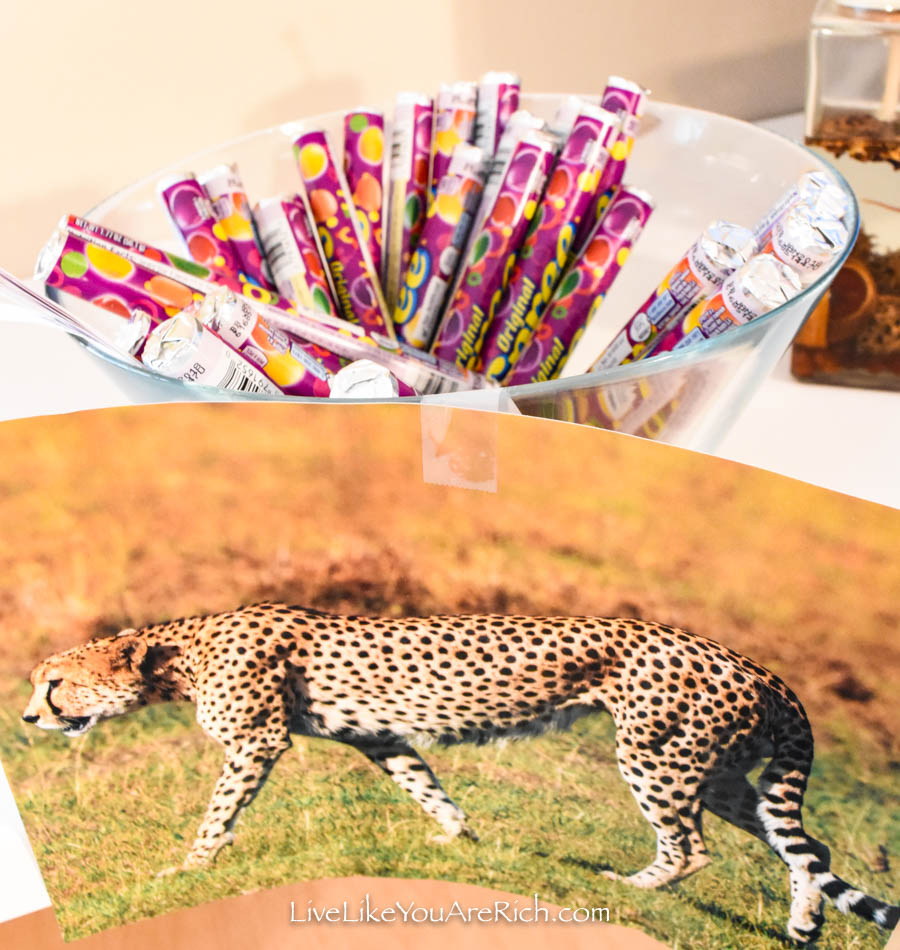 Activities
While the kids were arriving I had a Wild Kratts episode playing on the TV. They enjoyed watching the show and wandered around looking at the decorations.
They made a lot of comments about the toy animals we had in the room.
They got to pick a block animal kit that they would later build.
Once everyone arrived, we started in on the activities.
Creature Power Game
The first game we played was the "Creature Power Game".
We started with the Fish/piranha creature power disc. I showed it to them.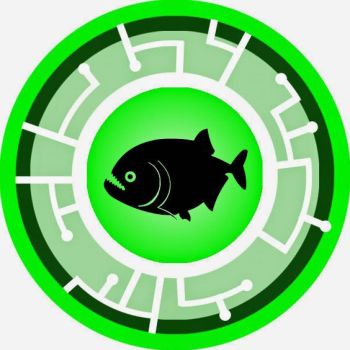 I read a few facts from this Smithsonian fact list on piranhas and we all swam around on the floor acting like we were fish/piranhas. Then, each kid got a small handful of Swedish fish candies.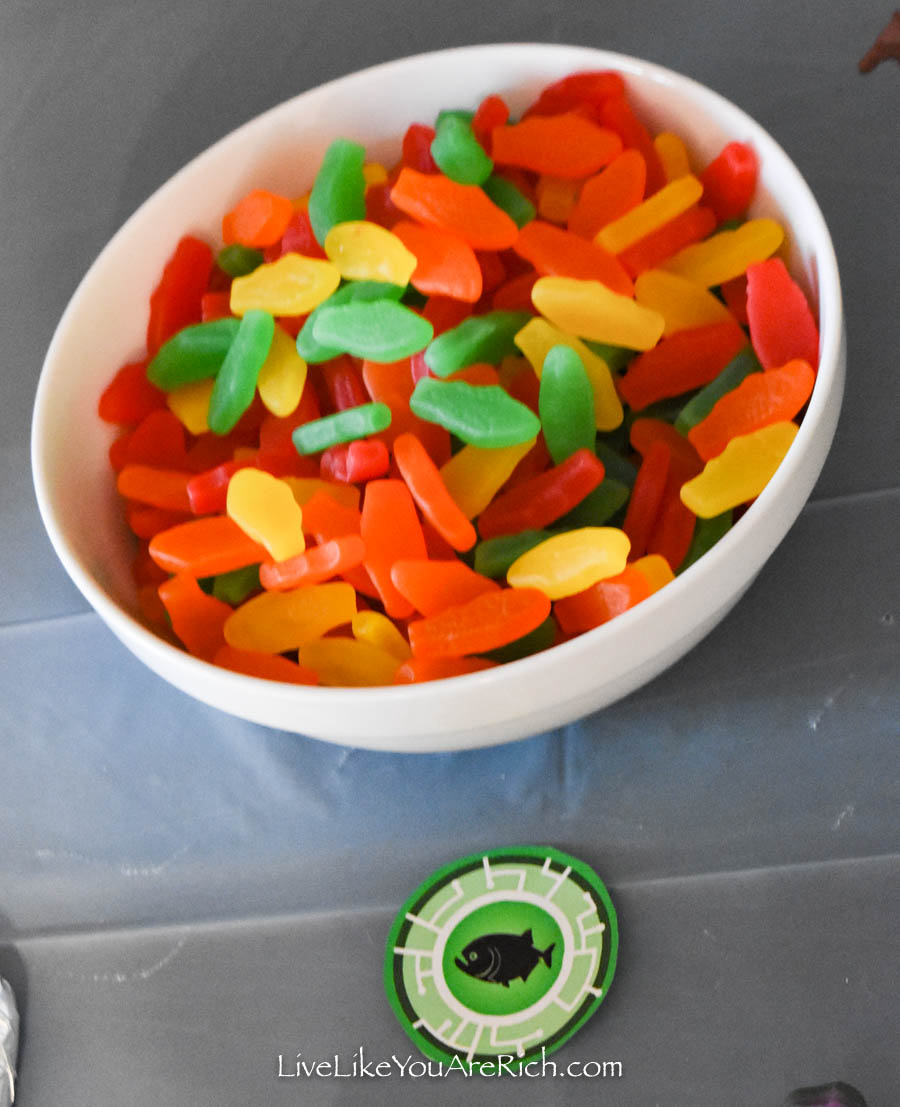 Next, we played the worm creature power disc. I read some facts about worms and then we all wiggled around like worms. I found the kids loved it when I quizzed them. Each kid got a few gummy worms.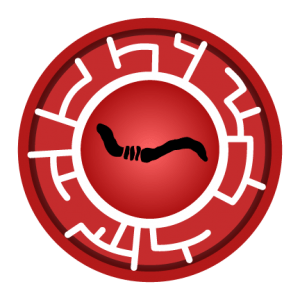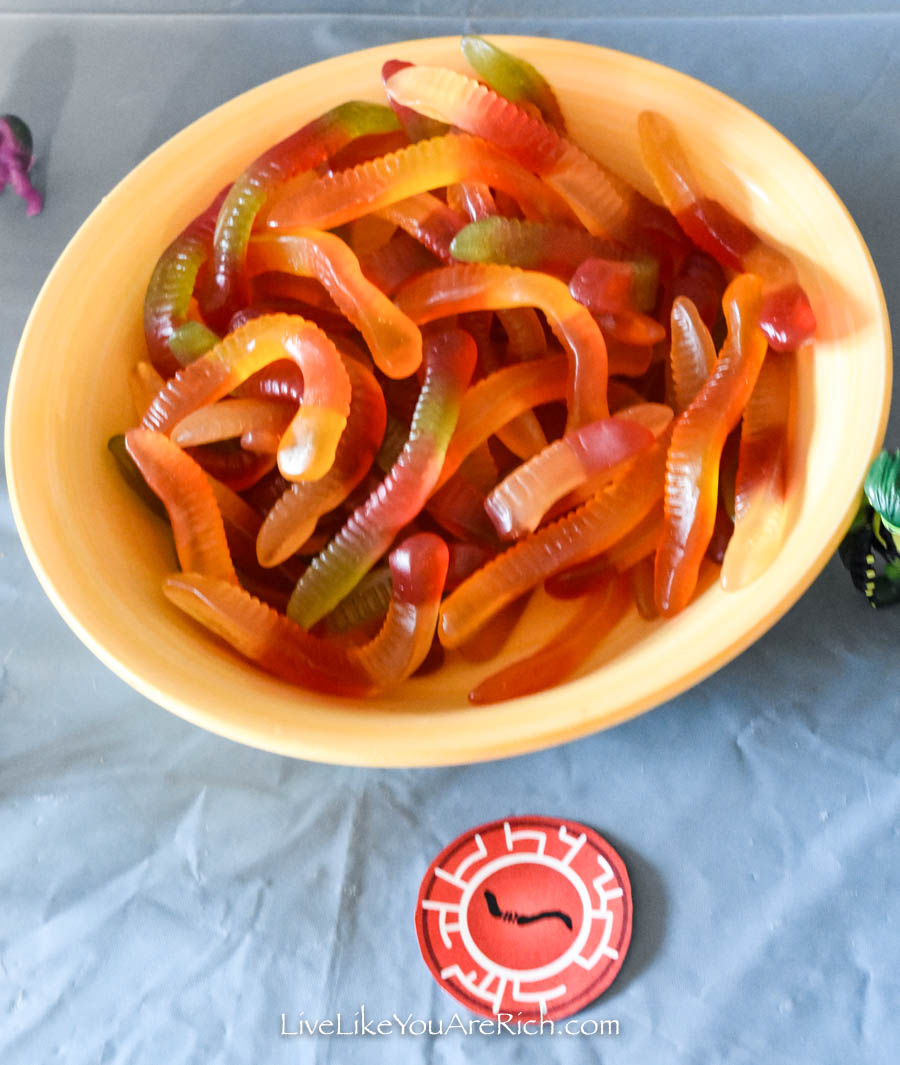 We did the same thing with frogs. Learned about them, hopped around, and got a few candies.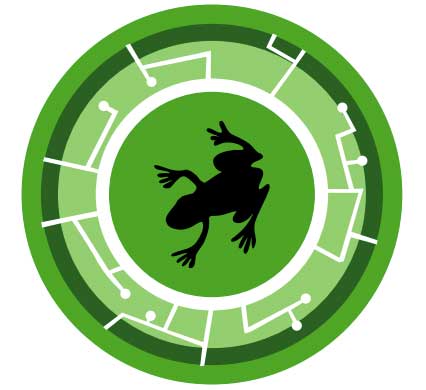 The treat was Haribo frogs.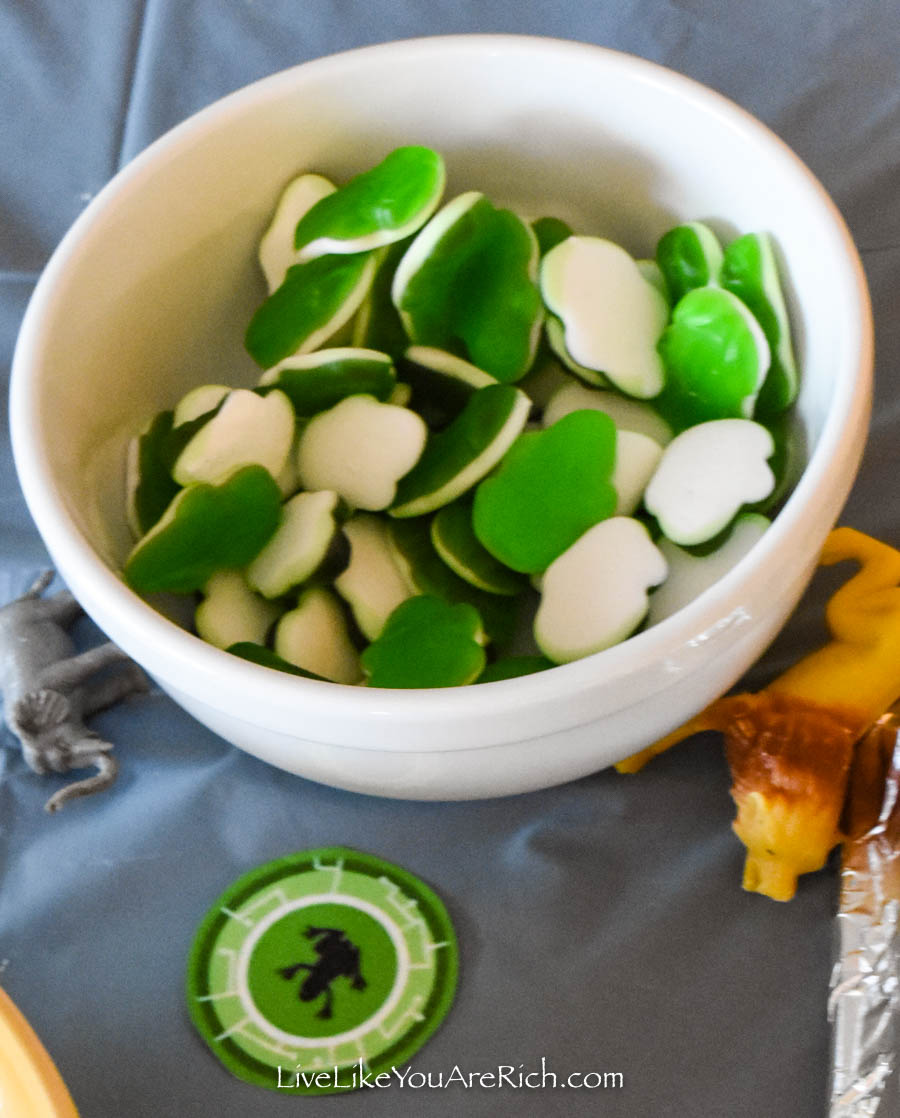 Finally, we learned about bears. My kids loved learning about the Spirit bear on that Wild Kratts episode, so that was a fun one to share facts for. Or you could just share facts about other bears.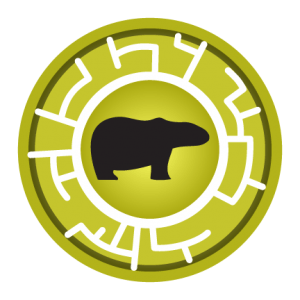 Then the kids all acted like bears to earn their gummy bear reward.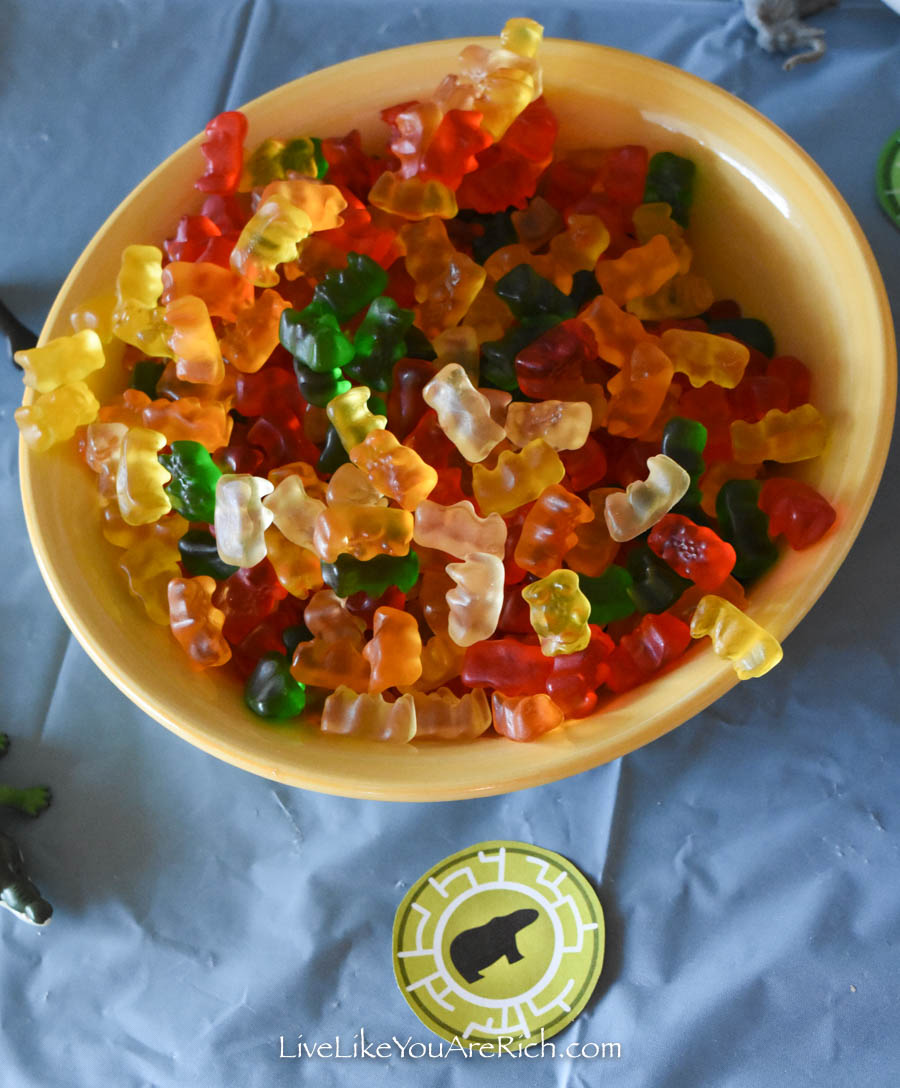 Animal Block Kits
Next, we put together these animal block kits.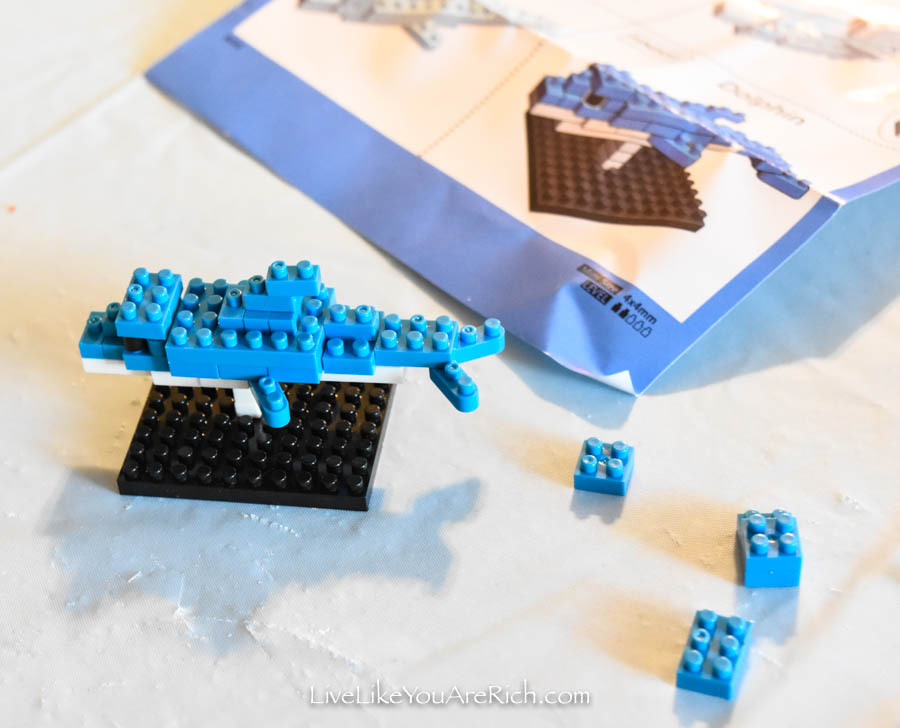 I want to STRESS that this is an activity for 7 year olds or older unless you have helpers. My son was turning 5. Most of the attendees ranged from 3-6 years old.
Luckily, a few of my friends and grandma and grandpa were there to help. Each child needed help. The instructions are vague on these kits and they are complex animals to build.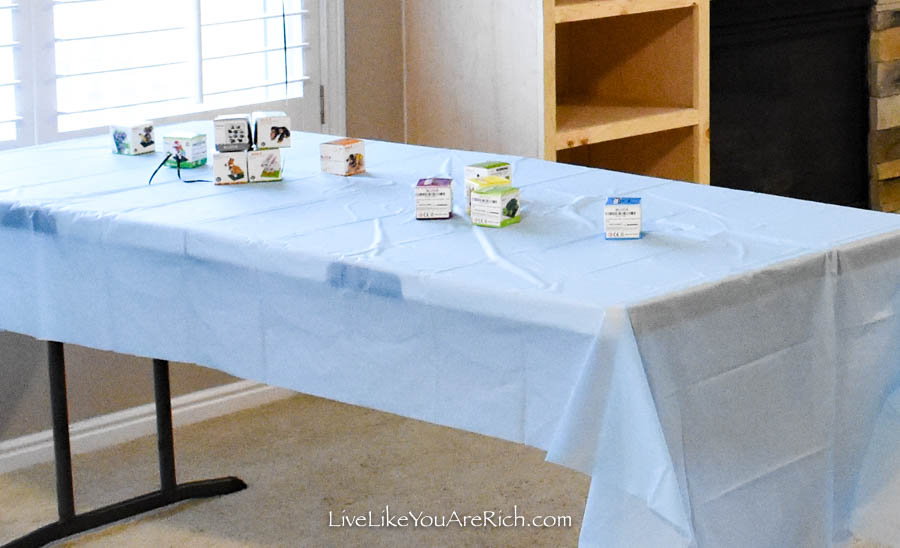 The benefits were, that it took awhile to make them and most of the kids enjoyed doing so.
When you plan a 2 hour party, you hope that you have activities to fill the time; and that you will have just enough time for everything.
I knew I was lacking a little in things to do to fill 2 hours. The fact that this activity took awhile was actually somewhat of a relief for me.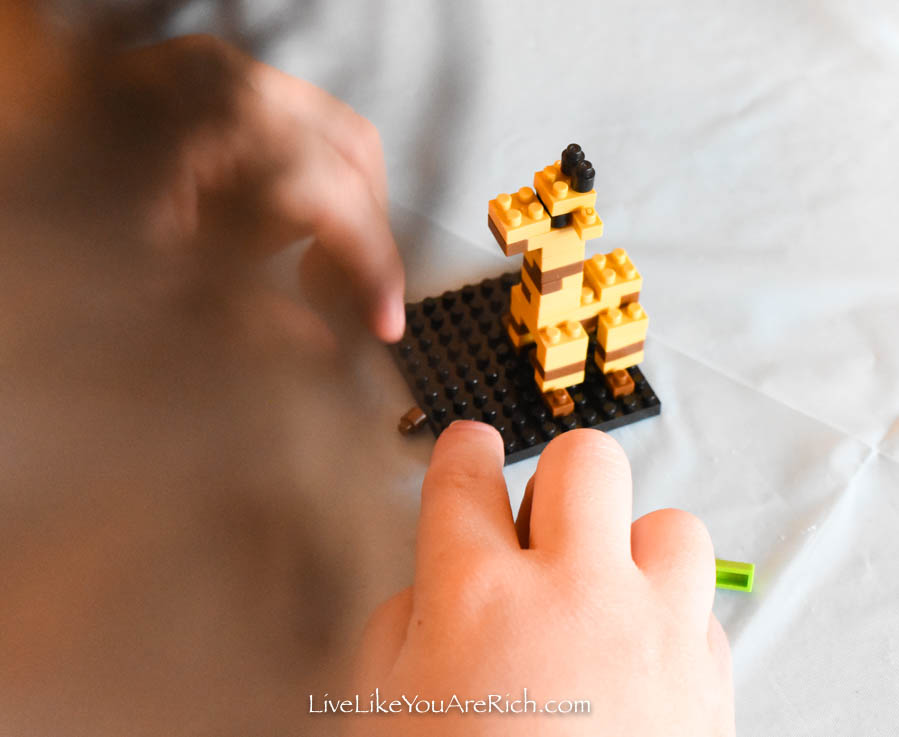 These took a good 30 minutes to build and they counted as a party favor. Plus, they turned out cute!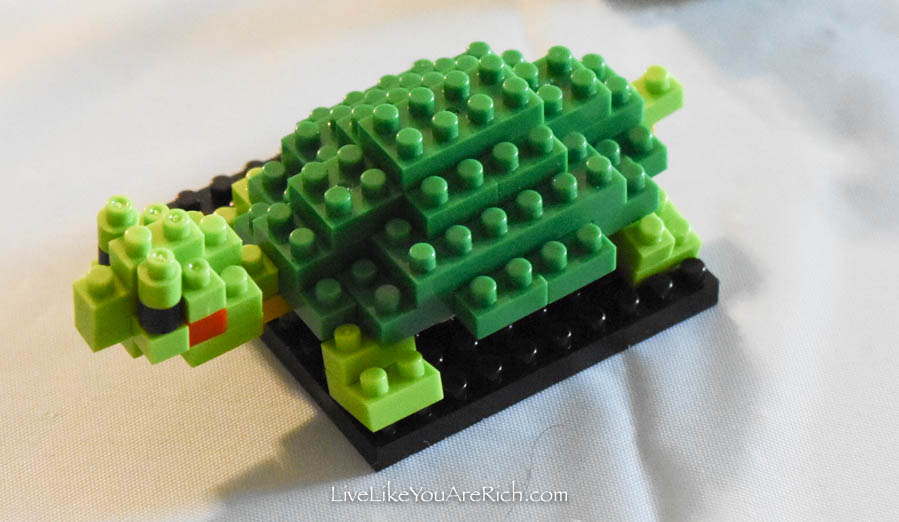 I was very happy with the purchase except… had I not had the helpers I did, the kids would not have been able to put them together.
The Animal Game
We then played the "animal game". I played this as a kid and always enjoyed it. It's basically Animal Charades.
Each child would stand in front of the group and act out an animal using only their bodies and sounds. Then the first person to guess the correct animal would go up and act out an animal of their choice.
We played this until everyone who wanted a turn to act out an animal got one.
I helped the younger kids (by whispering ideas in their ears) to come up with an animal to act out, the older kids were able to do it themselves.
Food
Next, we went upstairs to the kitchen. I popped popcorn in our popcorn machine.
All the kids loved watching the popcorn pop. So that was a nice activity for them.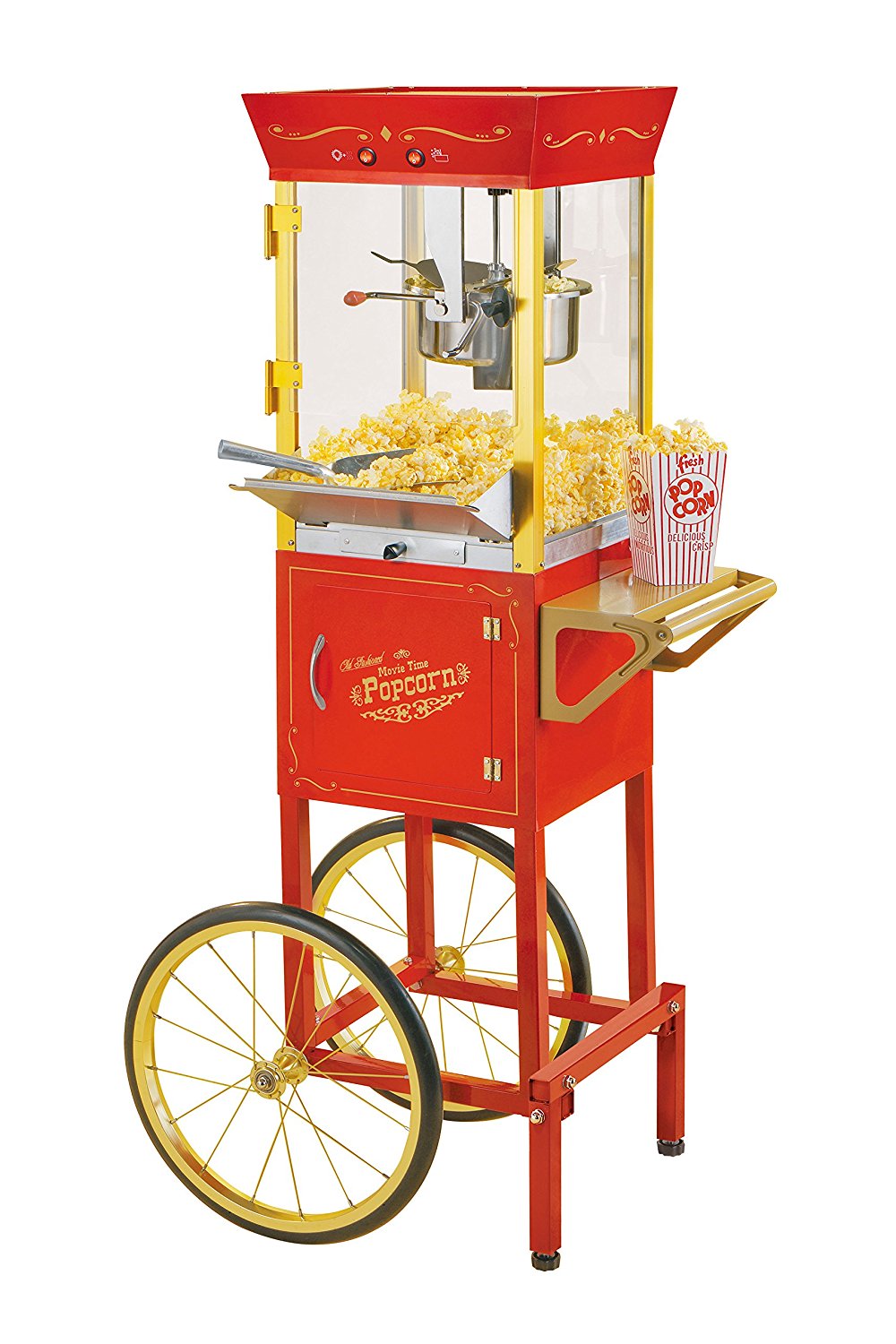 Then we divvied it out.
We lit the candle on the cake and sang Happy Birthday.
Instead of cutting into the cake, I gave them undecorated cupcakes and a bunch of sprinkles. They decorated them and ate.
Presents
We opened presents. My son was so excited at the toys he got.
Piñata
To finish off the party we hit open the piñata, collected the candy, and got them their animal building block favors.
I passed the Spree candy handout to them as we thanked them on their way out the door.
Additional Activities
Coloring
I printed off Wild Kratts coloring pages and had those ready just in case we needed one more activity before the parents came. We did not end up needing the pages. However, my kids had a great time coloring them over the next few days.
Snow Globes
Another idea, is to take these small animal figurines and make snow globes with them. I made snow globes for my daughter's party the month before and they were a huge hit, inexpensive, and have lasted well for a  year now. (tutorial here).
Finished!
It was such a FUN party! The kids loved it. I was grateful to have help because 16 kids is a lot to handle, but we all had fun with no tears or upset kids. Everyone had a blast.
My kids still talk about the Wild Kratts Birthday Party and it has almost been a year.
I'm happy that the effort and work I put in brought many lasting memories.
Supply List
Wild Kratts Toys Creature Power Disc

For other 'rich living tips' please subscribe, like me on Facebook, and follow me on Pinterest and Instagram.