I've never used fondant until last week. And to be honest I have always been a little scared to try it. But I decided to give it a whirl when I was out shopping for my daughter's first birthday and I found this multi pack of different colors of fondant on sale.
It wasn't nearly as hard as I thought it would be. And although it didn't turn out perfect, now having worked with fondant I am less nervous—maybe even a little excited—to use it again.
Here's how I made it…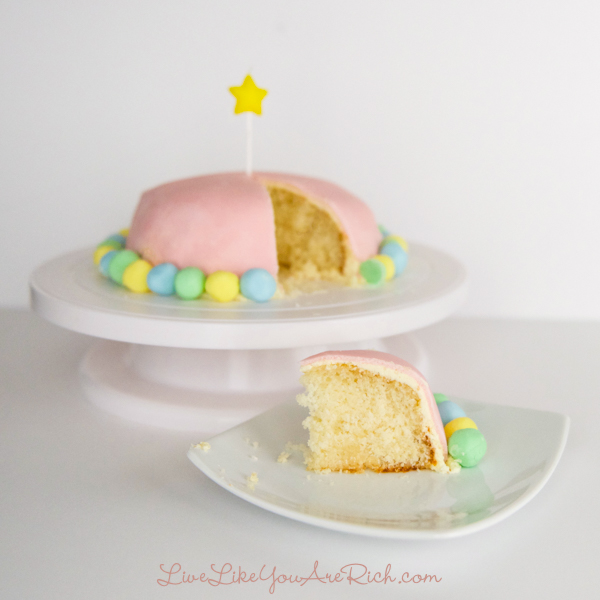 1- Make the cake. I used a small cake and would highly suggest you do the same for practice until you are ready to work with a larger cake. I got a 6″ round pan from Wilton and used that as my mini cake. Grease and flour pan well so it will come out easily. Once cooled, set on a cake stand. I used this inexpensive yet awesome stand here.
2- Make the frosting. Fondant needs to sit on frosting. I HIGHLY recommend using this vanilla bean frosting as it holds its shape really well (shown on the cupcake pictured below) and is to die for taste-wise. Once the cake is cool, frost it.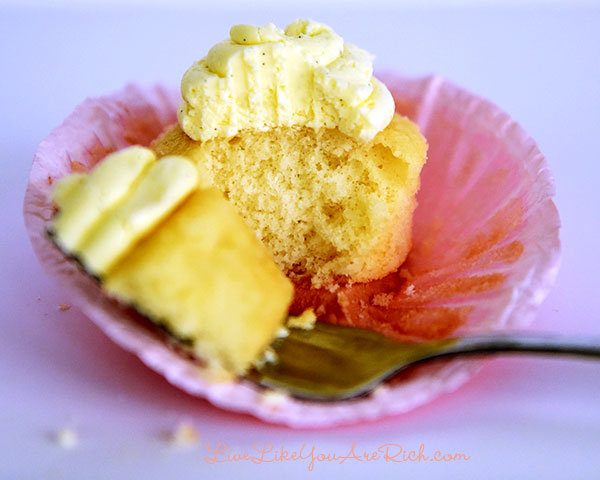 3- Prepare the rolling area. Get a rolling pin and a non stick surface ready. Corn starch works better than powdered sugar to prevent sticking—according to a YouTube video I watched—, but using these non stick silicone mats made it so I didn't need any of either.
4- Microwave each unwrapped package of fondant separately. I put the fondant in a bowl and microwaved it for about 15 seconds—or until the center was a little warm (it heats from the inside out). Then I began needing it, twisting it, etc. to get it stretched out. While it was still warm (cool fondant is difficult to work with) I rolled it out with a rolling pin.
5. Once the fondant was big enough to cover the cake and sides, I gently set it on top and then went around and cut the edges off of the bottom with a knife.
6. To camouflage imperfections along the base, I warmed and rolled the other three colors of fondant into balls and placed them on the cake using the vanilla bean frosting.
7. I topped the cake off with a star candle and was finished.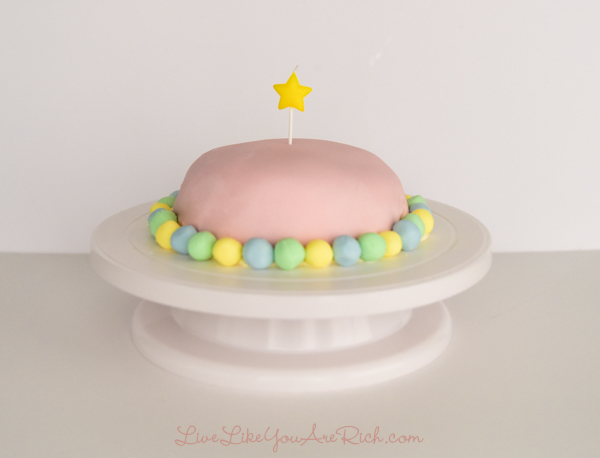 It took me about 30 minutes to frost and cover this cake—not bad for my first time using fondant. I hope it goes well for you too!
Supplies used:
non stick silicone mats and/or cornstarch to prevent sticking
Cake- I used this cake mix
a candle or other decorations
Enjoy!

For other 'rich living tips' please subscribe, like me on Facebook, and follow me on Pinterest and Instagram.