I made this winter wreath a few years ago, and I still love it a lot. It was very simple and inexpensive. Further, it is great for all winter, not just Christmas.
Instructions
#1- Get a grapevine wreath. They are very inexpensive here, can be found at craft stores, or if you have an old grapevine wreath sitting around that you don't love, take off the decorations and start anew. Mine is 16 inches in diameter.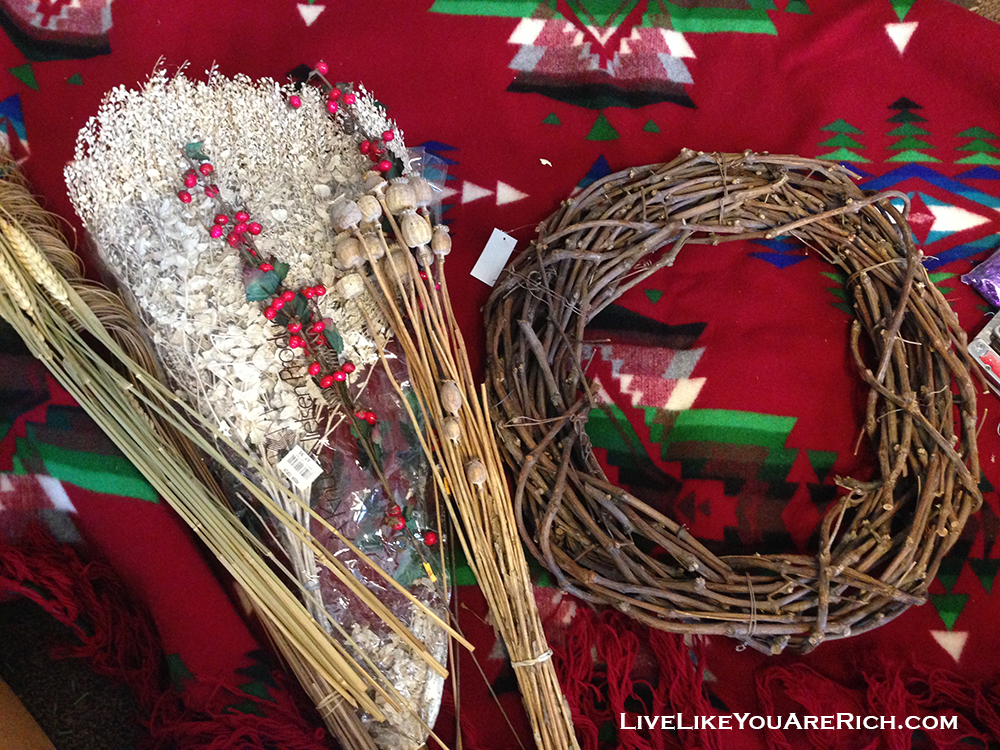 #2- Buy one big bunch of filler (something similar) and a few strands of red berries like these here or white berries like these whatever you like that matches. Then begin by simply inserting the filler in the wreath. Arrange as you like, making sure to keep the stems as long as possible so you can glue them down from the back.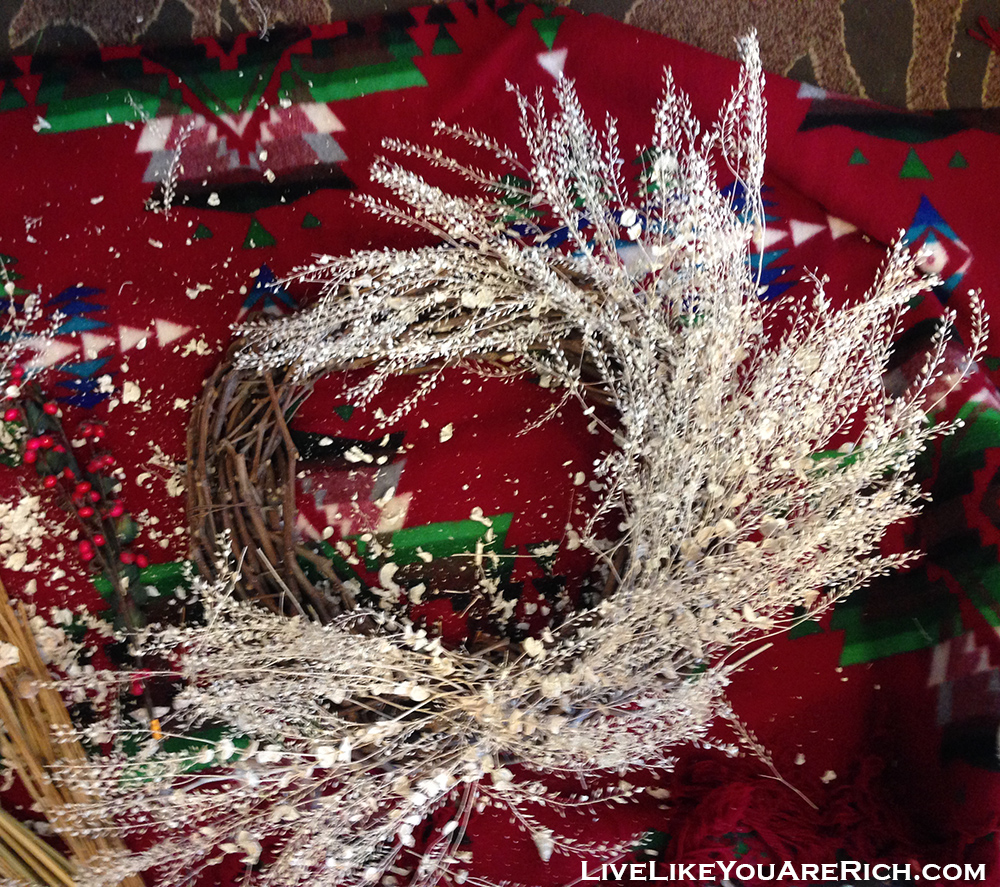 #3- Cool/warm glue the filler into the grapevine wreath. I turned the wreath around and glued from the back. I made sure to glue pretty heavily and got most everything glued down from the back. There were a few shorter strands that I glued from the front, such as the berries. If you need to glue from the front, do so strategically so you can't see the glue.
I glued my wreath heavily and it has held up great over the last few years even despite some very windy days.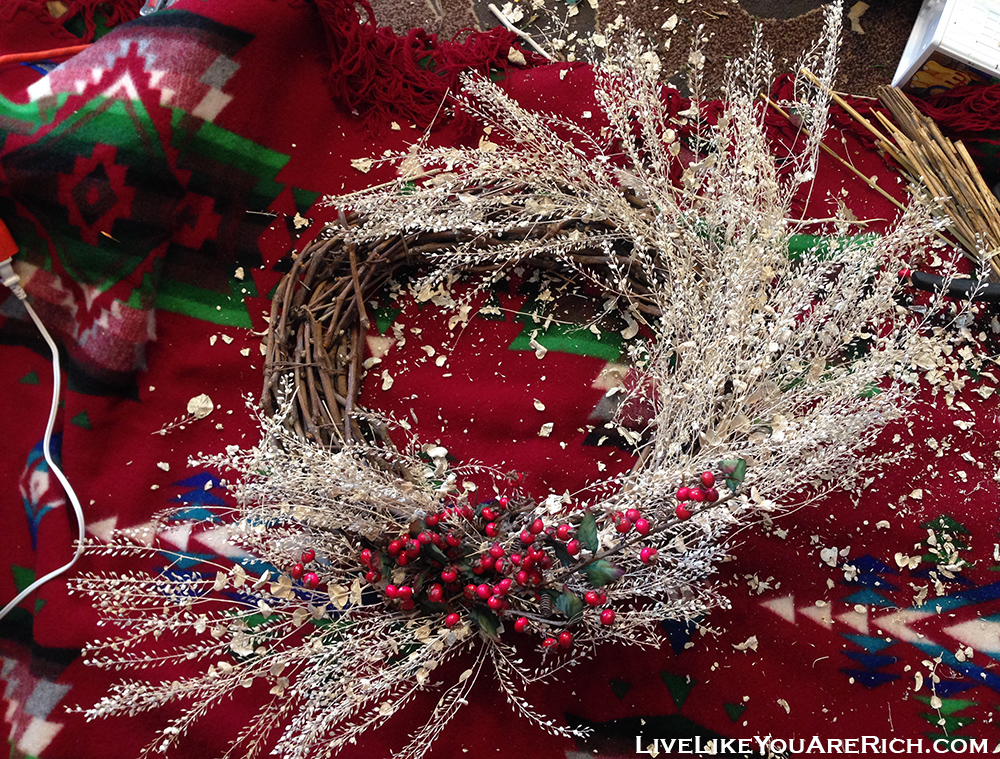 Finally, hang it on a wreath door hanger.
Tip: Make sure to measure your door if you want a wreath that is bigger/wider like I did. You need to make sure the wreath is more narrow than the door frames. I gave myself an inch or two on each side and haven't had any problem with the branches hitting the door frame.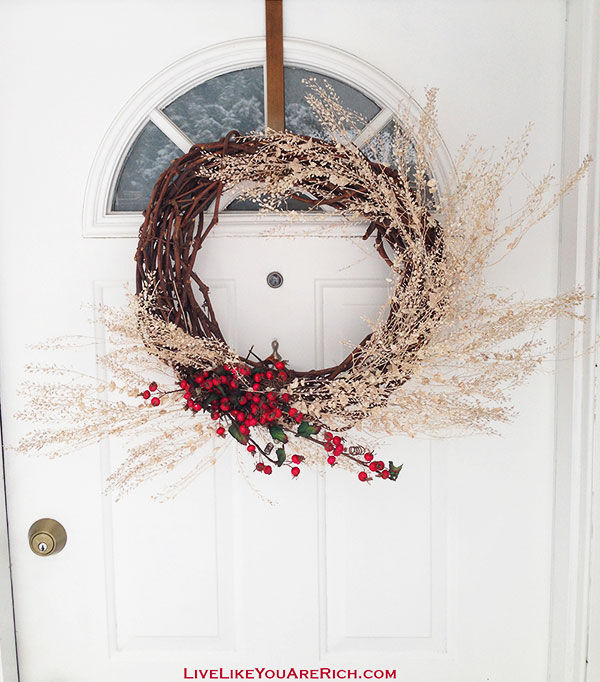 This wreath is an easy inexpensive way to celebrate the winter season.
Supply List
Berries (red or white)
I hope you are as happy with yours as I am with mine!
Happy Holidays

For other 'living rich tips' and inexpensive crafts please subscribe, like me on Facebook, and follow me on Pinterest and Instagram.