My son wanted a Ninja Party for his 6th Birthday. It was a fun theme and super easy to find items for—especially Ninja Party Themed Food. The kids all LOVED this ninja party food table.
There were about 15 boys and at the end, the food was mostly eaten. I was happy to see that the boys were eating the red peppers, olives, fruit, cheese, etc. almost just as much as the candy and treats.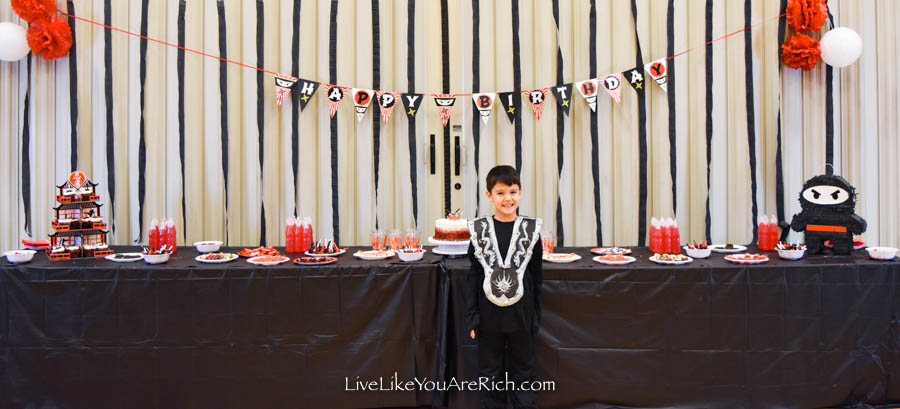 This was a simple theme to find stuff for. Black, red and white party decor is common at places like the Dollar Tree. Tons of Ninja themed food and party decor can easily be found on Amazon.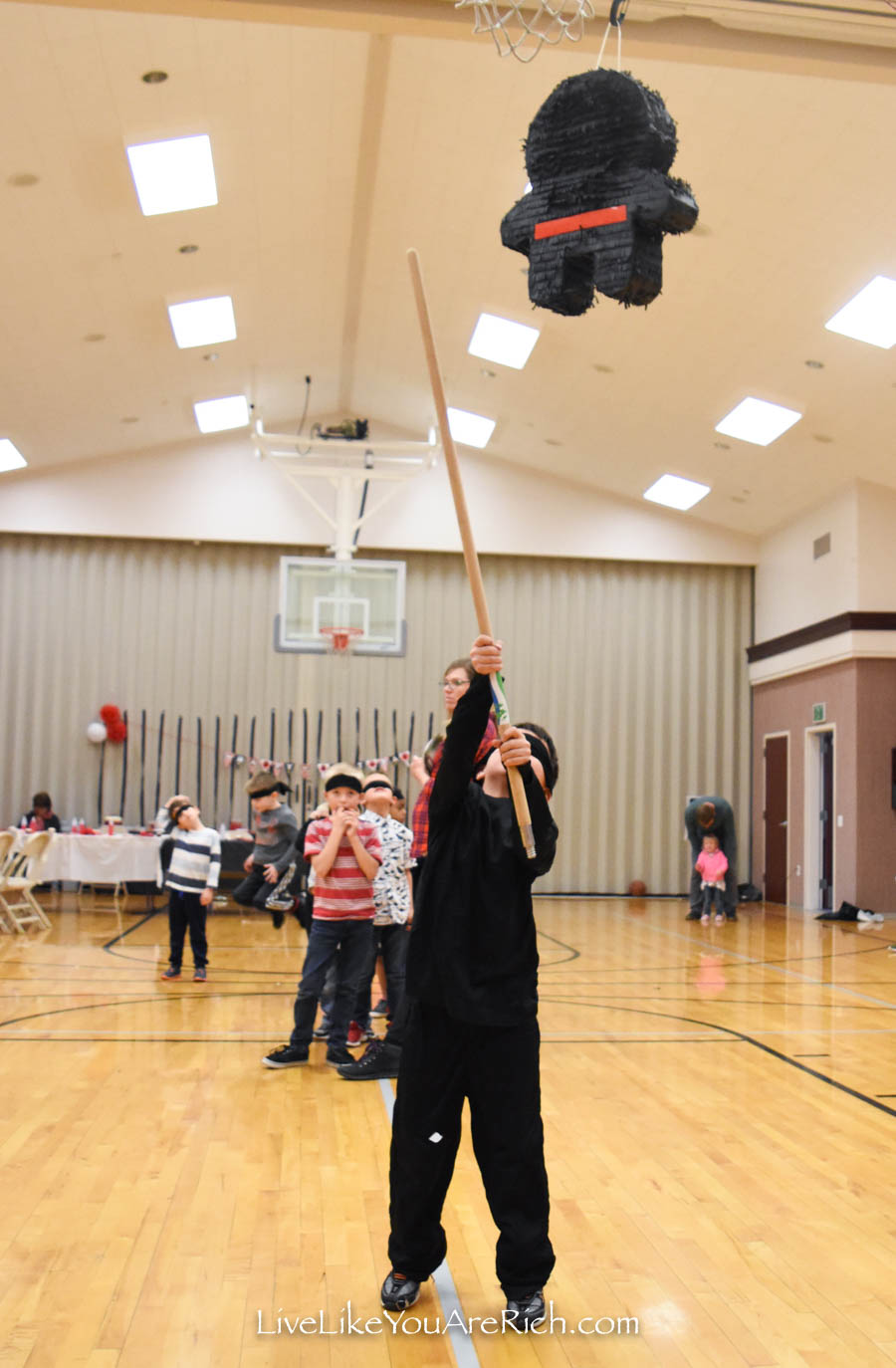 Plus, boys love pretending to be Ninjas!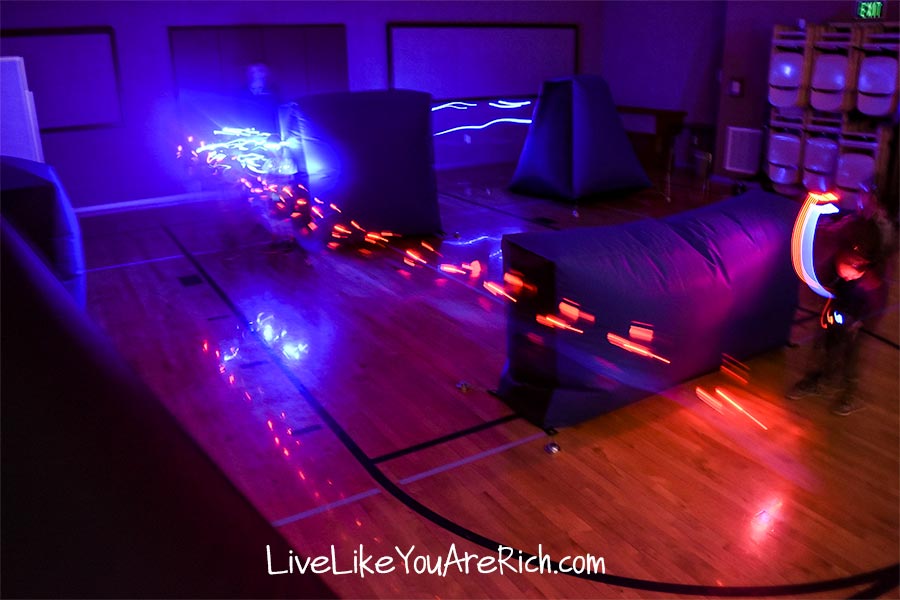 I blogged here about the activities we did during the party.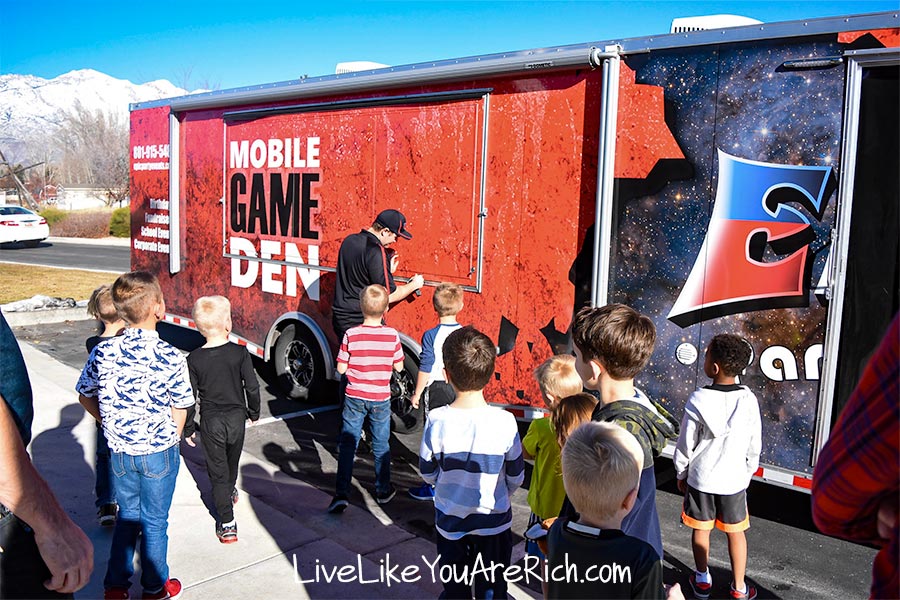 We were able to use a local church for free, much of the decor I bought was inexpensive and since my cousin owns Epic Party Events in Utah, we got a steep discount.
Although I spent more than I usually do for parties (I usually stick to less than $150), we were still able to put this party on without breaking the bank.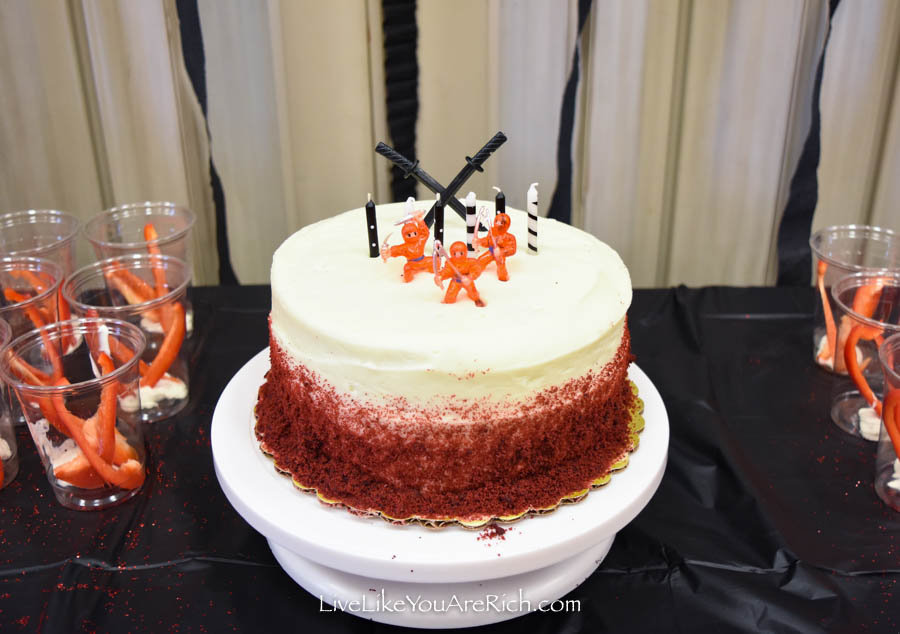 For the cake I did a red velvet and cream cheese frosting. Topped with candles and ninja figurines bought here, it was a great addition to the food table.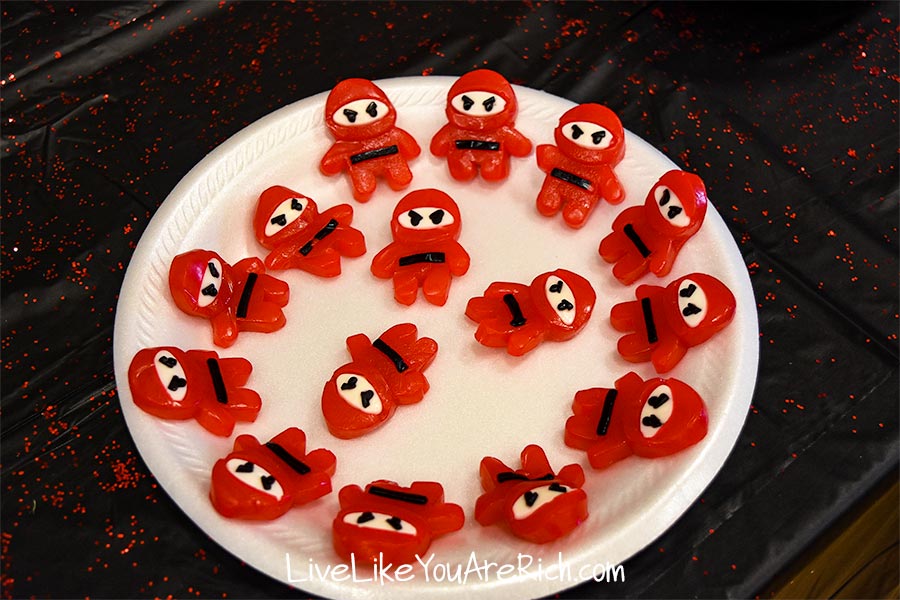 I bought little ninja gummies they came in black and red.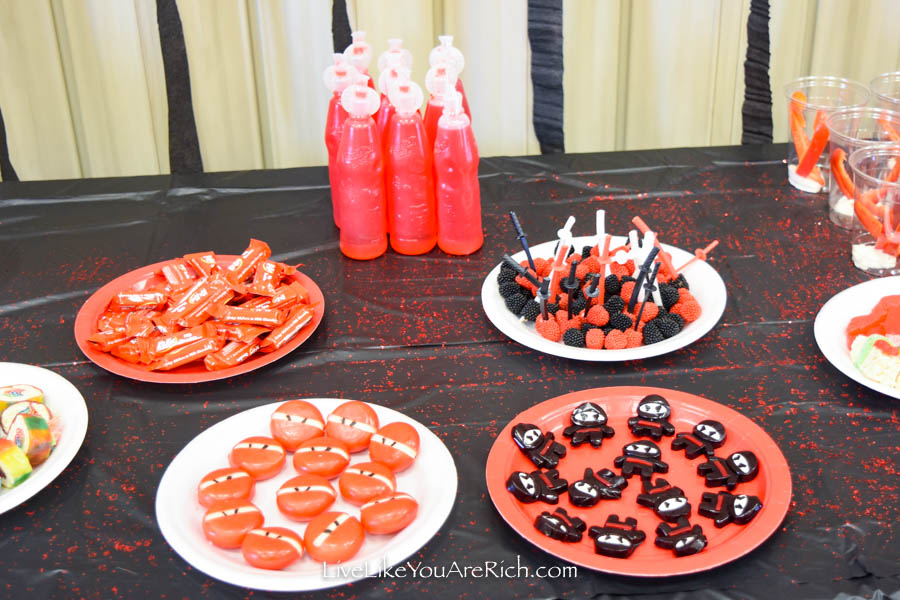 I found a lot of candy that was red or black.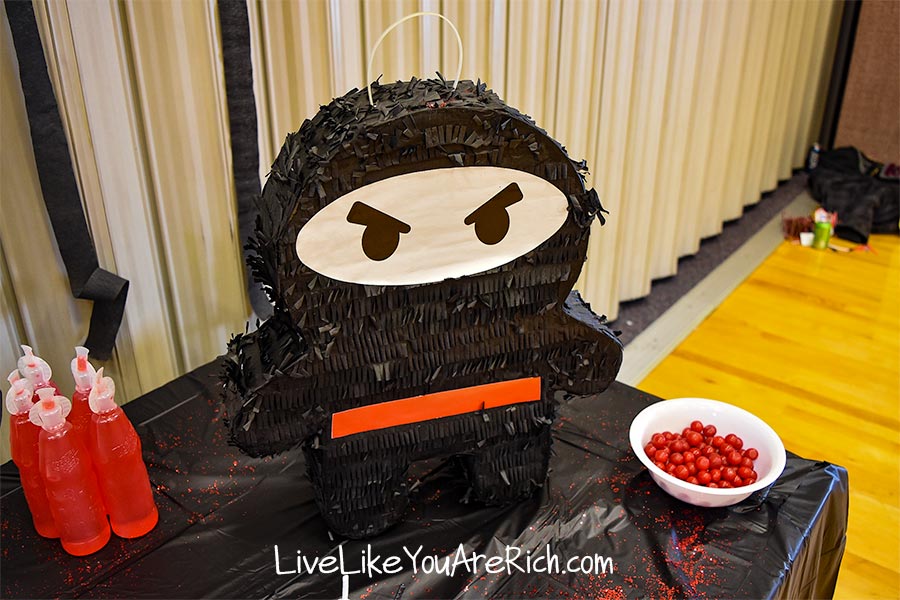 We filled a ninja piñata with candy, ninja bouncy balls, and stretchy flying ninjas.
The Ninja piñata can be found here. I got mine from a local party store (it was cheaper there).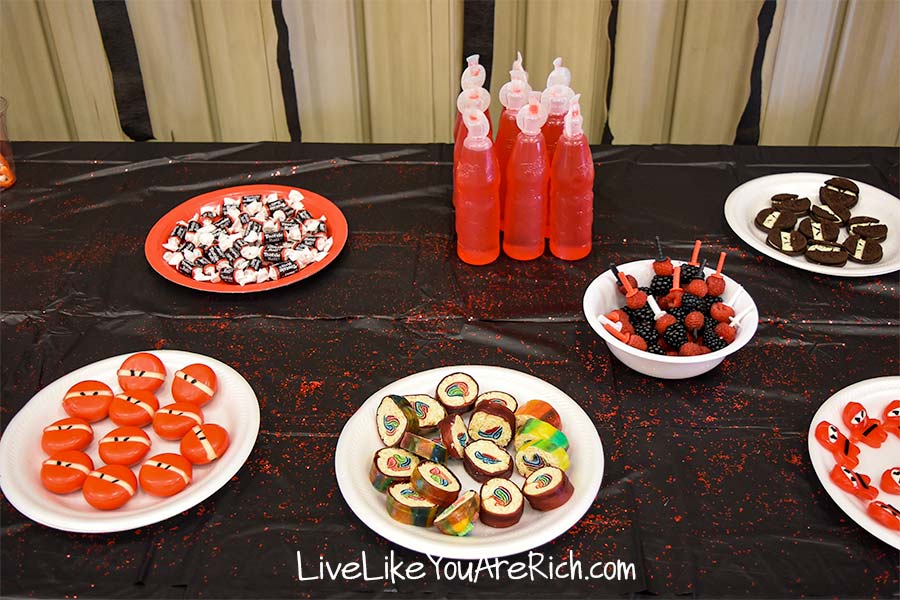 Tootsie rolls, as well as other red and white candy or Japanese-type foods will all lend themselves well to a ninja party theme.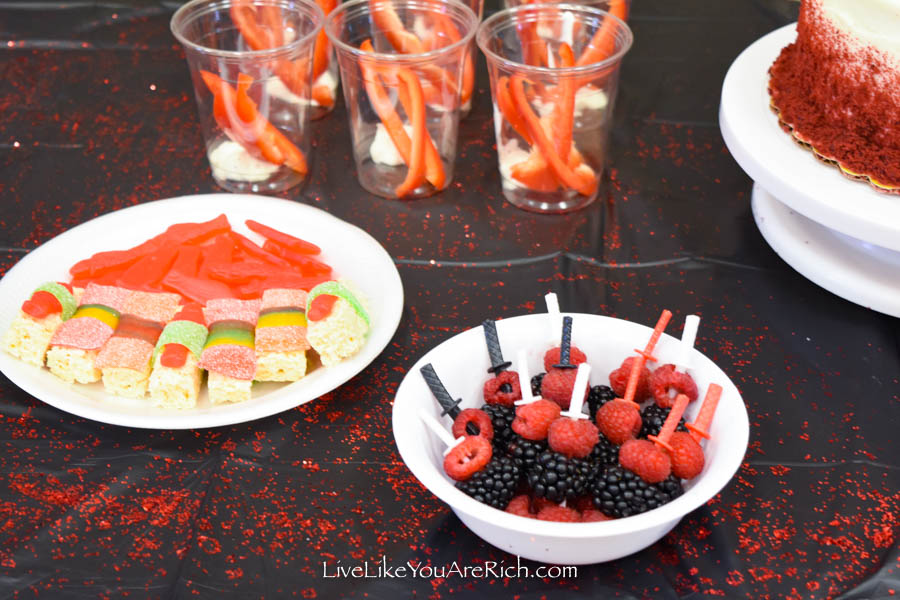 Red peppers in clear glasses with ranch on the bottom were a big hit among the boys.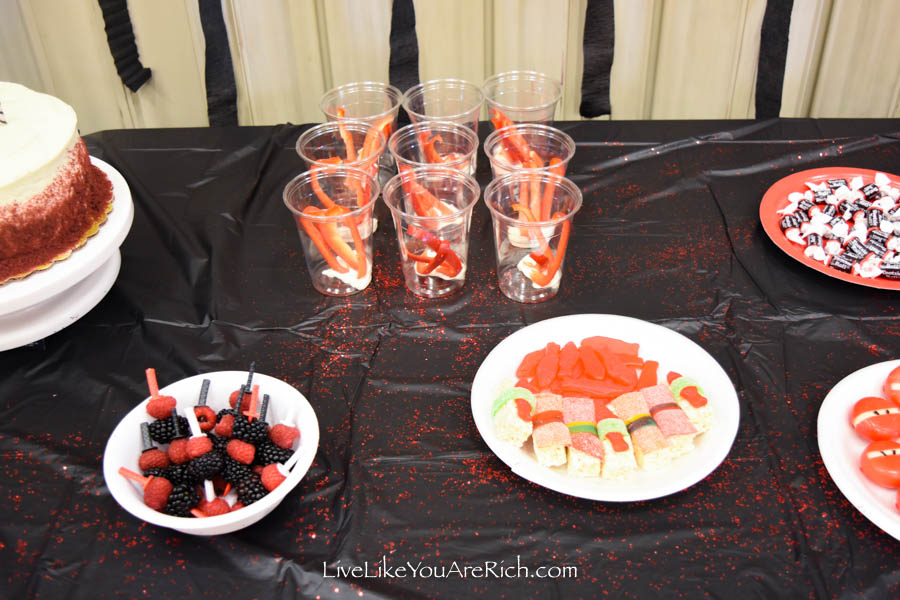 The ninja sword toothpicks were used for candy, fruit and veggies.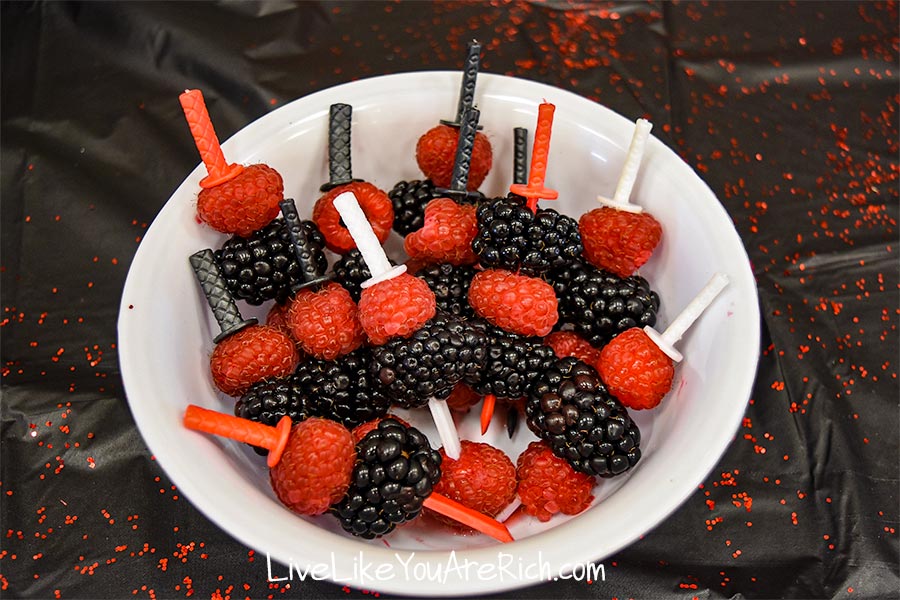 I used them to spear raspberries and blackberries alternating.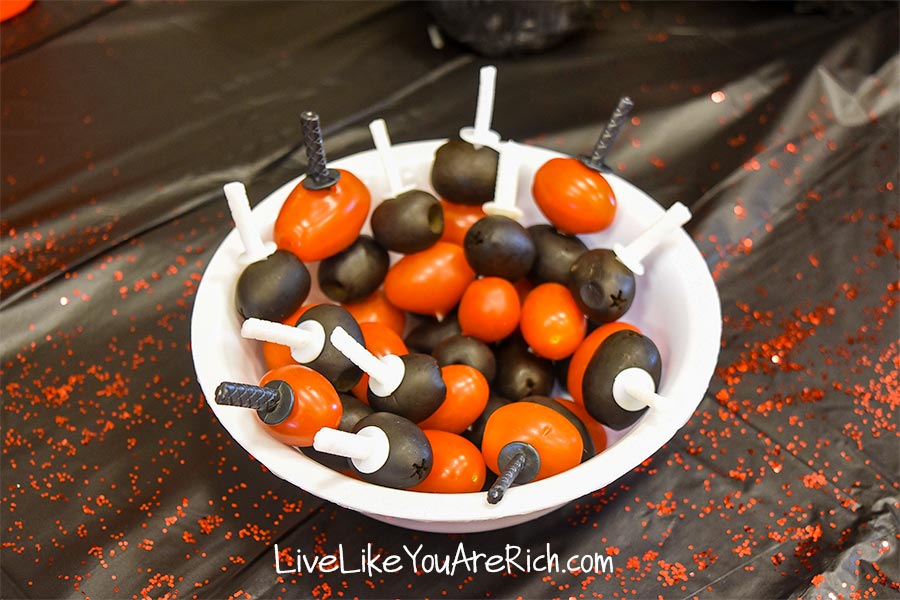 Cherry tomatoes and olives—alternating work great as well.
I made homemade nigiri, sashimi, and sushi out of Rice Krispie Treats, Swedish Fish, Haribo Sour Streamers, Fruit by the Foot, and Fruit Roll Ups.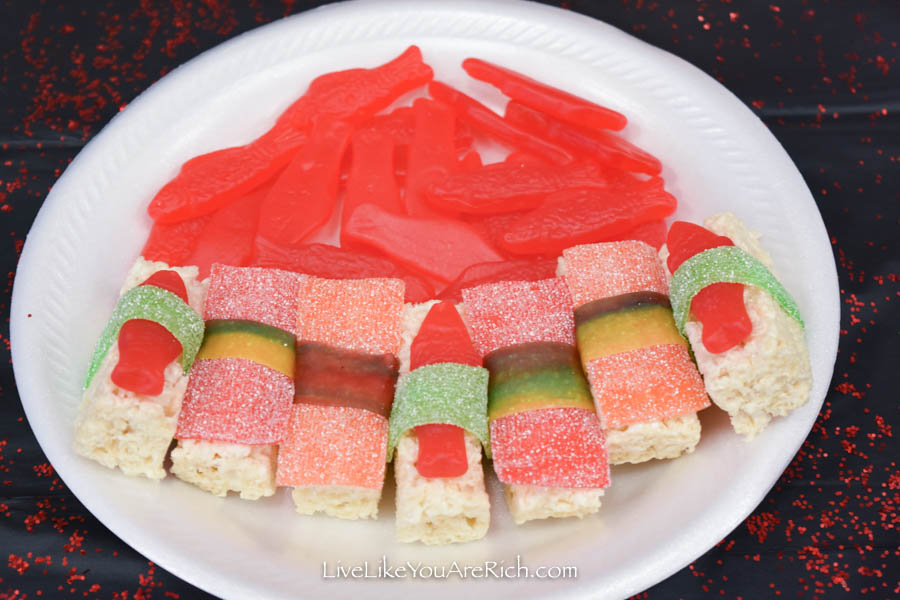 Making the nigiri (plain Swedish Fish) needs no instruction.
The sashimi was pretty easy to make. To make it, just cut a Rice Krispie Treat bar in half. Then place either a Swedish Fish on top of it or a strip of Haribo Sour Streamers.
I wrapped the Swedish Fish with the Sour Streamers. The Sour Streamers I wrapped with Fruit by the Foot.
Making the sushi rolls is slightly more complicated, but still easy and quick.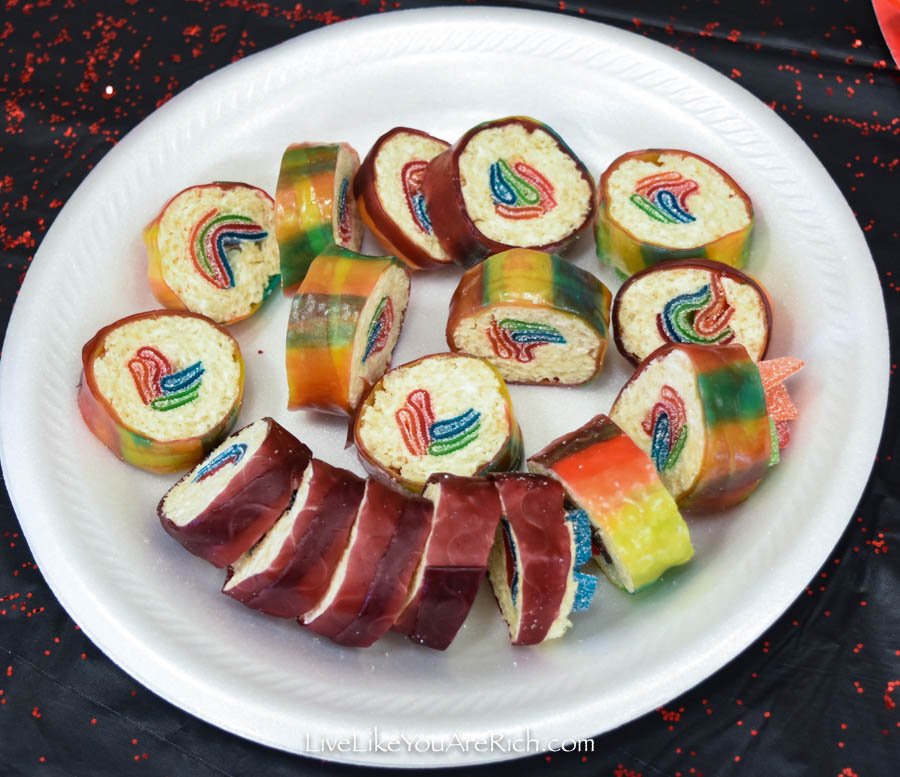 Roll out two Rice Krispie Treats with a rolling pin or similar. Layer the Sour Streamers inside then roll it up tightly.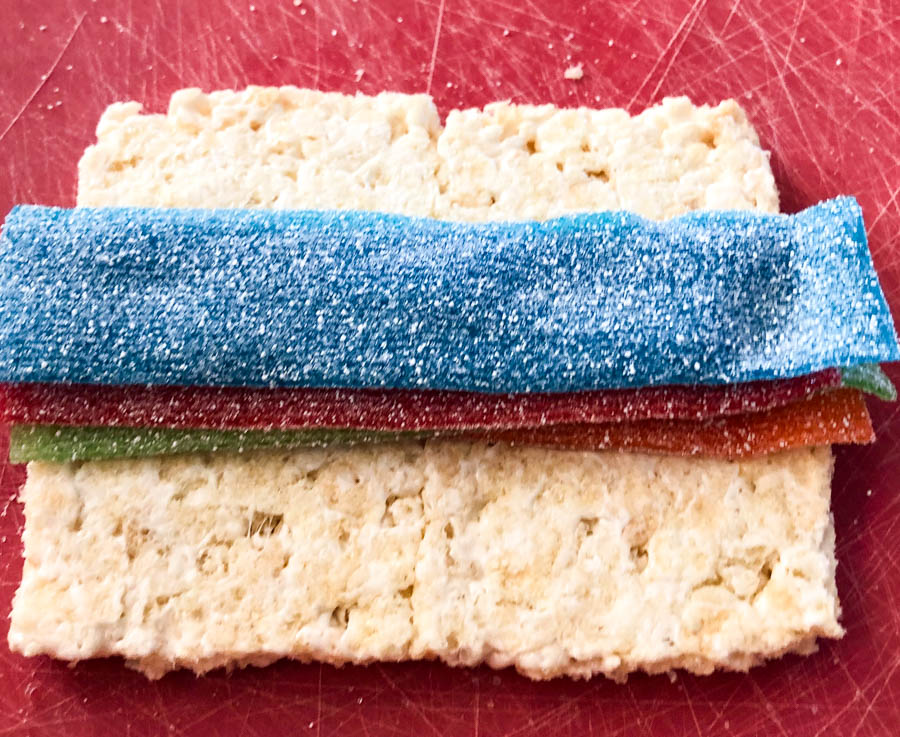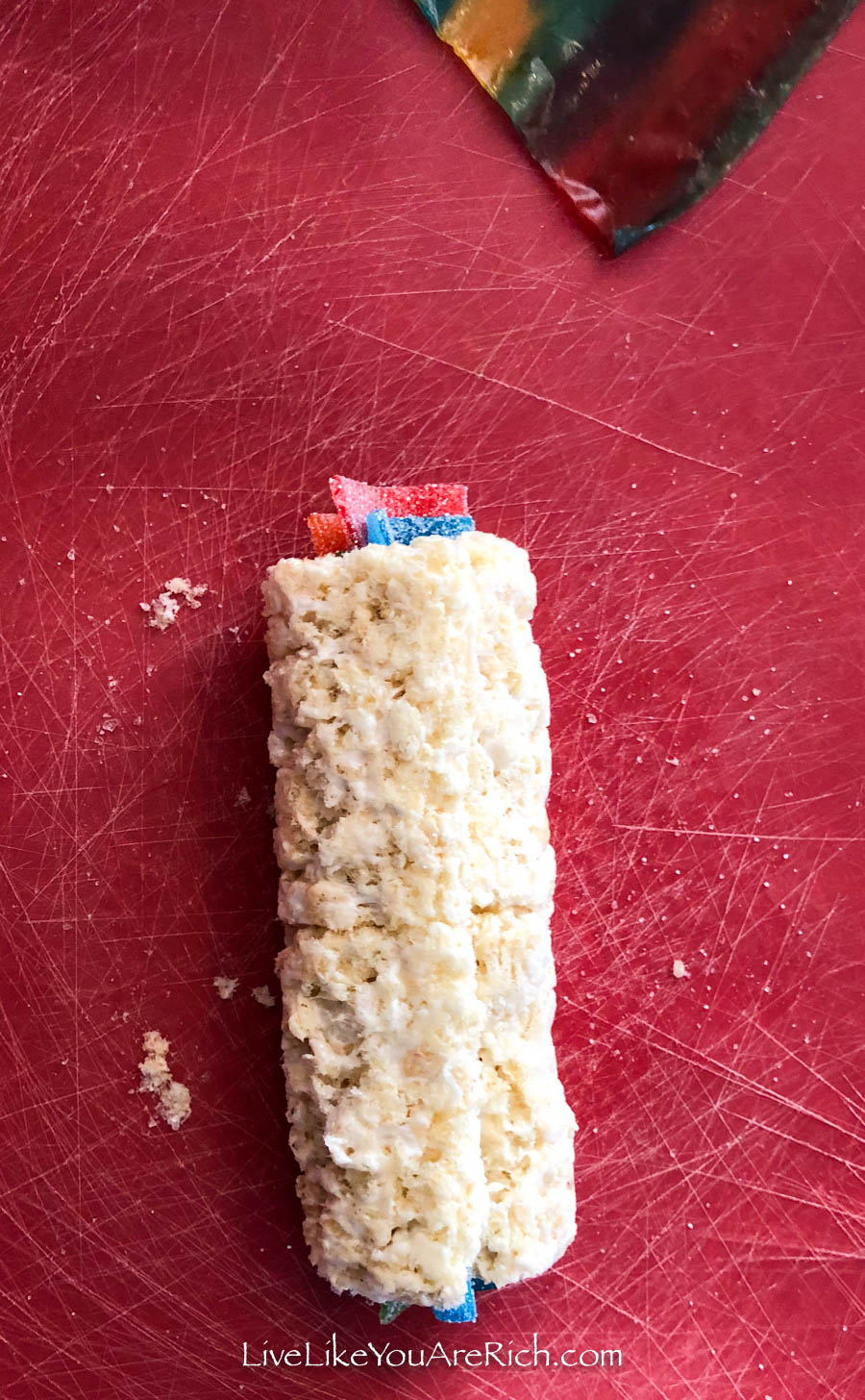 Next wrap it with a Fruit roll up..
Or a Fruit by the Foot; I used both to get varied coloring on the sushi slices.
Cut them into about inch slices and tada—pretty neat looking; plus they tasted amazing!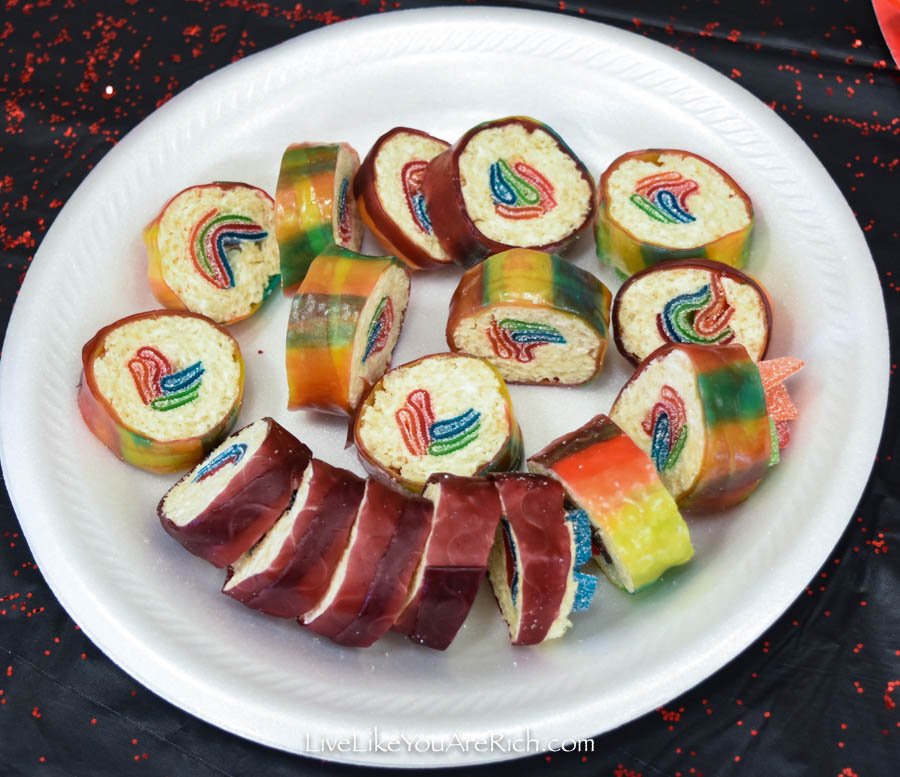 Ninja Babybel cheese faces came next. Get red Babybel cheese and pull off the strip to open them (conveniently the back remains covered).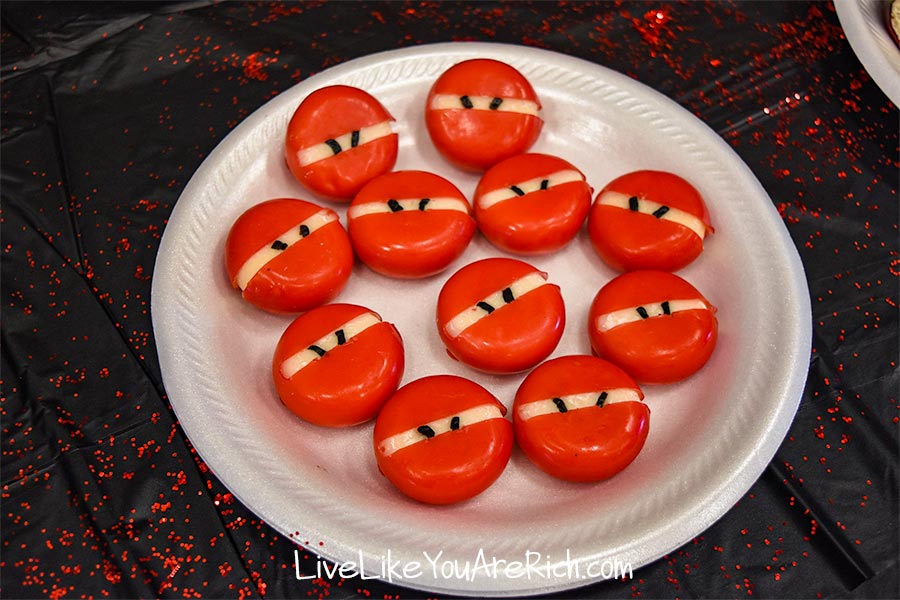 Then using a knife pear out a bit of cheese and use bits of pre-cut olive slices to fill in the holes. My husband did an awesome job on these.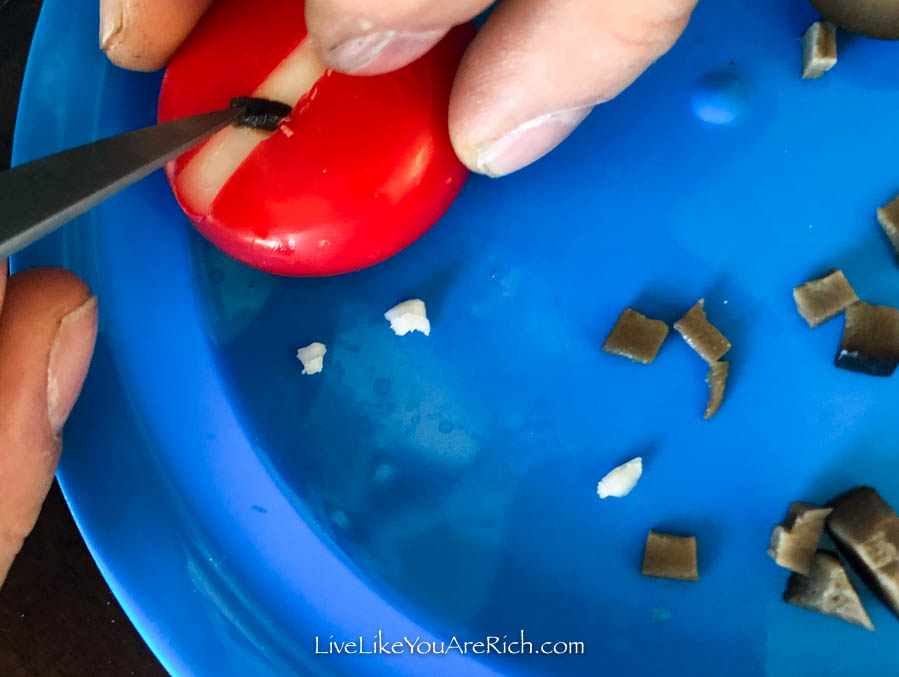 Oreo ninjas are made similar to the red cheese ninja faces.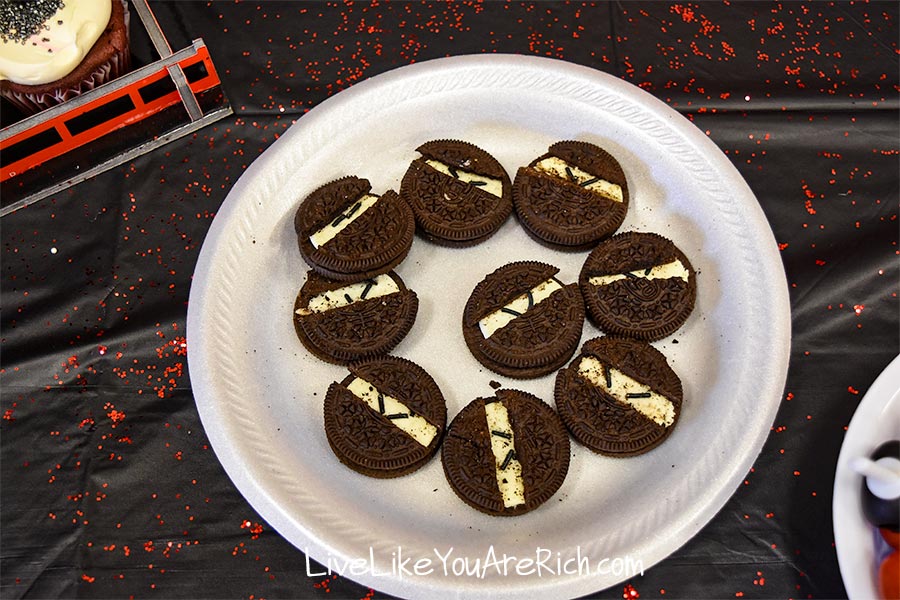 However, these are a little trickier (as one can see by our final product). I found the easiest way to make these Oreos was to take off the top and cut a slice for the forehead and then cut the bottom off for the face. Use a sharp serrated edge knife and carefully cut them so the cookies don't break.
Then use black cake sprinkles as eyes.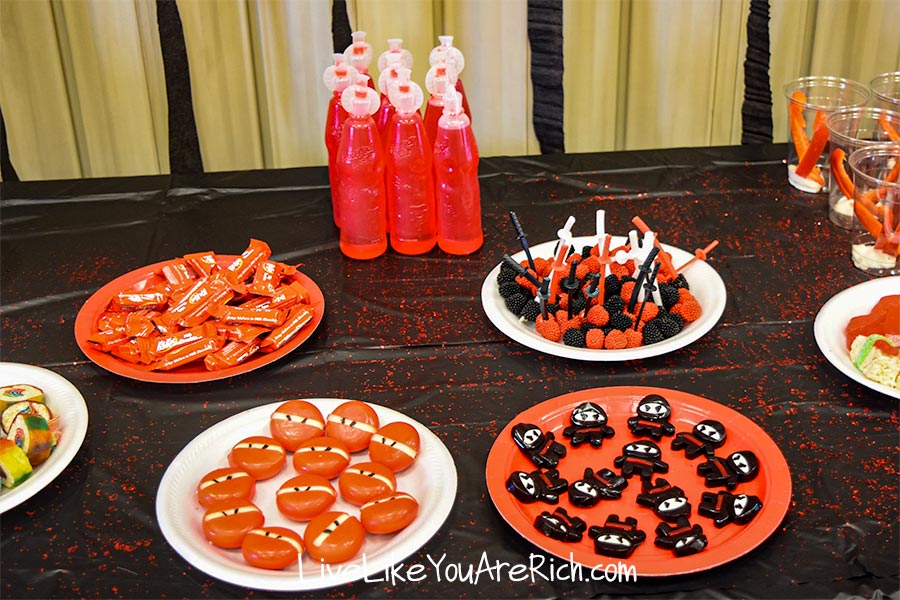 KitKats, black ninja gummies (found here), Haribo candy berries speared with ninja swords and Red Koolaid all contributed to the red and black Ninja-themed-food table.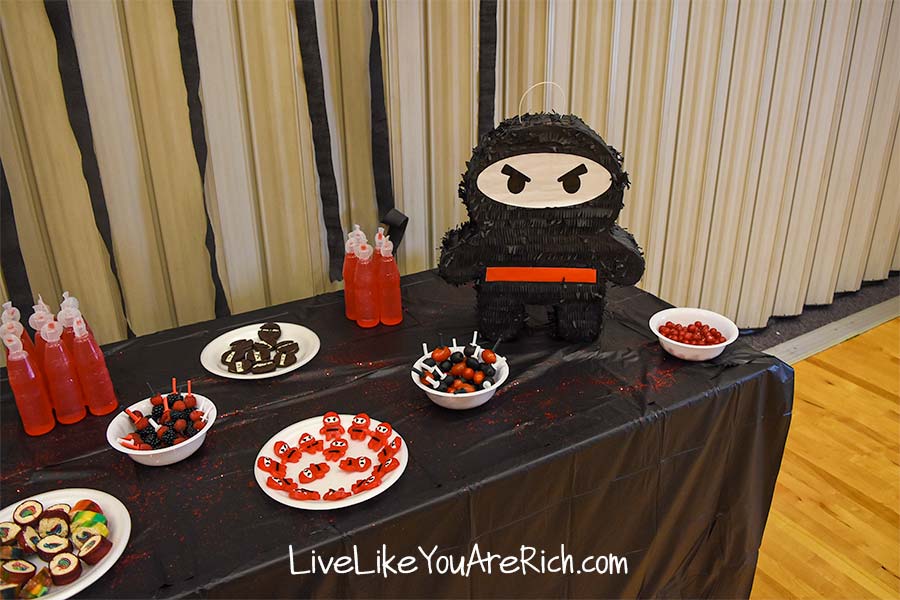 Red Velvet cupcakes with Cream cheese frosting (recipe here).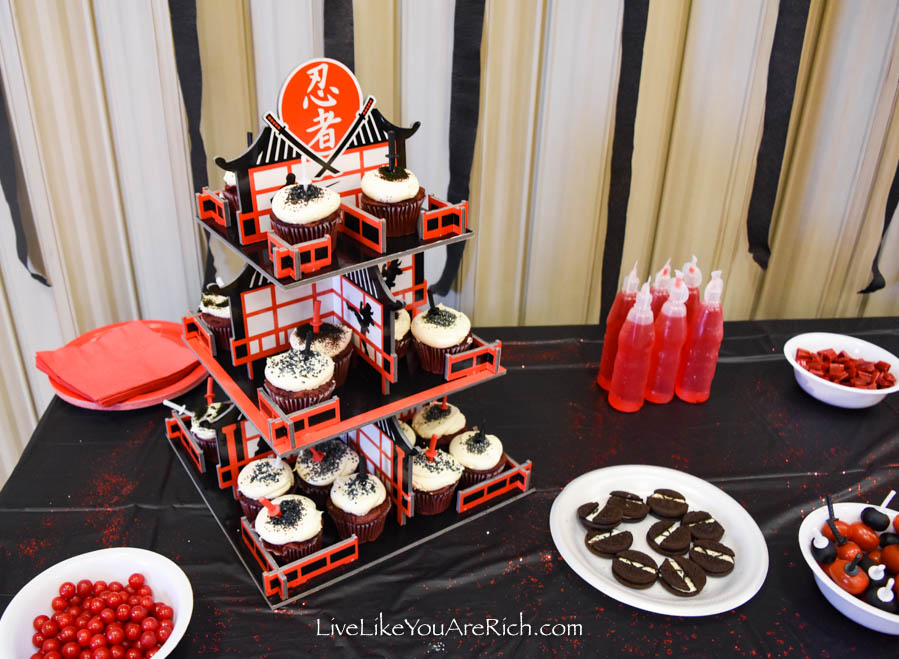 The sword toothpicks and sprinkles went with this darling ninja cupcake stand found here.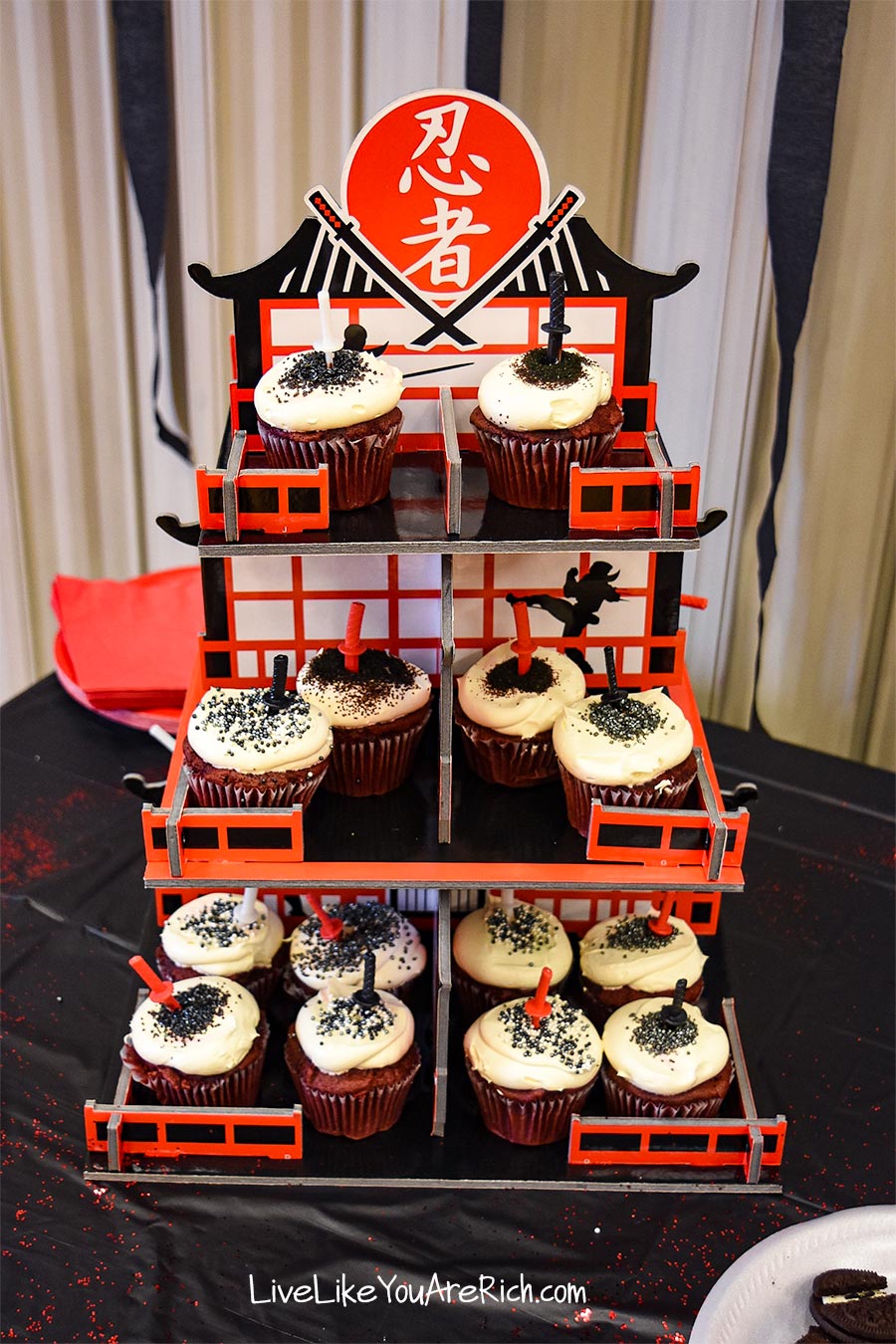 I used black table cloths and red glitter from the Dollar Tree.
Black streamers and red and white decorative balls came from the Dollar Tree as well. The Ninja banner can be found here.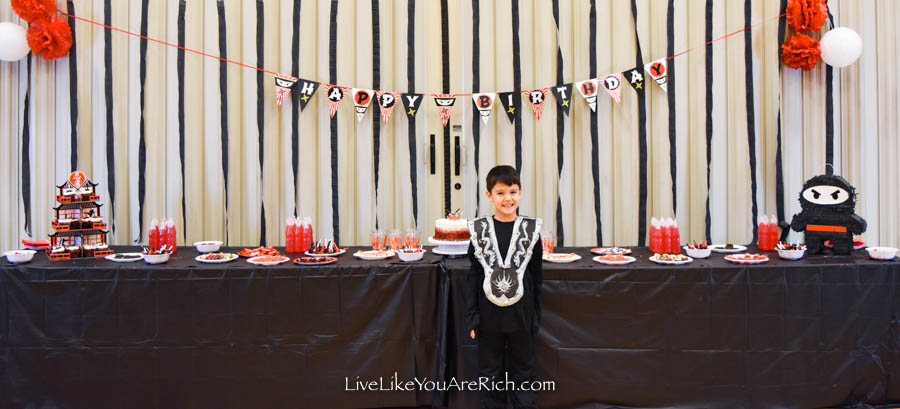 It was a great Ninja Party for Boys Food Feast.
I hope these ideas can help you plan for your Ninja Party.
Check out the activities we did here.