Rite Aid is one of my favorite places to shop. Recently, with the new release of the Plenti program, there has been a change in coupon policy. So I wanted to share them with you…
I save a great amount there through the use of the following steps:
1. Use manufacturer coupons found in newspaper and online printable coupons found here. Limit 4 like coupons per trip.
2. Sign up for the Wellness+ and Plenti card. Each time you shop, use your card or phone number to gain points. Check the ad and sales tags to earn points for purchases. Watch for restrictions on points earned such as 'limit 2 per household'. This means you can earn points for two promotions.
You will continue earning wellness+ points to earn Gold status (20% off almost everything in-store). Up rewards are now called Plenti points. Any previous UP+ points will transition to plenti points.
3. You can redeem the points after you've accrued 200 ($2.00 worth) the day after your purchase has been made. They do not expire for 2 years. Also, you can't redeem points on gift cards, prepaid cards, lottery tickets, etc.
4. Use Rite Aid coupons found in the weekly circulars. These are Rite Aid and Rite Aid manufacturer coupons. The Rite Aid valuable coupons begin with RC48 and RC49. Limit 4 like coupons per trip.
5. Stack coupons. You can stack up to three coupons on each item as long as they do not amount to more than the item costs. For example, you can use a Rite Aid Coupon, a Rite Aid manufacturers coupon, and a manufacturer coupon on one item. To see which coupons
one "48" Rite Aid Valuable coupon,
one "49" Rite Aid Manufacturer coupon, and
one "5" Manufacturer coupon can be used on a single item.
6. BOGO (Buy one get one free)- You can use a cents off coupon for the one item that is not free and thereby save money.
7. Moneymakers- Although you cannot earn overages, you can make money through the use of redeeming points.
8. Use Cash back/rebate apps- Ibotta app. If you buy an item that Ibotta and Rite Aid are sponsoring, you can receive a refund/payment from Ibotta. The app is user-friendly; just download it and select Grocery and then the Rite Aid that is near you. You will see what food and items you can get cash back for purchasing. Pairing these with a sale, or another coupon usually makes a great deal.
Right now Ibotta has a $2.00 bonus if you download it and use it in the first 10 days. They often add other bonuses to their bonus section as well once you have become a member.
Click here to sign up for Ibotta
Checkout51– This is another ap (AND website!) like Ibotta. The best thing is that it does not store specific. And usually has a higher cash back rate. You can use them both together. This is how I saved $4.50 of my 44.75. I used Ibotta and got $1.00 back and I used checkout 51 and got $3.75 in cash back. You buy things and scan the receipt and are given cash back. It's smart to use both of these together.
Click here to sign up for Checkout5
9. Another great site (and can be used on both desktop and smartphone) is Grocerysmarts.com. You can select your state and then select the store and you can see all the sale items and coupon match-ups. I've been using Grocerysmarts for years and love them!
If you just want to see what coupons are available and not look at a sale matchup site you can go here to Coupons.com
Here is one of my best hauls at Rite Aid: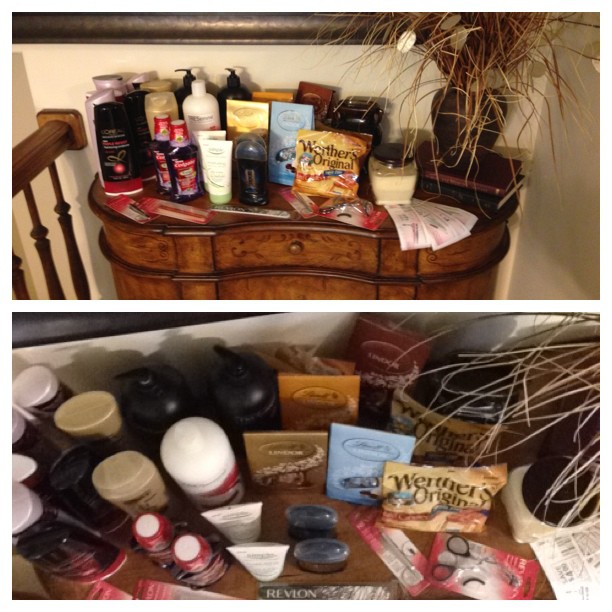 $139.49 worth of shampoo, conditioner, face wash, deodorant, mouthwash, beauty tools, truffles, and Werthers for $9.50 plus I left the store with $11.00 in coupons for more free beauty tools. So after I redeemed those coupons I was paid $1.50 to buy over $150.00 worth of stuff!
By shopping the sales with the aforementioned tips you can save big at Rite Aid too.
If you are new to couponing don't miss these 11 Tips for Beginners here.
If you are a seasoned pro, check out the common mistakes couponers make and how to avoid them here.
Here is a link to how to coupon at Target.
How to coupon at Kroger aka Smith's, Ralph's, Fry's etc,
How to coupon at Walmart,
ow to coupon at CVS.

For other 'rich living' and baby ideas please subscribe, like me on Facebook, and follow me on Pinterest and Instagram.