Here are eight ways on How to Coupon at Target and save BIG. Target has multiple ways to save and the best part is that you can combine most of them together and score big!
#1. Manufacturers coupons (they take manufacturer coupons both printed and newspaper). There is a limit of 4 identical coupons per household, per day. You can also find a huge database of online coupons here.
#2. Target online coupons. Go here to print off the online target coupons you want. Many times their coupons are one per guest; if not, then you may use a total of 4. If you have children with you or anyone else they will count them as additional guests and you can use one per person. Target mails out and even includes Target coupons in the newspaper. This last Sunday there was a super high-value coupon $10 off $50 worth of food. Just in time for Thanksgiving too!! You can also text the word FOOD to 827438 and Target will text it to you.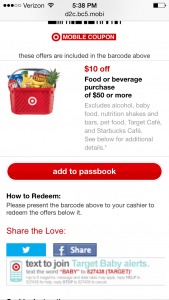 You can pair a manufacturer coupon WITH a Target coupon on the same item (unless either coupon specifies that you cannot). If a coupon is not item specific (such as the $10 off $50 of food) it can be used in addition to other coupons in the same transaction.
#3. Use a coupon match up sites such as GrocerySmarts.com , MoneySavingMom.com, and TheKrazyCouponLady
#4. Mobile coupons. You can sign up for free Target Mobile coupons by texting COUPONS to 827438 (TARGET). You can pair a mobile coupon with a manufacturer coupon but not other target coupons.
#5. Cartwheel app. Download the Target Cartwheel app to your smartphone which is free. Then do a search for an item you want and it will tell you if discounts are available for that item. You can get an additional 5% off or 20% off etc. If you want the discount click 'add'. Once you are done adding everything click the check mark and a barcode will show up. The cashier will scan it. If you don't have a smartphone, you can do this online and print off the barcode and take it with you. You must be done with all other coupons at this point because once the cartwheel is scanned you cannot add other discounts. *Note: Sometimes the app does not work in the stores, if this happens to you then connect to Target's free WiFi and it should work.
#6. REDcard. If you sign up for a Target REDcard (debit card) you will receive 5% off of your total (calculated after all other discounts and coupons have been applied). Target also mails out coupons to REDcard members.
#7. Price matching. Bring an AD or your smartphone and price match an item. You can use coupons when price matching per Target's normal coupon policy. They even price match Amazon.com!
#8- Get cash back by using Ibotta and Checkout51. Ibotta is an awesome app that works for just about any popular grocery store and some retail stores and theaters allow you to earn cash back is called Ibotta. In the first 3 months of using it, I made $77! Ibotta is like a mobile coupon app/rebate machine. When you buy something being sponsored by Ibotta and the store you bought it at you will earn cash back. At the end of your shopping trip to redeem an item you need to follow a quick process of learning a fact, watching a short clip, or sharing it on Facebook. After that, you simply take a quick photo of your receipt and the product you bought and the cash will be credited to your account. Plus, if you sign up and redeem your first purchase/item you will receive a $2.00 bonus which is a pretty great deal. Click here to sign up for Ibotta.
Use Checkout51 Another free app (also a website if you don't have a smart phone). It is very similar to Ibotta but it can be used with any store. I've tested it and It works great! Plus, unlike Ibotta, it isn't store exclusive, which is great for people who live in smaller towns and that don't shop at big chain grocery stores. You can get cash back on milk, eggs, and other everyday groceries. I use this and Ibotta together as well as use a coupon. Using all these methods I save a ton. And I sometimes get items for free! Sign up for Checkout51 here!
Bonus Tips 1: Target usually has other promotions such as $5.00 or $10.00 gift card promotions. I find these to be very good deals if paired with a manufacturer coupon, a Target coupon, and a cartwheel discount.
Bonus Tips 2– Take your own bags in. You get 5 cents a bag you bring in on your own. Remind the cashier if they forget.
Target has price cuts which are sometimes pretty good. They also have an extensive clearance section, especially the day after holidays. To read about how to shop after holidays click here.
What I found extremely helpful is having different browsers open and ready to go on my iPhone. I check the browsers as I place the item in the cart to make sure I have the mobile coupon up or the cartwheel discount added. When I get up to check out I hand the cashier my paper coupons and then let him know that I have some on my phone. Target coupons change very quickly and there's always something new so this method is one that I rely on as I like to get the best deal. I have him scan my mobile coupon barcodes (each browser) and then finally the cartwheel barcode. Then I pay with my Red Card and save another 5% off everything. Finally, if I bought anything on Ibotta I scan my receipt in the car and head on home.
A post that may be useful is my list of 17 Mistakes Couponers Make and How to Avoid Them or Couponing for Beginners: 11 Tips that will save you Thousands
How to coupon at Kroger aka Smith's, Ralph's, Fry's etc.
How to coupon at Walmart
How to coupon at Walgreens
How to coupon at CVS

For other 'rich living' and money-saving tips, subscribe, like me on Facebook, and follow me on Pinterest and Instagram.