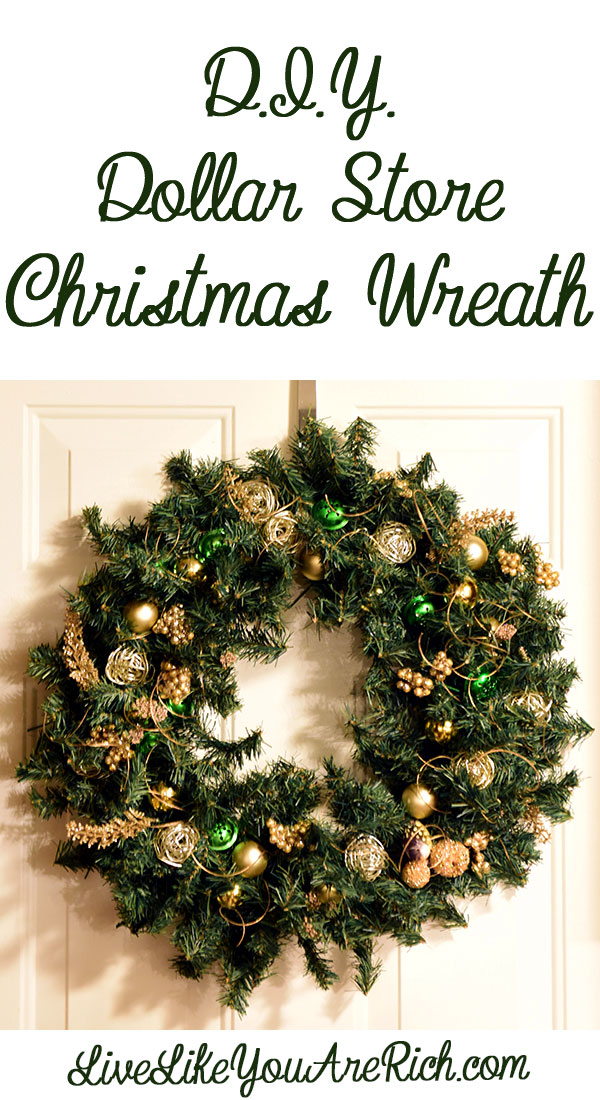 My friend wanted to make a Christmas Wreath. She asked me how to make one inexpensively—if at all possible. I told her to come on over. In just a few hours, we went shopping at the dollar store, set out the supplies, and made a wreath!
Although I already had the wreath base that I bought for $1.50 at a garage sale, we found everything else we needed at the dollar store, including the wreath door hanger. It was a lot of fun making it. Better yet, we spent a grand total of $12.00 on a wreath that looks nice and that she loves!
Here's how we made it…
Fluff up the wreath and spread the branches apart.

Light the wreath. We did an unlit wreath but if you want lights you'll want to strand them now. I found that stringing your own lights is more affordable than buying a pre-lit wreath. Although it does take some time to do it. Just keep that in mind.

Place the largest ornaments and items first.

Place filler working from largest to smallest.

Next, add the focal point (typically it looks best off center).

Glue all light decor down with a hot/cool glue gun.

Wire heavy decor down.

Lift the wreath up and give it a light shake. If everything is secure and it looks like you wanted, you are finished! Hang it on a door with a wreath door hanger.
Enjoy your beautiful wreath!
Supply List
Wreath I've seen wreaths like the one we used at Hobby Lobby, JoAnns- couponing tips here, etc. for $5.00 (using a coupon or their sale offers). I got mine at a garage sale but I've also seen them at thrift stores.
For filler, ornaments, and other supplies we stopped by the Dollar Tree and were able to get gold berries, leaves, ornaments, green bells, etc. for $7.00 Or Filler here

For other 'living rich' tips and inexpensive crafts, please like me on Facebook and follow me on Pinterest.