Most DIY bathroom renovations cost upwards of $10,000.00—especially when they include new plumbing and installing a shower, tub, vanity, toilet, and flooring. Here's how I did mine for under 9% of that figure.
The guest bathroom needed an entire 'gut remodel.' There was no tub, shower or plumbing for it. And no flooring. Everything was outdated and old. This is the before photo. Unfortunately, I don't have a picture of the other side of the bathroom, just picture a cement floor and bare walls with laundry hook ups.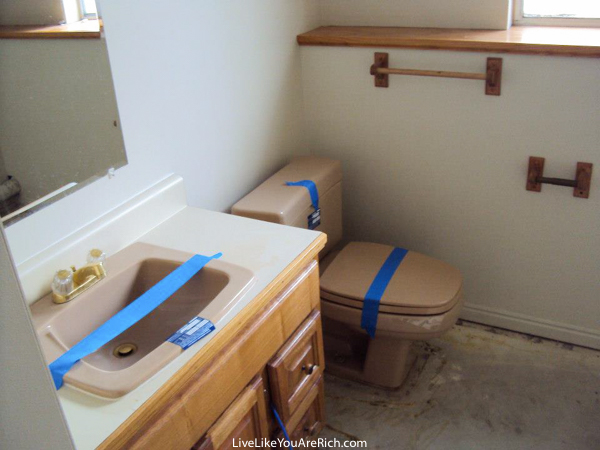 This is the after.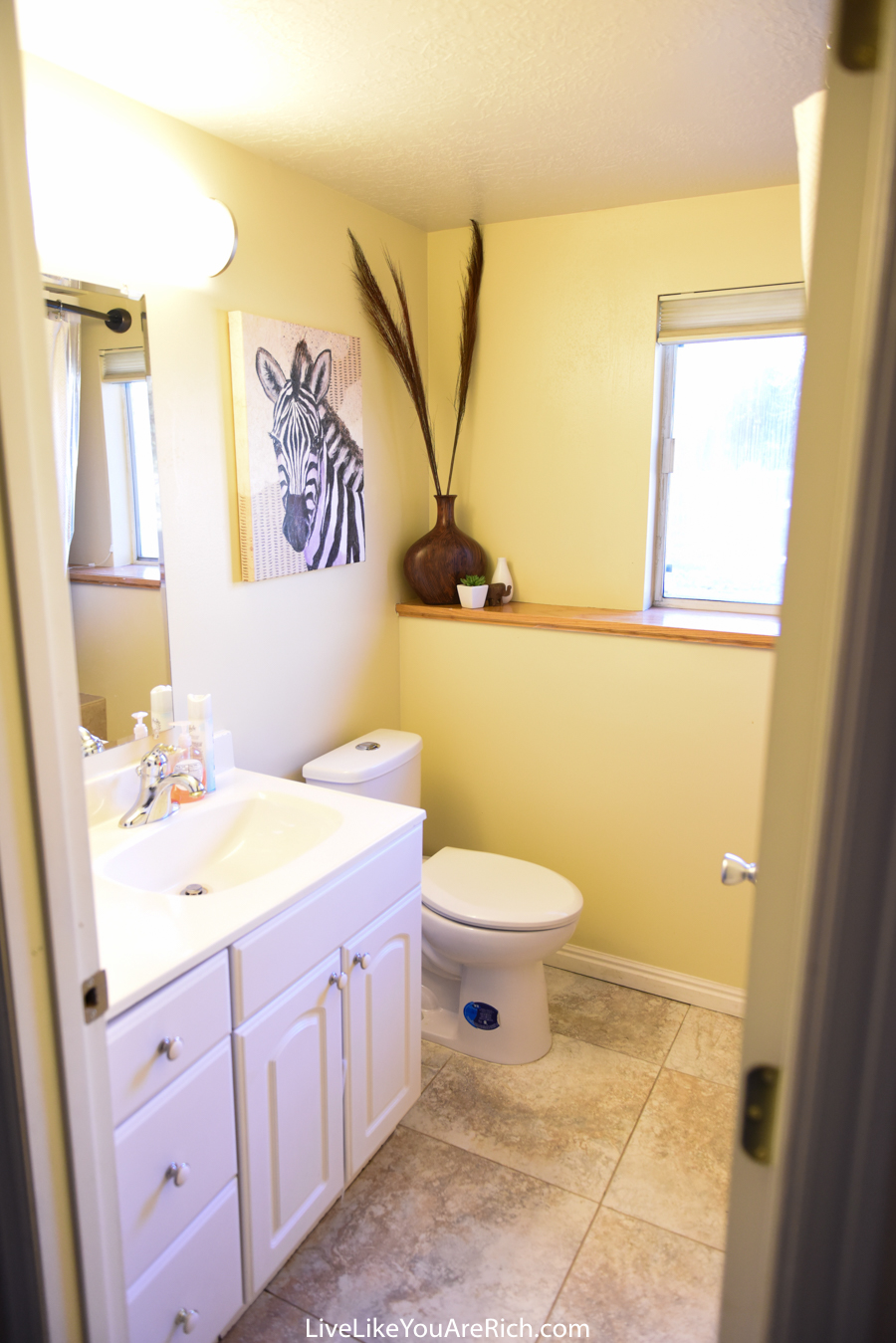 The entire remodel ended up being quite affordable. (See the actual figures below.)
Remodel Costs:
I paid a plumber to come in and jack hammer a hole into the cement and run a shower and bathtub water line. He charged about $350.00. That's pretty inexpensive. He is a family friend and plumbed 6 rooms in my house, so I got a great discount. I'm sure there are plumbers in Los Angeles, San Francisco, Chicago, and other big cities that can provide even deeper discounts.
Next, I found a used tub on the local online classifieds: $25.00.
I got the shower head/faucet and handles etc. at a discount store new for $55.00.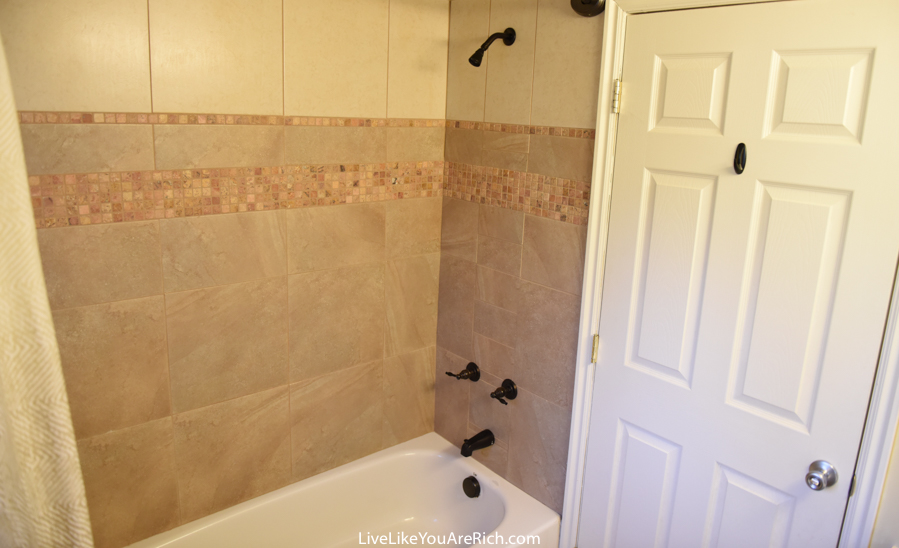 I found Italian tile remnants for both the flooring and shower on the local classifieds. The tile plus the grout was about $150.00. I borrowed a tile saw from my dad. You can rent these from home improvement stores if you don't have access to them. I found that tile is quite easy to install/DIY if you are precise, patient, and have a good blade!
The vanity (faucet, sink, and cabinet) was $50 used on classifieds, but I sold the old one that was in the bathroom for $30–net $20.00.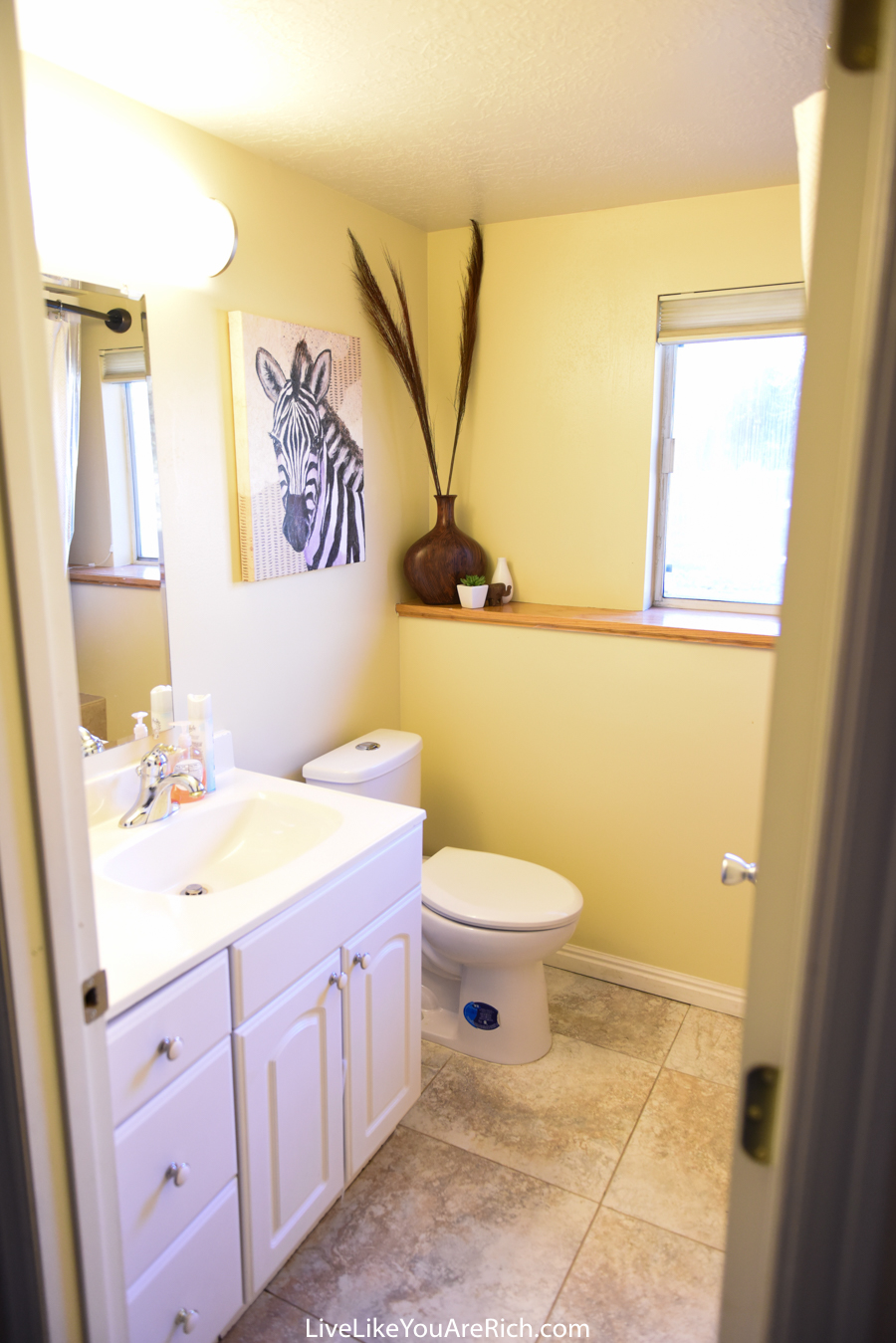 New toilet $89.00.
Brand new bathroom light was found at a garage sale for $3.00.
The paint was a mis-tinted gallon for $1.00.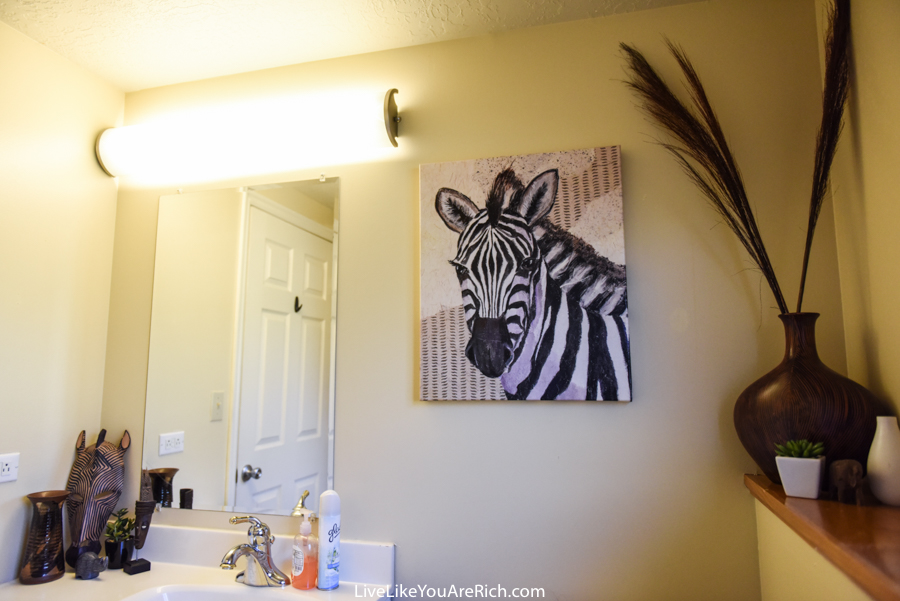 Curved shower rod was $25.00.
Bendable shower rod for the shower liner: $75.00. This bendable shower curtain rod is great for weird/non-standard sized bathtubs and showers!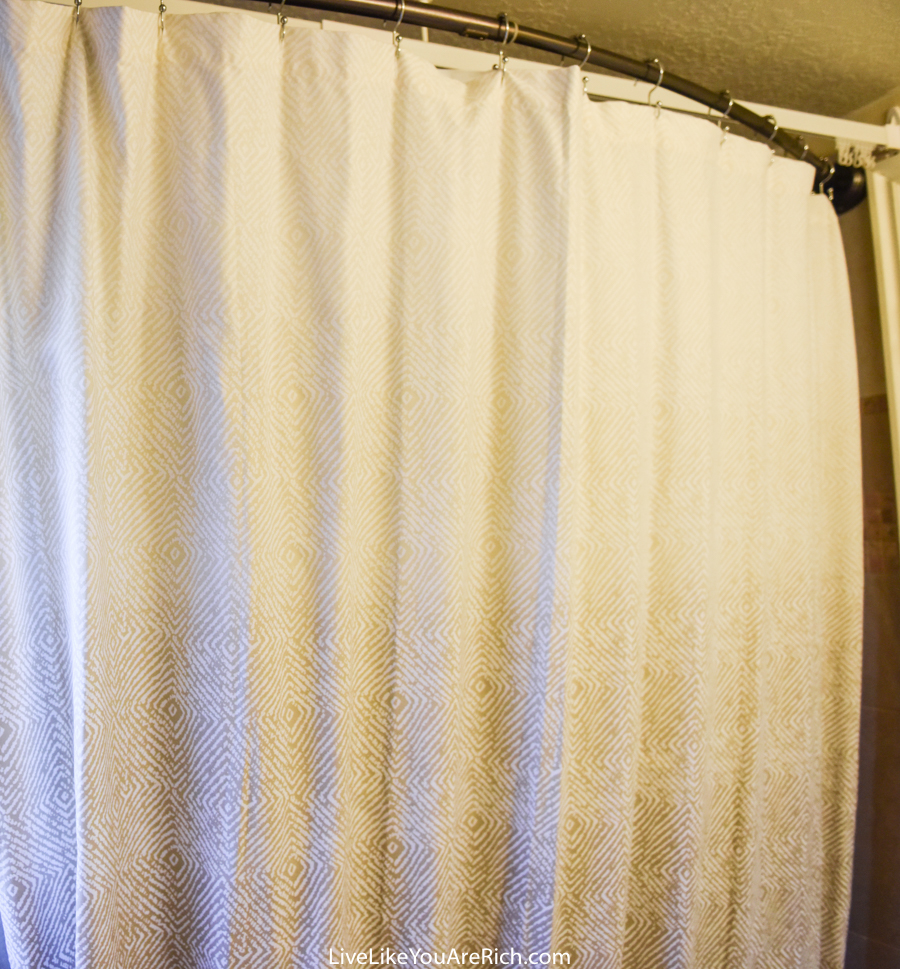 So without the decor the total remodel was: $793.00
Decor costs:
I found the majority of the decor, including the Zebra head mask, vase, and other knick knacks at garage sales. Here is a tutorial on how I score such amazing finds at garage sales. Total: $11.00.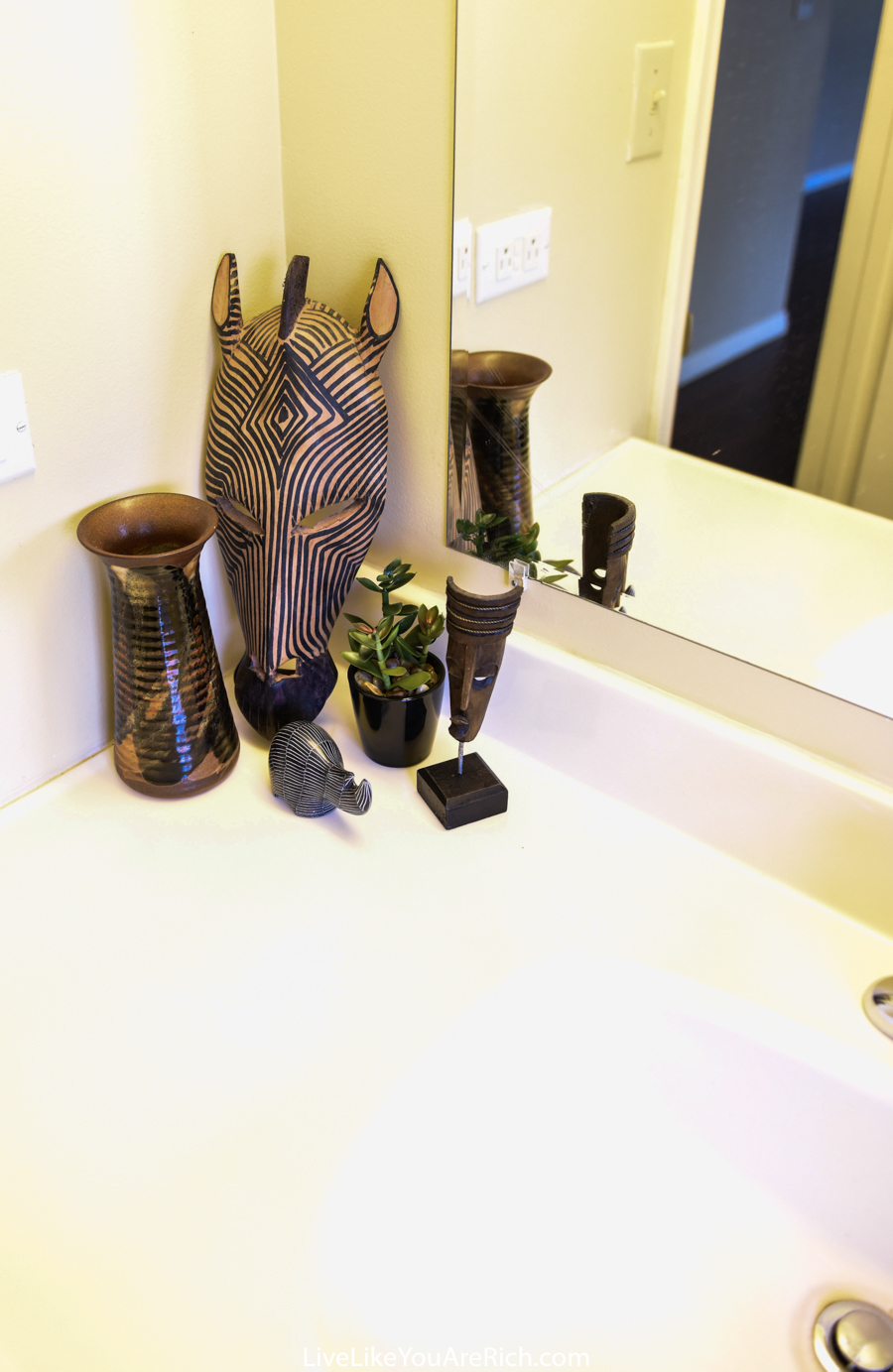 Succulent mini plants TJ Maxx: $12.00
Zebra canvas TJ Maxx: $30.00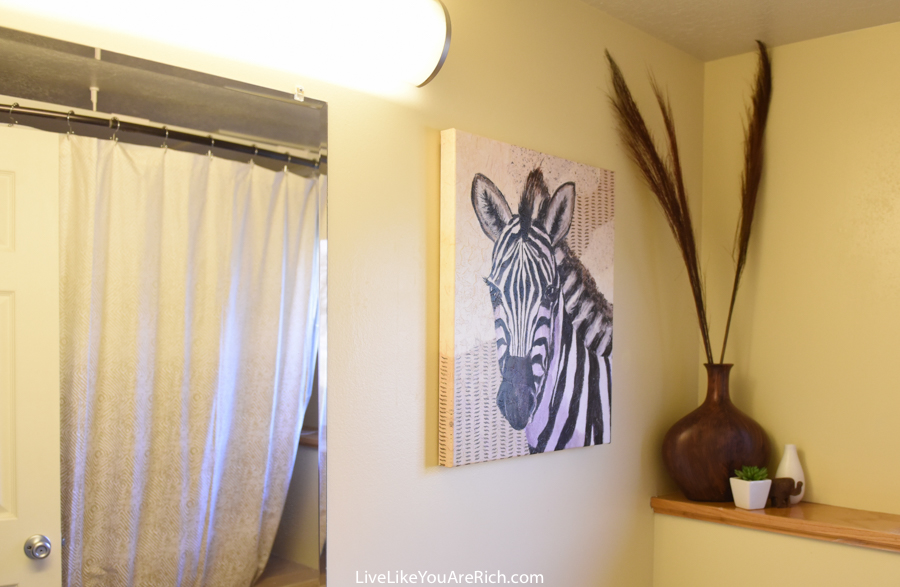 Shower Curtain:$13.00
Total for the decor: $66.00
Entire remodel and decor totaled $859.00!
When using principals of thrift, it is possible to have a fairly nice bathroom for under one grand.
Check out the other rooms in my home at this post here:
For other 'rich living' and money-saving tips please subscribe, like me on Facebook, and follow me on Pinterest and Instagram.