I've always had a desire to read a lot to my children. I want them to develop a love of books, learning, and literacy. So reading aloud to them often is a personal goal of mine.
We usually read for about 30 minutes after breakfast. Sometimes it is in the afternoon; and on occasion we miss a day. So usually each week they are read aloud to for at least three hours. As a result, they both love books.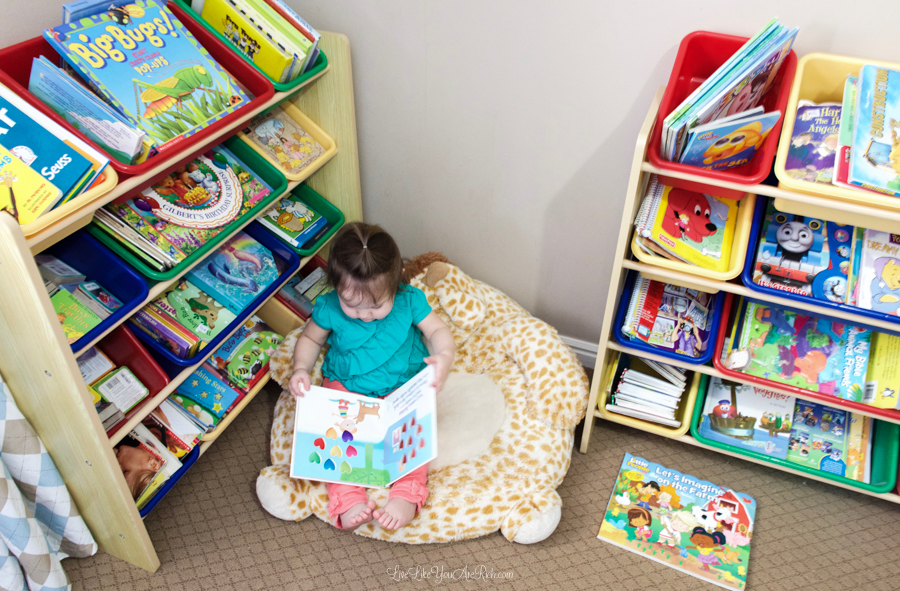 We've managed to buy or receive hundreds of books. Here are 15 tips I've used to spend less than $1.00 per book!
1- Buy books at garage sales. I have found some of the best books for the cheapest at garage and yard sales. Most that I've purchased have been 0.25 or 0.50 cents each. Tutorial on efficient garage sale-ing here.
2- Buy books at thrift stores. I have purchased the majority of our books at thrift stores. I clean them (outside and in) with lysol wipes and paper towels if the pages can handle the moisture. The average price I pay for very nice books at thrift stores is 0.75 cents a book.
3- Buy books from libraries. Many libraries have a cart of used books that you can purchase inexpensively.
4- Buy used books from Amazon. They are often 1 cent plus shipping, or you can get them for fairly reasonable prices with free shipping if you are a Prime member. This is a great option if you are looking for something specific.
5- Check books out at the library. This of course is the best deal as long as you don't accrue late fees and your kids don't destroy the books. We struggle with both late fees and our kids damaging books, so I don't often use the city library. My son does check out a book each week at his preschool library and we keep it in his bag—except to read it. This way it goes back to preschool and doesn't get damaged in the interim.
6- Have the books organized and accessible. This way you can find what you are looking for. I use these kid organizers and they work great! The kids have easy access to them and we are able to group them according to age, interest, and the type of book it is.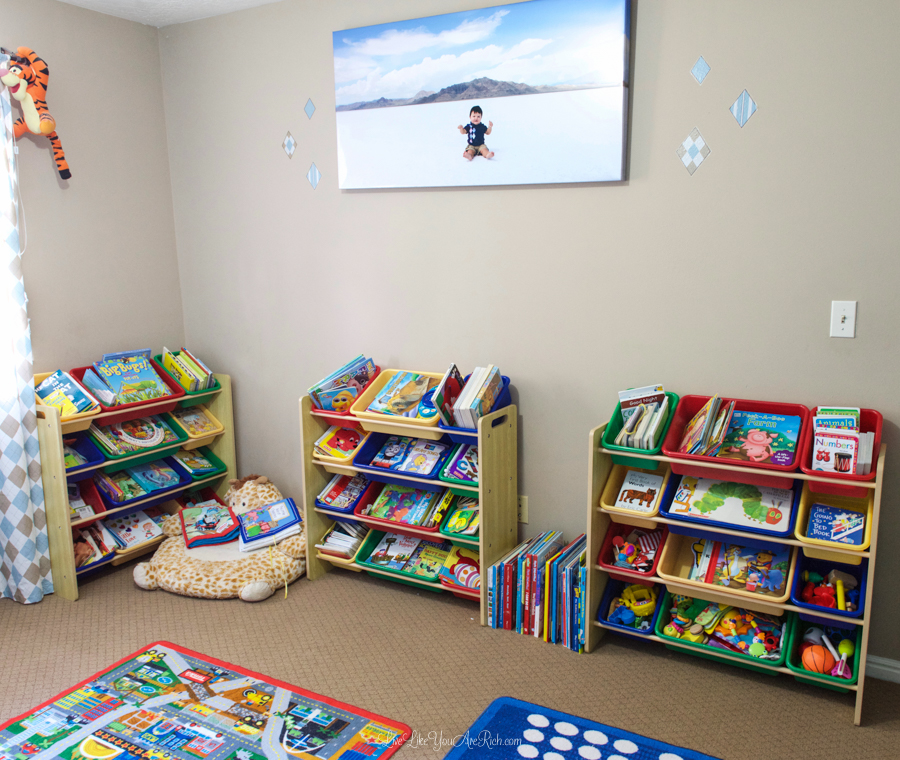 7-Fix the books up when they start falling apart. If you are proactive about doing the following, books will last much longer:
Use clear packaging tape and white duct tape to patch up spines and repair tears.
Replace the batteries instead of throwing Play~a~Sound books out.
Lysol wipes and paper towels do wonders in cleaning books up that may have gotten dirty or that you have bought used.
Usborne books replace used damaged books at half off!
8- Keep the expensive and fragile books up high and only bring them down when you are supervising. (i.e. favorite pop-up and flap books.)
9- Participate in a book exchange. Most people own a few books that their kids are done with. Holding a book exchange with other moms is a great way to get new reading material.
10- Have a book-themed baby shower. When I was pregnant with my first, one of my baby showers had a book-theme. The guests loved it and I did too!
I ended up with so many fun books that my son and I loved to read!
11- Look for clearance and sales on books. I've found some great inexpensive books on Zulily.com, at TJMaxx, Ross, and at other discount stores.
12- Store books that your kids aren't interested in right now in a closet or box. Pull out and rotate books as their interests and ages change.
13- Ask for books on birthdays and Christmas wish lists. Both of our kids received some of their favorite books from Santa and family members for Christmas and love them!
14- Buy boxed sets. Often you can get 3-6 books at a discounted bundled price. Box sets are a great way to save on new books and often make great gifts!
15-Write your name on the book before lending them out or taking them to family members' houses. It's so easy to lose track of books—esp. if your kid's friend has the exact same book. By labeling them before you leave the house, if they get lost, the books will likely return to you.
Unless you KNOW your kid is going to love the book and/or it has a very sentimental meaning to you, I would discourage buying baby and kids books at full price. There are just so many ways to get books for cheap or free (I've just mentioned fifteen of them). If you are looking for something specific, I'd at first try Amazon books in like new condition before buying them brand new. Using coupons and discount codes of course is a great way to save as well.
What do you do to save money on baby and kids books?

For other 'rich living' tips and DIY projects, please subscribe, like me on Facebook, and follow me on Pinterest.