Kids' Easter Tablescape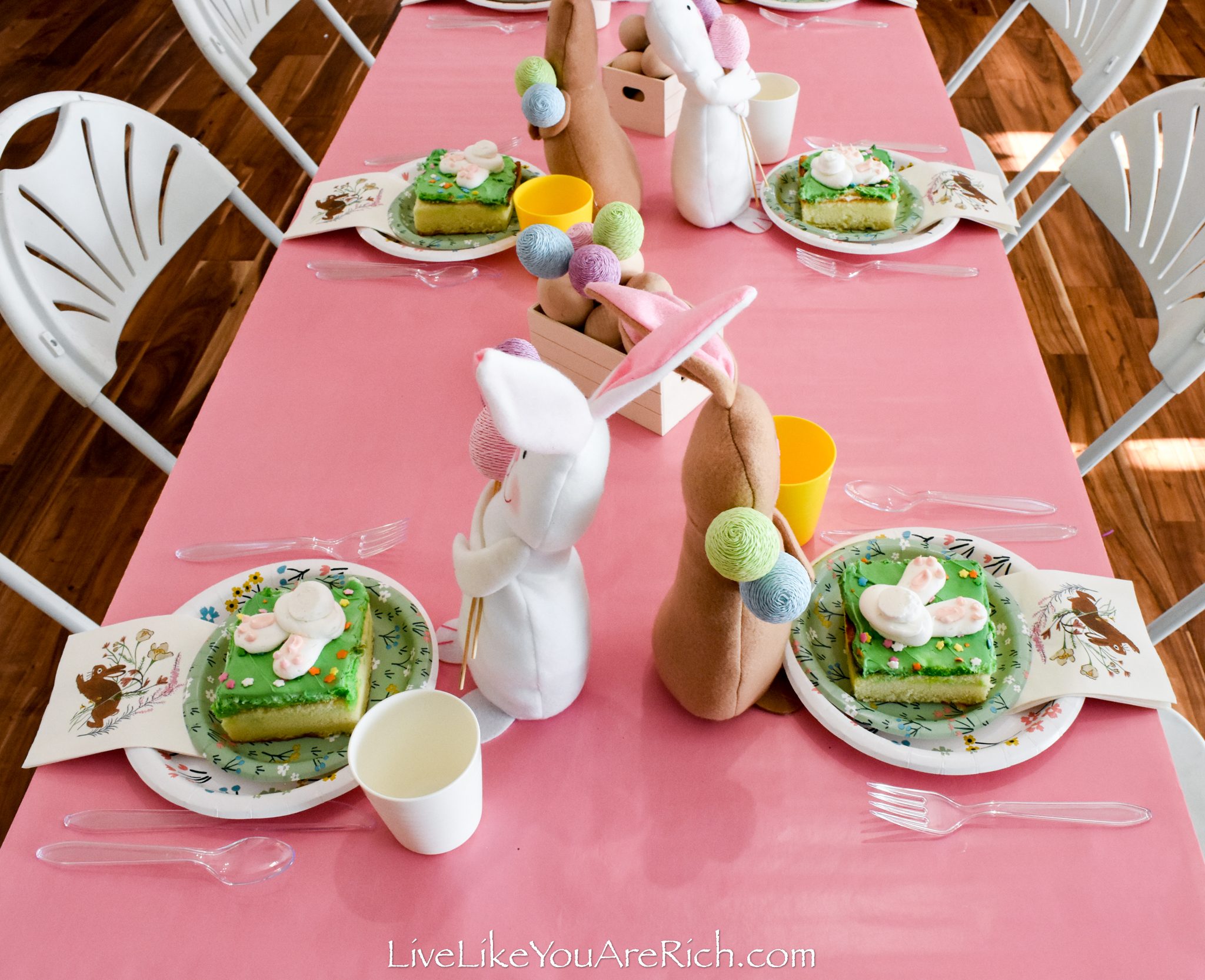 I really enjoy hosting and creating tablescapes for kids.
I love to have favors on the tables and fun items that kids like to look at and enjoy. In fact, I usually enjoy decorating the kids' table more than the adults'.
On Saturday, we had my children's cousins over for dinner and I put together this Easter tablescape for them.
I got most of the items from Dollar Tree and Target that I used for this tablescape. It didn't cost very much to make and each child got to take a bunny home. They also each got a slice of Bunny tail cake to eat.
Kids' Easter Tablescape Supply List and Price breakdown…
I was glad that I purchased everything for this tablescape from Dollar Tree when it was actually $1.00. They made the switch $1.25 very recently.
Dollar Tree Bunnies $6.00 for 6
Target Brunch Party Supplies Collection – Spritz™ $2.00 for 6 dessert plates and $2.00 for 6 dinner plates (I will use the rest another time).
Dollar Tree pink wrapping paper $1.00
2 Dollar Tree wood crates $2.00 total
Dollar Tree eggs $5.00
IKEA cups- I had these
plastic clear cutlery I had this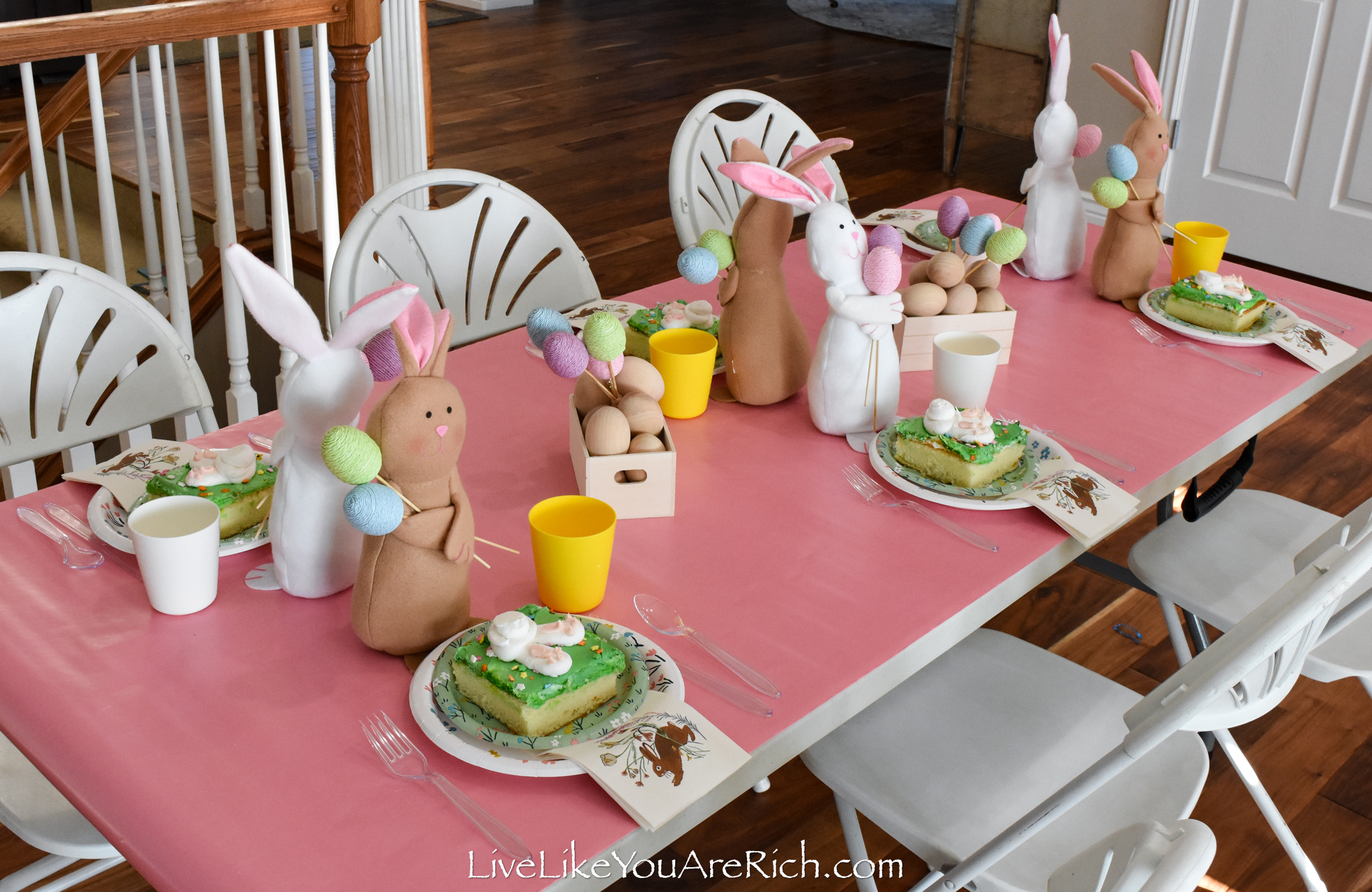 wooden eggs I had these for a few other Easter crafts and decorations. I used 20 (10 in each of the wooden boxes)
Easter bunny cakes for dessert- $2.10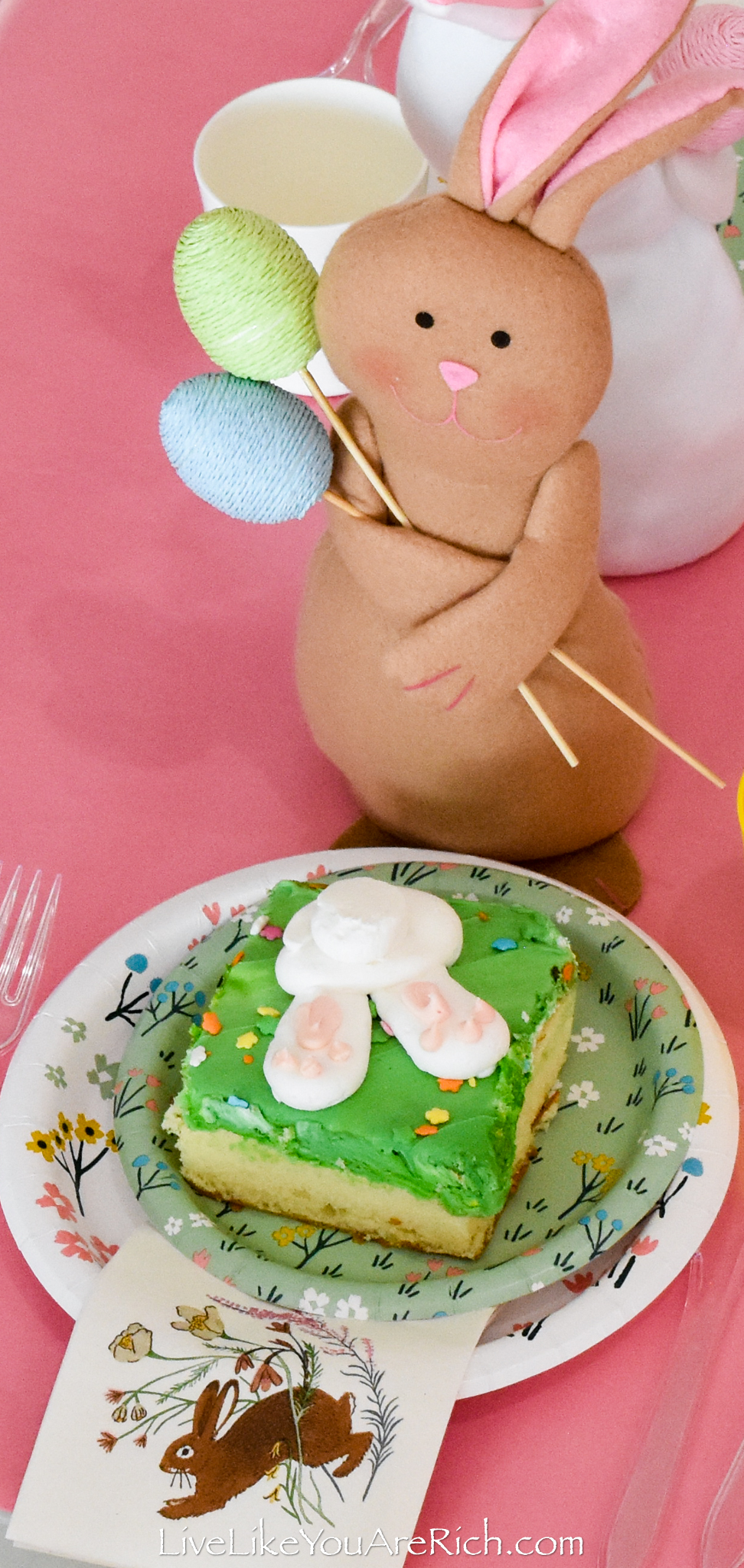 Target bunny napkins $1.00 for 6
Total cost for this tablescape was about $17.00. I plan to use the extra bunnies, plates, etc. for other things so I only added up what was used specifically for this tablescape.
How to put together this Kids' Easter Tablescape
First, I used wrapping paper (plain pink) from Dollar Tree as a tablecloth. I put a bit of scotch tape under each end to hold it in place.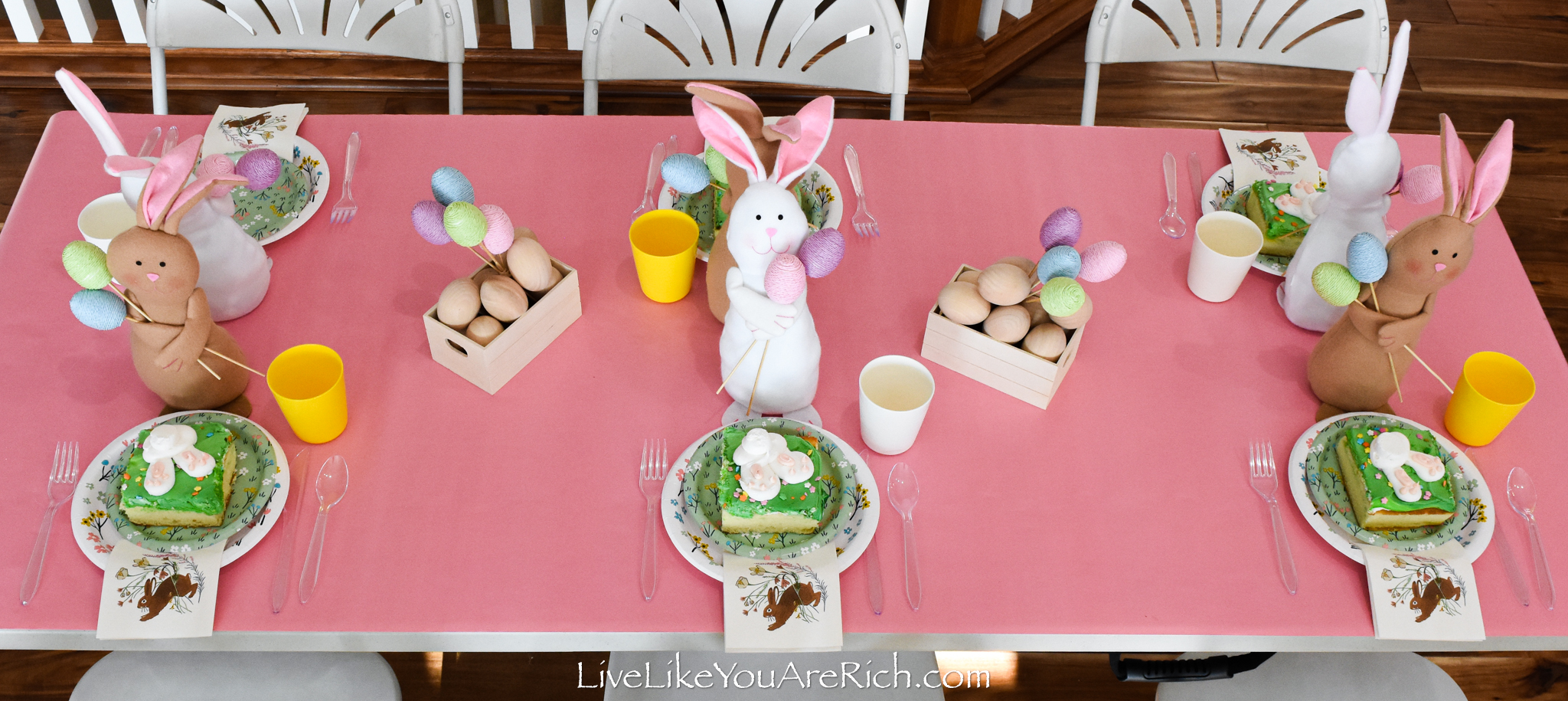 Next, I set the table with the darling paper plates, dessert plates, and bunny napkins from Target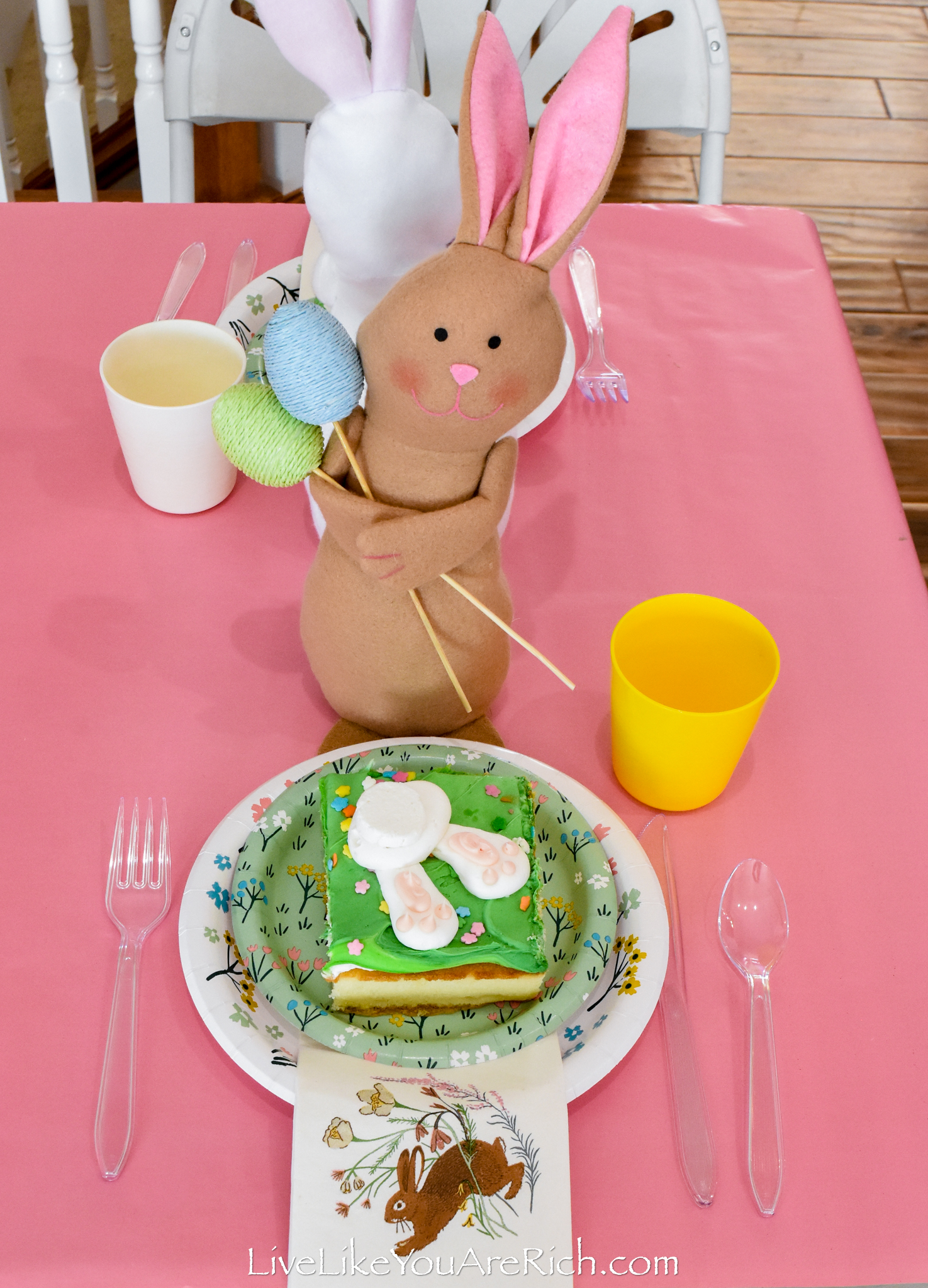 While I was at Smith's the other day, I saw these darling bunny cakes on clearance for .35 cents each. I bought them and froze them.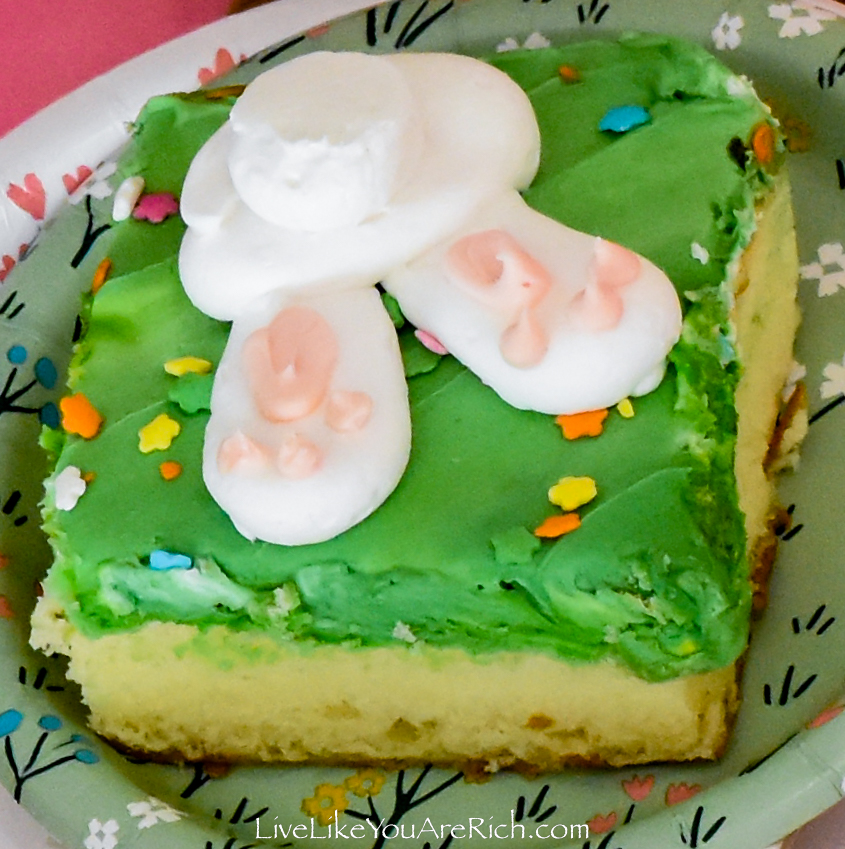 When we decided to do an Easter dinner for the kids, I got them out and let them defrost.
They were still very moist and fresh after they defrosted. I often do buy day old bakery items and freeze them to save money.
Freezing cake, as long as it isn't for too long, works very well to preserve it.
I recently learned from a friend that if you want to freeze the cake for many months you'll want to deep freeze it first and wrap it tightly and then keep it frozen until you want to eat it.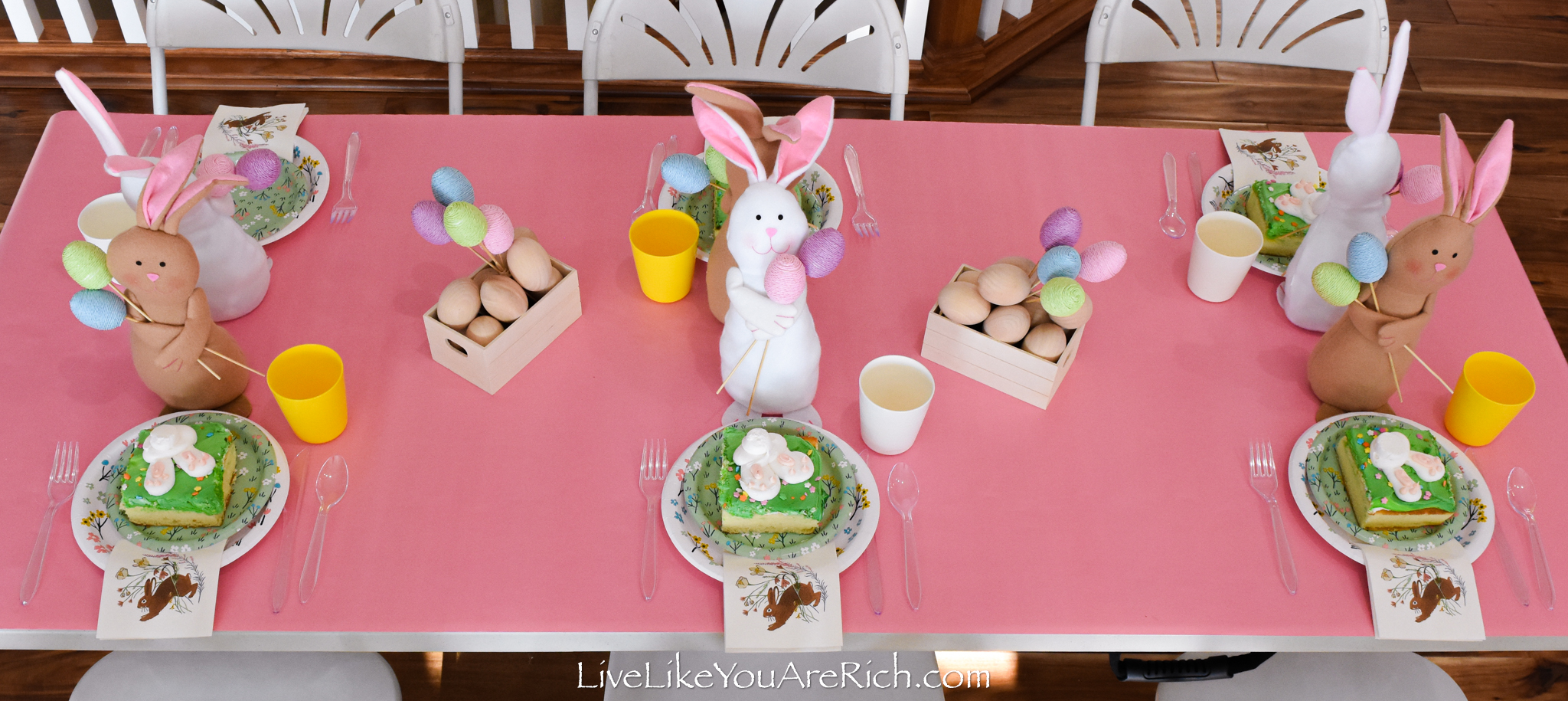 Next, I cut the tags off of the Dollar Tree bunnies I bought. The bunnies are surprisingly good quality.
My toddler has thrown these bunnies around the house, up in the air with it landing on the hardwood floor, etc. and they have withstood the rough treatment well.
The kids loved them because they are soft and somewhat cuddly as well.
I love them because of the price, quality, the bean bag bottoms (which keep them upright), and because they are cute; I love their darling faces and ears!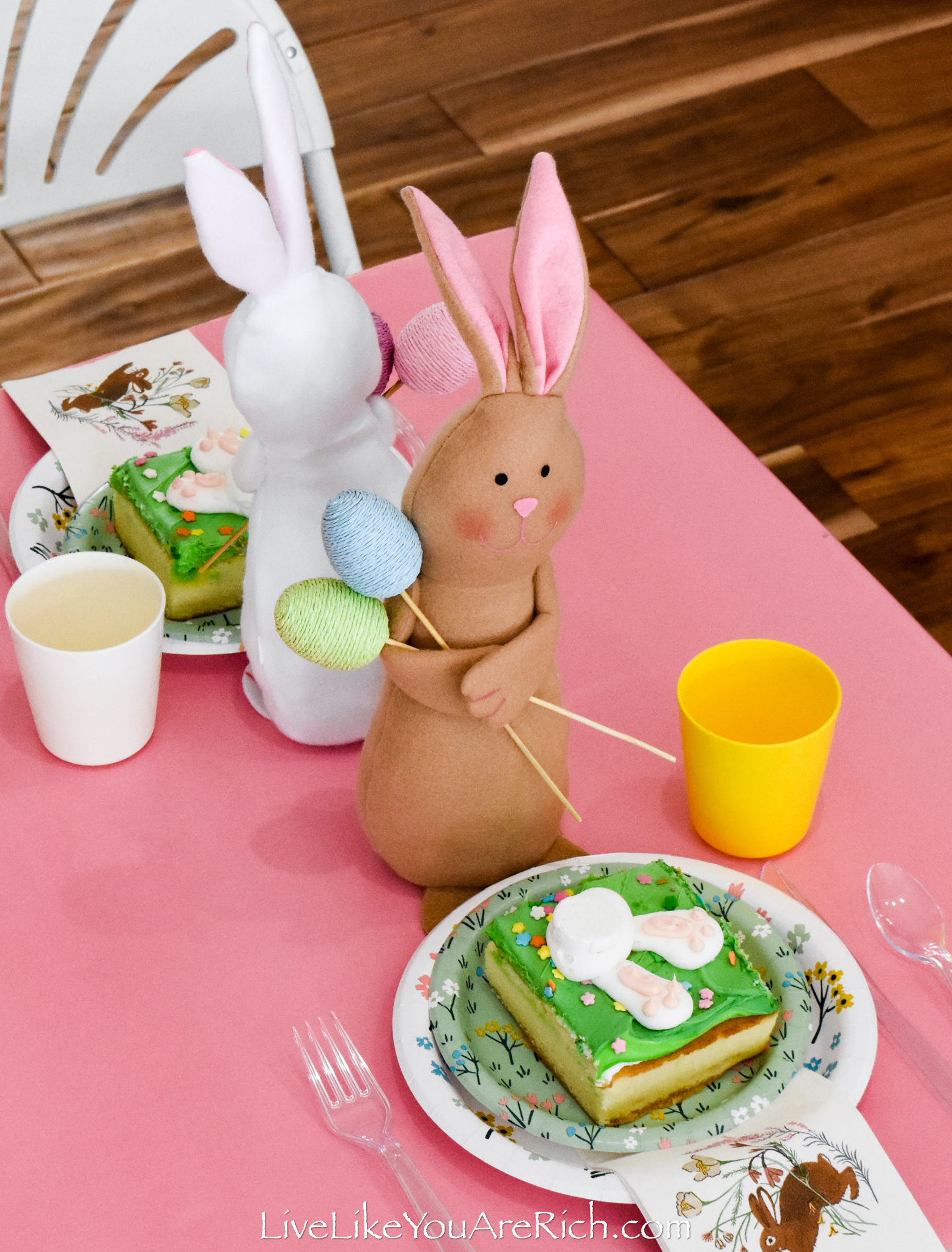 I tried a few different strategies to get the bunnies to hold the egg flowers, but I ended up using hot glue to hold their little arms together.
Because Dollar Tree makes you purchase 24 of these bunnies at a time (they have quantity limits with their online ordering), I had plenty of bunnies to both use as decorations and as favors.
The hot glue will cause the bunny's felt/material to rip apart if pulled once glued down, so these will remain display bunnies.
I was fine with this because I have plenty of bunnies to go around.
I used these egg flower holding bunnies for display and I told the children that they could choose a brown or white bunny without hot glue to take home.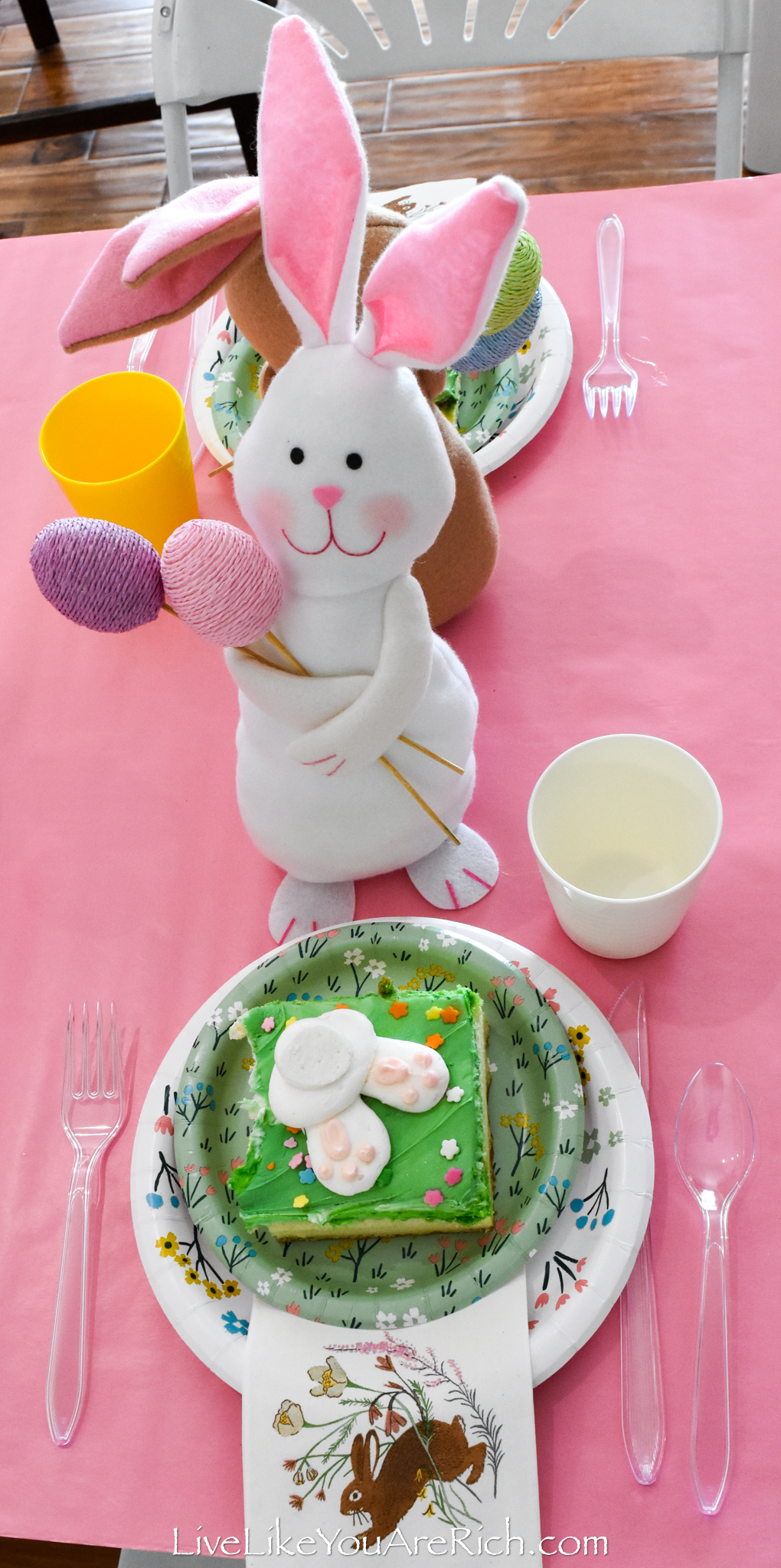 If I didn't have as many bunnies, or if I didn't want to use hot glue, I would have sewn a stitch or two with a needle and thread to hold their arms together.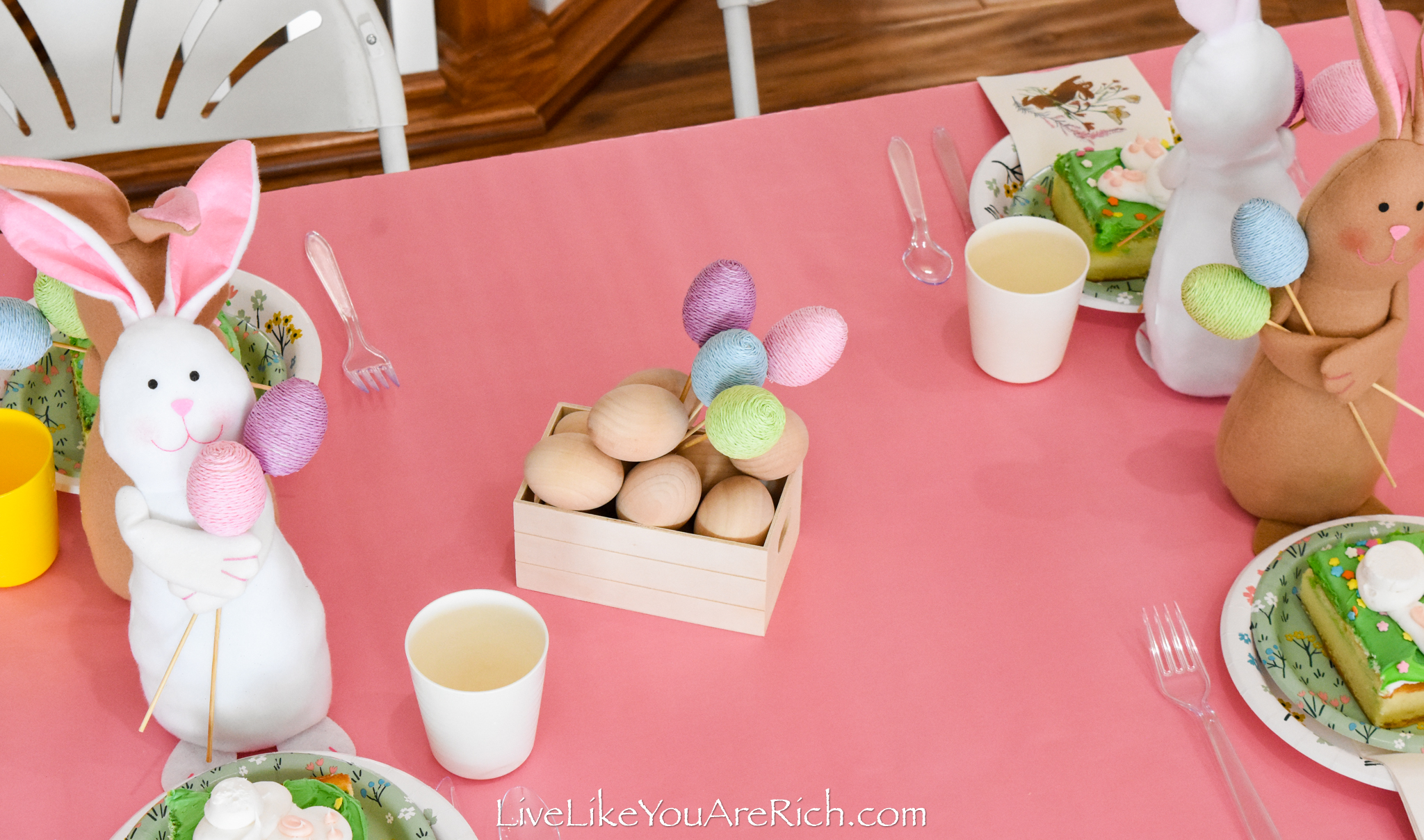 Then, I set the table with our IKEA kids' cups that we had in the cupboard.
I choose yellow and white to pull those colors out/make the colors pop in the floral designs on the plates. The white and yellow also added contrast to the pink table covering.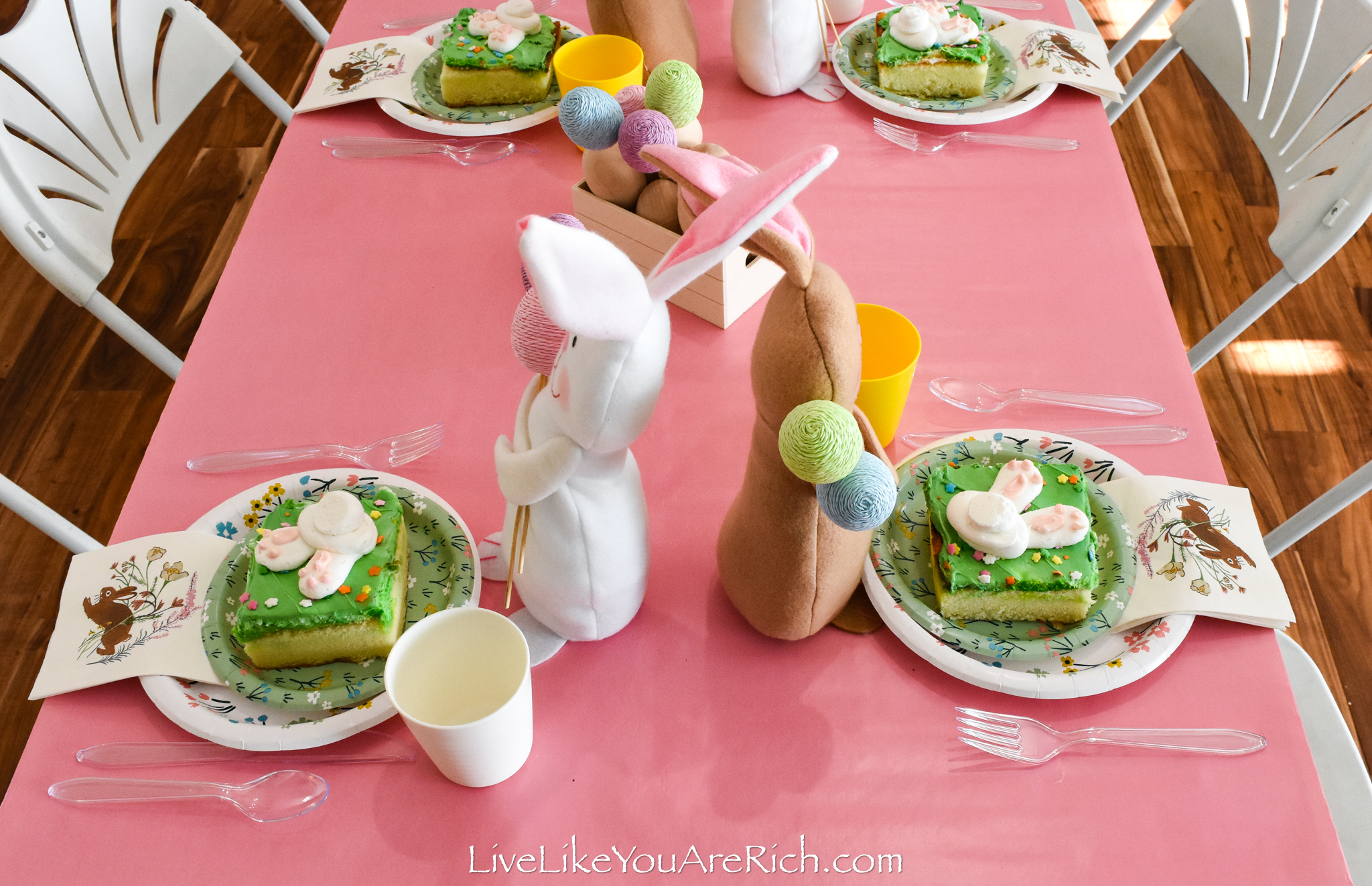 For centerpieces, I made an egg bouquet by tying one of each colored egg in a bundle with twine.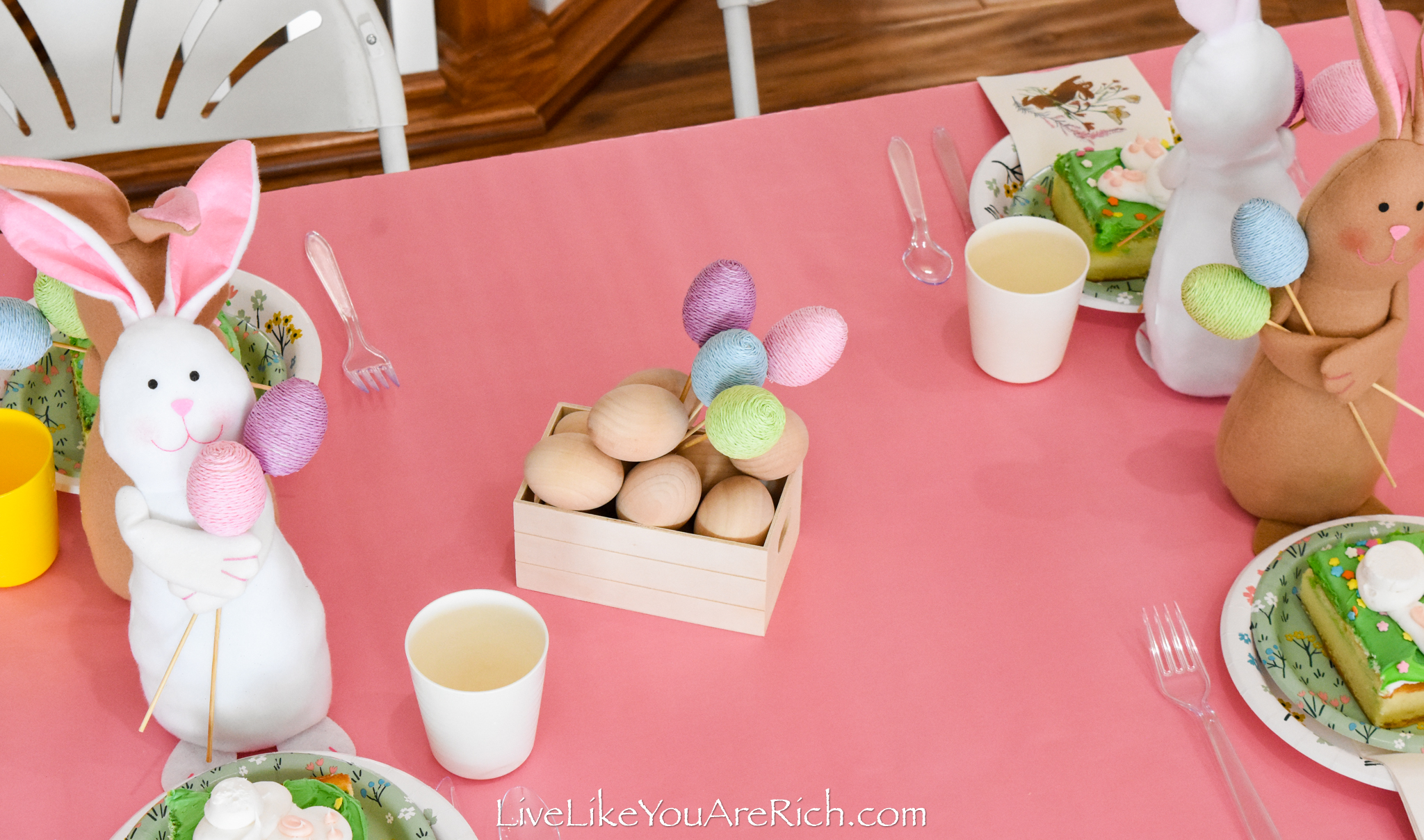 Then I put the bouquet of eggs in a wooden crate filled with natural wooden eggs to hold them in place.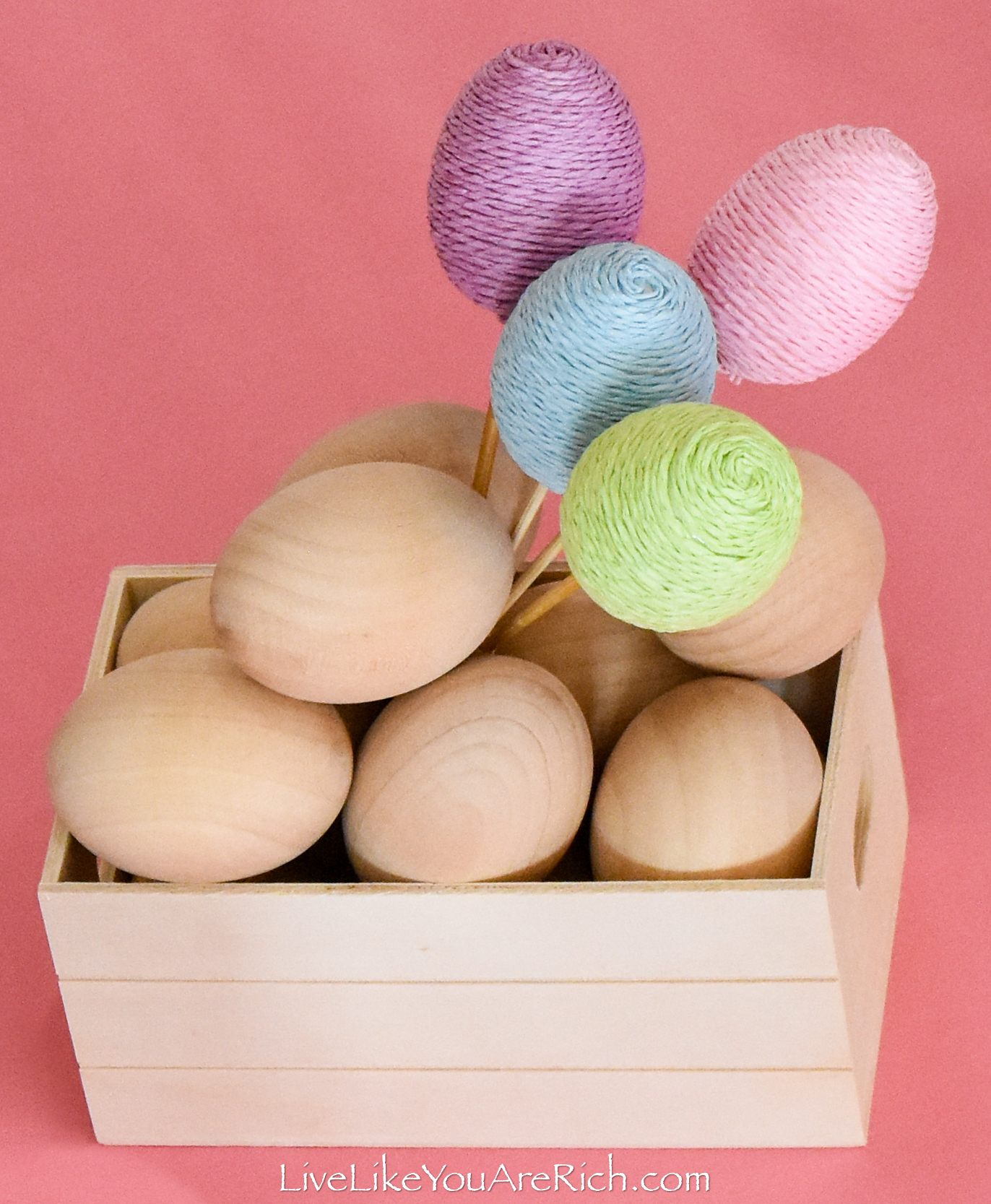 I liked the natural look of these arrangements with the pop of color.
I also like how there were spring colored flowers on the bunny napkins and floral plates and in contrast the bunnies were holding "egg flowers".
It was a bit of a reverse-parallel decoration theme that tied together.

My kids and their cousins really loved the bright colors and fun designs of this tablescape.
As mentioned, creating table designs is super fun for me. I usually prefer creating the kids' tablescape more than the adults', and this Kids' Easter Tablescape was no exception.
I hope this gives you some fun ideas for Easter as well!
Happy Easter!

For other 'rich living tips' please subscribe, like me on Facebook, and follow me on Pinterest and Instagram.