Piano Room Renovation Makeover— Home 3
When I moved into, 'home 3' (my husband and I's current home), there was a traditional dining area.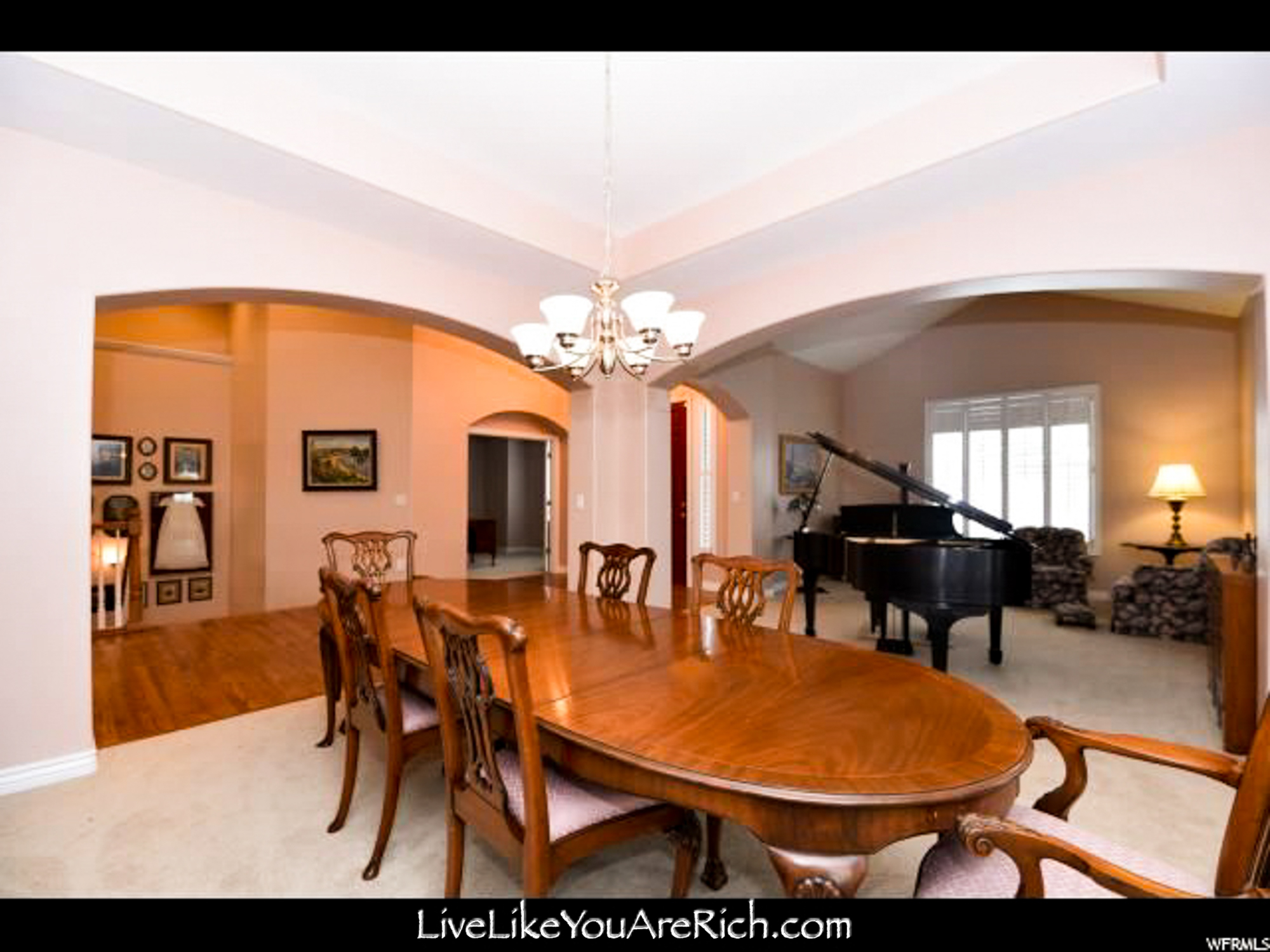 Before our renovation, the piano room had beige carpet that was pretty hammered in a lot of areas, pink walls, and dated lighting.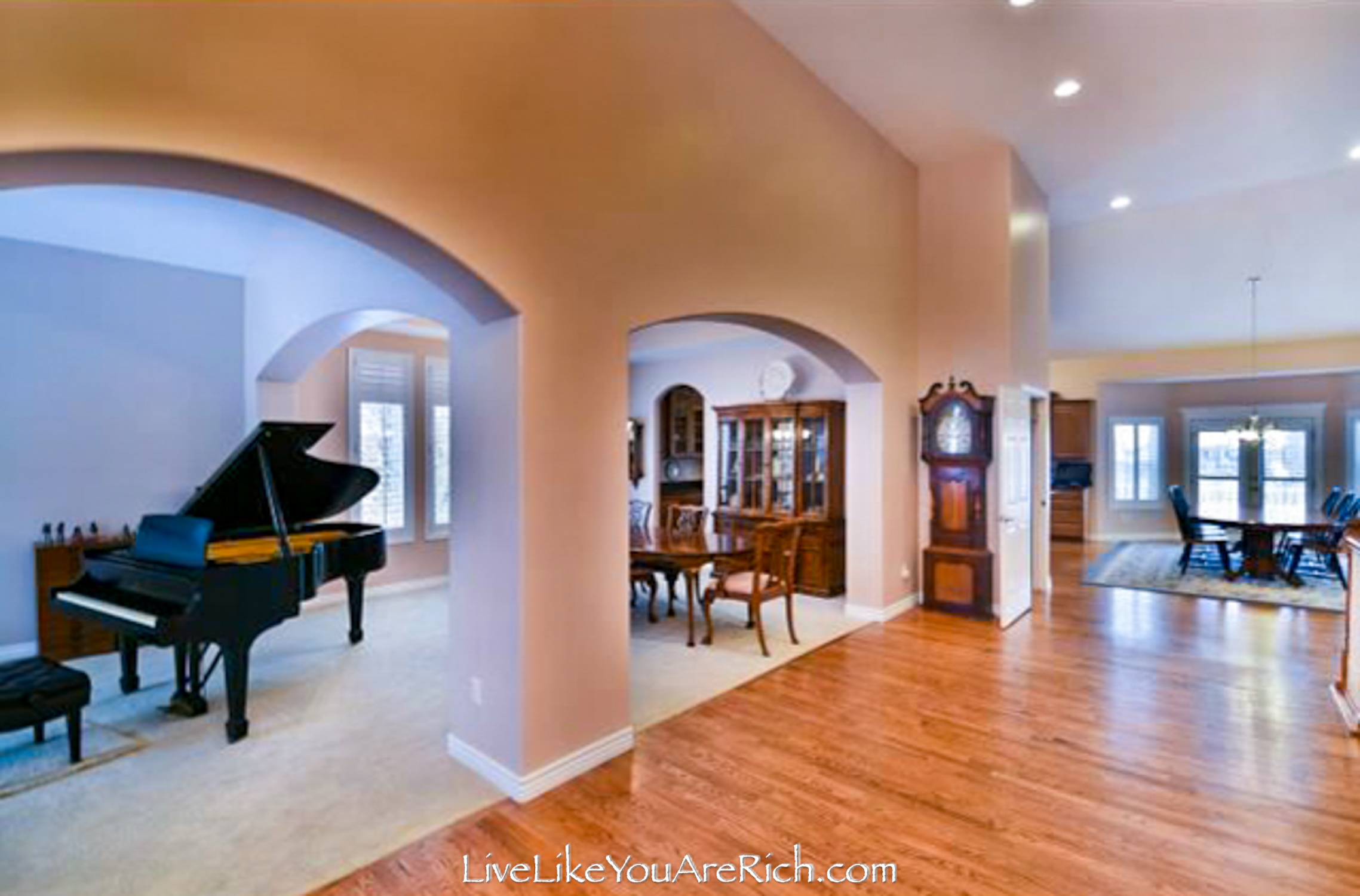 I love the look of a baby grand or grand piano in a home and I knew that a traditional dining table may not get used that much in this area of our home, so after remodeling this room, we put a baby grand piano in it and made it a piano room.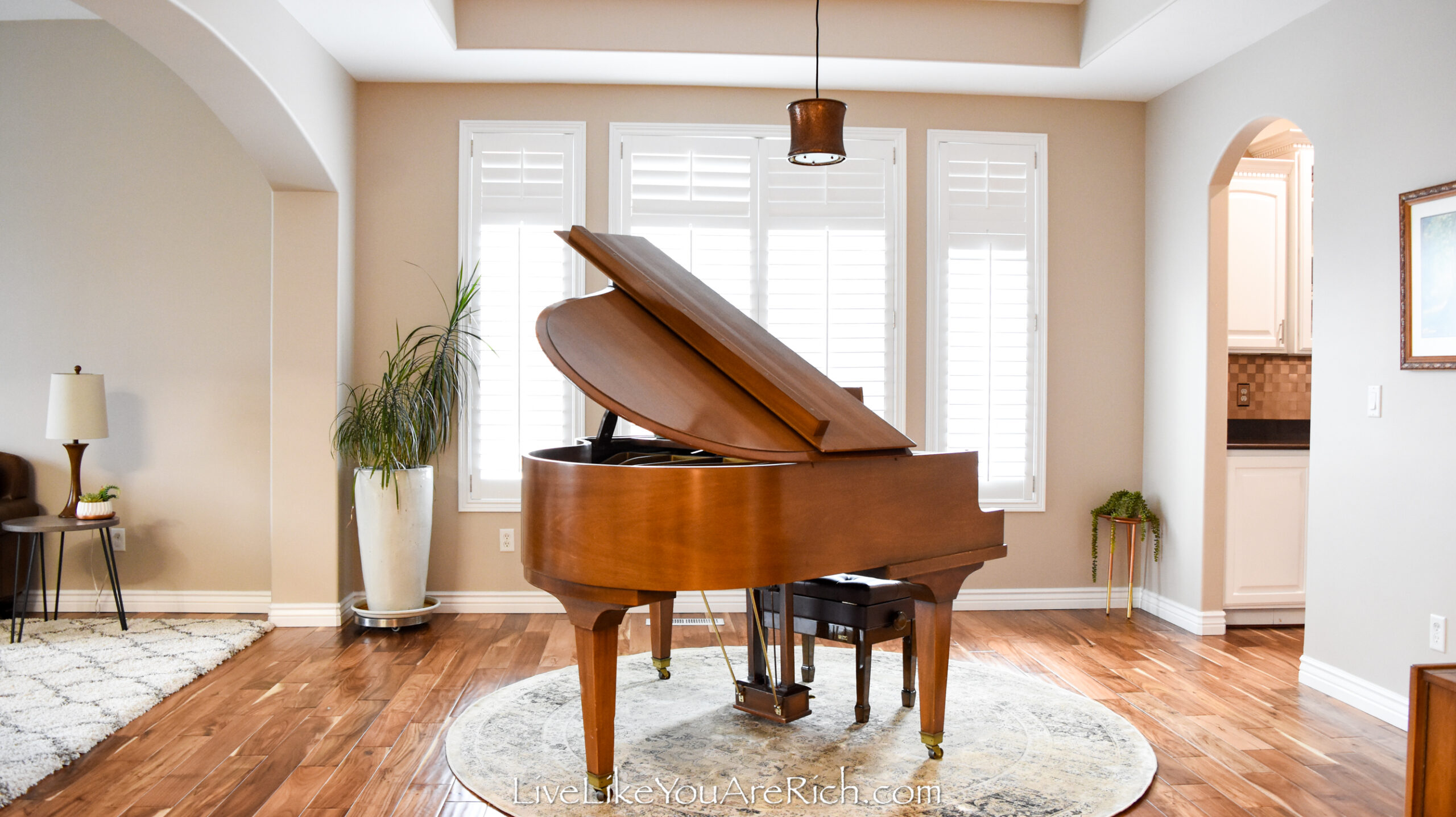 My daughter is learning the piano and I play as well and this room is great for piano playing.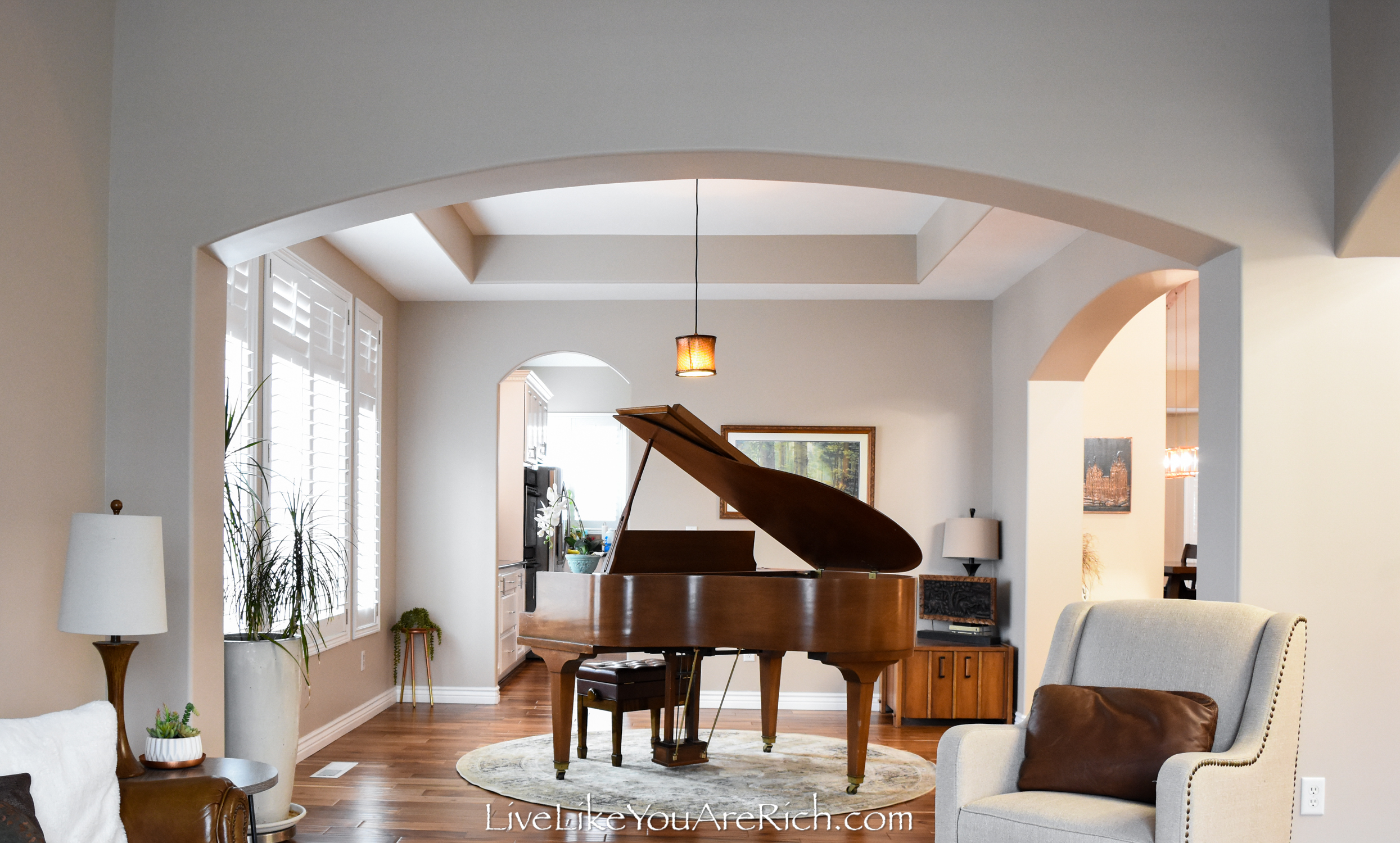 We were able to remodel this very inexpensively. Read on to see how much this room cost us.
Our home is located near a mountainous area and I like the feel of natural colors, wood, and stone. I love contrasting colors and warm tones my husband loves this style as well, so we are happy with the choices we made when decorating this room.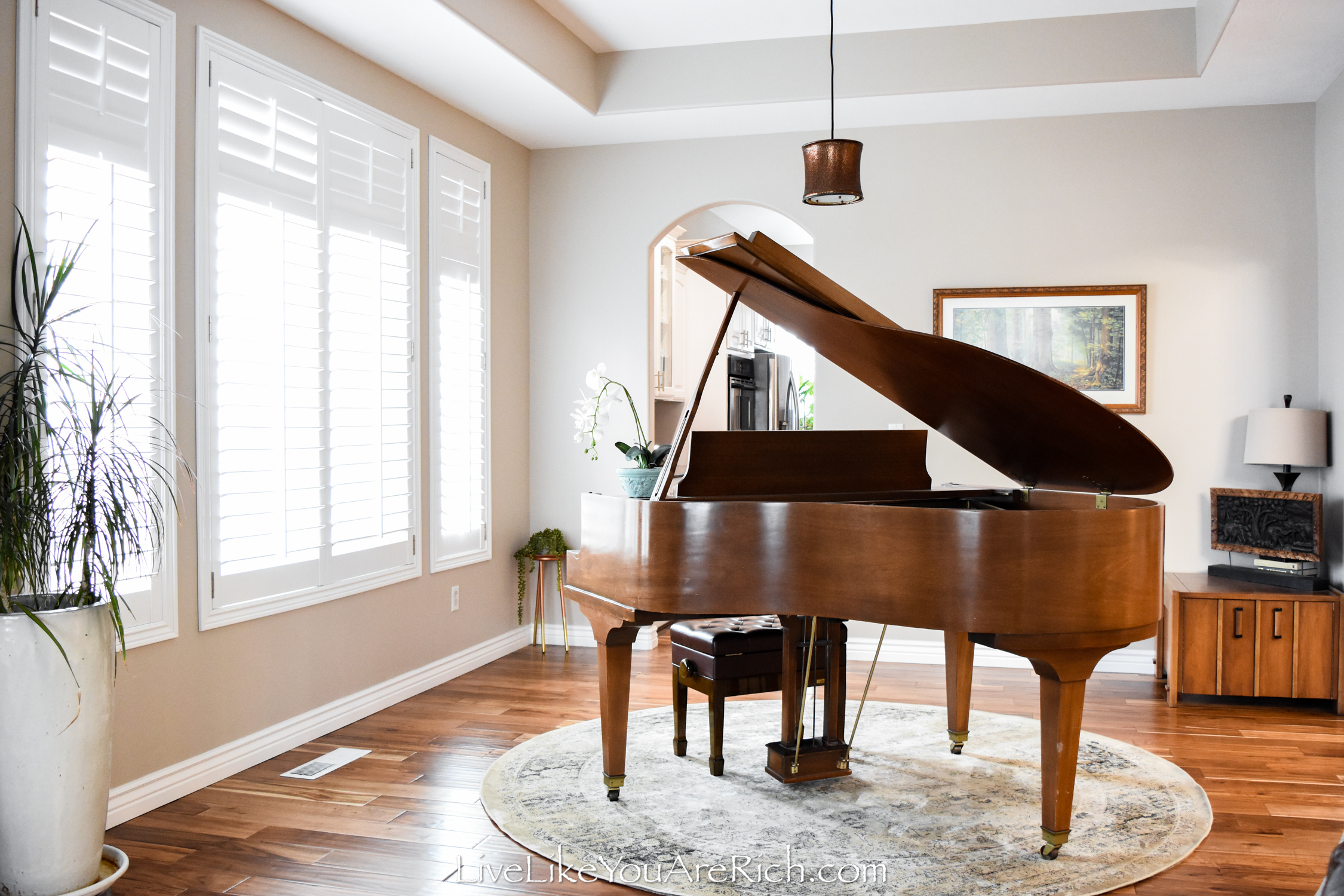 To Renovate this piano room
1- I removed the baseboards. I made sure to remove them carefully so we could save and reuse them. Check out the middle of this blog post to read how to remove baseboards carefully.
2- We ripped up the carpet and pulled out the staples.
3- Paint.
When the floors are bare, it is the perfect time to paint. This way there is minimal prep work and protection needed.
See this tutorial on how to prep and paint a room if you are unfamiliar with how to do it.
We paid a company a set price to paint our great main room because it has tall walls and vaulted ceilings. Although I could have painted this room easily myself, it was part of the great room and was included in the bid. They charged us $400 to paint this room and its pillars.
I choose Bungalow Beige SW 7511.
It's a warmer-toned beige that can also go grey in certain lighting. It blends in really well with the wood and other aspects in the home.

4- Install Hardwood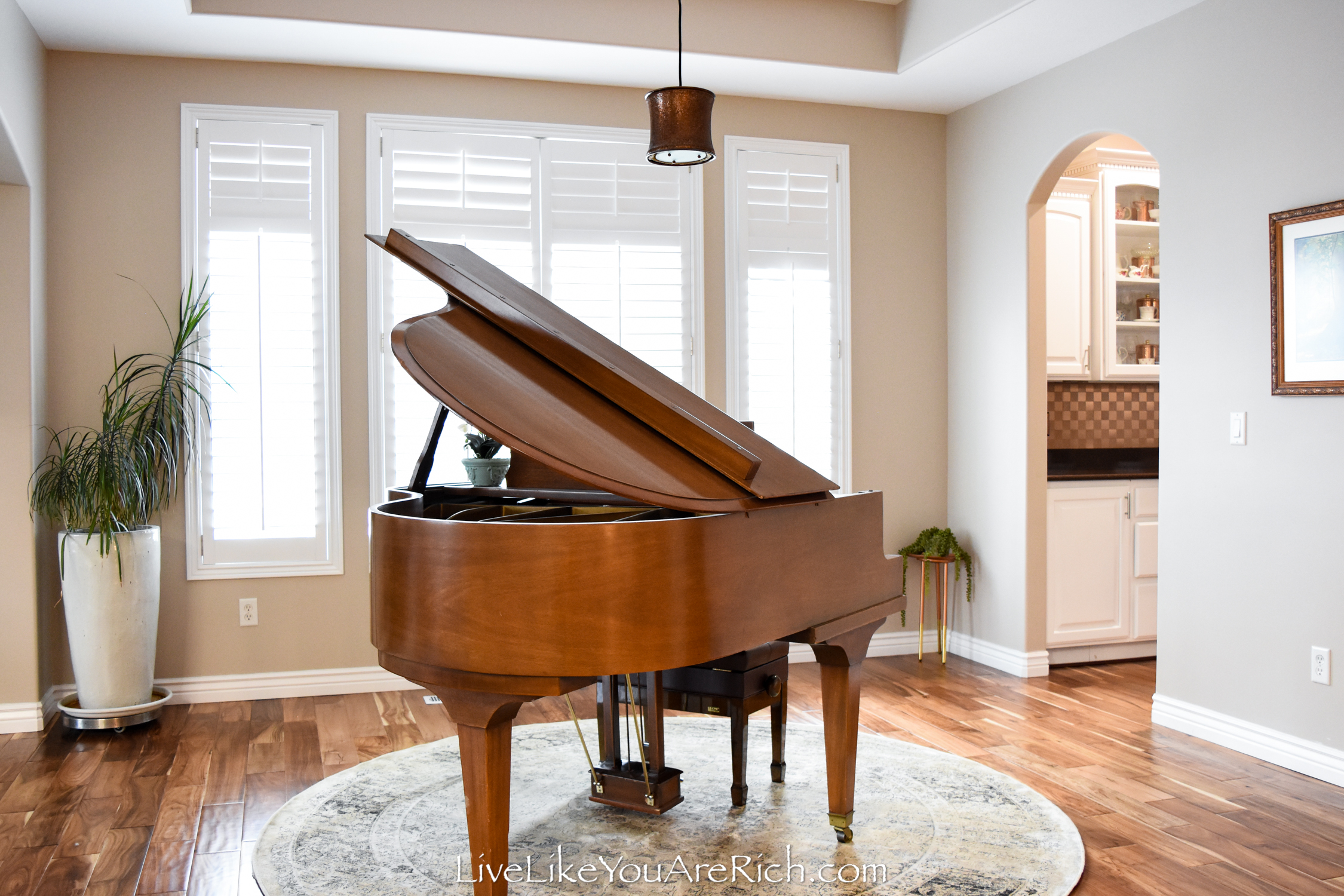 The carpet was replaced with a hardwood floor.
This hardwood flooring is real acacia wood that is pre-finished. Acacia has a variety of warm browns and tans in it. I love it! The acacia ties into so many items throughout our home.
I bought the hardwood from Lumber Liquidators using a coupon and bought it on sale. It cost about $700 to put hardwood in this area.
I helped install the hardwood throughout the home. After installing about 1500 sq feet the installation was just going too slowly (it was taking months) doing it ourselves. So, I hired a team to come and finish the last 1,000 sq foot—they did it in 2 days.
They ended up installing the wood in this piano room. It would have only been $350 if we had done it ourselves.
5- Add the molding back into place and caulk, patch, sand, and paint it. I did this myself.
6- Decorate.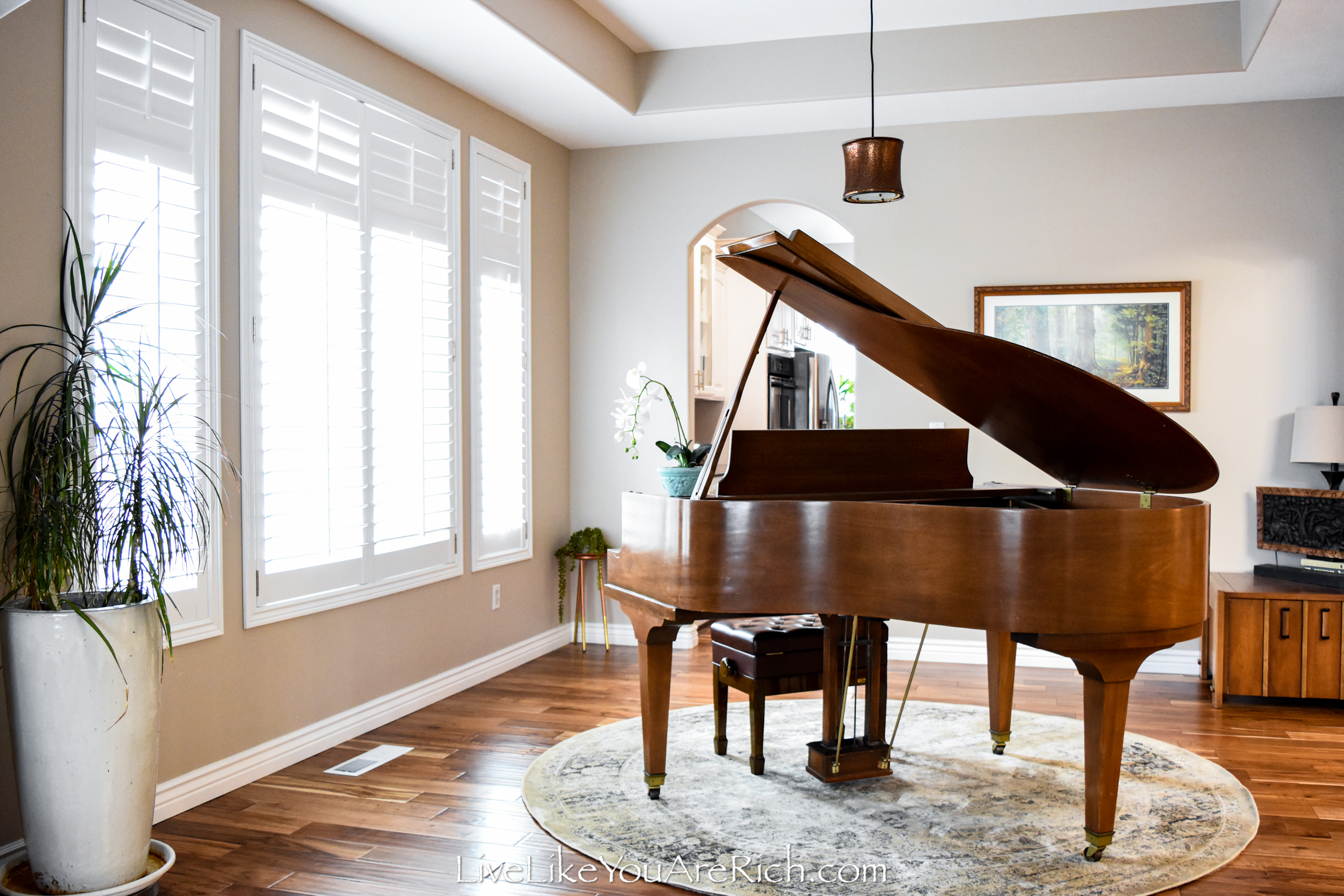 Decorating is my favorite part of the process. Originally, I had an old thrift store piano that was only a couple hundred dollars but I could not get it to hold a tune. So, after searching long and hard, I was able to buy this piano for $1000 including a moving fee from a family who was inheriting a grand piano.
This baby grand has a very good sound and my daughter and I enjoy playing on it.
I got the rug off local classifieds used like new for $50.00 it is Safavieh brand (my favorite rug brand).
This rug is called: Safavieh Vintage Alhia 8′ Round Warm Beige #VTG113-660-8R
The rug pad under is a 9×10 rug pad that I got unbelievably for $10.00 on sale from Down East Home. I simply used scissors and trimmed it to size.
The plant, tall concrete planter, and rolling stand were $30 (local classified).
The copper table was $25.00 from a boutique.
The plant hanging off the copper side table was $12.00, World Market.
The faux orchid in the aqua vase was $3.00 at a garage sale.
The light was new bought on local classifieds —as someone didn't want it—. It was originally closer to $200, I bought it for $45.00.
I bought the Greg Olsen large framed painting on local classifieds for $50.00.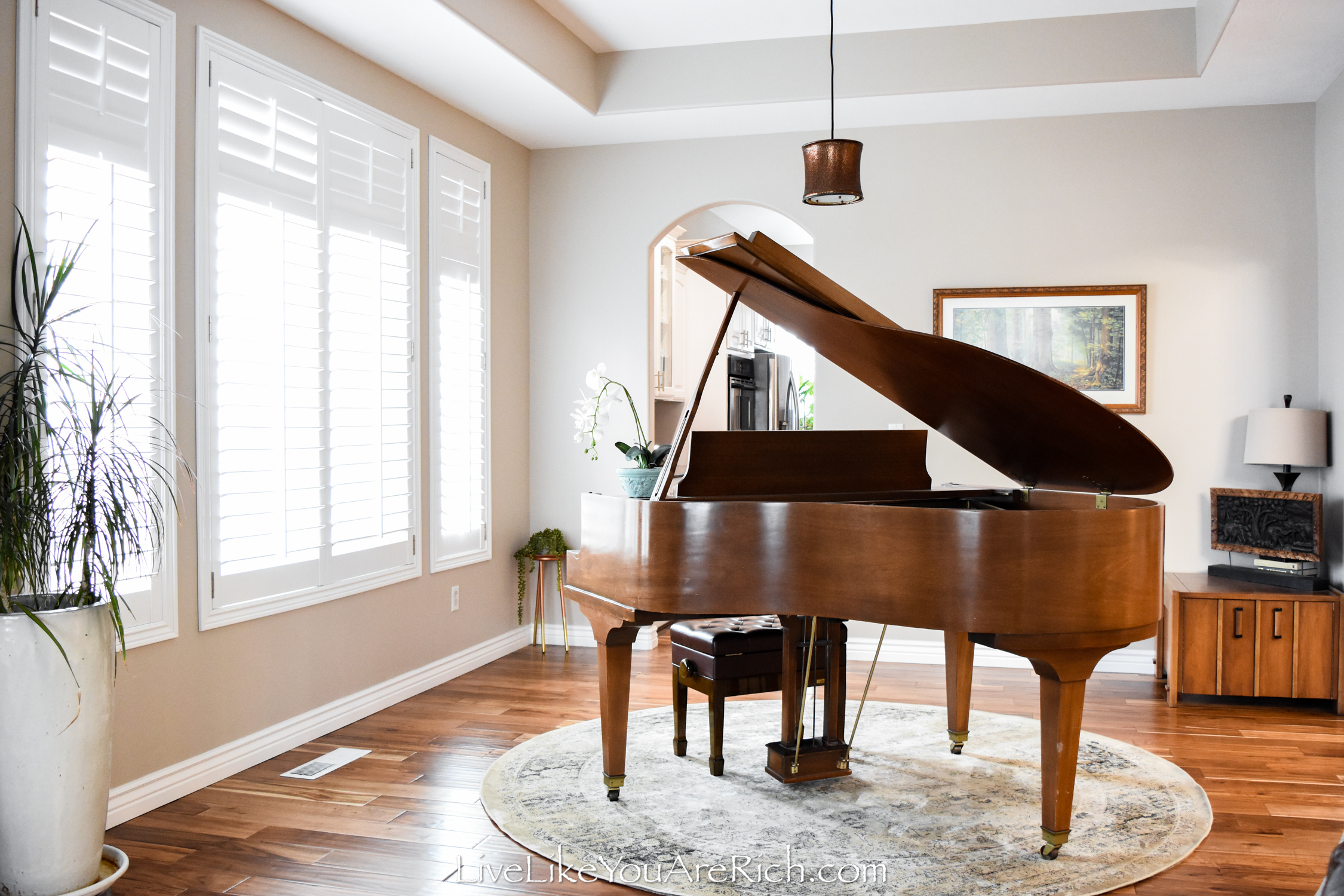 The lamp was $15.00 (local classifieds).
The side table and wood art were carry-over furniture from home 1.
In total, the renovation of this dining room turned piano room cost $1300 for the floor, paint, and trim $1,000 for the piano, and another $215.00 for the lighting and decor.
The total for this piano room (including piano) cost $2,515.00.
As you can see, buying used or like new off of local classifieds and doing some work yourself can save a lot of money on renovations and decorating!!
I hope this tutorial demonstrated how you can save money on a piano room.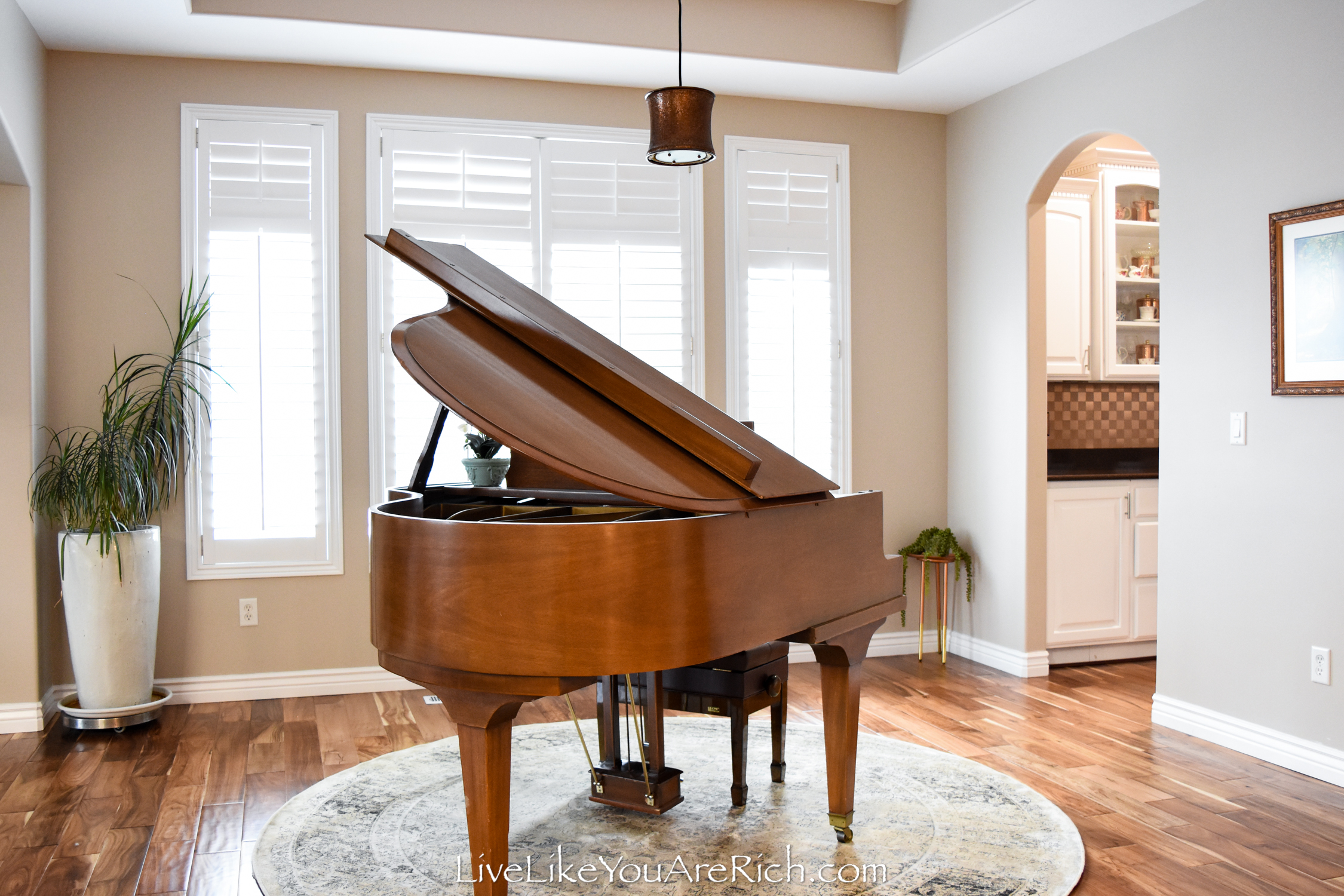 SUPPLY LIST FOR THIS PIANO ROOM RENOVATION
Acacia hardwood flooring (real wood but pre-finished)- Lumber Liquidators
SW7511 Bungalow Beige paint- Sherwin Williams
Paint supplies (roller, brush, spackling, sanding pad, scrapper, stir stick, plastic drop cloths, etc.)
Safavieh (my favorite brand of rugs)
white painters caulk
Tools to reinstall molding: finish nail gun, compressor, air compressor hose, nails (or borrow or rent).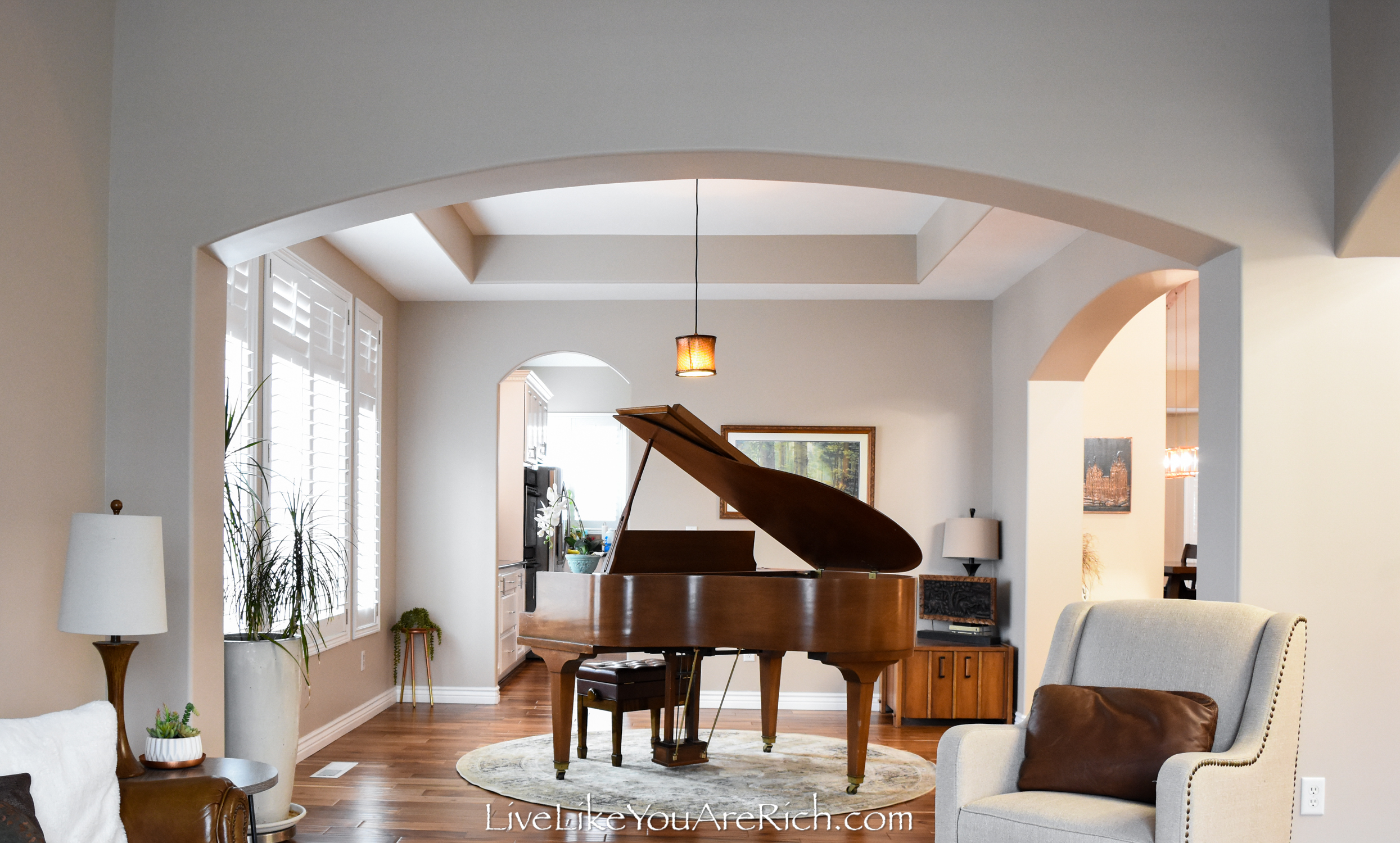 Check out my other renovation posts.

For other 'rich living' and money-saving tips, please subscribe, like me on Facebook, and follow me on Pinterest and Instagram.