This was a fun Pumpkin Truck Tablescape that I put together for Thanksgiving.

I love the pumpkin truck decor that is everywhere these days. It is so darling! So, I decided to make a little table centerpiece using it.
I also like to do a kids' tablescape when I host dinners for our family at our home for holidays. I think it makes it special for children to have a cute space of their own.
Pumpkin Truck Tablescape Supply List
Diesel toy truck with flat bed
Mini sisal hedgehog
Strawman/ scarecrow
Orange pipe cleaner
mini berries
mod podge
foam brush
glue gun and sticks
dried floral/plants (picked from my yard).
How to Make This Pumpkin Truck Kid's Tablescape
See video and/or continue reading…
I took an old toy truck and upgraded it to look like a harvest pumpkin hauler.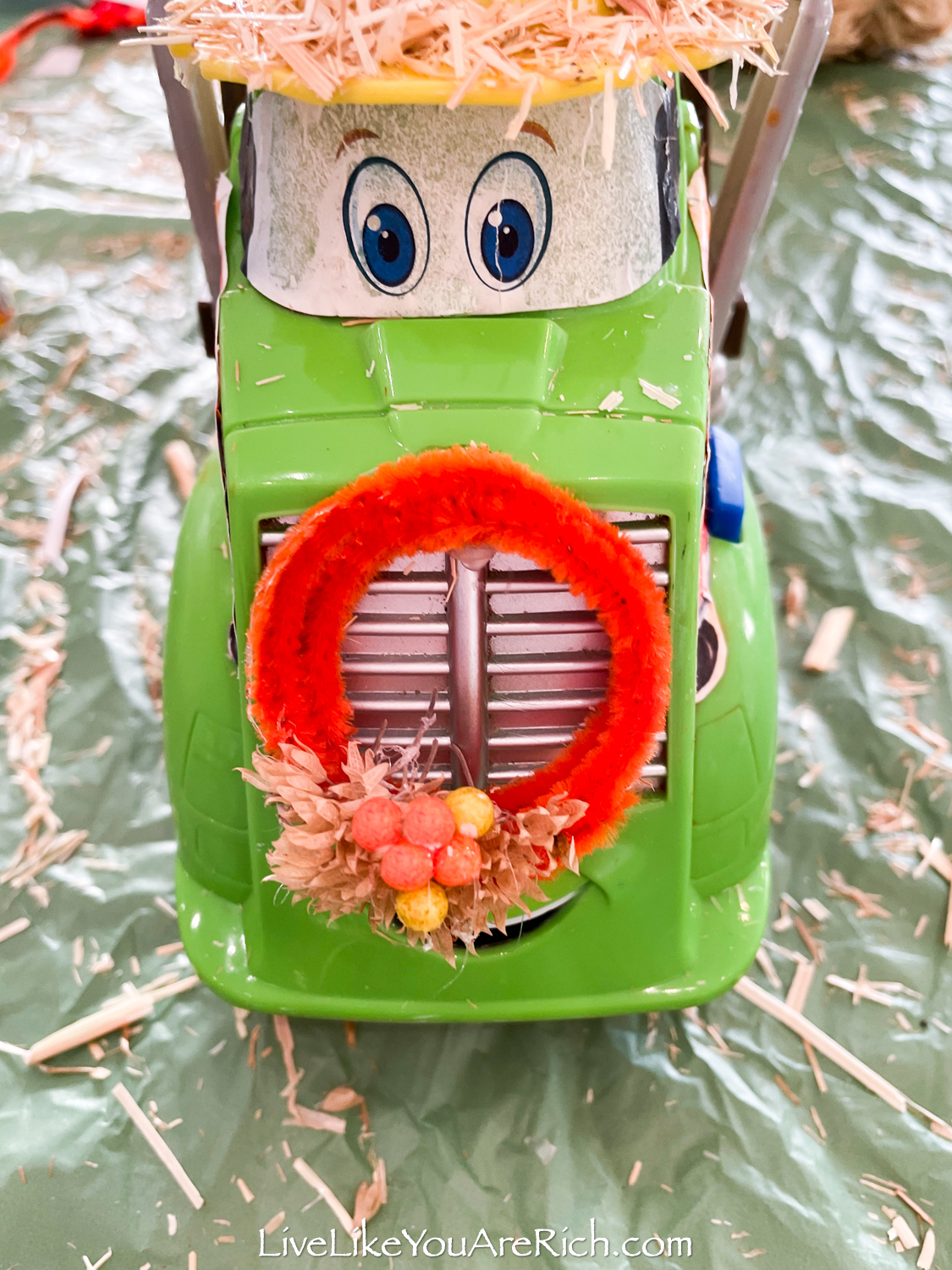 We have had this toy truck for close to 8 years, surprisingly it is still being sold at Walmart (link in the supply list).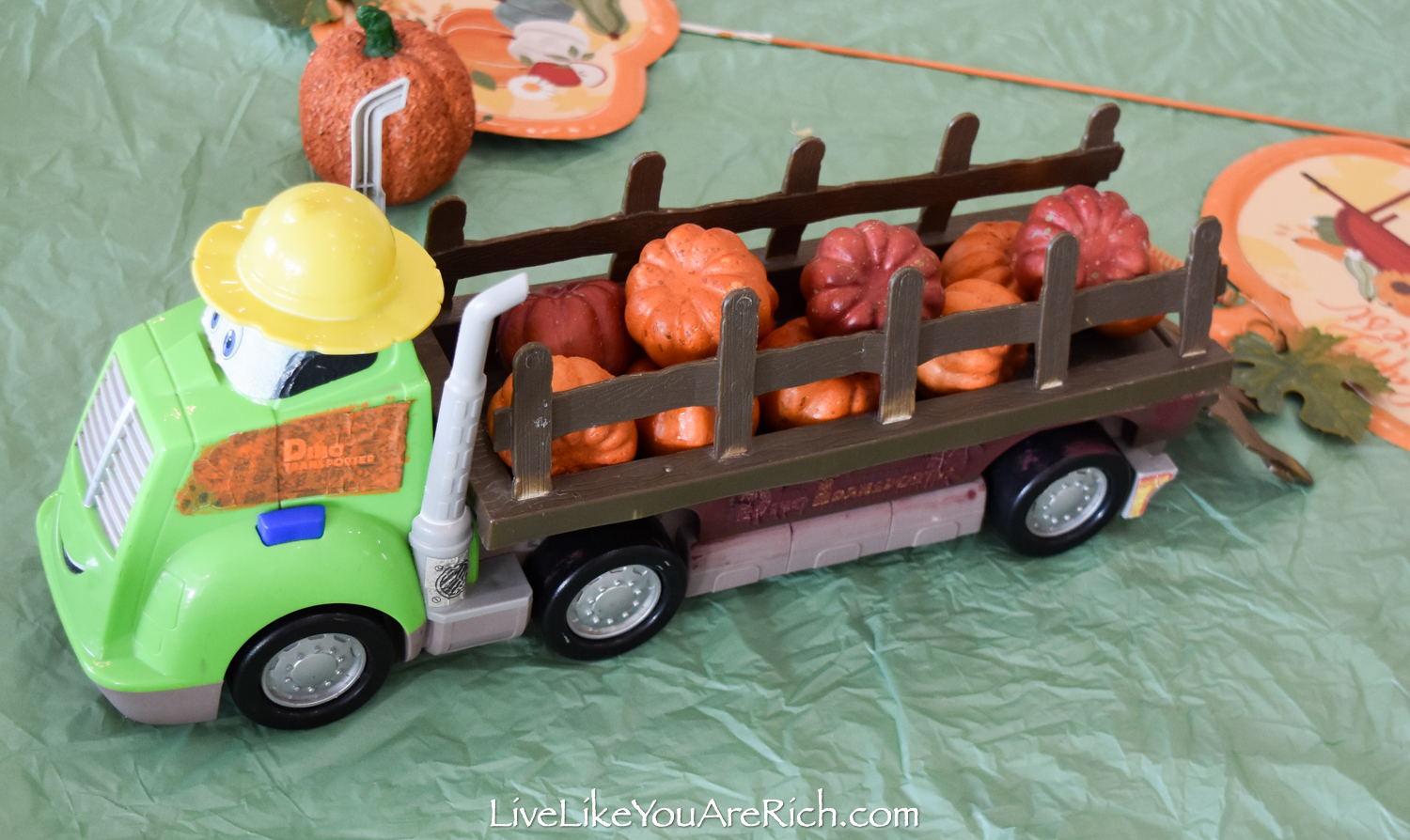 Since the stickers were almost worn off anyway, I decided to paint over them.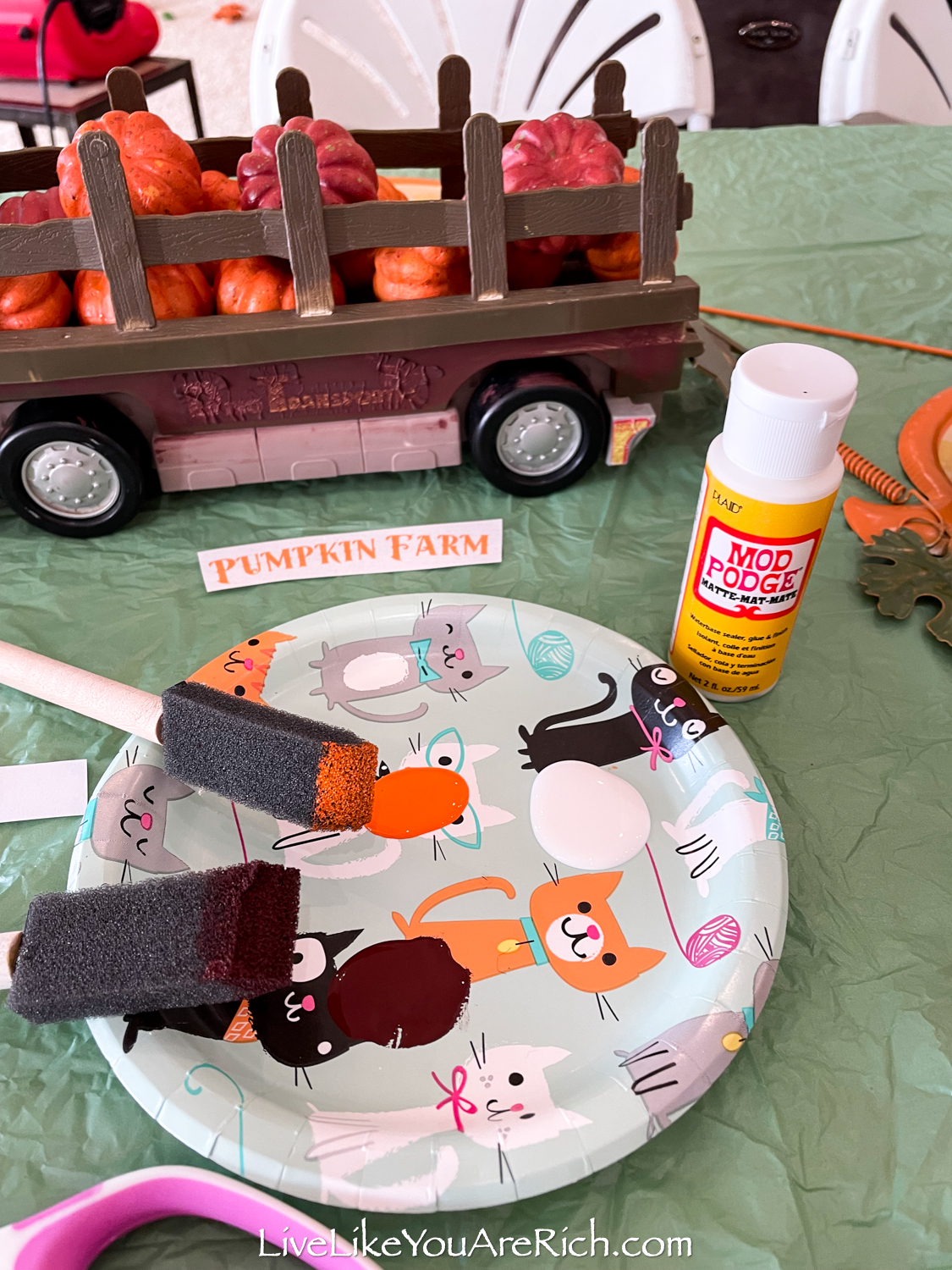 Next, I glued "Pumpkin Farm" over the existing dinosaur stickers that were on the sides of the truck.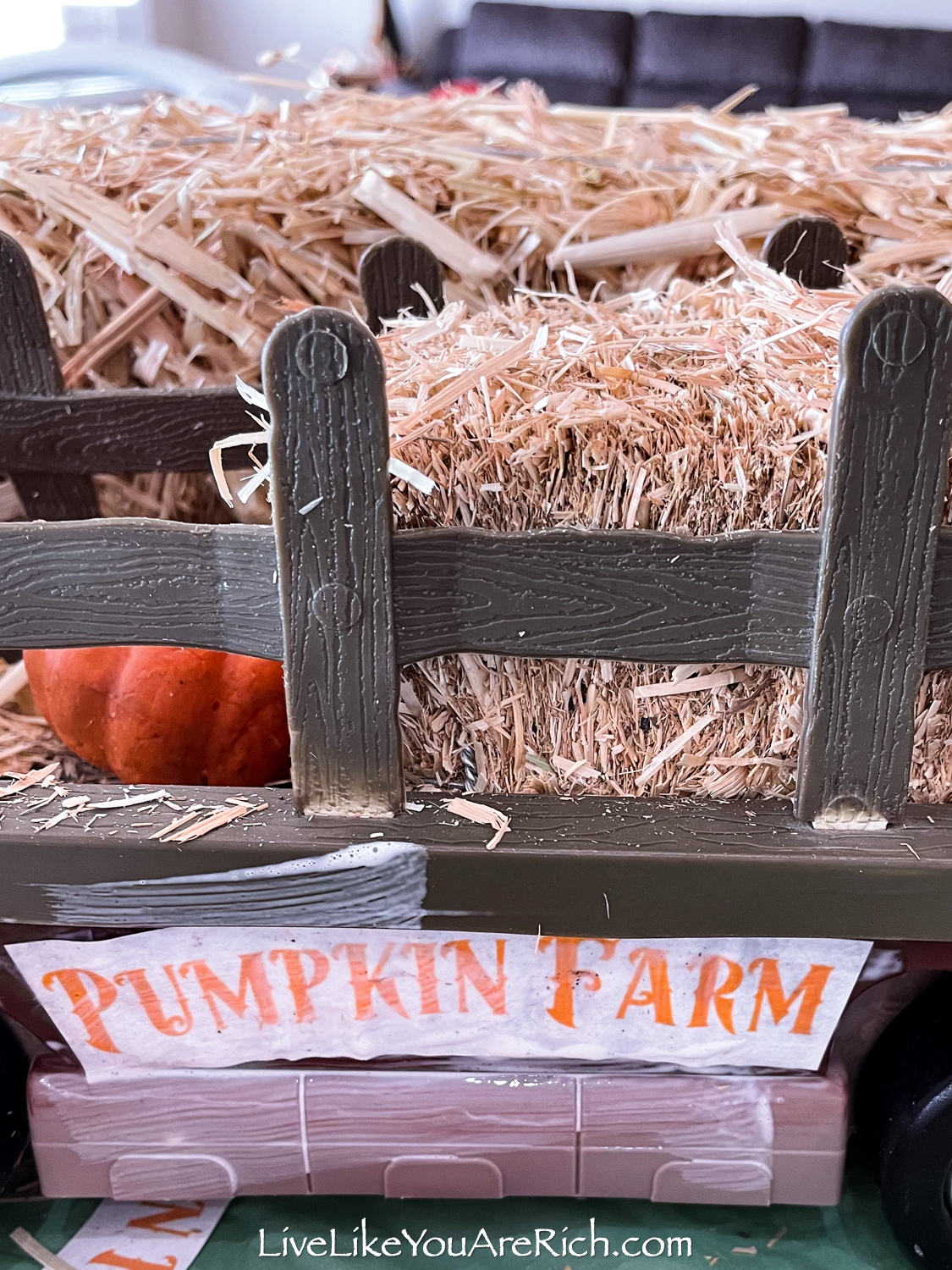 I did this using Mod Podge with foam brushes.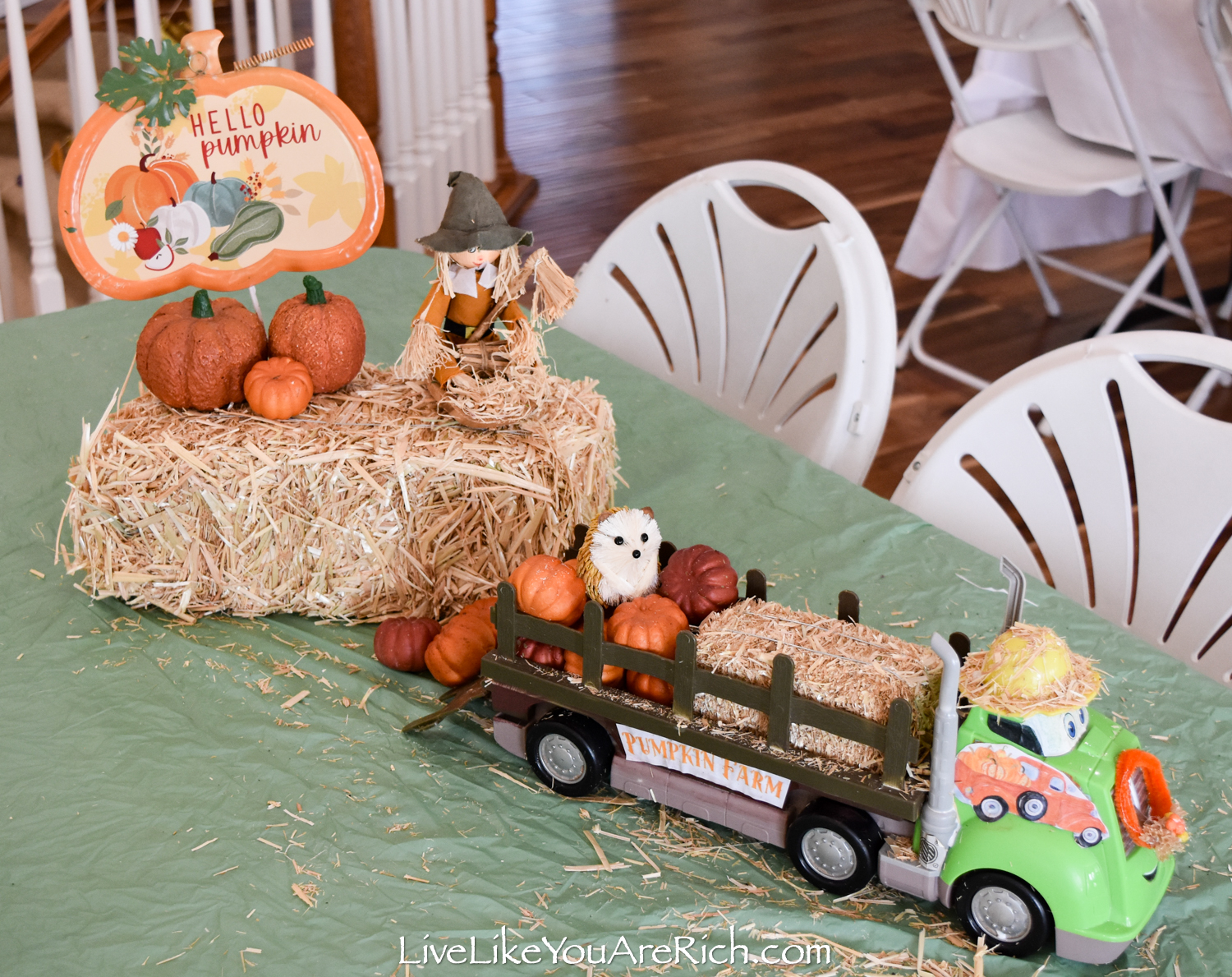 I also mod podged's the clipart of a pumpkin truck onto the toy truck sides as well. These stickers were a bit trickier to hide. I had to experiment with my printing scale/size to get the truck to cover them and yet not be too large.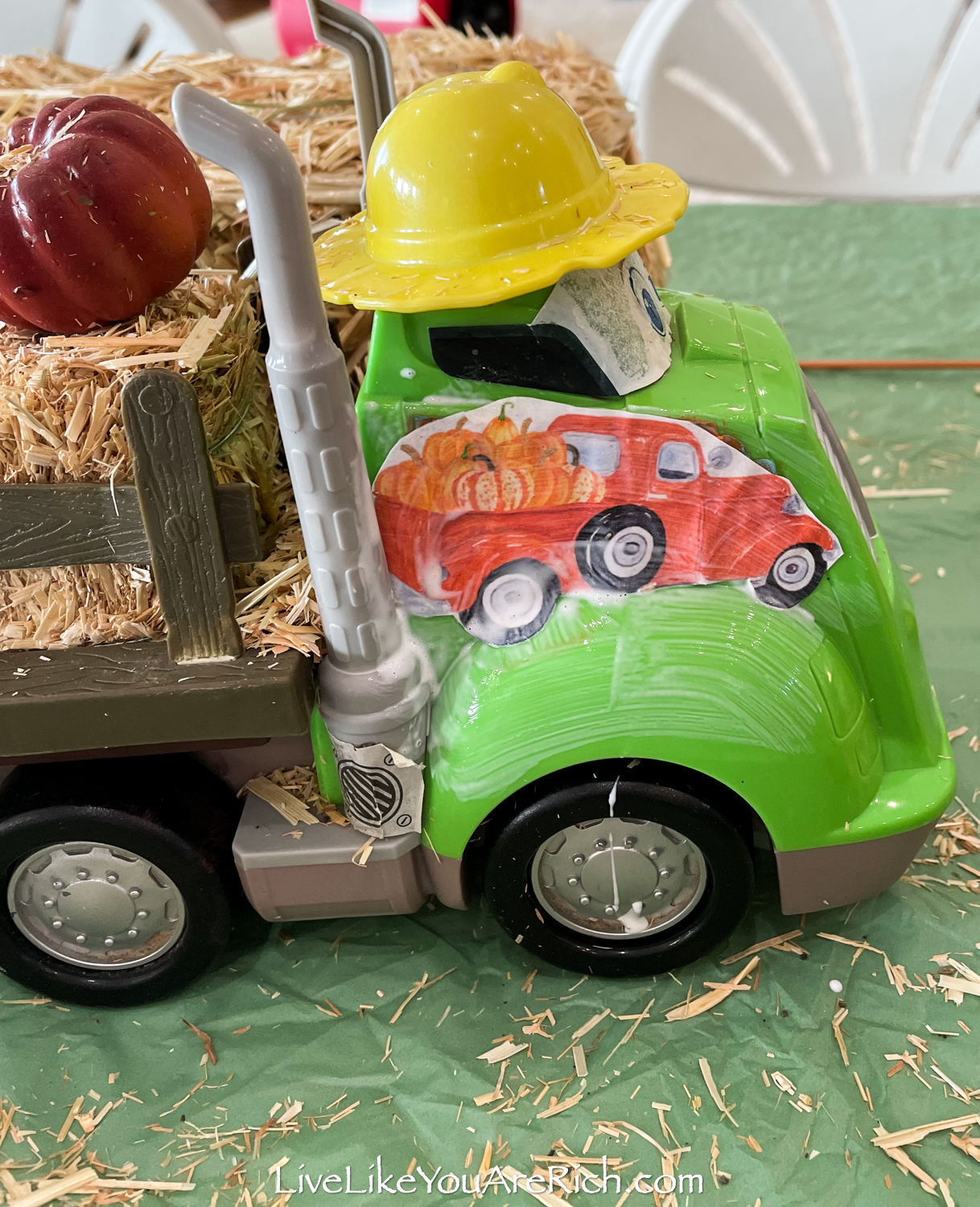 I realize the 'decals' are not super professional looking, but it turned out cute enough.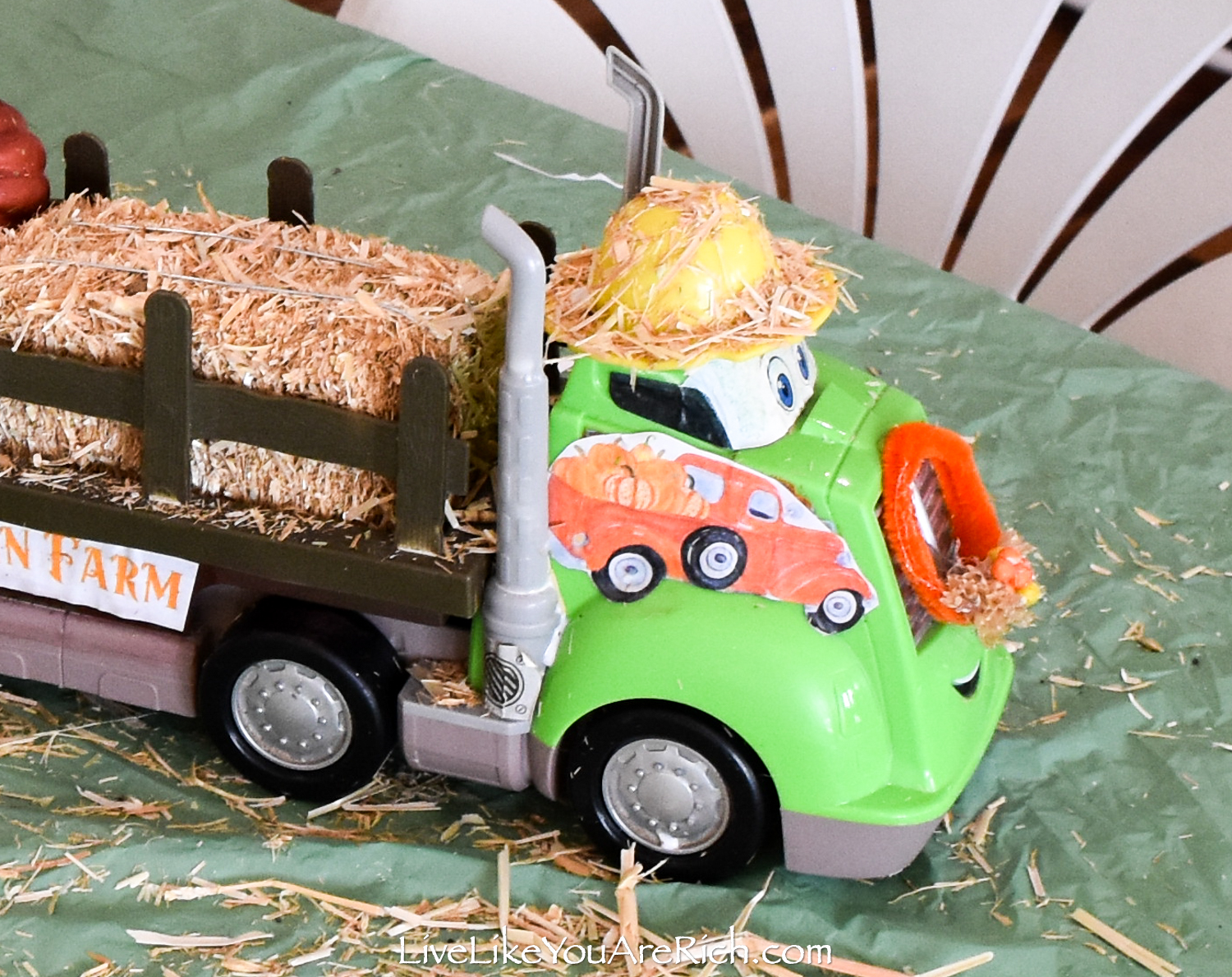 My daughter and I turned the hauler's hat into farmer's straw hat.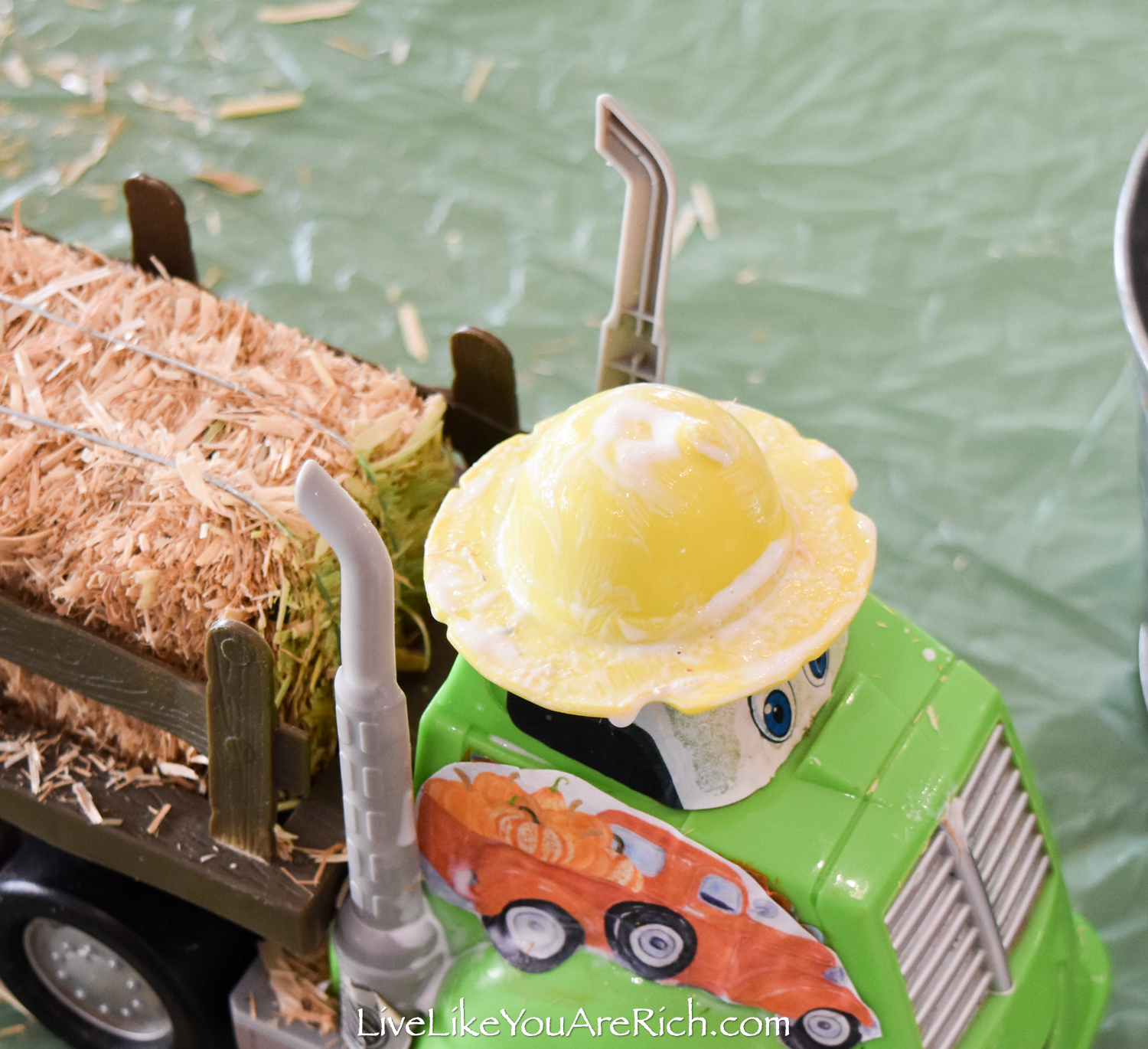 We coated it with mod podge and then sprinkled the hat with straw pieces.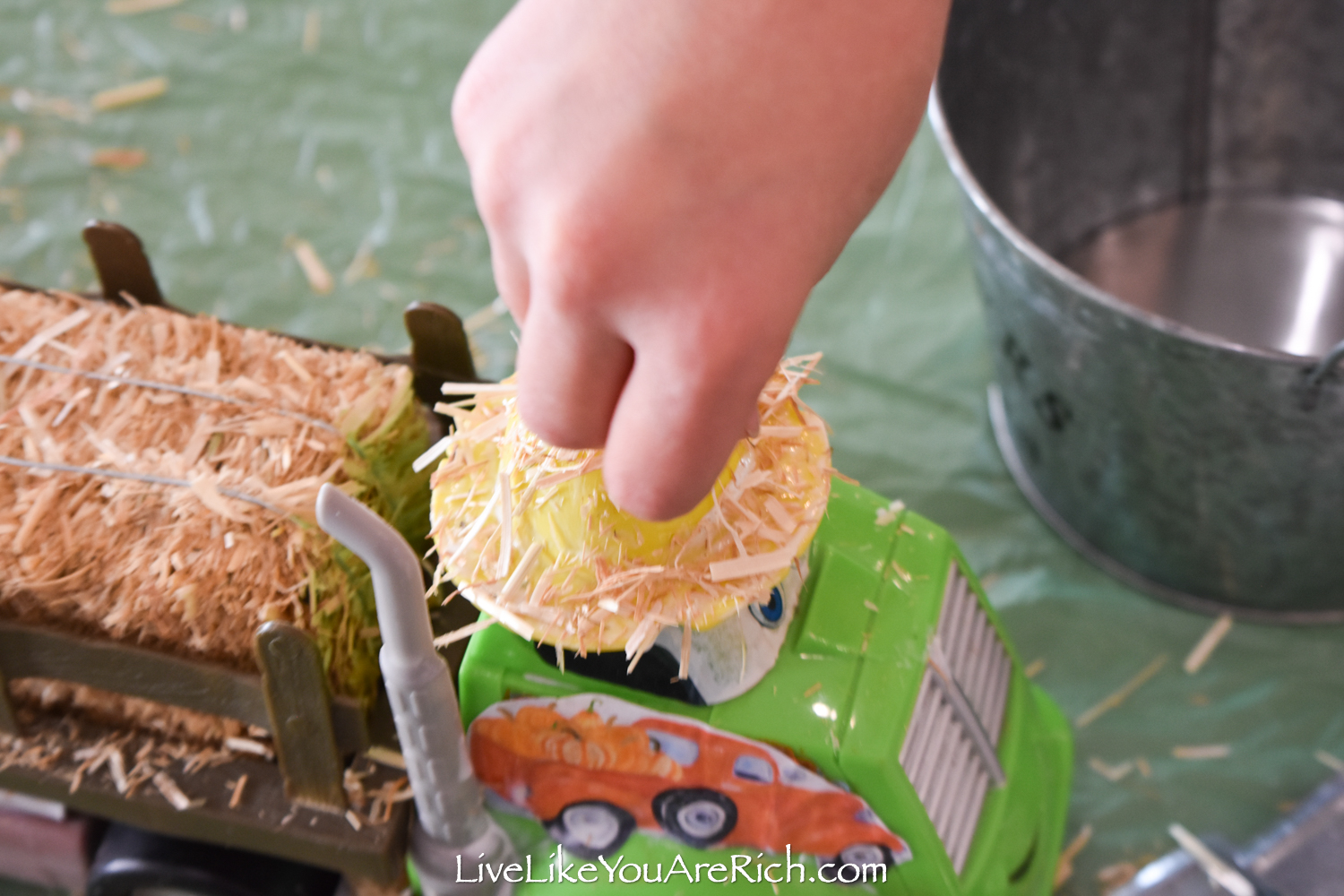 Then I made a mini pumpkin wreath for the grill of the pumpkin truck.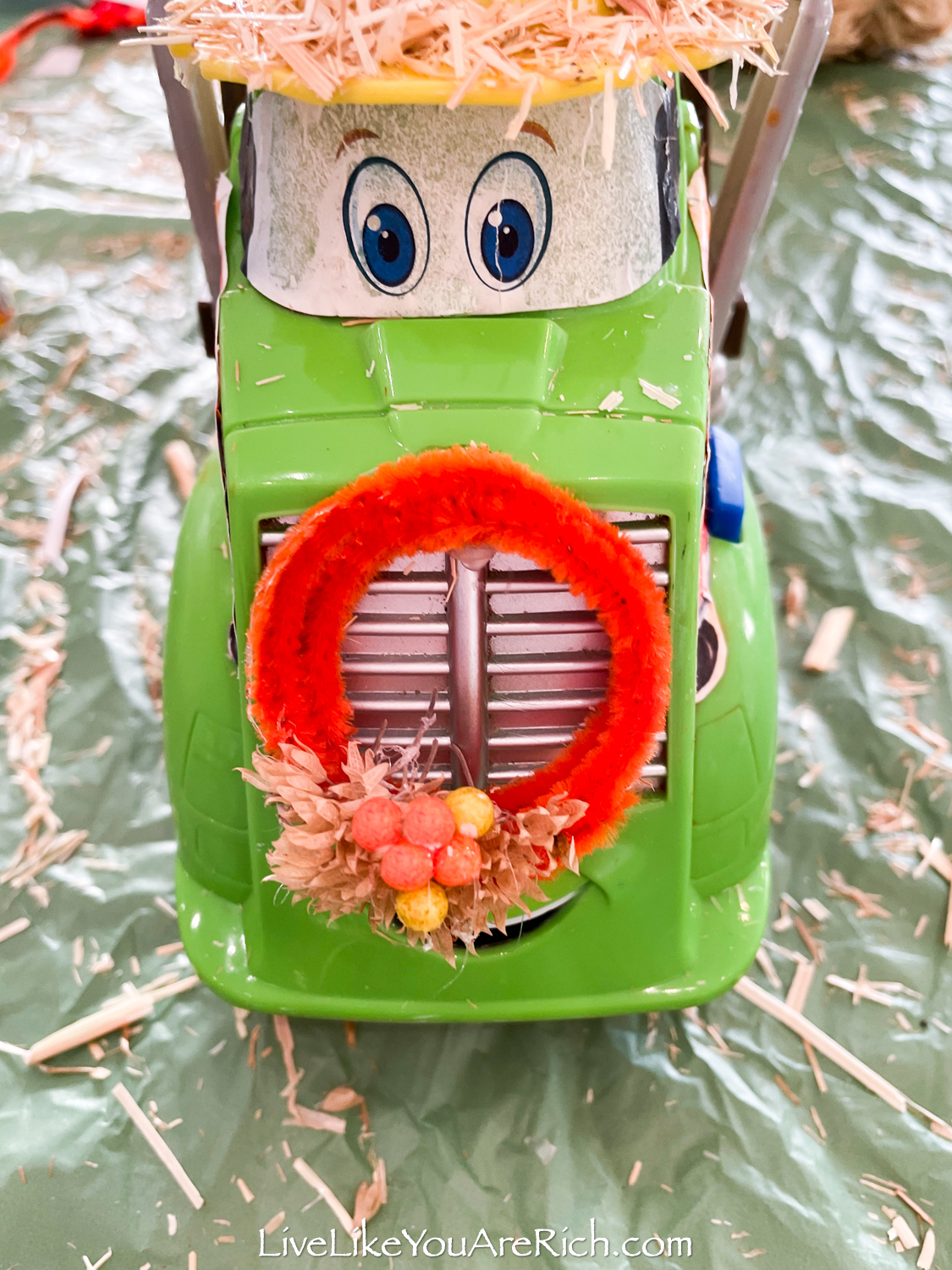 I did this by shaping an orange pipe cleaner into a circle and glueing on some floral foliage and mini berries/pumpkins (see video).
I glued the wreath onto the grill of the pumpkin truck.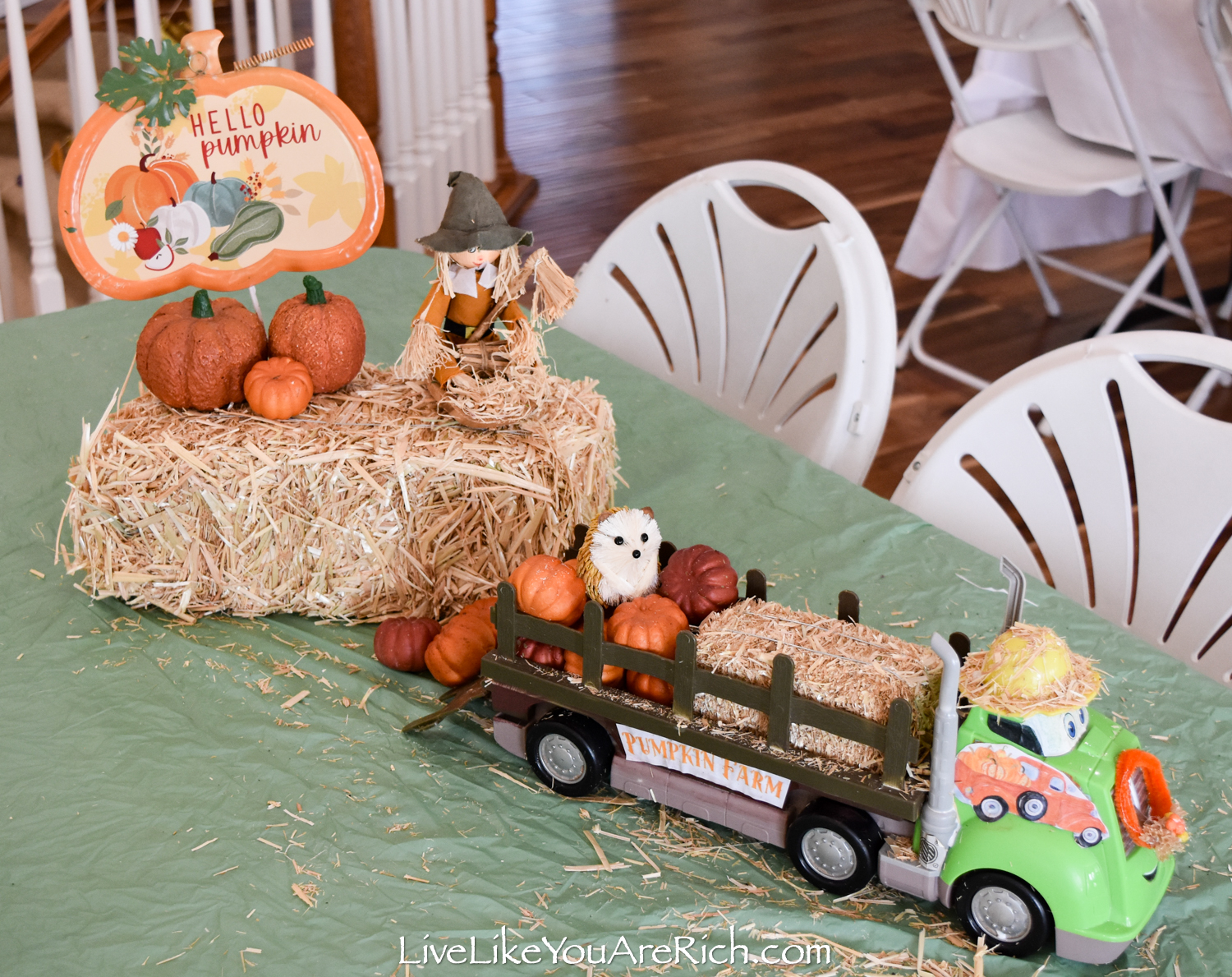 I filled the back of the truck with a small hay bale, mini pumpkins, and a hedgehog sisal animal.
I took a medium hay bale and put it on the table.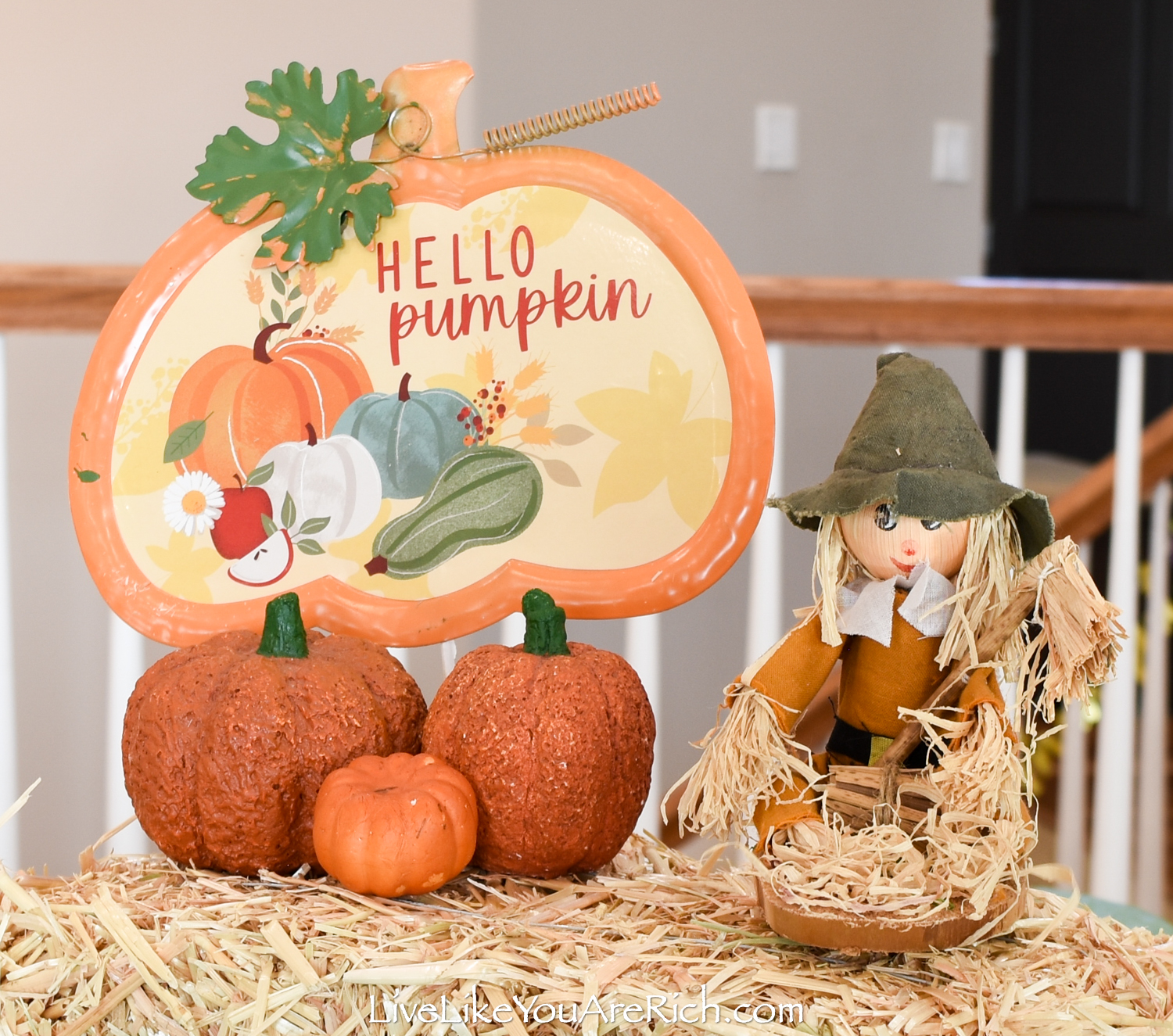 I added this, "Hello Pumpkin", sign that I got at Dollar Tree as well as 3 pumpkins I had.
I added this cute scarecrow that I got from a thrift store many years ago.
Finally, I arranged everything so it looked as if the pumpkins were spilling out of the truck as the hedgehog climbed among them.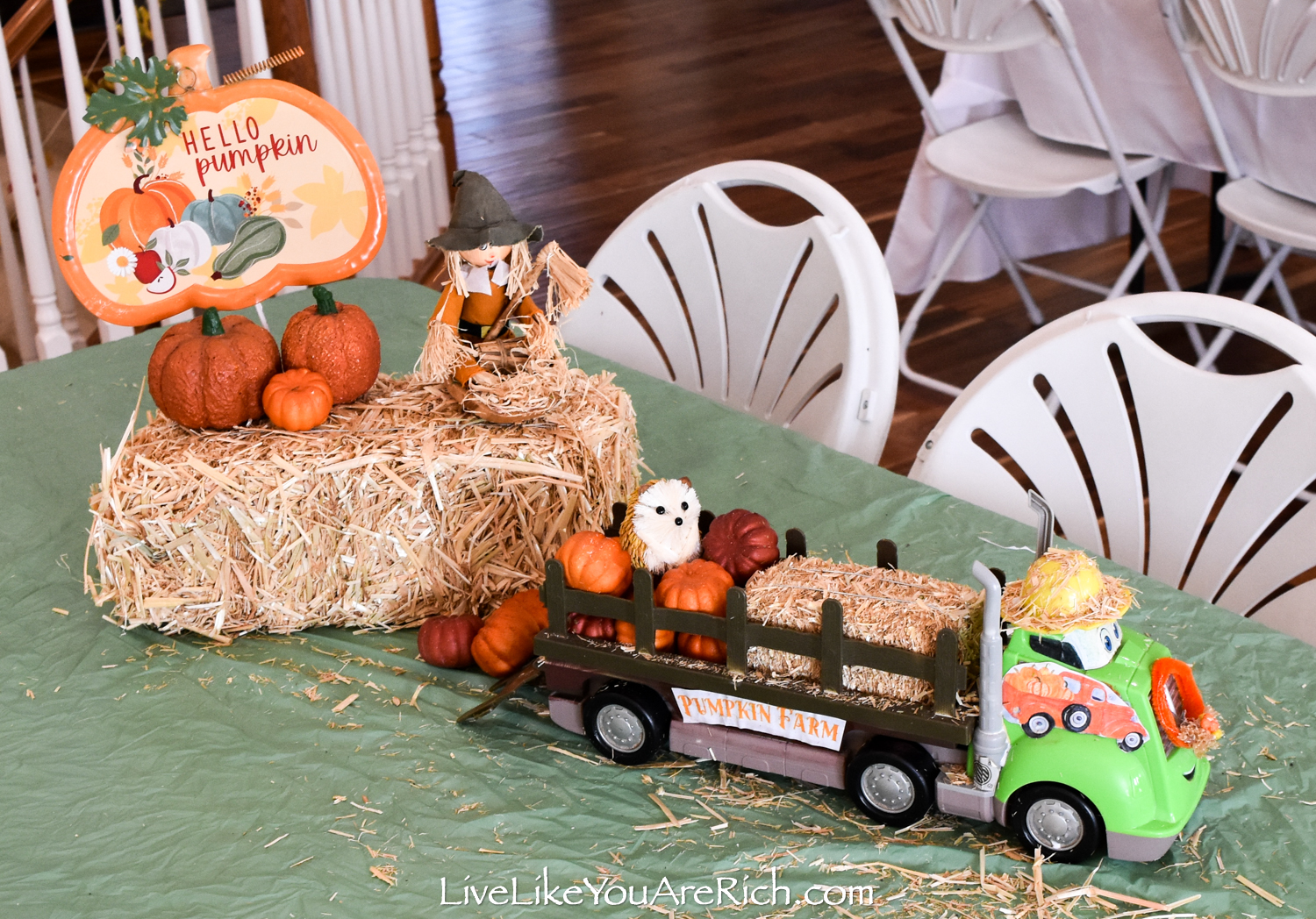 This was free to put together since I used what I already had in my fall decor bin and improvised the rest. Utilizing what I already have to decorate with is something I try to do as it obviously saves me money.
Although, I didn't spend anything additional on this tablescape, I did link to many similar items in the supply list above so readers can make something similar if desired.
This tablescape came together quickly; I put about 15 minutes into it (including the truck's transformation).
I love setting aside a table for kids and making their tablescapes fun and cute; this Pumpkin Truck Tablescape accomplished that.
—Happy Feasting!


For other 'rich living' and D.I.Y. decor tips please subscribe, like me on Facebook, and follow me on Pinterest and Instagram.