I made these Valentine's Day Pampas Grass and Flower Wreaths.
I placed one on either side of my Valentine's Day Mantel this year.
Note, when making these, if you want one at either end of a mantel, you will want to put the decoration on opposite sides (one going left and one going right).
Supply List for this Valentine's Day Pampas Grass and Flower Wreath
Wreath form willow or wicker (I got mine from Dollar Tree) $1.00
Pampas Grass (pink and white + bunny tails). I purchased this bundle for $22.00 but only used 1/3 for the two wreaths. I have made another craft I'll be posting in a while with the rest of the pampas grass and bunny tails. Total $7.50
faux Peony pink (1 bloom per wreath)
faux roses 1 white, 1 pink (per wreath)
Artificial Roses Brand Cewor Qty: 1 (a pack of 24- 12 Pink and 12 Champagne)
I got my faux flowers from the arrangements that I made for my daughter's 1st birthday Twinkle Twinkle Little Star Party and my sister-in-law's afternoon tea baby shower.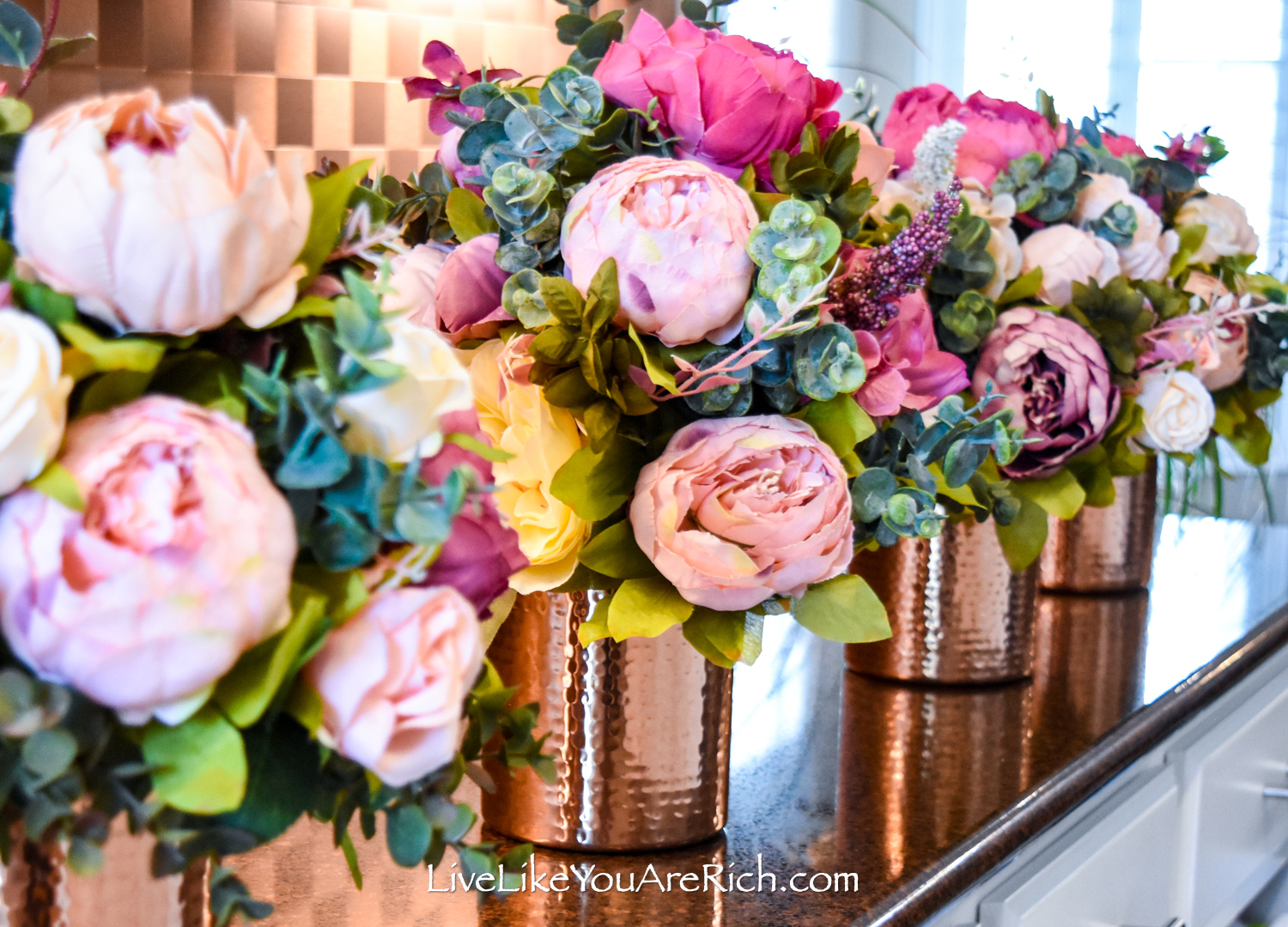 Here is a tutorial on how I made these arrangements.
How to make these Valentine's Day Pampas Grass and Flower Wreath
Watch the video on this page and/or continue reading.
1- Secure 6-7 stems of white and light pink pampas grass to the wreath using hot glue. I had them all going/pointed the same direction.
2- Hot glue a single faux peony at the base of the pampas grass stems.
3- Hot glue a faux pink and faux white rose to the left of the peony.
4- Hot glue a little piece of faux leaf/greenery (we used the one that came off of the peony stem) on the right of the peony.
5- Hot glue the bunny tails, three each side, under the roses and peony (above the piece of leaf/greenery).
If desired you can gently bend the pampas stems to stay in a formation you like.
You can check out the entire Valentine's Day Fireplace Mantel here.
I've really loved the look of these Valentine's Day Pampas Grass and Flower Wreaths, I hope if you do as well you can recreate some of your own.
Happy Valentine's Day.


For other 'rich living' and D.I.Y. decor tips please subscribe, like me on Facebook, and follow me on Pinterest and Instagram.
If you have any questions about this project, please let me know in the comments below.