On Baby Center.com I've recently read a lot of threads and forums of people asking and commenting on a baby shower's cost. Most people were saying that baby showers cost at least $300.00 and up. Some went so far as to say it costs over $1,000.00. That's just too expensive if you ask me…So I'd thought I'd share these 11 Ways to throw a baby shower for less than $50.00.
I have thrown a couple of baby showers for friends and it is super fun. It's a great way to show your love, excitement, and support for the upcoming baby. This week I'm throwing two showers (for the same friend)! One is a church Young Women's shower with a bunch of teenage girls my friend and I work with. The other is a neighborhood shower with adults.
All the showers I've thrown have been pretty cute and nice (if I do say so myself). They were expensive-looking but they weren't the celebrity showers you see online with a rented out venue, catered food, and professional entertainment. (If that is what you are after, let me save you some time and let you know that this is not the article for you). What they were (in addition to expensive-looking) is fun, cute, and down to earth. We all had food, drinks, activities, and showered the mama-to-be with lots of gifts, encouragement, and smiles.
Here's how to throw a fun shower for under $50.00…
#1- Give some thought to the theme you will be choosing. Do you have any items that you could utilize so you don't have to buy them all new? Are there themes that tie in with recent or upcoming holidays so that you can get stuff on clearance or on sale? I chose the Peter Rabbit theme for one of the showers I'm throwing because I already had 3 baby books, 3 rabbits, and a table cloth that would work. Easter decorations were out as well so I was able to find a lot of things that correlated with my theme.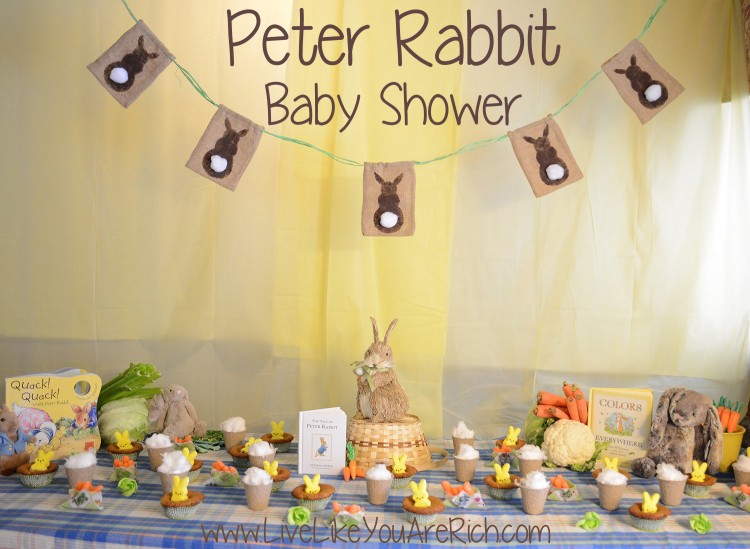 #2- Set a time of day that doesn't require an entire meal to be served. Having a snack bar, dessert bar, etc. will cost much less than a full meal. Skip the caterers and set the food out/make it yourself. At the Peter Rabbit shower, I served carrot cake cupcakes, cotton candy, carrots, and off to the side I had drinks, frosting for the cupcakes, and a veggie tray. By not serving an entire meal you will save considerably.
#3- Enlist help from guests. Someone could bring drinks, another could help with some of the food, another could be in charge of the activities, and another a few decorations. This will help a lot with time spent preparing and expense. I have done a shower single-handedly for under $50.00. That said, it's so much easier to stay within budget and perhaps get even more refreshments and decor by enlisting the help of others. This bridal shower is a great example of having everyone split up the responsibilities and ending up with nice decor and food while all spending much less than $50.00 each.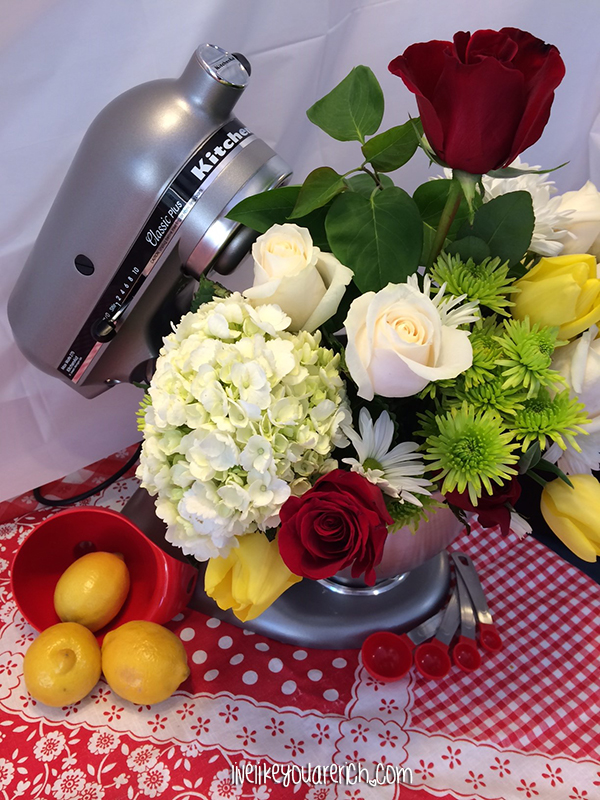 #4- Borrow items. At the Peter Rabbit baby shower, I asked around to see if anyone had anything. One person had two cute rabbits that worked out wonderfully. At this Little Peanut Elephant Baby Shower we borrowed the glass milk jars and a few other main items to save significantly.

#5- Shop first at the Dollar Tree. I was at Michael's and I needed rabbit peeps. There they were $2.99. I went across the street to the Dollar Tree and they were $1.00 each. I saved $8.00 by crossing the street. Not only that, but I was also able to find multiple items at the Dollar Tree that I was not even expecting to find there. Then I went back to Michael's and got the rest of the items I needed. Note: Michael's also has a $1.00 bin area towards the front. I was able to find some useful things there as well.
#6- Use coupons. At Michael's I used the free app on my smart phone called Snip Snap and I was able to use a 50% off coupon and save $6.00 and then a 25% off coupon on the entire purchase. I saved over $12.00 using the app and no coupon clipping was needed!
#7- Reuse decorations and recycle. When I was pregnant I was lucky enough to have 3 baby showers. My sister-in-law gave me the decorations from the first baby shower. I then gave those decorations to my friend who was throwing me a third baby shower which helped her with the expense. If you have a Cricket or a vinyl cutter you can customize things for that shower and reuse them by peeling the vinyl off for another shower.


#8- Have the shower in a home, a back yard, or a park. There really is no need to rent out a venue as some people do.
#9- Make what you can (D.I.Y.). You can make tissue balls that hang from the ceiling for much less than you could buy them for, as well as banners, little favors, etc. If you can make the decorations yourself you will save. You can buy dollar tree table cloths and use them as back drops or just as table cloths and use wrapping paper as a runner… the possibilities are endless. Browse Pinterest for ideas. It is amazing what you can find on Pinterest! Especially when you know what you are looking for. Keep your eyes peeled for ideas that can be done inexpensively and recreate them or use them as inspiration for another creative idea.
#10- Choose inexpensive activities to do. There are a lot of inexpensive activities you can do. Perhaps I'll do a post on the many activities I've seen or done that have been fun but virtually free.
#11- Skip mailing out the invites and use a free or inexpensive email invite company.
Bonus Tip (purely opinionated): Don't feel like you need to give a gift. I never expected a gift from the people that threw me a baby shower. If they did give me one I felt a little bad because I knew they had spent not only money but a lot of TIME on it. It is not necessary to give a gift but if you want to I recommend giving something less expensive. Speaking from experience the mom-to-be may feel a little guilty to receive an awesome party AND an expensive baby gift from you. So don't go overboard. When you do split the shower up with others then I feel like it is okay to still give gifts. I used a lot of gifts as decorations in this bridal shower I threw because there were multiple people helping with it.
Bonus Tip 2: If you are the recipient of a baby shower it is very polite to send a thank you card or perhaps give a little gift in return. I gave either a scarf or an umbrella with little cotton gloves to the women who threw me a shower. I enjoyed giving back and telling them how much I appreciated them throwing me a shower.
I added a cute saying to the umbrellas I gave to the ladies about how I hope this umbrella will protect them from having to throw future showers. They loved it.
Have a wonderful time!

What did you do to save on baby showers you have thrown?
For other 'rich living' and money-saving tips, please subscribe, like me on Facebook, and follow me on Pinterest and Instagram.