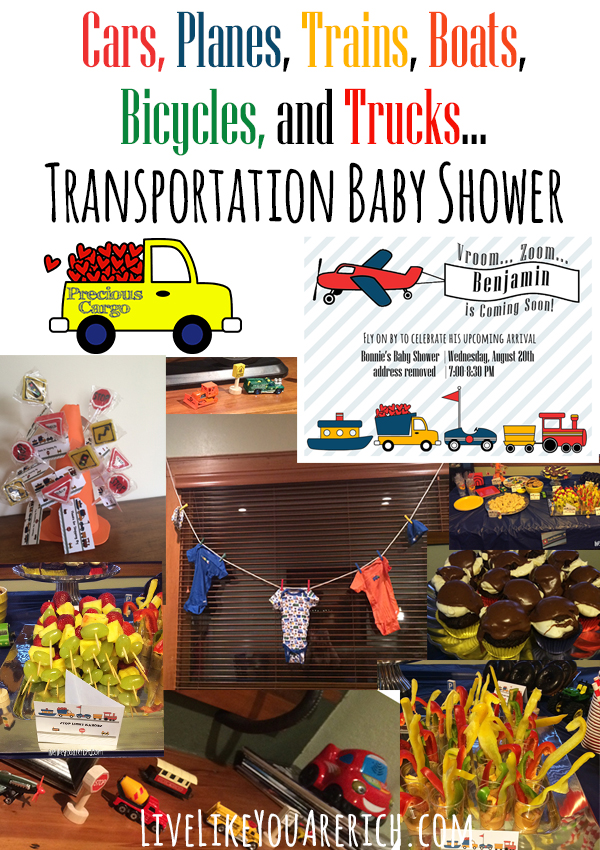 Recently my friend and I threw a shower for our good friend Bonnie.  I did the decorations, invitations, favors, and food tags. She made the all of the delicious food. We had a great time planning it and it was a very relaxed and enjoyable shower.
I'm going to apologize in advance that the photography isn't as good as I'd like it to be.
First, we sent out these invites. Bonnie is due in less than a month so I thought it would be fun to do a transportation shower and a spin on the fact that her baby Benjamin will be coming soon.
The invites say Vroom Zoom Benjamin is Coming Soon!
Fly on by to celebrate his upcoming arrival.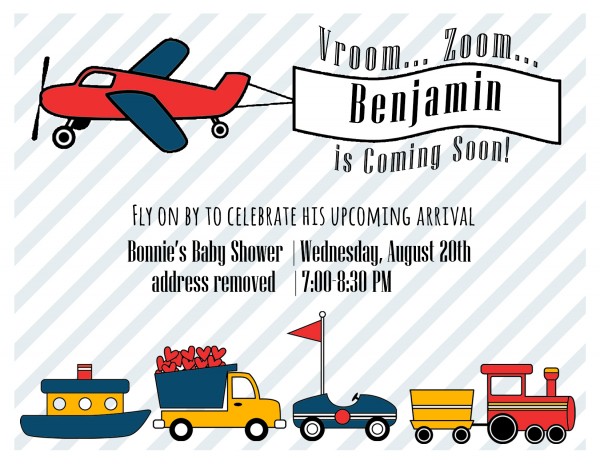 We included: planes, trains, boats, automobiles, bikes, tractors, trucks, etc. The colors we mainly used were red, yellow, navy, green, and orange.
I put together a banner that my friend allowed me to borrow. The banner says Coming Soon in vinyl lettering. Here is a tutorial on how to make a reusable party banner.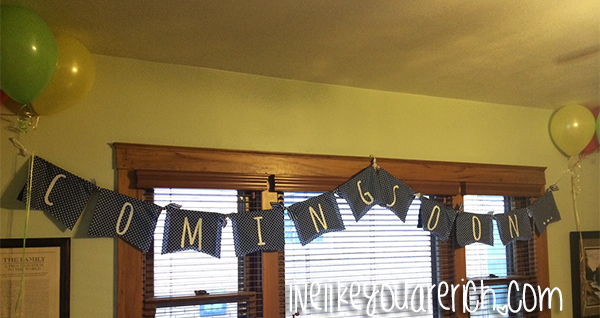 Then I gathered lots of transportation toys from my son's toy box.

I also bought these really cute traffic signs on Amazon here. I set them all around the rooms and on the food table.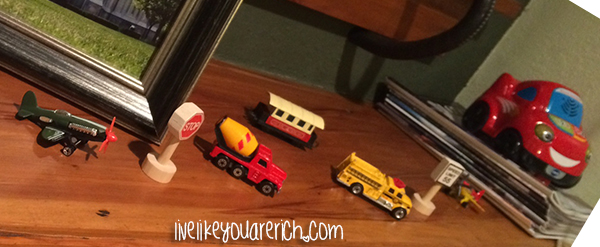 I hung two other banners with transportation-themed baby clothes on them for Benjamin. One hung over the window.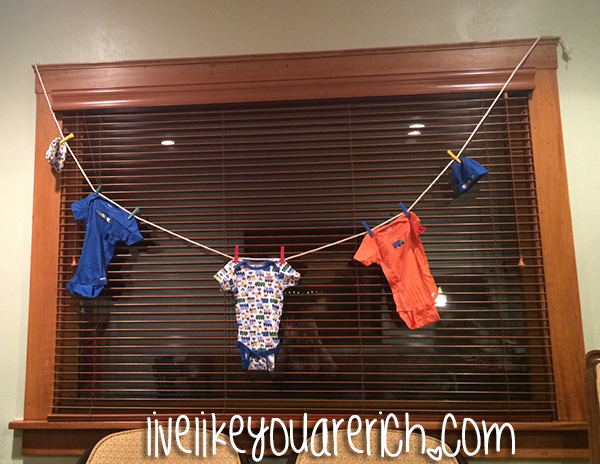 And another banner was placed over the mantel (my camera couldn't zoom out far enough so here are two photos).

I used while nylon rope, packaging tape, and these colorful clothes pins that I found on Amazon.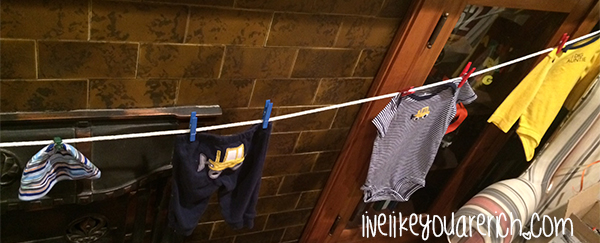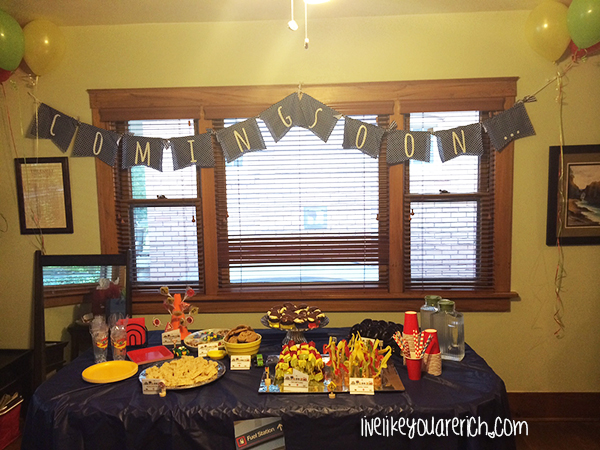 My friend made stop light kabobs red (strawberries), yellow (pineapple), and green (grapes). They were delicious!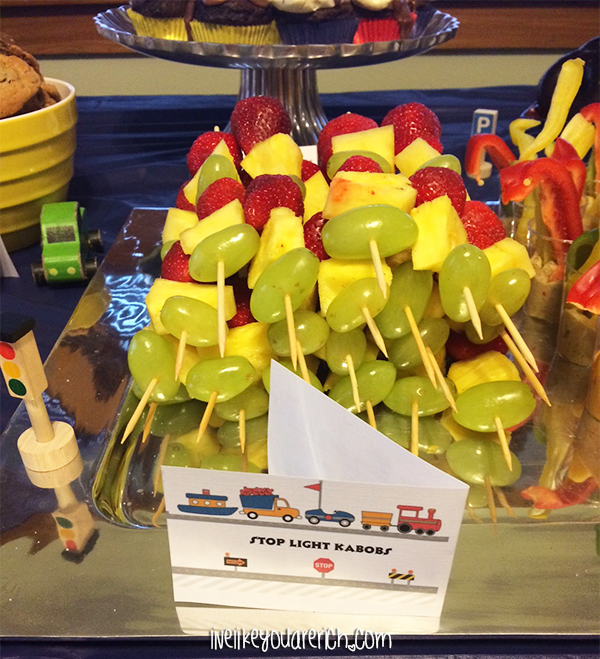 She then made vroom veggies in little cups with a relish dip at the bottom (using red, yellow, and green peppers).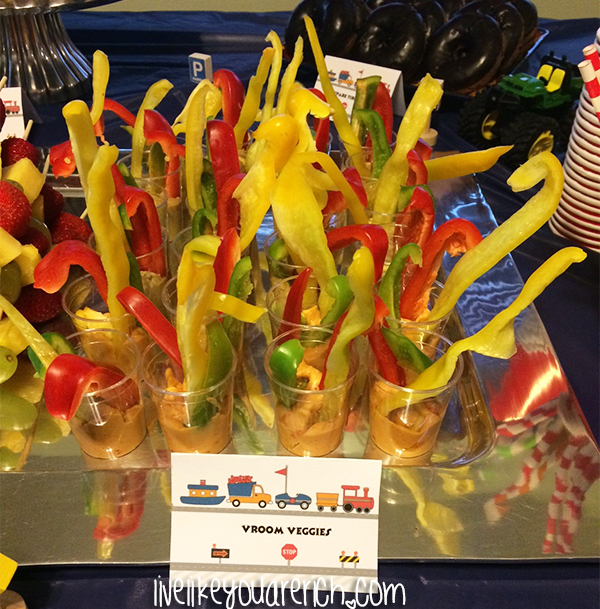 We had cookies as 'wheels'.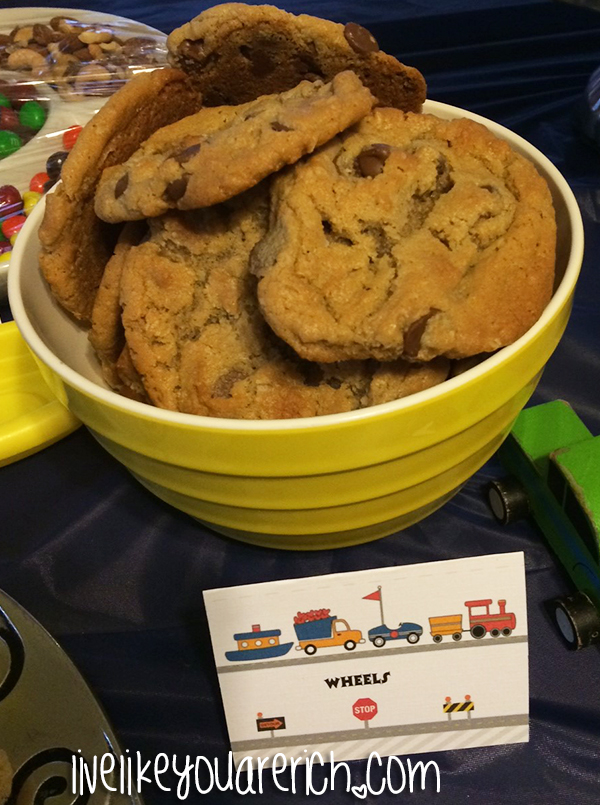 For complimentary flight snacks we had nuts, peanuts M&M's, and M&M's.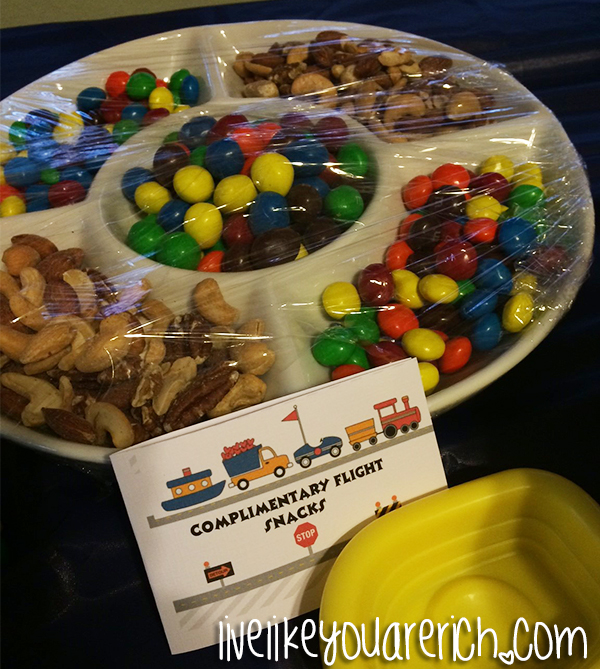 The donuts were labeled as spare tires.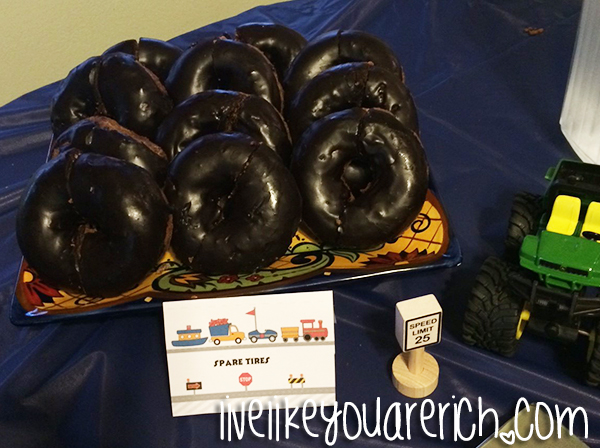 Delicious cloud cupcakes were the centerpiece.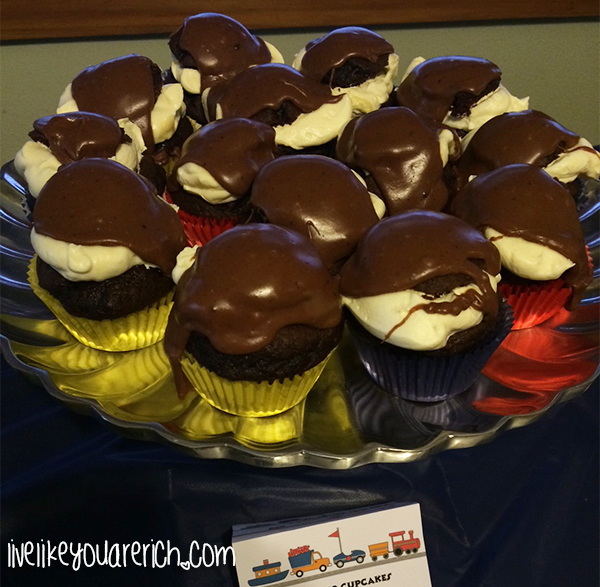 Airplane-shaped rice krispie treats tasted delish!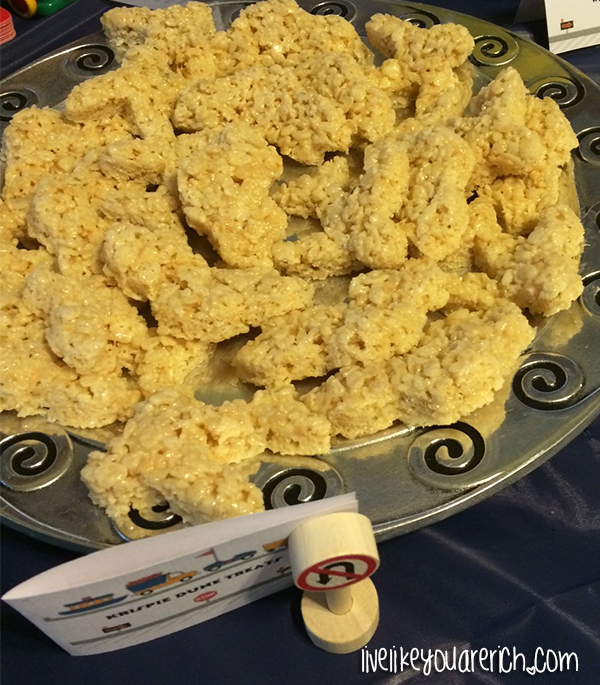 And the food table was labeled as the Fuel Station. I put little cars, trucks, boats, etc. and traffic signs around on it as well.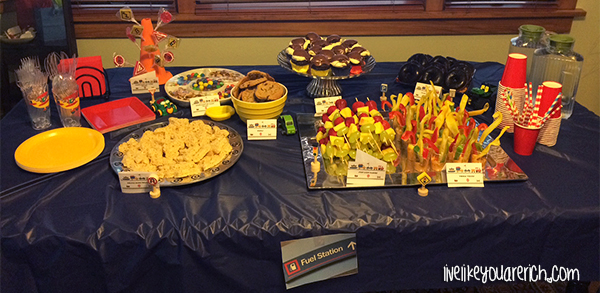 I made a Styrofoam traffic cone (tutorial here) and ordered these darling traffic sign suckers off of Amazon here. The traffic light suckers stayed perfectly in the cone. My friend matched the serving wear to the theme.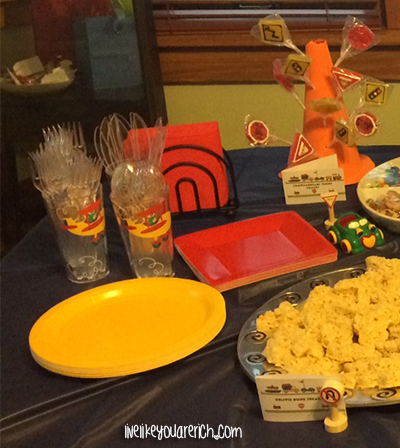 The area to place gifts had a sign that said Baggage Claim for Benjamin.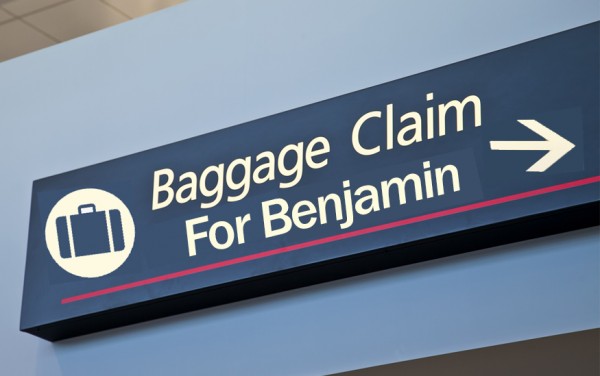 We didn't play any shower games because it was only for about 8 close friends. We chatted, ate, filled out the following advice cards, and opened gifts.
The advice cards said, "Advice to the Parents for their Precious Cargo" and everyone just wrote advice on the backs.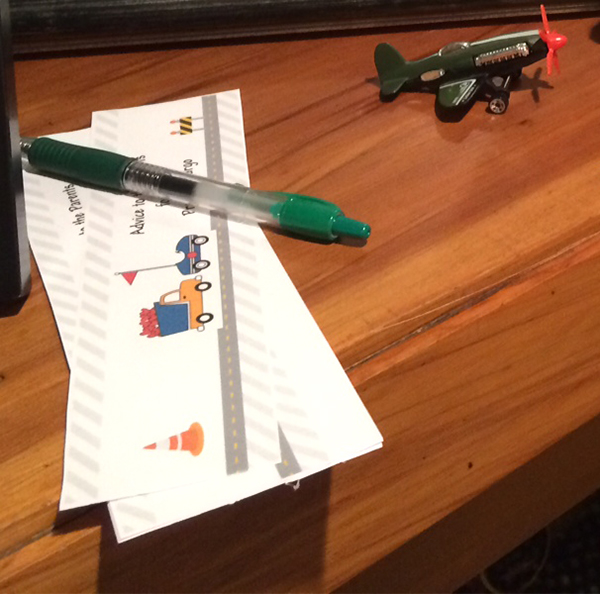 The favor tags said Thanks for Stopping By and were attached to the traffic light suckers found here.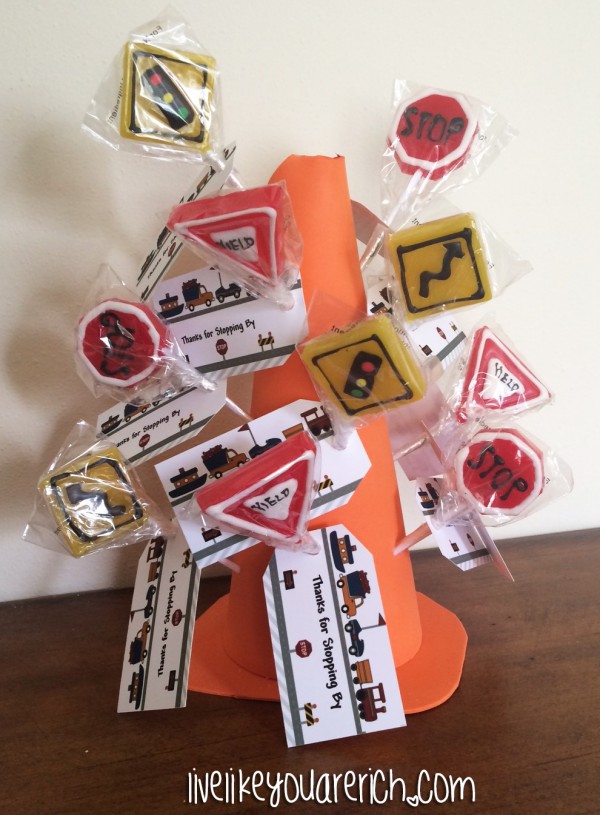 And that was that. We had such a great time and the prep wasn't too difficult or expensive either. Here are some tips that make baby showers much more affordable.
I hope this gave you some ideas if you want to do a similar theme.
Click below for the free printable downloads.

For other 'rich living' tips and inexpensive DIY projects/parties please Subscribe, like me on Facebook, and follow me on Pinterest.