My friend Brandi made this cute Easy Ribbon Wreath for the 4th of July! Not only is it simple to make, it is also inexpensive.
Hi, I'm Brandi. I love summer crafting. I have found that there are so many fun options of crafts to make! I enjoy getting the kids involved with my summer projects. This month hosts a great patriotic holiday; so I figured I should make something to express our pride.
However, I didn't want to break the bank or do anything too time consuming. I am nuts about burlap as the next crafter (and in particular as a Southern woman), but making burlap ribbon look cute just takes time I didn't have. I still went with ribbon, just a different type. This cute Easy Ribbon Wreath for the 4th of July was super simple to make and cost me less than $20!
Supplies Needed
1 spool each of red, white, and blue ribbon (I chose ones that glittered)
Glitter (red, iridescent, blue, and gold)
Acrylic paint (red, white, and blue)
I already had the white glue, the hot glue, glitter, acrylic paint, and paint brush at home, so I didn't have to purchase those this time.
Step 1
Paint 3 stars, one each of red, white, and blue. While the paint is still wet, sprinkle the stars with their corresponding glitter color. Shake the excess glitter off and allow the paint to dry while you carry out the other steps. I allowed my stars to dry on a paper plate while I did the next steps.
Step 2
Hot glue one end of your blue ribbon to the wreath. It works best if you try to glue it to the inner part of the wreath so that the end of the ribbon doesn't show as you look directly at the wreath.
Step 3
Start wrapping the ribbon around the foam wreath. Try to stagger it and pull it tightly as you go. You want the blue section to be your largest individual block of color. Once it's the desired length, cut the other end and hot glue that section to the wreath as well.
Step 4
Now, it's time to do the same thing with your red and white ribbons. Remember, you want the red and white sections to be smaller than the blue, so try to wrap about half as much red or white ribbon as blue ribbon each time.
Step 5
Once you have the entire wreath covered in ribbon, your stars should be dry. Use white school glue to write a U on one star, an S on another, and an A on another. Sprinkle gold glitter on the letters, shake off the excess, and allow them to dry overnight.
Step 6
Hot glue your stars on your wreath, and you are ready to hang it wherever you'd like! Just to be on the safe side, since it is foam and ribbon, you may want to keep it away from moisture. I have mine hanging on my door.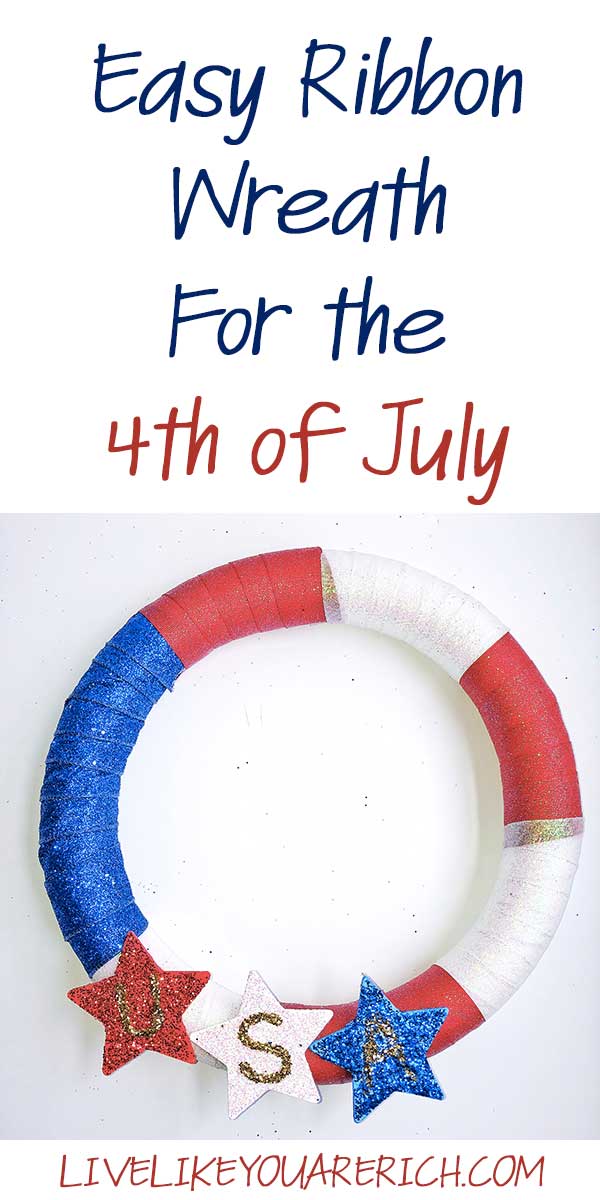 I definitely feel more festive now, and I even got some ideas for some other patriotic decorations as I was making this guy. And if you want to go even more celebratory, you could add in some battery operated lights or some bead necklaces in alternating colors to wrap around the wreath as well. In my perfect world, I'd find a way to add even more glitter!
I hope you have fun making this easy, 1-hour craft. This is something the kids will love to help with, and it is a good time to give a little history lesson about our country.
What are your plans for the upcoming holiday? What do you tell your kids about the 4th of July? I'd love to hear your ideas!
With love and blessings,
Brandi

For other 'rich living tips' please subscribe, like me on Facebook, and follow me on Pinterest and Instagram.
You may also like…