Elf on the Shelf: Bubblegum.
Our Elf on the Shelf duo found themselves in a bit of a predicament this morning…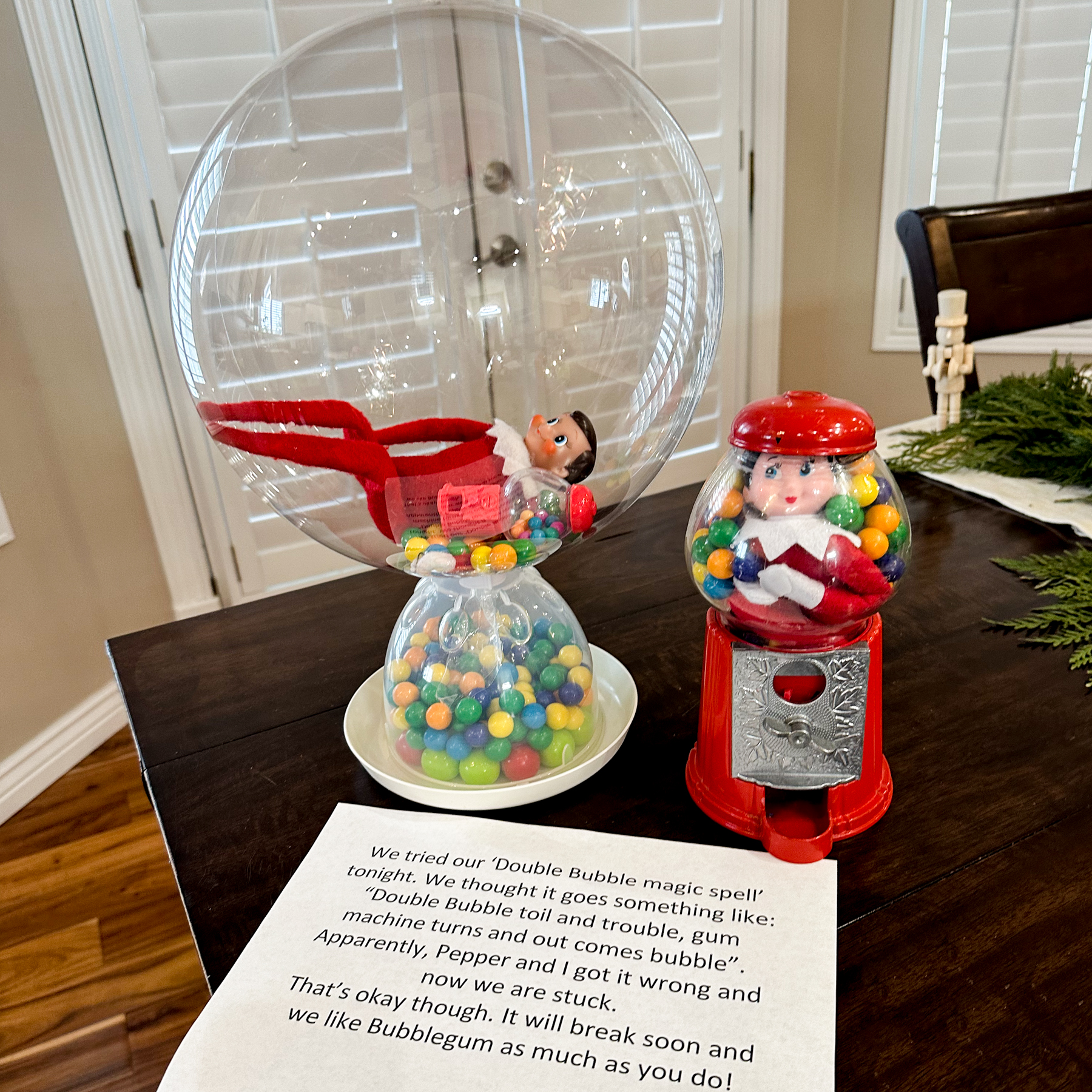 Pepper got stuck inside a bubble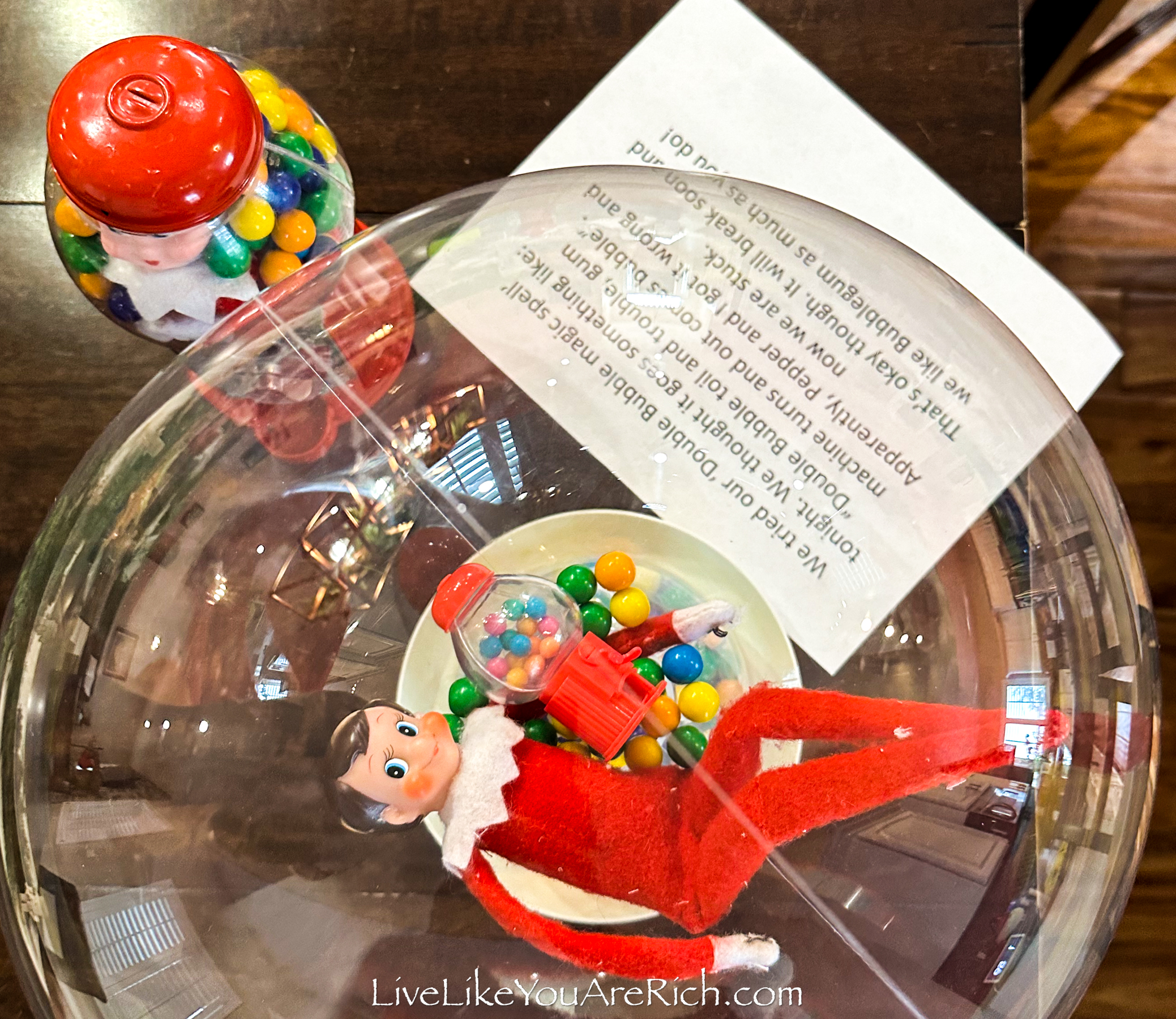 while holding a gumball machine;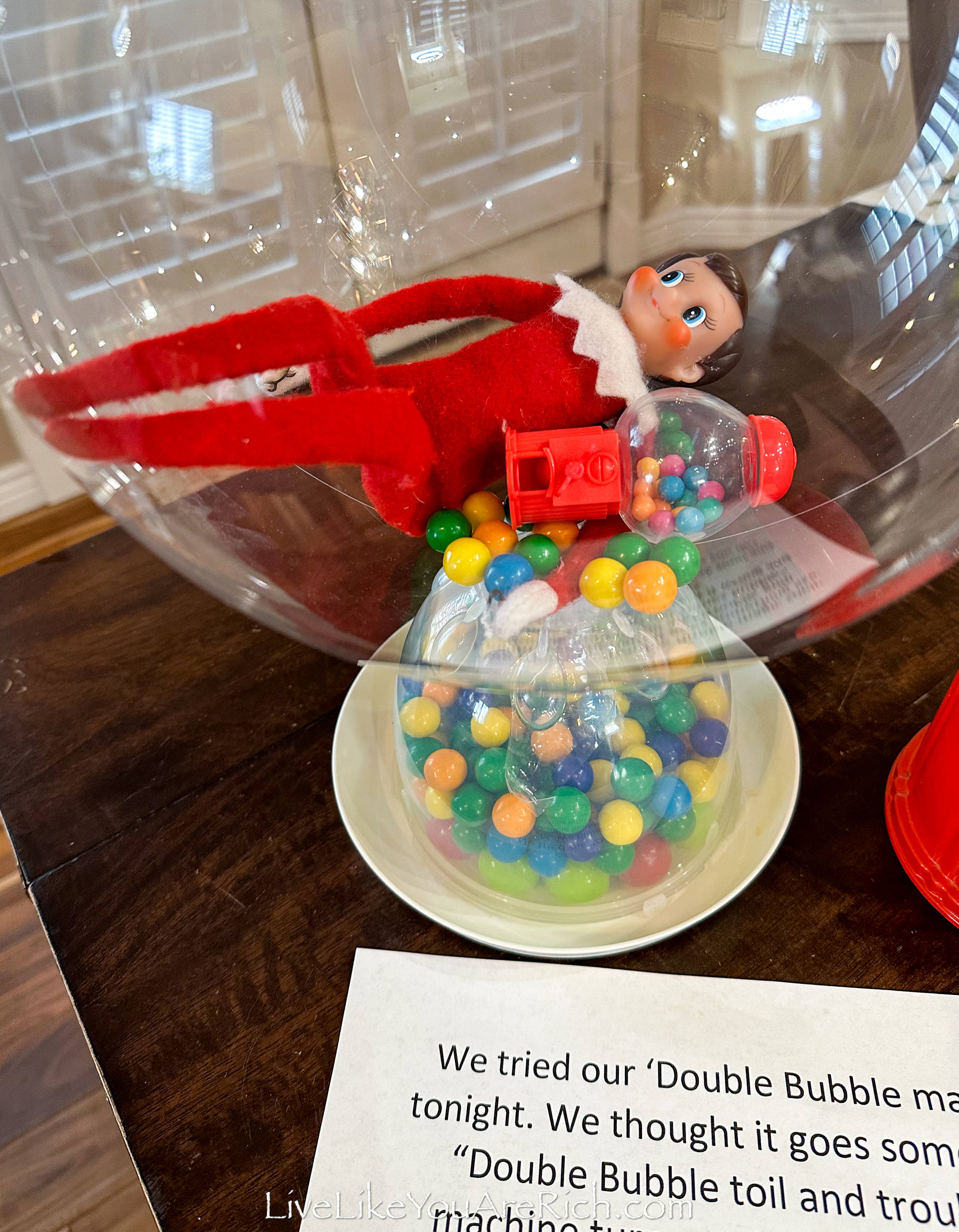 and Winter got stuck inside a gumball machine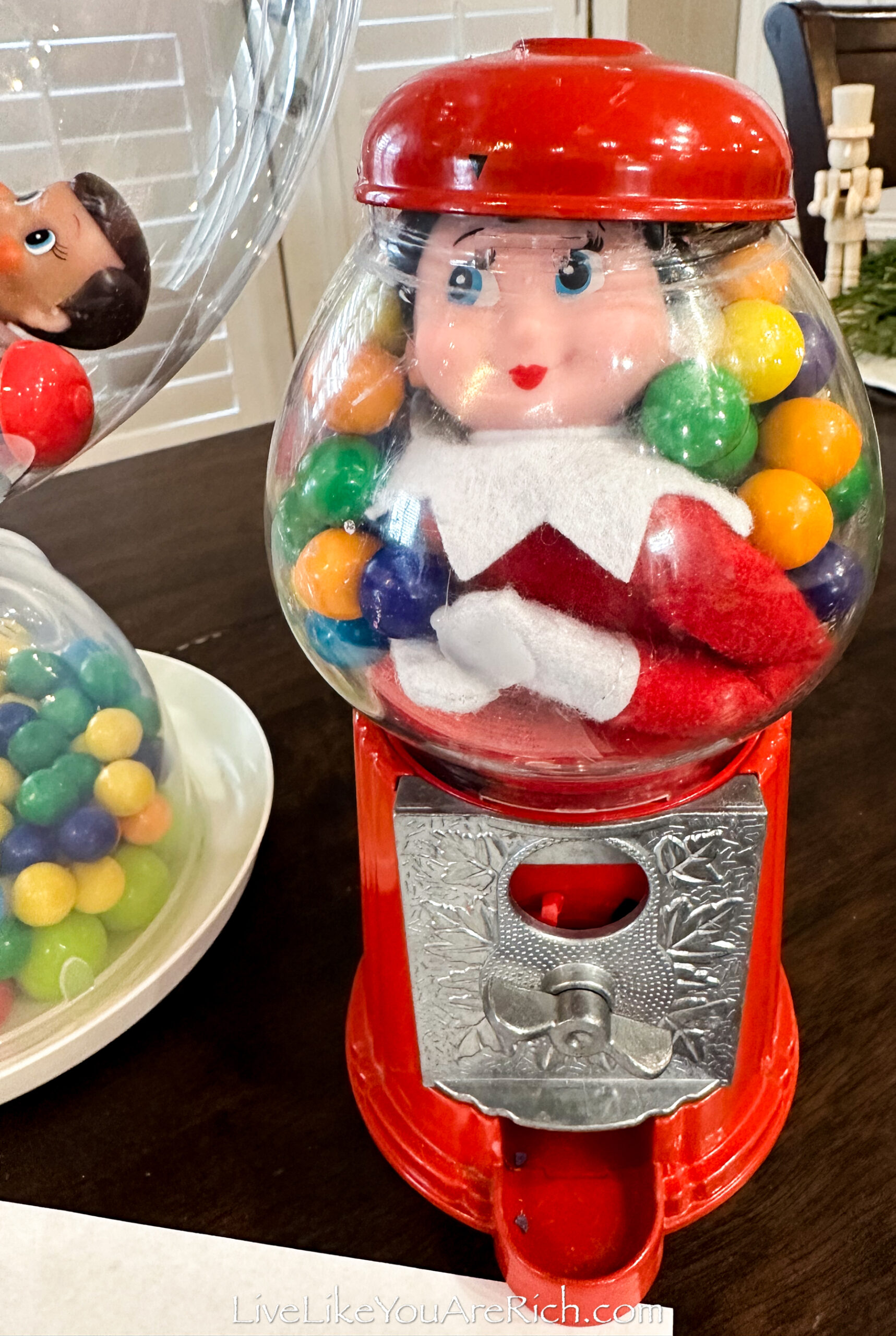 while holding a bubblegum ball.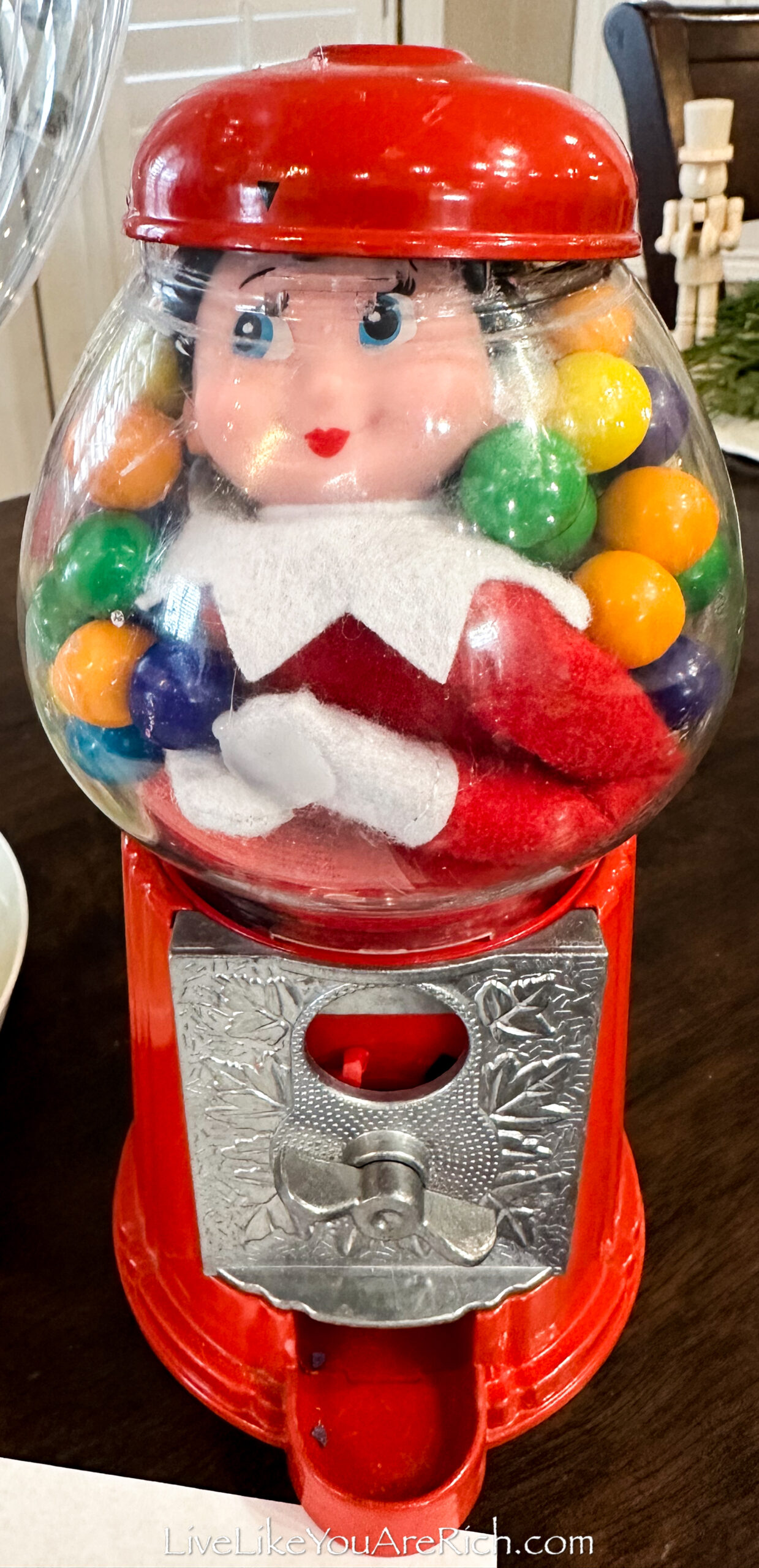 They left a note explaining a little bit of what happened for them to end up like this.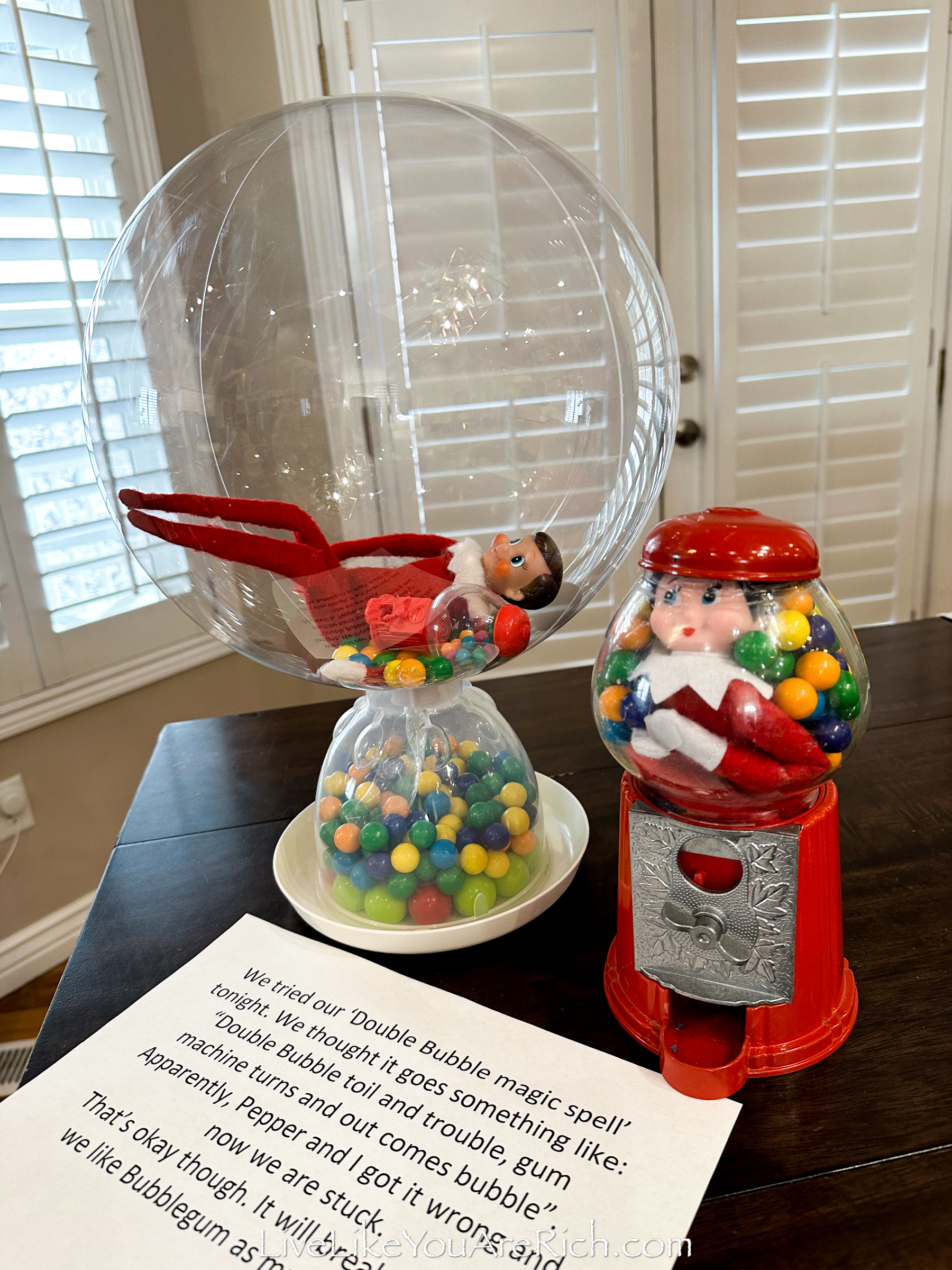 It reads,
"We tried our 'Double Bubble magic spell' tonight. We thought it goes something like: "Double Bubble toil and trouble, gum machine turns and outcomes bubble".
Apparently, Pepper and I got it wrong and now we are stuck.
That's okay though. It will break soon and we like Bubblegum as much as you do!"
I'm pretty sure it was a bit of a play on words since the bubble gum balls were stamped as, "Dubble Bubble" and there were two of them and two gumball machines… but I could be wrong.
It was a crisis in more ways than one this morning. At first, my daughter thought that Winter was missing. She woke me up early knocking on my door and was speaking in a very concerned voice.
I was confused as it was very early in the morning and she was saying, "Winter is missing, Winter is missing!" I was like, "What?" She said, "Pepper is here but Winter is missing"… I just told her I'd be up soon and come and see.
Come to find out, Aurora was just looking at the backside of the gumball machine and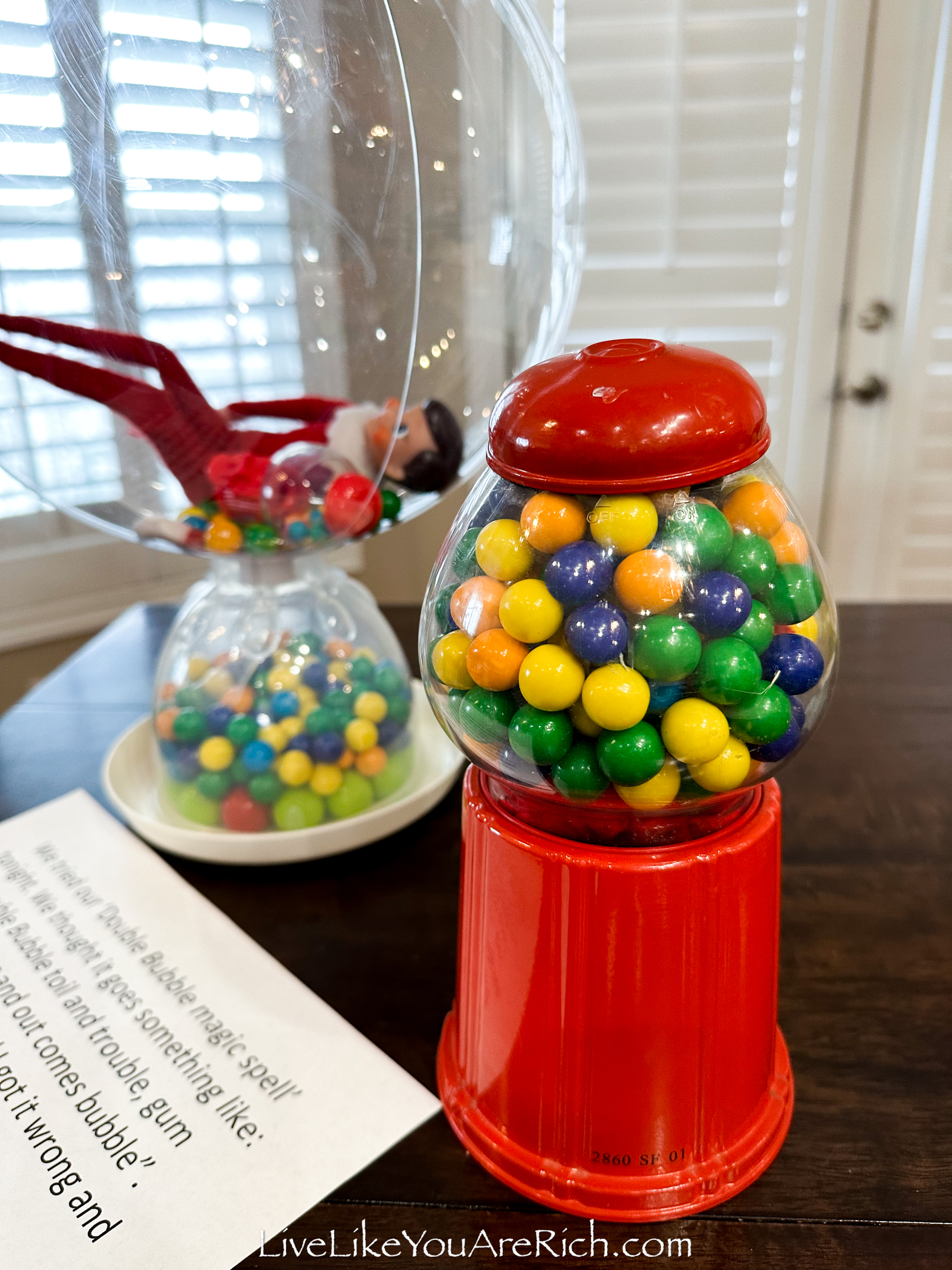 she didn't see Winter until she saw the front of it.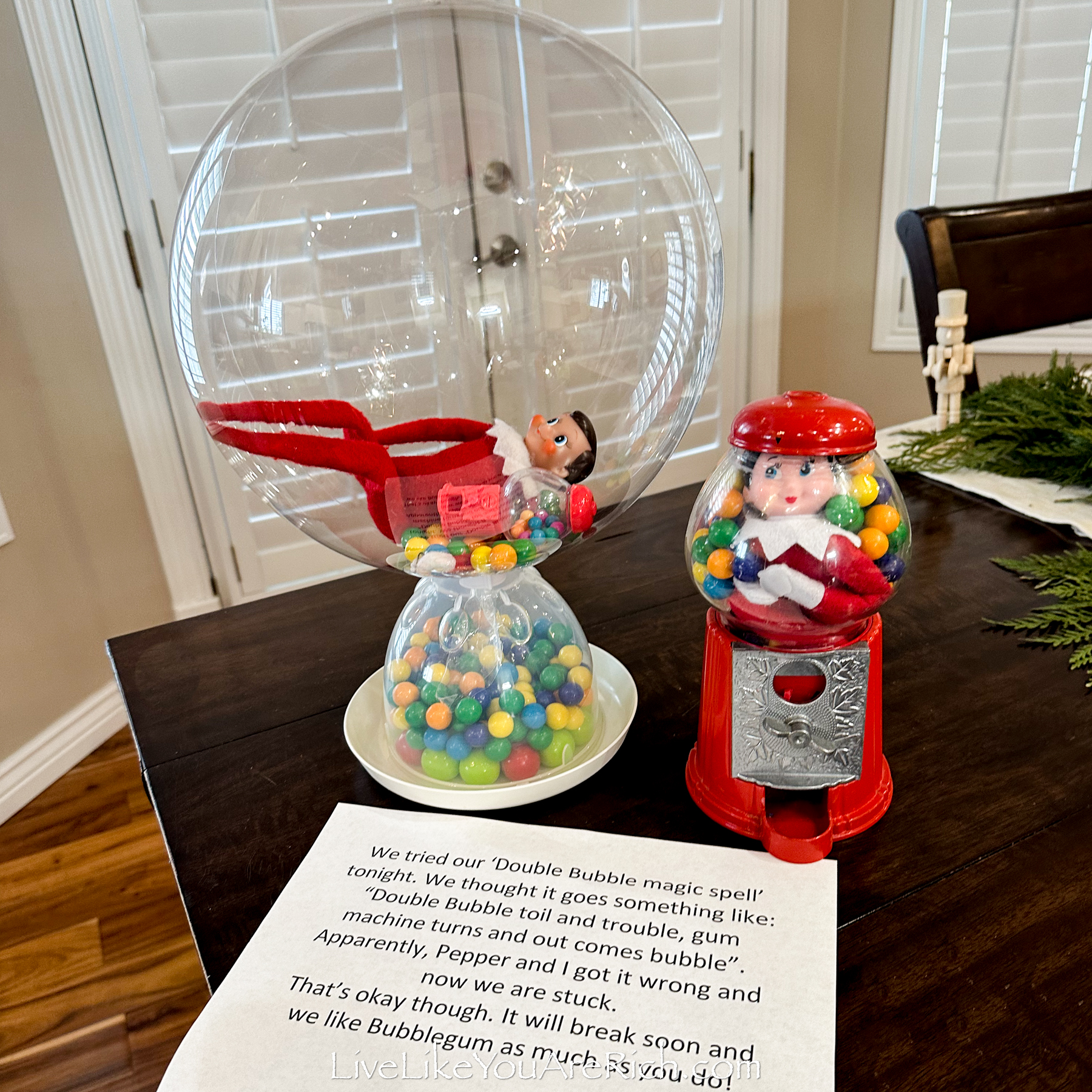 Phew!
Anyway, my kids loved this scene and they kept wanting to get up on our chairs next to our dining room table and look at them.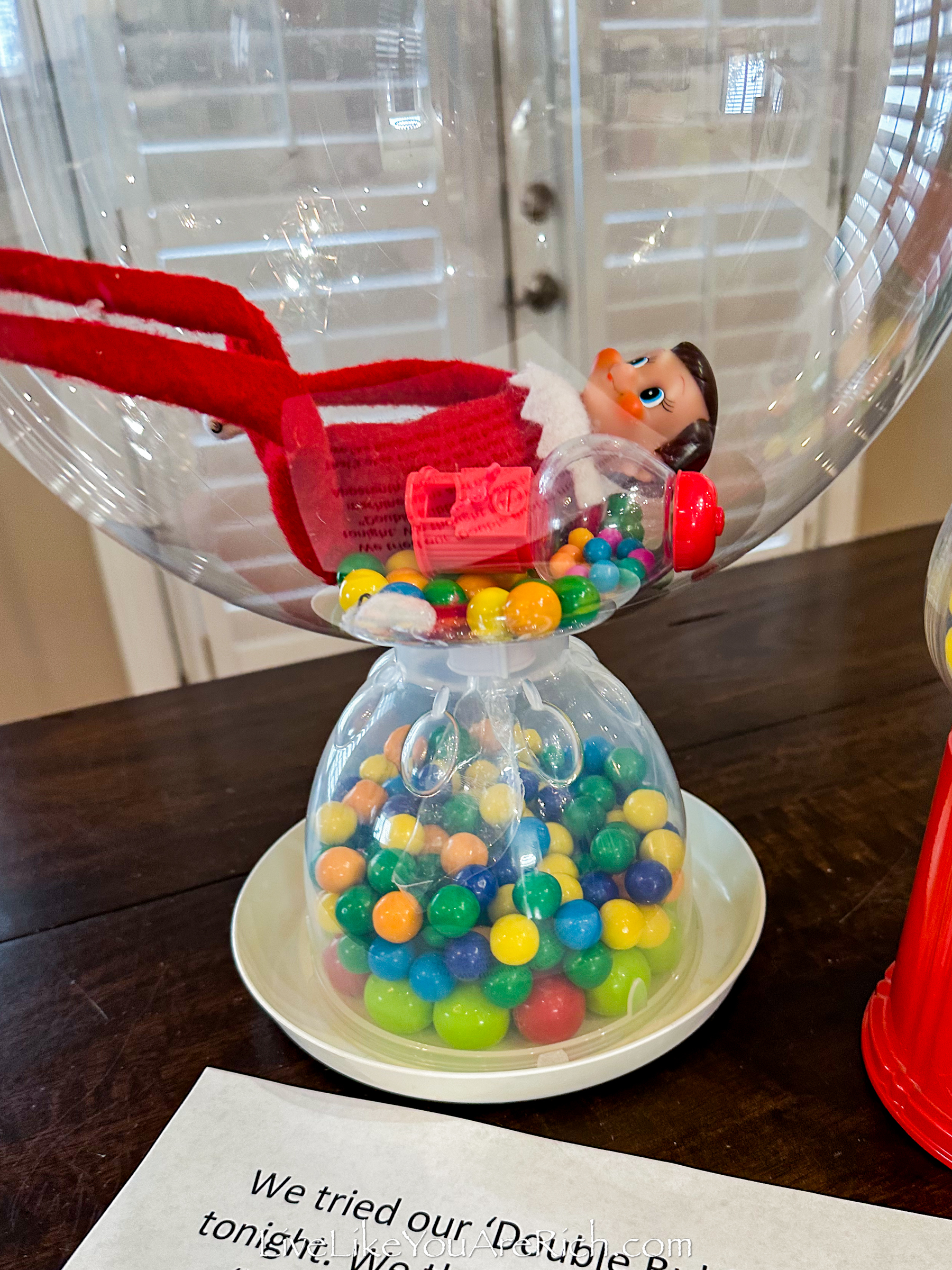 My daughter really liked the miniature gumball machine that Pepper was holding.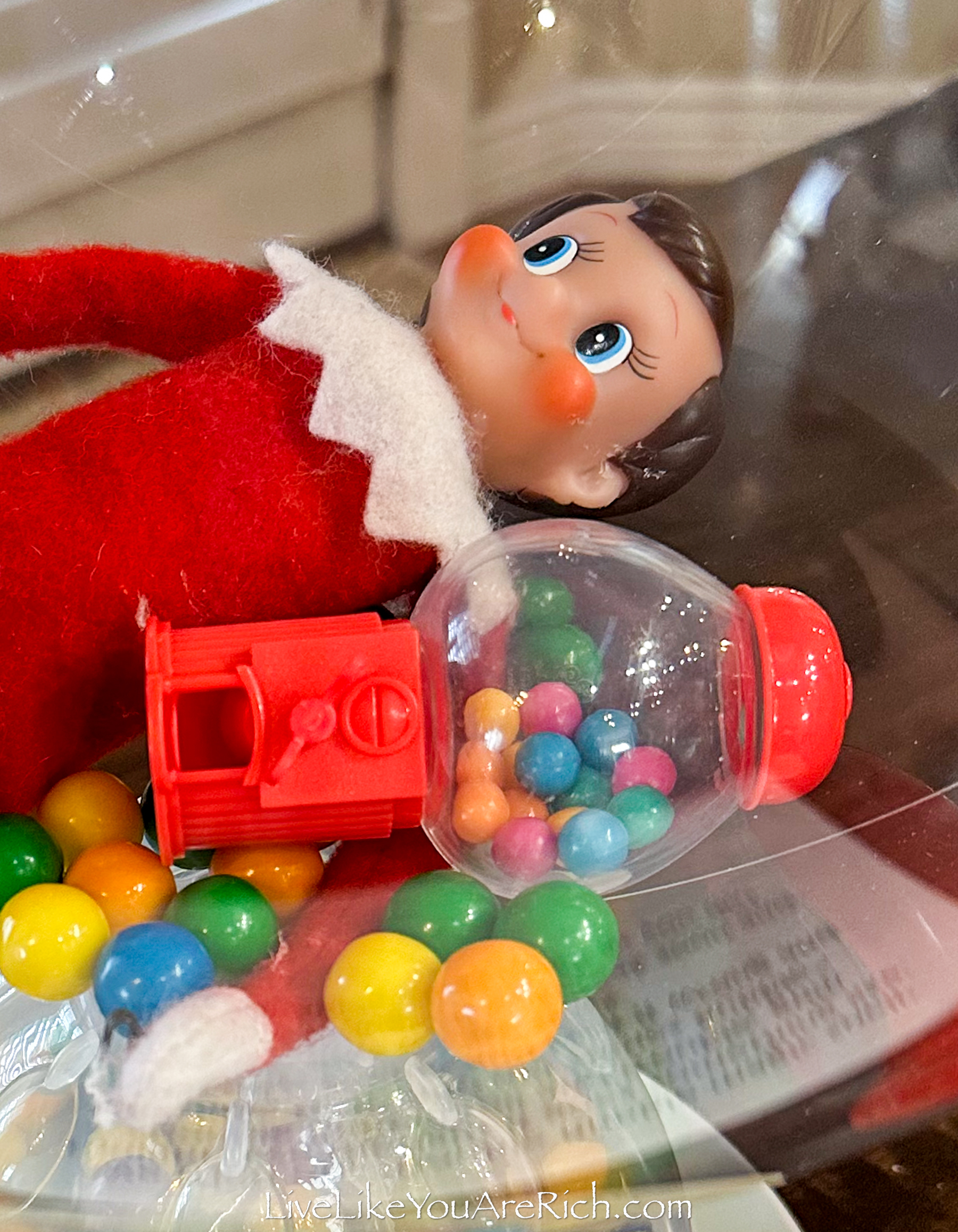 and so did I.
Supplies that I think they used for this Elf on the Shelf: Bubblegum Scene
Our Generation mini gumball machine
Bobo Balloons 50 Packs, 20 Inch Helium Style Transparent Bubble Clear Balloons
Stuff a loons machine (to stretch the balloon) and its base to hold up the blown-up balloon
plate with edges to hold in any potentially-spilled gumballs
air compressor with a tip that will blow up a balloon/ or a balloon air machine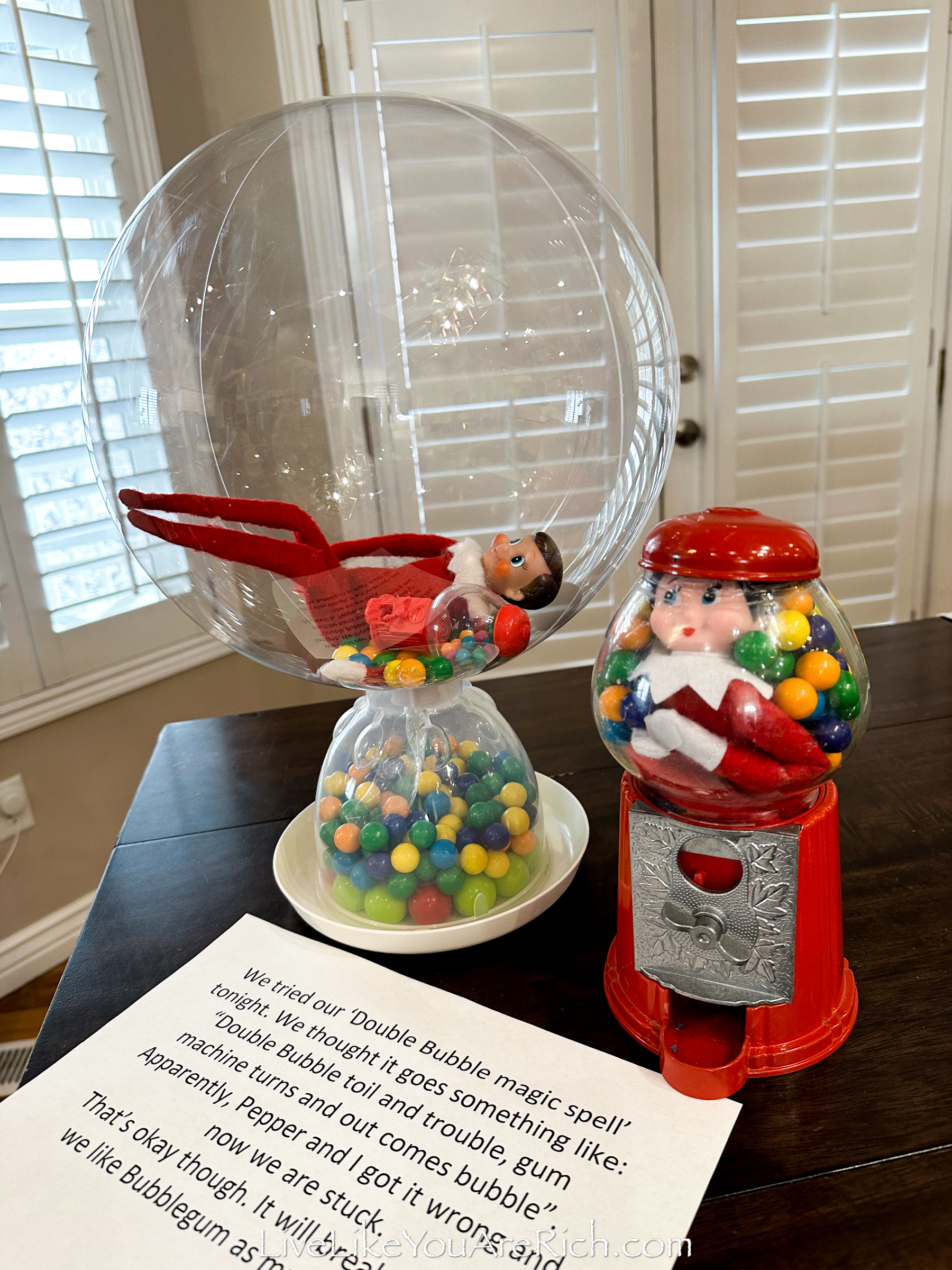 How I think Pepper and Winter set up this Elf on the Shelf: Bubblegum.
First, I think Winter hopped in an empty gumball machine and Pepper filled up the remaining space with gumballs and closed the lid.
Second, Pepper used a stuff-a-loons machine to make a large-stuffable-clear-balloon wide enough for him to dive and take some gumballs and his mini gumball machine with him as well.
Then an air compressor was used to fill up the balloon. It was twisted and clamped shut with a clamp from the stuff-a-loons kit.
Next, a plate had an upside-down stuff-a-loon bowl that was filled with gumballs on it. There was enough space left for the balloon to sit solid on top.
Then they left a clever note.
To see more details check out the video of it in this blog post.
To see more Elf on the Shelf ideas check out this post here. I'll be adding more this December as well.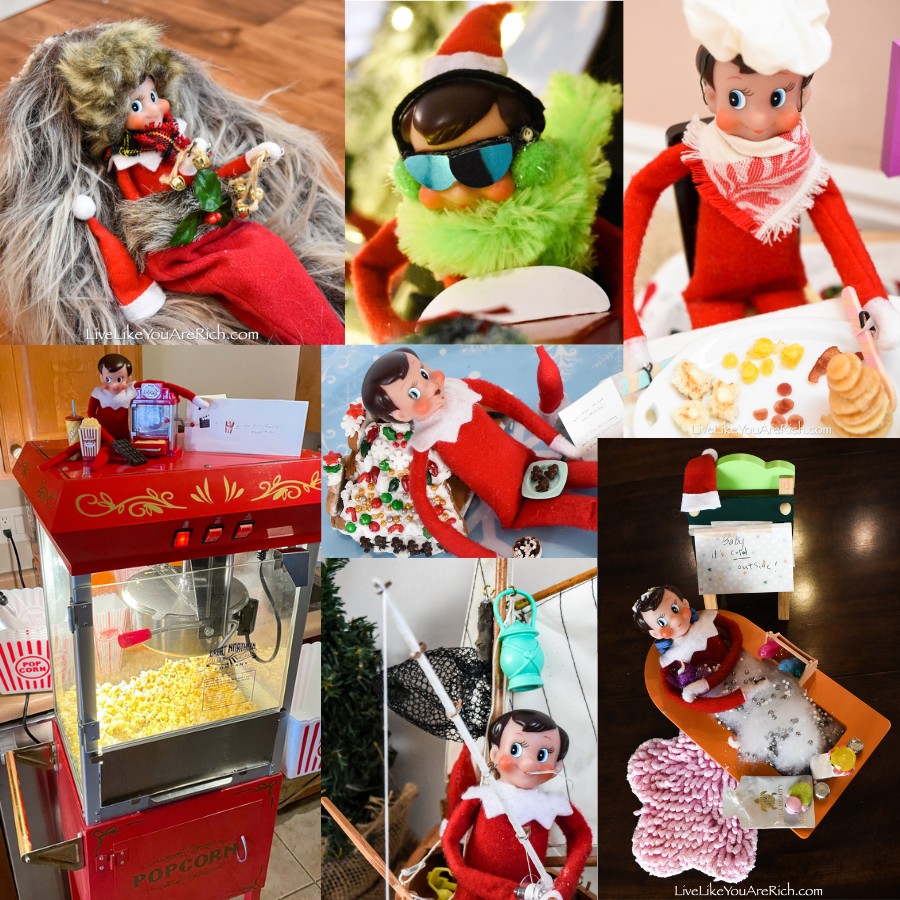 For other 'rich living' and D.I.Y. decor tips please subscribe, like me on Facebook, and follow me on Pinterest and Instagram.