How to Keep Christ in Christmas—for Kids.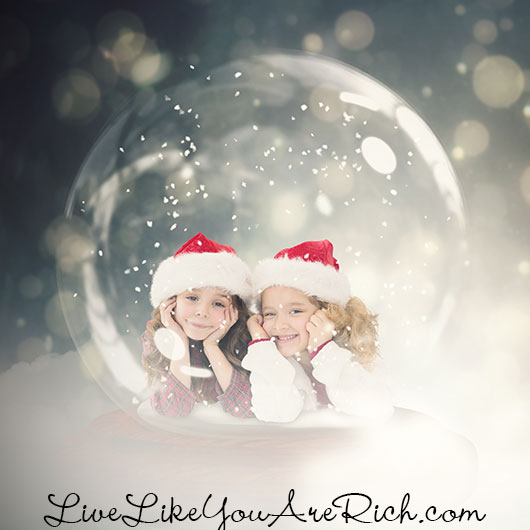 While I am okay with Christmas traditions that aren't exactly Christ-centered, like Elf on the Shelf, decorating gingerbread houses, White Elephant exchanges, hot cocoa bars, sledding, etc. I do want our Christian beliefs to be celebrated more heartedly during the Christmas season than at other times of the year.
We are members of the Church of Jesus Christ of Latter-Day Saints and we believe that Jesus Christ is the Savior and Light of the world.
Throughout the year, we attend Sunday meetings, read scriptures each night, pray daily, and strive to be like Jesus.
Despite our daily striving to be like Jesus, December is extra special for us; we celebrate more fully the birth and life of Christ.
However, December is a BUSY month and the Christian theme can be overlooked by so many things. I've found that by incorporating a few traditions (making them habits) into each day or each month during December, it becomes easier to help our kids remember the reason for the season.
Daily Traditions How to Keep Christ in Christmas—for Kids.
We continue our daily prayers and scripture reading. However, we add a Christmas 2-10 minute spiritual thought each day or each night.
Typically, our goal with four kids is to get them to understand and learn something of Christ but to not make it long, formal, or complicated.
Do I plan it out each day? Not really. I plan to have the thought but I'm pretty spontaneous with it. I really will just see something in the house like a book, a nativity member, an ornament, a poinsettia, the Christmas tree, lights, etc., and explain why it has a role in Christmas and how it represents Jesus.
For example, last night we looked at the nativity and talked about how Jesus Christ is known as a lamb, a Shepherd, and the King of Kings and how they are represented in the nativity. We talked about the symbolism of who is represented: from the lowliest to the most esteemed—Christ is for every man, woman, and child. He is humble and magnificent—all in one. He is also called the Lamb because he was sacrificed for us.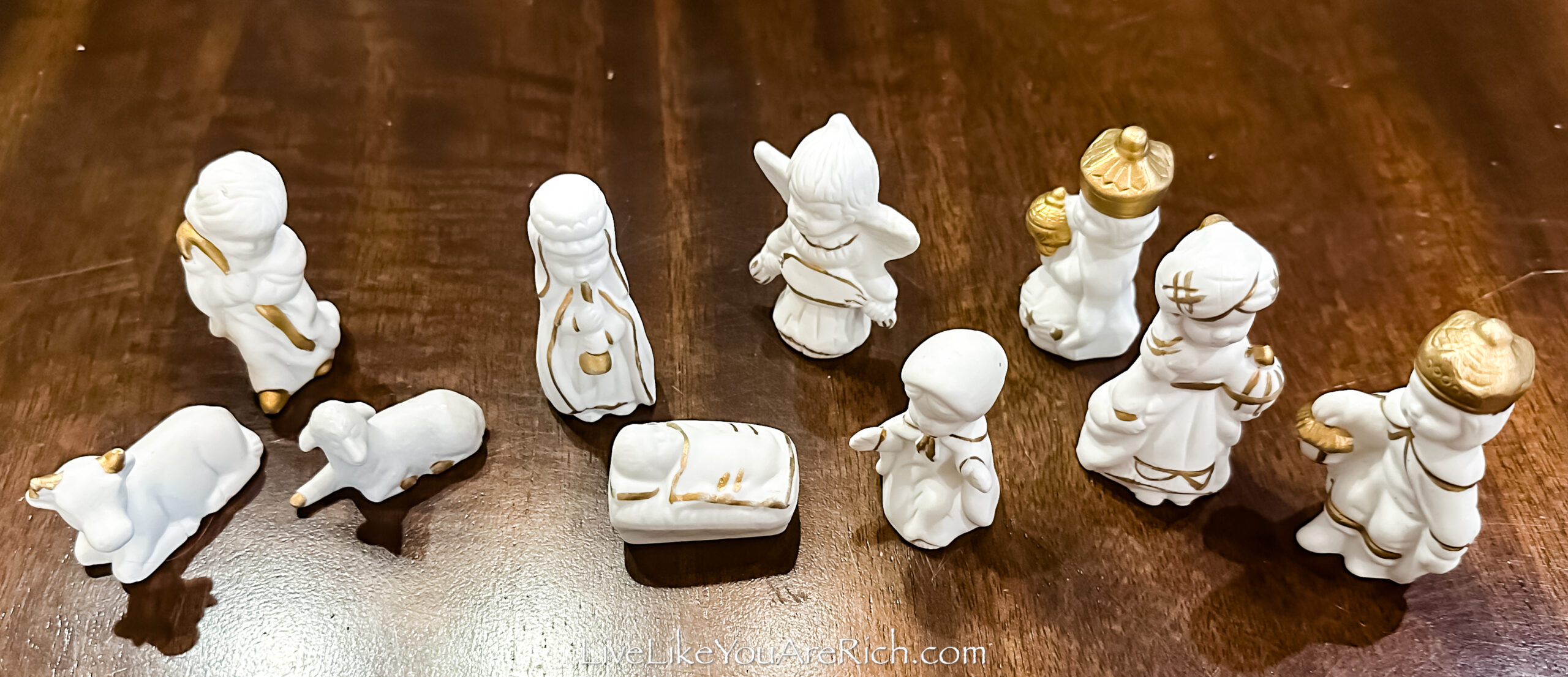 Another time, we read this ornament and talked about the names Jesus is known for having. A quick thanks to our wonderful neighbors who gifted this to us. We also mentioned any other names Christ is known for having that we couldn't find on the ornament.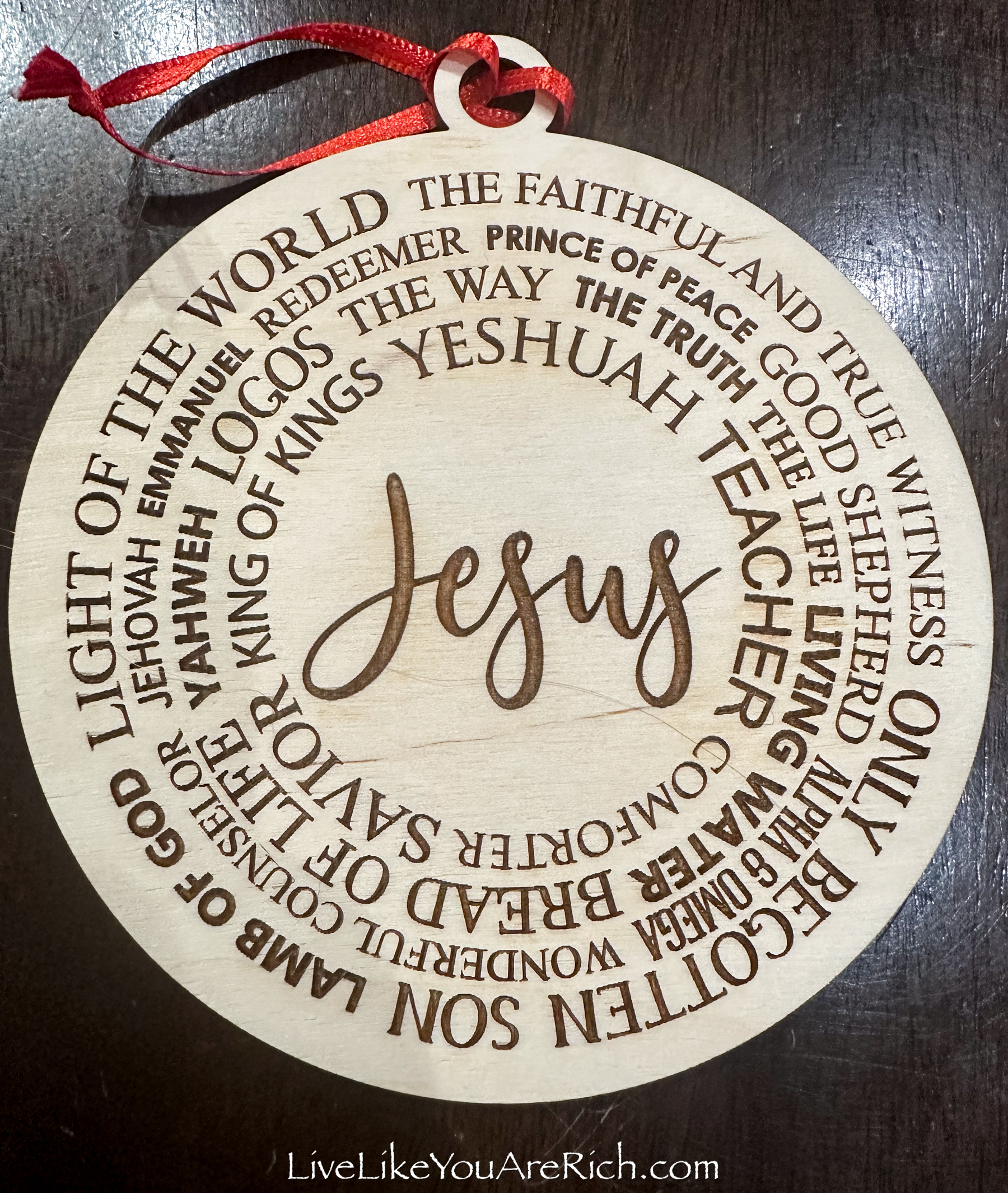 The other day, we read The Tale of The Three Trees, one of my all-time favorite Christmas books.
We will read other Christmas books both spiritual and non-spiritual.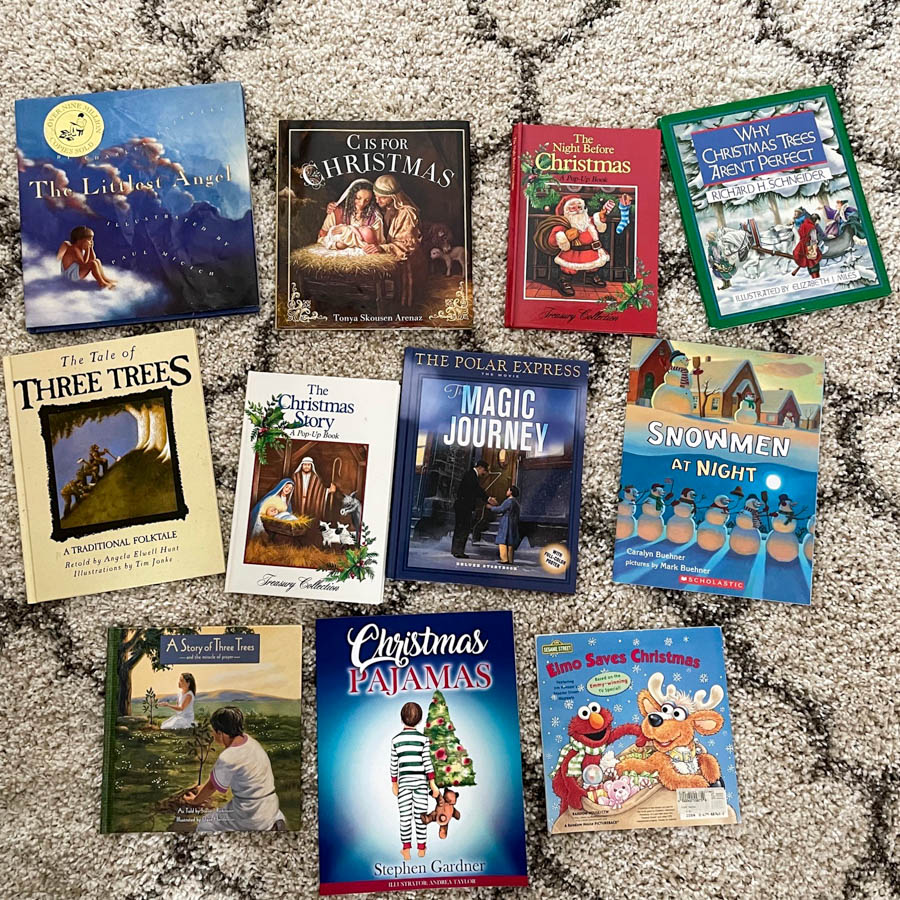 The spiritual Christmas books will "count" towards our daily Christ-centered thought.
Ideas of books with a spiritual theme are Christmas Pajamas, The littlest angel, why Christmas Trees Aren't Perfect, C is for Christmas, The Christmas Story, Animals Speak, and others.
One night this week we watched this short nativity presentation on Youtube; it is a favorite of mine.
One day next week, we may talk about what Christ means to us.
On other days we will likely sing or listen to a few Christmas songs about Jesus.
Again, our goal is just to add a few extra Christ-centered minutes to our days leading up to Christmas so that the kids will be reminded daily of why we are celebrating Christmas.
In addition to daily quick thoughts/songs/videos/etc., we do some big traditions each Christmas season too.
Monthly Traditions of How to Keep Christ in Christmas—for Kids.
Setting out the nativities together,- decorating and setting the nativities out together is a great way to remember the reason for the season.
This year we had all of our nativities on the mantel.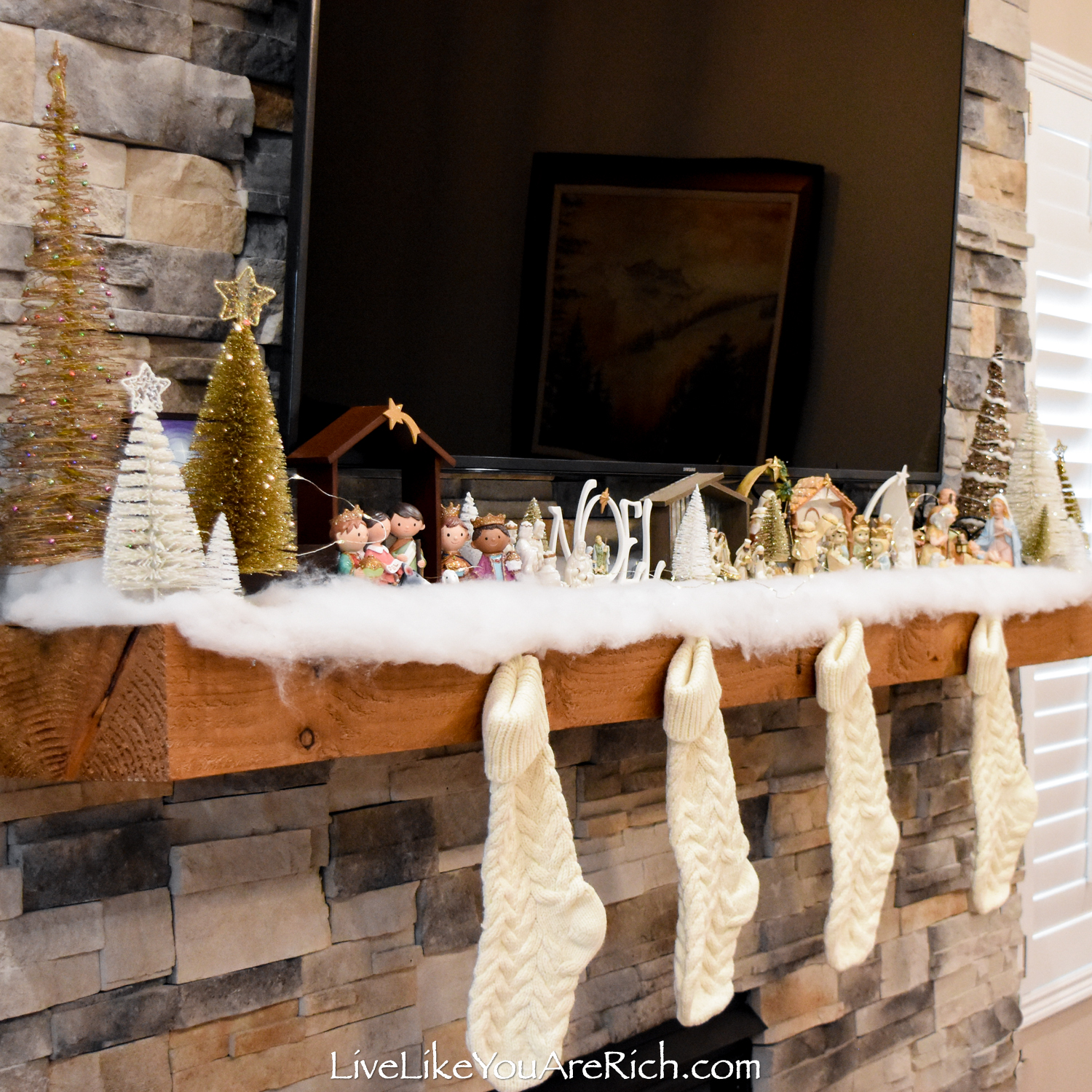 This year we had the nativities on our table.
This year they are scattered about our home but each one we own is out and my kids helped me set them up.
Making a nativity together or doing another craft- My daughter who was seven at the time and I made this last year and we really really enjoyed making it.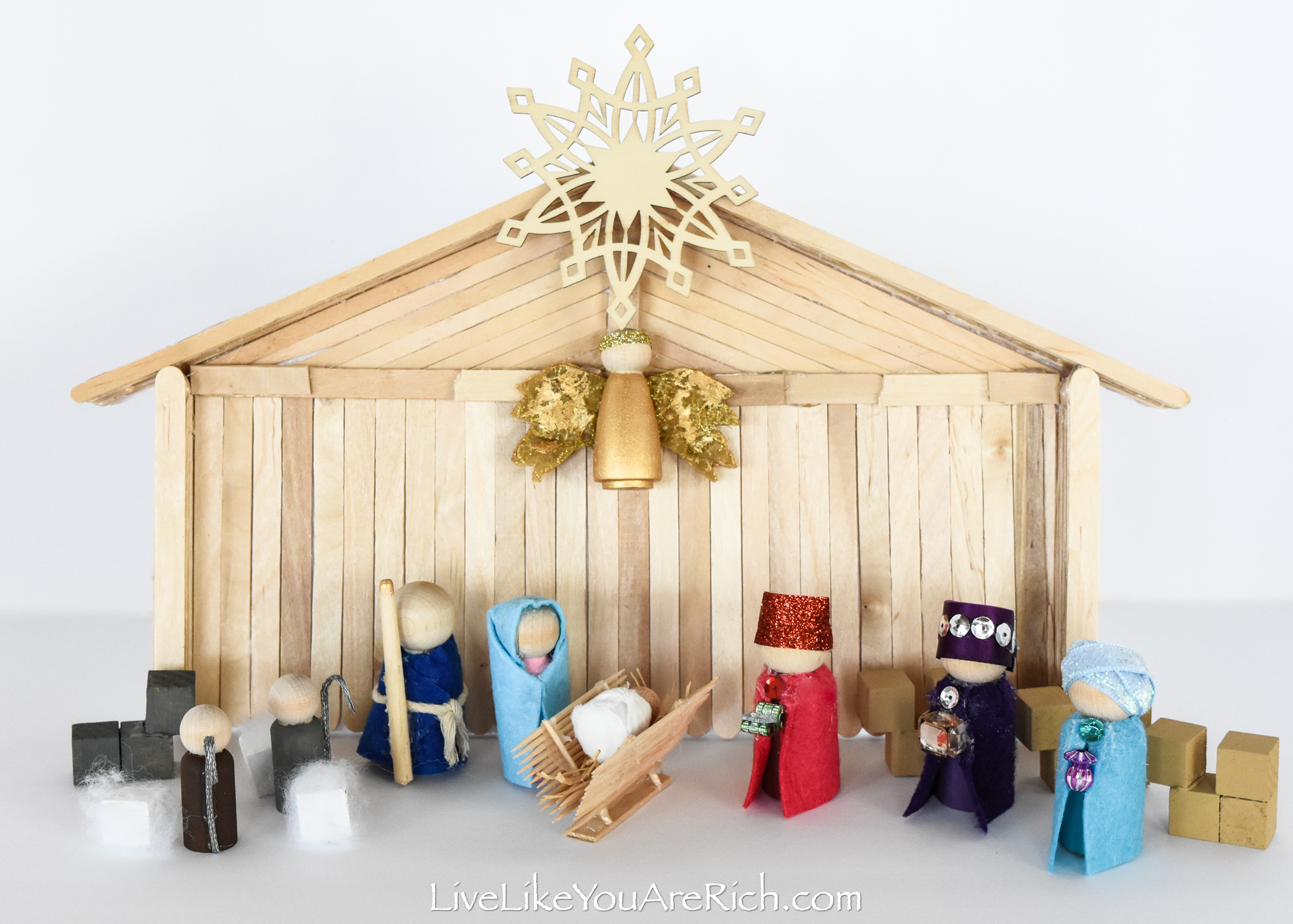 My toddlers, 1 and 3, are playing with it every day. Amelia is constantly asking me to remind her what the names of each person in the set are called. She loves playing with it.
The other year we made these Christian advent stockings with spiritual thoughts and scriptures that related to each gift wrapped inside.
My older kids helped me wrap over 400 small gifts…this isn't an every-year type of thing for us.
We made them because of COVID-19 and the students in my Sunday School class as well as us as teachers were prevented from attending church.
I wanted it to be a special year for them and it really turned out to be as we gifted one to each grandparent and each of my older children received one as well.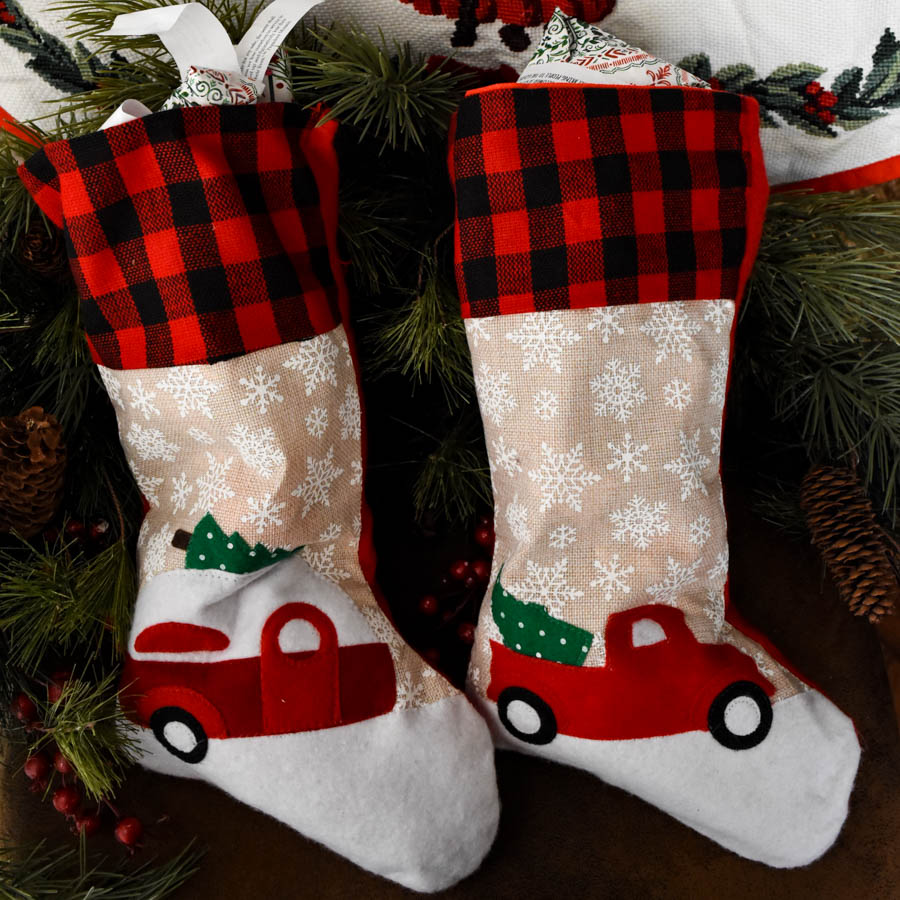 There are many crafts that can be made together that are Christ-centered.
Acting out the Nativity (script and costume list here)– Each year we act out the nativity as an extended family. It's a favorite tradition of mine! You can read and download the script for free.
Christ-centered Christmas Light Scavenger Hunt- Each year we hop in the car and go for a Kids Christmas Light Scavenger hunt. If the kids can find everything on the free printable I have at that link, they get a treat. While driving we mention the Christian symbolism which is as follows:
Christian Symbolism for a Christ-Central Christmas Light Scavenger Hunt
Among Christians, the green pine tree or Christmas Tree is thought to symbolize eternal life in Christ,
The red color of ornaments

are considered

symbols of the blood of Jesus

.

Holly

represents

immortality

and is a symbol of the

crown of thorns

worn by Christ on the cross.

Around the year 1500, Martin Luther brought a tree indoor, and decorated it with

candles

in honor of Christ's birth. Candles continued being used as decorations for the tree, symbolizing

Christ as the Light of the World. Although in time the candles have been replaced by electric Christmas lights, the significance has remained the same.
The star

placed on the top of the tree represents the

star that guided the Wise Men to Jesus Child in Bethlehem

.

Lots of people prefer decorating the top of the Christmas tree with an

angel

instead of a star, this being a symbol of the

angel who announced Christ's birth to the shepherds

.

Christmas

gifts are a symbol of the myrrh, frankincense and gold brought by the wise men

to Christ Child, in Bethlehem.

The

shepherds' hook or candy cane

brings to mind the care with which our Lord watches over all of his children—the babe born in Bethlehem of Judea, the

Good Shepherd

with an unparalleled, divine mission.

The Nativity of course is the reminder of Christ's birth. Tip-My kids and I also counted each nativity we found and put a tally mark for each one next to the Nativity on the list. This was a nice way to emphasize our reason for the season.
The wreath's circular shape represents eternity, for it has no beginning and no end. From a Christian religious perspective, it represents an unending eternal life made possible through Christ.
The shape of the poinsettia flower and leaves are a symbol of the Star of Bethlehem which led the Wise Men to Jesus. The red colored leaves symbolize the blood of Christ. The white leaves represent his purity.
Setting up the Tree– As you are decorating or setting up the tree you can remind your kids of its aforementioned symbolism.
Gift-giving– Heavenly Father gave the ultimate gift, His Son Jesus who, through his Atonement, gave us all the gift of Eternal Life. You can also relate gift-giving to the gifts the wise men brought the Christ child.
Donating– Each year, instead of giving gifts to my siblings or our cousins, we donate the money we would have spent instead. We choose a charity and donate to it, then we share with one another who we donated to and why. My kids also do a couple of donation drives at their school that we take part in regularly. I try to remind them that it is better to give than to receive.
Neighbor gifts and family and friend Christmas cards- I always have my kids help address and stamp our yearly Christmas card and deliver gifts we have for our neighbors during December. Christ taught us to love, care for, and show concern for our neighbors. We like to send them a card or if they are local give them a small gift to thank them for being a part of our lives. Christ taught us to care for others and this helps my kids to learn this teaching.
Spending time together as a family- The main reason why I don't mind—and why I actually enjoy doing things that may not have a direct correlation to Jesus Christ during the Christmas season such as decorating gingerbread houses, sledding, making hot cocoa, Christmas cookies, having an Elf on the Shelf, etc. is because it causes us to spend time together as a family and/or it brings joy to my children.
Family is central to the Lord's plan of happiness and it is important for us to strengthen familial bonds which is done by spending time and finding joy together. I find this easier to do in December as there are so many fun activities and things designed to bring the family together. So I don't feel guilty if its a Christmas-y thing and not Christ-centered so long as we are having an uplifting family time together.
These are just some ways that we keep Christ in Christmas. How do you remind your kids of why we celebrate Christmas? Please comment below. I'd love to read them and add any to our traditions if possible.

For other 'rich living' and D.I.Y. decor tips please subscribe, like me on Facebook, and follow me on Pinterest and Instagram.