Elf on the Shelf: The Floor is Lava!
The day before this Elf on the Shelf scene, my kids were playing the Floor is Lava in our living room with the pillows that normally go on our couch.
It's a game they often play; it's one of my three-year-old daughter's favorite games.
She loves when I play the YouTube song, "The Floor is Lava" by The Kiboomers Preschool Songs.
We will dance or skip or whatever the song tells us to do and then we run for a chair or couch when the song says, "The Floor is Lava".
She will ask me to play the song over and over again until I finally insist we stop playing it!
This is one reason I think our Elf on the Shelf sibling duo choose to have a Floor is Lava day.
It really was a fun thing for my kids to see the day after they were playing it. They said that our elves must have overheard them playing it and brought the game that night.
The scene was set in our master bedroom
and apparently, a Kinetic sand volcano exploded and the hot lava spilled down onto our carpet.
It seems like Pepper wasn't too concerned though.
He was just chilling on his island/safe space.
It looks like Winter was a little more concerned.
It seemed like she was attempting to get from one safe spot to the next.
In the process, she did the splits as she was trying to move over.
There were smaller islands floating about but Pepper and Winter were a bit too far to reach those ones immediately.
This scene was a fun one because the kids spent all Saturday morning playing, "The Floor is Lava" game.
They also spent quite a bit of time that day digging in the kinetic sand volcano for dinosaur bones.
They were able to put the dinosaur skeletons together and had a great time doing that.
This scene was a favorite for me as a mom as the kids were entertained for so long with it and it looked as though this scene came together very quickly for Winter and Pepper.
Supply List for this Elf on the Shelf: The Floor is Lava!
1 Costco black storage tote or a sturdy box would work
red blanket or a red towel
some pillows
hot glue gun and sticks (a dab on each elf to help them freeze throughout the day)
How I think Pepper and Winter put together this Elf on the Shelf: The Floor is Lava! scene…
First, they put a Costco large tote down and some pillows on its sides to make a mountainous/volcano shape.
Next, they put a red blanket over top.
Then they put floating islands or bean bags on the red blanket.
They put a board game standing upright on top of the tote called, The Floor is Lava, and then in front of it, they put the Kinectic Sand dinosaur dig kit.
They have a hard time freezing all day long so the tiniest dab of hot glue helped them stay put.
To see more details, check out the video of this Elf on the Shelf: The Floor is Lava! scene on this blog post.
To see more Elf on the Shelf ideas check out this post here. I'll be adding more this December as well.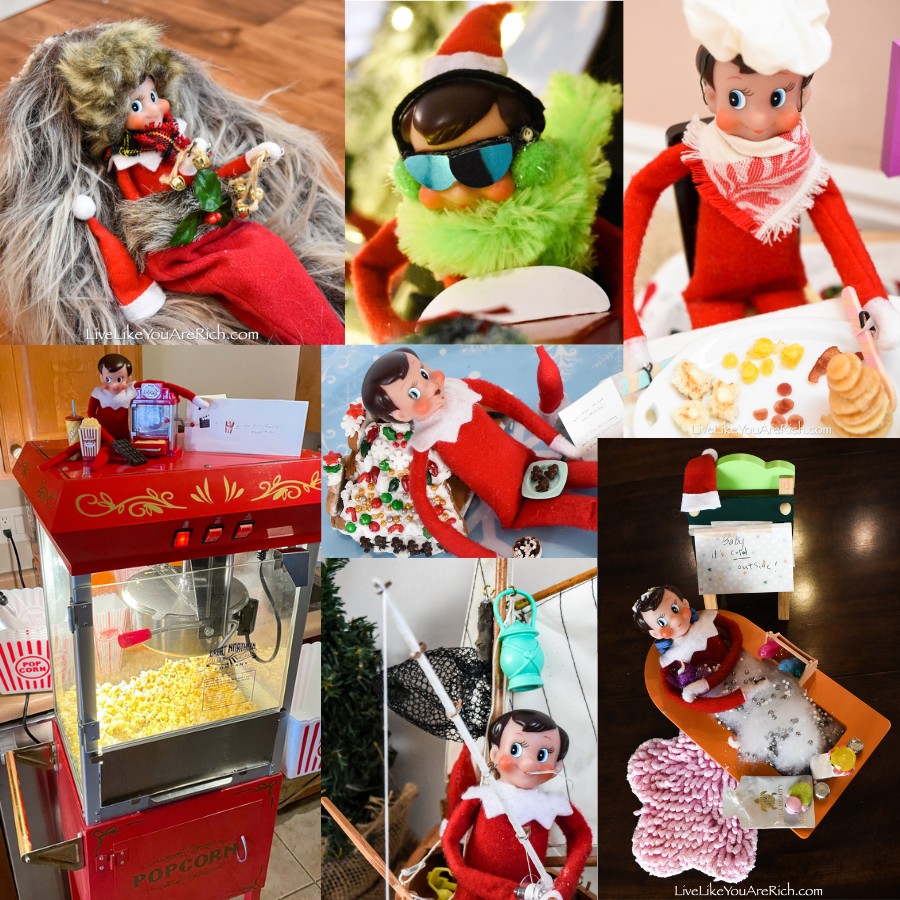 For other 'rich living' and D.I.Y. decor tips please subscribe, like me on Facebook, and follow me on Pinterest and Instagram.