We love to be outside, hike, bike, play in the yard, at the playground, go boating, and camp. We recently had our backyard remodeled. We put in an in-ground trampoline, re-sod the lawn, put in a small sand box area, installed a new fence/gate, and I'm working on new patio furniture. My kids' friends and family have loved coming over and spending time in our backyard.
It has been so fun having the kids play for hours on end in a safe place that is free (I'm frugal as most of you know) and where I can watch them. They wade in the kiddie pool, run through the sprinklers, eat lunch on our little kid table. They have foam sword fights on the trampoline, play basketball and soccer, and much more.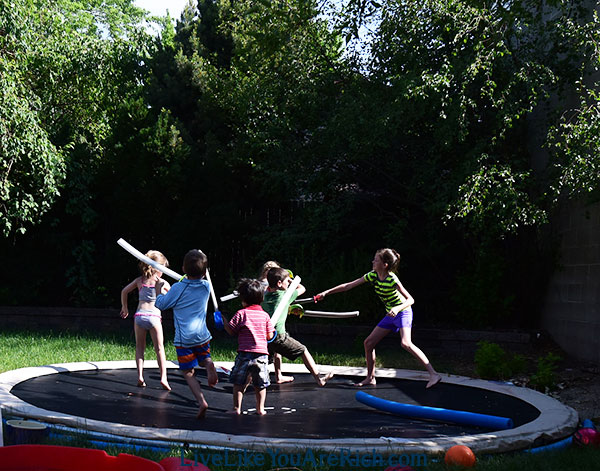 We've had lots of fun so far and I'm excited for the future backyard play dates we will have as well. That said, it has been really sunny and hot. And I do my best to keep my kids and help other moms keep their kids protected from the harmful effects of the sun. Family experience has taught me that some people are more prone to skin cancer than others. Unfortunately, people usually won't know if they are more prone to it until later on in life. Thus, it really is best to protect yourself and children from over exposure to the sun early on.
So here are 7 tips to protect your kids from the sun—while enjoying the great outdoors.
1. Use good sunscreen.
Sunscreen does more than protect against sunburns, it protects against long term effects that are not always visible, like skin damage and skin cancer. I love
Banana Boat®
! I use it for my toddler, their friends, my baby, and I.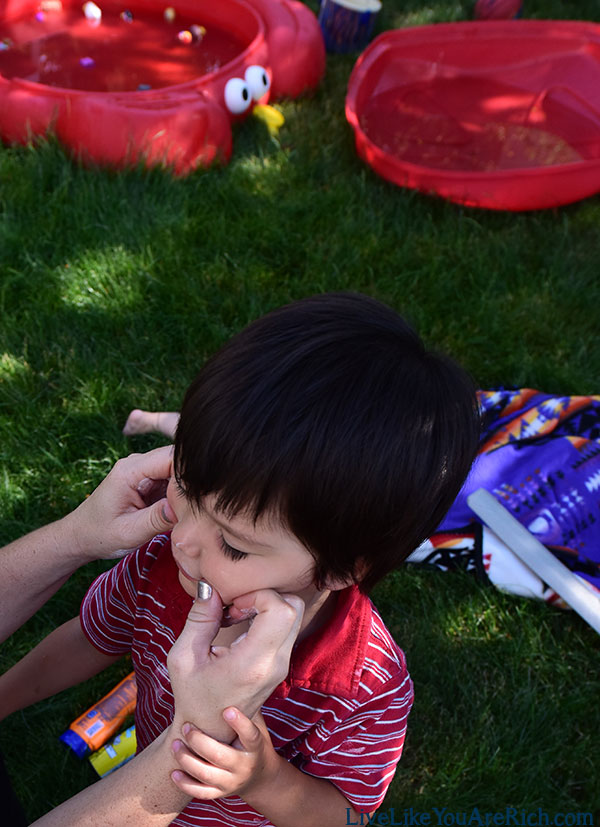 We apply it to the kids in the shade (or inside) before they get wet so it can adhere correctly. If they are out for a long length of time we reapply as well. Be sure to apply 1 ounce (2 tablespoons) of sunscreen to you and your kids' entire bodies 30 minutes before going outside and reapply every two hours or immediately after swimming or excessive sweating.
2. Make use of shade.
While at the beach and camping we put up our big tent shade. In the boat we always use the boat shade. When we travel, we put something in the rear windows (if the kids are not in the shade) and take our stroller with the best coverage. And when we set up our in-ground trampoline (tutorial here), we made sure to put it where it would be in the shade.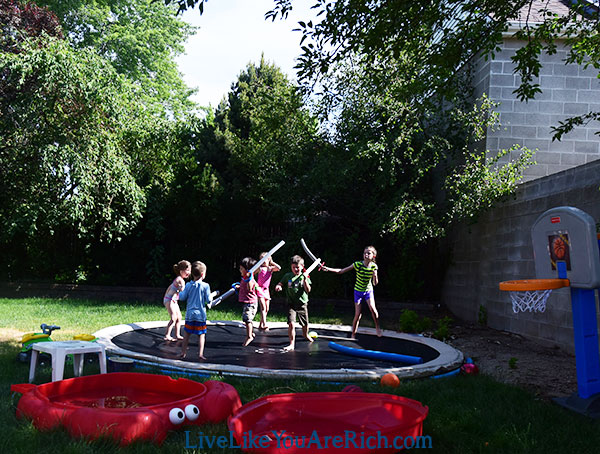 —as well as the kiddie pool, sand box, basketball hoop, and blanket for our baby.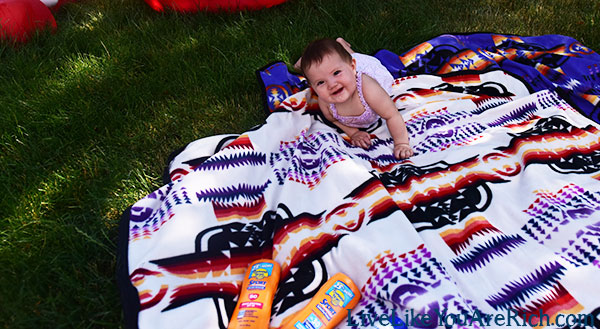 3. Wear proper clothing.
When clothing is dry it provides protection from the sun, once it is wet the protection does decrease. So if your kids will be in the water, you'll want to put sunscreen on the skin and then put a shirt or rash guard on top.
4. Wear a hat.
In addition to using some Banana Boat® Sunscreen on the top of your head, a hat will also protect from scalp burns and will often shade the face.
5. Stay hydrated.
Playing in the sun for a long amount of time and not replenishing the body's water stores can cause sun stroke and dehydration. My friend got severely dehydrated at camp one summer. It was really scary. Make sure to keep your kids hydrated. I talk about a few ideas here on how to reward your kids for drinking water here.
6. Protect your eyes.
I used to work as a river guide on the Colorado River. We made sure to wear sunscreen, a hat, and especially to wear sunglasses. The reflection of the sun on the water could easily burn our eyes. The same went for when I would go snowboarding or teach lessons on the slopes. On sunny days I'd always wear goggles or sunglasses. If exposed to the sun for a long amount of time, you and your children should really have something to shield the eyes from the sun's powerful rays.
7. Stay as cool as you can.
Staying cool allows your body to get a break from trying to cool itself (by sweating). You can try A/C, fans, swimming in cool water, running through the sprinklers, using a mist machine, and drinking cold beverages.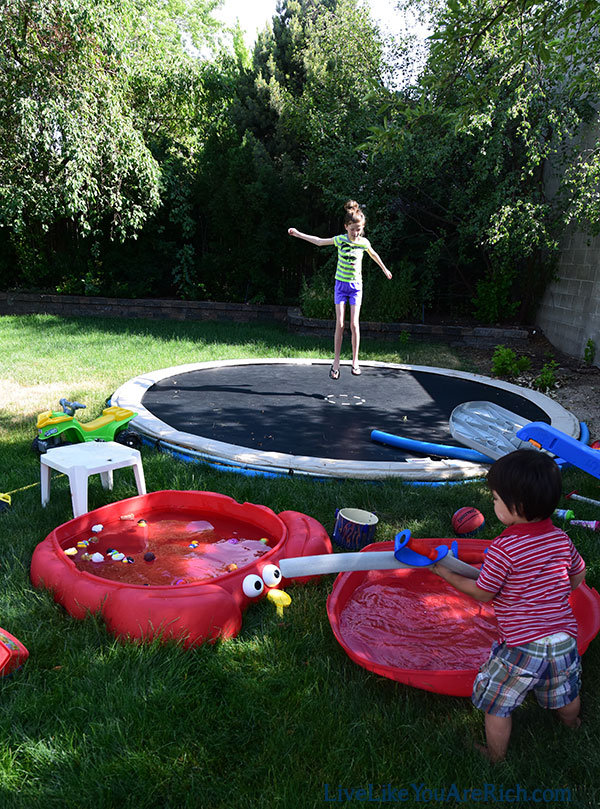 Doing these 7 things will help you and your children enjoy fun summer activities while protecting yourself from the sun.

For other 'rich living' and parenting tips, please subscribe, like me on Facebook, and follow me on Pinterest and Instagram.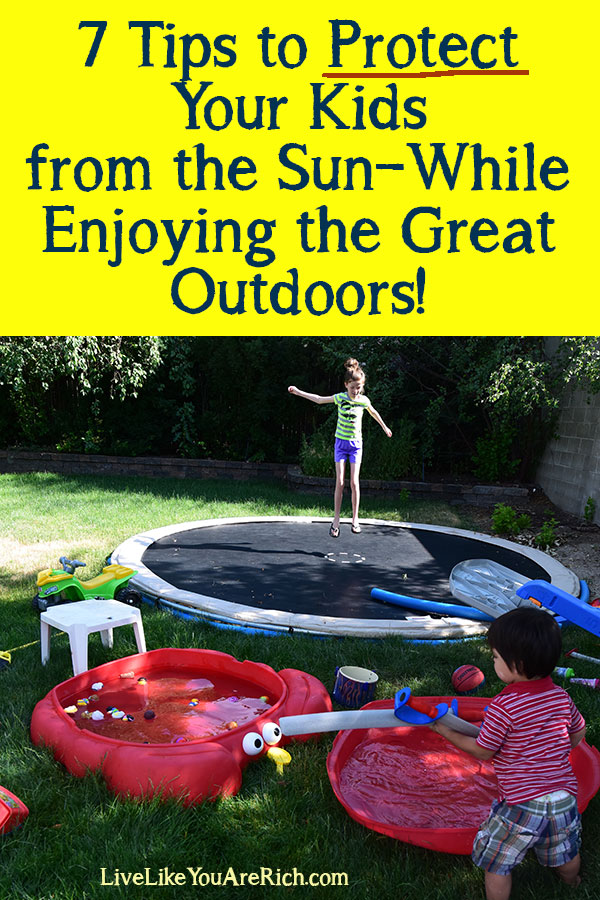 You may also like…