Most kids love to participate with and mimic their parents. My son observed me using a screwdriver and tape measure and now whenever he gets his hands on them he always pretends to use them in a similar fashion. My daughter loves to follow me around and do what I do: cook, try to put on my jewelry, she pretends to use my make up, etc. While they are still in the age of mimicking and learning from you by example, (2-12 years old or so), I find that it is a great time to teach children to use kitchen tools.
My son LOVES to get into the kitchen tool drawer and use the wisk and other items he's seen me using. I know I did the same when I was a child. Thinking back on using kitchen tools as a little girl, I realized that my fondest memories were when my mom and I would make cinnamon rolls together. It was quite the process and I was entertained for hours as I watched the dough rise,  made frosting (I got to lick the beaters), rolled the dough out, used dental floss to cut them, and finally enjoyed how yummy they tasted! I decided I'd teach my kids how to use kitchen tools by making this Copycat Cinnabon Recipe.
My kids had a play date with a family in the neighborhood (ages 4, 6, & 8) so I asked them if they wanted to spend the rather long play date we had arranged making cinnamon rolls, and they were so excited to!
All ages (2, 4, 6, & 8) learned something new. They all got to take part in this fun process…
I told them that the milk the yeast is mixed into needs to be over 100 F, so they learned how to use a thermometer.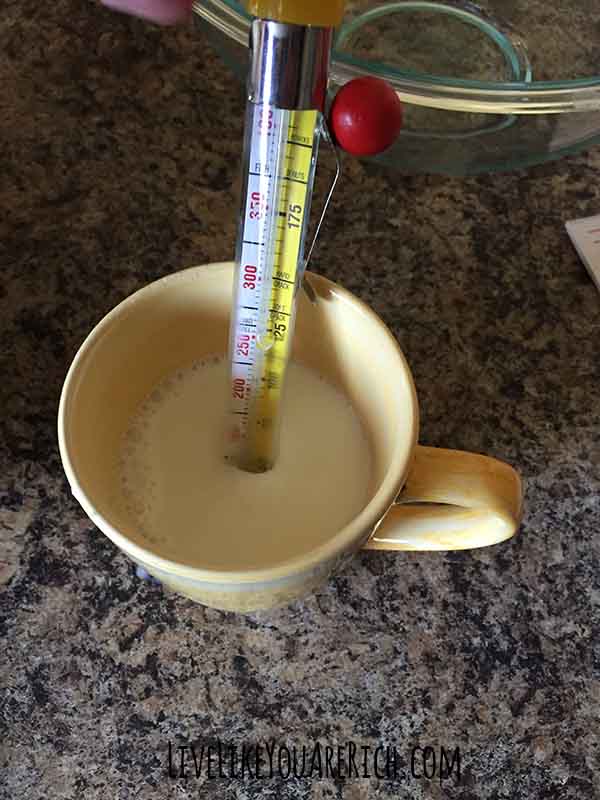 Then we talked about how to use a measuring cup and each child got to use one multiple times during the day.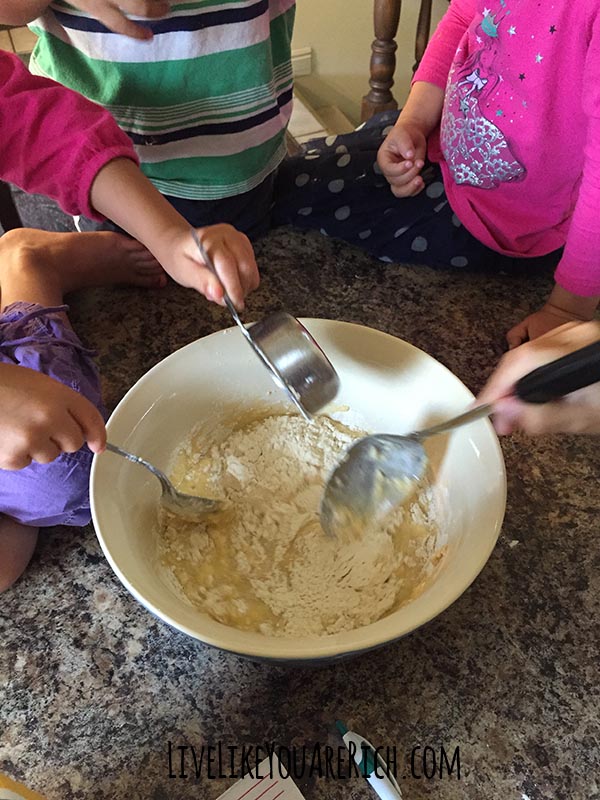 They stirred with spoons. I taught them to stir slowly and to stir the ingredients that found their way to bottom and sides of the bowl as well.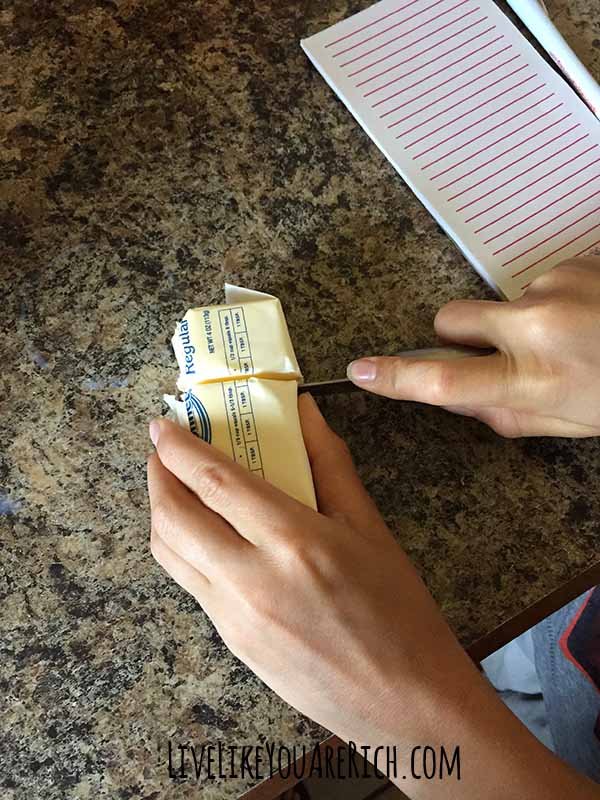 The older child used a knife and they all learned how the wrapper on butter/margarine is a tool to measure Tablespoons.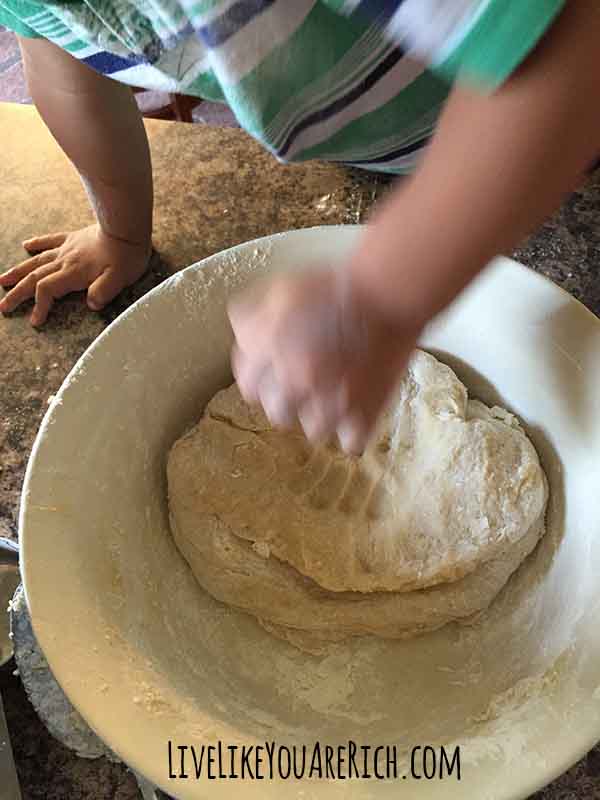 The kids took turns kneading (or punching) the dough with their clean fists.
While the dough was rising we made frosting.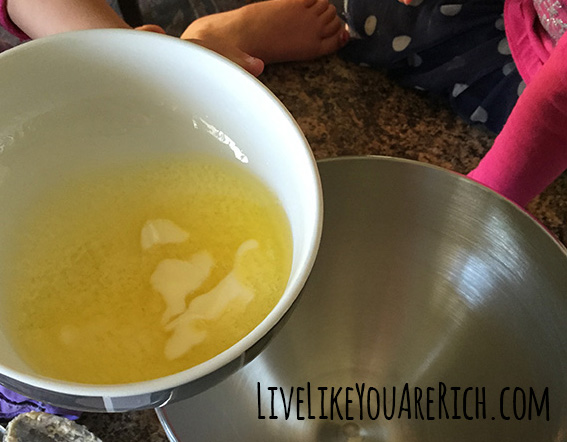 They watched as I melted butter in the microwave and learned how the microwave is a cooking tool.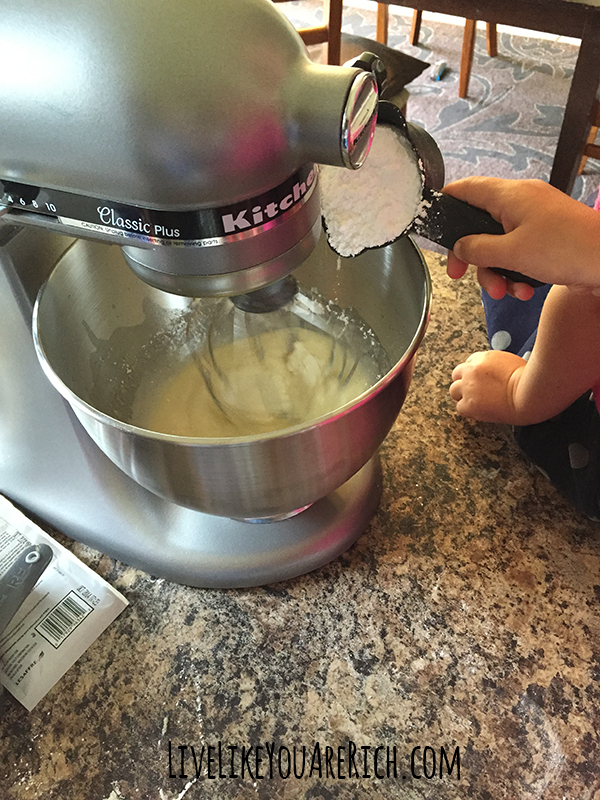 They saw how a Kitchen Aid is a tool and mixes things quickly and efficiently. I showed them the different functions on the kitchen aid, how to attach the mixer etc. I did mention that they should only use the mixer with an adult.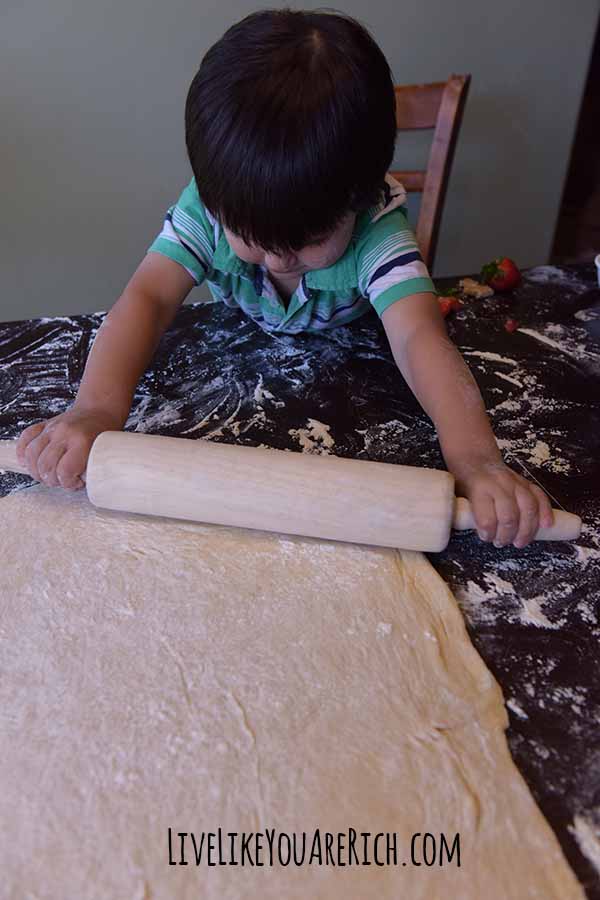 When the dough was done rising, they all had an absolute blast taking turns with the rolling pin!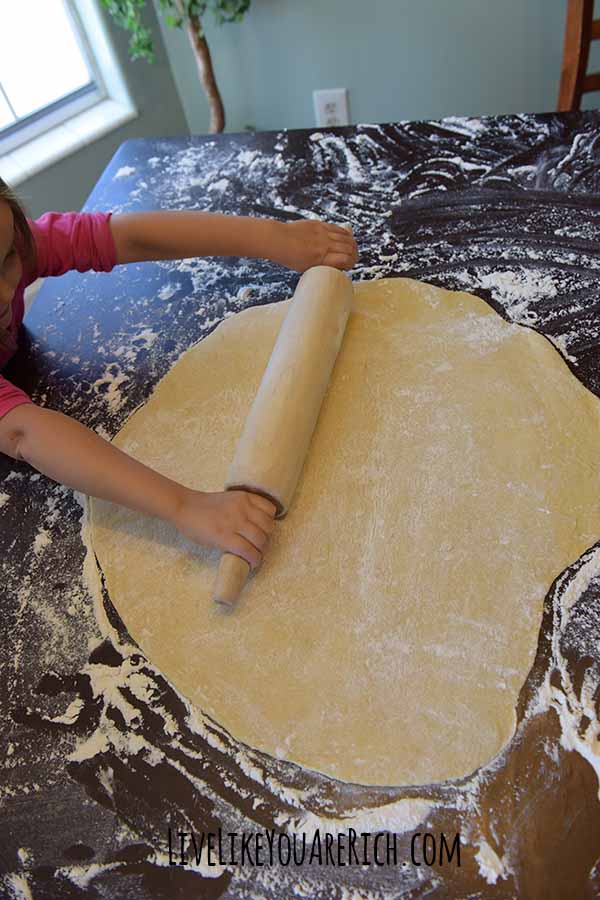 They loved using what they called 'paint brushes' (even though I told them they were pastry brushes) and 'painted' the dough with melted butter.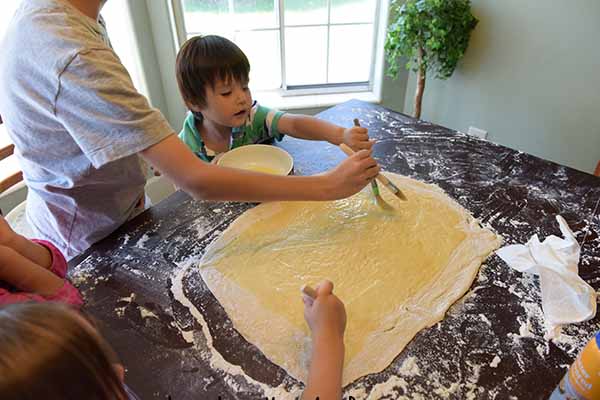 Next, they took turns learning how to use a spoon to sprinkle. The younger ones just sort of dumped the cinnamon sugar mixture out in one spot. The older ones were able to show them how to do it a little better and wiggle the hand slightly to sprinkle the sugar all over.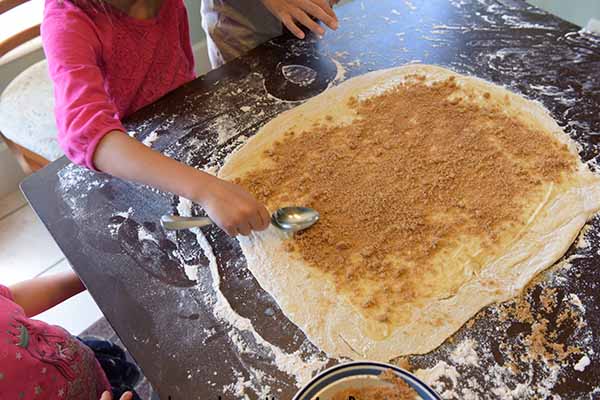 We rolled over the mixture so it stayed during the rising and cooking process.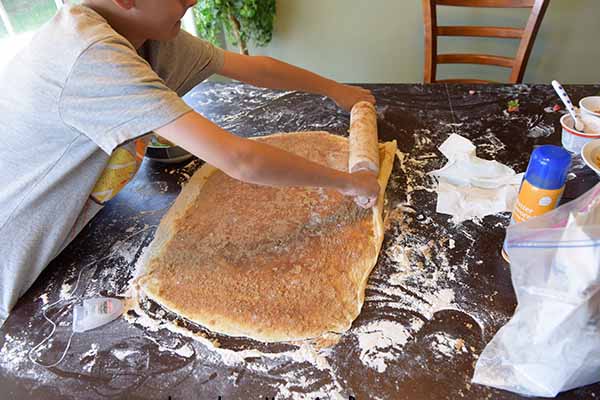 Rolled it up.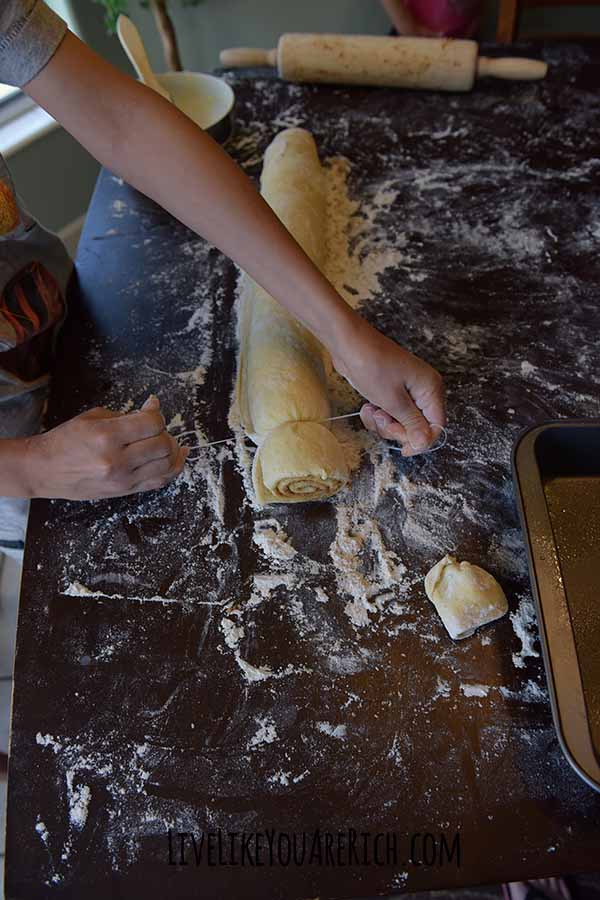 And the older kids used dental floss to cut each piece.
While they were rising again, I had the children help clean up. They learned to use cleaning tools a scrub brush, towels, dishwasher, etc.
Then the rolls baked and I explained the process of heating that the oven does.  They got to frost them once the pan cooled.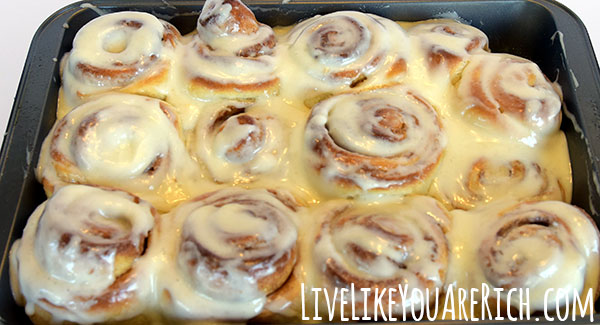 It was an exciting play date and learning opportunity. They LOVED using the kitchen tools, making the cinnamon rolls, and of course eating them! The neighbor kids told me many times how much fun they had and how we are their 'best friends' now. Even my 2 1/2 year old was occupied and entertained for hours! It was way fun—even for me.
Get the recipe to make these amazing 'Cinnabon Copycat Cinnamon Rolls' and if applicable, you can use it and these ideas on how to teach children to use kitchen tools.
Enjoy!

For other 'rich living' tips please subscribe, like me on Facebook, and follow me on Pinterest.