We have been remodeling all of the kids' rooms in our home this summer.
My son, Brighton, was named after a mountain town and my favorite ski resort.
His very first gift was a stuffed animal polar bear accompanied by the book, "On the Night You Were Born" by Nancy Tillman. Our kind neighbor gave it to him.
I love the book and the stuffy and used them as theme inspiration for his bedroom.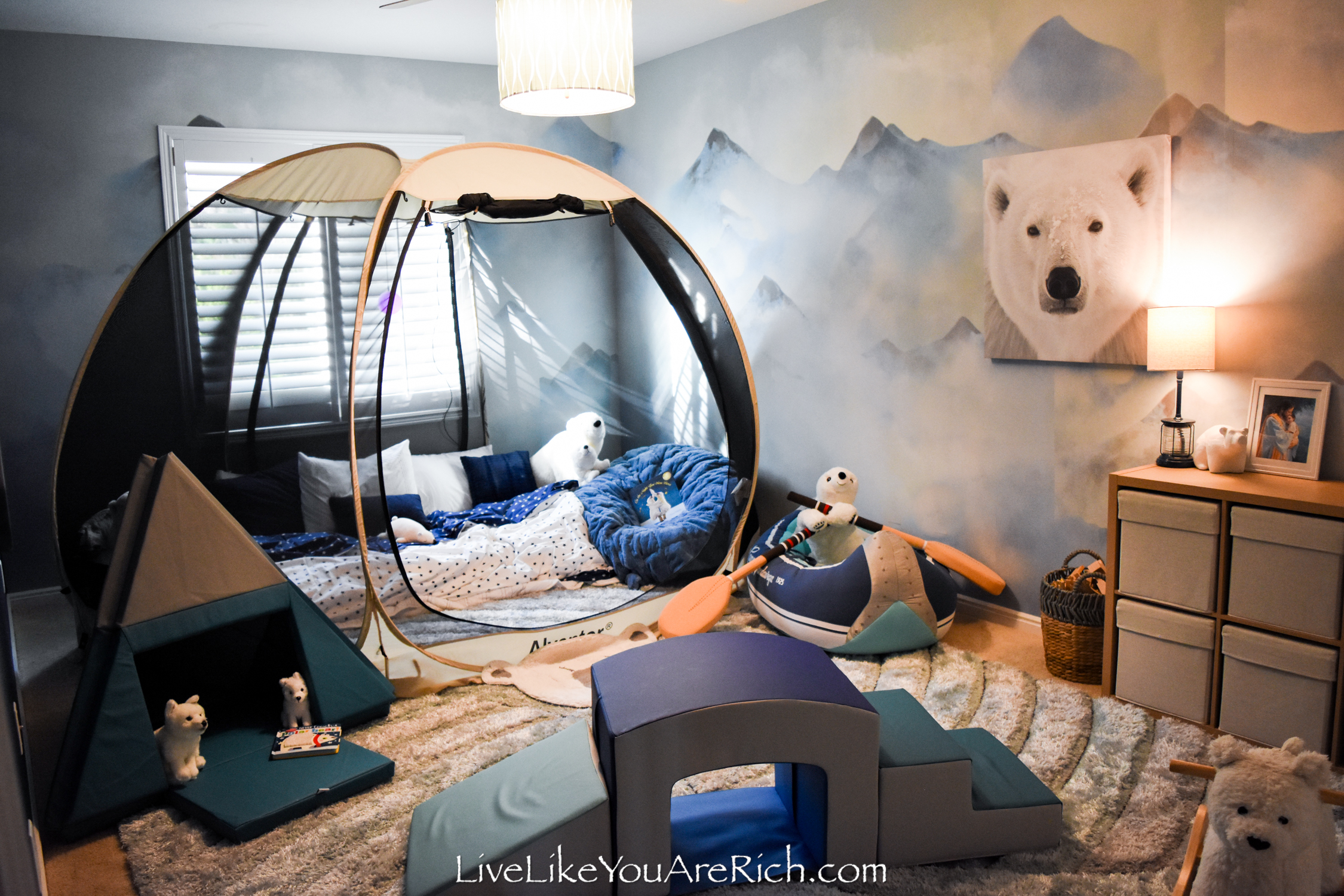 This is the 'before' of Brighton's room—when the last owners had it decorated.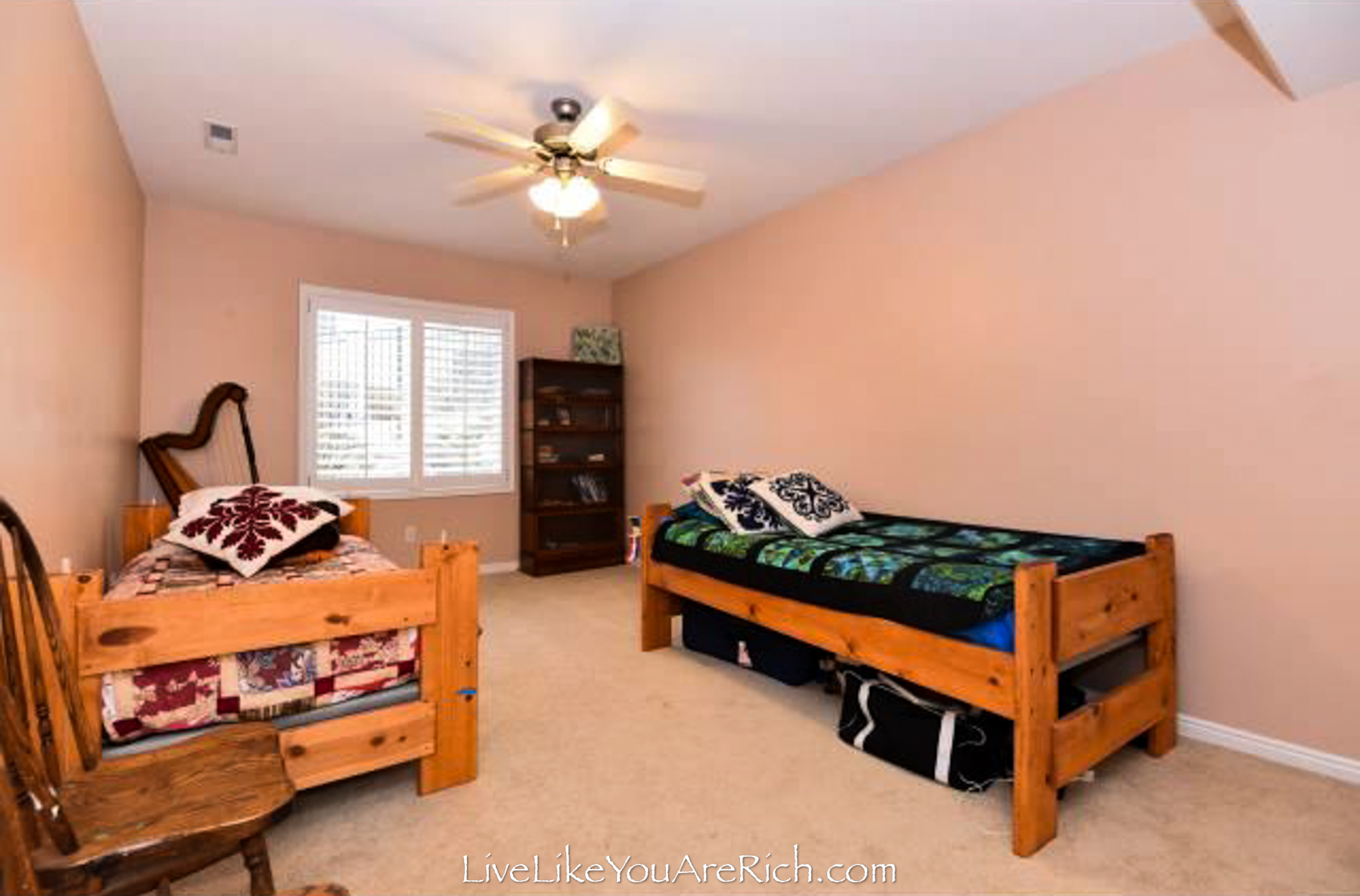 We've been using this room as an overflow storage room for the items we had left over from staging my husband's home which we renovated and sold a few years ago.
This is the after…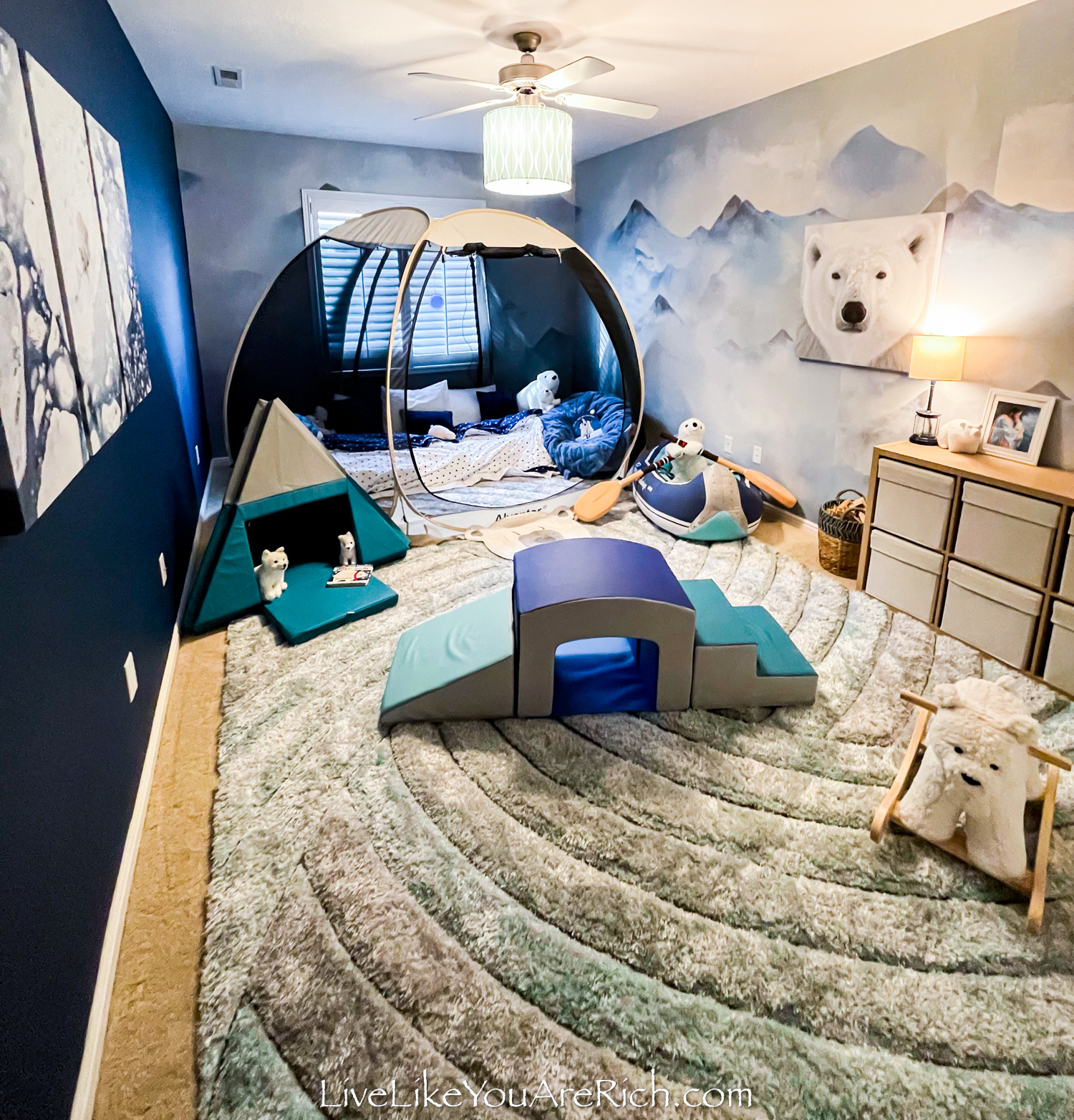 If you want to view the video walk-through, just look on this page for the video player and push play.
To begin with, my daughter and I prepped the room for wallpaper and paint.
We took off all the outlet covers and patched and sanded the holes in the walls with spackle and sandpaper; we washed and dried the walls.
Hanging the wallpaper took patience and perseverance. I have never hung this much peel-and-stick wallpaper and it was tough!
I was going to do a tutorial on how I did it, but seeing as how I ran into a few issues and then totally guessed how to resolve them at times, I decided I wouldn't.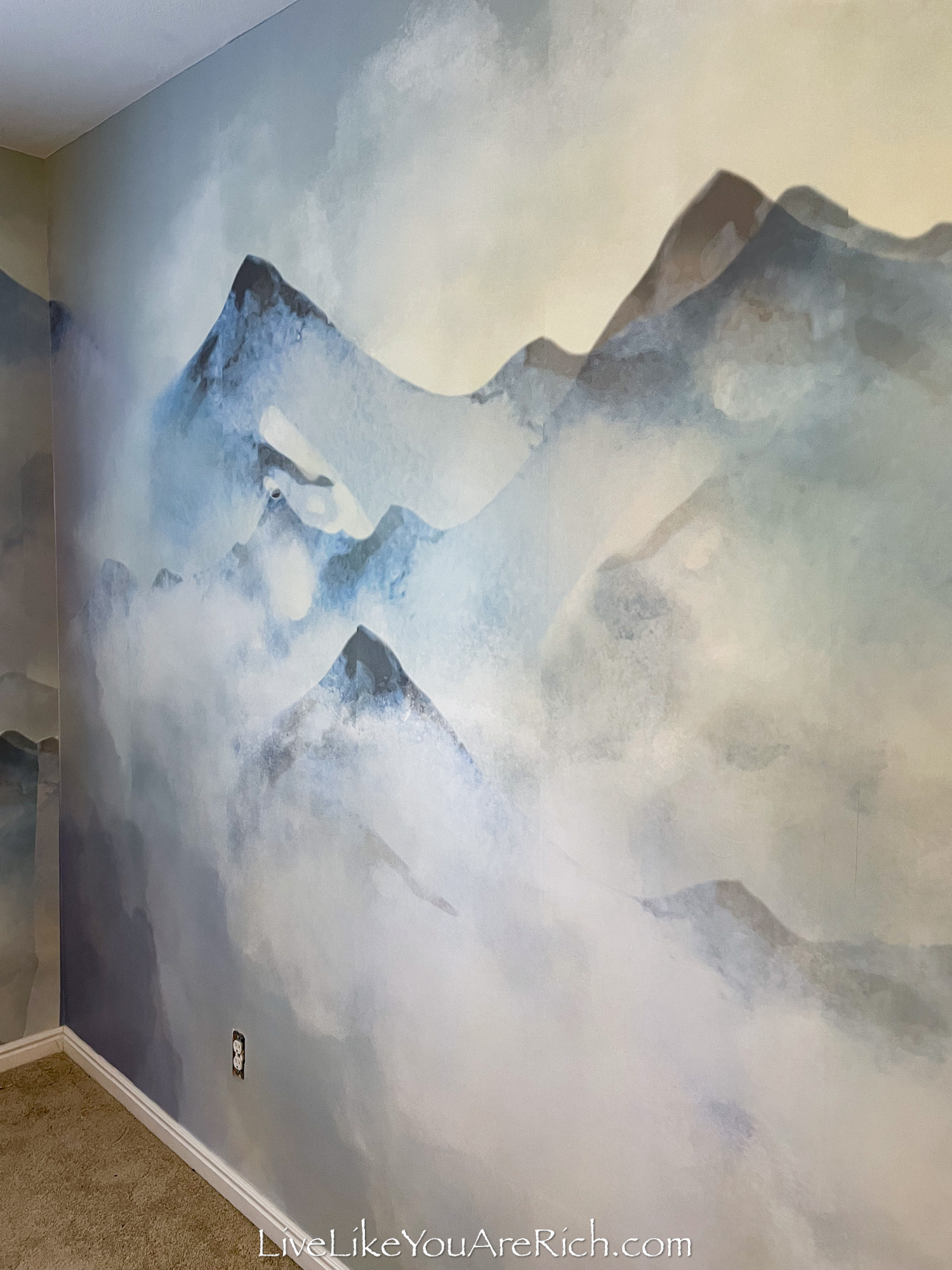 Also, I patched in some designs as there were not as many mountains like I wanted in the lower part of the design. So, with the extra wallpaper I had, I patched more mountains into the design.
Check out Youtube for professionals' tips and videos for hanging peel-and-stick wallpaper.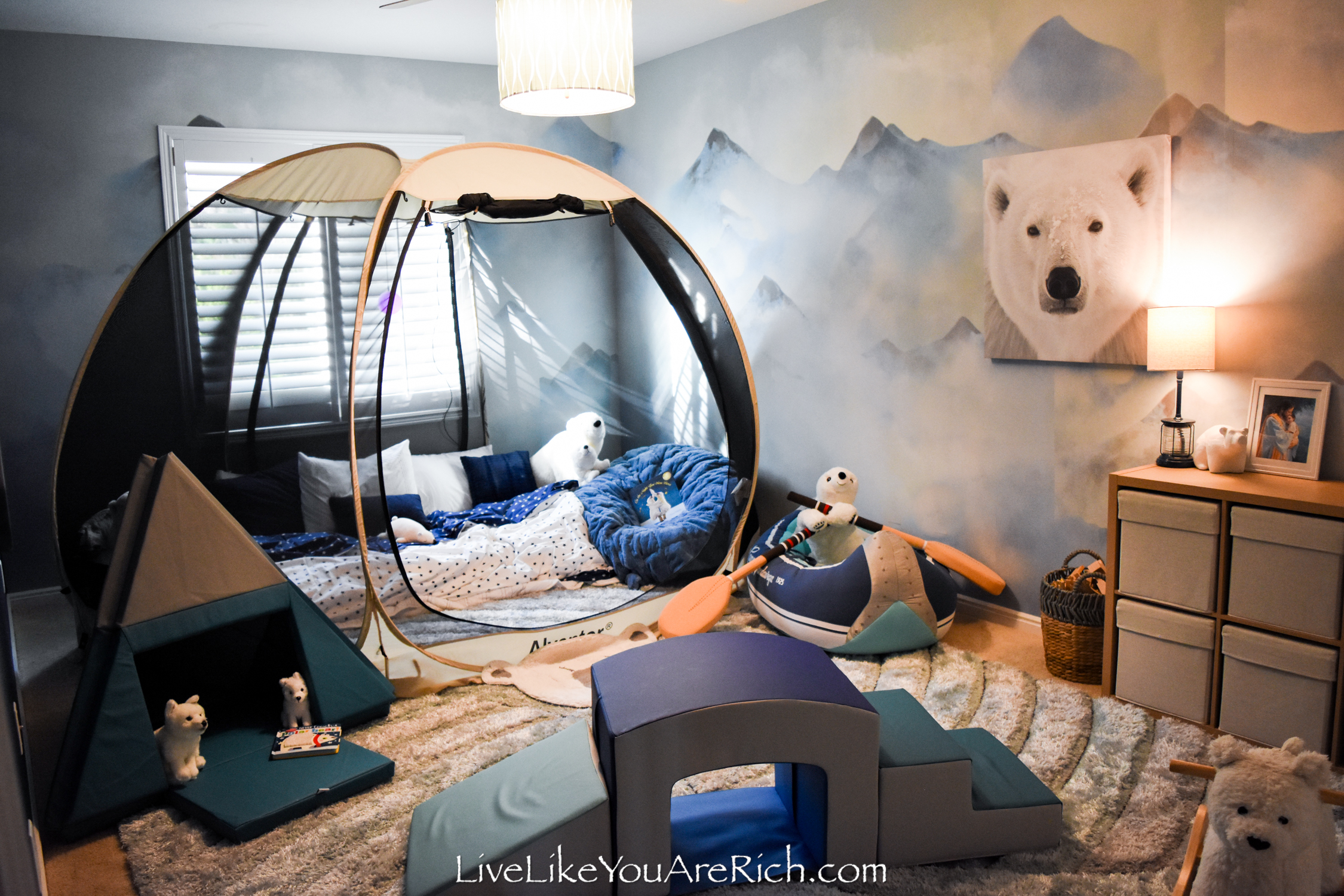 Despite its difficulties during the installation and the 23 hours that it took me to hang the wallpaper, I feel that it was worth the effort.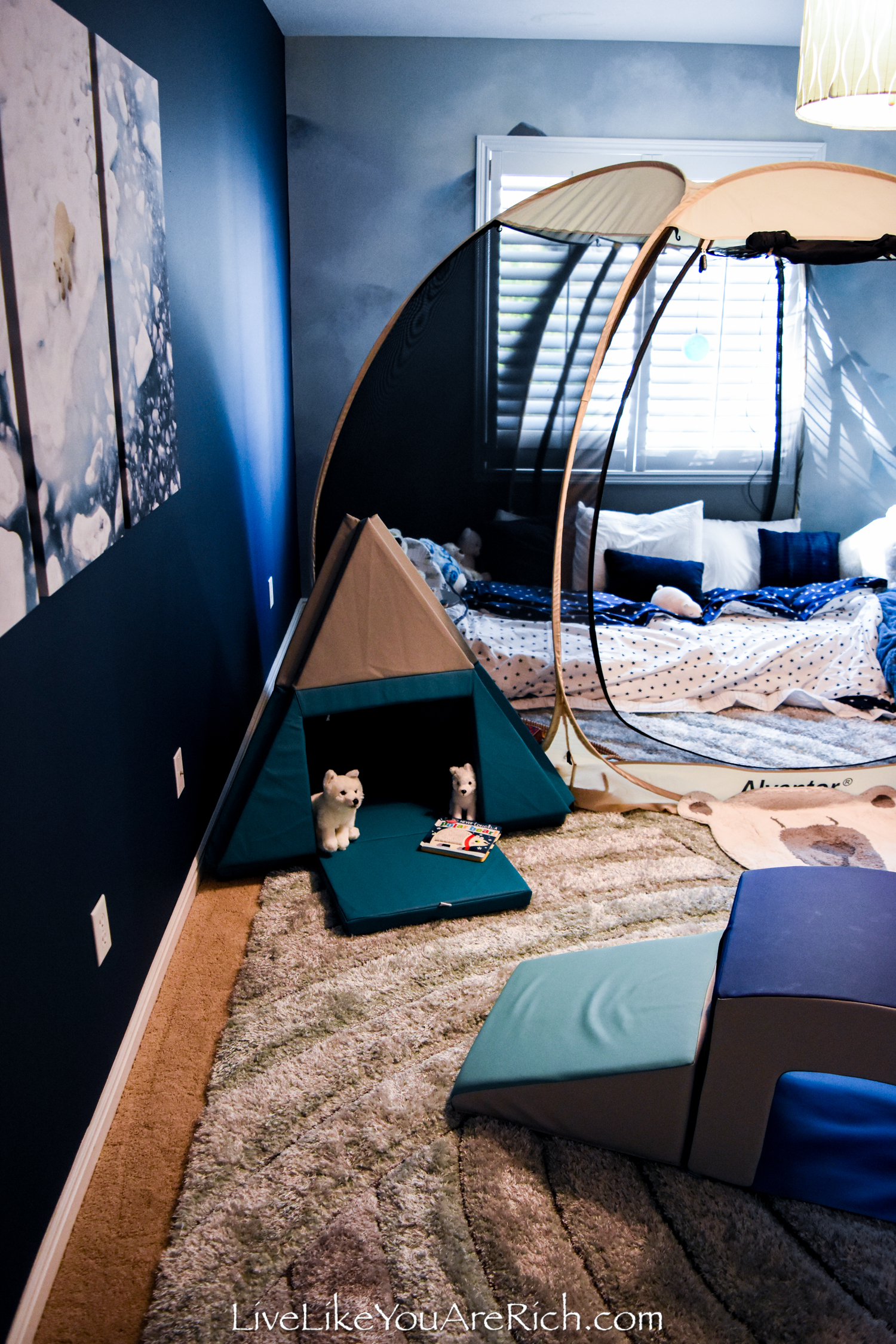 I am on a $1,500 budget for my son's room. My older kids got a $1,000 remodel per room since they already had furniture, beds, frames, and many toys.
Brighton has just turned one so I allowed myself more of a budget to work with for his room.
Although wallpaper is usually very pricey, I was very happy to find this wallpaper. It was inexpensive and good quality at $90 a roll of 8 long sections.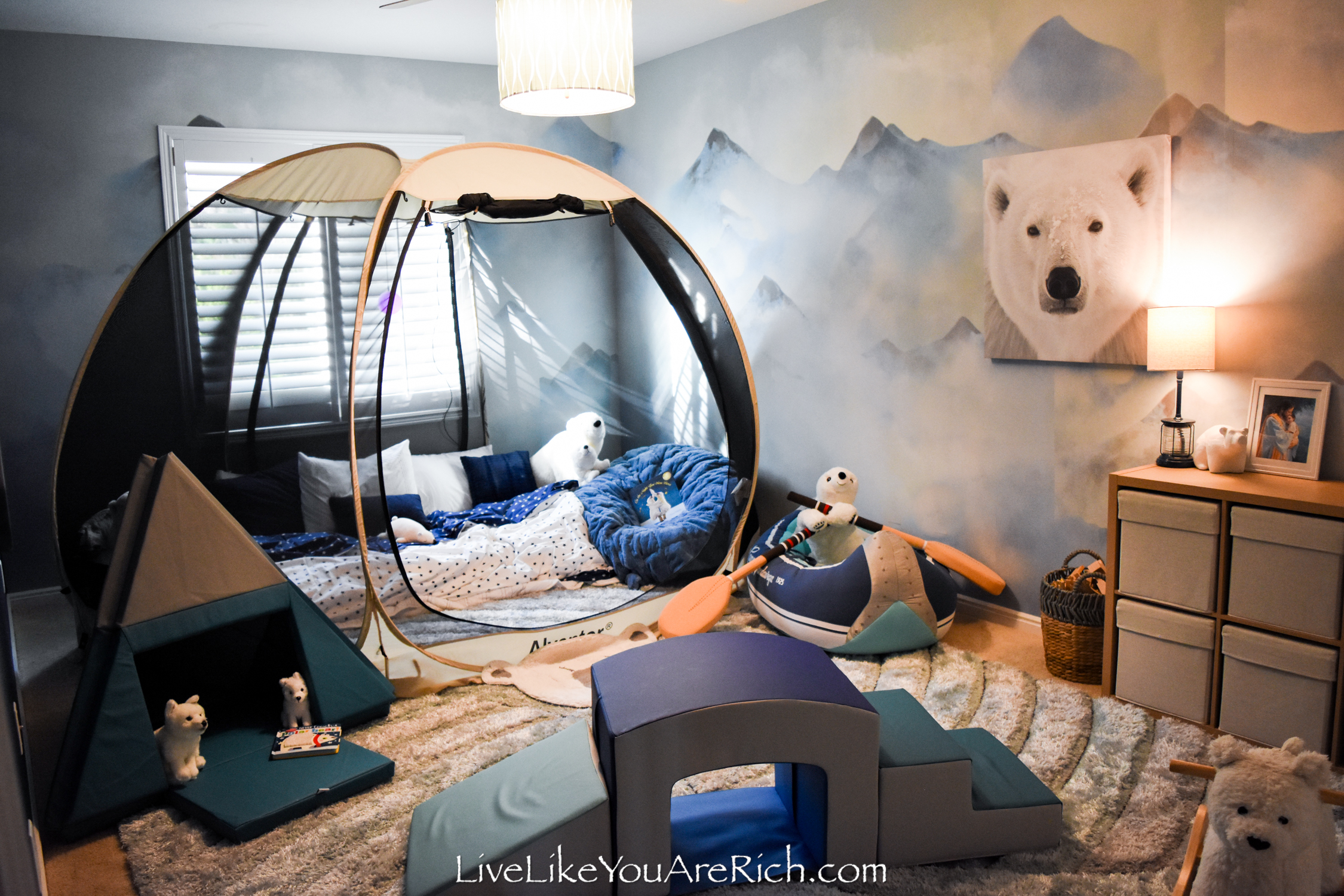 It was $280 to wallpaper the 3 areas of his room (see the supply list below for the link to the wallpaper we used).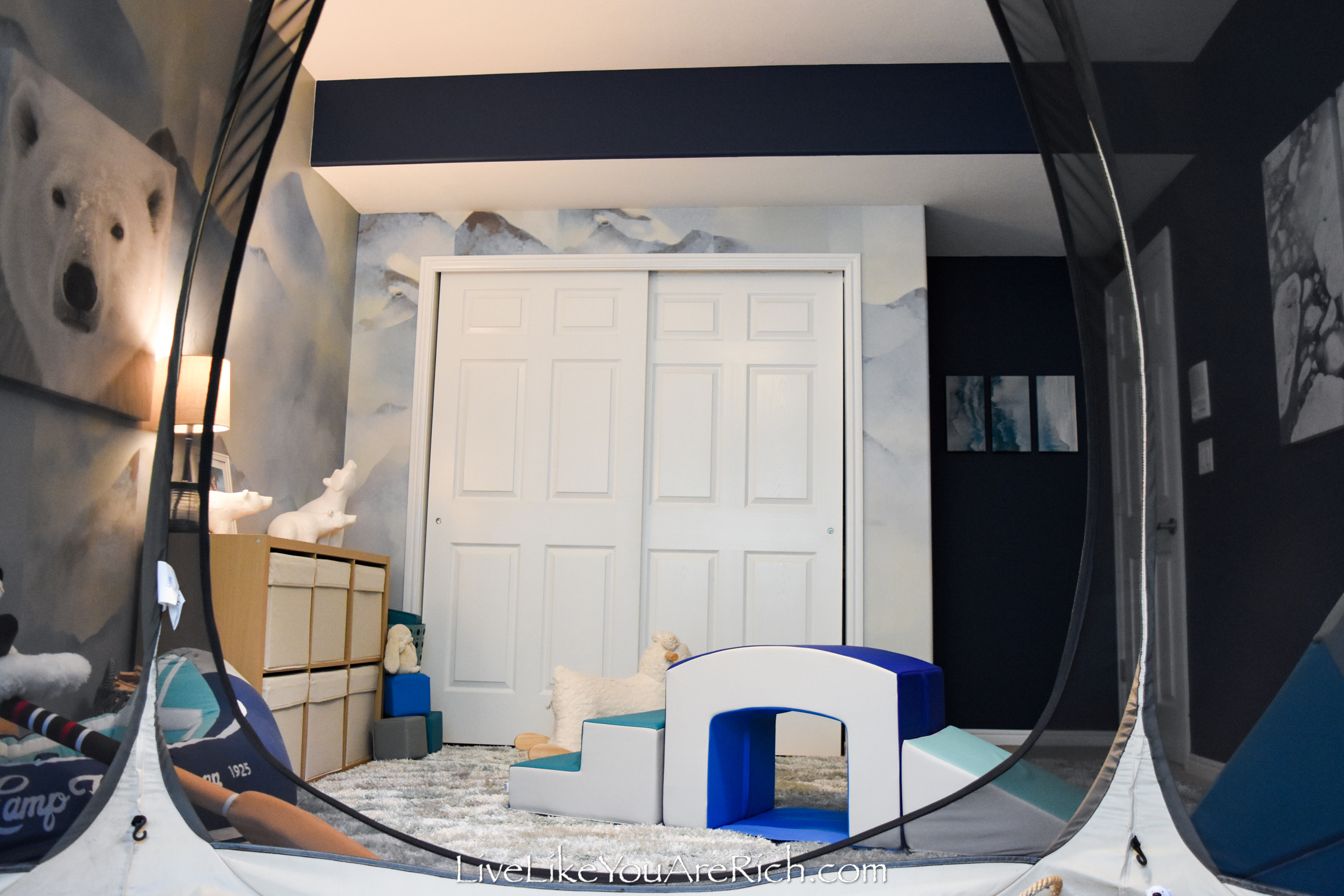 When choosing the paint, I did not know exactly which color I wanted for the opposing wall. I knew that I wanted something within the color scheme of the wallpaper but that gave me a lot of different choices.
I bought 5 gallons of mis-tinted paint for $8.00 each at Home Depot and my daughter and I painted samples on the wall.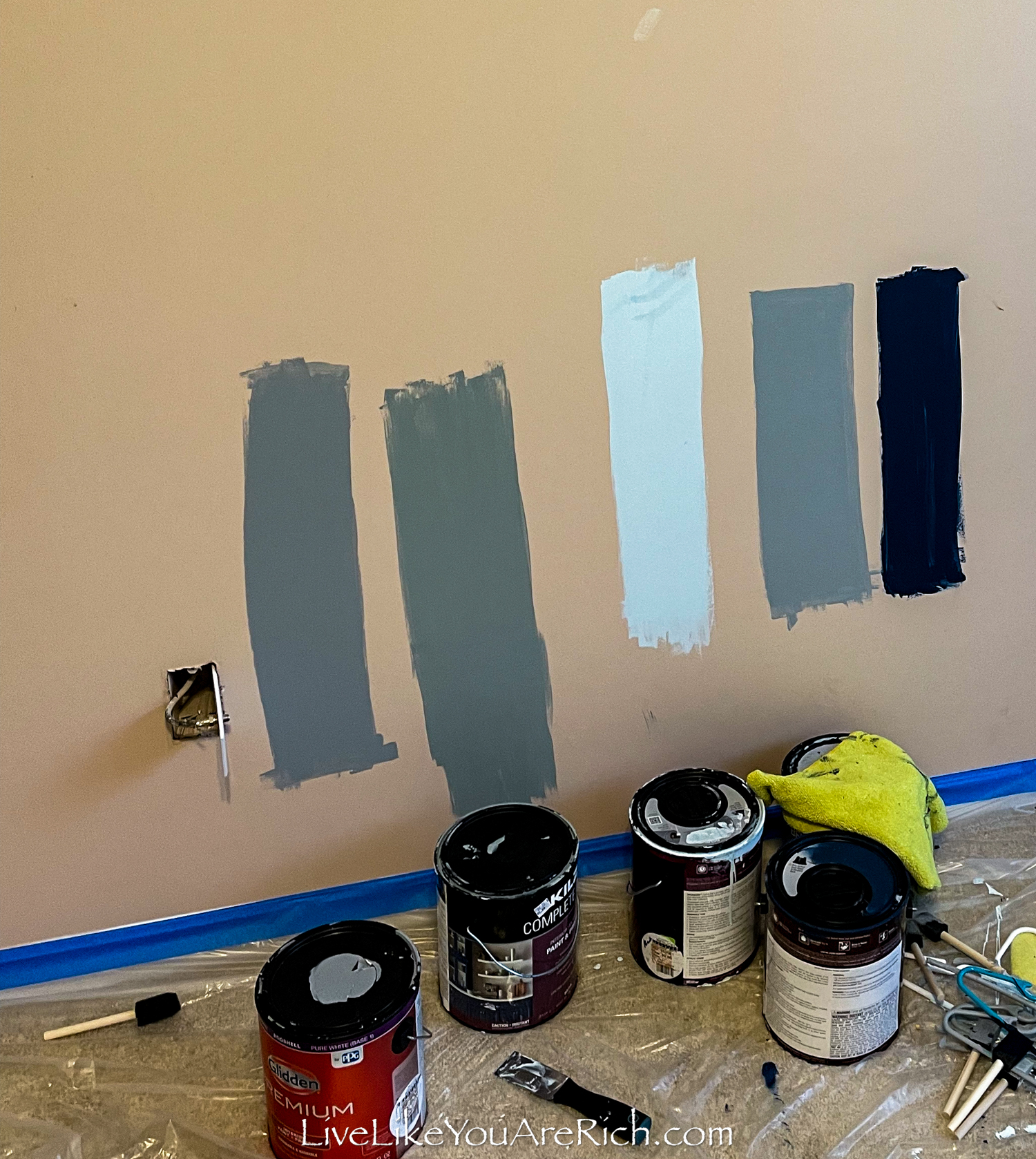 Once we had allowed the second coat to dry, and got to see the colors in the room with the wallpaper up, we decided which we would go with the dark blue.
I love the way it turned out!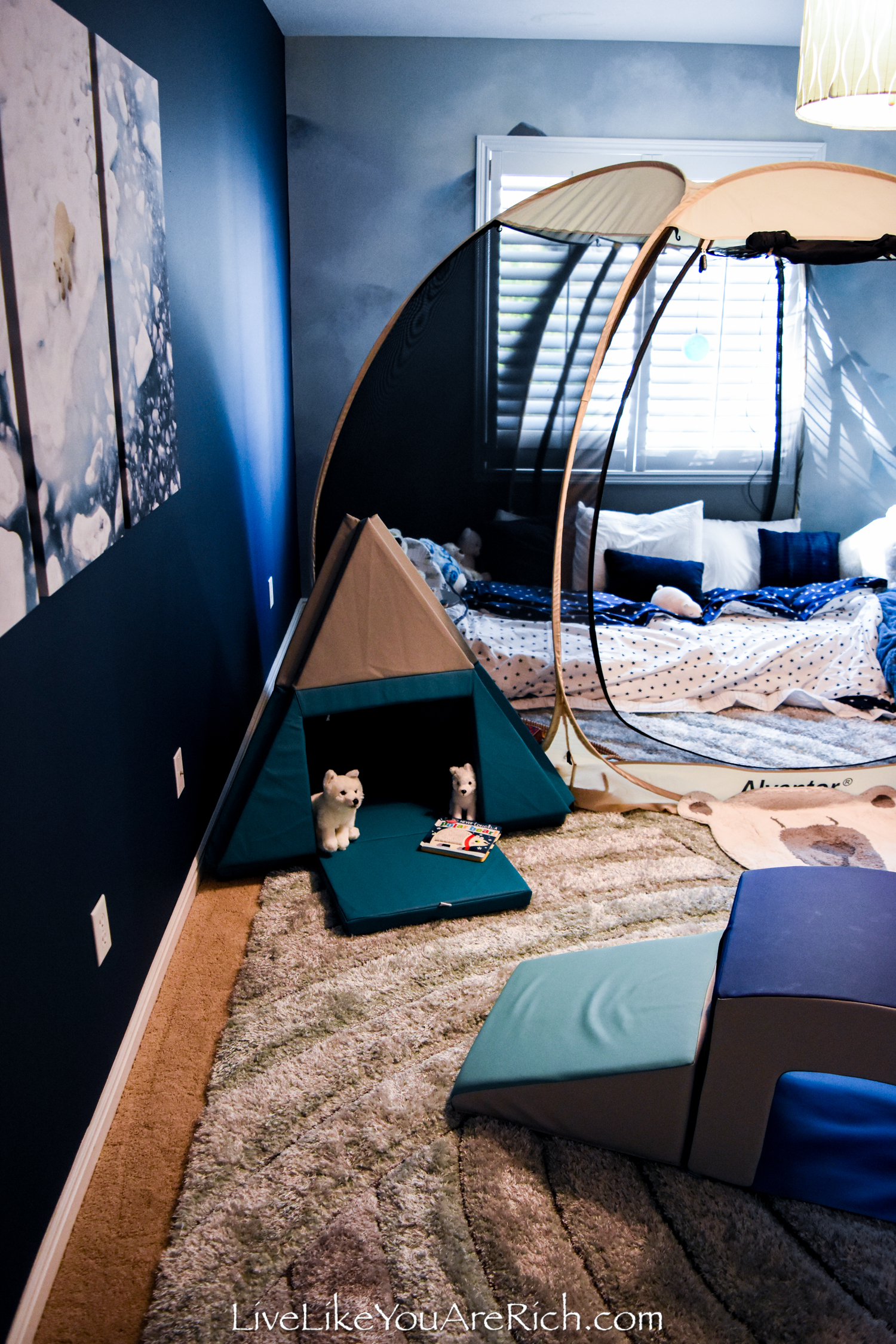 After the walls were wall-papered and painted, I began hanging the artwork.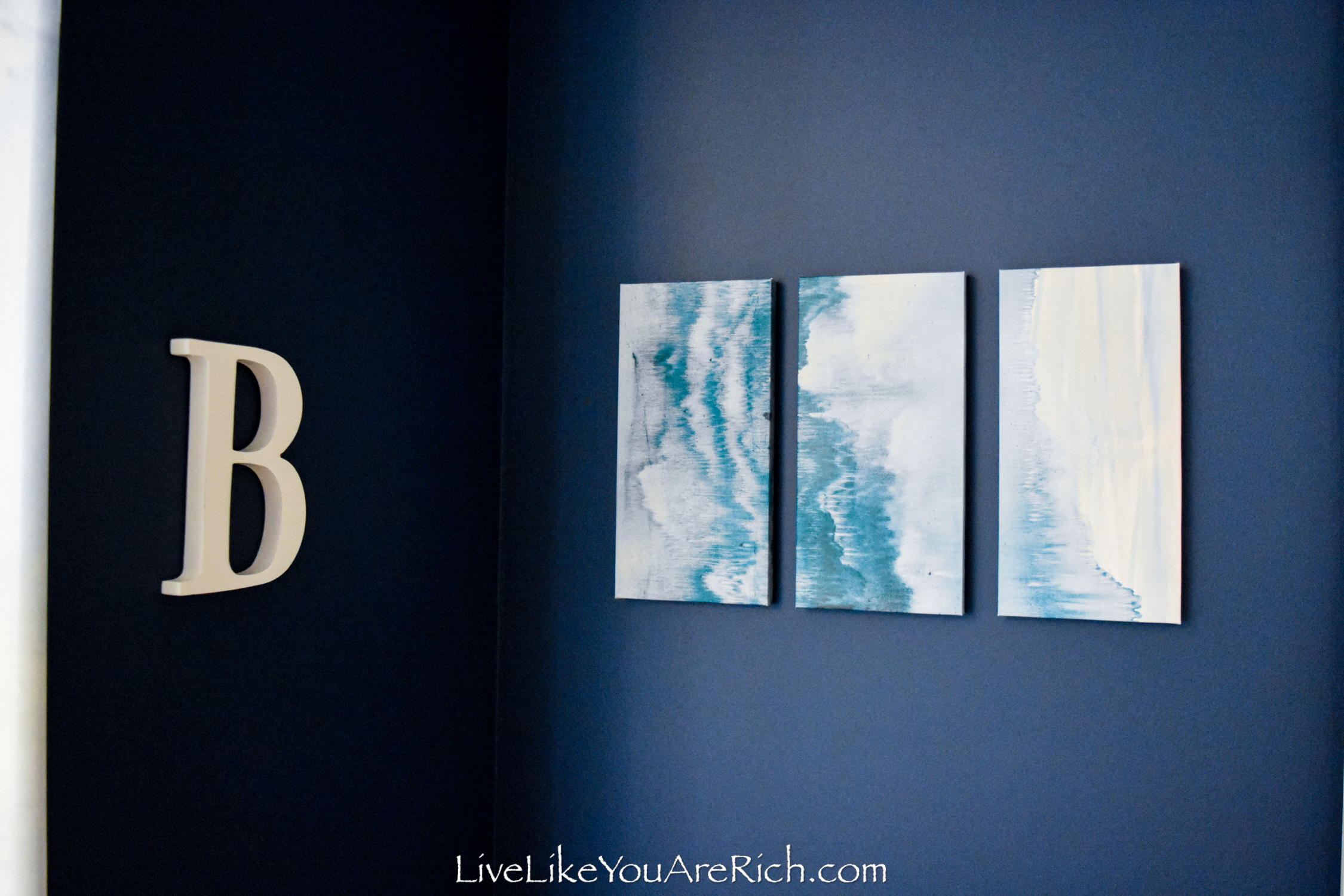 I got the canvas artwork pieces from Elephant Stock.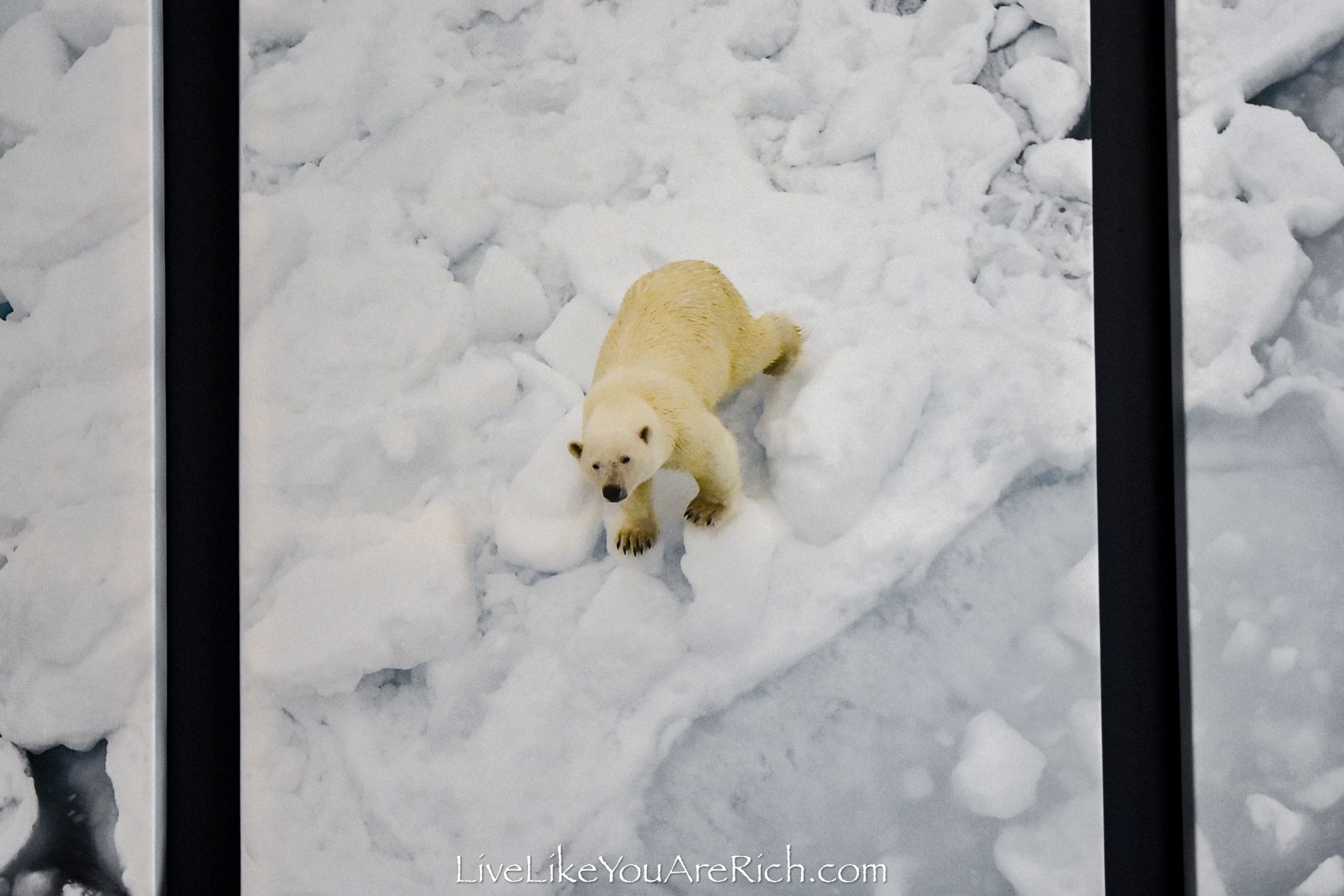 I absolutely loved how the polar bear on the ice cap turned out.
The edges of dark blue water in the artwork blend and match the blue on the walls.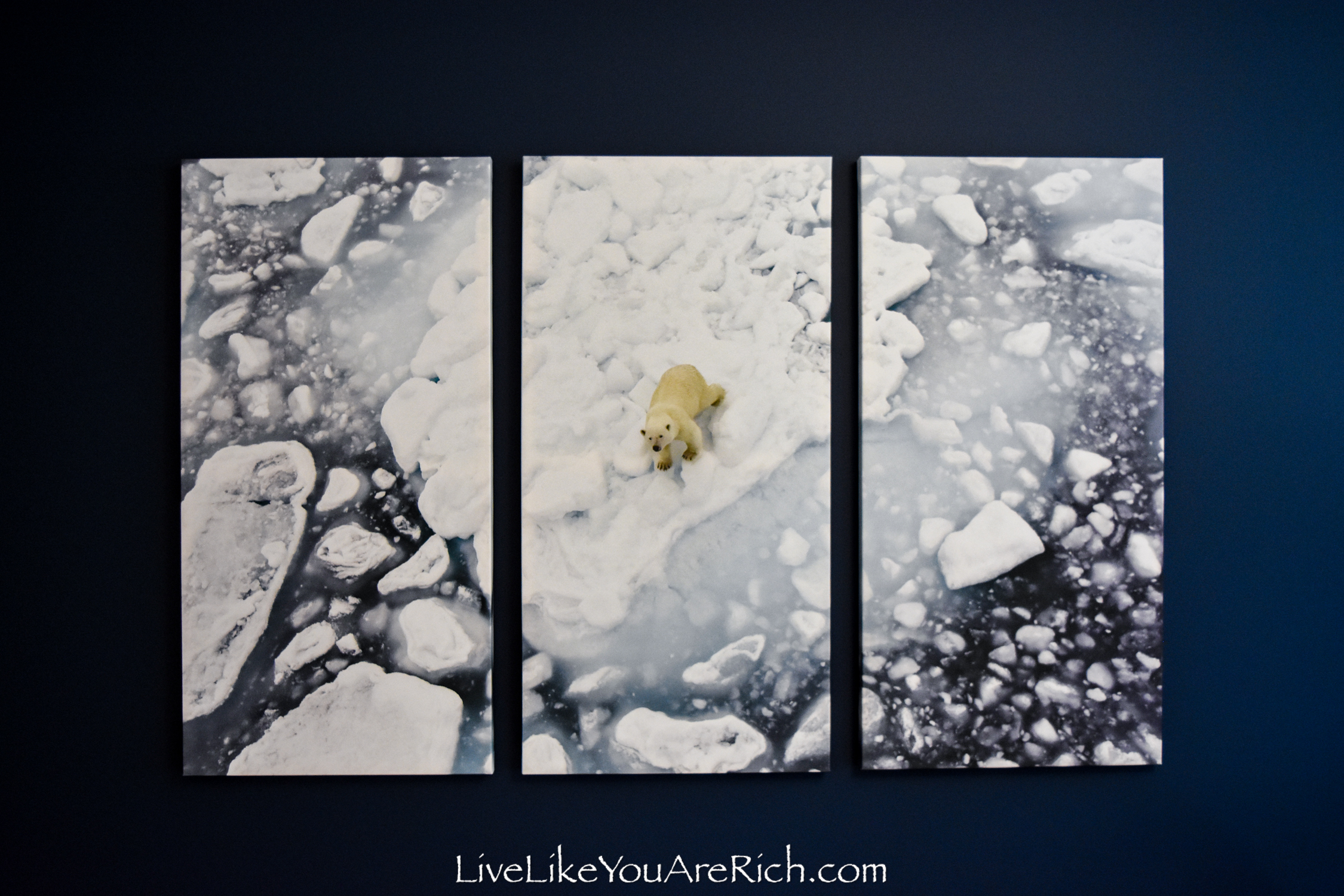 You can see how it blends from this angle as well.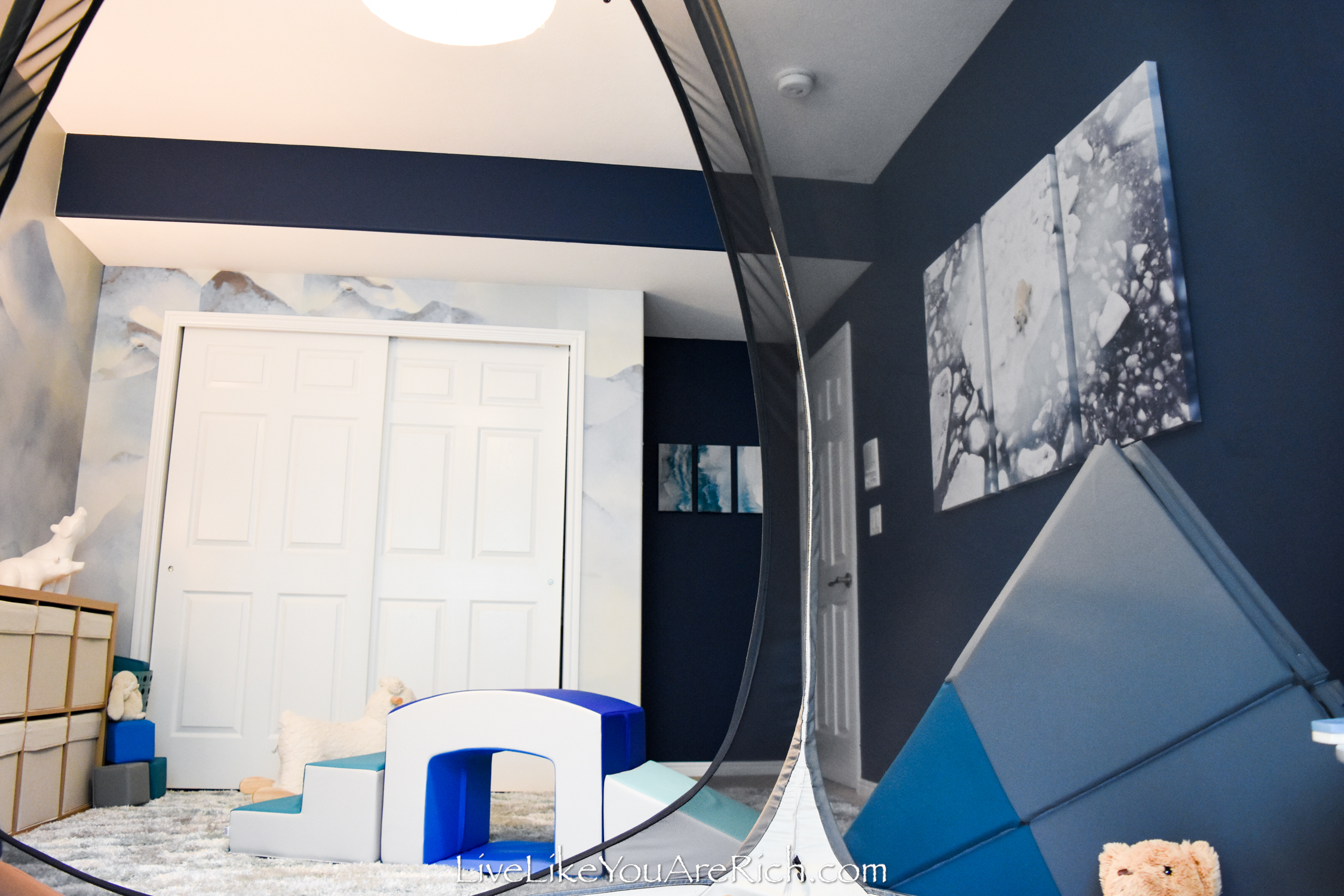 The lamp (free from a neighbor), lights up this polar bear's face which I also like a lot.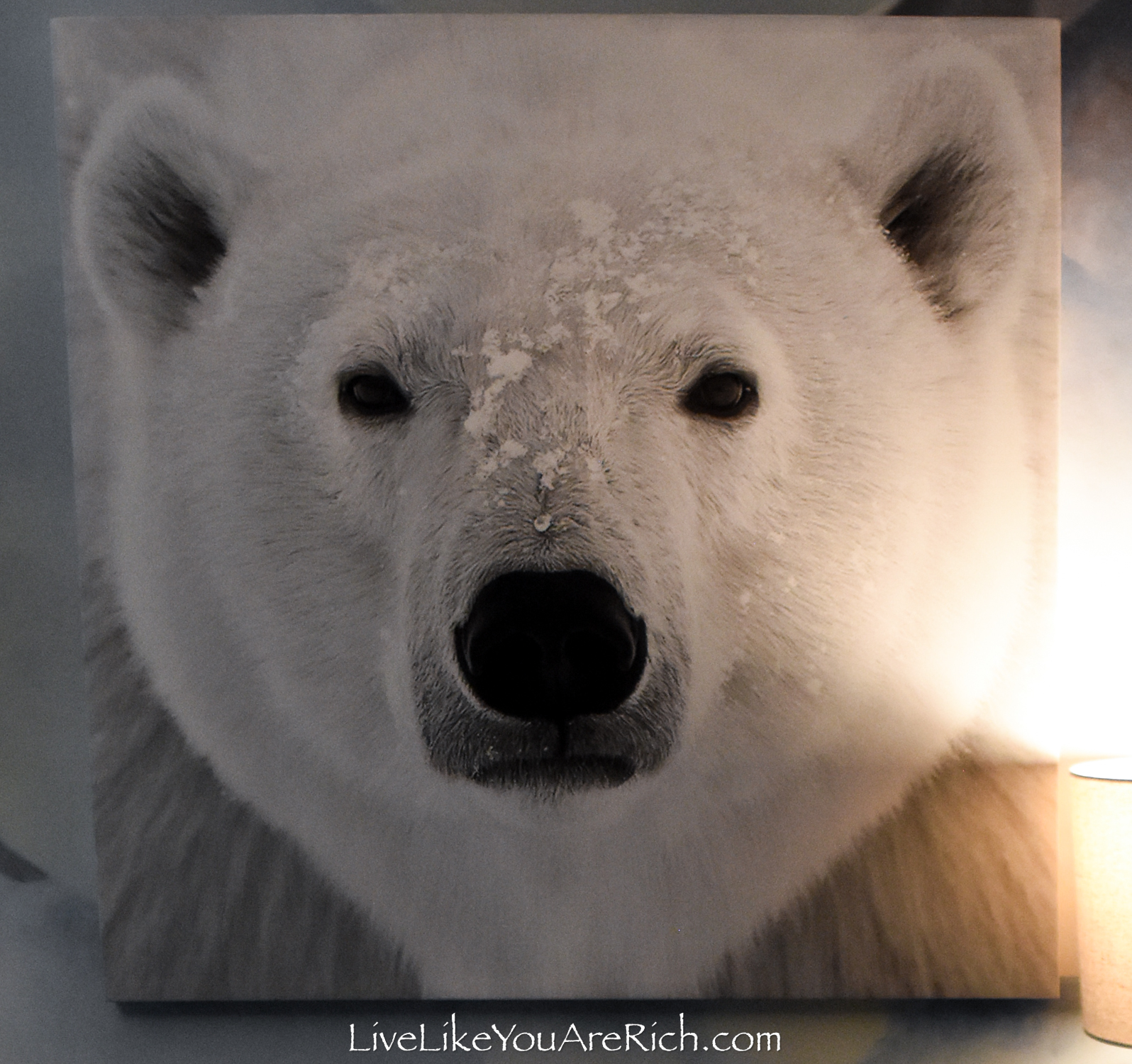 The grey scale in the polar bear face art piece works well with the greys in the wallpaper.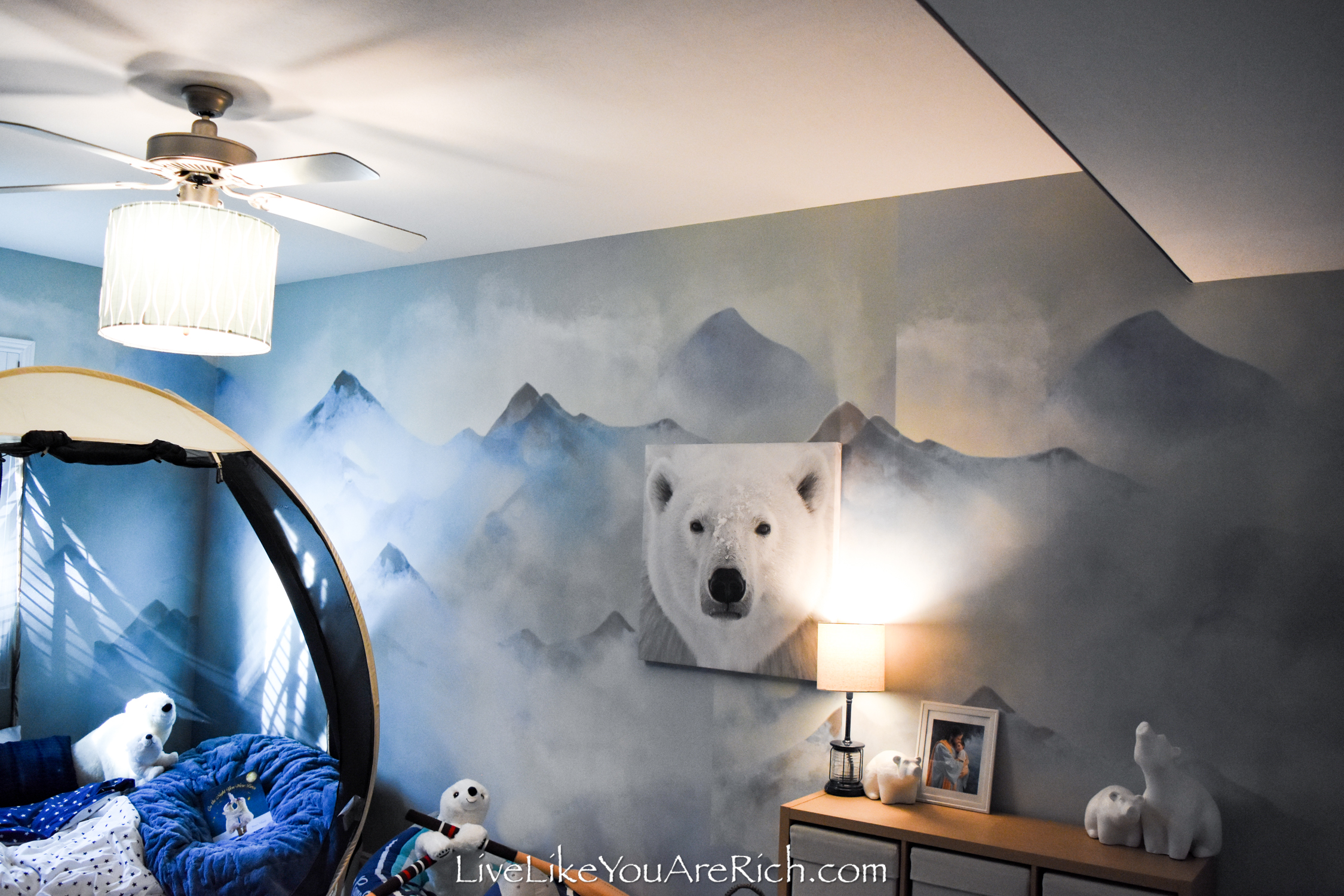 When coming into this Kids Arctic Polar Bear Themed-Room, there is a B for Brighton and another tri-canvas piece of artwork near the door coming in.
I liked this piece of abstract drip art not only because it was about $15.00 but because it also matches the color scheme and theme.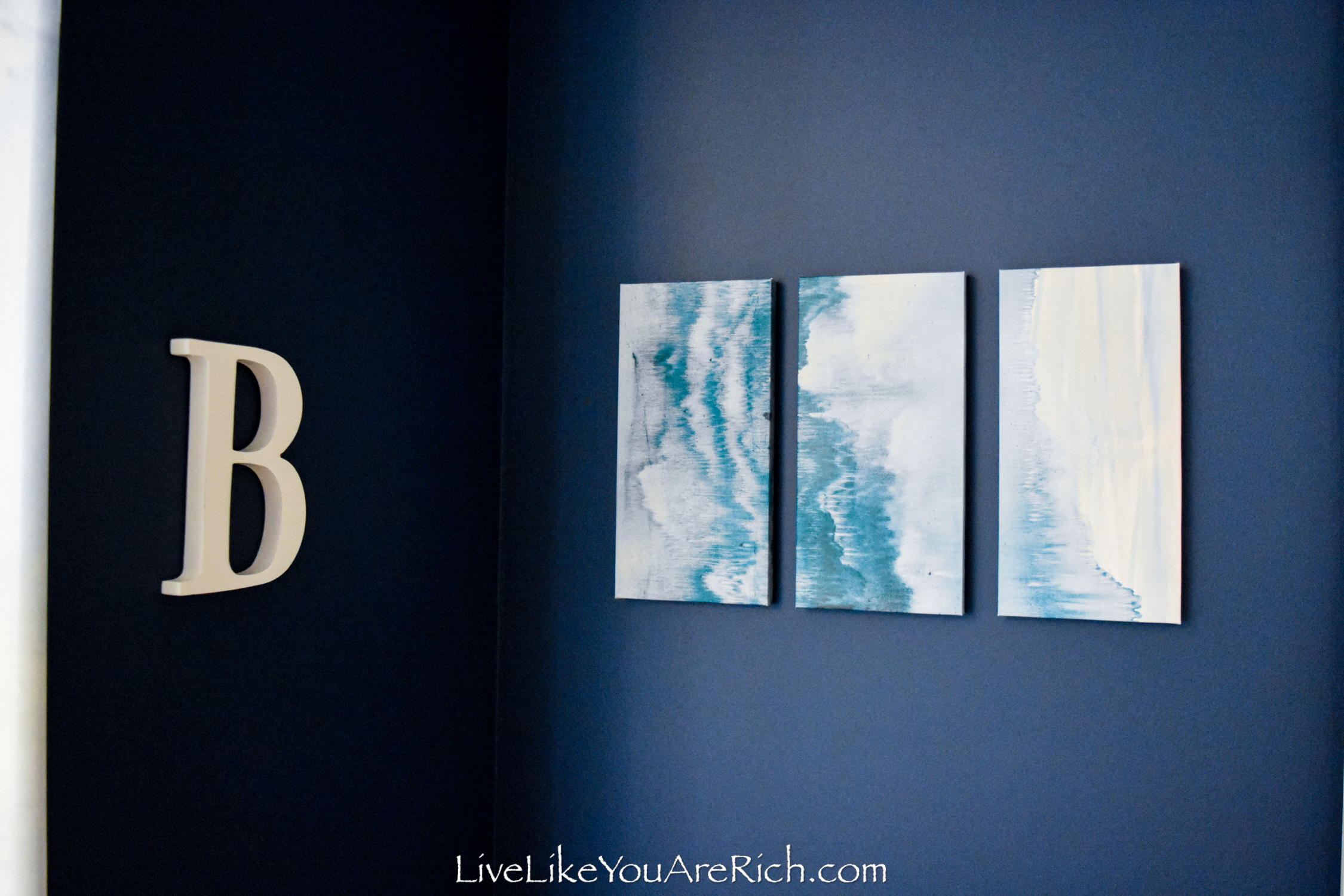 I feel that it works really well in the room and in the small space next to the door.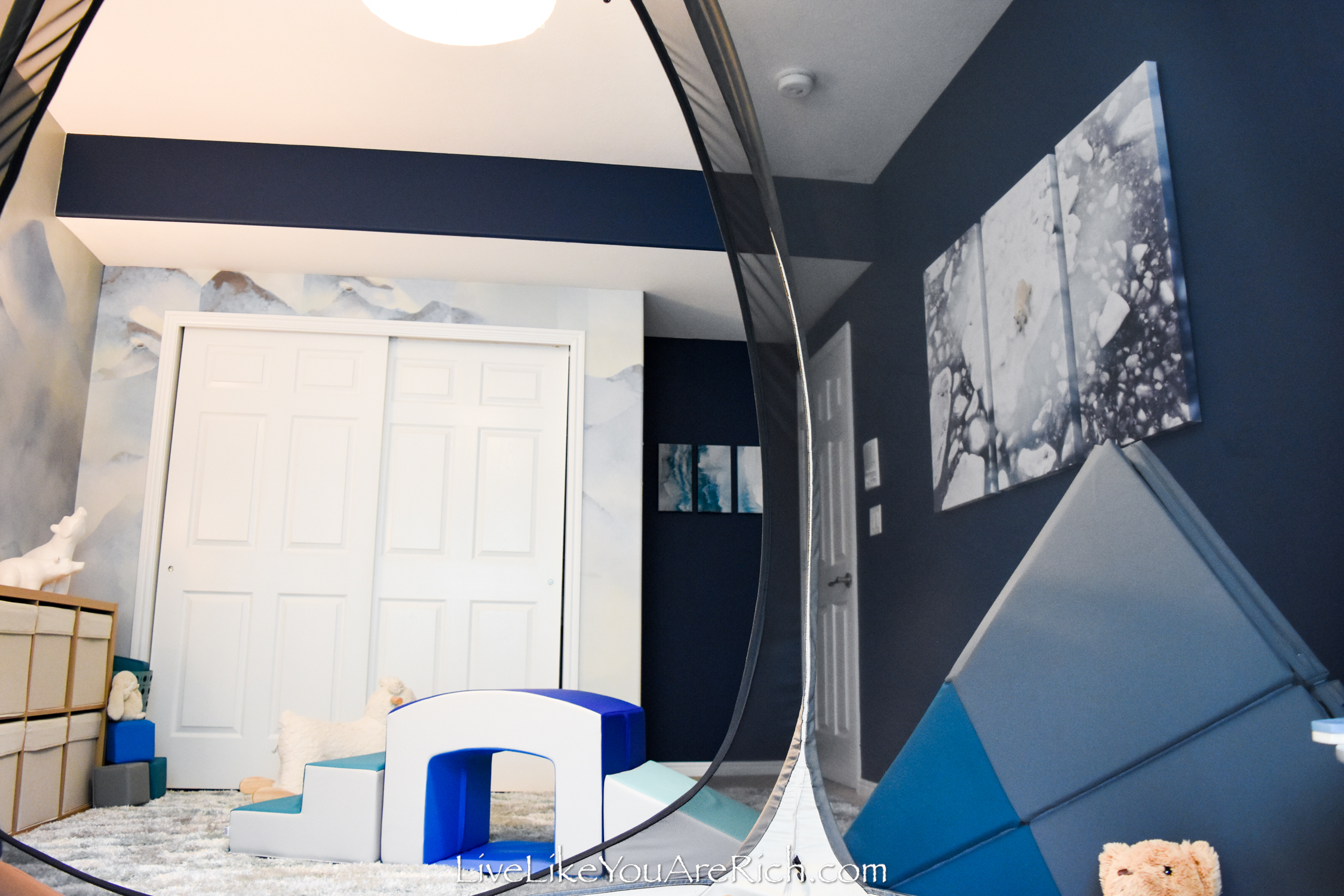 Since we are Christian, in each of my kids' rooms, I like to include a photo of Jesus with a child that resembles him or her.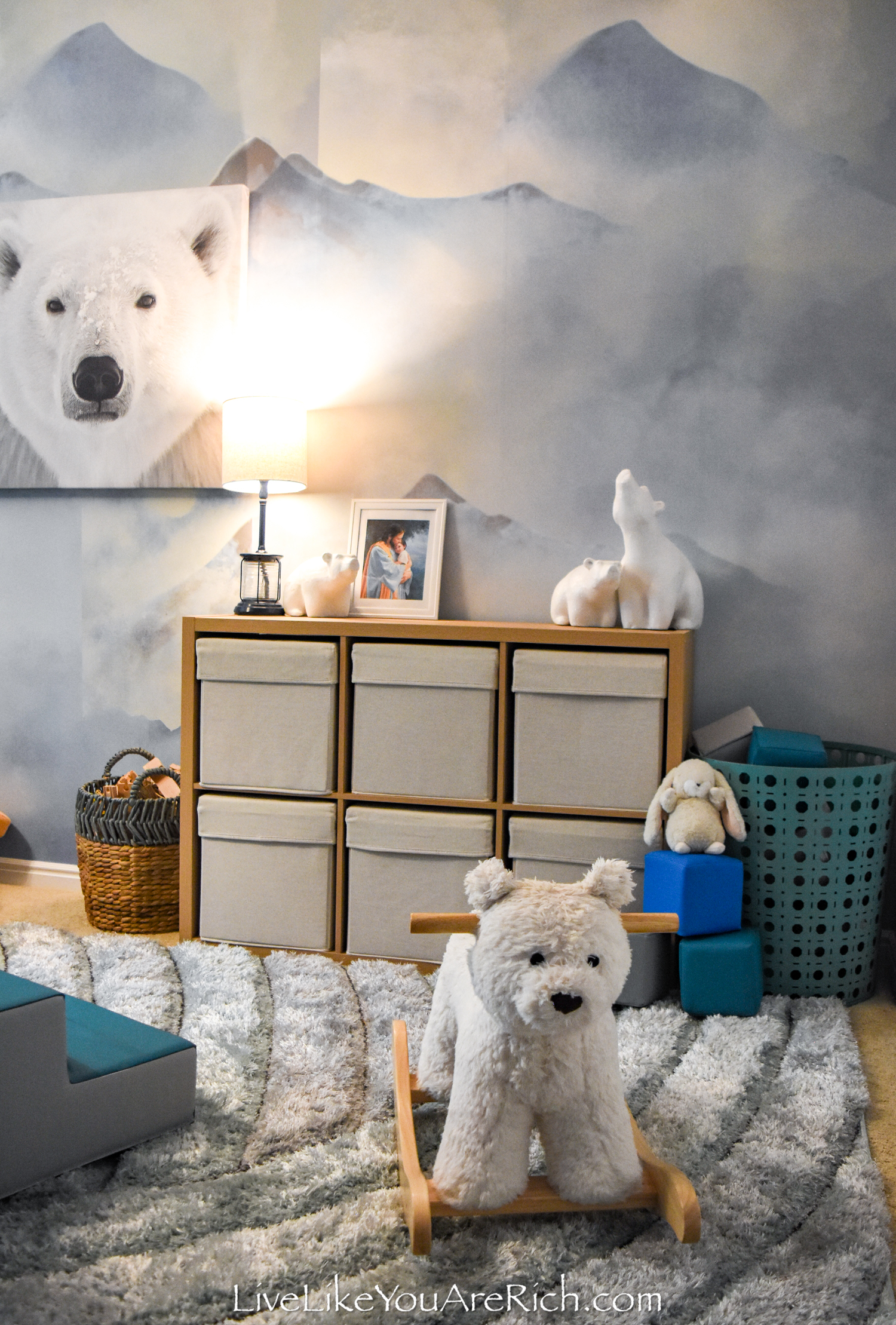 This baby looks a lot like my son.
I had the frame and print so this was free to add to the room.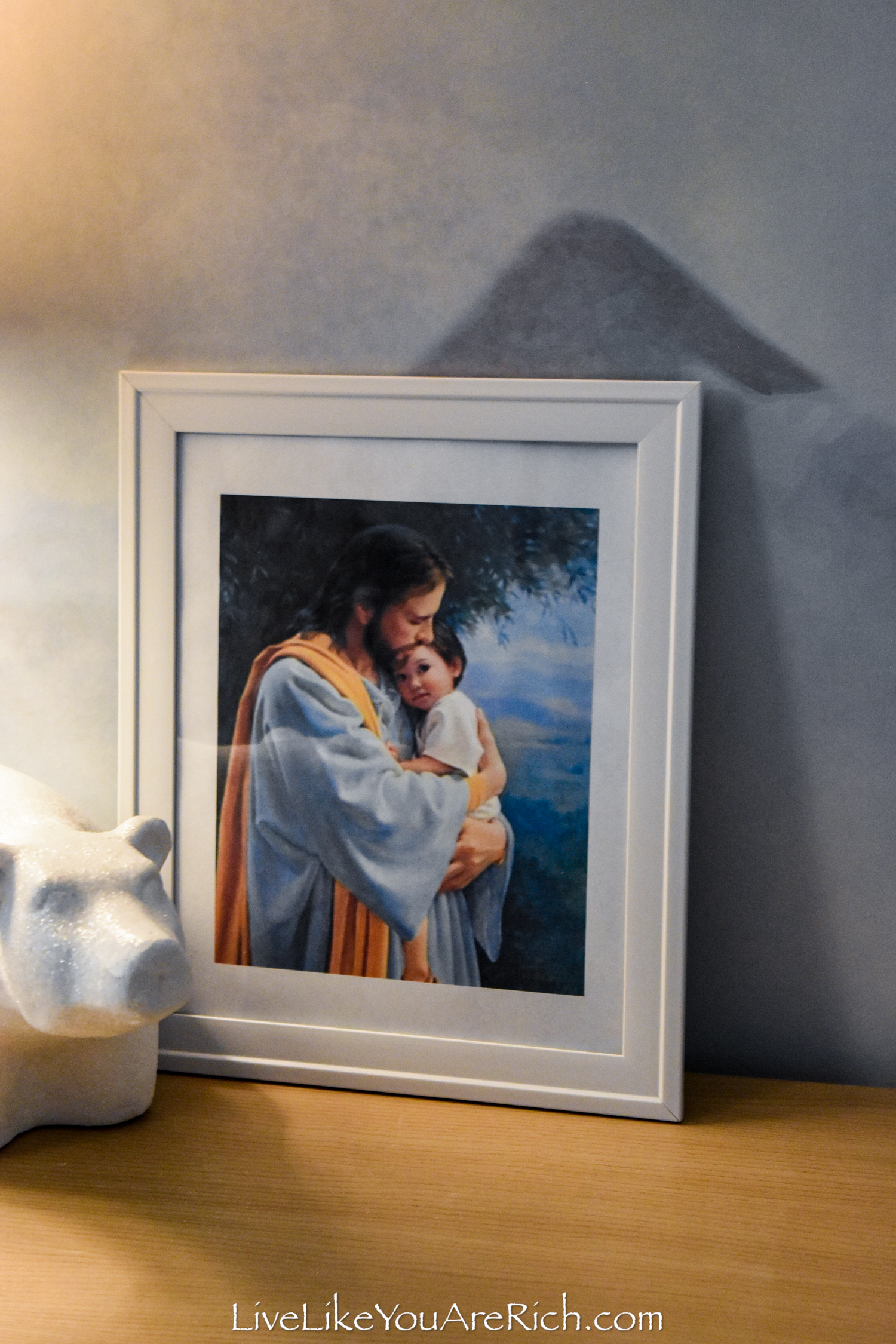 I added the polar bear figurines that we used for my son's polar bear birthday party.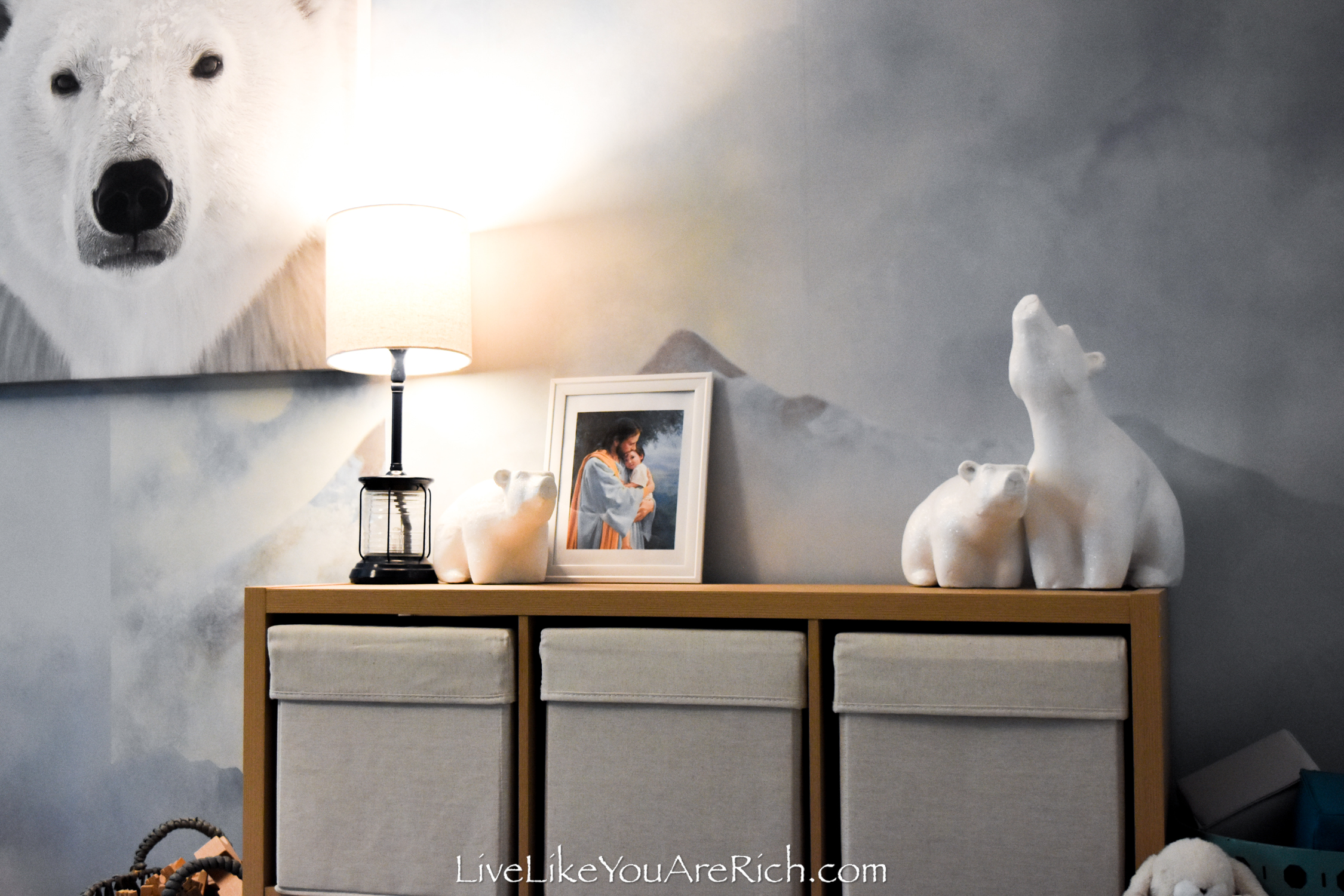 I got them at JoAnn's during after-Christmas clearance for a good price.
I'm glad I held on to them, since they work well in this room.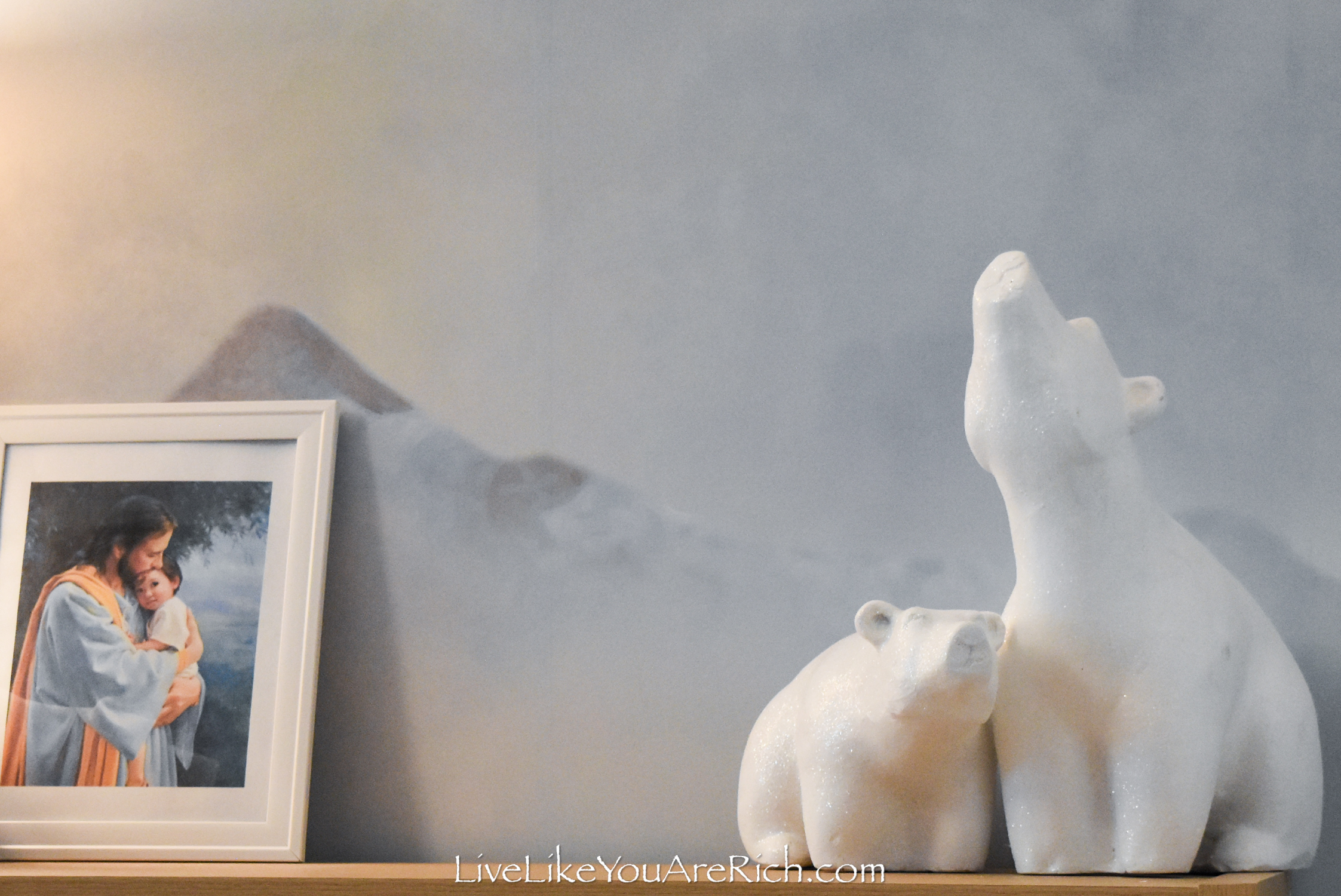 The figurines are of a momma polar bear and two cubs in a frosted white glitter coating.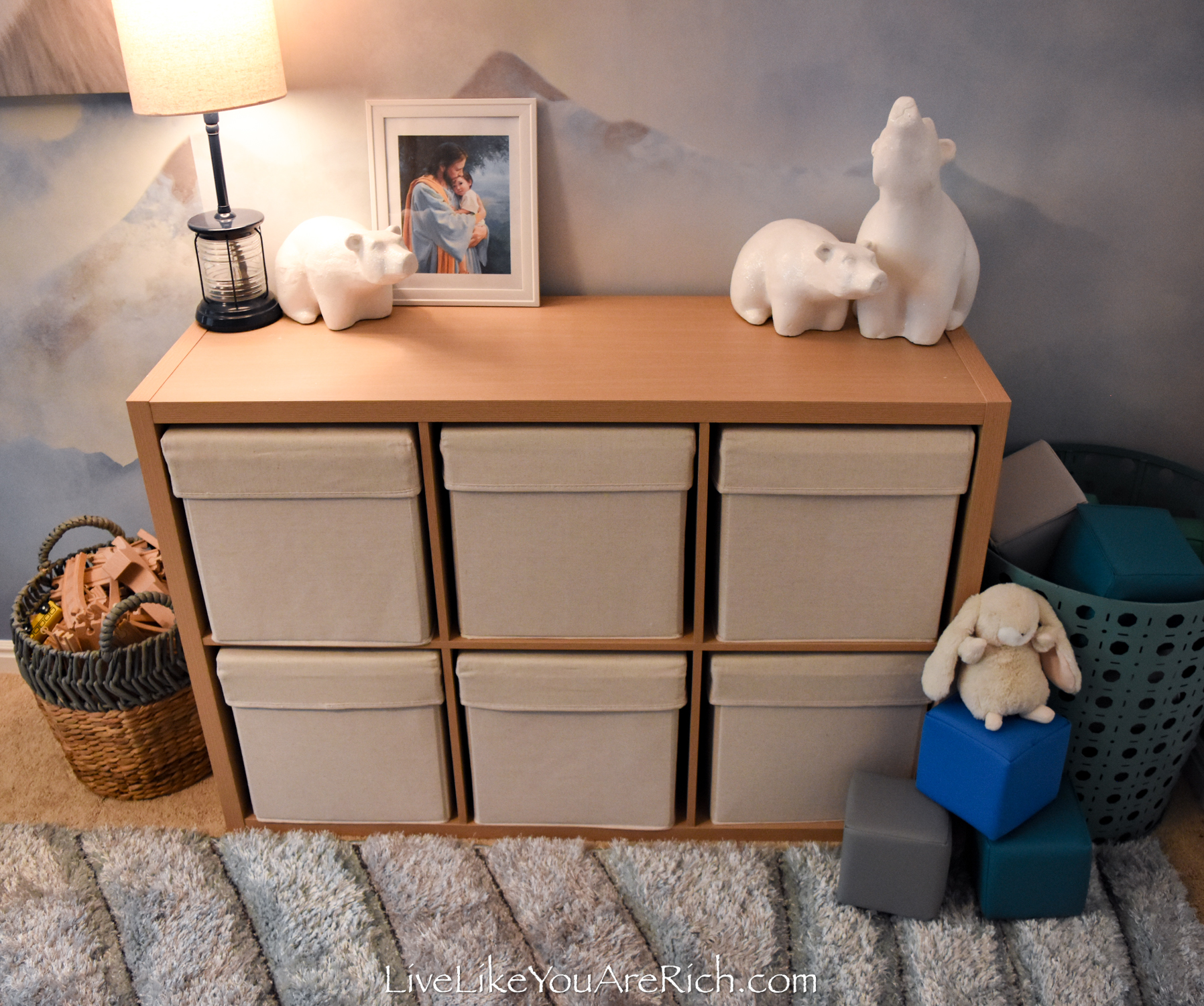 I purchased the natural wood cubical dresser from Target on sale for $32.50.
The totes/lidded-storage ottomans inside came from Pottery Barn Teen on sale and shipped free for $18.00 each.
They are very high quality and I love that they have nice soft lids on each storage tote. I will likely repurpose them as ottomans sometime in the future.
I purchased this basket from Crate & Barrel for $15.00 it is perfect to hold the wooden train set my son has.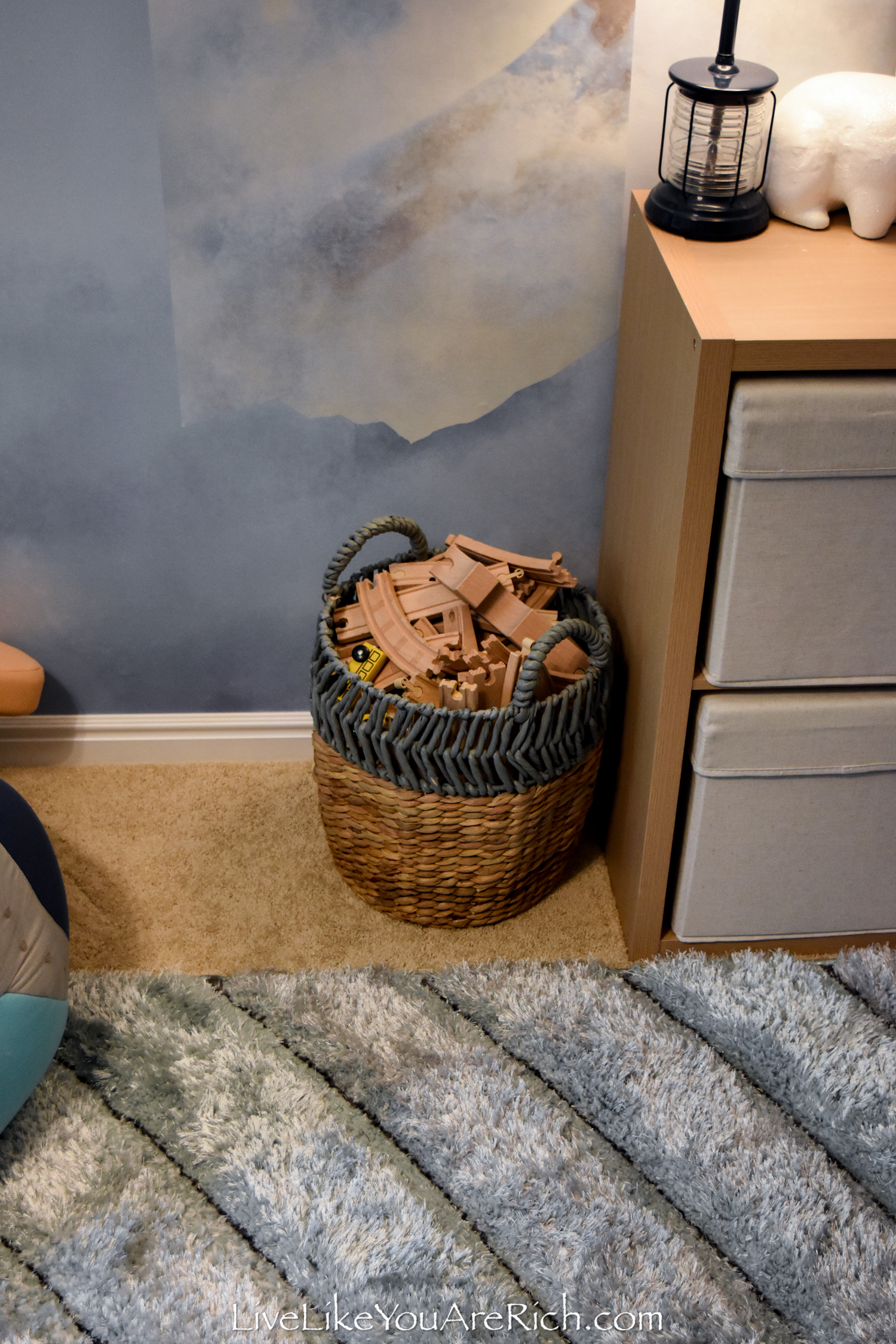 The arctic rabbit was a nice addition atop these foam blocks. My kids love building, stacking, throwing, and playing with these blocks.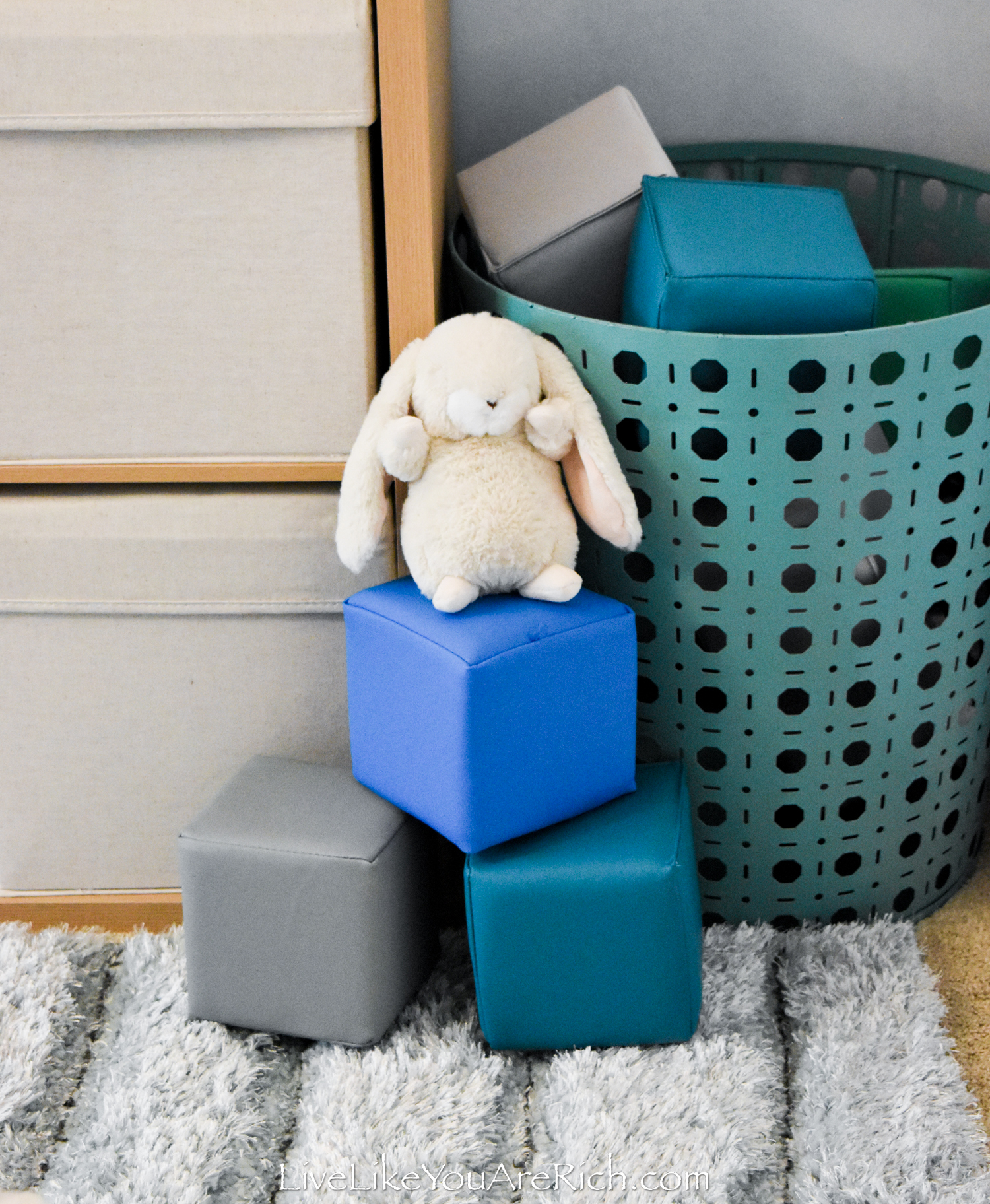 I had the storage bin already.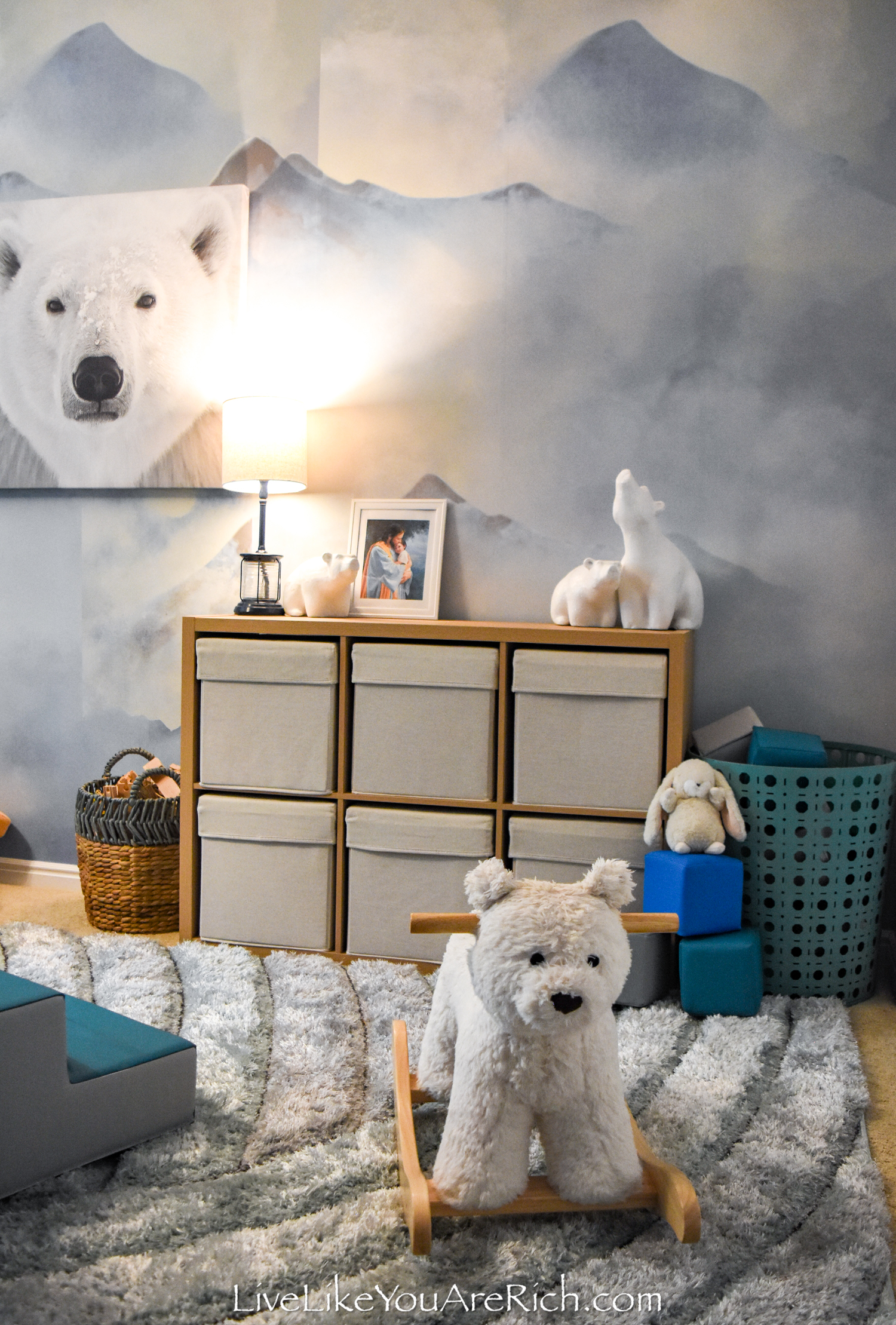 As mentioned, the basket with a wood train set came from Crate & Barrel.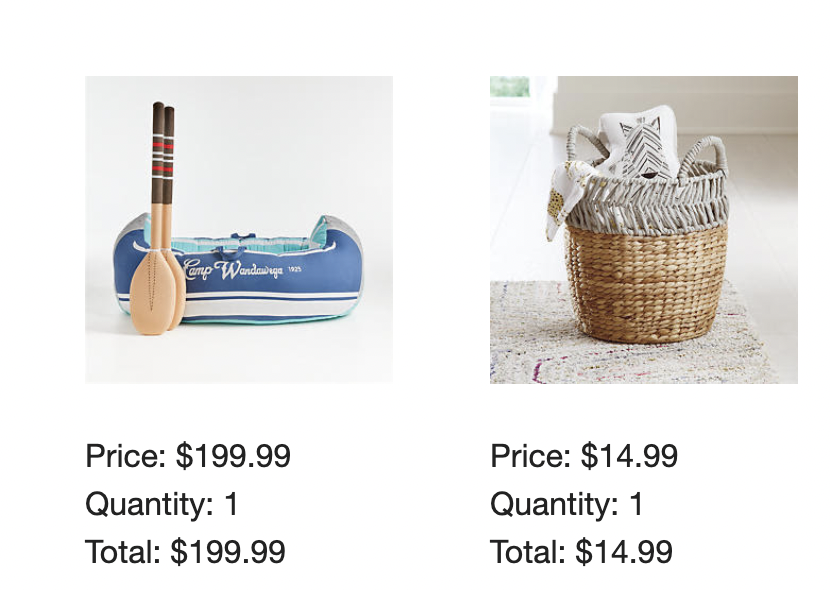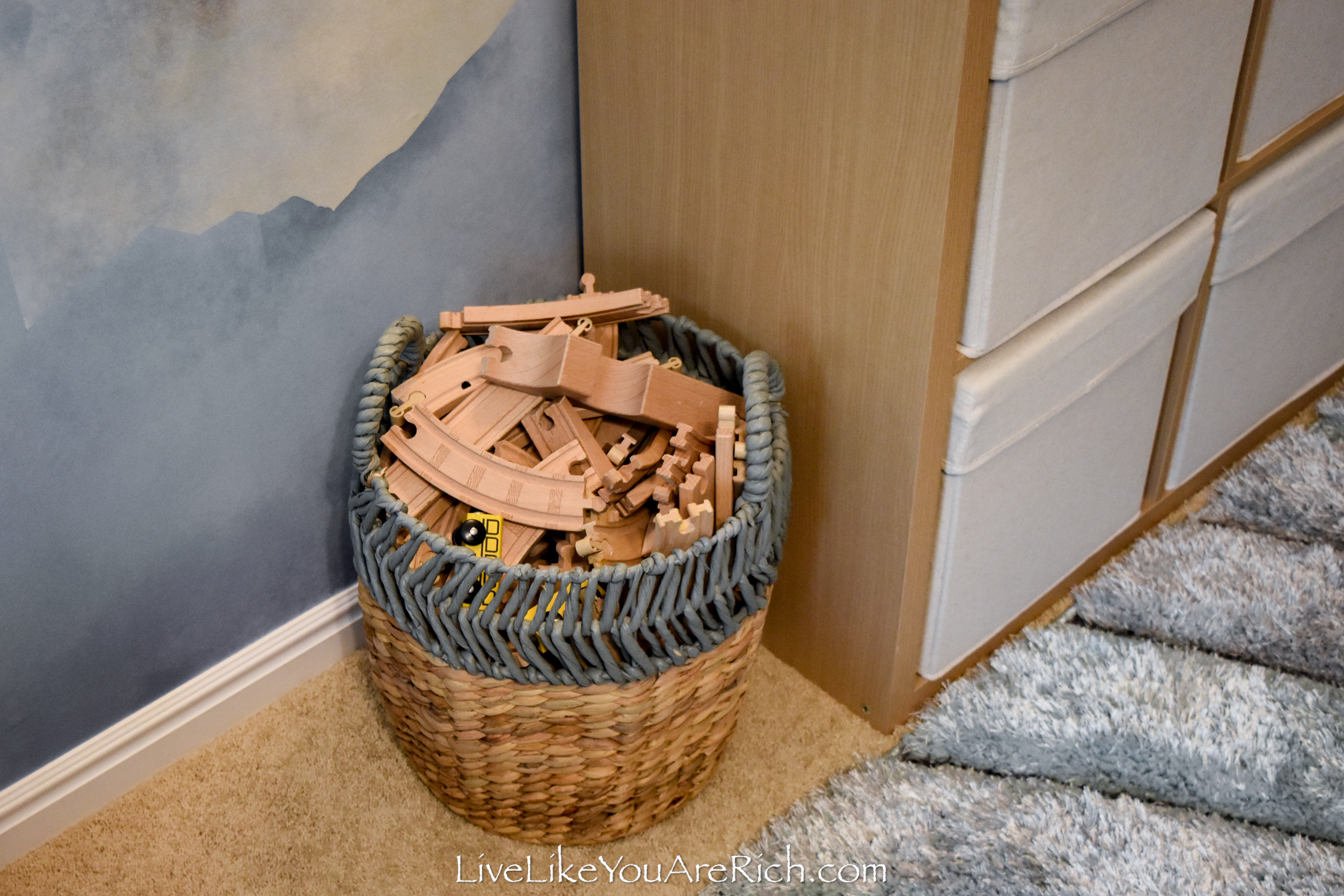 As did this canoe.
When I saw it, I knew that it would be perfect for Brighton's room.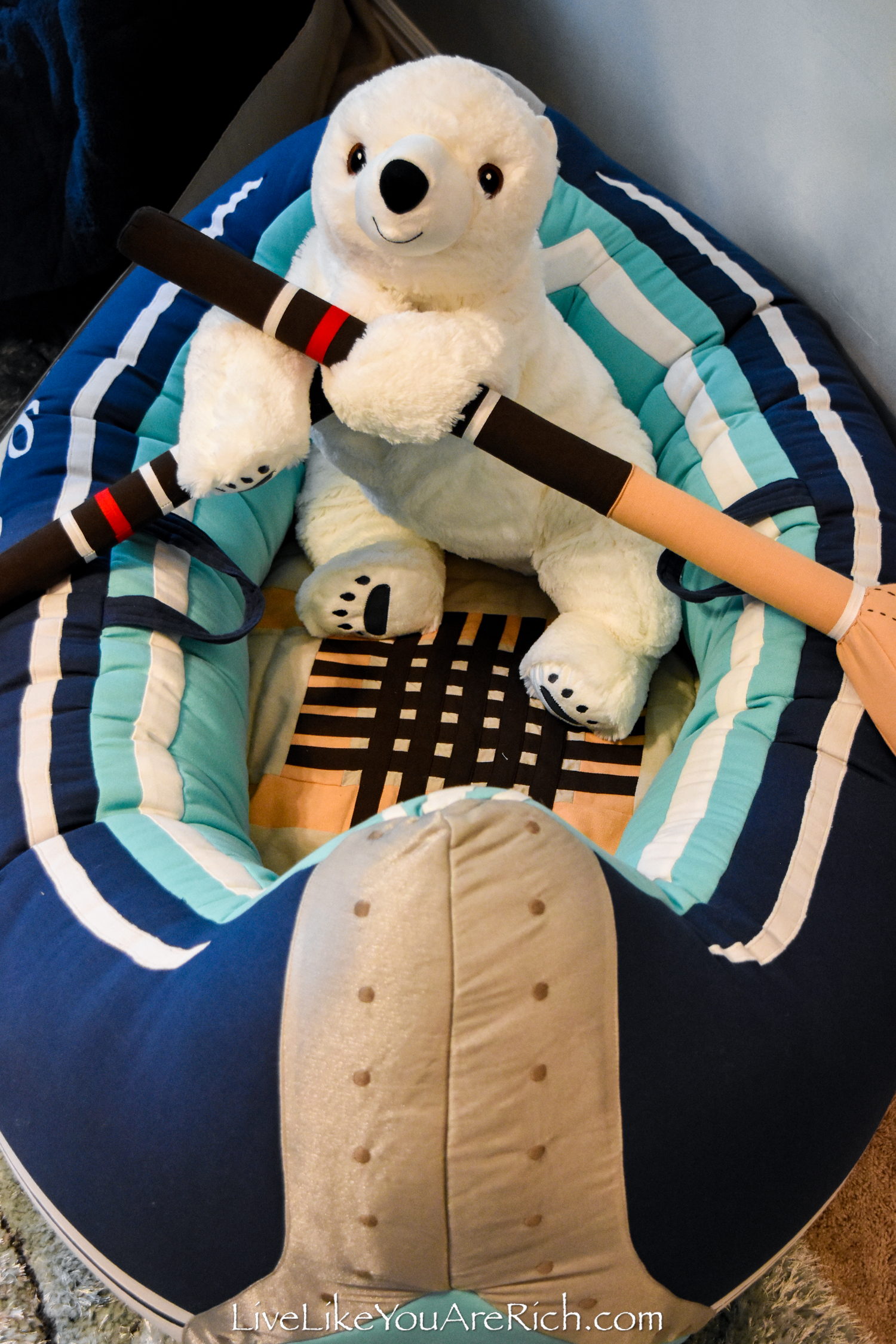 I got the polar bear from IKEA and he is the perfect type of stuffy— as he can sit up and row.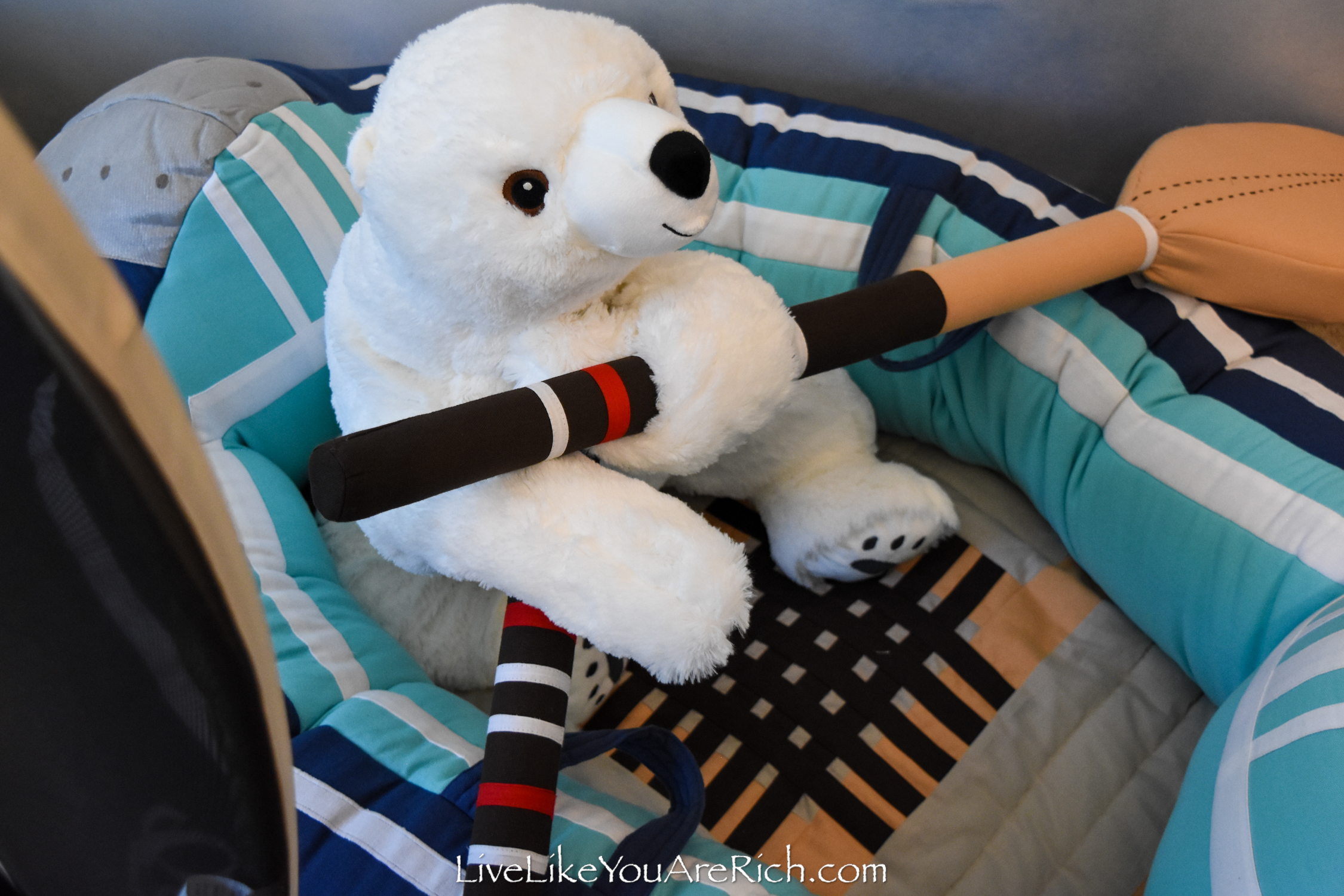 My four kids (from 1-9 years old), love this canoe! They play with it all the time.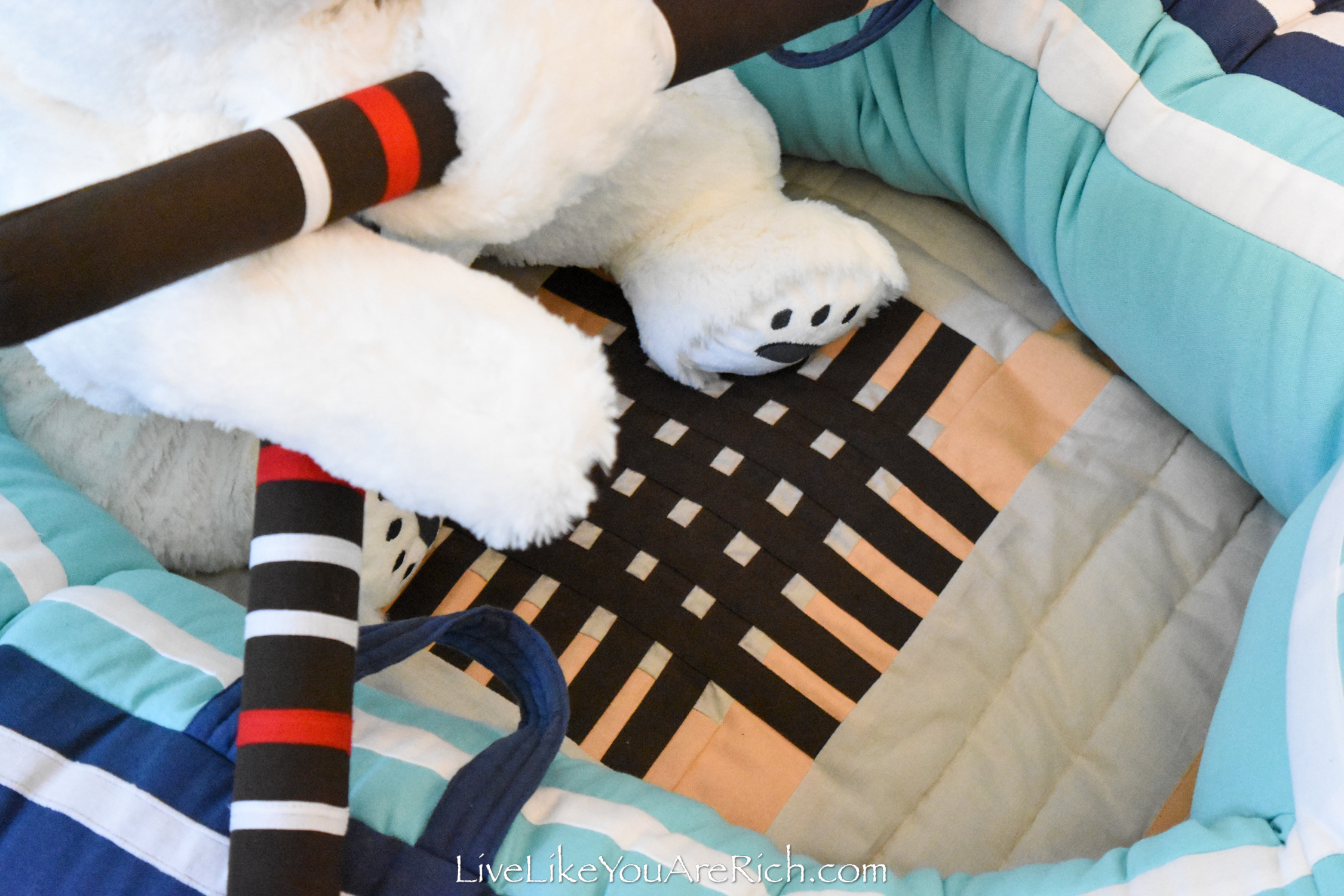 It matches the foam accents and I'm glad I was able to get it on sale because it wasn't in my price range at $300 but at $197 I was able to make it work.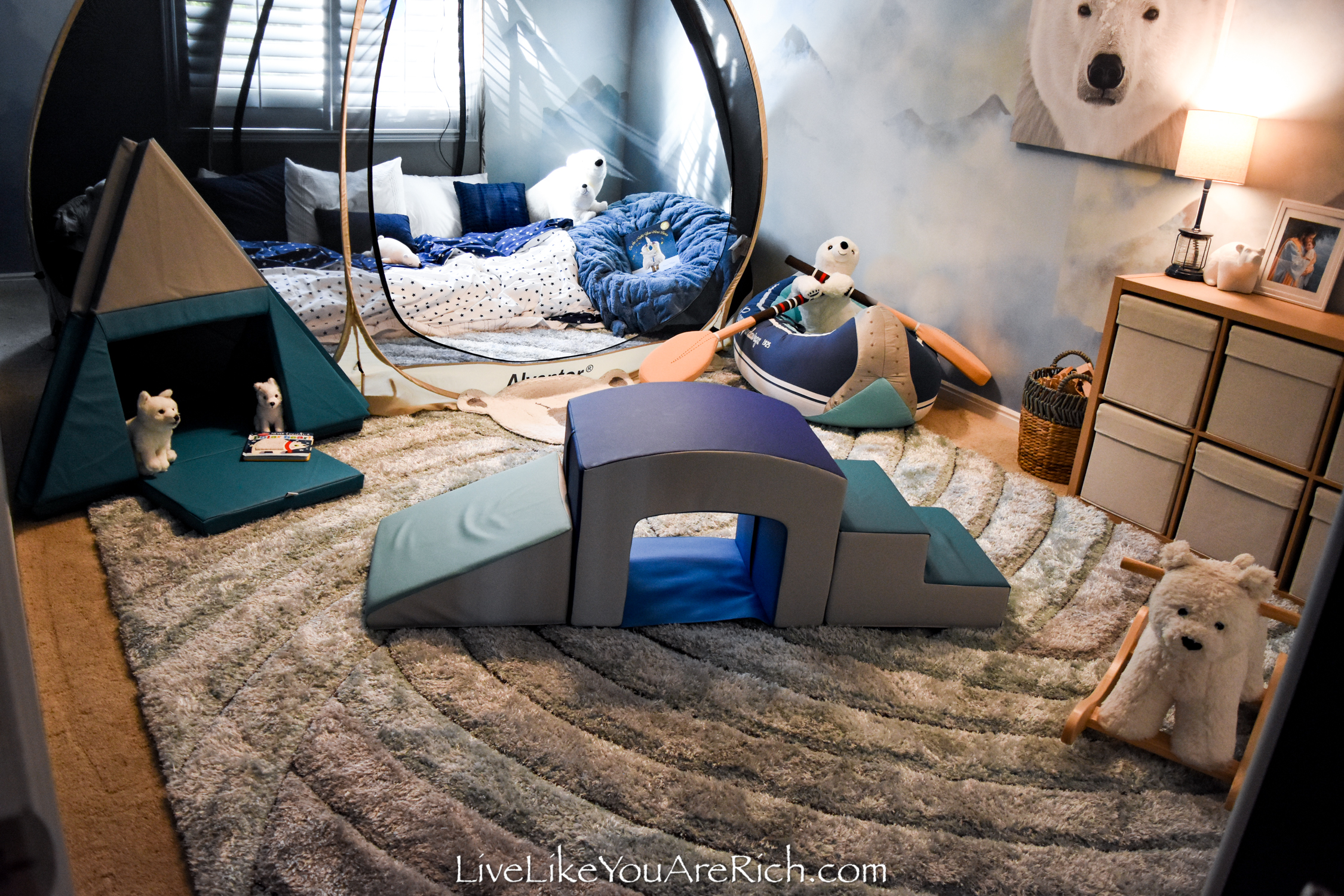 My husband altered the old fan by putting a new lamp shade on it.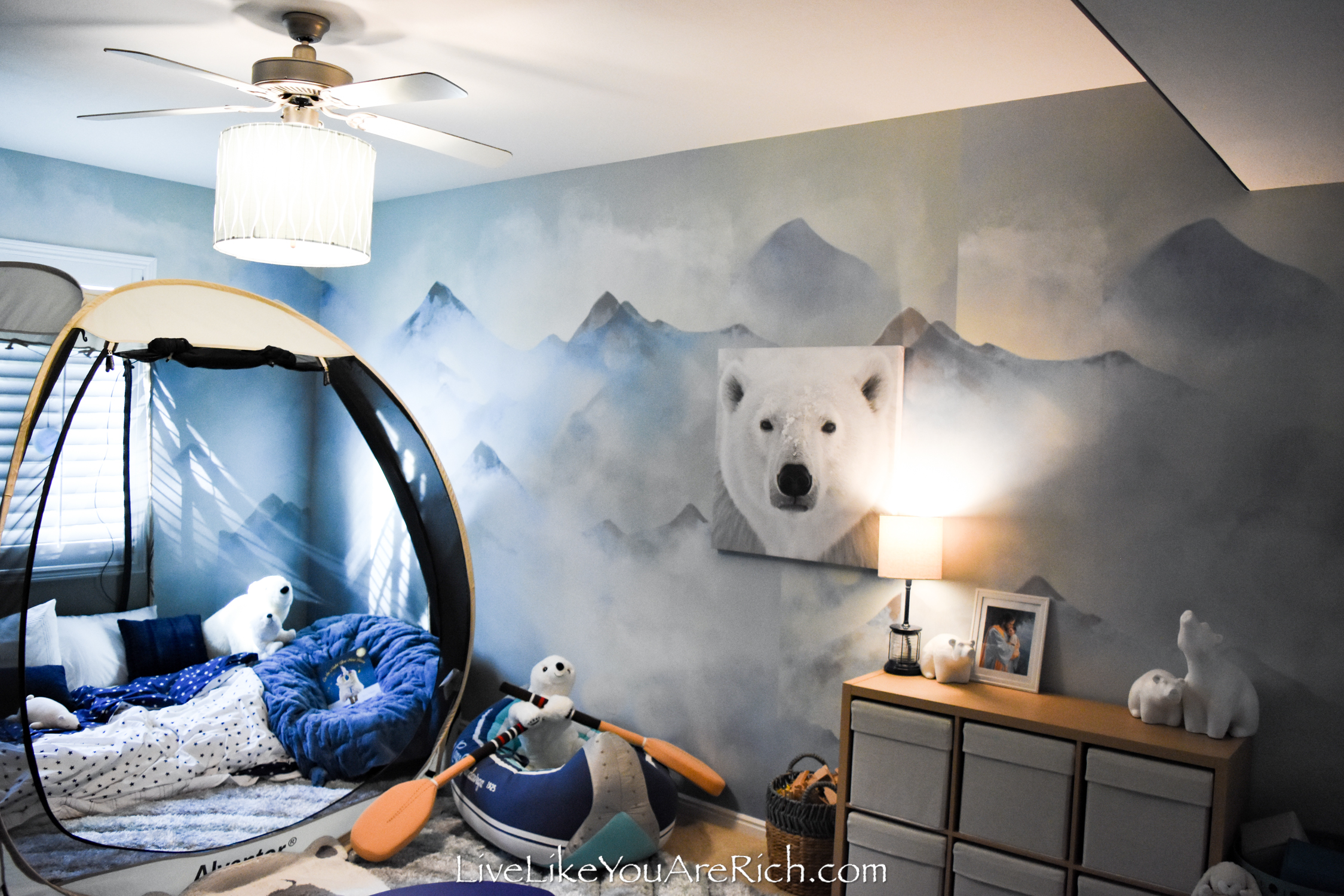 Check back in a few days for a video tutorial on how he did this.
Adding a lamp shade to an existing fan is an inexpensive way to get custom lighting, save time and money (not having to remove the fan), and it is an upgrade from the older styles with the bulb covers.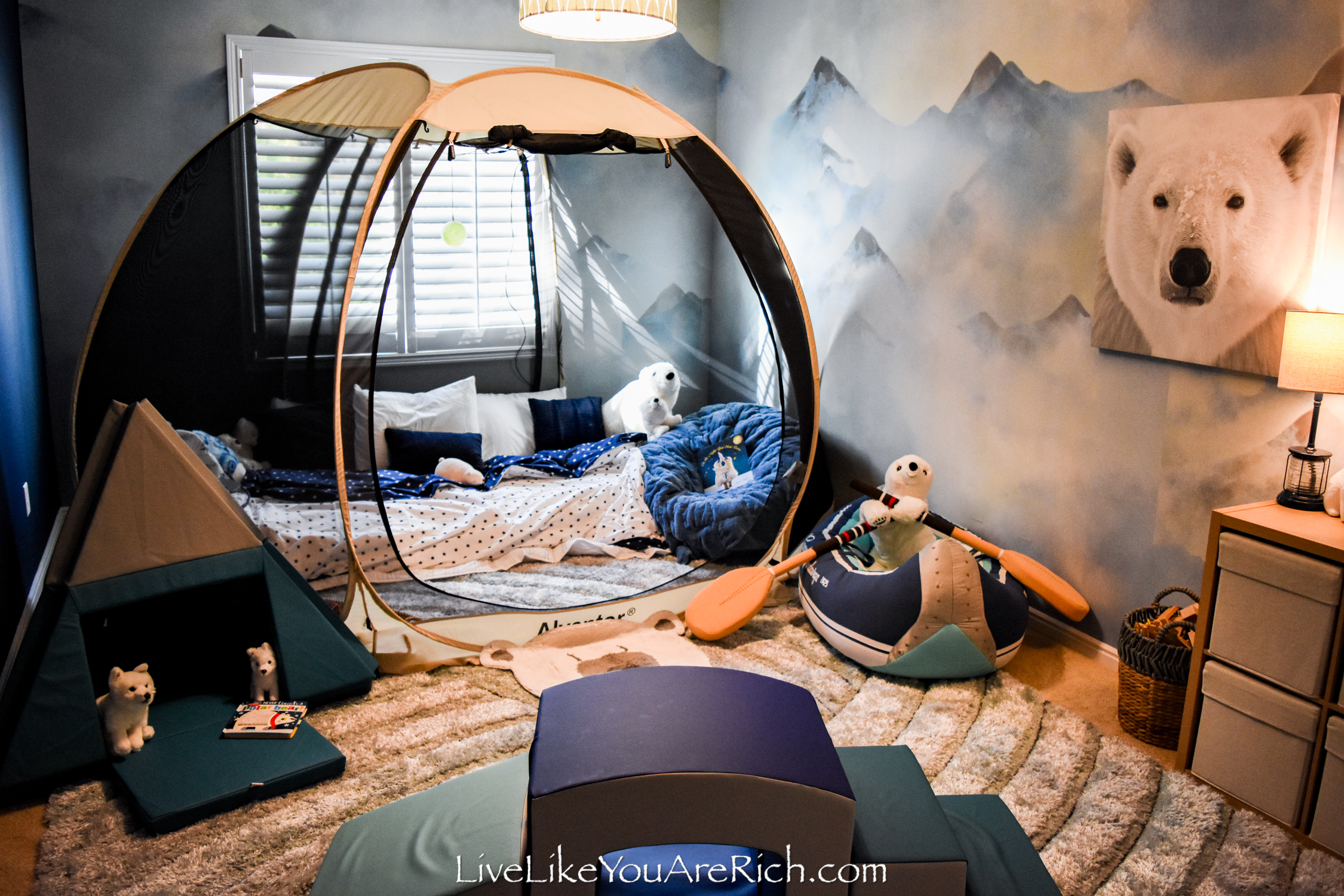 Our neighbor was moving and offering anyone who wanted it some free items.
This Alvantor pop-up tent/shade was one of those items.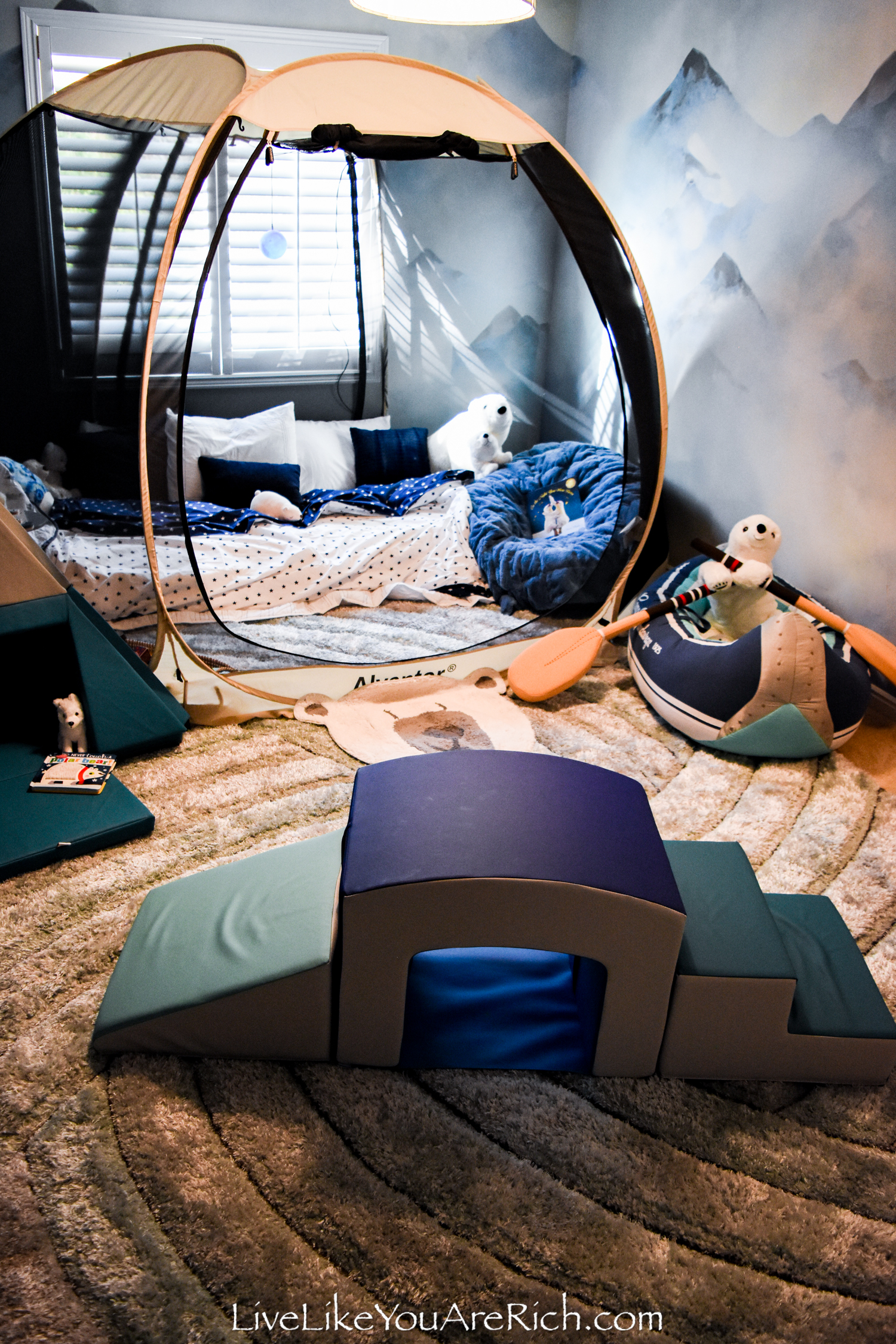 The pop-up tent works well in the room because sort of resembles an igloo and/or tent and also allows for good visibility and light—which is needed in this room.
Inside the tent, I put a bean bag covered with a soft blue blanket and our book, "On the Night You Were Born".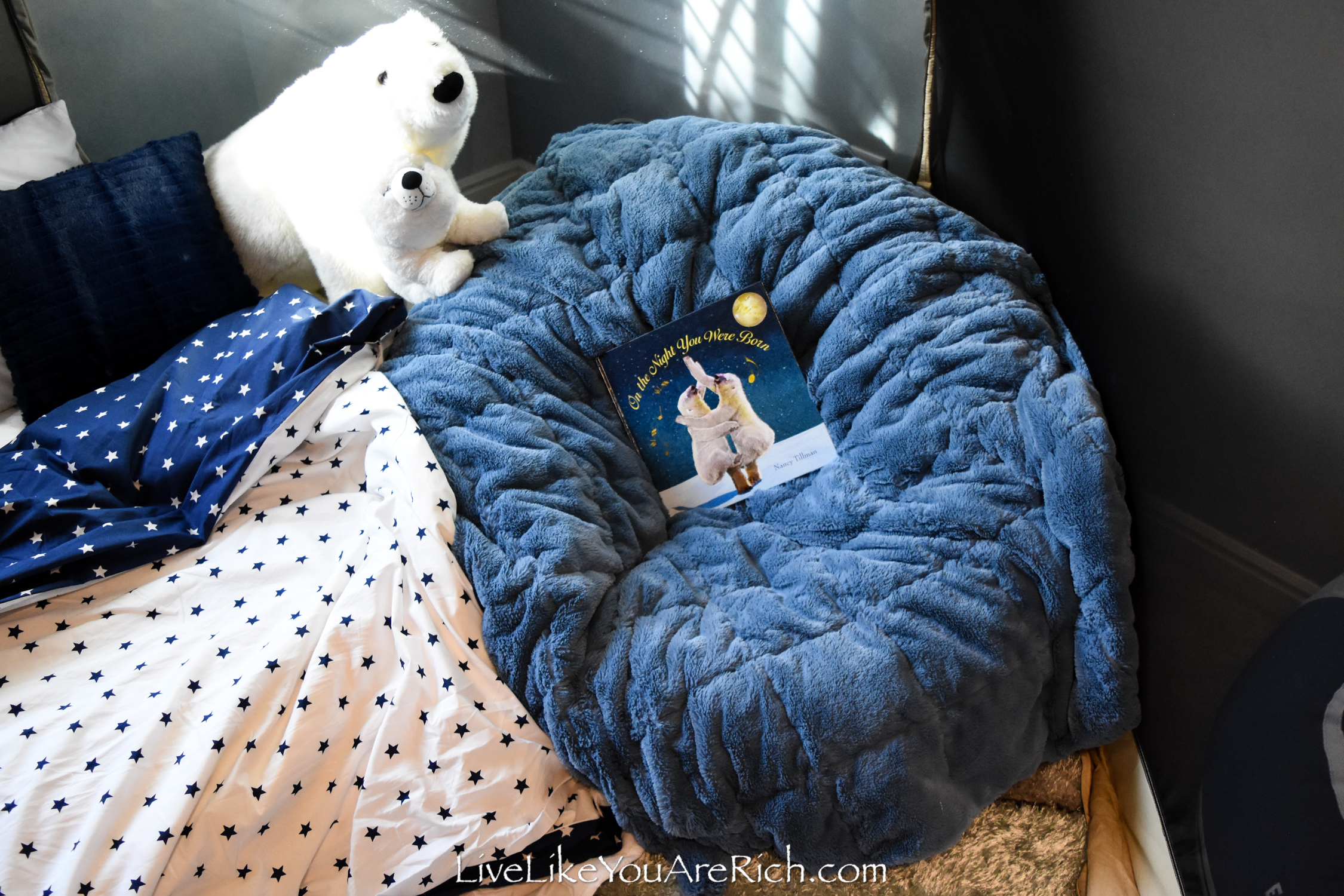 I have two Melissa and Doug polar bears leaning up onto the bean bag.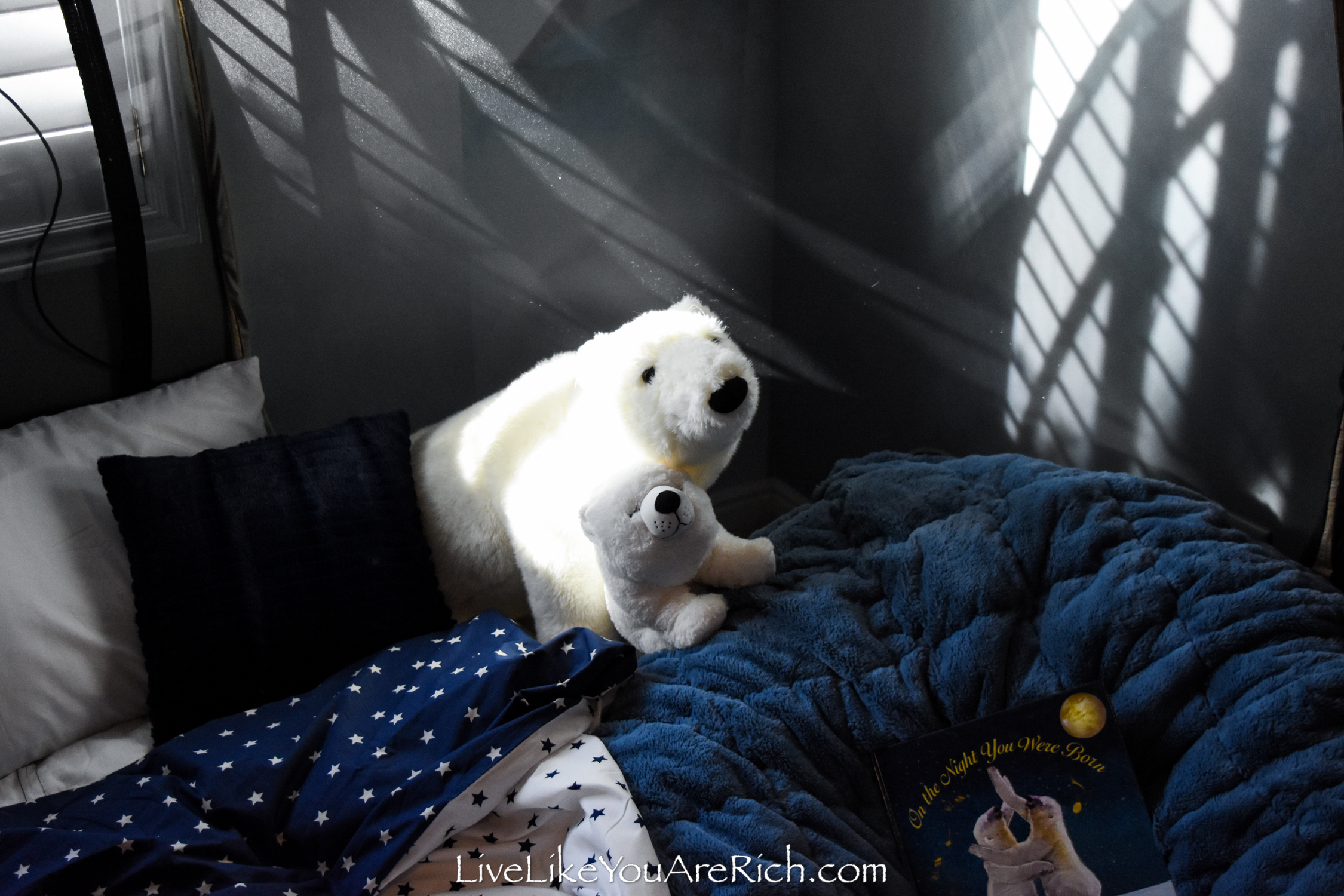 Hanging in the tent is a color-changing LED moon night light.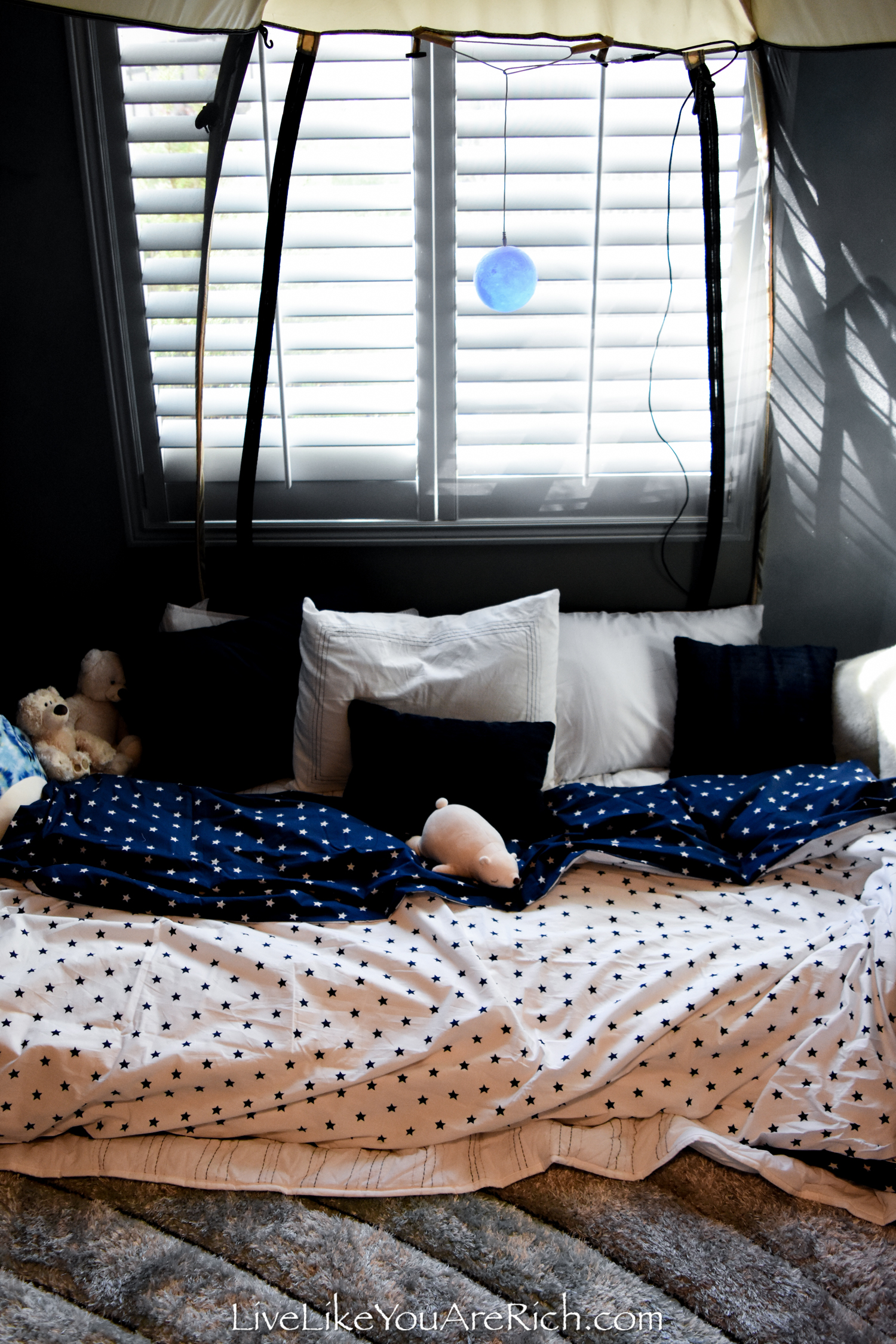 Again, it keeps with the theme of the book and room.
I also like that it is light enough that it can hang. NOTE-the cord is actually outside of the tent so my son cannot get to it.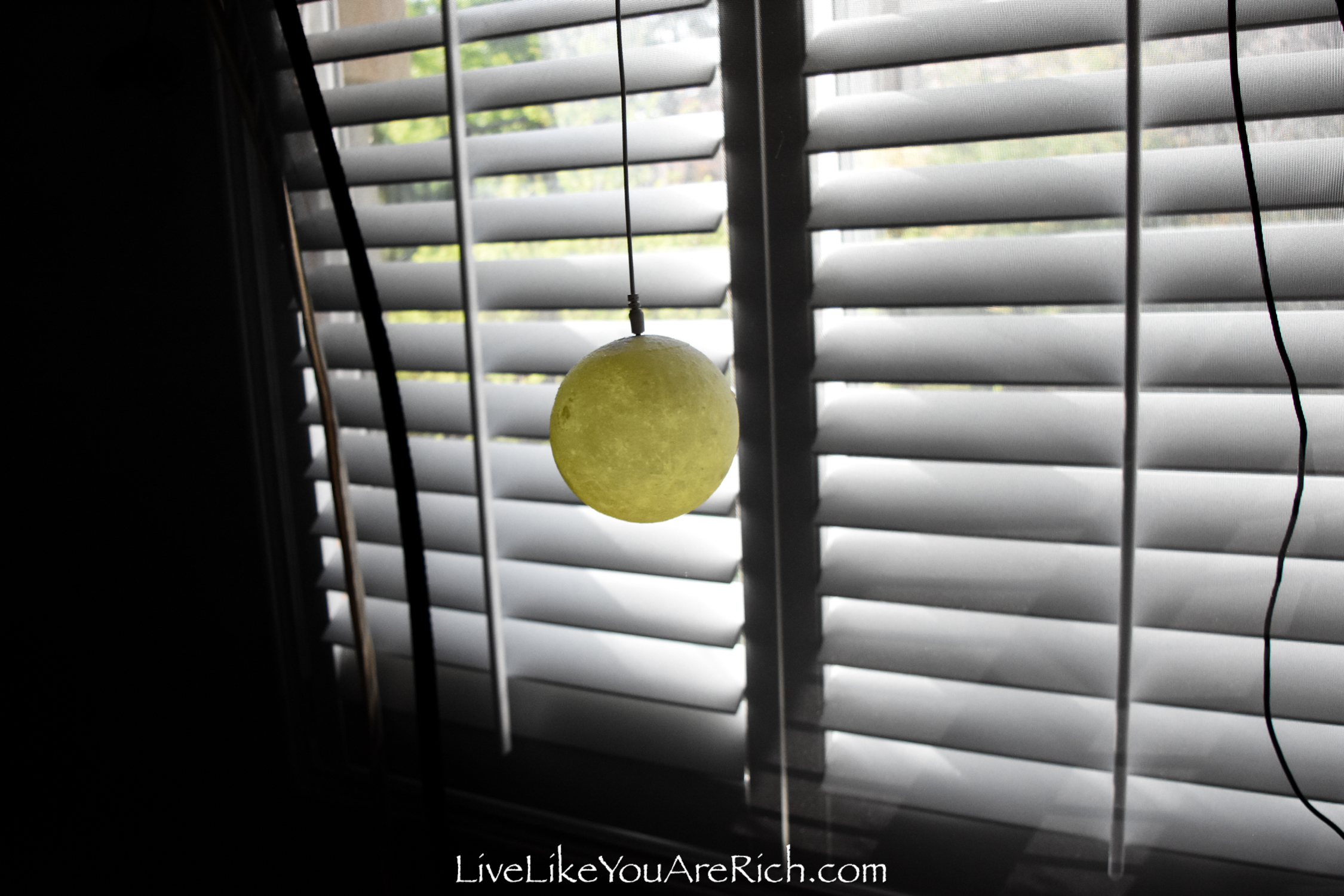 On this important note, If you use a pop-up tent in a child's room, please remember to remove all rope, string, etc.
I removed all the tie-downs on this pop-up tent so that my son can't choke or strangle himself on them.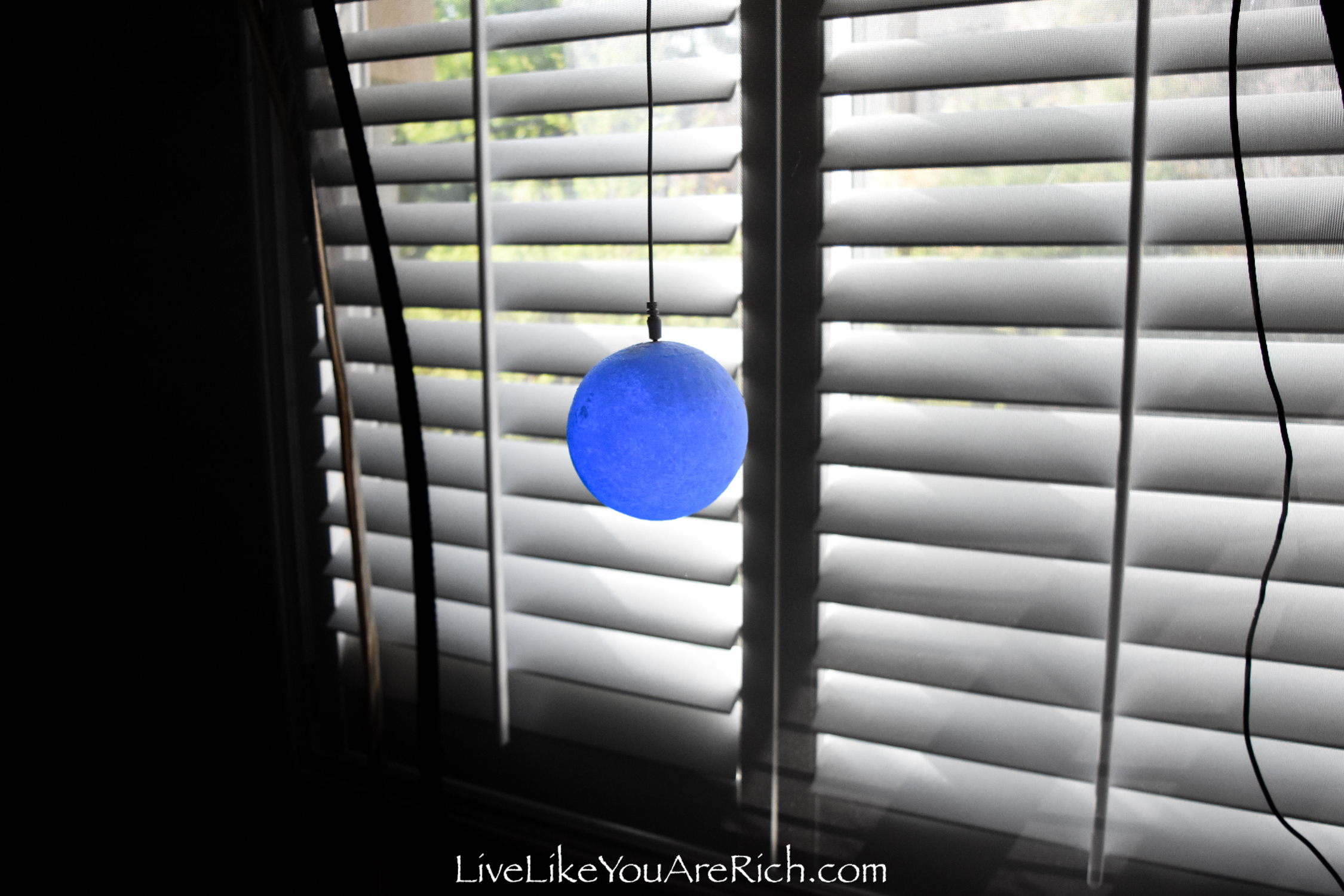 The bed is a twin memory foam mattress that we had. It is just sitting flat on the ground which works great for an 18-month-old.
I made it up with blue and navy shams and a few soft navy pillows which we had around the house.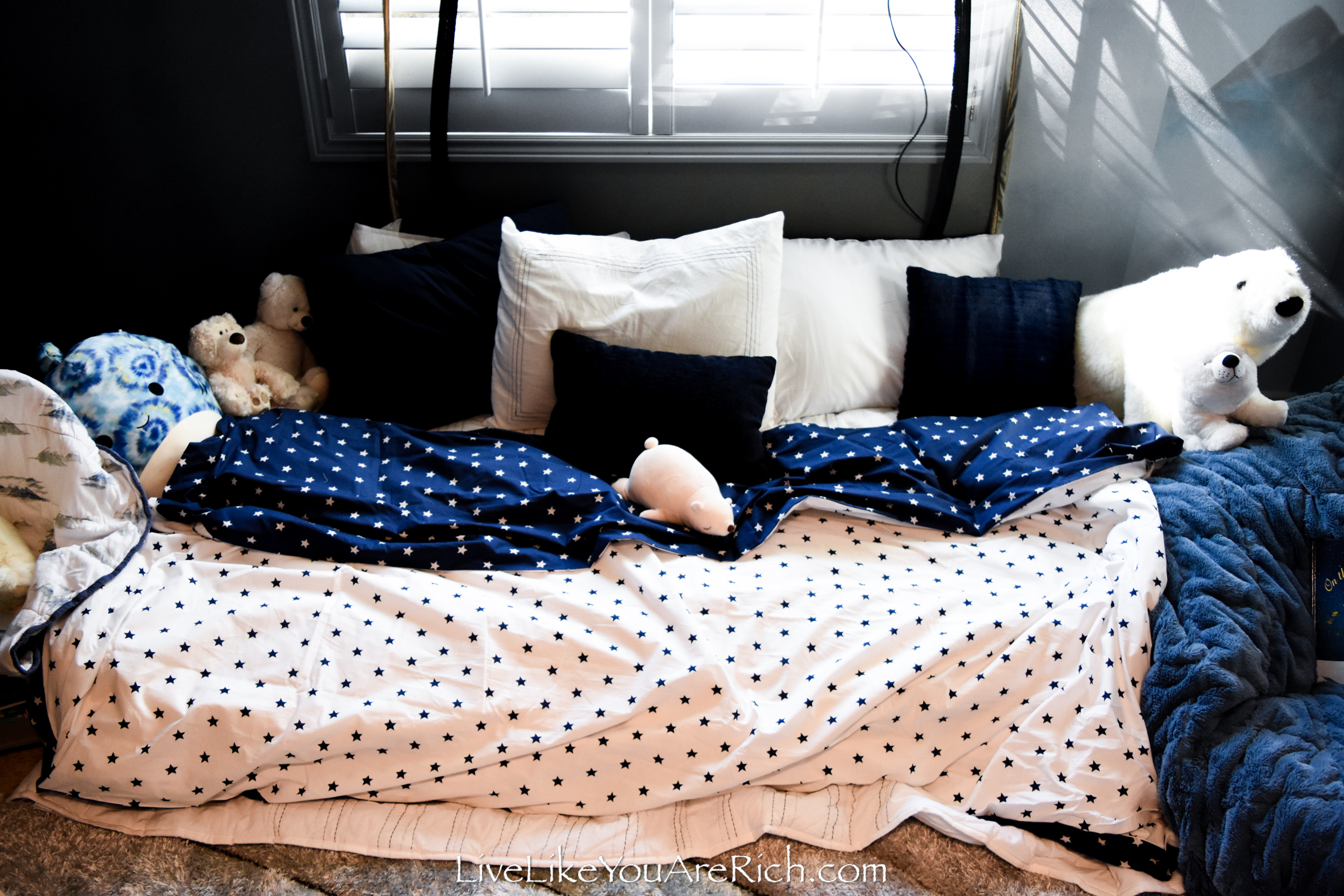 I had a white comforter I put on the first bedding layer and then I bought this white and navy reversible star duvet from PBKids.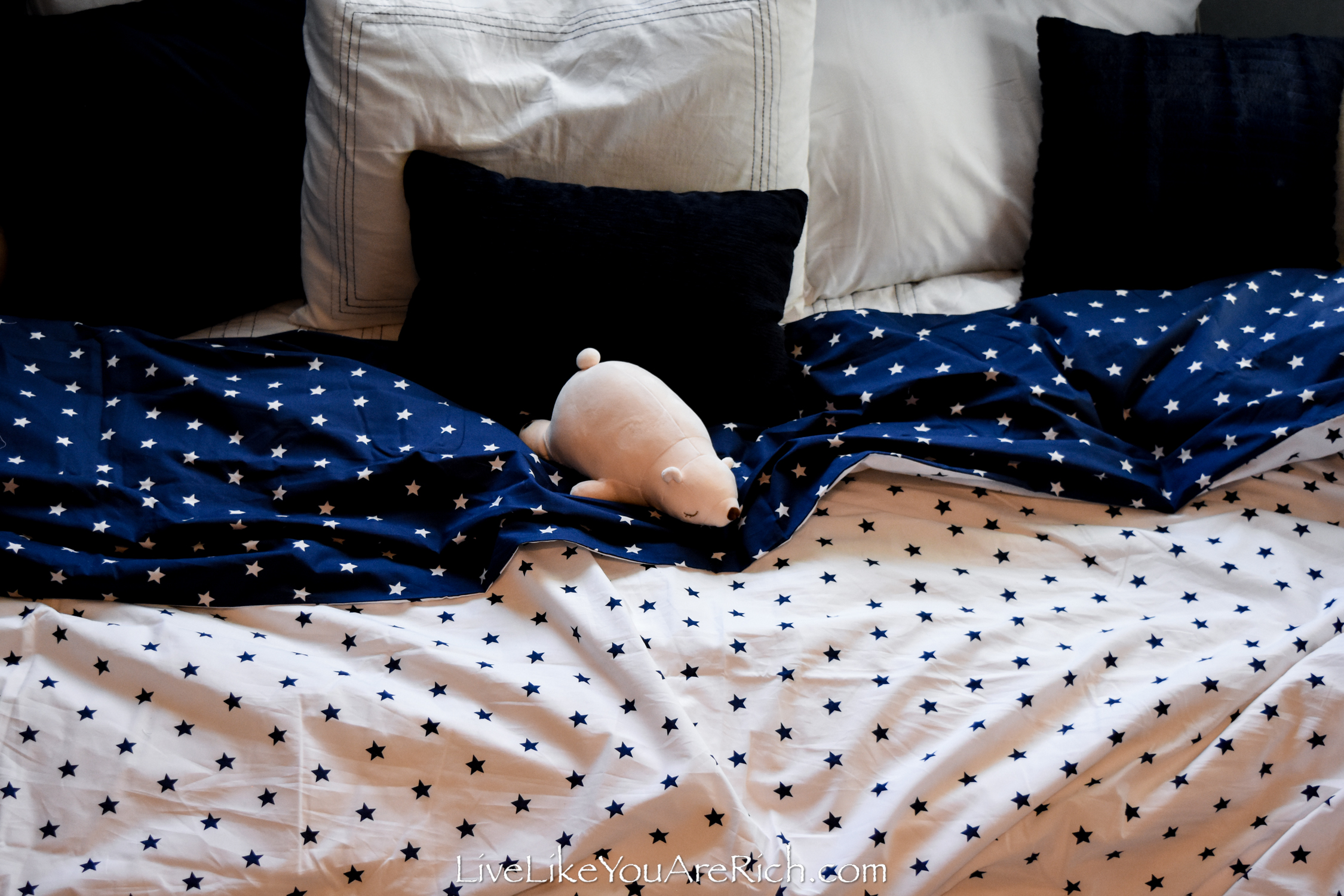 The sleeping polar bear came from Amazon (linked below).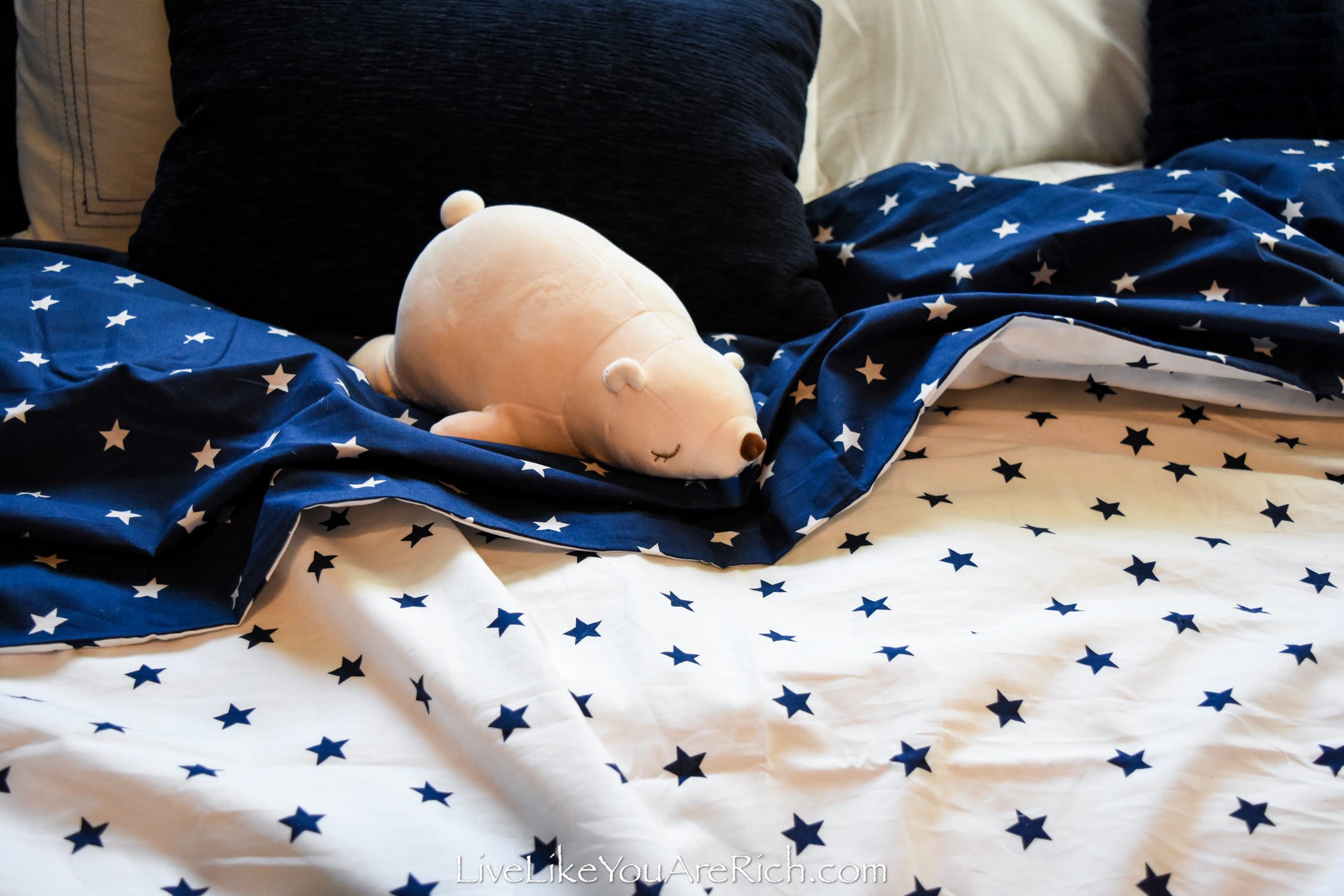 We put some of my son's stuffed animals in this corner.
His Squishmallow shark and a few bears fit the space well.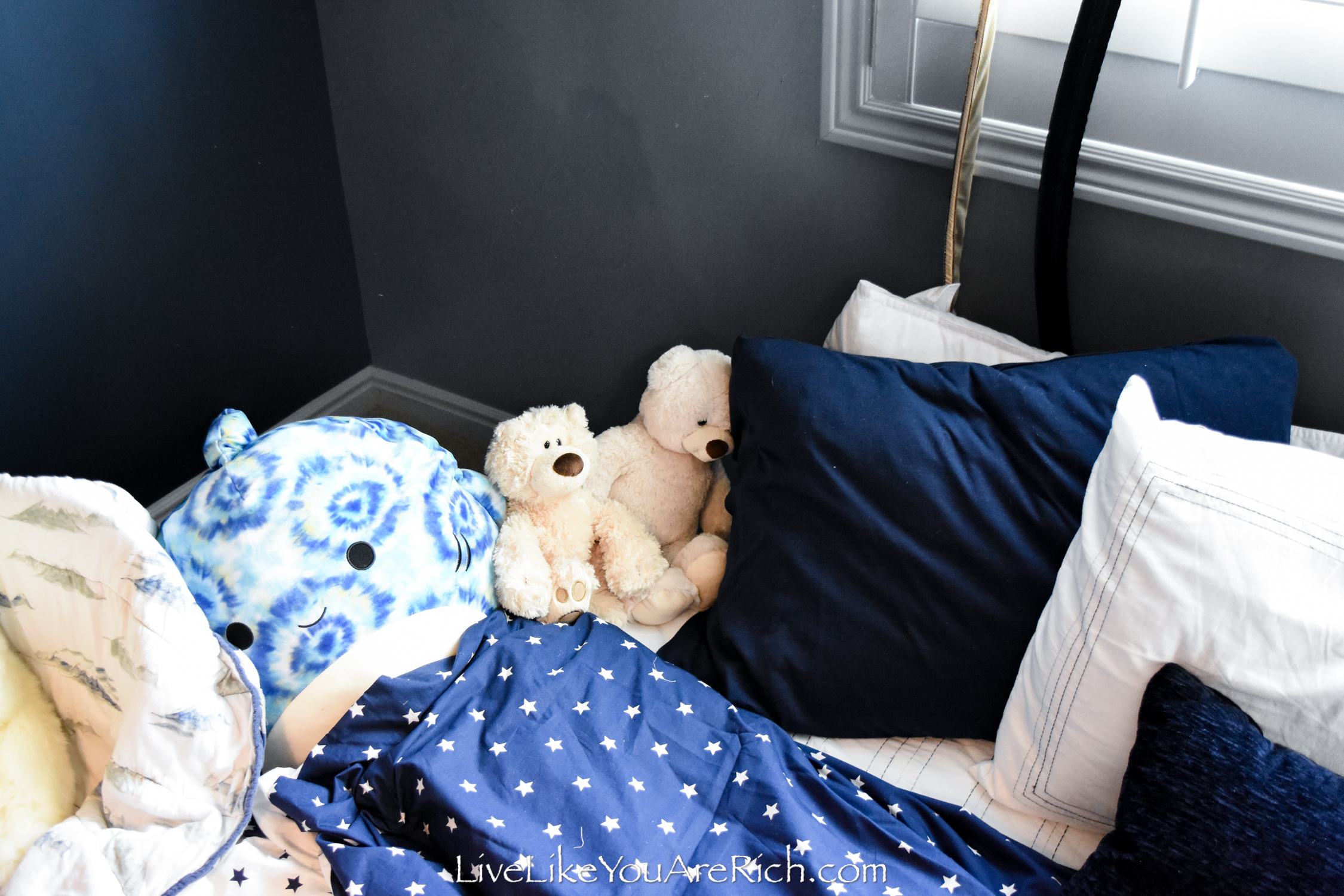 We had a cute little writing desk for kids in grey (Amazon). My husband bought it for our daughter a few years ago. It fit the space so perfectly that I re-gifted it to my son.
Neither of them (ages 1 and 2) knows the difference, so the change in ownership went over just fine.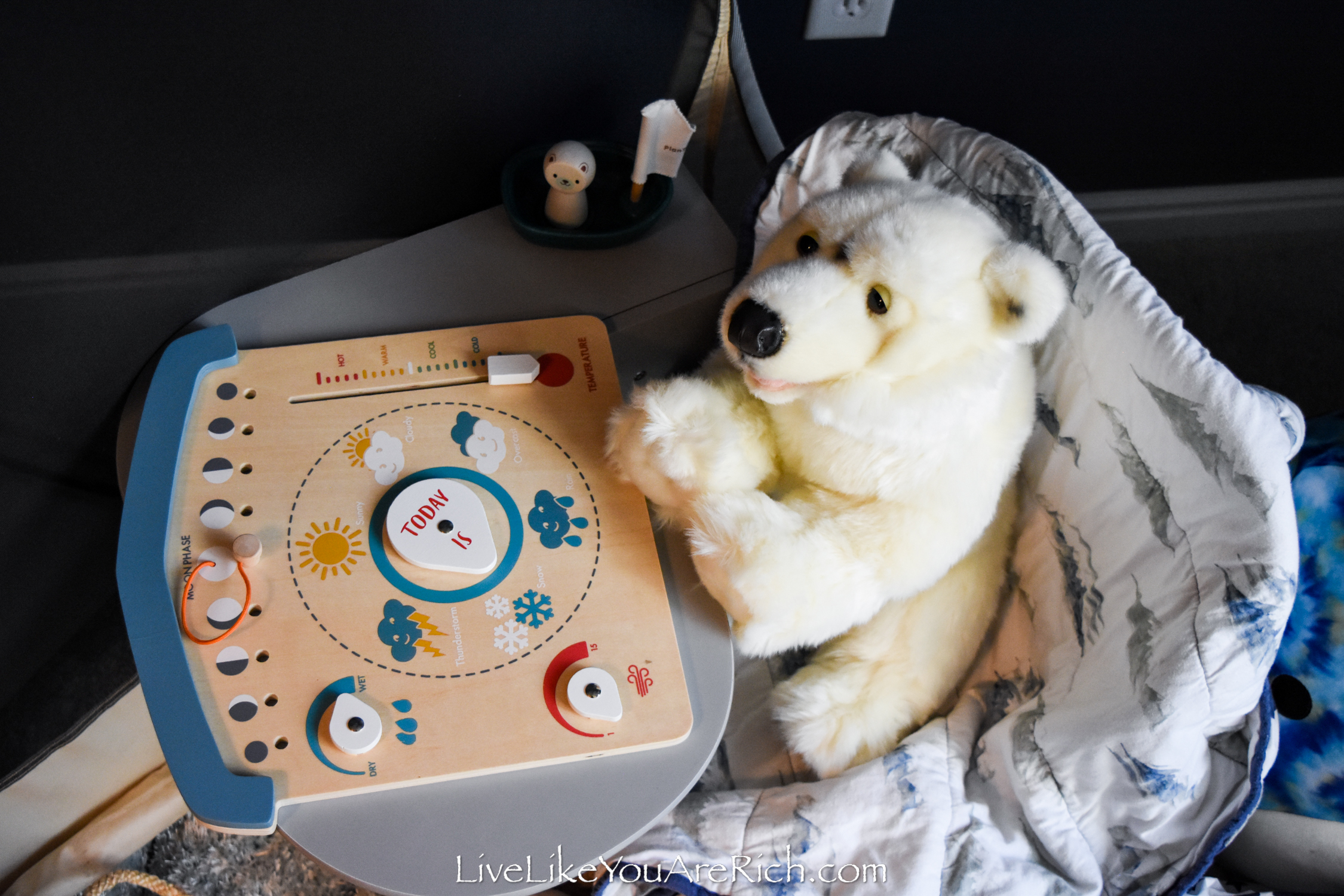 I got this cute bath polar bear in a boat made by Plan Toys. I purchased it from Burke Decor.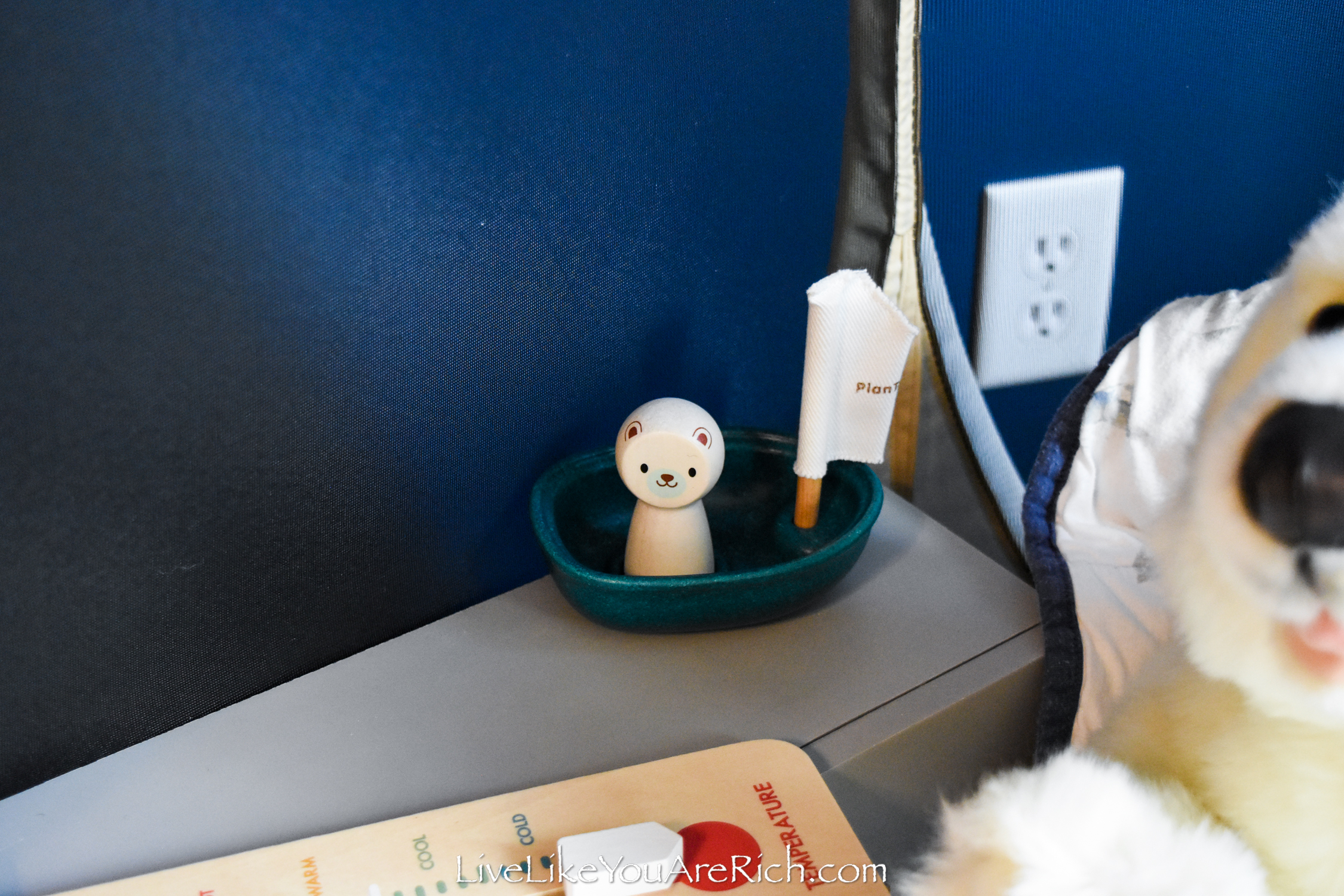 The Polar Bear (Stieff) was purchased from Saks Fifth Avenue (on sale with coupon) and the weatherboard is from PBKids.
The crib blanket draped on the desk chair came from my son's travel nursery which he will be moving out of soon.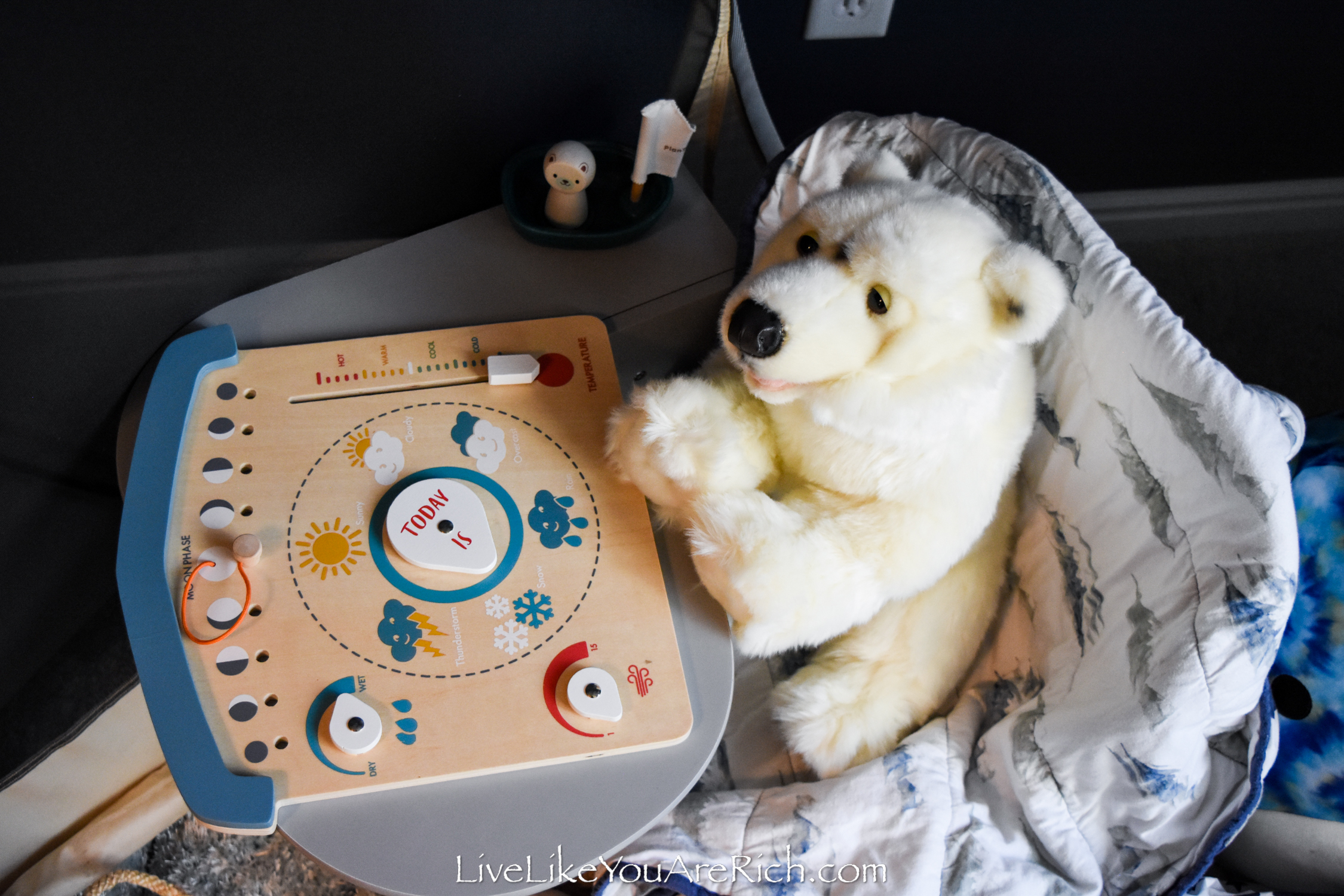 The foam climbing gym is extremely popular for both of my toddlers.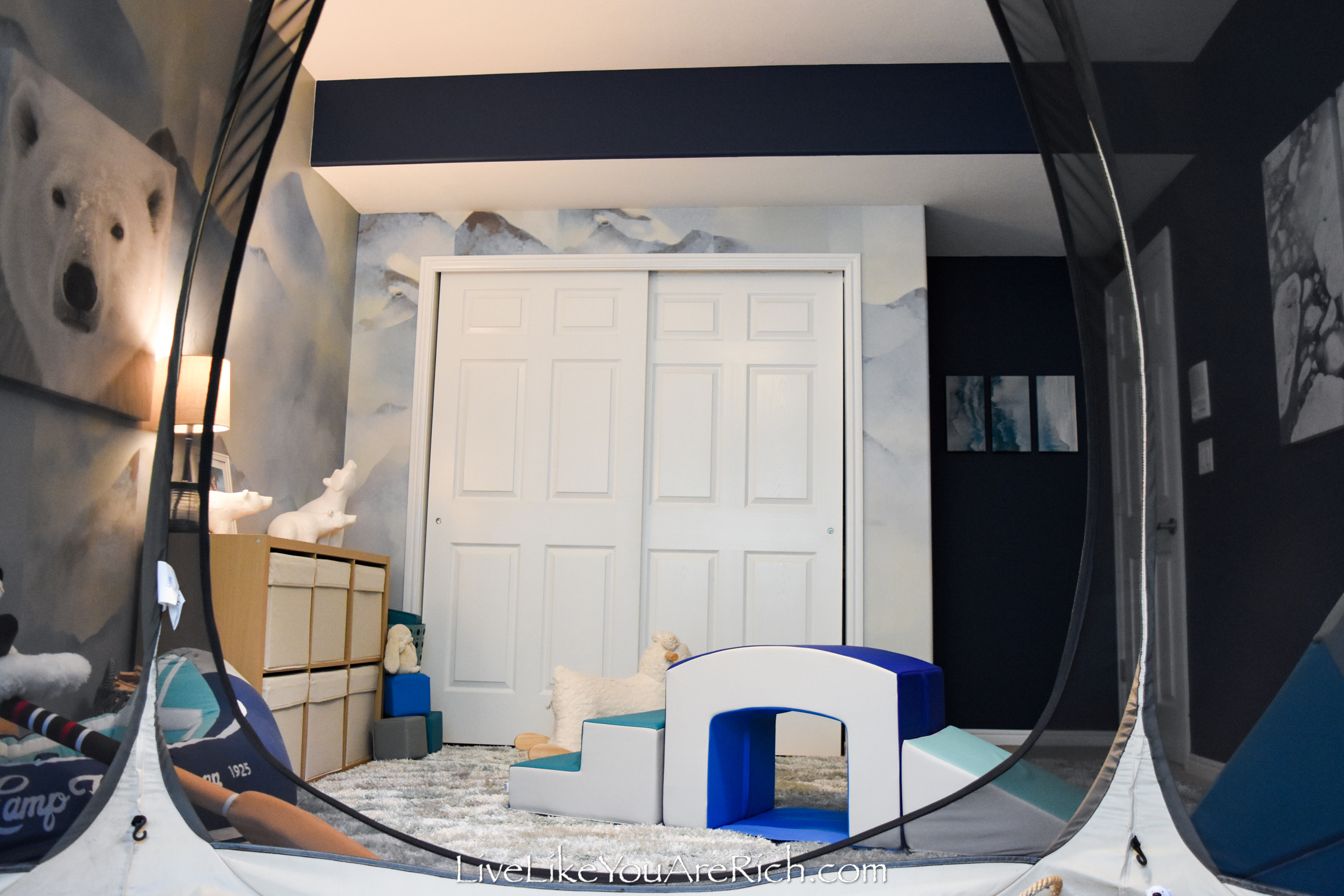 I was unsure if I wanted to purchase it, but after reading many reviews of parents saying how entertaining it is for their kids, I went for it.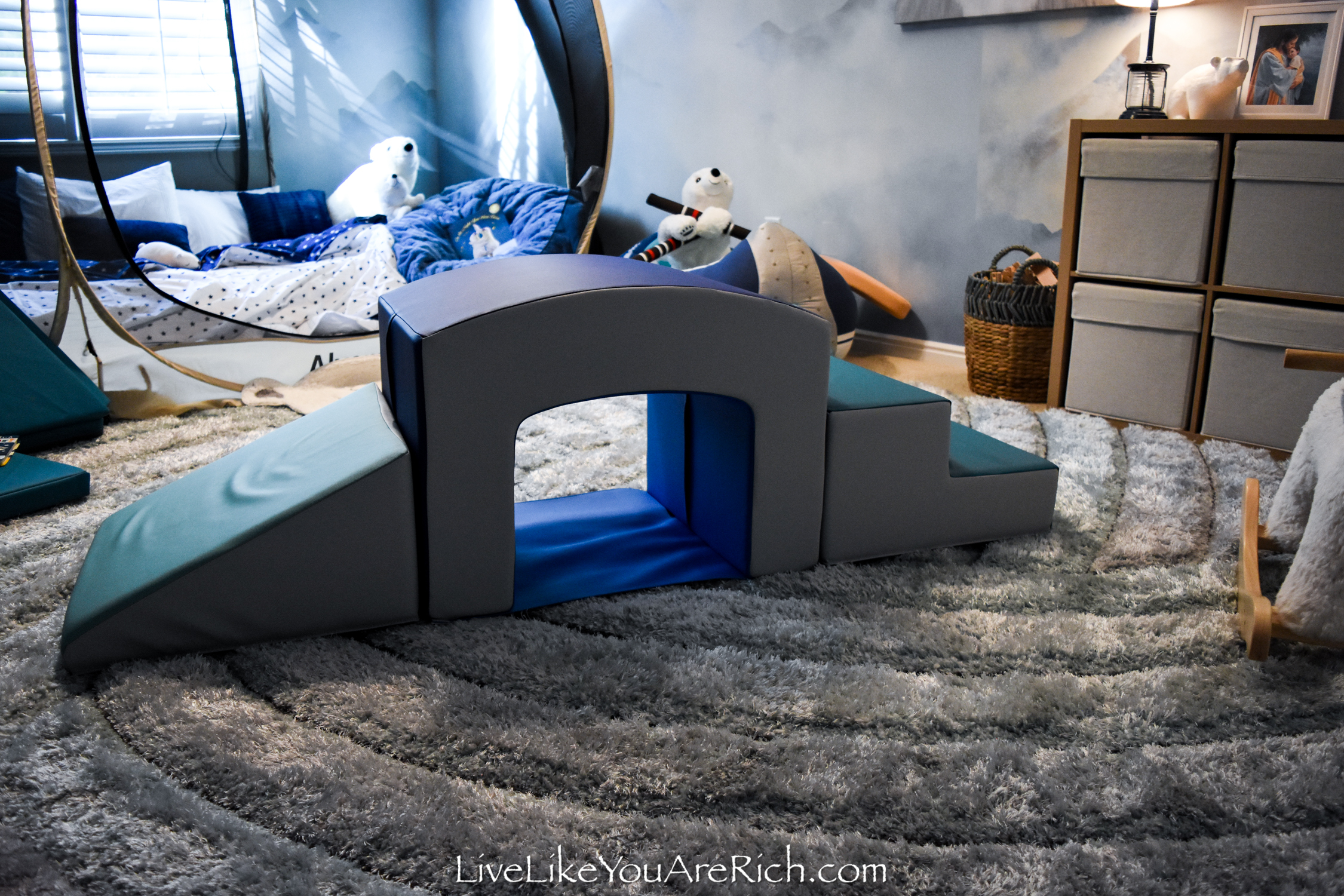 I'm glad I did. All of my kids play on it anytime they are in the room.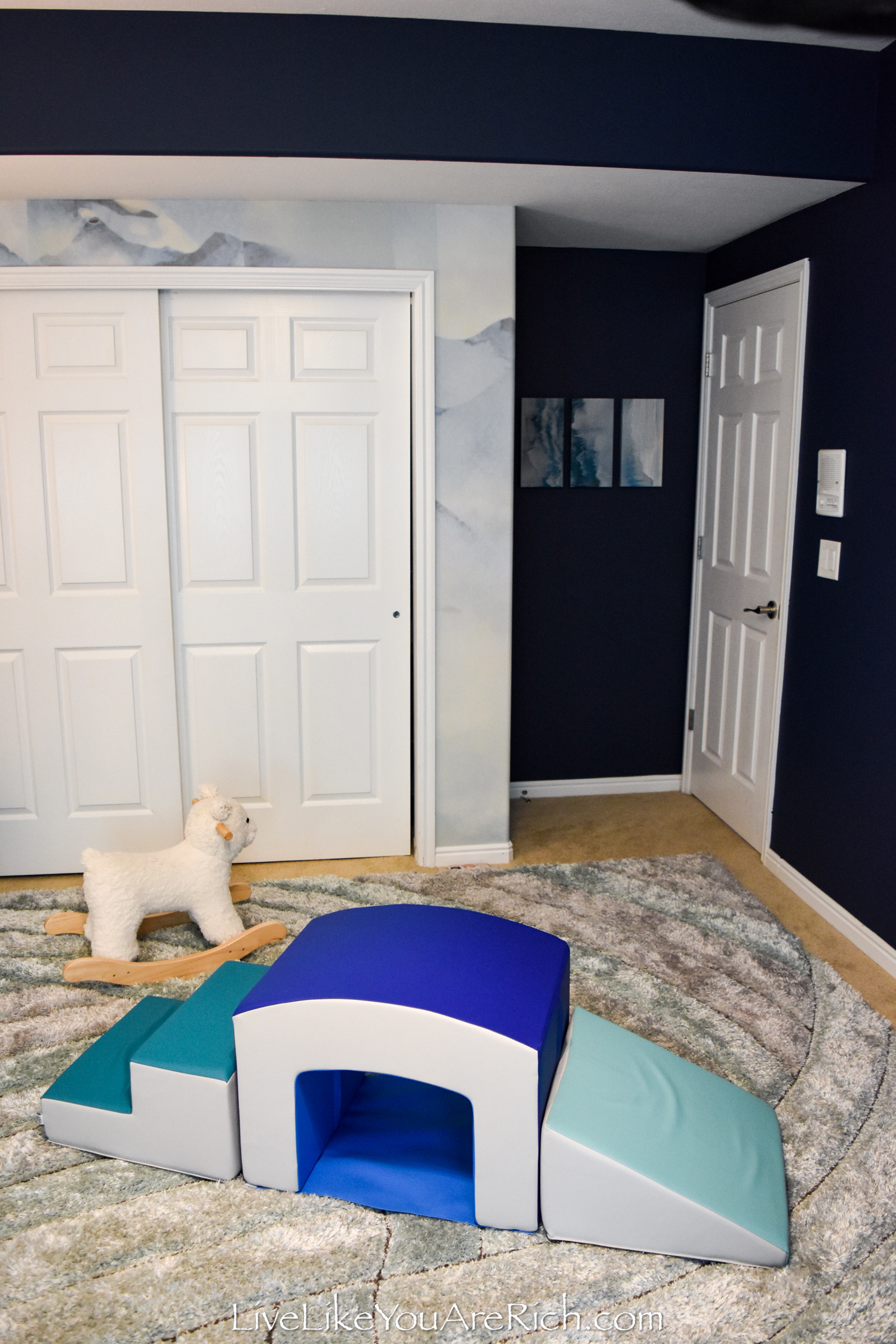 It is the first thing they go towards and the last thing they want to jump off to leave when we go out.
Another item my neighbors were getting rid of, was this cute wicker basket that I filled with toys.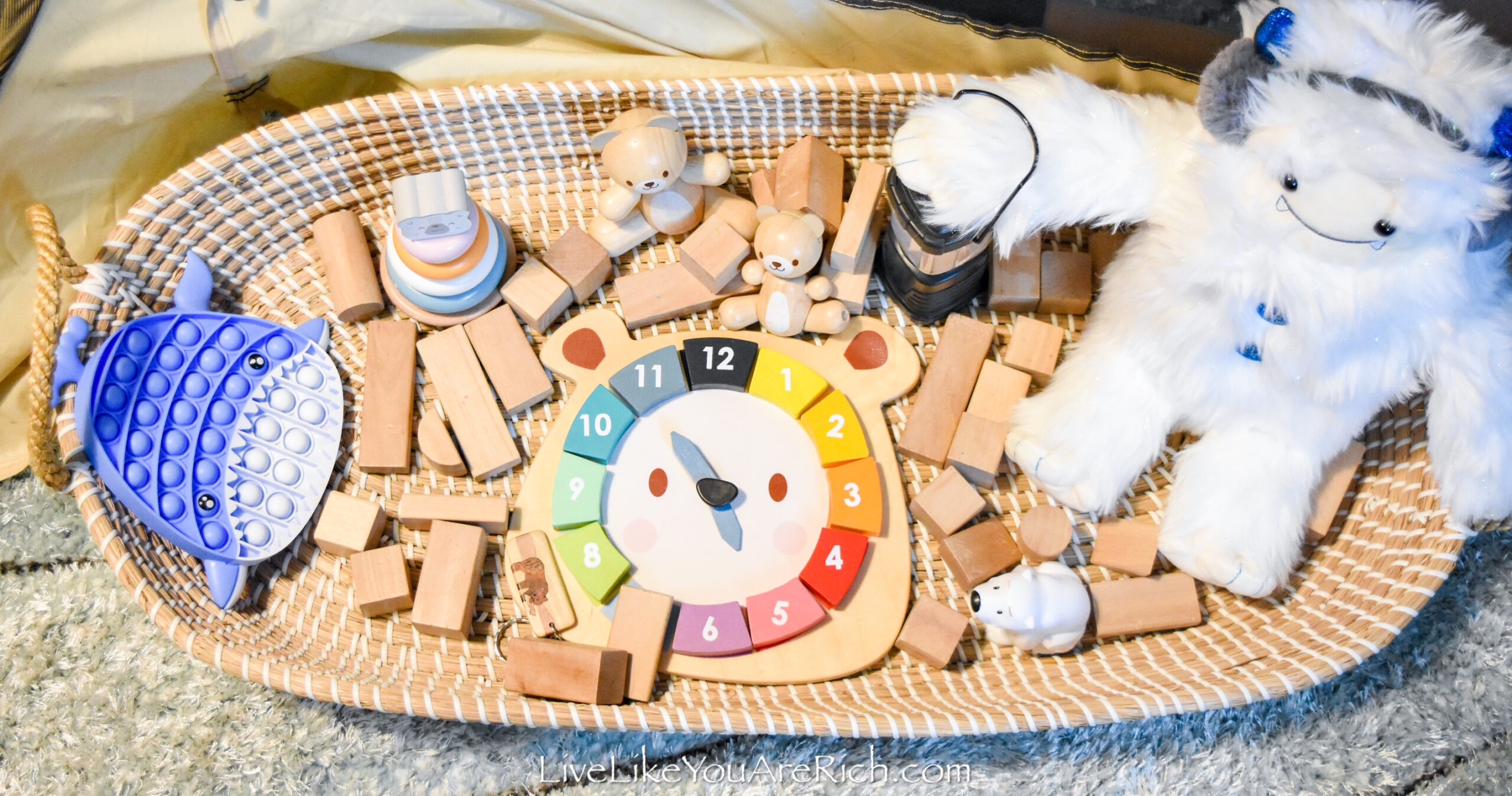 In the video I had different toys in it, that is because I was waiting for the ones I ordered to arrive.
I wanted toys that I knew my son would like to go in this floor basket so he can play with them when he wakes up in the morning.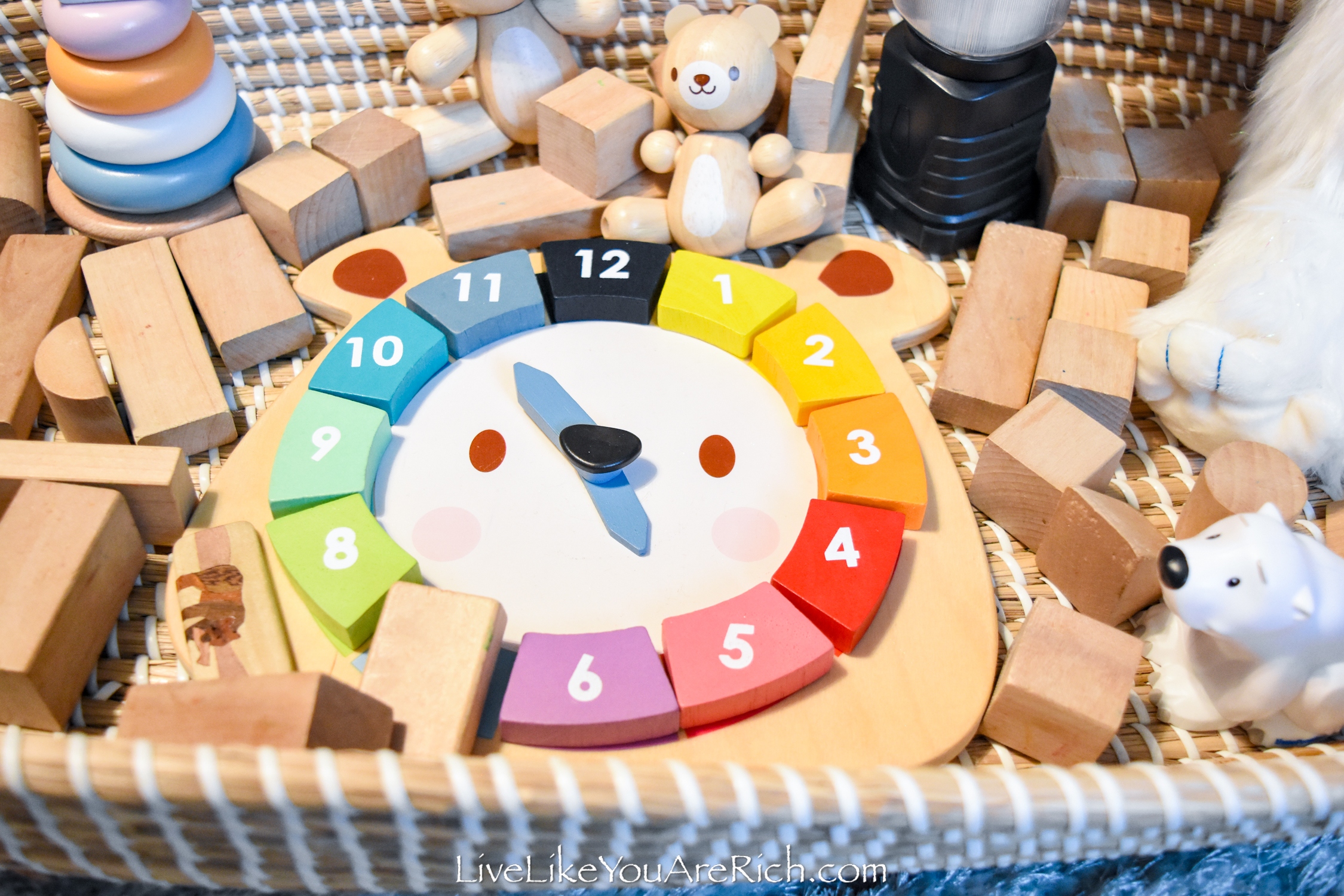 I read that is it best to keep a fewer amount of toys 'in reach' for young kids and just rotate them now and then. It helps them to use their imagination and not get overwhelmed by clutter.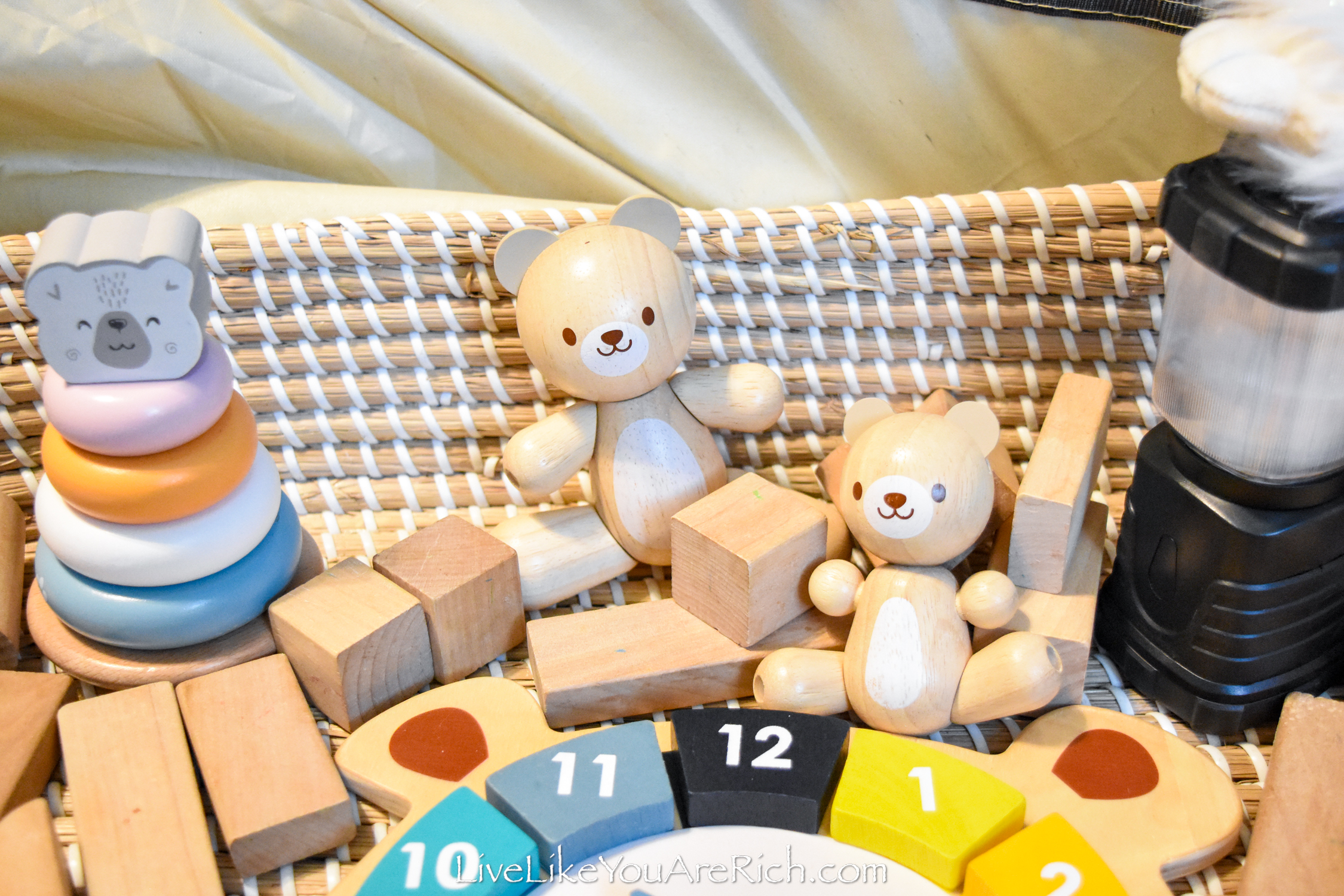 I don't know if that is true, but that is what I went with when arranging this basket.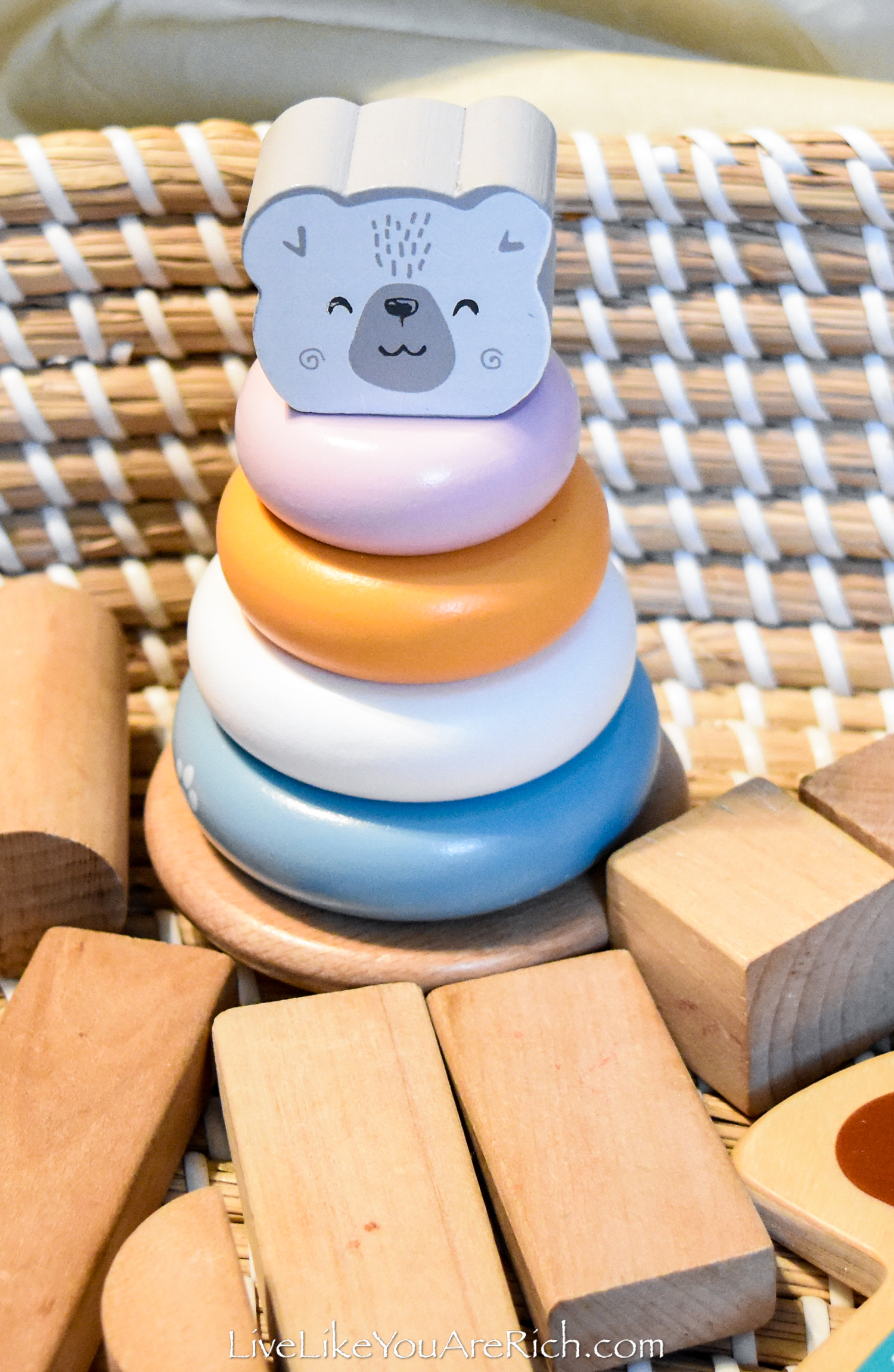 And of course, I needed to add a Yeti for the Arctic theme.
Just kidding…I just got an incredible deal on him, so I ordered the guy.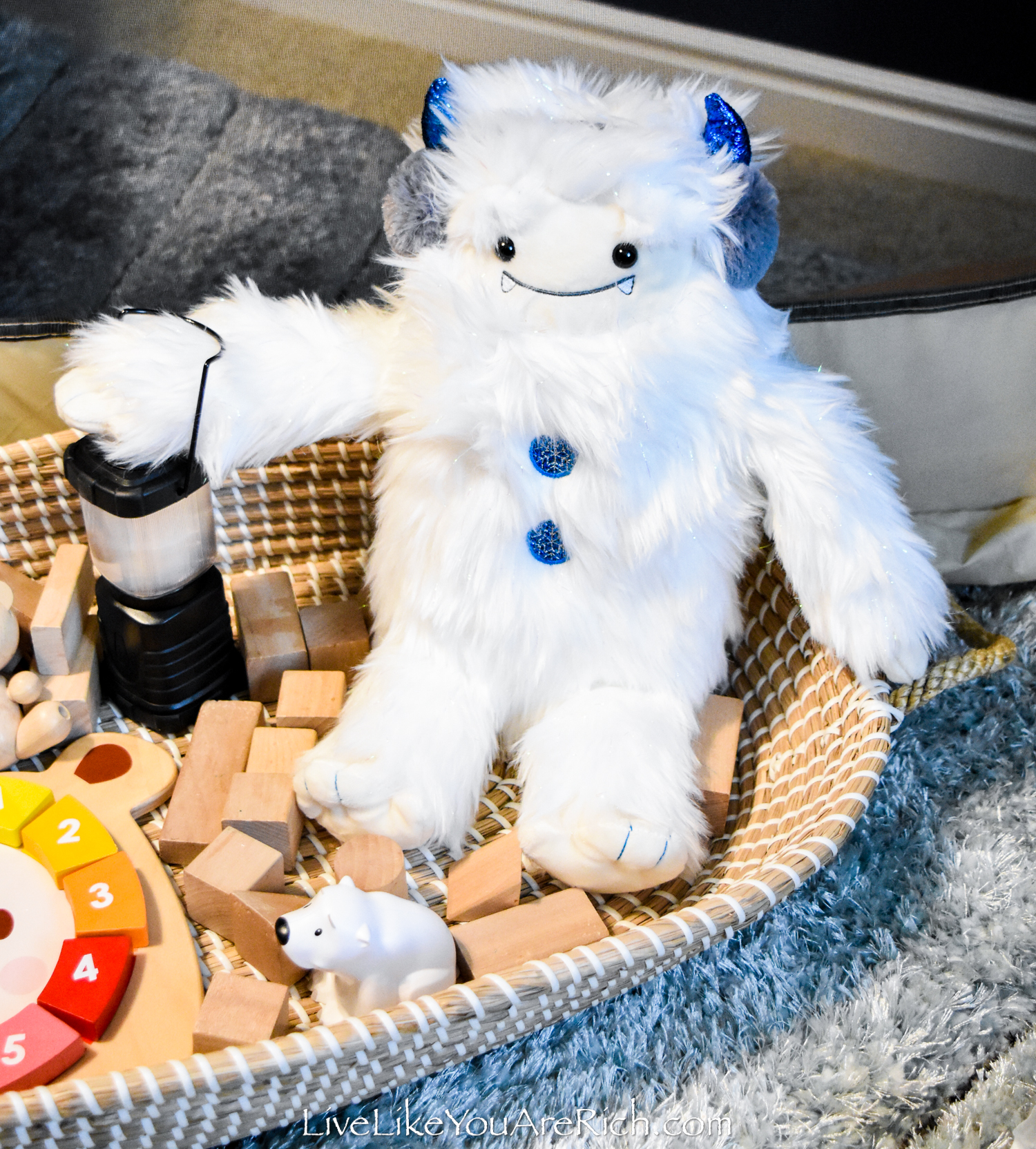 Between the blocks, bears, stacking rings, weather board, bear clock, and pop-it, my son should have enough entertainment in his tent with him.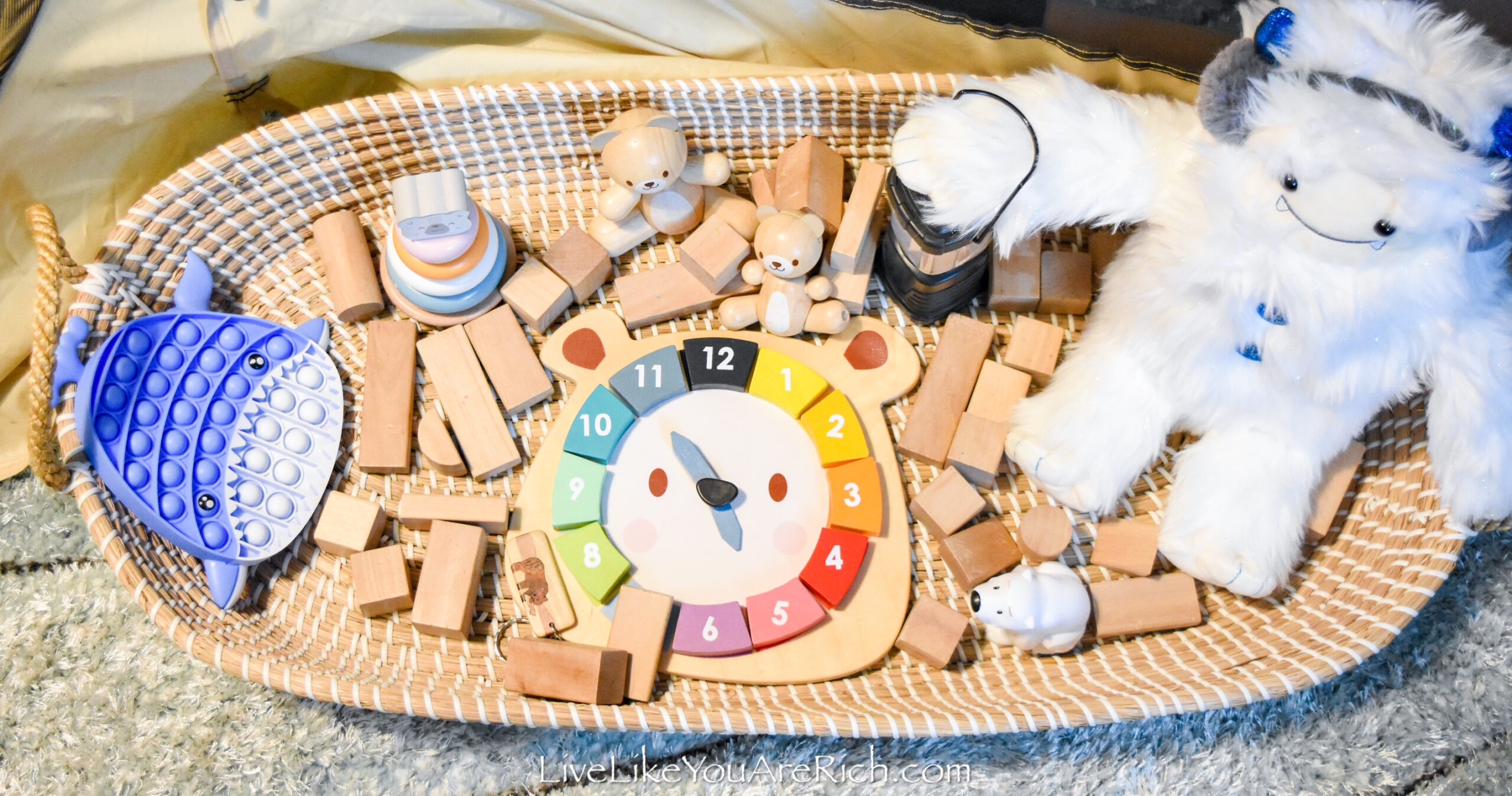 Right outside his pop-up tent there is a cute polar bear rug that I purchased pretty inexpensively.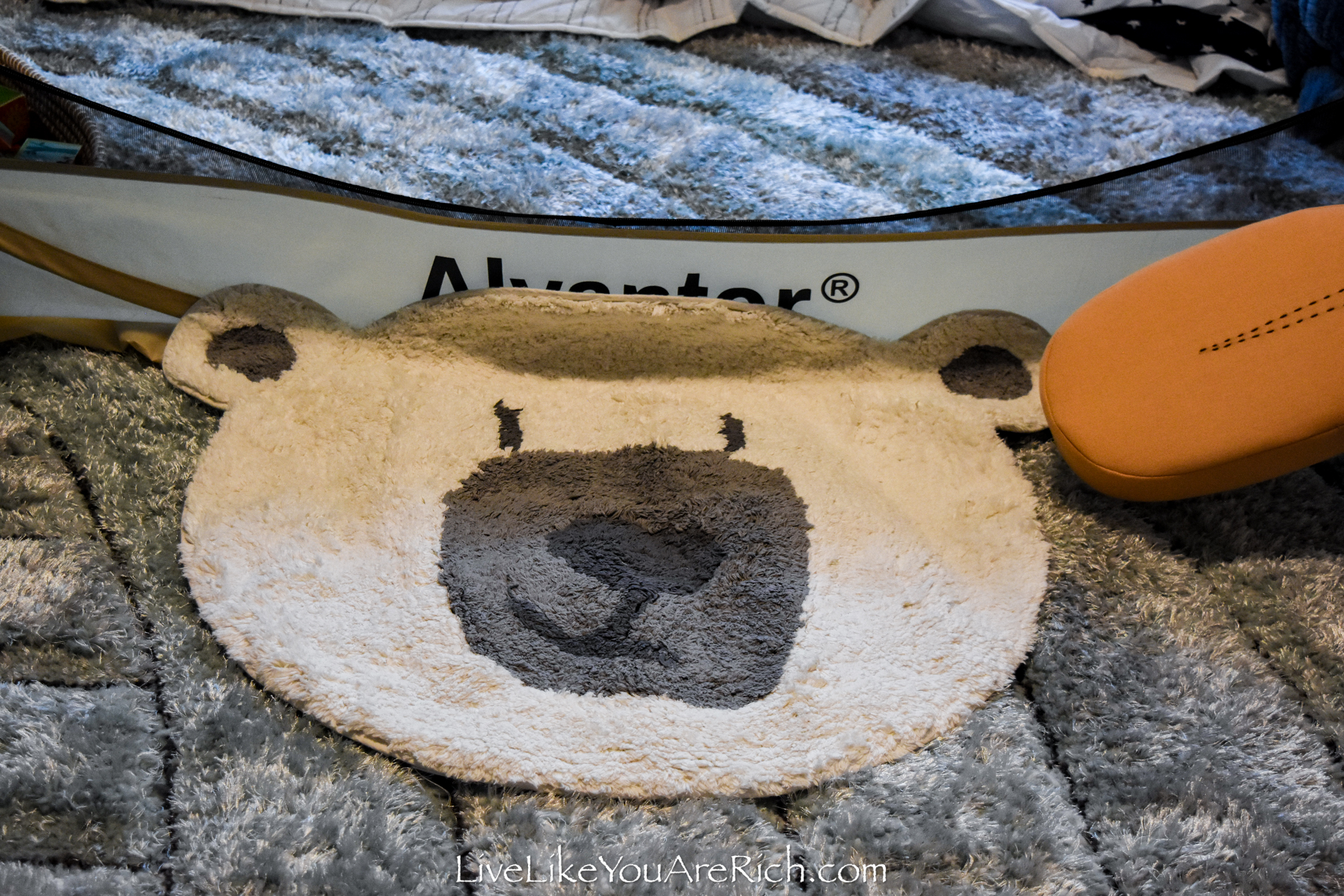 My kids also enjoy playing with the foam tent that folds into a canoe or just a gymnastics mat.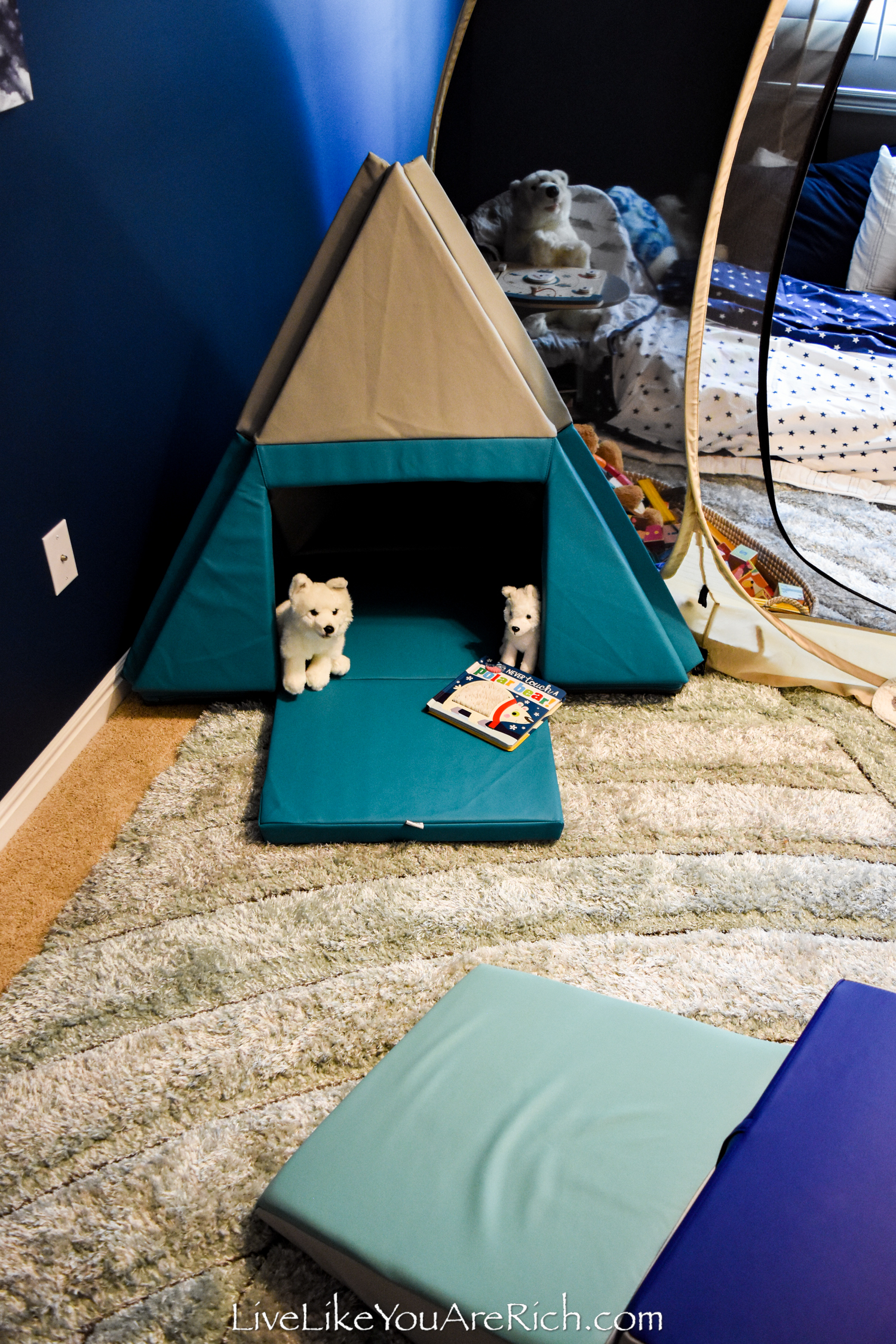 It's home to the arctic wolves.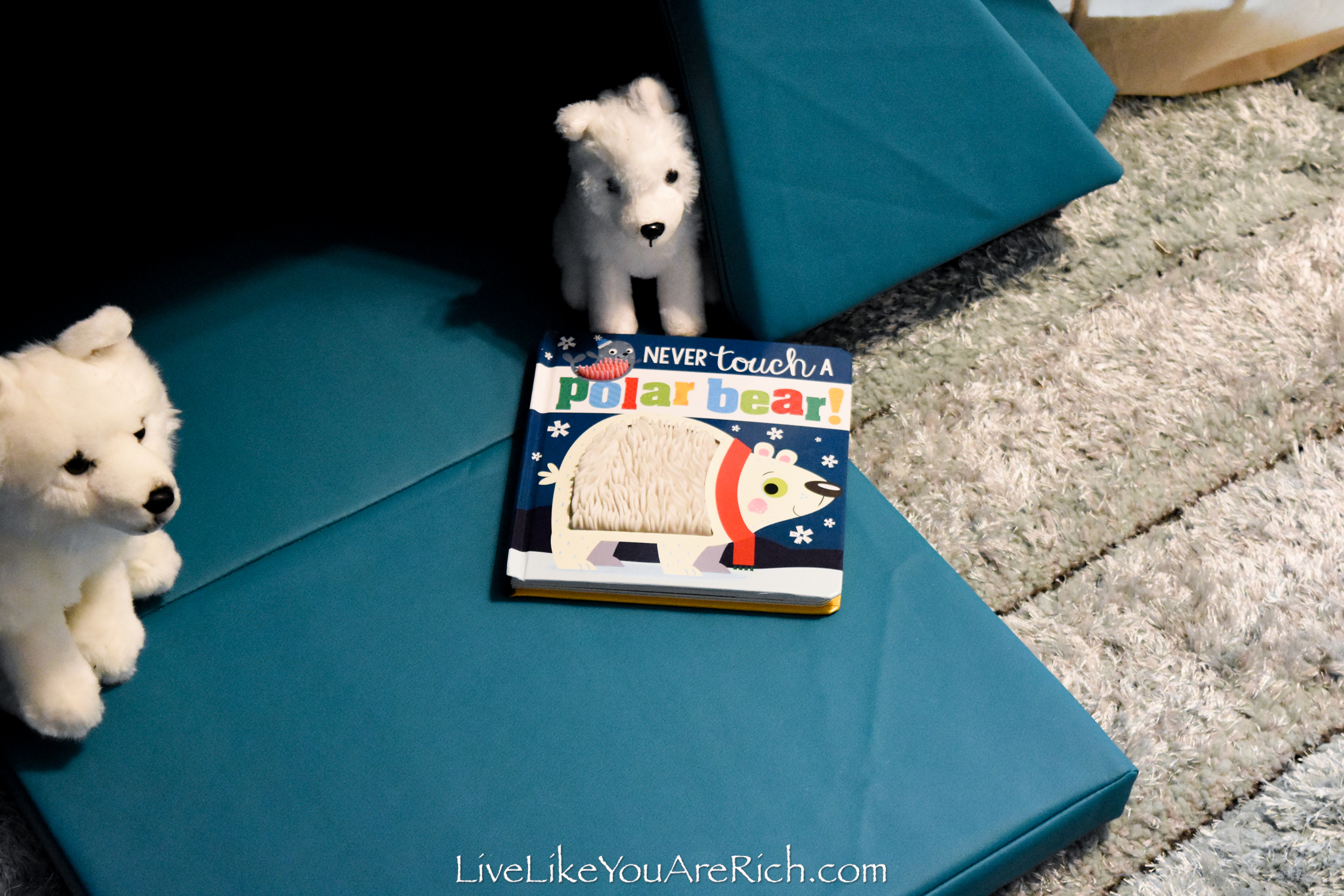 And some reading material.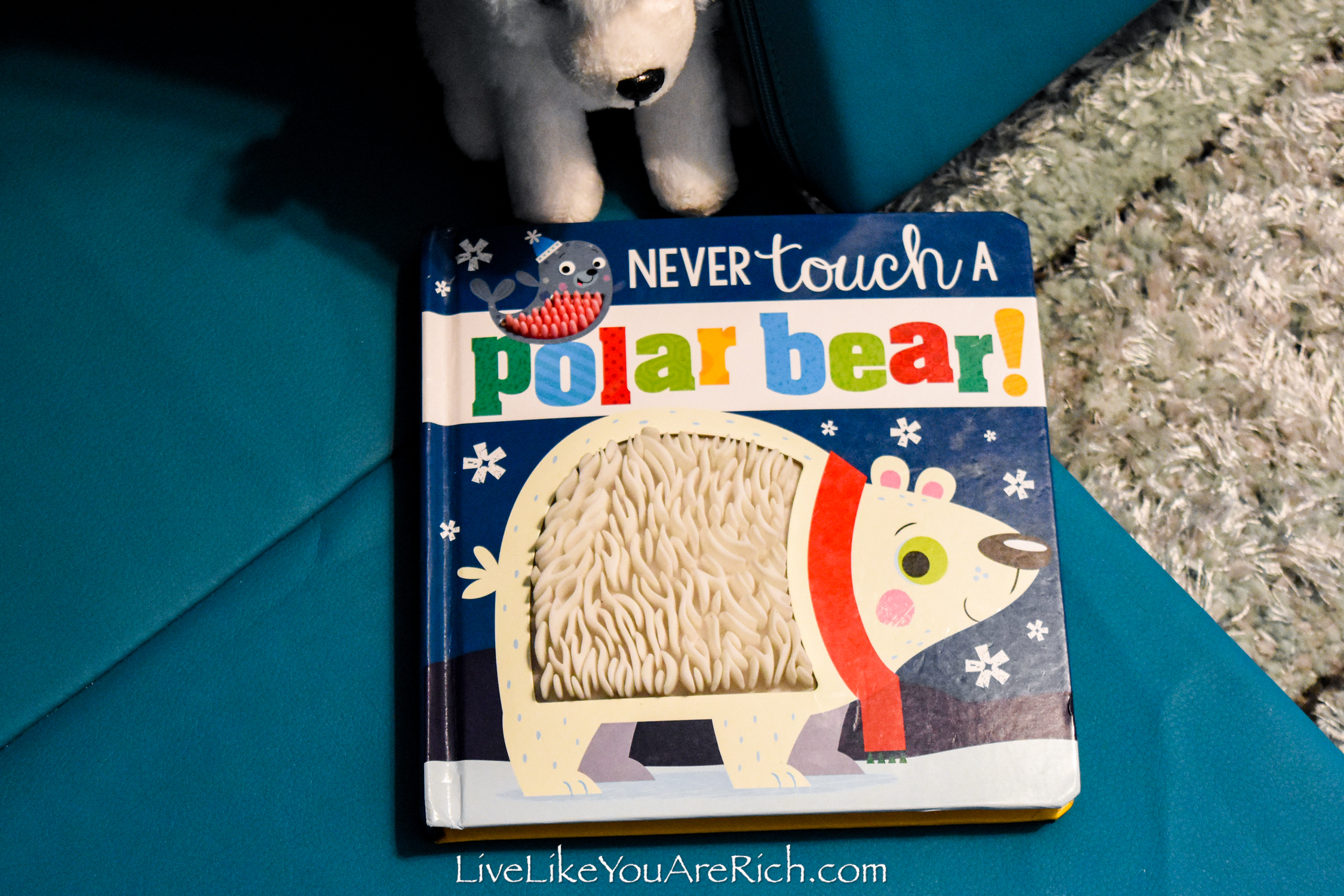 All of these foam items match as I bought them in a 'contemporary color scheme'.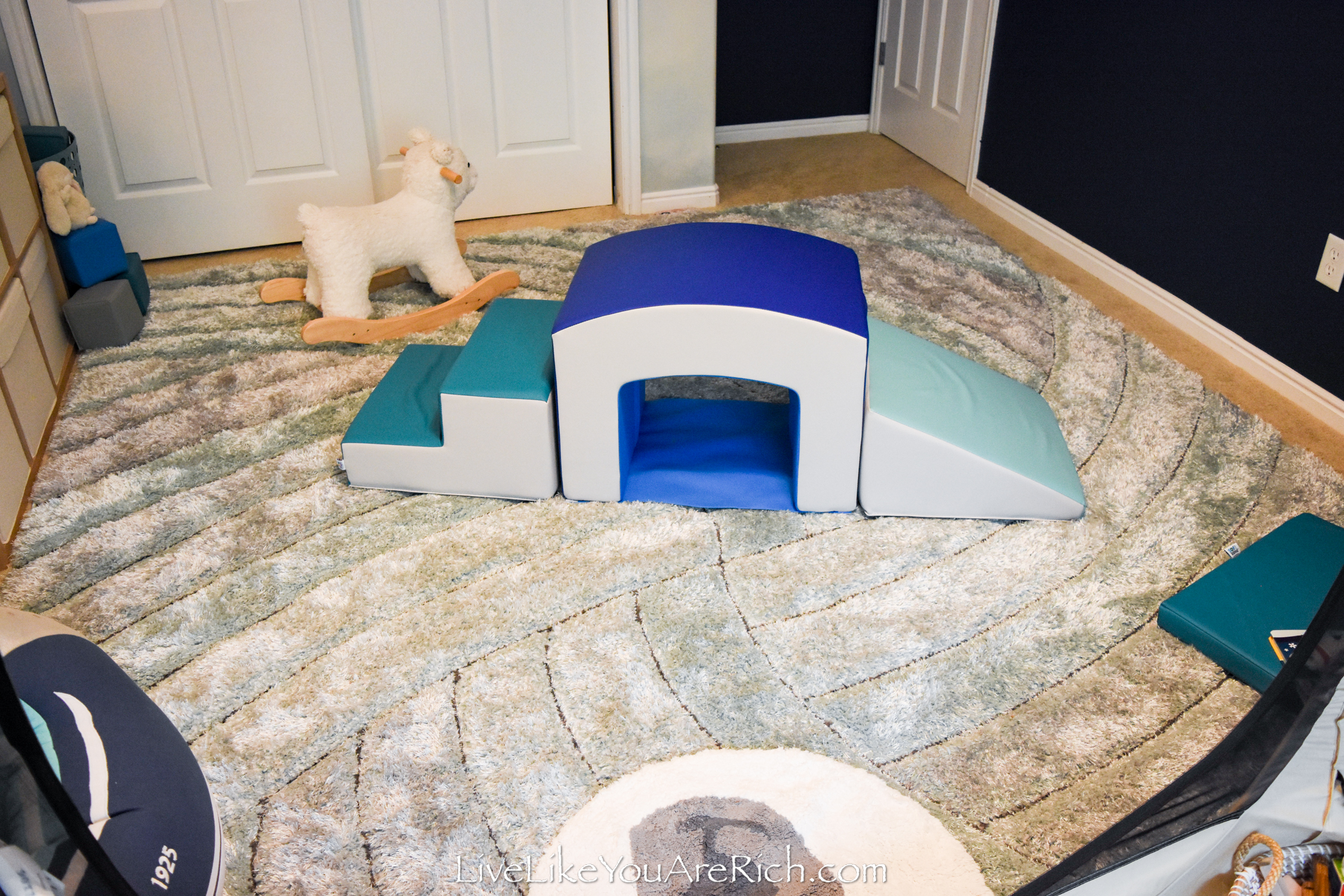 Lastly, I was able to find this darling PBKids polar bear rocking chair on local classifieds.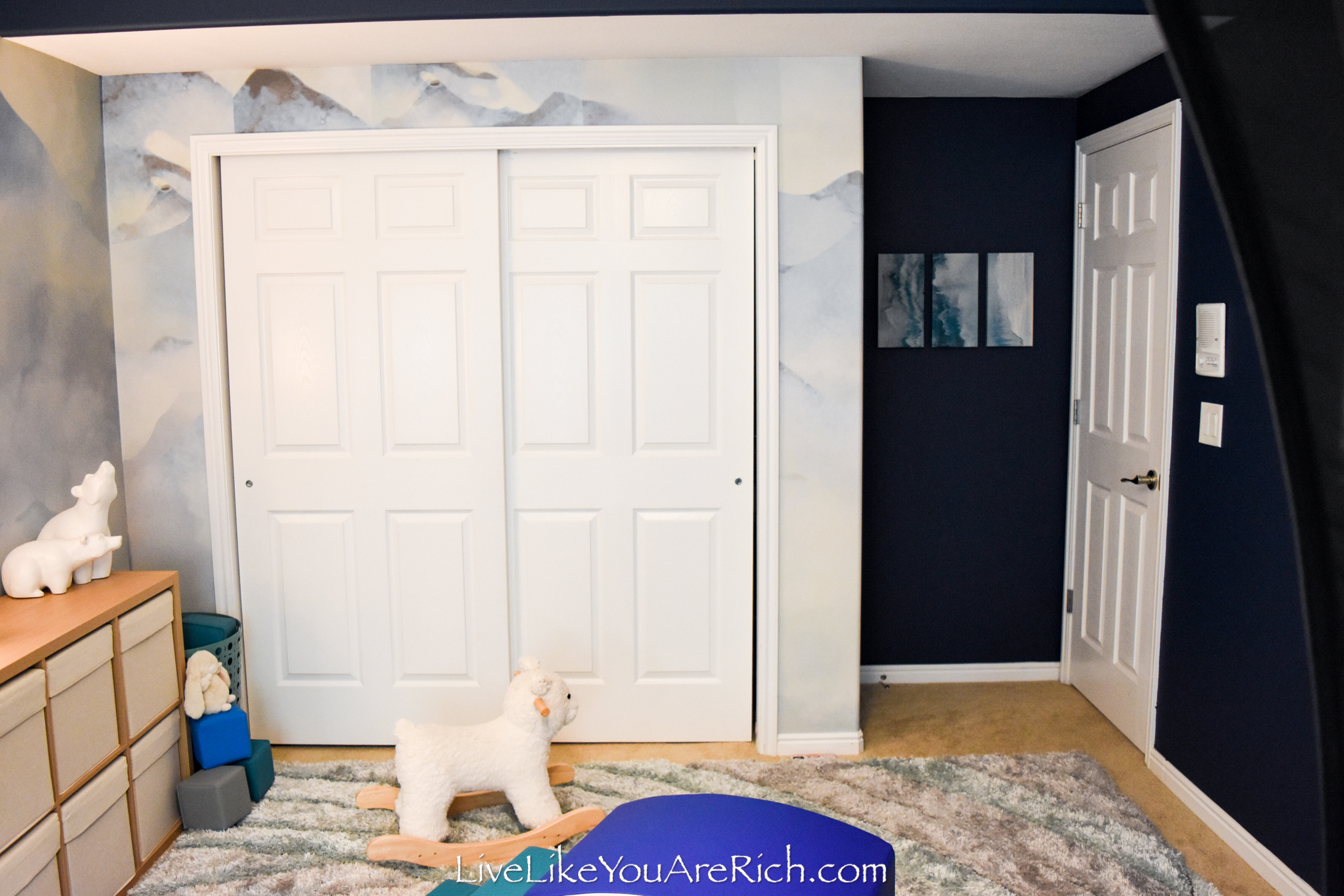 My son adores it. He is able to get on and off and rock all by himself.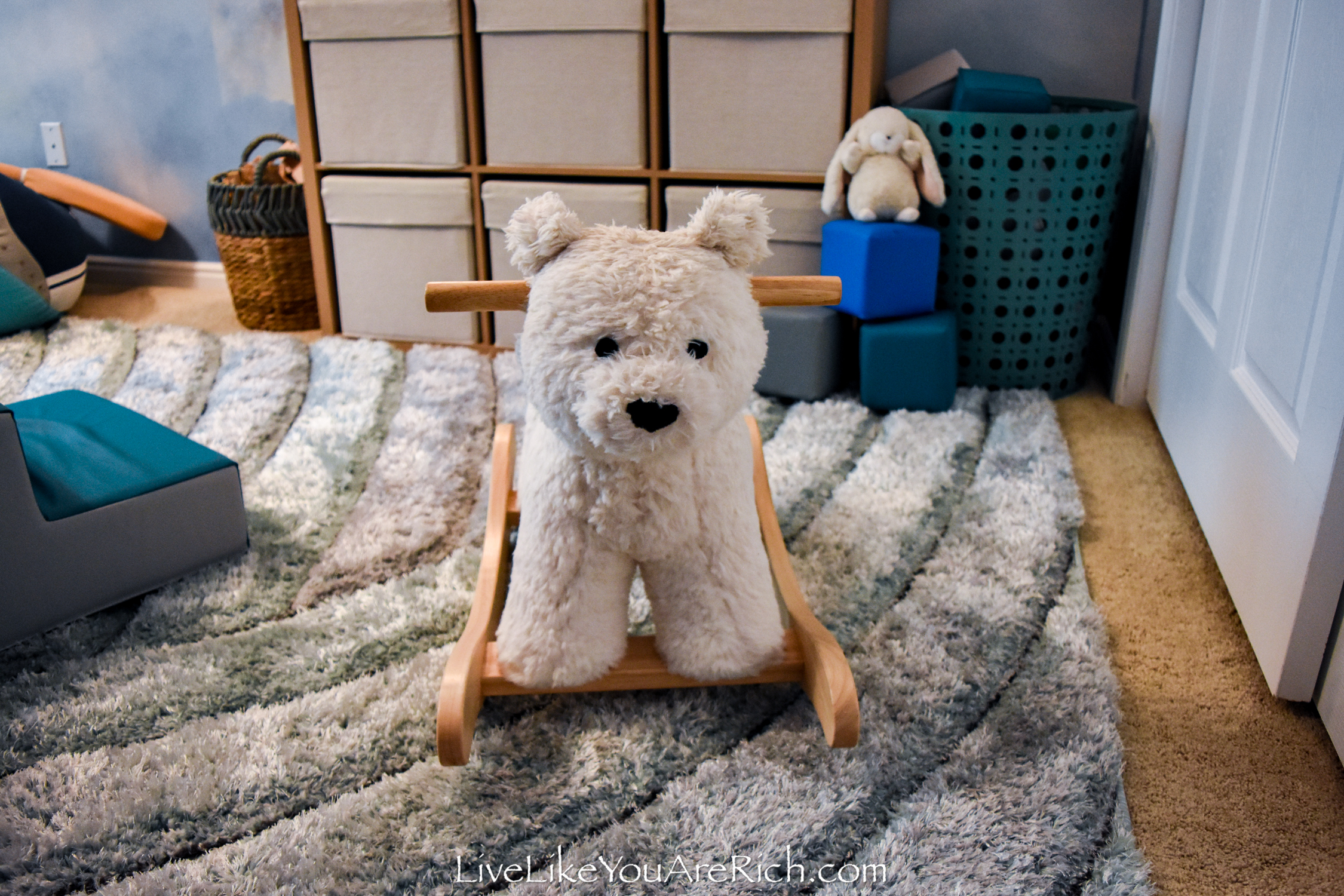 I got it for $20.00 which was a steal.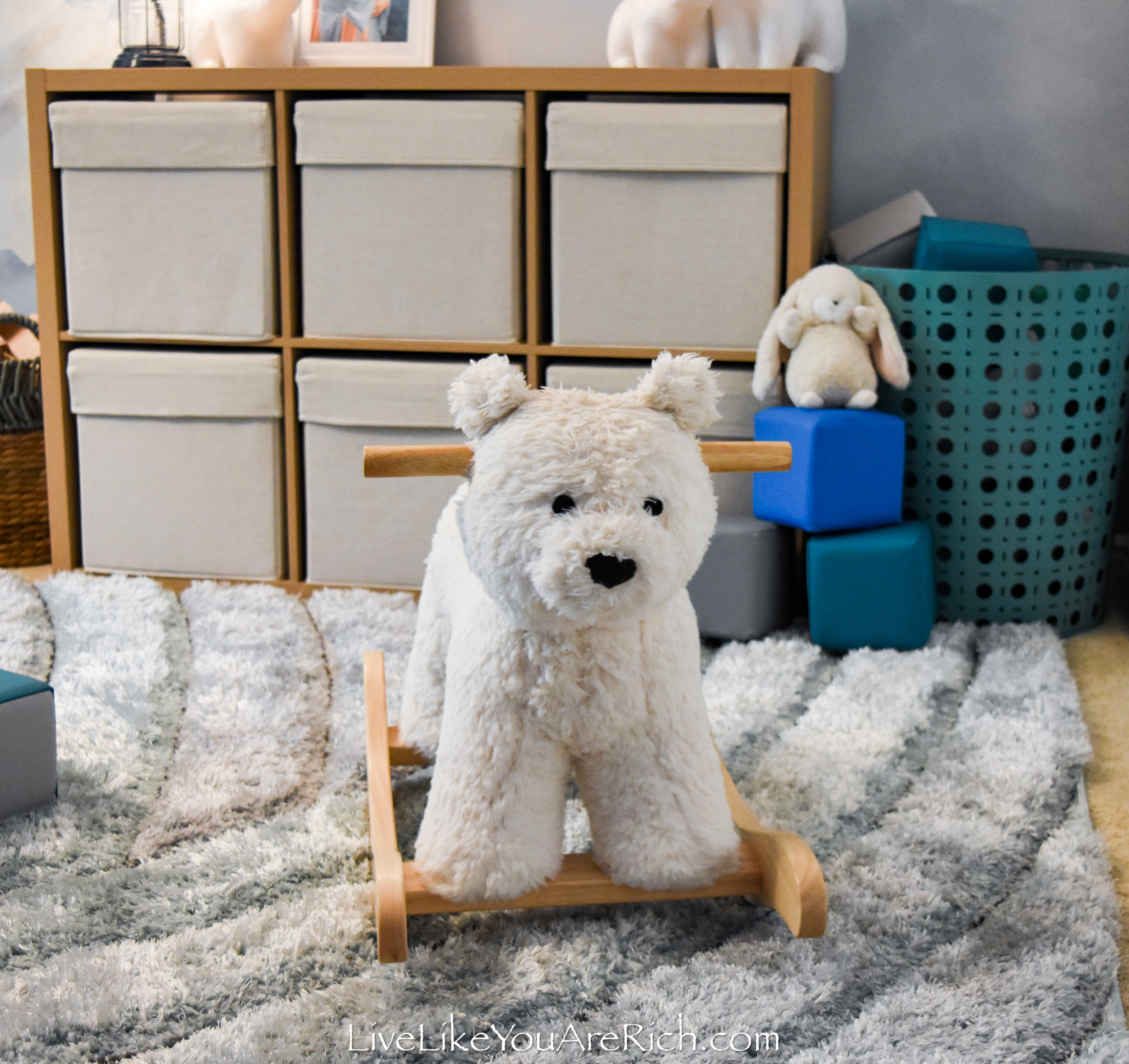 I can't get over how cute he looks when he rides his polar bear. Here is a photo of him just getting it for the first time.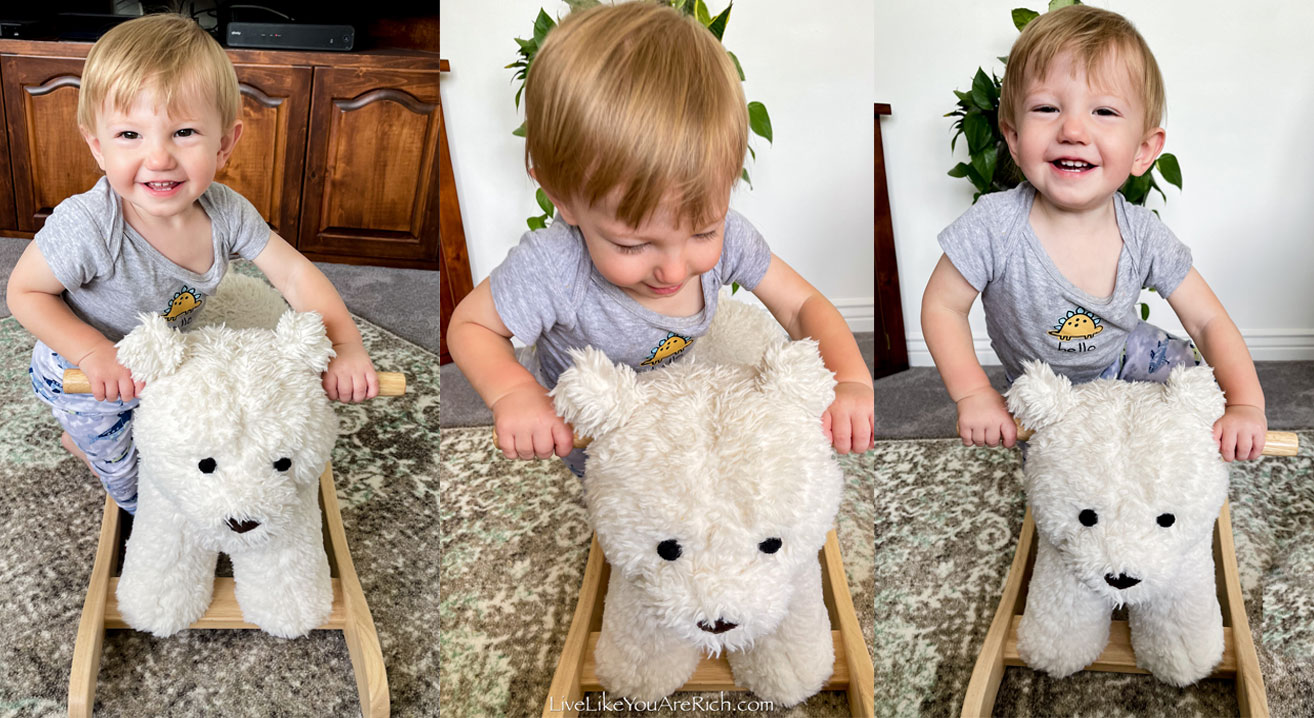 Supply List for Kids Arctic Polar Bear Themed Room
Wallpaper 3- artgeist Wall Mural Landscape 154×110 in – Peel and Stick Self-Adhesive Wallpaper Removable Large Sticker Foil Wall Decor Print Picture Image Design Fog Sky Mountains Like Painted c-A-10012-a-a. $270.00
Foam Blocks 1 of ECR4Kids SoftZone Patchwork Toddler Block Playset, Gentle Foam Blocks for Safe Active Play and Building, Built to Last, Certified and Safe, 12-Piece Set, Contemporary $65.00
Foam Tunnel, Slide, Climber 1 of FDP SoftScape Playtime Grow-n-Learn Tunnel Climber for Toddlers and Kids; Soft Foam Indoor Active Playset for Crawling and Sliding at Home, Daycare, Preschool (3-Piece) – Contemporary, 12824-CT $191.00
Foam Tent ECR4Kids SoftZone Tent Canoe and Tumbler Too, Unique Transforming Activity Play Mat, Foam Tumbling Mat for Toddlers and Kids, Colorful Soft Baby Tummy Time Mat – Contemporary $199.00—Bought for Brighton's first Birthday present
Avalantor pop-up shade/tent was offered for free on local classifieds. $151.00 Free
1 of Melissa & Doug Giant Polar Bear – Lifelike Stuffed Animal (nearly 3 feet long), White used, like new, $59.00
PB Teen collapsible ottoman linen bins x6= $108
Paint and supplies 1 mis-tinted gallon $10.00
White duvets, duvet cover, pillows and pillowcases—had
Pottery Barn kids polar bear rocker $20.00 off classifieds
PB Kids Wooden Weather Toy Item #: 3287480 $19.00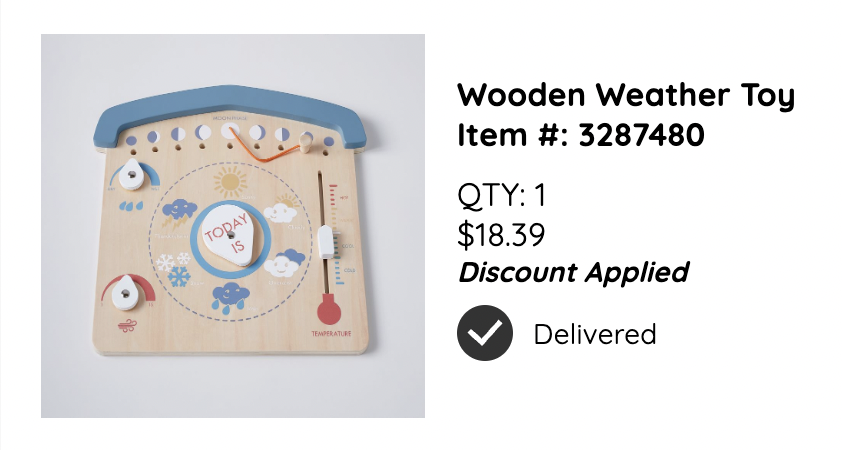 PB Kids Navy star duvet cover $32.00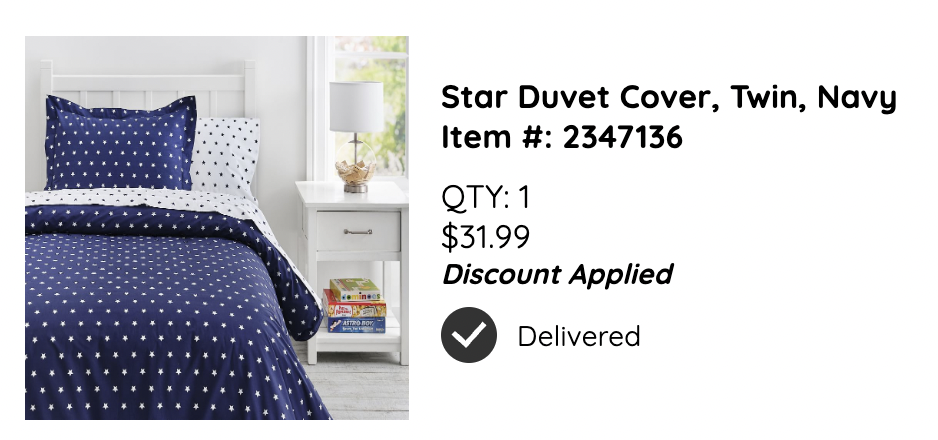 PB Kids 8″ letter B $1.59

Canoe Crate & Barrel $199.00
Crate & Barrel basket to hold the wooden trains $15.00
Target Shelves 6 Cube Organizer – Brightroom™ $32.50
Elephant Stock Polar Bear Face Wall Art – 1 Piece / 30″ X 30″ Quantity: 1 Total: $38.00
Elephant Stock Polar on Ice Art Polar Bear In Spitsbergen Wall Art Layout: 3 Piece Size: 57″ X 36″ $199.00
Elephant Stock abstract drip art $15.00
Well Woven San Francisco Ucci Grey Modern Geometric 3D Textured Thick and Soft Shag 9'3″ X 12'6″ Area Rug– new but off local classifieds for $100.00
Sofa Sack Bean Bag $35.00. (Used, like new)
Light Shade IKEA $36.00 with coupon
Stuffed Polar Bear canoe IKEA SNUTTIG $18.00 with coupon
Floor Basket (free from a neighbor)
Blocks and toys in basket:
Bear clock $12.00
Plan Toys bears PlanToys Wooden Mama and baby Bear Teether and Grasping Toy— gift
Bear stacking rings The Original Toy Company PolarB Wood Toy – Polar Bear Stacker $14.00
Blocks (had)
Yeti
Mini lantern Energizer LED Camping Lantern, Bright Lantern Battery Powered LED Camping Lights on sale with coupon for $7.50
Lamp (lantern) free
Mattress (had)
Little polar bears and polar bear statues (had)
Polar Bear Rug Bed, Bath and Beyond Marmalade™ 25-Inch x 29-Inch Polar Bear Bath Rug in White/Grey $12.00
books-had
Plan Toys polar bear Burke Decor $9.00
Total $1475.00
That's it. I hope this gave you some ideas for how to decorate a Kids Arctic Polar Bear-Themed Room.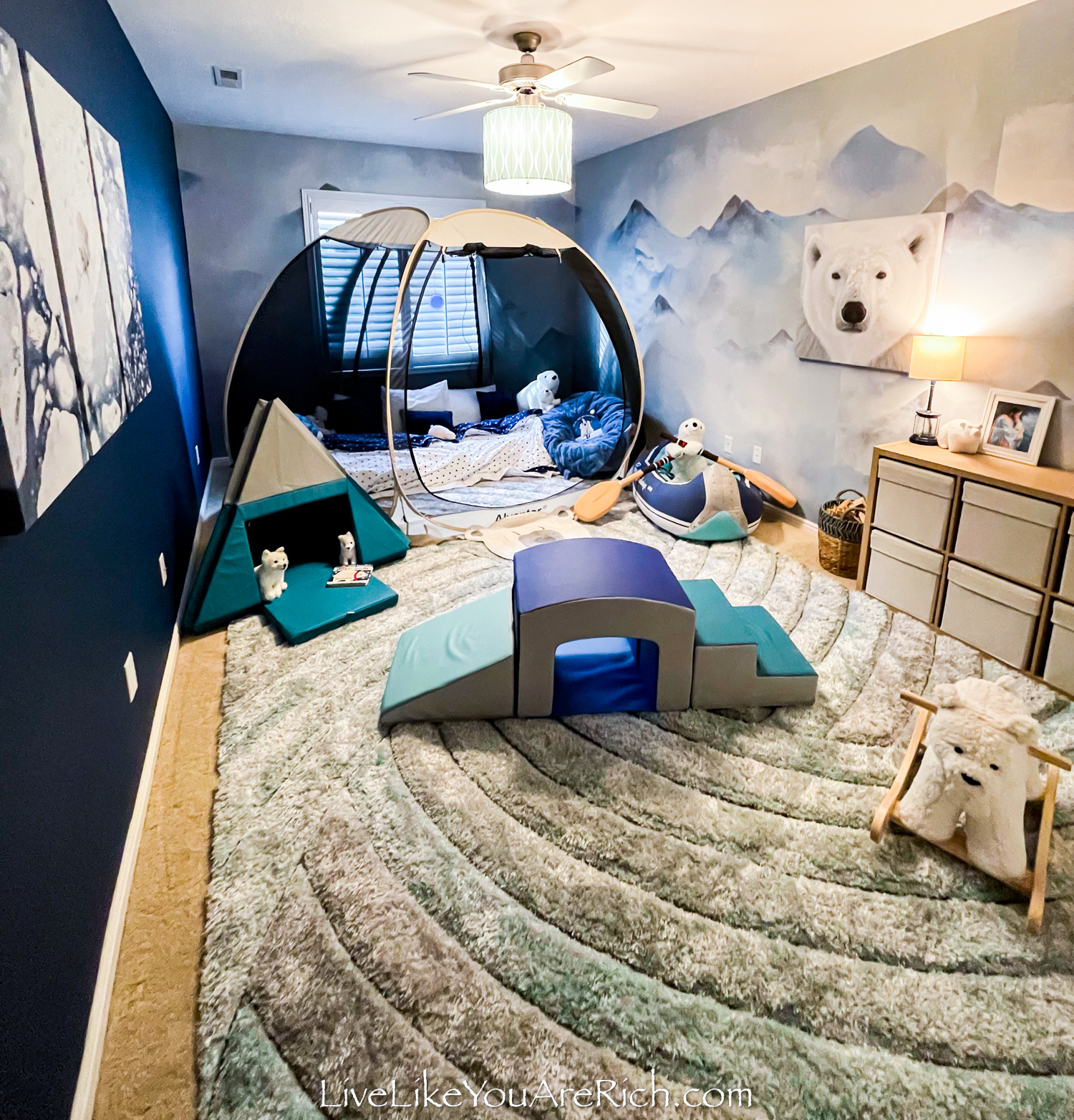 For other 'rich living' and D.I.Y. decor tips please subscribe, like me on Facebook, and follow me on Pinterest and Instagram.