Red and White Heart Valentine's Day Entry Table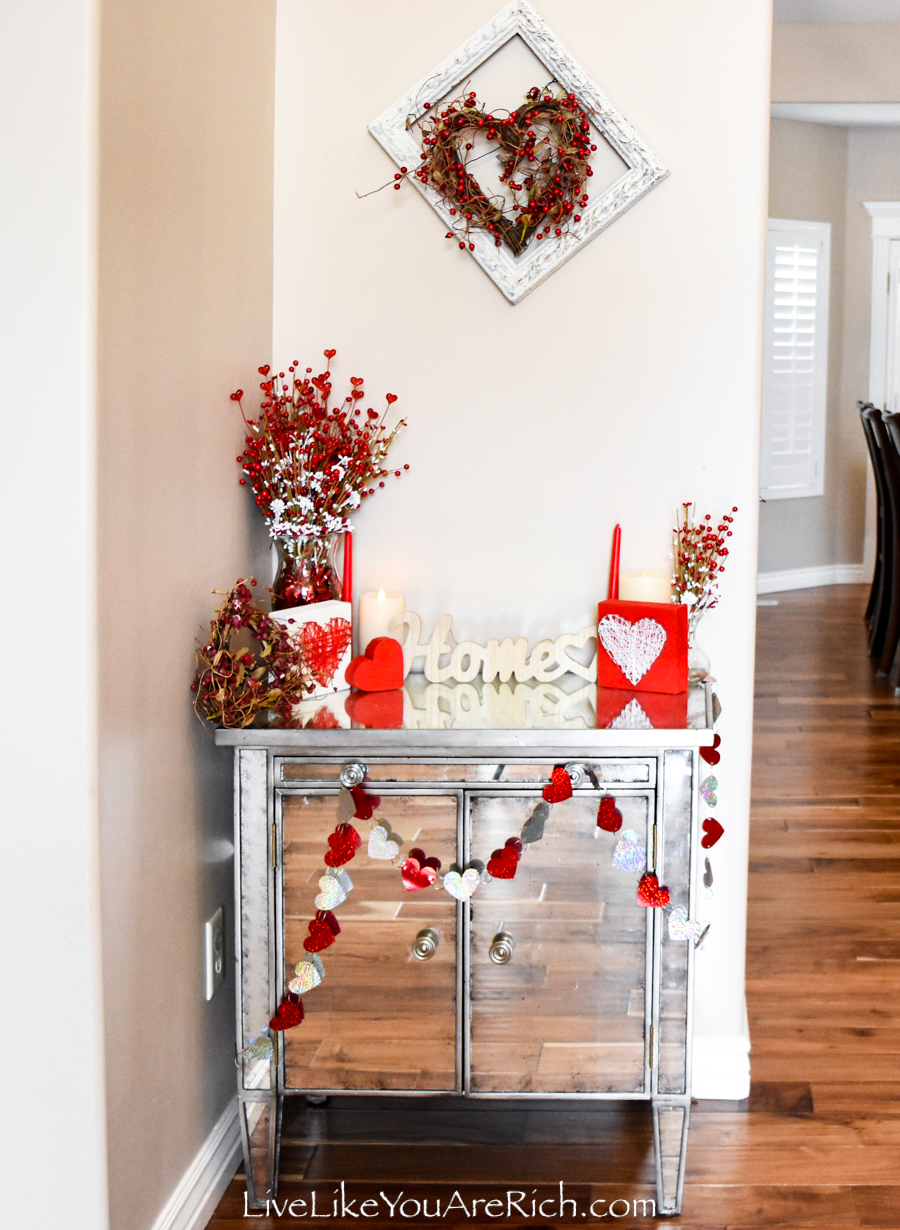 I love that Valentine's Day is usually a low-key holiday—for our family at least.
It's nice to have a day set aside for parents to express love for their kids, kids to their parents, and loved ones to express appreciation for one another.
This year, I made our home Valentine's decor to center on 'love at home'.
The way that I did this was simple.
I just put a wooden sign that says "Home" on it in my Valentine's Decoration displays.

I decided to make our entry decoration red and white with a heart theme.

This year I reused decorations I had in my Valentine's Day organization bin.
I just designed the items I already had in a different way than I have done before.

Supply List for this Red and White Heart Valentine's Day Entry Table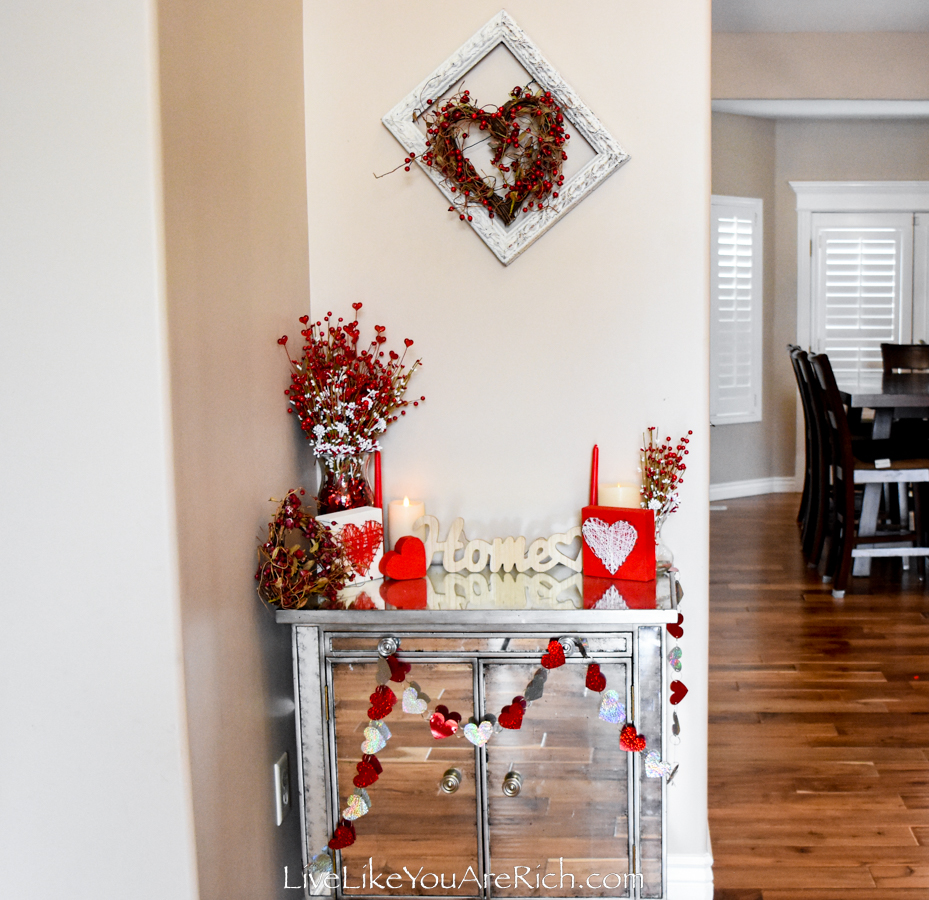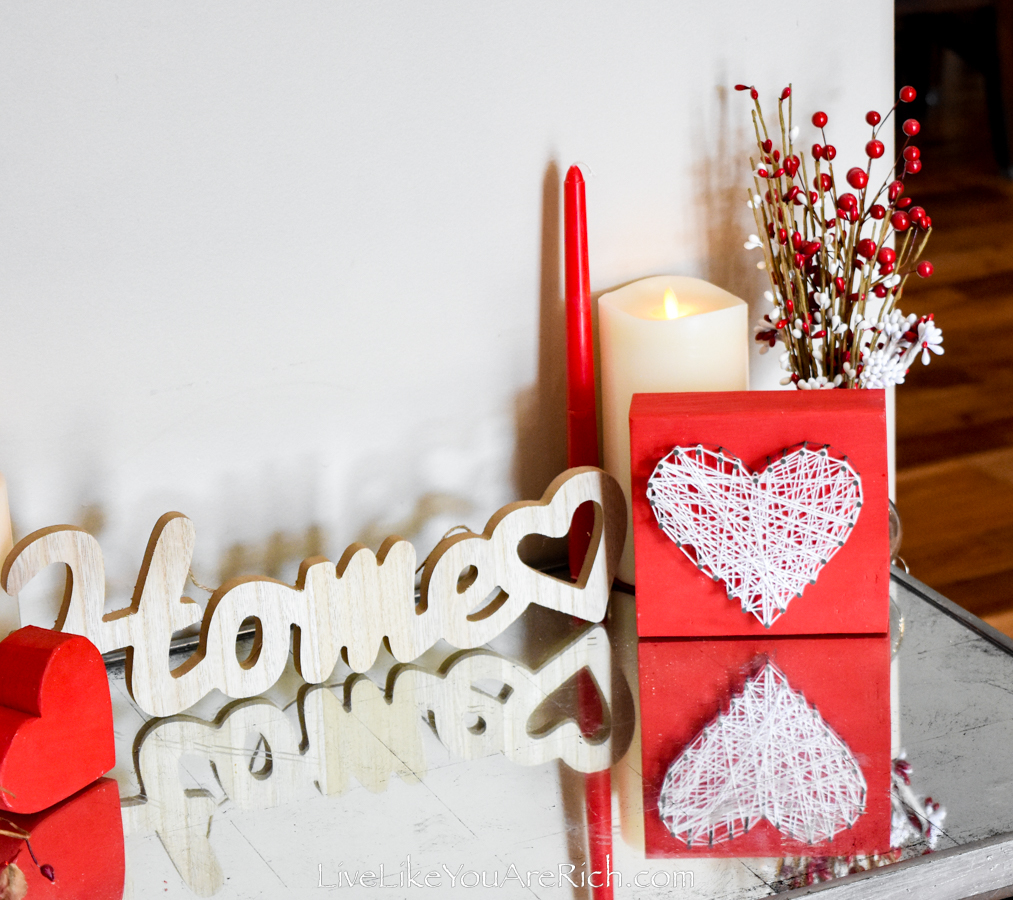 white and red mini sprigs
red heart tinsel garland (stuffed in the large vase)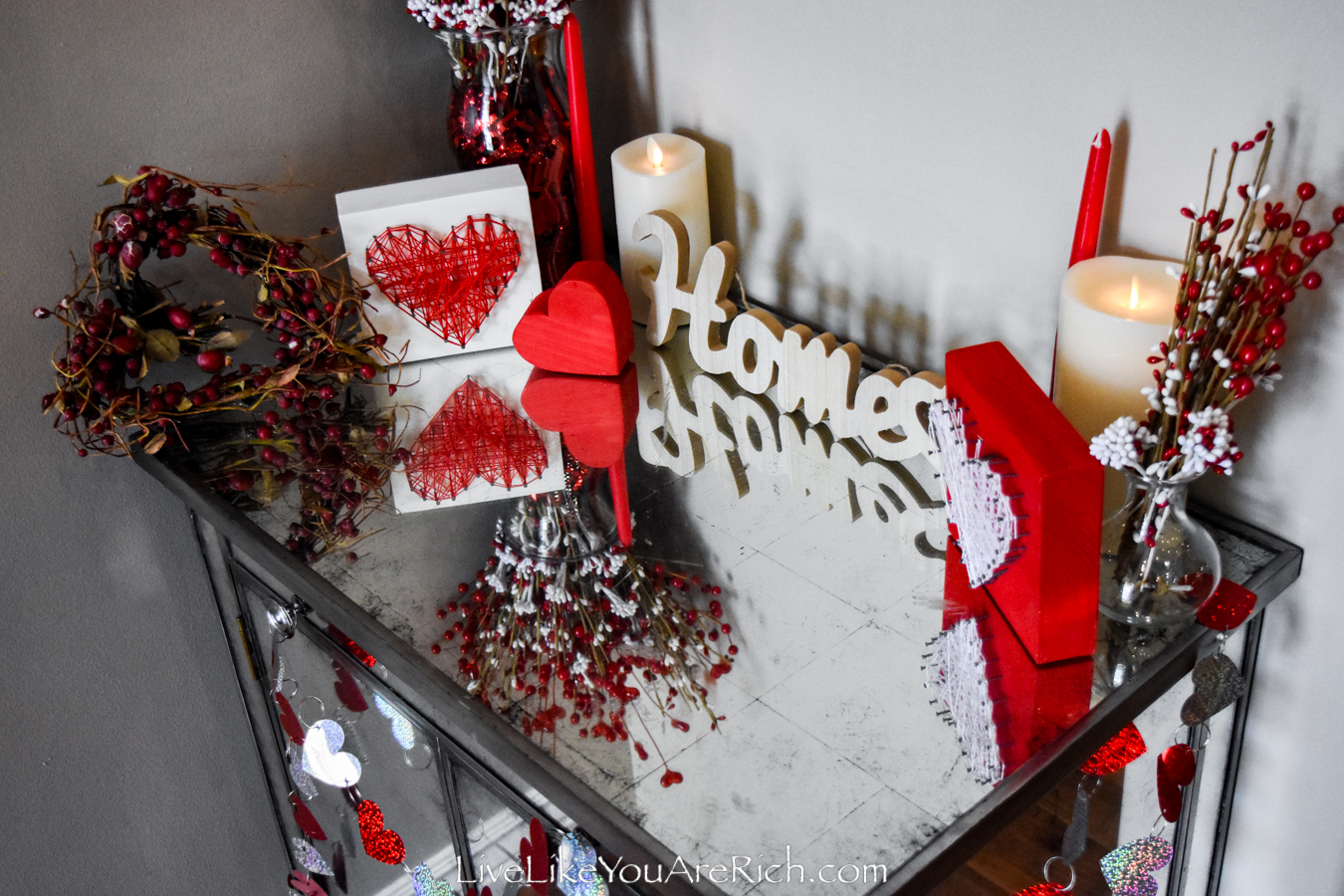 Home wooden sign (Dollar Tree)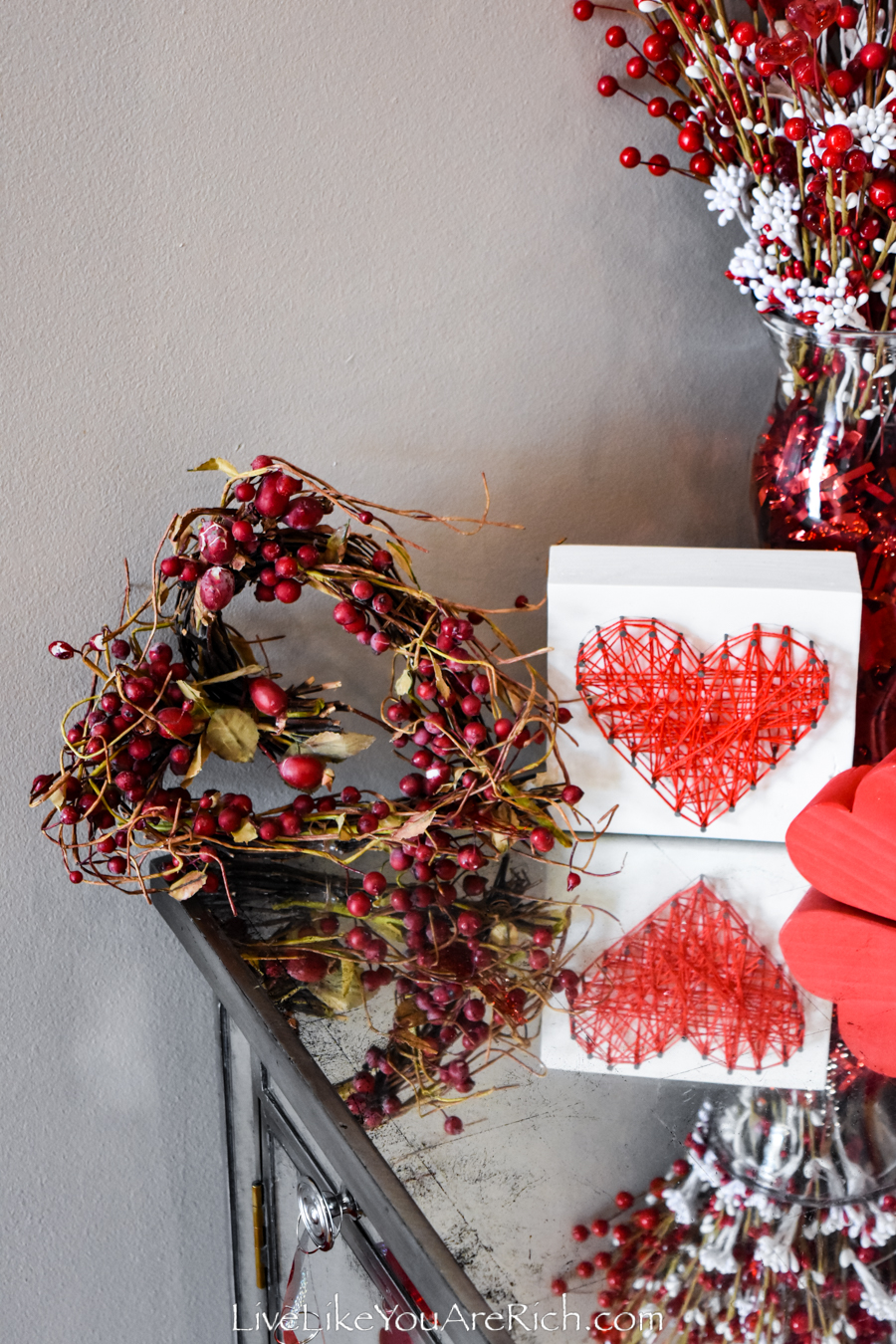 Red berry heart wreaths (DIY tutorial here)
red wooden block heart (DIY tutorial here)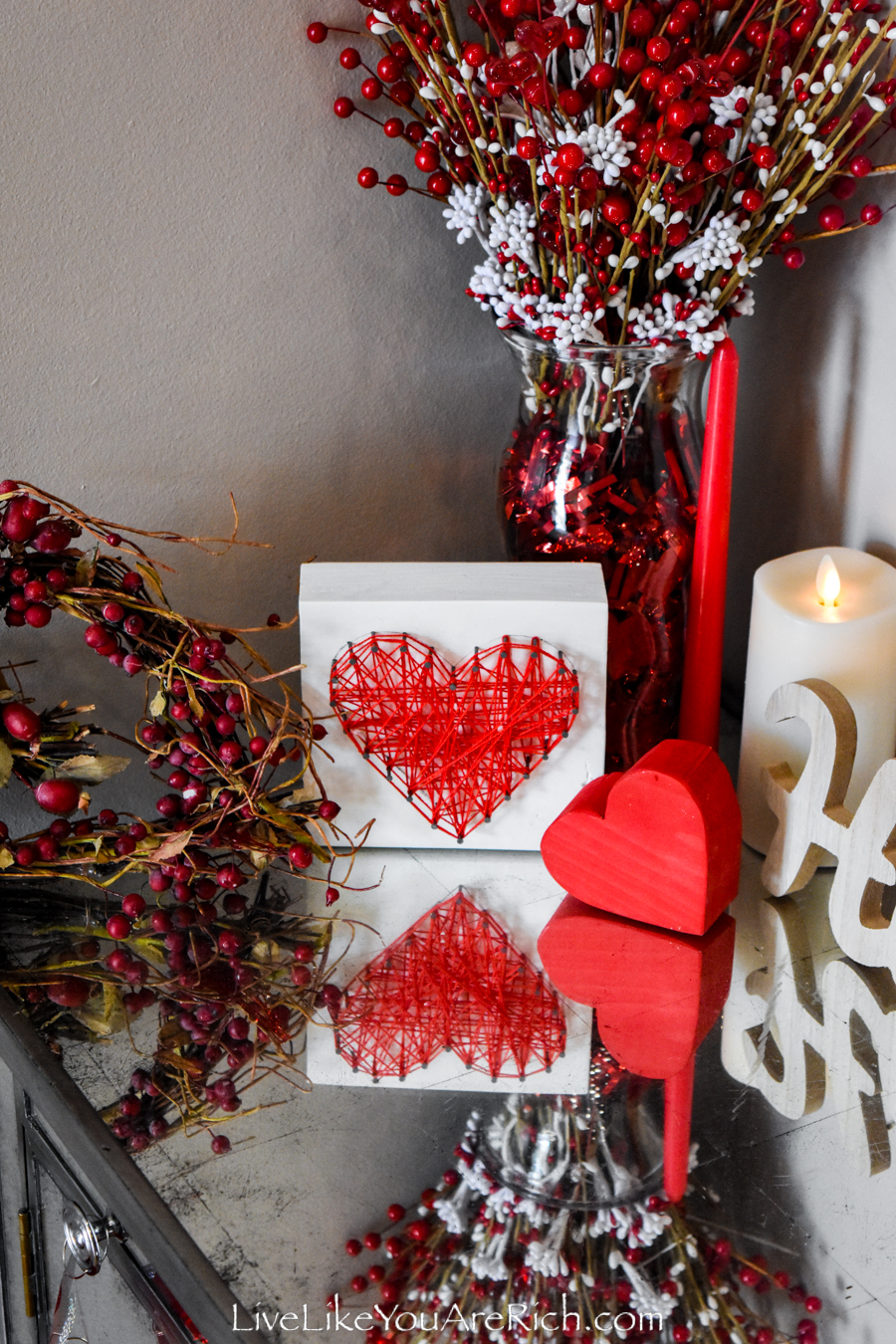 wooden nail and string heart artwork (DIY tutorial here)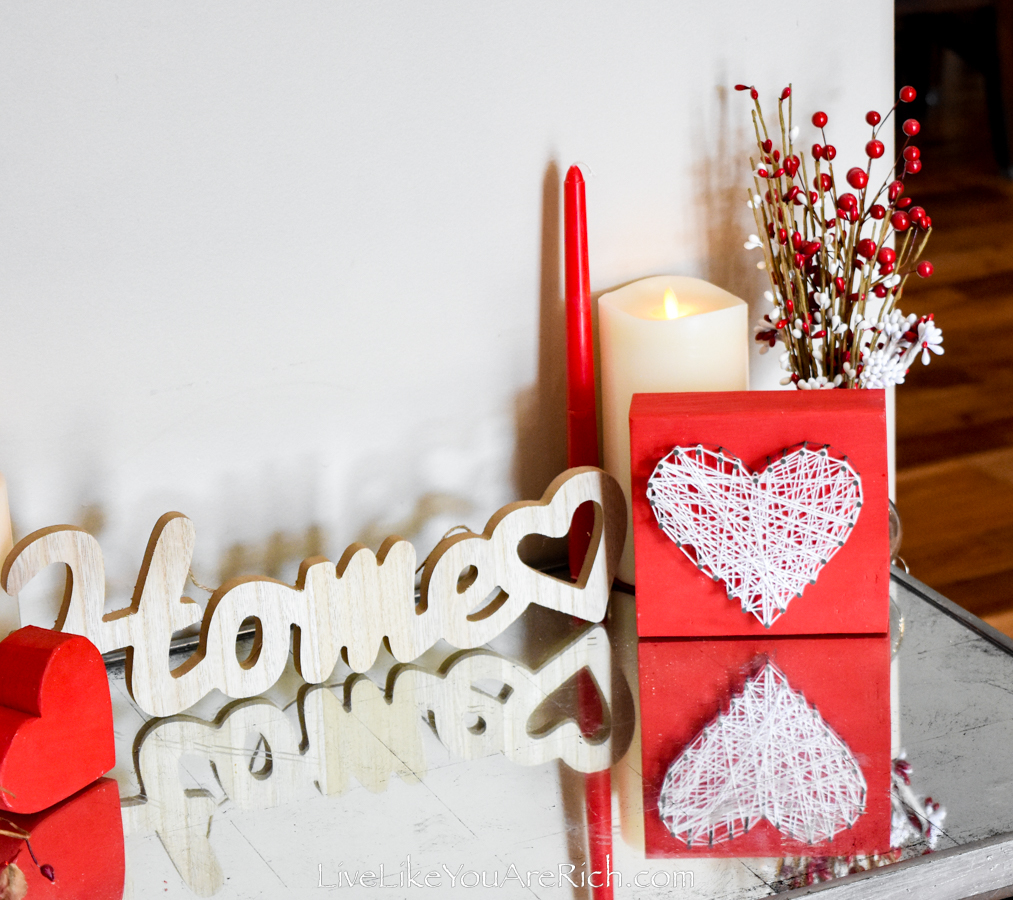 Electric candles with life-like flame
How to set up this Red and White Heart Valentine's Day Entry Table
First, I hung up my white vintage frame with a berry wreath above the entry table.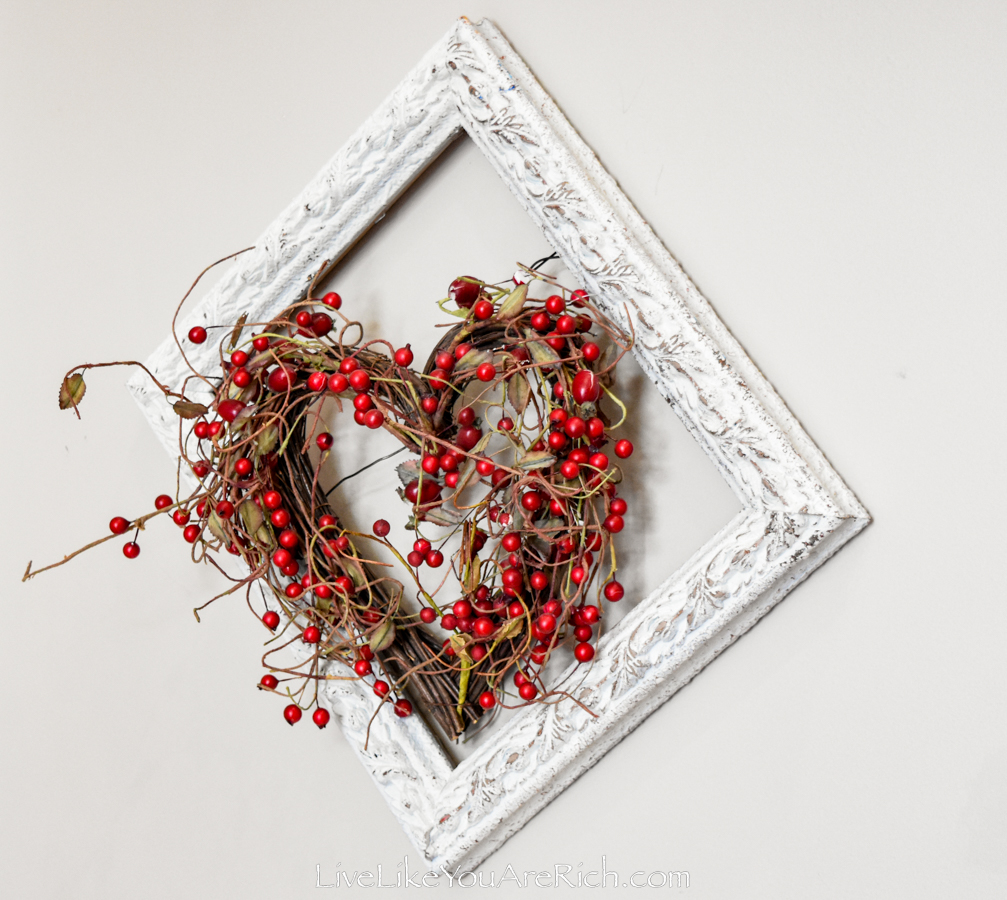 Next, I created more height for the table by putting together a red and white Valentine's Day arrangement.
I stuffed the vase with red tinsel garland so that it hid the spring stems.
Then I added red and white sprigs in various shapes, heights, and sizes.
I had these in both my Valentine's and Christmas decor bins.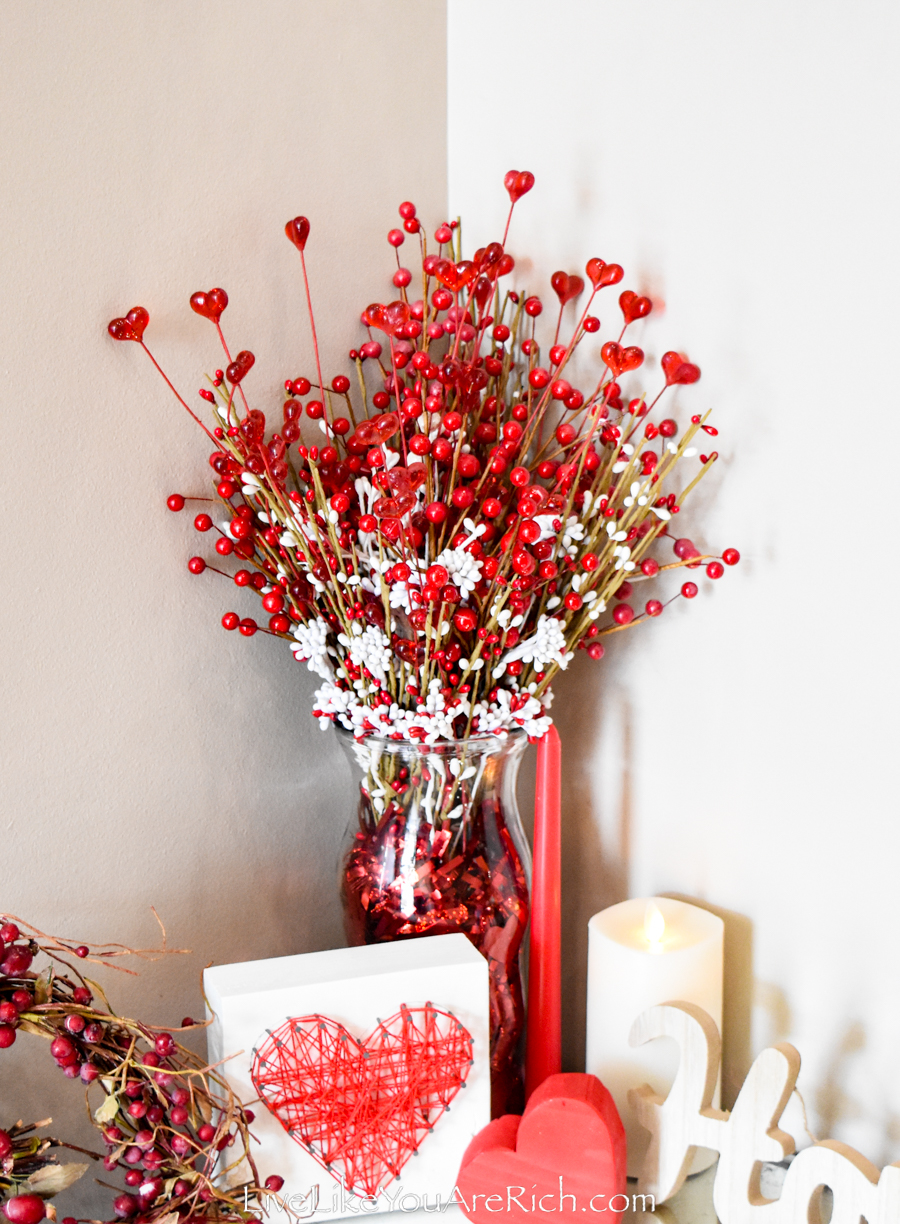 I set the 'home' sign in the center of the entry table to be the focal point.
Then I balanced the entry table decor out by placing items on either side of the Home-sign-focal-point.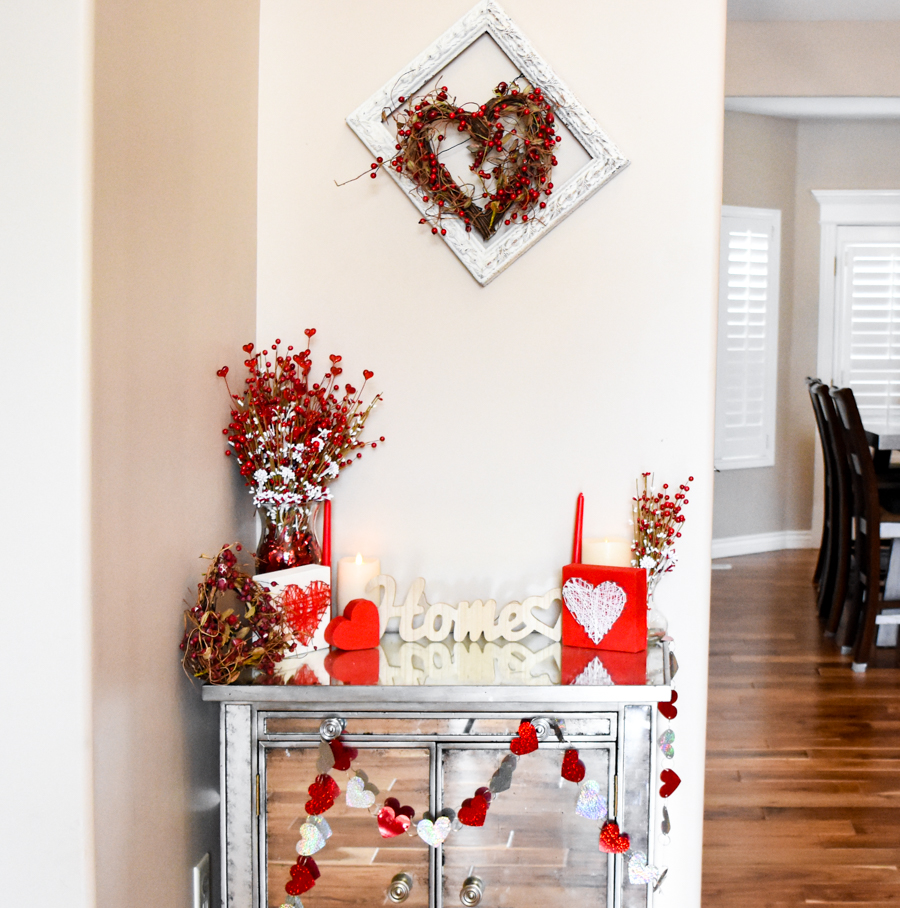 I added two red taper and white electric candles on either side of the sign.
I added a mini vase with sprigs to add a little height and dimension on the right side of the sign as well.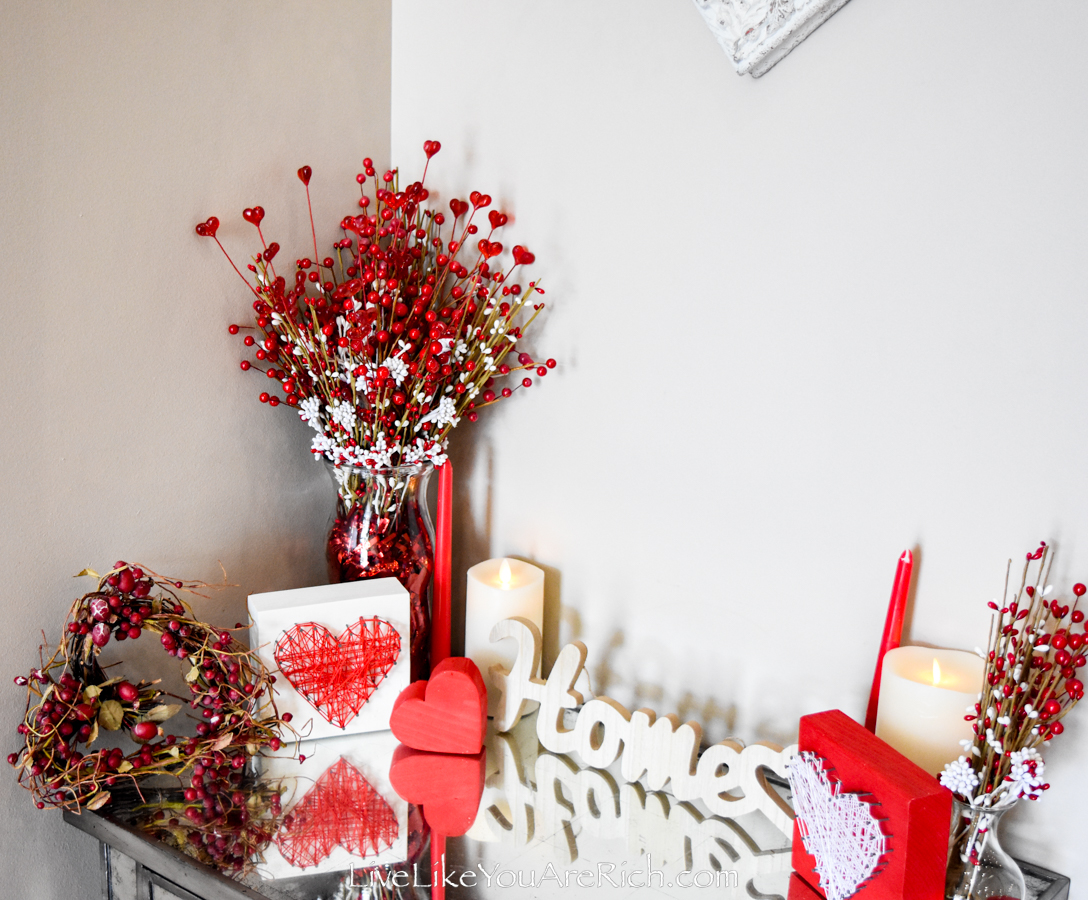 Then I put the wooden block heart and wooden nail string crafts that my kids and I made on the table as well.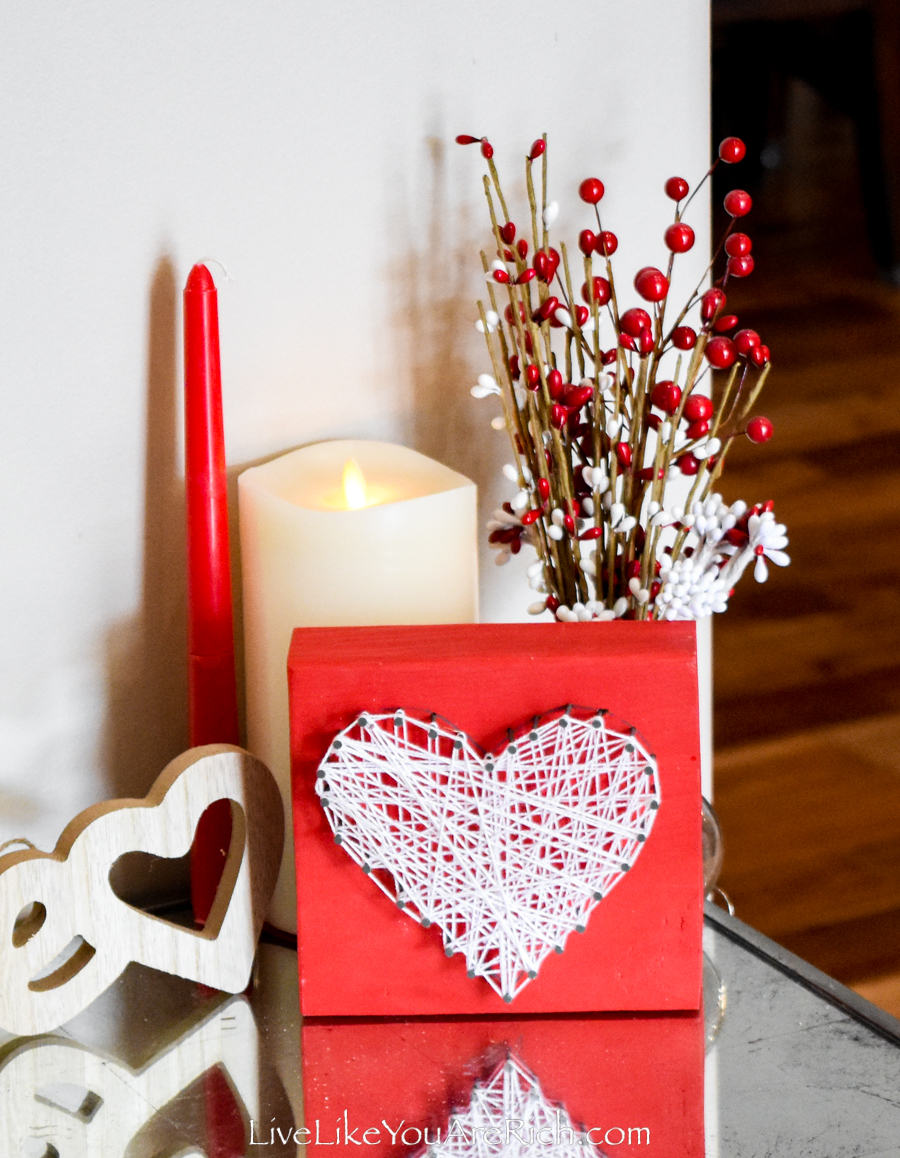 I added an additional berry heart wreath to fill up the space on the left side of the entry table.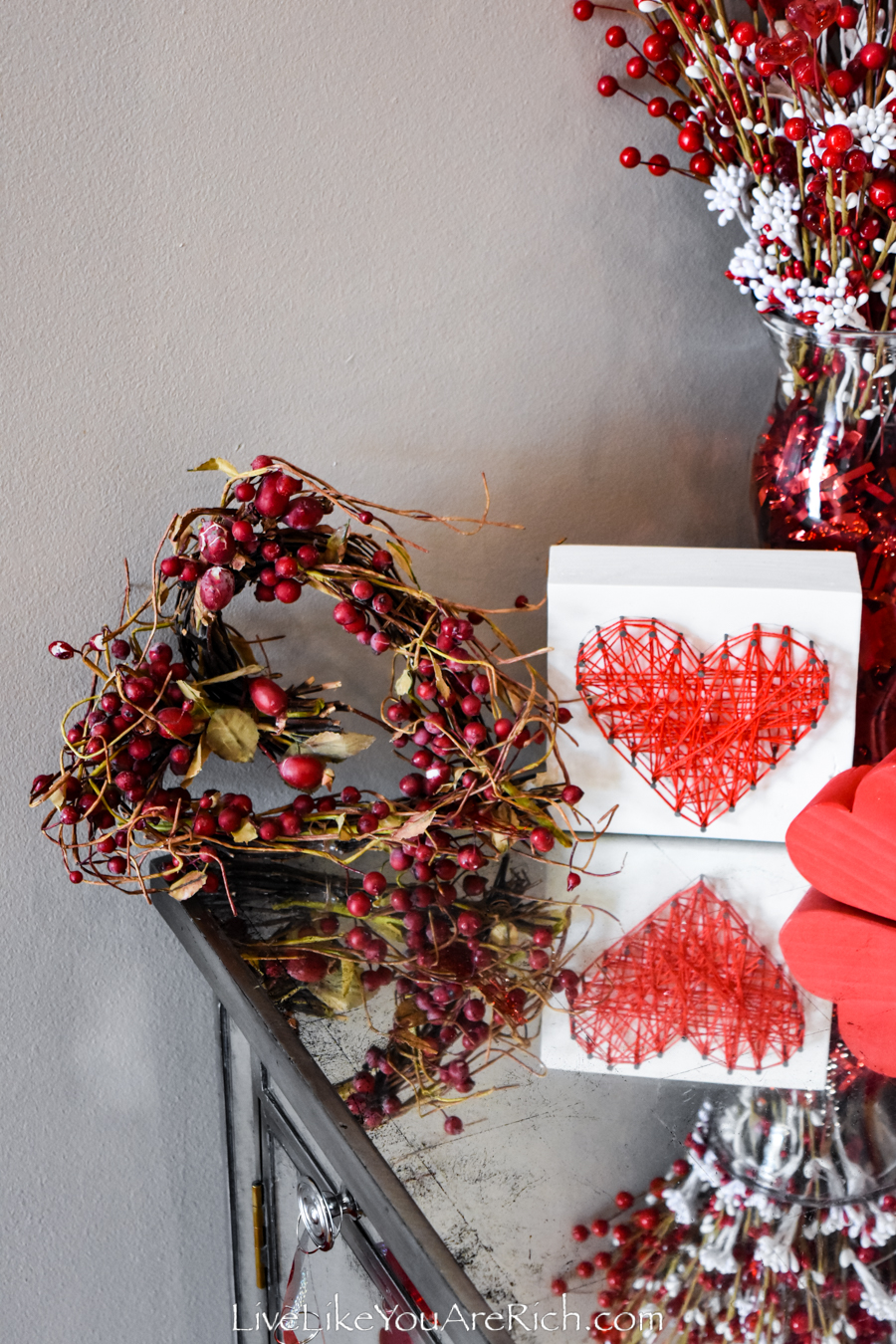 Finally, I draped a heart garland on and around the entry table.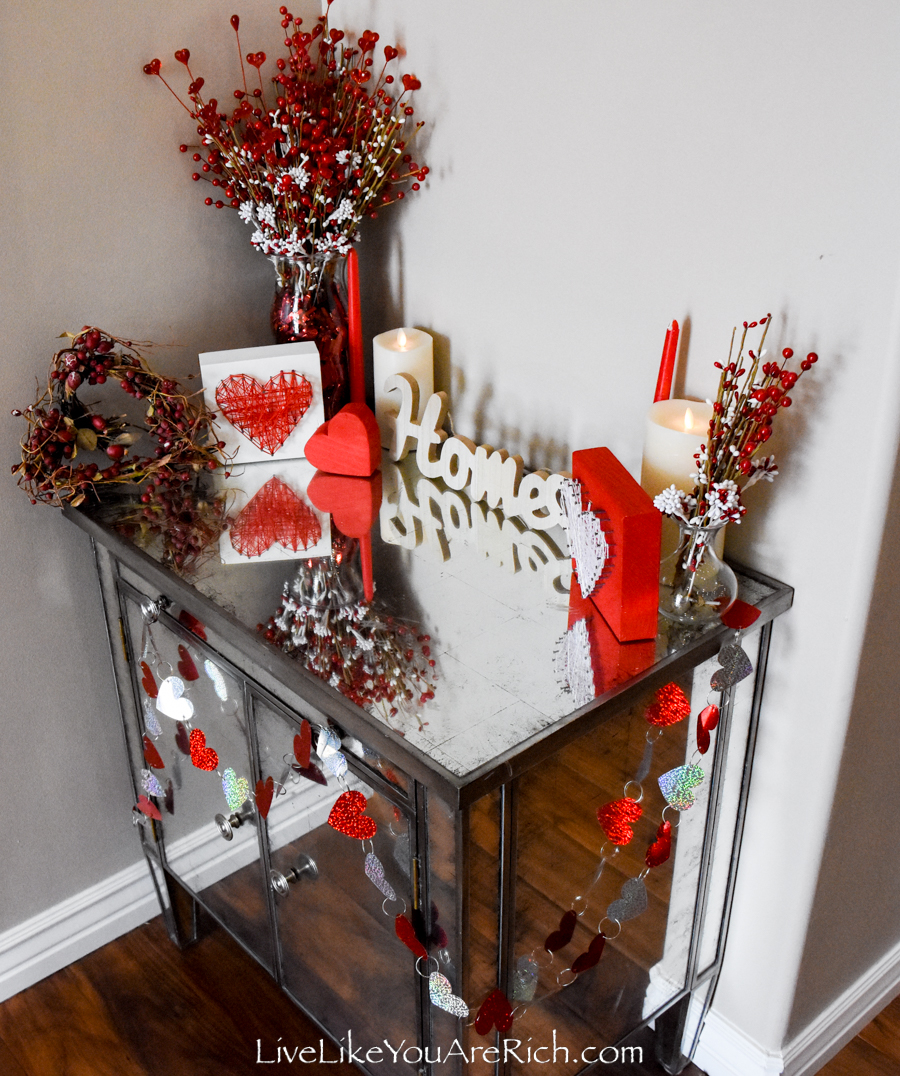 This came together in about 10 minutes.
Cost of this Red and White Heart Valentine's Day Entry Table
I love switching up my decor for holidays and to keep it affordable, I make a lot of items DIY and reuse and repurpose others.
By utilizing and re-designing items I had from previous Valentine's Days, this year I didn't have to go out and buy anything.
So, this red and white heart Valentine's Day entry table didn't cost me anything.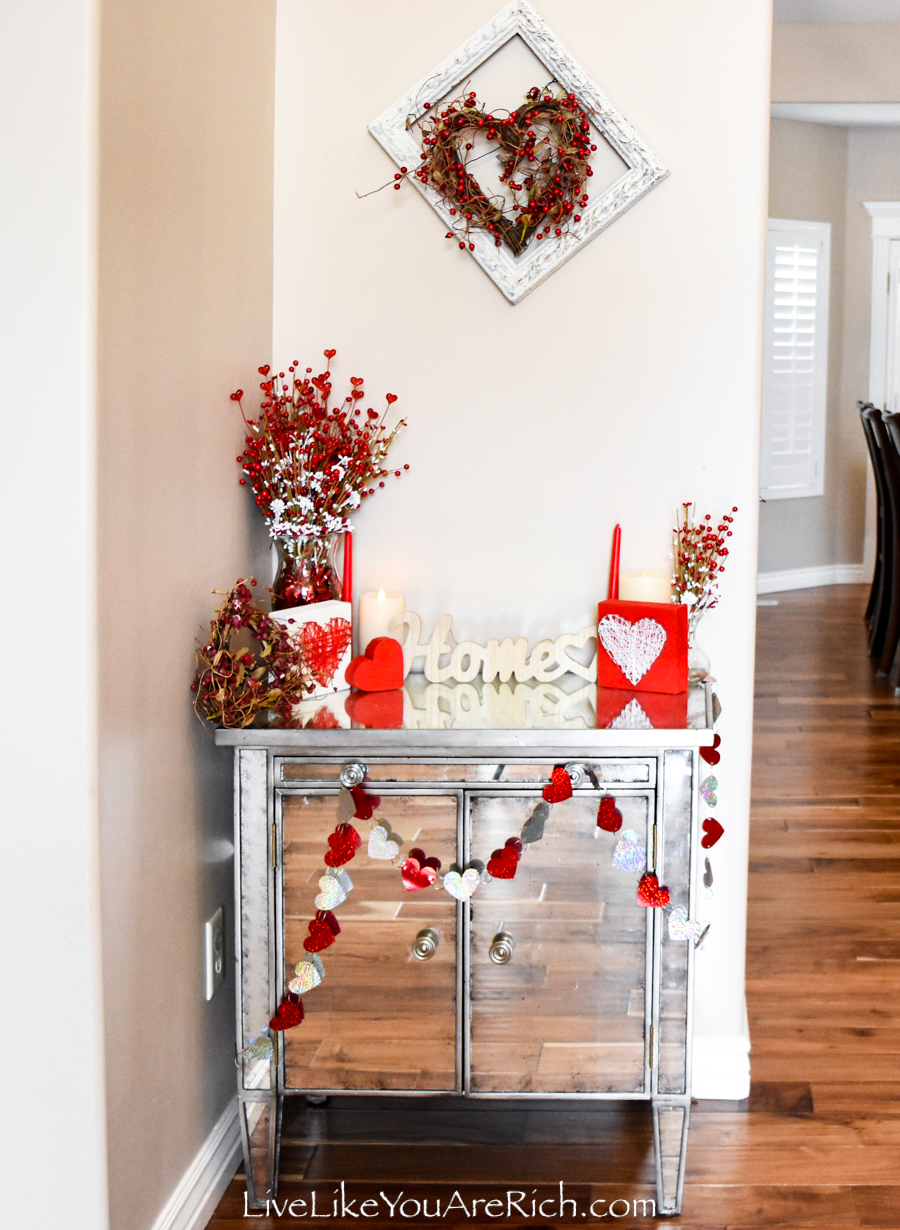 I have gotten a lot of compliments on this entry table—especially from my daughter's friends and my kids' babysitters who have come over. Getting compliments from younger kids on decor means a lot!
I hope you have a Happy Valentine's Day!

For other 'rich living' and D.I.Y. decor tips please subscribe, like me on Facebook, and follow me on Pinterest and Instagram.