Today's task is probably going to come as no surprise. Although it may have been expected, it is none the less extremely important to actually do.
What you'll need: the excel file here, knowledge of your income and bills/expenses (which is where those handy financial statements you've been looking at coming in), and if at all possible a spouse (or whoever is majorly involved with your finances).
I provided an example of what we will be doing in the financial plan using the made up people John and Jan below.
You can download their plan if desired (click here).
As you can see John and Jan are lower to middle income earning Americans. They are a younger married couple, have a toddler, and Jan is a Stay-at-Home Mom.
Although Jan went to quit her job before she had her son, her boss asked her to keep working at least one weekend night after pregnancy leave and Jan agreed.
Working one night a week has been working out great. John gets to spend time with their little boy and Jan gets to get out of the house and help out financially (more than she already is by being home taking care of the baby and home).
John and Jan took the 31 Day Financial Fitness Boot Camp Course from LiveLikeYouAreRich.com.
They were learning all sorts of things about finances. On Challenge #7 they found they were overspending (racking up debt) by about $275 a month on average.
Further, they weren't saving and Challenge #5 made them determined to do so. They just weren't sure how it was all going to come together.
But for Challenge #8 and #9 they did the following to make it all happen:
They shut off their cable and Hulu sticking with Netflix ($10/month) and the Amazon Prime membership they have already paid for.
For date nights, they decided to do a babysitting swap with their friends (every other week) so on date nights they aren't paying for a sitter and don't have to worry about finding one either.
Jan started meal planning and utilizing more coupon and sale matchups for groceries.
She also found a way to make D.I.Y. gifts for family and friends and cut their gift-giving expenses by 60%.
Further, whenever she realizes she needs bigger clothes for her son she looks on classifieds or garage sales and finds them gently used for less than $1.00 an item.
John has given up his morning stop for a hot chocolate (and makes them at home instead), and he packs a drink instead of stopping by the vending machine during his lunch break.
Since he brings his morning hot chocolate from home and no longer stops for it, he has the time to park a little further away in the free parking instead of the $2.00 a day parking lot and now gets a nice short walk in before and after work.
John's changes saved them over $160.00 a month alone!
John called their cell phone carrier and got on the 'prepaid customer' plan which lowered their bill over $60.00 a month, he also called the retention department on their internet and got the bill lowered by $15.00 a month as well.
While John was calling, he had the idea to call their auto and home insurance brokers and ask them if he could get any discounts or save. Because of this call, John saved them another $32.00 a month.
Making these and a few other changes, Jan and John not only were able to stop racking up $275.00 of debt each month, but they were also able to start saving!
Being in the positive (saving) instead of the negative (debt) with no increase in income is something they both would not have thought possible before taking this Boot Camp course.
Here is a screenshot of their budget. They planned to allocate all of their income for January except $10.00 of wiggle-room-money into the following categories (see row headings under Expenses).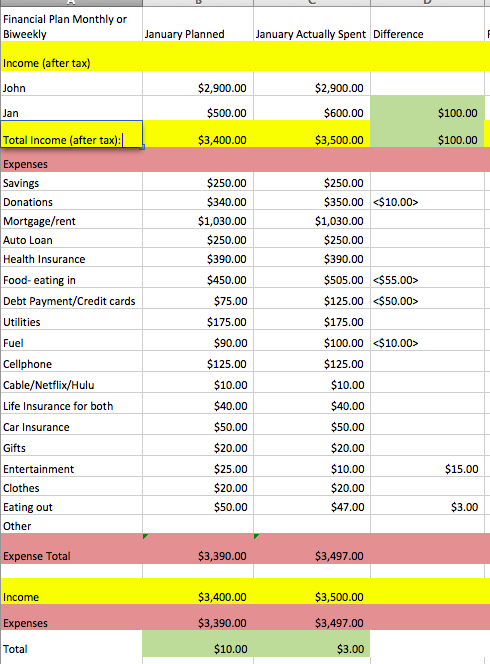 During the month Jan was asked to work an extra shift one night and she made an additional $100.00. Instead of spending it on clothes like she used to, she used $50.00 to pay down more debt and $40.00 to buy more at the grocery store. They give 10% of their income to tithing so they needed to pay an additional $10.00 payment there as well.
Towards the end of the month, they realized that they had very slightly overspent in the fuel and food categories.
So to offset their slight overspending, for one of their date nights John decided that instead of going to the movies with snacks (like they usually do), he'd take Jan to an outside skating rink at $3.50 a person and even grab hot cocoa for $1.50 a person instead. They had a wonderful $10.00 date night.
For their second date night of the month, Jan found a $5.00 off coupon to a favorite restaurant online and they were able to come in slightly under in their eating out category.
Jan and John took control of their budget, cut the unnecessary or fairly easy to cut expenses out, found ways to do and get more with less, and made a little extra income this month.
Instead of racking up $275.00 of additional debt, they were able to save $250.00, apply an additional $50.00 to their existing debt, buy more food for food storage AND they came in $3.00 under budget.
Now it's your turn.
Challenge #9 Get your spouse or significant other IF AT ALL POSSIBLE involved. Then download the free blank budget excel file (here), input your income, and then input your expenses. Make sure you come out even or ahead each month. Be sure to stay consistent and review each and every week, two weeks, or month (whichever works best for you).
Spending less than you make consistently is the foundation for financial success, it just simply must be done if you want to be solid financially.
If you need help tracking your money real-time you could try a cell phone app like Mint.com's, Home Budget, Goodbudget Budget Planner (I think most of these are available in the free lite versions), you can do the cash envelope system, paper, and pen/checkbook method, or a few others.
Karen and I describe 5 different ways to stick to a budget in our book Living a Rich Life as a Stay-at-Home Mom.
If you want to read more in-depth about these 5 budgeting strategies, get our book/ebook/audiobook!
This is probably one of the longest posts in the Boot Camp course. The reason is that I want to show you that it is possible to complete these challenges even if you were racking up debt monthly beforehand.
In fact, what John and Jan did to cut their expenses are many of the ways that we cut our expenses too. Making these changes enabled us to pay off our debt and vehicle loan, and save thousands too.
Other Posts:
Step 1 of the Financial Fitness Bootcamp Course
Step 2 of the Financial Fitness Bootcamp Course
Step 3 of the Financial Fitness Bootcamp Course
Step 4 of the Financial Fitness Bootcamp Course
Step 5 of the Financial Fitness Bootcamp Course
Step 6 of the Financial Fitness Bootcamp Course
Step 7 of the Financial Fitness Bootcamp Course
Step 8 of the Financial Fitness Bootcamp Course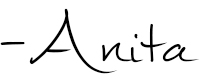 For other 'rich living tips' please subscribe, like me on Facebook, and follow me on Pinterest and Instagram.